Week 10 - Term Two
This week we have had very small numbers of children due to different sicknesses. With this we spent a lot of the week joint together with Room 1 which was lots of fun.
On Friday we also had the privilege of watching Team Tupu's topic videos that they had made throughout the term, the children enjoyed this, especially eating the popcorn!
I hope that all of the Kakano Superheroes and their whanau have a safe and happy term break. I look forward to seeing you all return for a fun and action packed term 3.
---
Week 9 - Term Two
This week was very chaotic in Room 7, again we had small numbers of children however, we did begin to move all of our stuff from Room 7 to the library in preparation for the renovations to begin on our classroom. It is a very exciting time and we look forward to moving back into our classroom at some stage in Term 3.
This week we also celebrated Matariki. Matariki signals the beginning of the Maori New Year, Matariki heralds a time of remembrance, joy and peace. It is a time for communities to come together and celebrate which is exactly what we did at Flat Bush.
We began the week with an assembly where we raised the Maori flag and remembered our loved ones that are no longer here.
We then ended the week on Friday with a wonderful scavenger hunt set up by Ms Brown, the children had lots of fun learning about the 9 Matariki stars.
On Thursday we also celebrated the birthday of Winter and Summer, happy 6th birthday girls.
Kia Ora Whanau, please do not forget to select a time slot and sign/return the form for the Celebration of Success Conferences. I look forward to seeing all of the Superheroes and their lovely whanau, to share and celebrate the learning that has taken place this term. The conferences will take place on July 8th from 1:00pm to 6:00pm.
---
Week 8 - Term Two
This week was a very quiet week in Room 7 with a lot of children away due to different bugs going around. It is beginning to get cold now and with that comes flu season, please make sure to keep warm and if any of the children are in need of a jacket please let me know as we can provide them with one.
Most days this week we have had less than 10 children in Room 7 very different to our usual 19, however, we still made the most of it and completed lots of learning and of course had lots of fun.
On Monday with only 7 Superheroes at school we were very lucky to join the amazing children from Room 1 and Mrs Boyd for the day, we had lots of fun playing together and making a bar graph about jelly beans.
This week we also focused on the big book 'The Giants Ice Cream'. We decided that we would send some invitations to our buddy class to come and join us for banana ice cream. The superheroes were very excited to receive letters back from some of the lovely children in Room 20.
On Friday it was finally time to make the ice cream. The Superheroes had been so excited, they had asked me everyday when it would be Friday. Here are some photos.
It was lots of fun making banana ice cream and super easy, can you believe that all you need is bananas!
Making ice cream provided a great opportunity to talk about our topic change of state. We watched how the bananas went from fresh to frozen, how the frozen bananas turned into ice cream and how the ice cream turned from a solid to a liquid when put by the heater. Tino pai to mahi and thank you Room 20 buddies for joining us!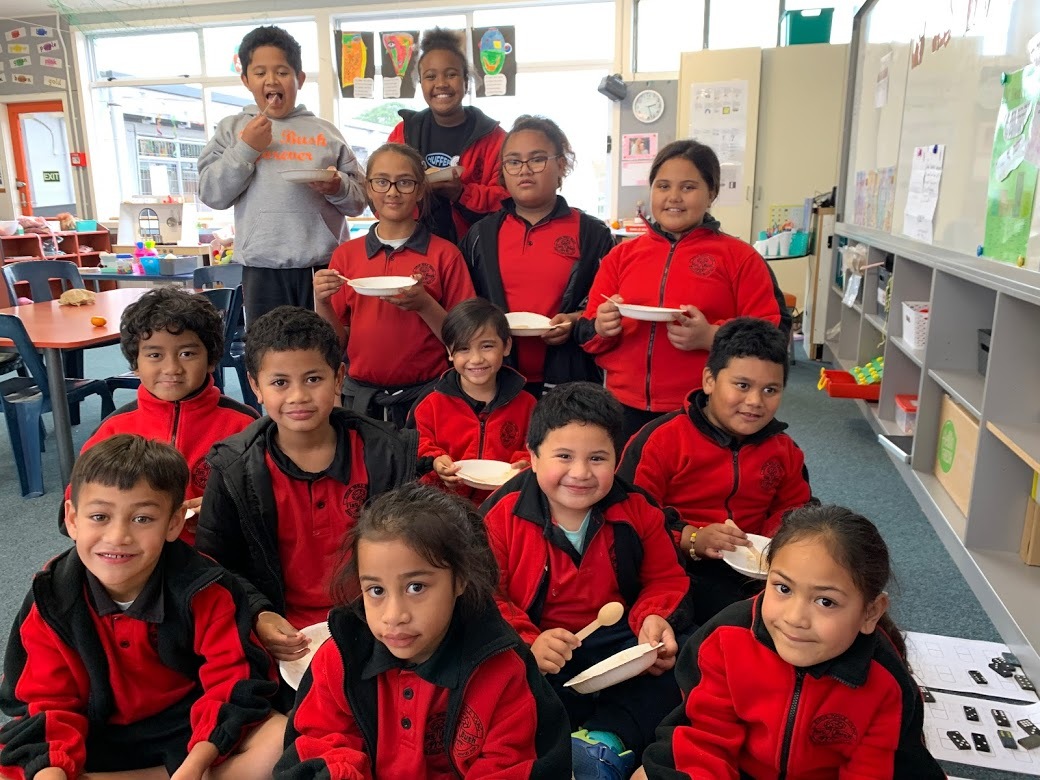 Step 11: Enjoy!
---
Week 7 - Term Two
This week we have been reading the book about the Big Block of Chocolate. During this time we were learning about how chocolate can change from a solid to a liquid when placed in the microwave. The children found this concept very interesting and all enjoyed re-making their own piece of chocolate. Take a look at some of the learning that has taken place this week in the images below.
Here is some of our writing. On Wednesday we write a story about where we would hide our chocolate bars so that no one could find them. The Kakano Superheroes came up with some very good ideas.
On Thursday during mathematics we made a bar graph which showed which chocolate Room 7 liked the most. They enjoyed looking at the data and finding out how many people liked each chocolate. Well-done Room 7.
Lastly to end our week learning about chocolate we went to the staffroom. In the staffroom, Room 7 got to cut up some chocolate, melt the chocolate in the microwave and then make their very own pieces of chocolate. They enjoyed watching the chocolate change from a solid to a liquid and back to a solid. Ka Pai Superheroes.
Have a safe and happy weekend.
---
Week 6 - Term Two
This week was a short week with only 4 days at school however we definitely made up for it.
On Tuesday when the superheroes arrived at school we began to get ready for our school trip to the Tupu Library, the children were very excited to go on the bus with Room 1.
During our time at the library the librarian read some funny books to us, we danced to a fun song and we learnt all about how to look after books and how to put them back where we got them from. Ka Pai team.
Why is it important to read books? "Reading books stimulates children's imagination, expands their understanding of the world and also helps to develop their brains".
This week was also a special week where we celebrated our lovely support staff. In the Kakano Team we are very lucky to have Mrs Tito, Miss Bree, Miss Easter, Miss Vera, Miss Ana, Miss Maggy and the amazing caretakers Mr Tom and Mr Ian.
It would be impossible to do what we do without them by our side and so we made sure to say a big faafetai lava to all of them.
Lastly, on Friday we ended the week learning about our topic "change of state" during this time we made some ice from water and then we watched as the solid became a liquid when placed into a hot pan. The children were very interested and told me they could see the gas (steam) as the liquid water began to boil.
---
Week 5 - Term Two
This week at Flat Bush school we were pleased to celebrate Samoan Language week. During this week the children participated in a Samoan Market Day where they were able to participate in fun traditional Samoan activities and of course try their delicious food. We then ended the week with a Samoan assembly where we were able to watch traditional dances, sing Samoan songs and of course spend time with each other, celebrating such an important culture of our world.
This week in the classroom to celebrate Samoan Language week each of the Kakano Superheroes made their very own Samoan Fale - great work team!
"The beauty of the world lies in the diversity of its people".
---
Week 4 - Term Two
This week was a busy week with lots of activities happening in and out of school. On Tuesday we went to the local park in Otara where the children had lots of fun playing and pretending to make campfires, On Friday we went to Flat Bush Kindy for a visit and we also had our annual cross country race. Well-done to Herman, Lavella and Payton who managed to get a placing and congratulations to all of the Kakano Superheroes for taking part and trying their best.
---
Week 3 - Term Two
Wow it was another extremely busy week this week, the Kakano Superheroes have been working very hard. This week we have been focusing on the book of the very hungry caterpillar. The children have had lots of fun learning about caterpillars and butterflies, please feel free to come into Room 7 and take a look at our new wall display.
Here is some of the math's we have been doing this week, we have been making patterns and groups, ordering numbers 1-10 and solving simple addition problems, great work superheroes.
This week we have also been making sure to remember to use finger spaces in our writing, this will help us because it will make our writing easier to read. Well done Azayliah for remember all of your finger spaces in your weekend story.
Azayliah also celebrated her 6th Birthday this week, thank you for bringing in some cupcakes so that we could all celebrate with you.
Finally we ended our week on Friday with a pink shirt day, on this day we were able to raise funds for the mental health foundation and we also spent the day reminding each other about how to be a good friend. Ka Pai Room 7.
---
Week 2 - Term Two
This week was New Zealand Sign language week and with this the Kakano Superheroes have been working hard to learn the lyrics and actions to the sign language song "I can sing a rainbow". On Tuesday we wrote Mr Avatea and Mrs Mayerhofler invitations to come and watch us perform in Room 7, we spoke about how when you send an invitation it is important to RSVP. On Wednesday the children were very excited to receive two letter replies in our classroom mailbox.
We continued to practice our song the whole week and on Friday performed it in front of the whole school at assembly. Please click the video below to watch us performing to Mr Avatea and Mrs Mayerhofler.
This week we also got to experience the garden to table programme, during this time we got to learn more about the garden and what we can make with the vegetables we grow. This time we got to make vegetable frittata. We learnt many skills when cooking such as counting, measuring and reading.
We have also been doing some math's this week look at the superheroes counting out the right number of teddy bears and making patterns with the pin boards.
| | |
| --- | --- |
| Look at Elizabeth she is concentrating really hard she first ordered the gingerbread men from 0-10 and then she carefully counted out the correct number of teddy bears for each number. | Maraea has been enjoying making 2 colour patters with the pin boards. She was able to count how many pins it took to fill each line. |
| Glacias has been learning to recognise her numbers from 0-10 this week, she did a great job placing each card in the correct order. Ka Pai Glacias. | Ezra has been enjoying making robots with the blocks this week, with this I thought about how we could incorporate some math's skills. Ezra was able to tell me how many blocks his robot had all together including his robots toes and eyes. |
Lastly we had a great week reading the book about Goldilocks and the three bears. The children wrote great letters pretending they were Goldilocks and apologised to the three bears. We used this book to discuss different values and how it is important to always knock before going inside peoples homes. Please feel free to come and see our writing next time your at school.
---
Week 1 - Term Two
It was lovely to welcome the Kakano superheroes back after the holidays and hear about all of their fun adventures. We didn't waste anytime and got straight back into playing and learning with our friends.
This week we focused on the story of the gingerbread man. The children had a lot of fun writing about how they would catch the gingerbread man, what he looks like and most of all enjoyed cooking/baking their own gingerbread man to eat.
We also made beautiful mothers day cards for our families, some children wrote them for their mum while others wrote them for their nana or sister, it was wonderful to hear about all of the things they are thankful for.
This term we have also welcomed two new students to the Kakano Superheroes, welcome to Viliami and Ezra, we are so pleased to have you in Room 7.
Finally we ended the week with a trip to Flat Bush kindy where the children explored, created and got messy.
Through cooking we have learnt about measuring, mixing, pouring and following instructions. We were also able to work on our fine motor skills and coordination. Tino pai to mahi!
Welcome to Viliami and Ezra
Fun at Kindy