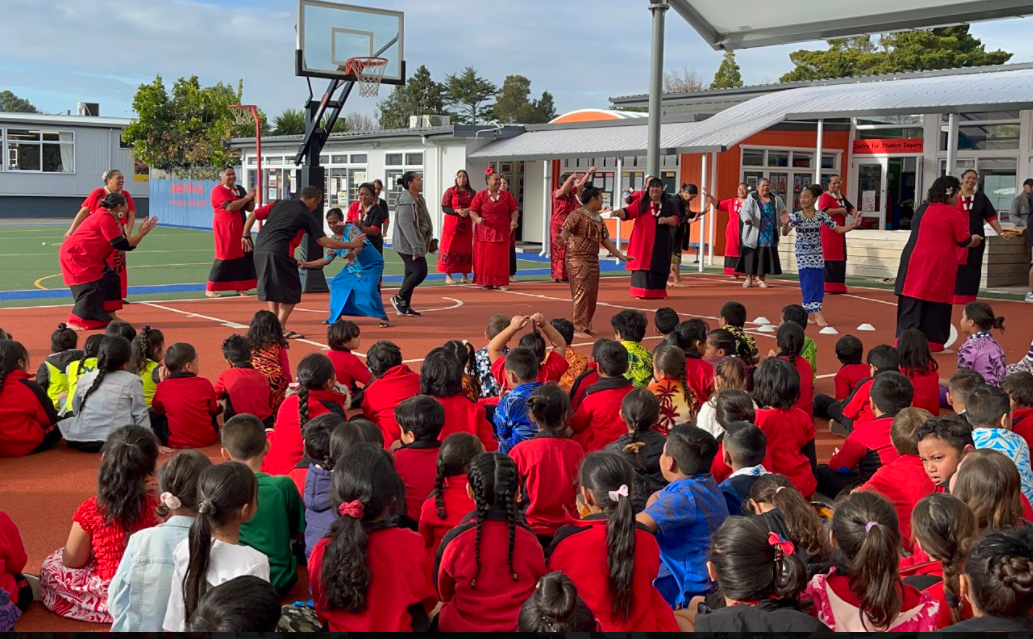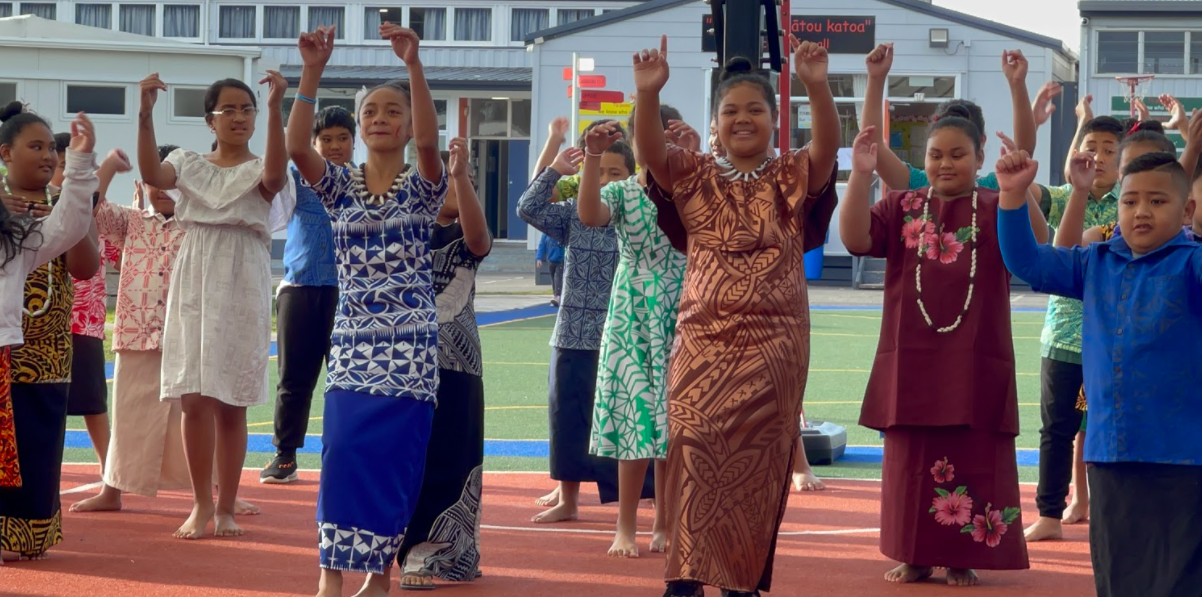 Rm 18 gets to visit the FBS Samoa Market in celebration of Samoa Language Week. A great amount of fun and learning experienced by learners, whanau and teachers!
Garden to Tables- This time round the children go to the chicken coop to collect some eggs for their savoury muffins. Thanks Ms Ann, Vicki and Ms Tupou for yet another wonderful fun learning experience.
Mr Avatea literally runs a Flat Bush School Crosscountry where every house team member collects points for participating. Fun had by all as all learners give it their best effort! Well done to all!!!
Flat Bush School support the 2021 Anti-bullying Pink Shirt Day campaign with a coin trail and some wonderful pink wear. Check out Miah, her mum and sister Sarah.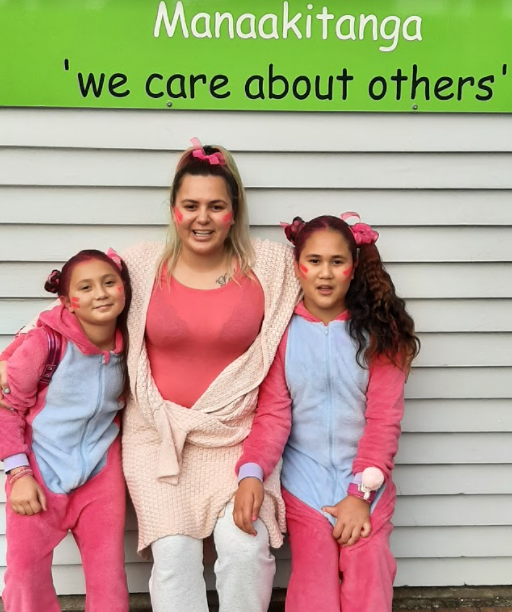 Rm18 continuing to try their best and all their efforts are rewarded immediatly after putting their very best independent effort into a Writing task.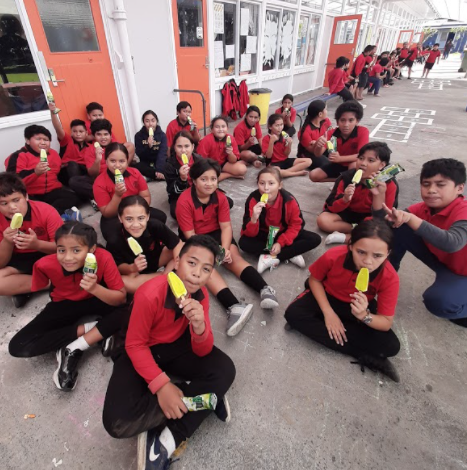 After selecting complementary colours and studying the process of blending, Carloz begins the final part of his journey.
TERM 2- The beginnings!
Otago Sciences Doctural student, Tongan Mary-Jane Kivalu kindly shared her extra-ordinary achievements to date with our FBS learners and helped them realise there are lots of different career options out there. One of her many messages, let your culture and Otara be your strength not a limiting factor to your future success, as they have been in her life.
FBS Rm18 learners thoroughly enjoyed her inspiring visit and back in class looked forward to sharing their aspirations for their futures. See below Rm18s dreams.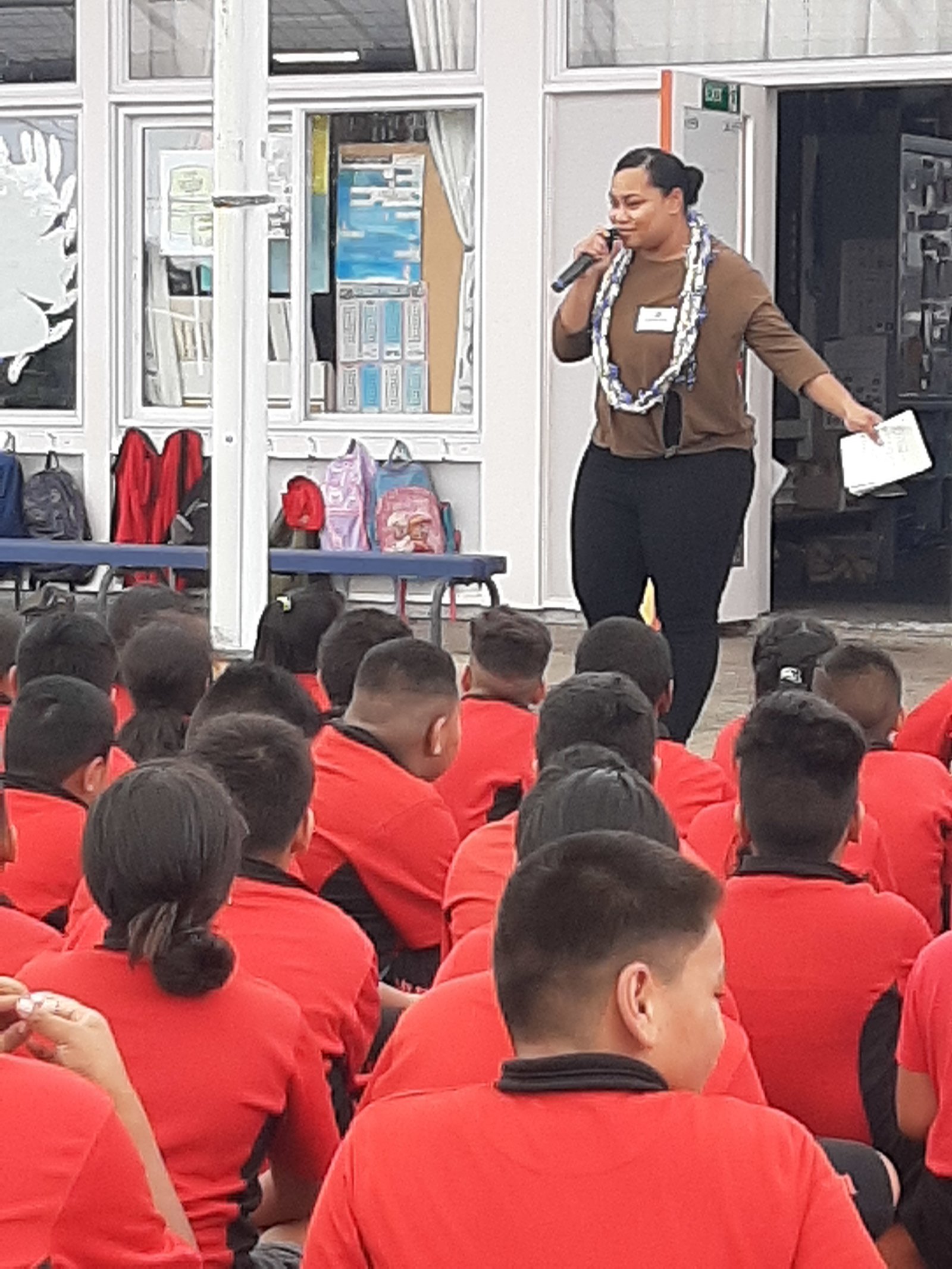 Congratulations to all the students who confidently shared their chosen successes with their whanau last Thursday evening at our CELEBRATION OF SUCCESS evening. Just a few photos below.
Huge shout out to whanau who were able to make it and all whanau who continually support their Rm18 learners and their learning journey at FBS.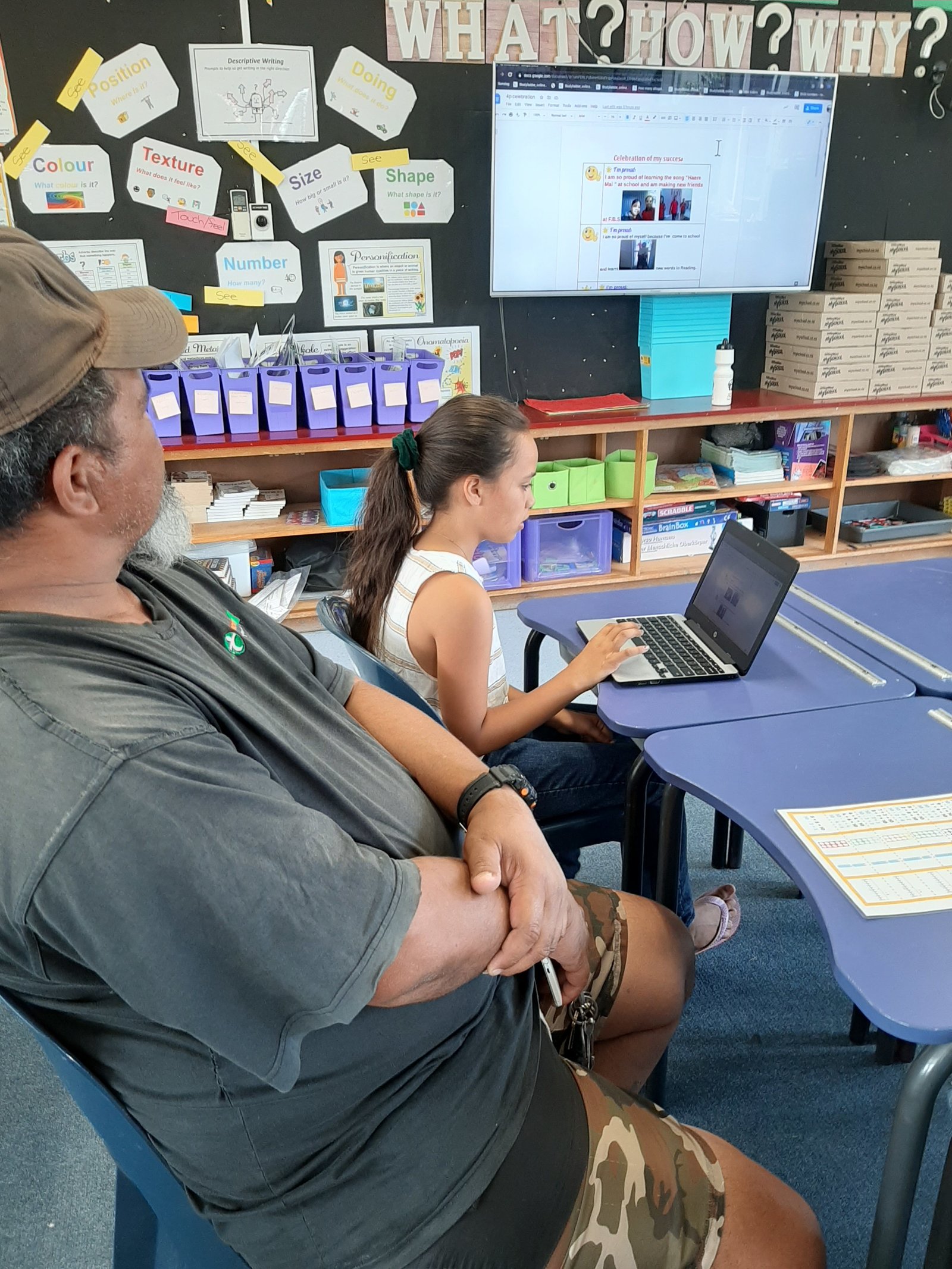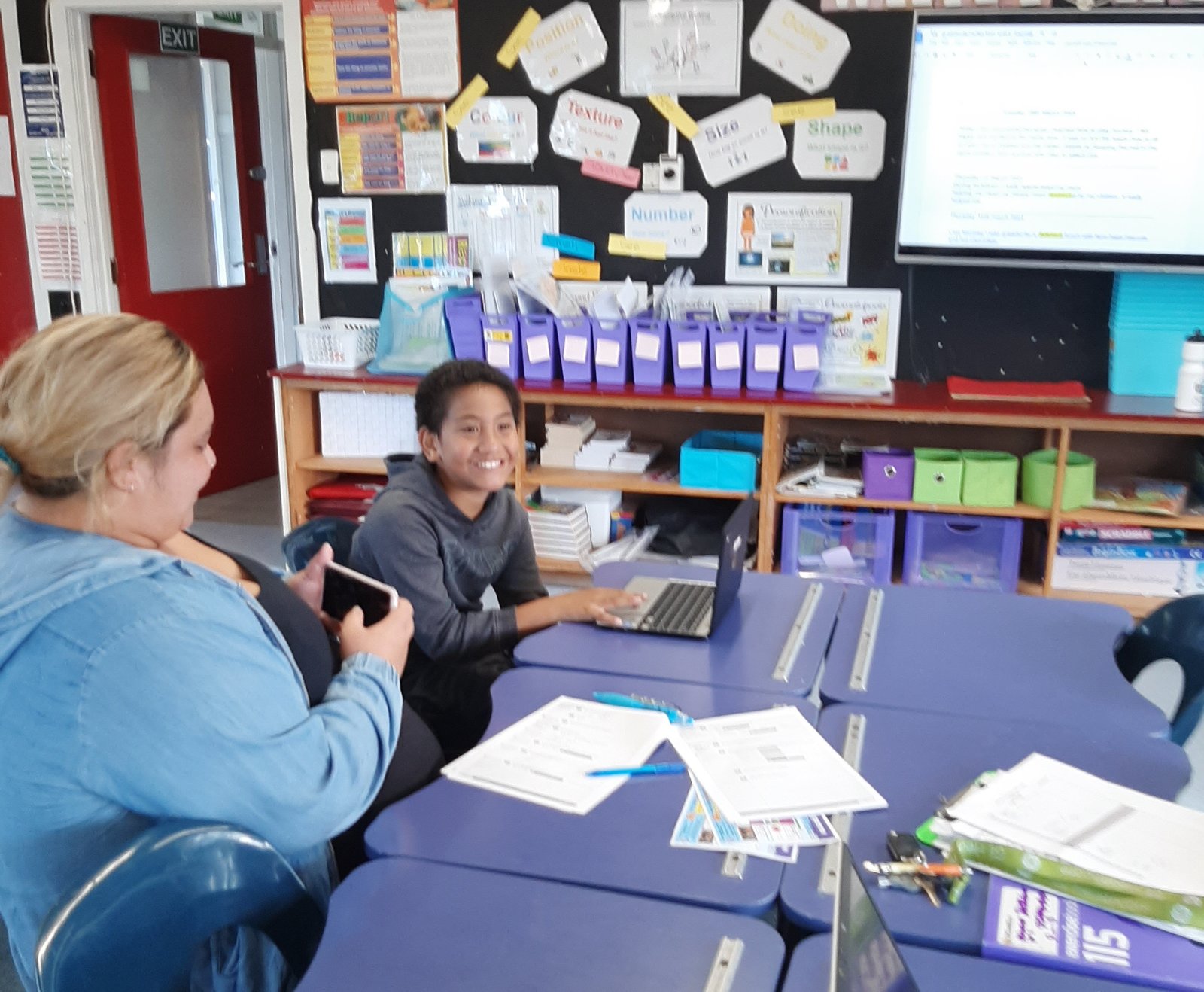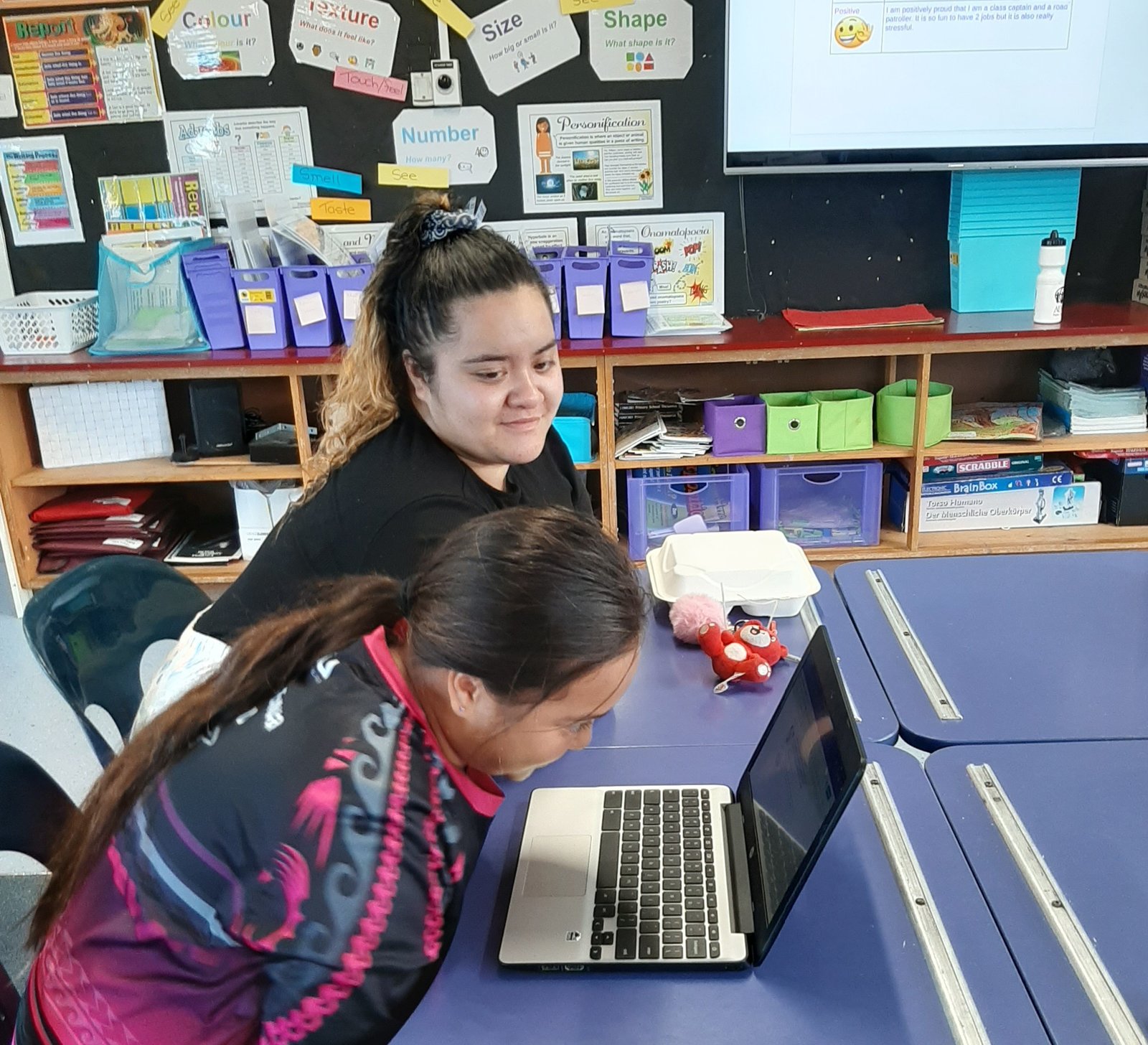 Have A Go Sports Day enjoyed by all of Room 18.
Jahzara enjoys giving a new sport a go!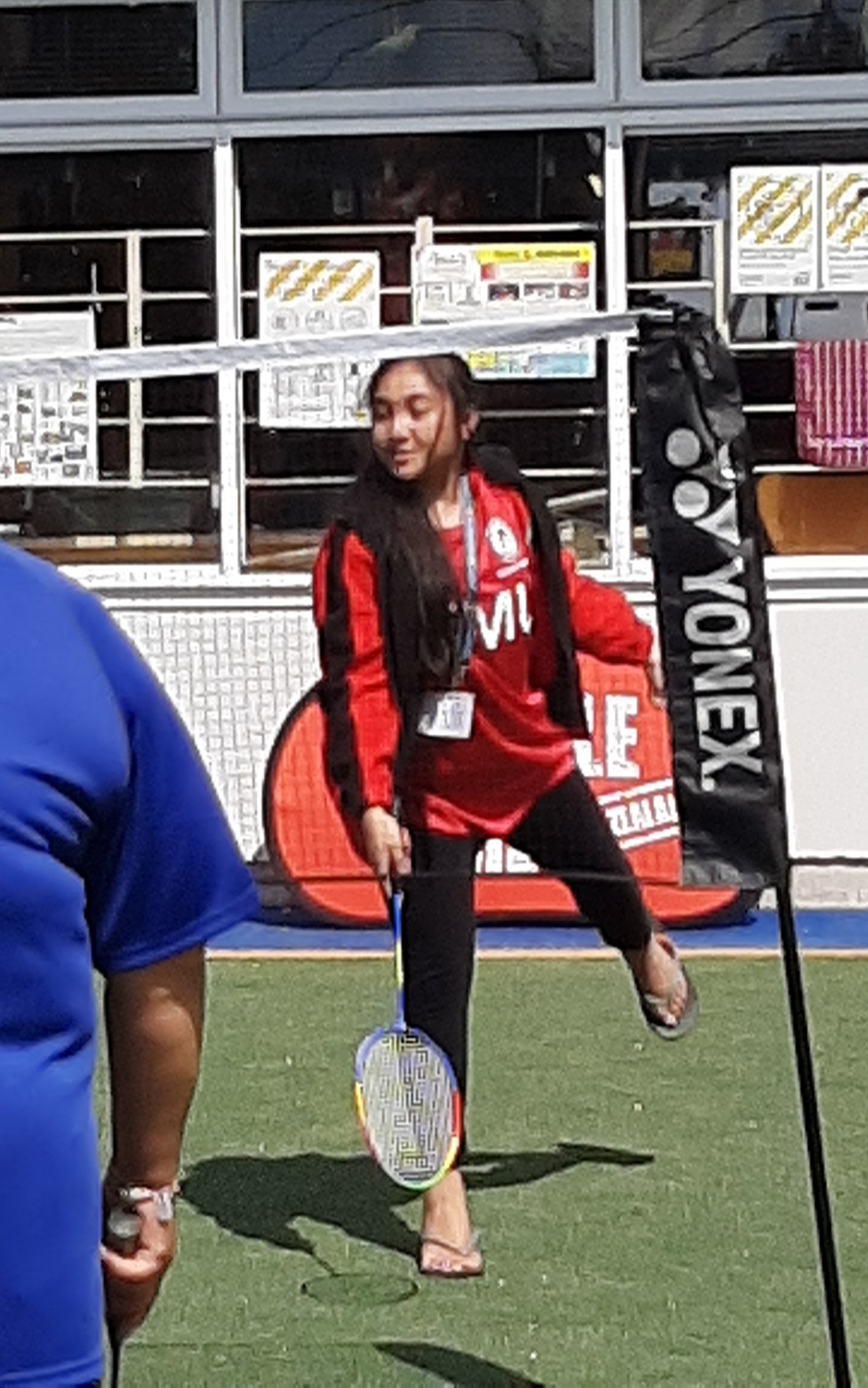 Rekohu making a run for that TAG.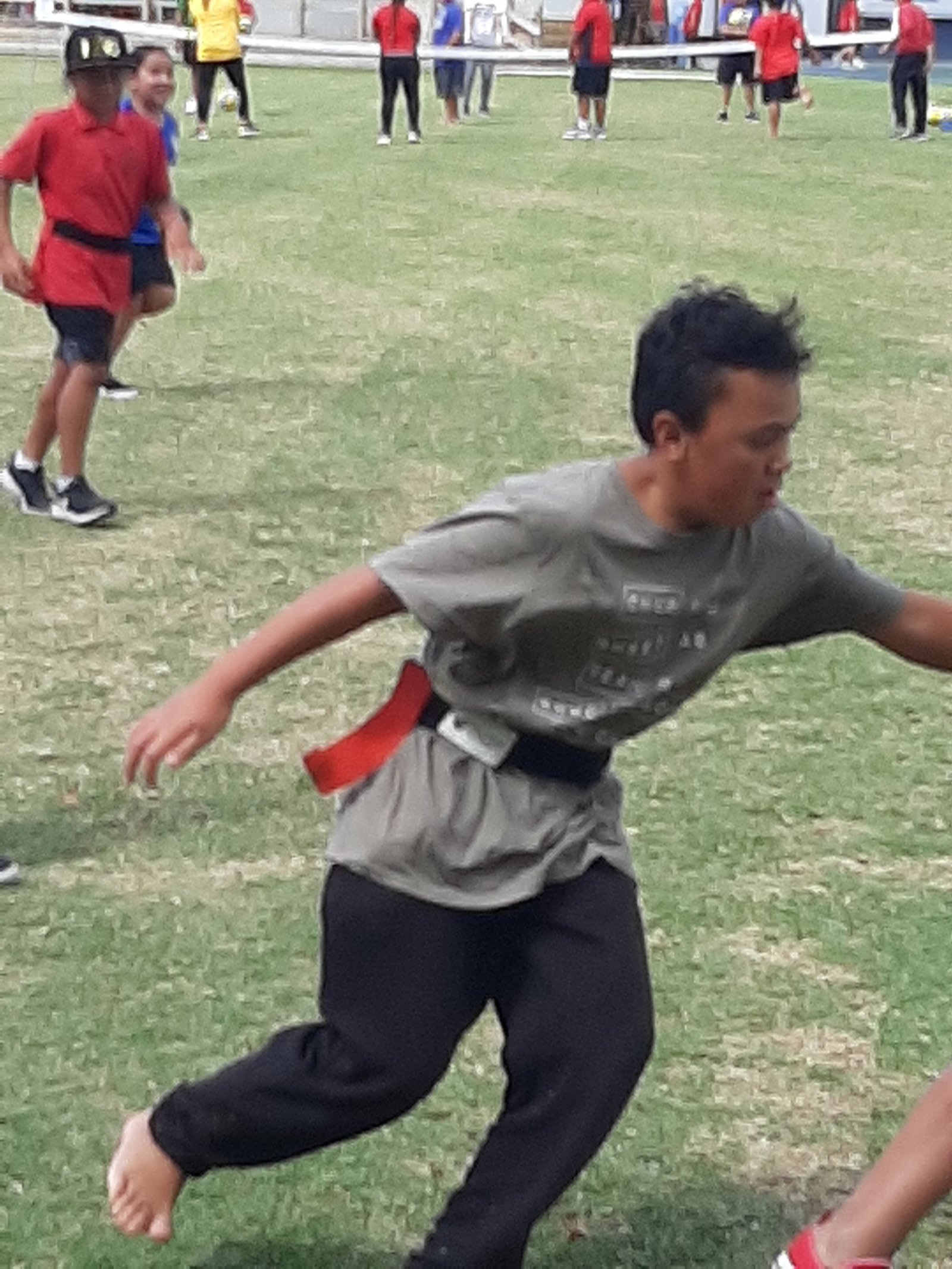 Toa giving Volleyball a go!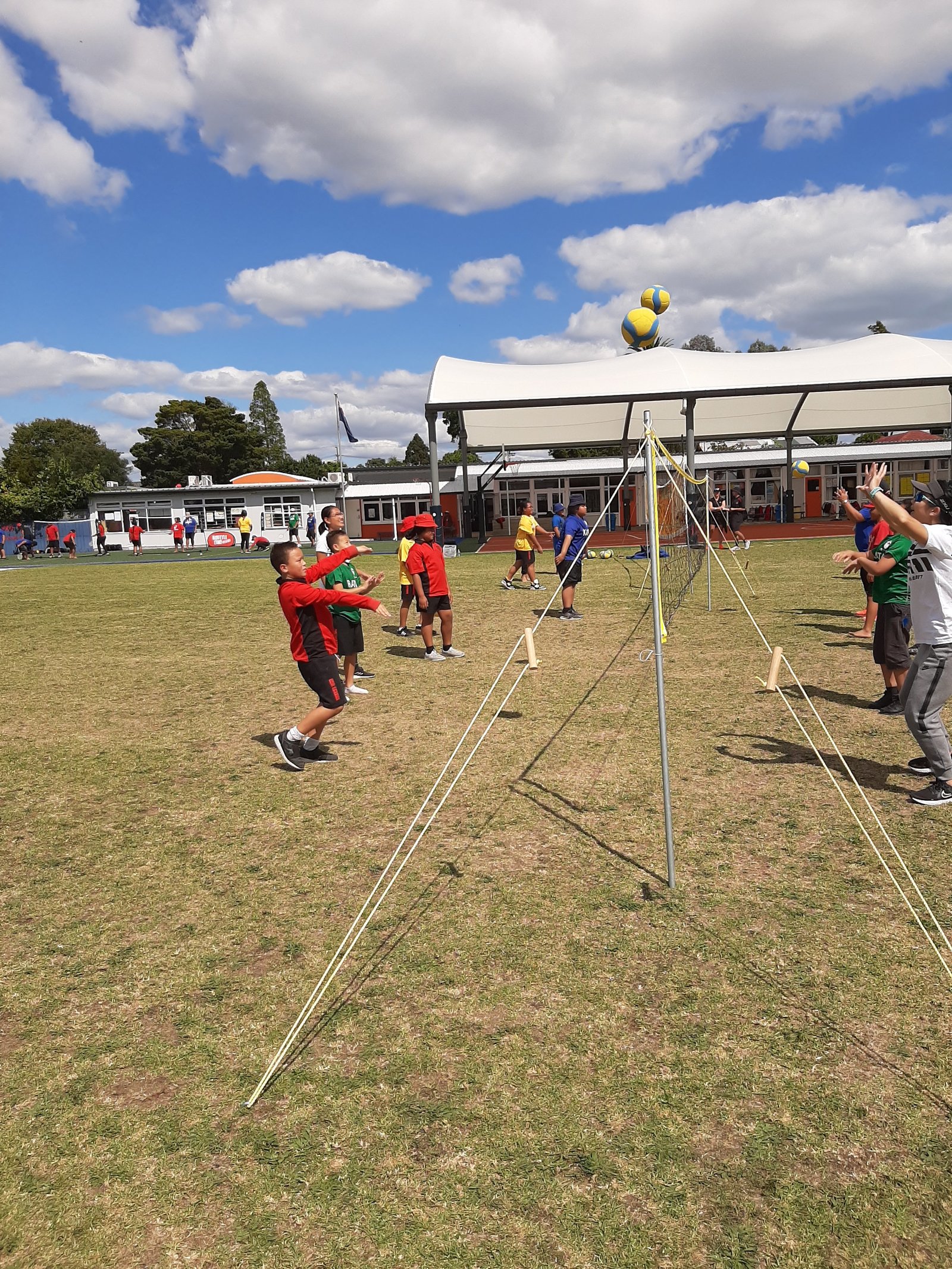 Room 18 congratulated fellow peer Tyler Semau for his outstanding achievement learning all of the basic multiplication and division facts. There was no rest for this Year 5 during lockdown. We are all super proud of his efforts and achievement!!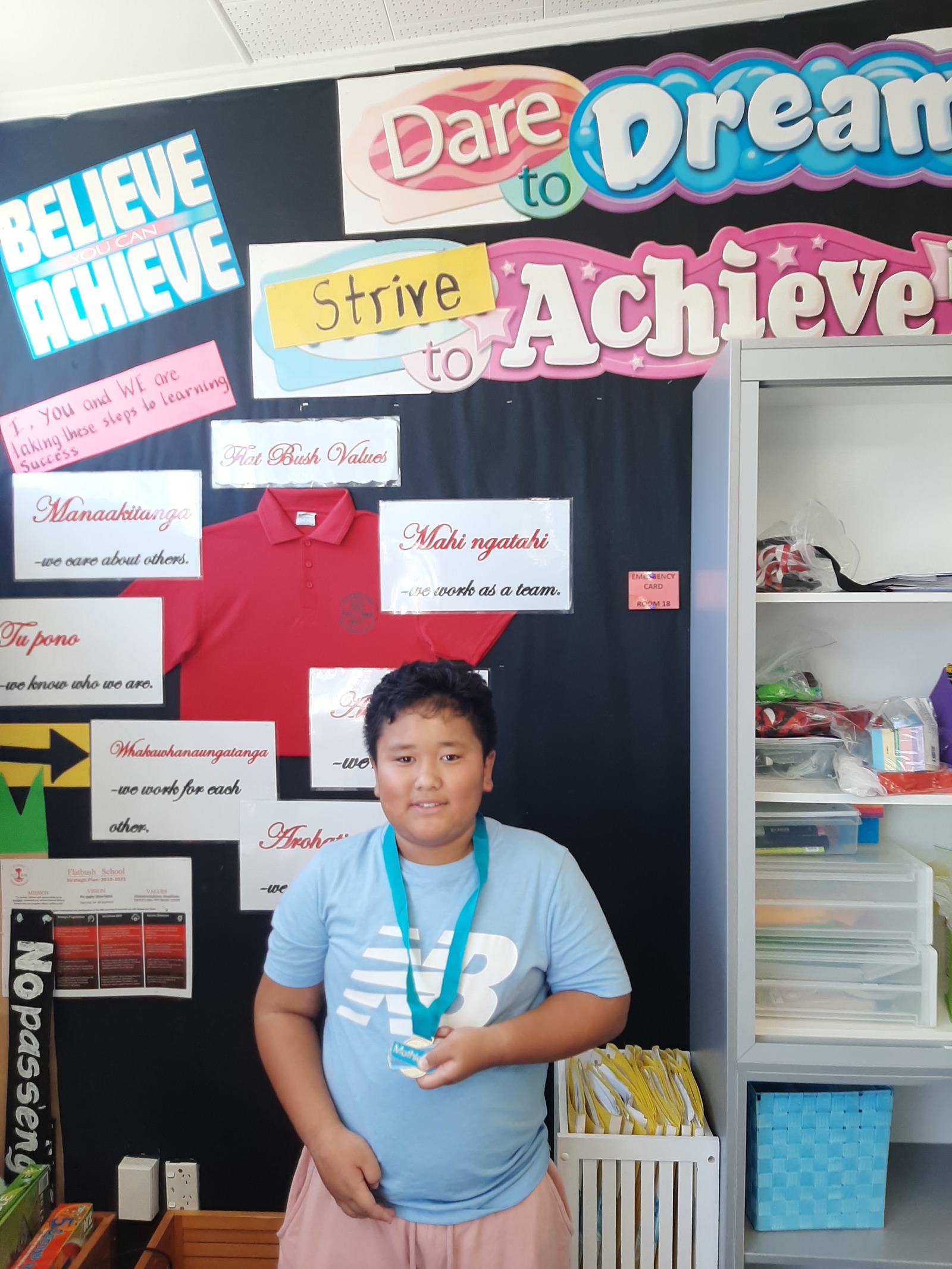 Post lock down, getting back into the swing of problem solving as a team.
Hockey action back at school post lockdown, big shout out to Rochelle and Kolmar Centre. Thankyou!
Mamia with her eye on the ball under the the watchful eyes of Coach Rochelle.
Francis keeping that ball glued to his stick.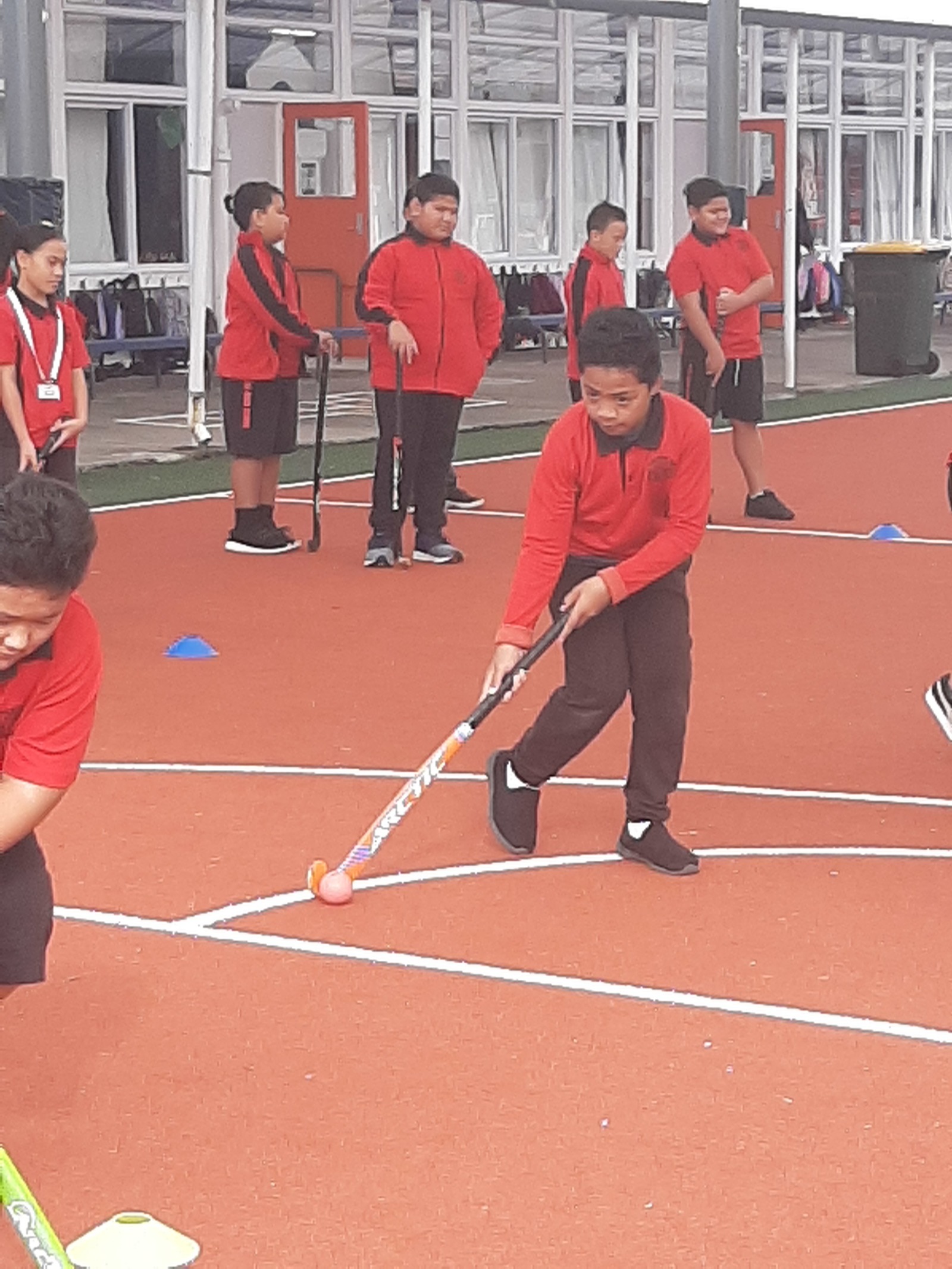 Mavae not letting anything stop her from dribbling that ball!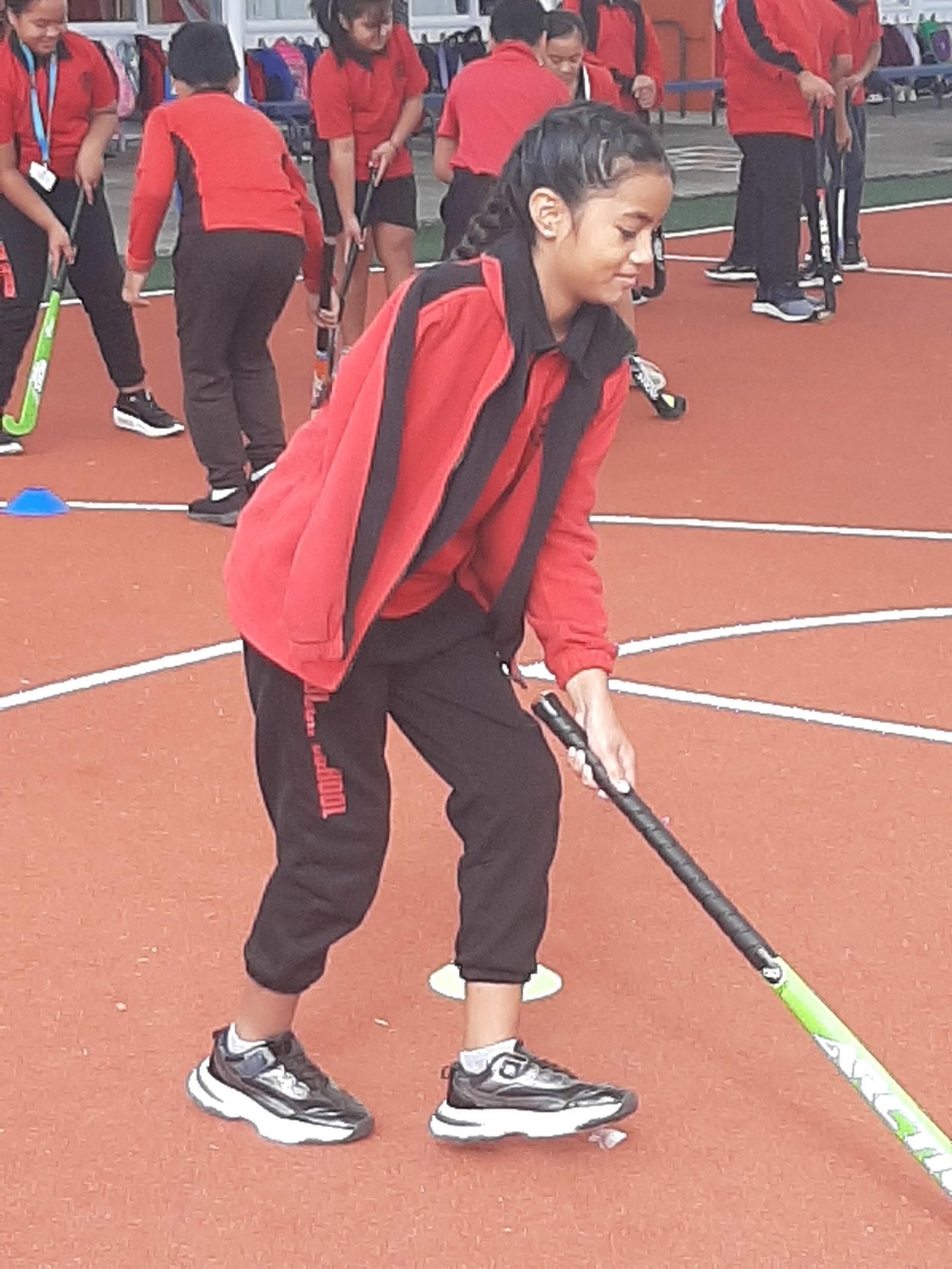 Fridays's Google meet, it was great to see you then and it will be great to see you and the rest of Rm 18 Monday 8th March FBS, until then Rm18 have a wonderful weekend!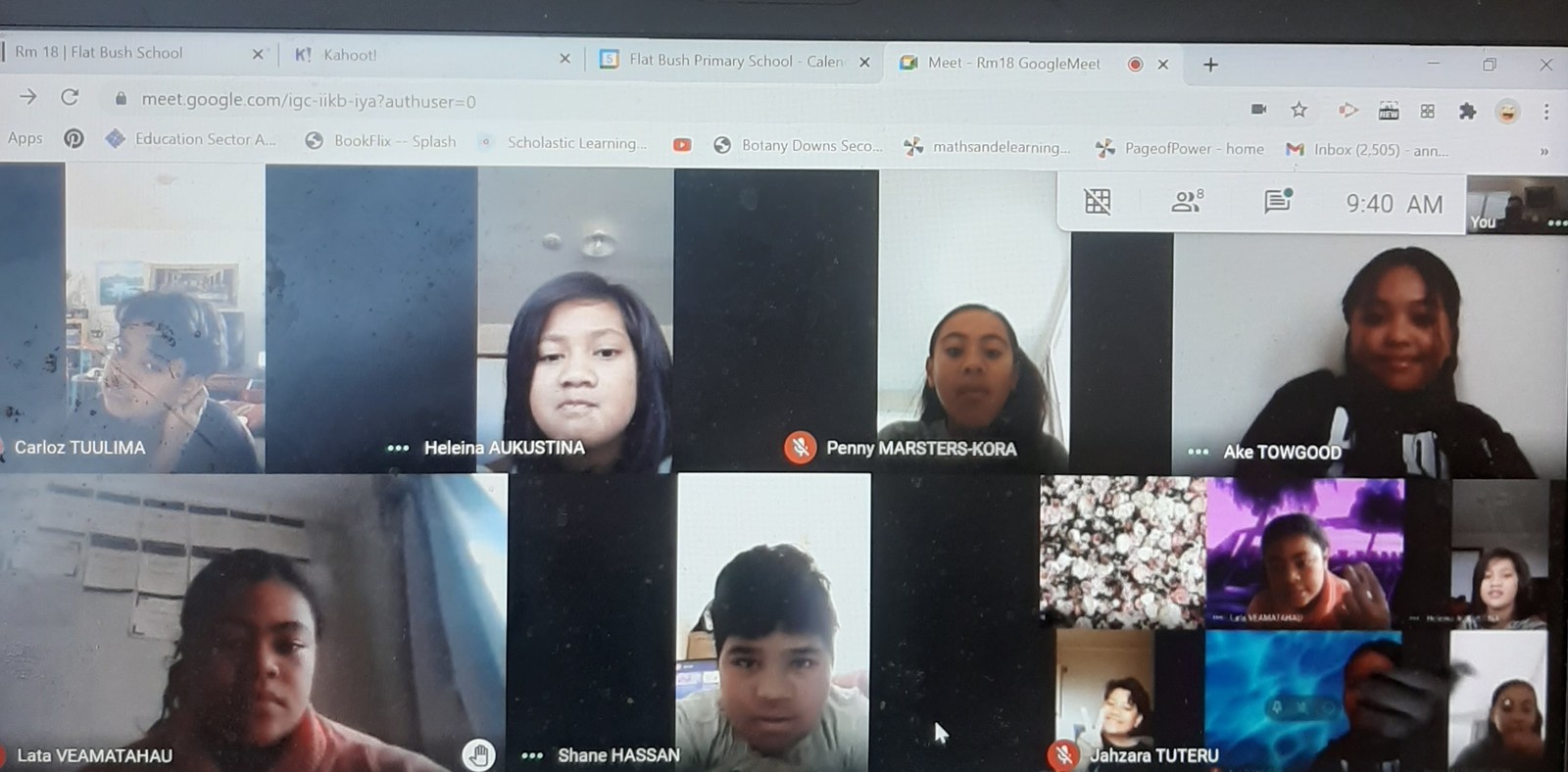 Great to see Rm18 learner Ake working on a variety of distant learning activities including learning the school song. Well done Ake!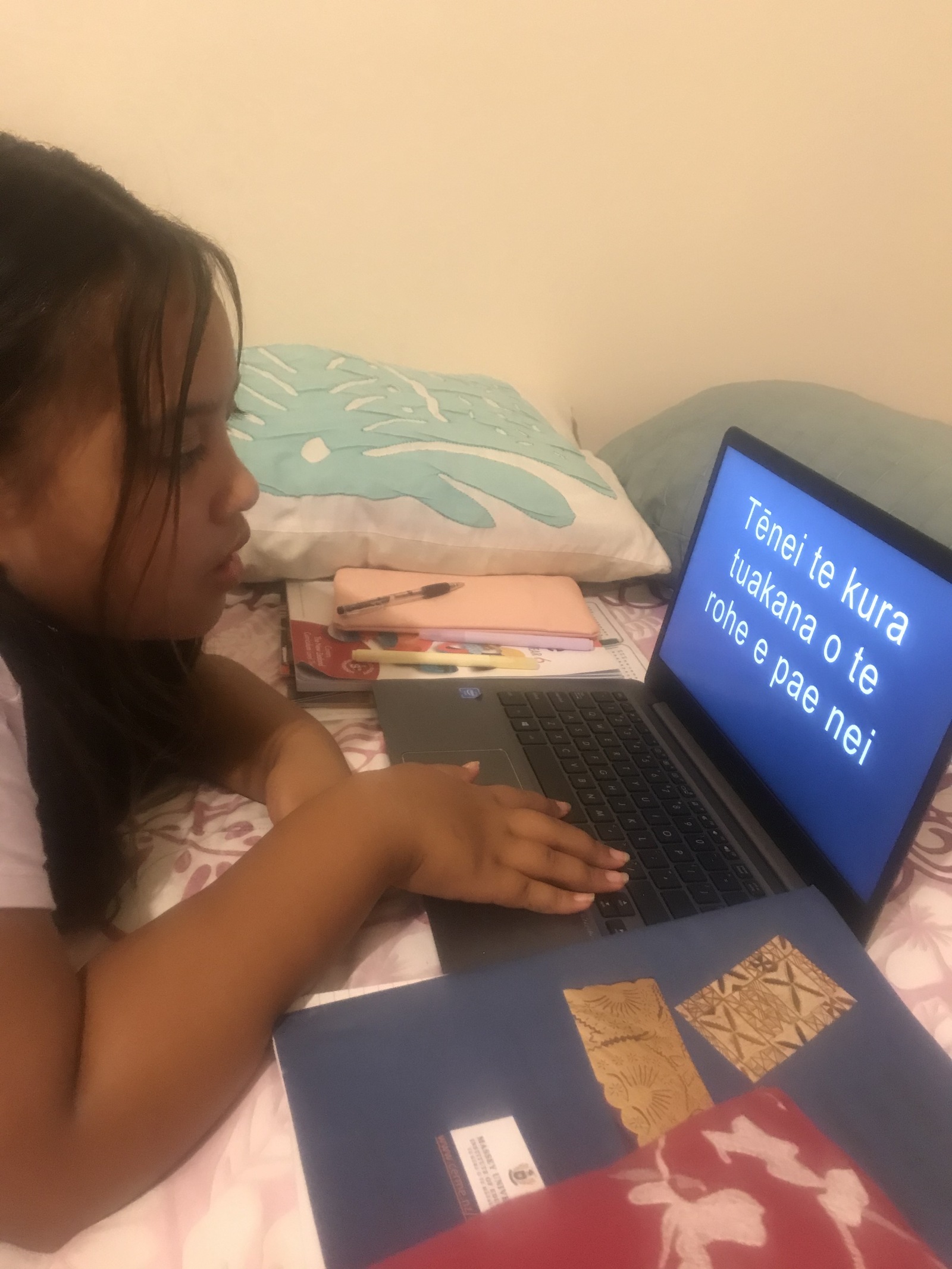 Wonderful effort Tyler with members of your bubble drawing and Science learning.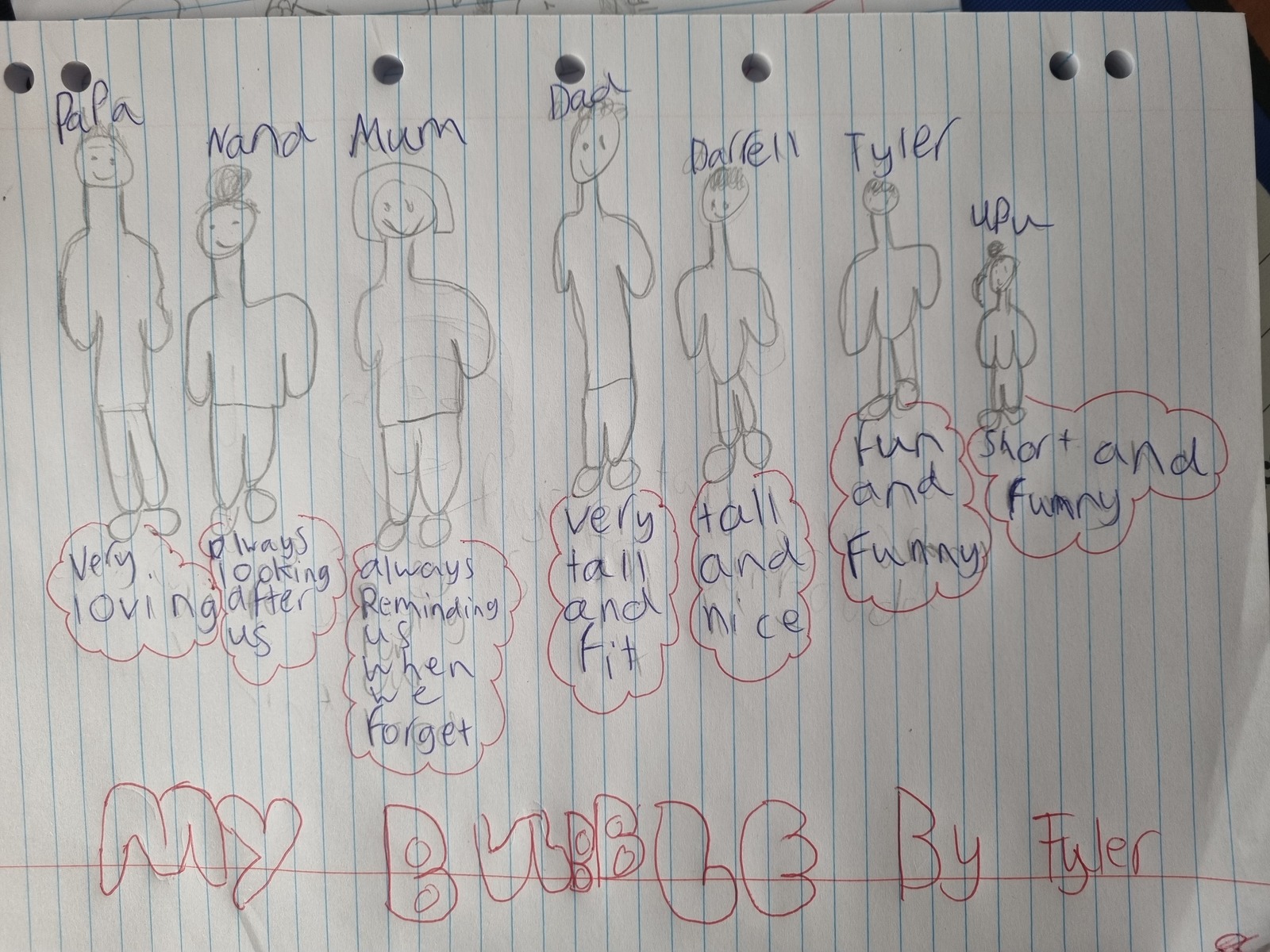 Well done FBS learner Francis for displaying school values, teaching his siblings a new game and all the effort he has put into completing Distant learning tasks!!!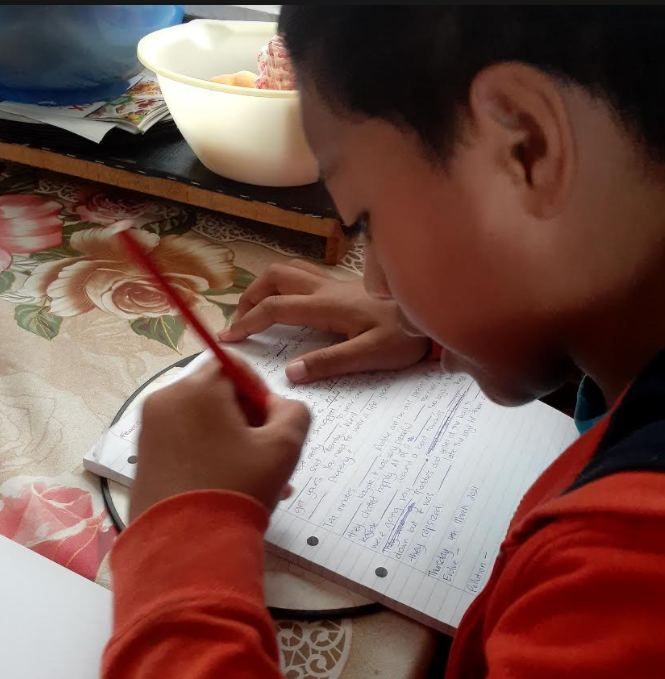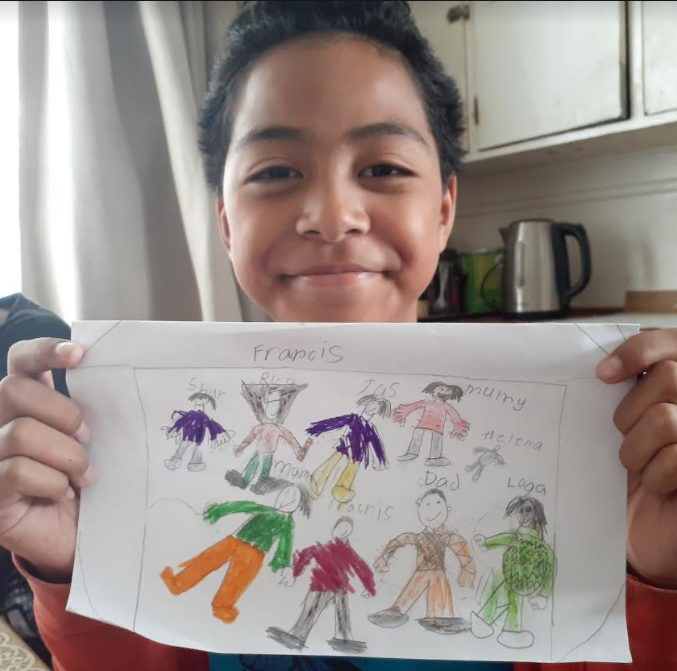 Friday's Learning Task
Draw a picture of all the people in your bubble and write a compliment for each of them
Other tasks you could work on are:
Write your pepeha - where do you come from. What is the name of your village/marae? Write the name of your mountain or if you are from the islands - the higher ground that you go to if a Tsunami hits.
Learn the School song
Remember: you can look at what is on the other Senior Classes webpages for more ideas.
---
Great to see some more Rm18 learners at our googlemeet this morning.
Well done to the girls below!!
If you missed the google meet today you can catch up with us 9.30am Friday. Please check your emails for the link.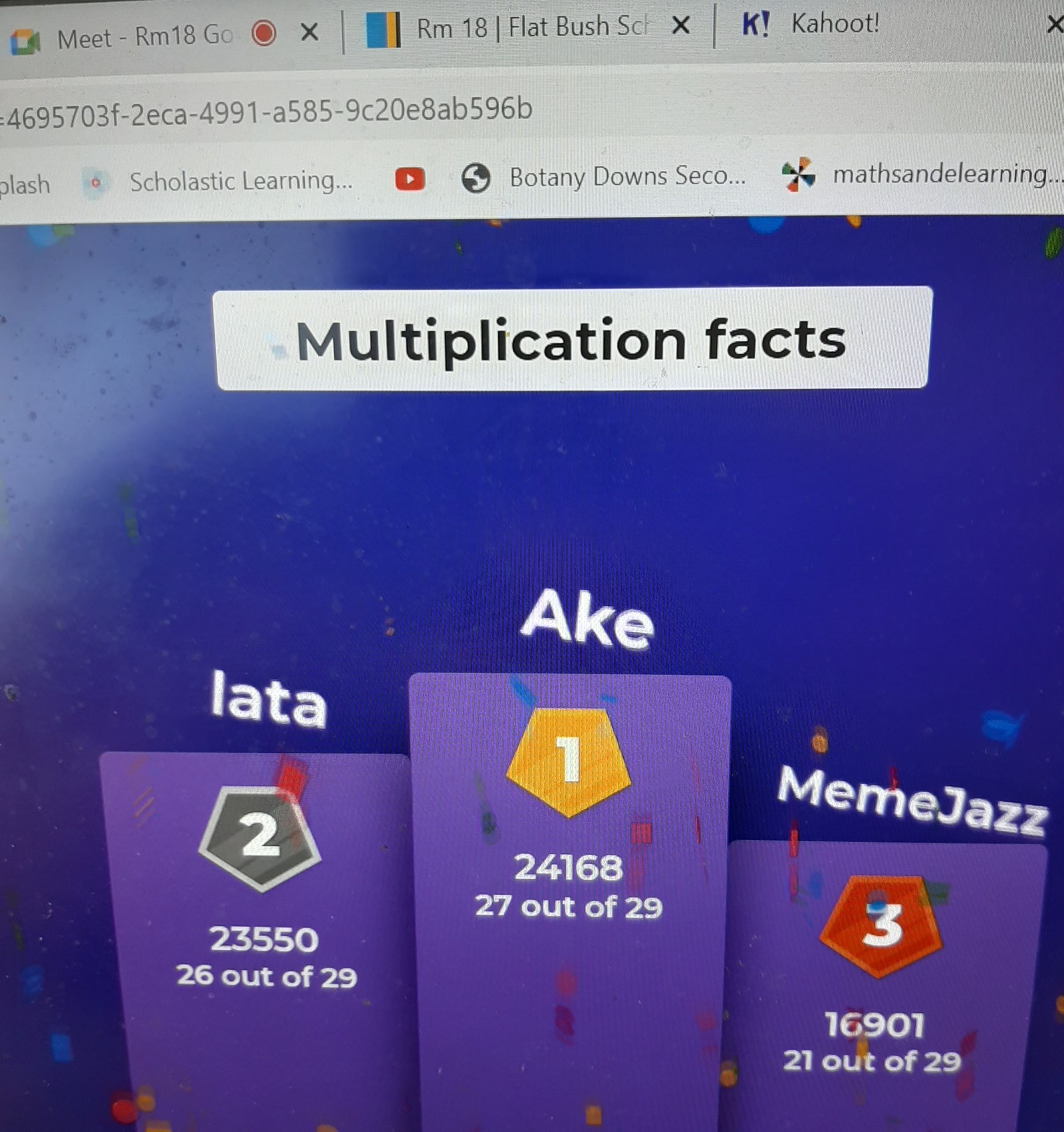 Francis has been working through his Science workbook from his learning pack and learnt about Pollution, Camouflage, Vertebrates & Invertebrates. Here are some drawings of animal examples for each he completed. Great work Francis!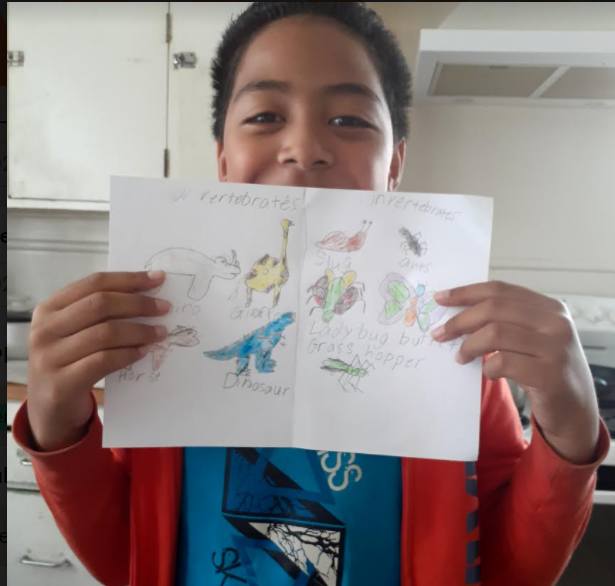 Week 5 Learning Activities
Thursday's Learning Task
To learn the School Pepeha
Other tasks you could work on are:
Make a scavenger hunt. Create a list of clues that would help your whanau find the different things on your list.
Learn the School song
Remember: you can look at what is on the other Senior Classes webpages for more ideas.
---
Tyler working with his siblings. Great work Tyler!

Wednesday's Learning Task
Teach your younger siblings a new game. Remember to praise and encourage them as they learn it
Other tasks you could work on are:
Make a list of activities you could do outside.
Learn the School song
Remember: you can look at what is on the other Senior Classes webpages for more ideas.
---
Hi Room 18. Here is Tuesday's learning task.
Start a gratitude journal - every day write about something you are grateful for. More ideas can be found on the team webpages.
If you would like to work on some extra learning tasks, you can try these:
Play catch with someone in your whanau. How many times can you pass it without dropping the ball?
Learn the School song
Want more ideas? Check out the our Senior Team class webpages.
---
Thursday 18th February
See you in the morning Room 18 Skyriders!
Really happy to see Ngamarama and her siblings caring for each other as they look like they are about to start some work from their Distant learning packs. Way to go FBS learners!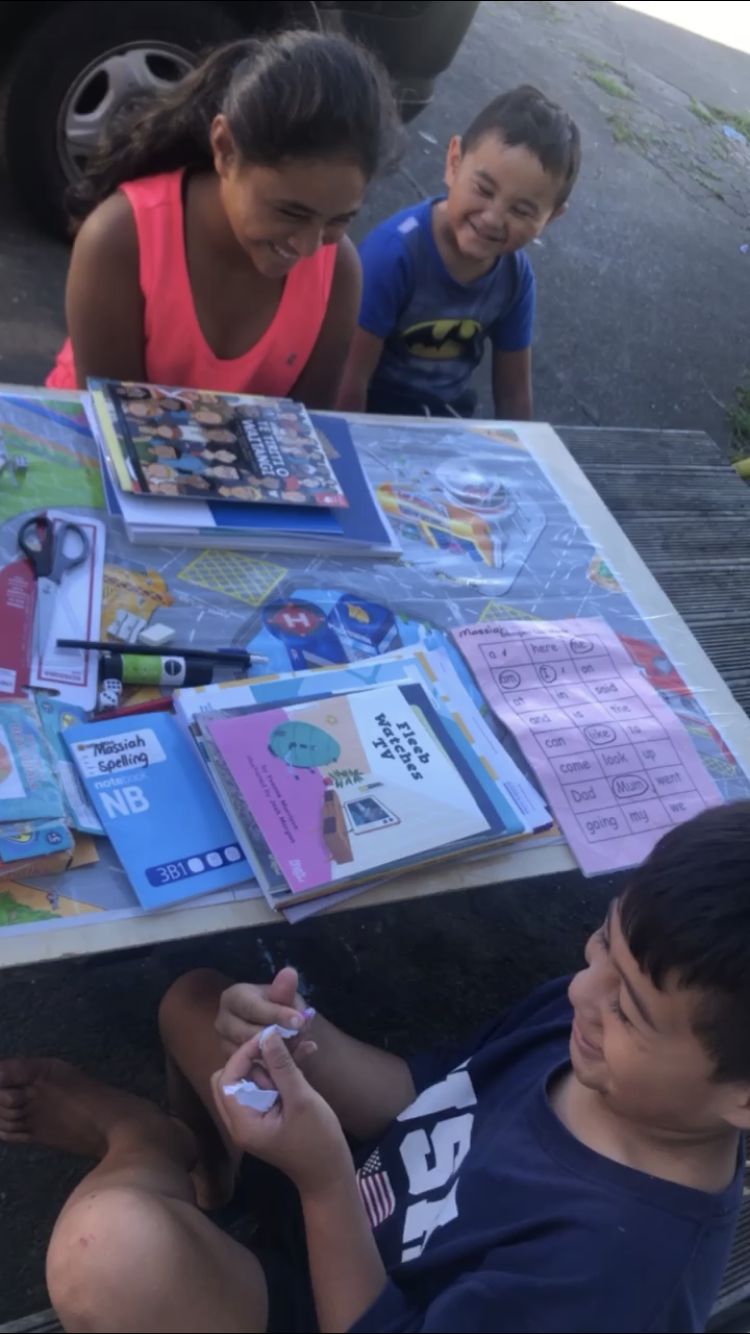 Ngamarama demonstrating Manaakitanga for a furry friend:)
Well done Ngamarama for taking on the Math problems! Remember mistakes are OK, what's important is giving it a go!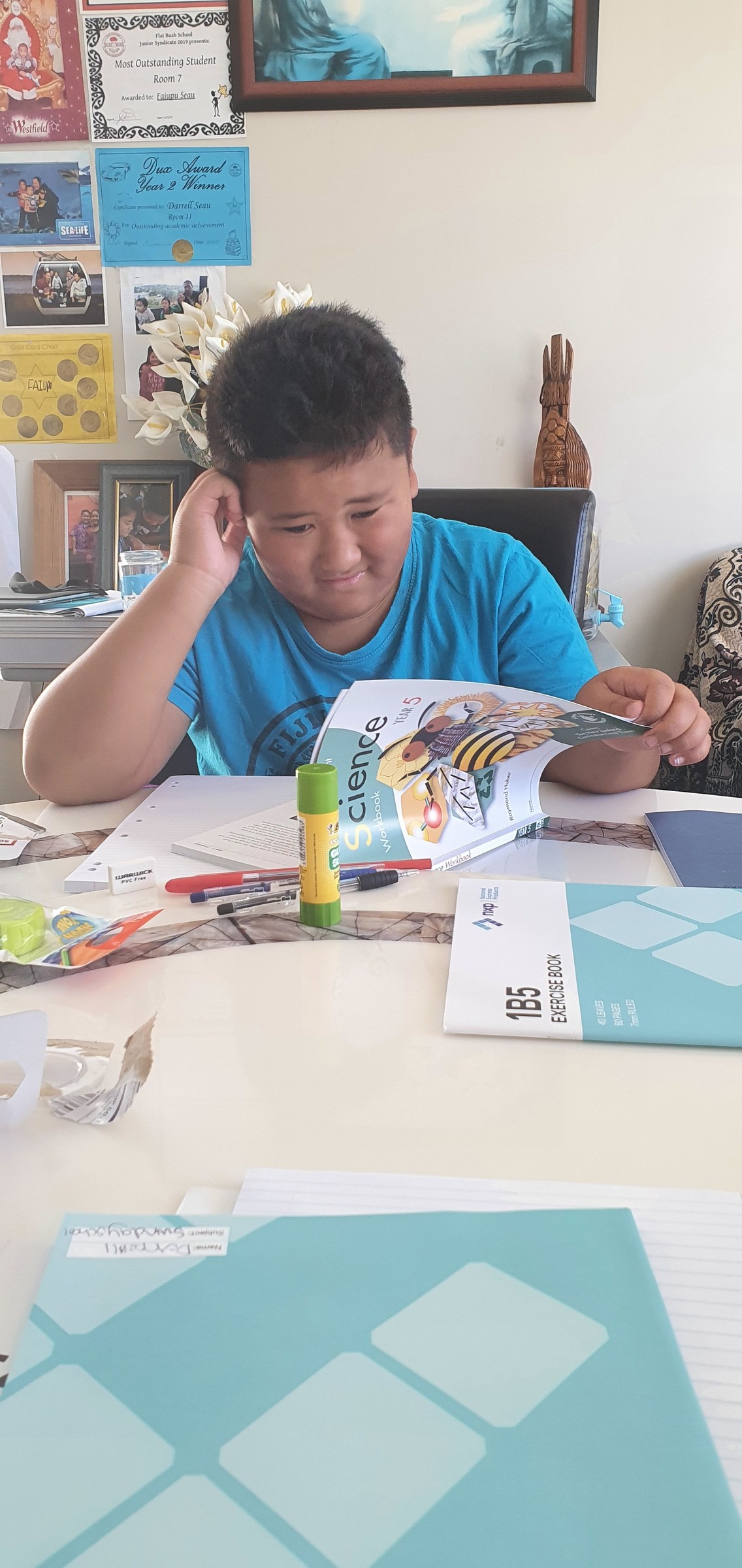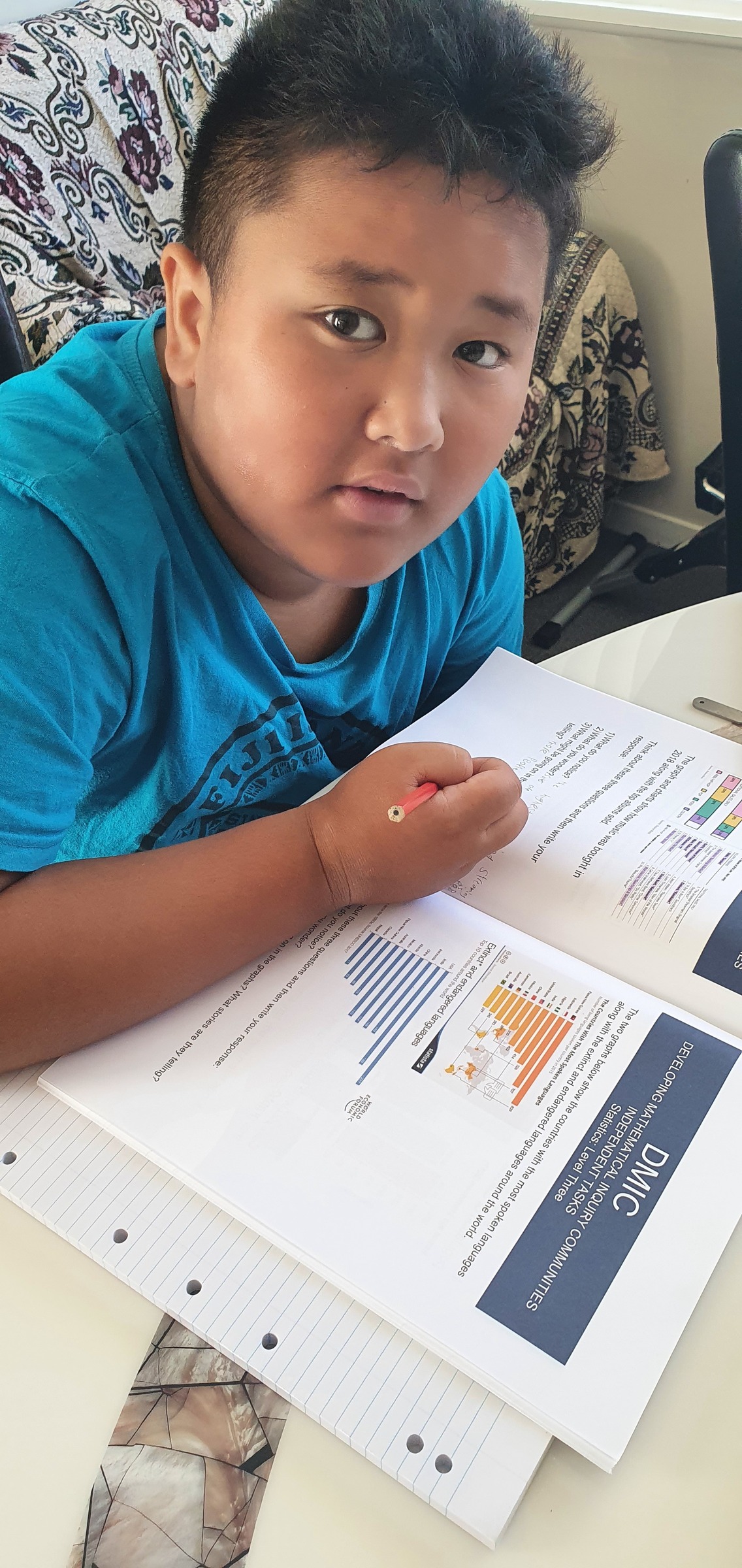 GAME on Room 18! Mathew Jackson Pati is at it again practising his timestables ready to win TABLES TAG when we return to school. Thanks for your support MUM Korina!
Also super proud to hear from other children/whanau they are doing the same. Thanks for the lovely conversations learners and whanau!
The caring Rm18 FBS learner Tyler Seau displaying Manaakitanga
This is me making my Papa's tea and breakfast and my brother and sister helping too.
I will be playing Prodigy, learn my 9, 8 7 timetable so I can win in math tag.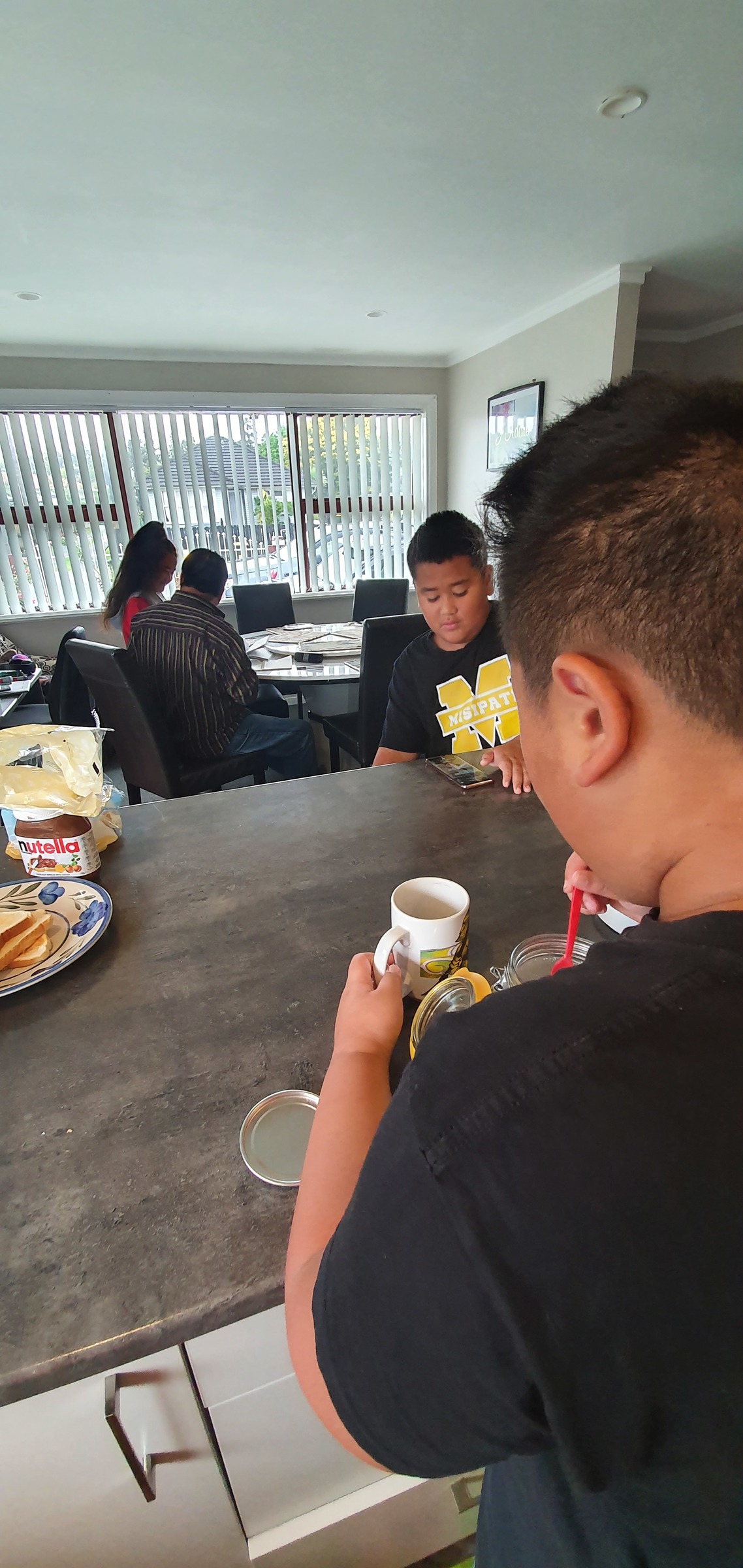 Kotahitanga
Unity
As a team of 5 million, Kiwis united together in 2020 stamping out Covid in our community, united in one goal.
We got this our Rm18 learners and whanau! My fingers and toes are crossed I will see you back at school on Thursday:) Until then:
Thankyou whanau for keeping your children home safe and sound until then.
Rm18 Learners I am looking forward to hearing from you, let me know how you are at annev@flatbush.school.nz .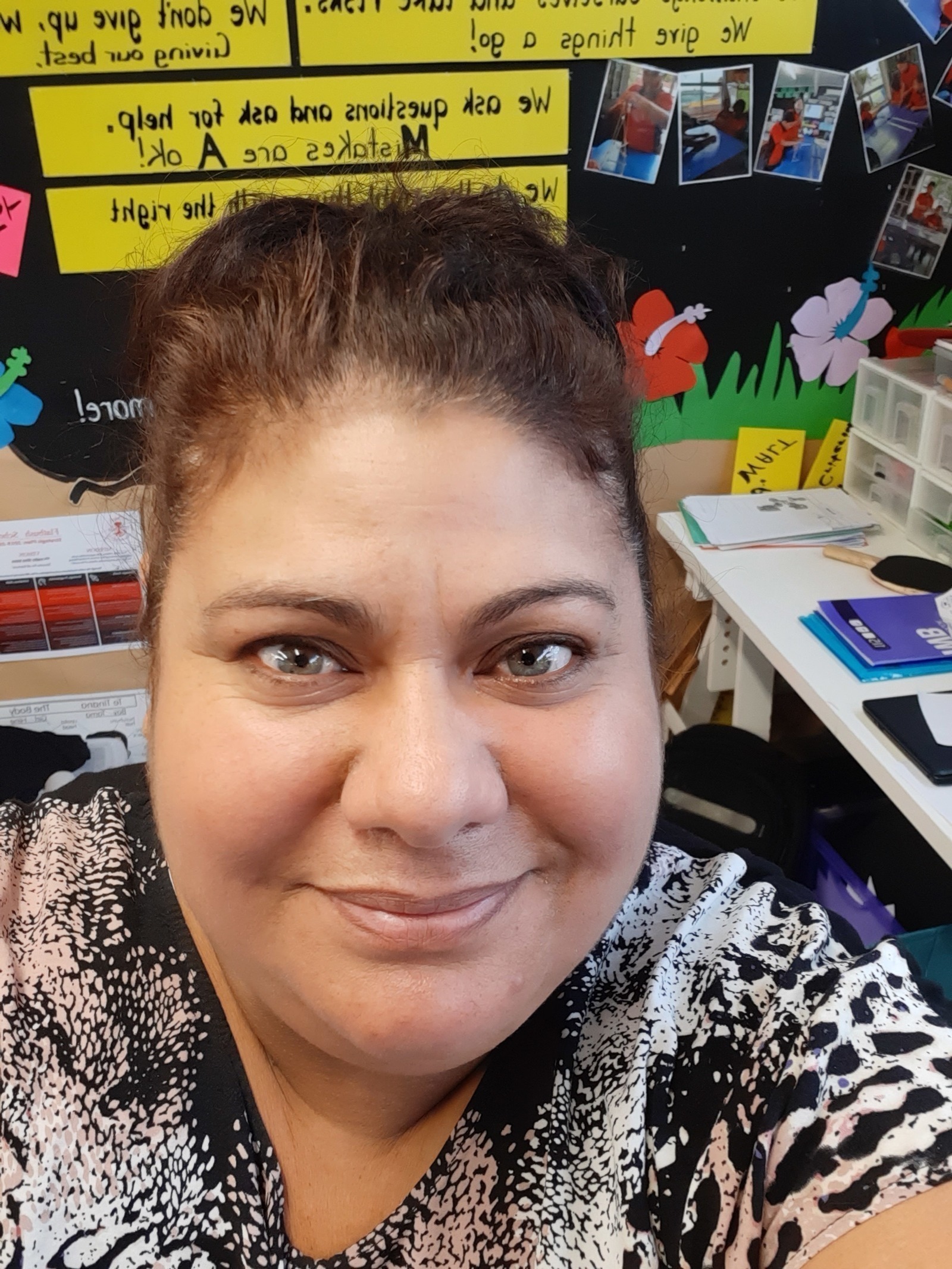 Manaakitanga
We care and respect others.
Rm18 learners now is the time to practise our school value Manaakitakitanga, showing respect towards those at home with you and showing you care for others. It would be great to see some photos of you demonstrating this value in your home.
Learners hard at work, deep in thought sharing all their problem solving math strategies for me to see.
Rm18 girls getting back into the swing of school!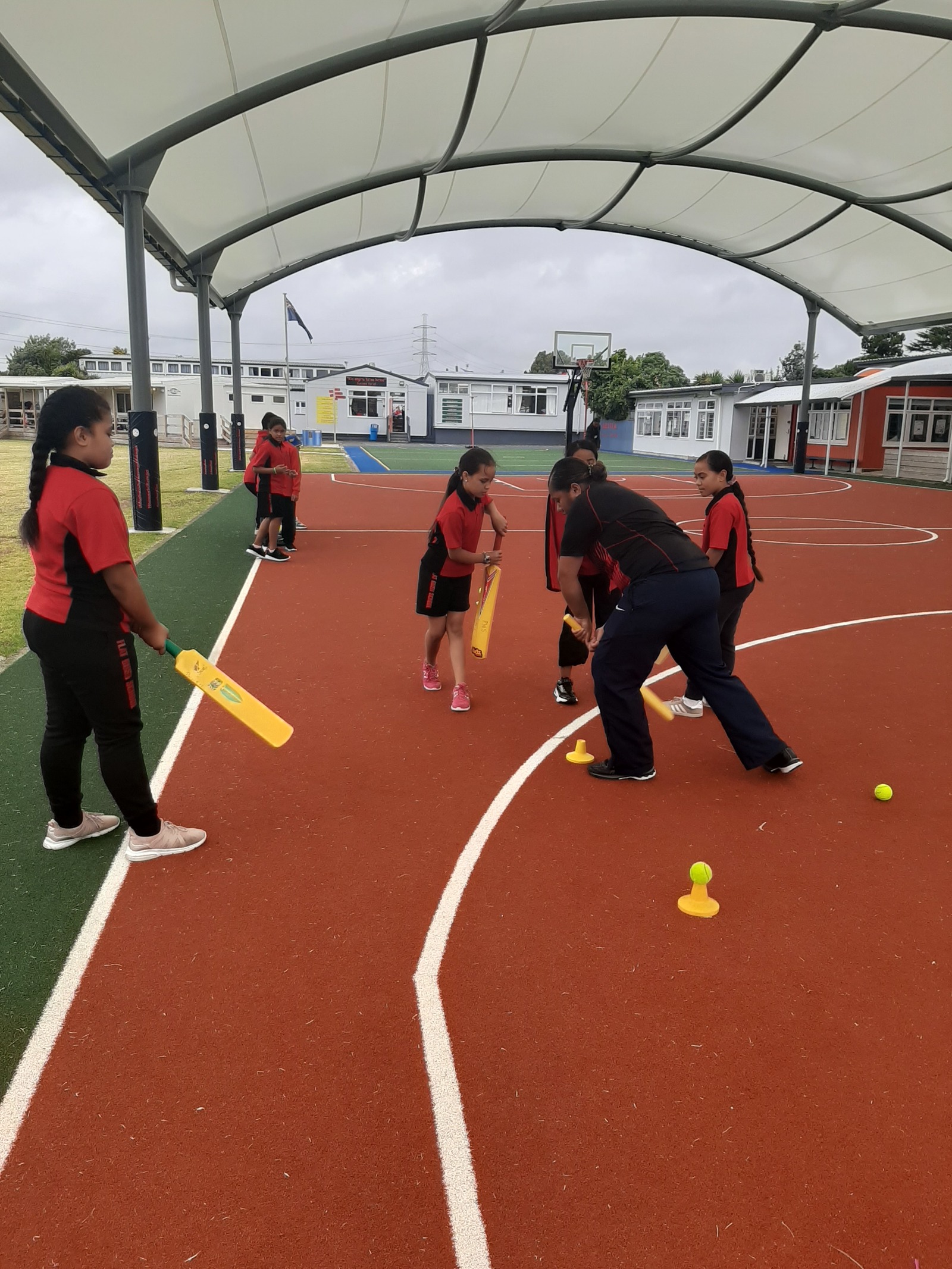 Rm18 boys getting back into the swing of school!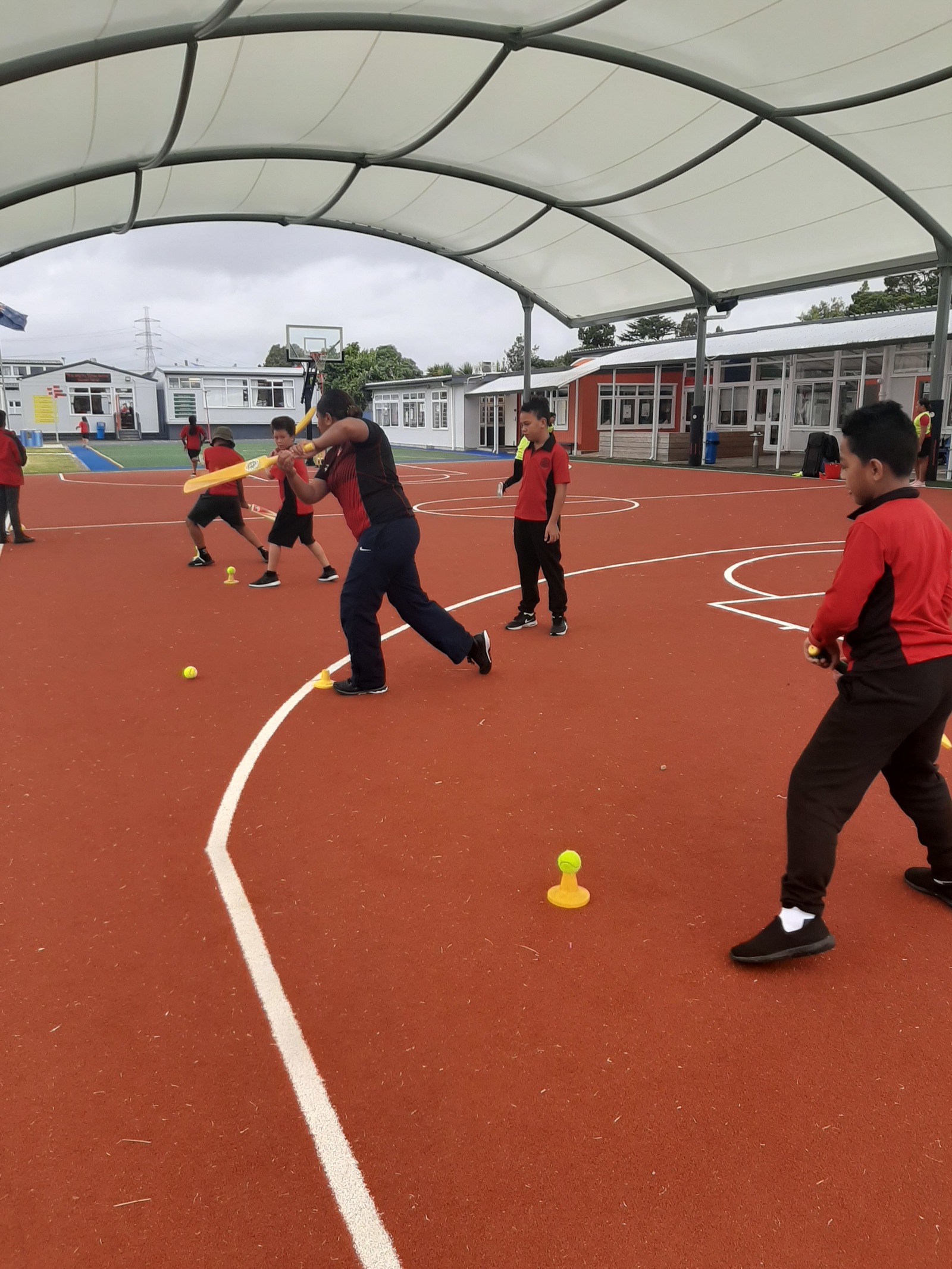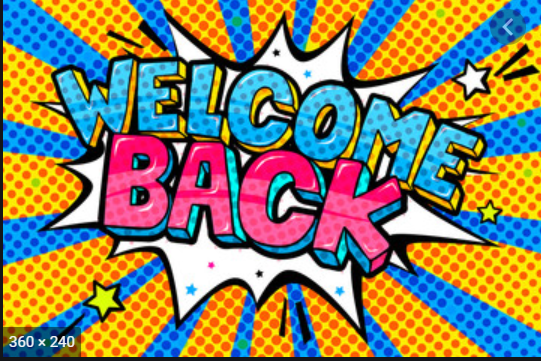 One more sleep Rm18 Learners!!!
Very much looking forward to seeing you all Thursday morning.
Together lets make this year one of greatness, you, myself , FBS and your whanau!
Room 18 Ms Vaka