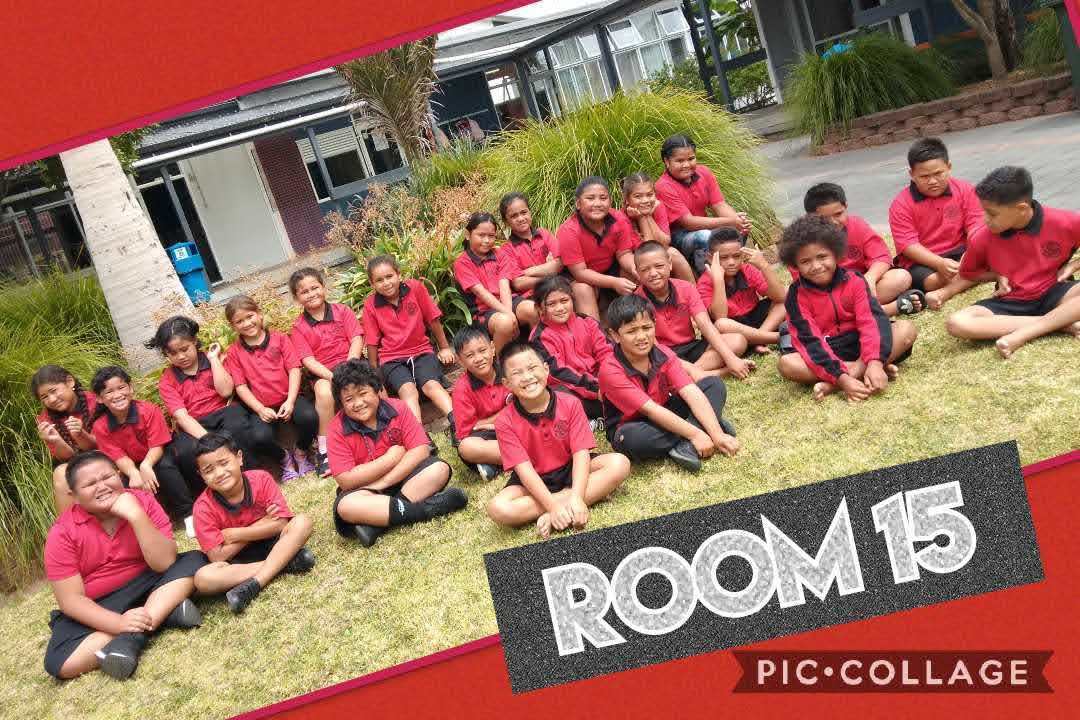 It was a really exciting week in FBS this week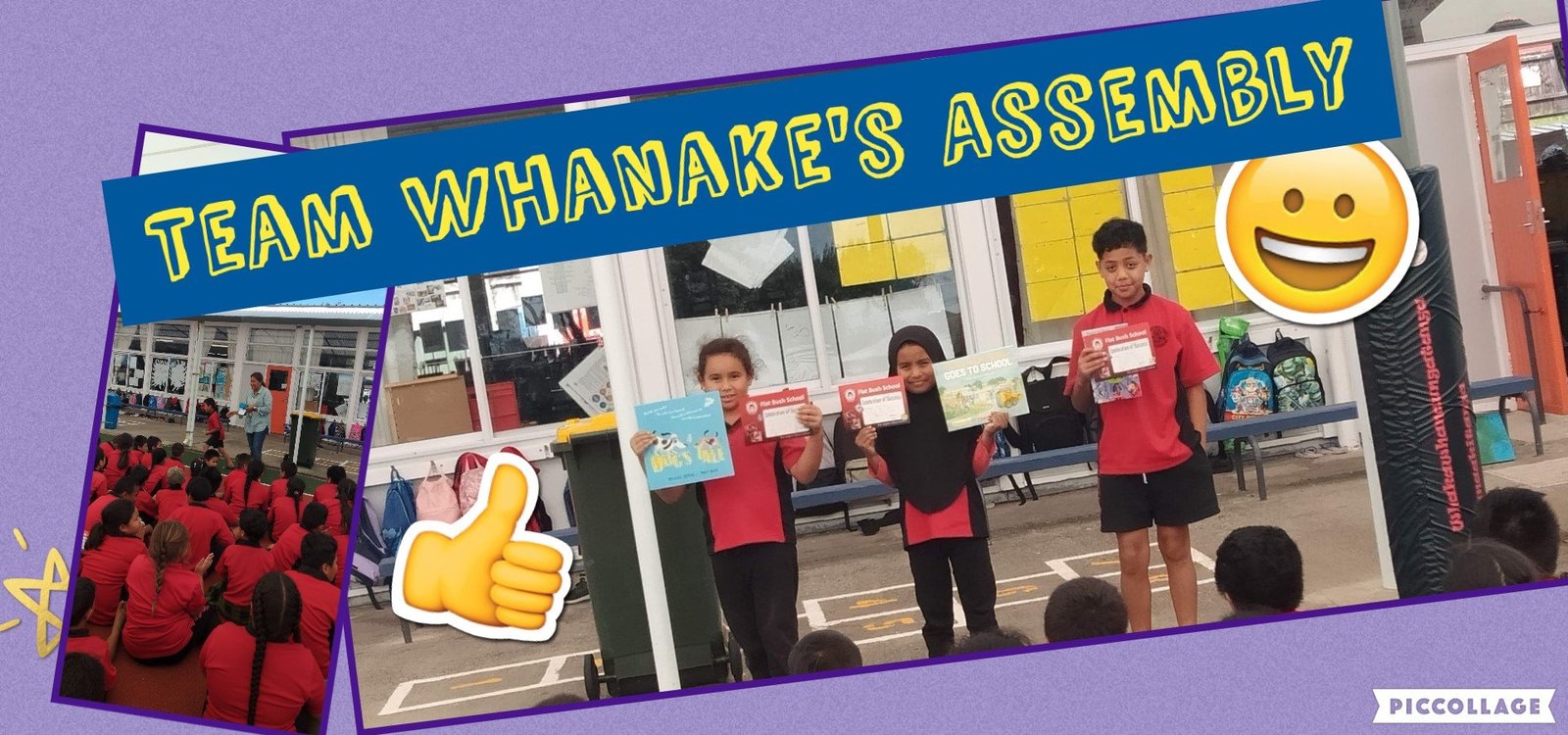 On Thursday we had our Celebration for Success. I had the opportunity of meeting many of our Whanau and here are some of the pics from the evening .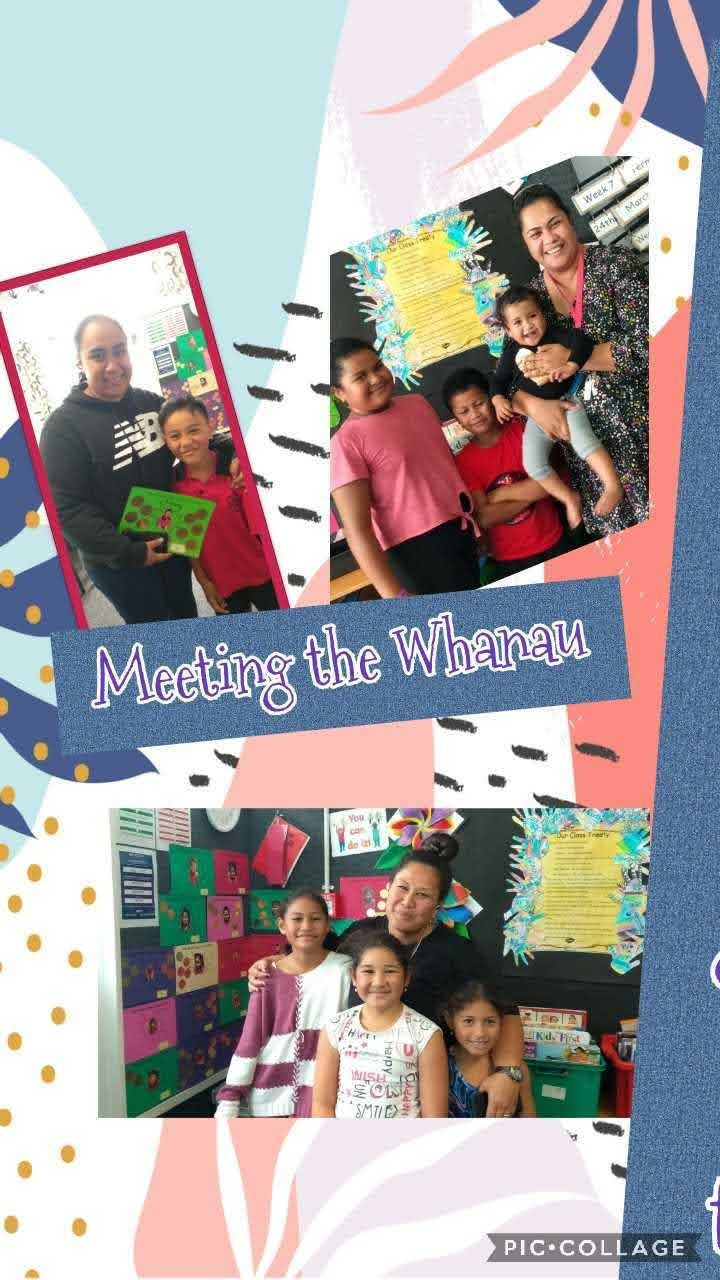 Welcome to Room 15's web Page
Auckland is moving to Level 2 from Sunday, 7 March. School will re-open on Monday, 8 March. The school gates will be open at 8: 15 to 9:00 and there will be contact tracing at the gates. Please wear a face mask when at school.
Jonathan did his last challenge for the lockdown and sent me a photo. He also sent me a pic of him working with his sister.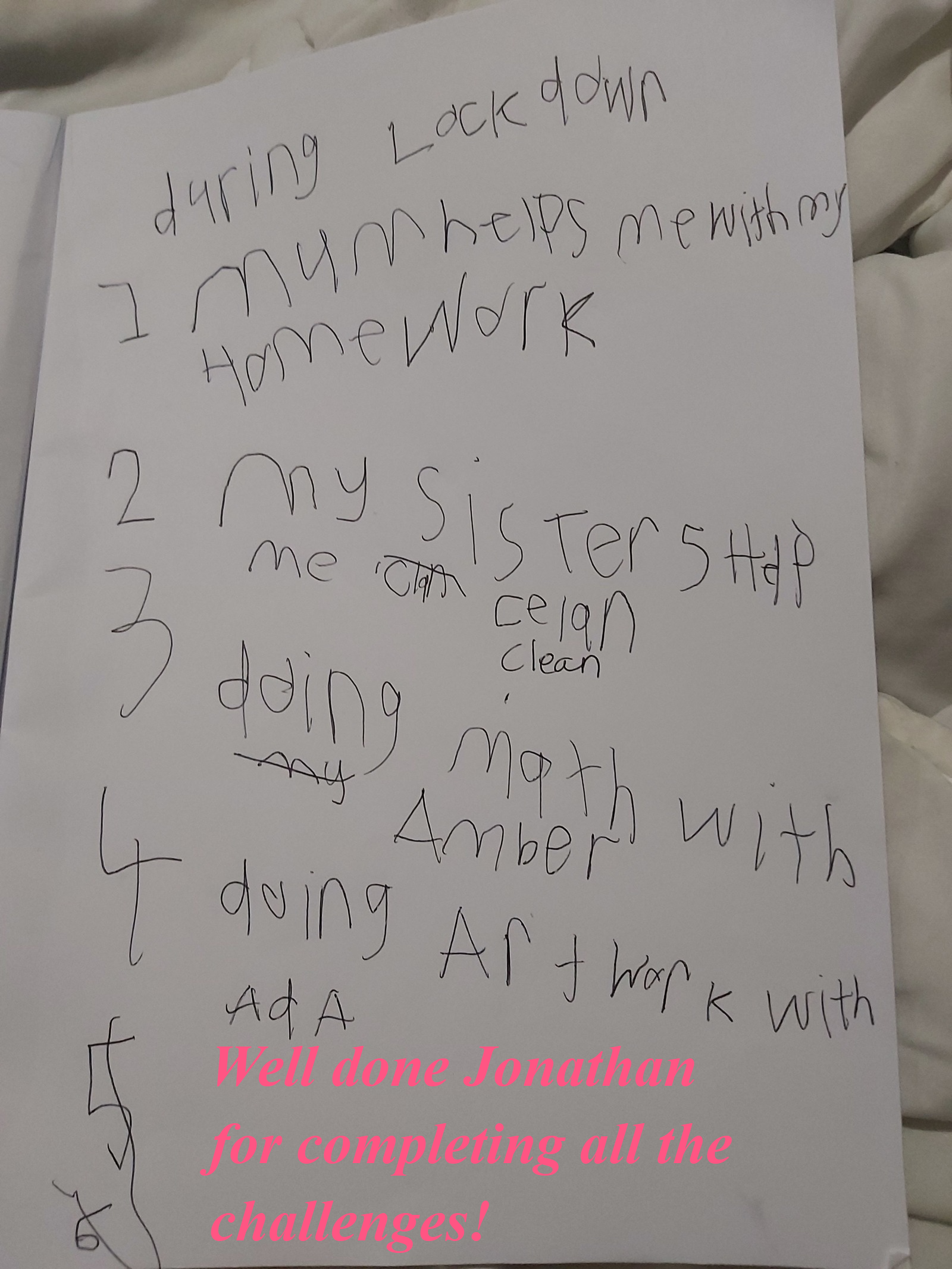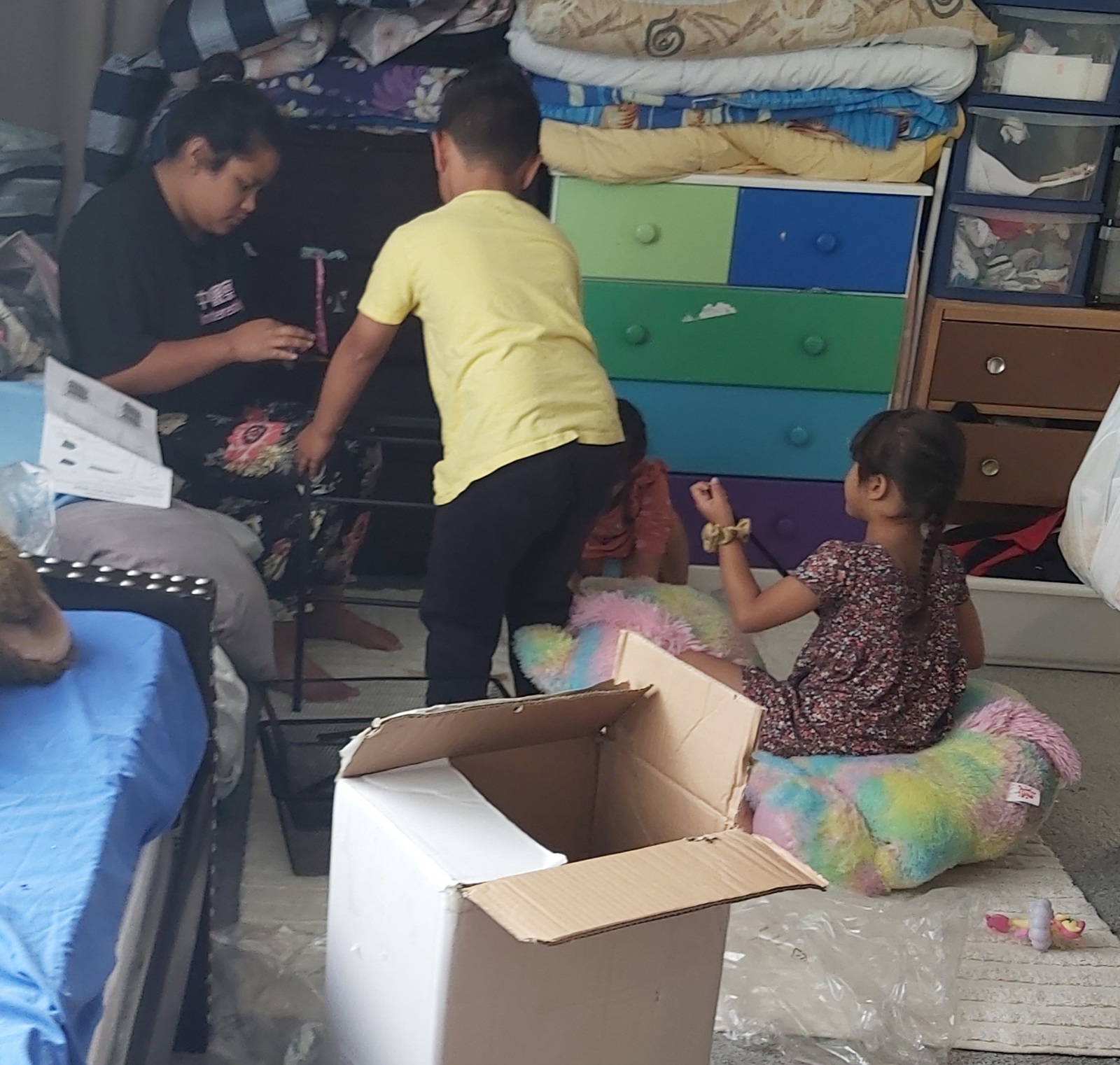 Theresa has been very busy during the lockdown. Lets see what she was up to.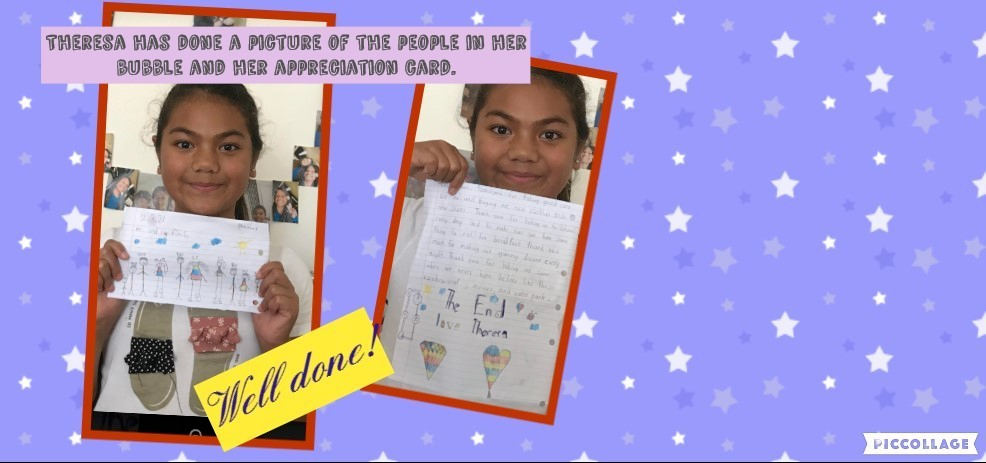 Kura FINALLY sent me the challenges that he did during the lockdown. Here is what I received.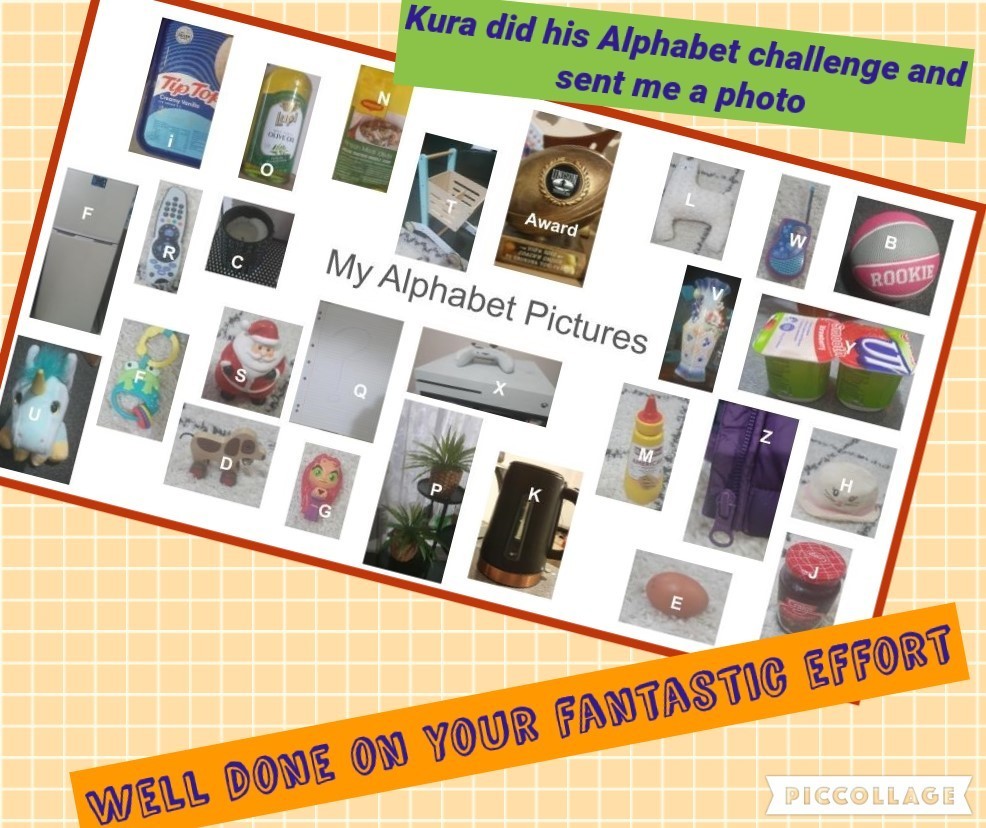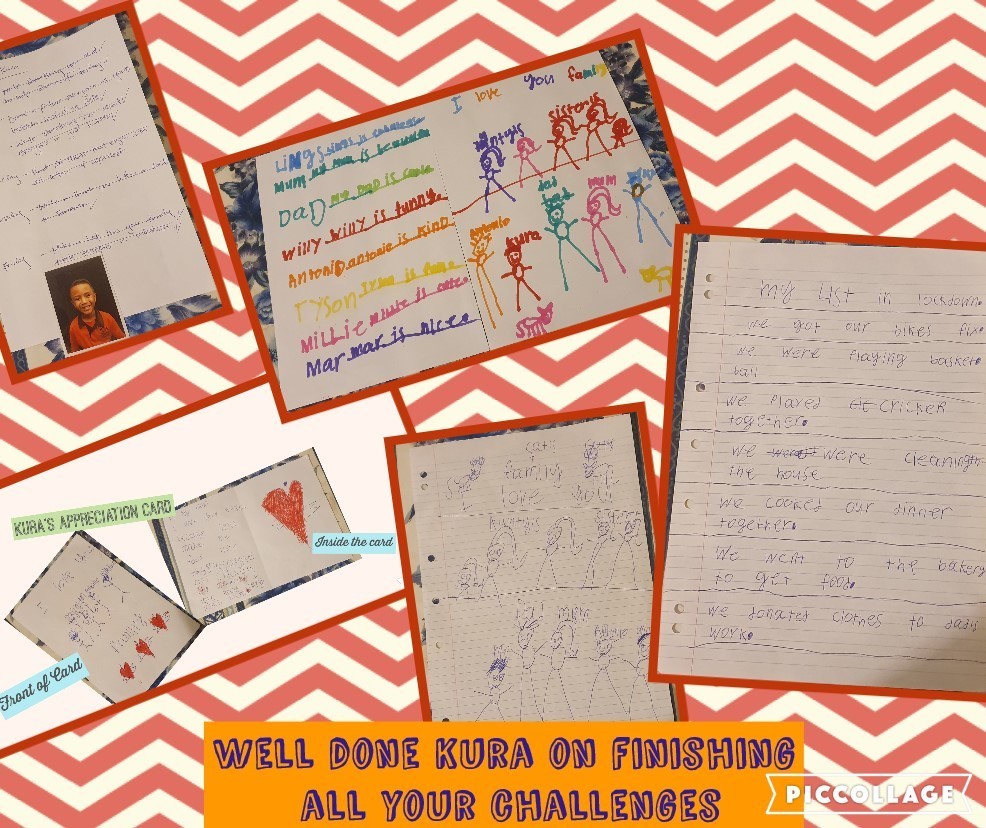 Distance Home Learning Activities
Monday - 1 March 2021
Serve your whanau (community) - do something positive for others. Record what you did in your home learning book or with photos. Share this with me each day if you can.
Tuesday - 2 March 2021
Tu Pono - We know who we are
Draw a picture of everyone in your bubble including any pets. Art for kids hub - this website has YouTube clips for how to draw different things.

Write a compliment for everyone in your bubble. Compliment means a polite expression of praise or admiration.
e.g. Karen is helpful because she always helps clean the dirty dishes.
Share your picture of everyone in your bubble & with your teachers or bring into school when we are back.
Wednesday - 3 March 2021
Mahi Ngatahi - We work as a team
Work with someone in your bubble - find 26 items around the house. Each item must begin with a different letter of the alphabet.
Take a photo of your 26 items and email it to me on pratimah@flatbush.school.nz I will share this on our class page.
Thursday - 4 March 2021
Atawhai - We value others
Give thanks to someone who you would like to show appreciation for. Share it in written form such as a thank you letter/card. They can either be someone from your bubble or someone who is not. If they are not in your bubble, you can email it or give it to them at a later stage. Take a picture of your appreciation item and email it to your teacher to share on the class web page.
Friday - 5 March 2021
Mahi Ngatahi
-
List all the ways that you and your whanau work together when you are in a lockdown.
After our scarey interruption this morning Elisara still completed the challenge for today.
Let's see his effort.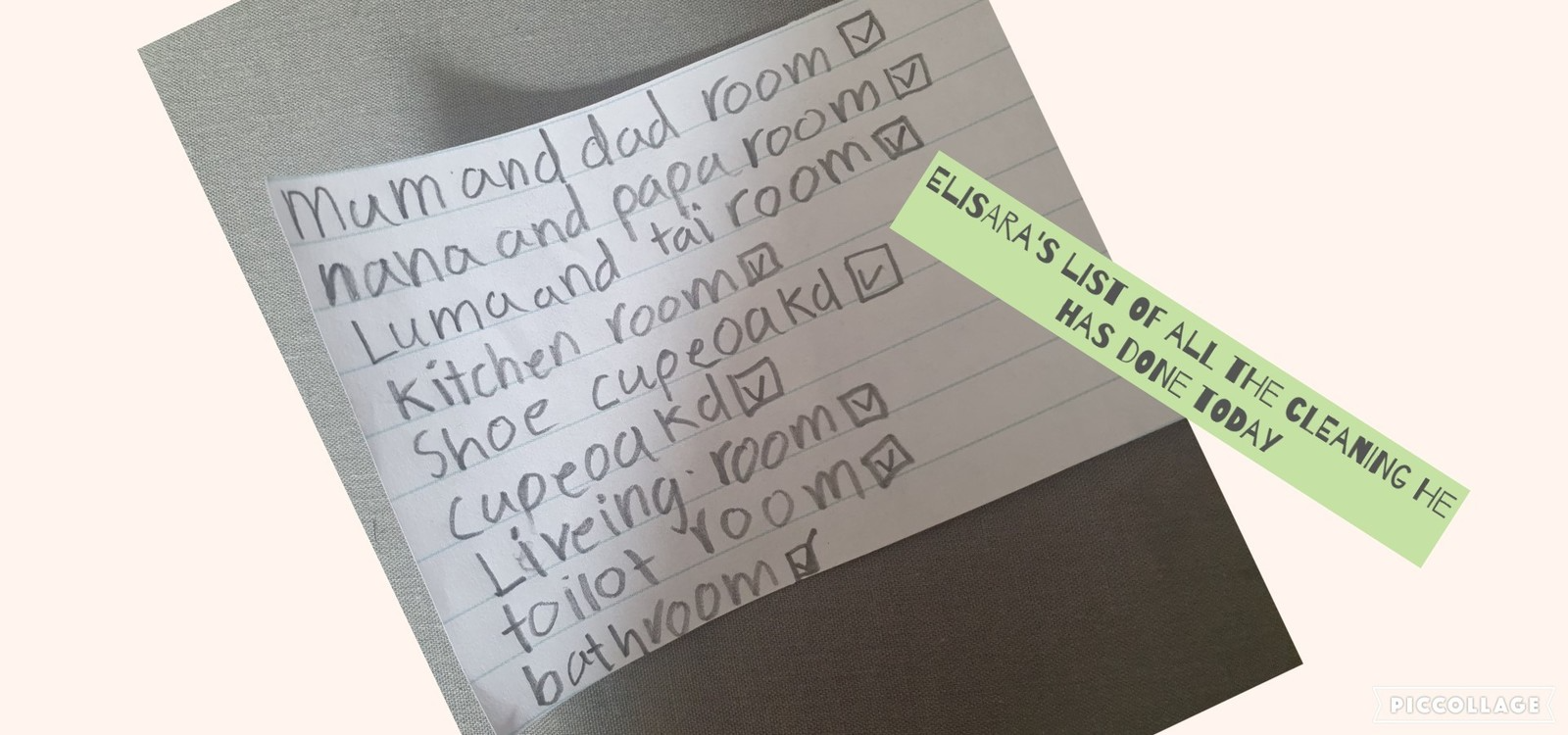 Elisara you have been very busy today.
Well Done Elisara!
---
Scarey!!
It was a very eventful meeting this morning. While we were in the meeting, our phones went off with an Emergency Alert for an evacuation to higher ground if you are close to the coast line.
I don't think that any of us were near the coast line so I think that we were all safe. Let's pray that all those that are effected will be safe.
A quick photo of all those that were in our meeting this morning when we were interrupted by the Emergency Alert before we logged off.

Stay Safe my Beautiful People
---
After our Google Meeting today Rm 15 students got busy. Let's see what they were up to.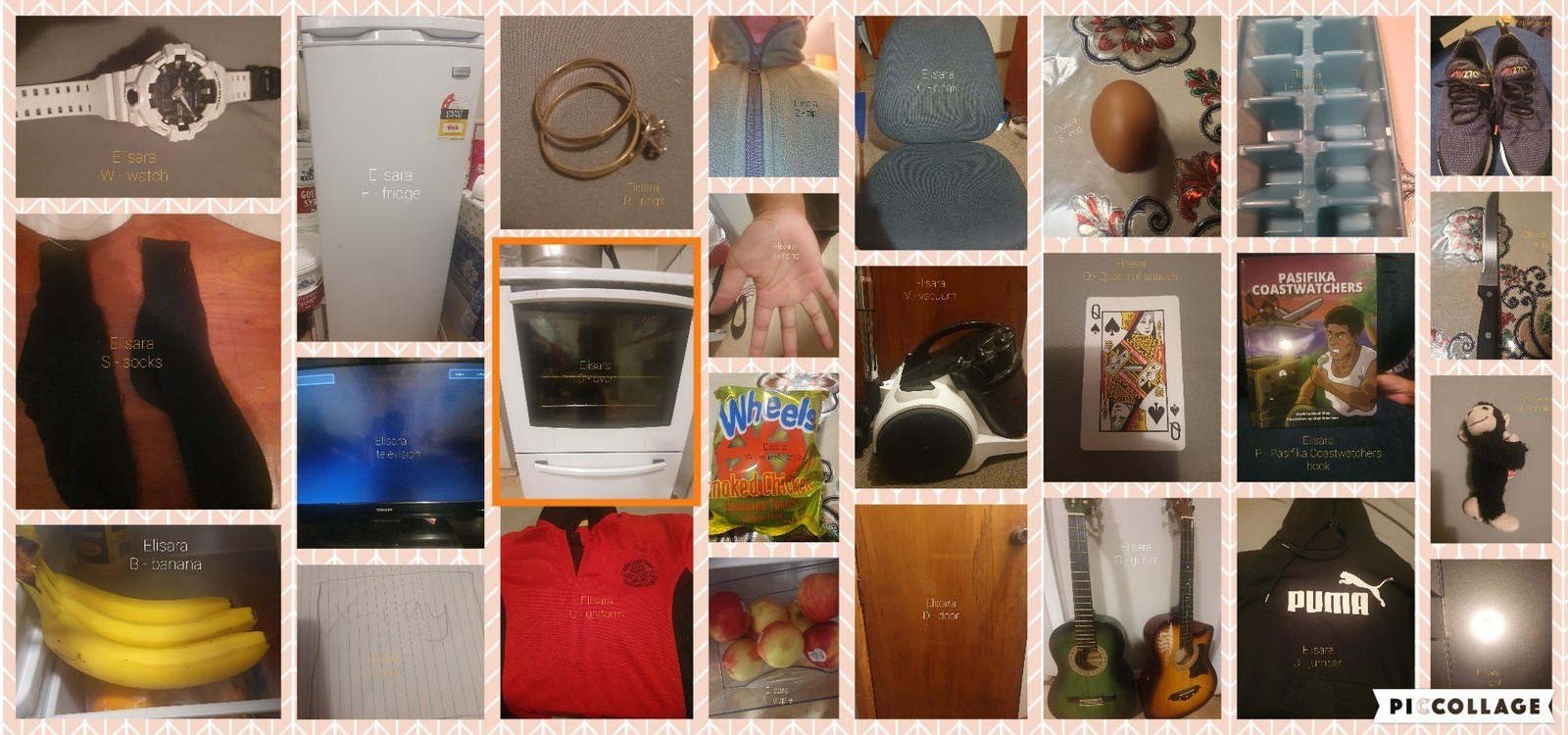 Elisara did the Wednesday alphabet challenge. He found 26 items around his home to match the beginning letter of each alphabet.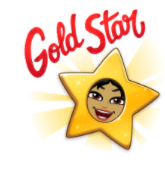 Fantasic job Elisara
Can you match each picture to the corresponding letter of the alphabet?
Elisara then completed the Tuesday challenge and showed us the people in his bubble.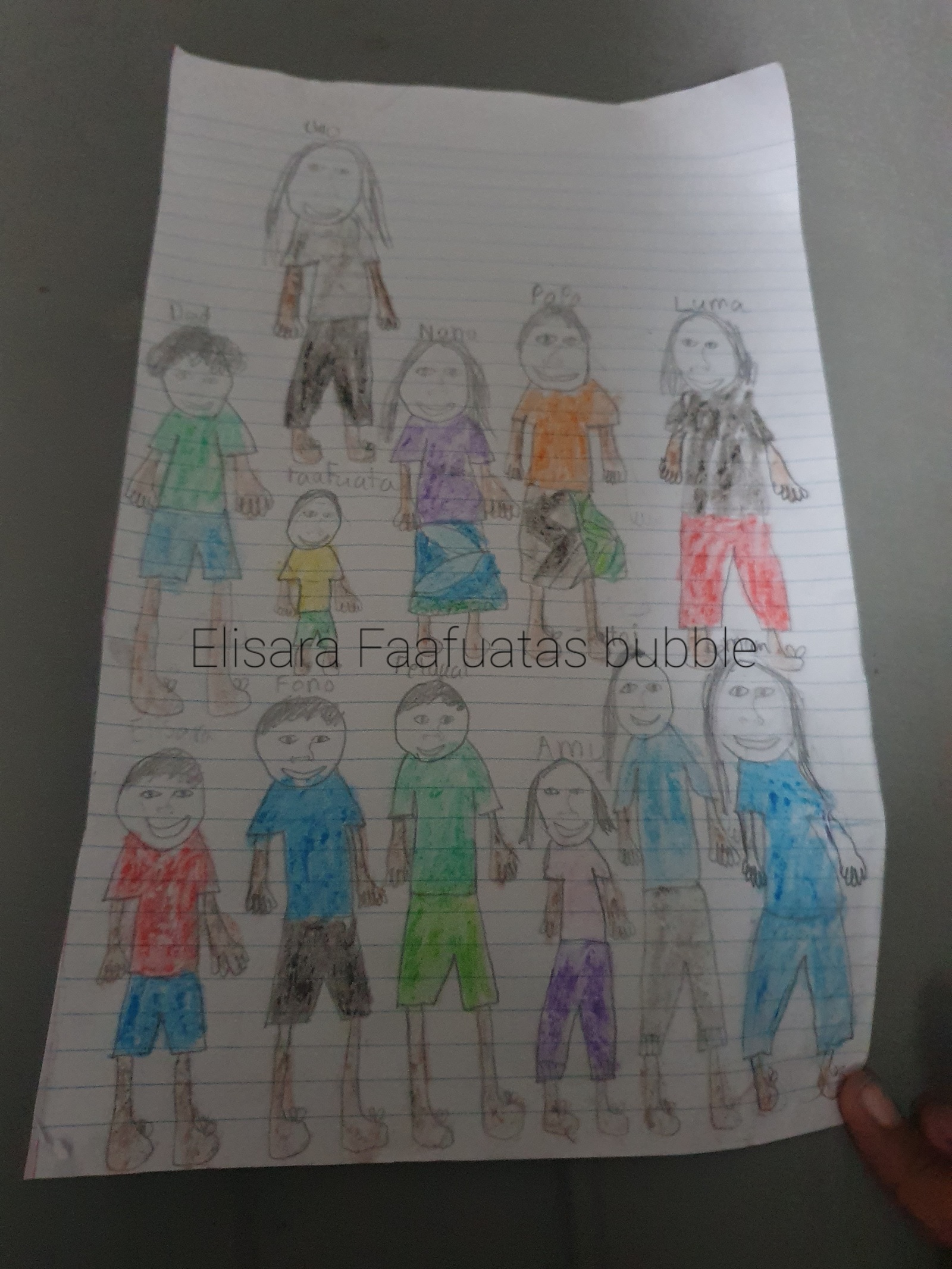 Elisa drew all the members in his bubble. He used lots of colour and labelled everyone.
Jonathan was even busy today. He did today's challenge.
Jonathan did his appreciation card to his mum. She really deserves it because she has been supporting Jonathan with his learning all the way through this lockdown.
Well done Mum and thank you for all your help!!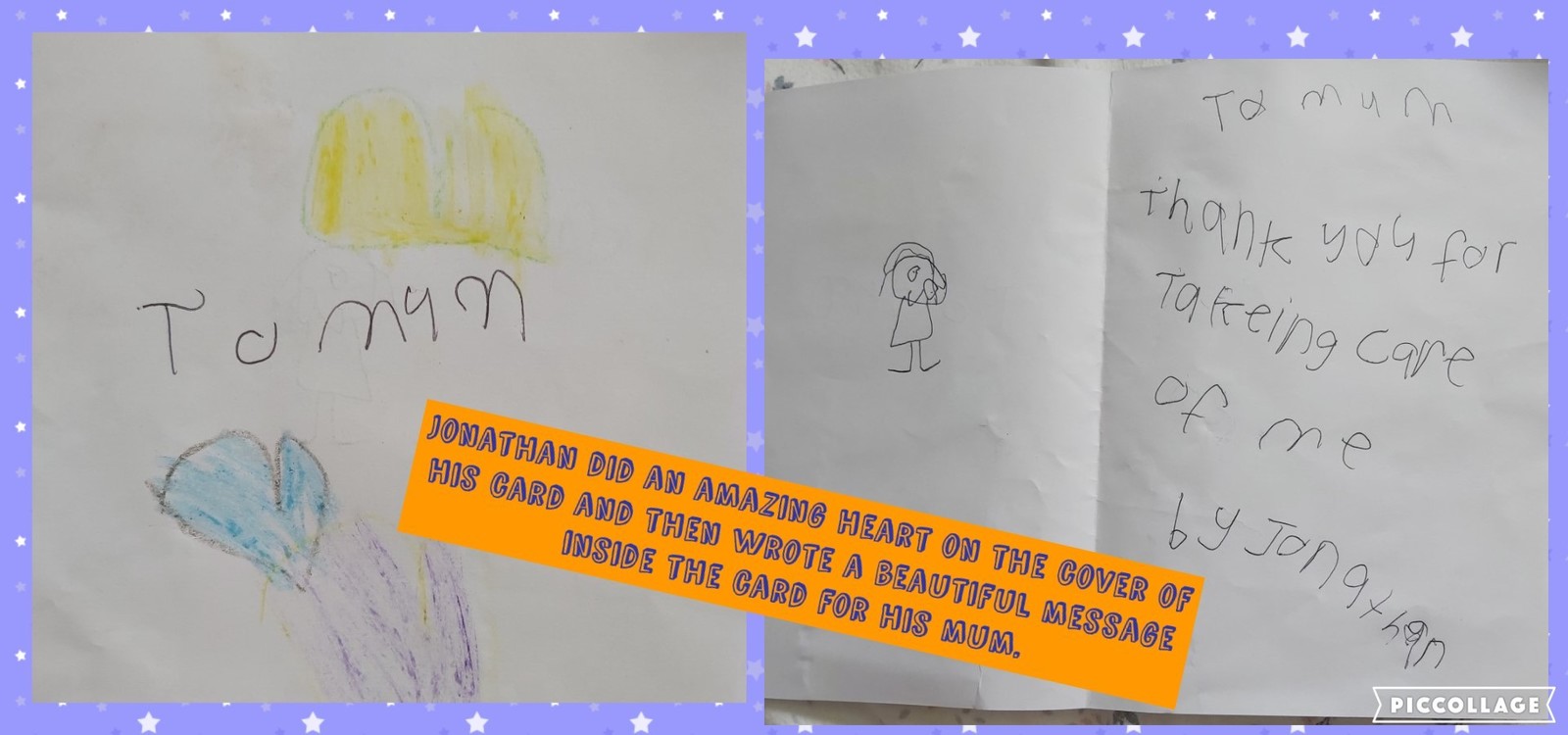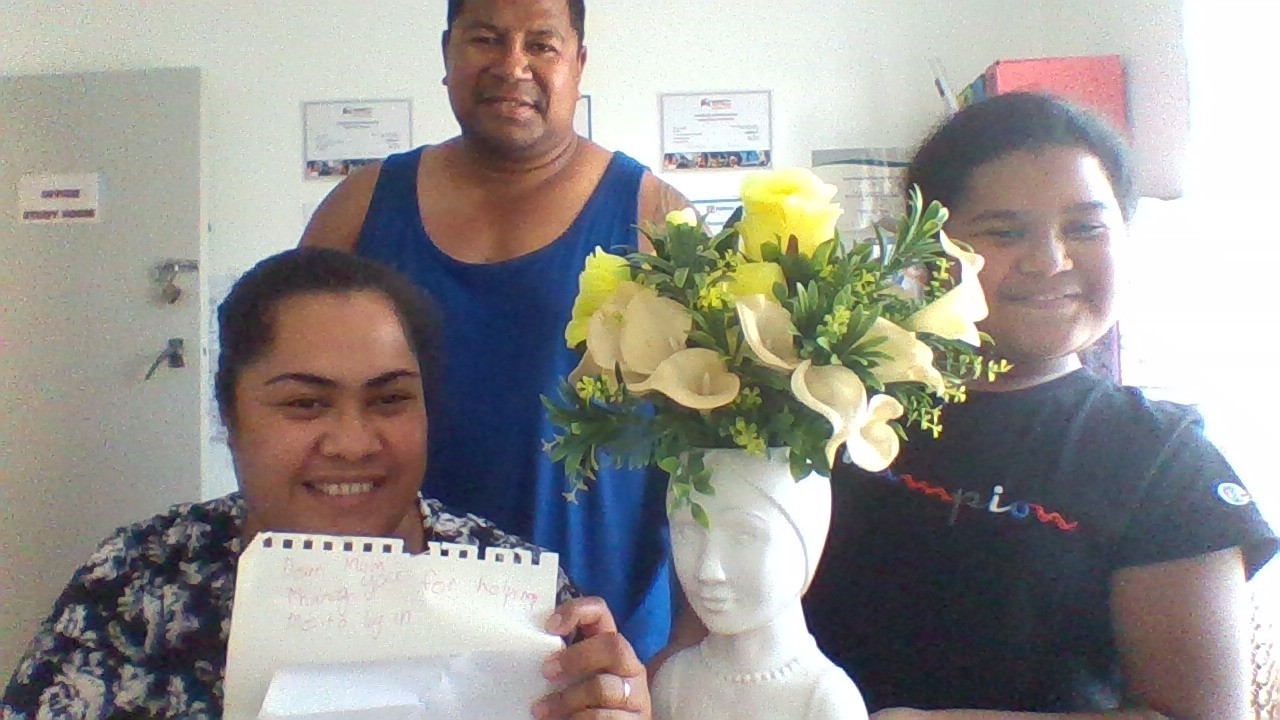 Sarah did her letter of appreciation to her mum. Her mum did a beautiful flower arrangement for the hallway.
Great effort Sarah and fantastic job mum!
Elisara also sent in his appreciation letter
T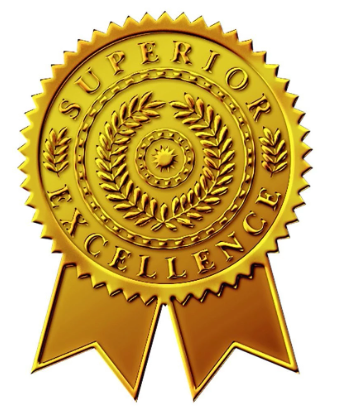 hank you Room 15 people for your fantastic effort in doing the daily challenges.
Keep it up!!
Also, to the amazing whanau behind our beautiful students
Thank you!!
---
Today we had a great meeting on Google. Sombody new joined us again. It was Theresa

We all know how to change our backgrounds and have become very good at doing it. Our backgrounds changed a 100 times a minute. Kura even changed his background to a picture from the class web page.
Today when we met, we share information about a book we read on Storyline Online yesterday. It was a task to do from yesterday's meeting. We also practised skip counting in 5's and then we were using the chat option to chat to each other on Google Meet. It was fun chatting to each other without talking.
---
Activity 3 for Wednesday saw Jonathan scanning his home looking for things that he can take a picture of to do the alphabet challenge.
Well done Jonathan !!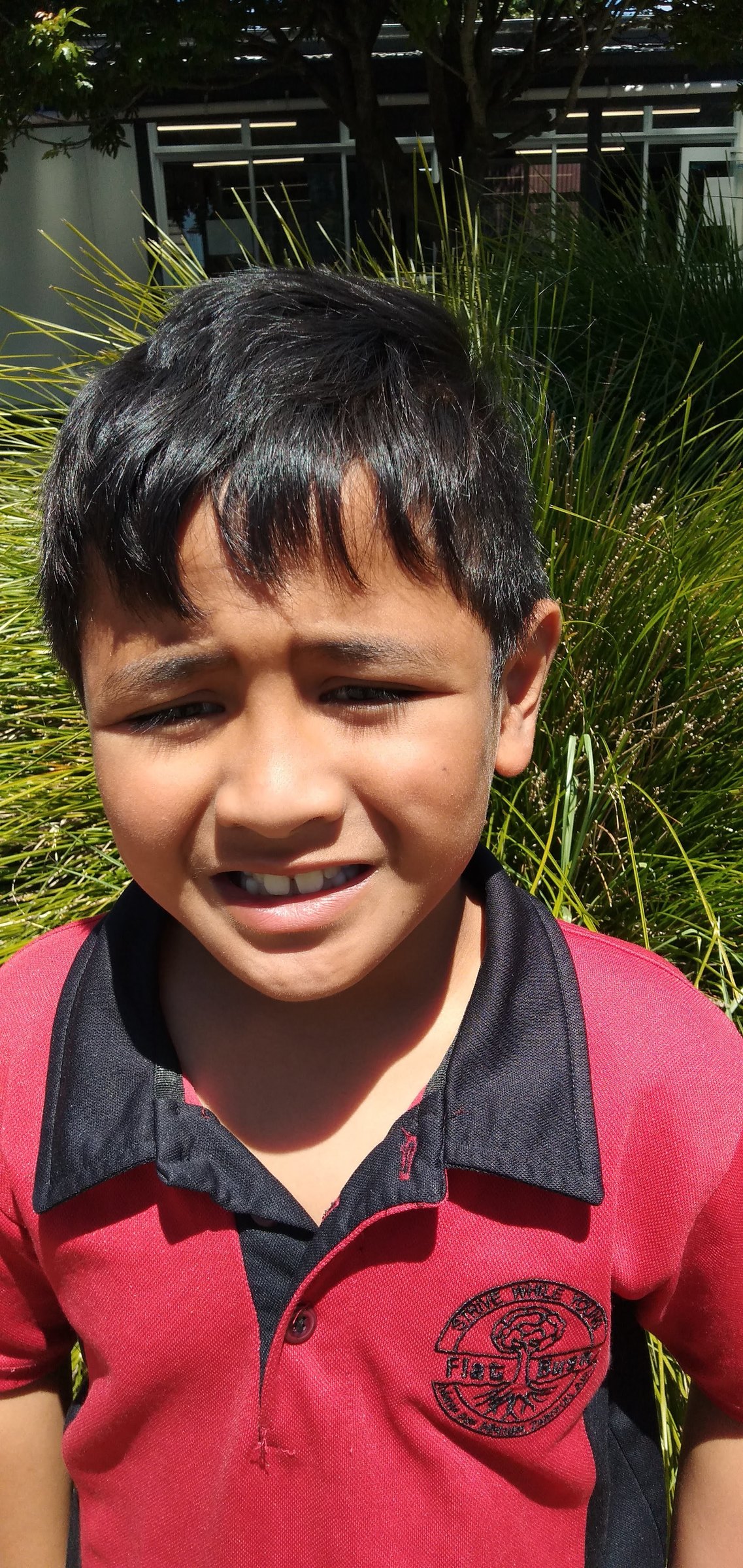 you are a super star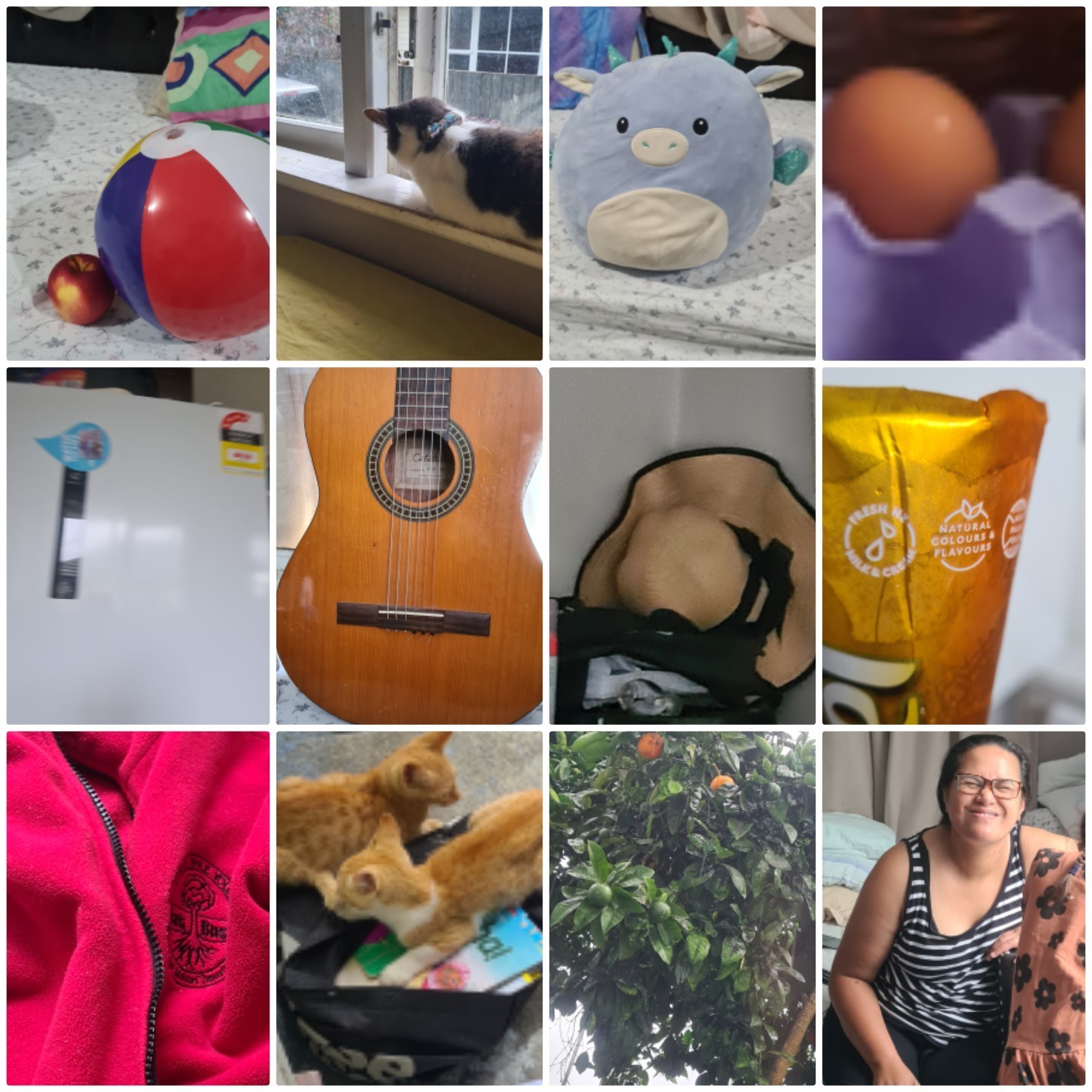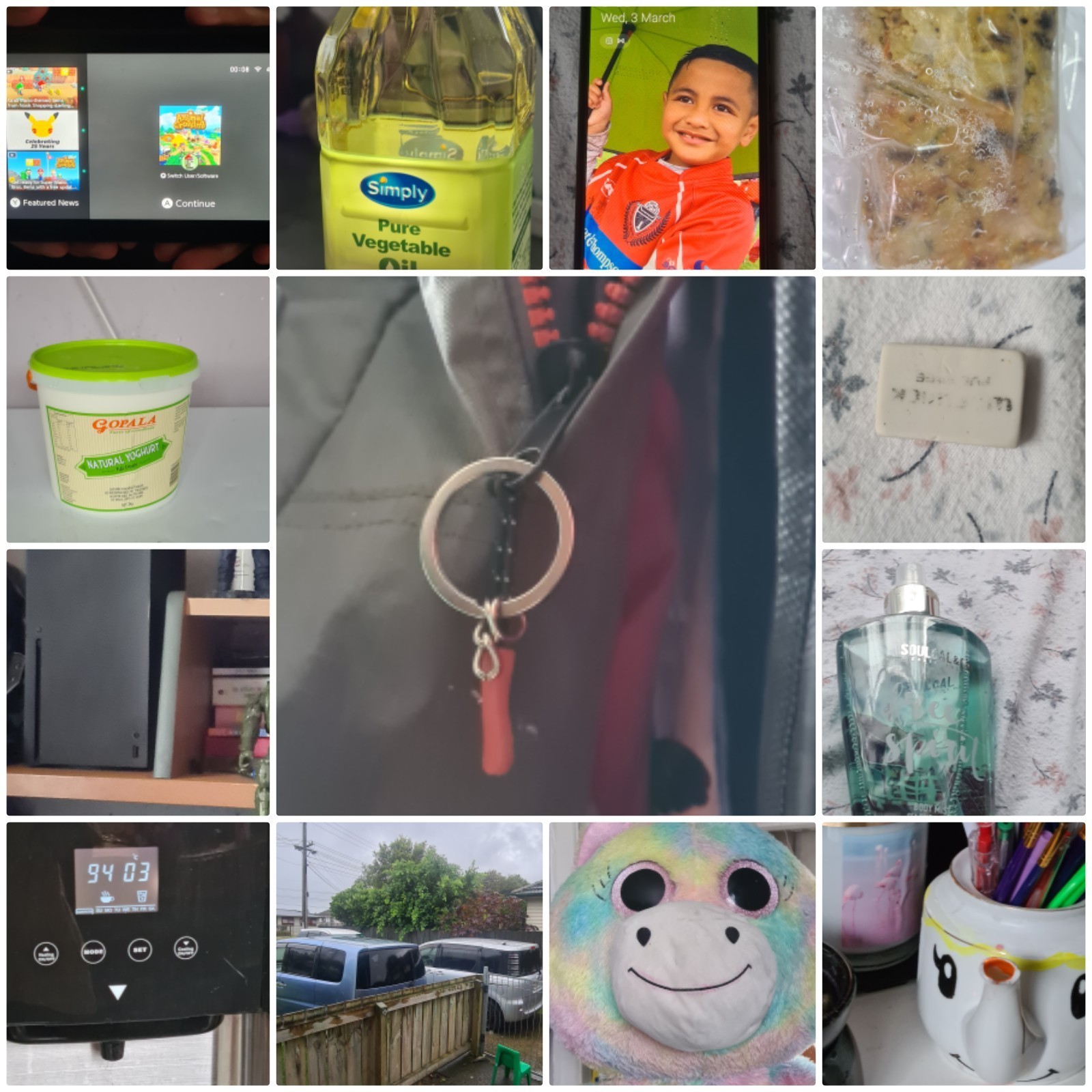 Lets see if you can match the labels to the items in the picture
| | | | | |
| --- | --- | --- | --- | --- |
| Jumper | Teapot | Phone/photo | Water Machine | Mum |
| Van | Eggs | Dragon | Kittens | Ball |
| Oil | Xbox | Unicorn | Guitar | Quiche |
| Rubber | | Apple | Spray | Ice cream |
| Cat | Oil | Limes | Yoghurt | Fridge |
| Zip | Hat | | Nintendo Switch | |
Great News!!
I am receiving more pictures showing your family bubble. Nyreen and Sarah have been busy.
Fantastic effort girls!!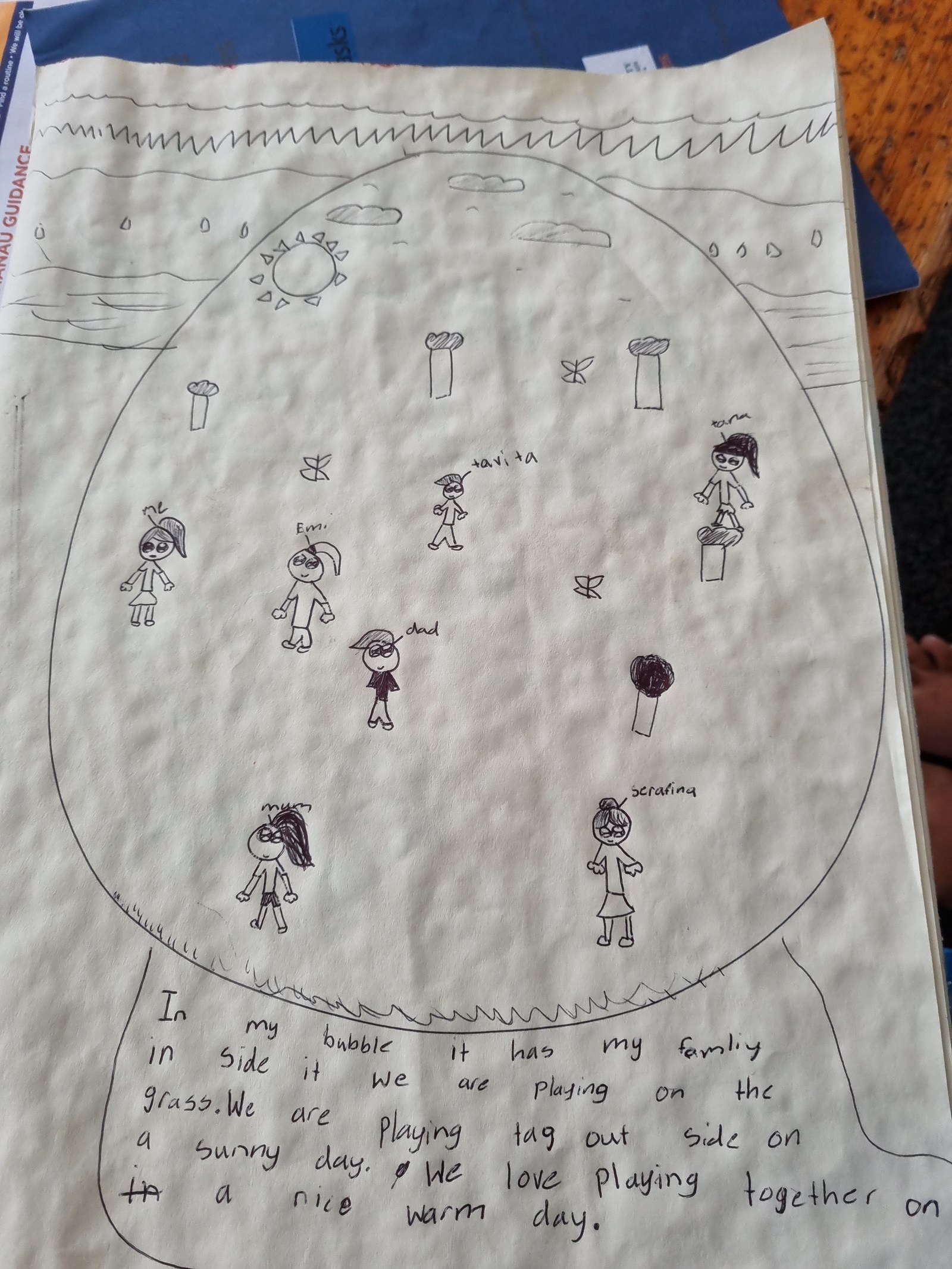 Nyreen's Bubble
Great job Nyreen on labelling all the people in your buibble. You even gave us alittle caption on how you are spending your time during this lock down.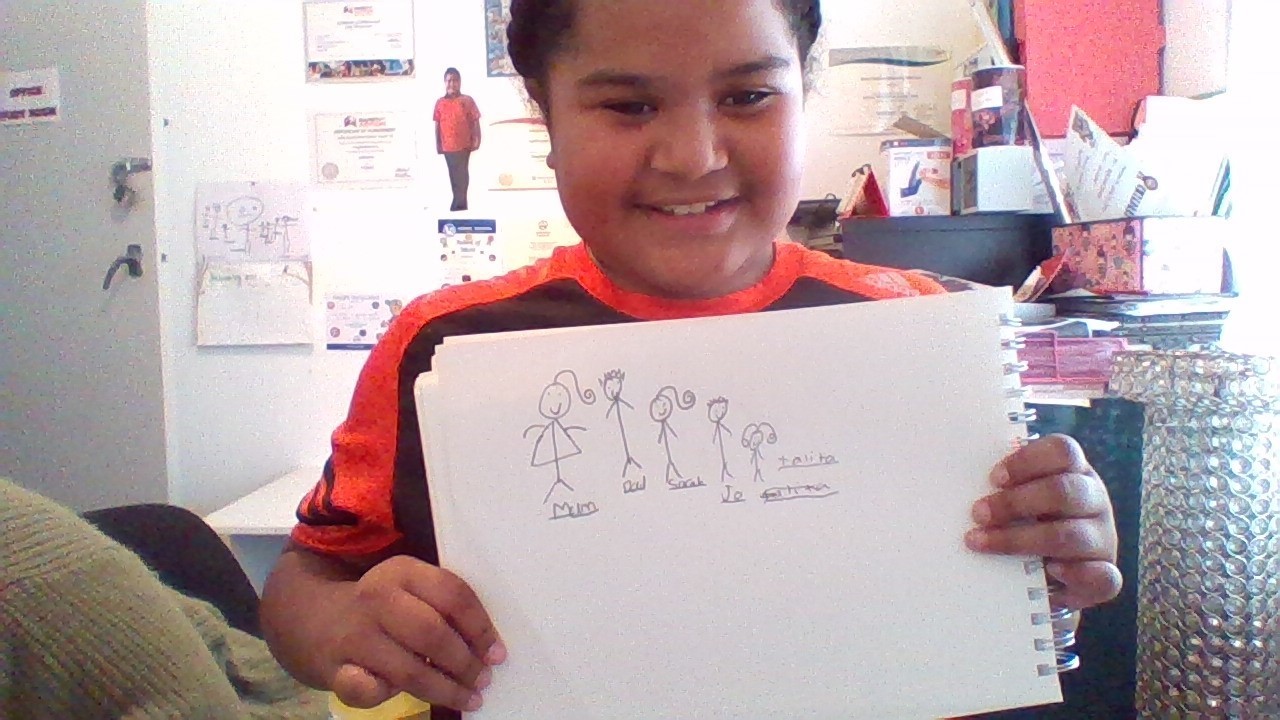 Sarah's Bubble Sarah has also drawn a picture of the people in her bubble.
She has even labelled eveyone in her bubble. Well done Sarah!!


Wednesday, 3 March 2021
Room 15 had a great Google Meet session today. Today, Elisara even joined us. It was great seeing those beautiful, smiling faces at me. Today we learnt how to present to others on Google Meet, we did our skip-counting in 2s, we learnt how to change our background and finally, we listened to a story "The Rainbow Fish" on Storyline Online.
Oh, gave out so many Gold Cards today. Mr Avatea is going to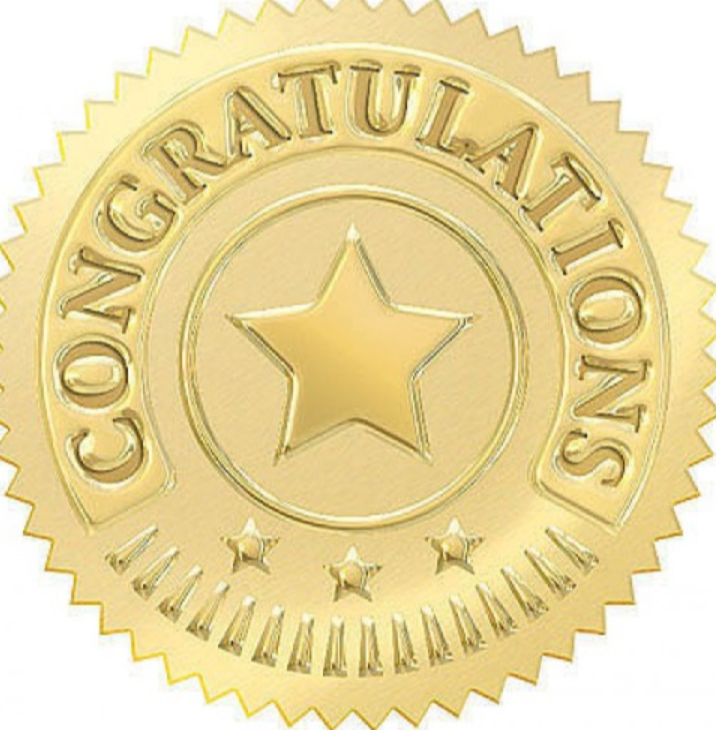 be so busy giving Gold stickers to all these amazing people.
I'm looking forward to seeing more of Room 15 people in our Google meetings everyday at 11:00 during the lockdown.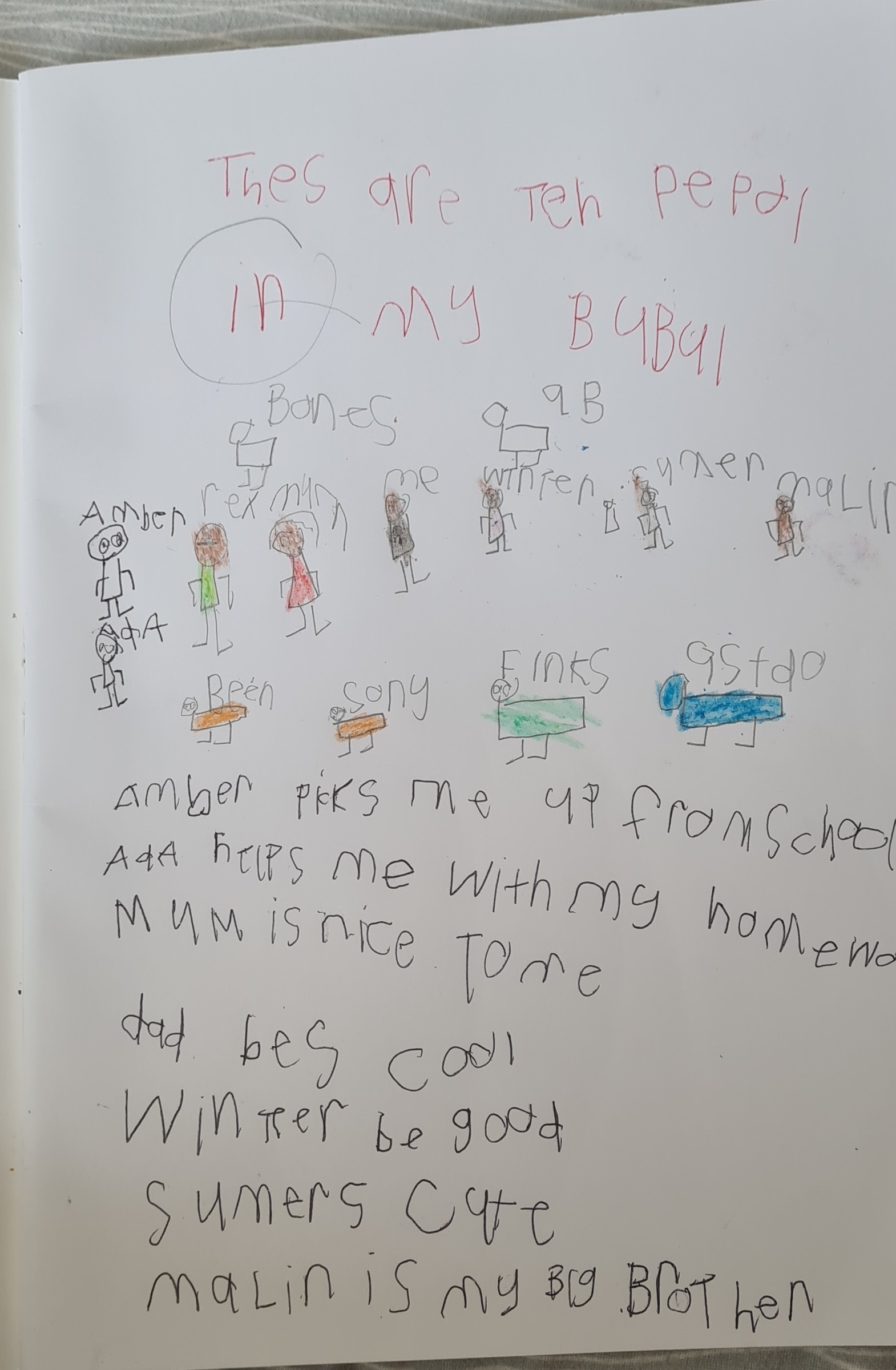 Jonathan was already hard at work drawing his bubble. Look at his effort.
Jonathan has done a great job labelling his picture so that we know who is who and he even wrote alittle about everyone.
Great Job Jonathan!!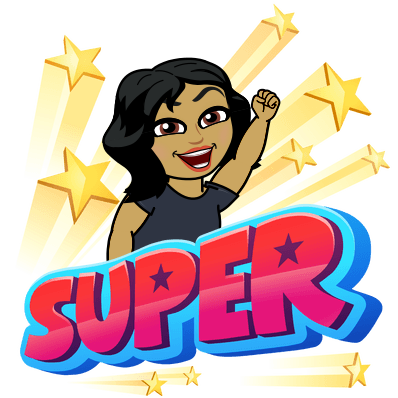 While you are at home, you can also practise our Welcoming waiata. Click on the Haere Mai link to go to the words and video. There as a YouTube clip and a videp of Ms Sina demonstrating the actions. Practise this at home and we will do it in class when we are together again.
You can also take a video of yourself doing the waiata and share it with me to post on our page.
Tuesday, 2 March 2021
Was great meeting Room 15 students on Google Meet today (Tuesday). Fantastic job on remembering your logins and your passwords. We had a great session reading a book and sharing information about who is in our bubble. Join us again everyday at 11:00pm during the lockdown.

Yes, if you joined me on google meet, you will be getting Gold Card stickers!!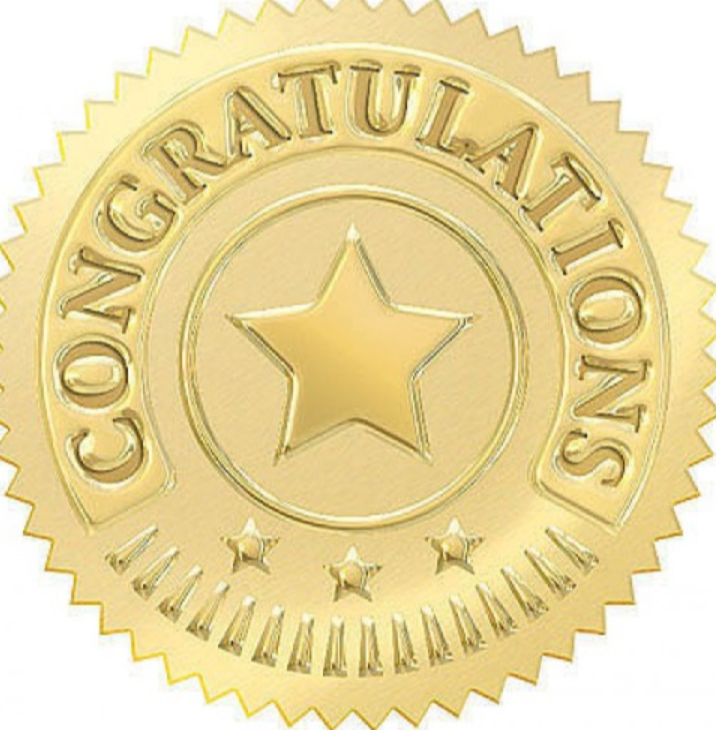 If you are having trouble logging into your Google account or unsure on how to access the Google Meet, please email me on pratimah@flatbush.school.nz and I will assist you.
We will be having Google Meets through the lockdown everyday at 11:00
The time has changed to accomodate other classrooms also meeting.
---
Auckland is in Level 3 Lockdown
School is closed


Our school will be closed for a whole week from Monday, March the 1st to Friday, March the 5th.
I will be making contact with you via text messaging using the information on the school data base. If you do not receive a text from me by Monday 4:00pm please contact the school on 09- 274 8279 or email me on pratimah@flatbush.school.nz to update your details.
From Tuesday (2/03/21) there will be daily Google Meetings at 10:30am. Please encourage your child to log into their Google Flatbush Account using their Flatbush user name and the password they created. They will need to go to their emails and click to accept the meetings. Looking forward to meeting you all on Google Meet.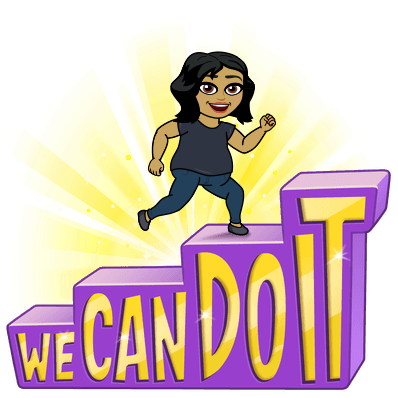 It was an exciting time at FBS for Room 15 this week.
We had Garden to Table. Half the class were in the kitchen cooking up some yummies while the other half were in the garden .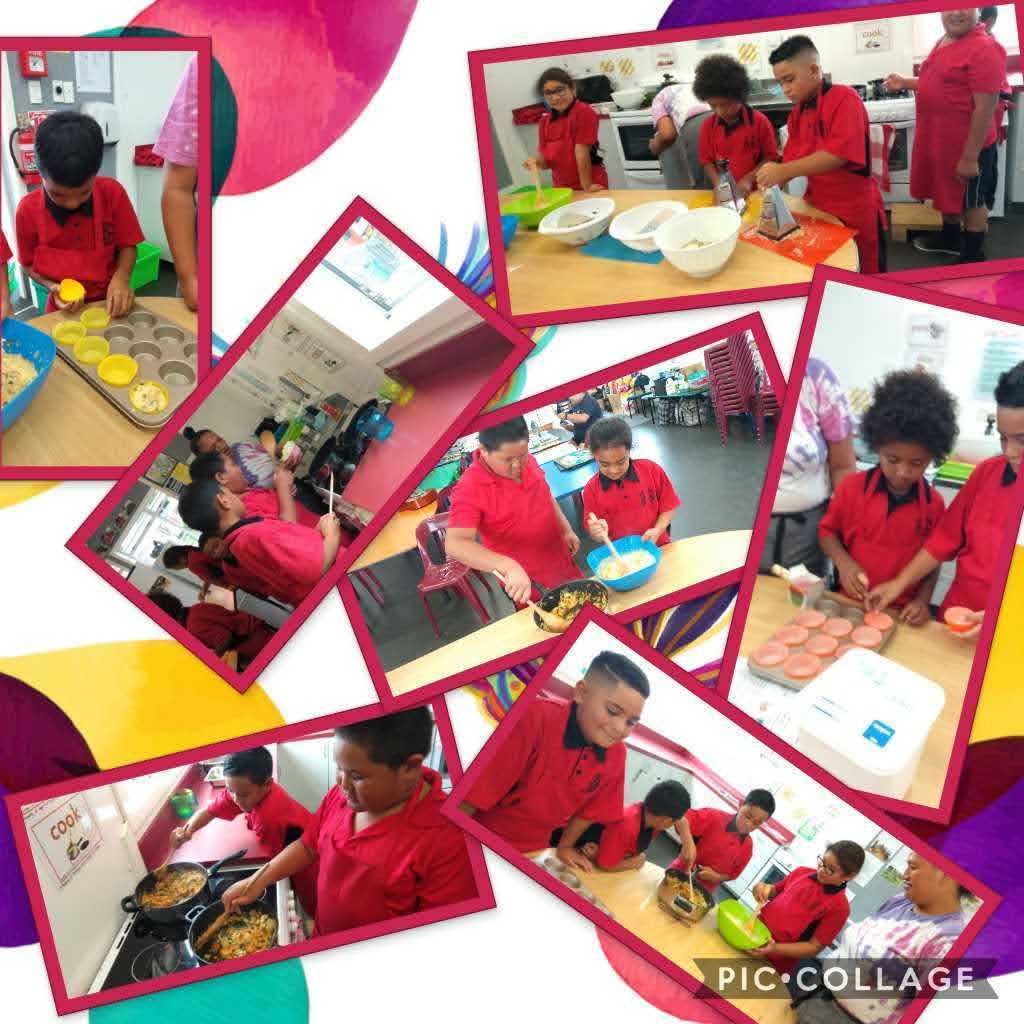 Look at what we made!!
The other half of the class were also busy in the garden. Mrs Tupou took us around the garden telling us about the different herbs that are grown there. We even got to taste some of the herbs.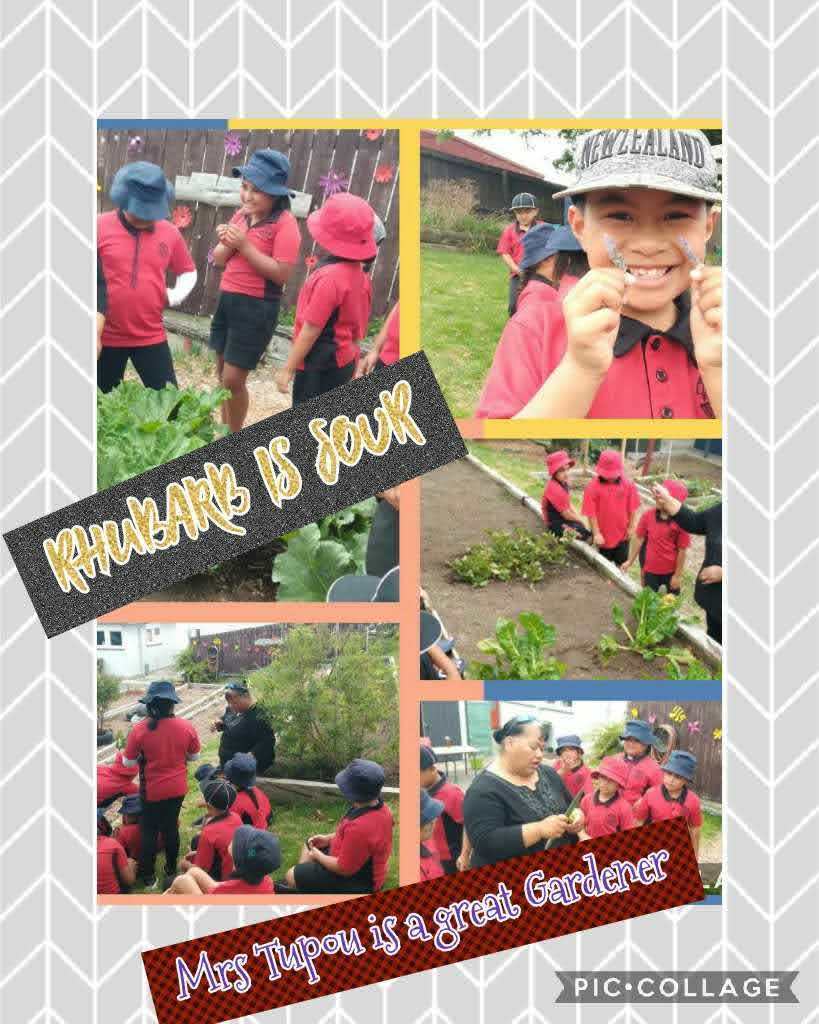 This week we had cricket again and this time we were on the field.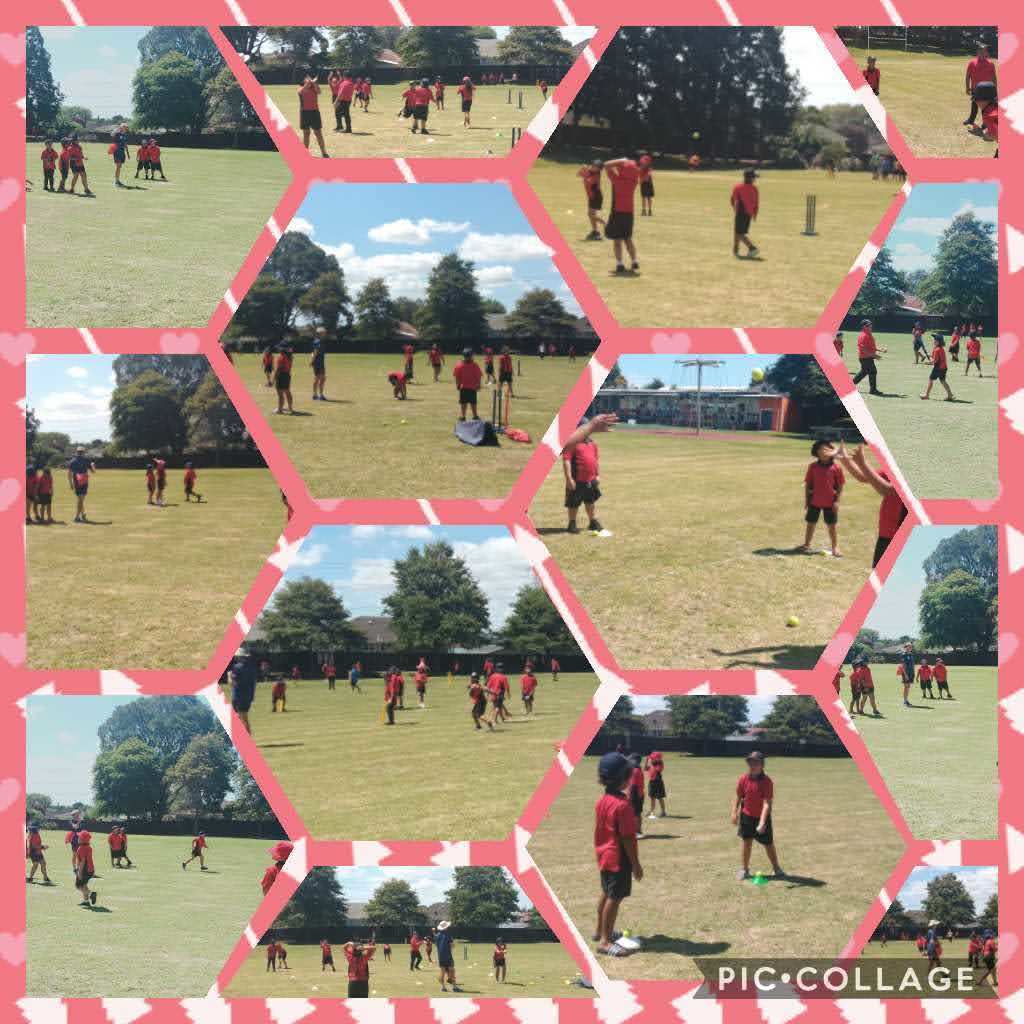 We are back at school now and looking forward to seeing you
School is closed
On Sunday evening 14 Feb, our Prime Minster, Jacinda Ardern, announced that Auckland will be entering into Level 3 lockdown for 3 days. The affected days are 15 Feb, 16 Feb & 17 Feb. This means that FBS will be closed for those respective days and reopen on Thursday, 18 Feb pending any further announcements by our PM.
Please feel free to contact me via email at pratimah@flatbush.school.nz
Please stay safe in this uncertain time.
---
It has been an exciting Week 2 at FBS. Room 15 has been learning the routines of class and we even had an exciting time improving our cricket skills.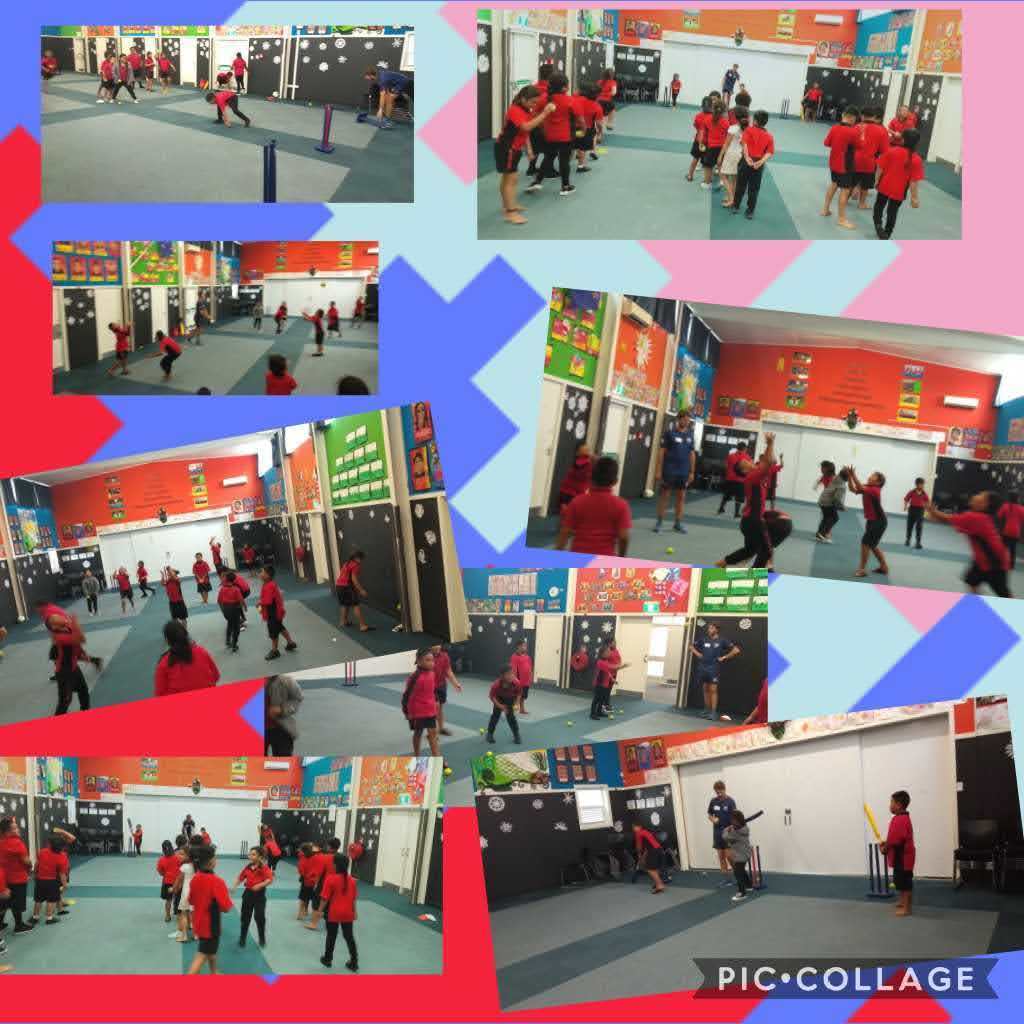 On Friday we offically welcomed all new whanau to FBS with a Whakatau. The whole school sat under the COLA and we listened to Mr Avatea and Papa Jeff extend their warm welcome to the new whanau on behalf of the whole of Flat Bush School.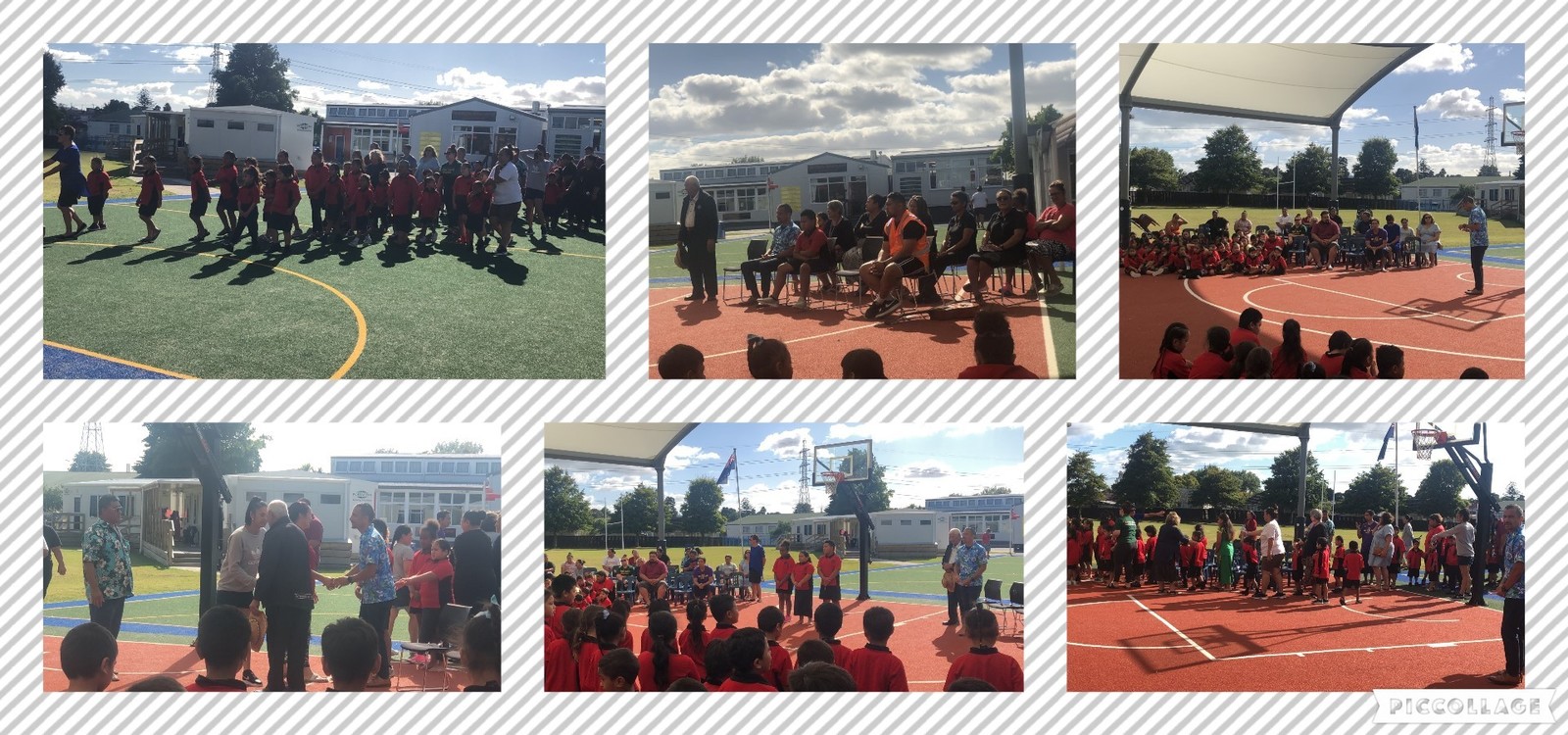 Week 1
Welcome to Room 15 and it was great meeting all our new people. It has been an exciting 2 days this week of getting to know each other and learning about each other.
Faces of Room 15 2021

The exciting new change to FBS has been the yummy free lunches and we have all been enjoying it.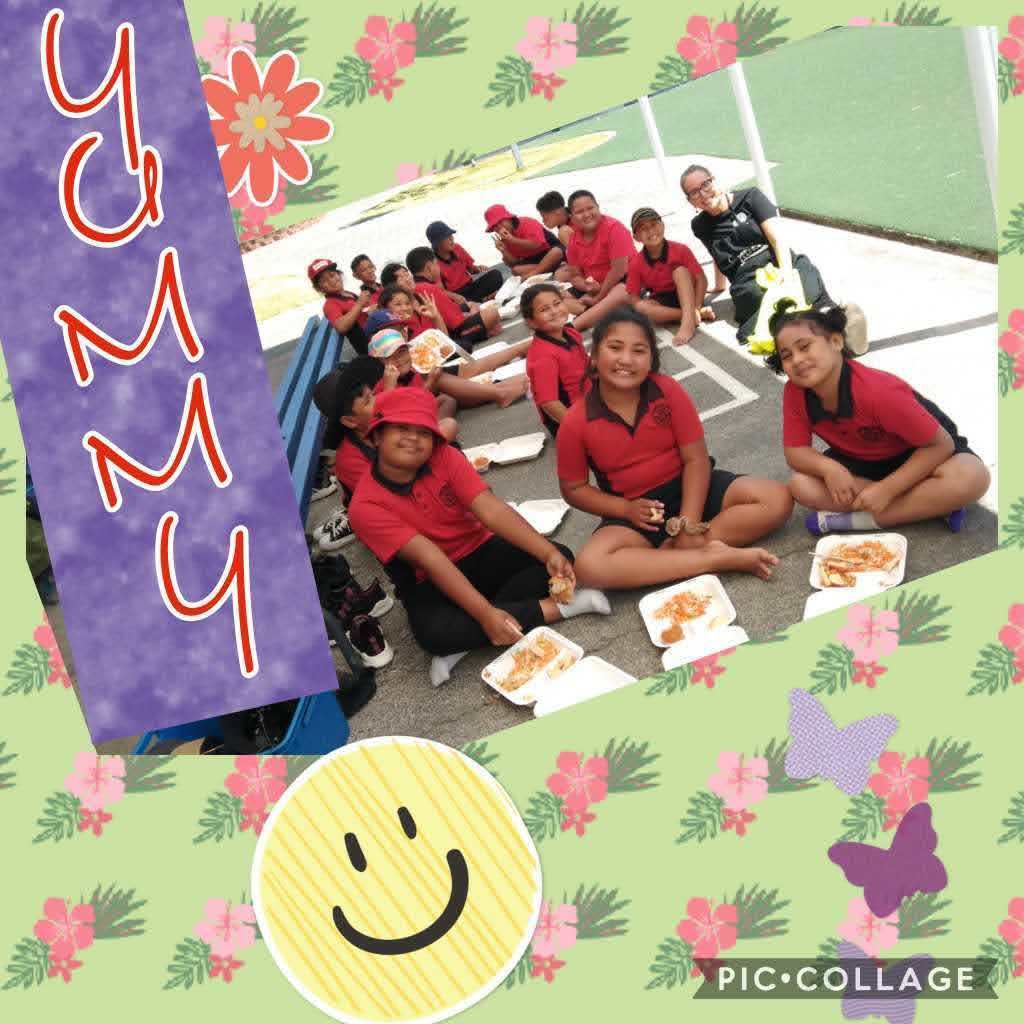 Kio Ora, Bula Vinaka, Fakaalofa lahi atu, Tālofa, Kia orana, Mālō e lelei, Talofa lava, Tēnā koutou katoa, Namaste, kon'nichiwa, nǐ hǎo and warm greetings to you all.
I am Mrs Hira and will be the teacher for Room 15 thi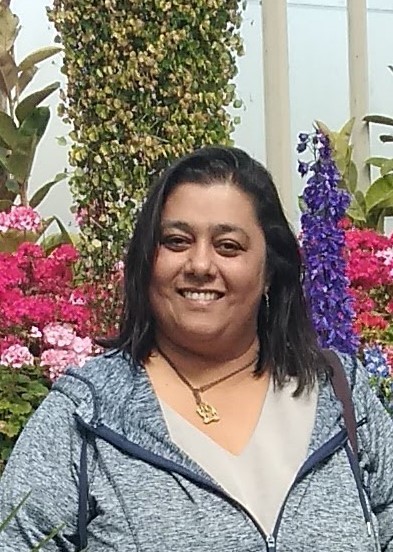 s year. I am looking forward to meeting you and working together with you this year.
We begin our exciting term on Thursday, 4 February 2021. It is going to be an exciting year of learning with lots of fun incorporated too.
I hope you are as excited as I am to get started this year.
See you on Thursday!
Mrs Hira