WELCOME TO ROOM 23
Te Arahanga
Room 23 is a small reception or transition class where children experience school life before going to 'big' school down the hill.
Teaching staff are Fiona Mafileó, Breana and Vera.
My email is fionamh@flatbush.school.nz. Please feel free to contact me if you have any concerns or you would like to celebrate your children's work.
Term 2
Week 6
We welcome beautiful Lyara to Room23. She loves reading!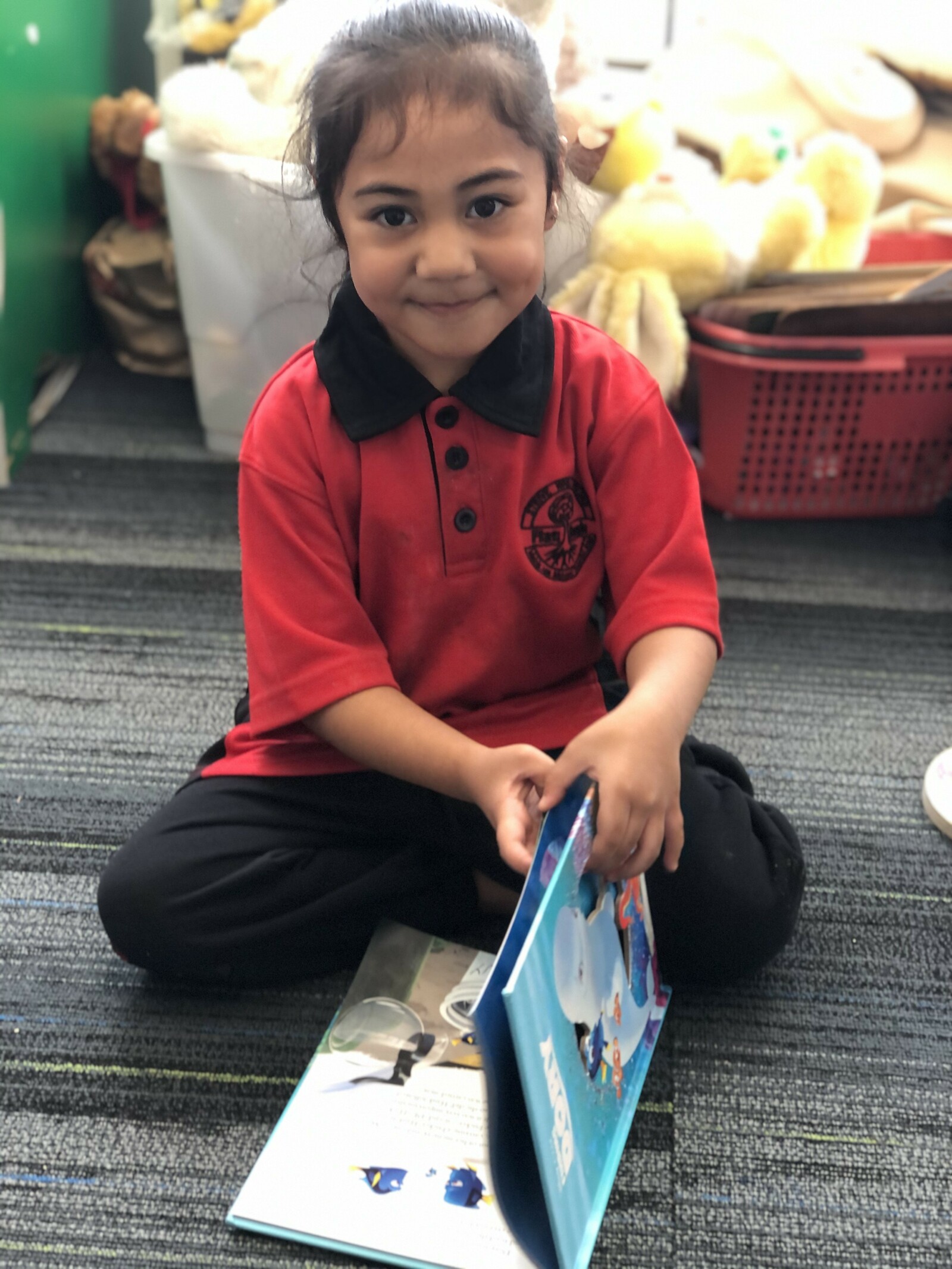 On Tuesday we went to the Tupu Youth Library in Dawson Road. We had a lovely time listening as Chris read us stories.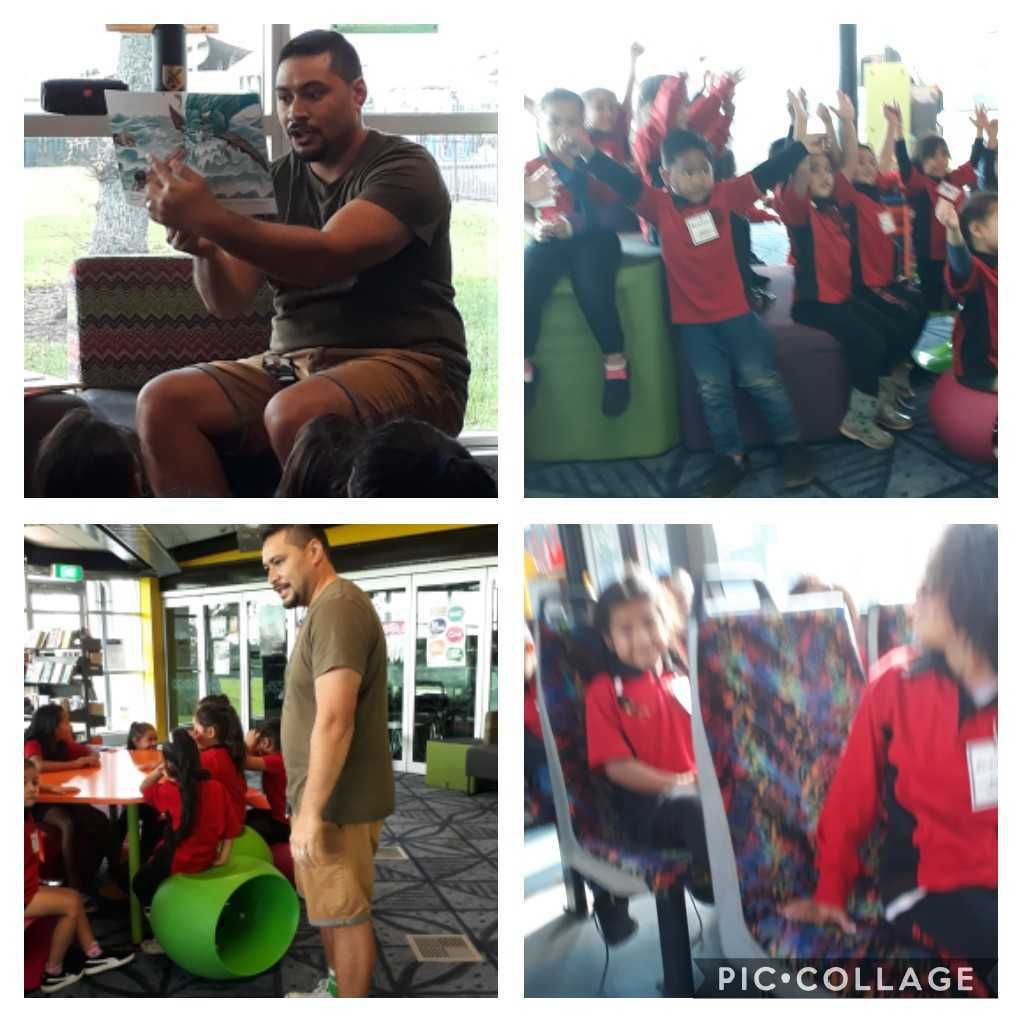 This week we had fun making bread like the Little Red Hen. We were amazed how the dough kept rising and rising. Here are our photos.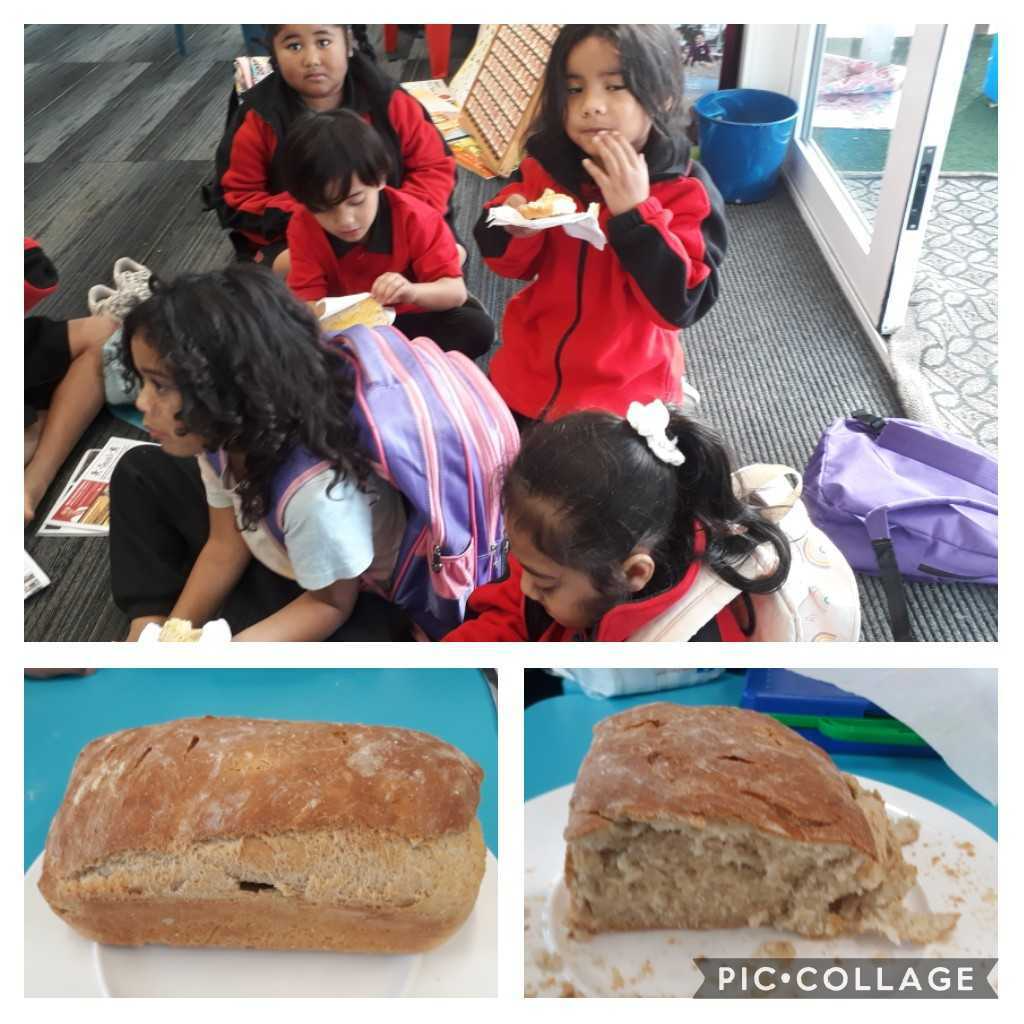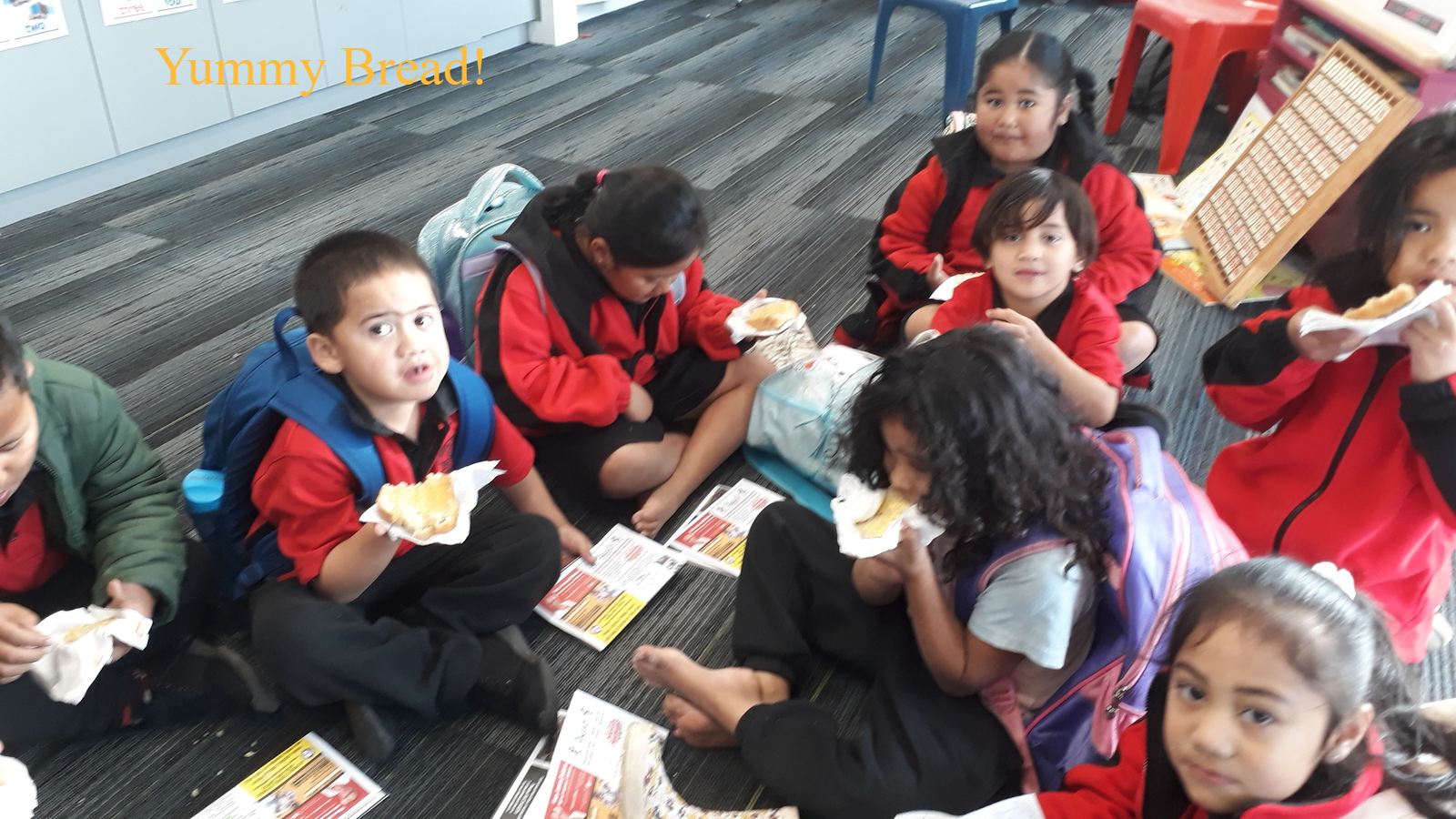 Week5
This week we welcomed lovely Keyara and Amyrah to Room 23.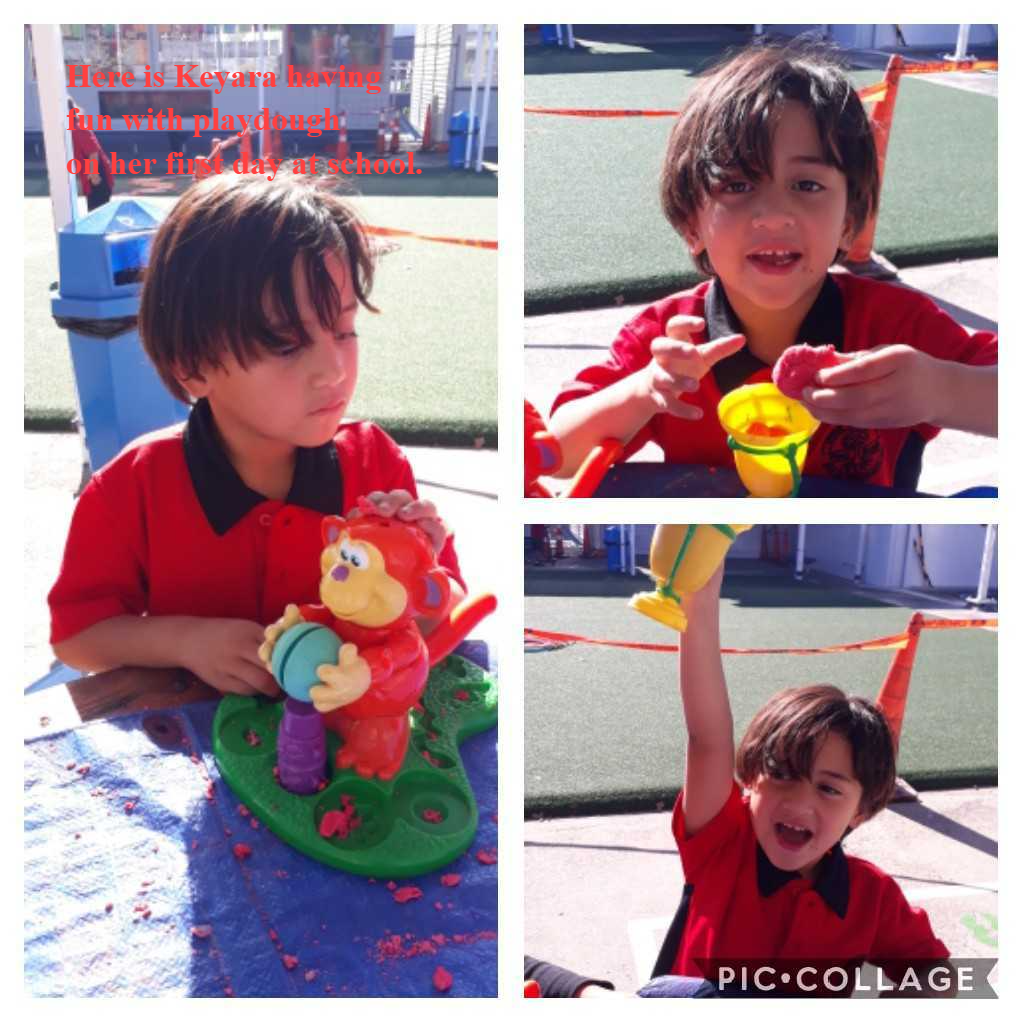 Criss enjoying watching the balls roll down the race and calculating which ones will go faster or slower. Do bigger ones go faster, or do heavier go faster?
Samoan Language week
Room 23 had fun watching our Samoan Language week assembly with the kindergarten. The dancing and singing was wonderful!! It was such a fun day.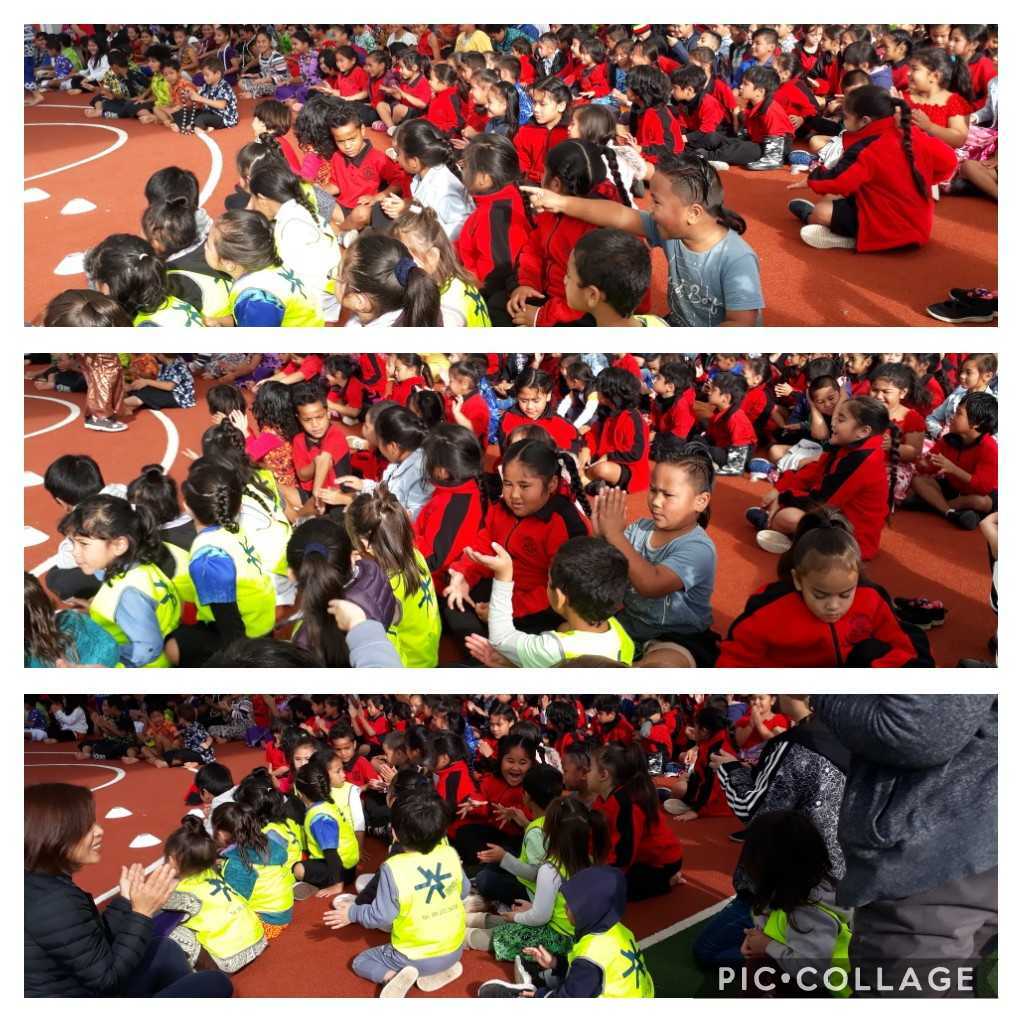 Week4
This week we also shout out a huge welcome to Maison to Room 23. The highlight of the week was the syndicate walk to one of our local parks. We had great fun playing on the playground and taking part in lots of games. Here are some photos.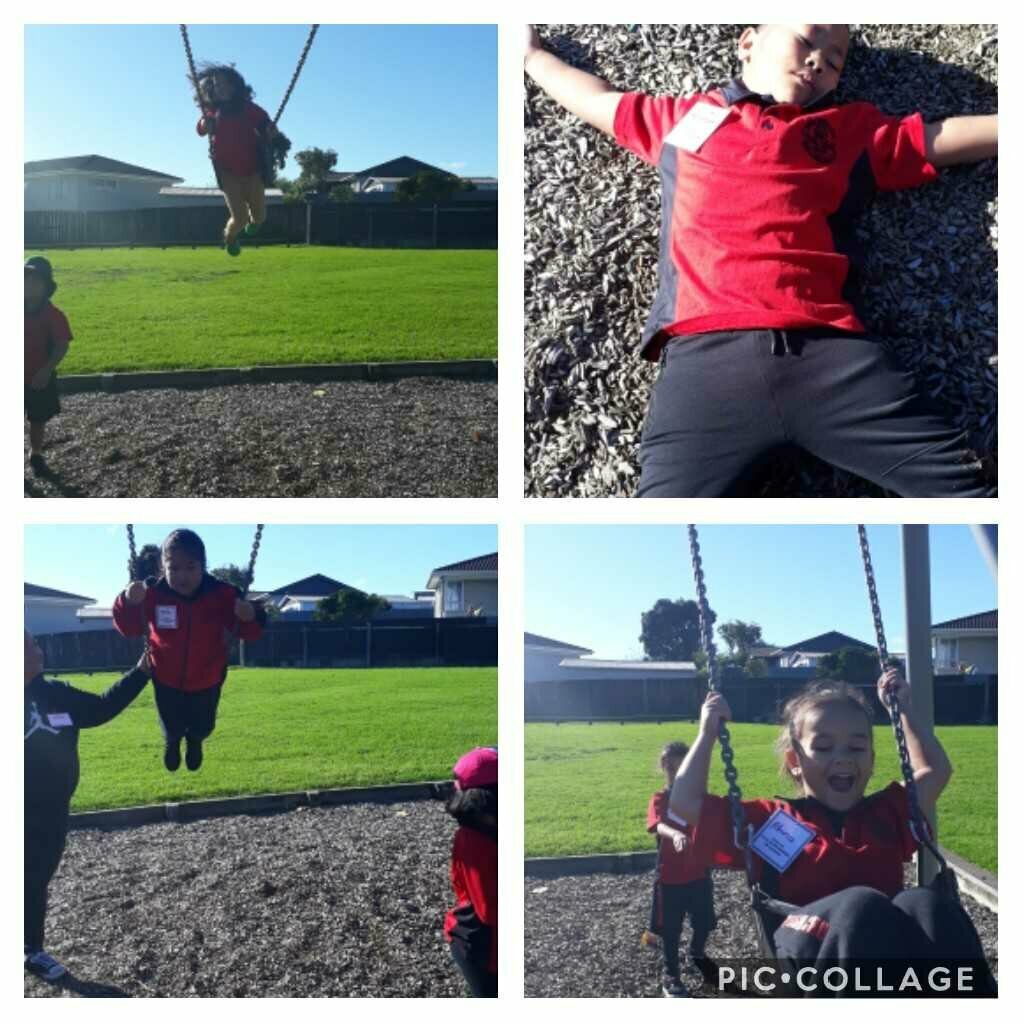 This week we had Garden to Table with Mrs Tupou and Miss Ann. Some of us worked really hard in the garden and had fun cleaning the hen house while the rest of us made yummy healthy muffins using wholemeal flour, honey, apple and carrot!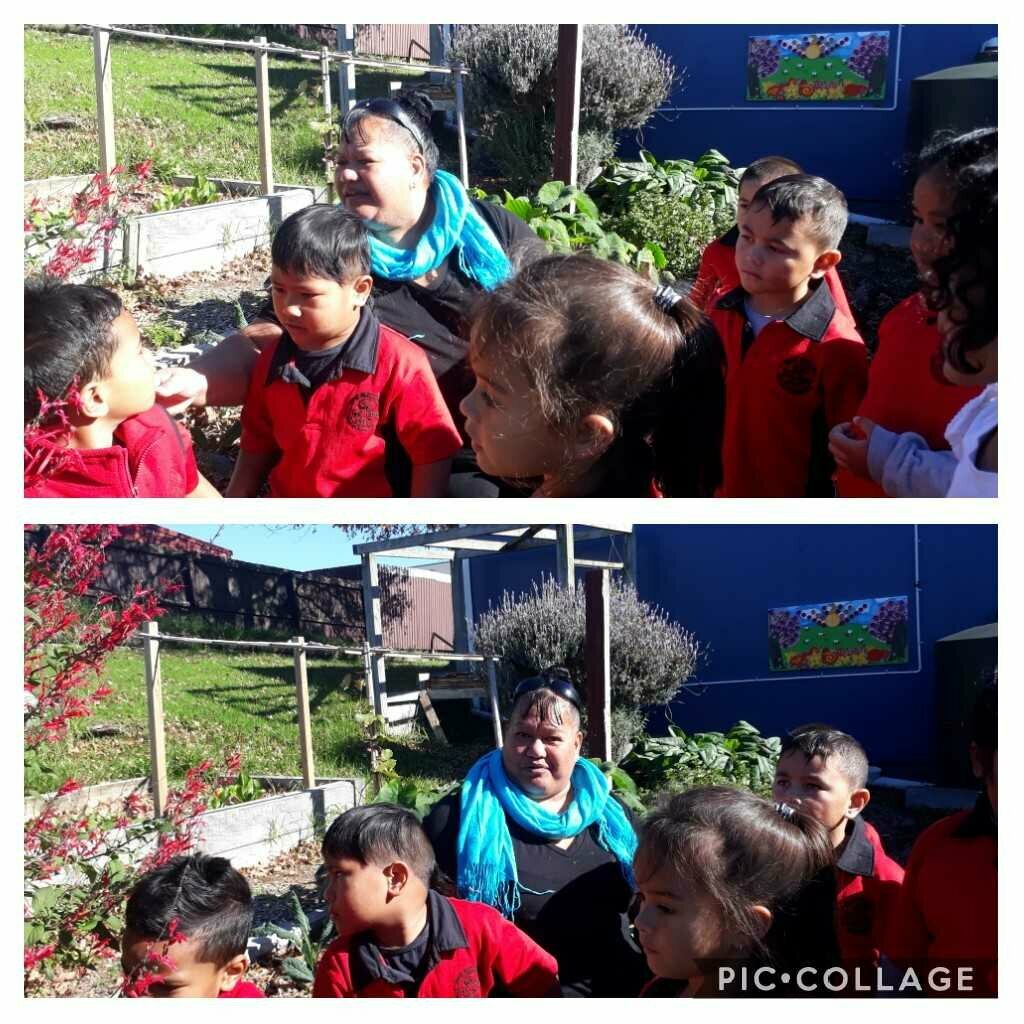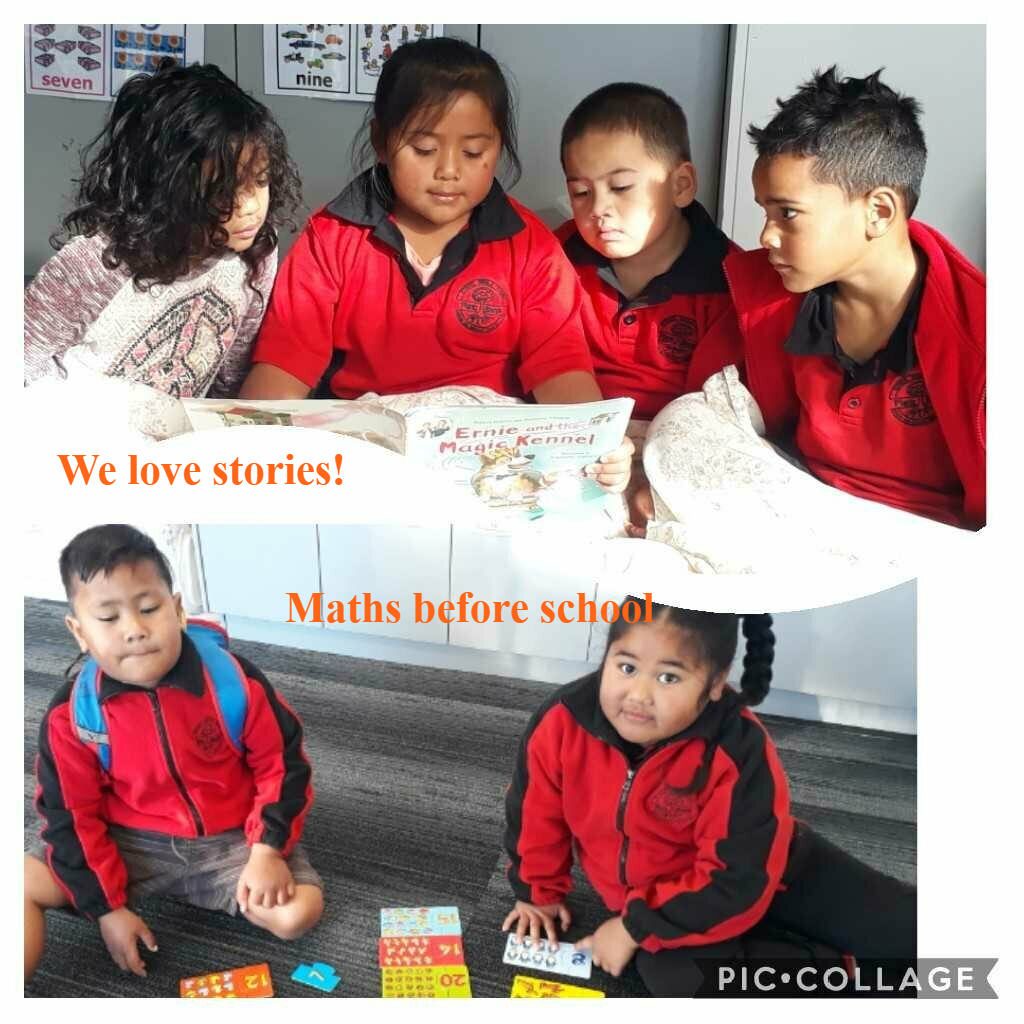 Huge congratulations to TJ who came 2nd in the year 1 boys cross country race on Friday. We are soooo proud of you.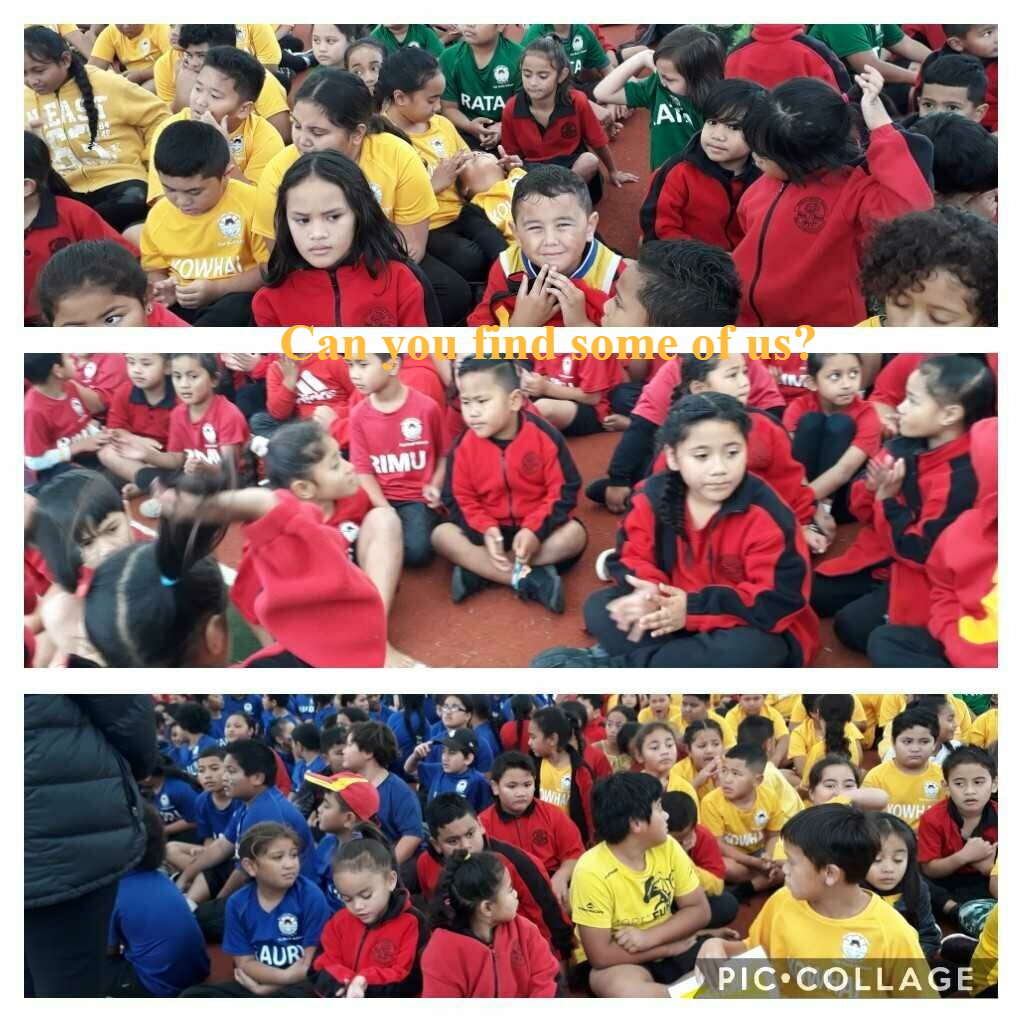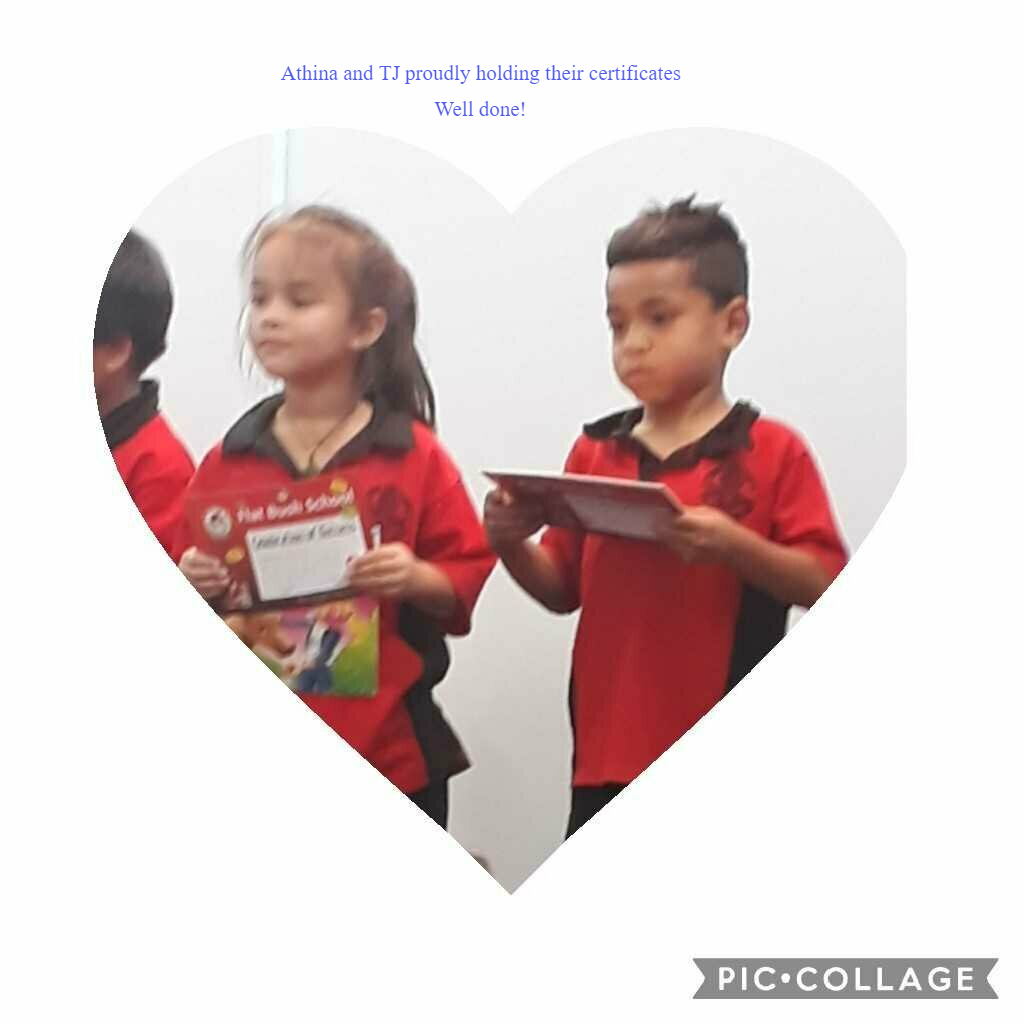 Week 3
Room 23 delights in welcoming Lahara to our class.This week has been extra busy with the filming of the whole school Sasa and Pink Shirt Day as well as PMP, Talanoa time and Junior singing.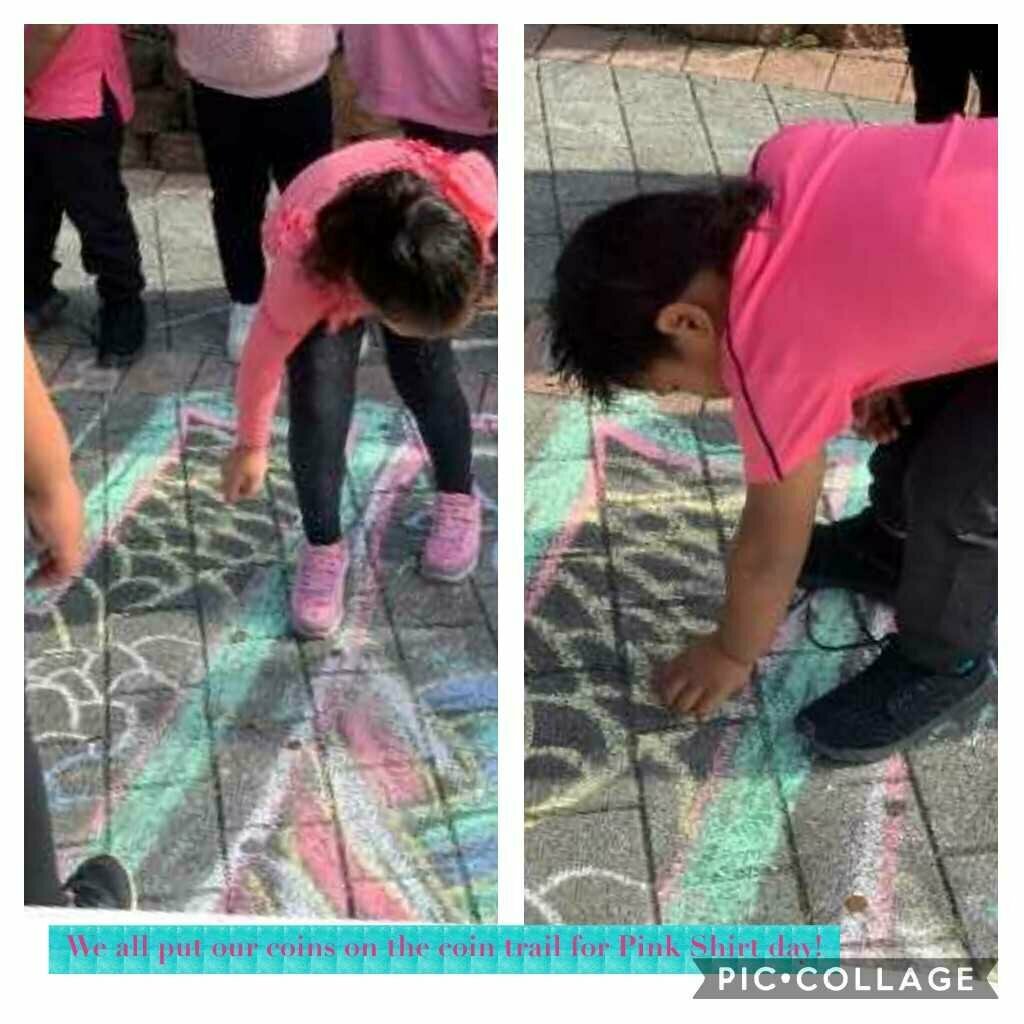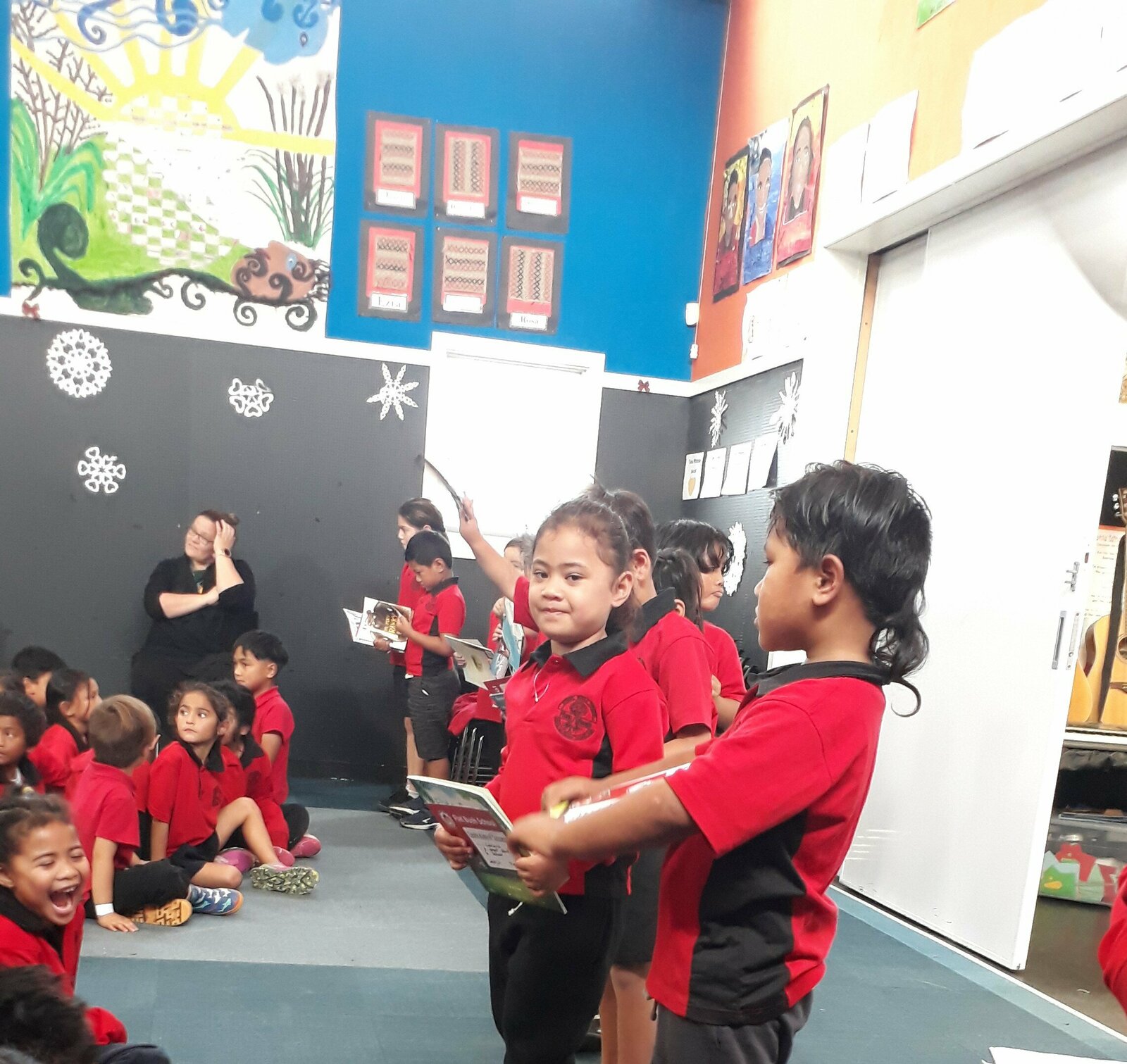 Lahara proudly holds her award for having a great start to school while Abraham was so excited to get his book and certificate for great writing about the Hungry Giant. Well done both of you!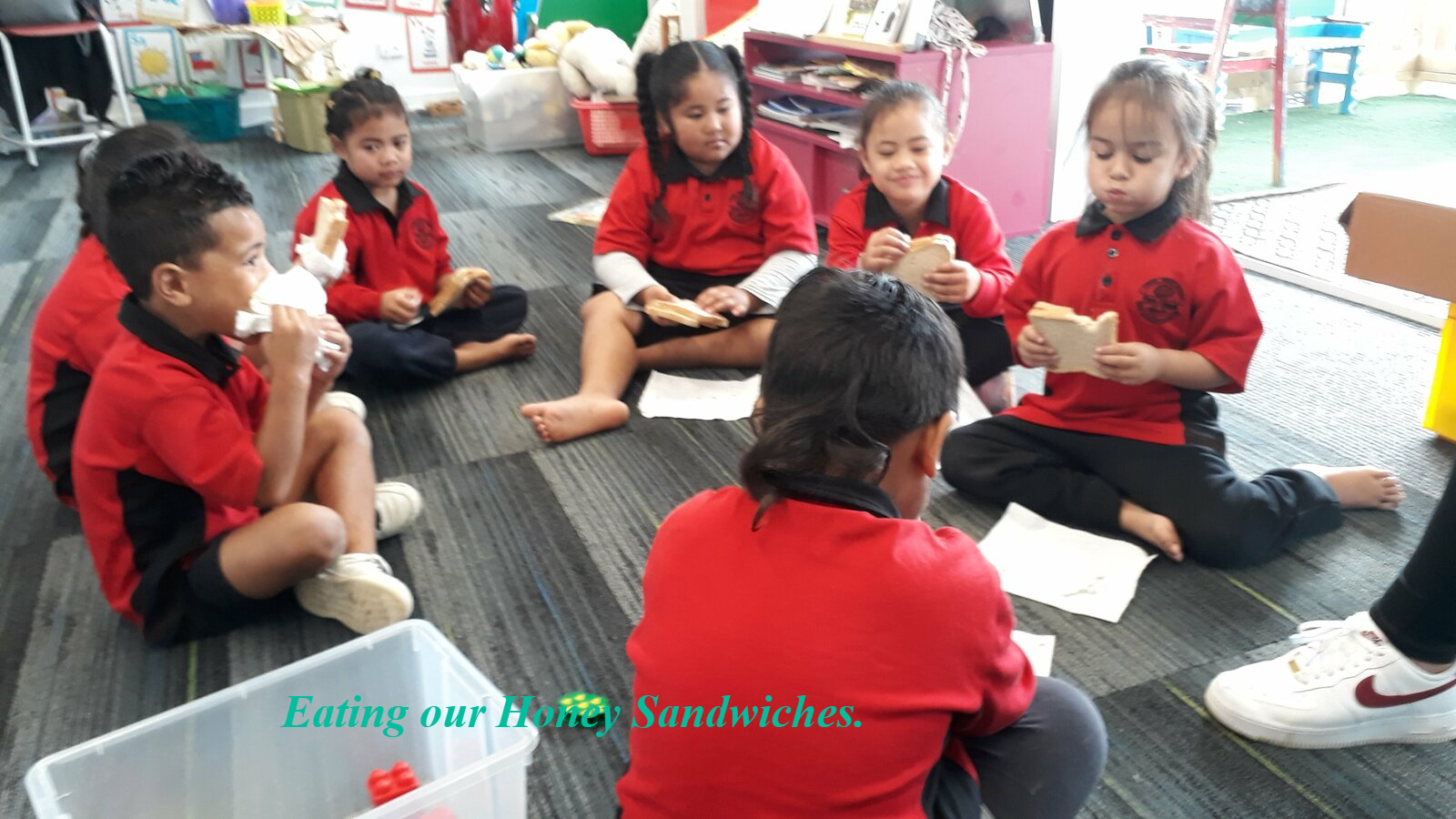 This week we read The Hungry Giant. This is Miss Vera's favourite book. We loved it too especially when the Giant said he would use his Bommy knocker! The Giant wanted bread, then butter, then honey. (Flat Bush school honey). We made him honey sandwiches so he wouldn't hit us with his Bommy knocker BUT the sandwiches were so yummy we ate them ourselves!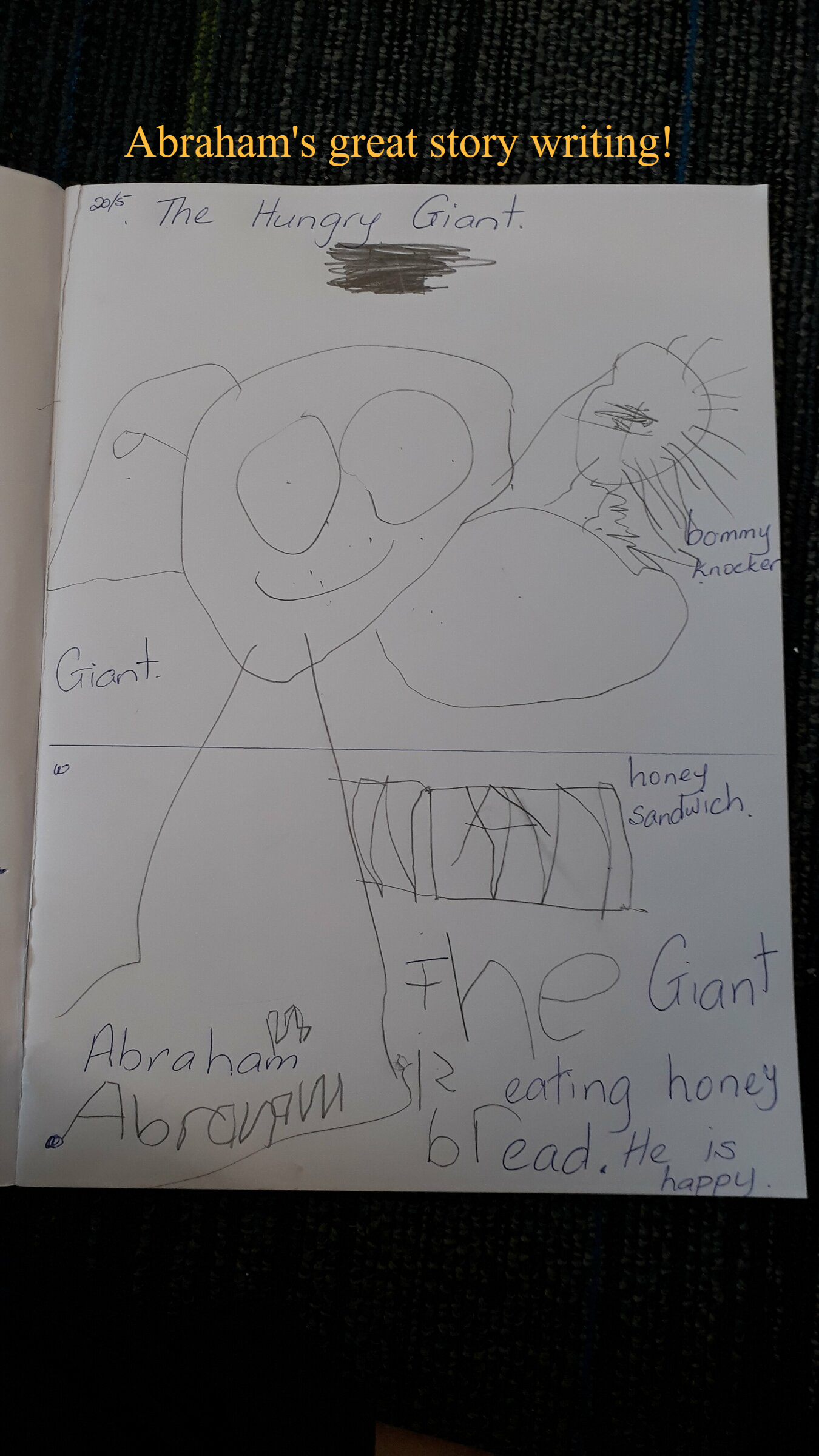 Week2
Last week Rm23 won the award for attendance. Well done Mum, Dad and children.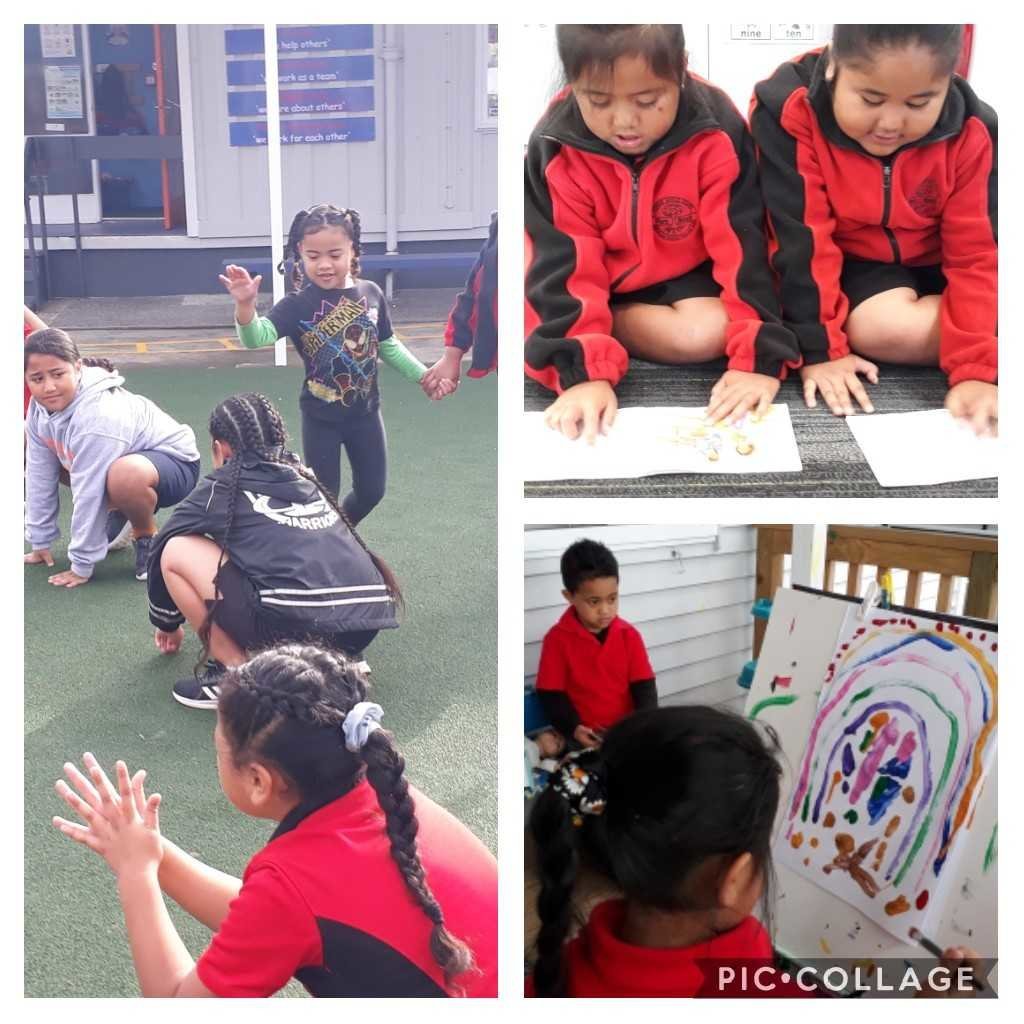 Being great buddies playing Duck,duck,goose and reading with our wonderful friends in Rm12.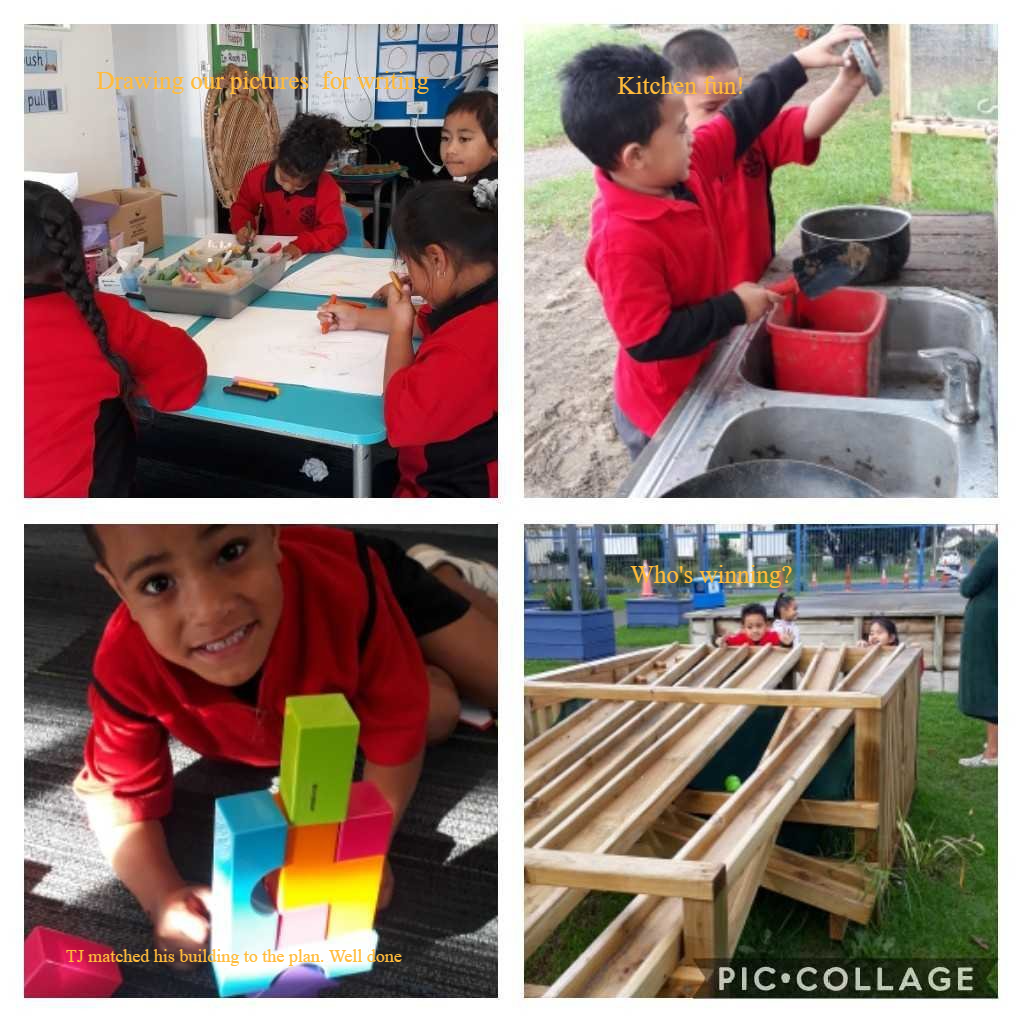 Week 1
I hope you all had a happy and restful holiday!
In Room23 we welcome Marina,Criss,Abraham,TJ and Elizabeth. We hope you have enjoyed your first week at school.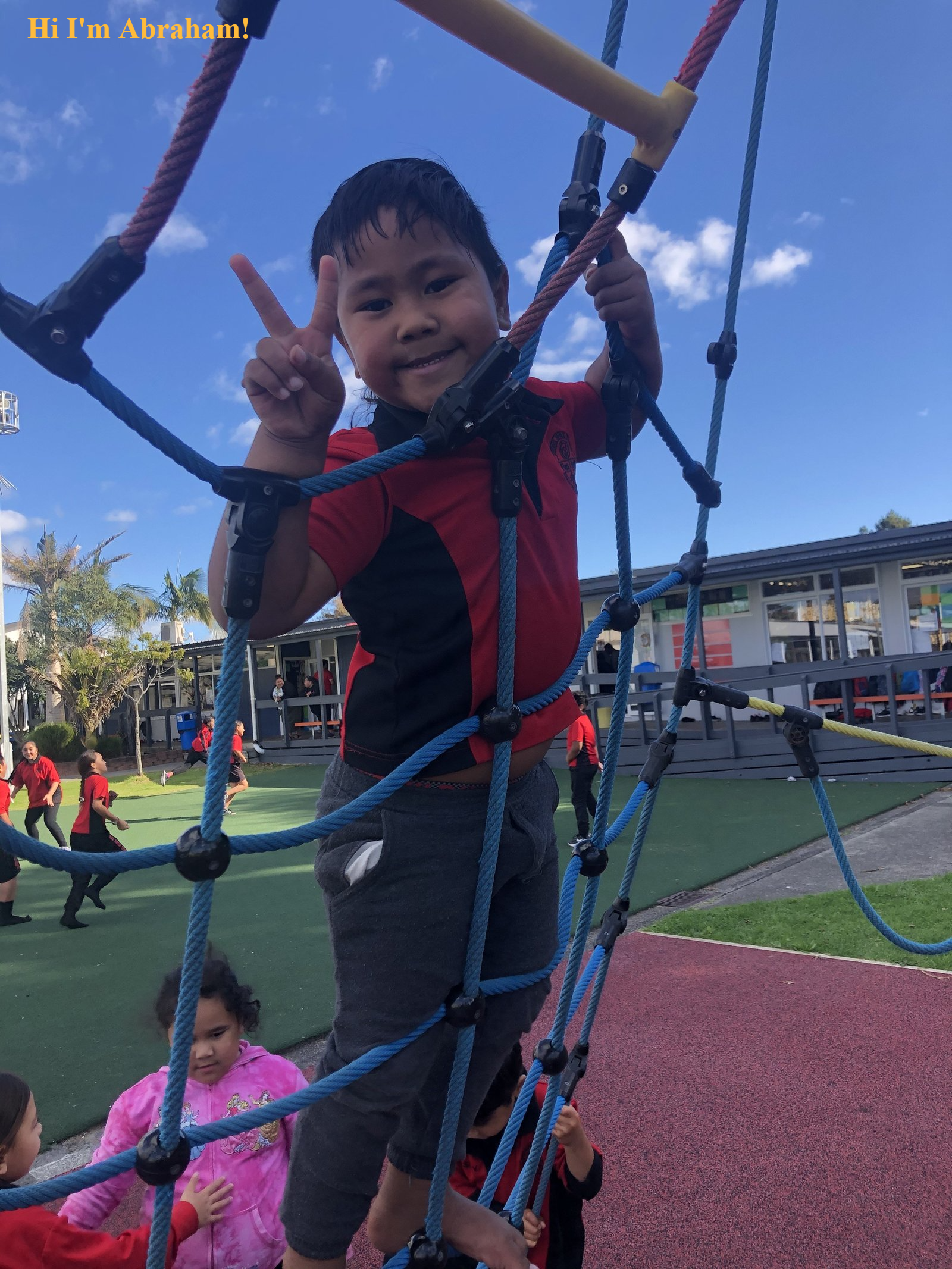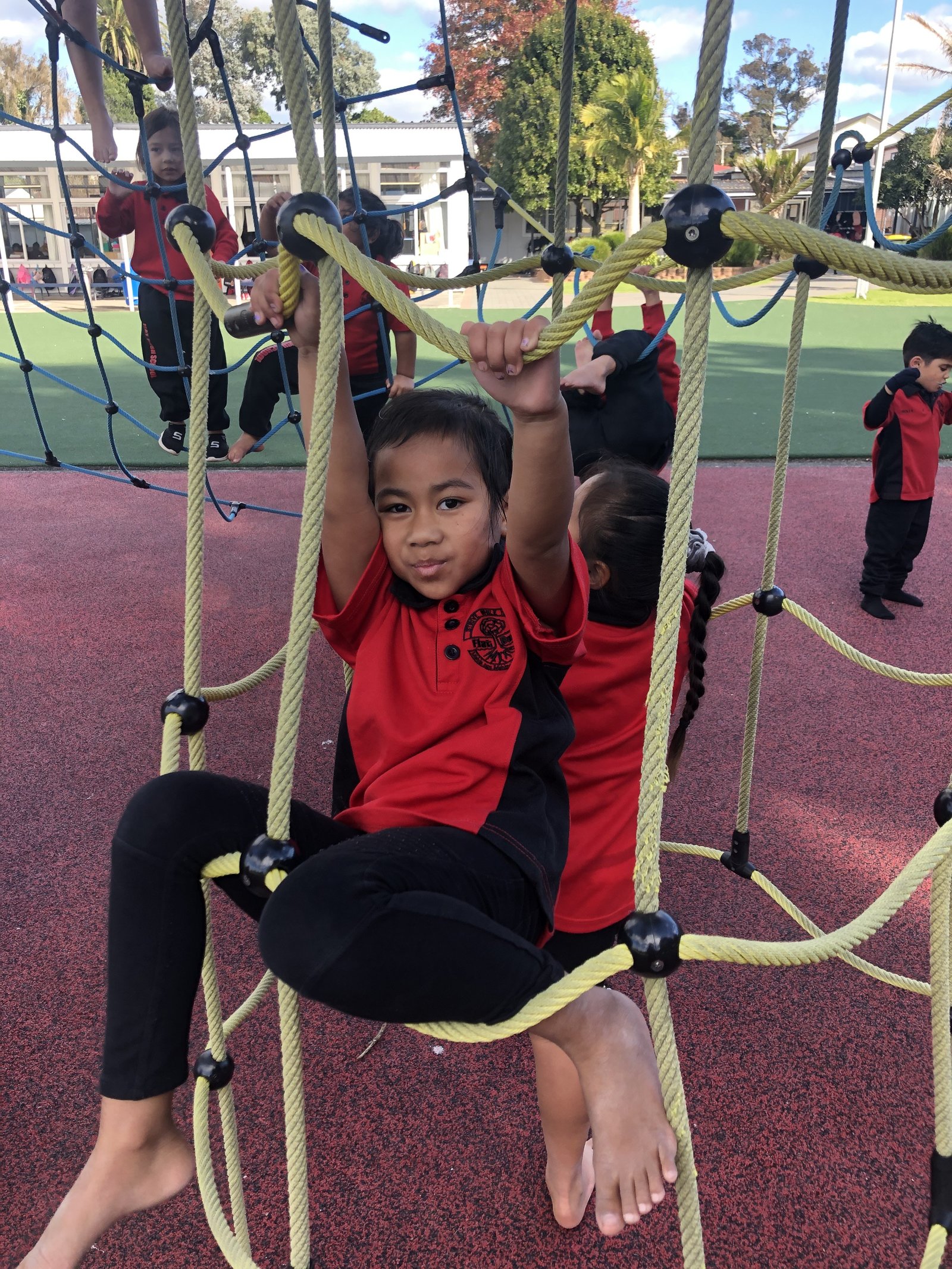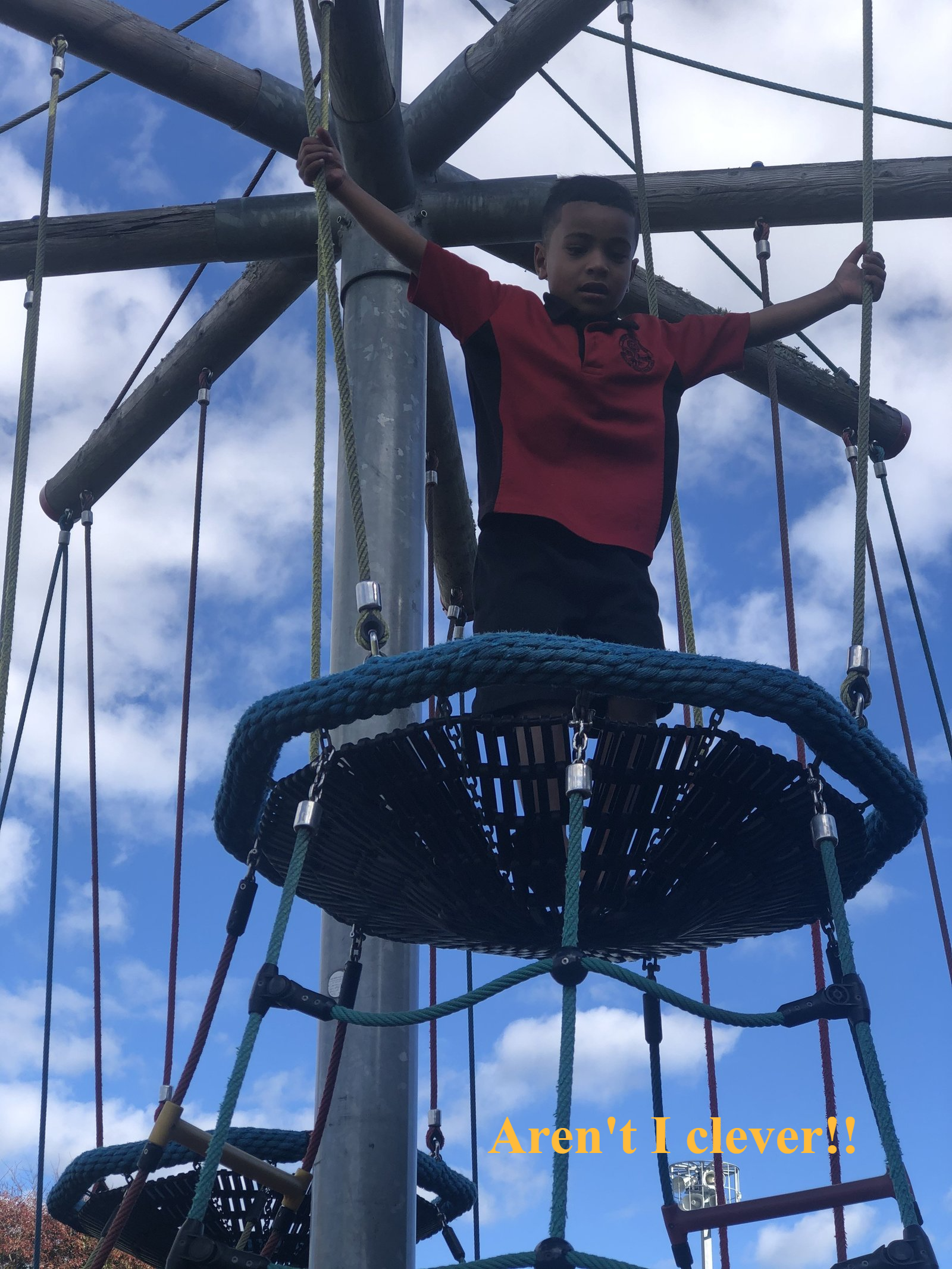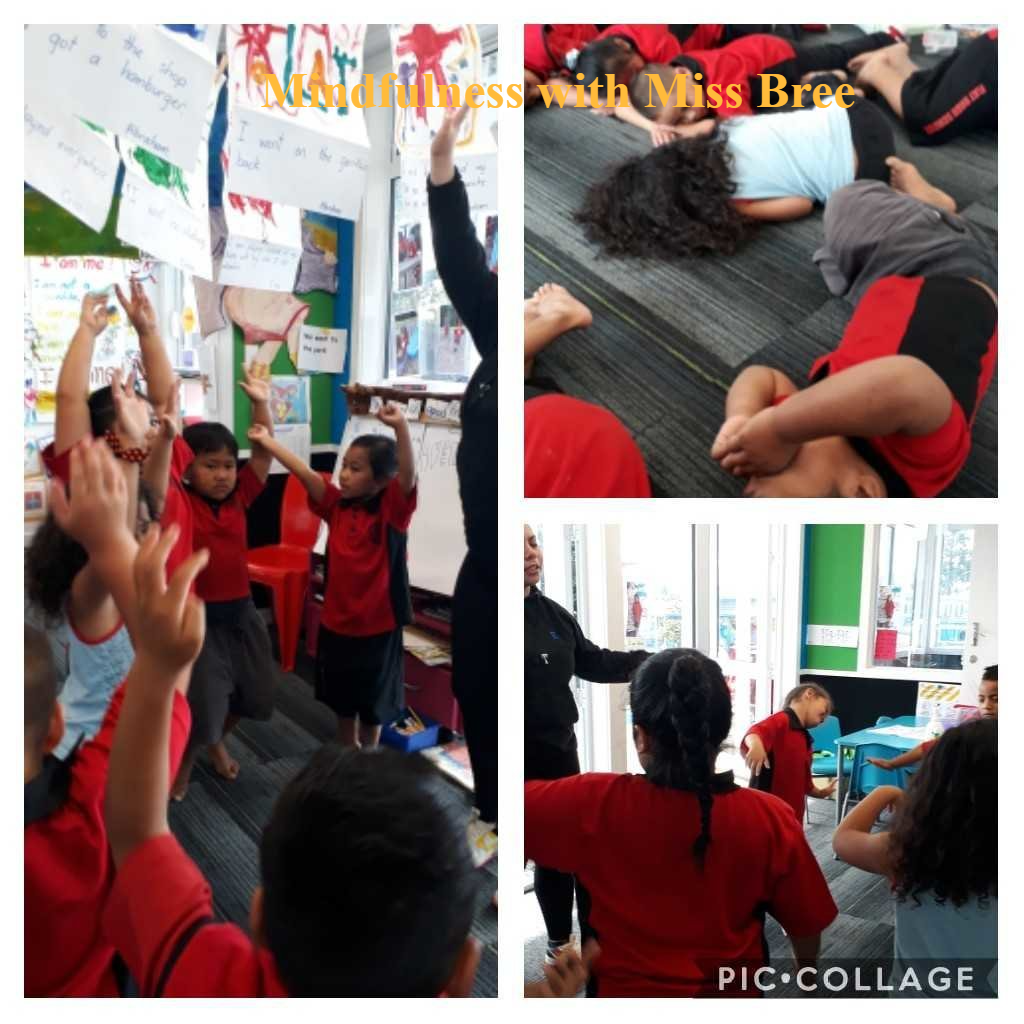 We wish all Mums a very Happy Mother's Day! We sent Mum much love by making her a chocolate cup cake and a lovely flower by drawing around our hands.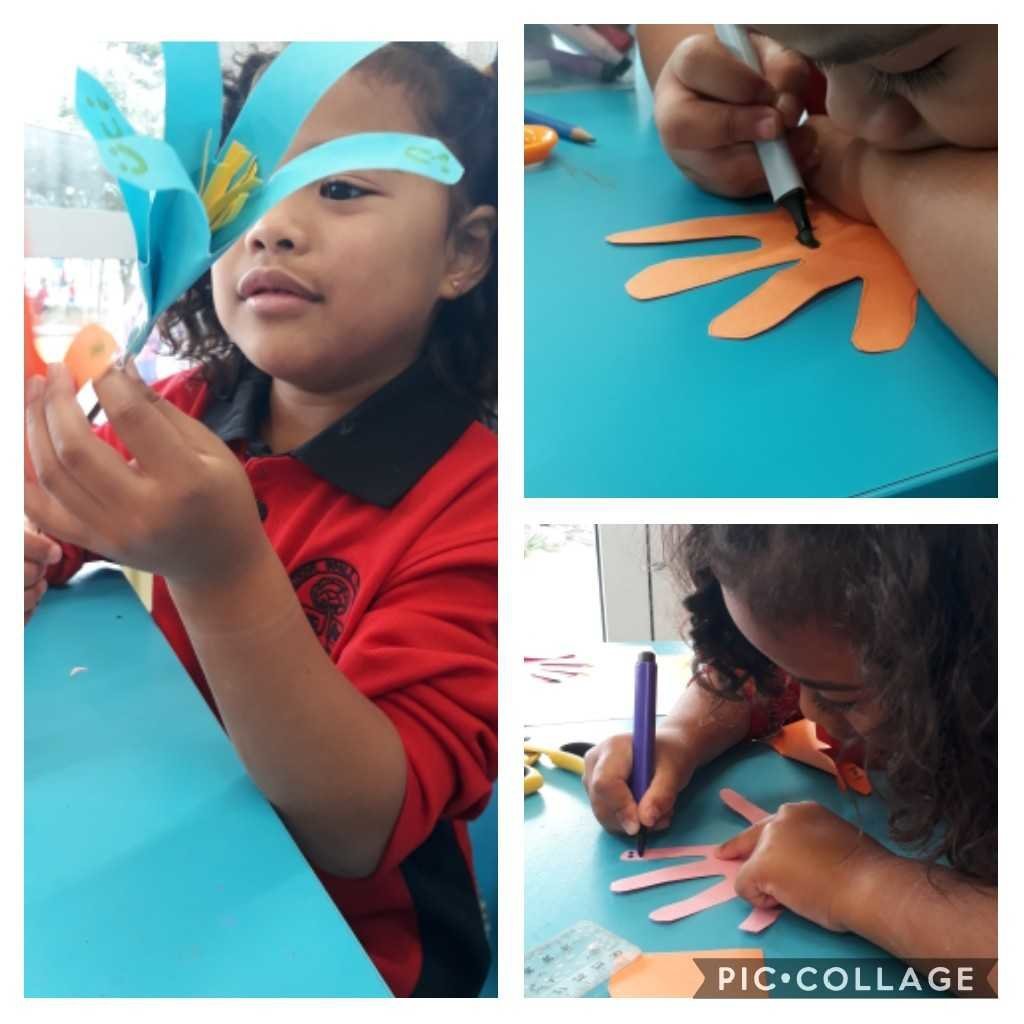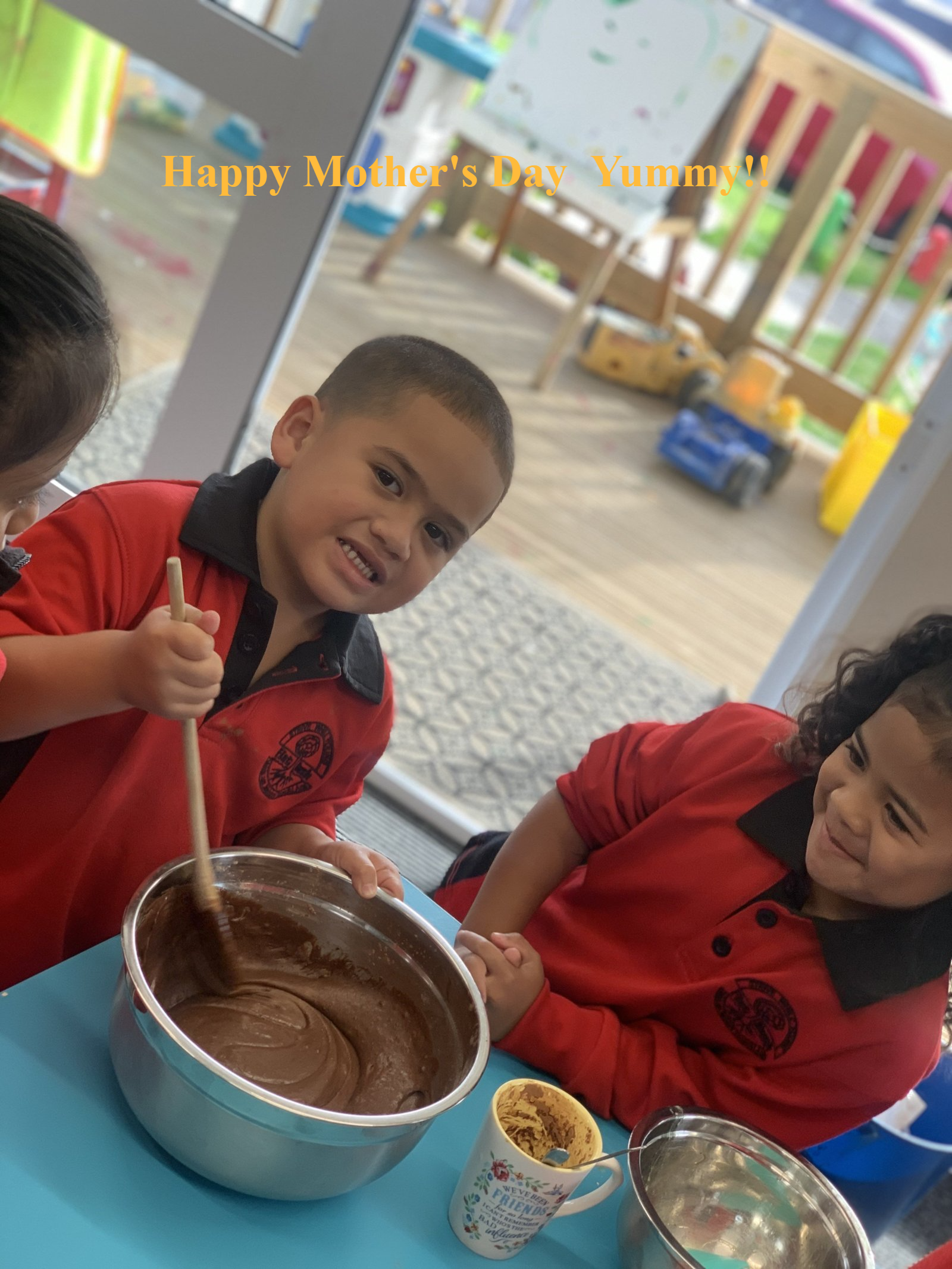 Weeks 9 & 10
Room 23 had great fun with our wonderful coaches learning some cricket skills. We were sooo good at catching and bowling!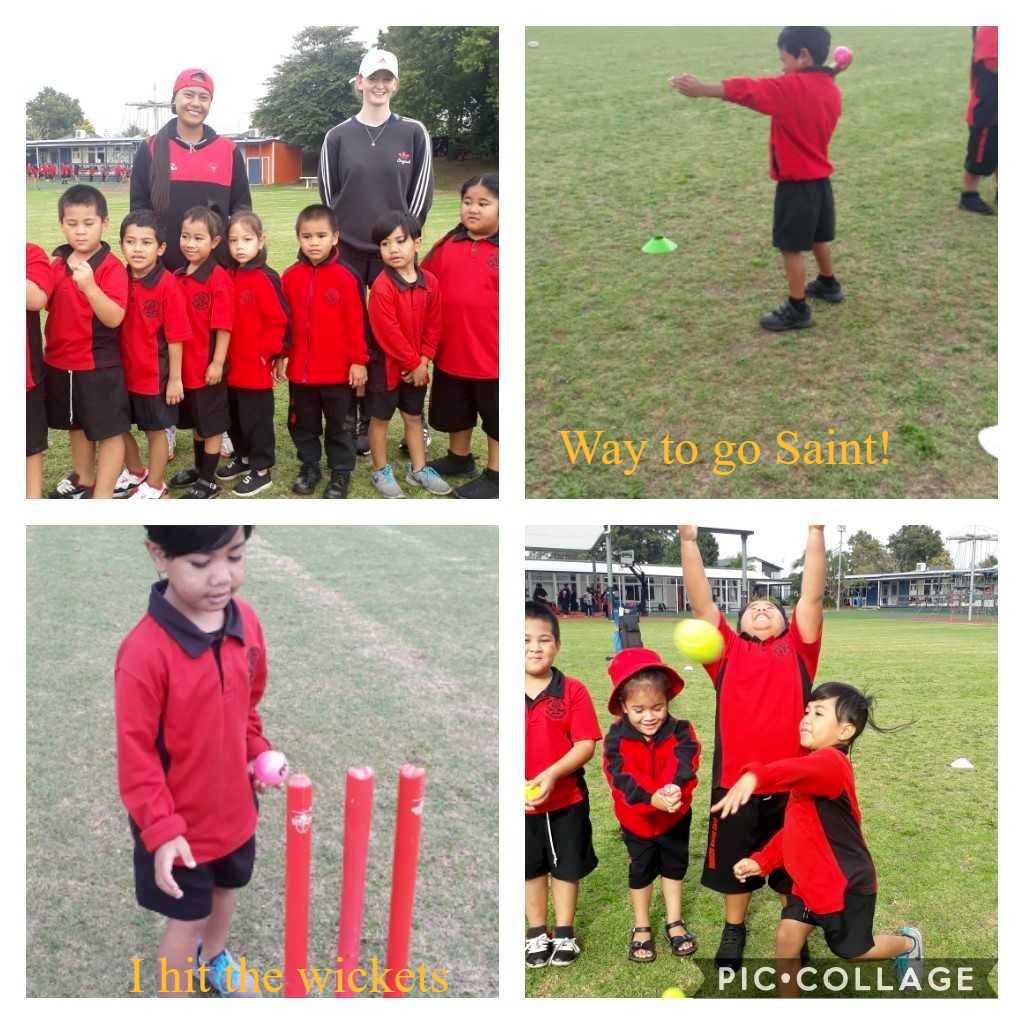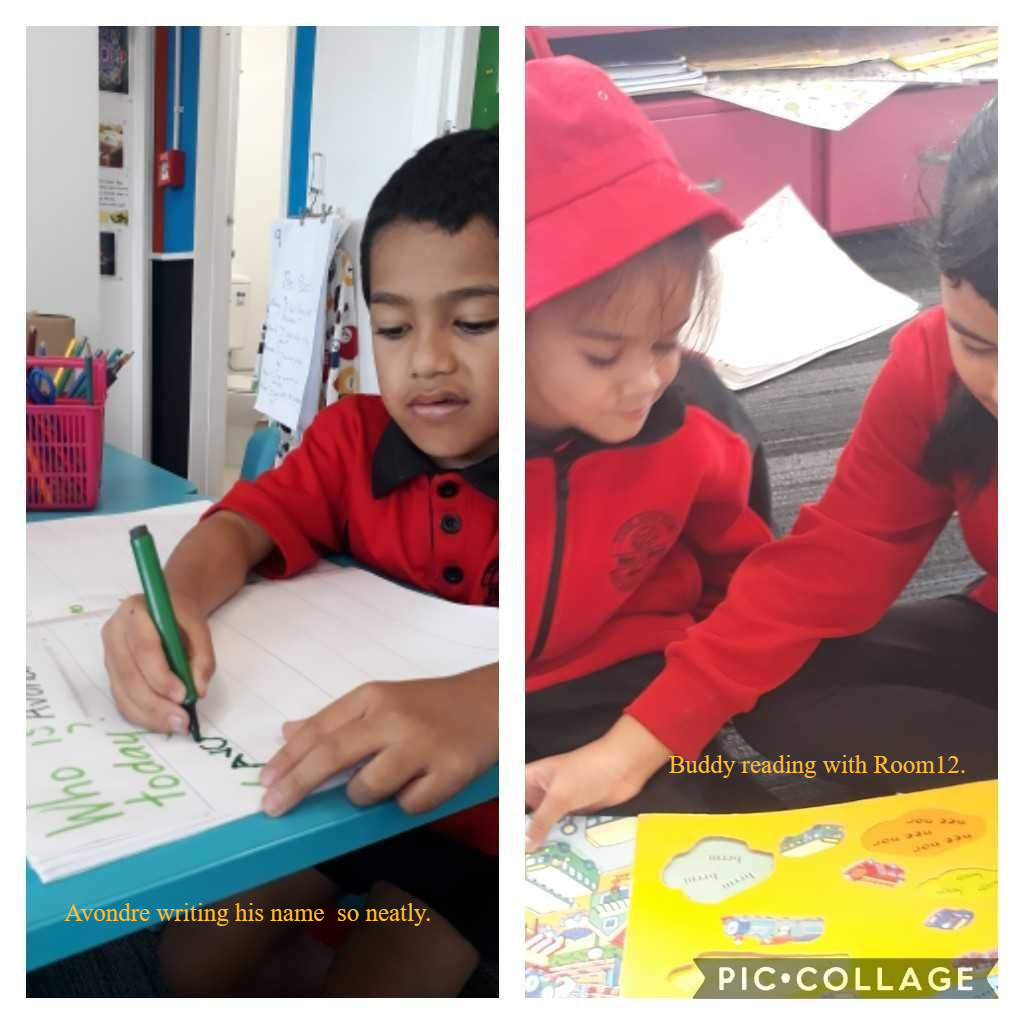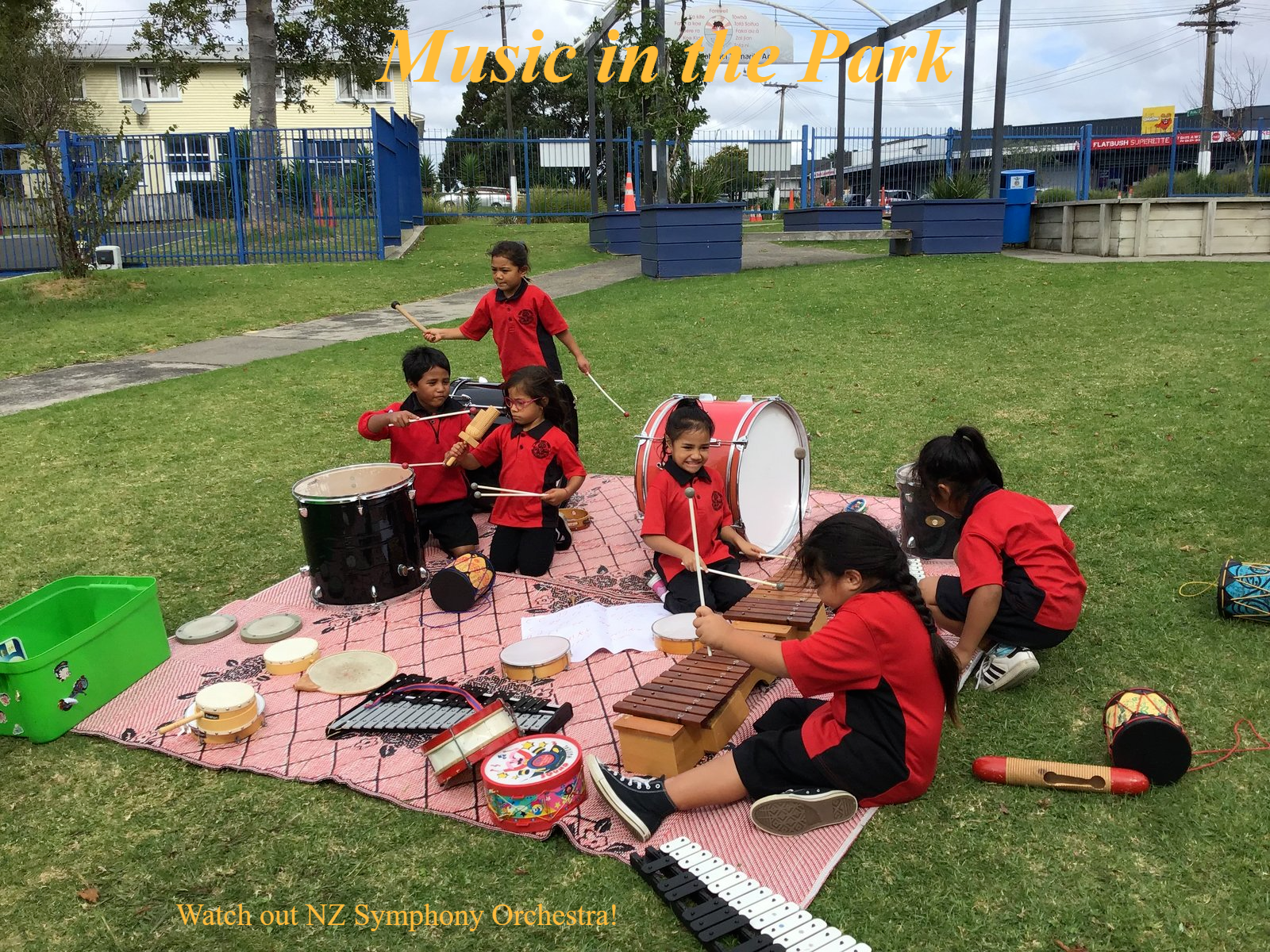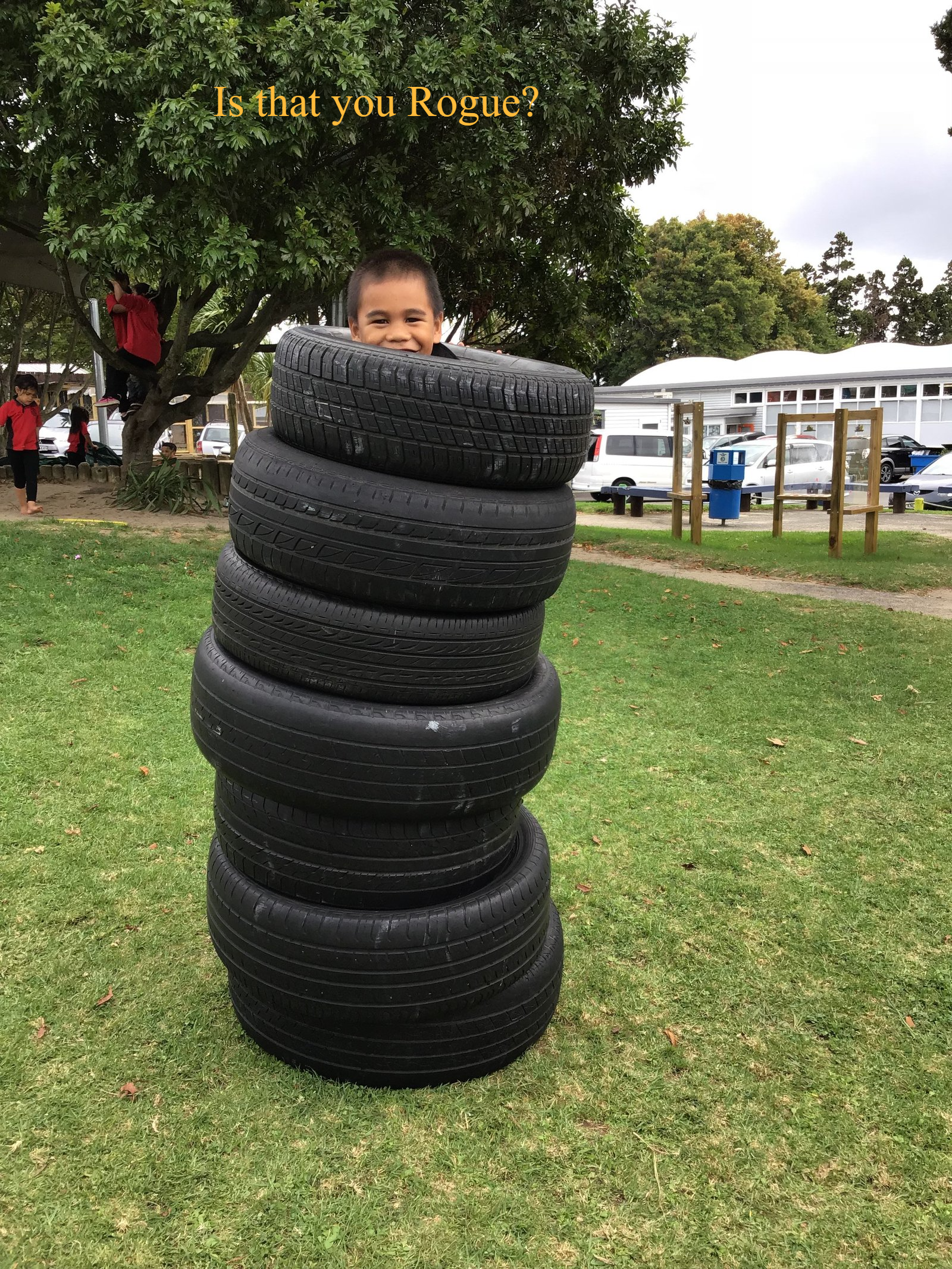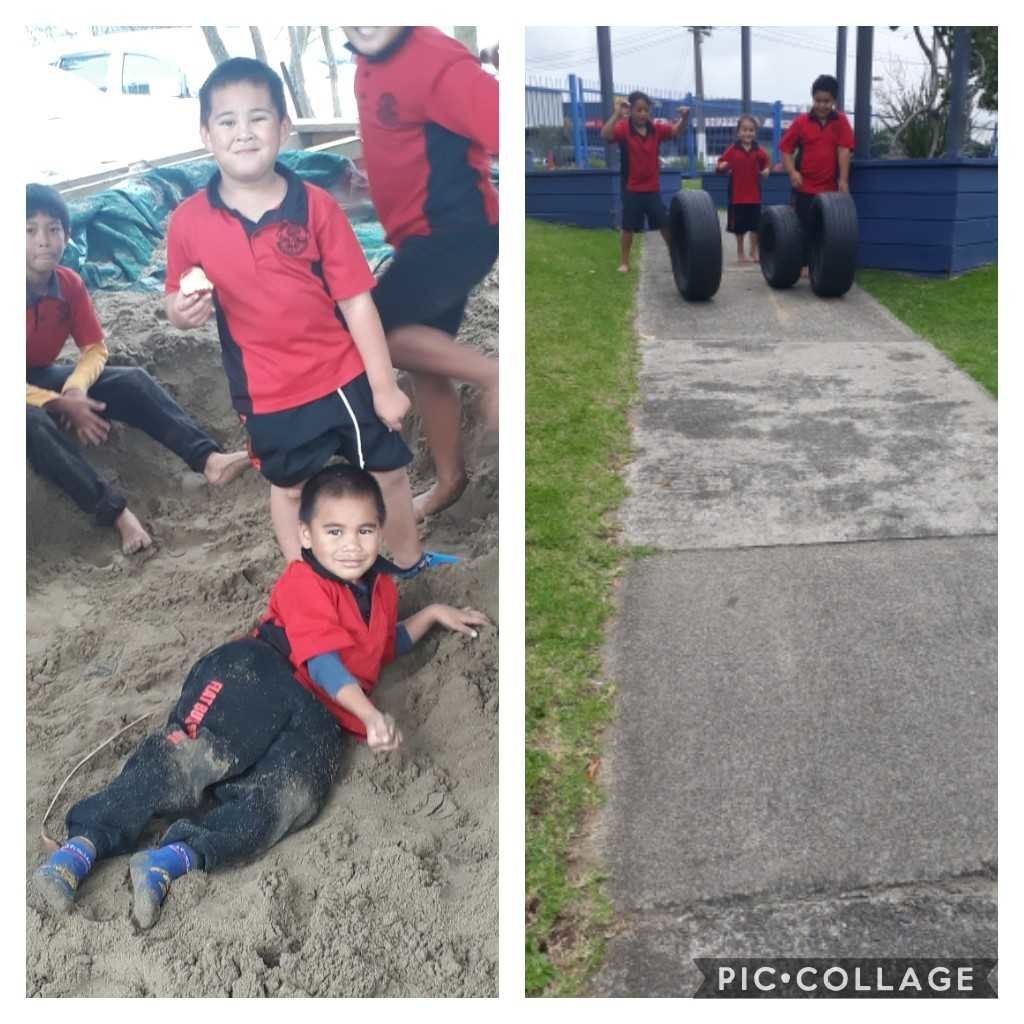 Week 8
As part of our "knowing our community" study we have been exploring our community. This week we found a beautiful little park along Flat Bush Road. What fun we had on the playground with equipment that was fun and extended us physically. There are lovely big trees to picnic under as well.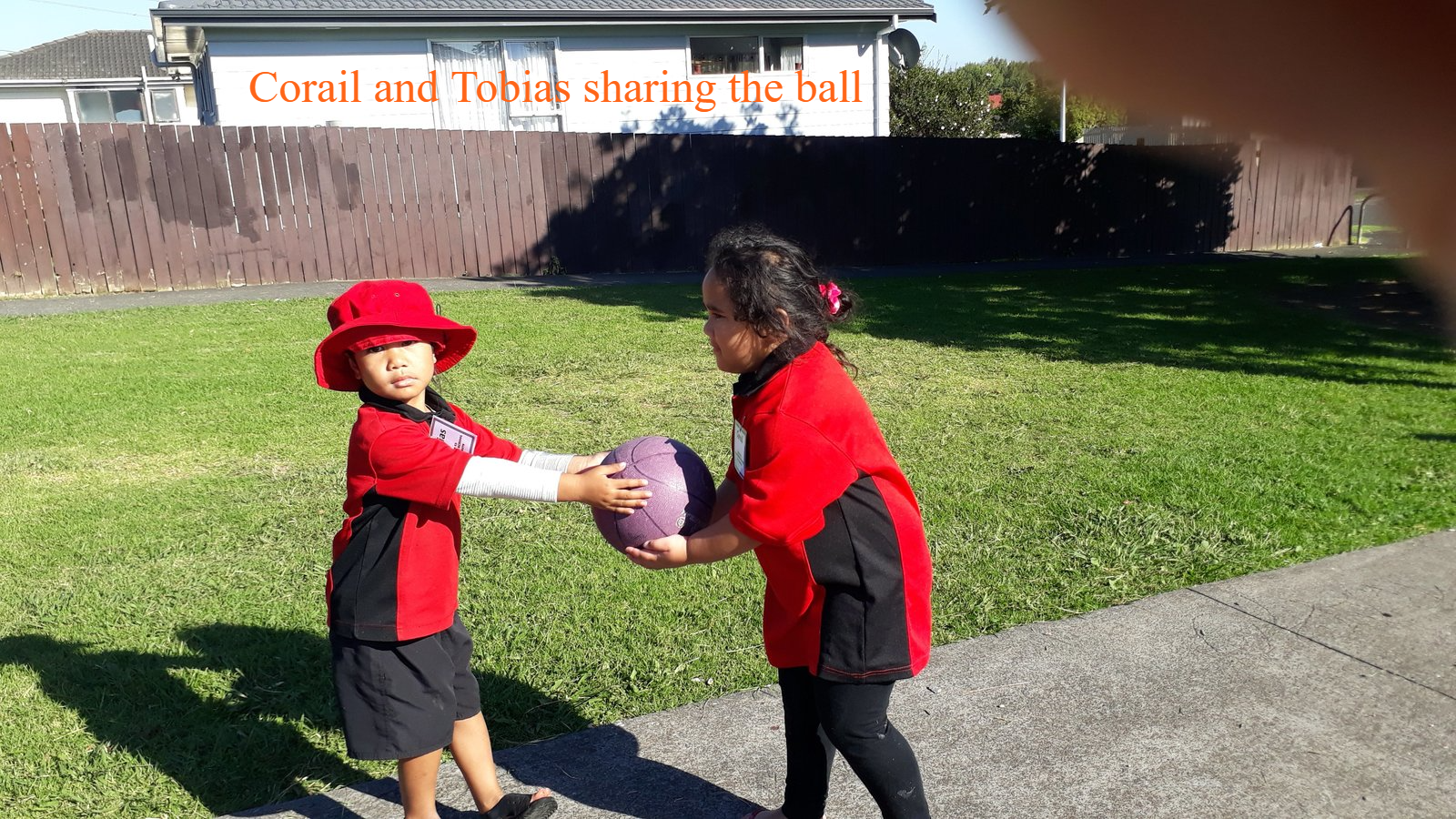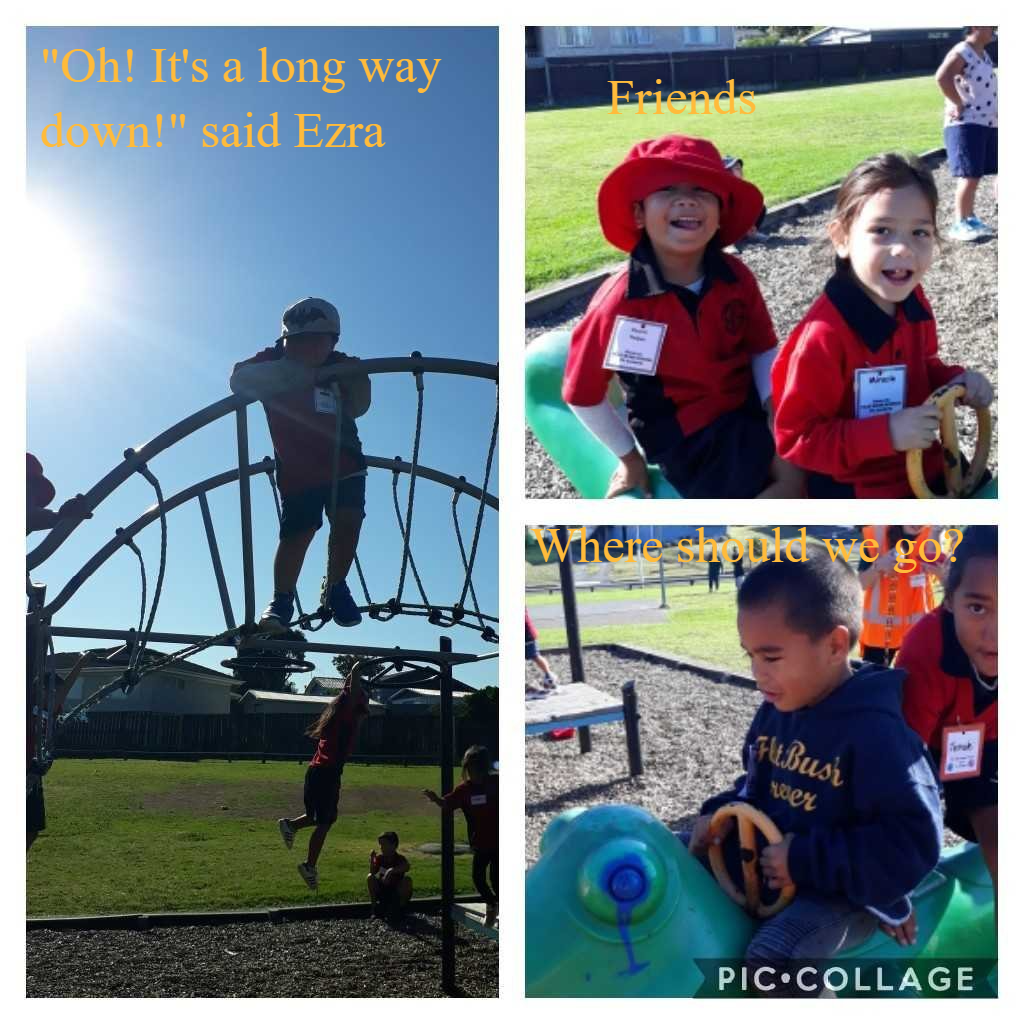 We've been doing lots of other activities as well that help us problem solve, use our imagination and socialize nicely with our friends.
Have a happy weekend!
Week 7
One fine day we went walking to the park
We went walking to play and play and play!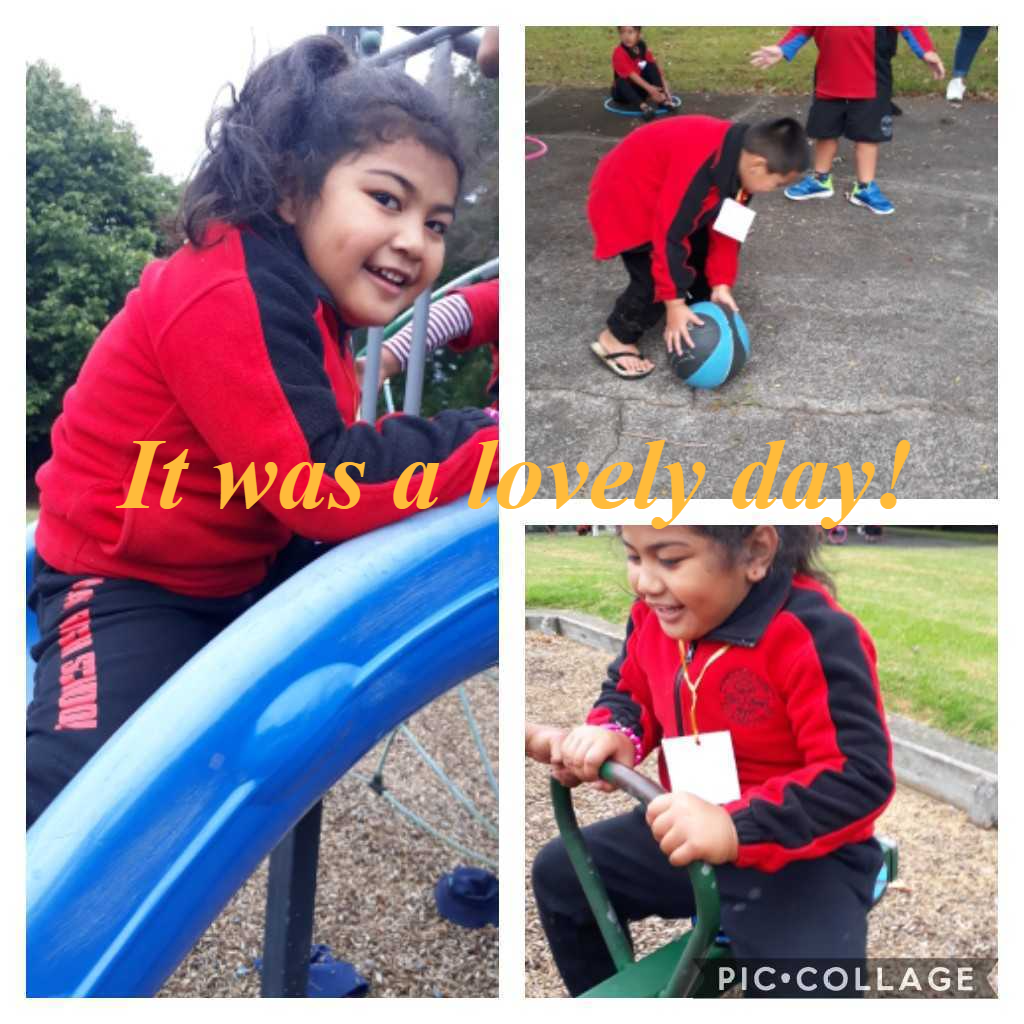 On Friday we had HAGS day. Another fun day when all the children participated so well in different sports.
Week 6
After coming back to school from lockdown we have been working really hard to connect with our friends again through social activities and play. Routines are being restored and reading, writing and maths are part of our daily programme.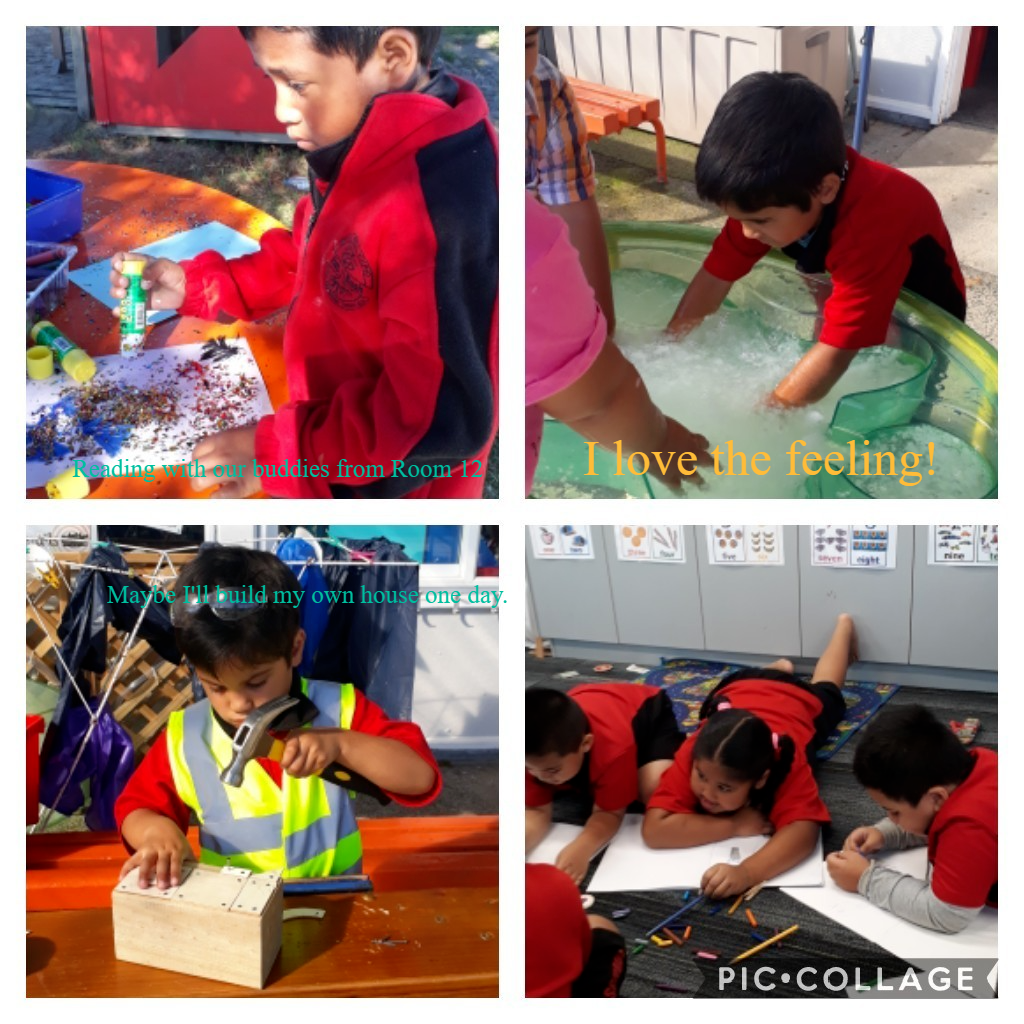 Manny made a hut and used the vacuum cleaner hose as a microphone for his wonderful singing. So creative Manny. Kilika built a tower. A wonderful use of maths concepts Kilika.

Miracle showing us how busy she was during lockdown. Well done!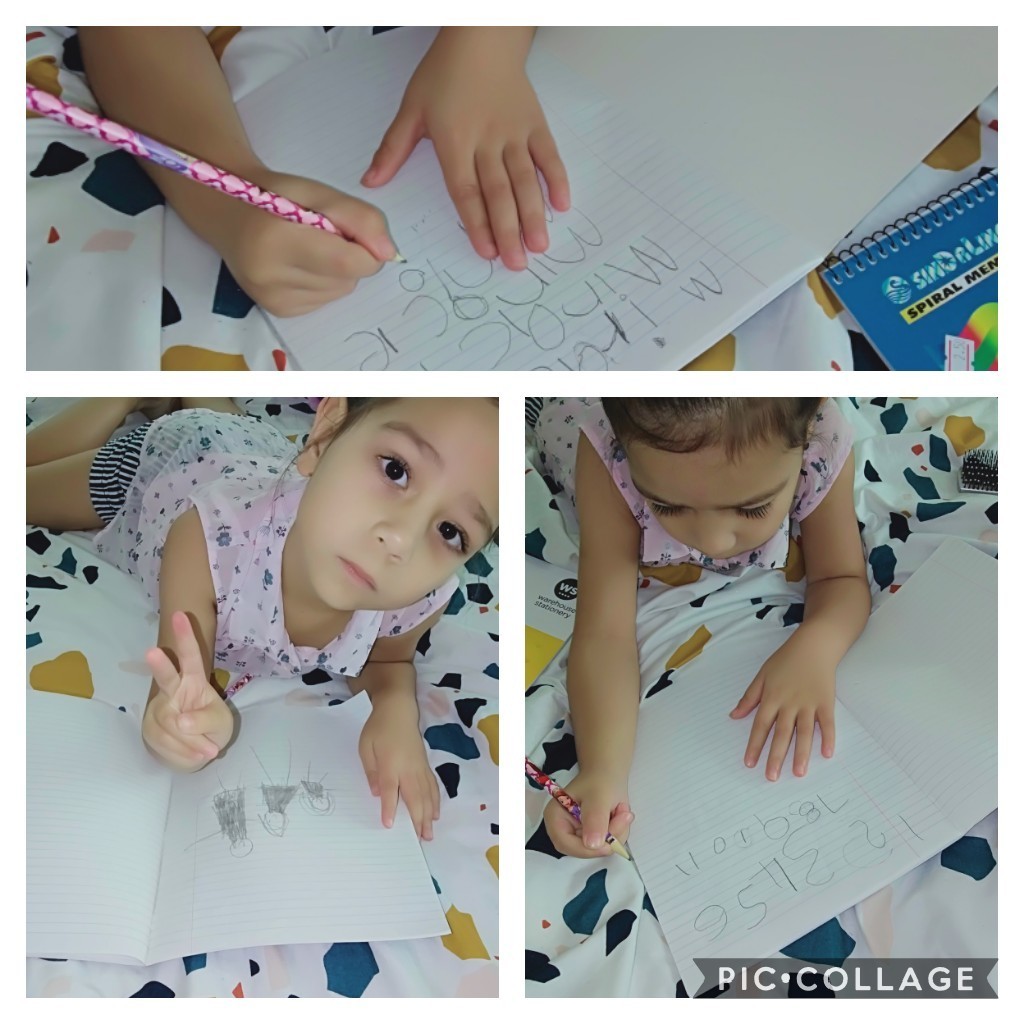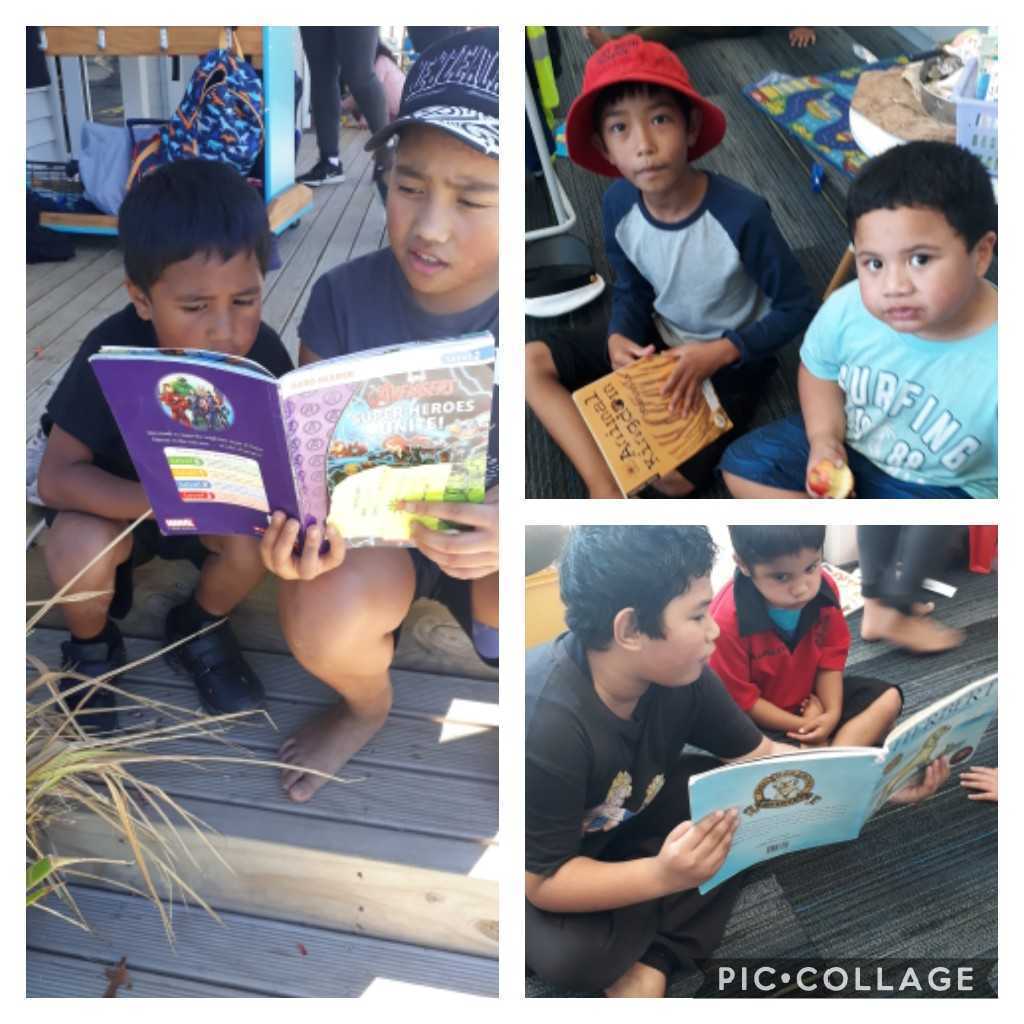 Room 23 always loves it when Room12 come to read and work creatively with them. It is excellent for their oral language development and gives Room 12 leadership roles.
Tobias built his tower showing great mathematical concepts of balance and design. Great work!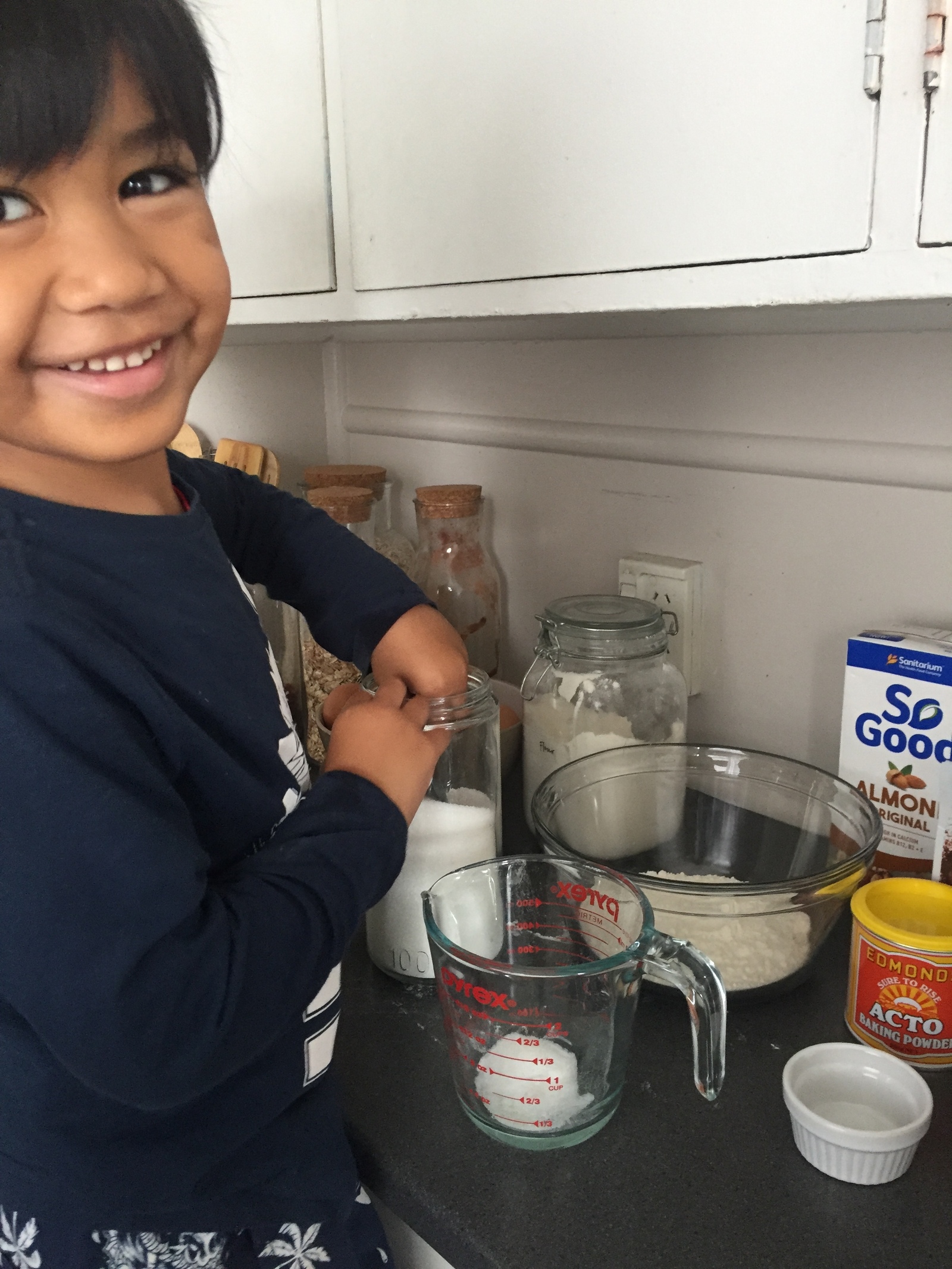 Tobias was very busy during lockdown writing his name and making a yummy chocolate cake. Well done!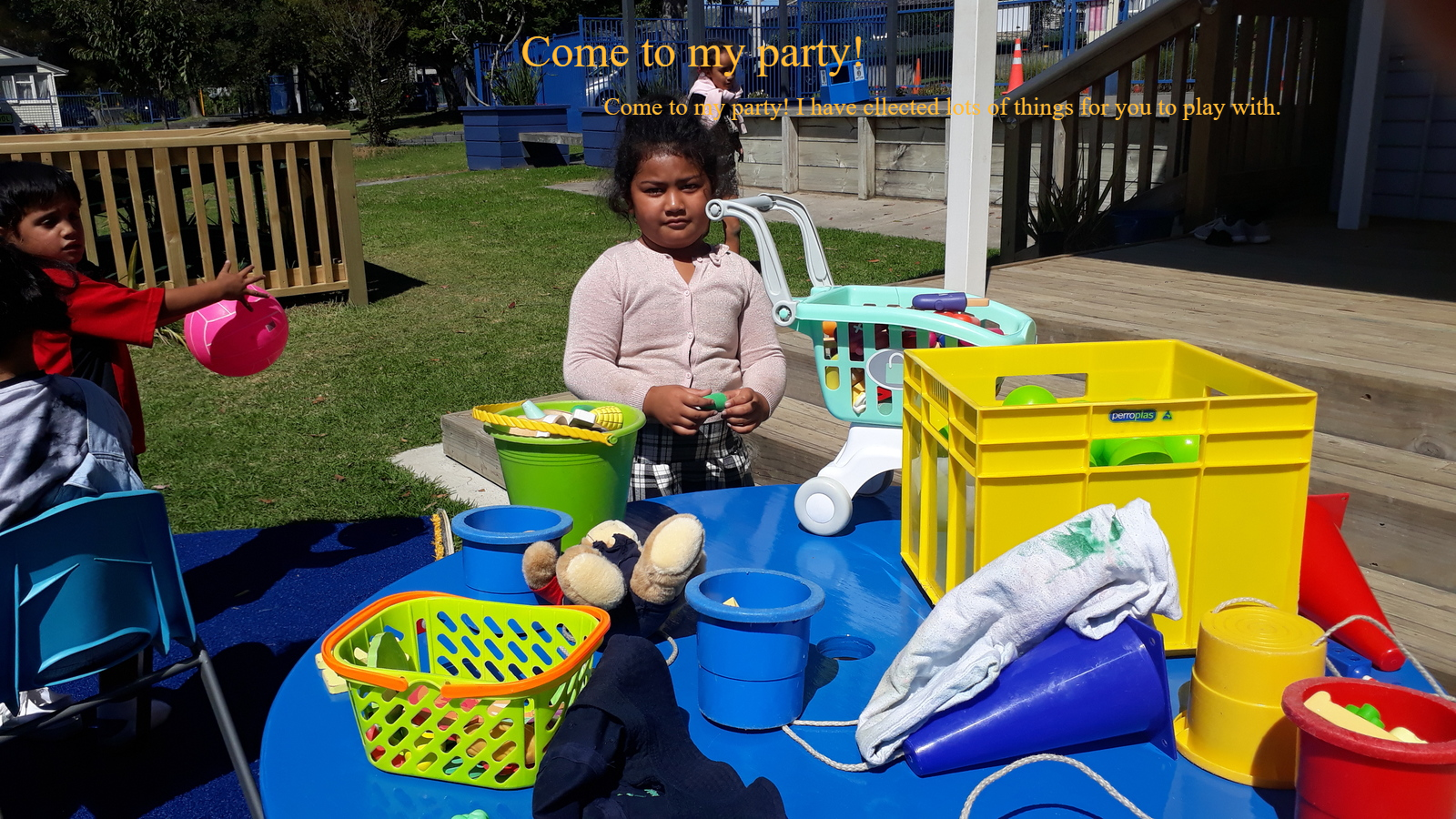 Good Morning Room 23
Today is Friday.
Hopefully this will be the last day of online learning! I hope you are well rested and feeling fit and healthy.
This morning I thought I would post a recipe for you to try making with Mum or Dad. It's super easy and a favourite with my family.
Apple Pudding Very yummy, very easy.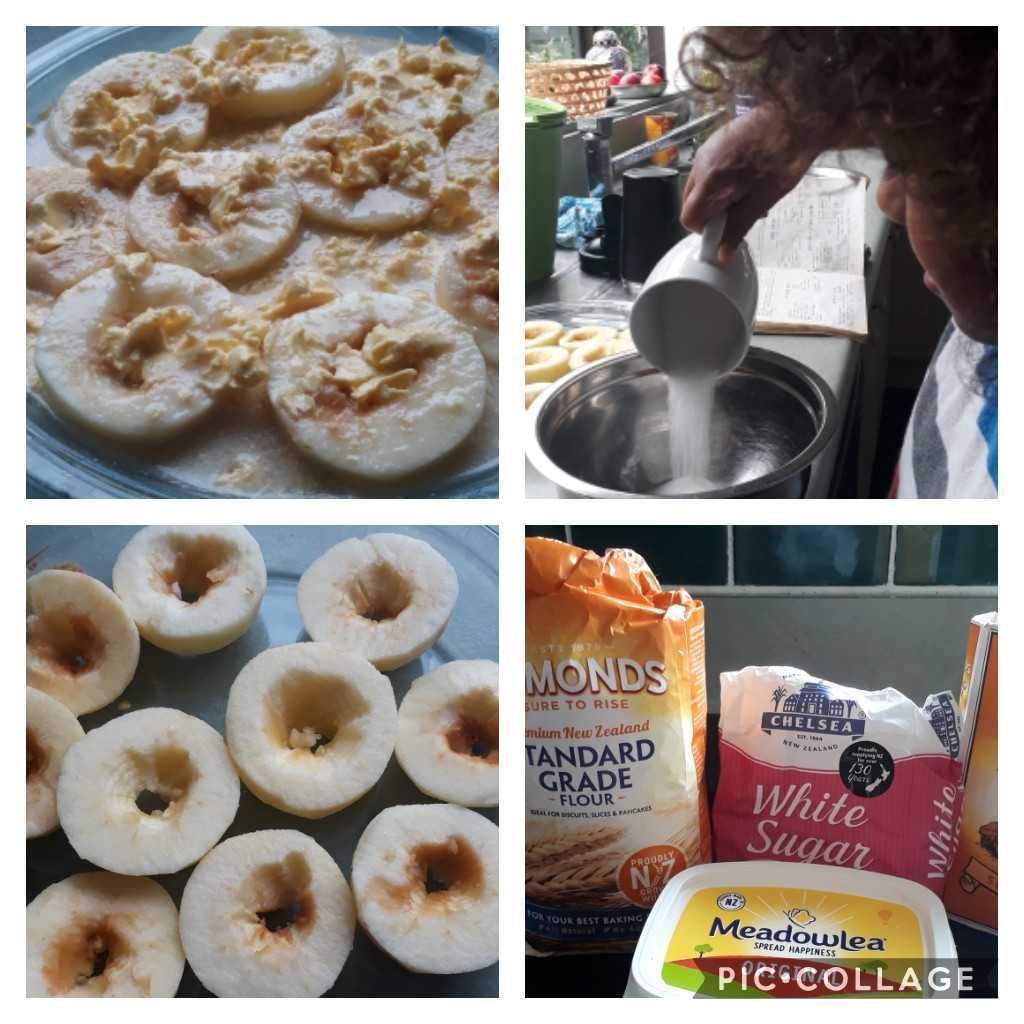 Place in a shallow dish: 4 apples (cored, peeled and cut in half like doughnuts) I used little apples
Mix together: 1/2 c flour, 3/4 cup sugar ( less if sweet apples) 1 tsp baking powder
Rub in: 2 Tbsp butter or margarine (make sure you have washed your hands)
Mix with: 1 cup cold water
Pour over apples, bake 180C 35-40 minutes.
Today:
1. Write your name - a fun way is just with water on your finger.
2. Do some counting to 10 then 20.
3. Draw a picture and write a sentence.
4. Have some exercise - dance to music, run around the house, go for a walk with an adult or big brother or sister.
Another simple but fun activity is the spoon and potato race. Racing each other outside around the house is fun. My grandsons love to do this.
Fiona Mafile'o
Kia Orana
Today is Thursday
I hope you are are all safe and well in your bubble. Here is my grandson Talavou blowing bubbles. He used dishwashing liquid and water and the end of a tin opener to make bubbles.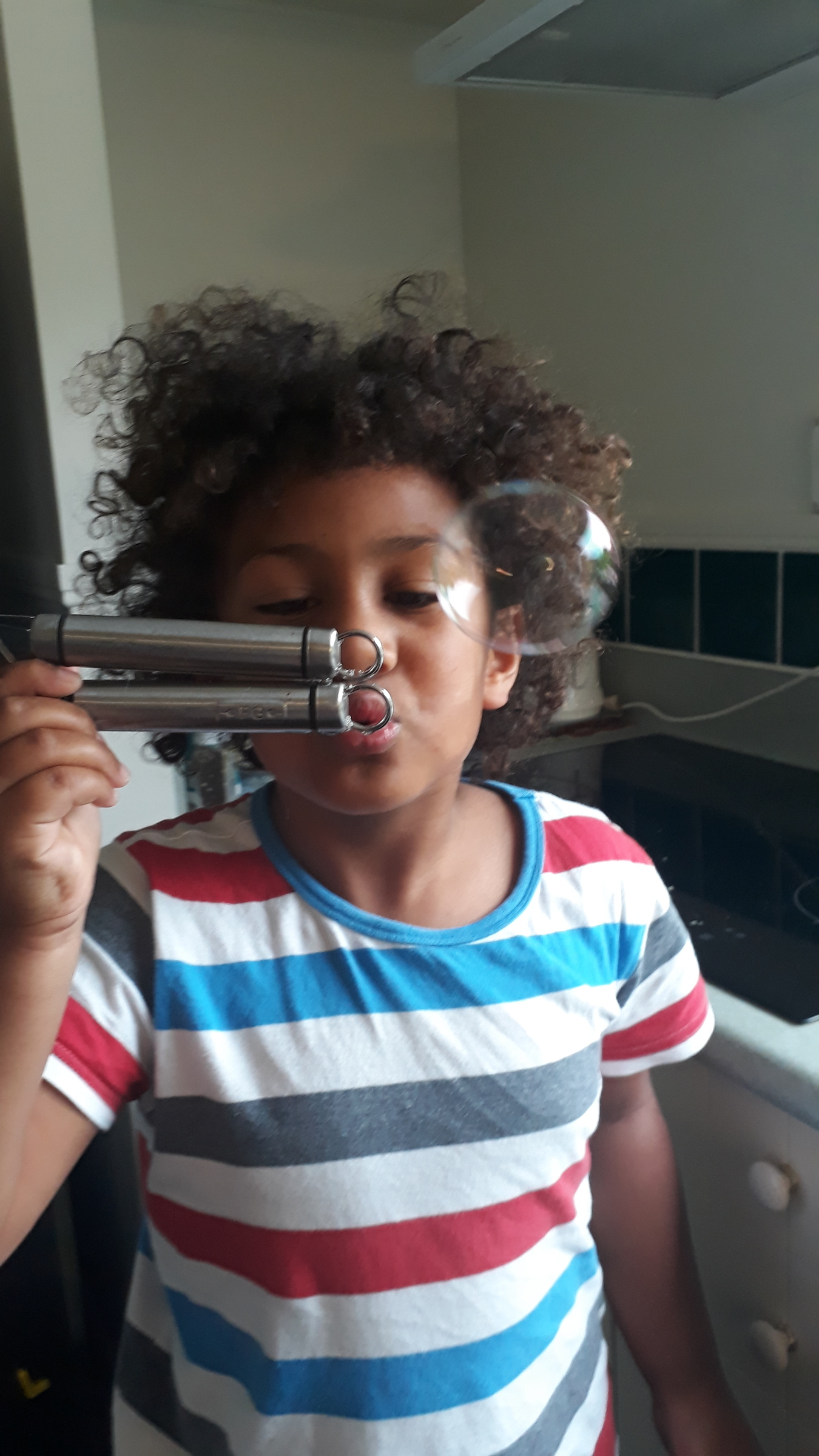 Bubbles are round like a circle. While we are in lockdown we are in our family bubble to keep us safe. Today you could draw all the people in your bubble at home. Mum or Dad can help you name them.
Remember to
1. Write your name 5 times. If you got a learners pack from school you could use the chalk on the concrete outside.
2. Count to 10 and find objects to match. Then keep going to twenty.
3.Draw your bubble with all your family in it.
4. Play a game with your brother or sister or Mum or Dad.
5. Help around the house.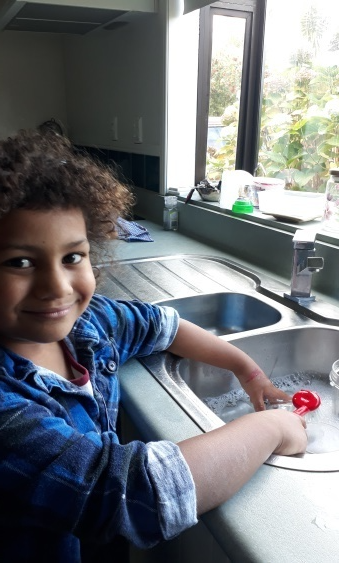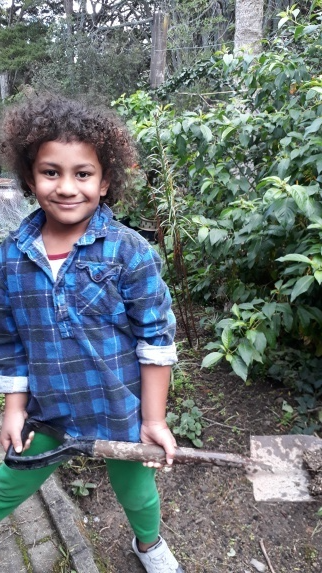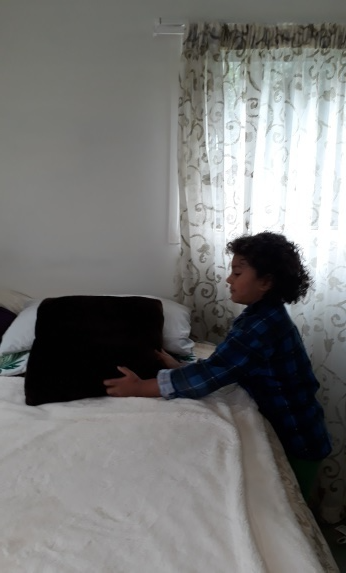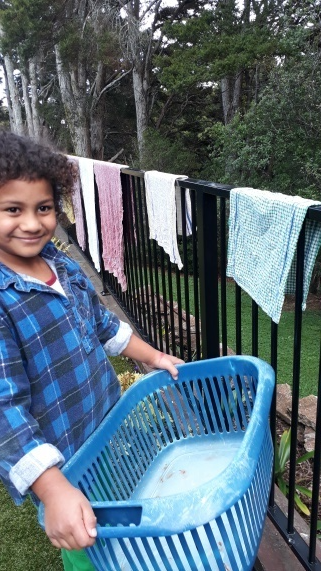 Take care, keep busy, keep smiling.

Fiona Mafile'o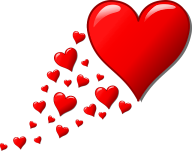 Malo e lelei
Today is Wednesday.
Today you may get a food parcel from school between 11am and 1pm. I hope you are enjoying your time at home with your family. Earlier I sent a text of things to do today.
1. Write your name 5 times. If you got a learners pack from school you could use the chalk on the concrete outside.
2. Count to 10 and find objects to match. Then keep going to twenty.
3. Draw a picture of yourself (scrapbook learners pack) and write I - mum or dad will finish it for you.
4. Find objects in the colour on the chart Malosi has made for you. You could find 3 or 4 things for each colour.
5. I would love a photo of you doing your work!
Colour Chart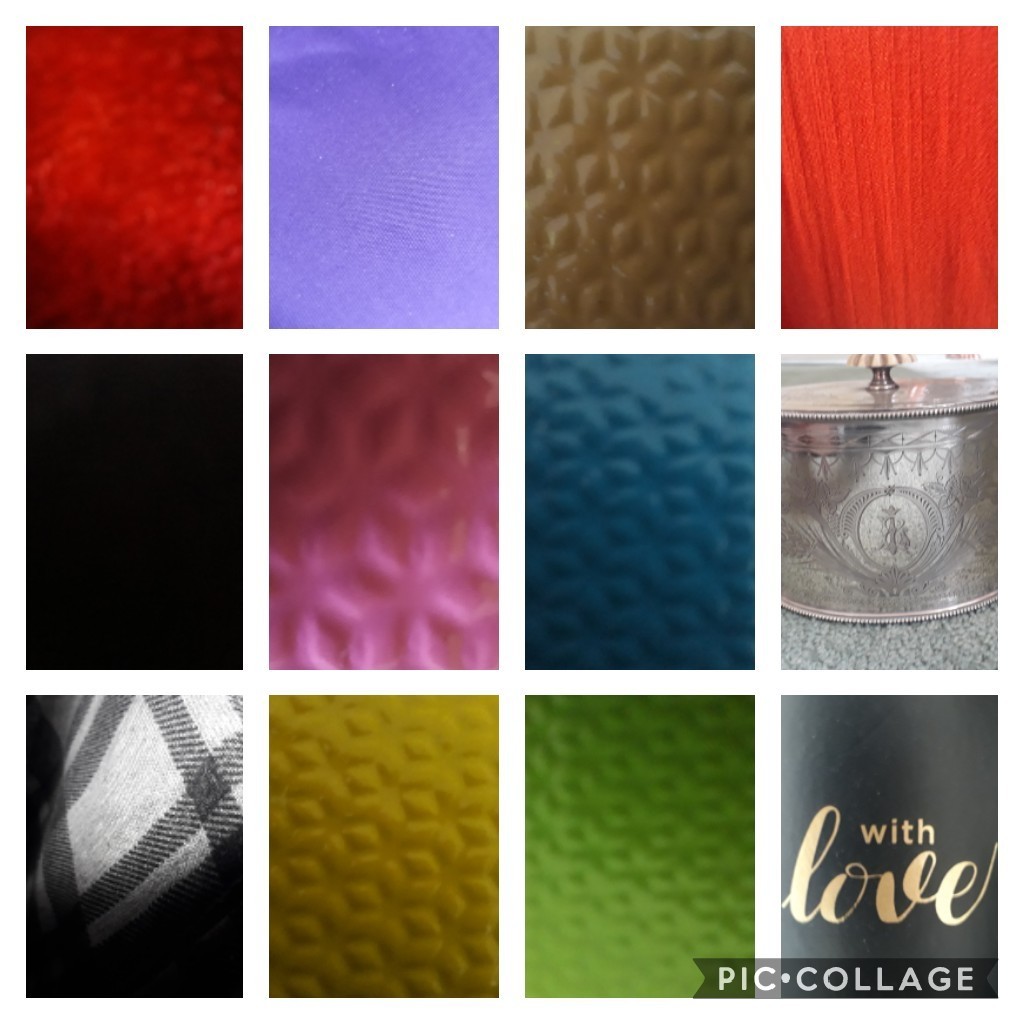 If you need help please contact me.
Have fun, be kind, enjoy the day.
Talofa Rm23.
Fiona Mafileo
Today is Tuesday.
I trust you are all well and enjoying yourselves. My grandson Talavou has taken photos of things he has found around the house. Have fun finding them! Remember to do something helpful for your family.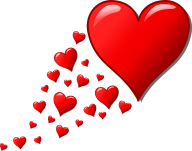 Indoor Scavenger Hunt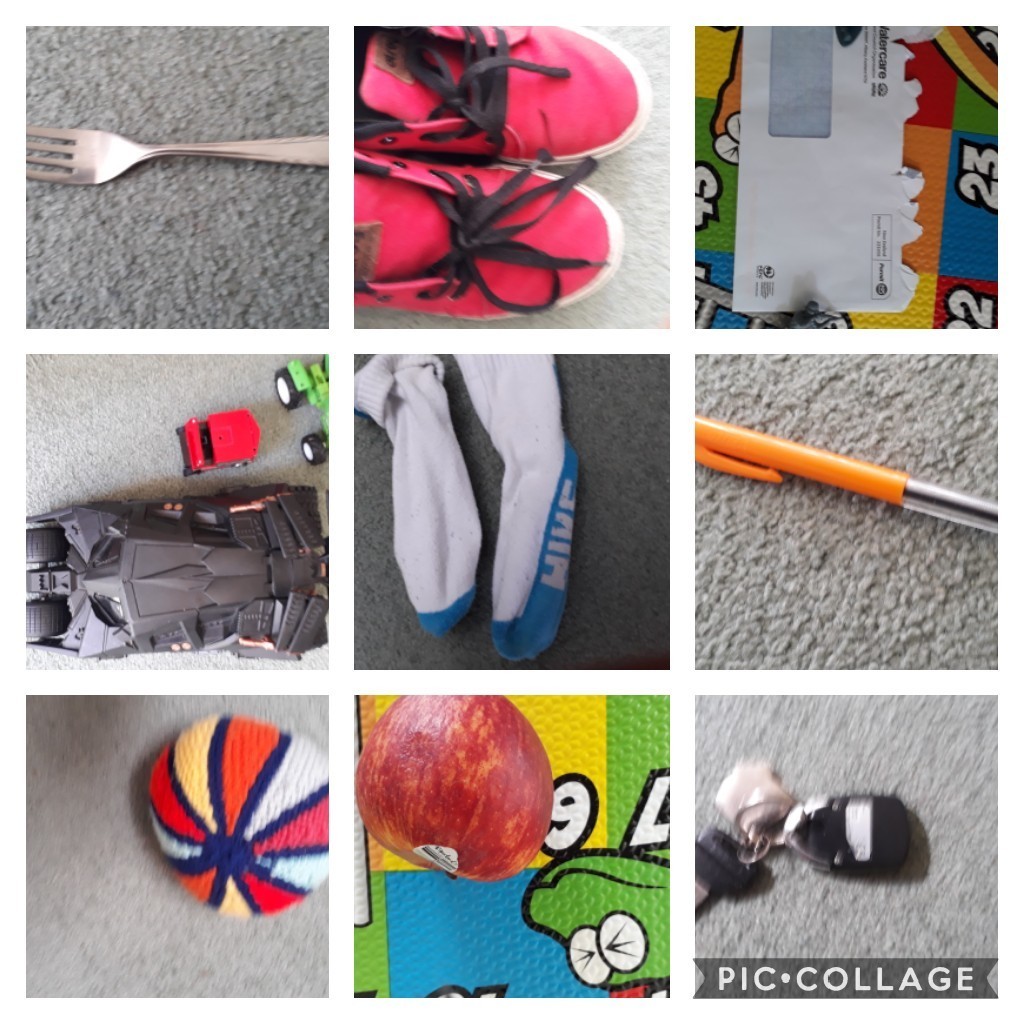 Morena Rm 23
Today is Monday.
We are all missing seeing your beautiful smiles and happy faces at school.
BUT I hope you are all enjoying your time at home with Mum and your family. It's great to go for a walk or a run around the house or kick a ball around the garden.
Here are some fun activities you can do with mum. At the same time you will be learning heaps!
I would love some photos of you writing your name or doing some activities. If you scroll down the webpage you will find some activities I posted during the last lockdown. I hope you try the chocolate cake recipe.
Take care, have fun and be kind to each other.
Fiona Mafile'o
Term 1 Week 4, Friday 26th February 2021
"I am having fun reading a book by myself".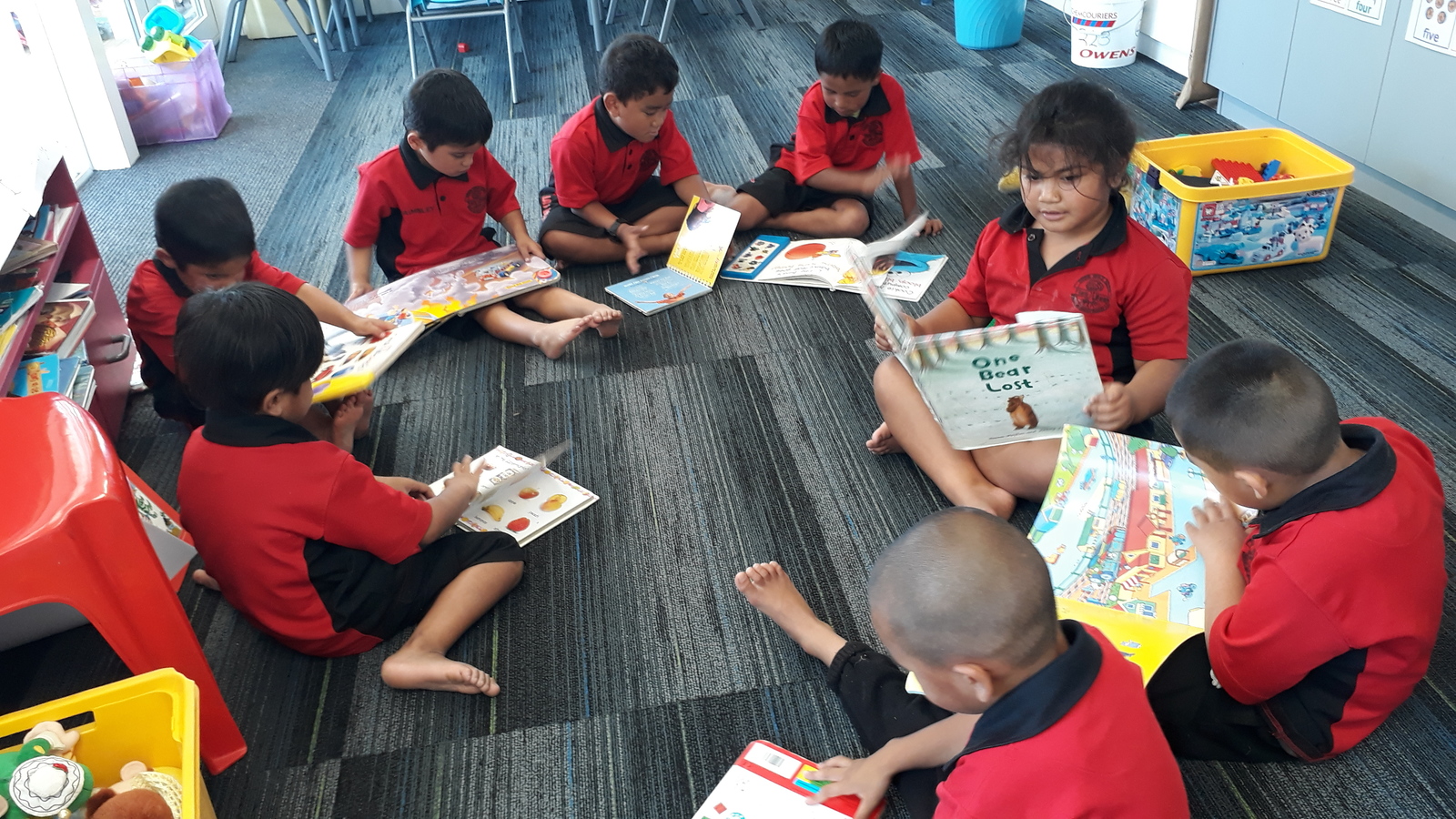 "I am eating my yummy healthy lunch".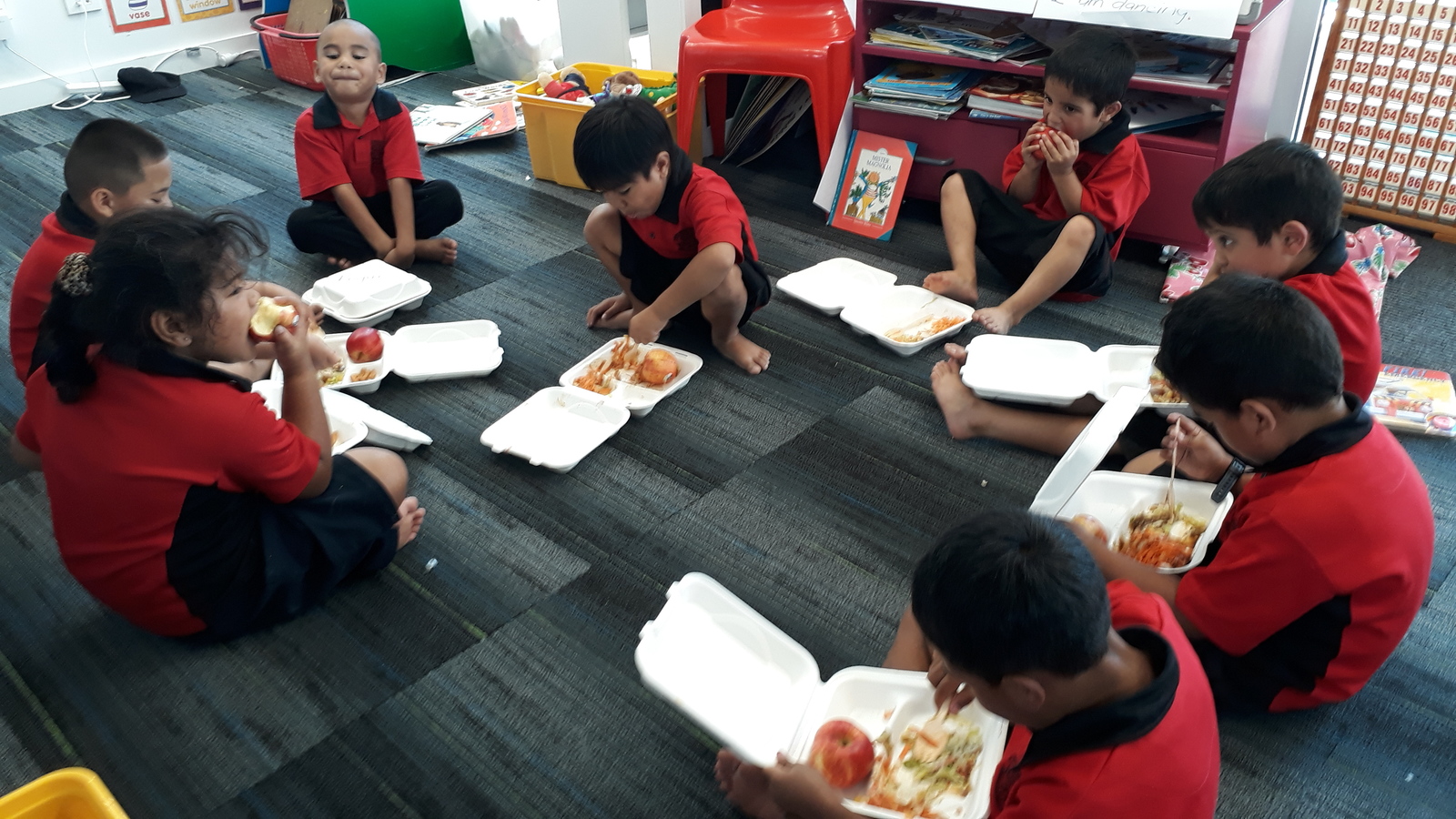 Lots of learning through play.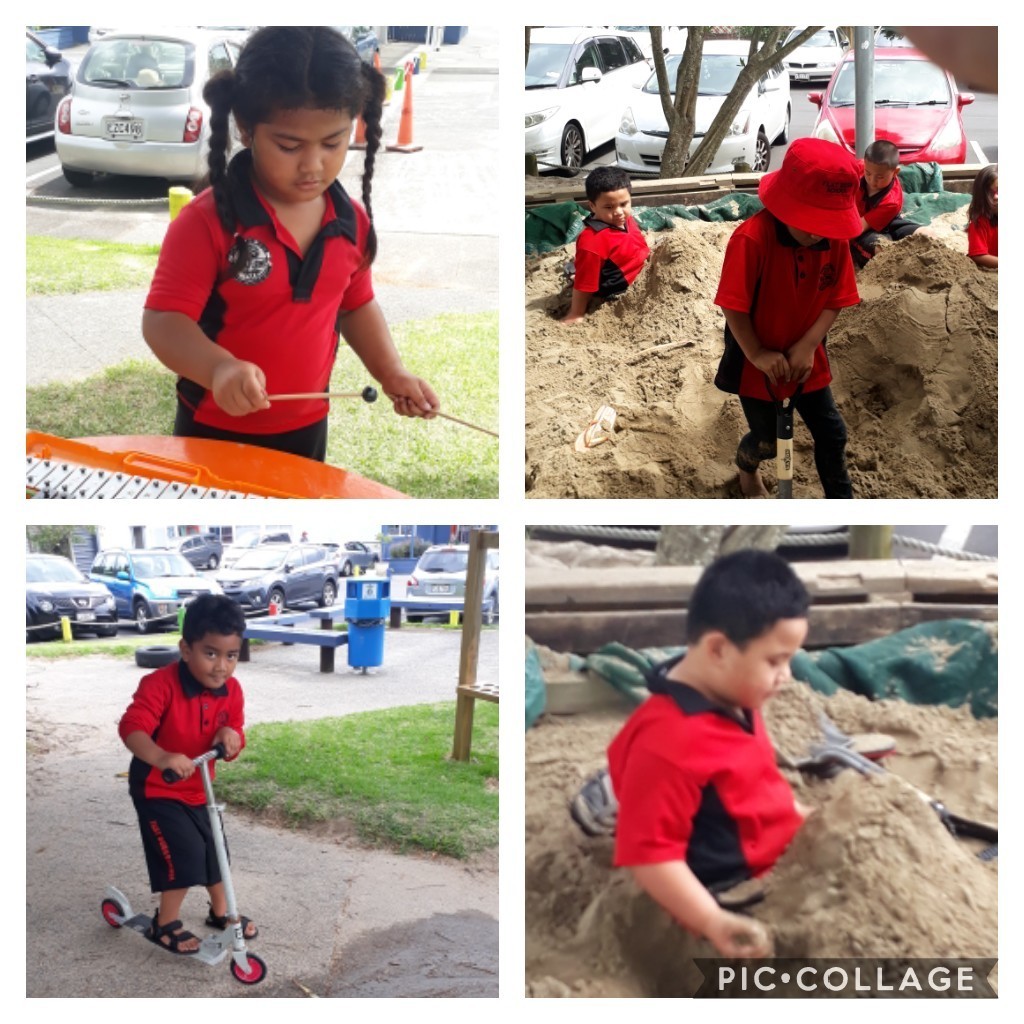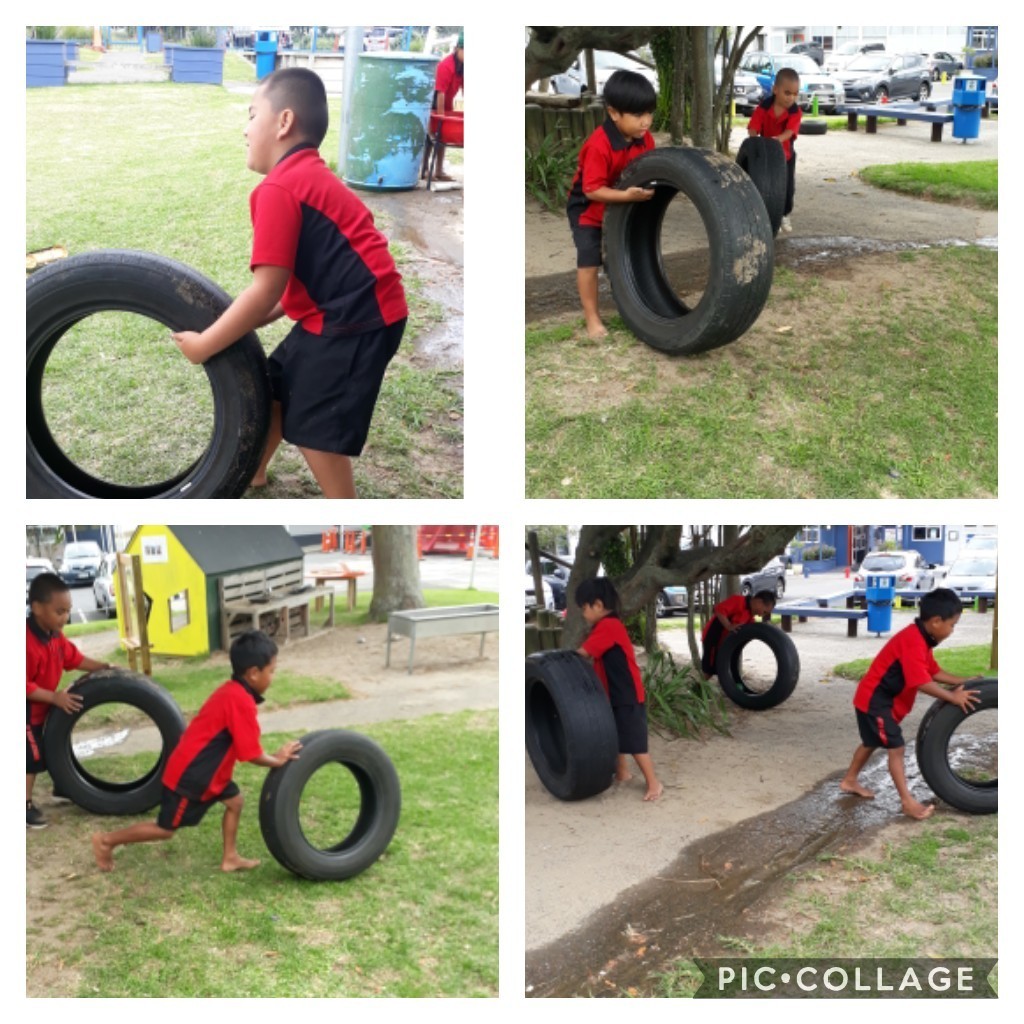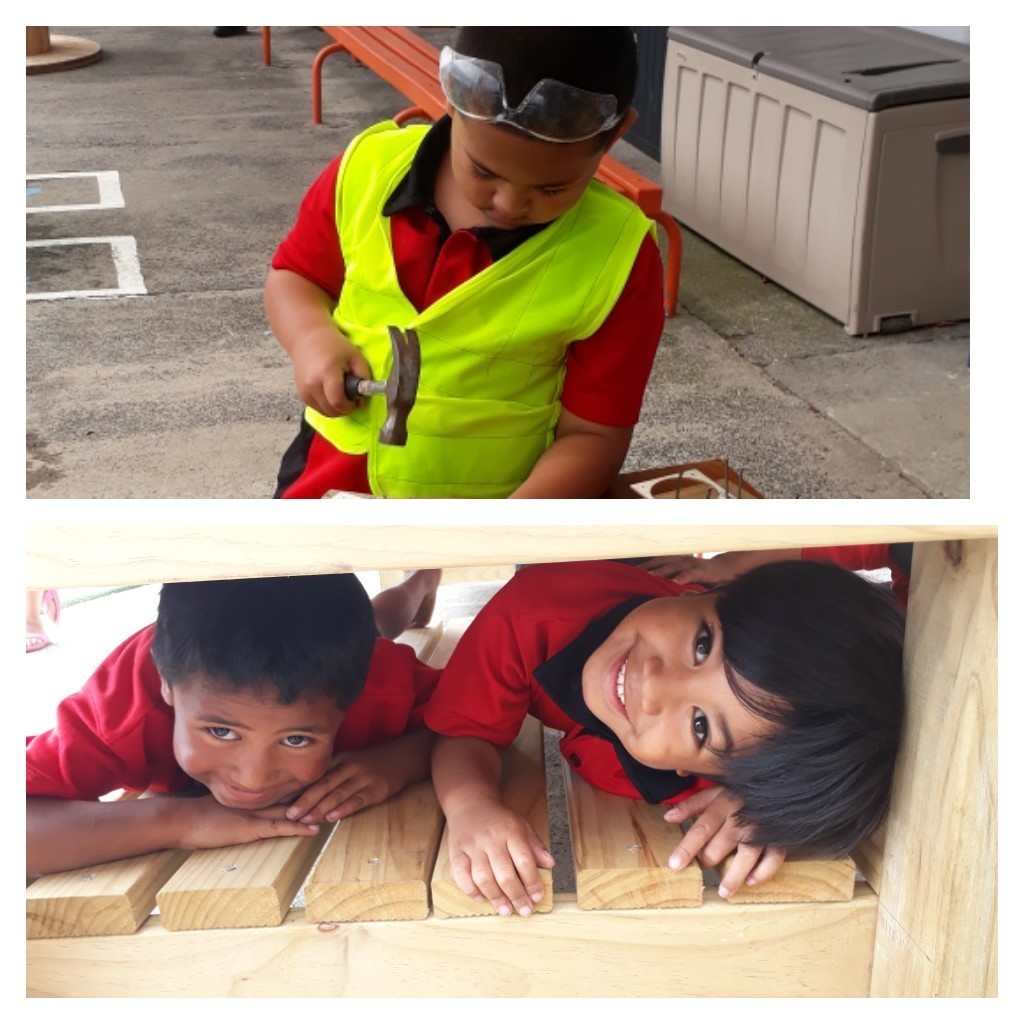 Term 1, Week 3 Monday 15th August 2021
Last night our Prime Minister, Jacinda Ardern announced that Auckland will return to Alert Level 3 at midnight, Monday 15th February until 11.59pm Wednesday 17th February 2021.
Flat Bush School is CLOSED for the next few days: Monday 15th, Tuesday 16th and Wednesday 17th February 2021. We will update you as we receive further details.
Be Happy and be kind to each other. Take care.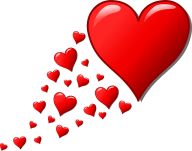 Fiona Mafile'o
Here are some activities you could do at home:
practise writing your name e.g. Sione
count objects around the house to 20
play lots of games
have fun together!
Tuesday
A simple but fun activity is the spoon and potato race. Racing each other outside around the house is fun. My grandsons love to do this.
I will share with Mum this very, very easy no fail chocolate cake. You could make it with her. This still my children's favourite and we have made it thousands of times! I used to x4 the recipe and make it in a roasting pan.
Chocolate Cake
1 cup flour 2 eggs
1 cup sugar ½ cup milk
3 tbsp cocoa 85 gms (3ozs) melted
2tsp baking powder butter
Beat all ingredients together until smooth. Bake at 160 for 45 mins. Yummy!!
I hope you are all safe and well. 😀❤💕✌
Mrs Mafileó
Wednesday
I hope you are all keeping safe and well.
As we look forward to seeing you at school we are not sure when that will be! Hopefully soon. Here are 2 little activities you can do at anytime whether it´s lockdown or not so I´ll share them :
Draw a picture and write a sentence starting with I. Mum can help you

Go for a walk and try to find these things:

Out Walking Treasure Hunt
Take care everyone, be kind and helpful to each other.
Mrs Mafileó