Week Five, Term Two, 2021
This week is Samoan Language Week at FBS. On Wednesday morning we were invited to come to the FBS Samoan Market Day experience under the COLA. We had so much fun learning about Samoan food, Samoan Crafts and Samoan culture.
We watched the traditional baskets being made by our FBS mums and aunties.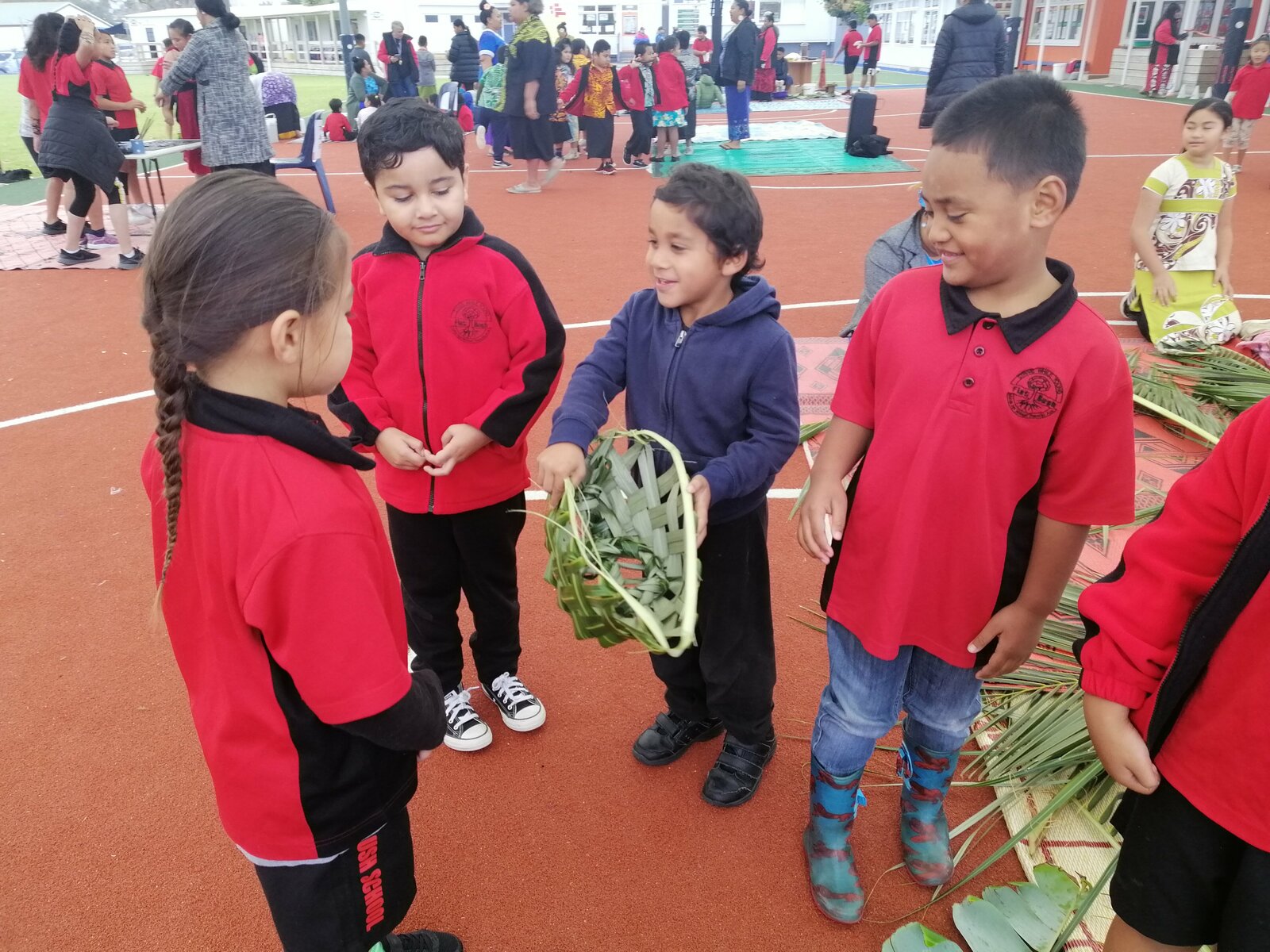 We saw the traditional tattoo patterns and tried some pretend tattoos.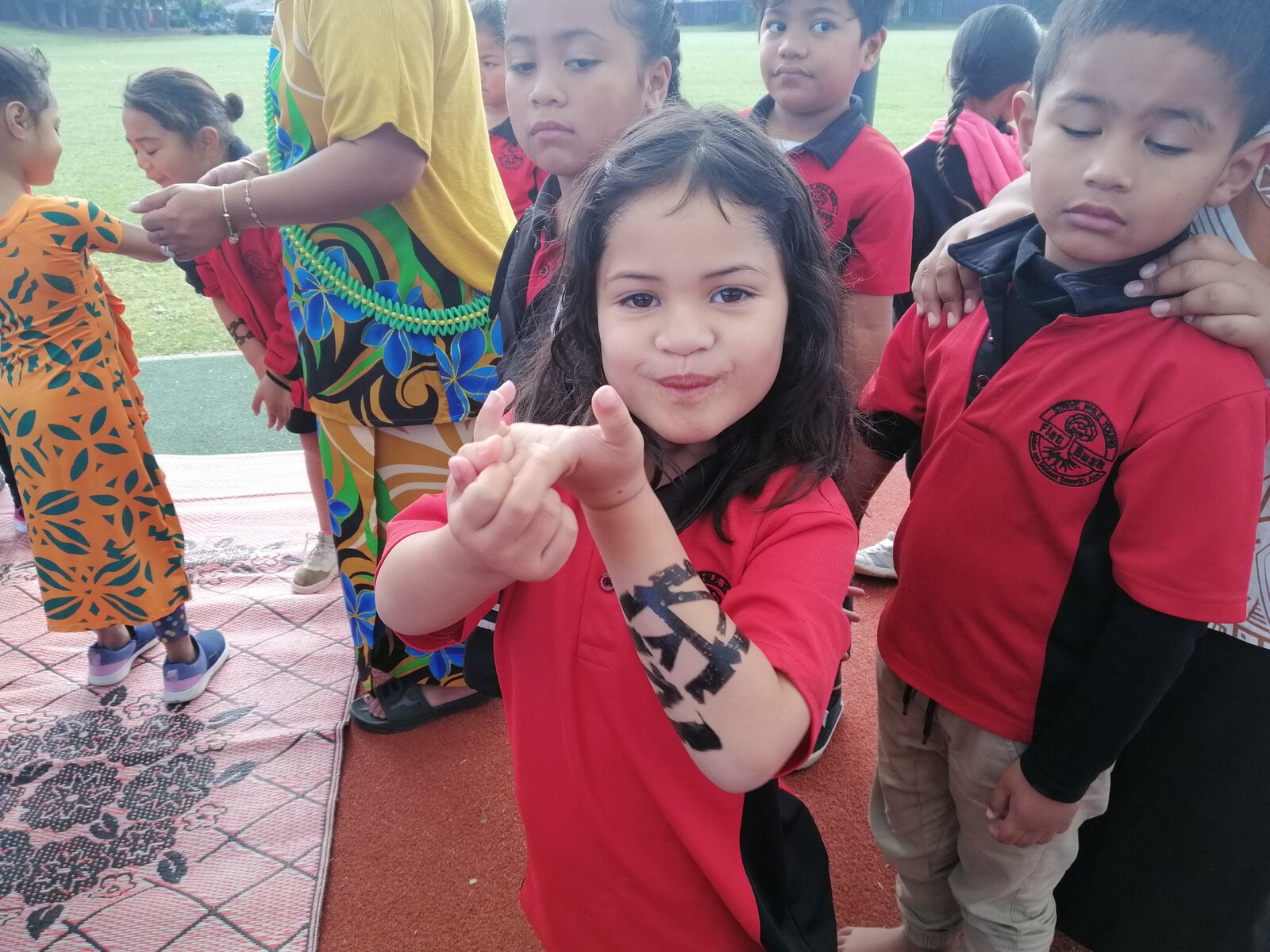 We looked at the Samoan doughnuts being cooked and tried some too! They were so yummy!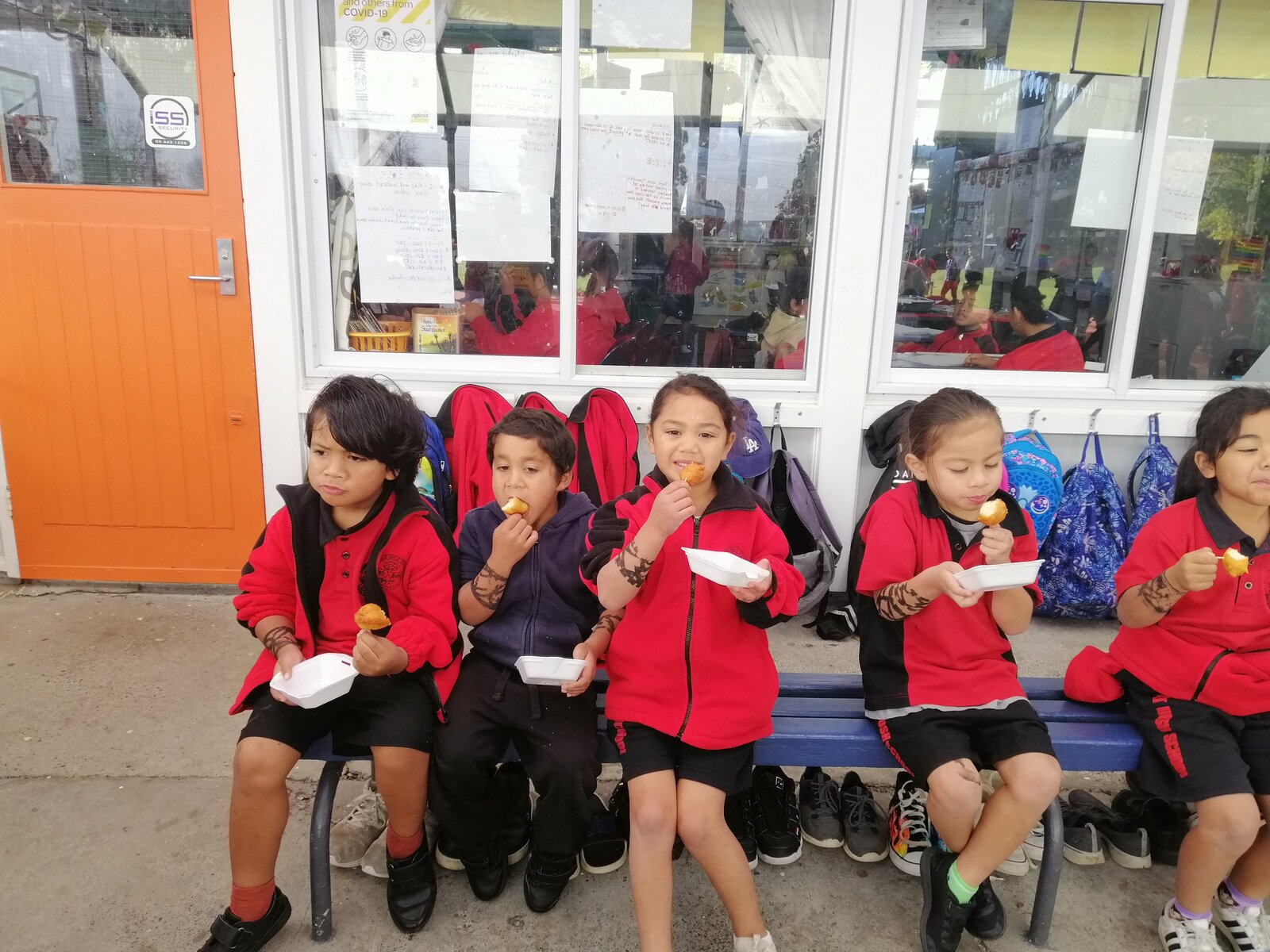 Rick's Dad showed us how to scrape the coconut shells to get the coconut flesh ready for cooking.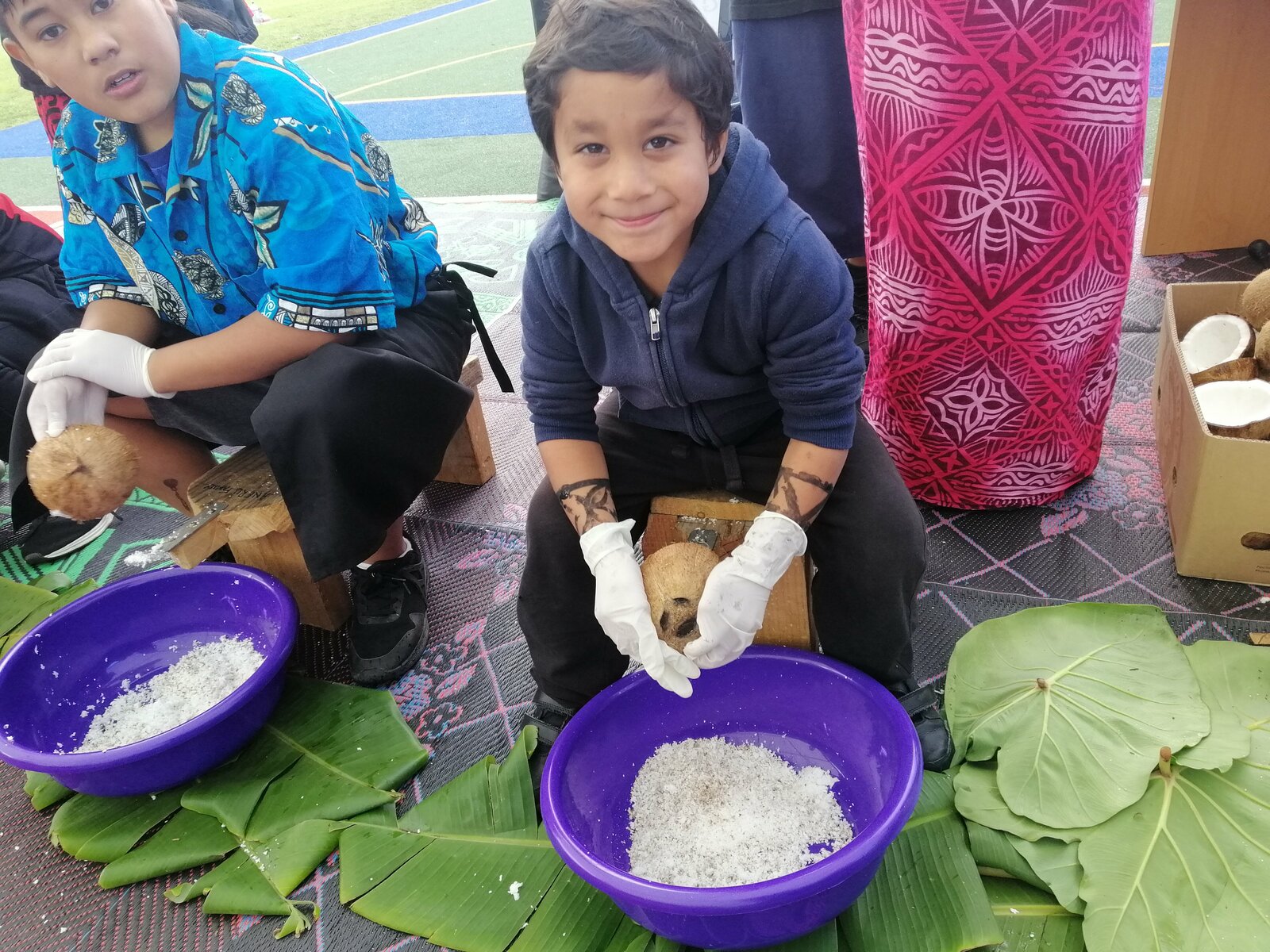 What a great experience for our learners.
Week Four, Term Two, 2021
What an amazing week in Room 2! On Tuesday we went for another community walk to the playground.
We had so much fun getting out into the fresh air and having fun with our friends. Thank you to all our parent helpers who came along to support.
On Friday we took part in our first FBS whole-school Cross Country day.
I was amazed by the fast running of our Room 2 students and their enthusiastic support of their fellow students.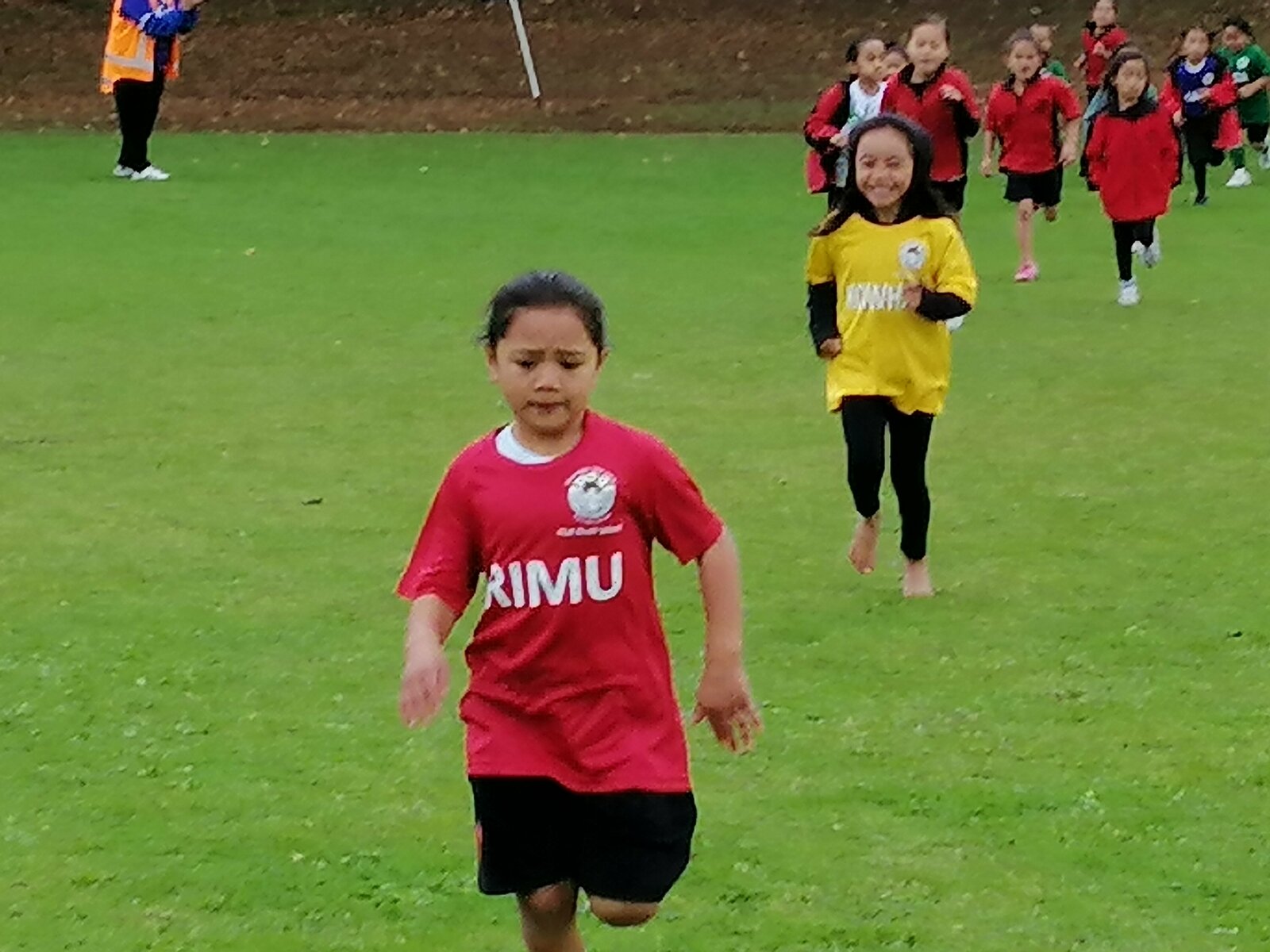 Well done to everyone and a special congratulations to Tairi- 1st place in the girls race and Kiaan-Lui- 4th place in the boys race! We are so proud of you.
Sadly, on Friday we said goodbye to Miss Kumar, who has been learning alongside us in Room 2 for the past 4 weeks. We wish her all the best in her further studies back at University.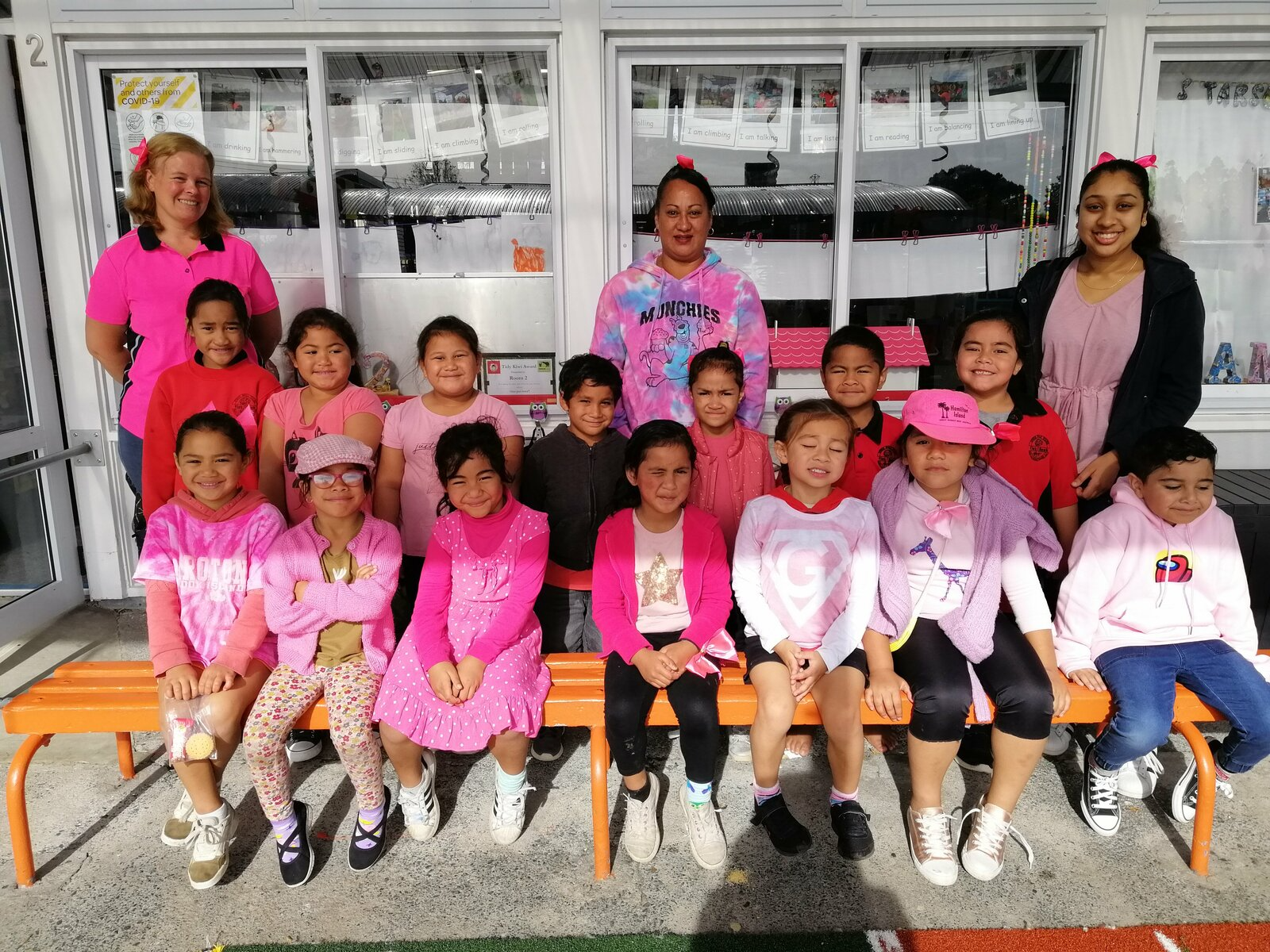 Week Three, Term Two, 2021
We have had an amazing start to our home reading program this week. Thank you to all the whanau members who are listening to their children read at home. This will really help us to become better readers by reinforcing what we are doing in class.
Thank you everyone for helping Ms Russell celebrate her birthday on Thursday. I hope that you all had as much fun as I did!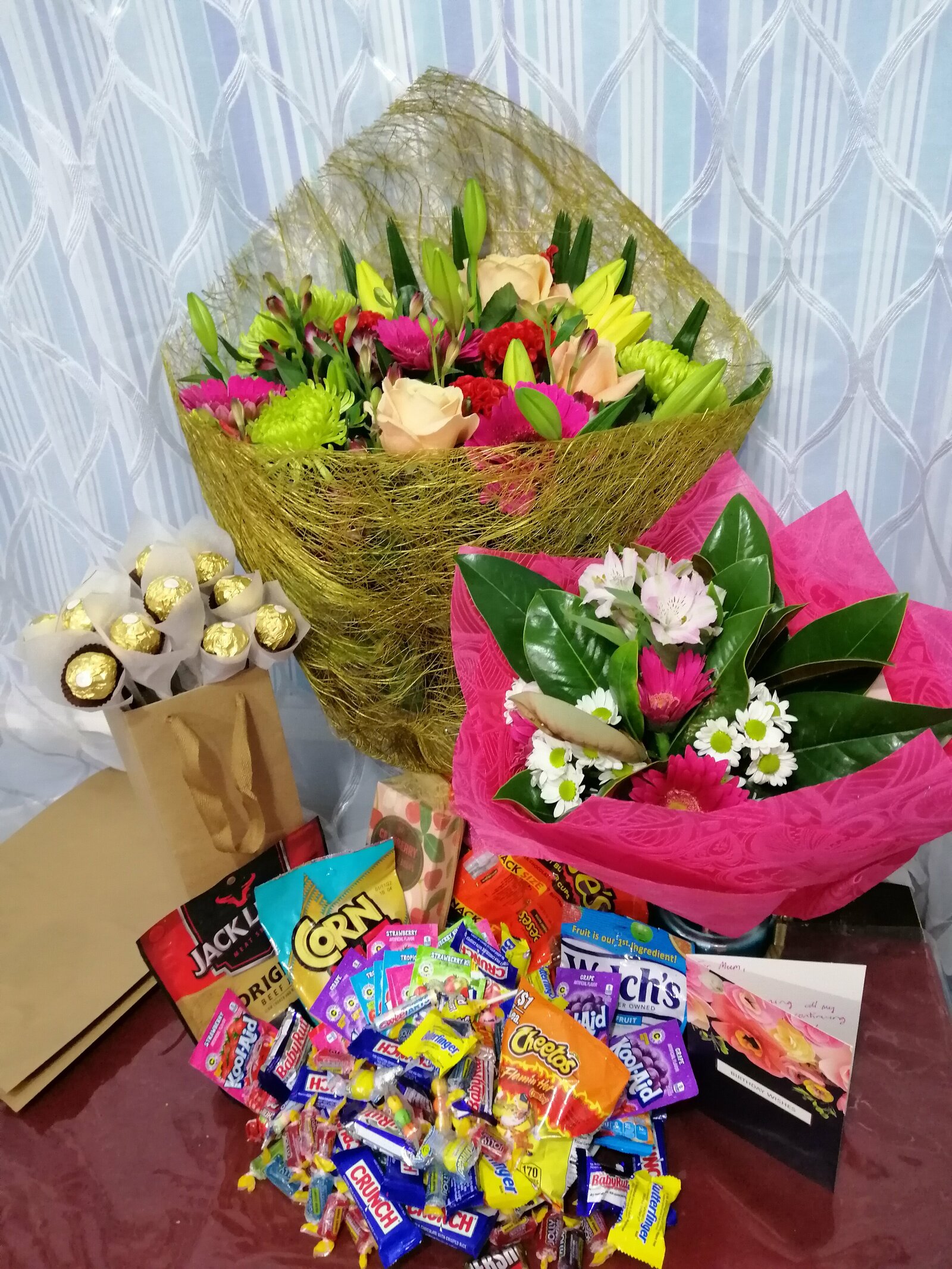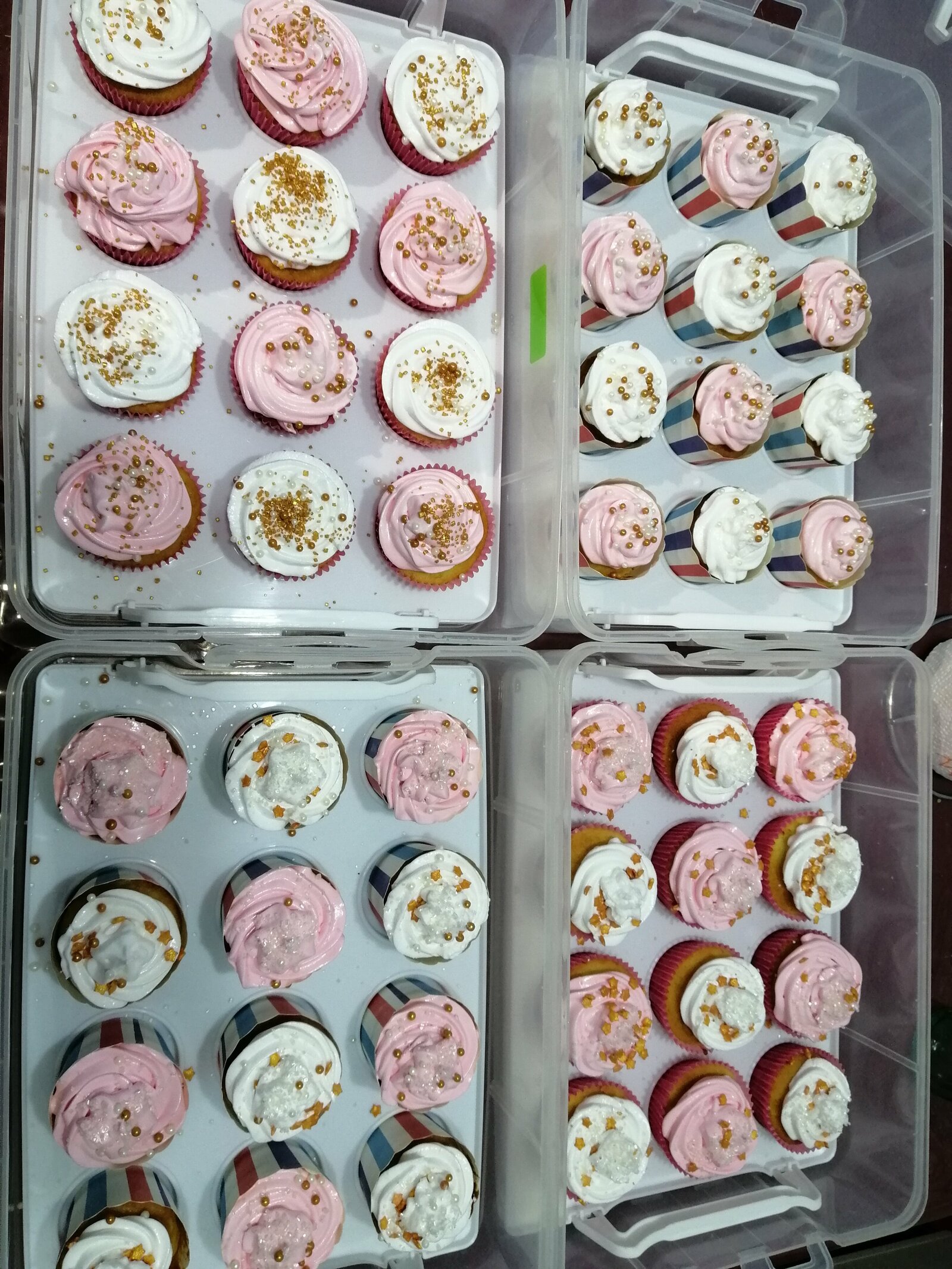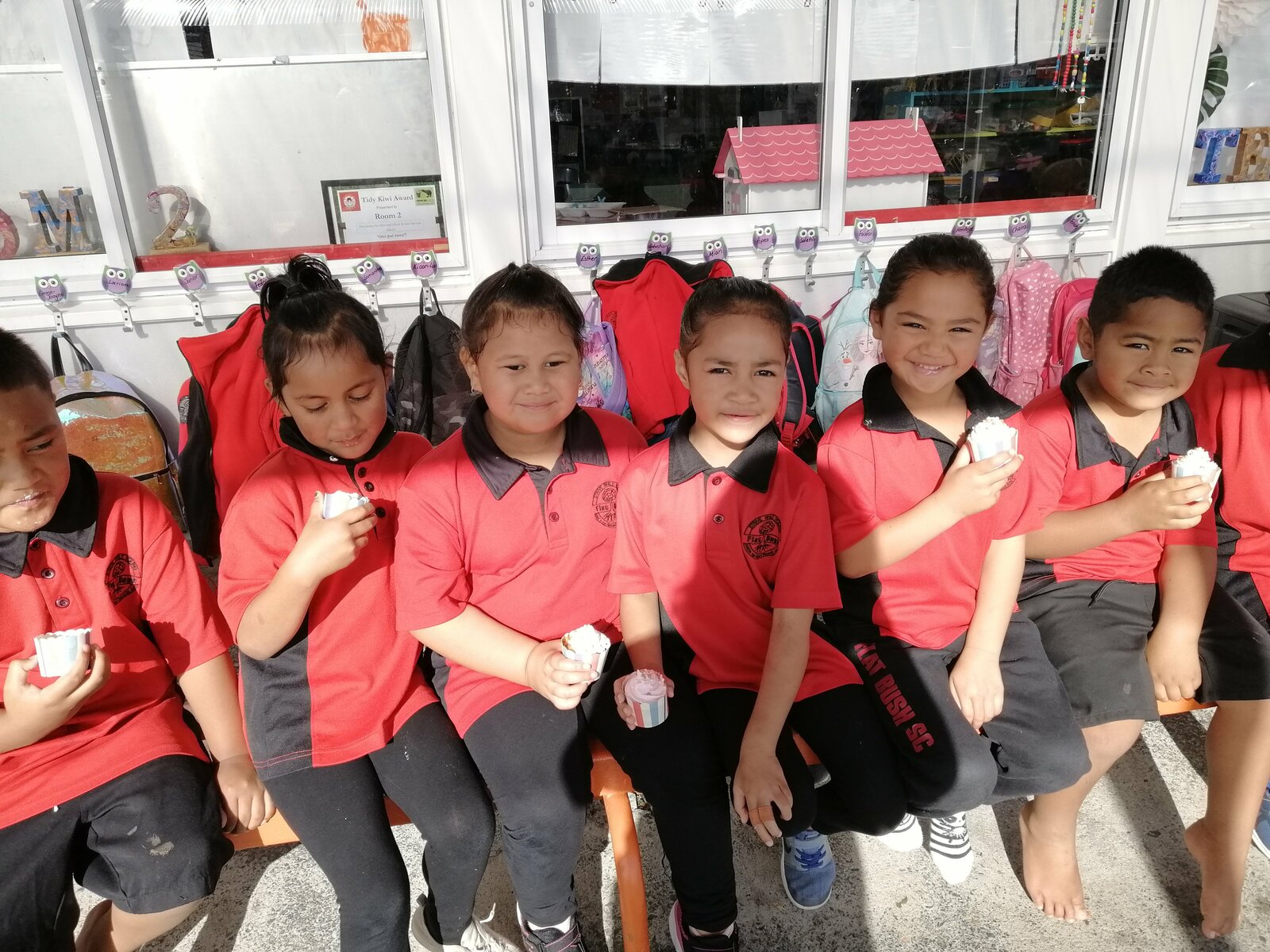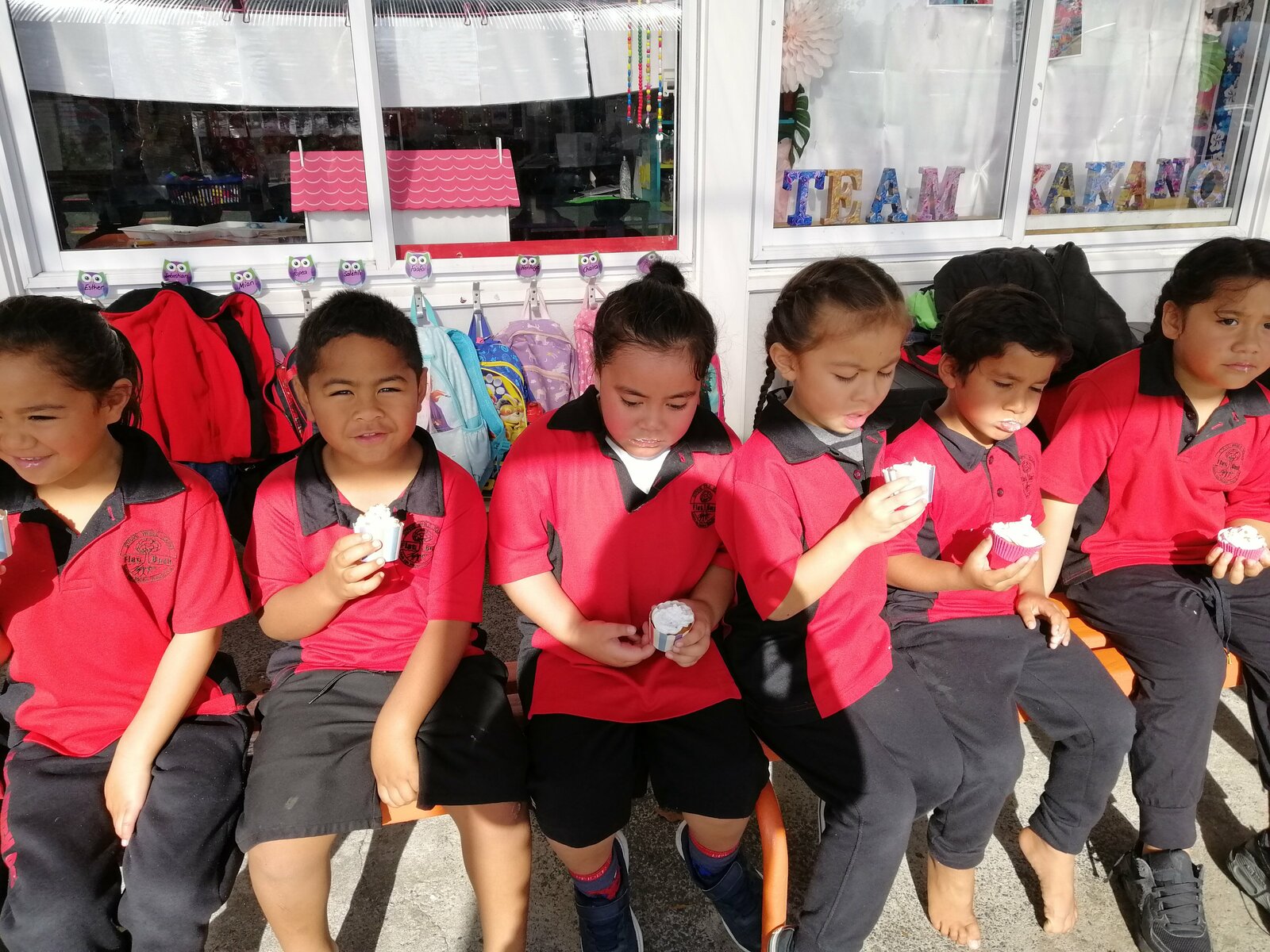 On Thursday we had a Garden - to - Table session. Half of our class spent some time in the Flat Bush garden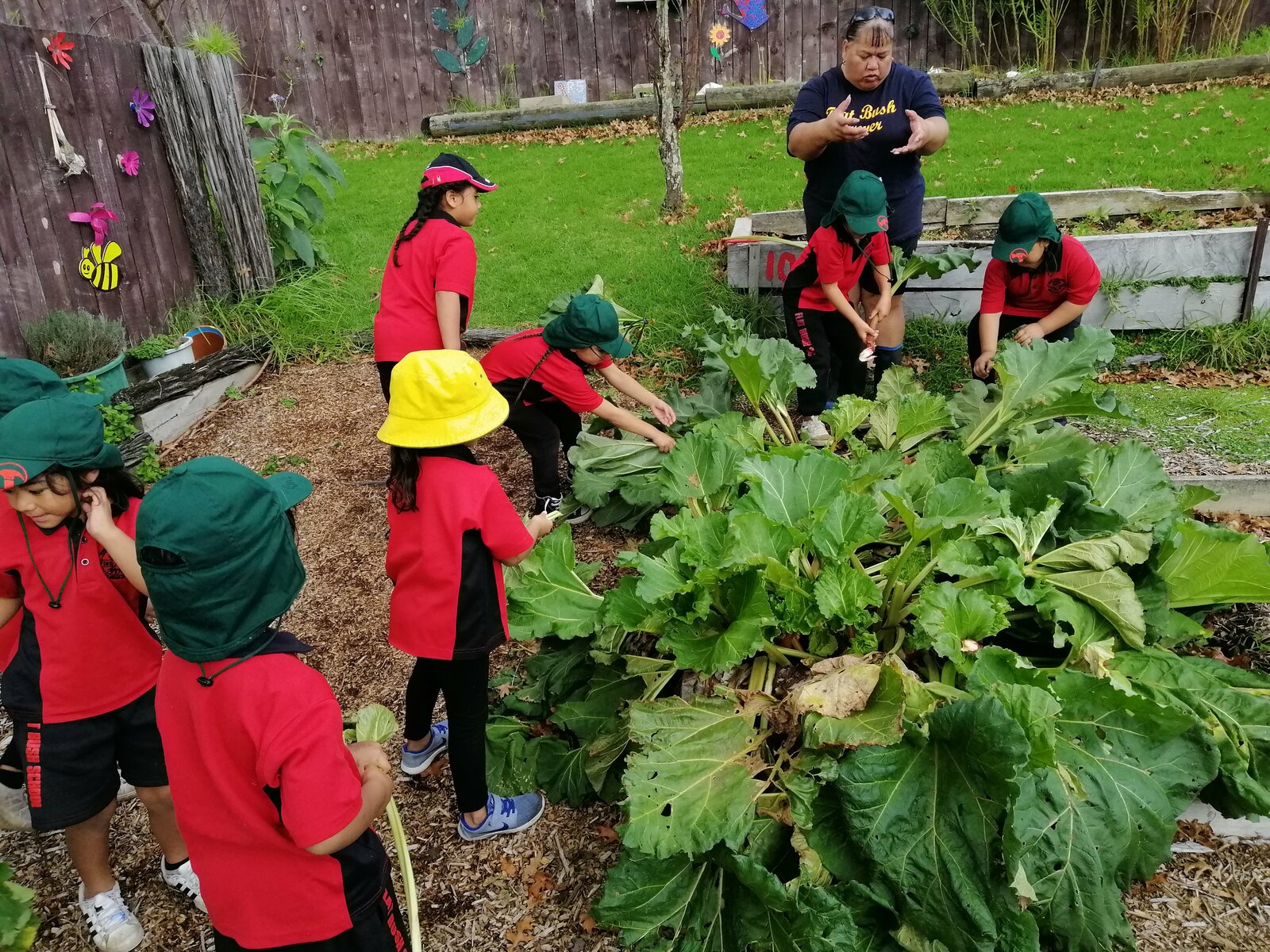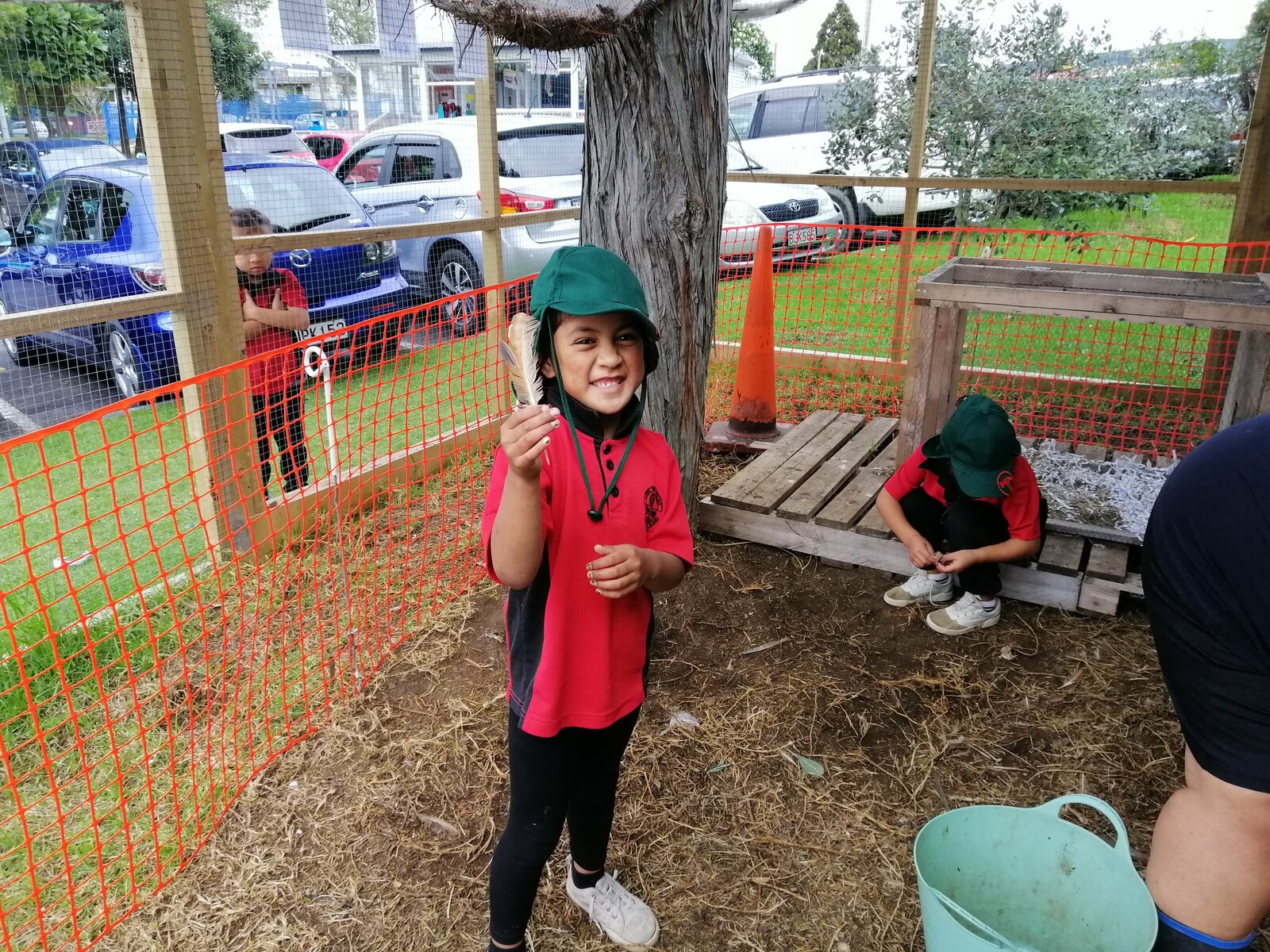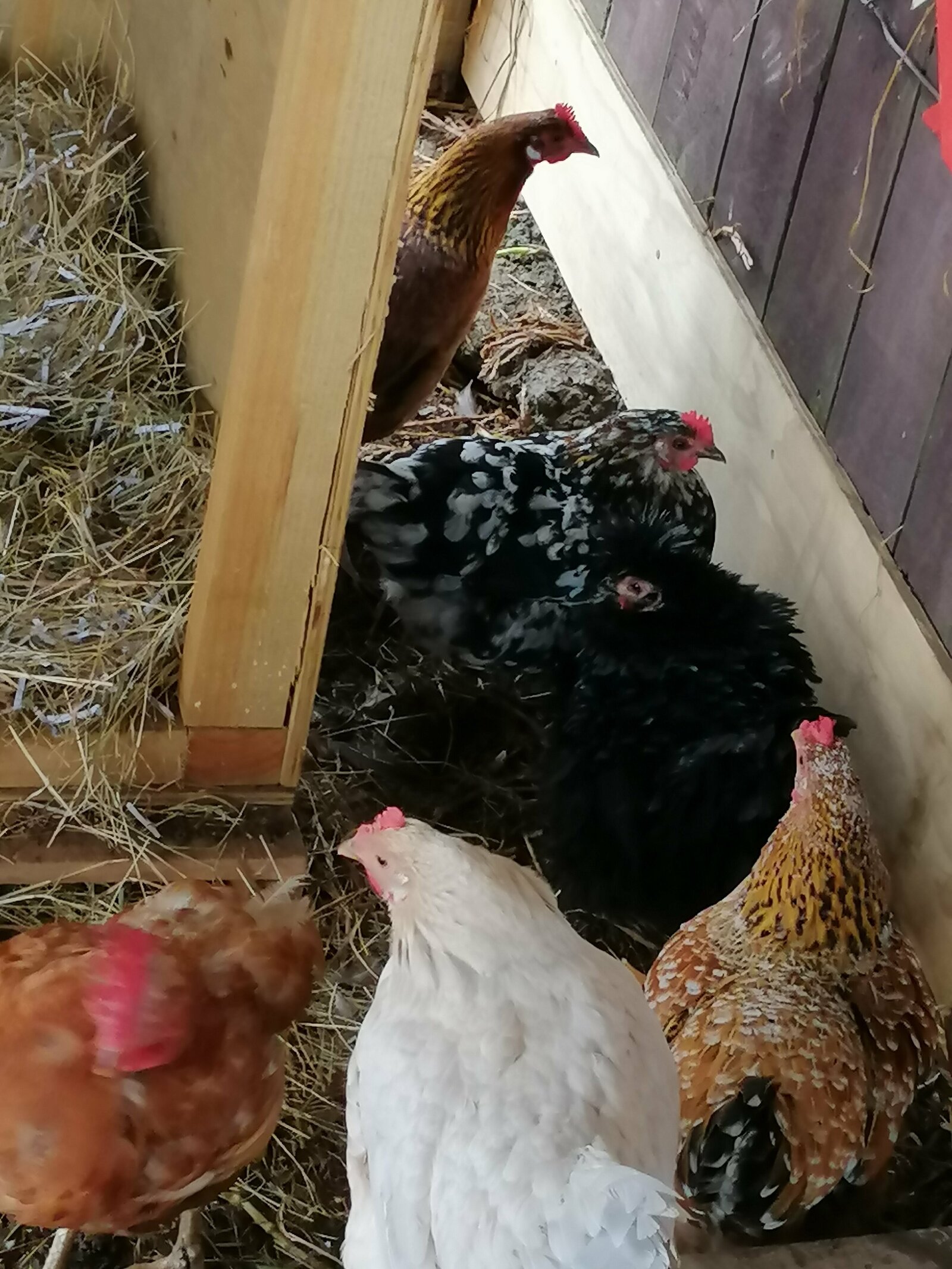 and the other half made some delicious frittata for our lunch using fresh eggs from our school chooks. We had so much fun!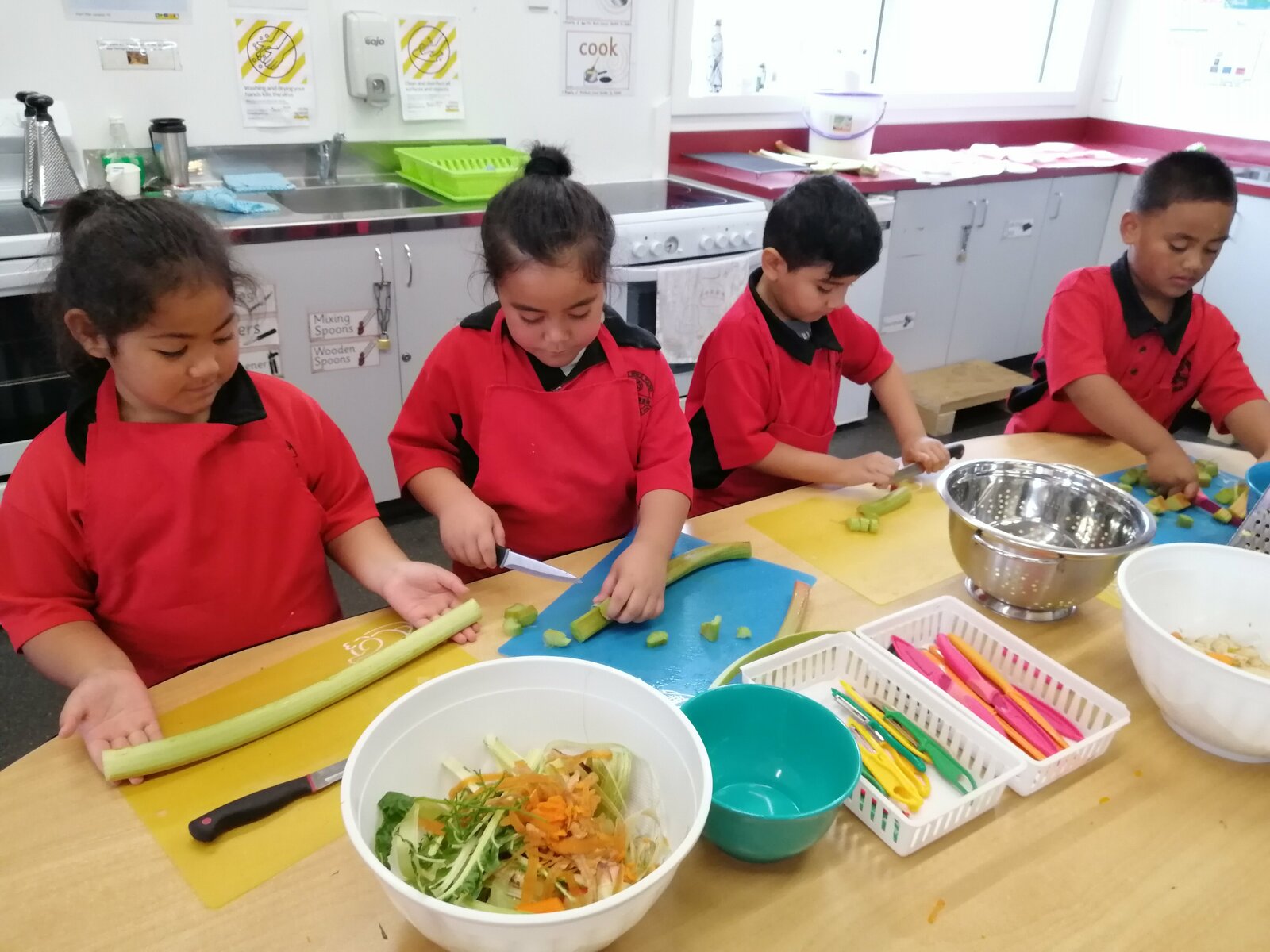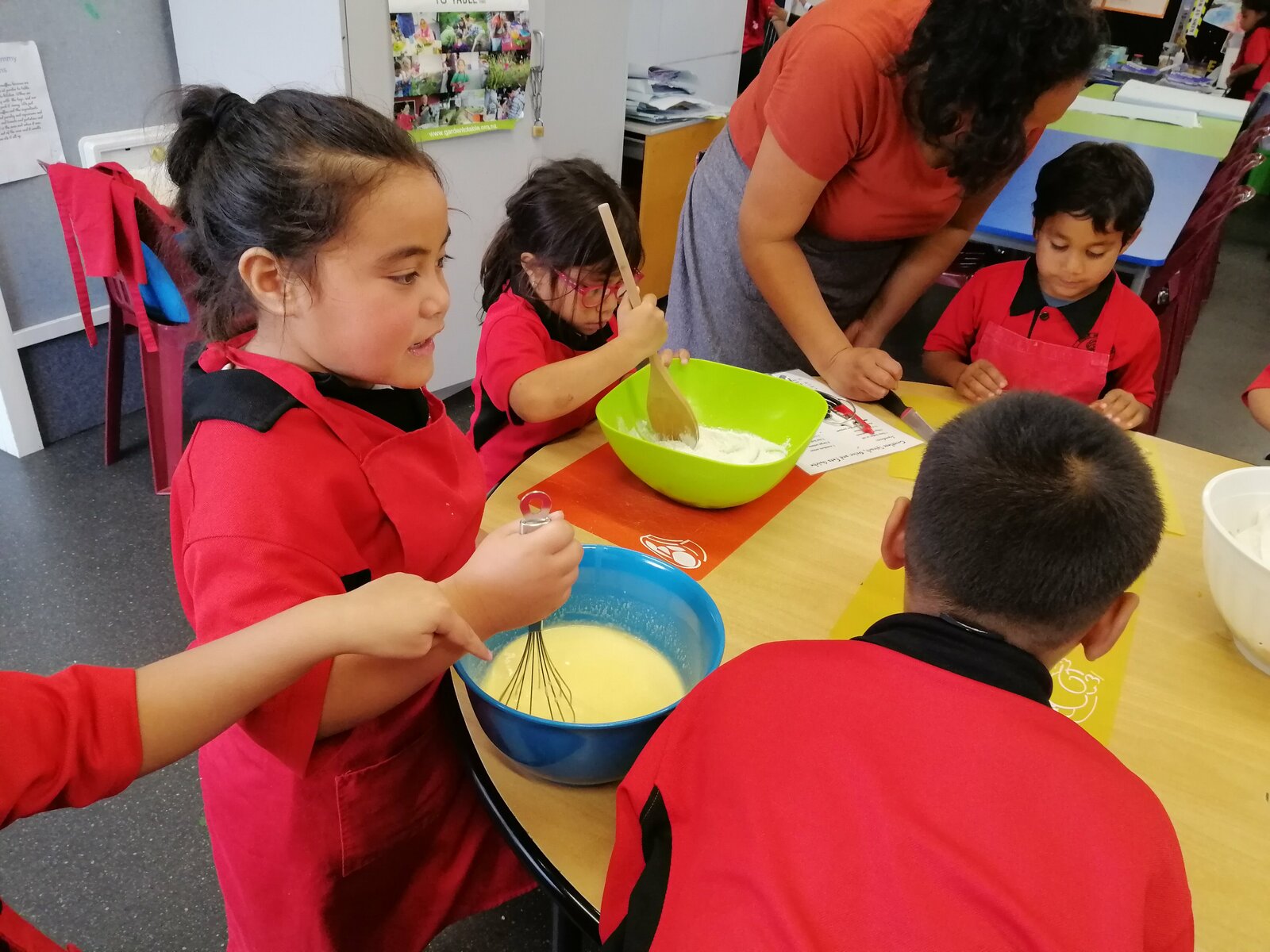 This week we have been learning about The Gingerbread Man. On Friday we made our own gingerbread men using clay. They look good enough to eat!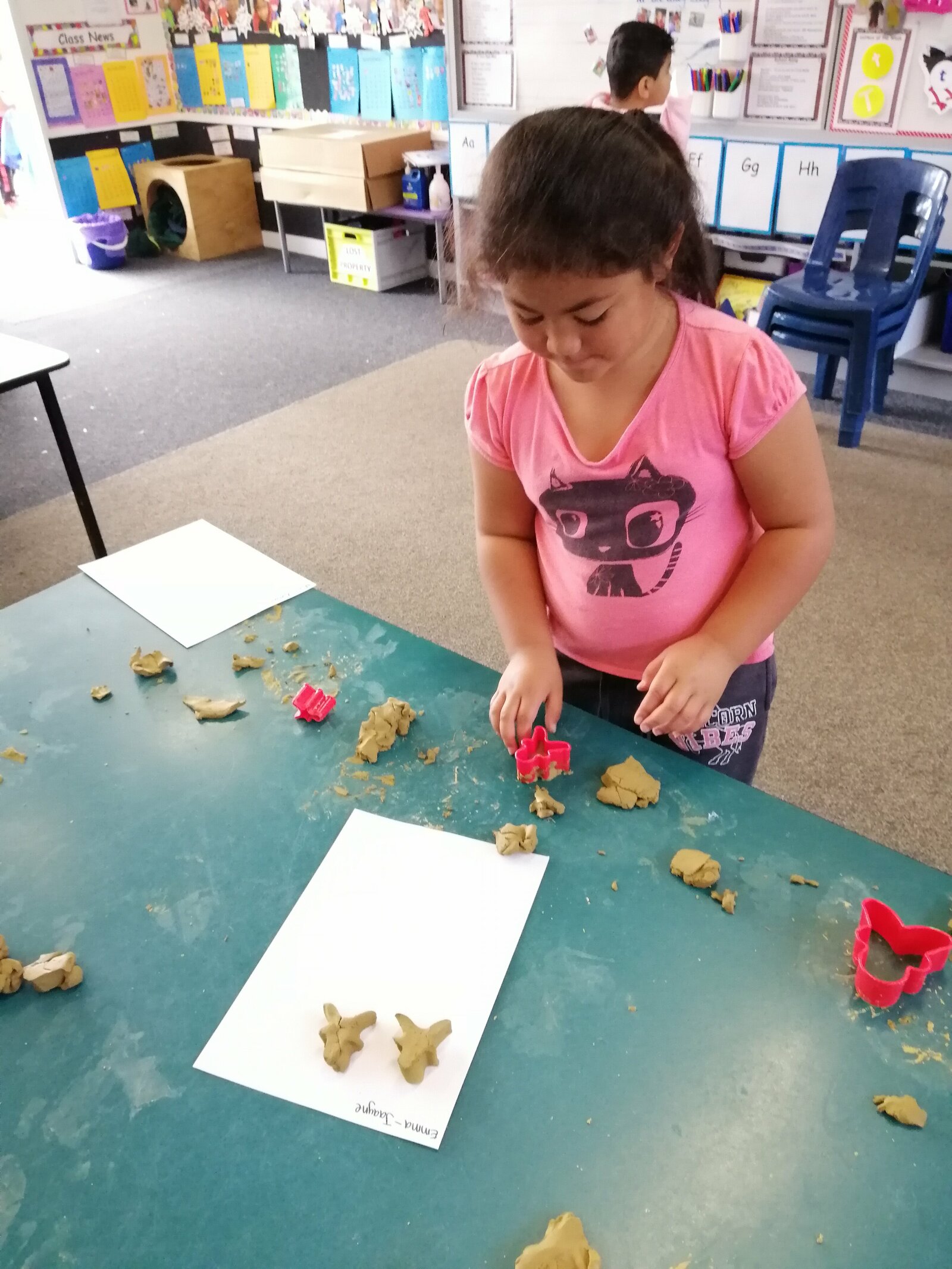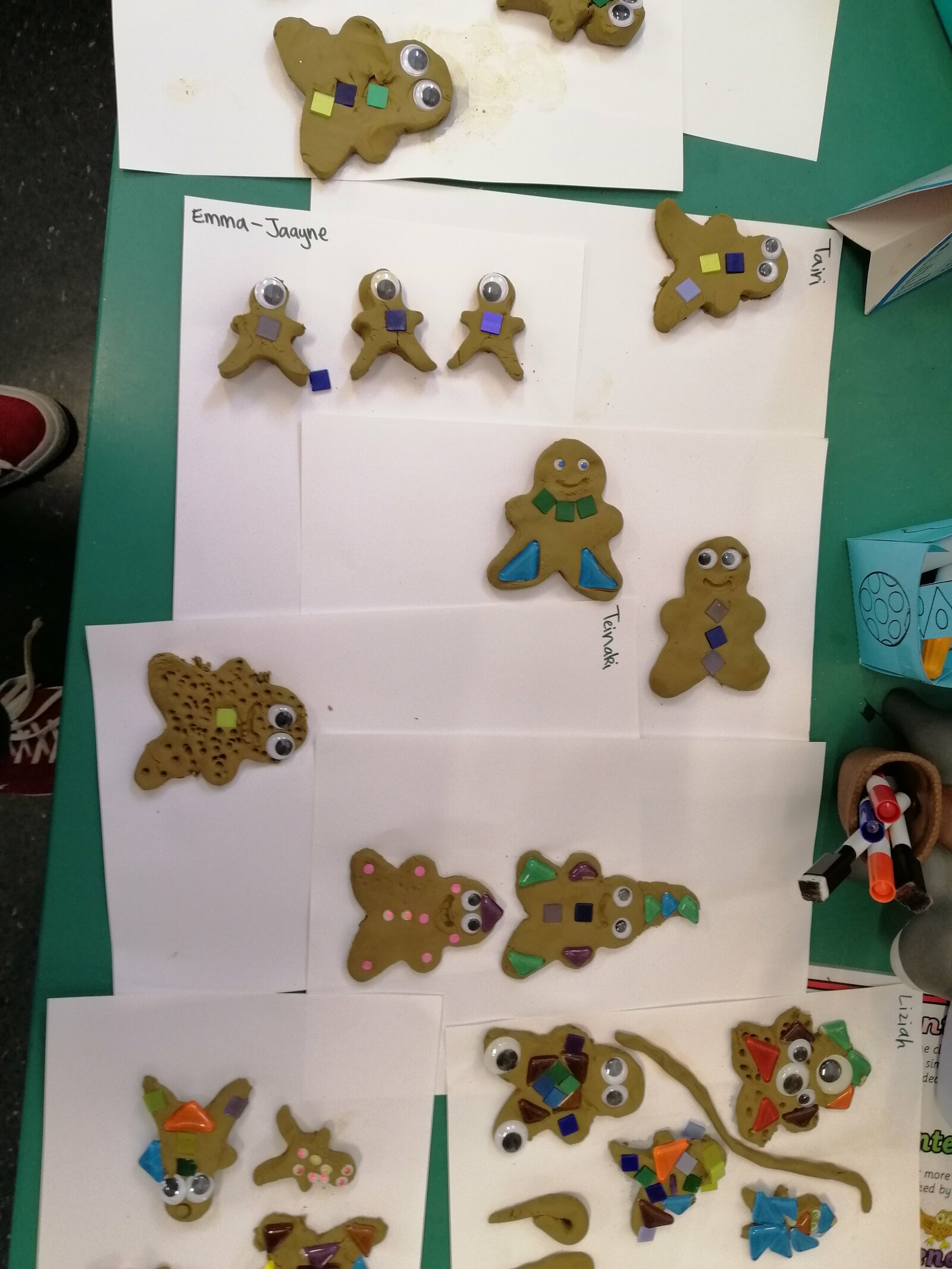 We joined the rest of New Zealand celebrating Pink Shirt Day on Friday. This initiative raises awareness about bullying and promotes acceptance of all people. We look so amazing in our pink clothes!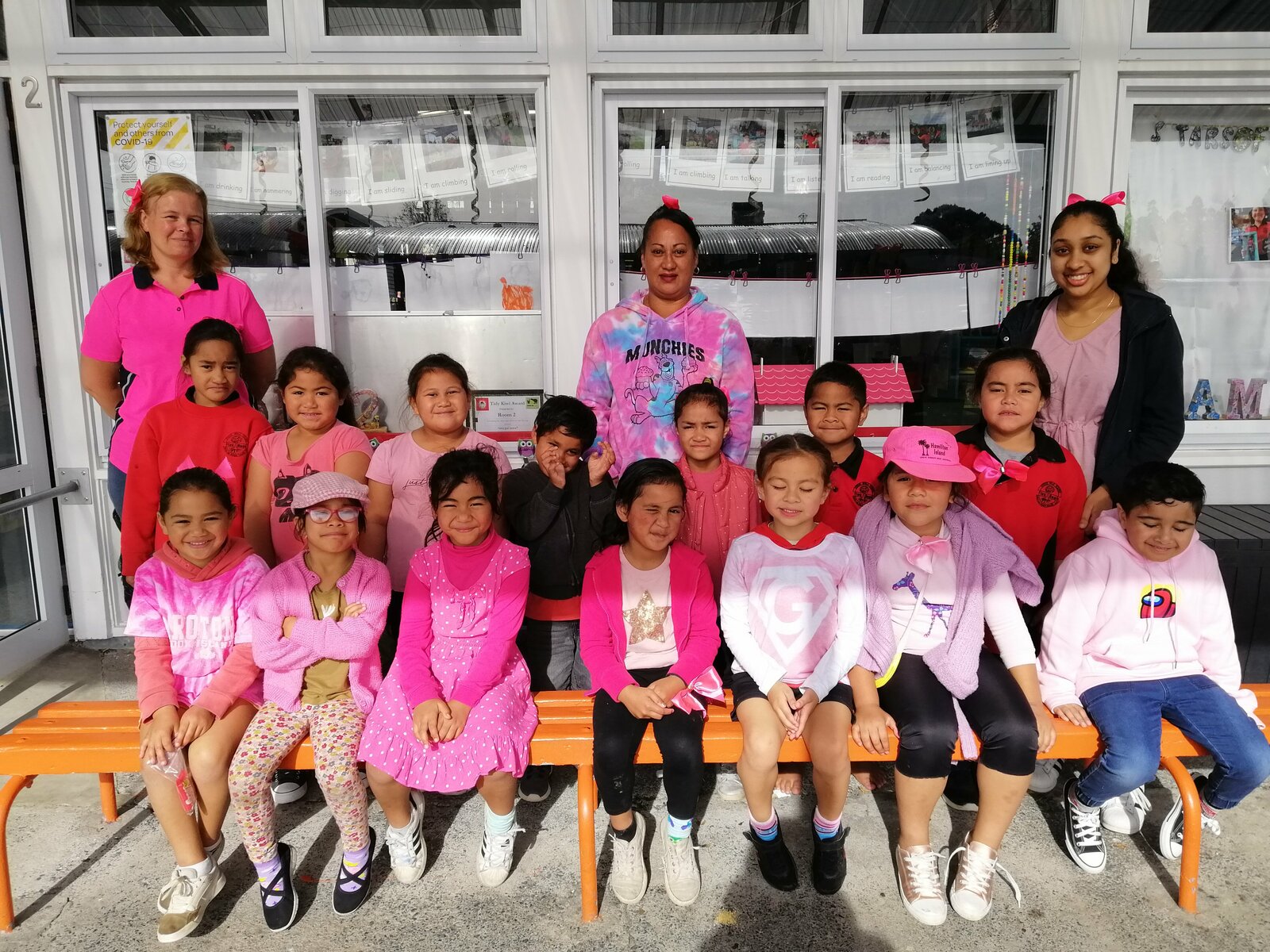 We went to the seniors to add our coins to the coin trail.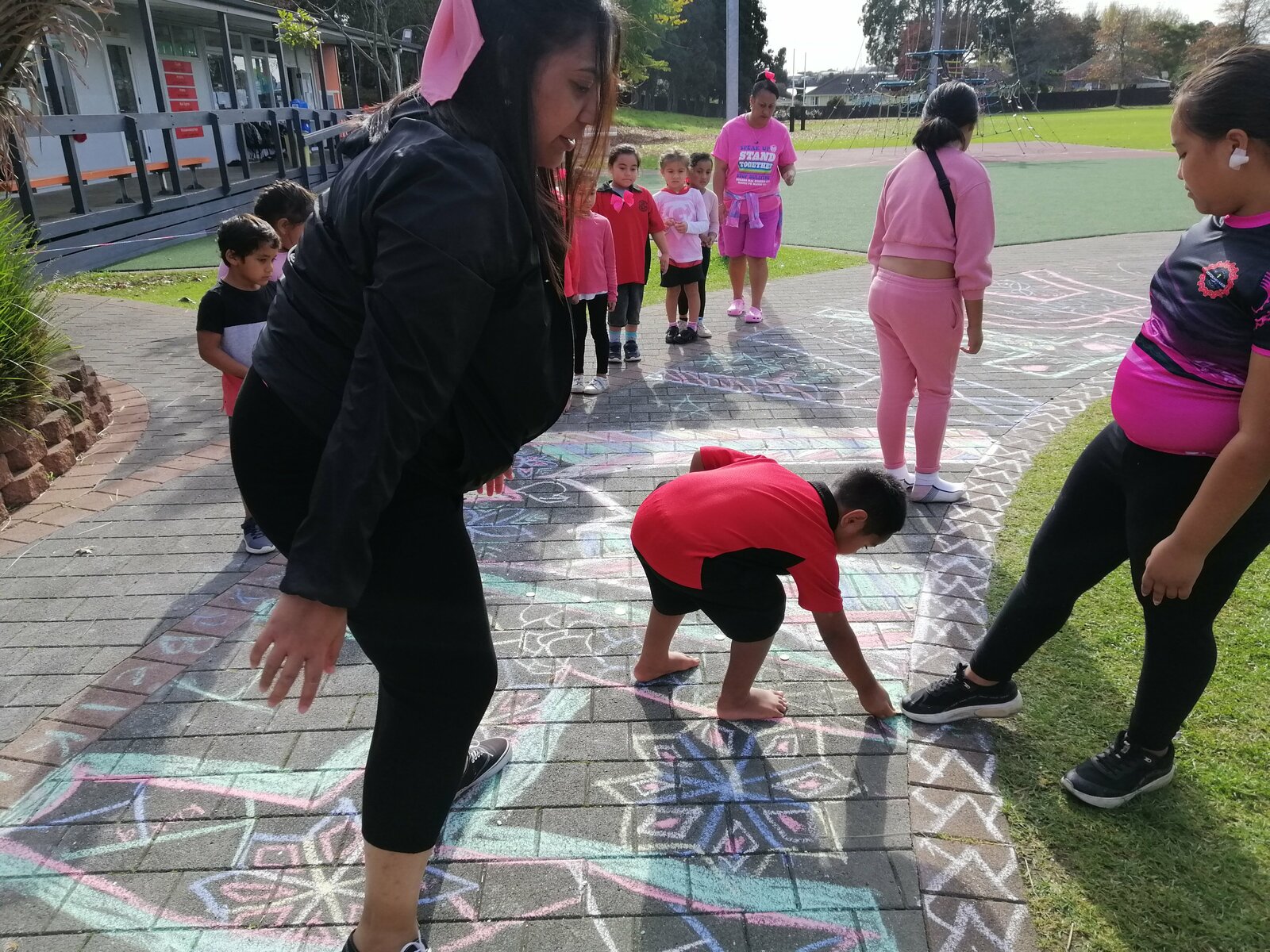 We were so lucky on Friday to go for a quick visit to Flat Bush Kindergarten. Whaea Annalise talked to us about Pink Shirt day and Maanakitanga and then we all played together and practiced being kind to each other.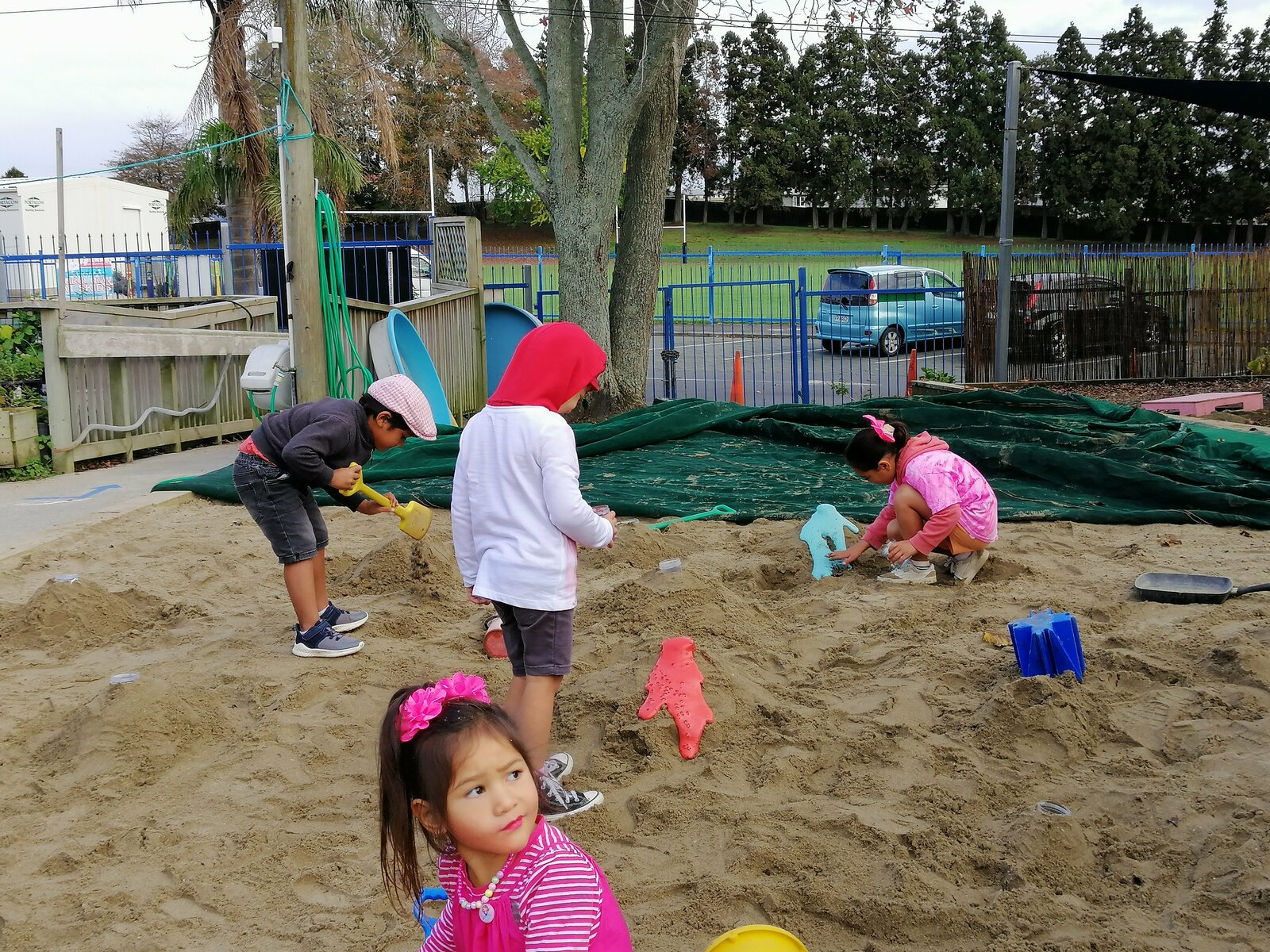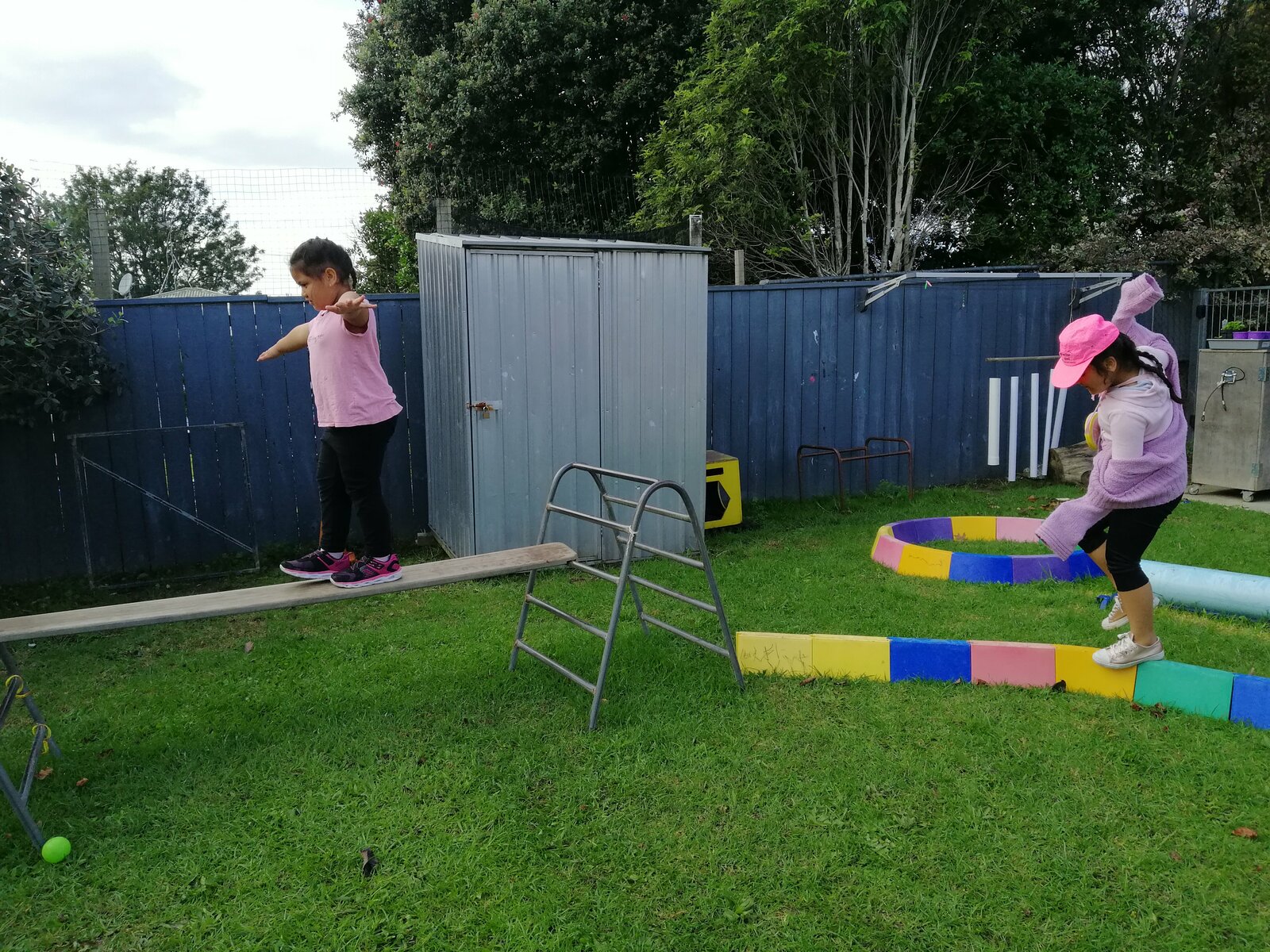 Week Two, Term Two, 2021
We have had another awesome week in Room 2. Our book of the week was The Very Hungry Caterpillar by Eric Carle.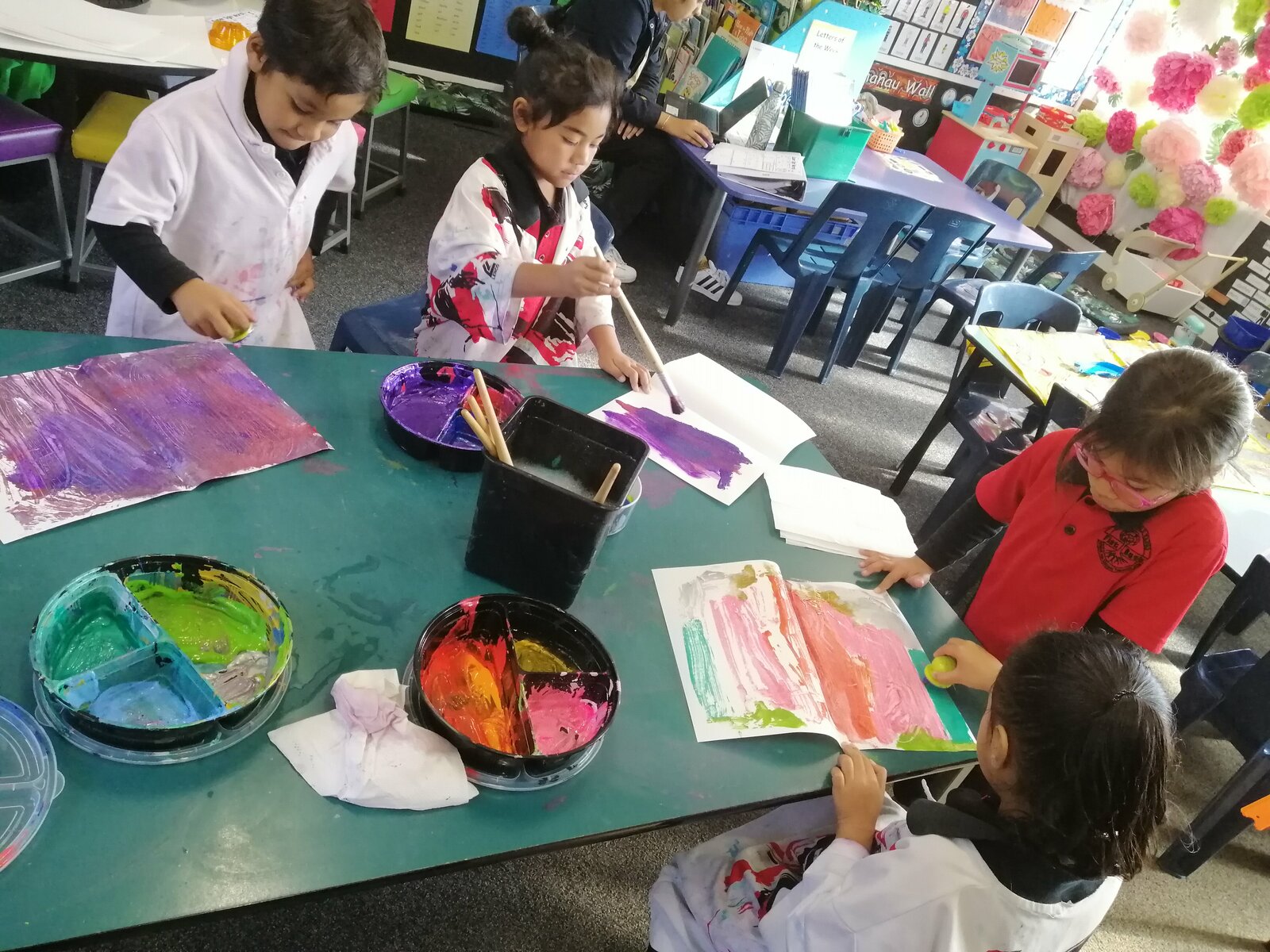 We really enjoyed making caterpillars and butterflies. We also talked about healthy food choices. Check out our amazing caterpillars and butterflies next time you visit Room 2.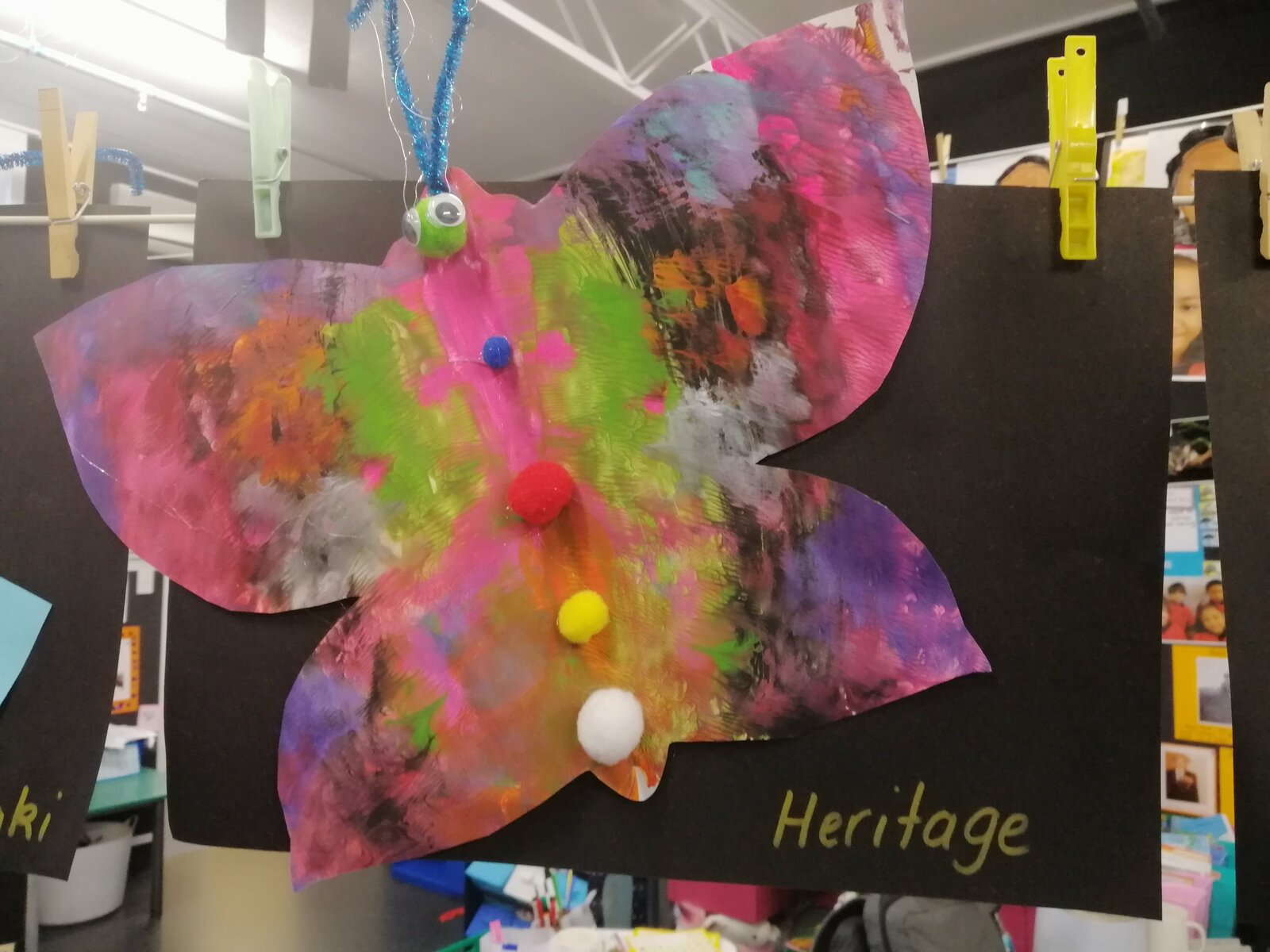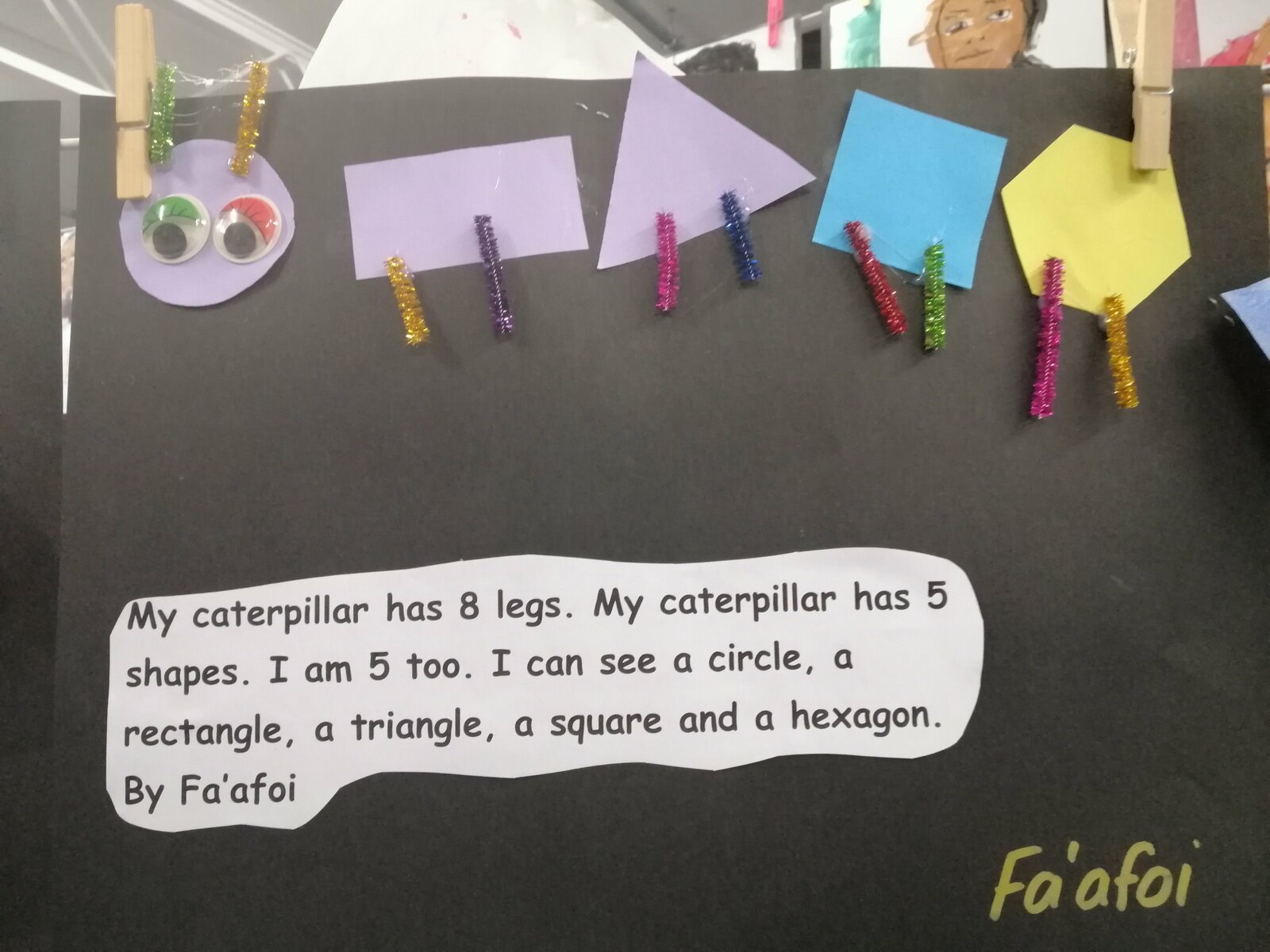 Look at Katarina reading the Very Hungry Caterpillar story to Homa and Nugget. Homa really enjoyed the story!
Week One, Term Two, 2021
Welcome back to Room 2! I hope that you all had a fantastic holiday and an awesome time with your whanau. This term we are doing lots of learning with an emphasis on maths. Please make sure that your child is at school on time every day, to make the most of this opportunity.
We were so excited to see all of our friends again after the holidays. Here are a few shots of Room 2 enjoying the PMP activities in the Hall.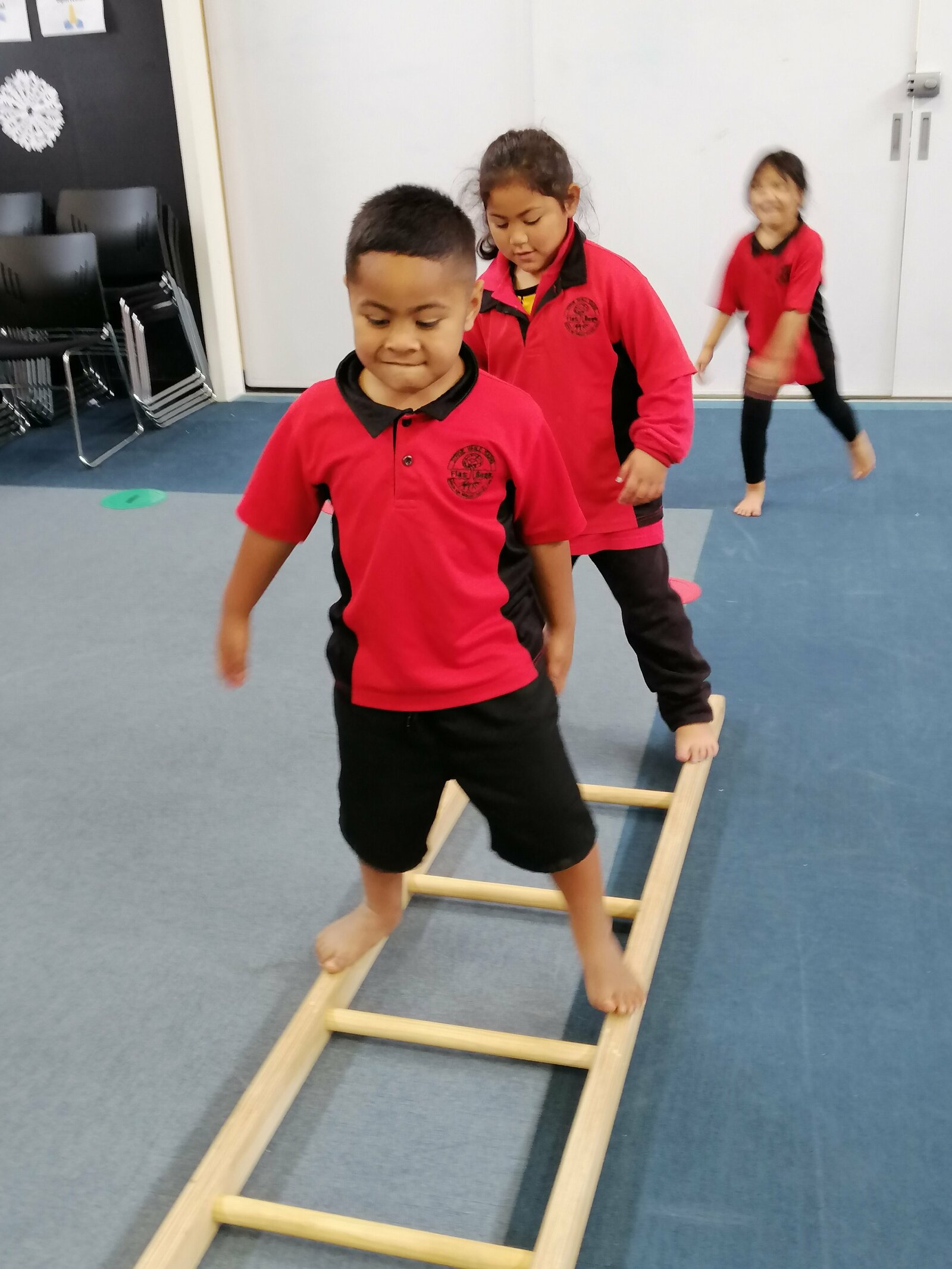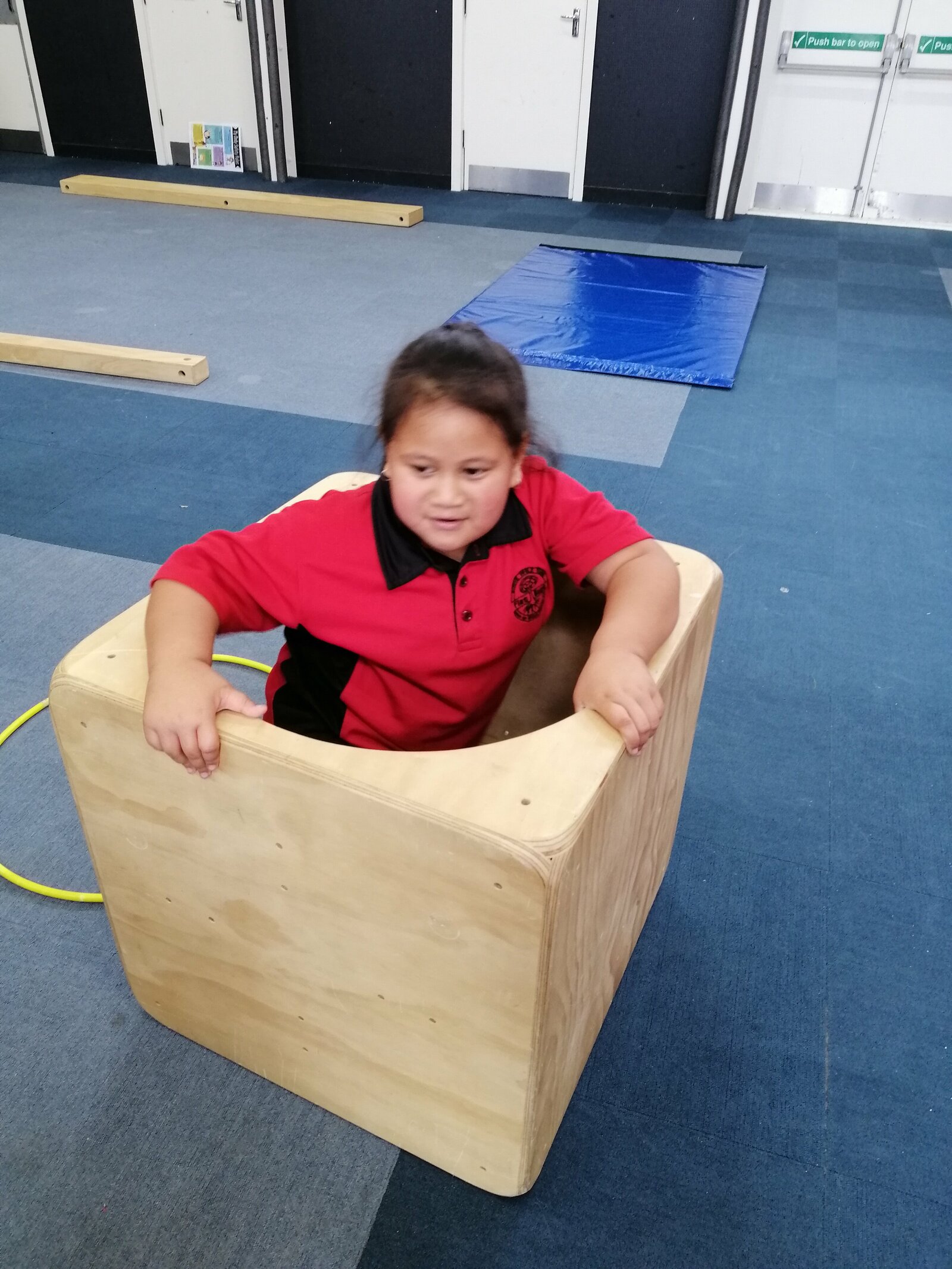 Week Nine, Term One, 2021
A short, but sweet week in Room Two this week.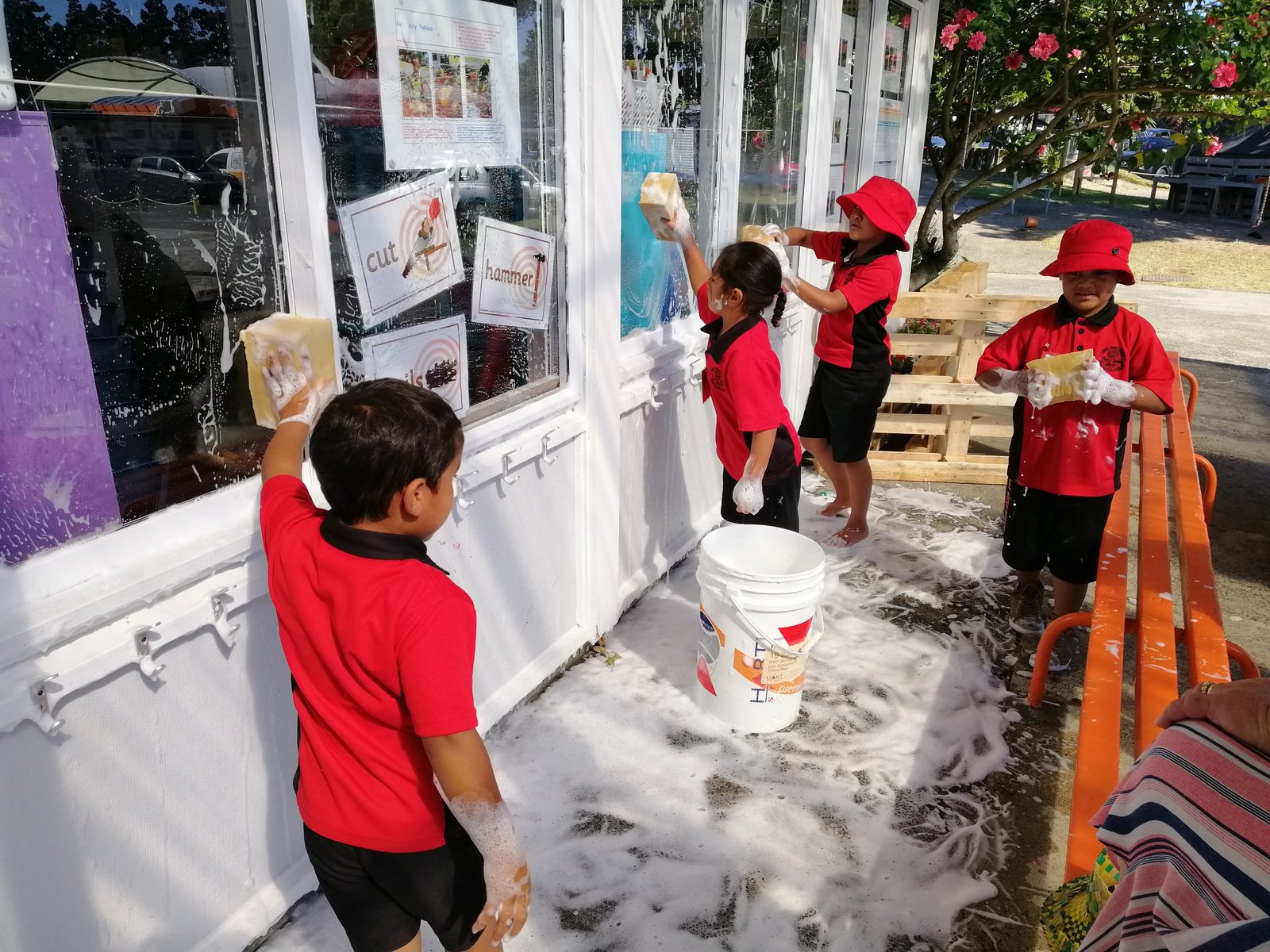 We have now finished our self portraits and they are hanging up in the classroom for our Whanau to see.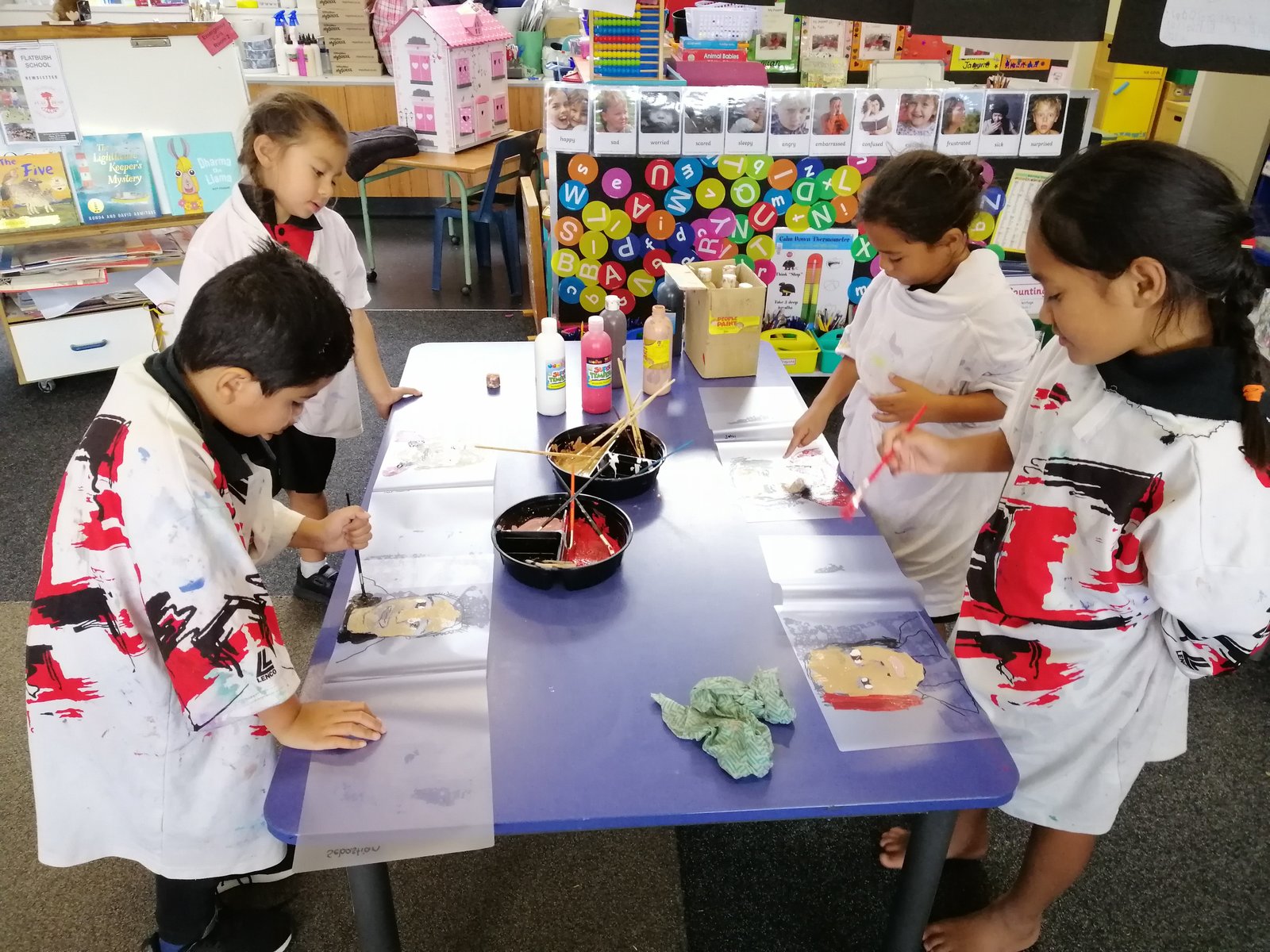 Come and have a look at our creations next time you are in Room 2.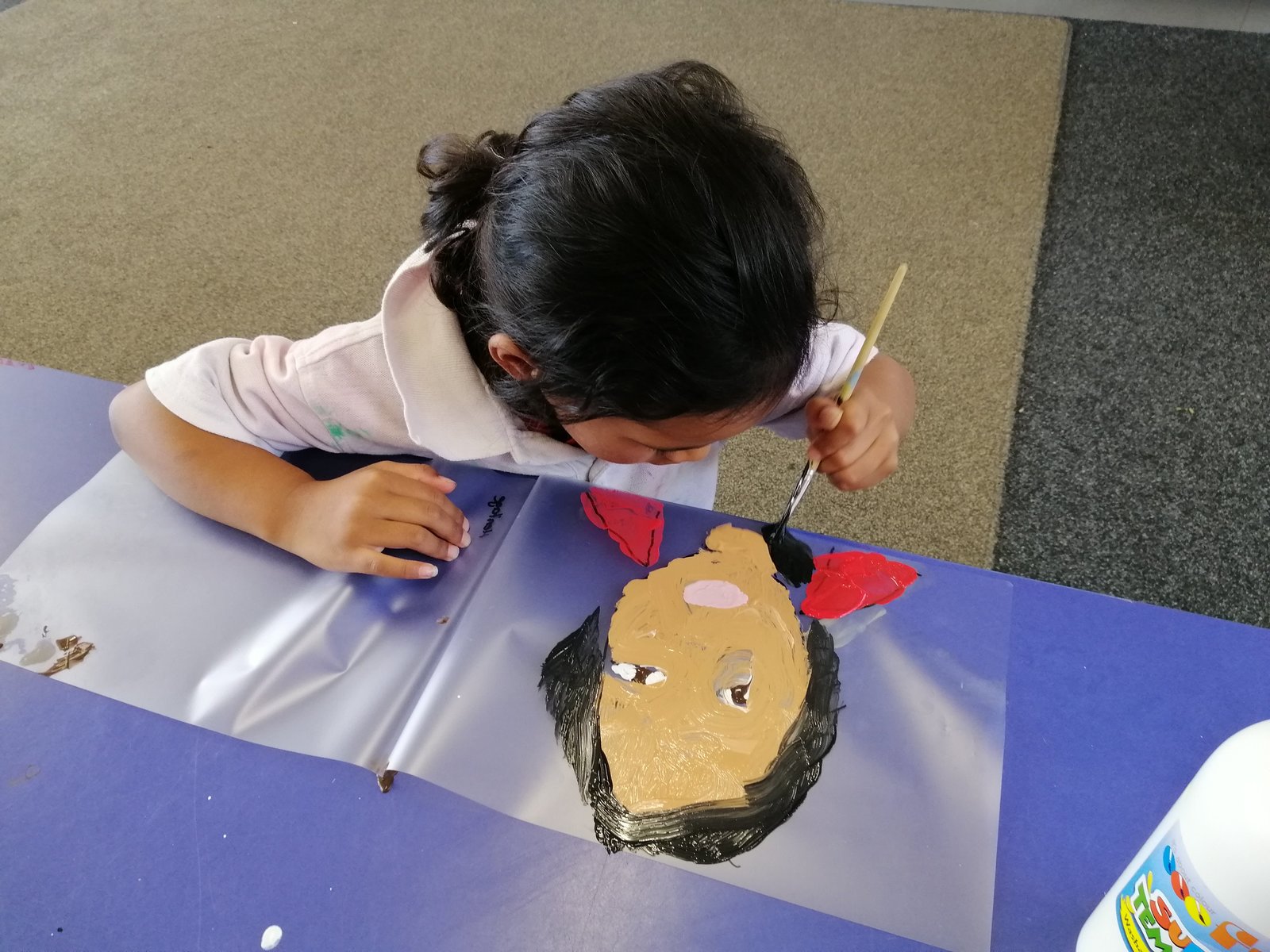 On Tuesday we had a very busy day. We started by welcoming our two new class members- Homa and Nugget.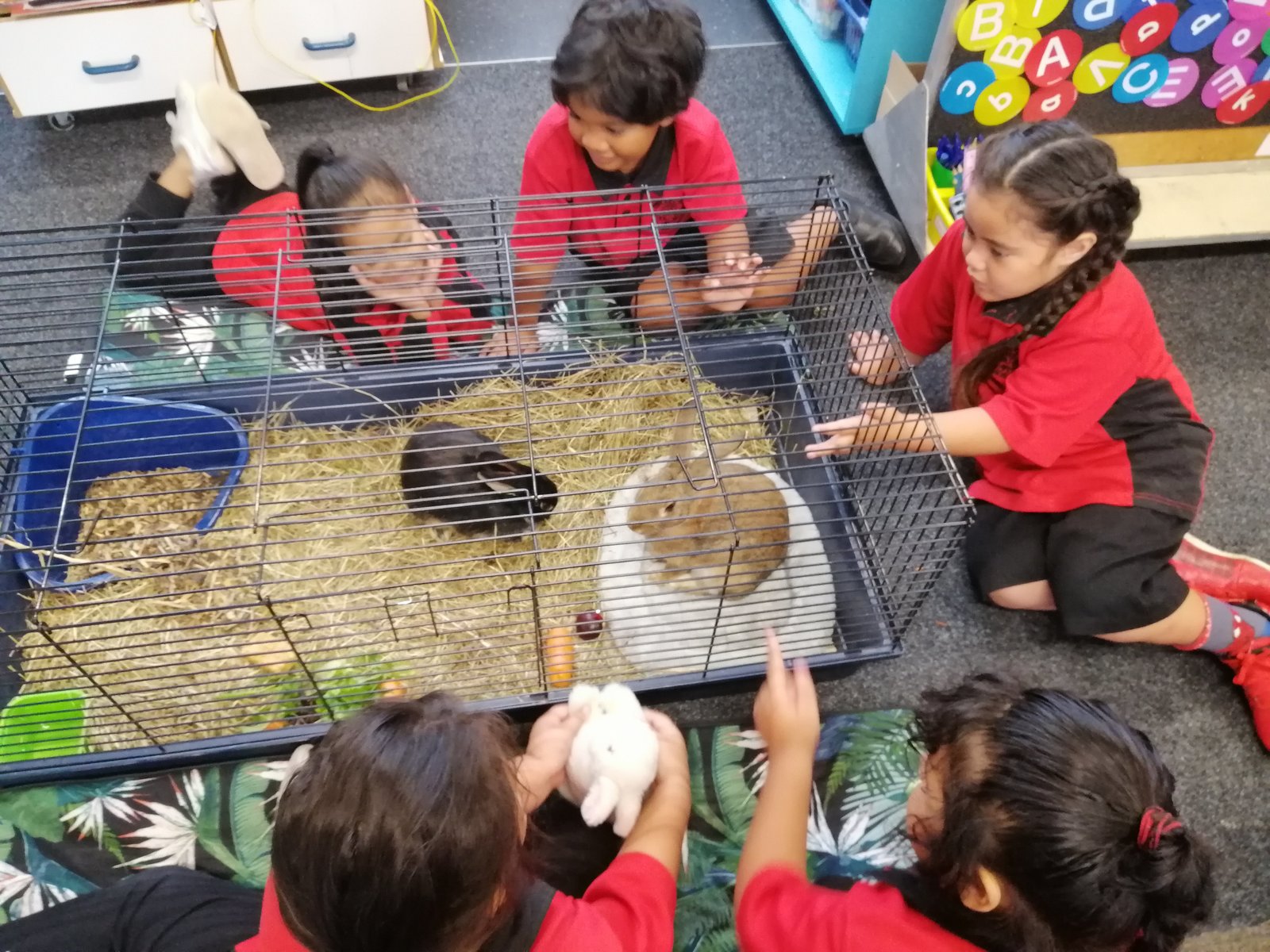 They had a great time getting to know everyone in Room 2.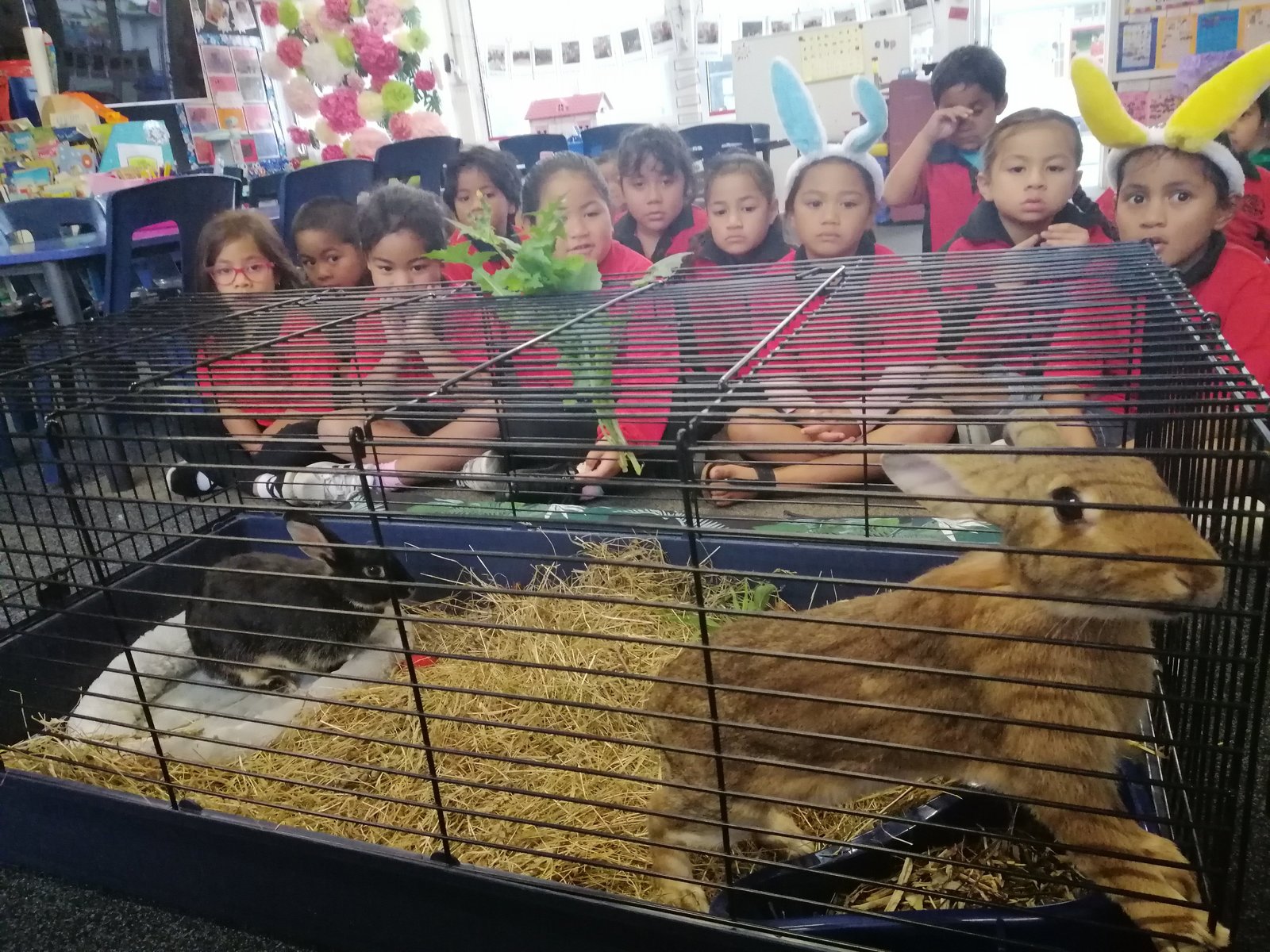 Then we went for another visit to the Life Education Caravan to have another catch up with Harold the Giraffe.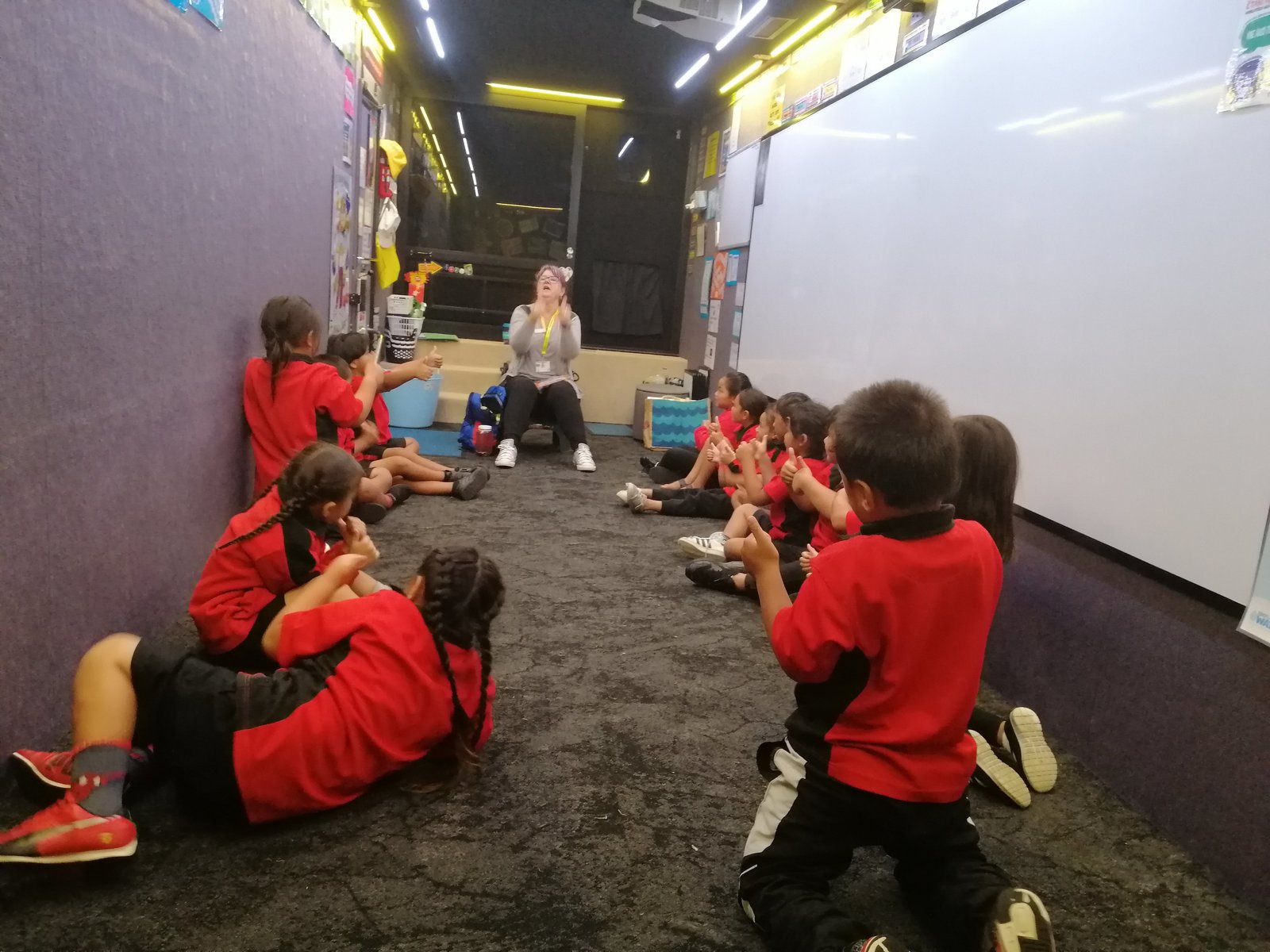 All week we have done some Easter themed activities.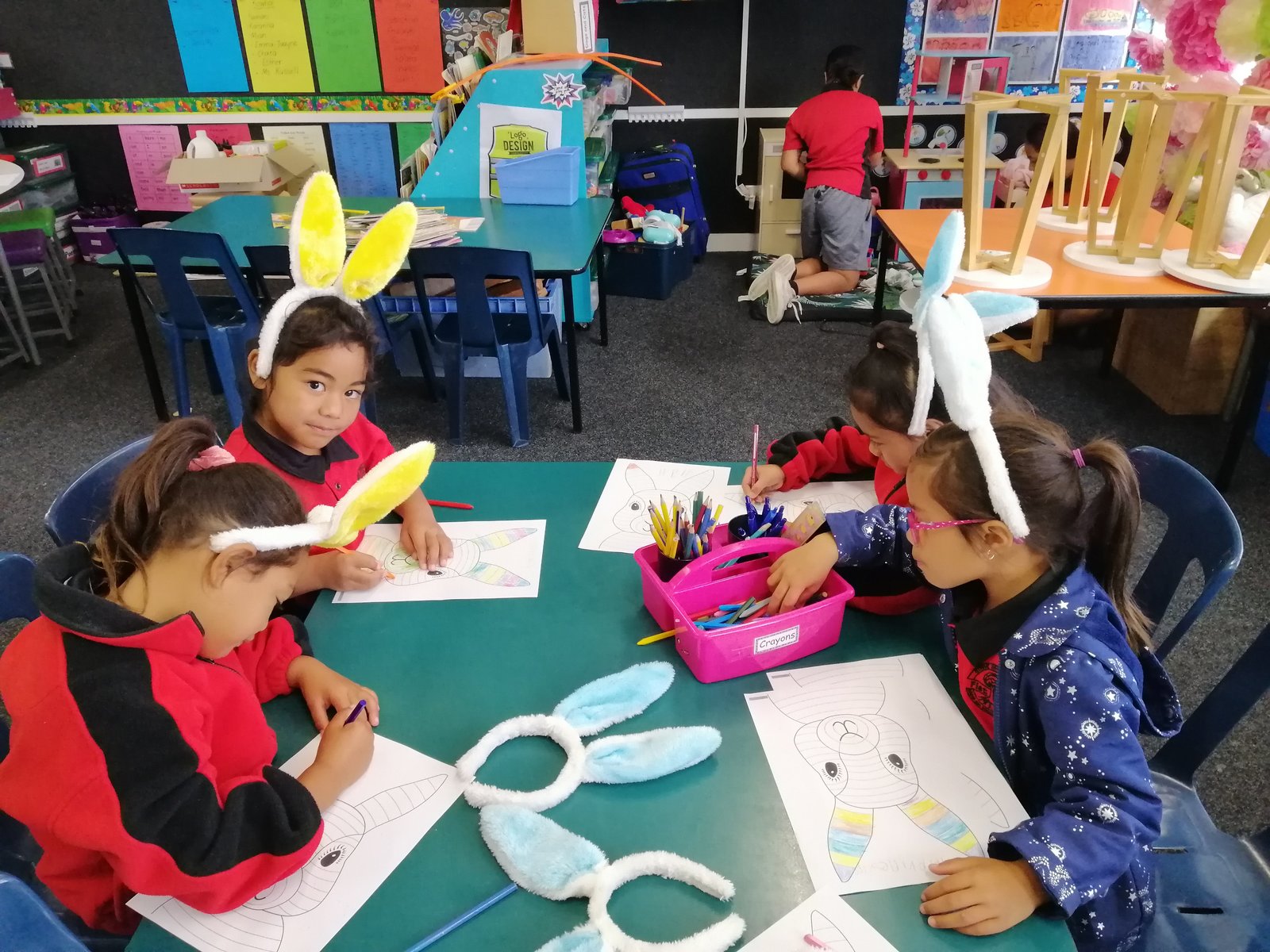 On Wednesday we had an Easter Egg hunt in Room One. It was so much fun!
Have a safe and happy Easter everyone!
Week Eight, Term One, 2021
Another fantastic, fun packed week for all of our learners at FBS! some of the highlights of week 8 included;
Our community walk to the Culvert on Flatbush road and the nearby playground.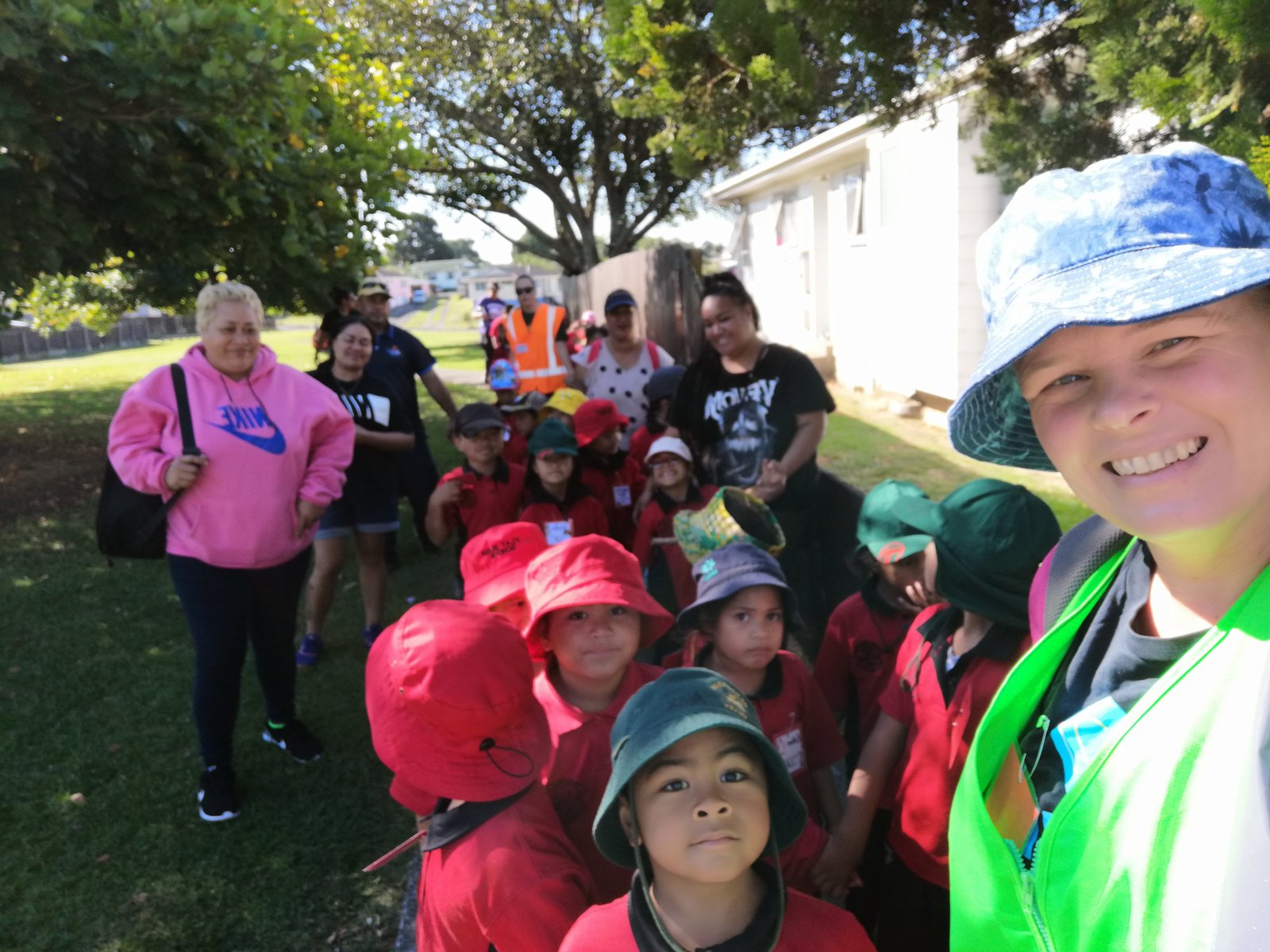 We noticed lots of rubbish in the stream, so we talked about what we should be doing with our rubbish so that it does not end up in the culvert. We saw some eels in the water and some of us thought we saw a crocodile... Then we walked a little bit further to the park. At the park there were lots of fantastic trees and a really great playground too. We had lots of fun playing after we had enjoyed some morning tea together. A massive thank you to all of our parents and caregivers who came along to support us.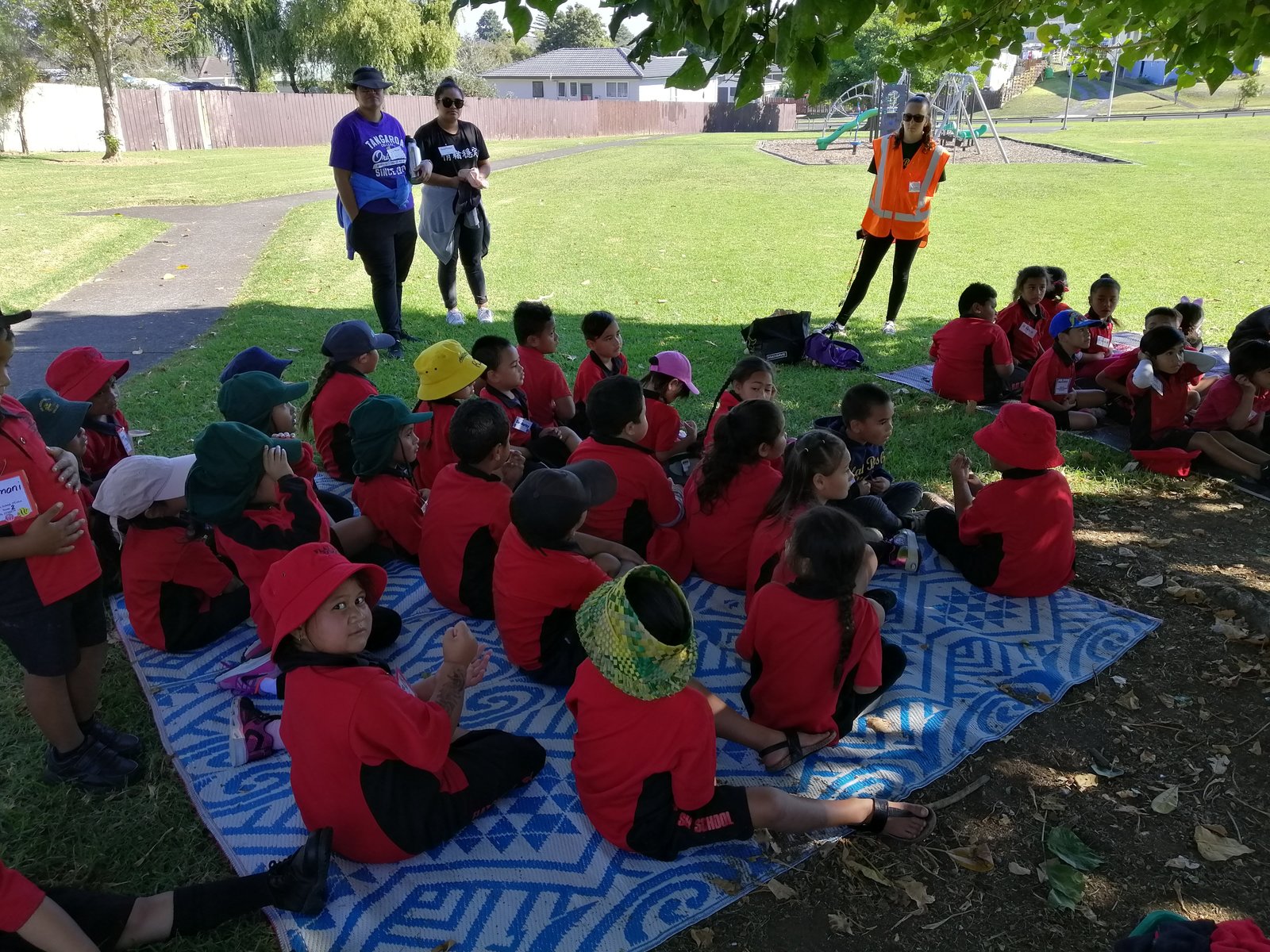 On Wednesday we had another cricket lesson with coach Nick. This week we were learning how to bat.
We had lots of fun hitting the ball off the Tee. Congratulations to the two players of the day....... Kiaan-Lui and Teinaki.
On Thursday we finished school to have our Celebration of Success afternoon. I really enjoyed meeting with the Whanau of our Room 2 learners to discuss our learning. Thank you everyone who took the time to come to and have a chat.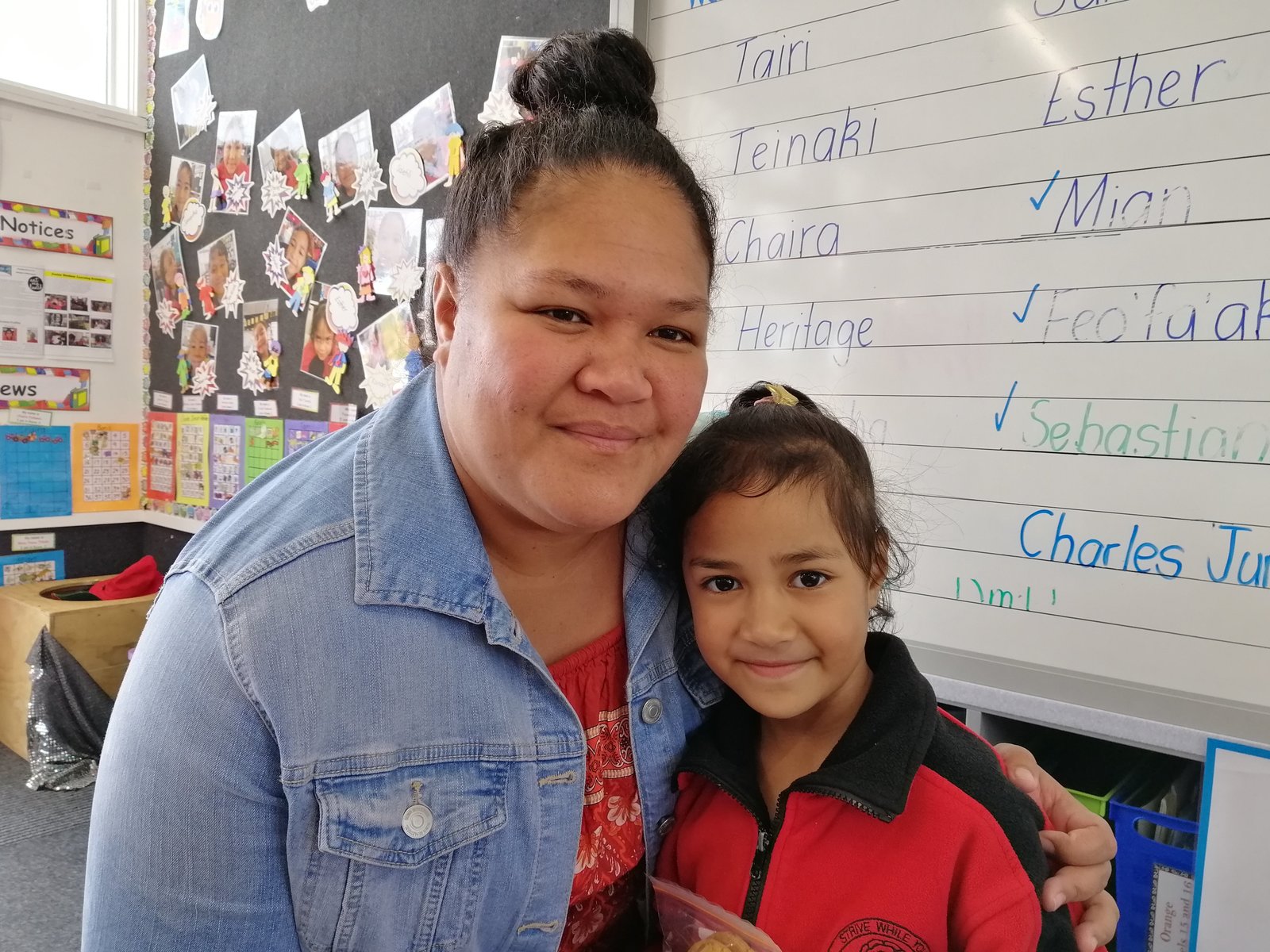 On Friday morning we went to the hall for Bible and listened to Rush. He talked to us about how unique and special we are.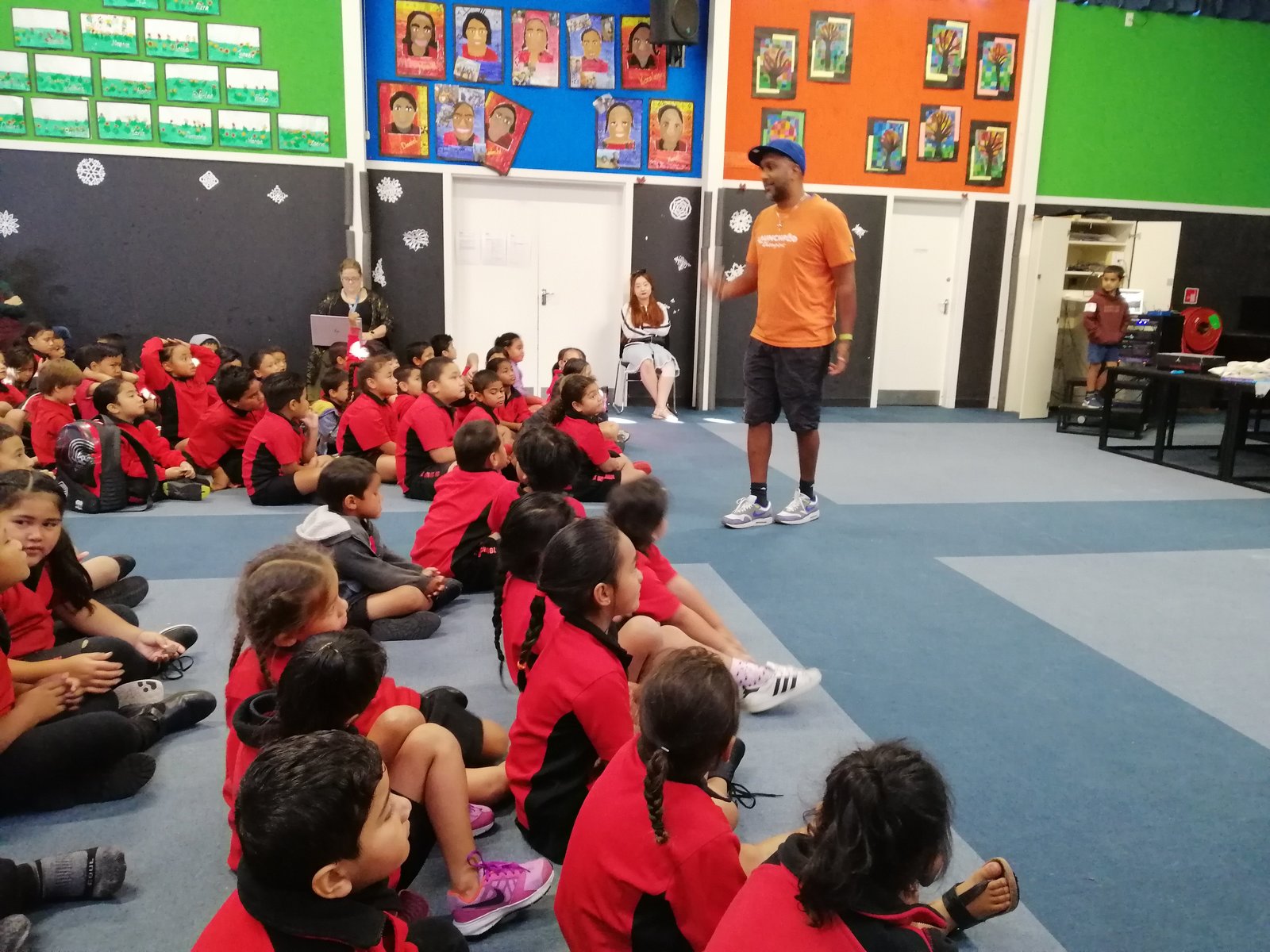 Week Seven, Term One, 2021
Another awesome, fun packed week at FBS!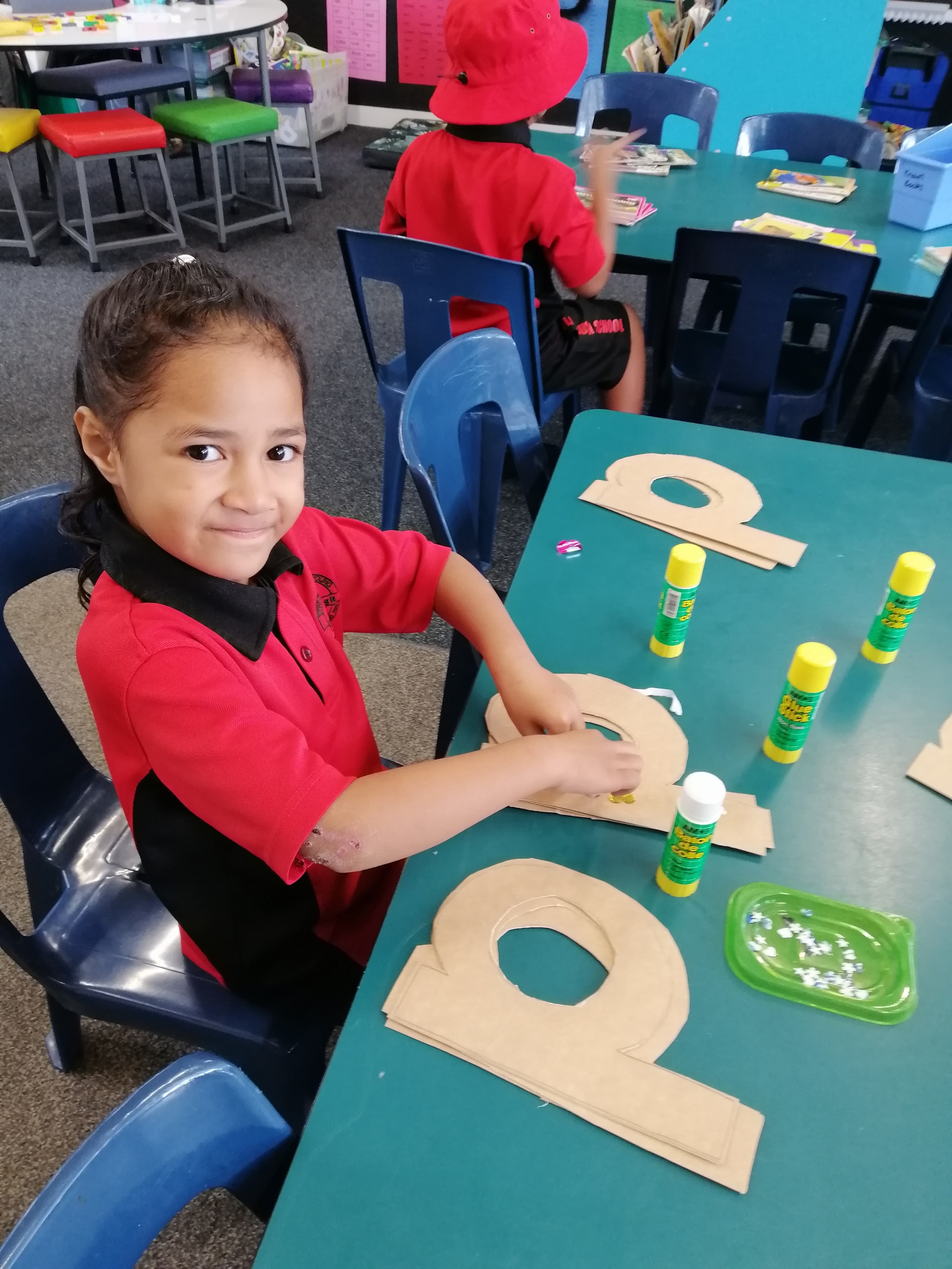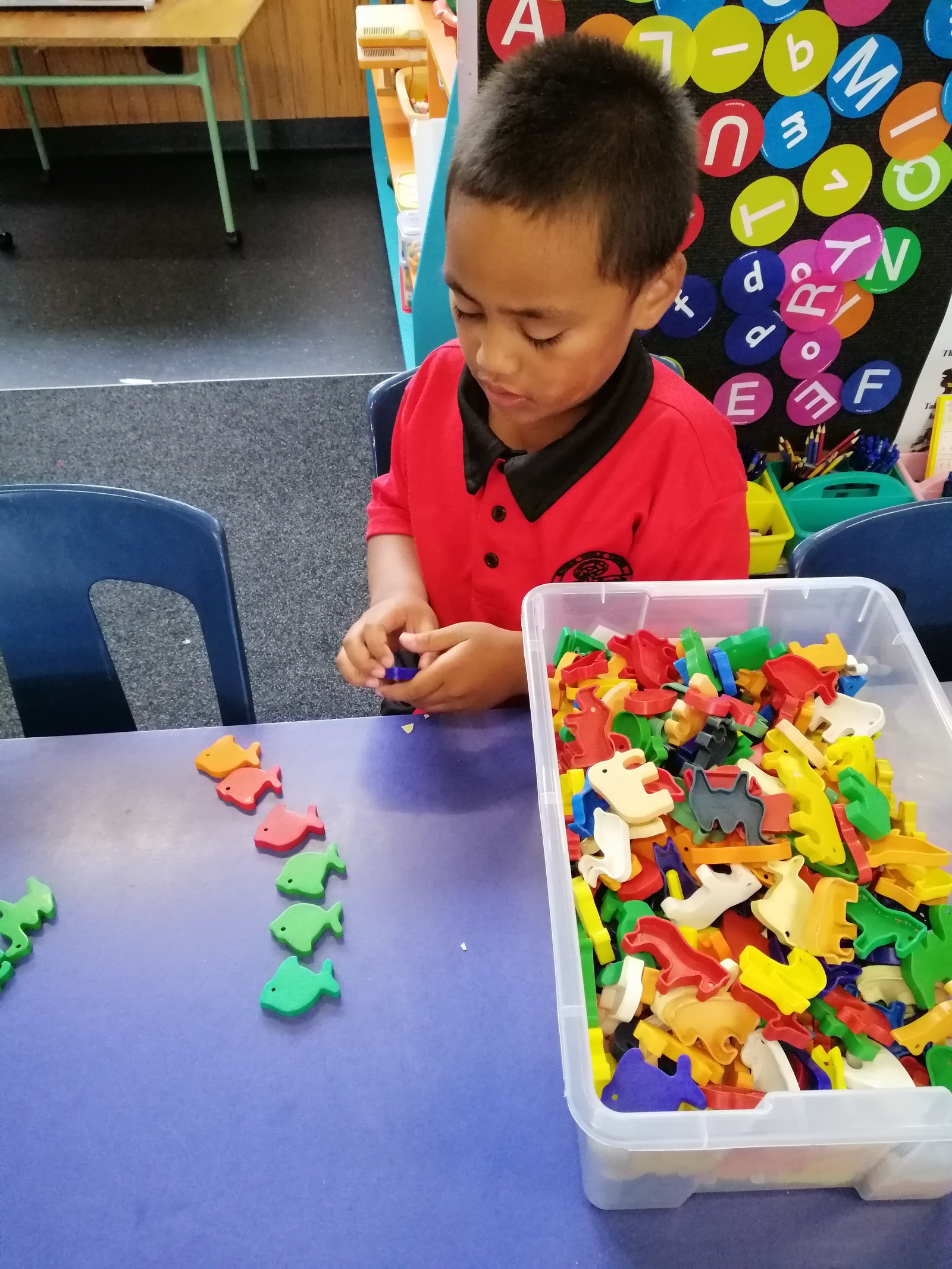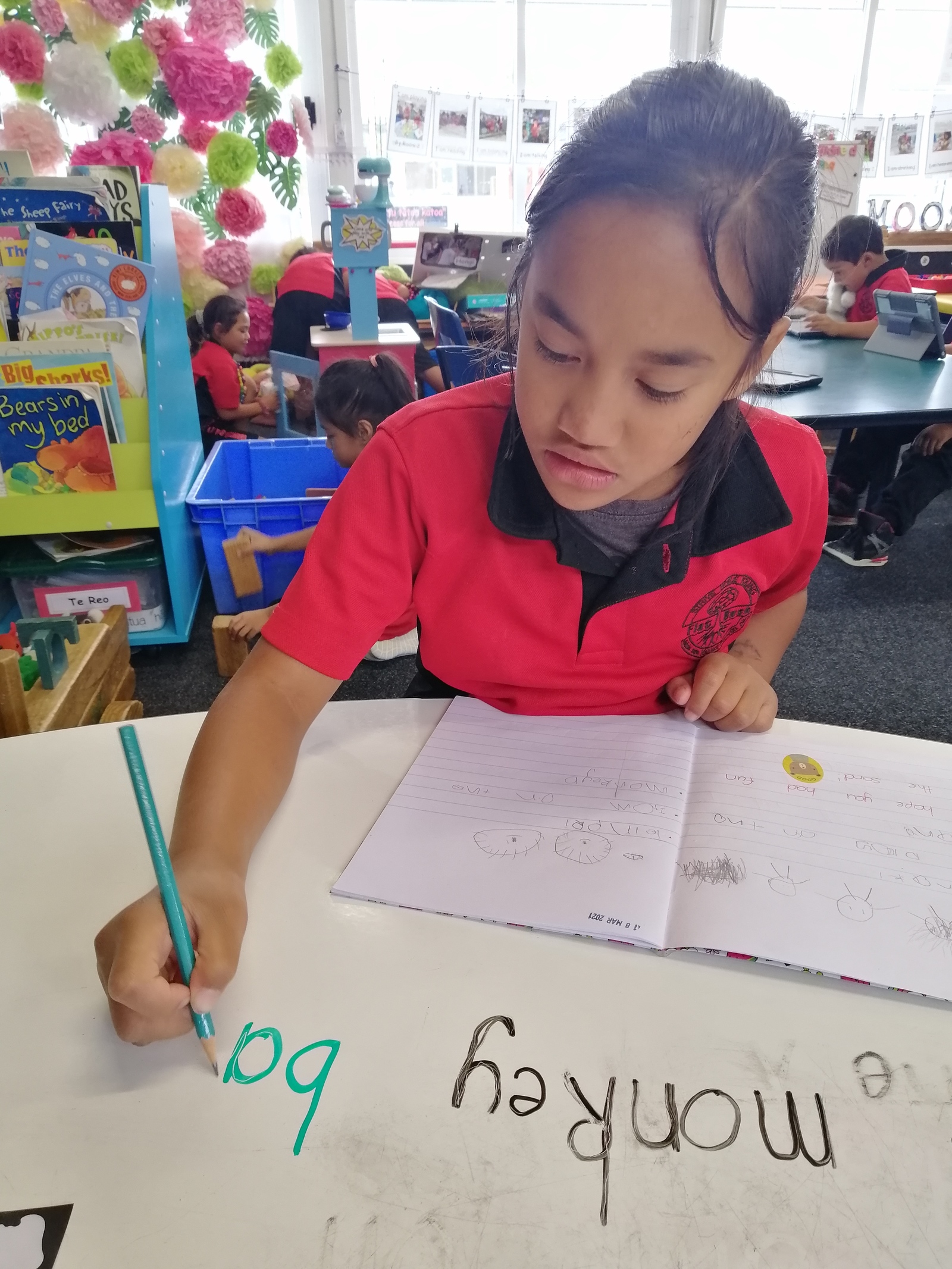 One of the highlights of our week was the community walk to the park. We had so much fun getting some exercise, learning about the environment and our community and having a great play on the playground! Massive thanks to all the parents who came along to support our learning.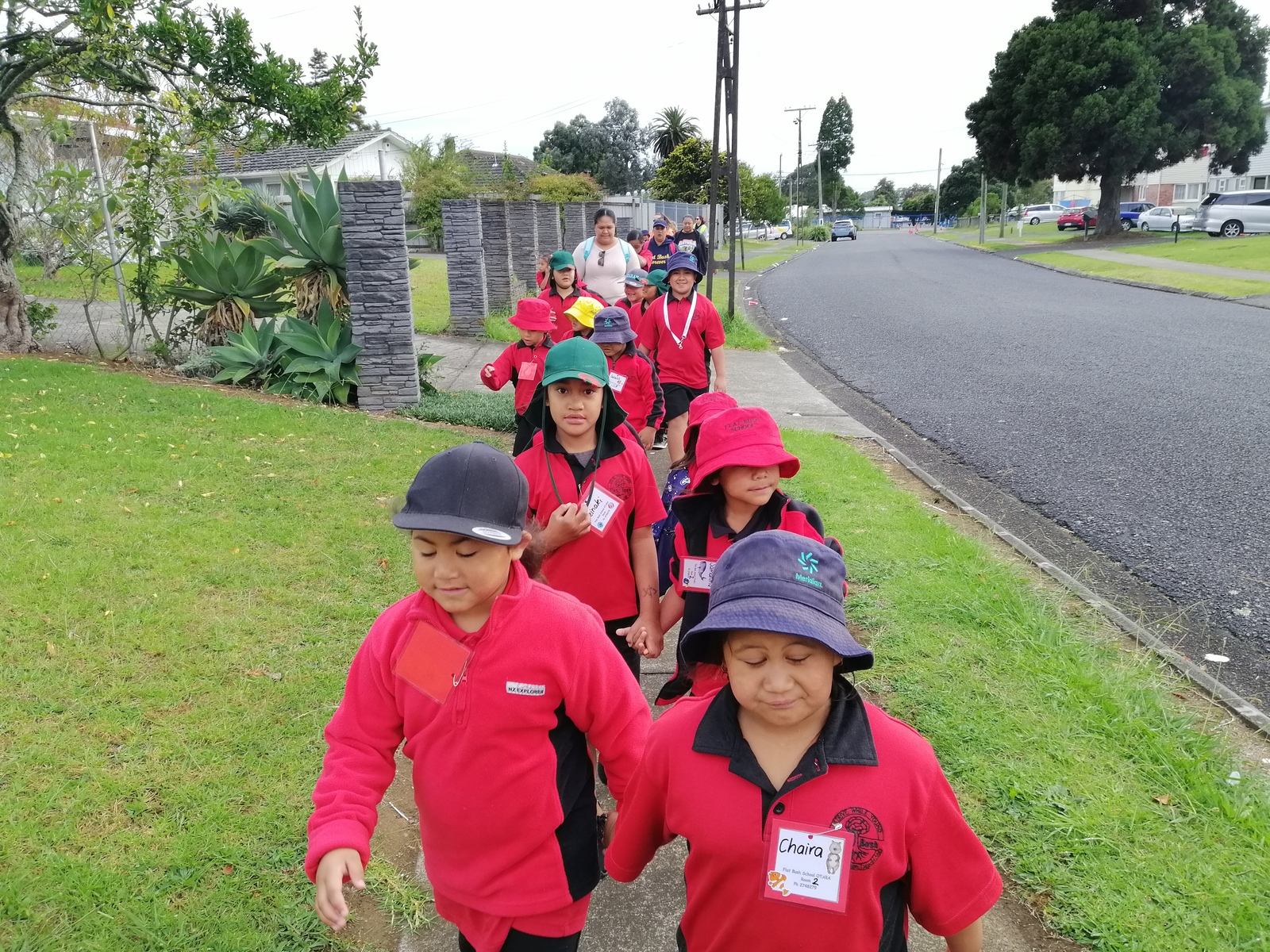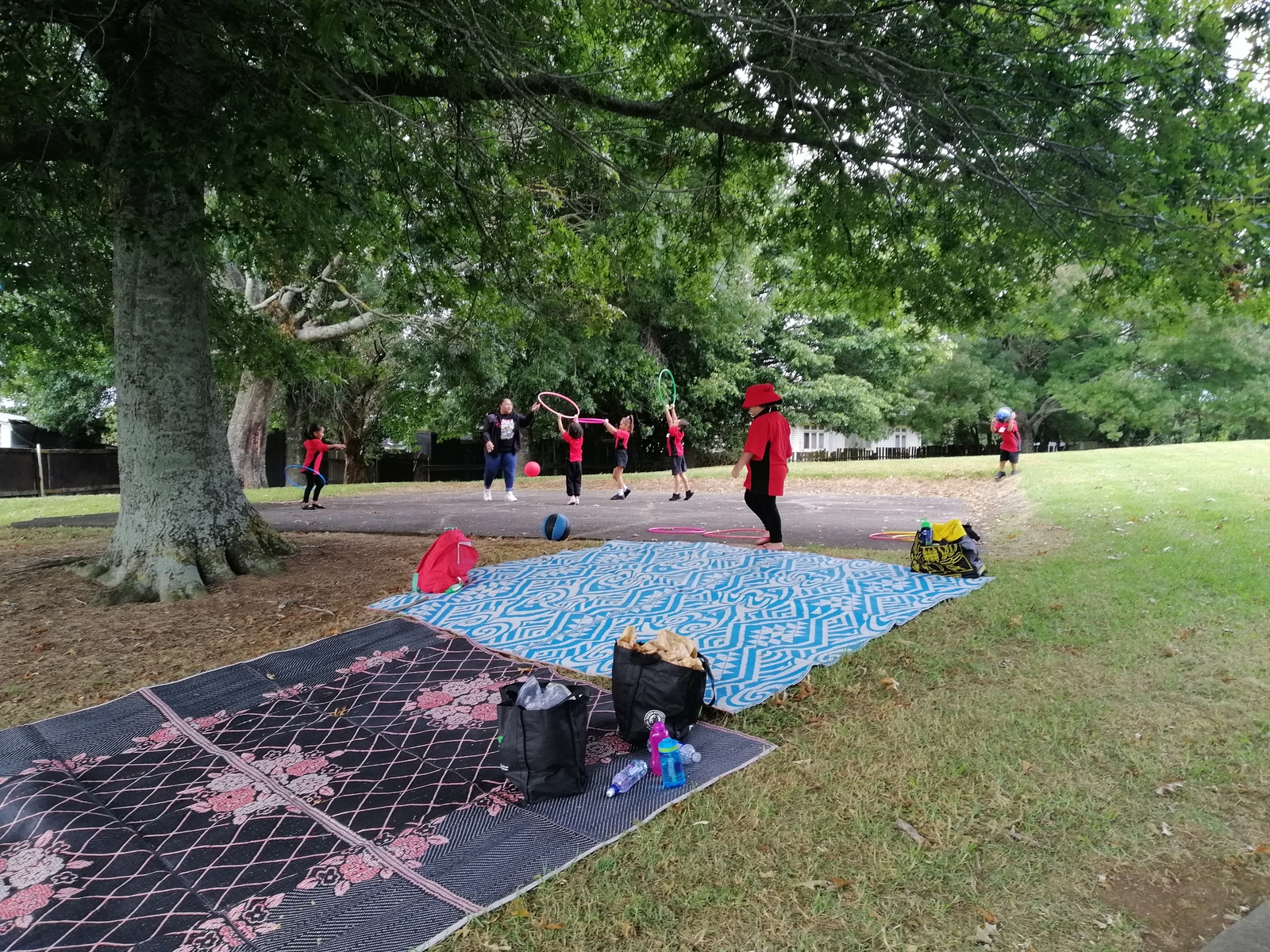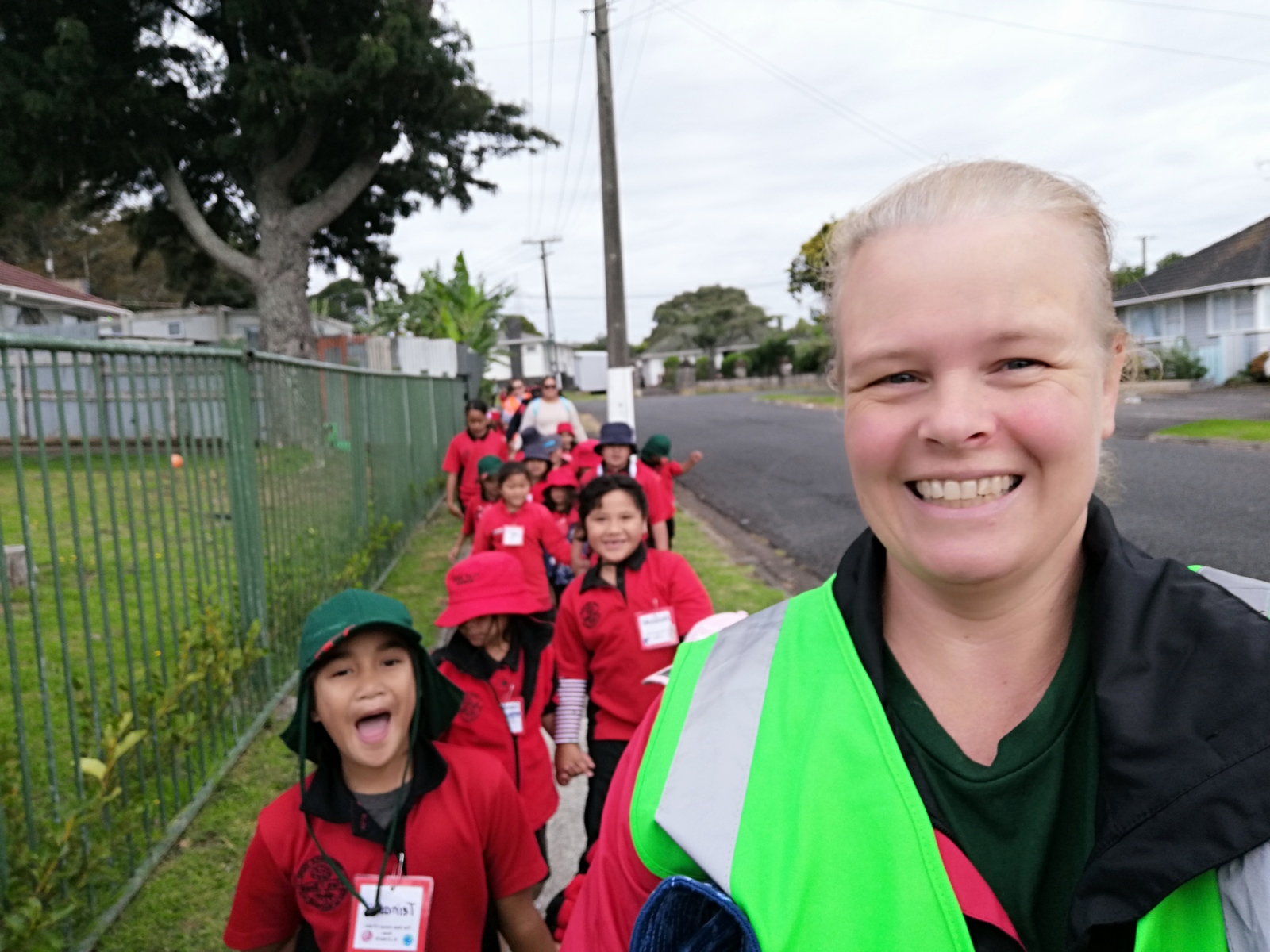 We would love you to come into Room 2 and read some of our stories about the Community Walk!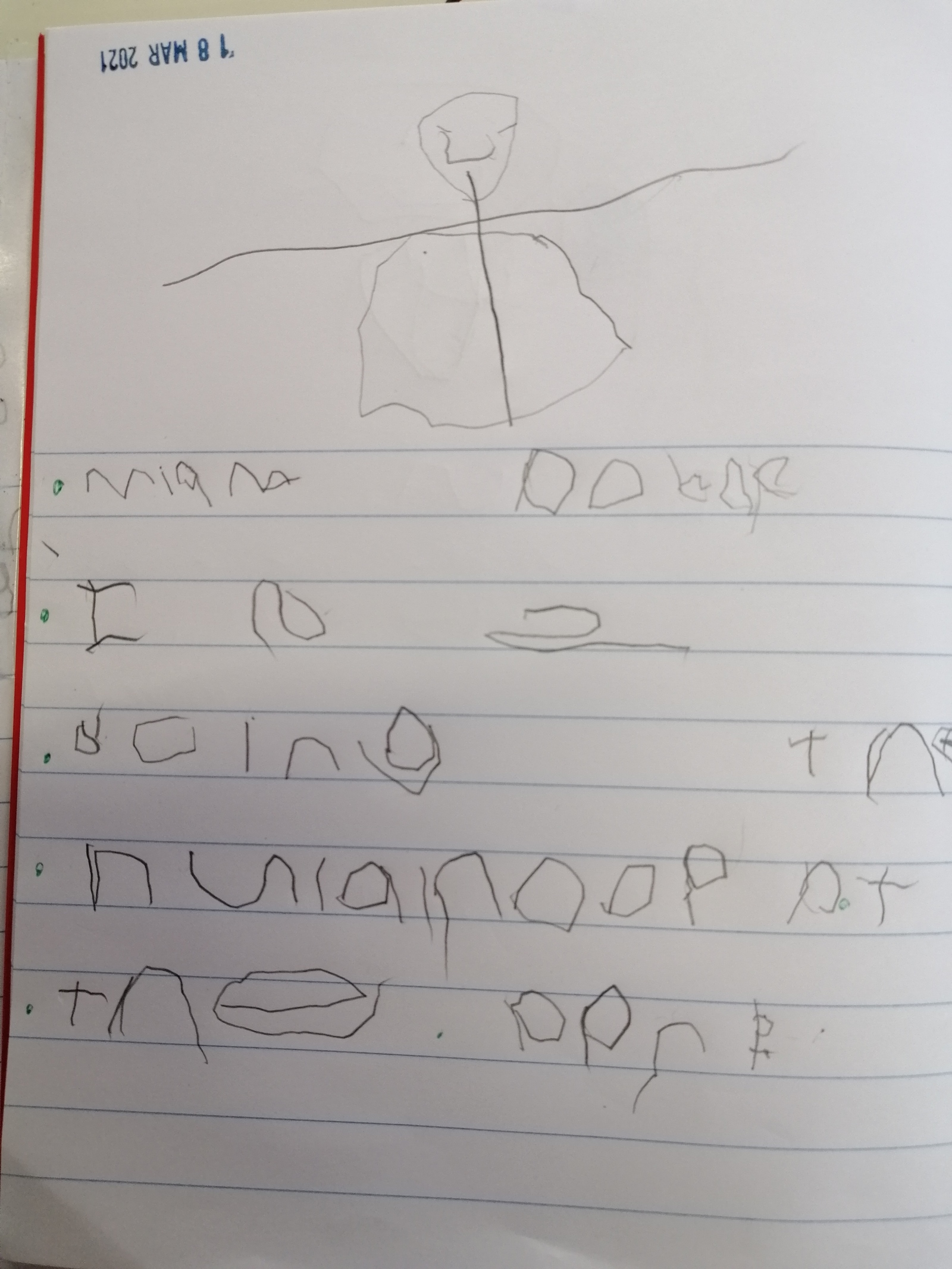 We finished off the week with our amazing Have-A-Go day. So much fun trying out some new sports and making new friends. A huge thanks to all of the coaches and parents who came along. Check out these photos!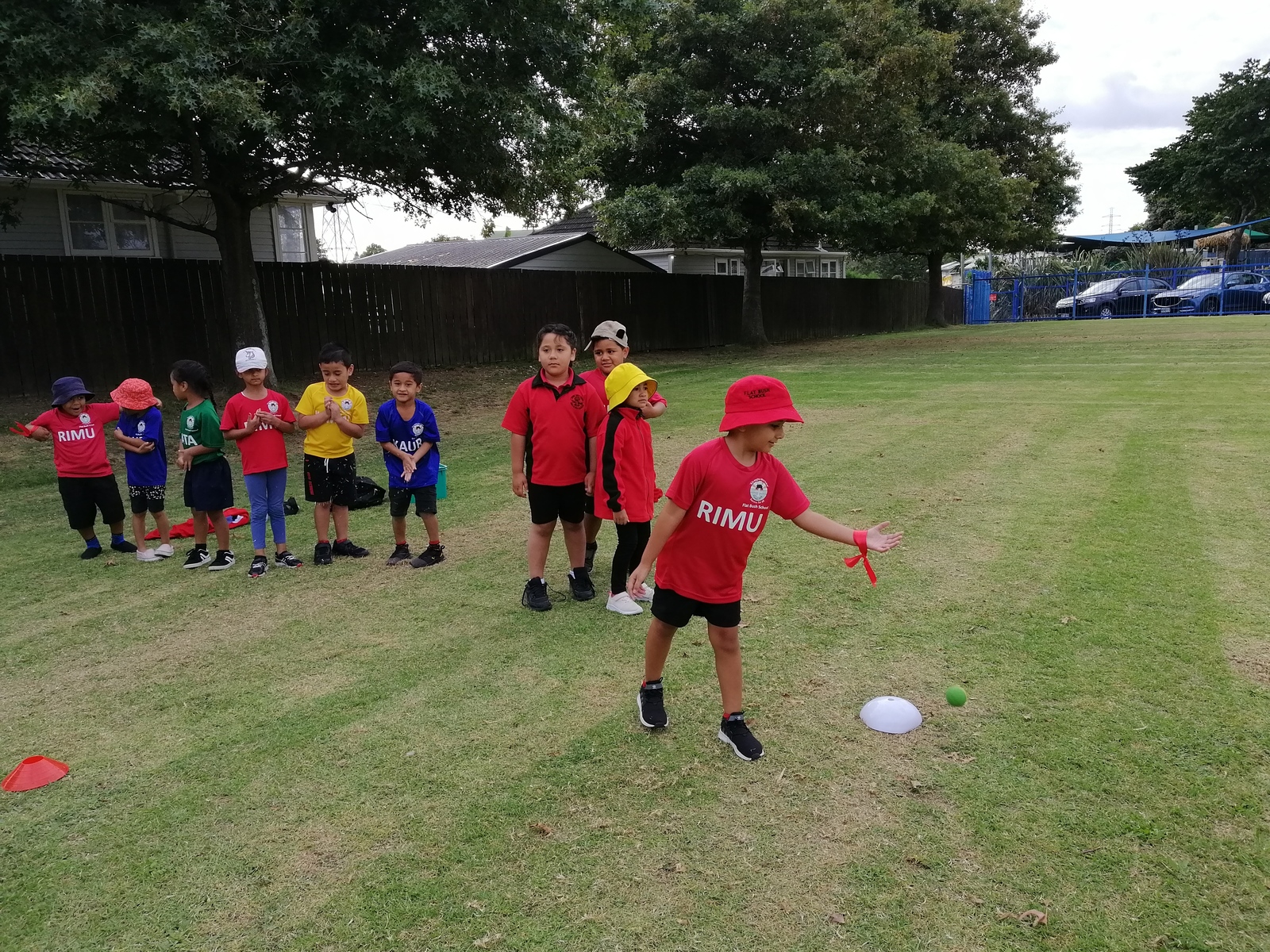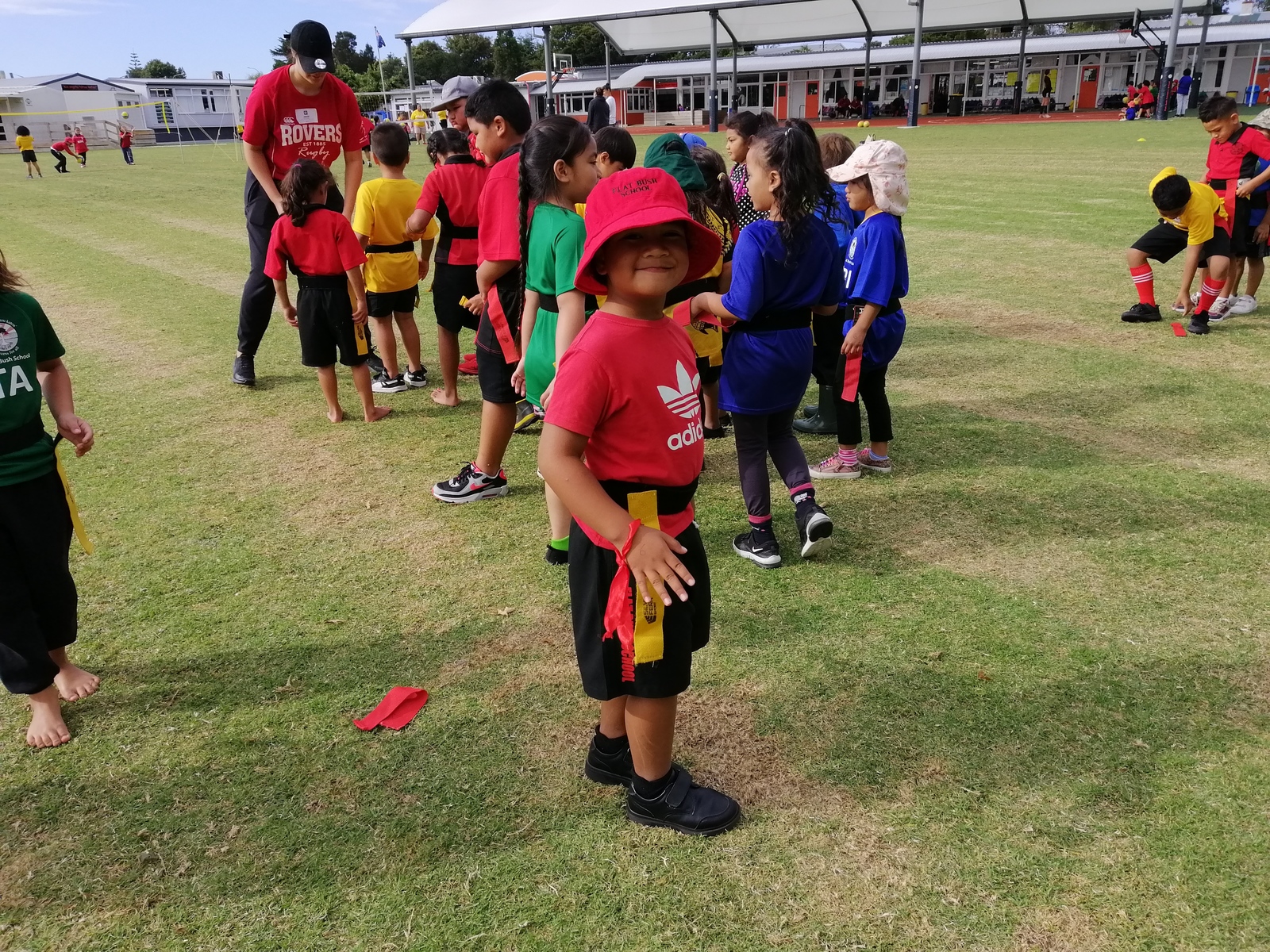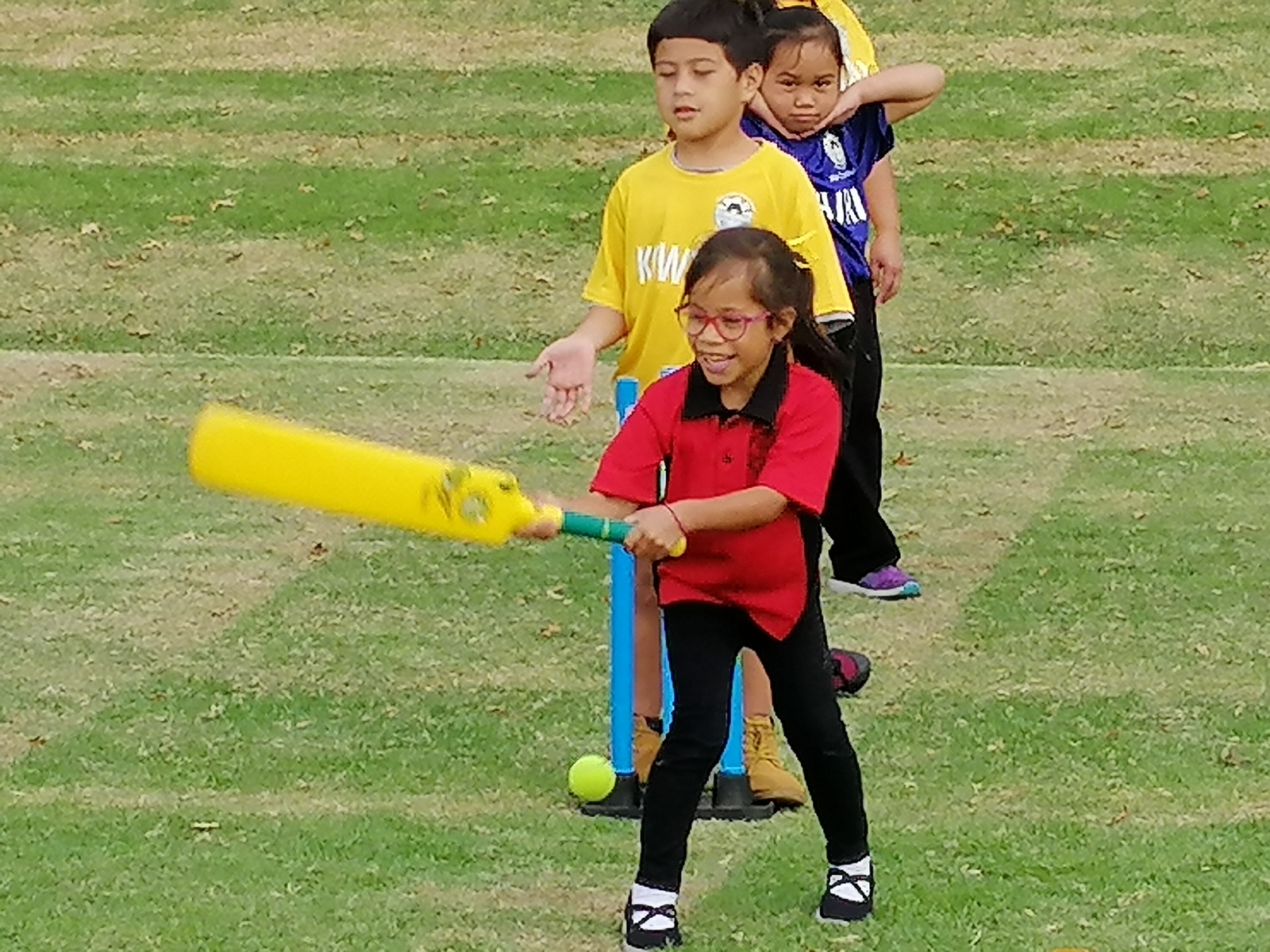 Congratulations to our two Stars of the Week- Teinaki and Katarina.
Week Six, Term One, 2021
Back to School!
So great to be back at school with all of our learners again! We started off the week by having a play on the new marble run near room 23. It was so much fun!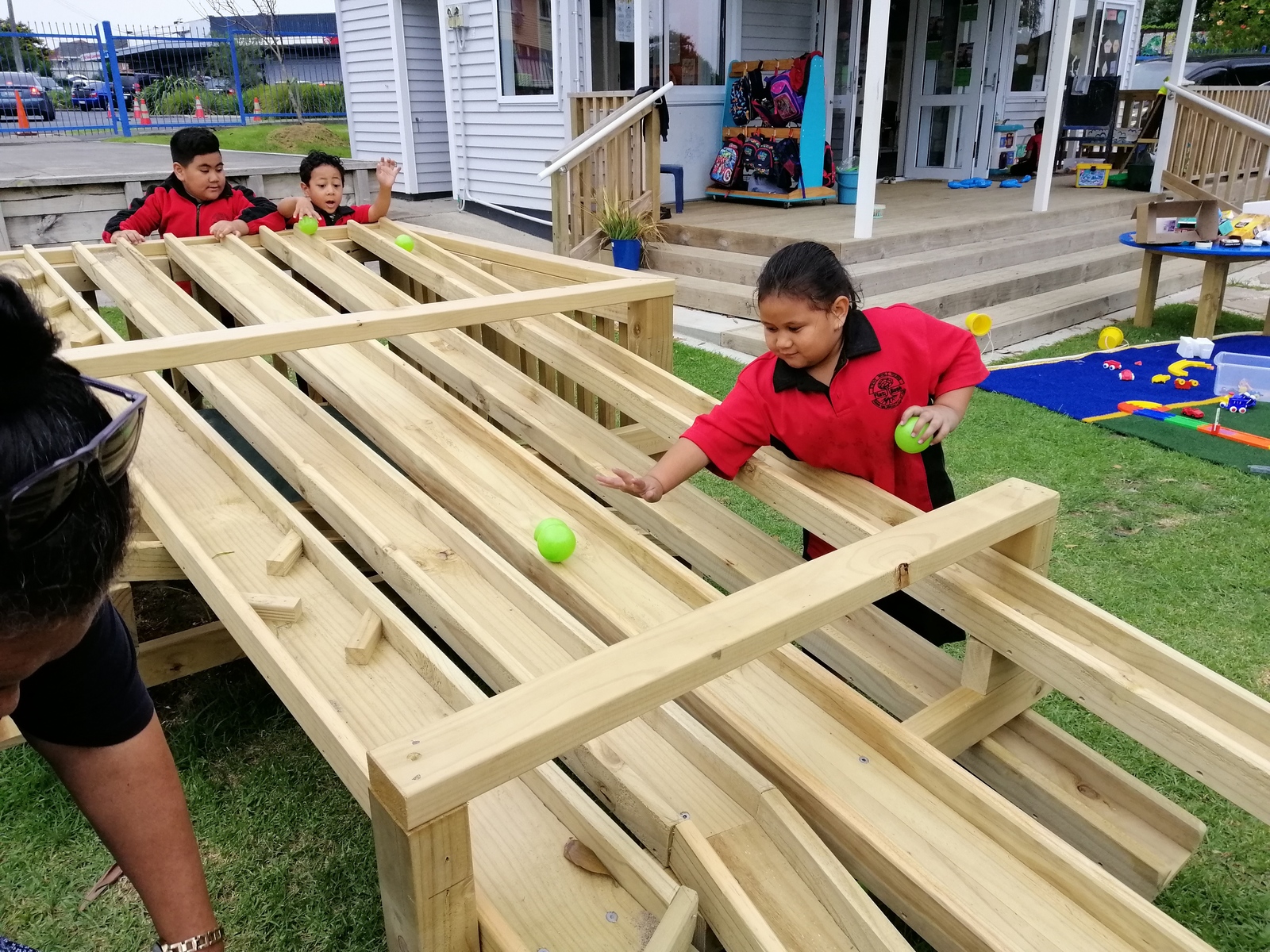 We have also been doing lots of activities around our letter of the week- a/A.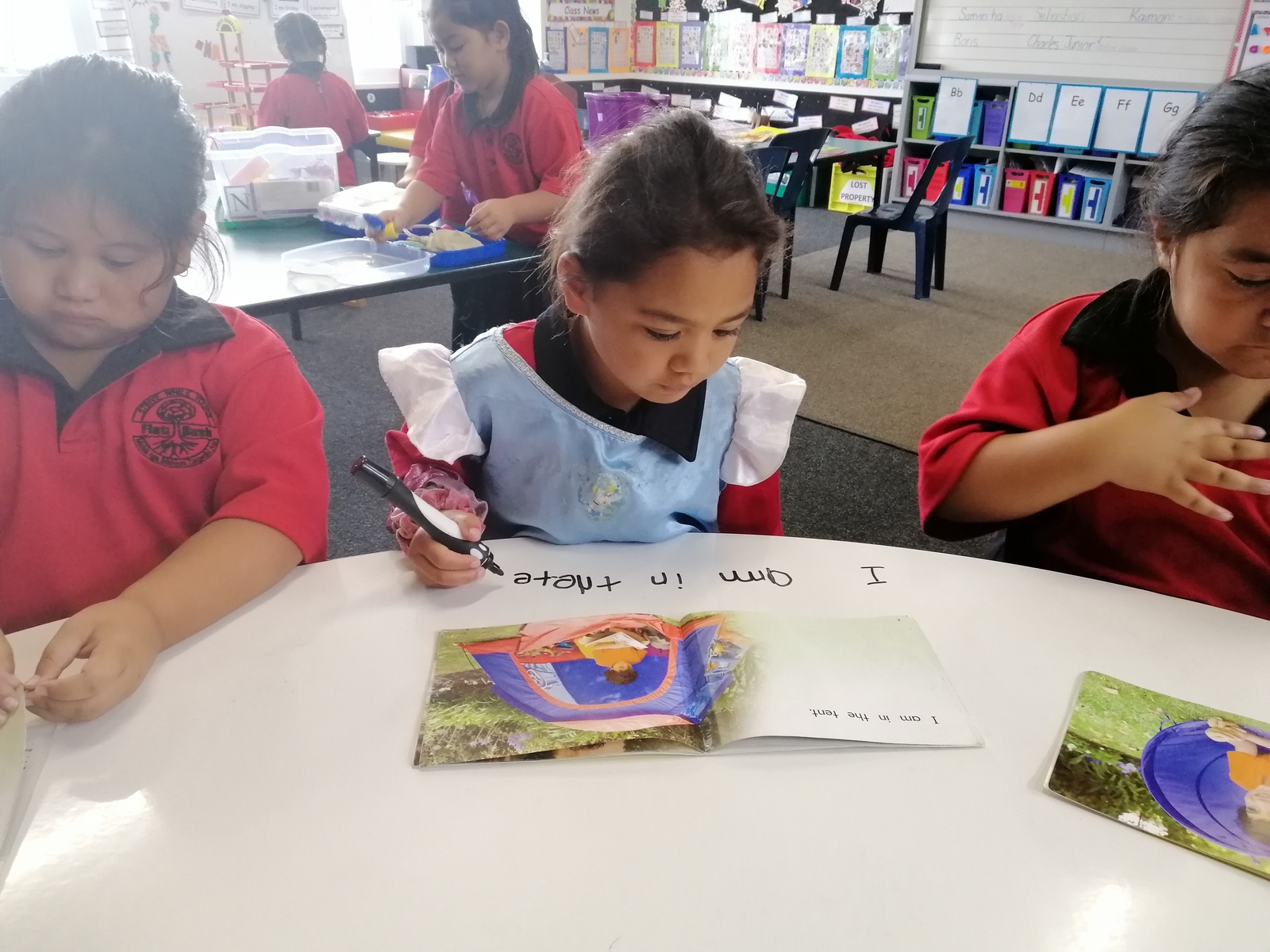 Congratulations to all of the learners who have filled up their sticker charts this week, well done for all of your hard work and I hope that you enjoy your prizes.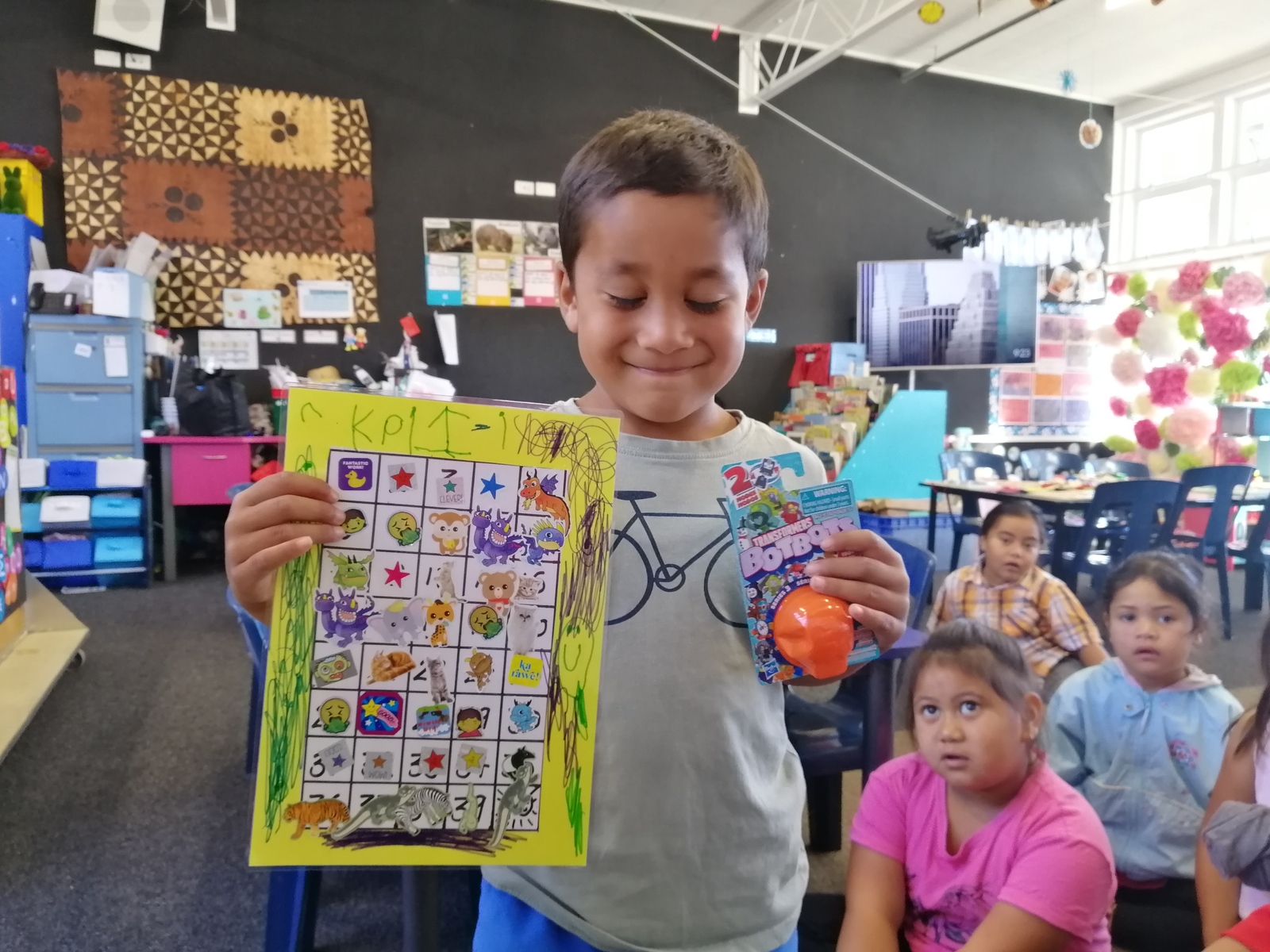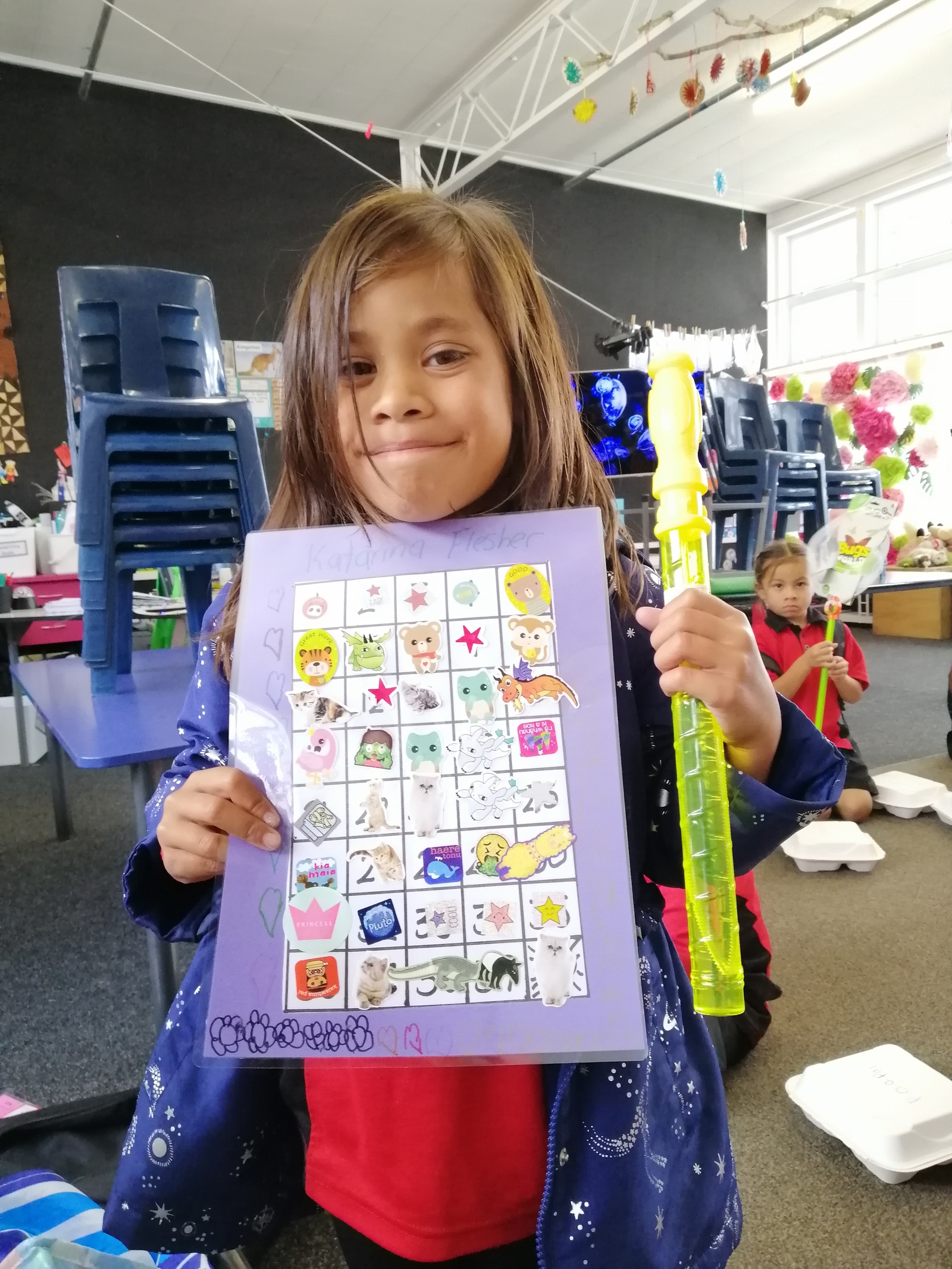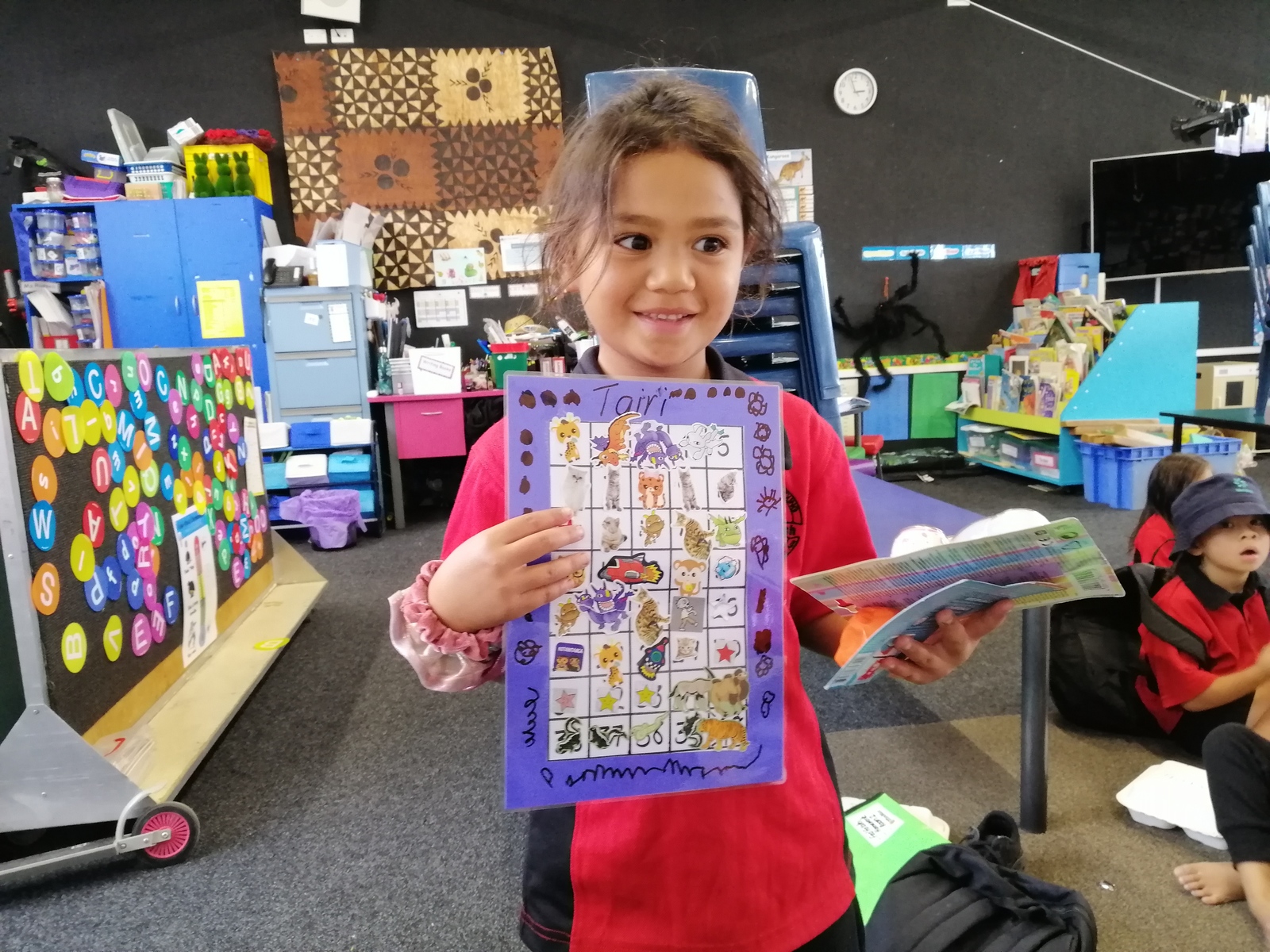 This week we had our first Cricket lesson with Coach Nick. We learnt how to throw and catch a tennis ball and how to aim for the wickets.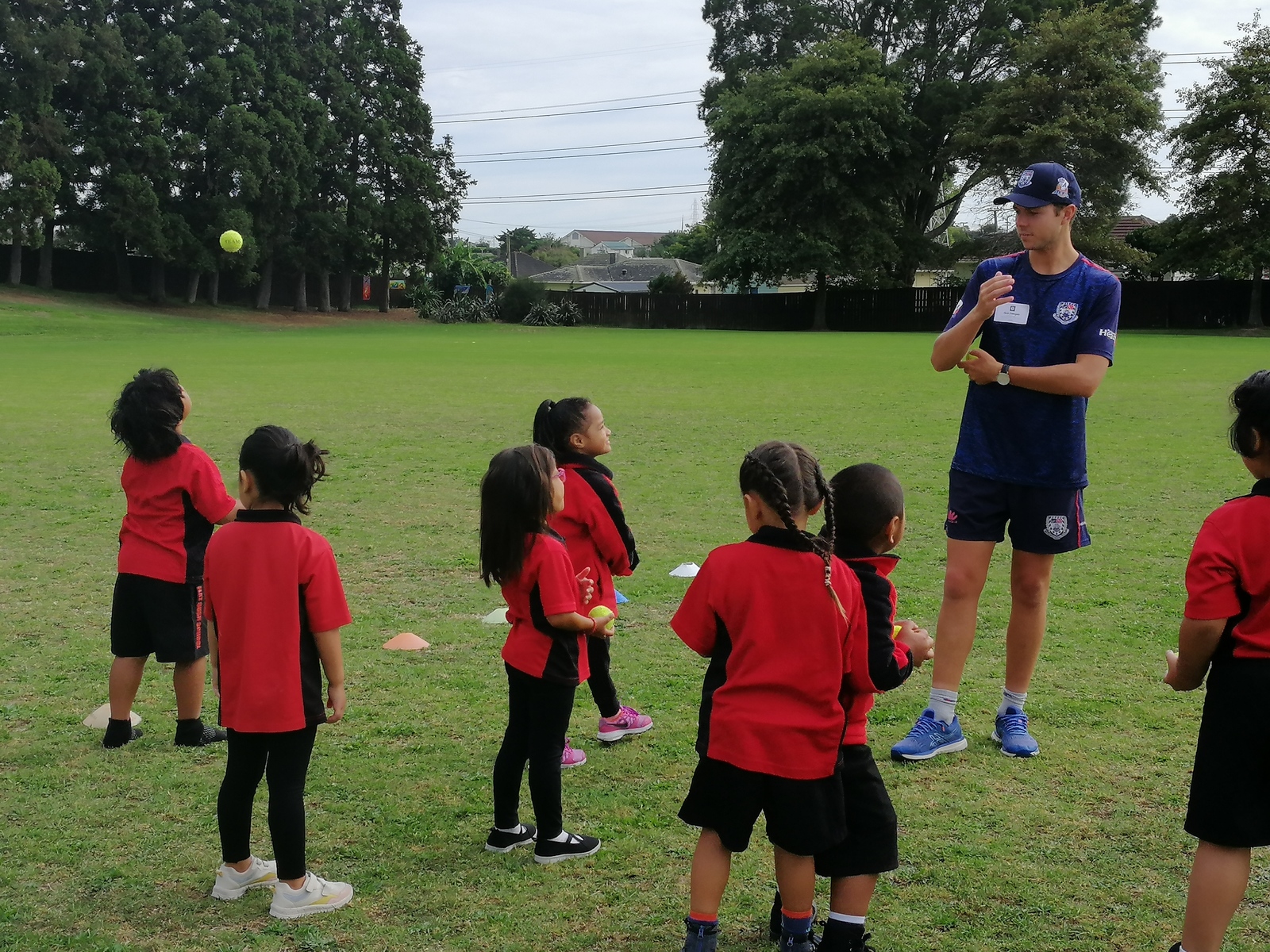 Our learners showed some awesome skills and it was very hard for Coach Nick to choose the players of the day........ Congratulations Fa'afoi and Tairi.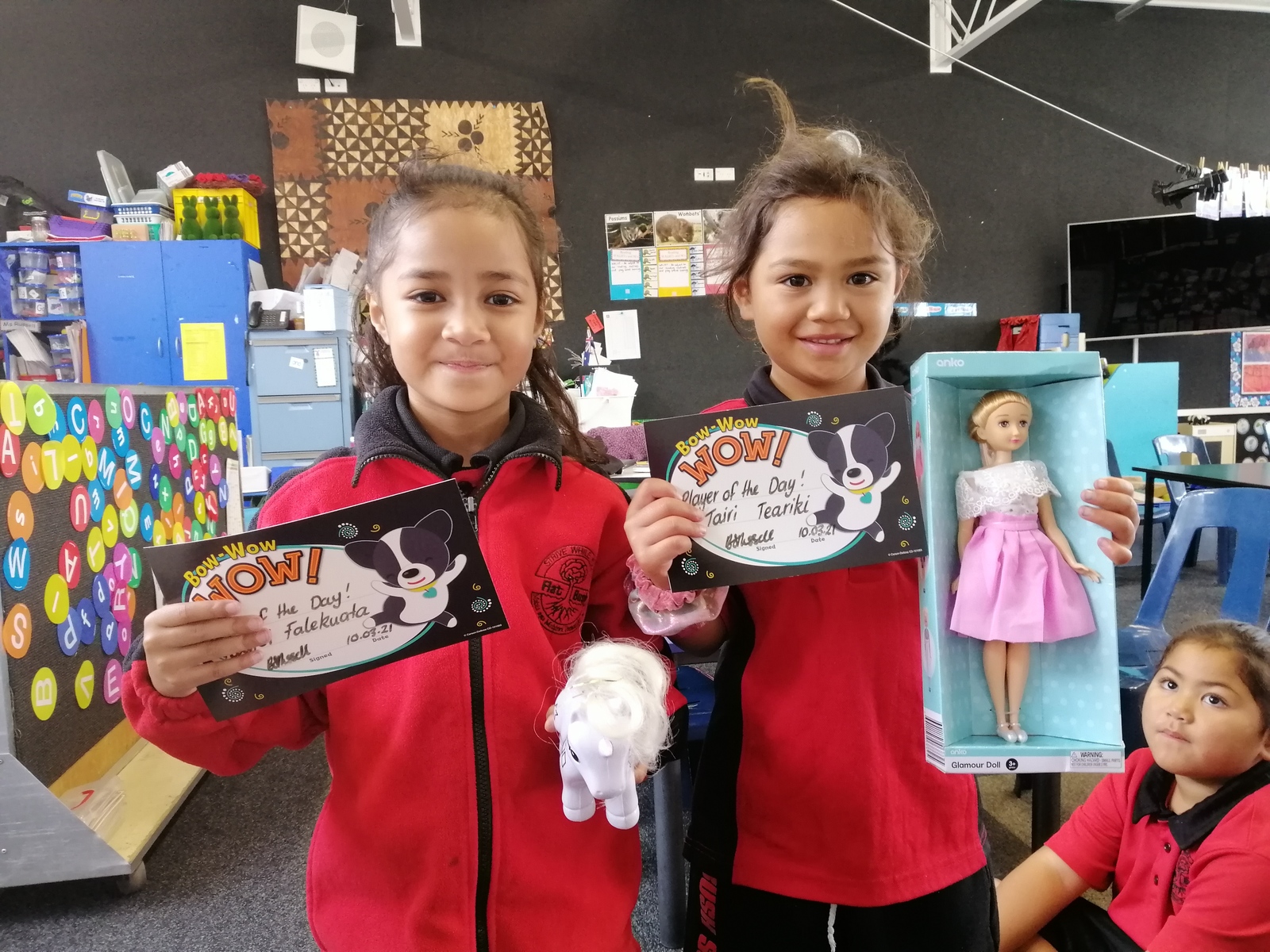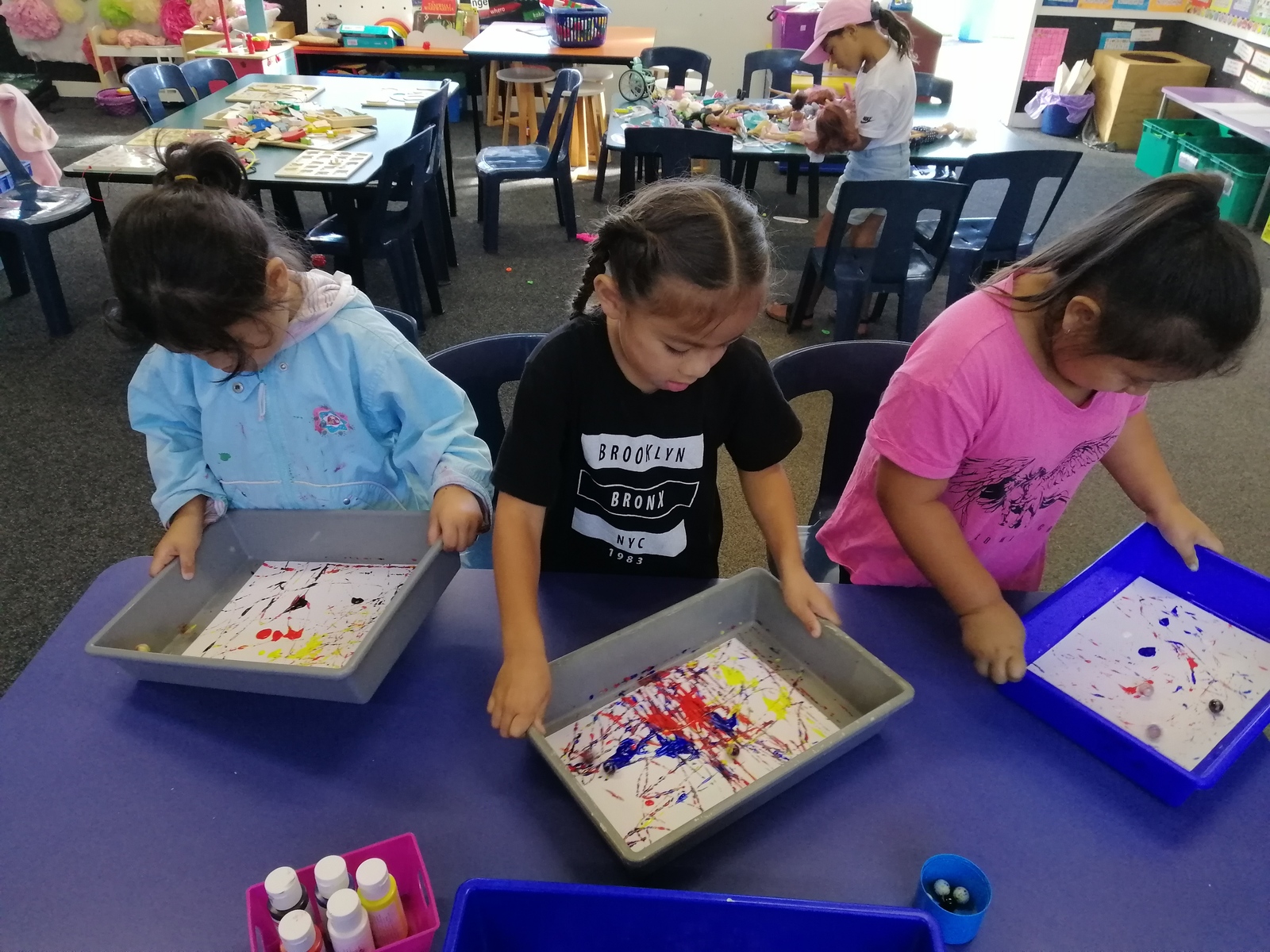 On Friday we did some marble painting. I'm sure you will agree that our artwork looks amazing! Now that we are at Level 1, parents can come in and see our lovely work.
Friday is also the day that we announce our stars of the week- congratulations to this weeks winners, Tairi and Boris!
Have a great weekend everyone and I look forward to seeing you all again on Monday!
Fantastic Friday
Good morning everyone! I hope that you continue to be safe and well. Here are your extra activities for the day.
For maths today, practice your rote counting. Count as high as you can out loud. Use the chalk in your learning pack to write your numbers on the concrete outside. Try writing them in different colours and saying each number out loud as you write.
Look around your house and try to find the following shapes;
*Circles
*Squares
*Rectangles
*Triangles
*Hexagons
Here are some shapes I found around my house. Can you name them?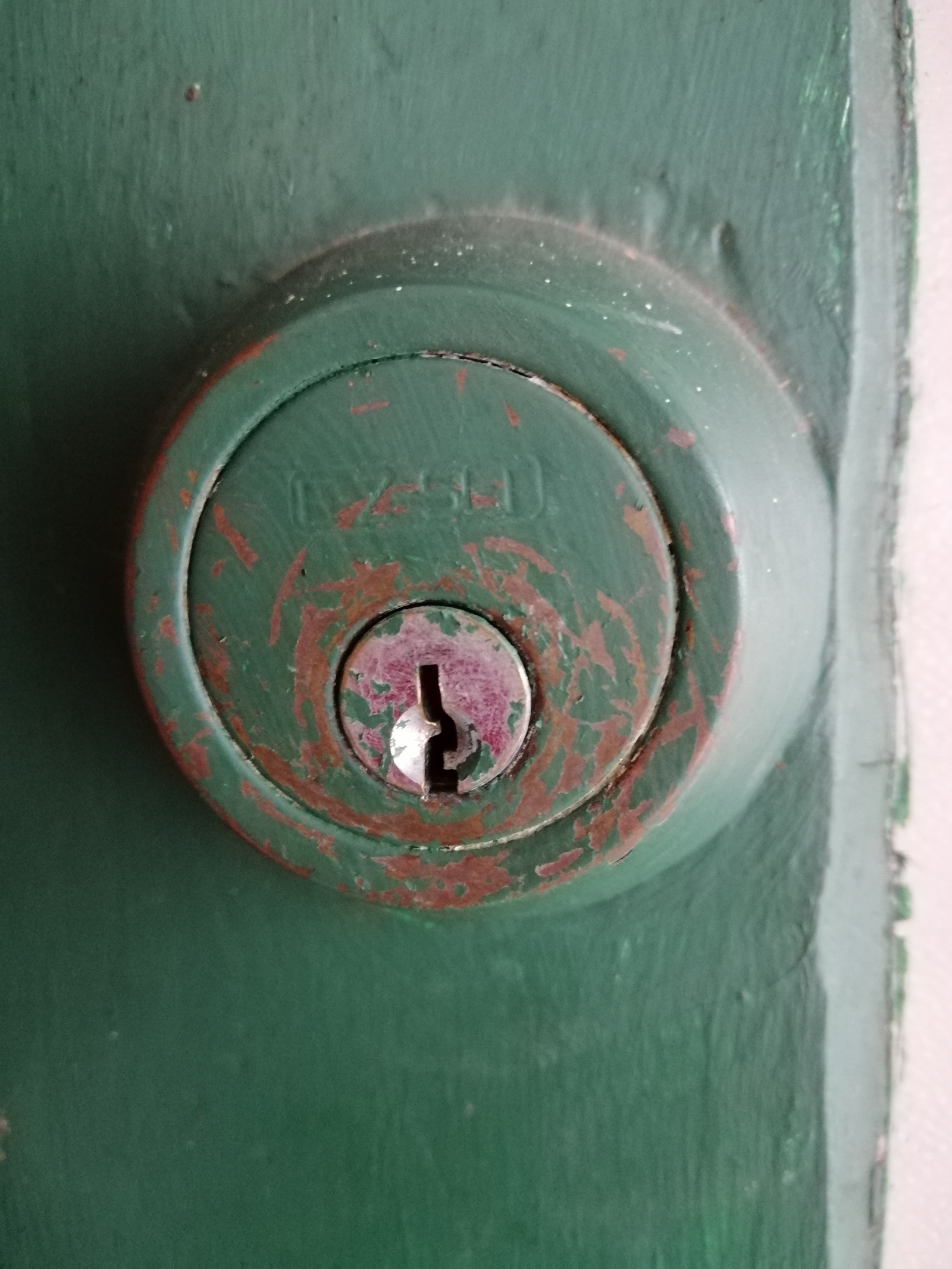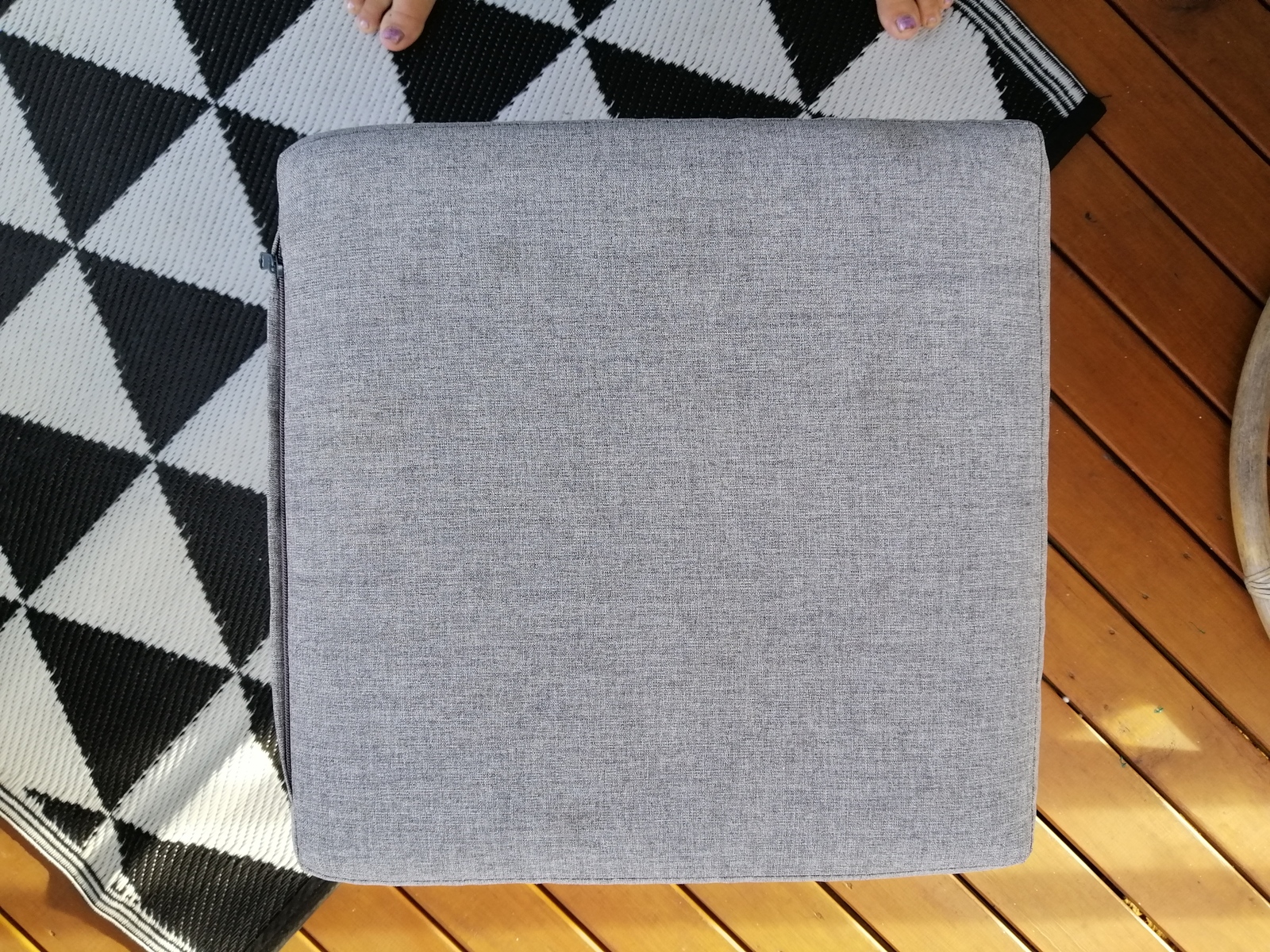 To practice your cutting skills and help develop strength in your fingers, ask an adult to draw some lines on a piece of scrap paper. Using the scissors from your pack, cut along the lines. Can you cut straight lines, curvy lines and zig zag lines?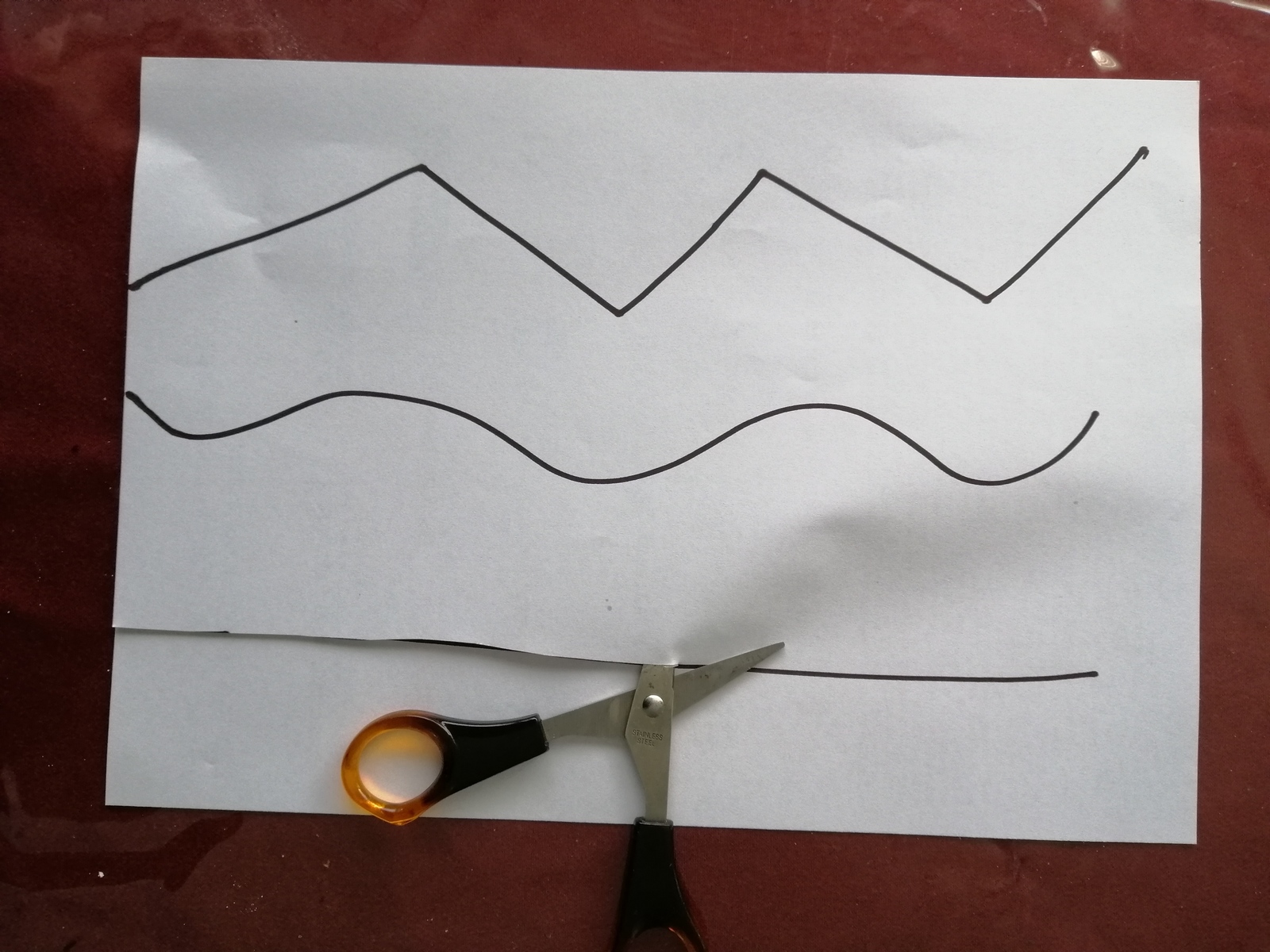 In your scrapbook, practice writing your name 10 times, using the different coloured pencils in your learning pack. Put a star next to your favorite colour.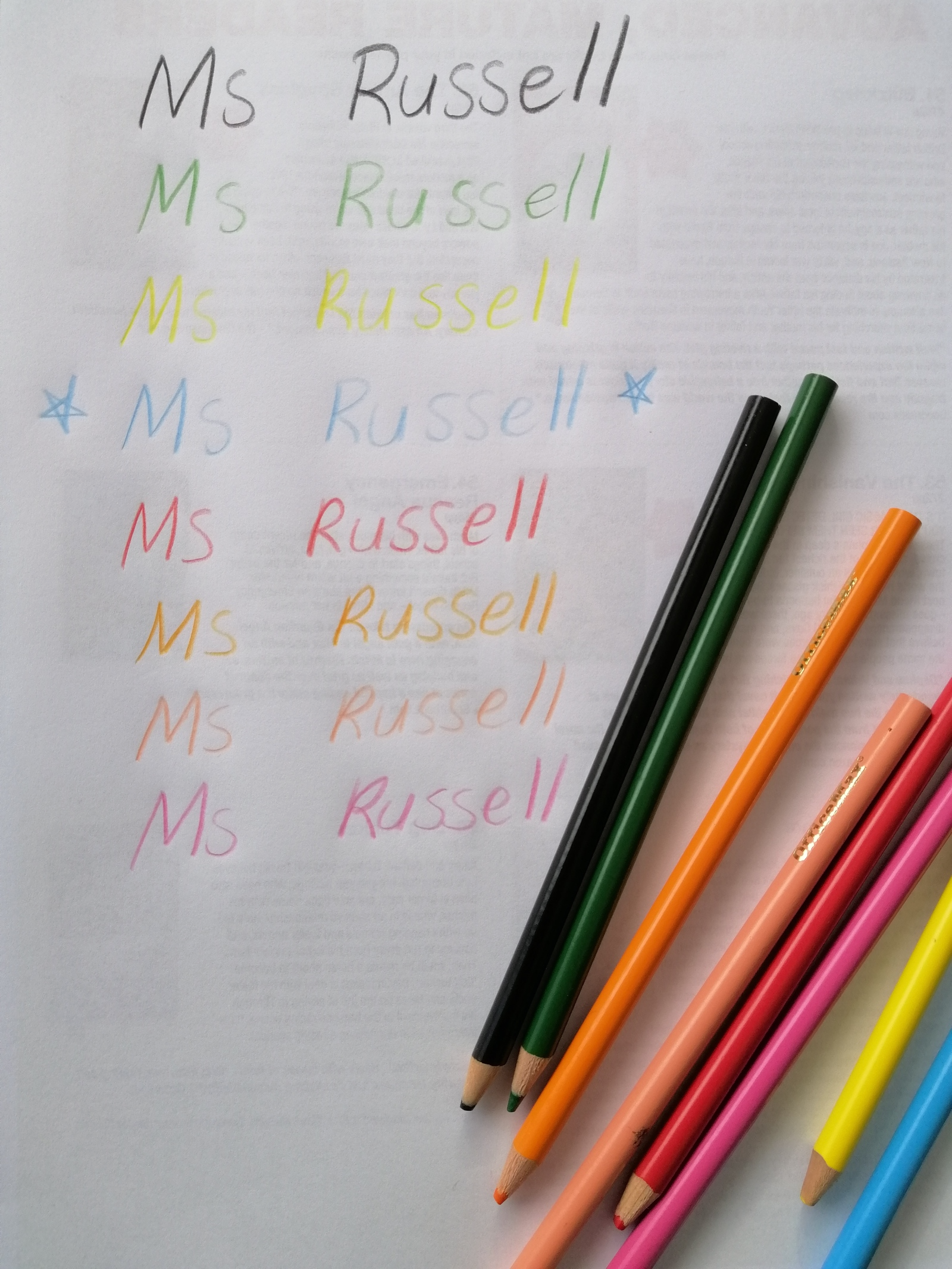 Thankful Thursday
Good morning everyone! I hope that you continue to be safe and well. Here are your extra activities for the day.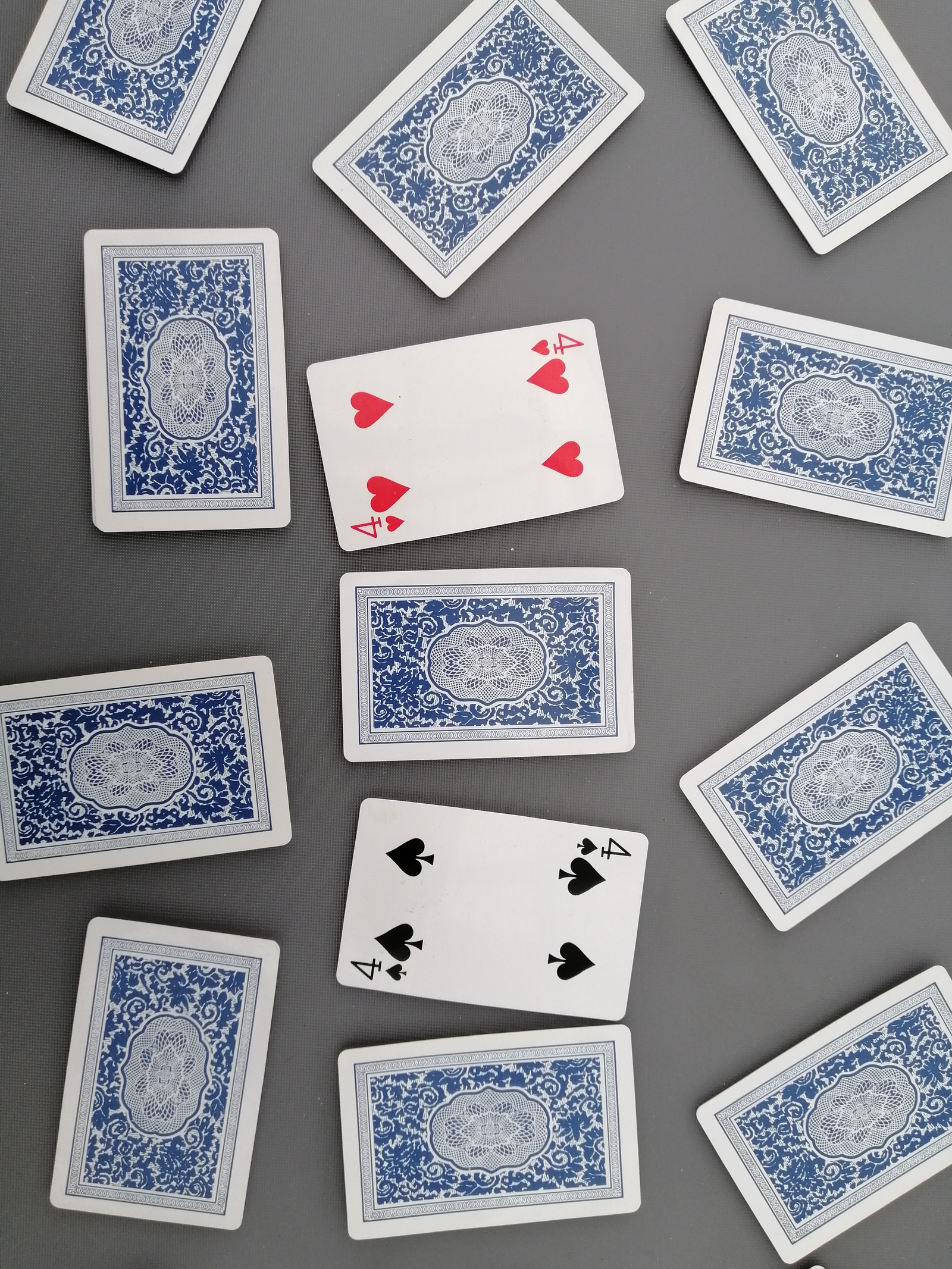 To help with your number recognition skills, play a game of memory. Turn all of the cards upside down, then with a partner, take turns to turn two cards over. if they have the same number on, you get to keep them, if not, turn them back over and the next person has a turn. the winner is the person with the most matching pairs.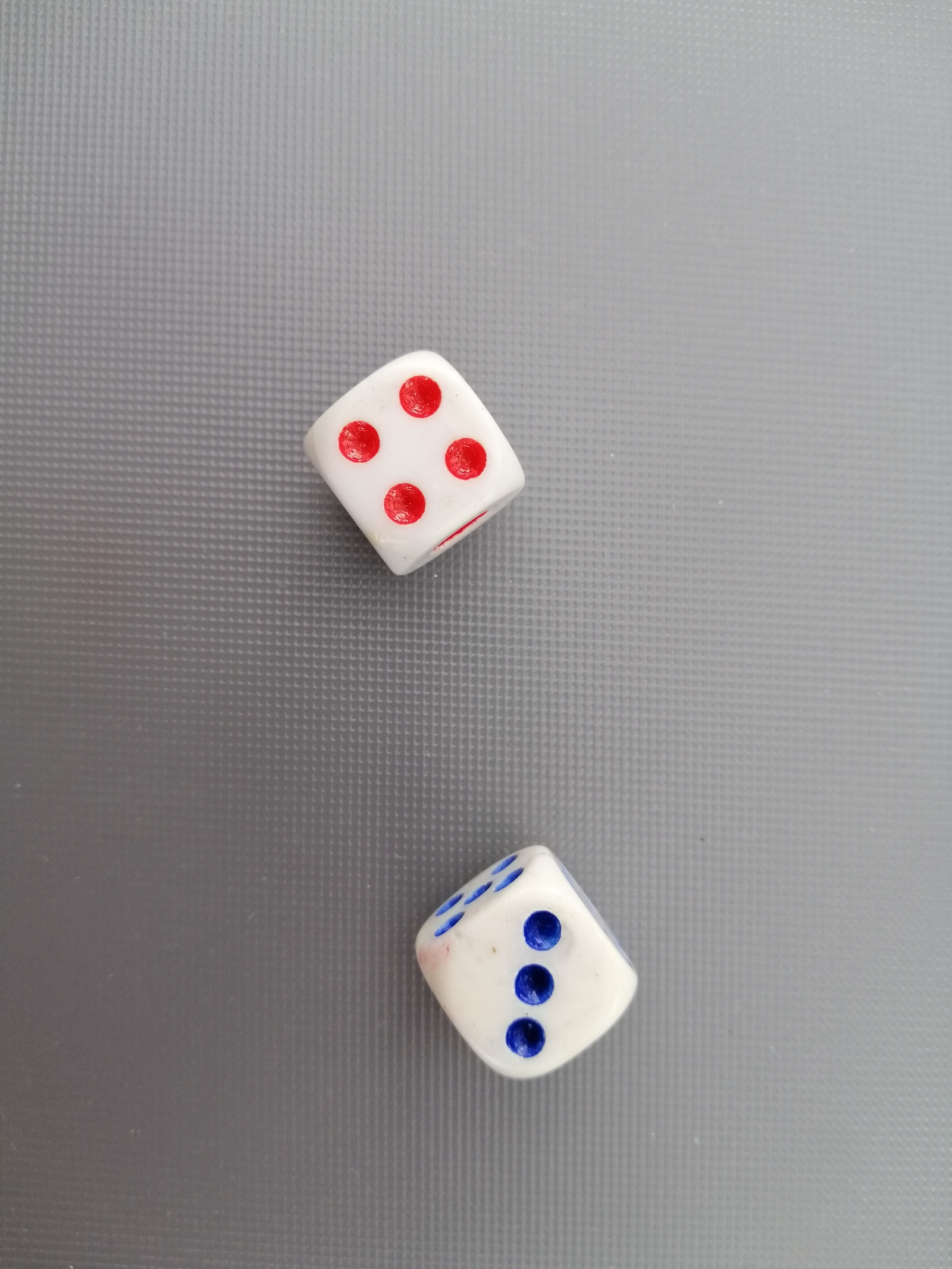 Using the dice from your learning pack, practice your counting and recognition of patterns. With a partner, roll one die and see who is the first to call out the number. You can count the dots if you need to. When you get really good at it, add another die. Roll the two dice at the same time and count how many dots are showing altogether.
For your next activity, you will need the beach ball from your learning pack, or if you do not have a ball, try using a potato or a small packet of noodles. With a partner, throw the ball or other object back and forward to each other and count how many catches you can do.
For alphabet knowledge today, find some everyday objects and use them to make the letter of the week 'o'. Try making last weeks letter 'c' too. How many different ways can you make your letters?
Lastly, with help from an adult, make a list of all the things you are thankful for. I am thankful for my family, thankful to live in a country where there is good healthcare and thankful that I have a warm house to shelter in. What are you thankful for today?
As always, I would love to see photos of your work. Thankyou to those who have already shared some with me.
Wonderful Wednesday
Good morning everyone! I hope that you continue to be safe and well. Here are todays extra activities. Using the playing cards from your learning pack, practice your numbers. Ask an older sibling or an adult to hold up each number card and give you three seconds to say the number. If you are still learning to recognize your numbers, then you can count the symbols on the card and go a bit slower.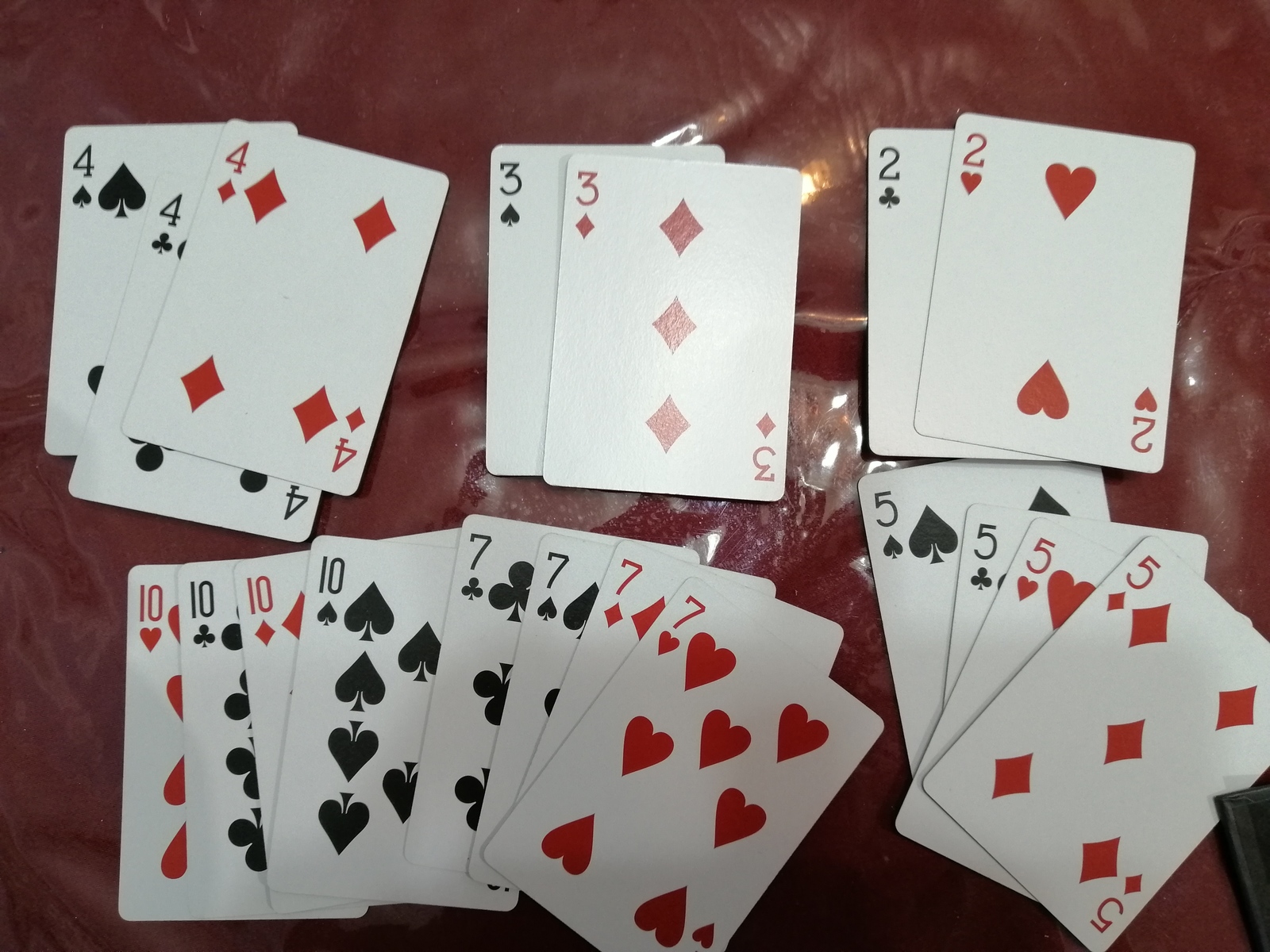 Take all the number cards and sort them into piles that have something the same. Then mix them up and sort them out again. How many different ways can you sort them? Some ideas include by number, by colour and by symbol.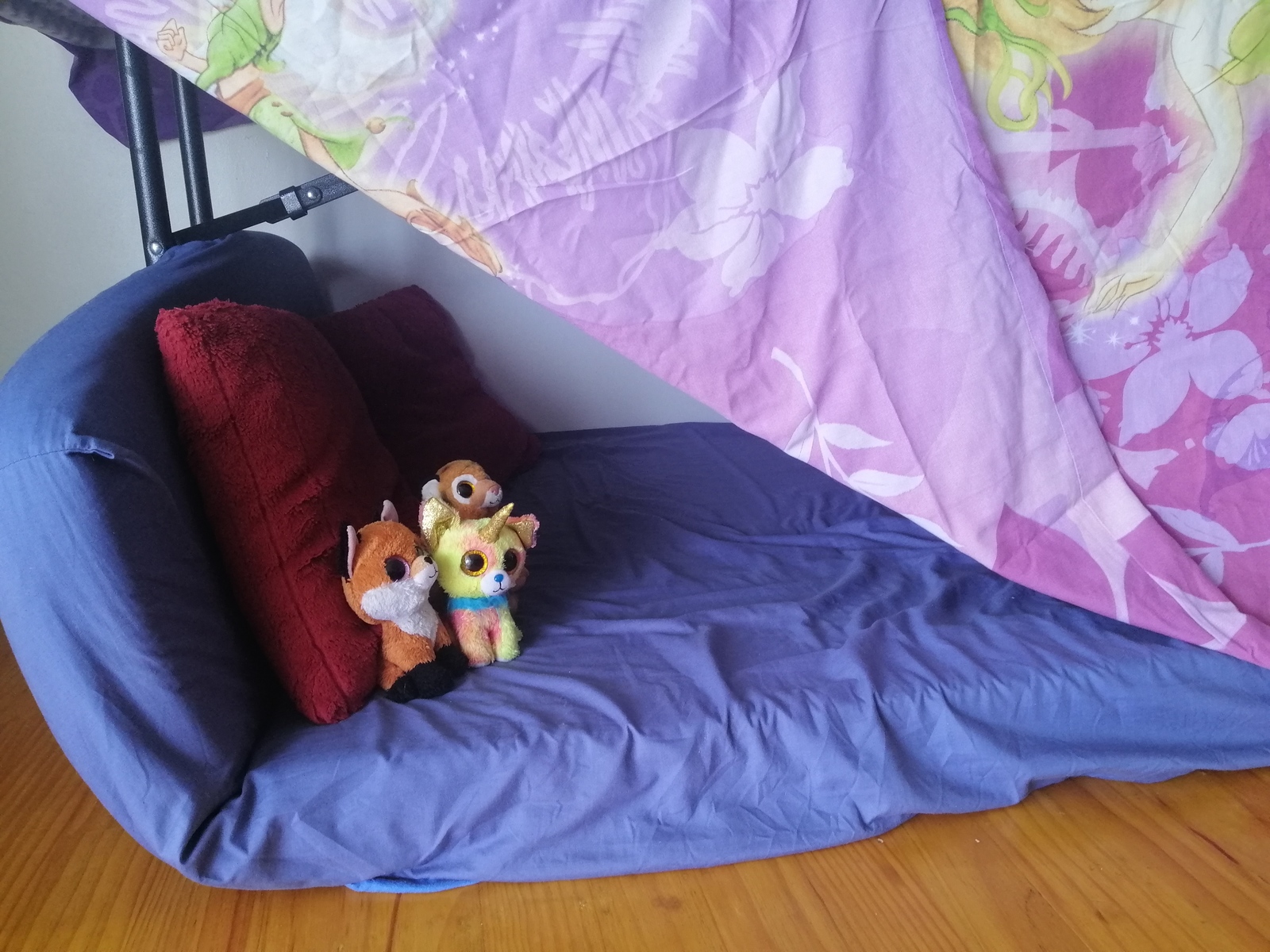 It is a bit rainy outside at the moment, so a great time to build a hut inside. Ask Mum or Dad for an old sheet or blanket, then find something to drape it over, such as some chairs, the couch or a table. Put some blankets, cushions, a mattress or some pillows in and you have a great place to chill during a rainy day!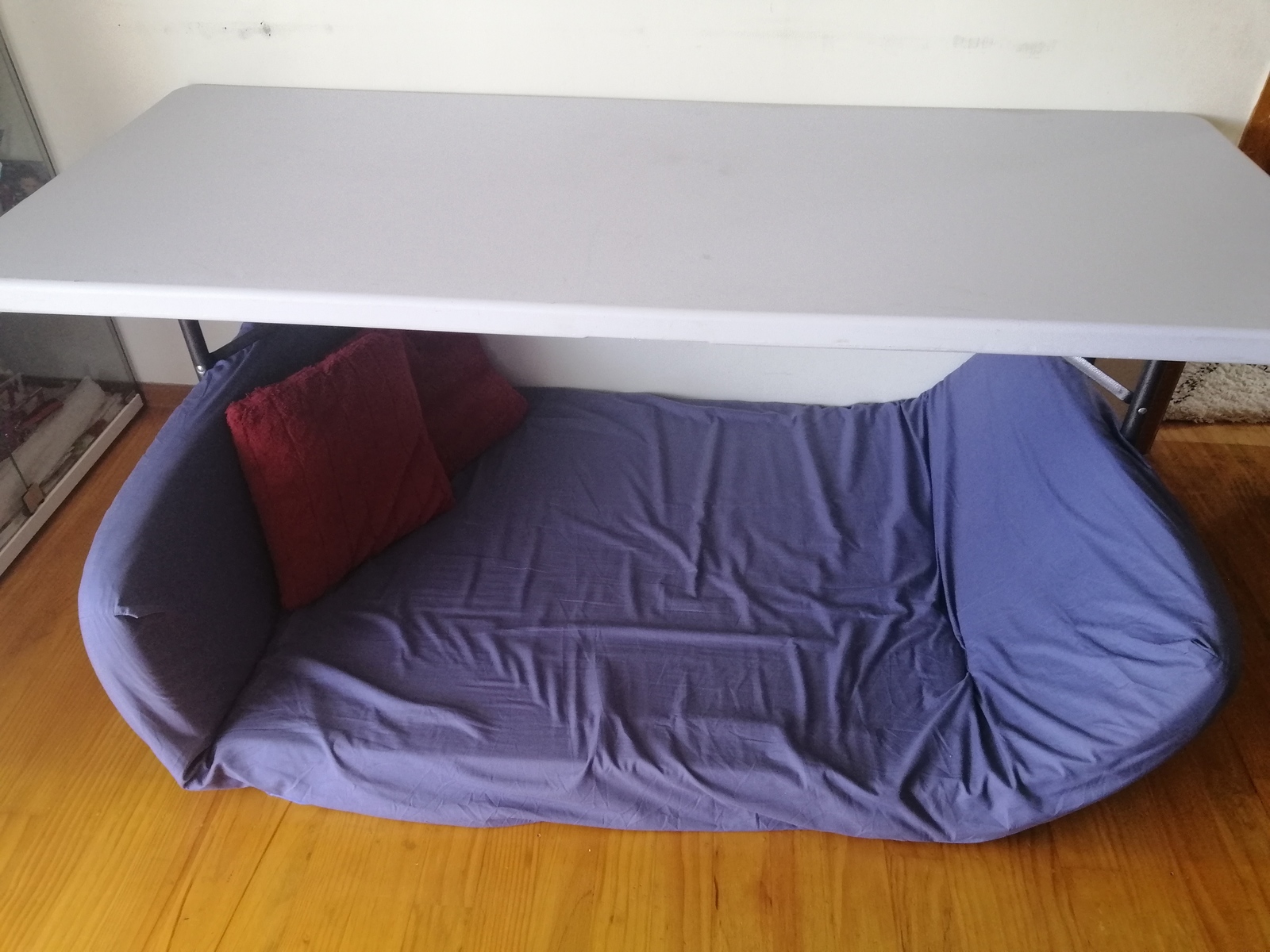 Here is one that Charlotte and I made. We used a trestle table that we found in the garage, a foam mattress and an old Doona cover. Charlotte is enjoying hiding from her siblings and playing on her I-pad in here!
For your alphabet activity today, you will need a scrapbook, a glue stick and some scissors. These are all in your learning pack. Take some junk mail or any cereal boxes that are not needed at home and cut out all the letters of your name.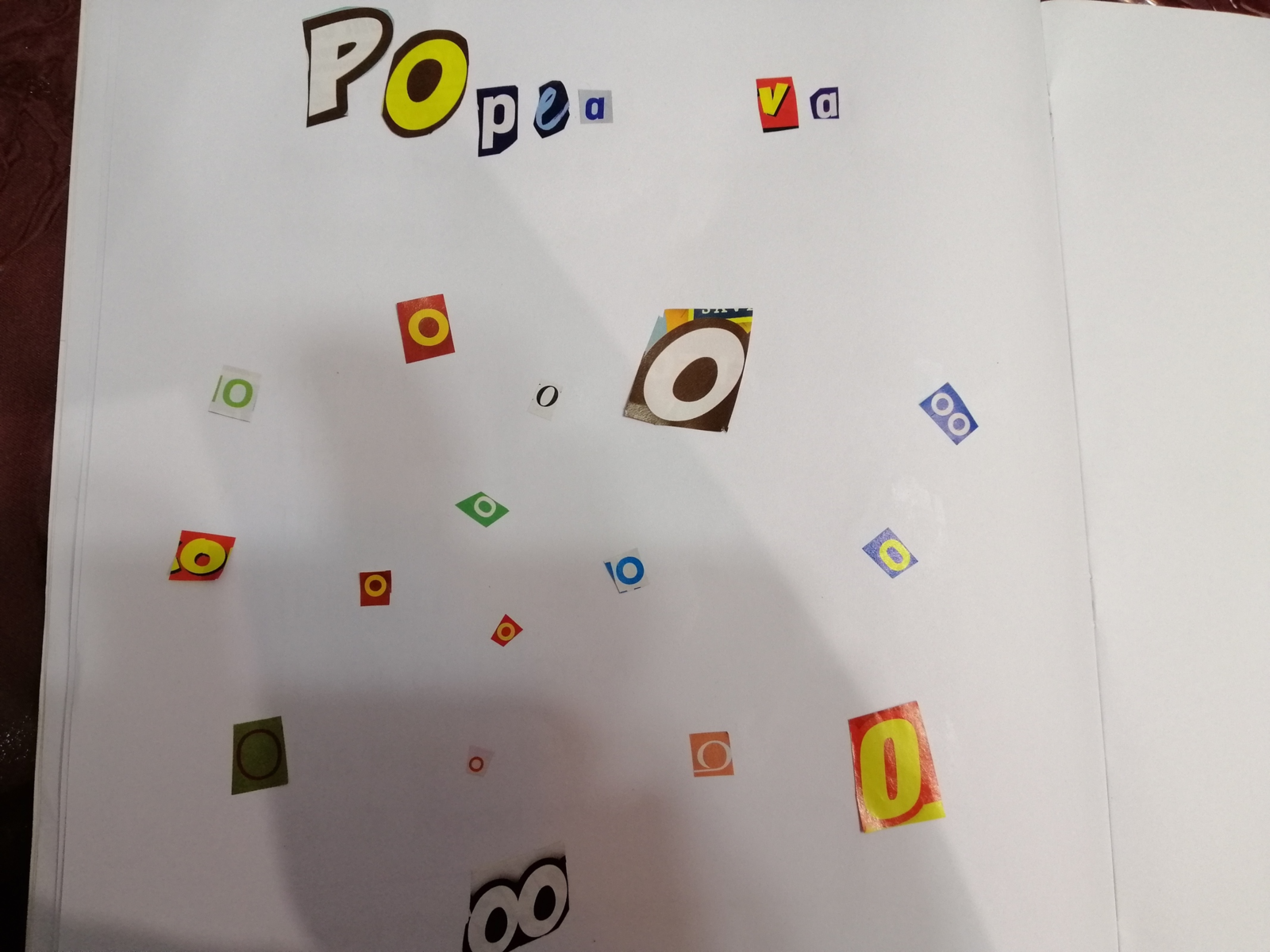 Stick them in your scrapbook in order. Then look for our letter of the week- 'o' and cut out as many of those as you can! Count all of the letters, how many did you get? Talk to your big sibling or adult about which one is the biggest? smallest? and name all the colours that you found.
Don't forget to send Ms Russell a photo of your learning from home, I would love to see what you have been up to!
For parents and caregivers- Todays activities will help your child to recognize numbers, colours and patterns, recognize letters, remember how to write their name and help them to have some fun during lockdown. If you are in need of a food parcel, pop your mask on and head down to the FBS Library at 11:00am. Looking forward to hearing from you all soon- Ms Russell
Terrific Tuesday
Good morning everyone! I hope that you continue to be safe and well. It was lovely to talk to your parents yesterday. Here are your extra activities for today. Don't forget to pick up your learning from home pack from the FBS Library between 10am and 1pm today.
* Activity 1- Using the scissors from your learning pack, find an old box,
I used a cereal box, with help from your adult, cut open the box and cut out some small squares. On each square, write a letter of the alphabet. Mum and Dad can use these as flash card to help you remember your alphabet.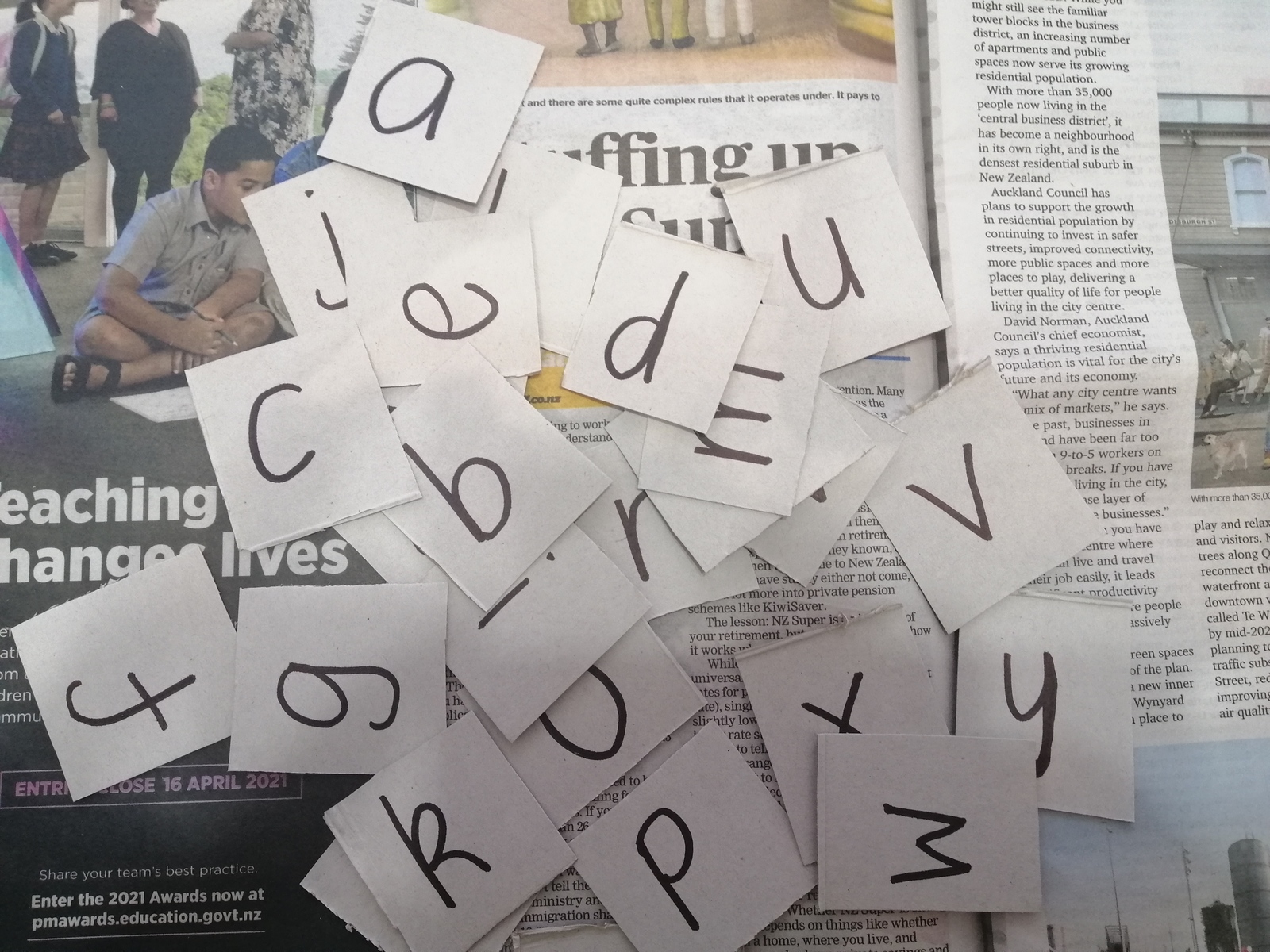 You can also lay out the letters on the kitchen table and try to find a small item that matches with each letter. Charlotte and I tried it this morning, but we couldn't find anything to match some of the letters. Can you help us to finish? Can you name all of the objects we found?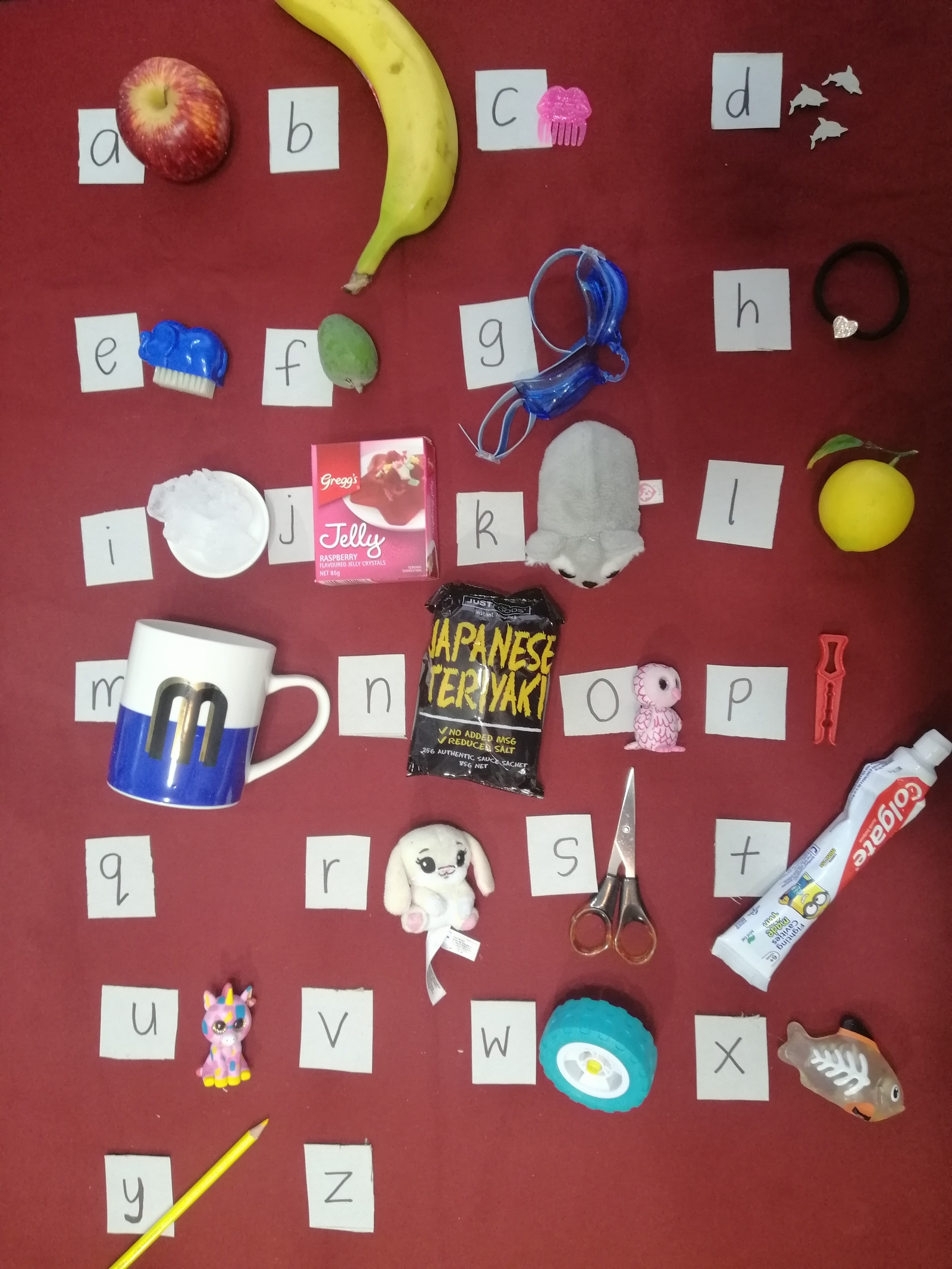 These activities reinforce the alphabet learning that we have been doing in class. The items we used were; a-apple, b-banana, c-comb, d-dolphins, e-elephant, f-feijoa, g-goggles, h-hairband, i-ice, j-jelly, k-koala, l-lemon, m-Mel's mug, n-noodles, o-owl, p-peg, q-?, r-rabbit, s-scissors, t-toothpaste, u-unicorn, v-?, w-wheel, x-xray fish, z-?.
Another alphabet activity that you can do today is to find an old newspaper or some junk mail and using the coloured pencils from your learning pack, colour in all of the 'o' letters, using your favorite colour.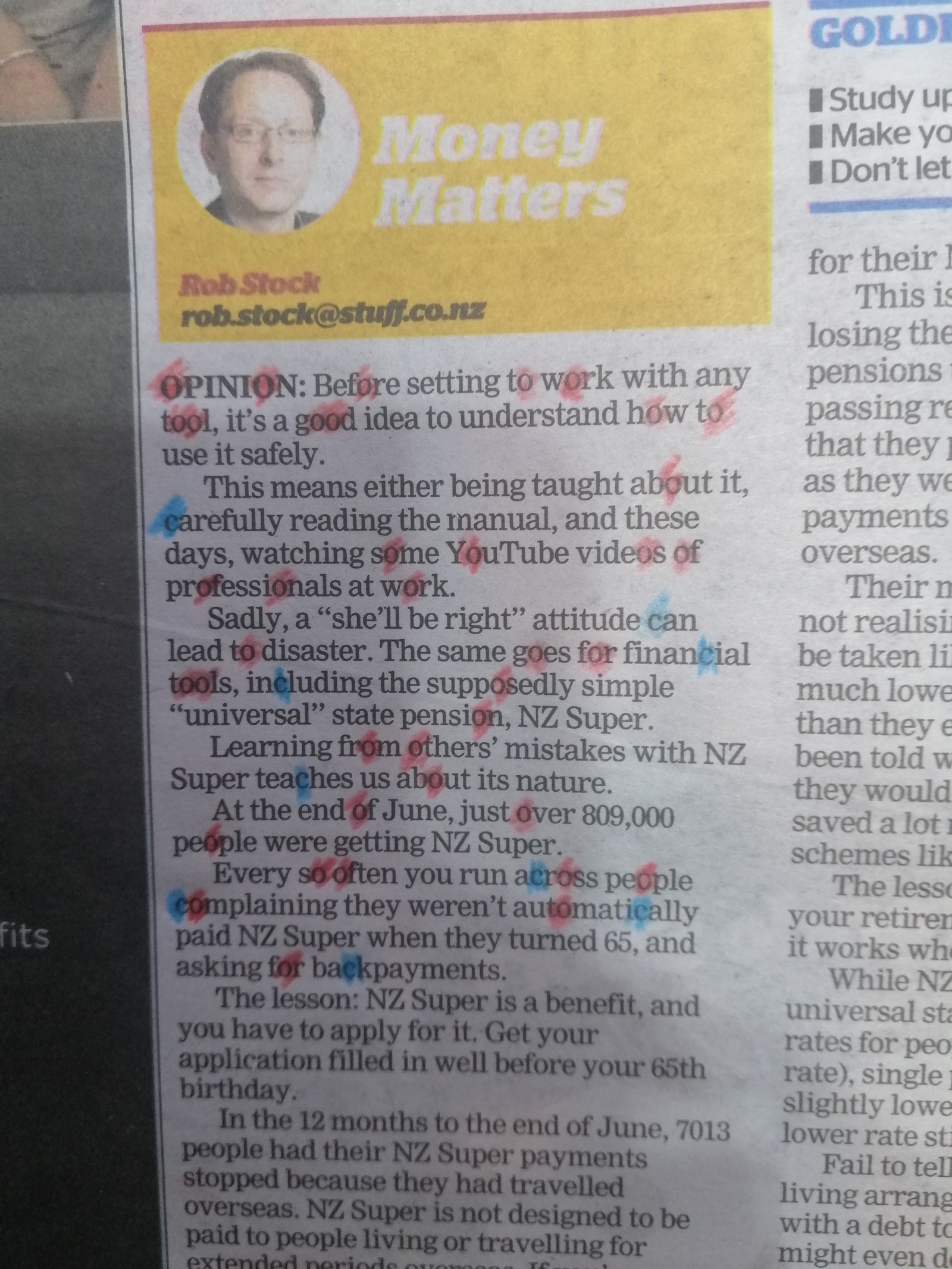 Next, choose another colour and colour in all the 'c' letters (this was last weeks letter of the week).
This activity teaches letter recognition, colour recognition, correct pencil grip and persistence.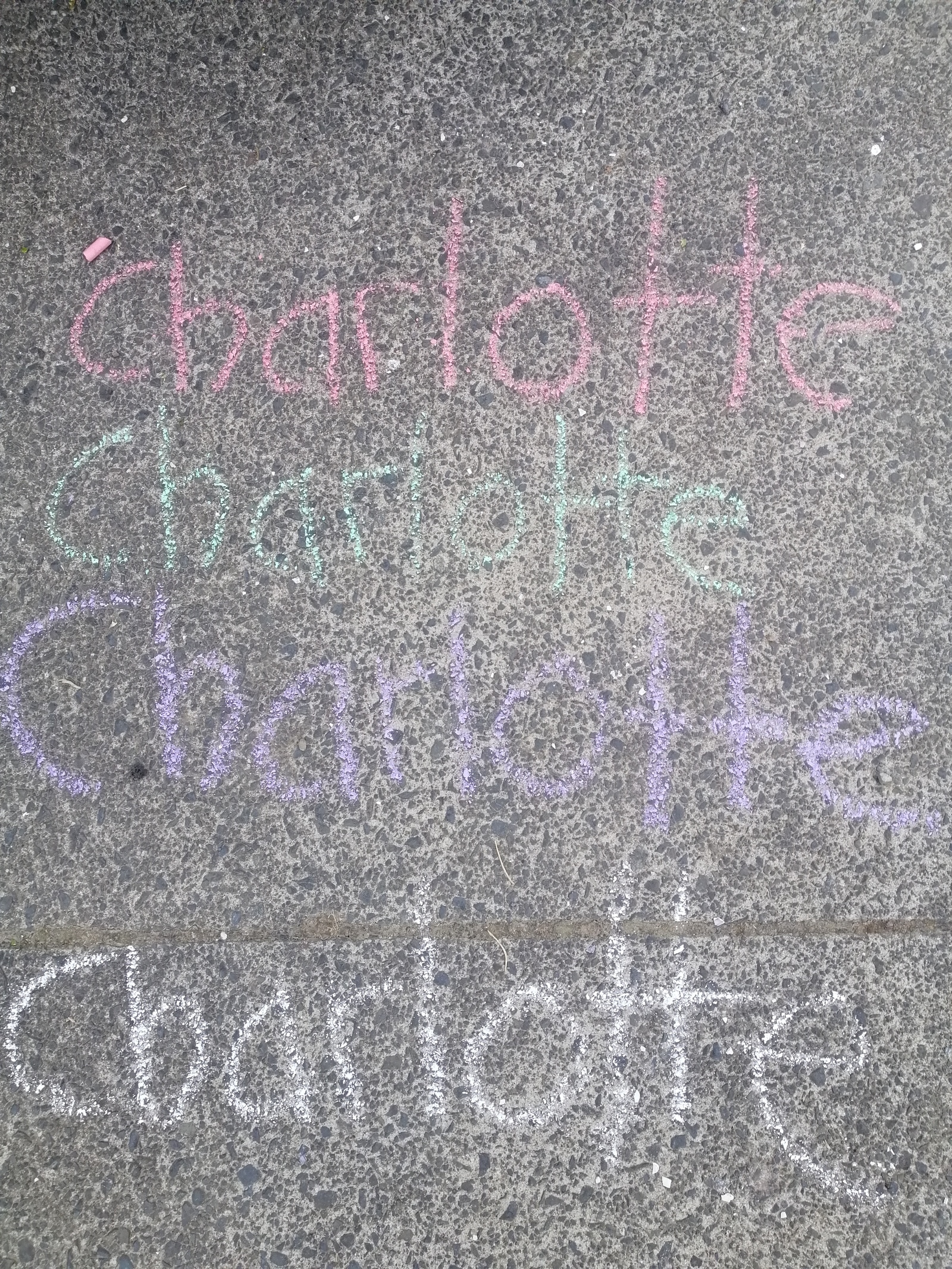 For writing today, use the chalk from your learning pack to practice writing your name on the driveway, footpath or another area of concrete. (make sure your adults know where you are at all times and don't go near any cars with their engines on). How many times can you write your name? How many different colours can you use? Can you do a rainbow name and tell your adult what colours you have used?
This activity teaches letter and colour recognition, counting and helps learners to remember how to write their names. Parents, it is OK to write the first name yourself for your child to copy underneath. Make sure you only use capital letters for the first letter please.
For maths today, use your new chalk to draw a hopscotch on some concrete. As you play the game, say the numbers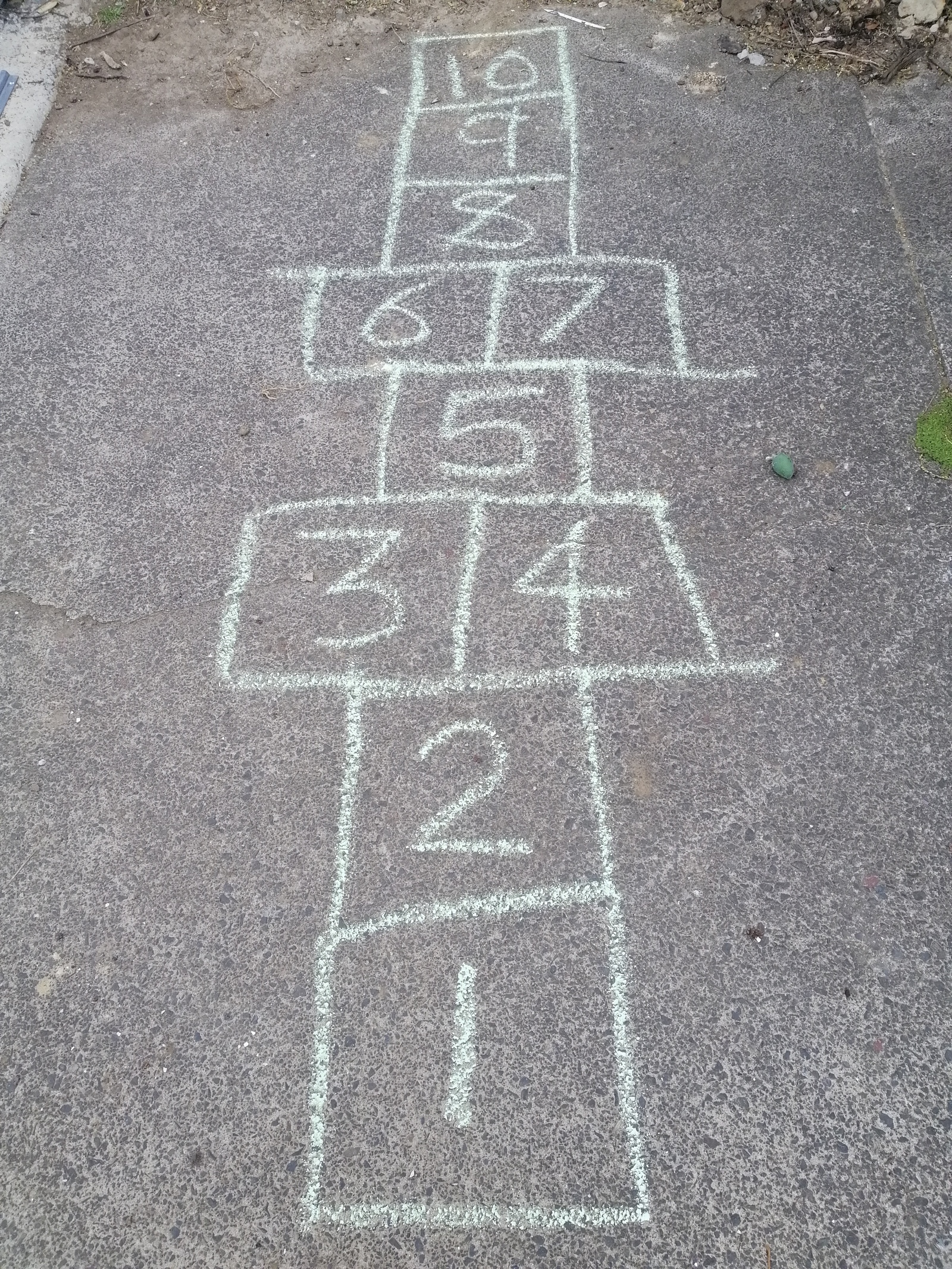 This activity teaches number recognition, counting and encourages learners to get outside in the fresh air and have some healthy exercise.
Week Five, Term One, 2021
Marvelous Monday
Back into lockdown again this week unfortunately :( Just like in our last lockdown, I will be calling, texting or emailing our families to check in with you all. For those families who have not let me know your preferred method of contact, please get in touch. Mr Avatea will also be continuing to send out updates via text, the FBS Facebook page and this website.
For now, some ideas that you can do at home include;
* Make a list of ways that you can be kind to those in your bubble. Share these ideas with Ms Russell and I will make a list on here.
* Think about our letter of the week- "O/o" and make a list of all the words that you and your family can think of that start with 'o'.
* How many different ways can you think of to write our letter of the week? Share your ideas with Ms Russell to share with you classmates on here too
*Stay home, stay safe, wash your hands and remind your adults to wear their mask if they do need to go out.
Week Four, Term One, 2021
Another exciting week in Room 2 at FBS. This week we were lucky to be able to visit the Life Education Caravan to meet Harold the Giraffe and to learn about our feelings.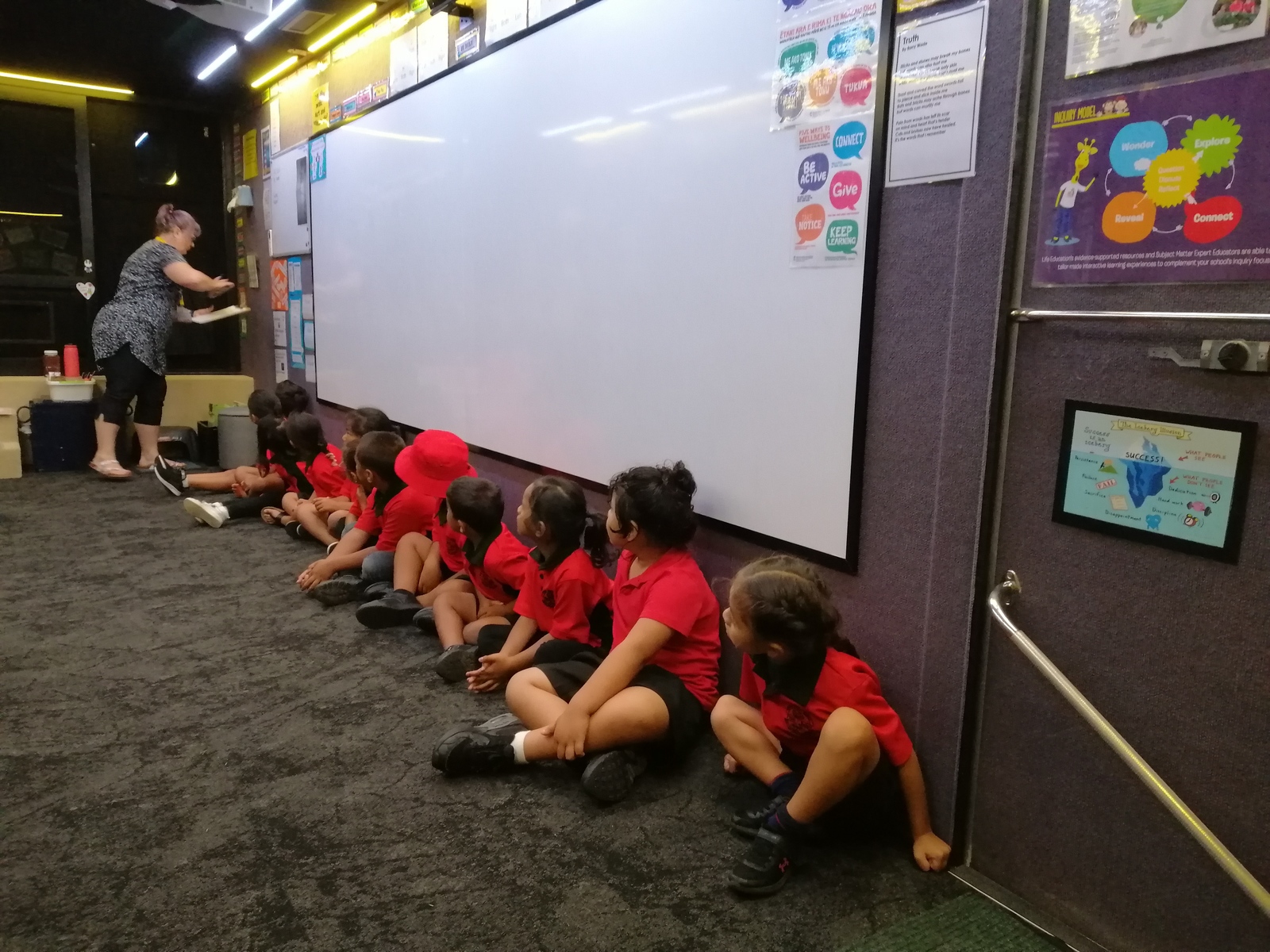 We talked about things that make us feel Warm and Fuzzy and situations that make us feel Cold and Prickly.
After our session we wrote about some of the things that make us happy or make us sad. Have a look at this fantastic story by Sebastian!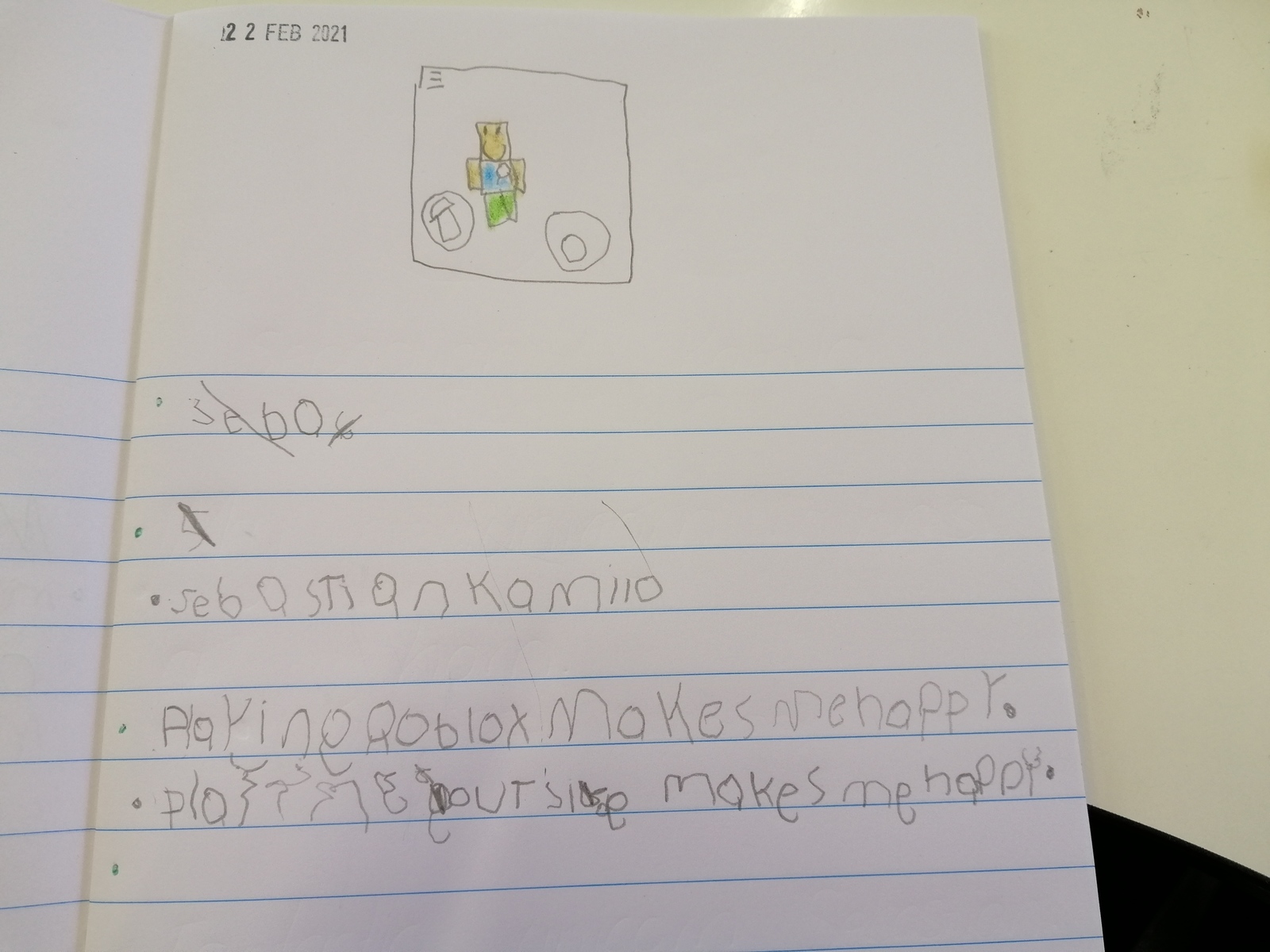 This week we also started our reading programme. We are learning how to turn the pages of our book carefully and how to point to the letters as we read.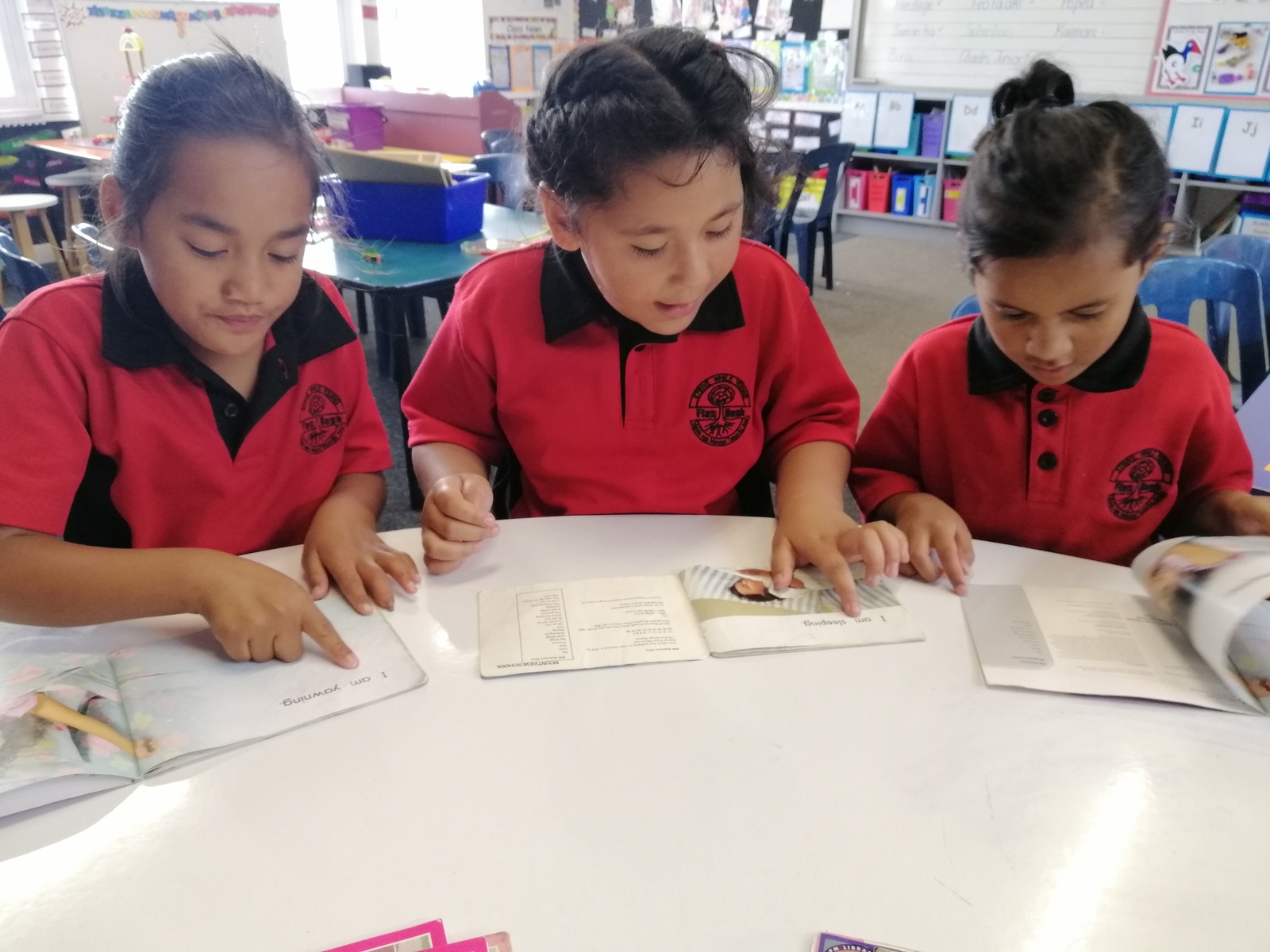 Home readers will start coming home for our learners to practice their new skills soon.
The Letter of the Week for Week Four was "C/c" During the week we practiced writing this letter and found lots of words starting with 'c'. one of the words was cat. We read a story about Greedy Cat and loved it so much that we found more stories to read about the same character.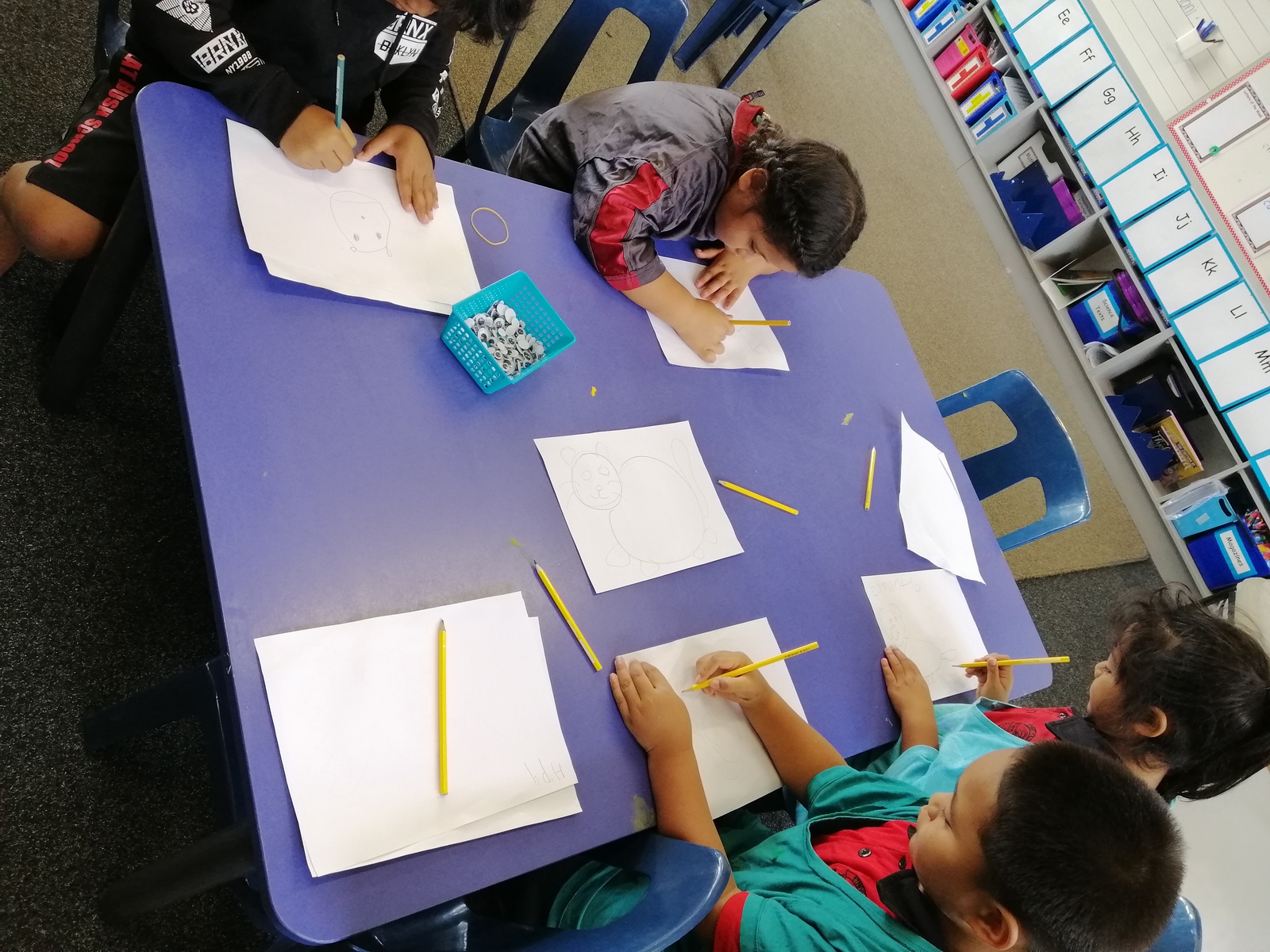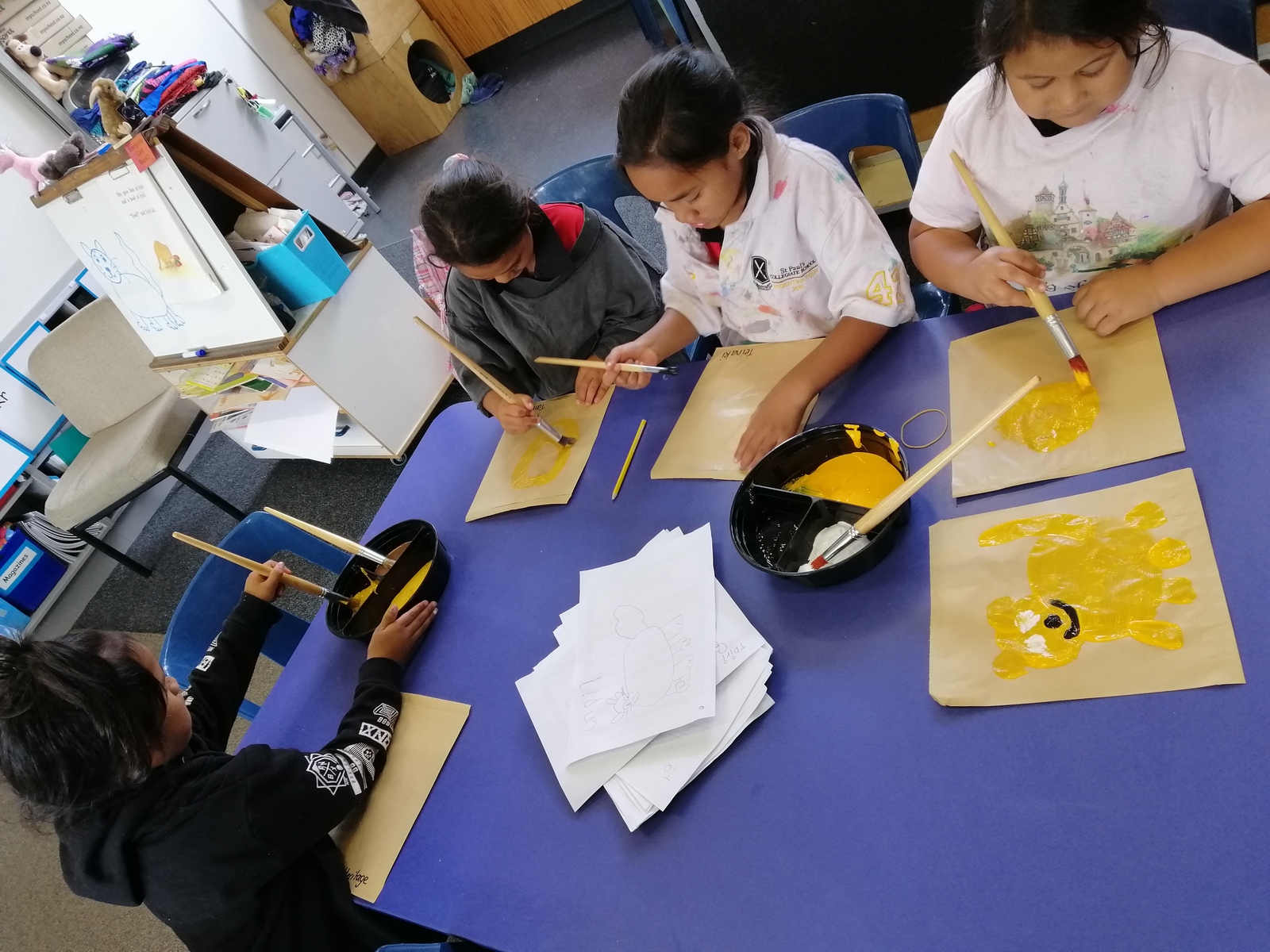 To finish the week, we drew pictures of Greedy Cat and then painted our own Greedy Cats on a paper bag, because Greedy Cat kept stealing food from Mum's shopping bag, until Mum had a great idea........ ask your child what happened next!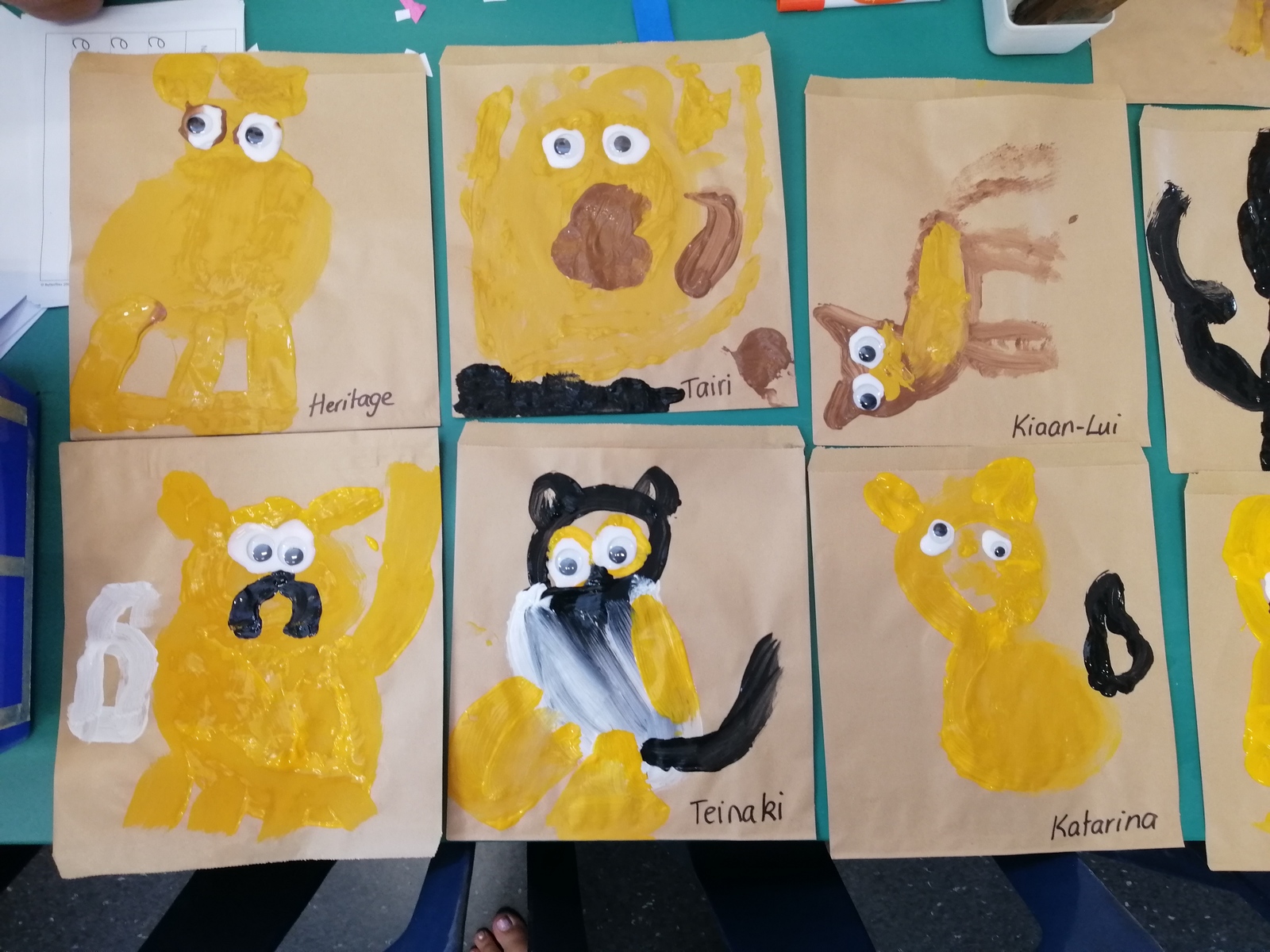 One of the stories that we read this week was "I am running". After we read this text, we made our own book by taking photos of our learners doing fun activities at school. Come into Room 2 and check out our finished book when you get time! Here are a couple of examples;
I am listening.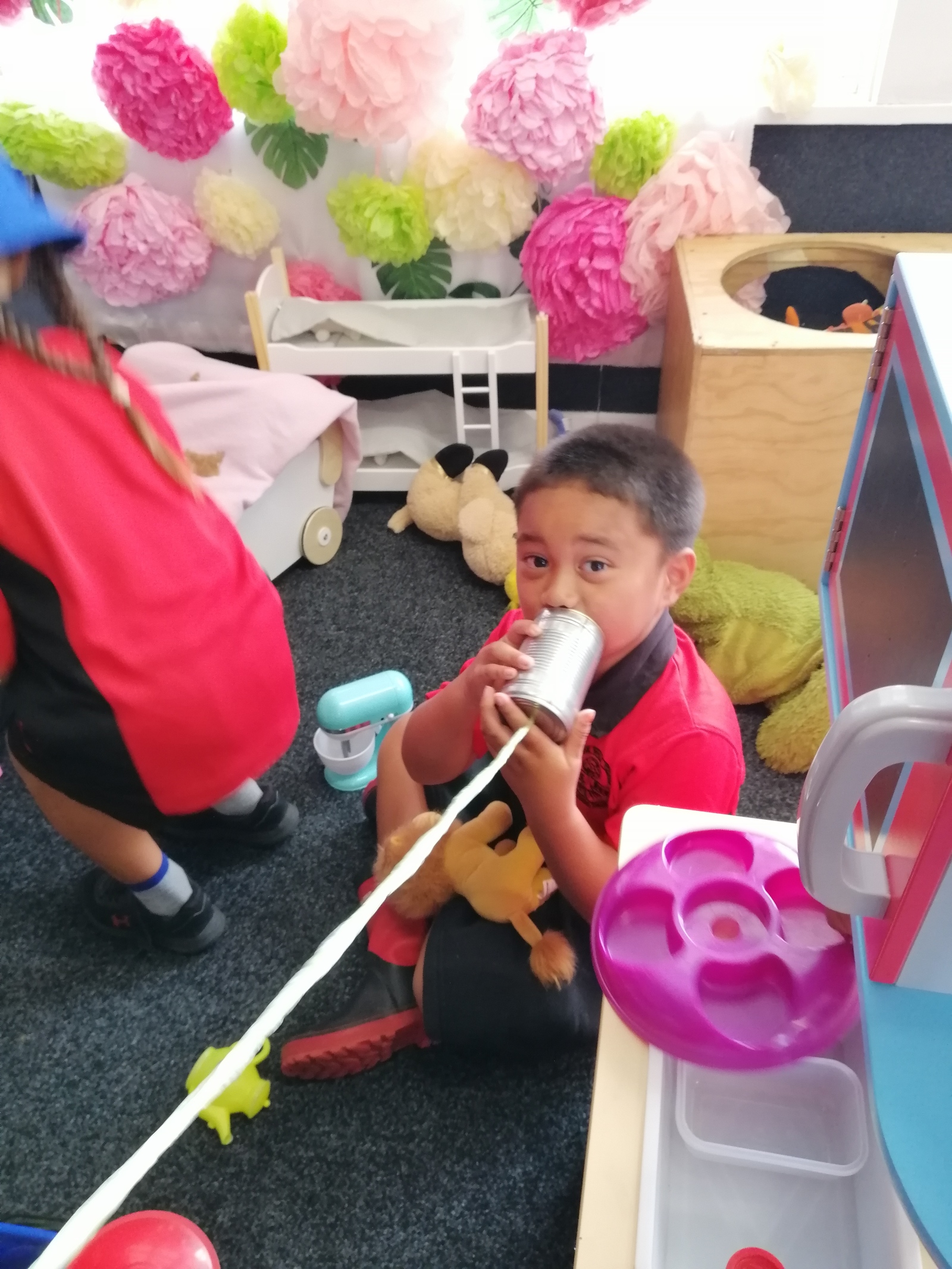 I am talking.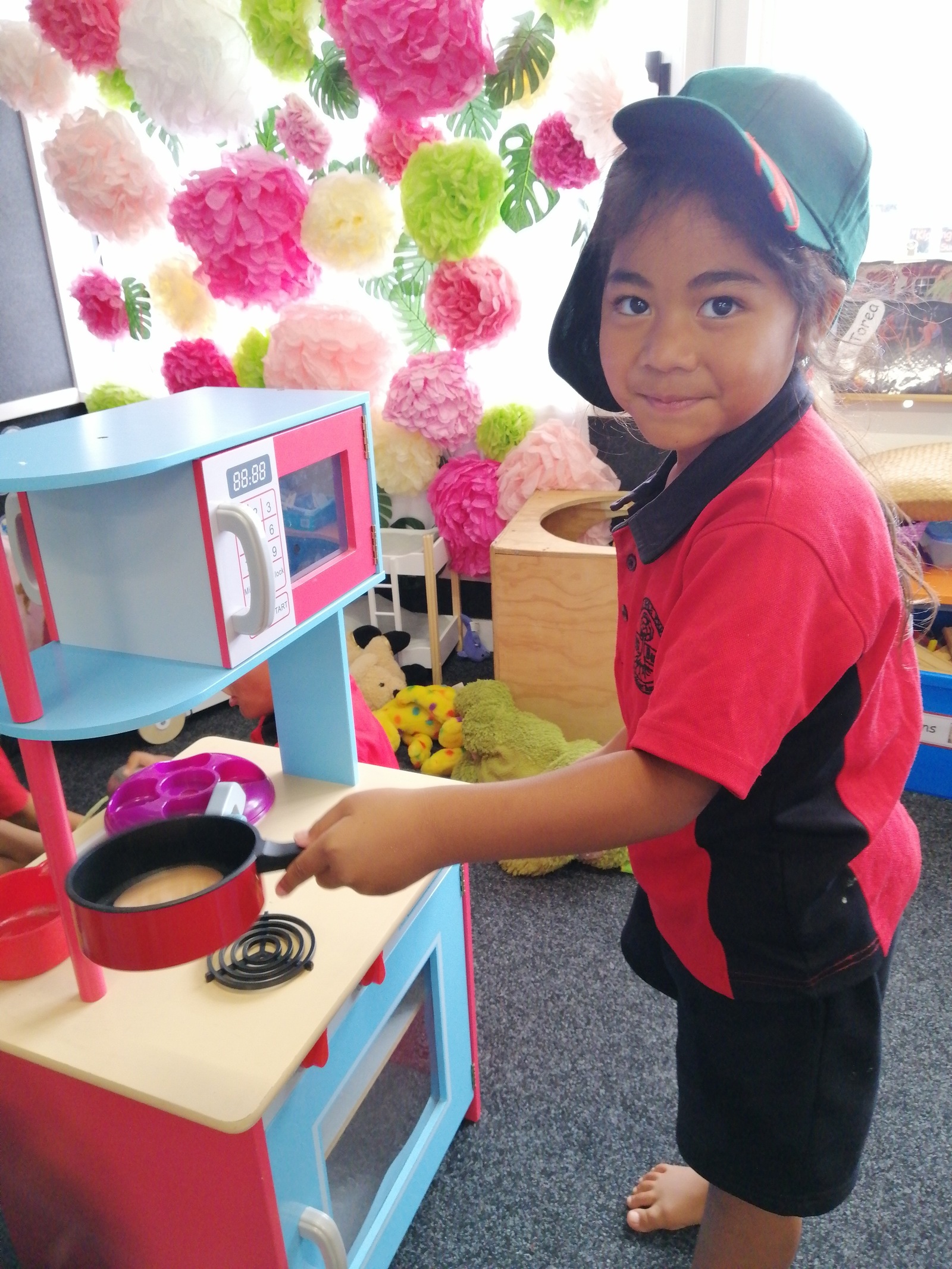 I am cooking.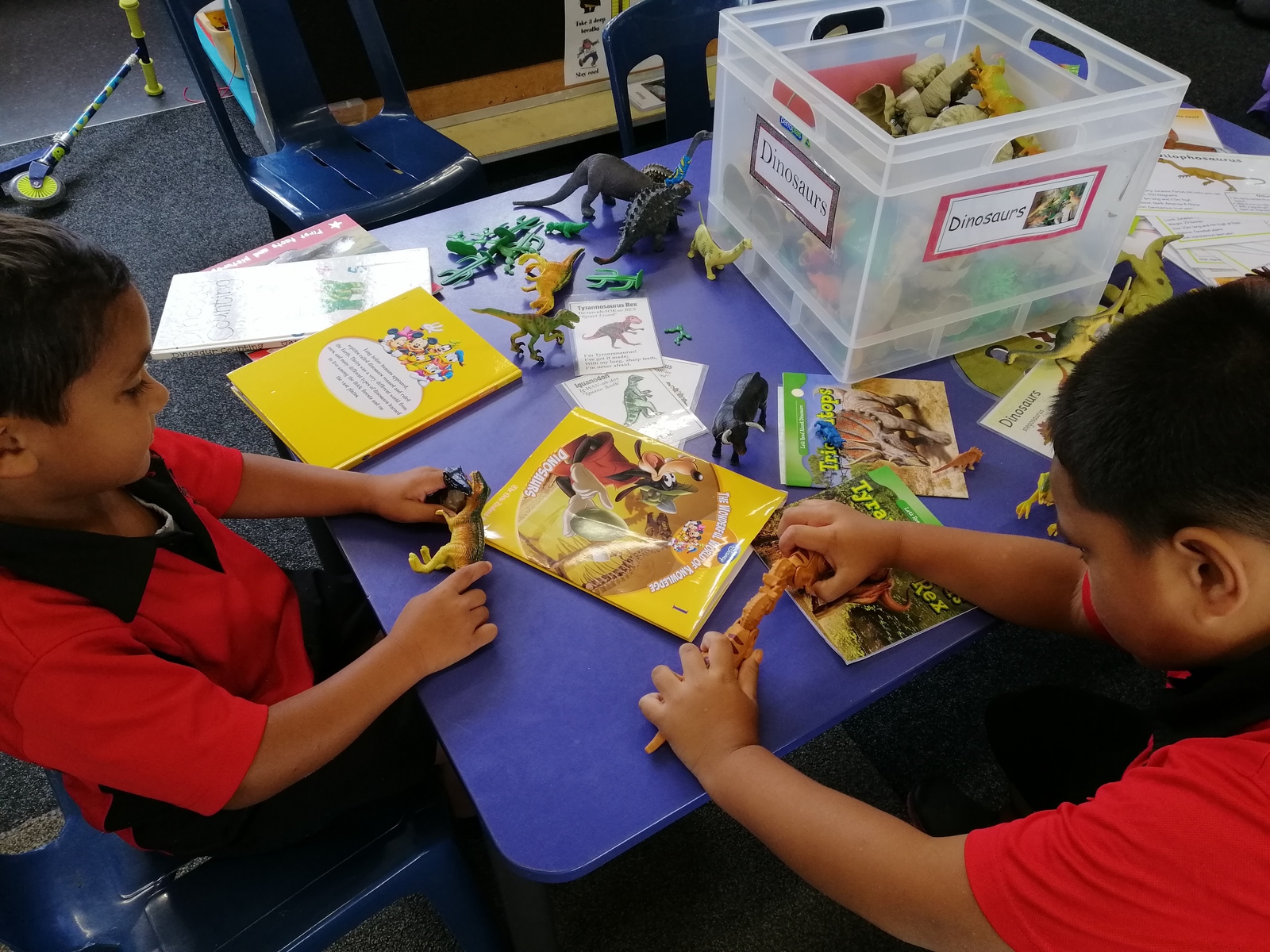 There has been a lot of interest in the dinosaurs this week. We have been reading dinosaur books, roleplaying with the toy dinosaurs and making dinosaur footprints in the salt. Can you guess which dinosaurs made these footprints?
Once again, outdoor activities have been a big favorite this week. Check out some of the outdoor learning that our Tamariki have been doing during Week Four.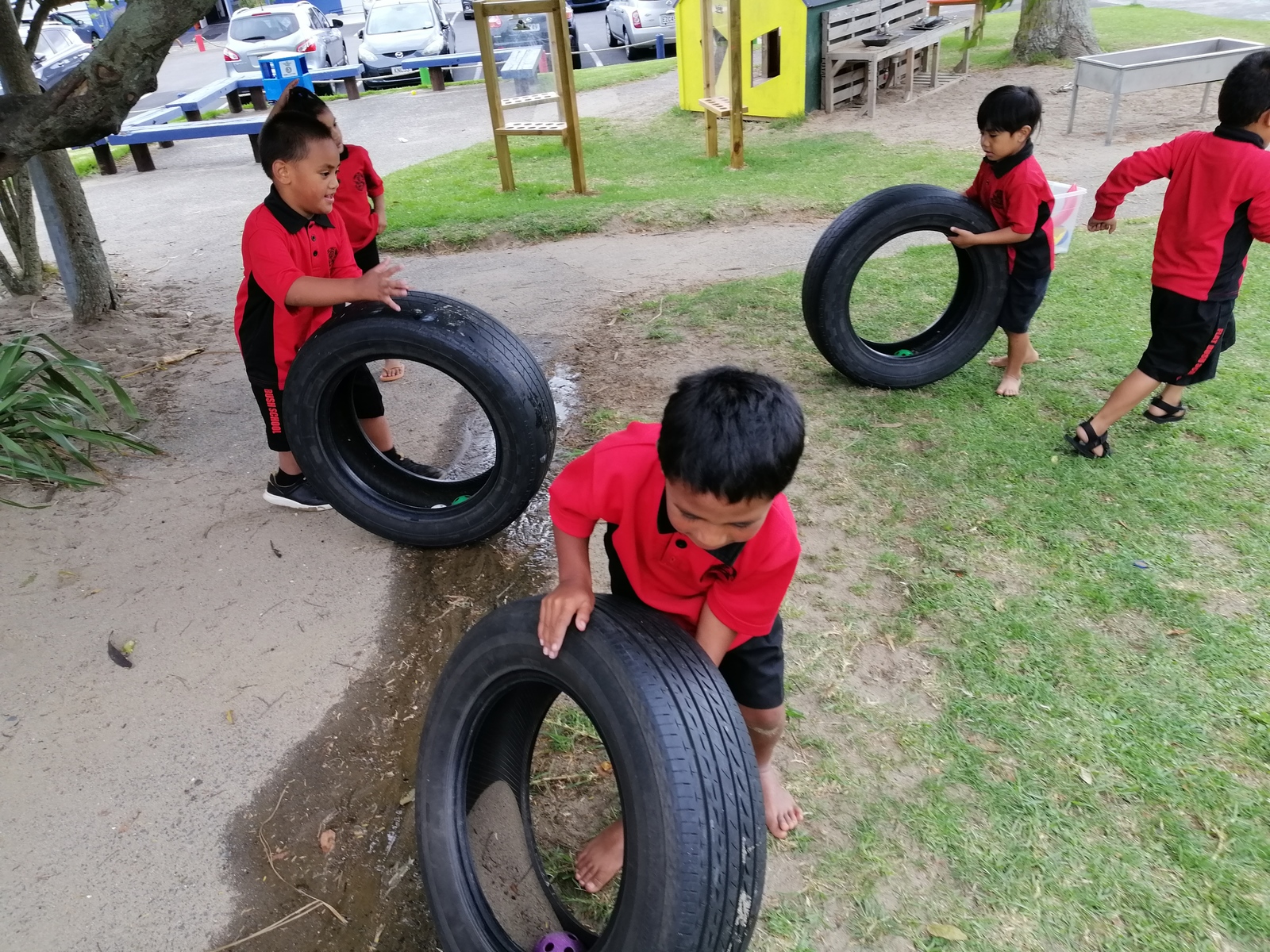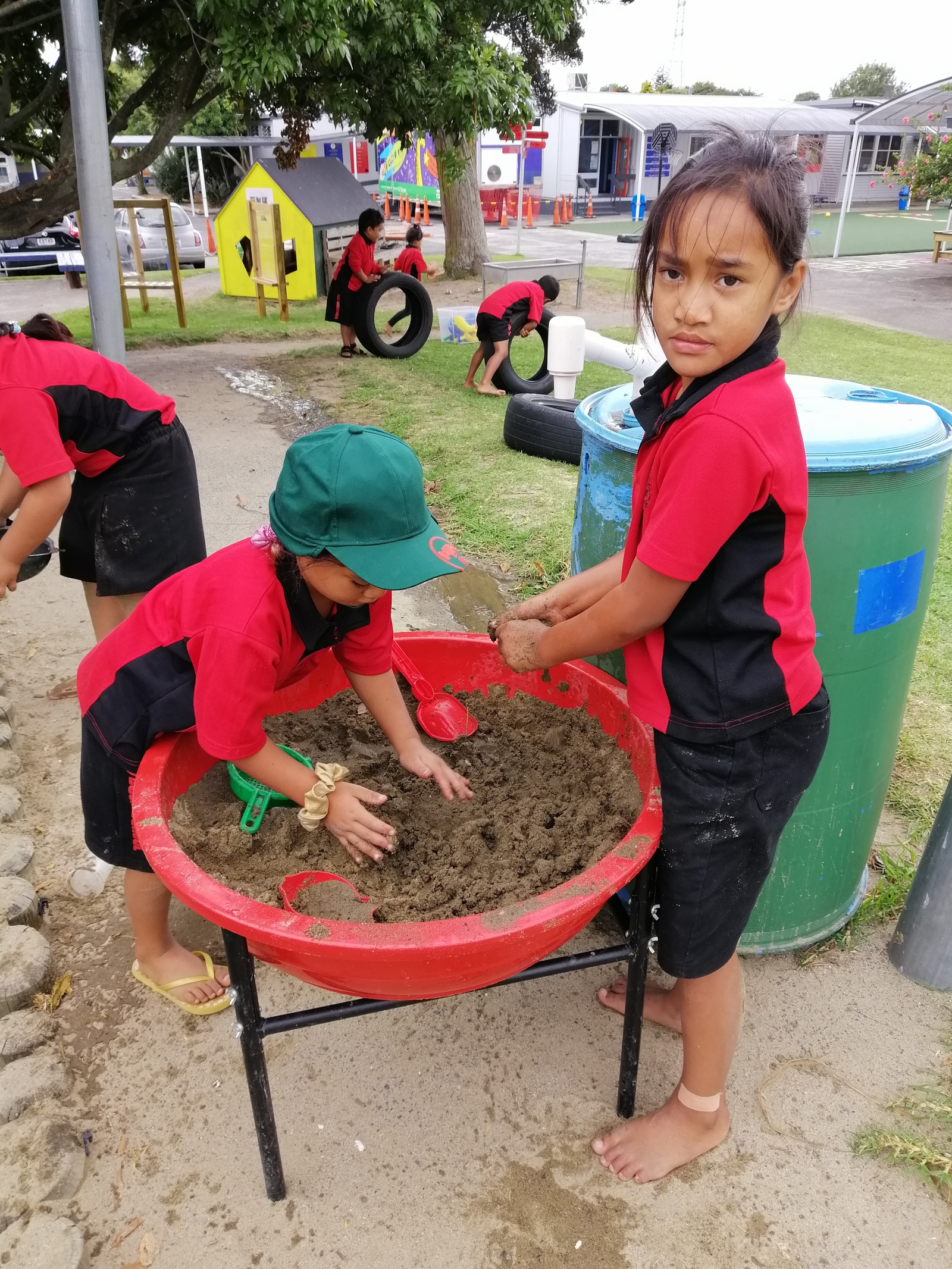 Stars of the week for Week Four were Sebastian and Feo'fa'aki. Congratulations to both of these learners! (Sebastian left early on Friday, so will be choosing his prize from the prize box on Monday)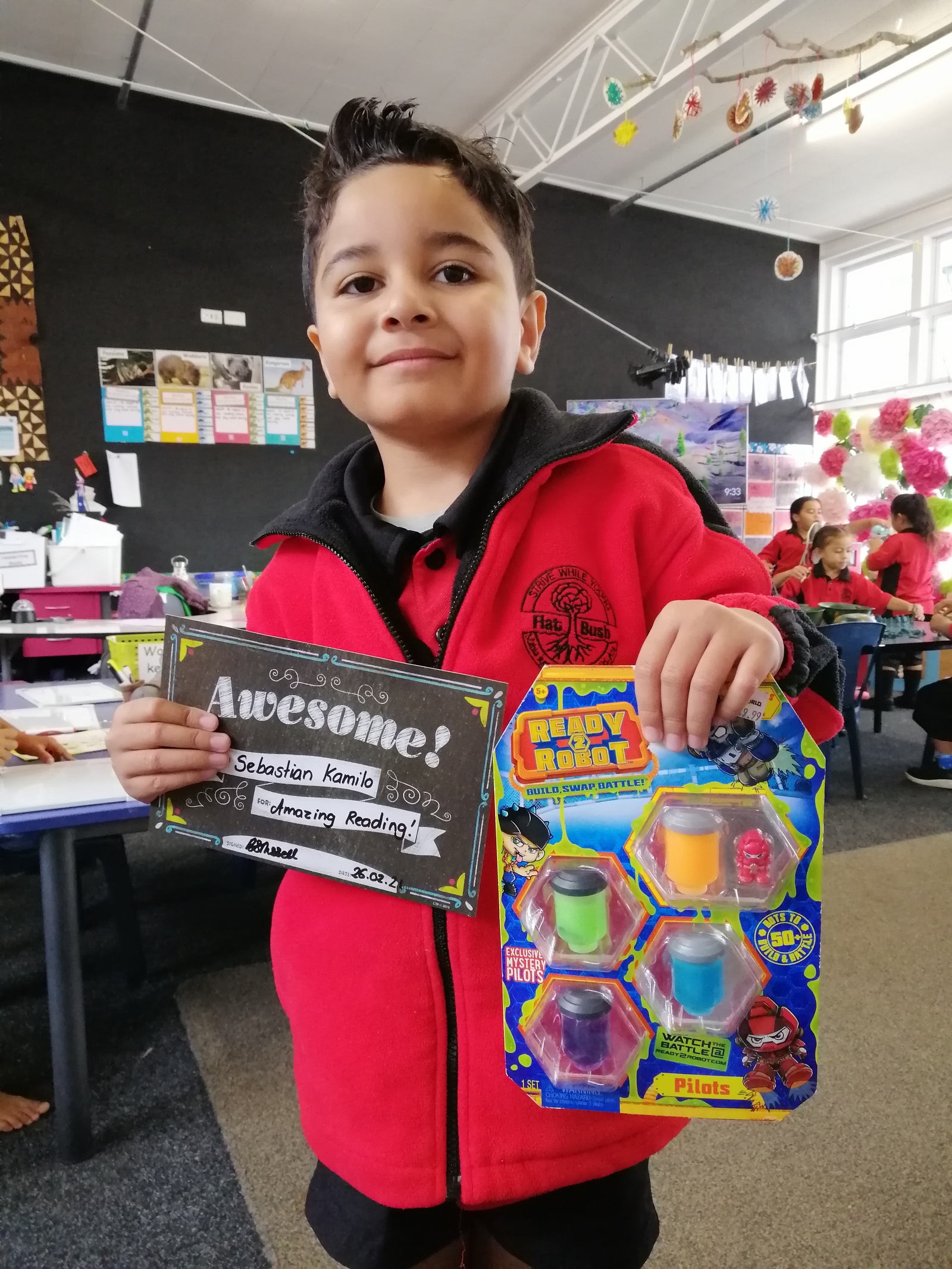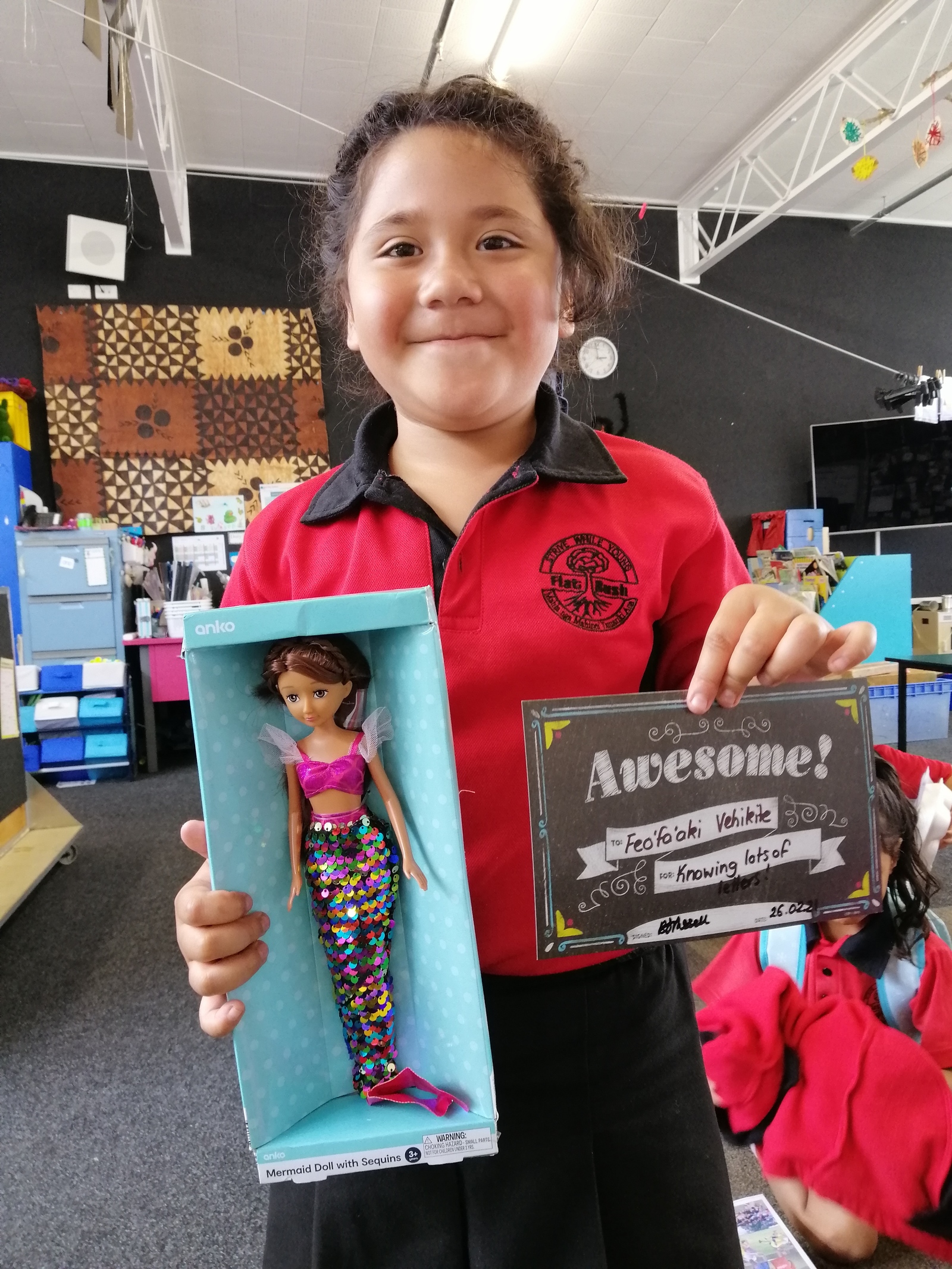 Week Three, Term One, 2021
Fri-yay!
What an awesome day in Room 2 today! We started the day exploring some more of our outdoor activities in the beautiful sunshine.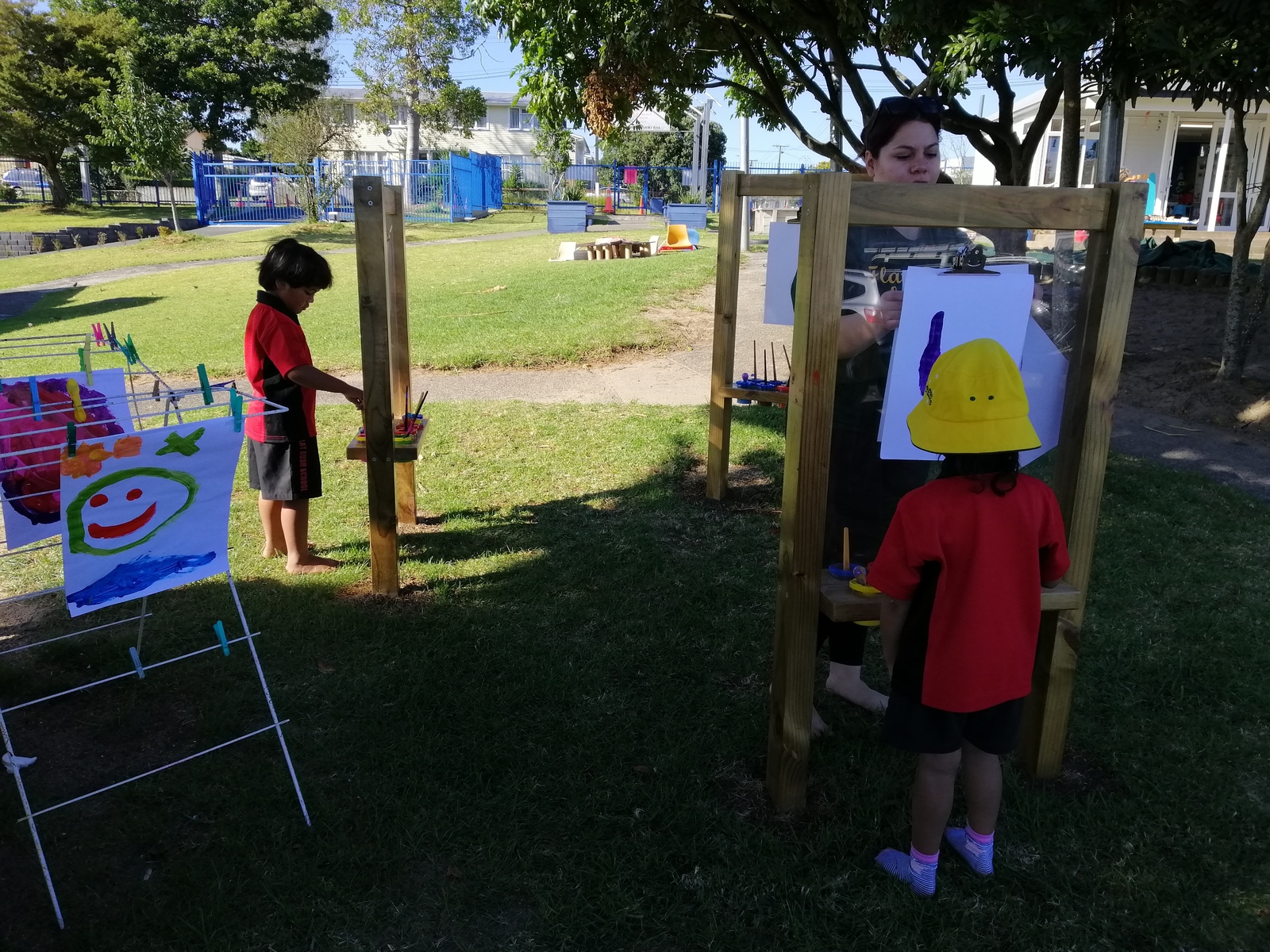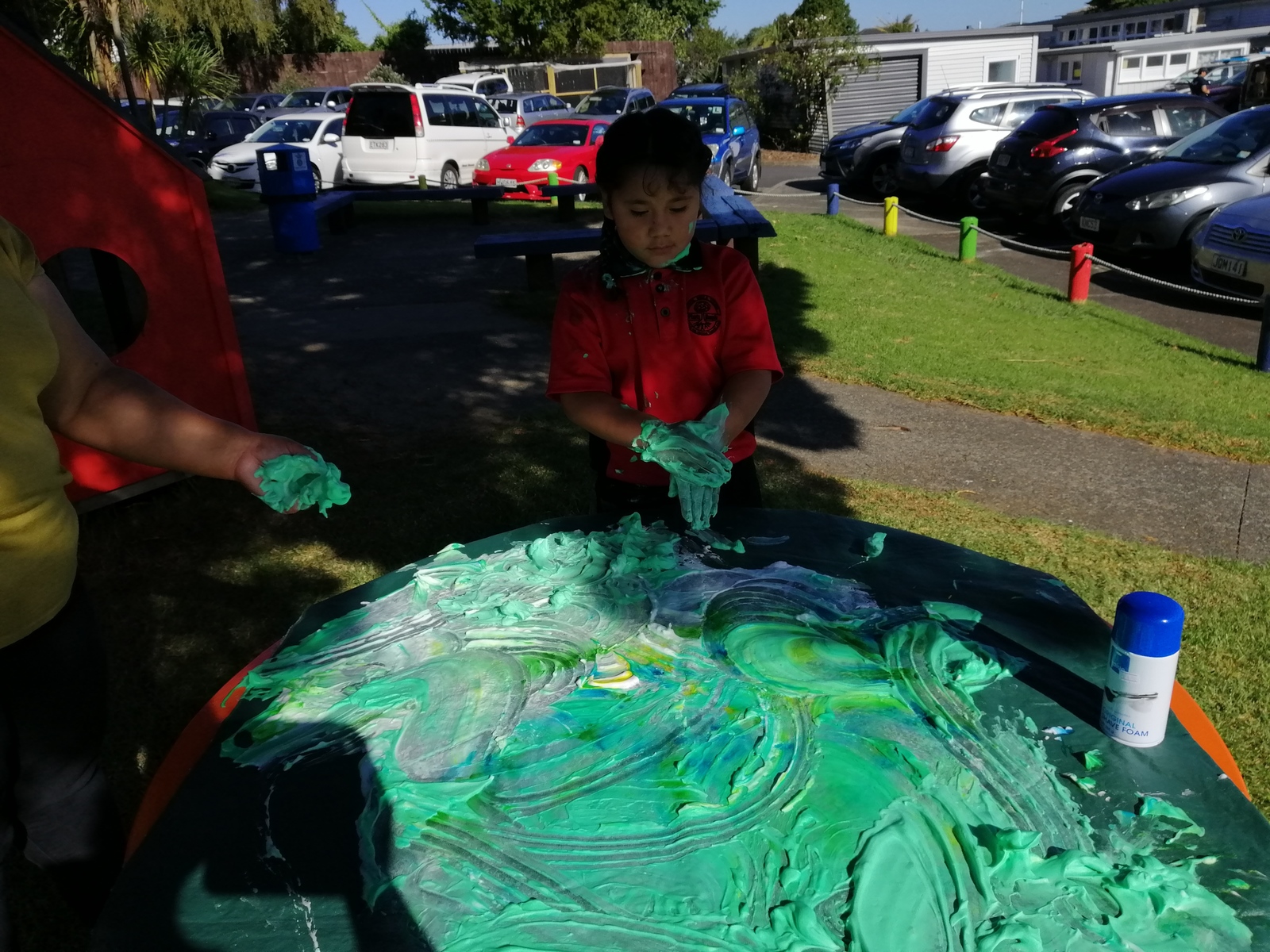 Great to see our learners working together to solve problems, be creative and have fun.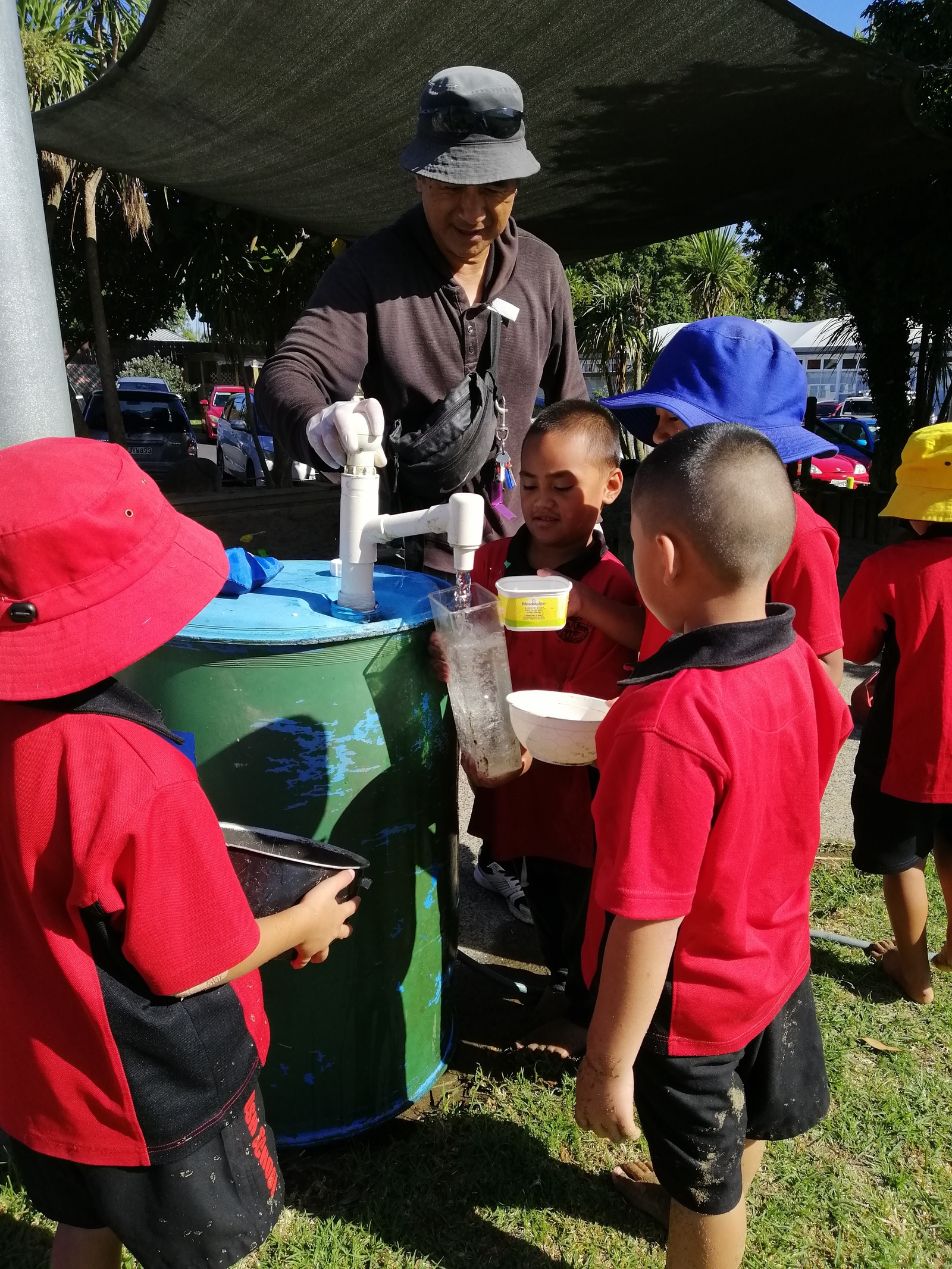 thank you to Mr Avatea for shouting the whole school icey-poles on this lovely hot day.
We finished the day with the announcement of our first two students of the week, congratulations Popea and Kiaan-Lui, I hope that you enjoy your prizes!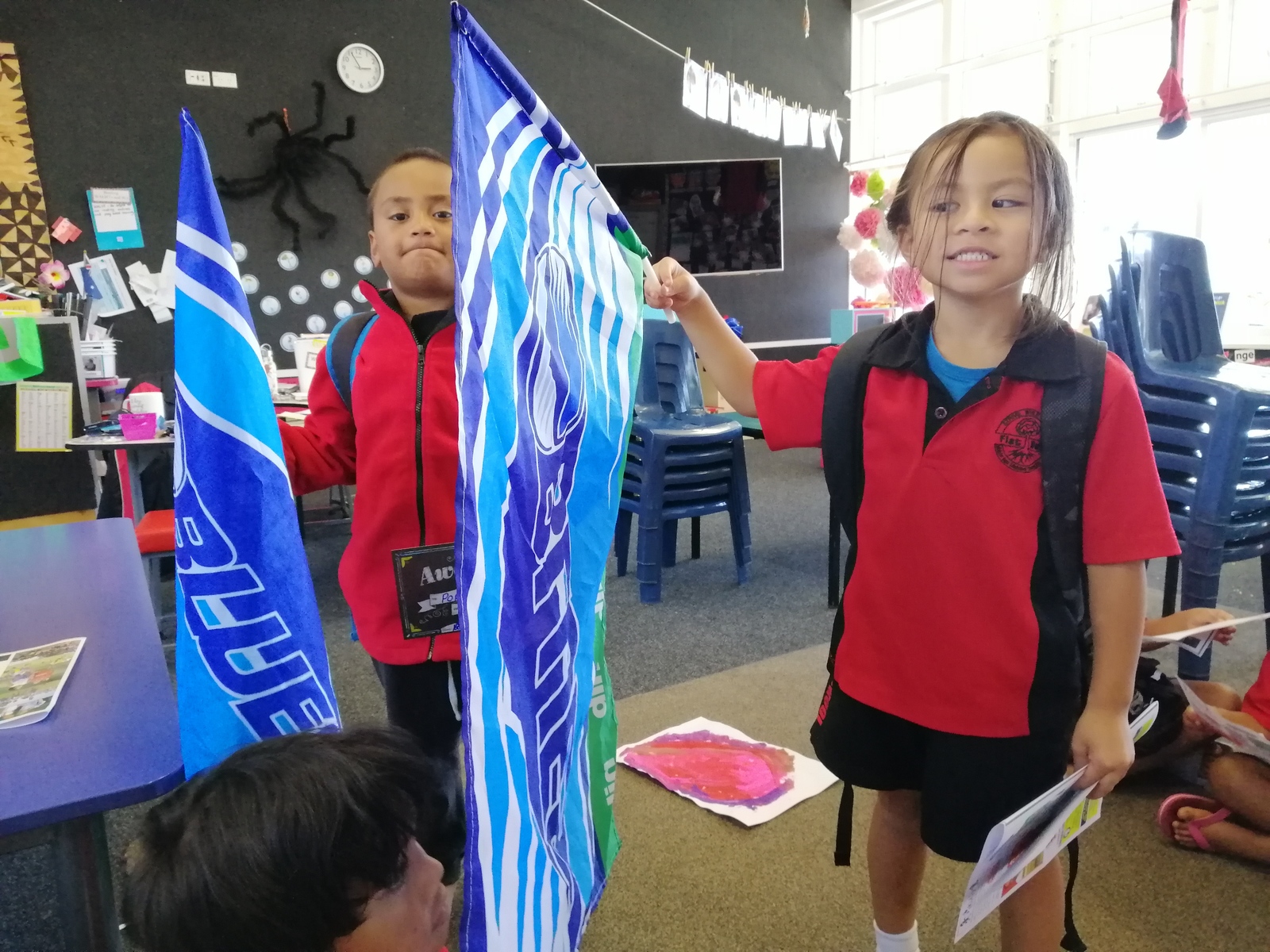 Great to see so many students back at school today. This morning we farewelled eight students who have graduated to a year one and two class and welcomed eight new students from Room 23. We spent the day celebrating the change to Level two by getting to know our new students and enjoying the beautiful sunshine!
Some of the activities we did today included.......
playing in the sandpit- look at the baby bear that I made!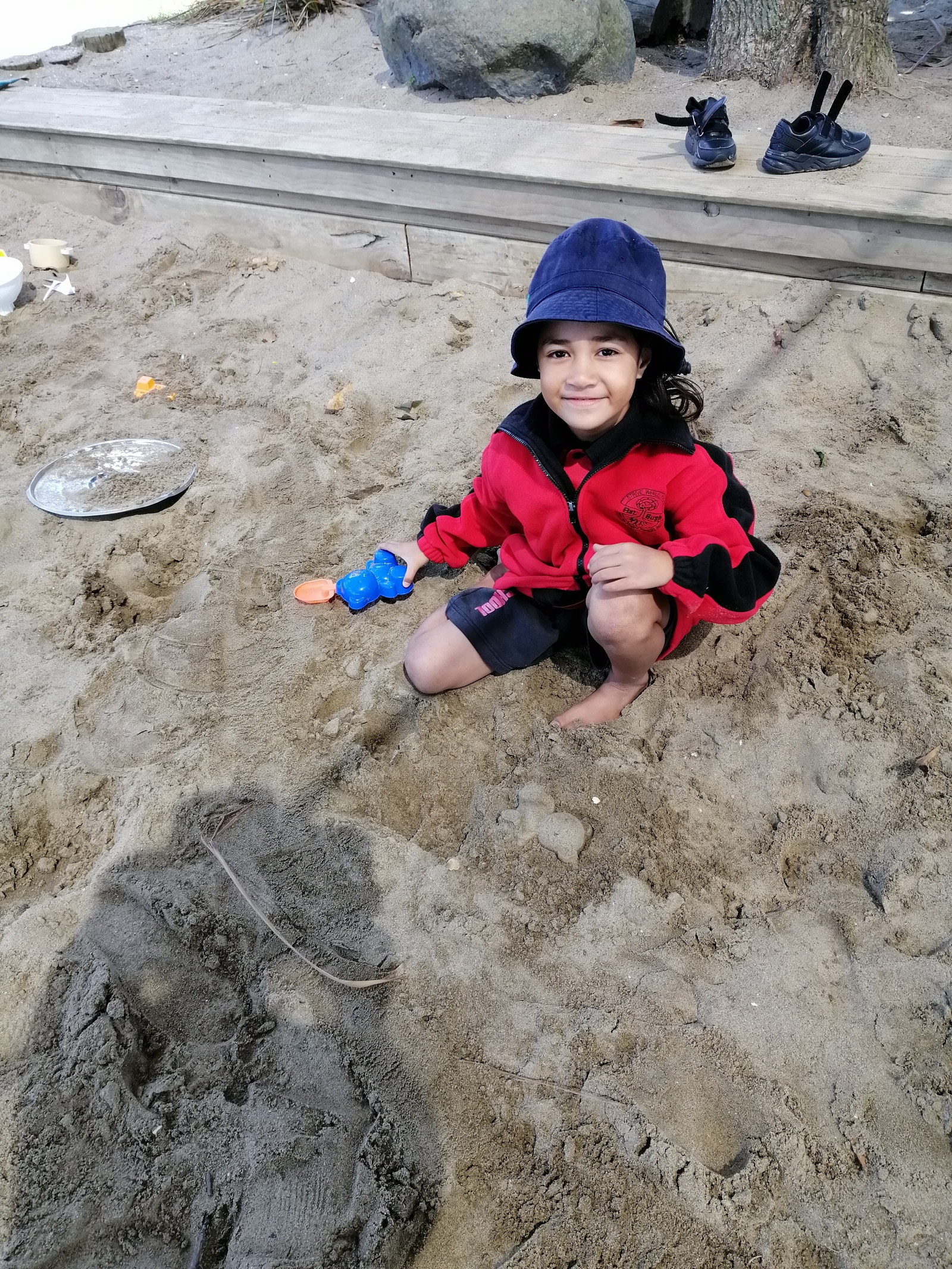 turning the 'liquid' water into a 'solid' by adding sand
hammering on the carpentry table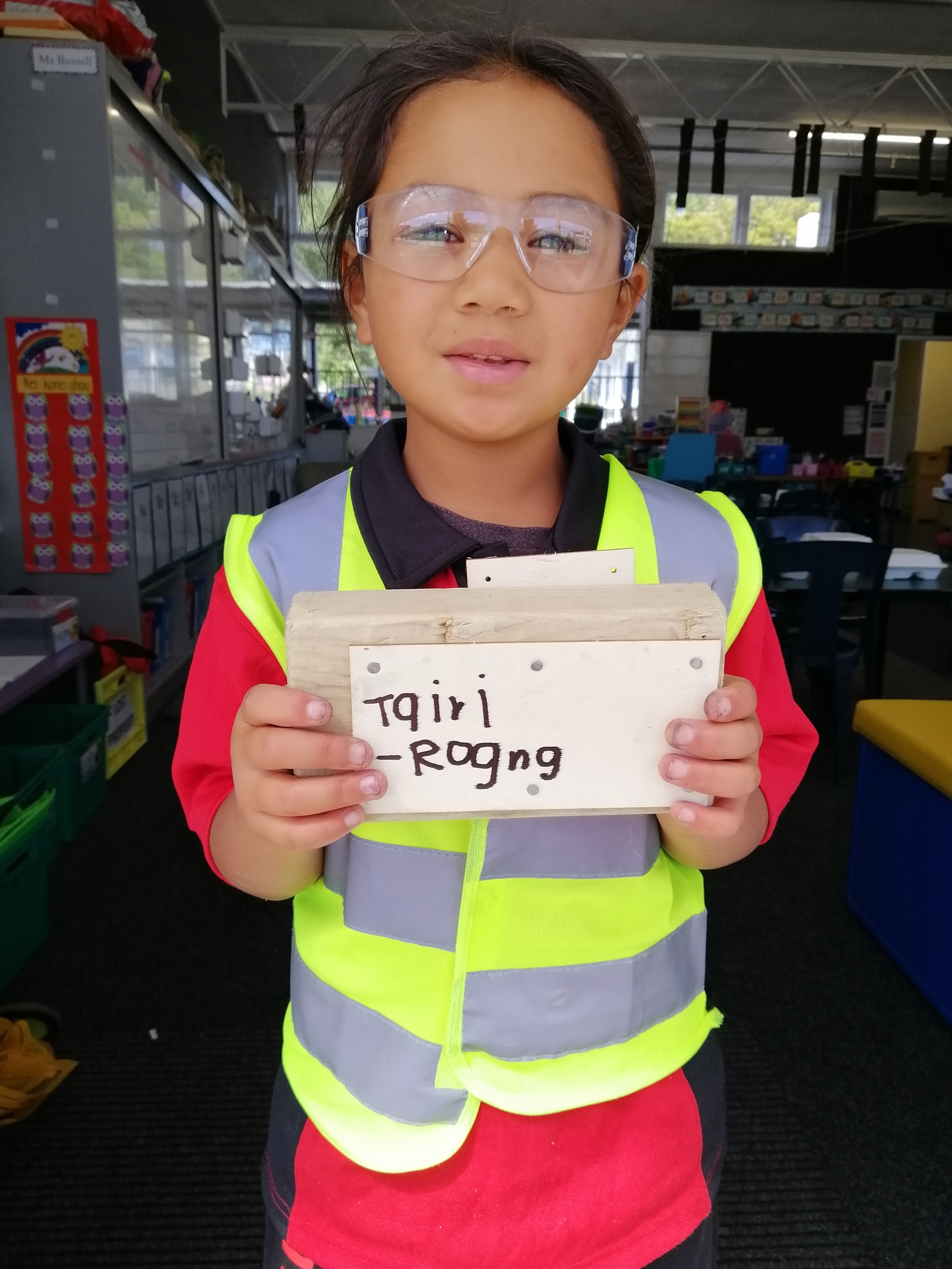 being creative on the playdough table
A big welcome to our new students and their families! We will really miss our friends who have moved on to new classes, however I am sure they will come back and visit.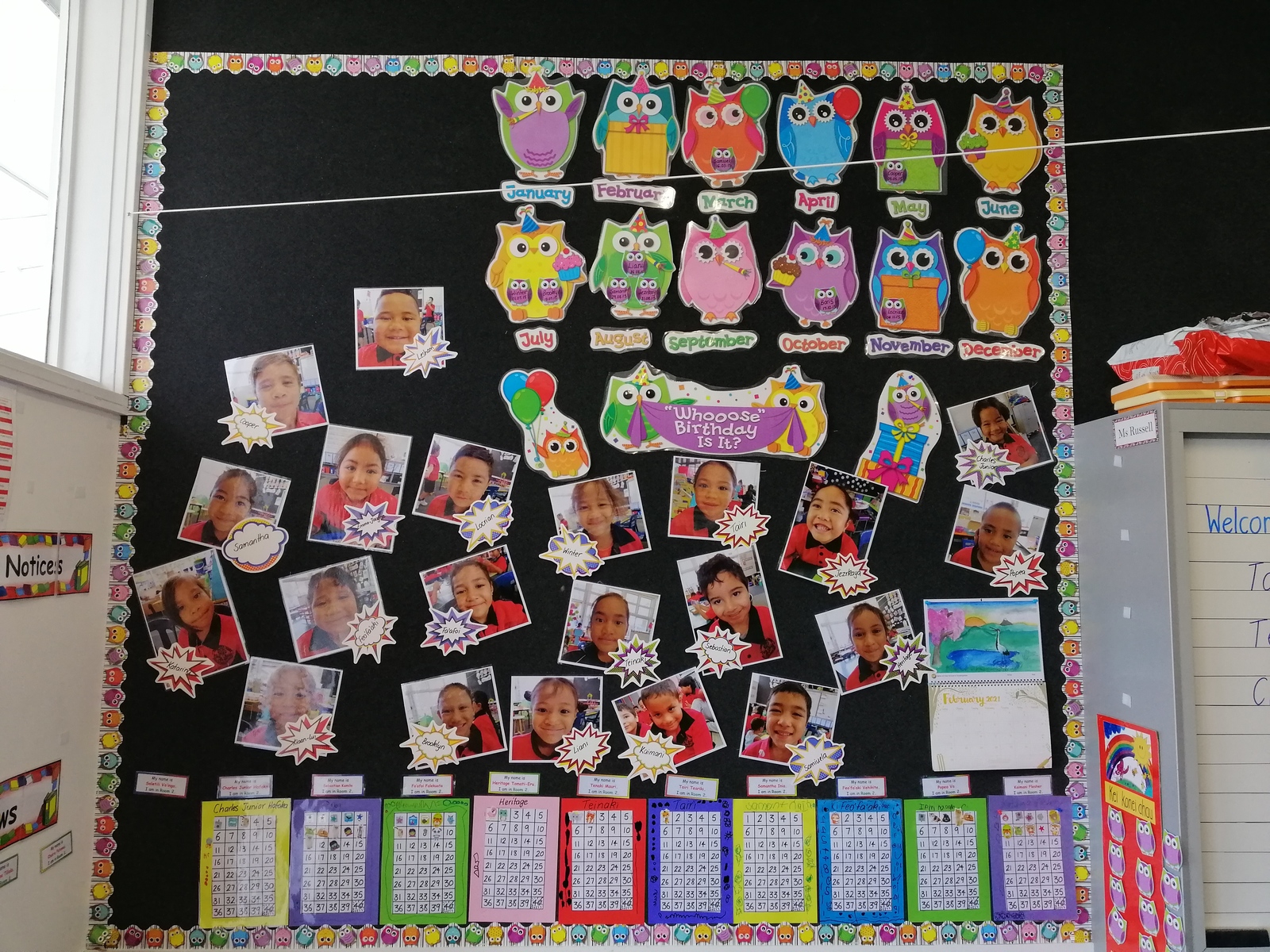 Back to school on Thursday!
I can't wait to see you all again soon!
-Ms Russell
Great to see all the Whanau members coming down to school today to collect their learning from home packs. if you were not able to collect one in the given time, please email Ms Russell so I can arrange delivery.
Well done to Sebastian and his family who are already using their home pack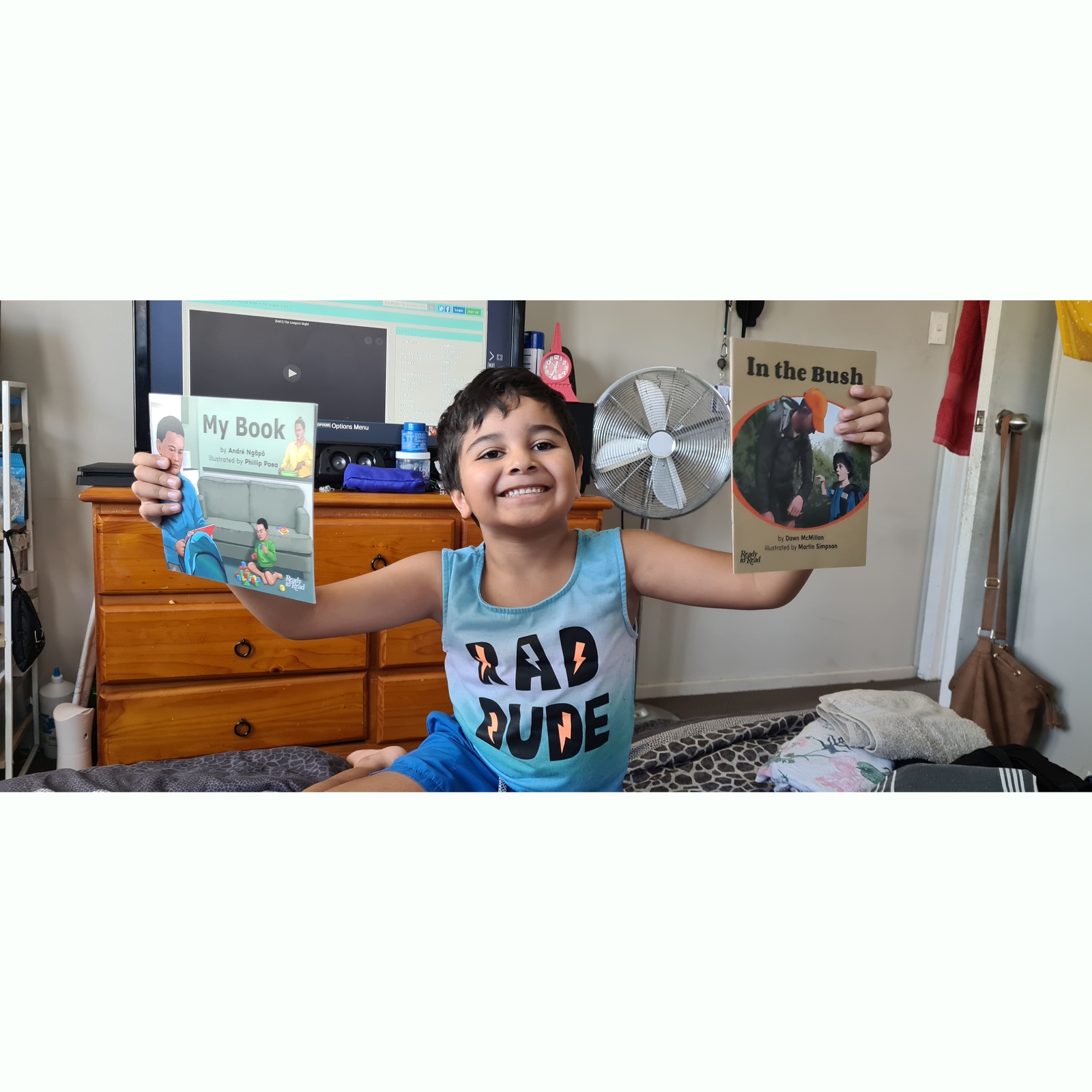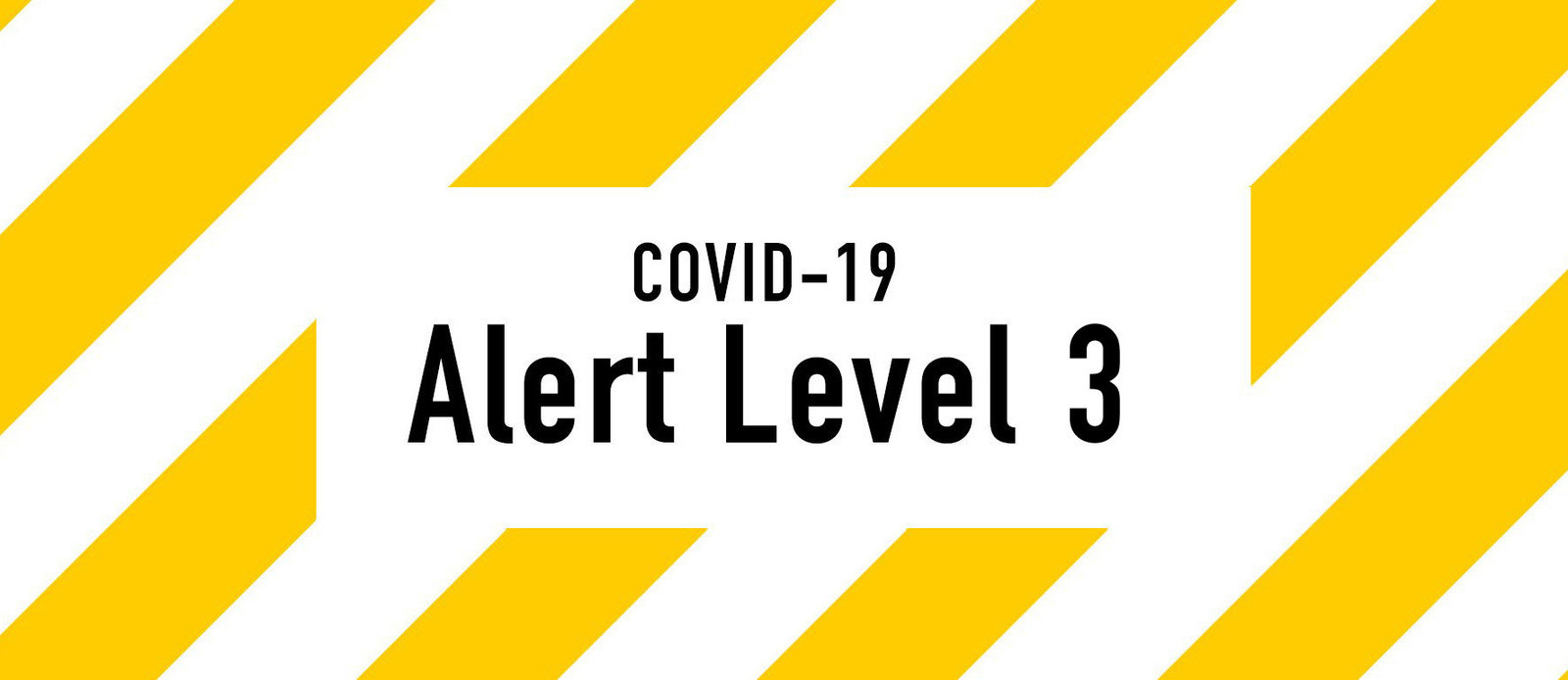 Last night our Prime Minister, Jacinda Ardern announced that Auckland will return to Alert Level 3 at midnight, Monday 15th February until 11.59pm Wednesday 17th February 2021.
Flat Bush School is CLOSED for the next few days: Monday 15th, Tuesday 16th and Wednesday 17th February 2021. We will update you as we receive further details.
A different start to the week than what we were expecting, however, together we will get through this! Please stay safe, stay home and make sure you are scanning the QR codes if you do need to go out.
Ms Russell will be calling all Room 2 families on Monday and Tuesday to check in and make sure that everyone is OK. If you do need any support, please email on bernadiner@flatbush.school.nz I look forward to talking to you all soon.
Ideas for Learning from home;
* Practice writing your name, first name and last name.
* Talk to your family about the meaning of your name, why did your parents choose your name? Were you named after someone special? Do you have a middle name too?
* Draw a 'bubble' by tracing around something round like a Milo tin or dinner plate. Inside the bubble, draw all the members of your safe bubble and ask your adults to help you write their names.
* Make a list of all the things you could do at home to help someone, ideas include making your bed, helping to fold the washing, picking up toys of younger siblings or playing quietly when big siblings are studying.
* Count how many people are in your house, how many doors in your house, how many windows etc
* Think of ways to be kind to those around you.
Week Two, Term One, 2021
Another exciting week in Room 2 at FBS. This week we have continued learning about each other and our school while exploring through play. Some of the highlights of our week included: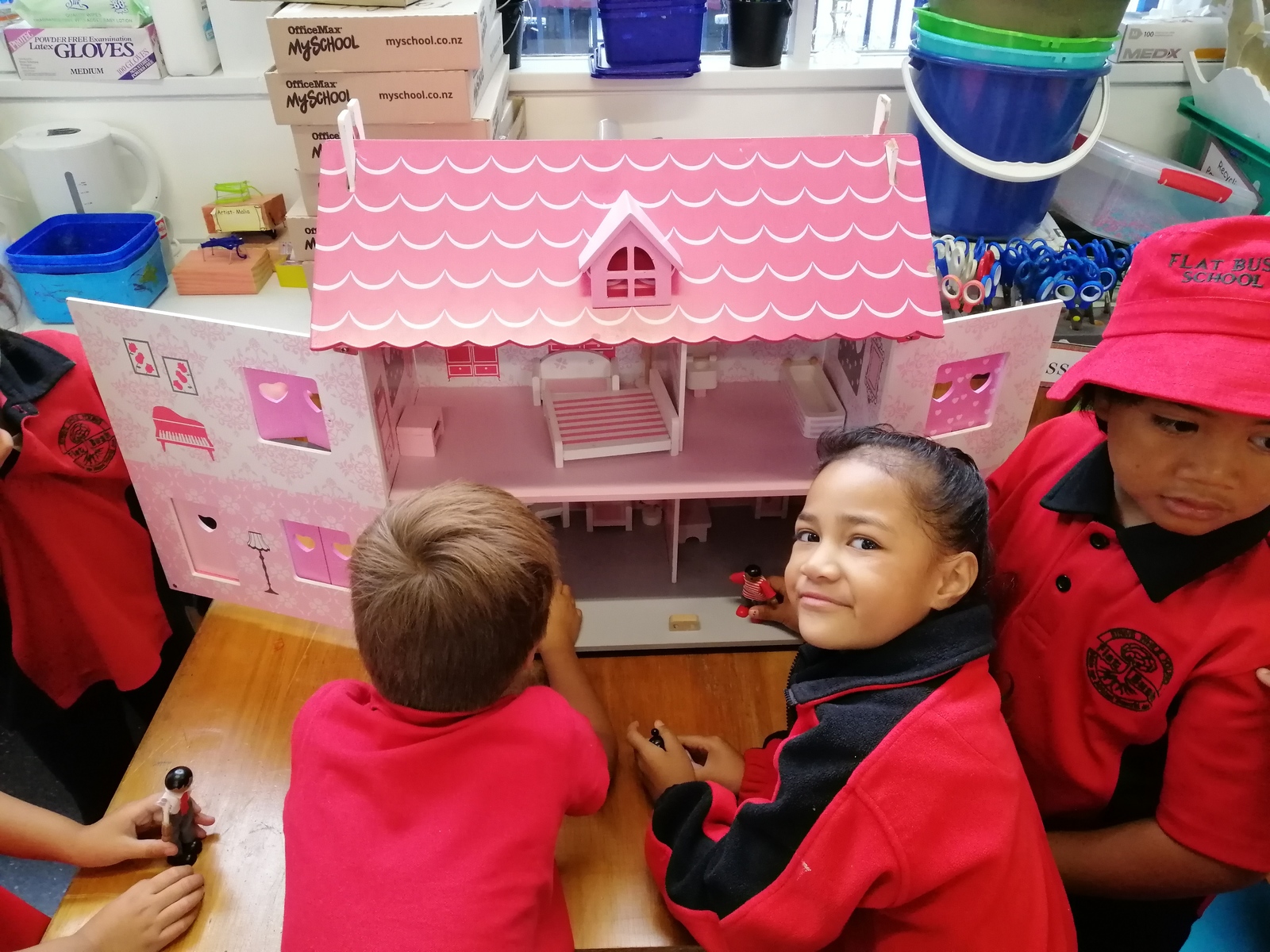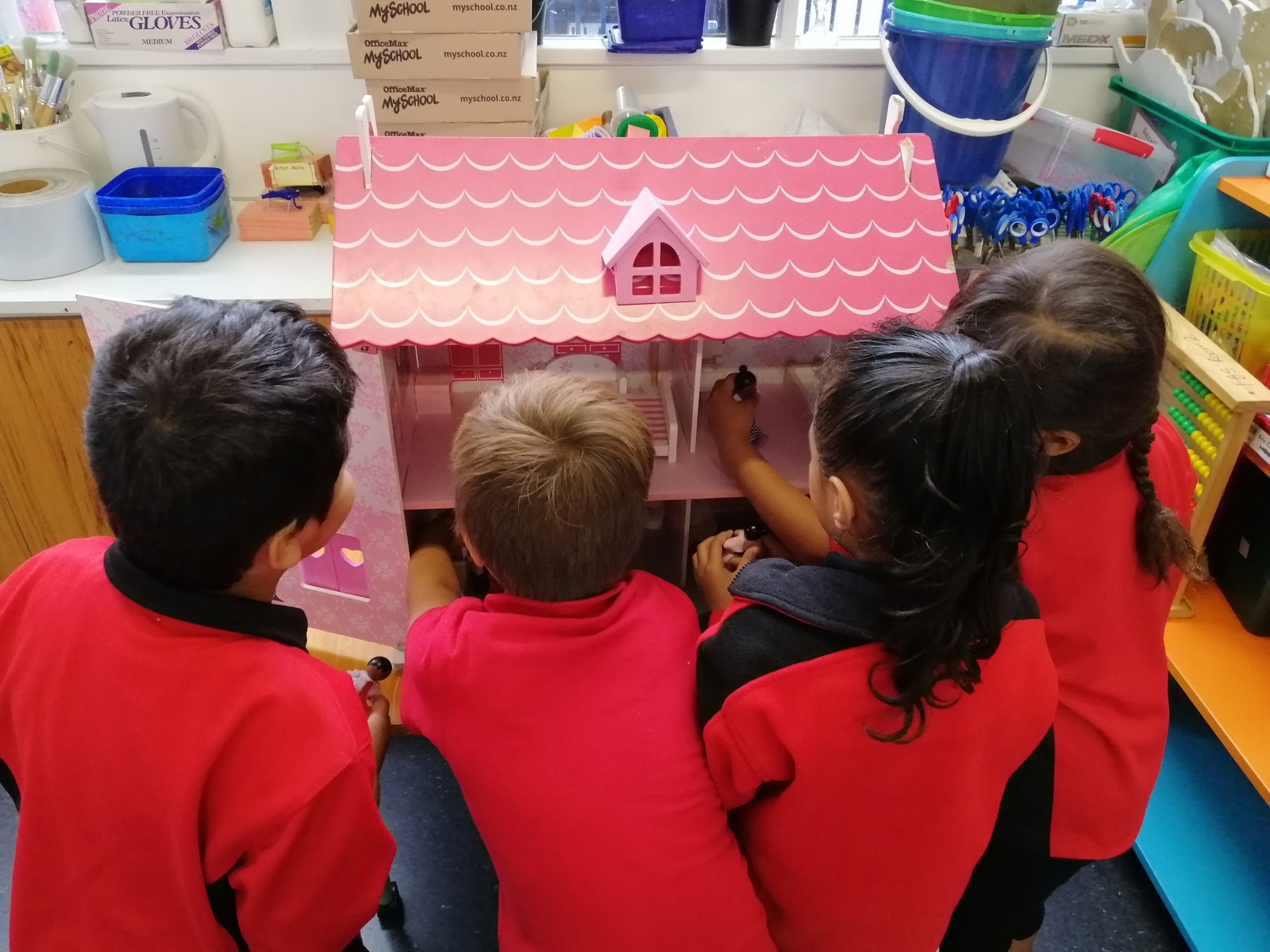 Playing with our new dollhouse- learning to negotiate, take turns and be kind to each other.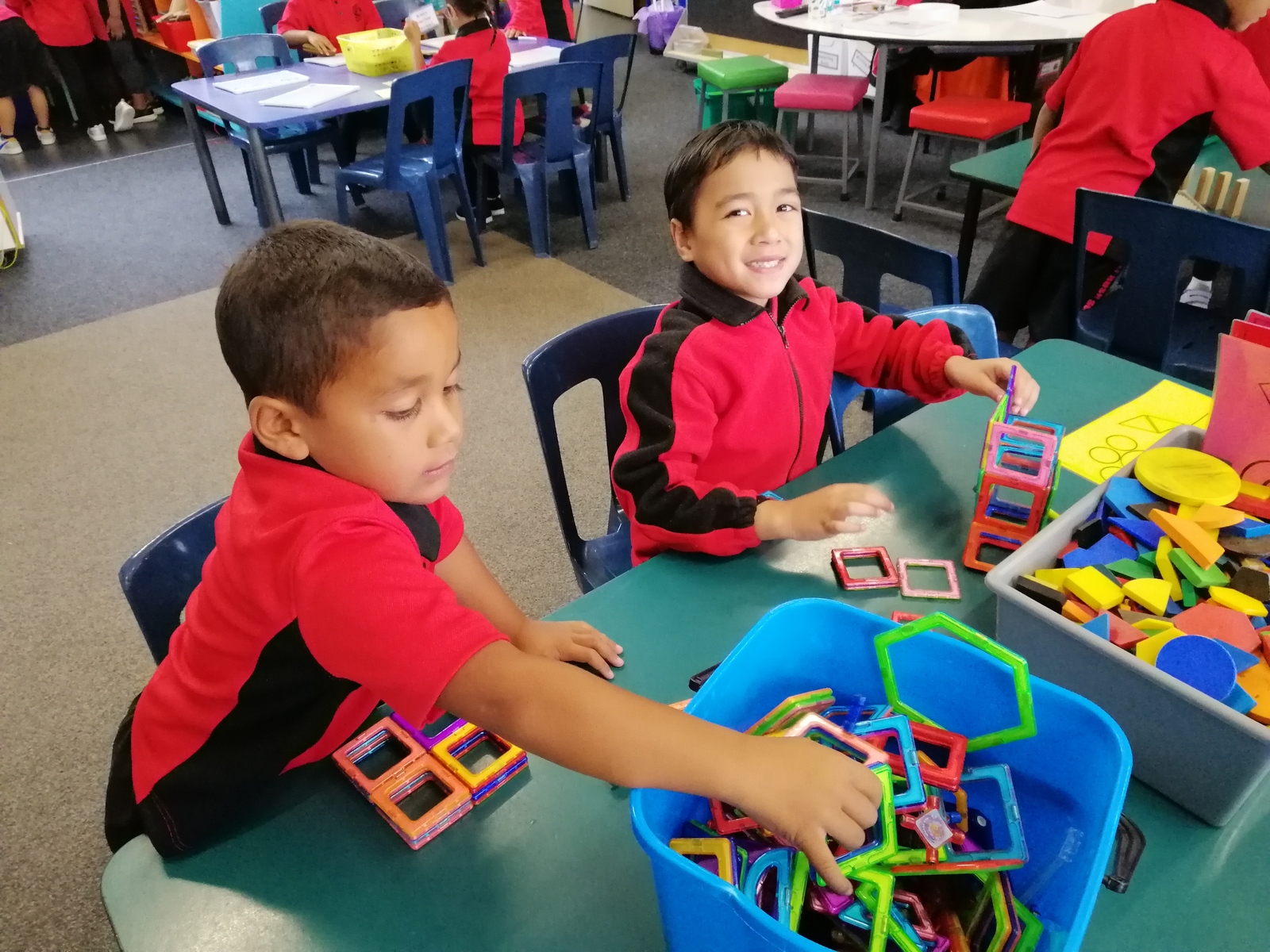 Making some amazing magnetic sculptures - working together and persevering when things don't go right the first time!
Practicing our writing on the whiteboards and learning to take care of the equipment, such as putting the lids on the whiteboard pens so that they don't dry up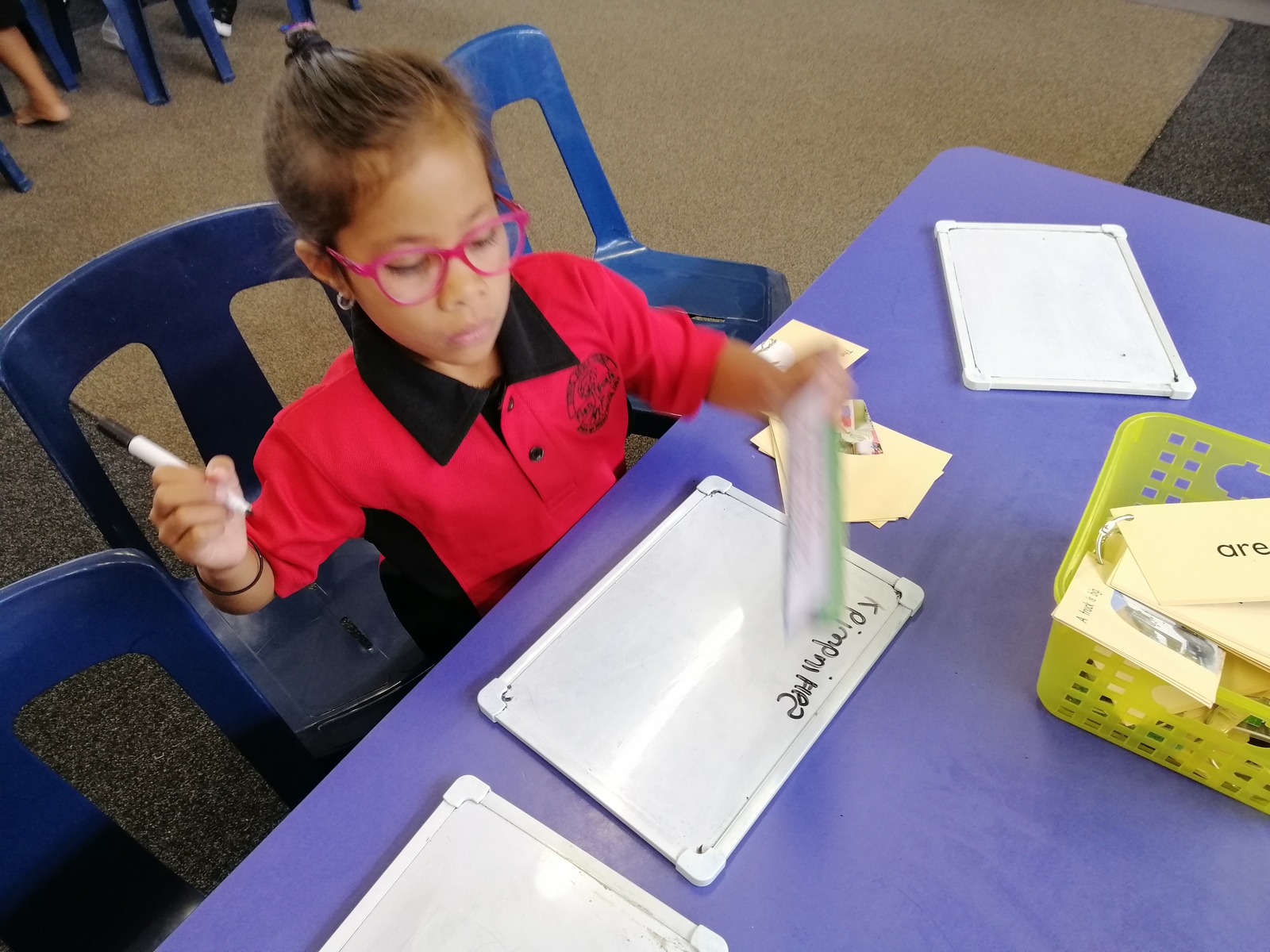 Sharing with our peers and learning to ask for help if we need it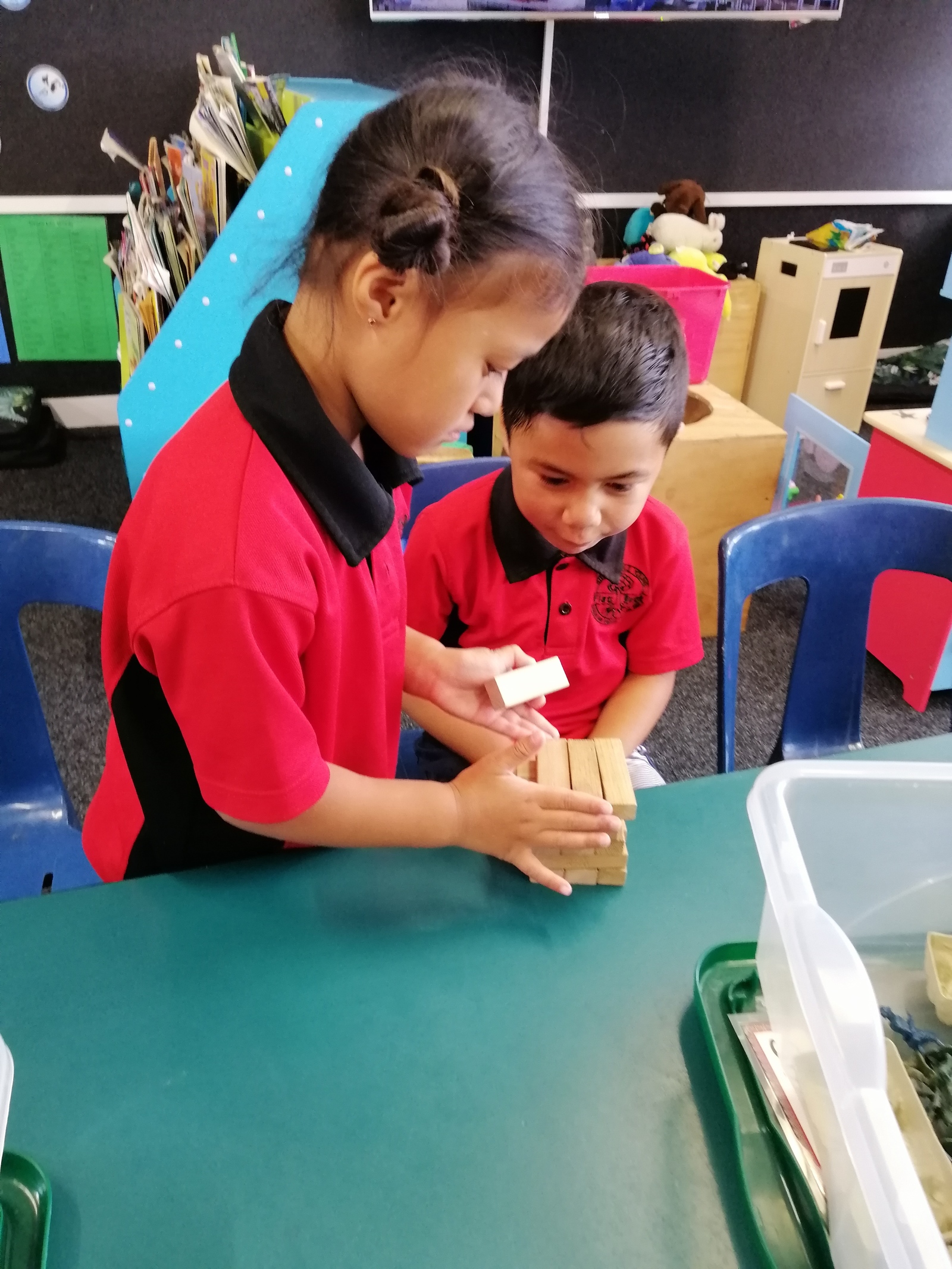 Roleplay with the soldiers and Jenga - learning to co-operate with our peers, take turns and share.
Playing alphabet games with Logan
and learning how to walk in a line together!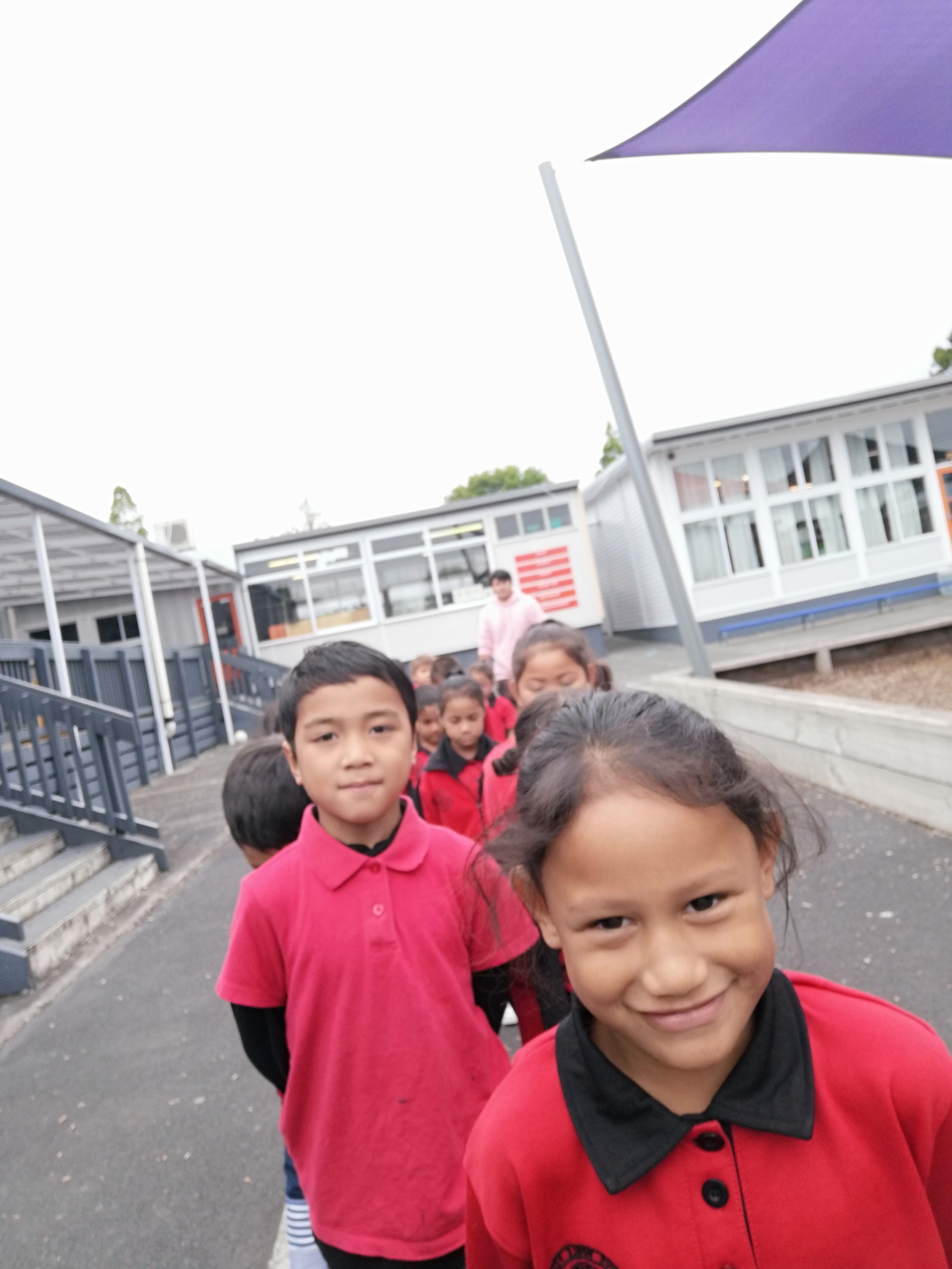 "ka whiti ano, teitahi tātou, ka whiti katoa"
when one shines we all shine
Week One, Term One, 2021
This week we have focused on getting to know each other and exploring our new classroom. While we have only had two days at school this week, they have been packed full of fun and new experiences. Room 2 started the year with 10 learners and quickly increased to 18. Some of the activities that we have enjoyed so far include;
Catching up with our old friends from last year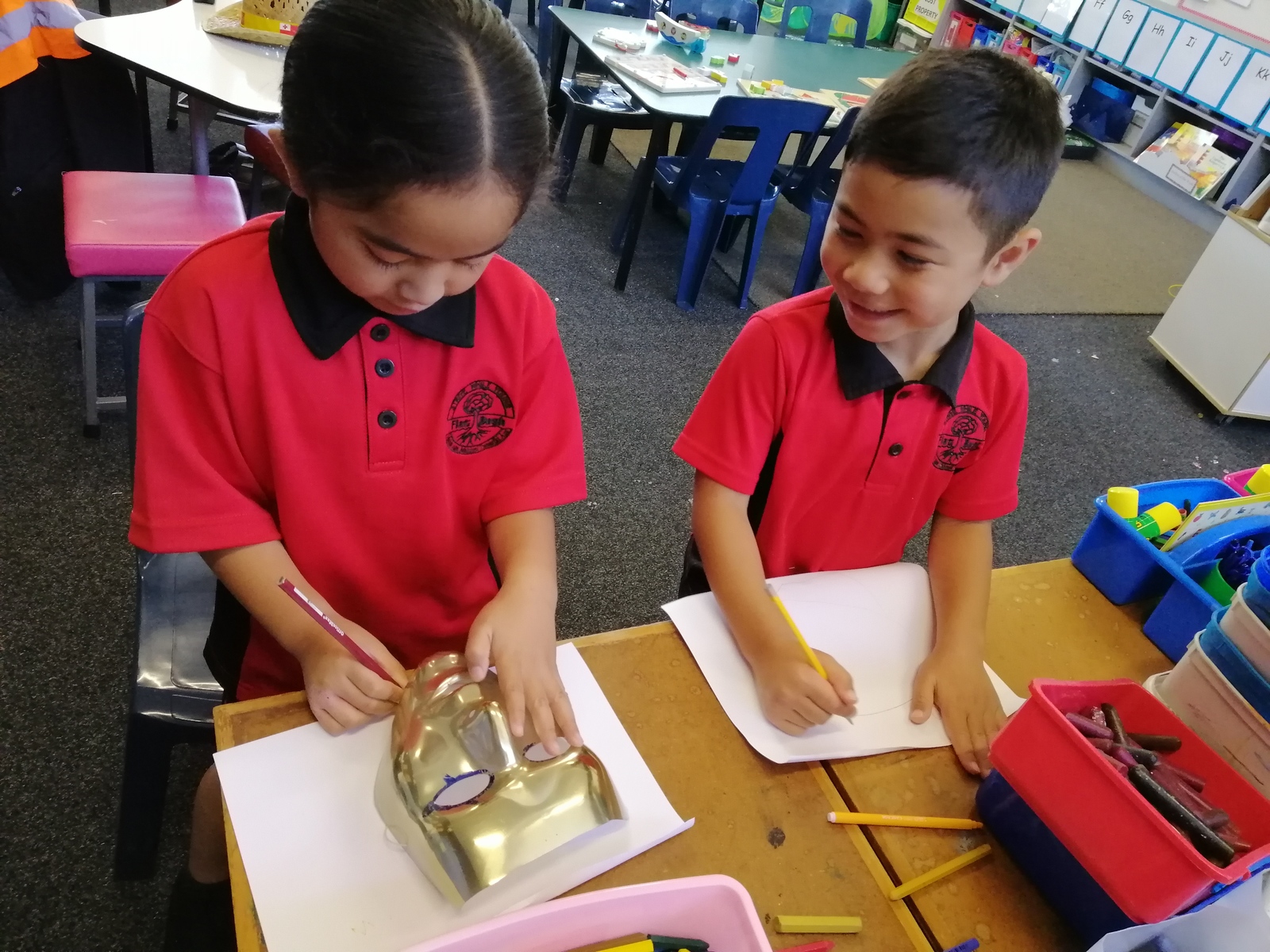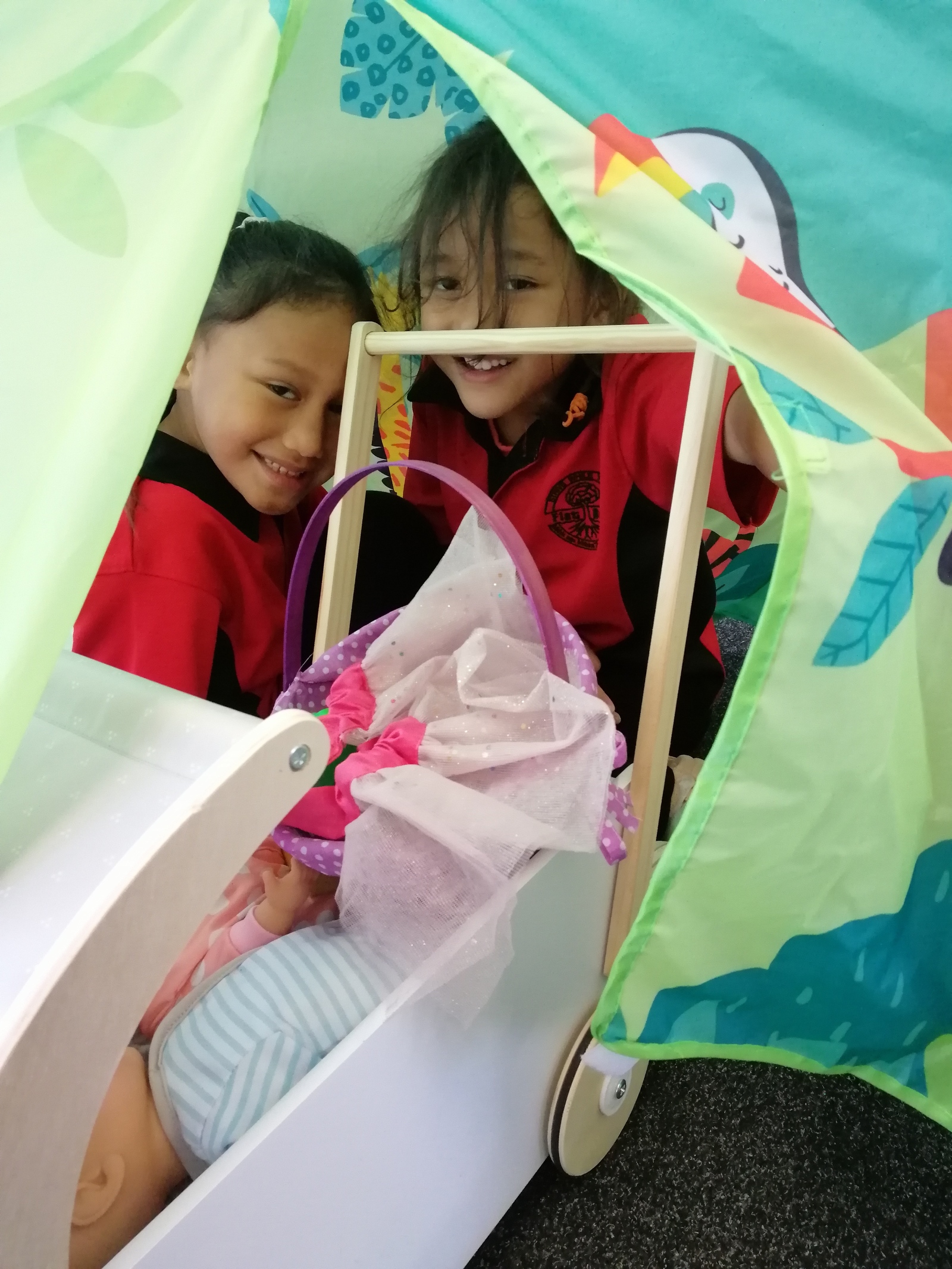 Making new friends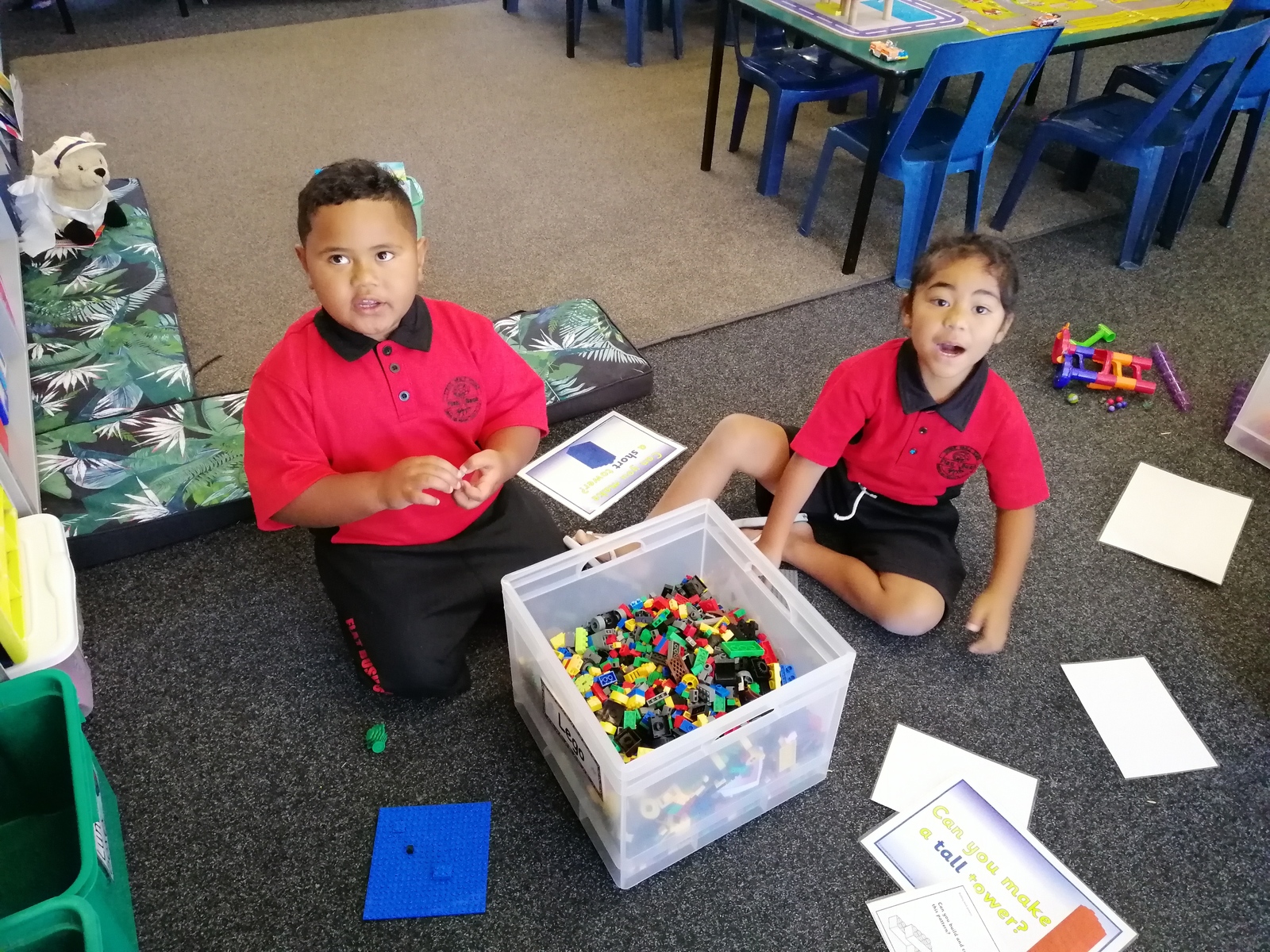 Starting to use our awesome new free books (big thank you to our FBS board for again supplying these for our learners)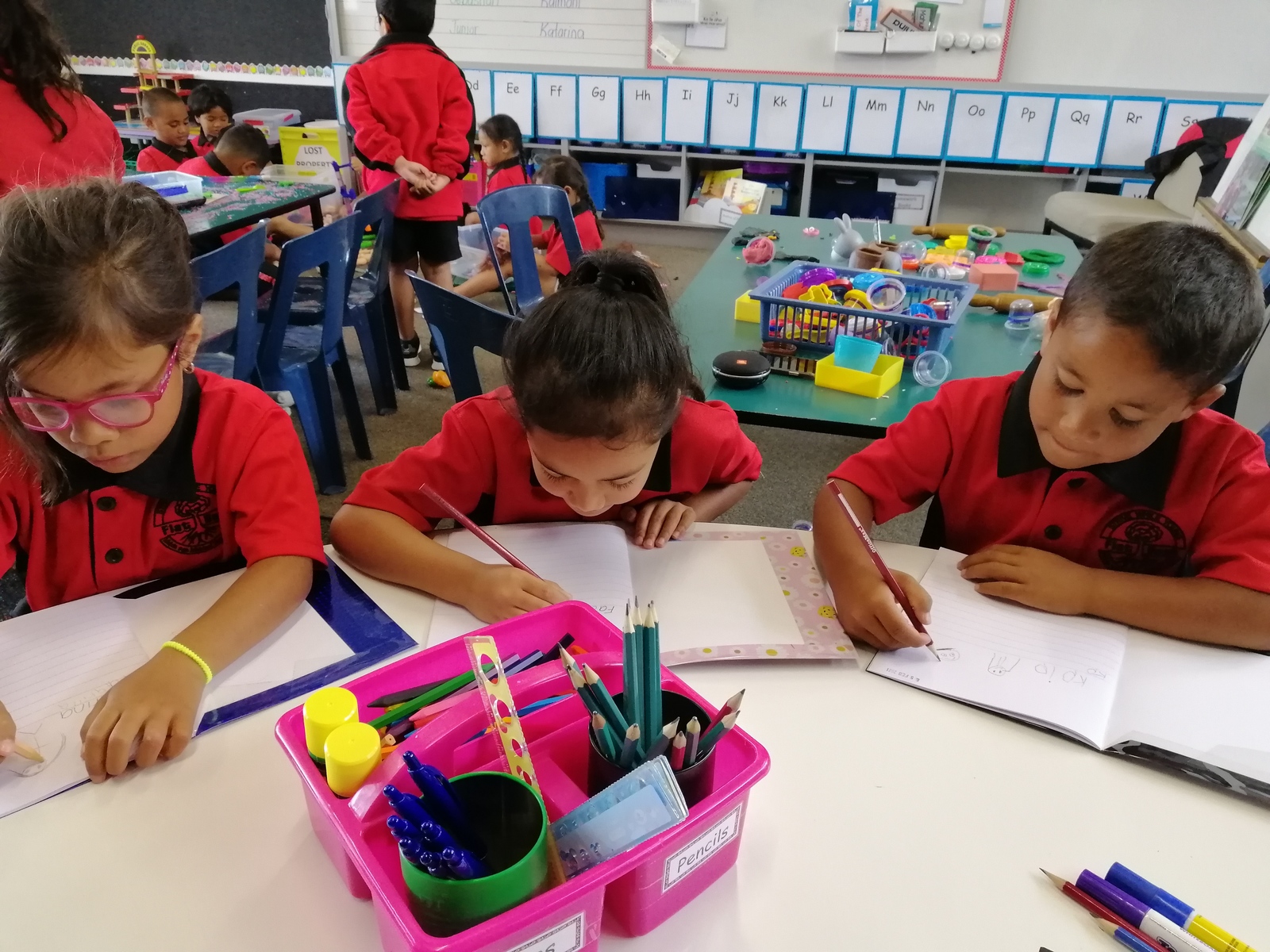 Exploring some of the new resources in Room 2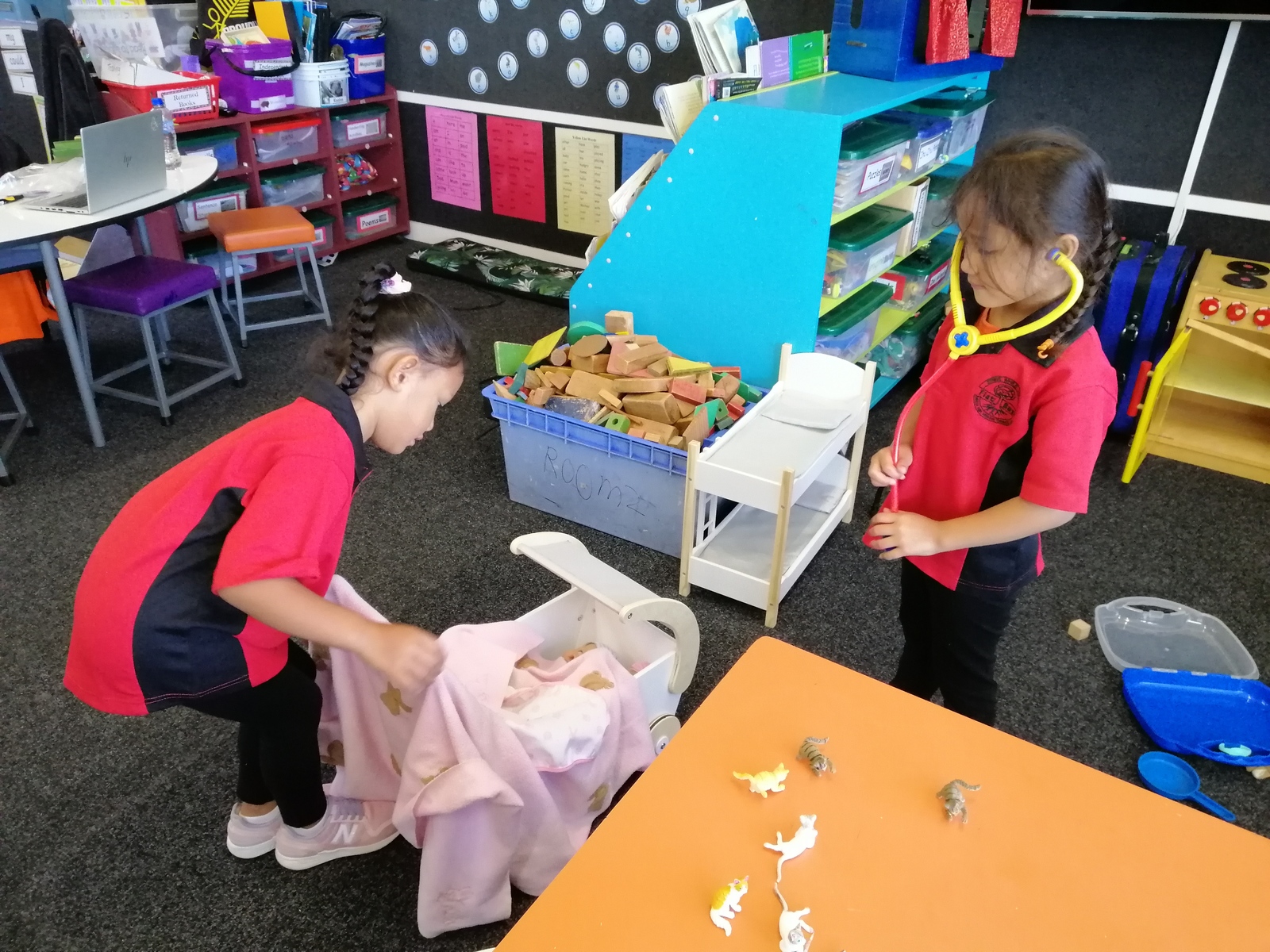 Orbies!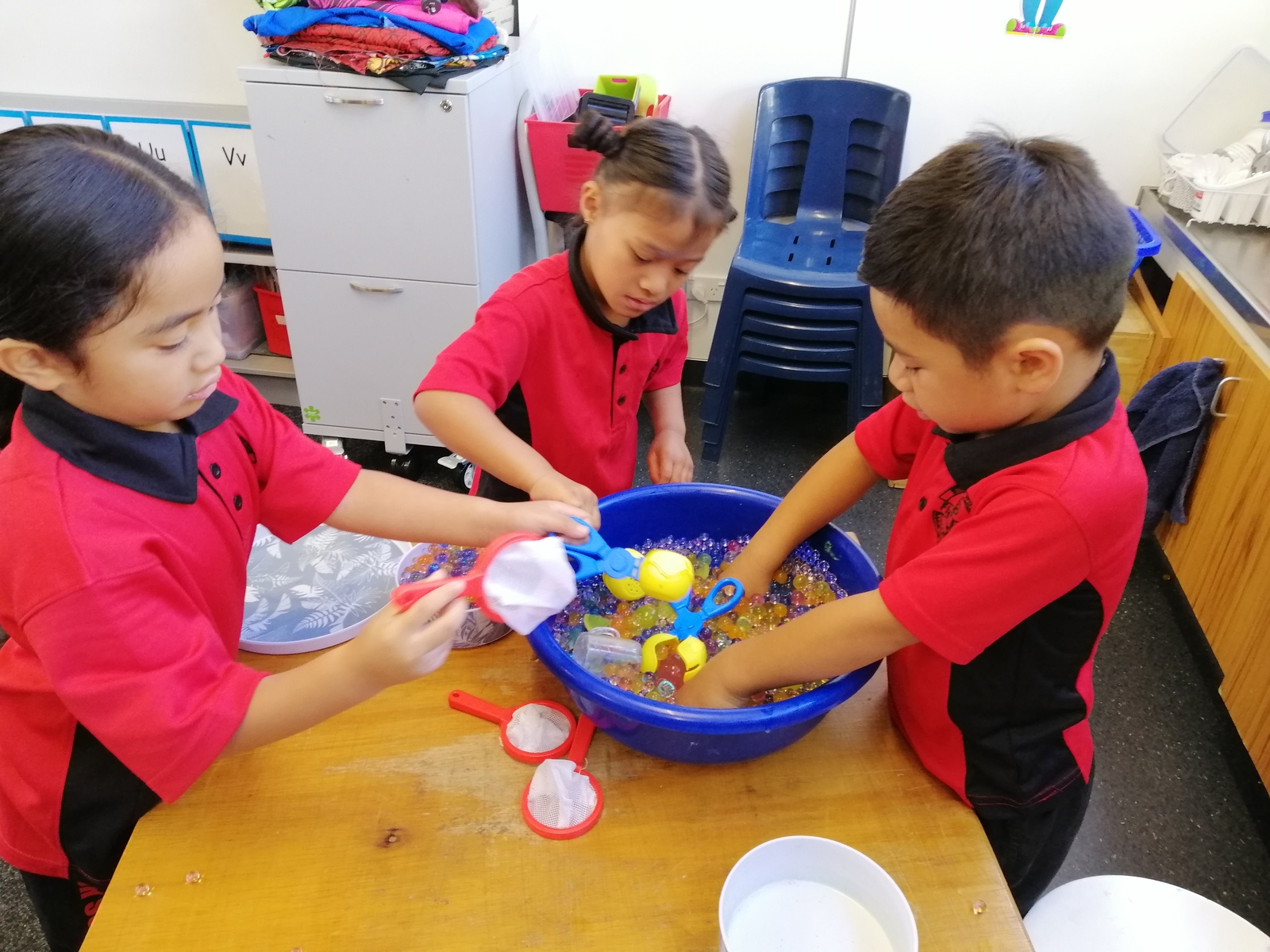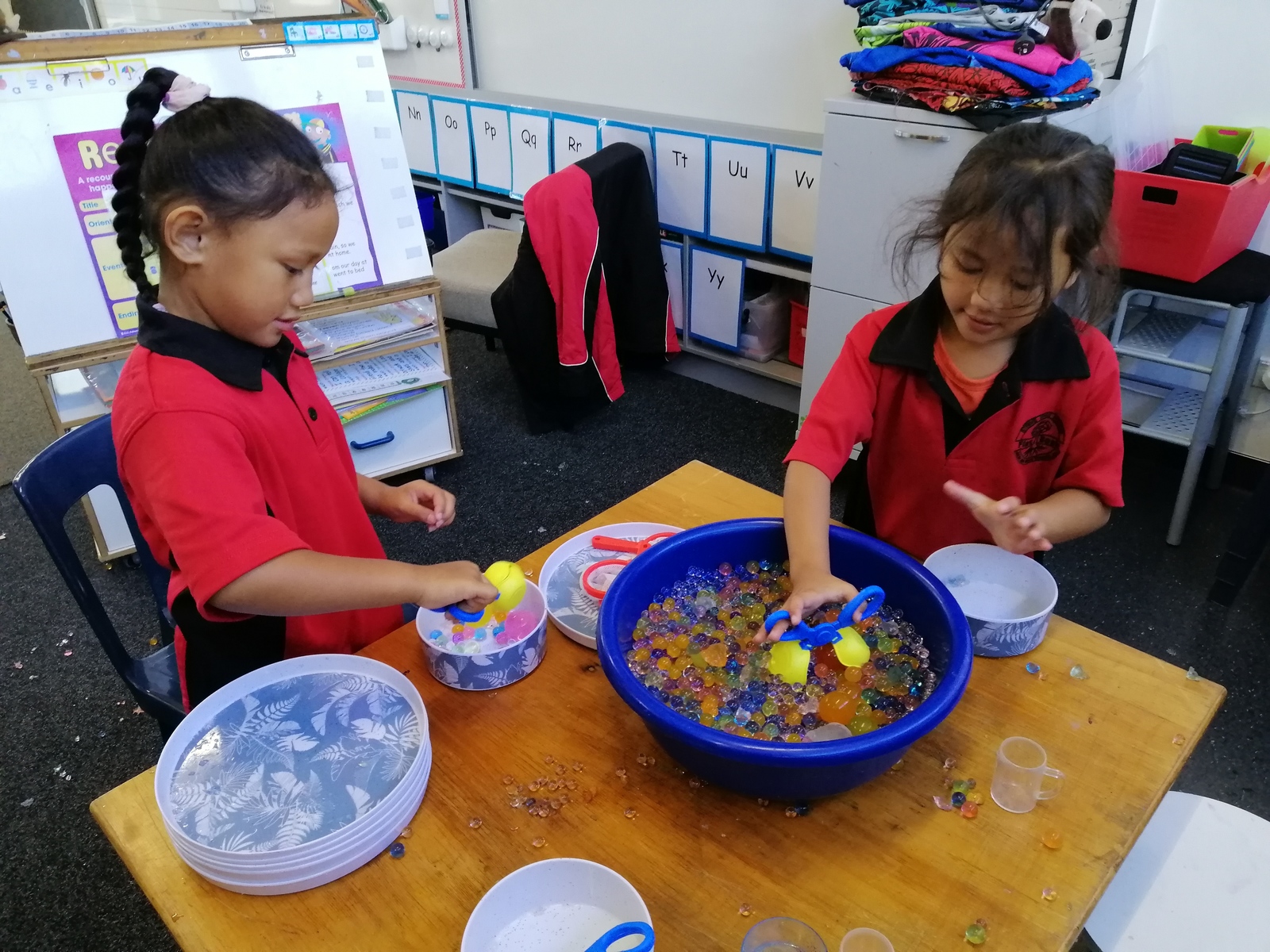 Eating our yummy, free healthy lunches together!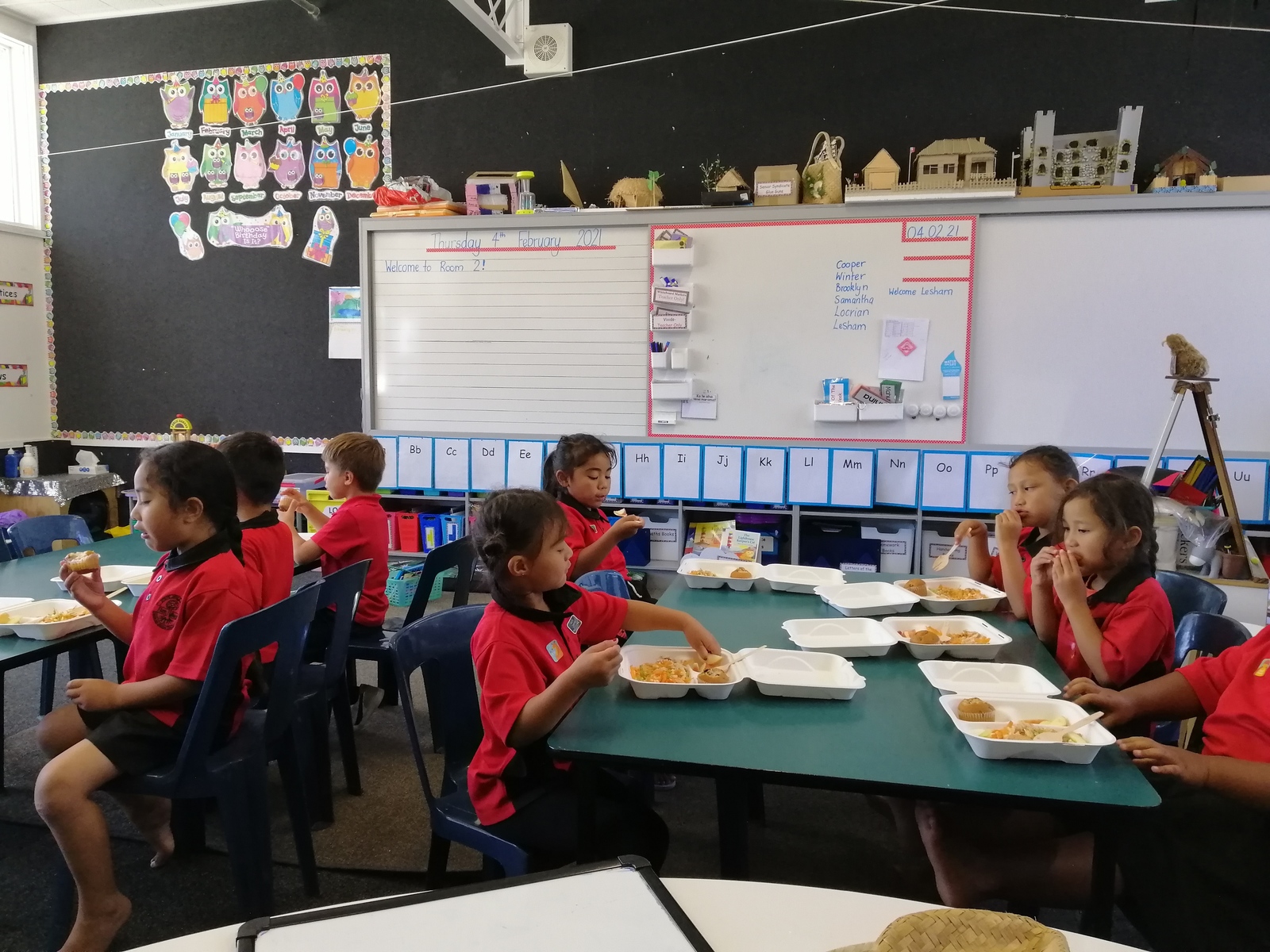 Stay tuned for more exciting activities in Week Two!
Welcome to Room 2,
part of the mighty Kakano Team at F. B.S.
My name is Ms Bernadine Russell and I am so excited to be your teacher this year. I have really enjoyed getting to know all the new learners in Room 2 so far and I thought it might be nice to introduce myself to all of their Whanau and friends too.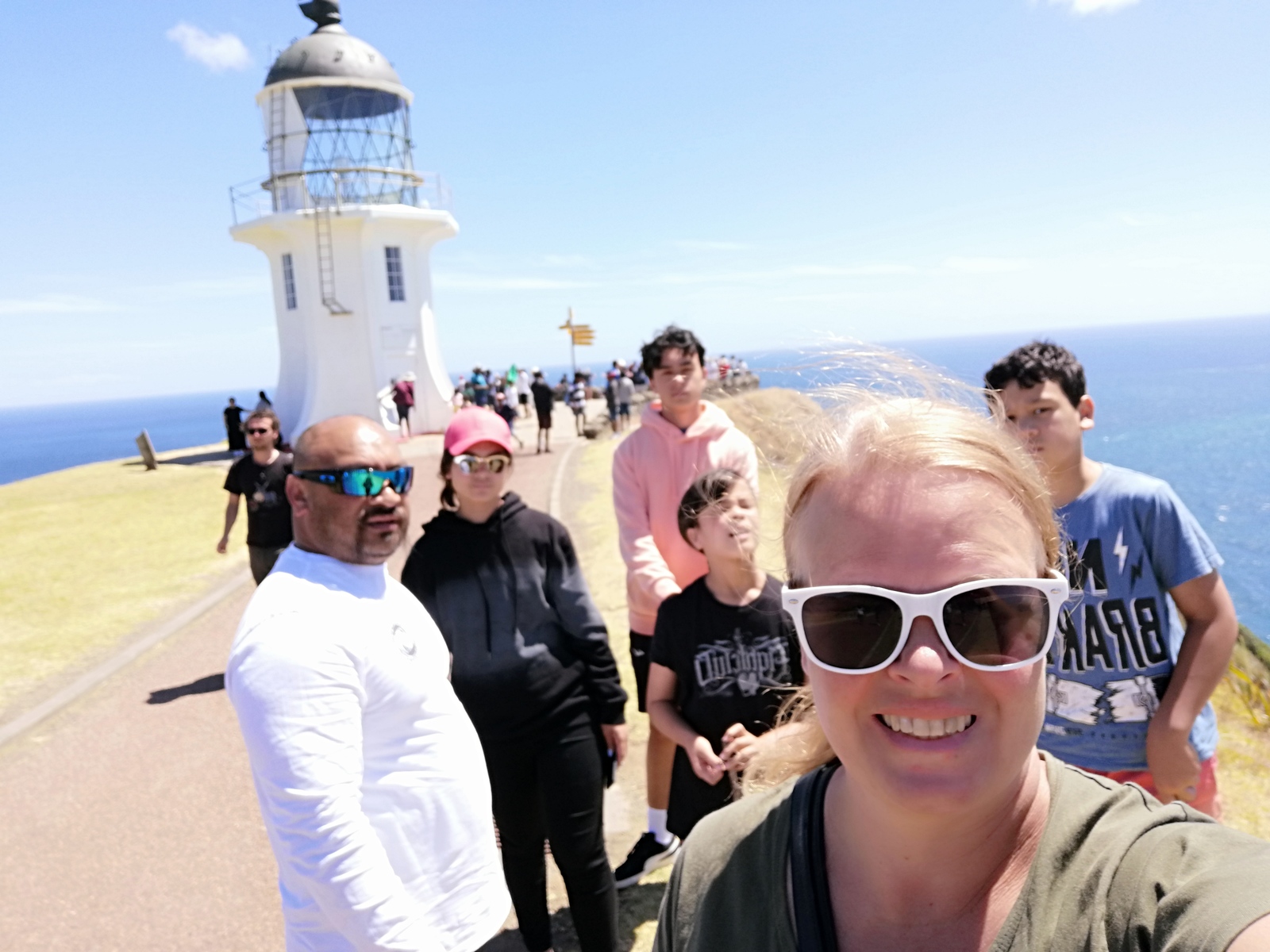 I was blessed to be born and raised in the coastal town of Burnie, on the North-West coast of Tasmania, Australia, where my parents, siblings and extended family still live. I am half Australian and half South African, however I have lived in New Zealand since 2001. My husband and I have four beautiful children, 'Amelali (15), Melanie (14), Geoffrey (11) and Charlotte (9).
My Qualifications include a Bachelor of Arts (Political Science and Journalism) from the University of Tasmania, A Postgraduate Diploma in Teaching, A Postgraduate Diploma in Teaching English in Schools as a Second Language (TESSOL), a Masters in Professional Studies in Education - all from the University of Auckland and a Postgraduate Certificate in Maths Teaching from Massey University.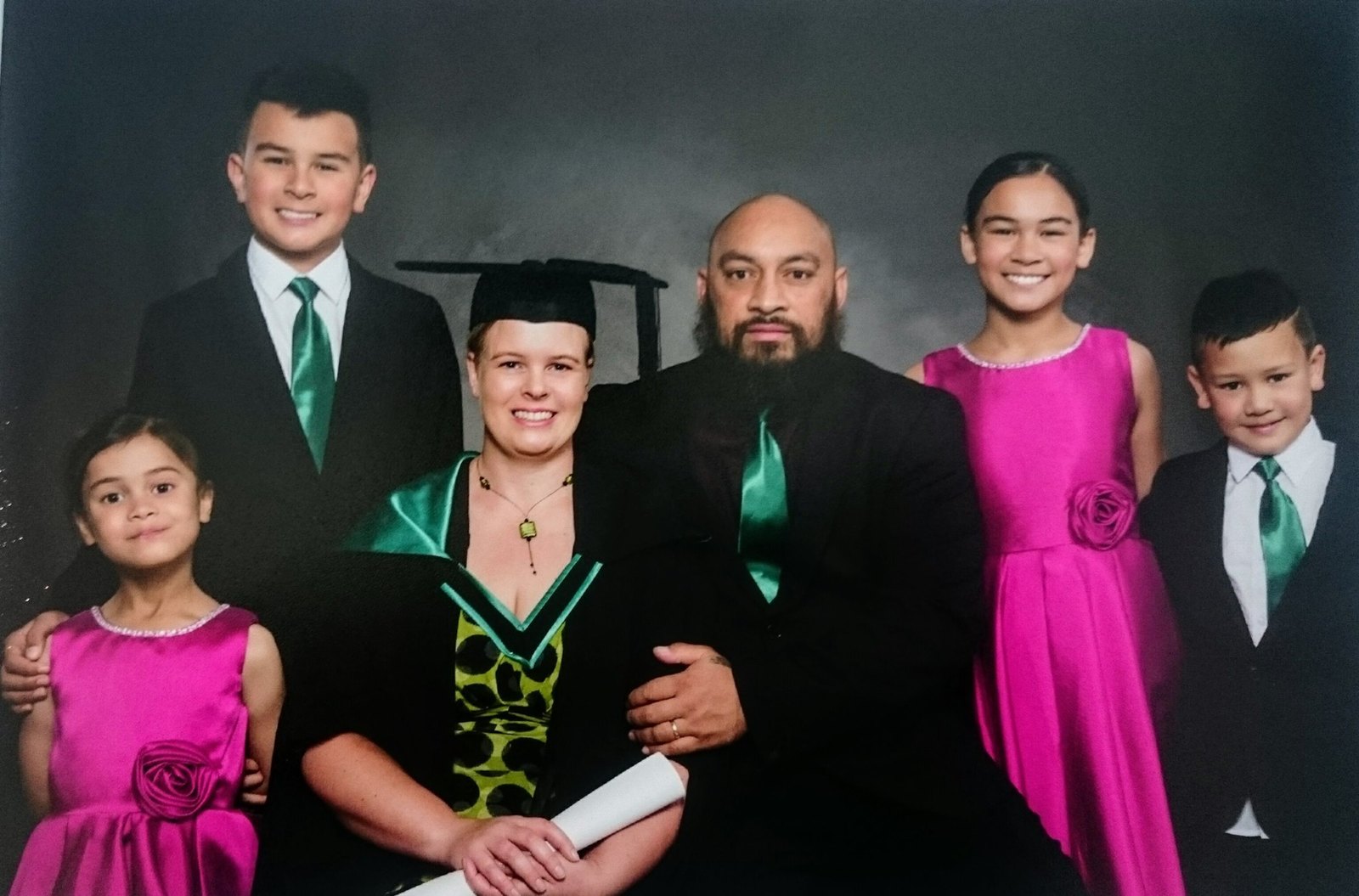 My interests include Science, Visual Arts, baking and Gardening. I look forward to getting to know the learners in Room 2 and discovering their unique talents and passions this year. Please scroll through our page for weekly updates and check out what we get up to in Room 2 this year!