Welcome to Term Two, 2021
Hello all and welcome back to school for Term 2. I am so pleased and excited to open up Room 1 to a fantastic group of new students! Our group of 10 are: Rogue, Miracle, Kilika, Tobias, Corail, Titus, Manny, Tobius, Avondre and Saint! We've made a great start and have had lots of fun learning, playing and working together!! Please do not hesitate to be in touch if I can help in any way! Pop in and say hi or email me on lisab@flatbush.school.nz. See you soon whanau!
Week 6, Term 2, 2021
This week we celebrated our fabulous Support Staff! We are very fortunate to have a fantastic team who support us and our learners every day! Thank you to: Mr Ian, Mr Tom, Mrs Tito, Miss Bree, Miss Easter, Miss Vera, Miss Ana and Miss Maggy. We could not do what we do without you!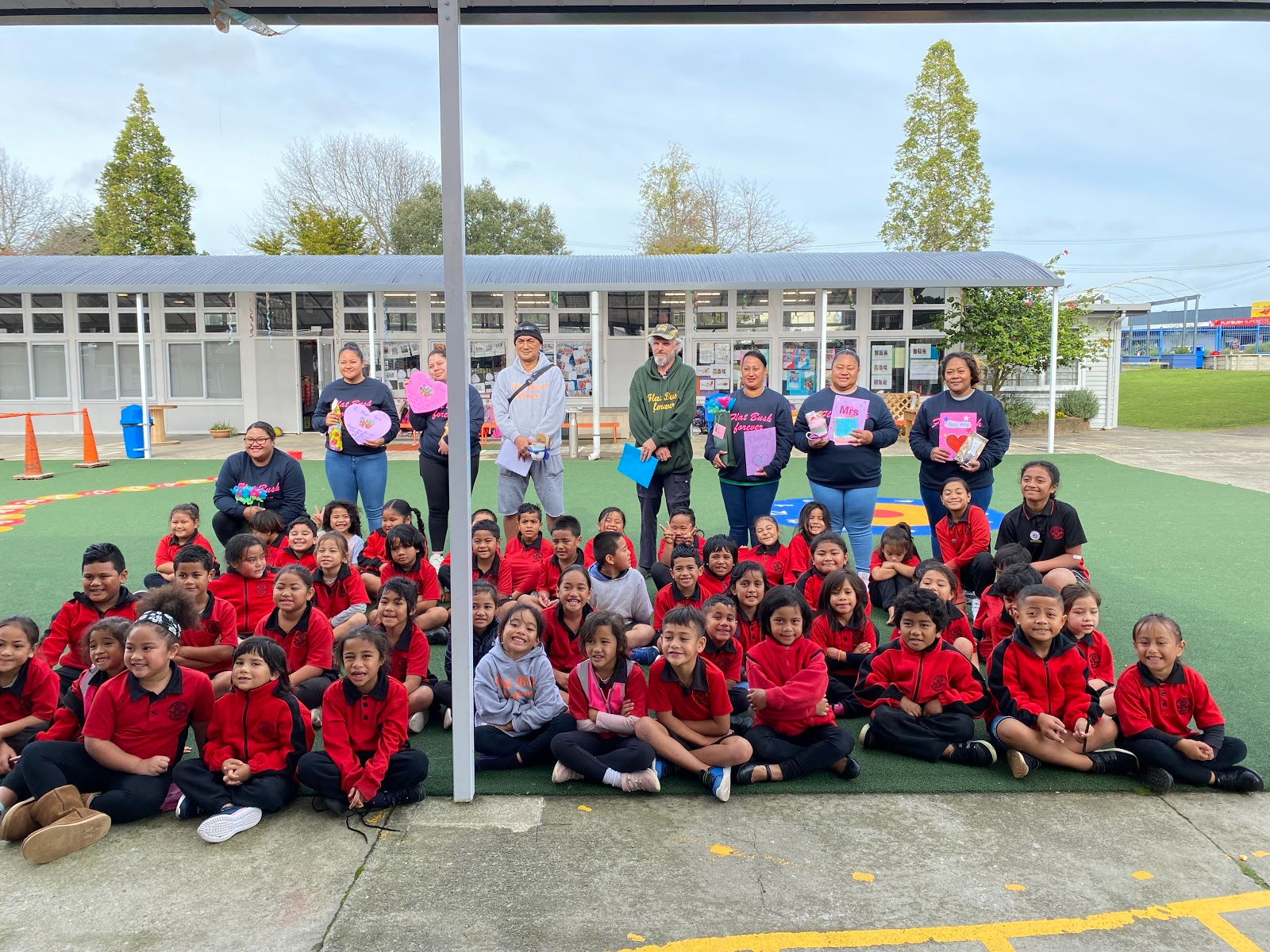 We are called the Puzzle Pieces and we love to do puzzles!
Why should we do puzzles?
A puzzle teaches children about the concept of whole and that each piece is part of the bigger picture. They also help develop skills like shape recognition, concentration, persistence and problem solving. When we are putting a puzzle together, we are using our fine motor skills and developing our hand eye coordination. AND puzzles are great to encourage team work - look how well our children support each other to achieve their goal! But really, the best thing about a puzzle is that sense of achievement we get when we are finished! Nice job Puzzlers!!
All about eggs!
This week the Puzzle Pieces were learning about eggs. We read books about chickens and particularly enjoyed The Little Red Hen. We cracked open an egg and talked about it's different parts - the yolk and the albumin (the clear part). Then we mixed the two together. It was interesting to see the egg change colour and become thicker. This was a great example of how a solid becomes liquid!
June 1, 2021 - Week 5
This week the Puzzle Pieces are learning all about bread! We had a tasting today which was good fun! We tried: a bagel, flat bread, wholemeal sliced bread, stick bread, a bread roll and a slice of fruit bread. We were being risk takers because some of us thought we wouldn't like the fruit bread. Everyone gave it a try and yes for some if was "yuck". The most popular bread was the flat bread. Everyone really enjoyed it!!
We also talked about the shapes of the different types of bread. We decided that a bread roll, a bagel and flat bread were round, while the stick bread was a rectangle. We made triangles when we cut the bread into two pieces - before that the slices were squares. We also talked about halves and quarters. This was a fantastic chance for us to think about shapes and fractions. Super job Puzzlers!
Bread, bread, bread!
This week not only did we taste bread, we also made a loaf of bread and also made jam sandwiches! The jam sandwiches were very popular. Most of the Puzzlers enjoyed the freshly baked bread too! It was exciting watching the bread rise after we all took a turn to knead it well beforehand. Nice work team!
Week 4 - Term 2
This week we took part in the school Cross Country! We all had so much fun and did our very best!
Here's some other wonderful examples of our learning this week in Room 1 - The Puzzle Pieces! Enjoy and have a great weekend!
Week 3, Term 2
This week the Puzzle Pieces have been busy working and learning together. We have been focusing on the value Mahi Ngatahi - we work together as a team. Look at how well we have done this!
Here we are learning some new words! In Room 1, we read words, build words with letters, then write the words on our whiteboard table! We reinforce this learning by writing the words outside with chalk, building them with blocks and painting them! We feel very proud when we learn to read these words in the books and poems we read!
Week 2 - Term 2
Maths in Action - Room 1 - The Puzzle Pieces!
Kia Ora Koutou and welcome to Term 1 2021!!
Week 5 - Term One
Kia Ora Whanau! Hope this finds you all well and healthy inside your bubbles? No doubt you are aware that we are back in Level 3 and will be so for the rest of this week! Please stay safe, stay home where possible and enjoy spending quality time together! We've got this - we have been here before and we can do it again! Please do not hesitate to contact me if I can assist in any way, answer any questions or if you need any support! lisab@flatbush.school.nz..
Please visit our webpages each day to check in for some fun and easy learning activities that you can do at home with your whanau. Also keep an eye out for daily texts from your child's teacher with addional ideas!
Good Morning everyone! What a beautiful morning it is today! Fun day Friday! Today would be the perfect day to spend some time outside. Go for a walk, play outside with your brothers and sisters, help Mum and Dad weed the garden or hang out the washing - get some fresh air.
While you are outside, gather up some bits and pieces - some leaves of different sizes and types, twigs, small pebbles, seed pods, monkey tails, acorns and some flowers - check with Mum and Dad first whanau, just in case they are special ones. What can you make with these things? At my house, we made some animals and some people! Have fun!!
Let's fill a bucket today!!
Are you a bucket filler?? Have a listen to this story and then think about all the ways we can fill each others buckets? How's your own bucket today? Ask someone to help you write down all the ways you could fill someones bucket today. Don't forget to share it with your teacher!! Let's all be Bucket Fillers!

Happy Thursday Whanau! It's a bit cloudy outside today but no rain so far. If you get a chance today, get outside and take a walk with your family. Notice how green and fresh everything looks. Notice also how quiet it is at the moment. What other things do you see outside today? Do you see anything outside that starts with c or o??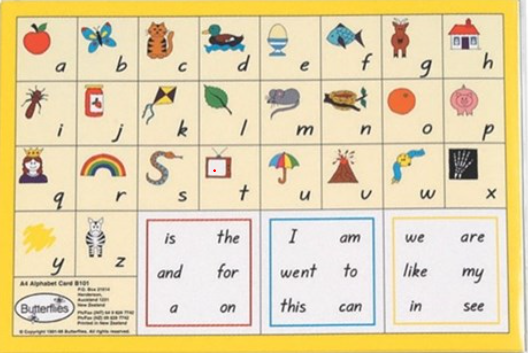 Today would be a great day to practise the alphabet. Read through the alphabet with someone in your whanau. Can you point to each letter as you read it? Can you find the letter o and the letter c? Can you find the letter your name starts with? Do you know the sound that each letter makes? Go through the alphabet again and this time say the sound of each letter together.
Time for an alphabet matching game! Using the paper from your learning pack, (or find some scrap paper or an old cardboard box), cut a piece up into 26 pieces - ask someone to help if you get stuck! Write a letter on each piece of paper then put them in order on your kitchen table or on the floor. Now start hunting. Can you find one thing for each letter of the alphabet? Say it's name out loud - can you hear the letter sound?
Wednesday Changeable Day! Waking up this morning to more rain! Kia Ora Whanau!! Today may be an inside day? Here's an idea of an activity you can do with the playing cards you got in your learning pack. Maybe also ask an older brother or sister to teach you some new card games? Or try and build some card houses - these take patience and perseverance! Have fun!
Here's a poem all about the letter o. Can you read it with someone in your whanau? Write down how may capital letter O's there are and how many lower case o's there are in the poem. Practise writing both the capital and lower case letter Oo in your workbook or on some spare paper. Remember to say " a hungry open mouth closed".Can you now draw an octopus? What other animal or bird do you know that starts with the letter o? Can you draw that too? Send a photo to your teacher if you can!!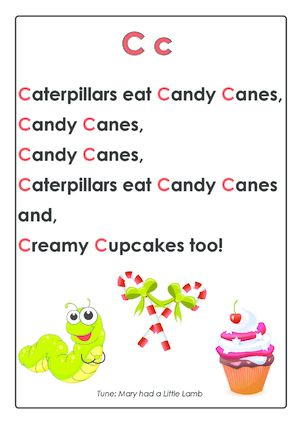 And here's a poem for the letter c. Read this poem with someone in your whanau. Can you read it in time with Mary Had a Little Lamb? Practise writing both upper case and lower case letter Cc's in your workbook or on some spare paper. Remember to say "a hungry open mouth". How many of each are there? Now can you draw a caterpillar? What other animals start with letter c? Can you draw one of those too? Don't forget to share this with your teacher!
Tuesday Rainy Day!! Good morning whanau! Welcome to a wet, rainy day! There are loads of things you can do today inside at home!
Practise the letters c & o using the pencils and paper you got in your learning packs! If it dries up outside, take some chalk and write giant letters on your driveway. Don't forget to write your name too!
Have a look around your house - how many things can you find that start with the letters c & o? Write them down (with someone's help!) and share them with your teachers! Can you add some pictures??
Here's an extra activity you can do with a pile of pegs! Let me know if you can think of other ways to learn with pegs! Have a fun day together!!
Monday Fun Day!! Here's a fun game you might like to play with your whanau. Think about who you are playing with and make it easier for those younger members of your family and maybe challenge those who are older than you - a great chance to practice Atawhai - we help others and Arohatia - we encourage others! Think also about what skills you are using when you play games like these? Are you problem solving? Are you challenging yourself? Are you being creative in your play? Do you wonder about how to make the game different or more interesting? Did you chose to set this game up to suit you? HAVE FUN!
Lets make a pin-ball type game at home. The idea is to get your ball (or something similar) into each container, to score points. Who can get the most points?
What else can you do with a pile of containers?
Wow, what a start to Week 3!! Totally unexpected, but as we have shown in the past, nothing we can not deal with!! School is closed now until Thursday this week. You will see that we have updated and added some learning activities that you may like to share with your children. Please also keep an eye on the updates shared each day on TVNZ and please do not hesitate to contact me, if I can help in any way? Stay safe and well whanau and enjoy spending time together with your beautiful children. FLATBUSH FOREVER!
lisab@flatbush.school.nz
My name is Lisa Boyd-Crofskey. I am proud to be the Syndicate Leader for Team Kakano and will be the classroom teacher in Room 1, when it opens later this term.
I have taught in South Auckland for most of my career and have enjoyed 10 years here at the fabulous Flat Bush school!
I am married to my husband Glen and have two beautiful daughters. Brennah is 23 and Ruby is 17. Family is everything and I love spending time with them.
In my spare time I play tennis, enjoy walking and after getting a bike for Christmas, am now becoming more confident on the bikes trails in my local area. I also love to read, cook and garden.
I am really looking forward to this year ahead. I am excited to meet you all and your beautiful children. Please pop in and say hello or email me on lisab@flatbush.school.nz if you have any questions. See you soon!!