Week 7 - 25 May - 29 May 2020
This week has been a celebration of all things Samoan! We are VERY lucky to have our resident expert Mrs Tito in our classroom and she supported our learning perfectly this week. We have learnt to count to sefulu (10) in Samoan - tasi, lua, tolu, fa, lima, ono, fitu, valu, iva, sefulu. We learnt the colours in Samoan also and sang a very lovely Samoan Song. We also heard the Samoan story Sina and the Eel and got to feel, smell and taste the coconut flesh and drink the coconut water.
It is so important that our children get to experience cultures and traditions that may be different to our own. People often live in communities where their neighbors look like them, practice a familiar faith and have similar cultural roots. Introducing our kids to new people, traditions and religions means actively seeking out information and learning opportunities. Also as we learn more about other cultures, we are pushing ourselves beyond our comfort zone and broadening our understanding of the world. Our children will become more tolerant and accepting of diversity, the more they learn about others.
Please enjoy our video of all our learning this week!
Samoan Language Week - Version 1
Samoan Language Week Performance - Version 2
Fun with a coconut
During the holidays, Indigo made the most beautiful "wind chamber". We loved it so much, that we asked her if she could teach us how she did it. Today, Room 1 made their own wind controller, with help with our "teacher" Indigo. Have a look at the video below of Indigo telling us how she made it.
Indigo teaches us how to make a wind chamber!
Steps for how to make a wind chamber! By Indigo
Working hard Wednesday
In Room 1 we play hard, work hard and learn as we go. Today was all about learning to write our names using the correct formations. We looked at what our names look like, practised writing them on the whiteboards and during publishing and also went outside and wrote them using large pieces of chalk. Then we got to draw pictures - it was fun! We also were learning about patterning today using two colours to make a repeating pattern. We used the rods, counters and other maths equipment to make patterns across the floor! Making and recognising patterns is an important skill to develop as it helps us to see relationships and make predictions. Patterns are everywhere and they are at the base of all maths learning. Maybe you could make some patterns at home? They can be colours, shapes, sizes - the options are endless. Have fun!
We were also listening to patterns today and then repeating them, when we went to drumming with Mr D. Mr D shares the patterns with us while we are listening carefully, then we play them back to him. Drumming is a great opportunity to practise our listening skills, to learn about the relationships between what we hear and what we do, while also being a lot of fun. A great idea is to practise this at home too. You can do clapping patterns or make simple beat patterns for your child to repeat back to you.
We are writing our names
Welcome back everyone! It was so lovely to see all the beautiful children and teachers back at school today. I am so pleased to open Room 1 today with a new class of fabulous students!
Listen to a story
Week 5 - Hello whanau! WOW week five already! Hope you all had a fabulous weekend and enjoyed celebrating Mother's Day with your Mum or special person yesterday? What were some of the fun things you did? Ruby made scones and we had them with jam and cream - yum! Then Brennah gave me a facial - it was lovely. We went for a big walk together and watched a movie. I had a great day. The best thing was that we were all together.
How have you been getting on learning at home? Have a look at the distance learning activities that have been shared for this week. Hopefully you have also been able to do some of the activities in your learning packs? I can't wait to see what you have been doing when you get back to school. Stay well everyone.
Here's a fun game you might like to play with your whanau. Think about who you are playing with and make it easier for those younger members of your family and maybe challenge those who are older than you - a great chance to practice Atawhai - we help others and Arohatia - we encourage others! Think also about what skills you are using when you play games like these? Are you problem solving? Are you challenging yourself? Are you being creative in your play? Do you wonder about how to make the game different or more interesting? Did you chose to set this game up to suit you? HAVE FUN!
Lets make a pin-ball type game at home. The idea is to get your ball (or something similar) into each container, to score points. Who can get the most points?
What else can you do with a pile of containers?
Week 4- Tena Kotou Tamariki! Welcome to week four. Hoping you all had a fantastic weekend and are staying safe inside your bubbles? Did you hear the rain last night?? It was really heavy where I was. I'm so pleased as Auckland was getting very low in their water supplies and our grass has been brown! Let's hope for more of the same! Hope you are enjoying your learning packs and learning from home! I miss you all! See you soon I hope.
Here's some maths activities for you to do! CLick on the buttons to watch and learn together.
Bingo
Let's make a bingo game, that you can play with your bubble. I used cardboard from an old box, but you can use paper, or card that you might have at home.
The winner is the first person to cover all their numbers. Remember to call out "BINGO" if that's you. This is a good game for learning numbers to 20, to practice taking turns and following the rules! Have FUN!
Week 3 - Hi everyone! Week 3, Term 2 has just come to an end. I hope you have had a busy week, learning, playing, helping, exploring and challenging yourselves in your bubbles? Did you manage to get your learning packs this week? Your teachers have put together some activities, games, art experiences and books for you, to compliment what you are learning at home. We love seeing what you have been doing at home, so please keep sharing this with your fabulous teachers and we can put it up on our pages, then all of Flat Bush can see how clever and fabulous you are.
Click and Listen to some stories:
Practice the alphabet and simple words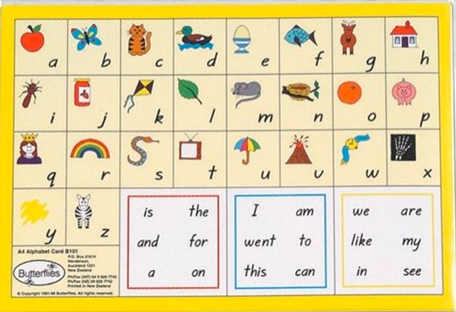 Alphbet Letters And Sounds - Alphabet letters and sounds
Have an awesome weekend everyone! Lots of love Mrs Boyd
Tena Koutou Junior Whanau,
Hello one and all! Hope while you are reading this, you are all well, healthy and happy inside your bubbles?
I am here at home inside my bubble too! My bubble is my husband Glen and our two daughters Brennah and Ruby. We are really enjoying being together and have been finding lots of ways to keep ourselves entertained. We have been doing lots of socially distanced walks, playing games both inside and out like cards, board games and table tennis, done lots of cooking and housework together and loads of gardening. It's been a quiet time, which has been really lovely. I have read lots of books and yes I will admit to have watched some television. I'm so looking forward to the new Education channels that will be starting on April 15th - have a wee look and let me know what your favourite show is. I would also love to know what you have been up to? You can email me a quick note, a letter or picture or even a photo to my email address lisab@flatbush.school.nz....
I really miss going in to school each day, seeing all your happy, smiling faces and seeing all the other fabulous teachers and staff. I also miss seeing my extended whanau, like my Mum and Dad and my nephews and neices, but have tried to stay in touch via phone calls and face time. I can't wait to get together with them after the lock down to give them huge hugs and to share food and laughter together. What is your whanau planning for the end of the lock down?
I hope you are all getting lots of opportunities to play together? Remember all the games and things you like to do with your friends at school - maybe you can play these with your family too? This would be a great time to learn some new games or you could even make up a game or activity to share with your friends and teachers when you get back to school?? Use things around you like things you find in nature (acorns, twigs, feathers), bits and pieces in the garage, balloons or balls, or ask Mum and Dad if you could use some plastic containers or recyclable things like milk bottles (give them a rinse out first) to create a cool new game. Then teach the game to your family, send me a picture or write down the rules to your game - let your imaginations run wild! I can't wait to see what you come up with?
Take care of yourselves everyone, be kind to yourself and everyone in your bubble, take some time out to relax, be calm and stay well. Sending lots of love to you all until I see you when we are back at school. I'll be so ready for my hugs and catch up's with each and everyone of you!
Mrs Boyd - Crofskey xxxxxxxxxxx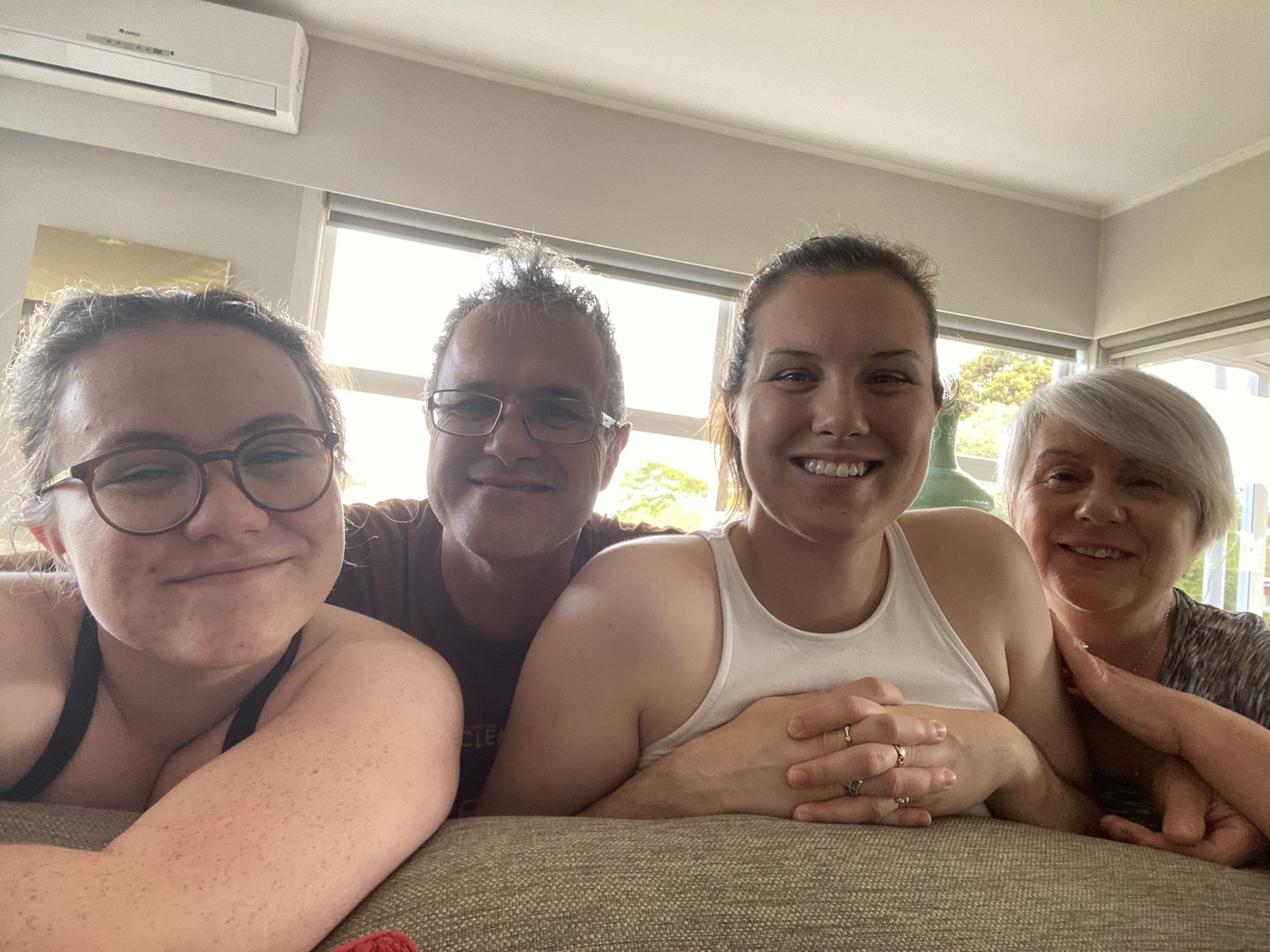 Hi again everyone,
It's Easter Sunday and today we decided to do some art using things we found around the back yard. We went out together and collected some things from nature like flowers, acorns, twigs, seed pods, monkey tails and leaves. Have a look and see what you think? Which one is your favourite? My challenge to you is to have a look around the garden at your house and see what you can create? Send me a photo of your art piece to my email if you can? I would love to see it! Remember to ask Mum and Dad before you pick any flowers - they might be special ones! Happy Easter everyone! Love from Mrs Boyd
Hey Flat Bush Whanau,
Today, we had more fun exploring with things in nature. We used the same natural items we had used for our people and added some leaves. Our plan was to make animals. How do you think we did? Which one is your favourite and can you tell what they are? I think that the chicken is my favourite and yes I did that one! My challenge to you is to have a hunt around your garden and see what you can find, then make an animal too. Take a photo if you are able and email it to me. Lots of love from all in my bubble!
Looking for something fun to do???
How to make bubble mix at home
You will need:
50ml dish washing liquid
300ml cold water
1. Place the washing up liquid into a container.
2. Carefully and slowly add the water and gently stir them together. Try not to make any bubbles at this stage.
Try and leave your bubble mix to rest overnight - this will make your bubbles last longer. You can add some food colouring to make the bubbles colourful if you like? Just add a couple of drops!
To make a home made bubble blower
Do you have any paper clips? Straighten one out, then carefully twist it to make a circle shape at one end.
Straws work too. Loop one straw around to make a circle, attach that to another straw.
Pipe cleaners are great if you have any. Twist one around itself to make the circle shape at the top.
Can you find any dried flax fronds in your garden? Carefully knot a circle at the end of a flax frond.
Have you got any plastic bottles? Ask an adult to help you chop the bottom off the bottle and remember to blow out!!
A card board inner from glad wrap or paper towels can work too.
HAVE FUN! ASK FOR HELP WITH WIRE OR CUTTING!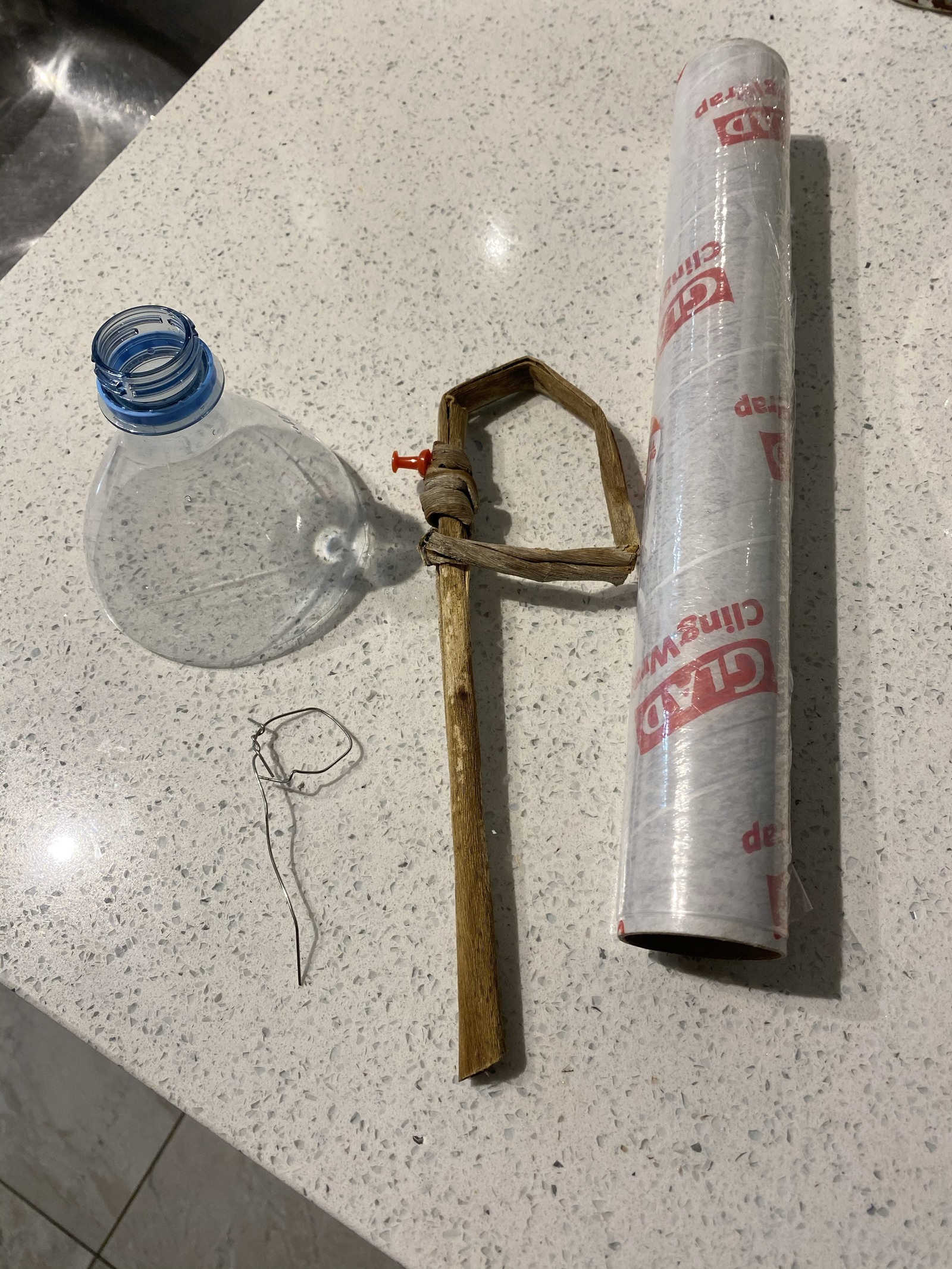 Maths Fun!
Grab your pile of clothes pegs off the line! Let's play, let's create, let's learn!
Here's Ruby and I playing SNAP with some playing cards! Guess who won this round? Yes you are right - Ruby! Better luck next time Mrs Boyd!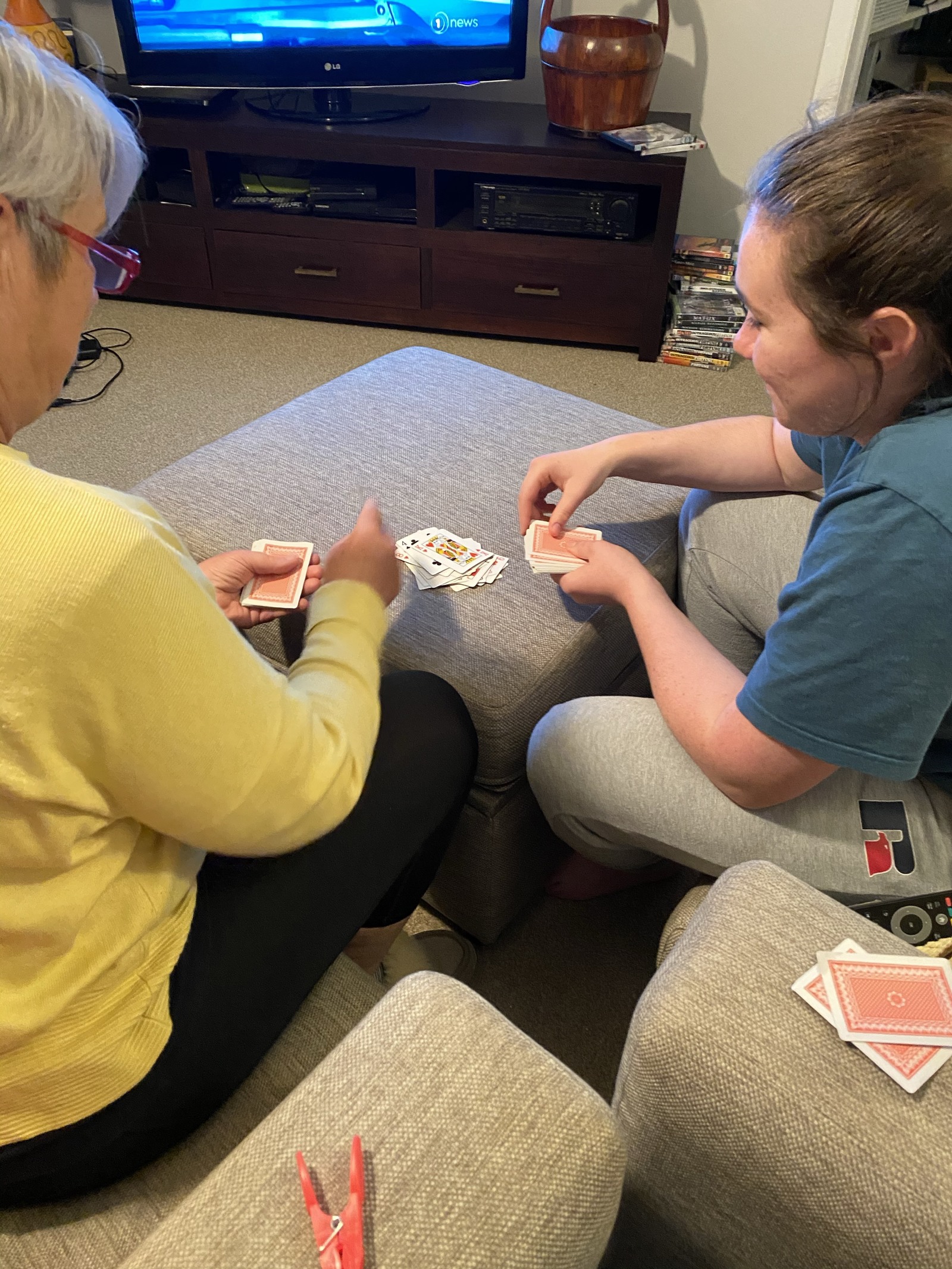 Anzac Day Art - Monday 20 April