Welcome to
Room 6's Page
2021
8.2.2021
Kia Orana and warm greetings to you all
My name is Elizabeth Heather and I am your child's classroom teacher for 2021. I am excited for the year ahead. This will be week 2 of learning, where the children will be learning new routines in the classroom.
A reminder we will be providing school lunches and stationery this year. We are so lucky and thanks is in order to our wonderful Principal Mr Avatea and our B.O.T for making this happen. School start times are 8.55 - 3.00pm. Should your child be late, they are to go to Miss Sheree to obtain a late pass.
Any questions, please come and see me
Ms Heather
Enthusiastic Ninjas
Room 6
WELCOME BACK!
Week 10, Term 4
BIRTHDAY SHOUT OUTS!
Happy Birthday to our Enthusiastic Ninjas who will have a birthday in the holidays. Wishing you all a fabulous birthday!
| | | | |
| --- | --- | --- | --- |
| | | | |
| Kristopher turned 7 on 13th December | Paul turns 7 on 18th December | Cleo turns 7 on the 26th December | Jayeton turns 7 on the 11th January 2021 |
Kia Orana! Today, Monday 14th December 2020 is our last school day for the year. I just want to take this time to thank you all for the wonderful year. All the children are absolute gems. If I could keep them all for one more year, I would. I am so proud to be their teacher and I am so proud of the progress they have made this year. Thank you for believing in me and trusting me with your precious tamariki.
Have an amazing Christmas and a prosperous New Year.
Kia Orana e Kia Manuia itea Kiritimit o te Mataiti au
Ms Elizabeth Heather
_______________________________________________________________________________________
Week 9, Term 4
TROPHY WINNERS
Congratulations are in order. I am so proud of all our learners. At our Junior Syndicate Prizegiving, Room 6 took out some big awards. They were acknowledged for their hard work and determination. The Flat Bush School Values award went to Majoris Samau. Year 2 Sports Award went to Lizahn Mareikura. Our Most Outstanding Award recipients went to Izahbelle Tupou and D'Mascuz Leaupepe. Well done to our trophy winners. I am so proud of you all. I didn't capture any pictures on the day
| | | | |
| --- | --- | --- | --- |
| | | | |
| Majoris - Year 2 FBS Values Award | Lizahn - Year 2 Sports Person of the year | D'Mascuz - Year 2 Most Outstanding | Izahbelle - Year 2 Most Outstanding |
ART with Miss Young
Miss Young has worked hard all year long with not only our class, but the whole school. She has taken all our kids for PE, Art, Maori and Music. I just want to acknowledge Miss Young for all of her hard work . It takes a lot of effort, determination, care and Aroha to take on around 500 students within a year. We are so proud of you and we thank you Miss Young.
Look at our proud Artists below. They drew pictures of our Native birds. They can name their bird of choice in English and in Maori. They will be able to tell you what they did and why they chose those specific colours. Enjoy your children's art pieces at home. It has taken a long time to complete them. If you scroll down, they sang with Miss Young about their chosen birds.
Christmas Disco Dancers
Our Wonderful SUPPORT STAFF
Flat Bush School is not Flat Bush School without our support staff. They are wonderful, resourceful, knowledgeable, helpful, kind lovely teachers. Did I mention they are hard workers? They make things possible by making things happen around our school. Without them, we will not have as many amazing activities or opportunities. We appreciate our teacher assistants as they have had a hand in educating all of our tamariki from the Junior school right through to the Senior school.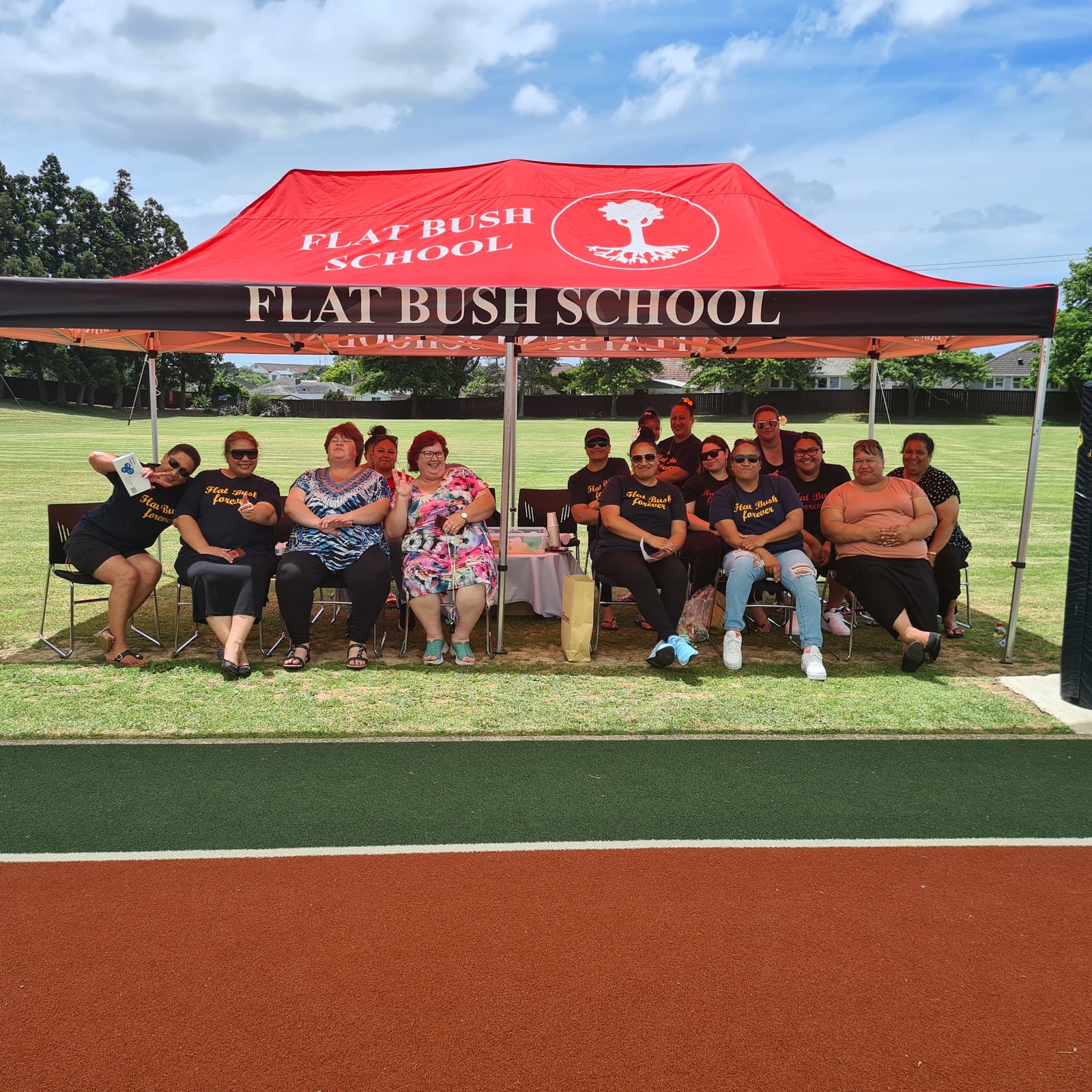 Christmas Lunch in Room 6
We had our shared lunch this week and it was awesome. It felt like Christmas day. We had pizzas, cake, bananas, cream donuts, fizzy, chips, fried chicken and lollies. A kids dream lunch. A huge thank you to our families who helped and provided some food. Our children were very thankful.
| | |
| --- | --- |
| | |
| Before | After |
_______________________________________________________________________________________
They see us ROLLING......
| | | | |
| --- | --- | --- | --- |
| | | | |
| | | | |
| | | | |
| Gliding | Feet up | Fast pace | Slow pace |
This morning our Ninjas had an opportunity to ride bikes with experts. They were taught how to put on a helmet correctly and to maneuver a bike appropriately. Our tamariki were quick on those bikes, they knew what they were doing! And boy, they were fast.
_______________________________________________________________________________________
Thank you Miss Young for our beautiful art pieces and our wonderful song! You are a very talented teacher.
Week 8,term 4 - CRT
This term Rm 6 has been working on NZ native animals. Through art they have created a stencil sketch of their chosen animal. They used chalk and pastels and had to learn the Maori name of their animal. They then created a class animal song. Here is the video link below:
Math with Special Guests
We had a couple of guests from Tangaroa College come and check out how we solve Math problems in Room 6. Our visitors and our enthusiastic learners had a great time sharing their thinking.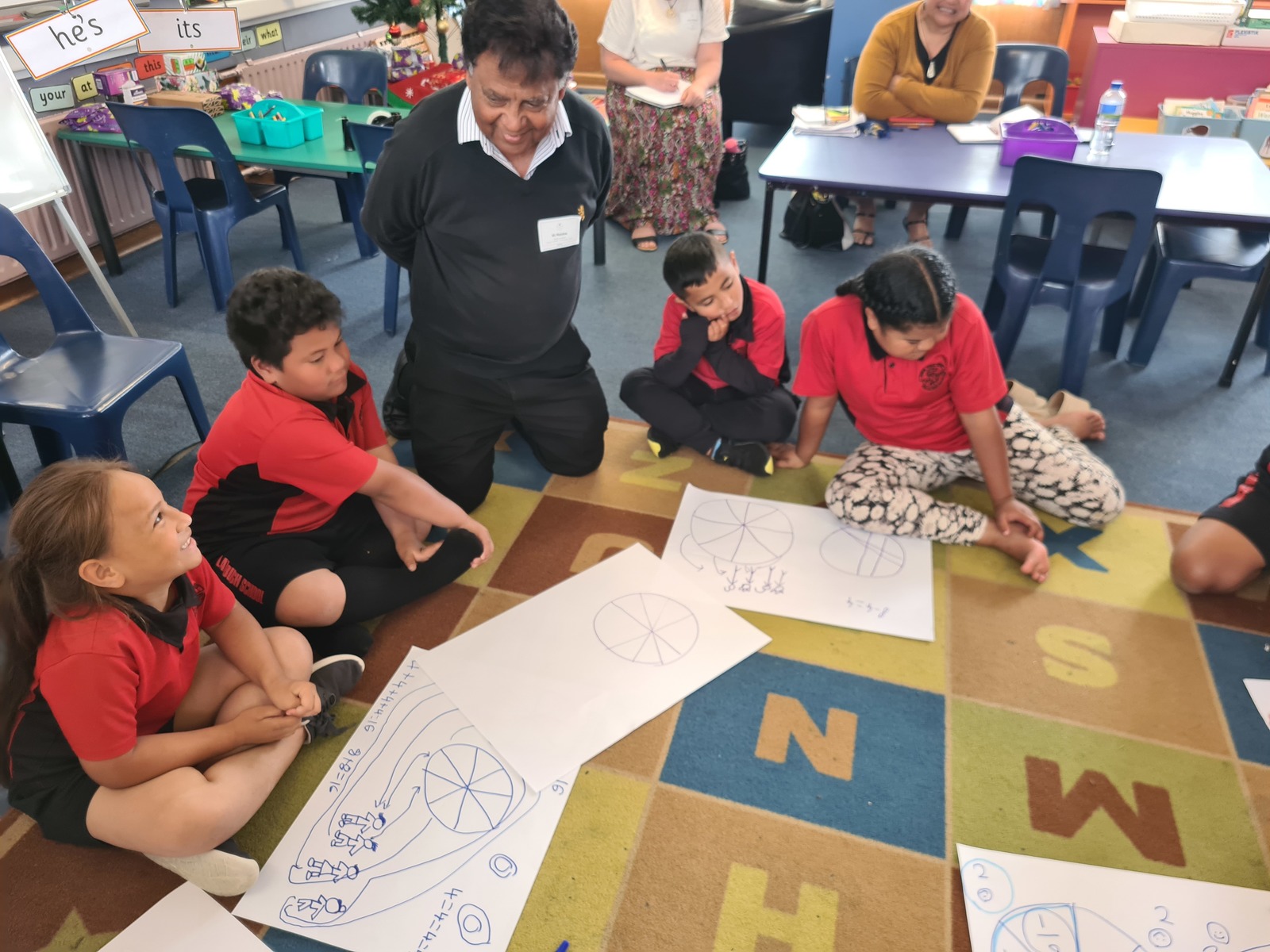 Celebrate good times!
Our Enthusiastic Ninjas have been talking about celebrations. We thought of how we could end our topic and decided to make tie dyes. I think our work should speak for itself. You may want to ask our learners what they did.
Joseph Parker
We had a special guest on Friday, our very own Duffy Hero Joseph Parker. Our children were so excited to see him and meet him. Our teachers were happy to see Joseph, but were over the moon to see his mother Sala. Sala was our FBS Social Worker a few years ago. Our tamariki were well behaved, they sang beautifully and listened carefully.
Present Wrapping in Room 6
Play - This week, I let the children wrap presents and tie bows as part of play. This ties in nicely with our topic study celebrations. As of late we have learnt about Haircutting in the Cook Islands, Ear Piercing in Niue, Pae in Tonga and White Sunday in Samoa.
I gave the class no instructions on how to wrap a present. I did see them problem solve, measure the object they were wrapping, ask a friend for support, watch how their peers wrapped a present and then I saw them give it a go. Look at how happy they are.
Our Enthusiastic Readers
On Friday, I captured a beautiful moment, where the kids opened up our FBS School newsletter and proceeded to read. I thought they looked so cute!
GOLD CARD WINNER!
Our very own Ben received an award and a prize for completing his gold card chart. Nice work Ben!
We made Bread
During week 3, we had a wonderful opportunity to bake Bread. It fit in nicely with our Shared Book of the week. We had learnt many reading skills from reading the book 'Bread'. So, we decided to make some bread. We measured ingredients, we kneaded the dough, we shaped the dough and we were able to speak about our experiences. Thank you to the lovely Mrs Mayerhofler who came in and baked bread with our class. We enjoyed learning how to bake bread with you and eating it. Yum!
| | | | |
| --- | --- | --- | --- |
| | | | |
| Friends | Dough - rising | Bread Maker | Flour |
| | | | |
| Say cheese! | Smile! | Temprezt measuring | Sumaring measuring |
| | | | |
| Perose measuring | Kristopher measuring | D'Mascuz measuring | Lizahn measuring |
| | | | |
| Ingredients | Majoris measuring | Aprons! | Ready to bake |
| | | | |
| Ready to bake | Baked bread | Baking | Baking |
| | | | |
| Tasty | Pose with your bread | Very happy eaters | |
Pasifika Maths
Maths looks a little different in Room 6. It involves lots of thinking, discussions with peers and problem solving. Lately, we have been working on understanding the task at hand and trying to solve it. As you can see in our pictures, all of our kids are actively involved or they are looking to see how others have solved it. Ask your child what they have been doing in Maths?
Term 4, Week 1
Monday 12 October - Friday 16 October
Kia Orana family and friends
Welcome back! We are in our final term. This term we are learning about Celebrations. What have you celebrated this year? Our tamariki are to think about special events that have been acknowledged this year. We did do a quick brainstorm and our learners mentioned they had celebrated: birthday parties, Christmases, funerals, Language weeks and Matariki. Great thinking right!
On another note, next week Friday 23rd October we have a Motat Trip. A majority of our learners have handed in their permission slips and have paid $2.00. As for parent support, I can only take two parent helpers on the trip. One parent has approached me, so now I only have one spot left. Please let me know your interest yourself. If you let your child know that you are interested, I will not take it seriously. Come in and see me.
Thank you for your support.
Ms Elizabeth Heather
DROP, COVER, HOLD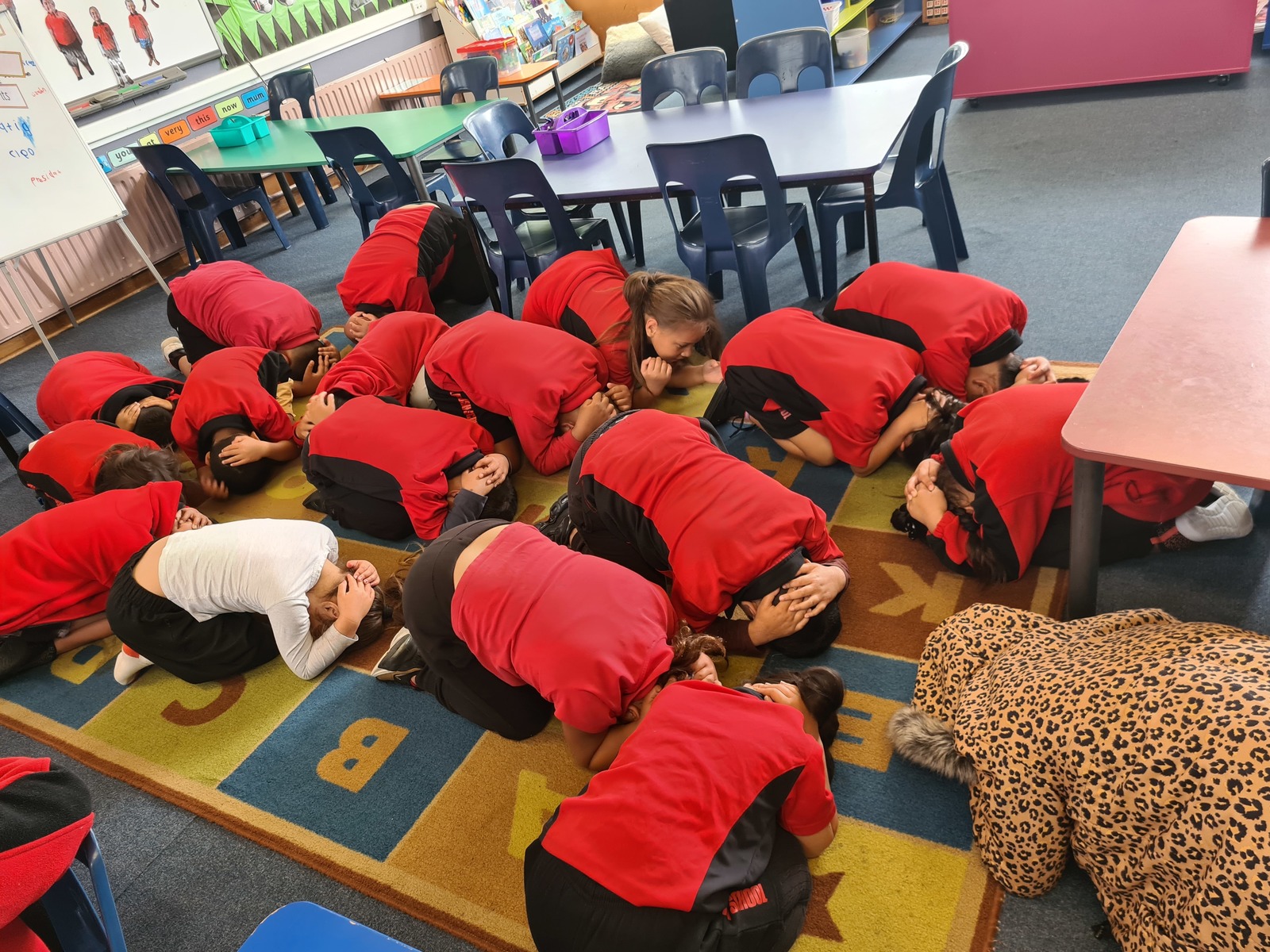 Our tamariki were practising how to Drop, Cover and Hold. They have learnt how to keep safe when in an Earthquake. Our learners did so well during their practise time.
_______________________________________________________________________________________
TERM 3 HOLIDAYS
Our Superhero Writers Winners!
Congratulations are in order. Izahbelle won First place equal with two others (from another class) and Majoris was Runners Up! What a tremendous effort. Listen to their Superhero stories below.
Well done to all our writers in our class who tried their very best to write their our Superhero Story.
GOLD CARD WINNERS!
Paul, Presidan & Cleo have completed their Gold Card Charts and have received an award and prize from Mr Avatea. Well done!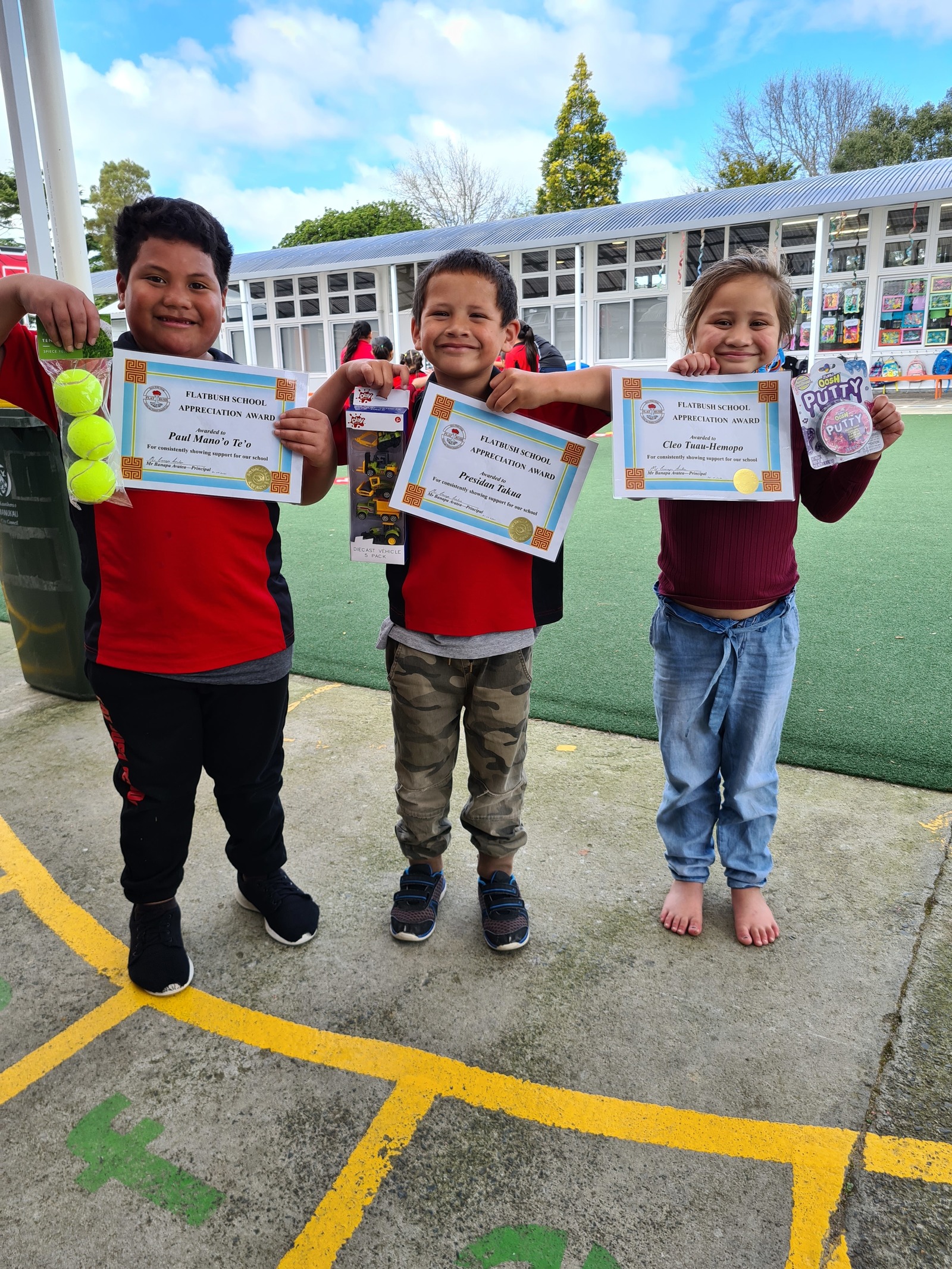 Meet Mativa and Temprezt
We have two new learners in our class. They are both perfect and fit nicely into our classroom.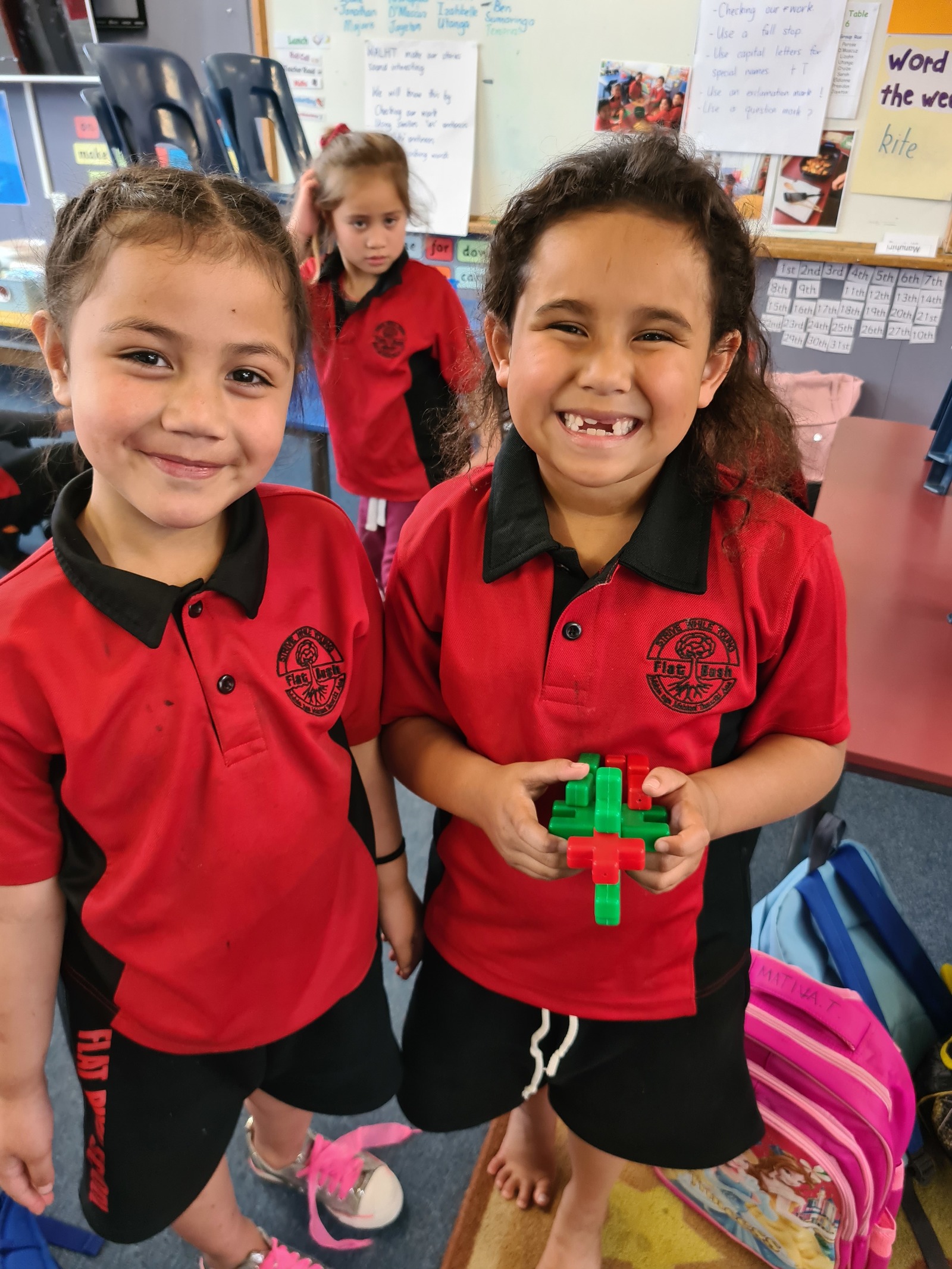 ________________________________________________________
Monday 21 September - Friday 25 September
SUPERHERO STORIES
This is the last week of Term 3! OMG! What a term we have had. I am so proud of all of our children's progress over the last few weeks. This week, I will be checking and testing: alphabet letters, word lists, reading and maths scores. In between all the testing, our tamariki will still be completing their normal literacy and math programmes. Unfortunately, we still have a lot of work to complete.
A heads up: We will be celebrating Mr Williams this week, as it is his last week. He will be a Principal at Avondale School beginning this week Friday. They are so lucky, they will have gained a great leader.
Enjoy the week ahead.
Ms Elizabeth Heather
Buddy Readers in Action
Our wonderful Principal Mr Avatea snapped some pictures of our children reading with their Room 19 Buddy Readers! This is a Tuakana, Teina initiative where our little people get a chance to read with our wonderful Senior kids. Every child in Room 6 has a buddy. Thanks Mr Avatea for the snaps.
Principal's AWARD
Our very own Sumaringa has completed her Gold Card chart and has earned herself a Principal's Award. Well done Sumaringa!

Check out Cleo's Super Reading
_____________________________________________________________________________________
Rahina te tekau ma wha o Mahuru - Ramere te takau ma waru o Mahuru
Monday 14 September - Friday 18 September
We are celebrating Maori Language week this week. Our beautiful tamariki were able to experience some Maori activities in the hall on Wednesday. Thank you Miss Young and your wonderful team for giving our children such a wonderful experience. Check out the Tino pai photos below.
Top left: Ben, Cleo, Cruize, Eldianne, Izahbell
Bottom left: Sumaringa, Utanga, Presidan, Paul
Our Tamariki made Maori pendants with Ms Russell. Look at how excited they are!
It was raining on Friday during lunch time, so our tamariki began to build. Check out their proud pieces.
______________________________________________________________________________________
Monday 6th September - Friday 11th September
Tongan Language week
Our children spent time with Ms Russell and Mrs Togiatu creating patterns on stones and Tapa Cloth during their lunch hour. Our class loved it. Thank you Ms Russell and Mrs Togiatu.
Happy Father's Day!
| | |
| --- | --- |
| | |
| | |
| | |
| | |
| | |
| | Wishing all our Fathers a wonderful day today. |
_______________________________________________________________________________________
Monday 31 August - Friday 4th September
Kia Orana
School starts back this week! Yes! I cannot wait to see our tamariki returning on Monday. But I can understand there maybe some uncertainty around whether or not your child will be attending school. Please have a conversation with your child about the choice you will be making as a family. You can let me know if you are needing some help. I always believe every decision you make as a parent is always the right decision.
See you on Monday (fingers crossed). Please take care and I am only a phone call or a text away.
Ms Elizabeth Heather
________________________________________________________
Monday 24 August - Friday 28 August
Kia Orana
No doubt you all are doing well. Parents, I will be calling and texting this week. Here are some activities for you to do with your child. Please go over it with your child first before completing it. Try to complete one language activity and one maths per day. If they can do it, then awesome. If they are unable to complete the activities, praise them for trying and stop.
Take care of yourselves and hopefully I will see our amazing tamariki on Thursday.
Ms Elizabeth Heather
P.S Scroll down
CRT - Kia Ora Rm 6. Let the games begin 25/8/20
I hope you are all doing well during this lock down. Unfortunately we will not get the chance to catch up today for CRT so instead Mr Moiho and myself have decided to put forward a challenge for your class. Your class will be challenging Rm 5 in a side to side jump challenge. When we are back at school we will get together and see who can do the most side to side jumps in 1 minute. If you think you can master this, then you may just win the challenge for your class. If you can make a video and send it to your teacher even better: Check the video below for details.
Week 6 - Distance Learning activities
Language and Topic Study
Last week we looked at contractions, making words and word families. Well done if you completed them and good try to those who did their best.
Alphabet letters
Say the alphabet letters first, then add the missing letter. Goodluck!
Alphabet match - say the letters and sounds
Sight words
Read the sentences first and put in the correct words. Don't forget to use a capital letter and full stop.
Well done! How did you go? Was it easy? Was it hard? Could you spell the missing words by yourself?
Push and Pull
Before we went into Lockdown we learnt about things we push and pull in our everyday lives. We looked at preparing our food and cooking to help us.
Is it a push or a pull? Can you remember?
Push - away from you. Pull - towards you
Compound sentence. Use and, because, but, or
Read the sentences first. Then add the correct word and a full stop.
Writing
Superhero Writing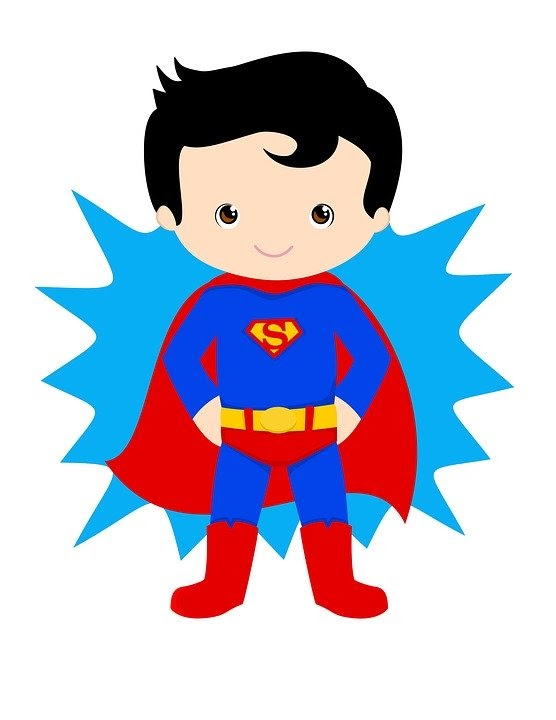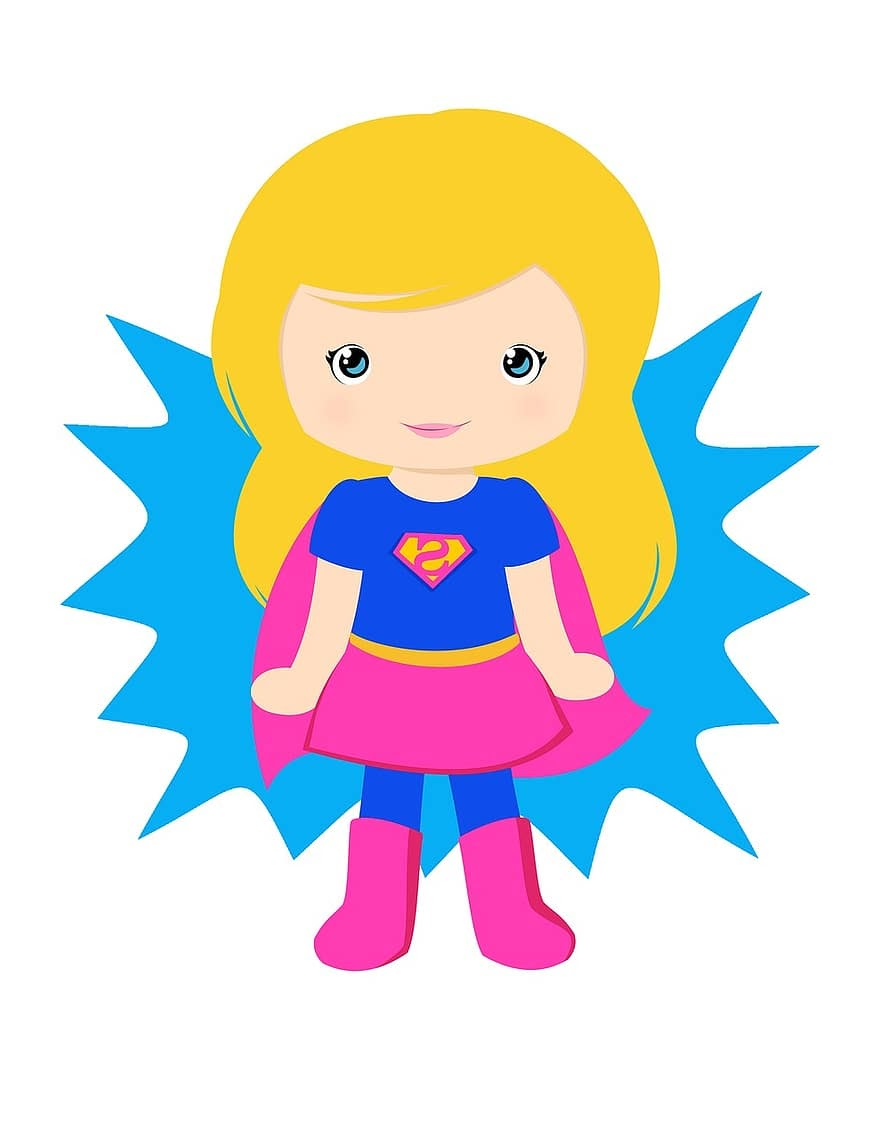 Do you remember when I told you about the writing competition that Mrs Mayerhofler created? Well, here is a chance for you to practise how to write about a Superhero. Mrs Mayerhofler has also found some Superhero books for you to look through and read before you can write your own.
Superhero Brainstorm
Think first before you draw a picture or write. Who are your characters? What happens in the beginning of your story? What happens next? What was the problem? Then? How did it get solved? Lastly what happens at the end.
Begin writing your Superhero story. Once you have finished writing your story, don't forget to give it a title. I can't wait to read them. Have fun!
Here are some Super Hero books
Maths
How many? Counting in twos, fives and tens around the home. I have done my own chart. See if you can do your own. Think about what you want to count, check, draw and count. Goodluck!
Counting on from the biggest number. Add on from the biggest number
You will need a blank piece of paper and a pen
Counting back.
You will need a blank piece of paper and a pen
_______________________________________________________________________________________
Monday 17 August - Friday 21 Friday
Kia Orana Families
Here is some work you may want to complete with your child. This takes up to three days to complete. I do not expect you to do it all in one day or over the three days. I thought I would share some of the work we have completed over the past two terms. You will have to talk your child through it. When I give children any work, I go over it with them first. These activities below have been completed in class. If they can't remember doing it, don't worry, they do that to me all the time Have fun with your child. If it get's too much for you and your child, just stop.
Ms Liz Heather
p.s Scroll down
Language Study
You will need a pen and paper and your parent or an older sibling to help you. As you write out words, please try to say them first.
1. Contractions - Making words smaller
Write the correct contraction for the underlined words
We are not at school today. _________
You are very kind. _________
We will read a book today. _________
I am reading to my sister. _________
It is windy today. _________
I will see you tomorrow. _________
2. What words can you see?
Write down as many words as you can using the letters above. The first one is done for you.
3. Word Families
Say the word before you write them down. Say it slowly. Have fun.
4. Extra activities:
*Write as many words as you can in ten minutes. Ask your parent or older sibling to time you.
*Rewrite stories of Sina and the Eel, In the beginning, Tane and the three baskets of knowledge and Ina and Tinirau.
Maths
We are revisiting the addition facts up to 20 and doubles. Complete the following exercises and practise them. Remember not all children are at the same learning stage. So try to listen to your child and help them. If you have counters, bottle tops or pegs, please use them if they need them. Again, if your child is unable to do it, or this will cause stress, then stop. Try to have fun.
1. Addition work
Doubles - Extra work
| | |
| --- | --- |
| 1 + 1 = | 11 + 11 = |
| 2 + 2 = | 12 + 12 = |
| 3 + 3 = | 13 + 13 = |
| 4 + 4 = | 14 + 14 = |
| 5 + 5 = | 15 + 15 = |
| 6 + 6 = | 16 + 16 = |
| 7 + 7 = | 17 + 17 = |
| 8 + 8 = | 18 + 18 = |
| 9 + 9 = | 19 + 19 = |
| 10 + 10 = | 20 + 20 = |
Kia Orana Enthusiastic Learners and families.
Thank you to our families who came out to Flat Bush School yesterday to grab their child a learning pack. A total of 9 families out of 20 came out to grab a learning pack and a food bag. If you were unable to make it, don't worry as there are some Distance Learning ideas on the home page.
For the remainder of this week and next week, I will put up some learning activities for our learners to complete if you wish.
On a personal note, my Father turned 71 on the 17th August. All he wanted to do was have some food with his family, listen to island music and talk about his upbringing in Rarotonga.
From my family to yours please take care.
Kia Manuia
Ms Elizabeth Heather
Happy Birthday to
Jonathan & Sarah
Jonathan and Sarah turned 7 years old. These two vibrant learners are amazing thoughtful people in our classroom. I hope you both had an awesome day with your loved ones.
_______________________________________________________________________________________
Monday 10 August - Friday 14 August
Kia Orana Room 6 Learners and families.
You would have received a text message from Mr Avatea stating Flat Bush School is closed till the end of the week. It is a shock, but I believe we are a lot stronger than we think. Until we know any more information, please keep yourselves and your families well and safe at home. If you would like to get a hold of me, my email address is elizabethh@flatbush.school.nz.
Please ensure your phone numbers are updated in order for you to receive direct messages from the school.
Thinking of you all
Ms Elizabeth Heather.
_______________________________________________________________________________________
Monday 3 August - Friday 7 August
Kia Orana
Te epetoma o te reo Maori Kuki Airani. This week is Cook Island Language week and we are so excited! Our tamariki will be learning some Cook Island phrases, songs and stories. We look forward to posting some pictures of our learning this week.
Ka kite, e te Kia Manuia
Ms Elizabeth Heather
Imene Tapati - Click on the link
Cook Island Donut
Our classroom were treated to some Cook Island donuts. They saw how ingredients can turn into a mixture to make donuts. We talked about pushing down onto the mixture to form a donut shape. We also found out we use energy, heat to make our food. The children enjoyed eating their donuts, which consisted of using lots of force by pushing and pulling.
CRT - FMS
Rm 6 has been working on their fundamental movement skills. They have learnt some new games, spatial awareness and change of direction during FMS. Here are a few pics: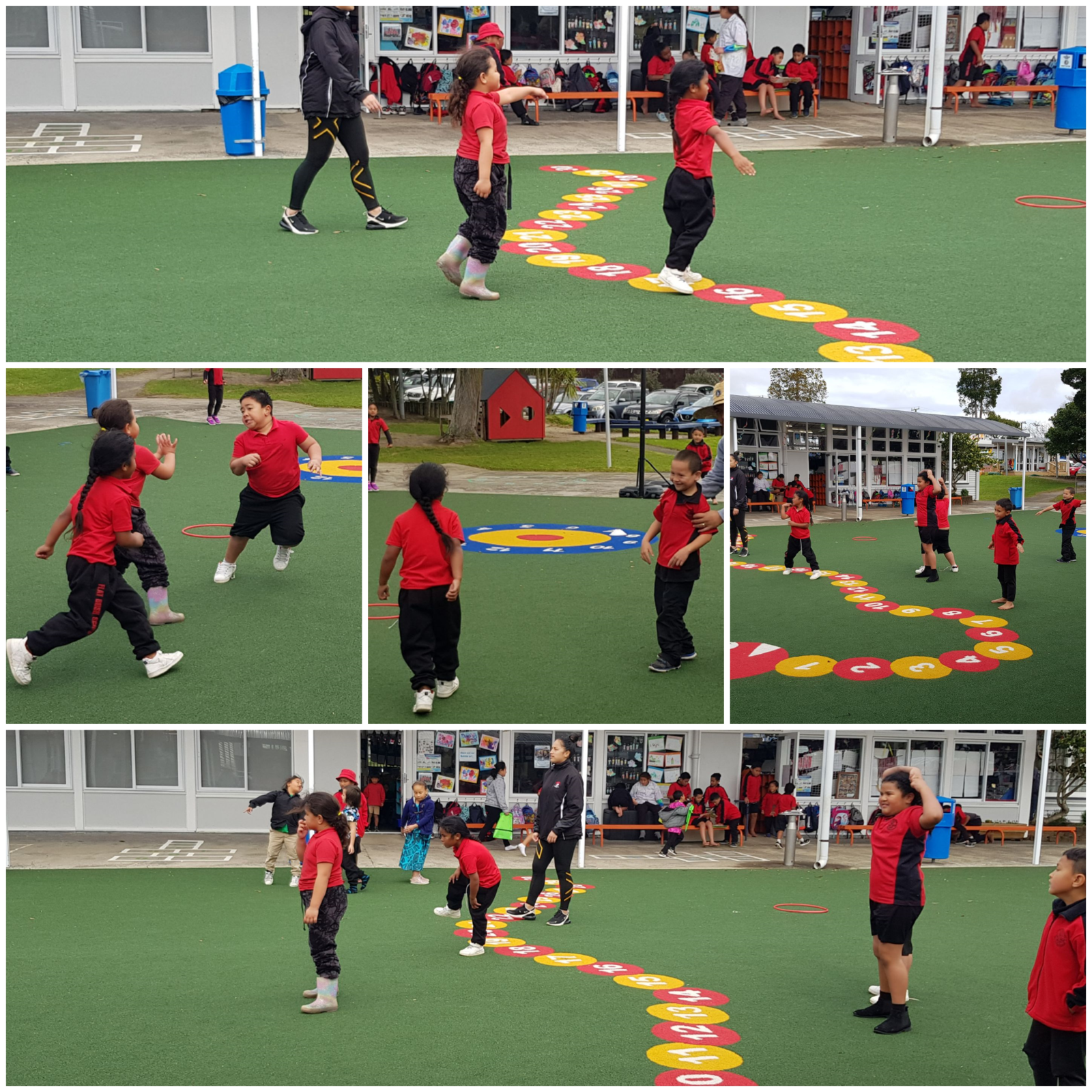 ______________________________________________________________________________________
Term 2, Week 11
Monday 22 June - Friday 26 June
Kia Orana e katoatoa
Thank you Miss Young for helping our Room 6 learners create these Matariki Stars. They look fantastic.
CRT Room 6 - Myths and legends
In the beginning retold by Room 6.
Walt: Make a video, retell a story, Use art work to create different pictures to match the words of the story, Use a loud clear voice, Change voices to be like the character.
Matariki. We have also learnt about Matariki. We have made some Matariki stars for Rangi the sky fathers cloak.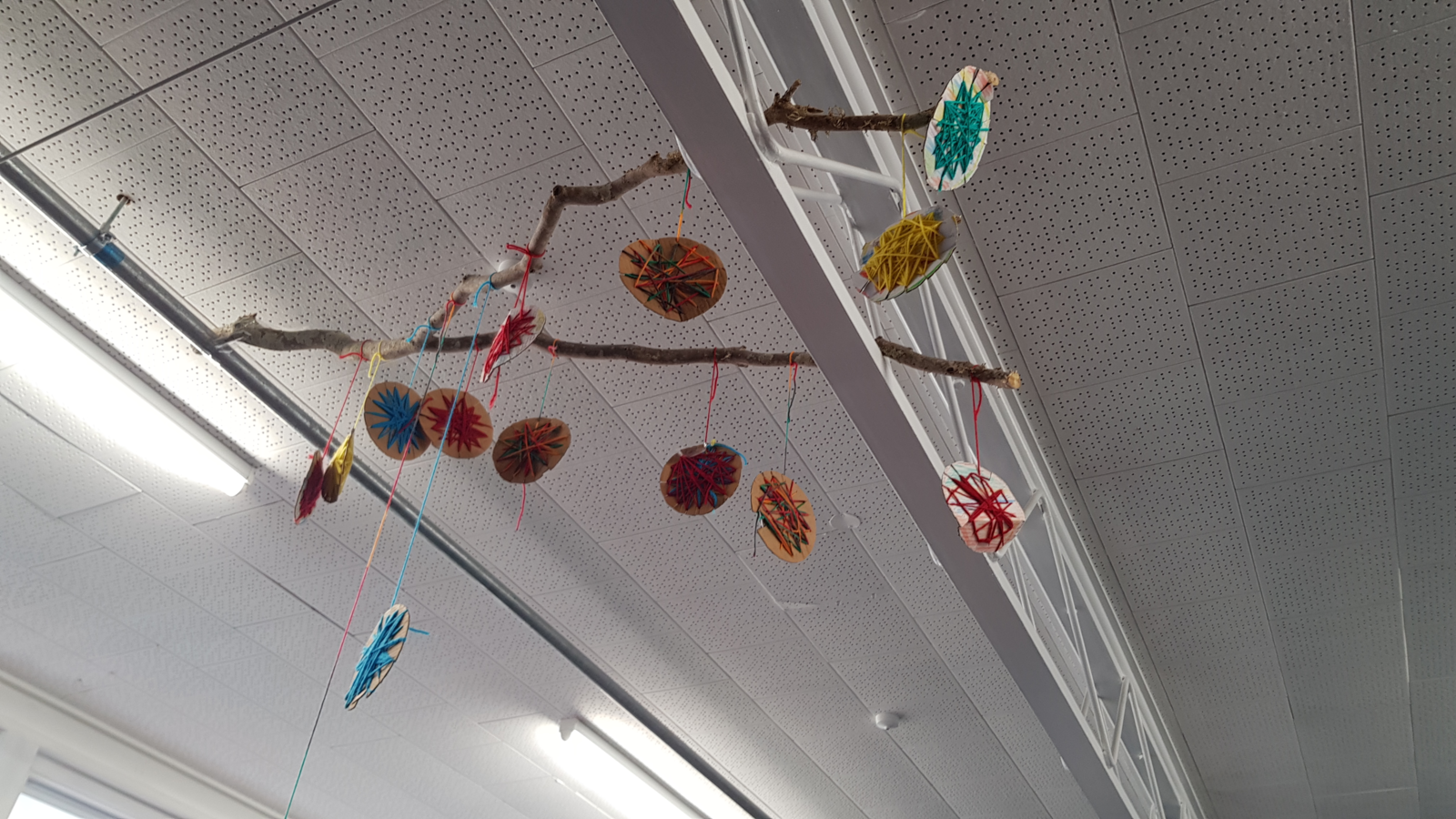 Term 2, Week 10
Monday 15 June - Friday 20 June
Kia Orana e katoatoa
This week and last, we have been learning about Kaitiakitanga - Guardianship. We have learnt about the old Maori Gods and their purpose. The children may have come home and mentioned Rangi and Papa and their children. I have made it very clear that these are old stories.
We will be linking what we have learnt to our own learning and we will be thinking about what we can control or take care of as learners. Keep checking in for updates.
Ms Elizabeth Heather
_______________________________________________________________________________________
Term 2, Week 9
Monday 8 June - Friday 12 June
Kia Orana
Over the past two weeks we have been learning about 'Sequencing our stories'. We found out that if our story is not in the correct order, the story changes. Check out our pictures below of us talking and agreeing with each other of what picture comes first, next, then and last.
Drumming
Each Thursday we have Drumming with Mr D. The children learn to listen to instructions (carefully), count beats and keep in time, memorise a beat and focus, participate and move expressively when drumming. We love drumming!
____________________________
Term 2, Week 8
Tuesday 2 June - Friday 5 June
_______________________________________________________________________________________
Term 2, Week 7
Monday 25 May - Friday 29 May
Talofa Lava
It is Samoan Language week and in class we have done a couple of things to honour our Samoan community. We have written stories about Sina and the Eel, we drew pictures about our story and we made Sapasui (chop suey).
Sina and the Eel
Before we wrote our stories, we spoke about the story in parts. We had to brainstorm our thinking before we could write.
| | |
| --- | --- |
| In the beginning.... | |
| Next... | |
| Then.... | |
| At the end.... | |
Here is a picture of one of the many brainstorms.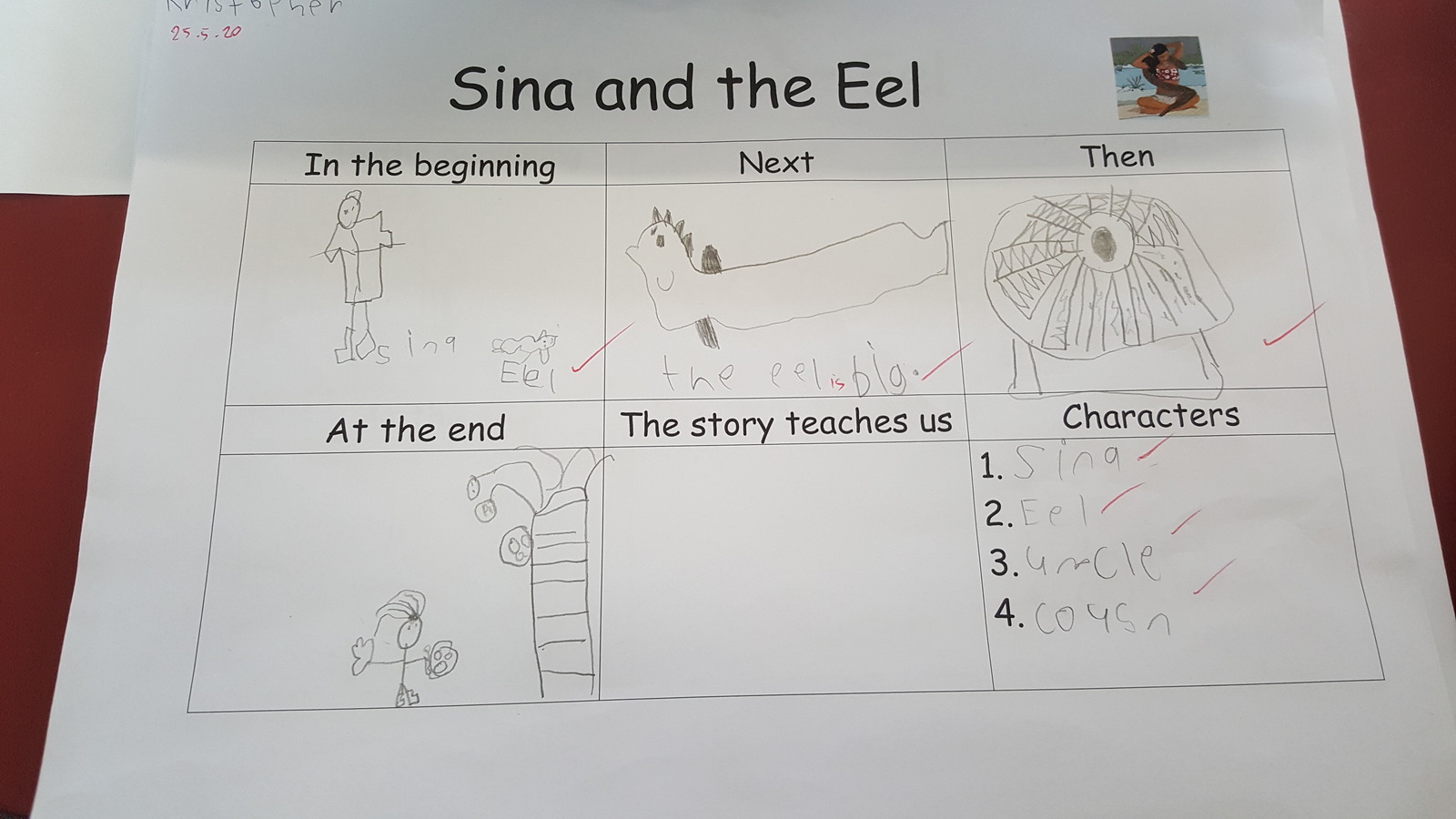 We were then confident to rewrite stories of Sina and the Eel by ourselves. Click on the buttoned links to listen to our stories. Enjoy.
Sapasui with Room 6
I didn't take a photo, but the children designed their own place mats to eat on. They drew pictures of the ingredients needed to make a Sapasui. You can see their place mats in the pictures.
We need....
What we did
1. We fried the garlic and onion in the big pot.
2. We added the meat and salt to flavour
3. We then add the moist vermicelli to the pot
4. We added the mixed veges
5. Keep stirring
6. We added soya sauce
BIRTHDAY SHOUT OUT!
Sumaringa turned 7 on Sunday 24th May. Happy Birthday Sumaringa. We hope you had a wonderful day.
_______________________________________________________________________________________
Term 2, Week 6
Monday 18 May - Friday 22 May
20 May
Kia Orana
Today we talked about how we are missing our friends and decided to write letters to them. We spoke about adding questions to our letters and telling them how we feel.
There are more messages to come. We are still working through the rest of the letters to our friends and I am hopeful we will be able to post the rest tomorrow. (A typical letter writing lesson takes two - three days).
Here are some finished messages to our friends below. They read out their letter and showed how brave they were. I am so proud of what they have done.
Ms Elizabeth Heather
p.s: Please excuse the background noise. We made these videos over two days, during lunch eating break and just before the end of a learning block.
A special message to our friends
Click on the buttoned links
Keeping ourselves safe at School
Yesterday we spoke about keeping ourselves safe at school. We came up with a few ideas. Here are some pictures below.
18 May
Kia Orana - Welcome Back!
It was great to see some tamariki back at school today. We were able to catch up and see what we have been up to. It sounded like the children missed being at school and couldn't wait to come back. Here are some pictures of what the kids did today.
I will keep our page updated each day. I am looking forward to seeing our tamariki this week.
Remember the children are to bring a packed lunch, a water bottle and their book bags back to school.
Take care and whatever decision you make today is the best decision.
Ms Elizabeth Heather
In the morning
Are you ready for school?
______________________________________________________________________________________
Term 2, Week 5
Monday 11 May - Friday 15 May
14.5.20 Kia Orana
How are you all? Parents, you have all done a marvelous job supporting your child's learning at home. I have not seen the children since 23rd March. That was such a long time ago. Well the anticipated wait is nearly over. A reminder school will re-open on Monday 18th May at 8.55 am.
What to bring to school on Monday?
1. A packed lunch and a drink bottle.
2. Children's book bags and school reading books. All books given by the government can stay at home.
3. Something the children would like to share while they were in lockdown - a piece of work they have made, coloured in or written about, a recipe or a photo. I will be sharing photos from the website from Sarah, Jonathan, Cleo, Majoris, Sitiveni, Paul, Lizahn and Izahbelle.
I am looking forward to seeing our Enthusiasic Ninja learners on Monday.
Bye for now and take care
Ms Elizabeth Heather
BIRTHDAY SHOUT OUT!
Happy Birthday to Izahbelle who is turning 7 on Thursday 14th May. I hope you have a wonderful day.
Come and see what our Tamariki have been doing at home
Lizahn's Happy Bubble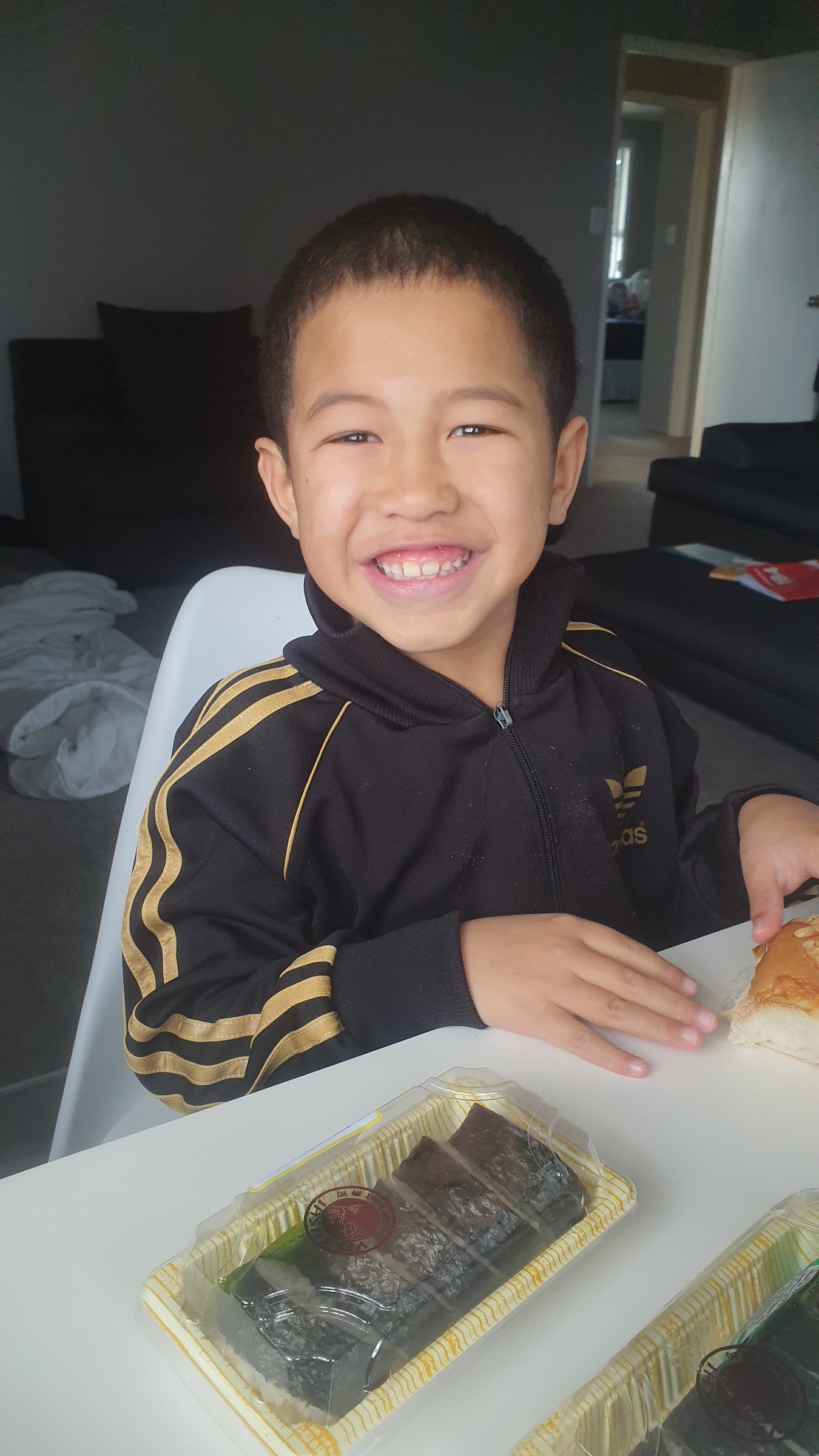 Lizahn you have a fabulous smile. Your lunch looks delicious. I can't wait to see you next week Monday - Ms Heather.
Majoris' Learning Bubble
| | |
| --- | --- |
| Majoris worked on some Math addition and subtraction problems | She worked on naming objects with colours |
| Majoris helped prepare the pancakes and put it on the plate | Majoris learnt about rugby |
| Majoris helped Dad and her brother to cook the pancakes | Majoris enjoyed some colouring too |
Majoris you are a STAR! Thank you for sharing your Maths work and your cooking skills with us. We are looking forward to talking with you about how you made those fabulous pancakes. Keep up the amazing work - Ms Heather
Sarah is determined
Sarah's Dad writes: Sarah continues to work on her learning pack and she completes online activities. We enjoy playing Fish and matching words most nights. She is excited to learn sign language. Sarah is excited and can't wait to return to school.
Thank you for sharing your learning with me this week Sarah. I really like how you have continued to work so hard throughout lockdown. You should be so proud of yourself. I know I am very proud of you. Sarah I cannot wait to see you on Monday. Keep up the wonderful work - Ms Heather

11.5.20 - Kia Orana
I hope all our Mums had a great day yesterday and they were able to relax. This week, is Week 5 and Distance Learning at home is still preferred. Today, we will hear from our government and see if we will be moving into Alert Level 2. Once we find out, I will make contact.
A special mention to our families who have kept us all updated by sending photos of their children while learning from home. When your child returns to school, they will be receiving a Gold Card. A huge thank you and well done!
Cleo, Jonathan, Sarah, Majoris, Izahbelle, Paul, Sitiveni
In particular, Cleo, Jonathan and Sarah have kept us updated each week. You three will be receiving extra gold cards and a prize
Have a great week and take care.