Term Four
Week Seven
Some more awesome artwork on the way this week! We were talking about Birthdays on Tuesday and realised that one of the best things about birthdays is spending time with our families. So we rounded up our siblings to include them in our artwork!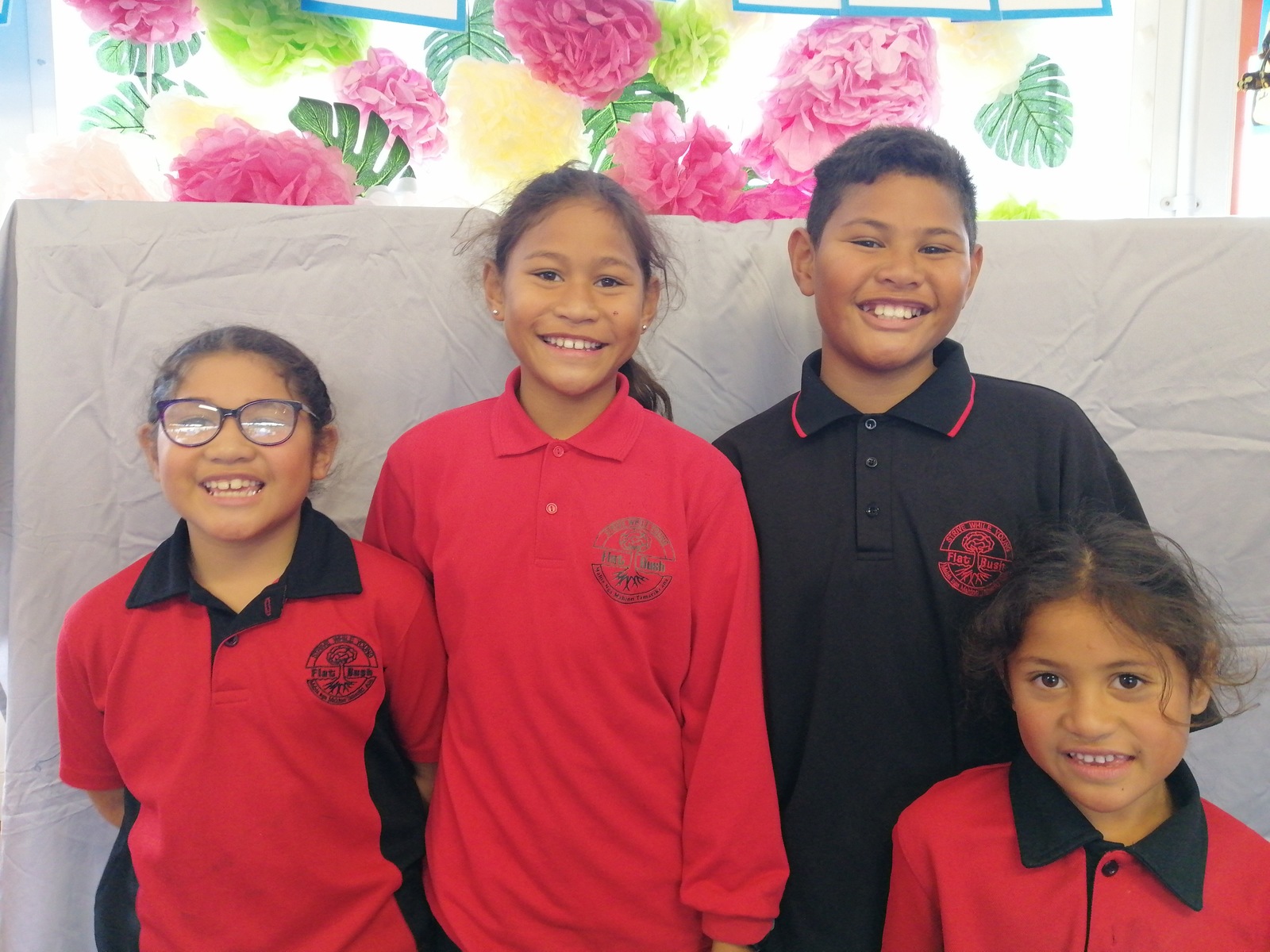 Can't wait to combine our lovely photos with our balloon backgrounds :)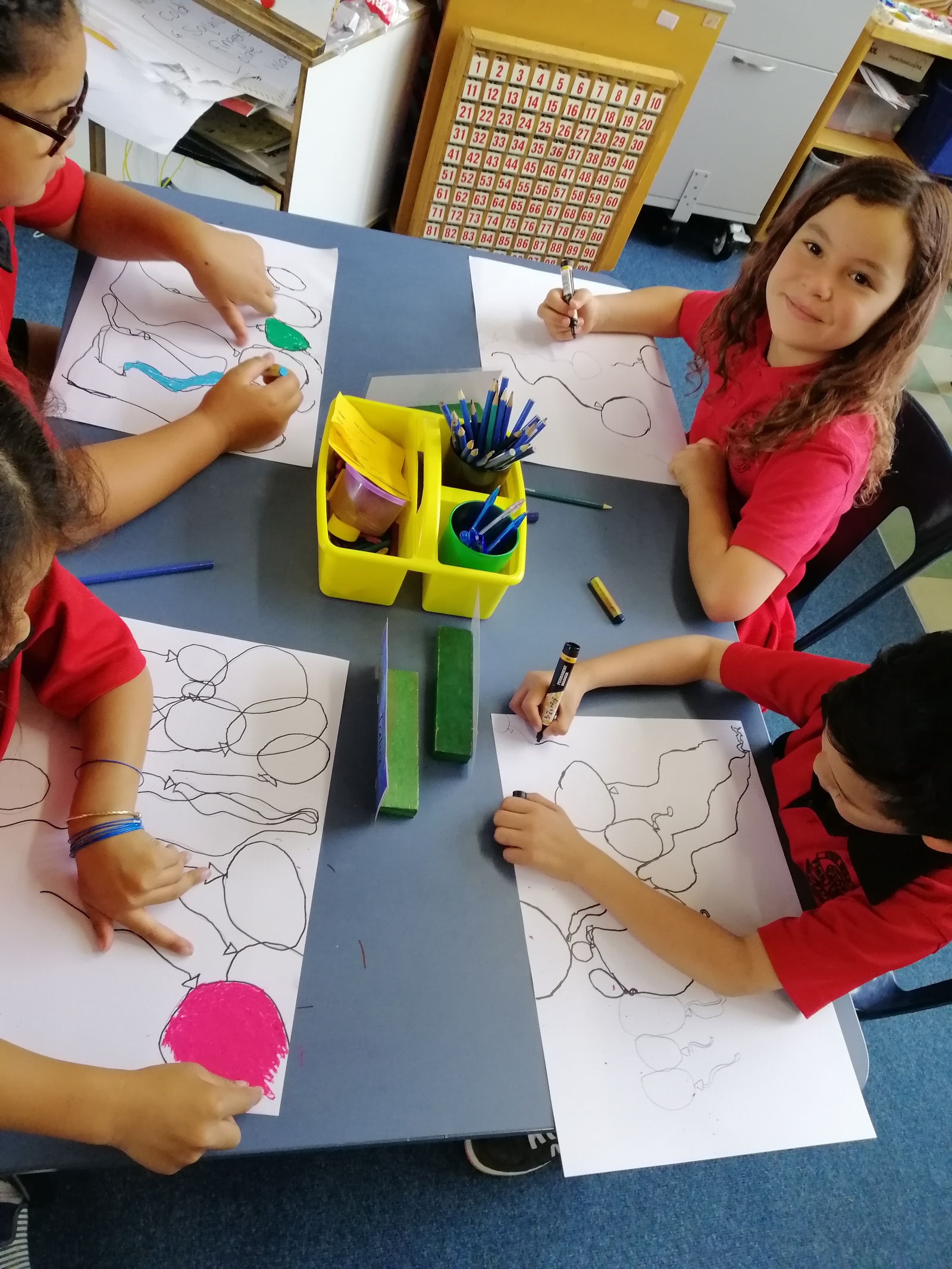 Term Four
Week Six
What a busy week at FBS! Lots of work going on in Room 5 this week. You might also have heard about a visitor we had on Friday, the one and only.......Joseph Parker! It was great to have Joseph and his family back at FBS as an official Duffy Books in Homes Reading Hero :)
Highlights included getting out the hammers to create some 3D artwork to represent the Matariki celebration.
Special thanks to our new friend Mel for volunteering to come and help us on Thursday.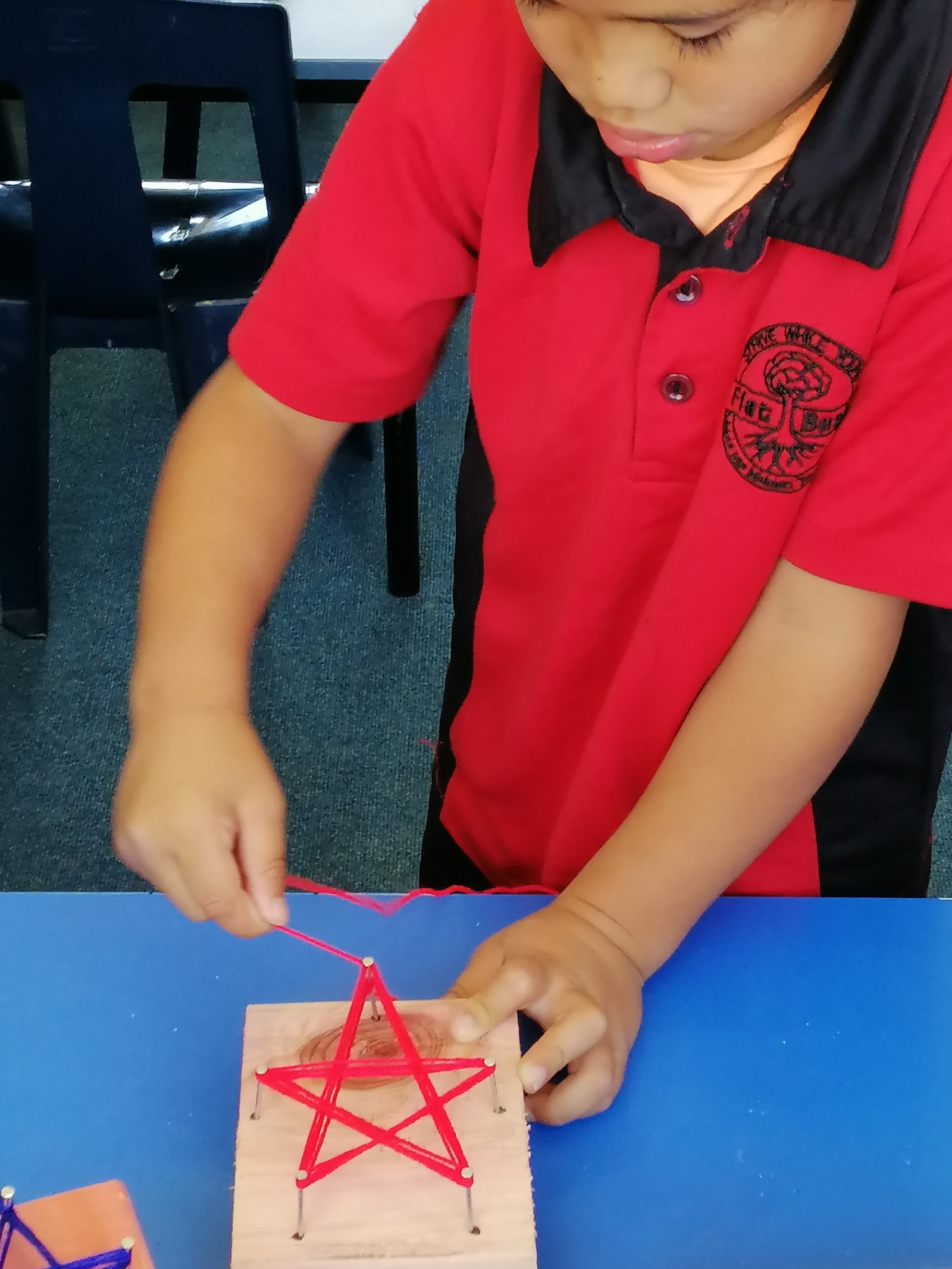 We really enjoyed planning, drawing, hammering and winding to create these artworks, here is a sneak peak of a finished Matariki Star!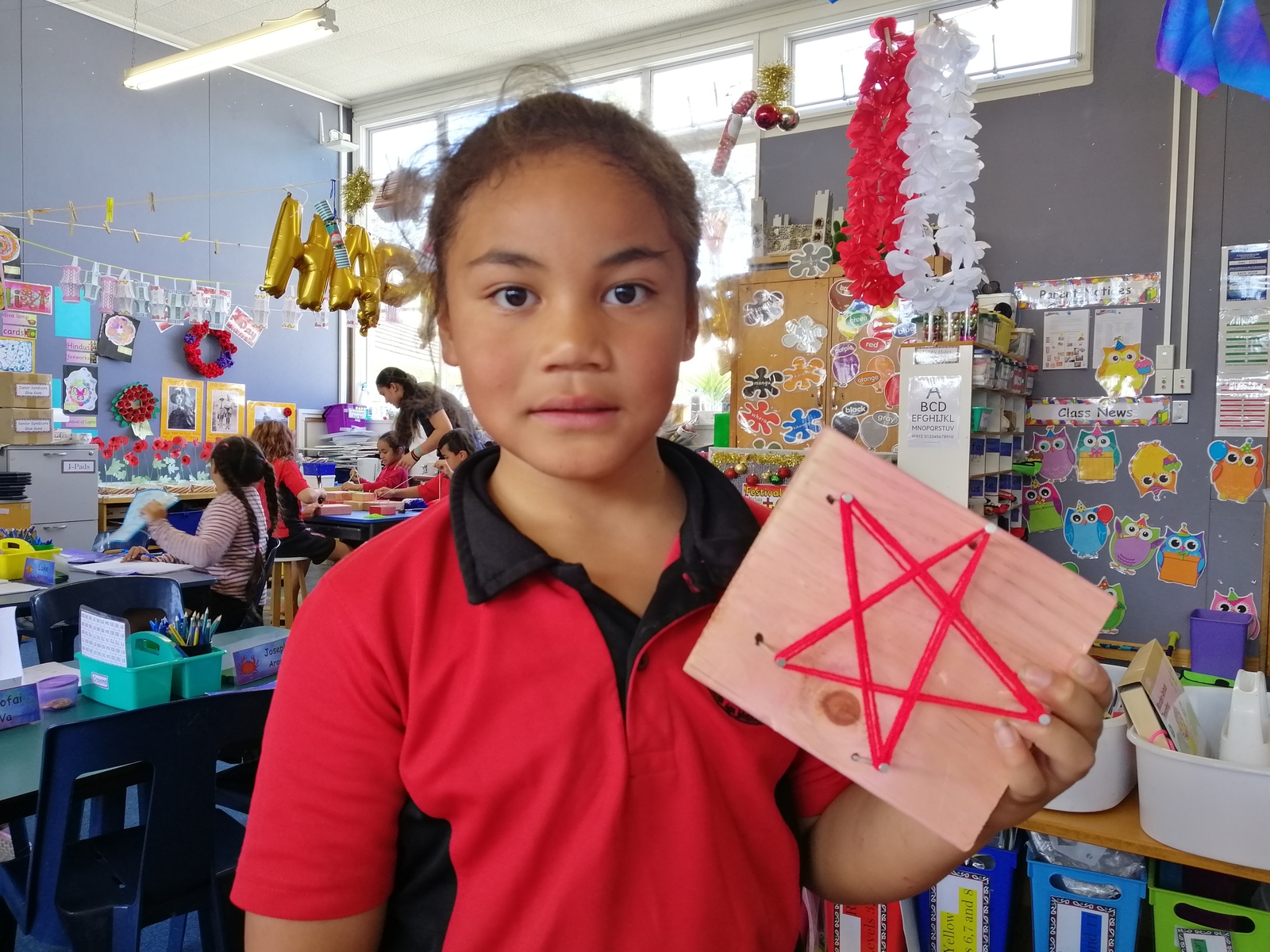 Some of us enjoyed playing with the blocks of wood while we were waiting almost as much as the hammering!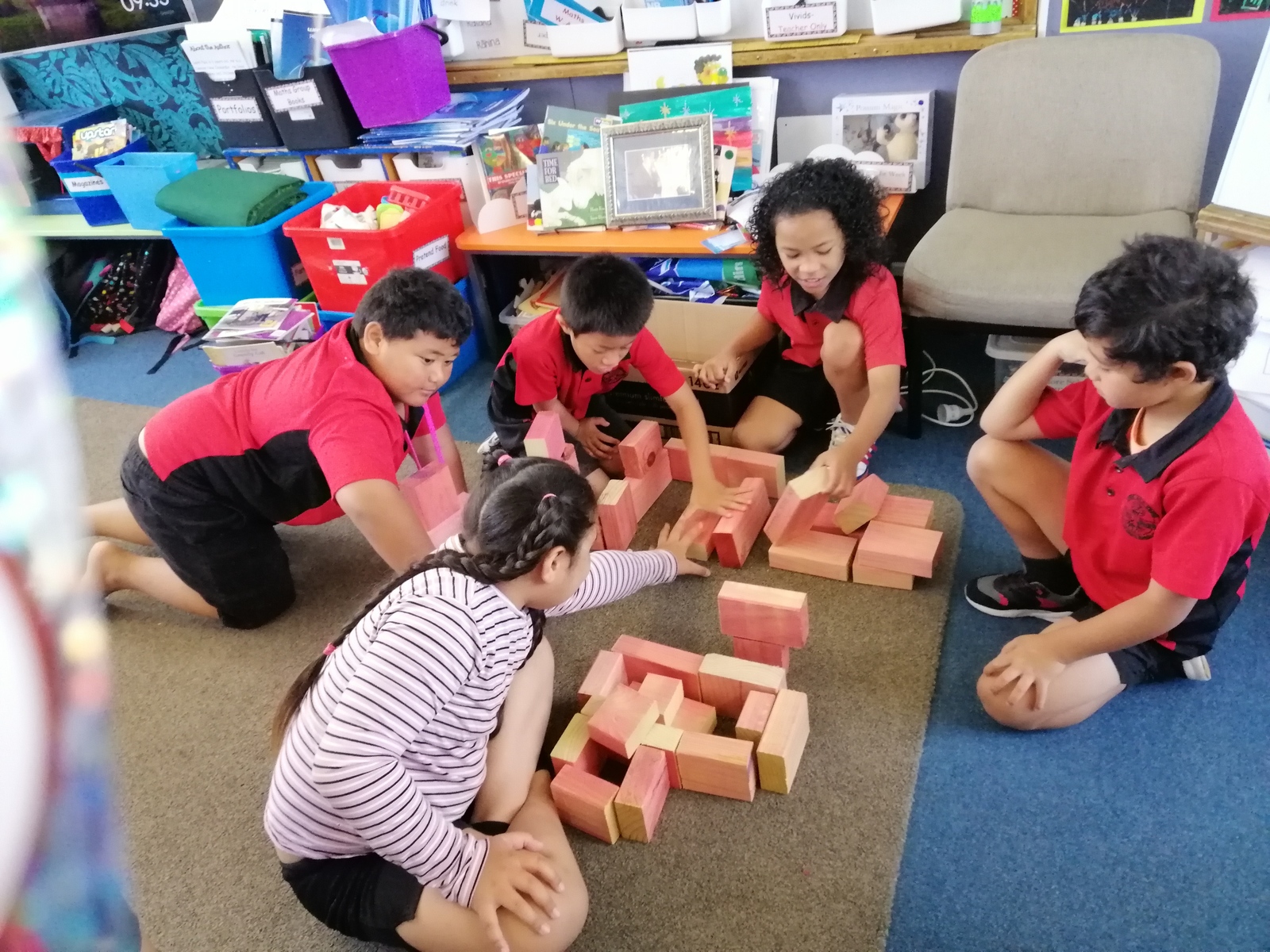 Check out Talia's tower!
Another epic session with our Basketball coaches on Friday! Great to see our skills developing.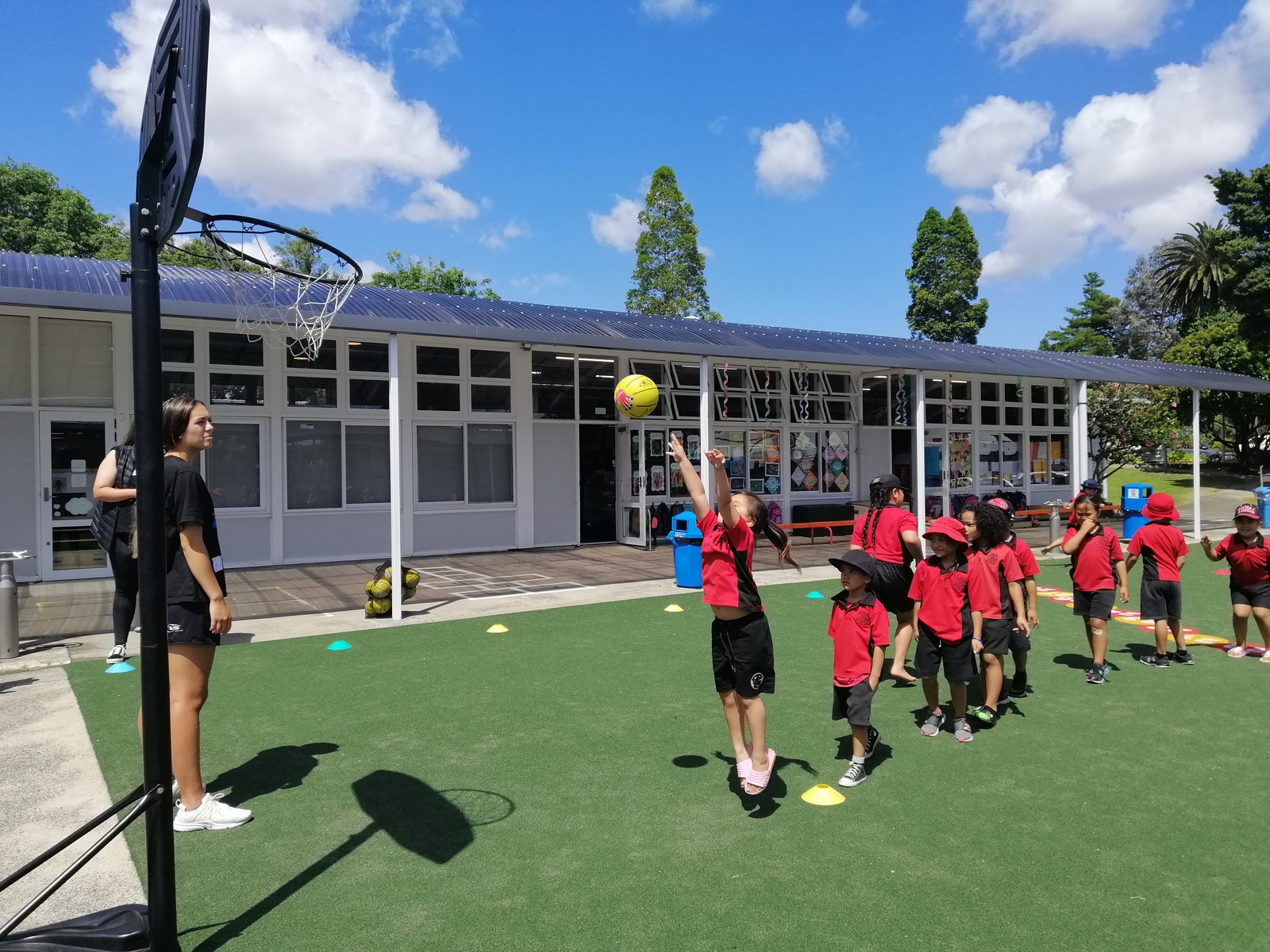 Congratulations to our Players of the Day, Talia and Cylus.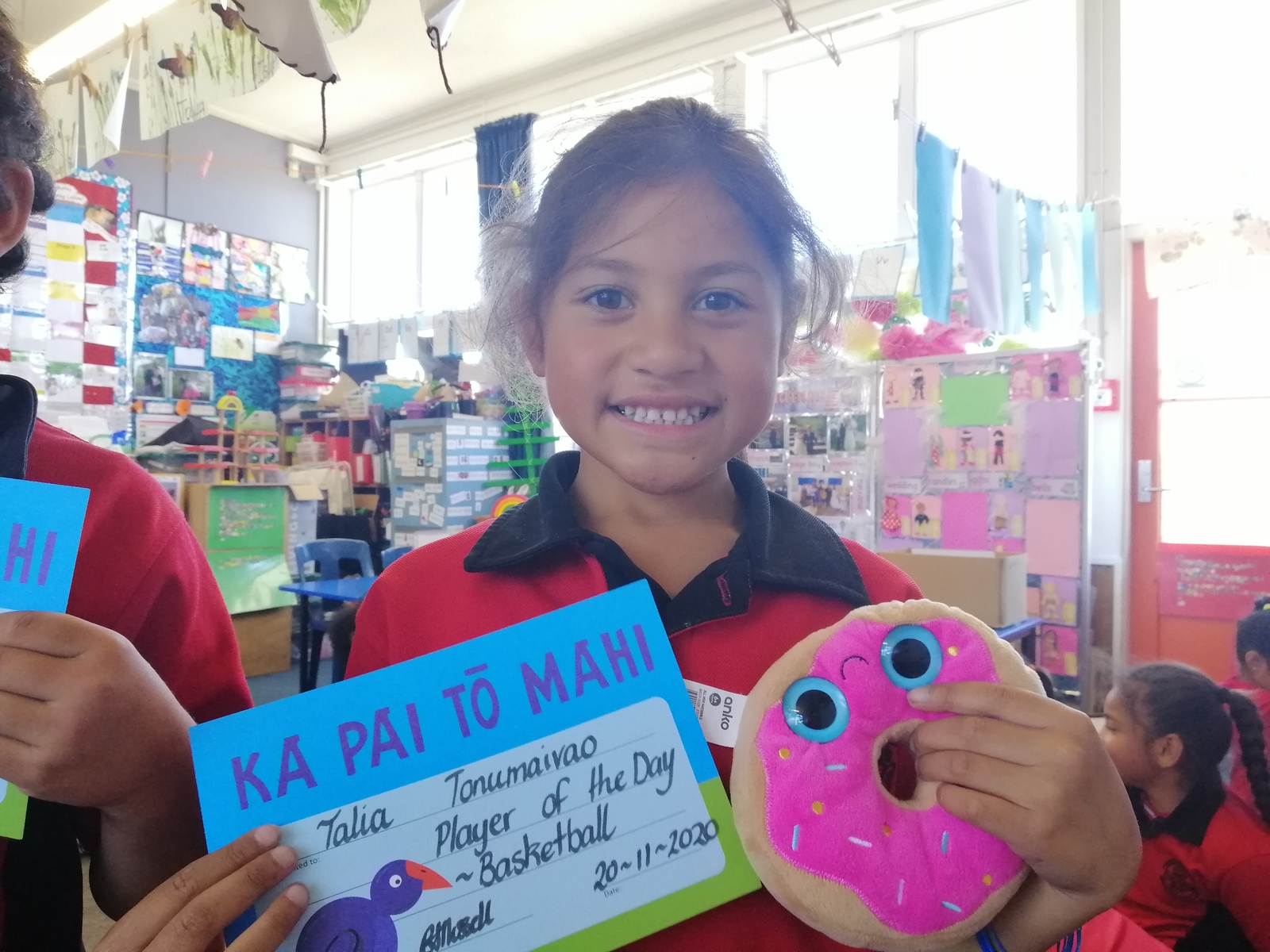 Term Four
Week Five
Friday was such a fun day this week in Room 5! We started of the day by reading all about Diwali- the Indian Festival of Light. Then we tried on some Diwali outfits and made some Diwali lanterns.
After Morning Tea the fun continued with our Basketball Skills lessons.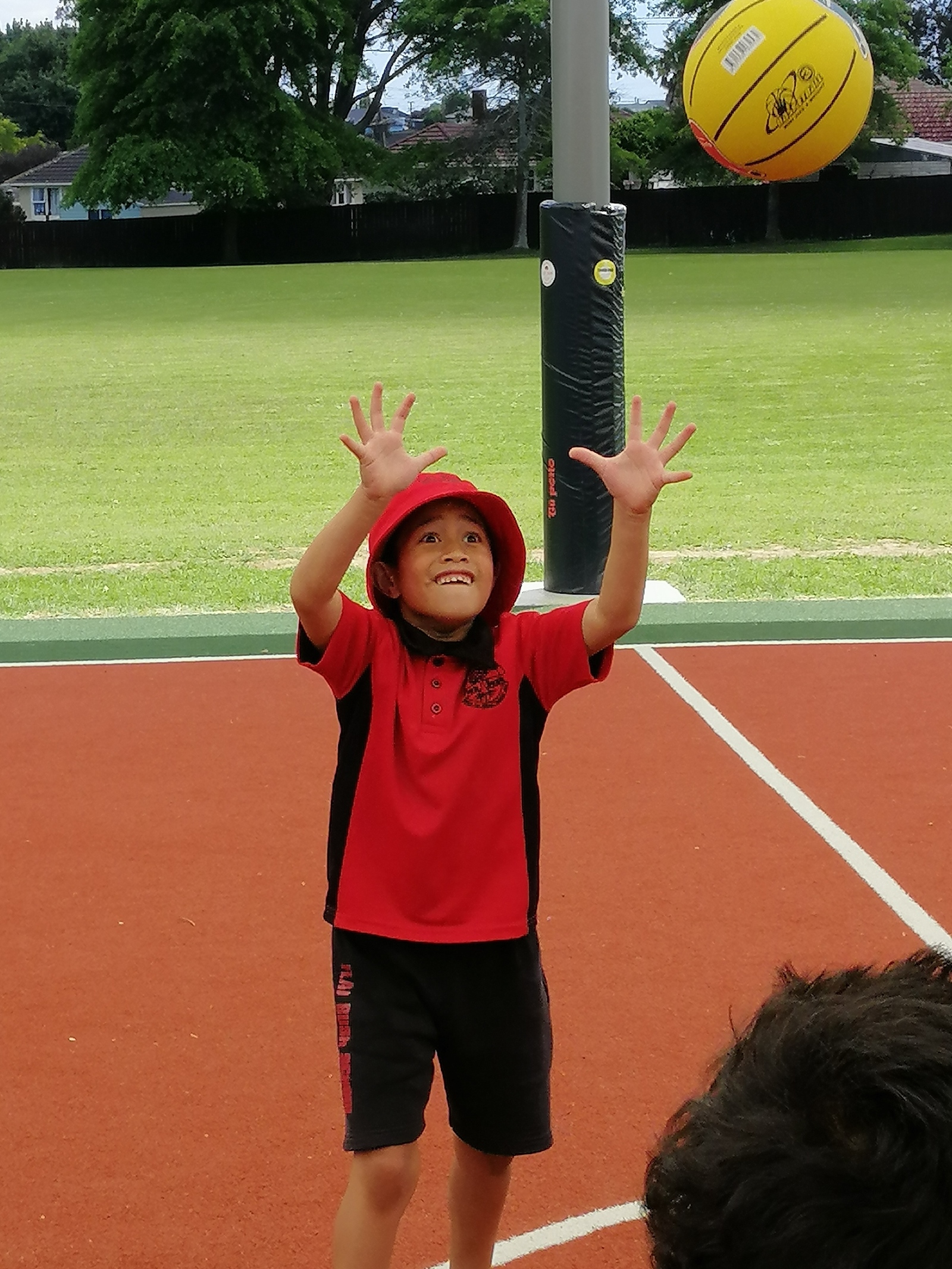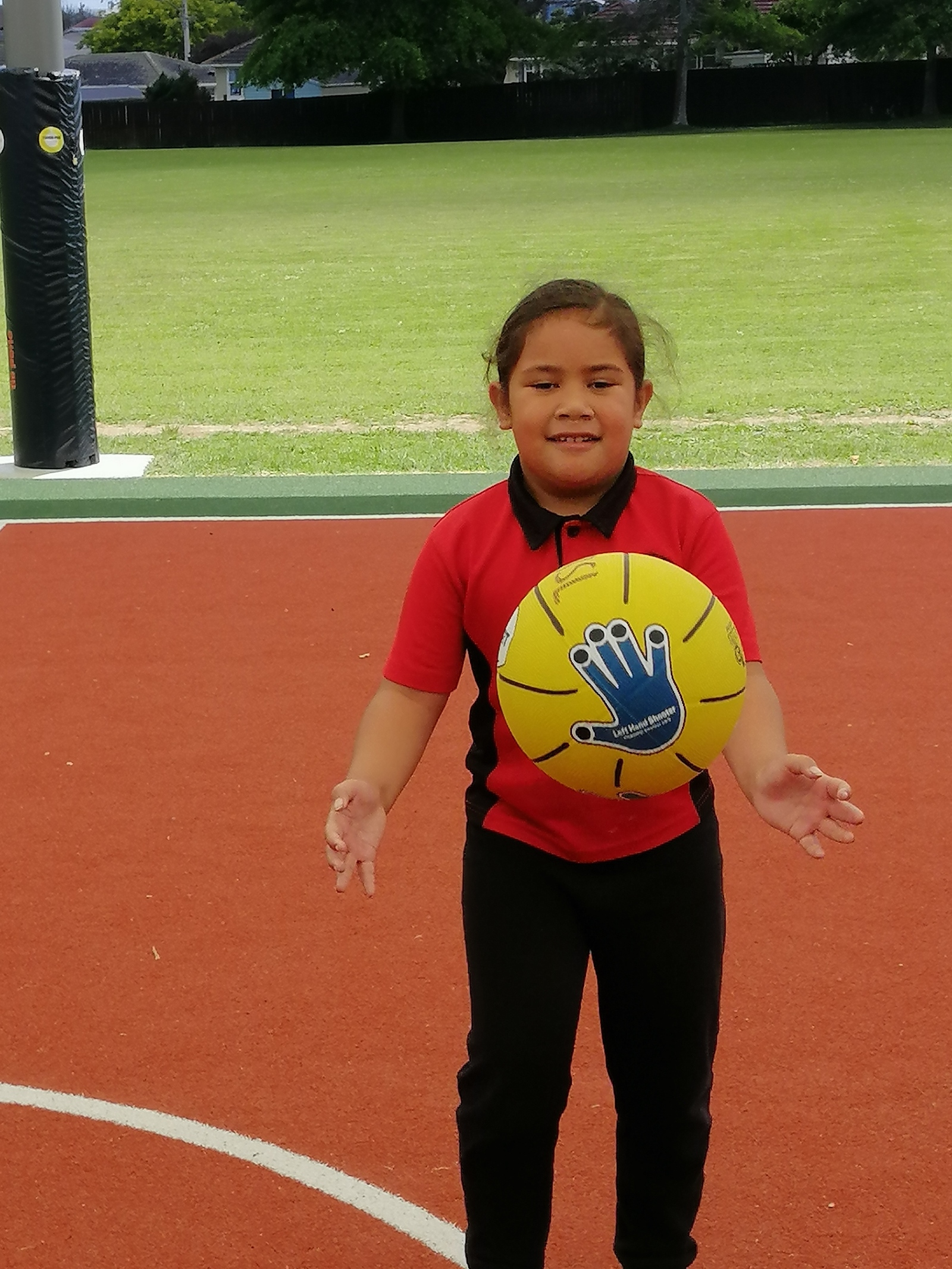 Some really awesome skills on display today!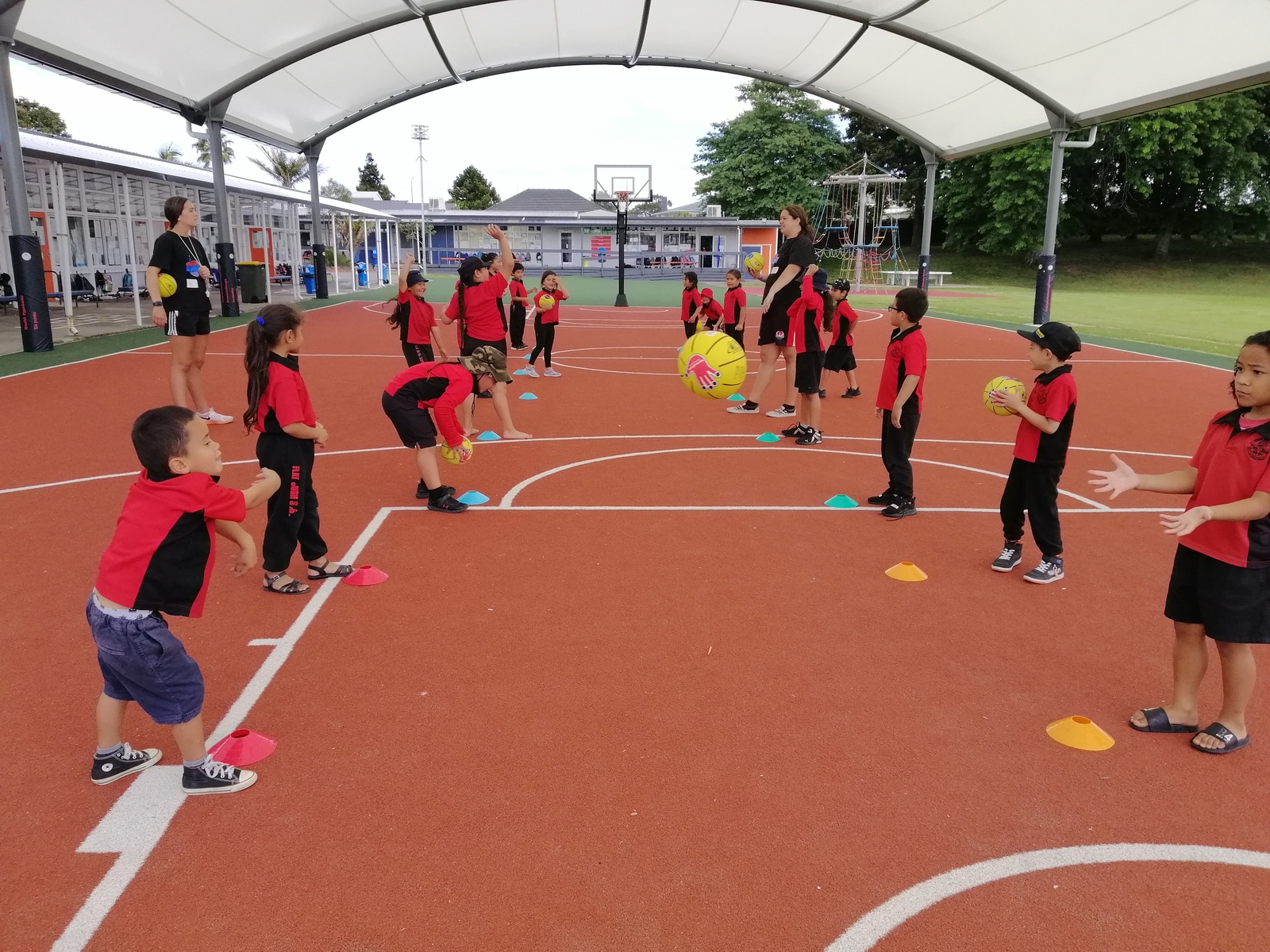 Congratulations to Luke and Benjamin, our players of the Day!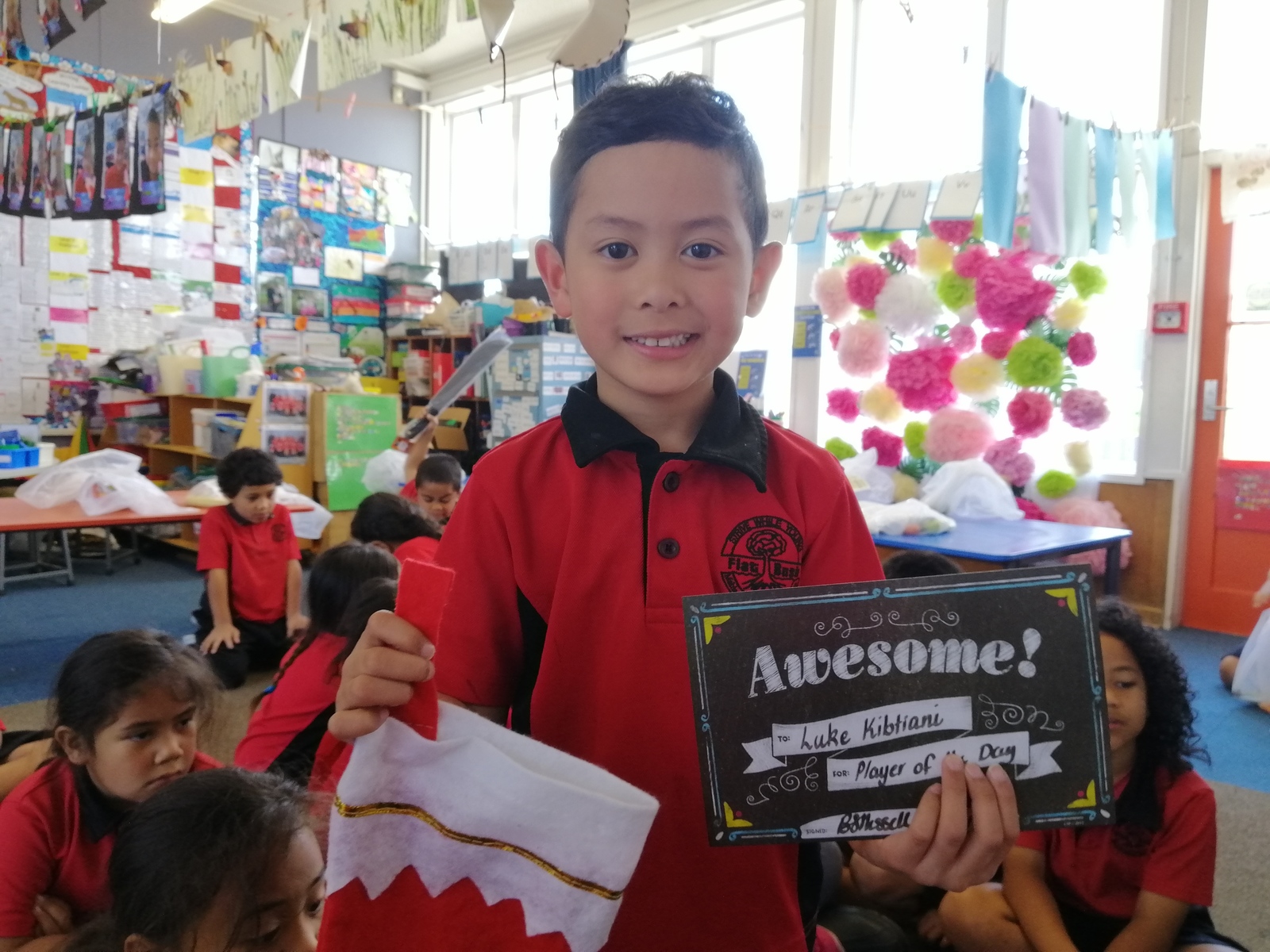 After Lunch, we continued our Diwali theme by making Diva candle holders out of clay. This was very messy, but so much fun squishing the sticky clay into the shapes that we wanted.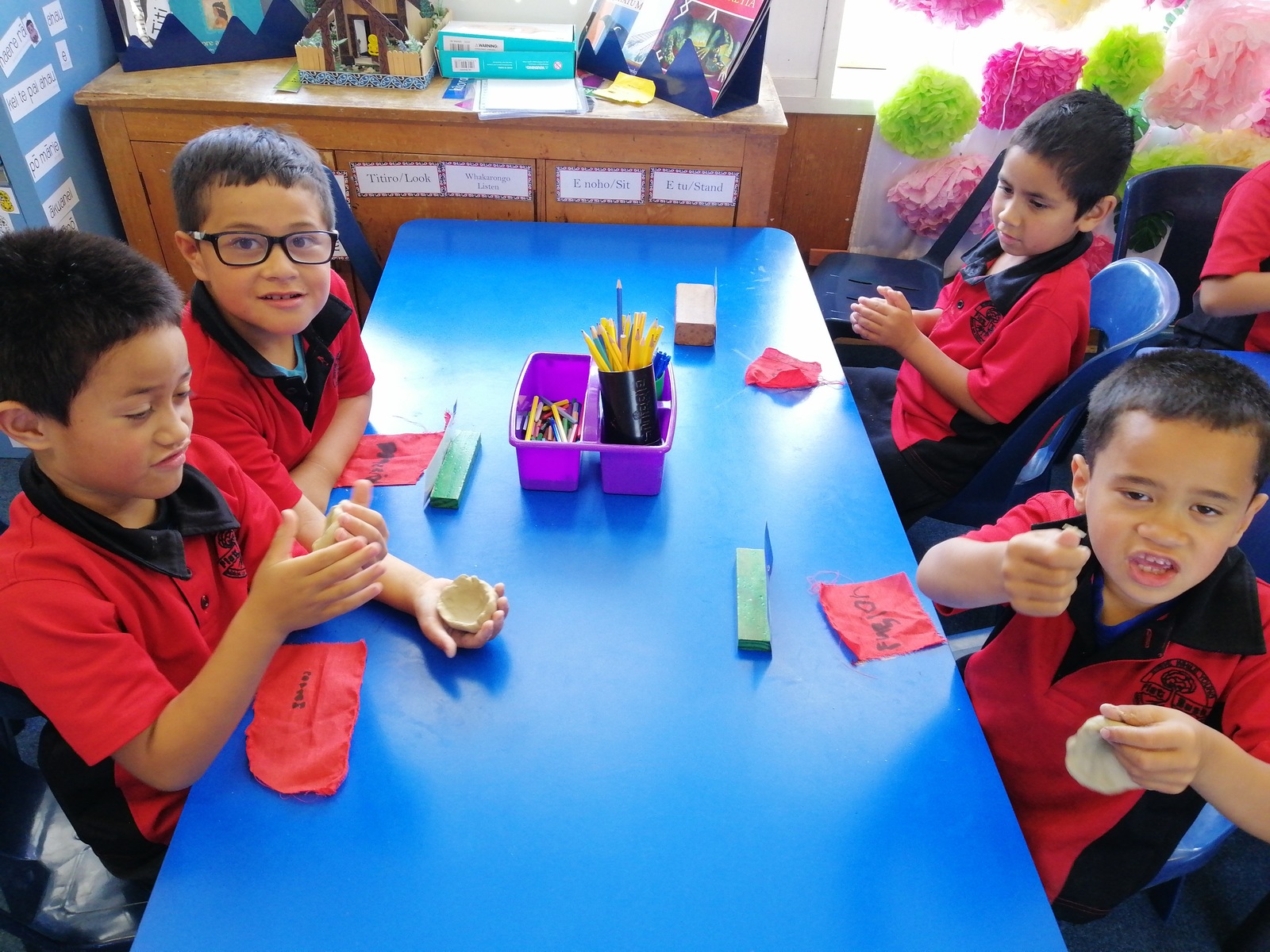 these artworks will be painted next week, after they have dried.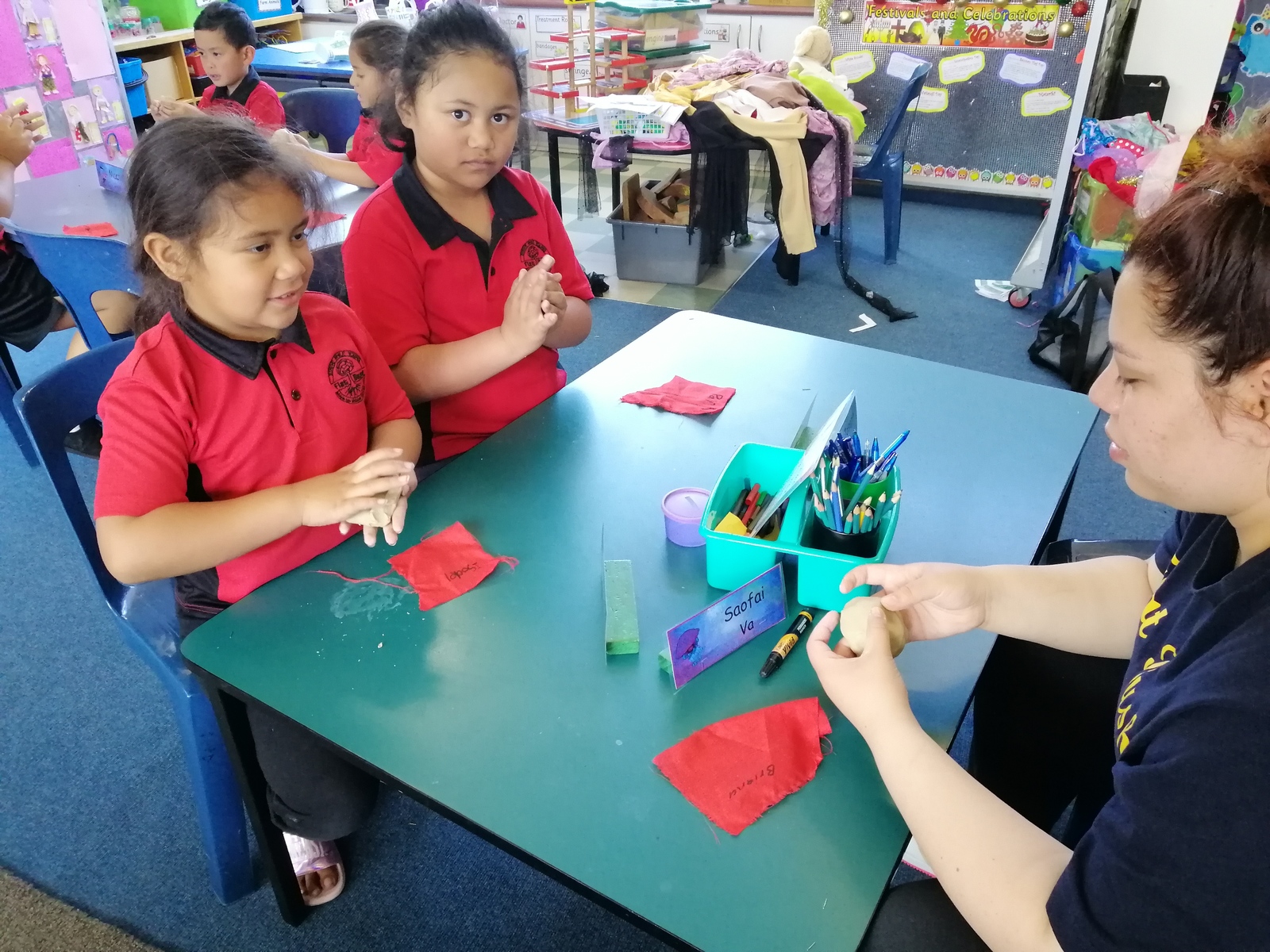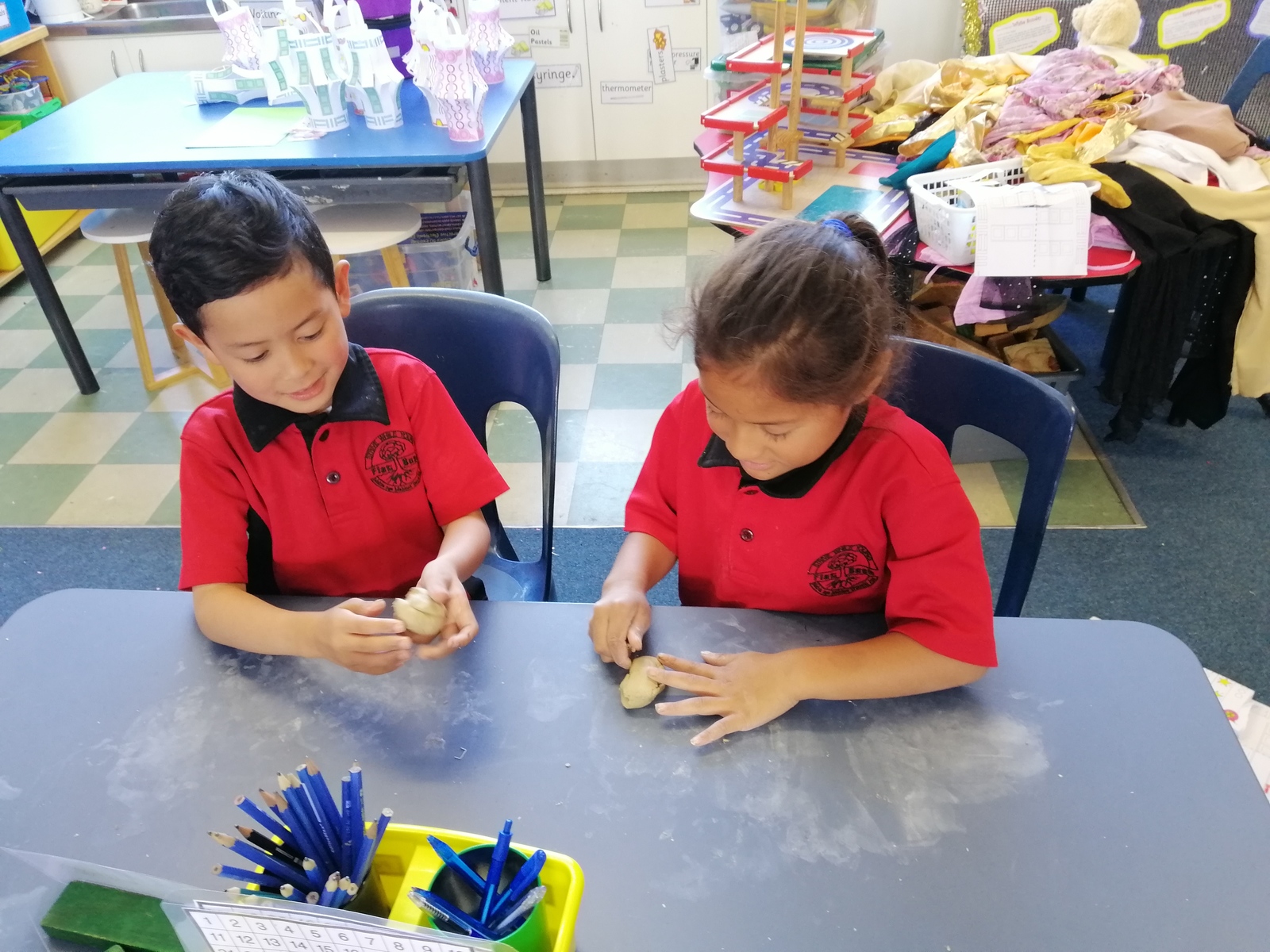 Finally, we finished our fantastic day by singing happy Birthday to Viosa, who turned 6 today!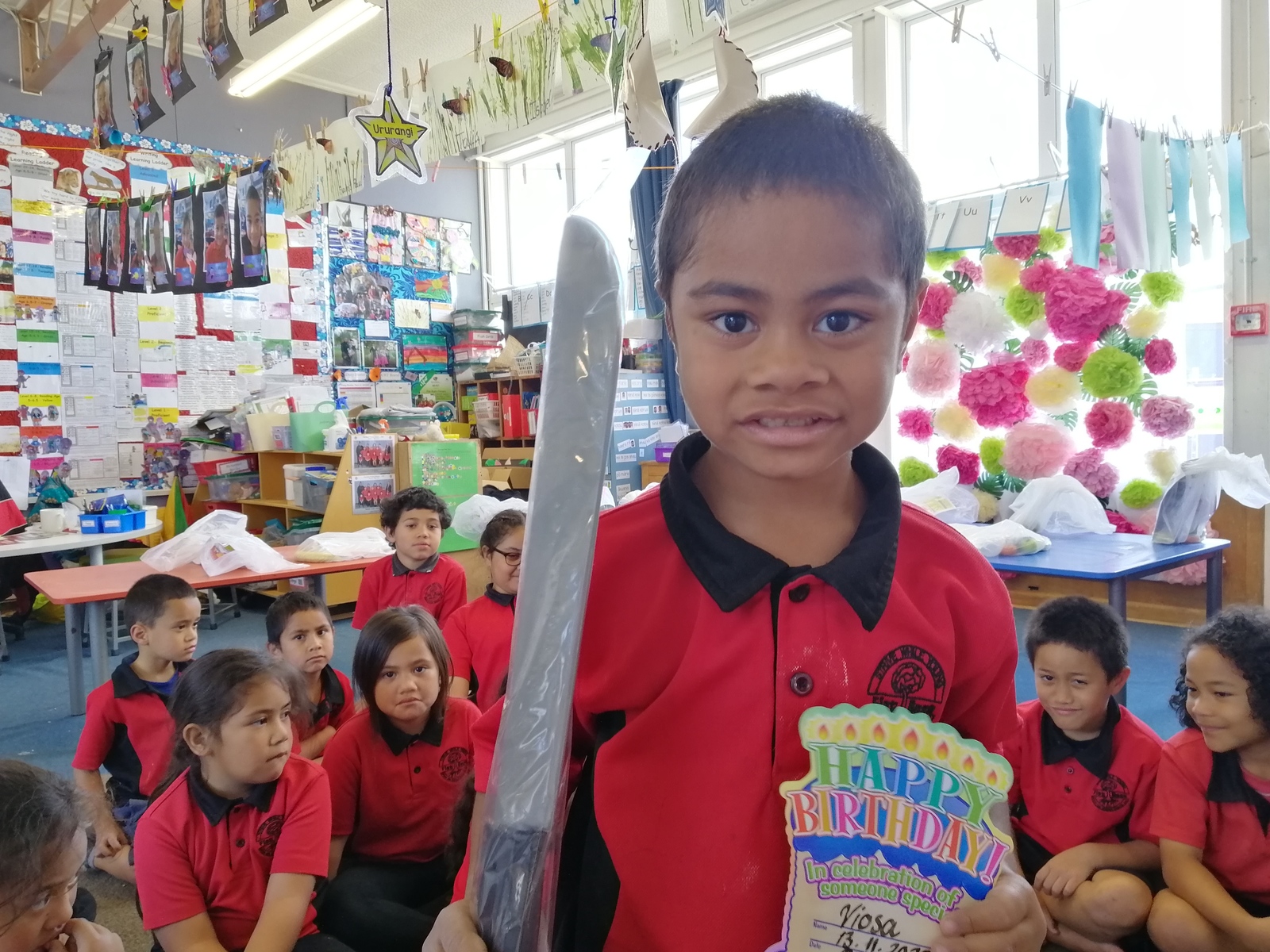 This week we have been learning about Remembrance Day and weddings. We started the week by making some remembrance poppies after we read a story about a Dawn Parade. We also read some famous poems about soldiers who died in World War 1.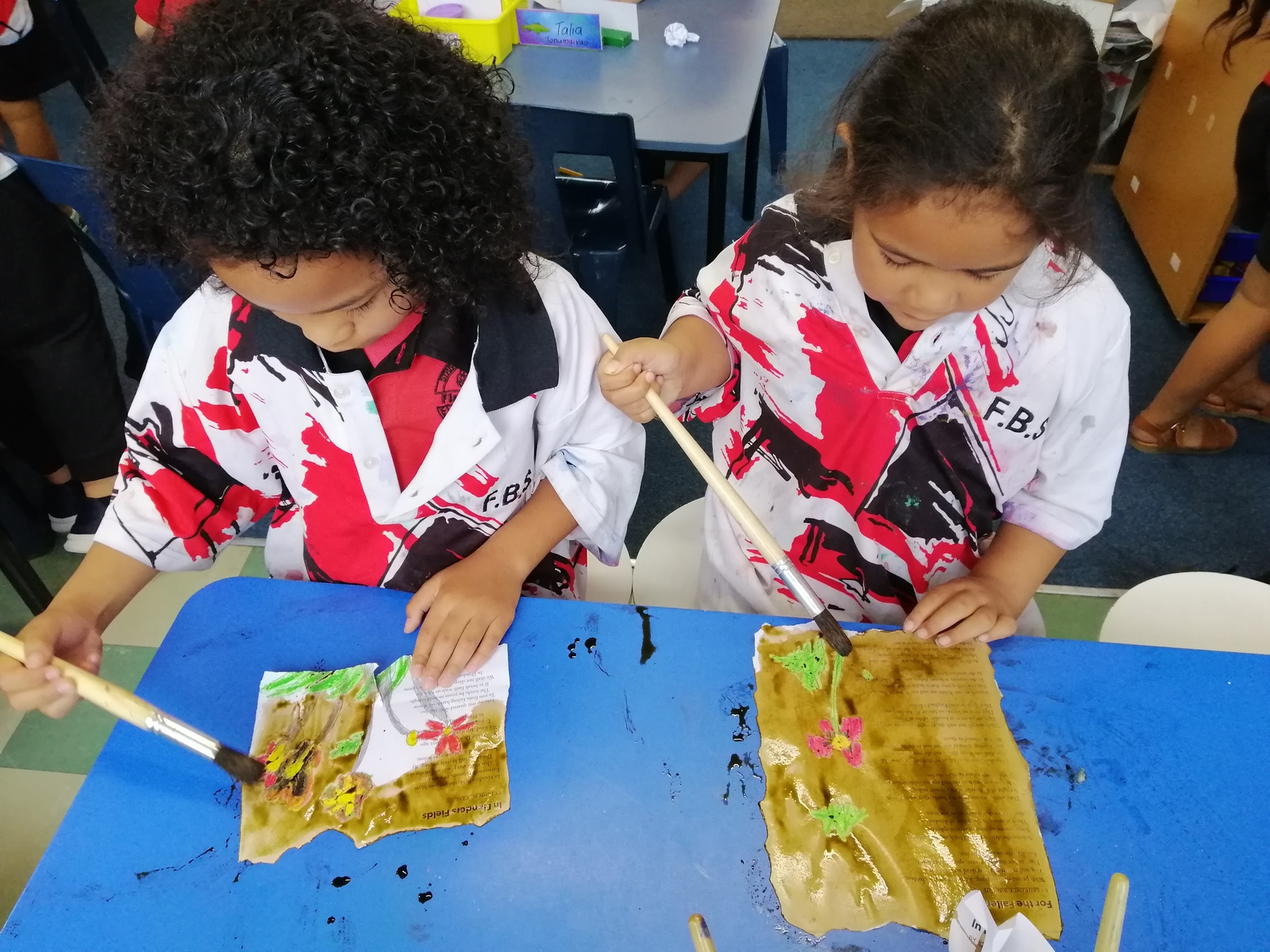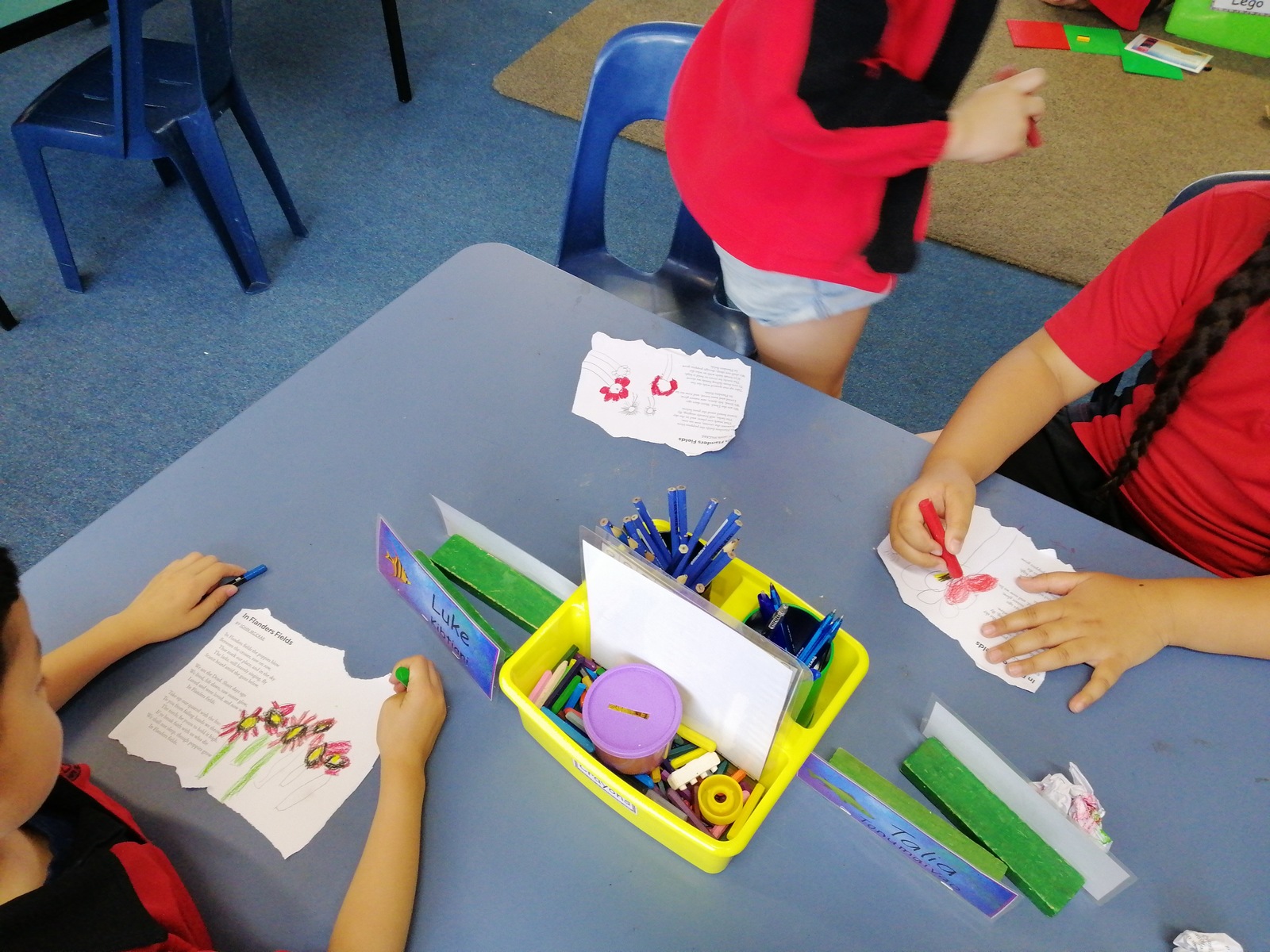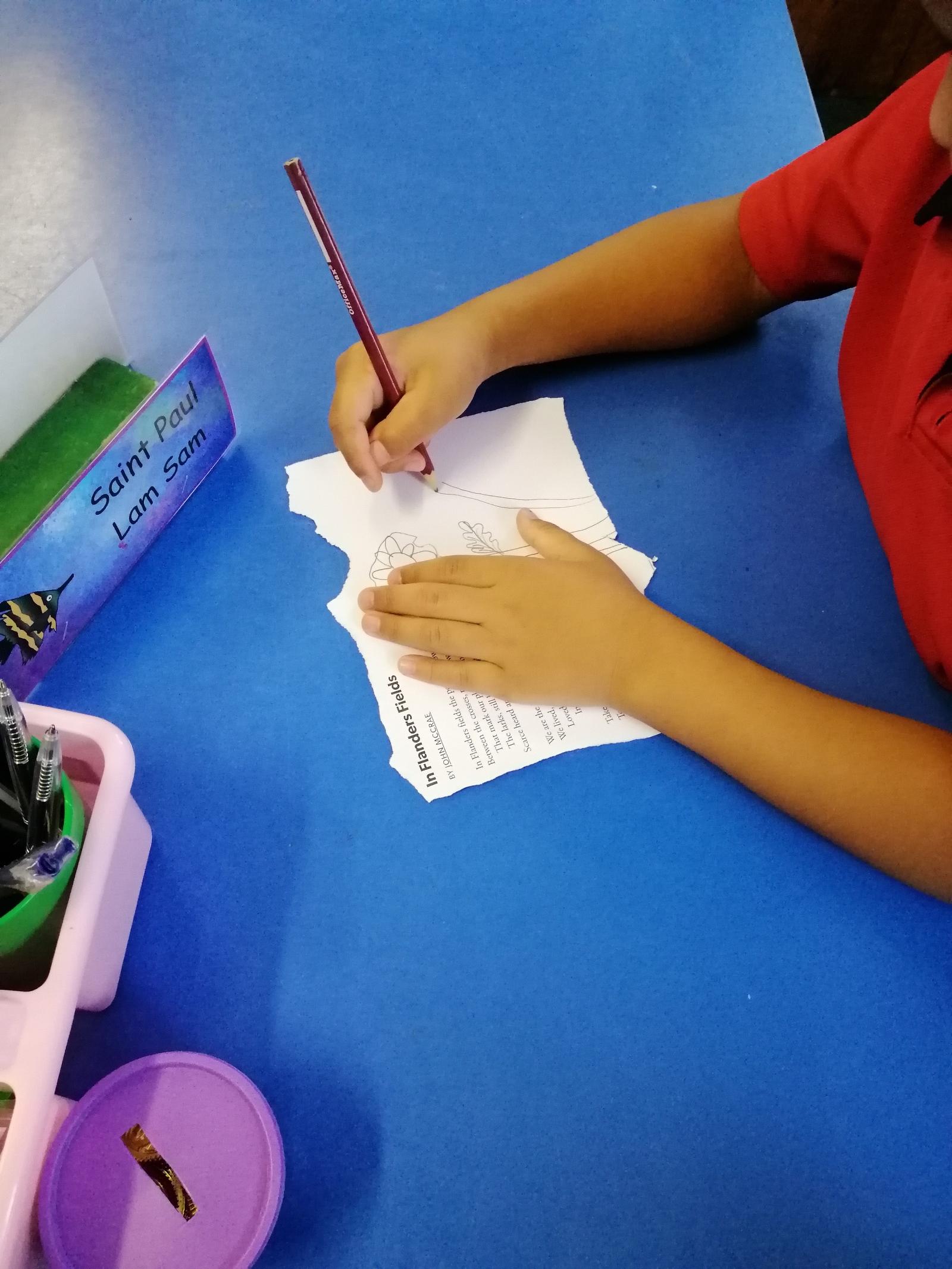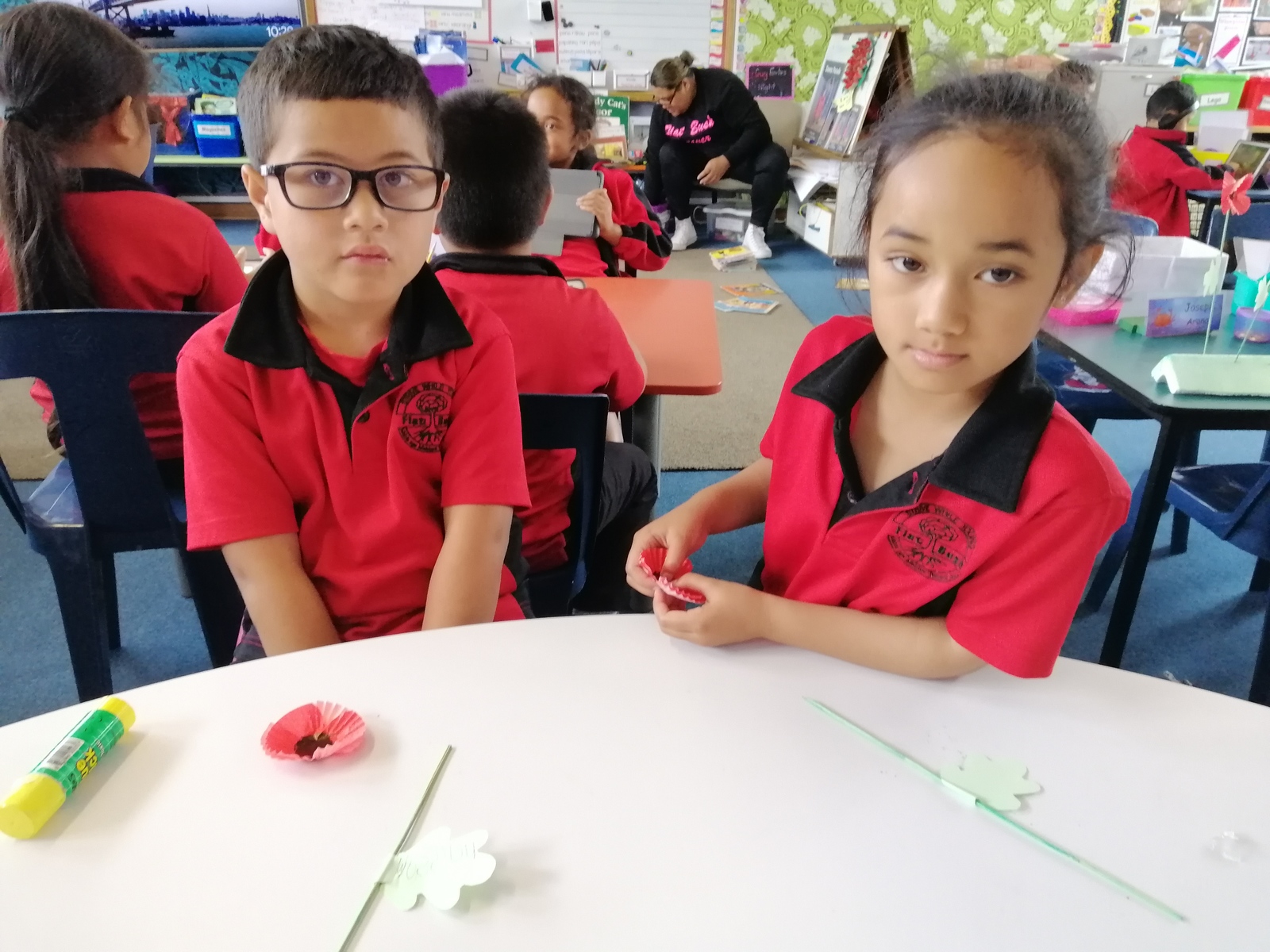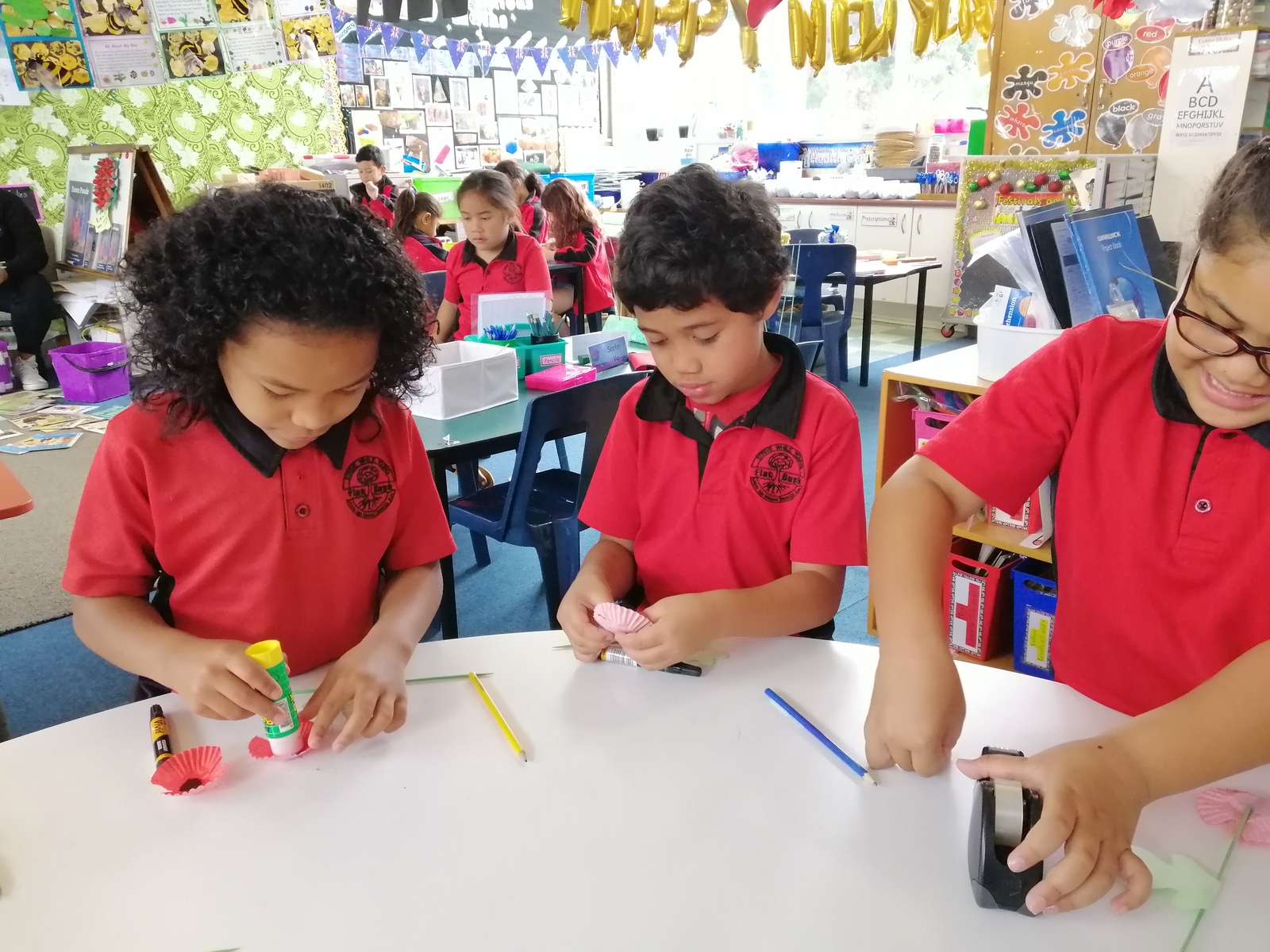 We continued our Remembrance Day artwork by making some candle holders. Look at the concentration on the faces of these artists!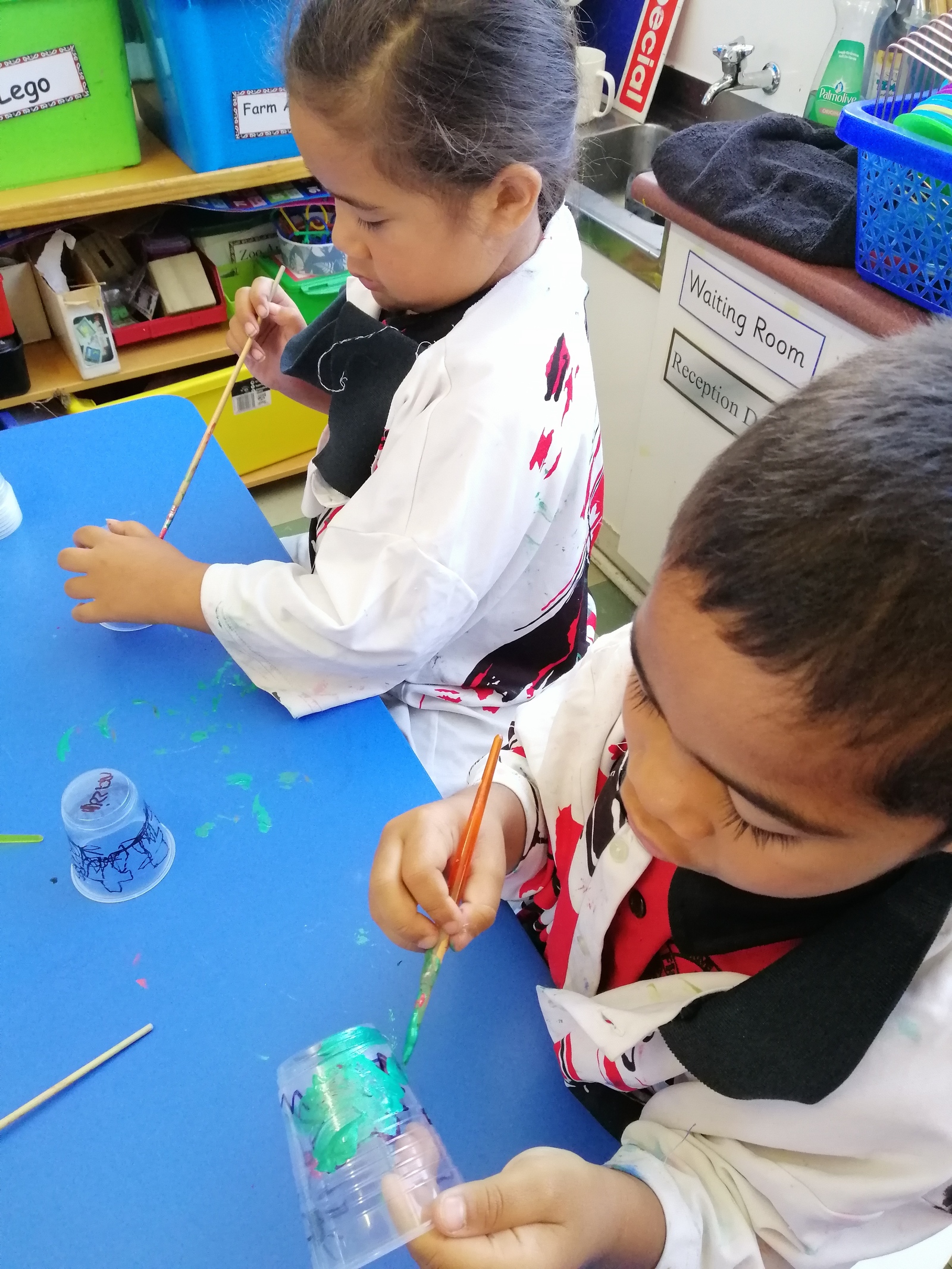 Our class toy Toby is getting married next week. We made some wedding outfits for his wedding guests to wear to the wedding. The finished outfits will be on display at our Art Exhibition.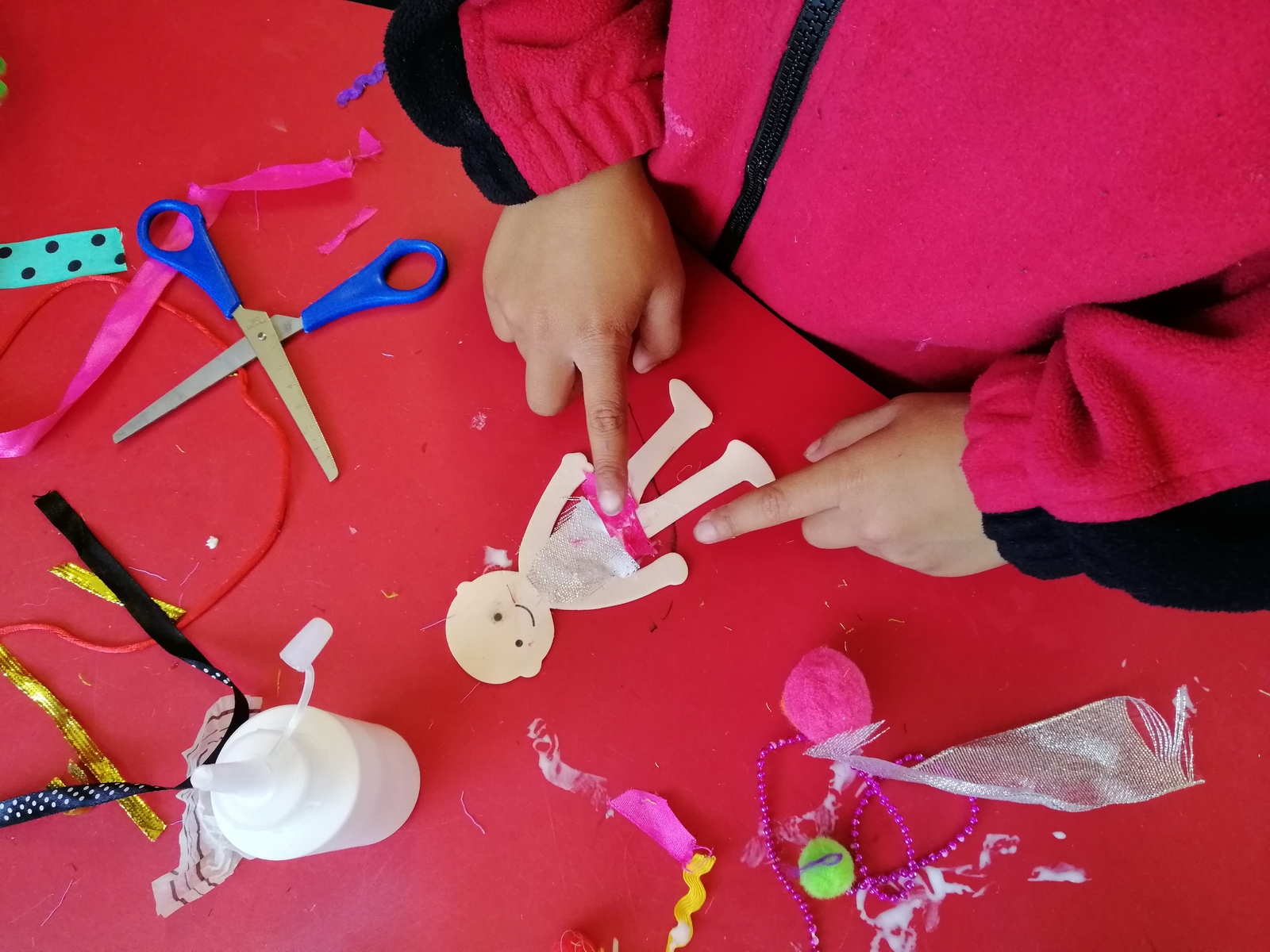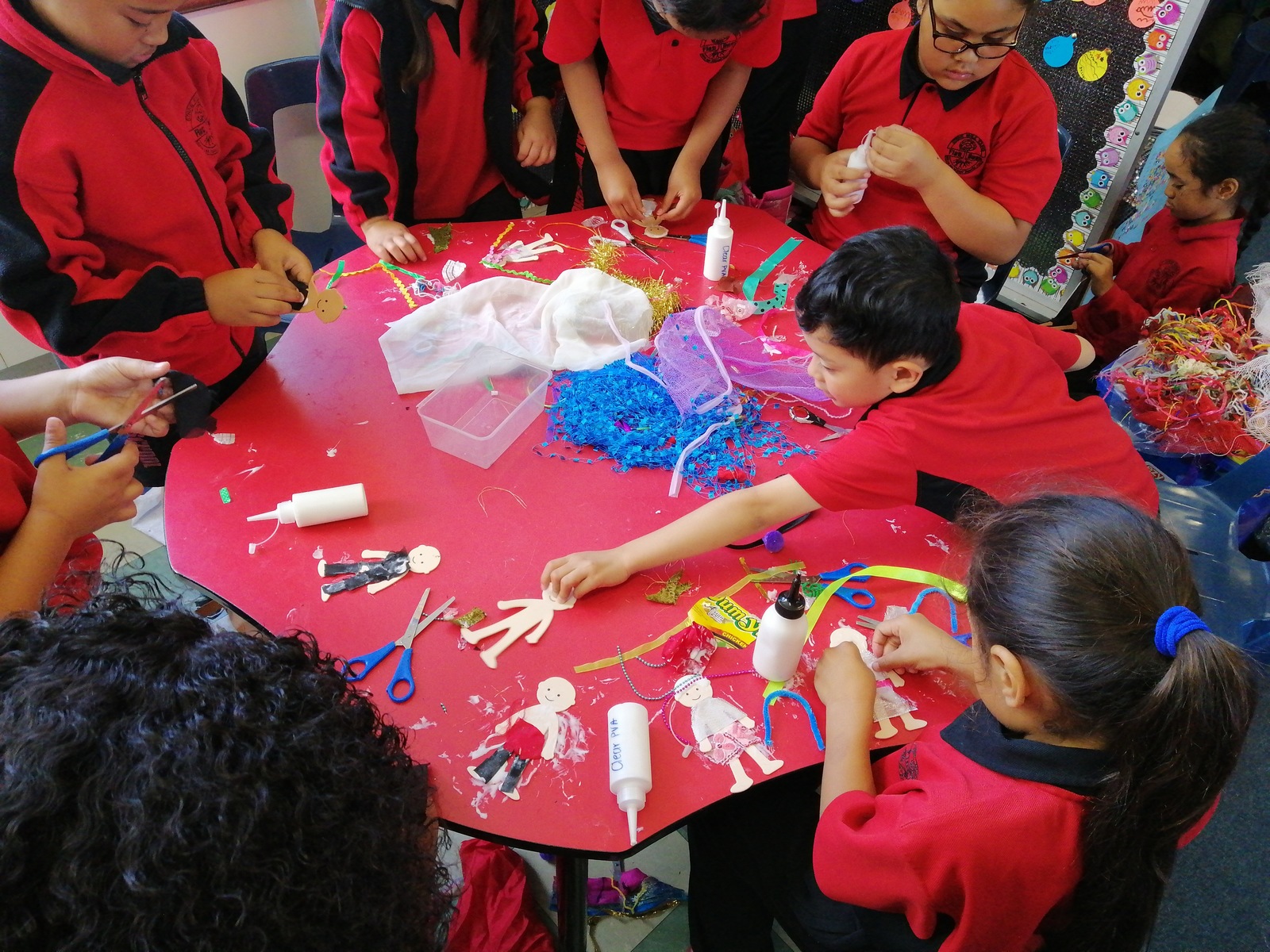 Week Four
This week we were learning about Guy Fawkes and Fireworks. Do you know the story about Guy Fawkes and why we celebrate with fireworks every November? Ask someone from Room 5 if you want to know about this true story! We made some really cool fireworks artworks for our upcoming Art Exhibition, here is a sneak peak!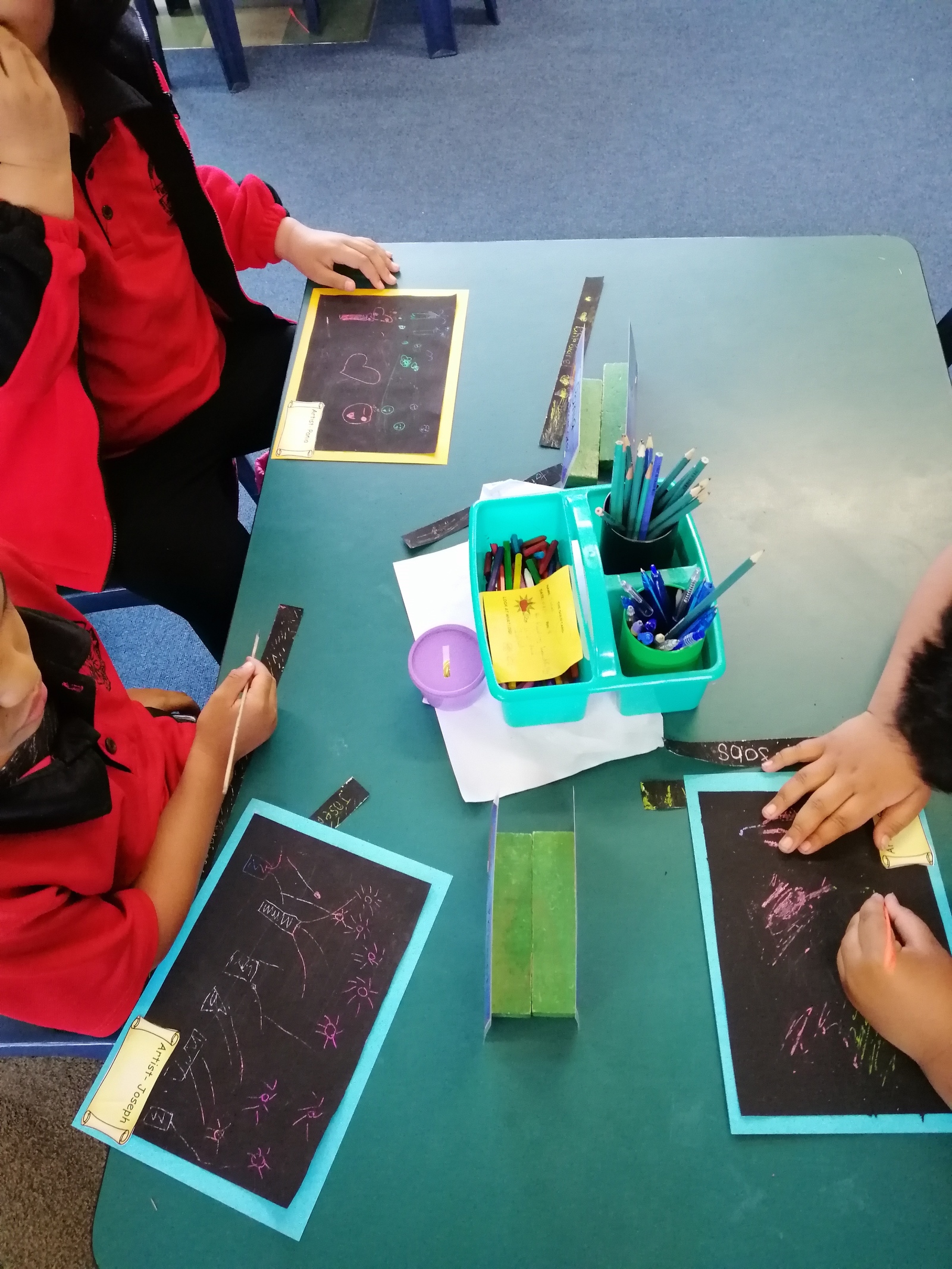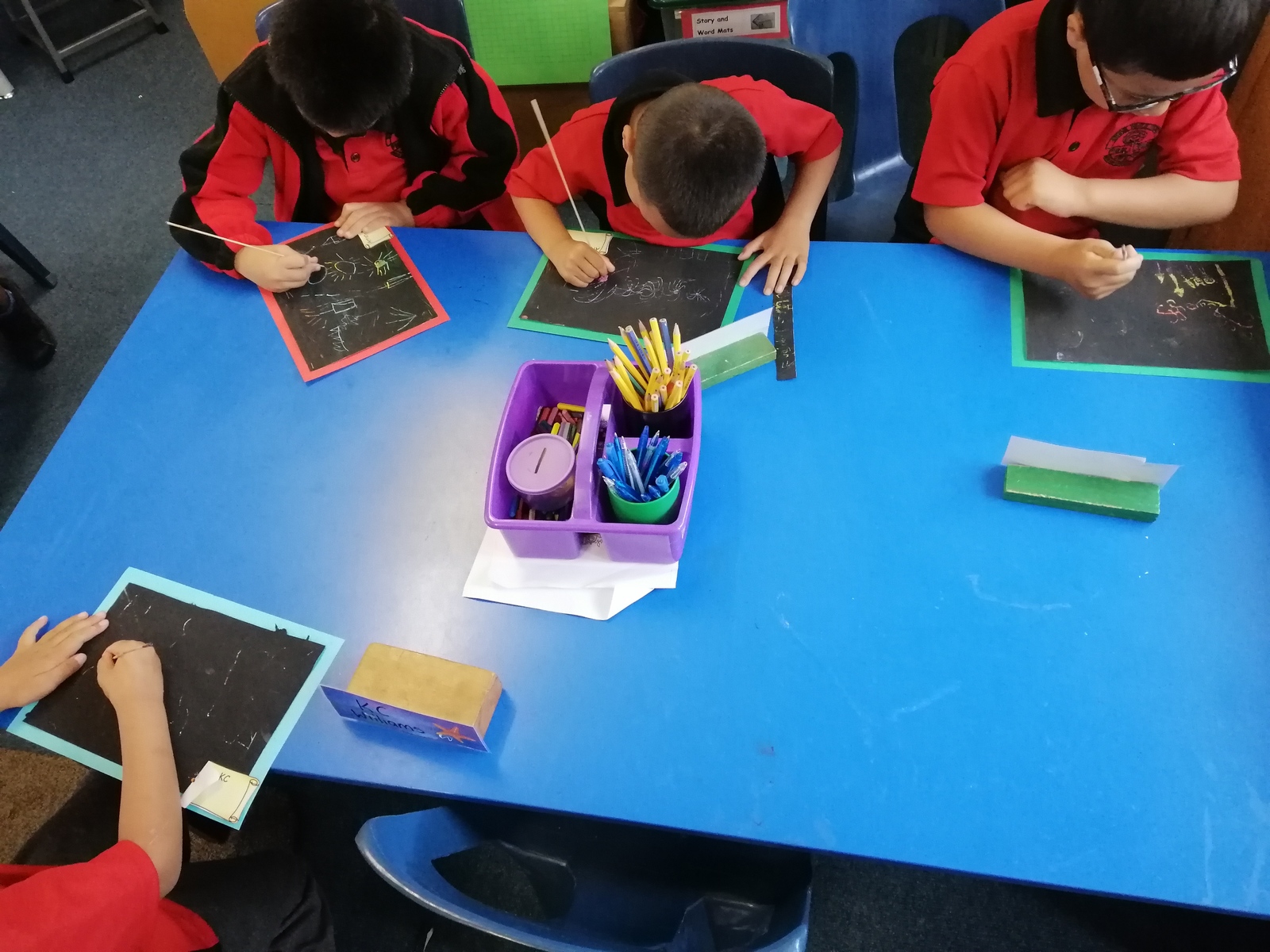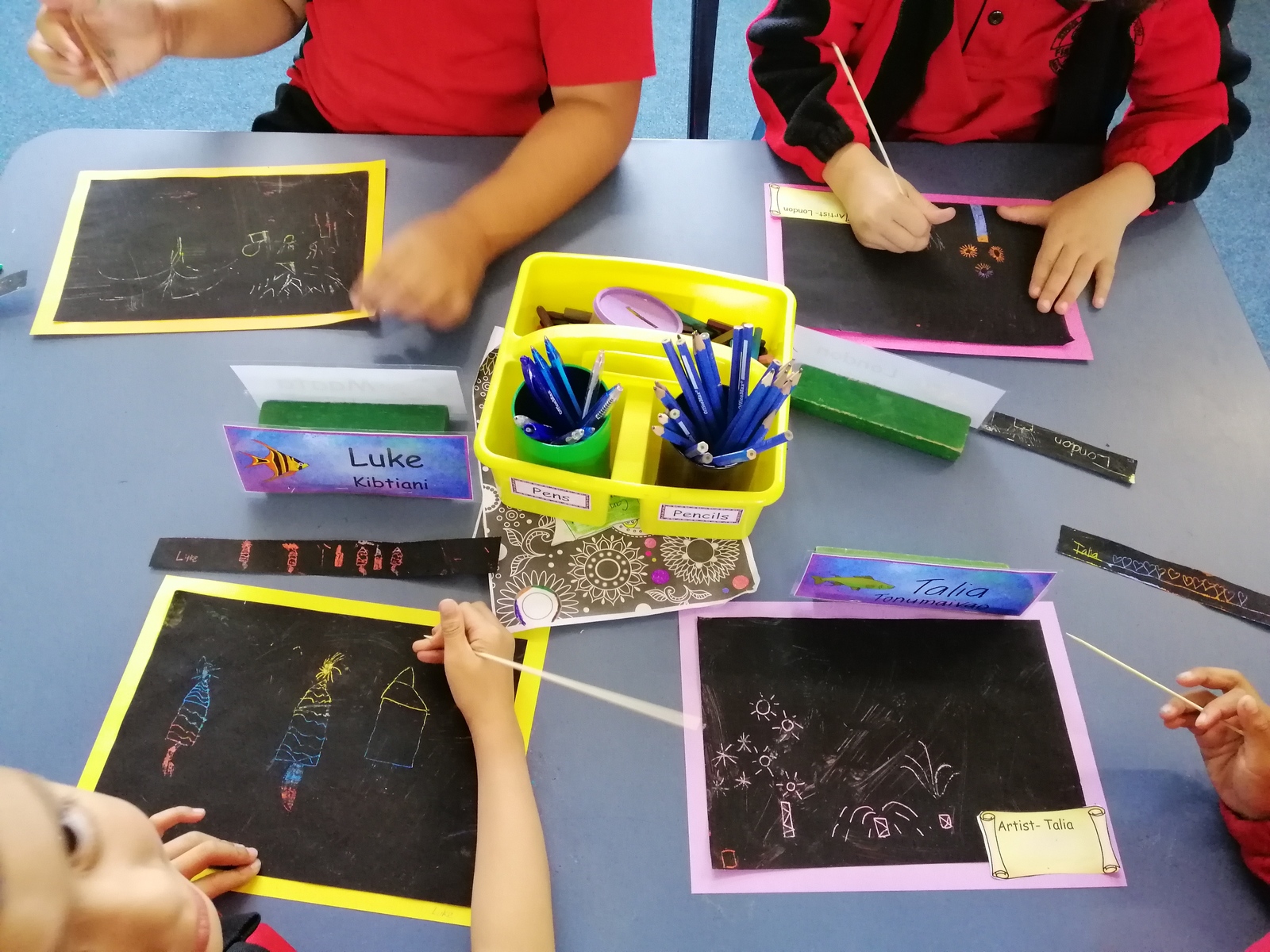 What do you think we were making with the grater and the crayons? It's another artwork for our exhibition. Can you guess what it might be?!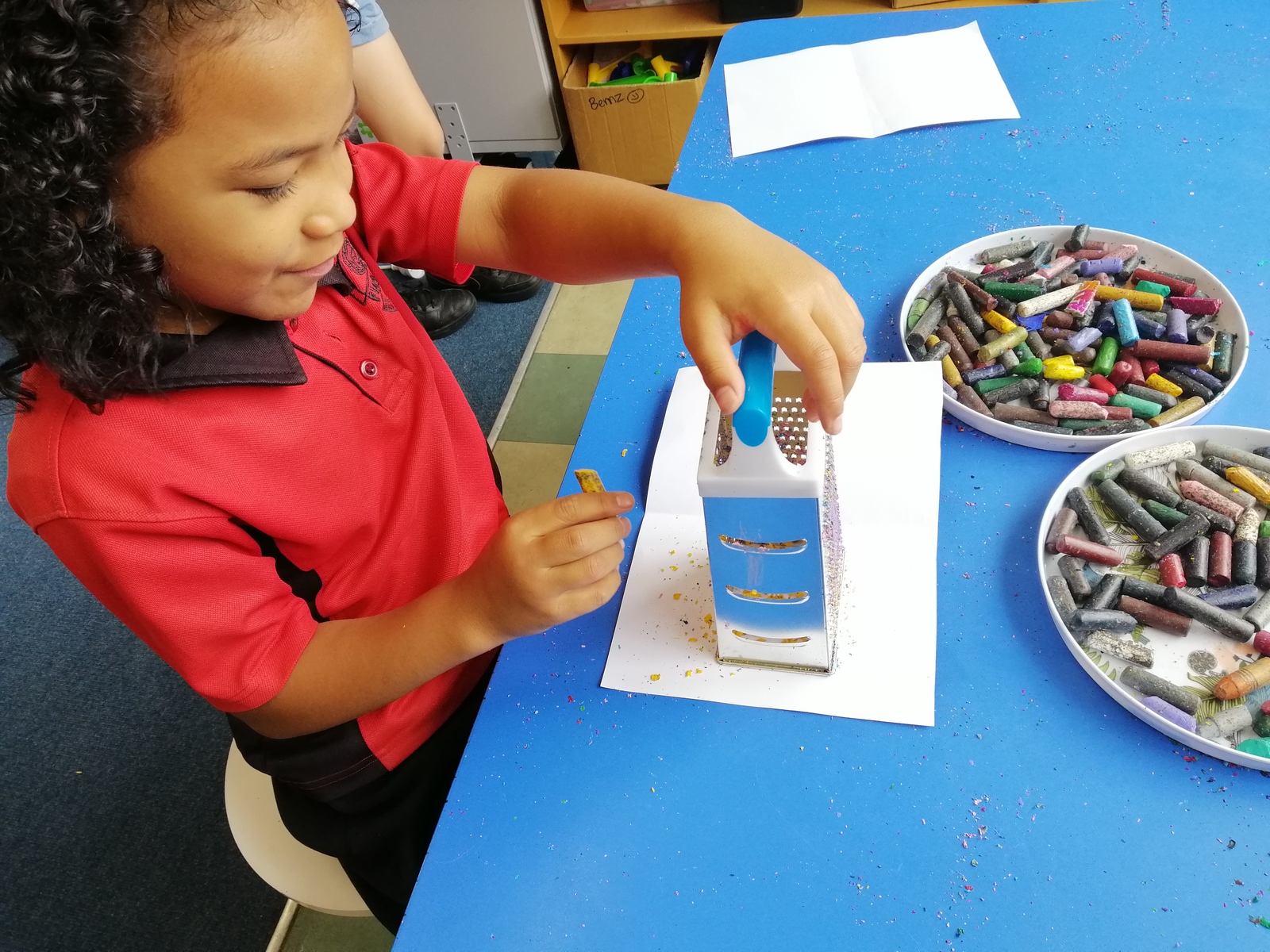 This week we were also able to go and watch a stage show about one of our favorite characters- Greedy Cat. It was a new experience for a lot of our learners and lots of fun!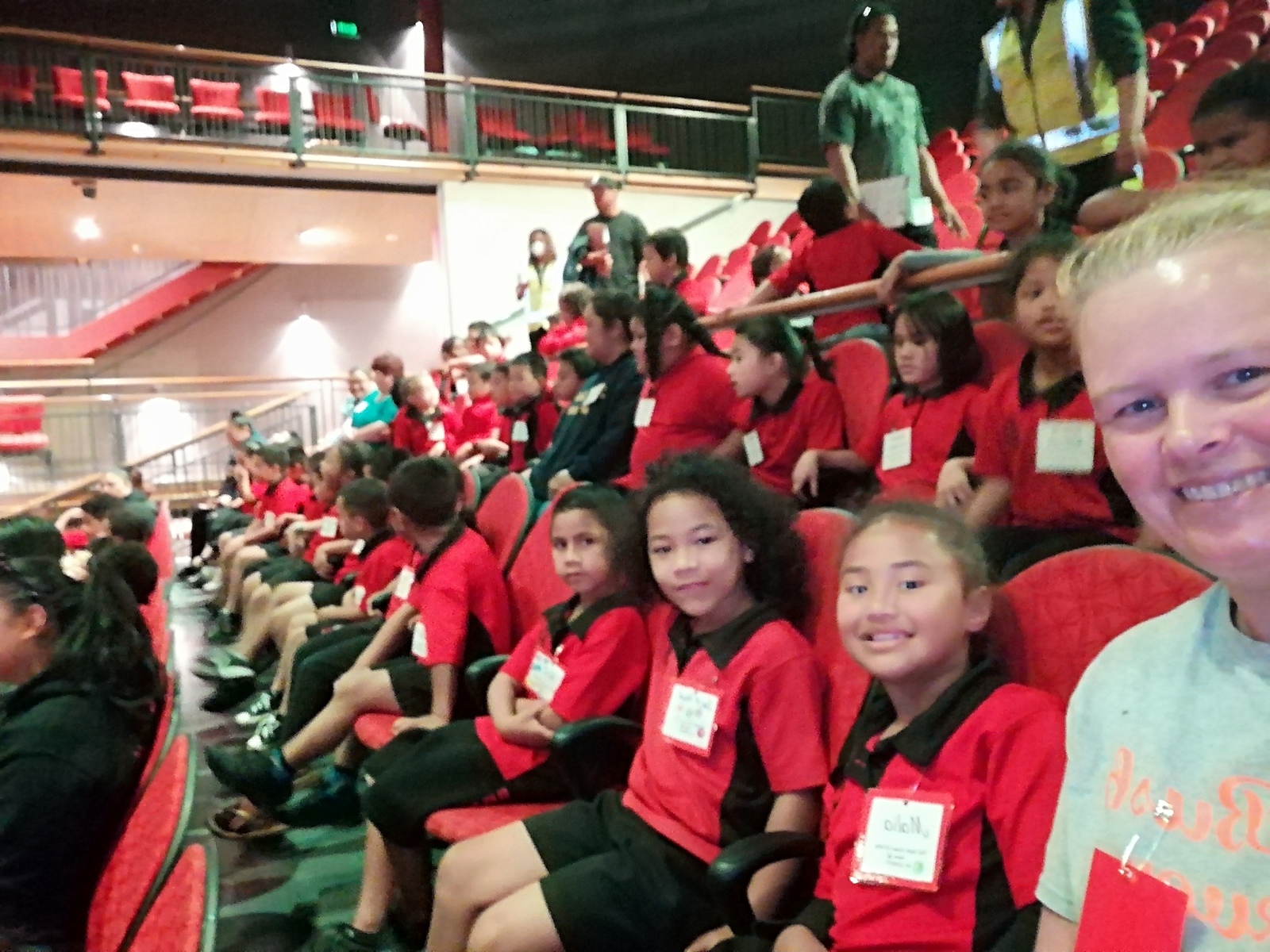 Congratulations to our two Players of the Day this week- Luke and McKenzy.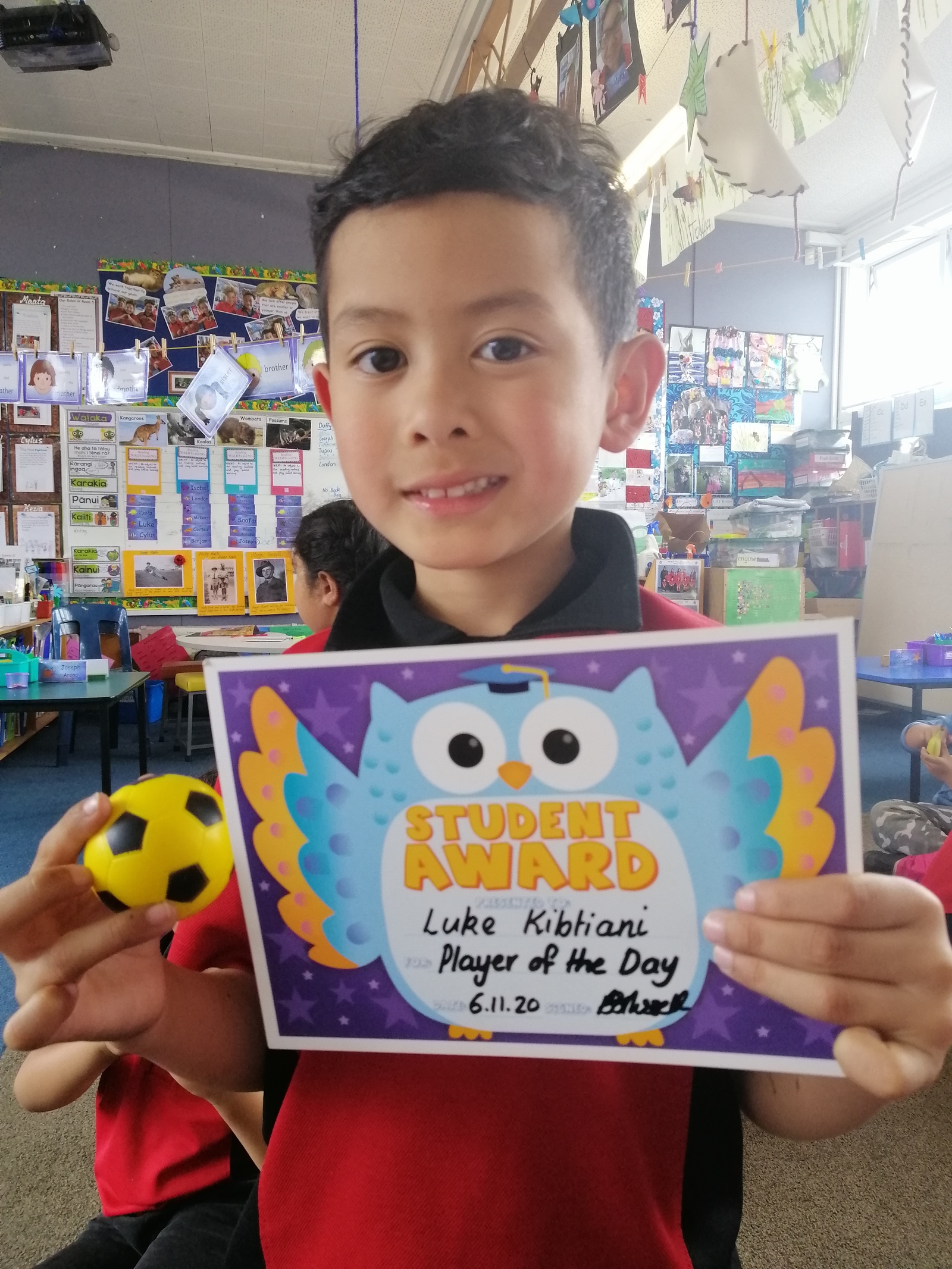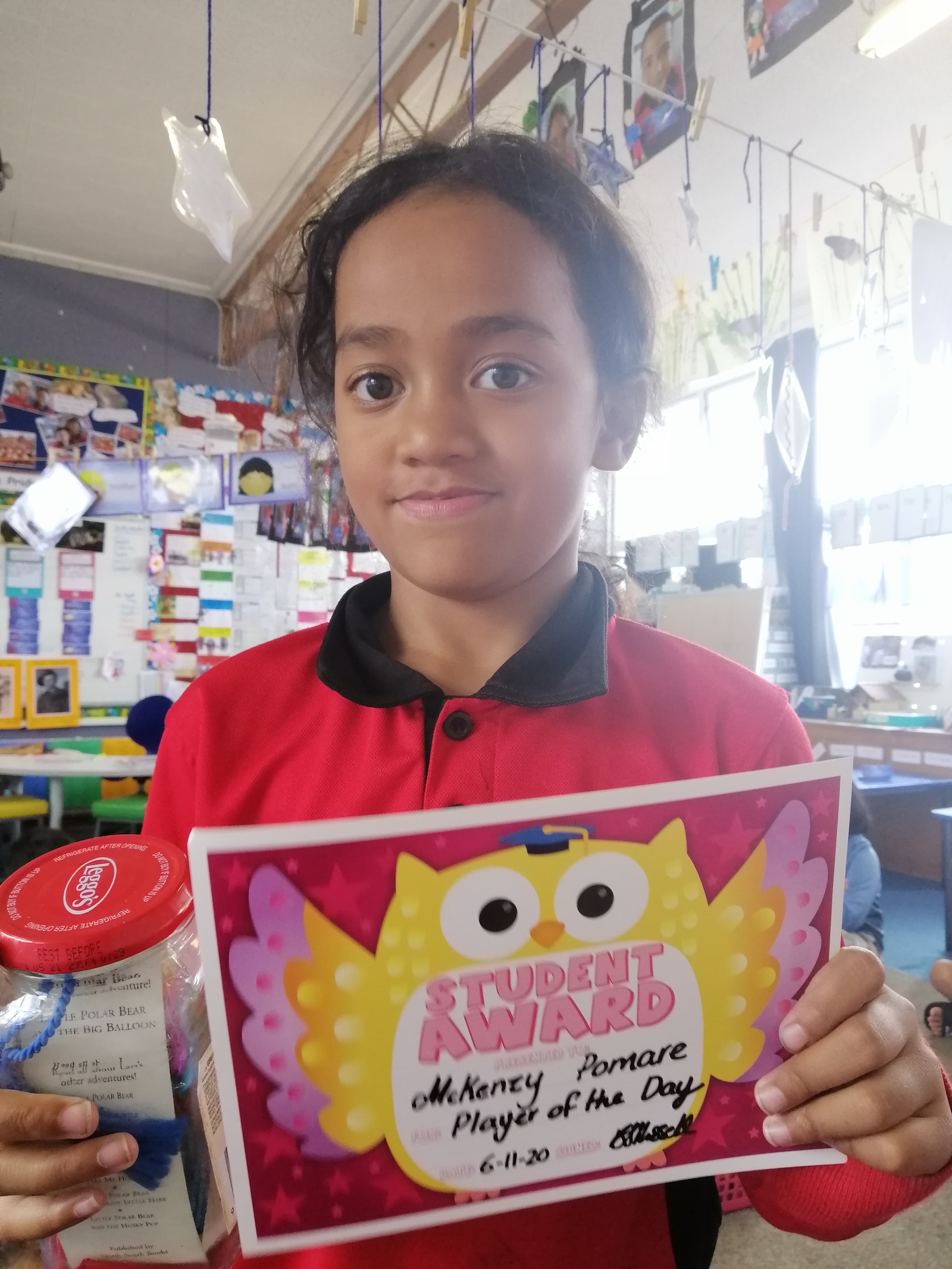 Also congratulations to Saint Paul for getting a prize for always doing his homework.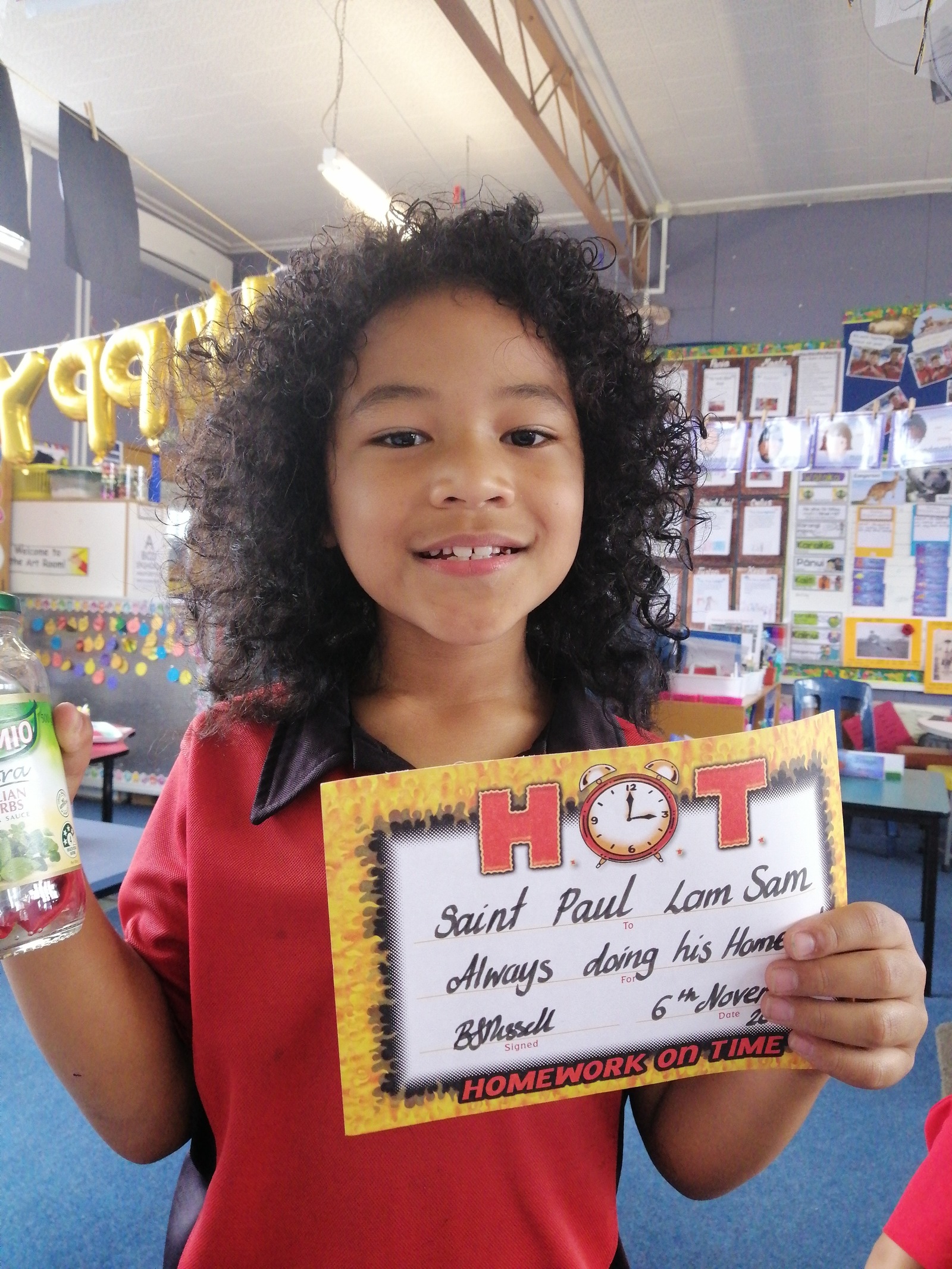 Week Two
What a great start to Niueaen Language week! We were so lucky to have a traditional dance by Liamania, Haloe and their families to open our week. Thank you so much boys.
On Wednesday we had Touch Rugby skills wsith coach Daniel. Some awesome skills were displayed by Room 5 and some amazing smiles as well. Congratulations to Players of the Day- Ma'ata and Cortez.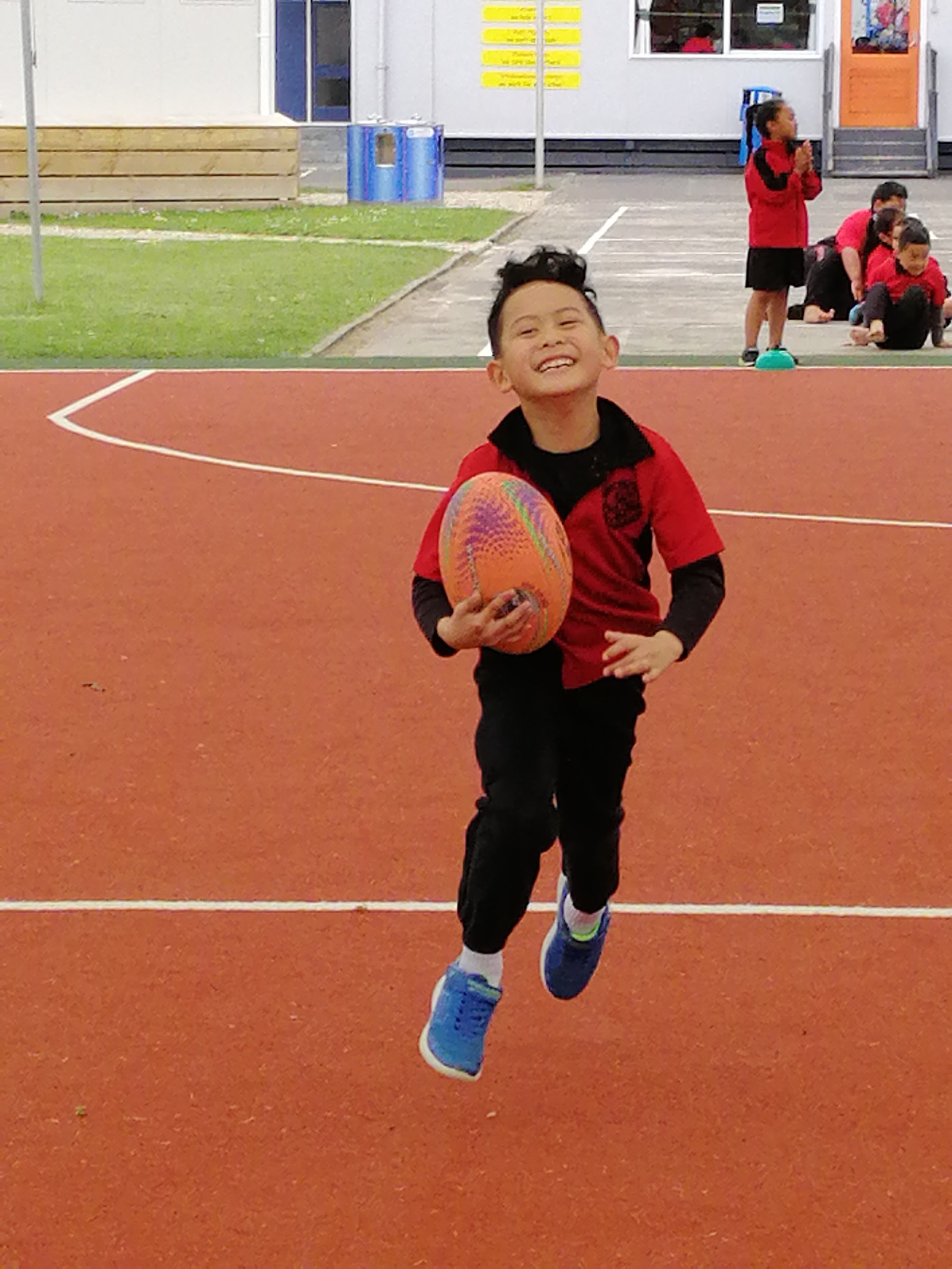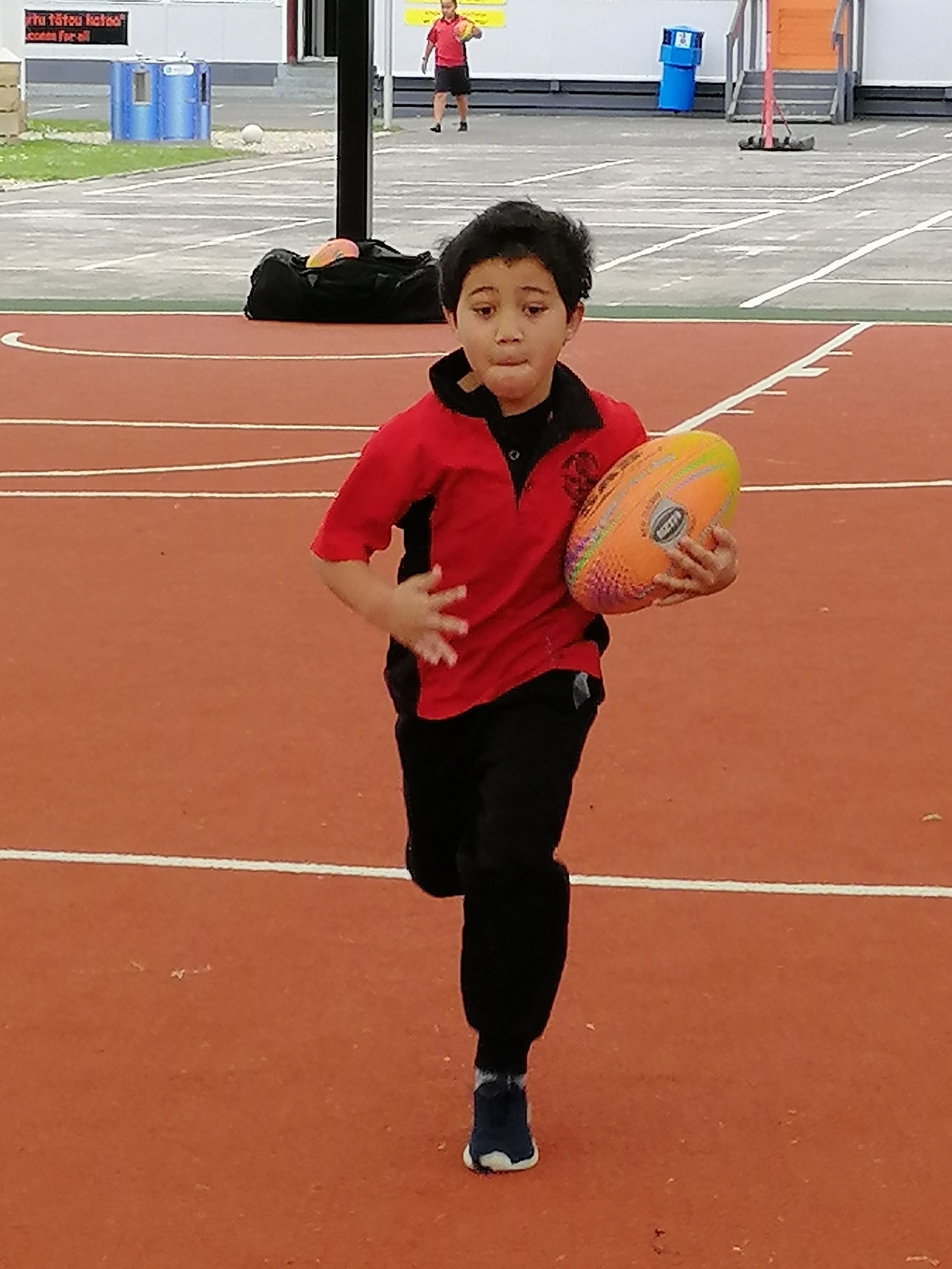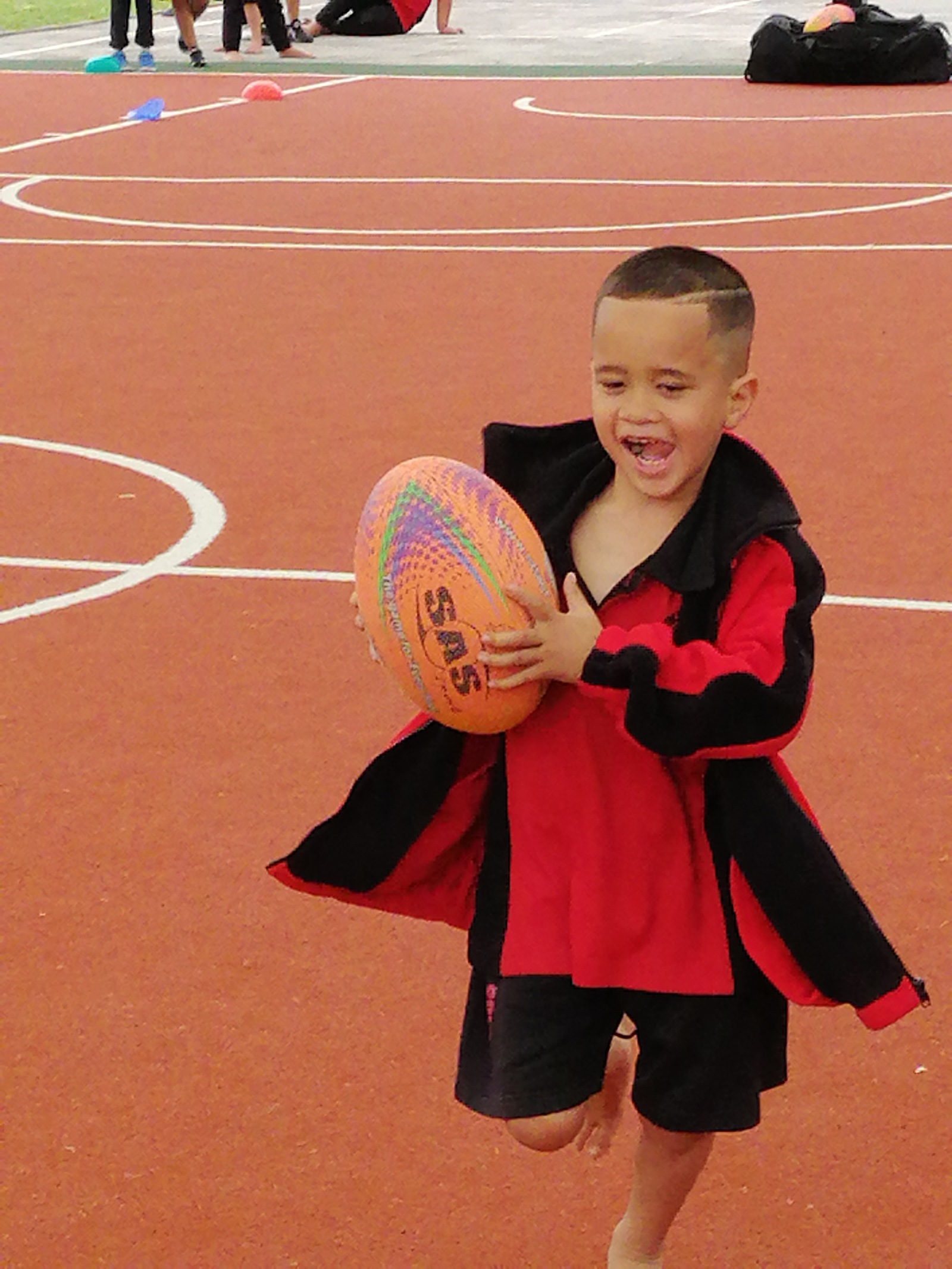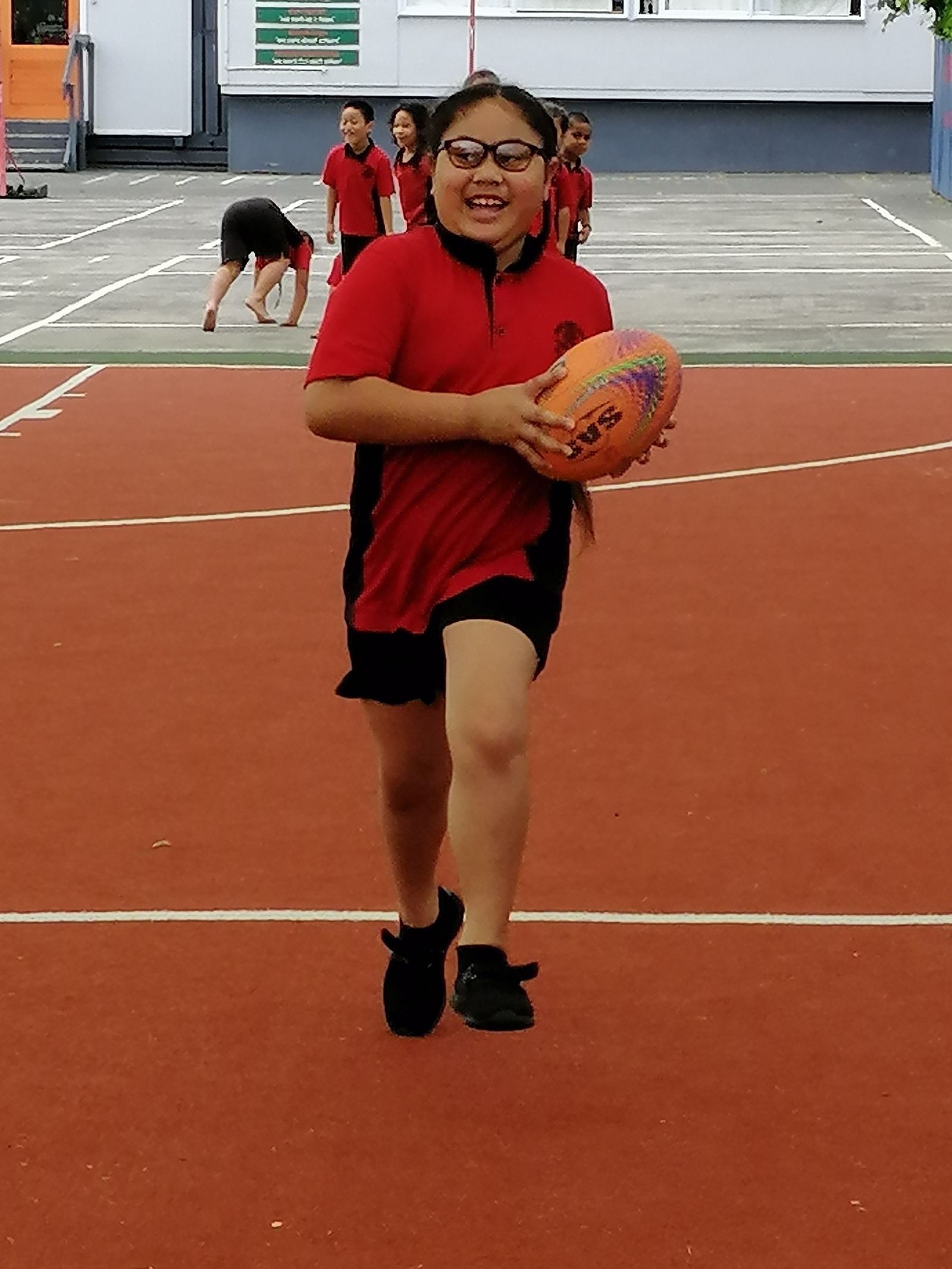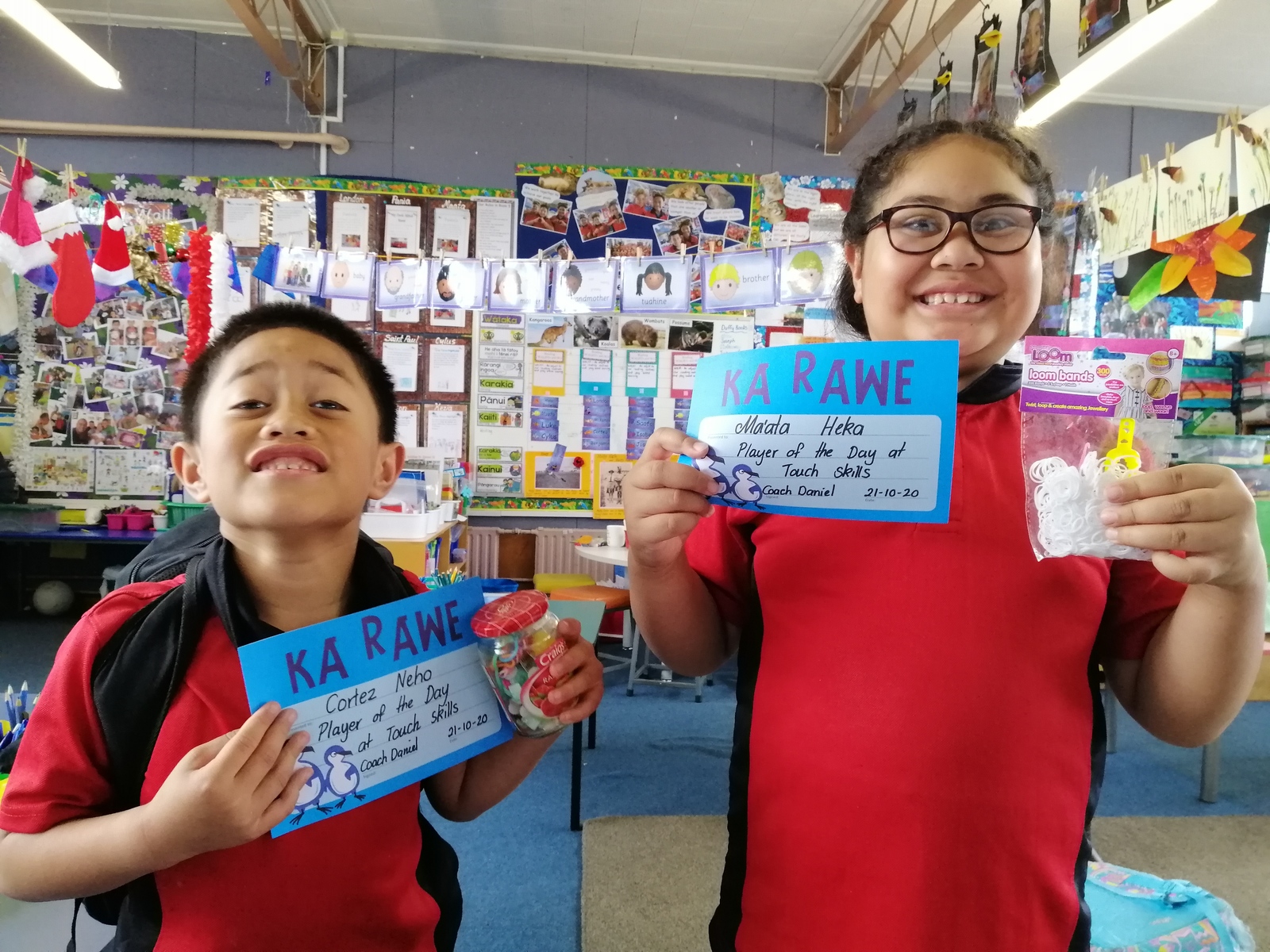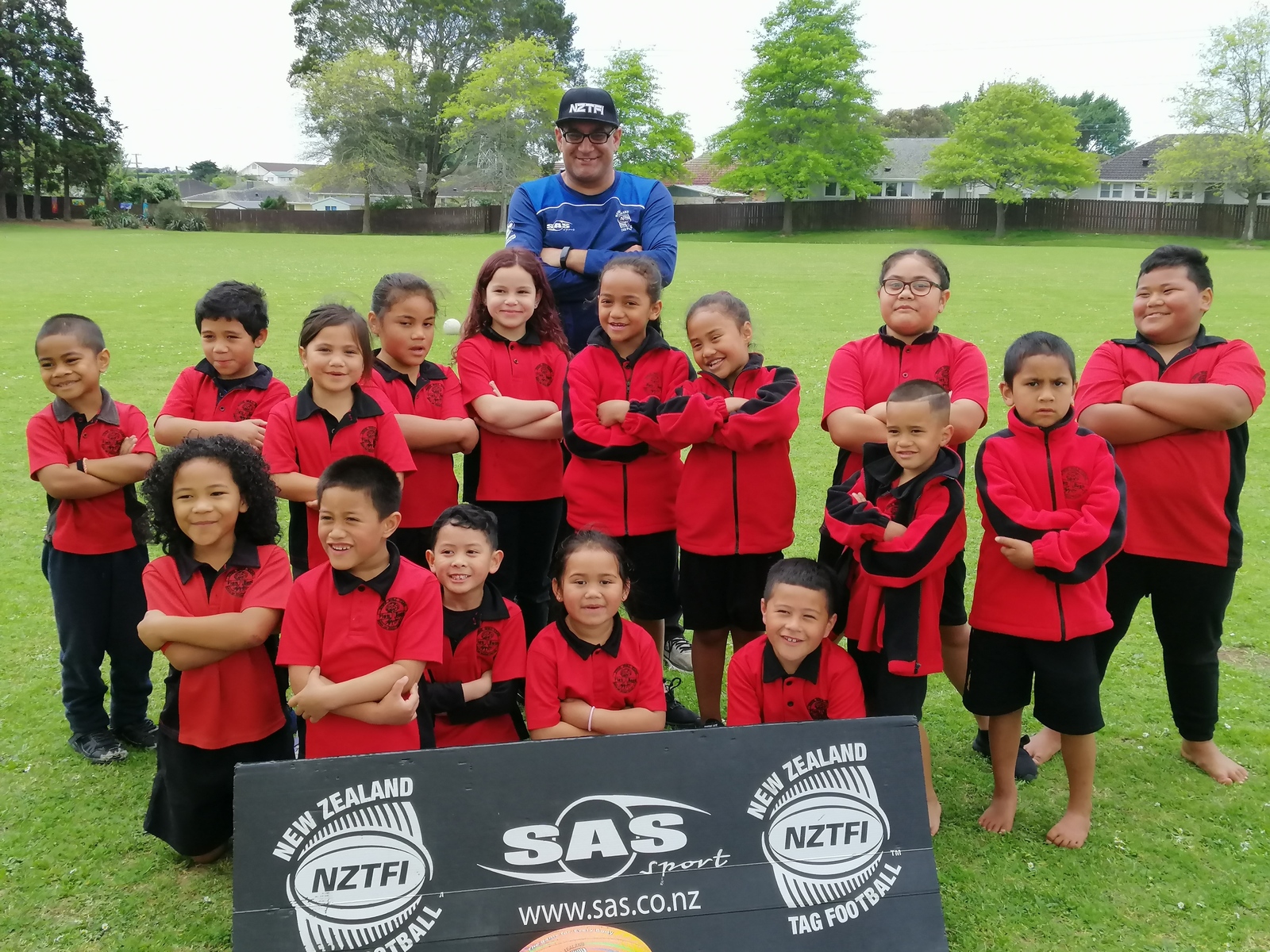 Congratulations to Talia for getting a Principals Award this week.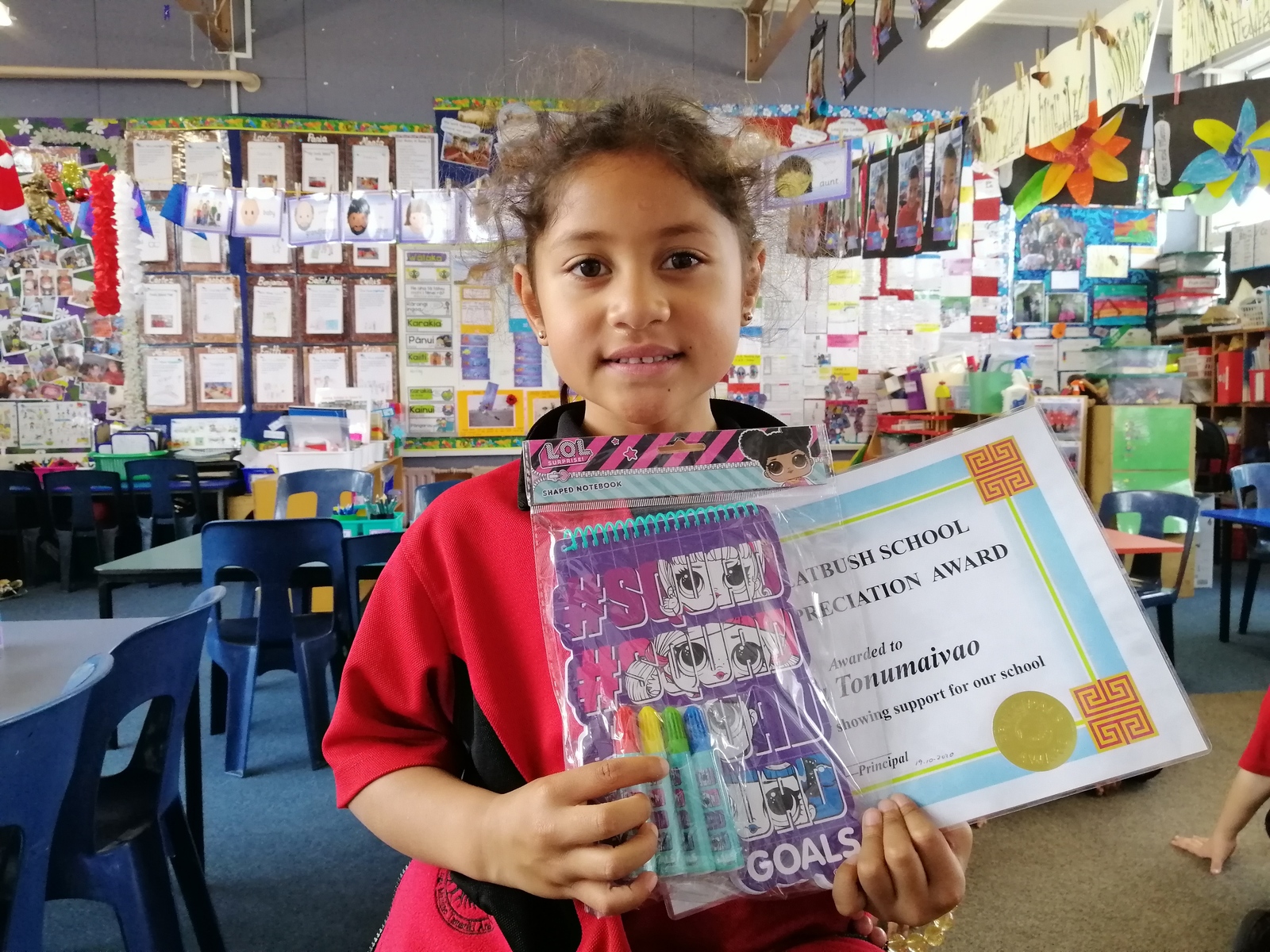 Thursday was the day we have all been waiting for, our trip to MOTAT! Massive thanks to our two parent helpers for coming along. More photos to come......
Week One
This is the last and, hopefully the best, term of the year! The weather is starting to warm up and we are in Level 1, so it is a great time to be back at school and doing some awesome learning.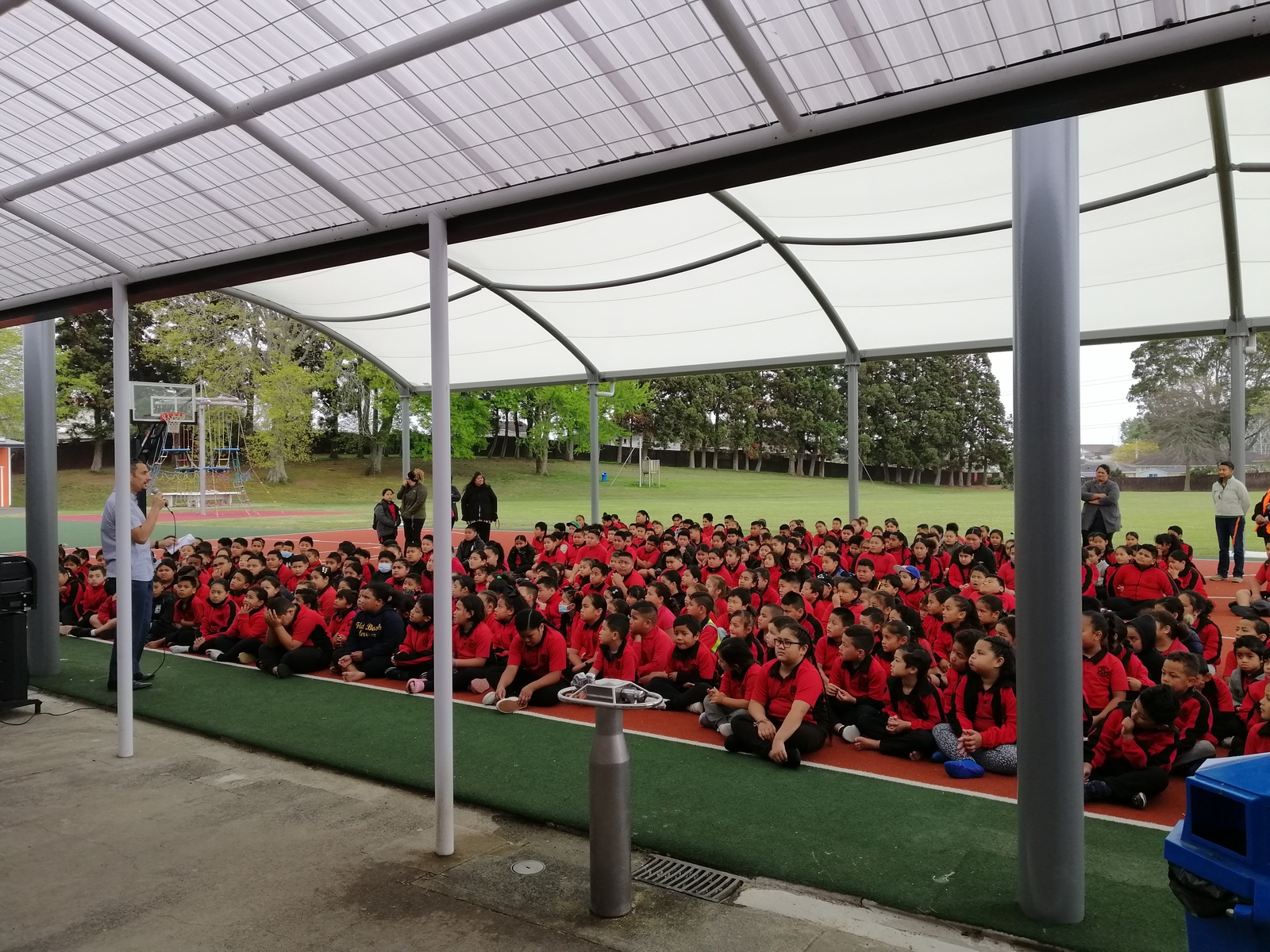 We started the Term with a welcome back from Mr Avatea under our new C.O.L.A (Covered Outdoor Learning Area). Then we made our way to class to talk about our topic for this term- Celebrations.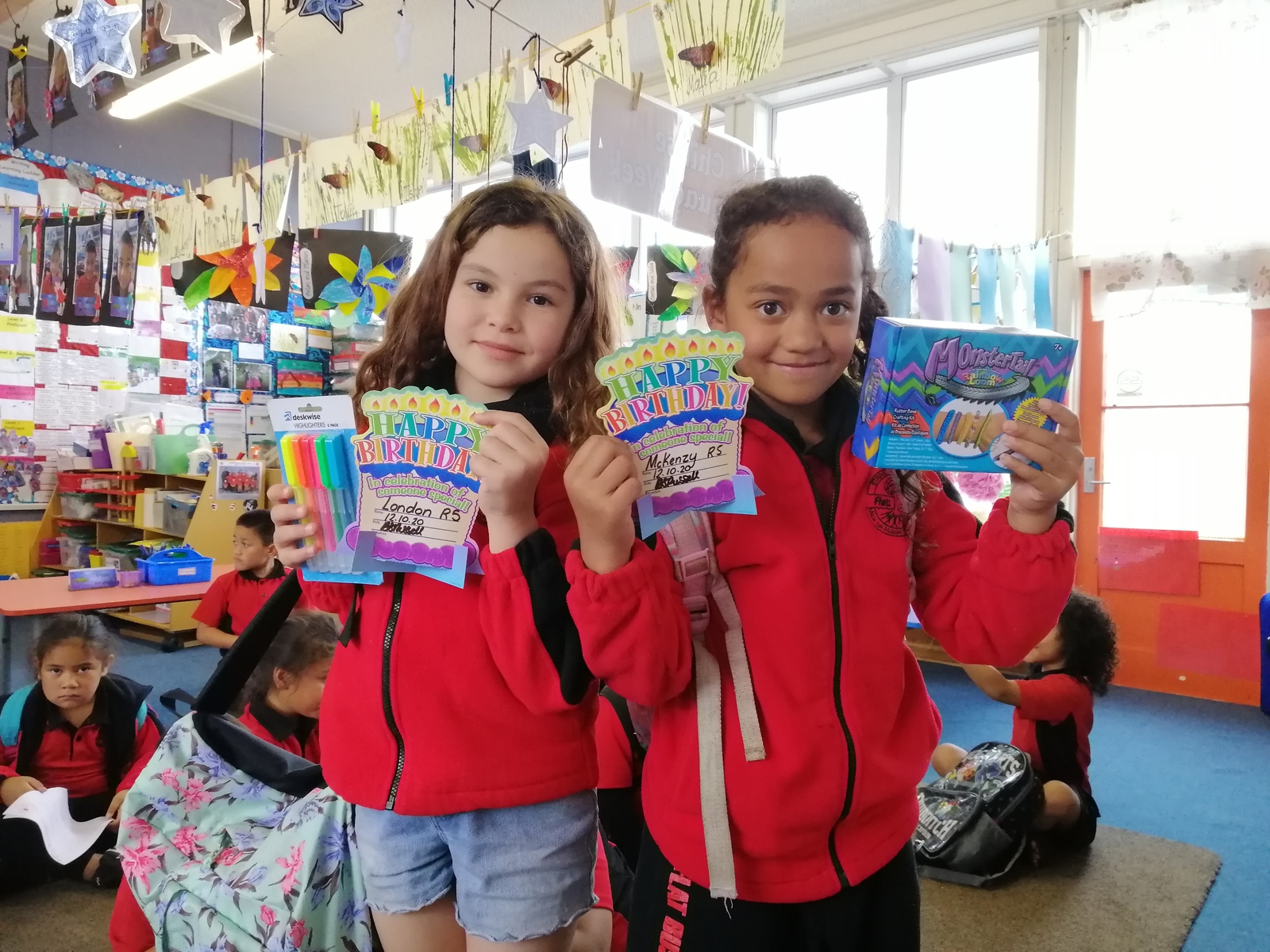 Happy Birthday to London and McKenzy who had their birthday during the holidays :)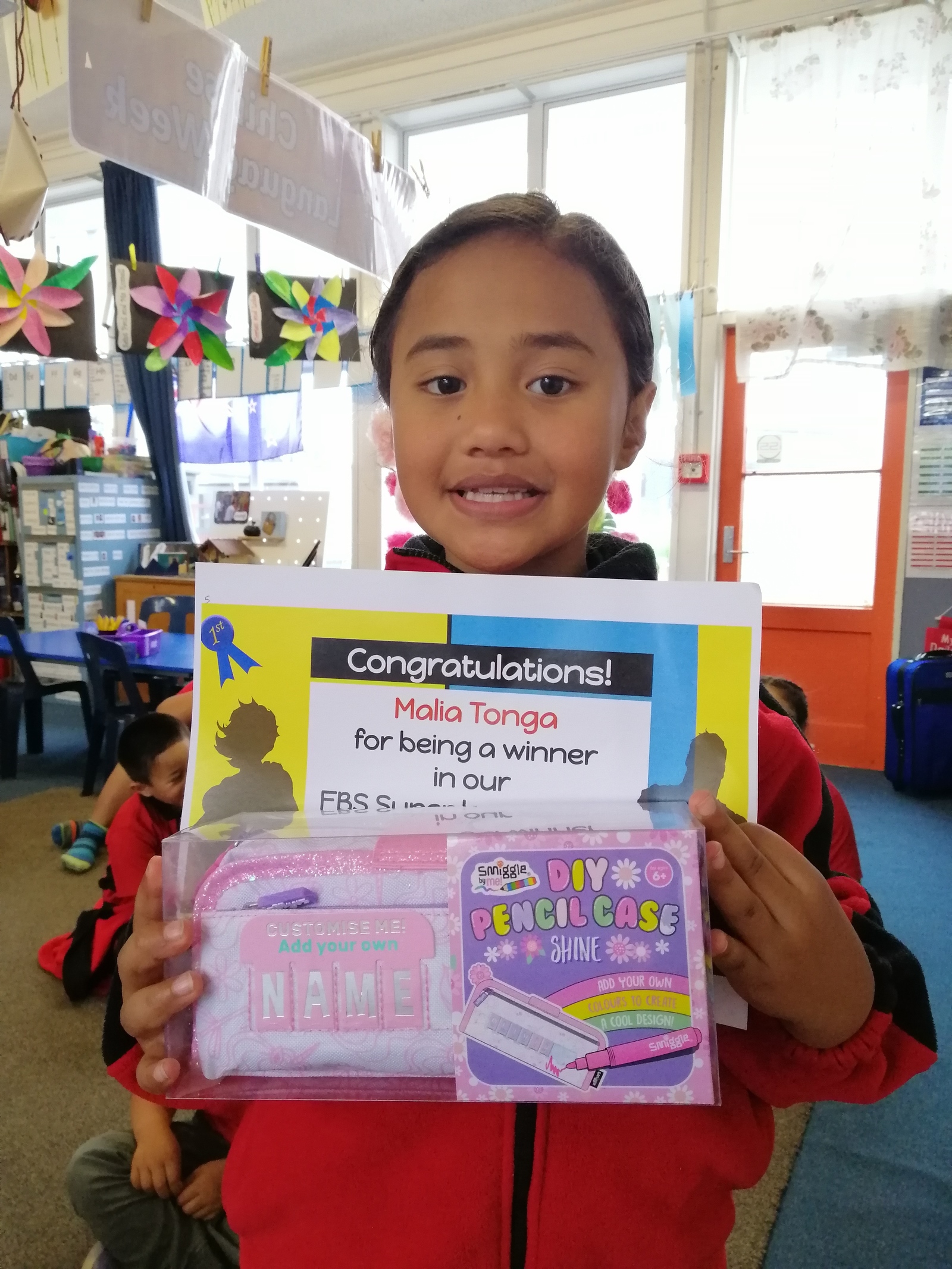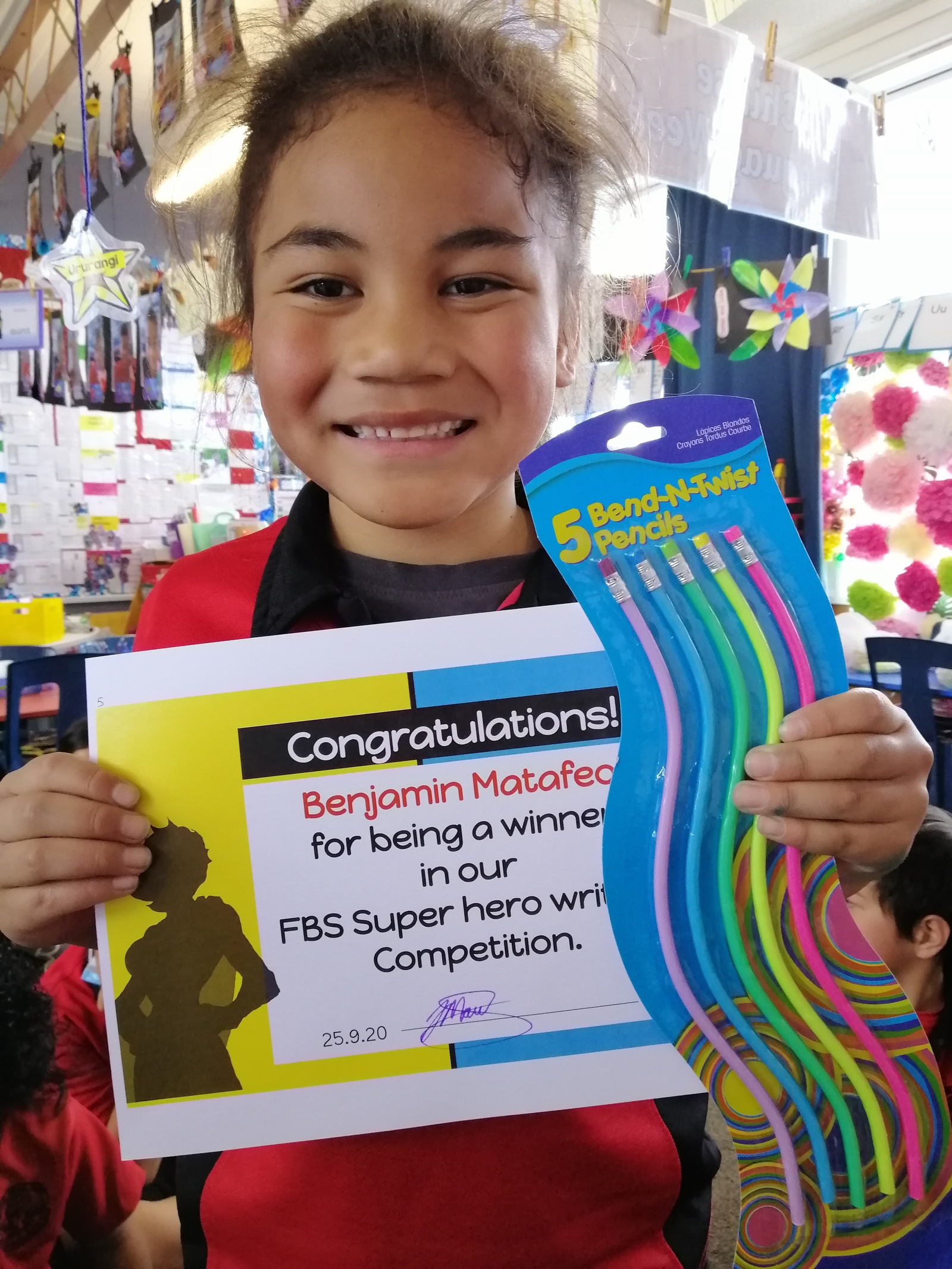 Congratulations to Malia and Benjamin who both won prizes in the Superhero writing competition in Term 3. We are so proud of you!
Last term we started working on our Calendar Art artwork by making a sunset. We used red and yellow tissue paper and lots of PVA glue to create our background.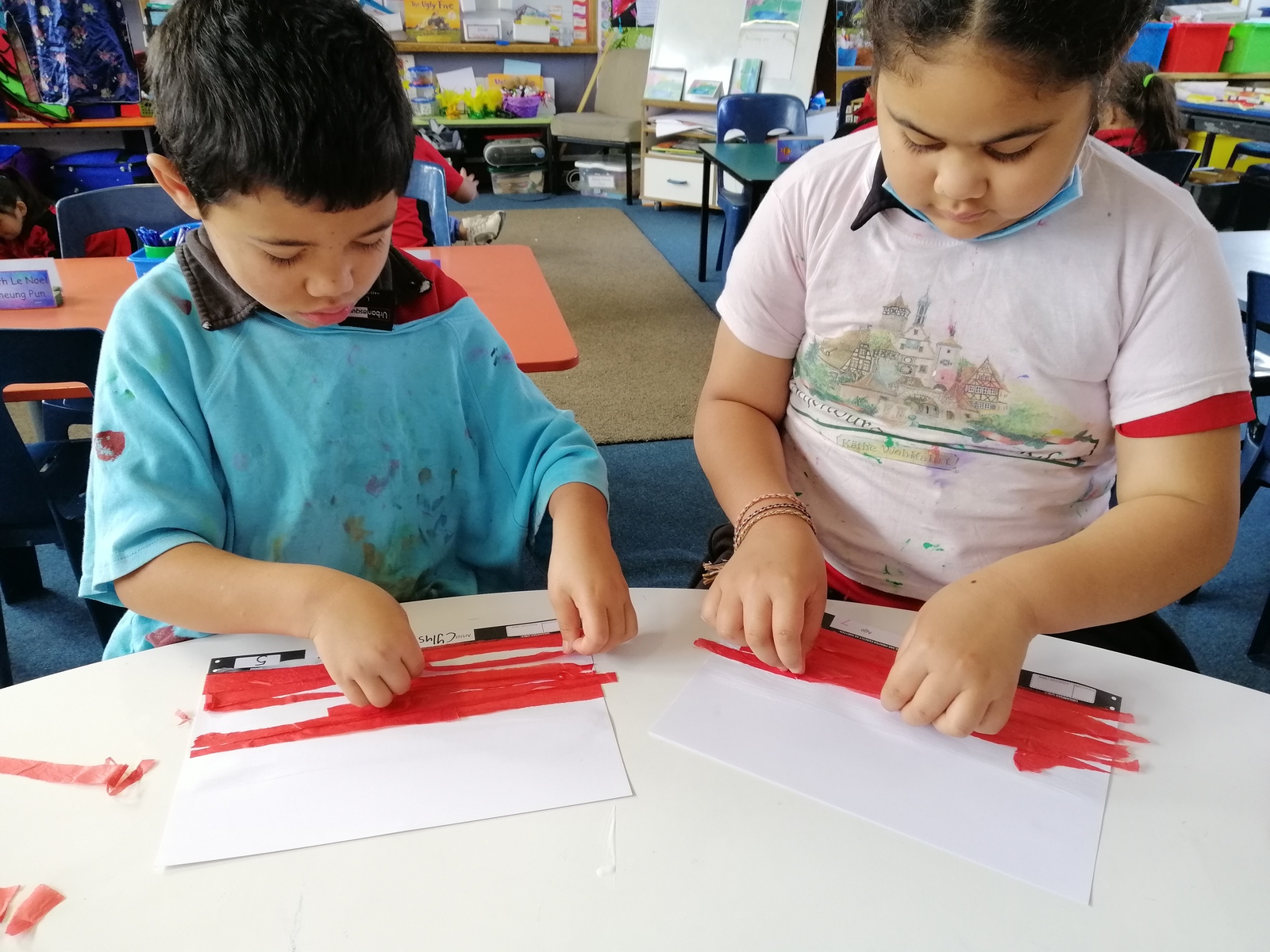 On Friday we used vivids and stencils to add a NZ native bird to our artwork. Then we finished off by adding some trees and grass to complete our pictures. I'm sure you will agree that the finished artworks look amazing!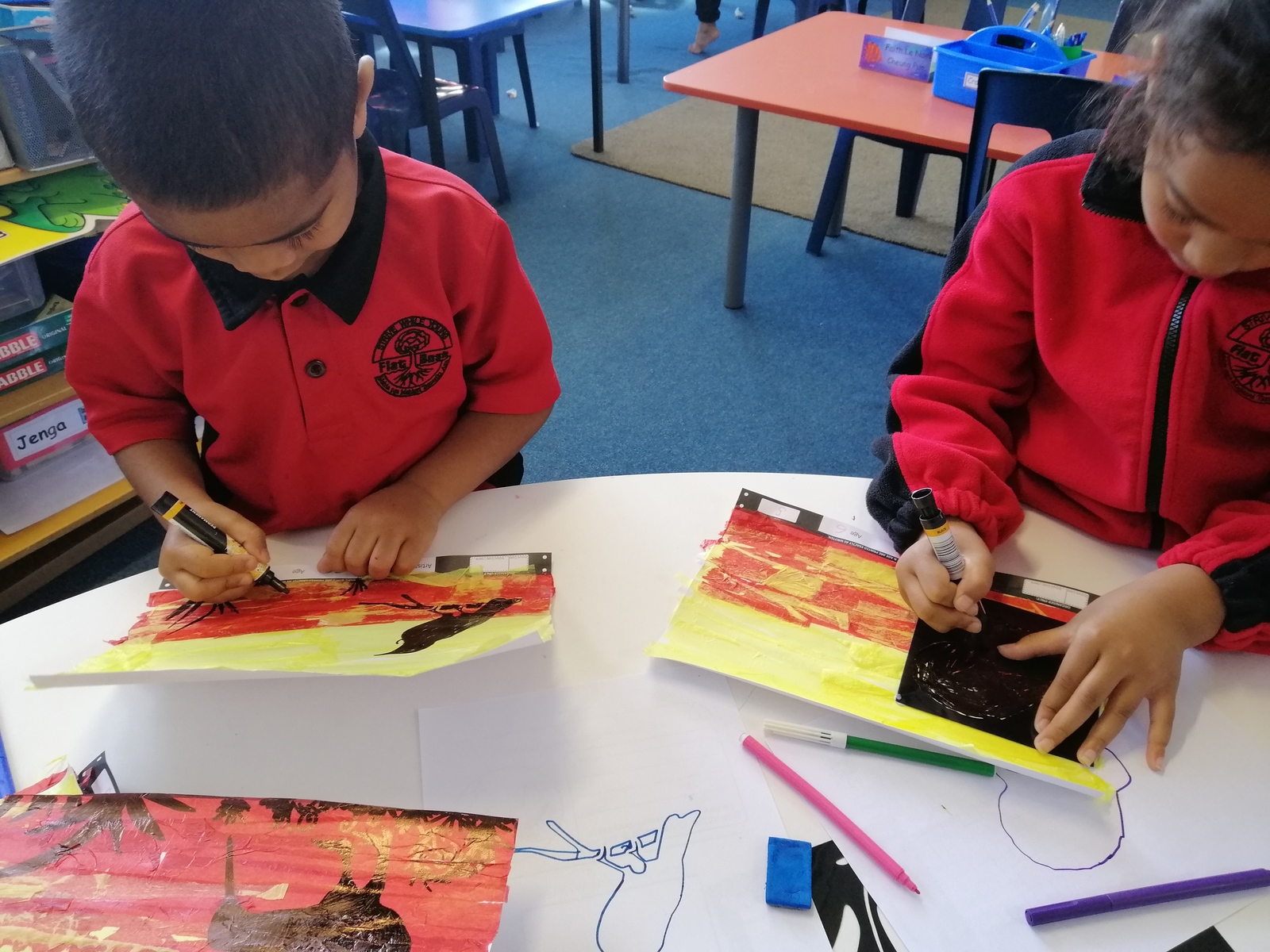 If you would like to use this artwork or a photo to order a calendar, diary, notebook or cards, please use the order form that came home on Friday, or see Ms Russell.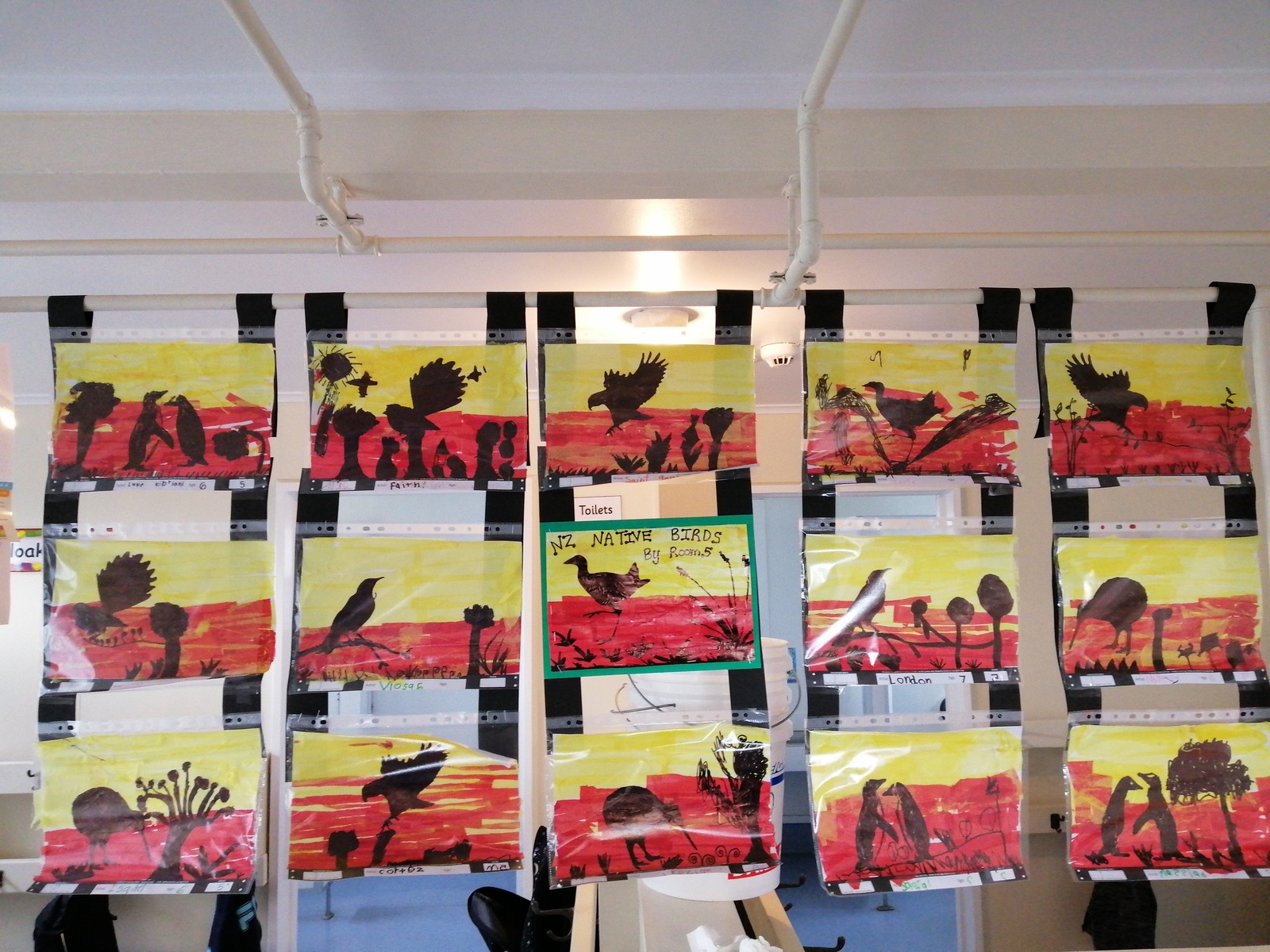 Week Ten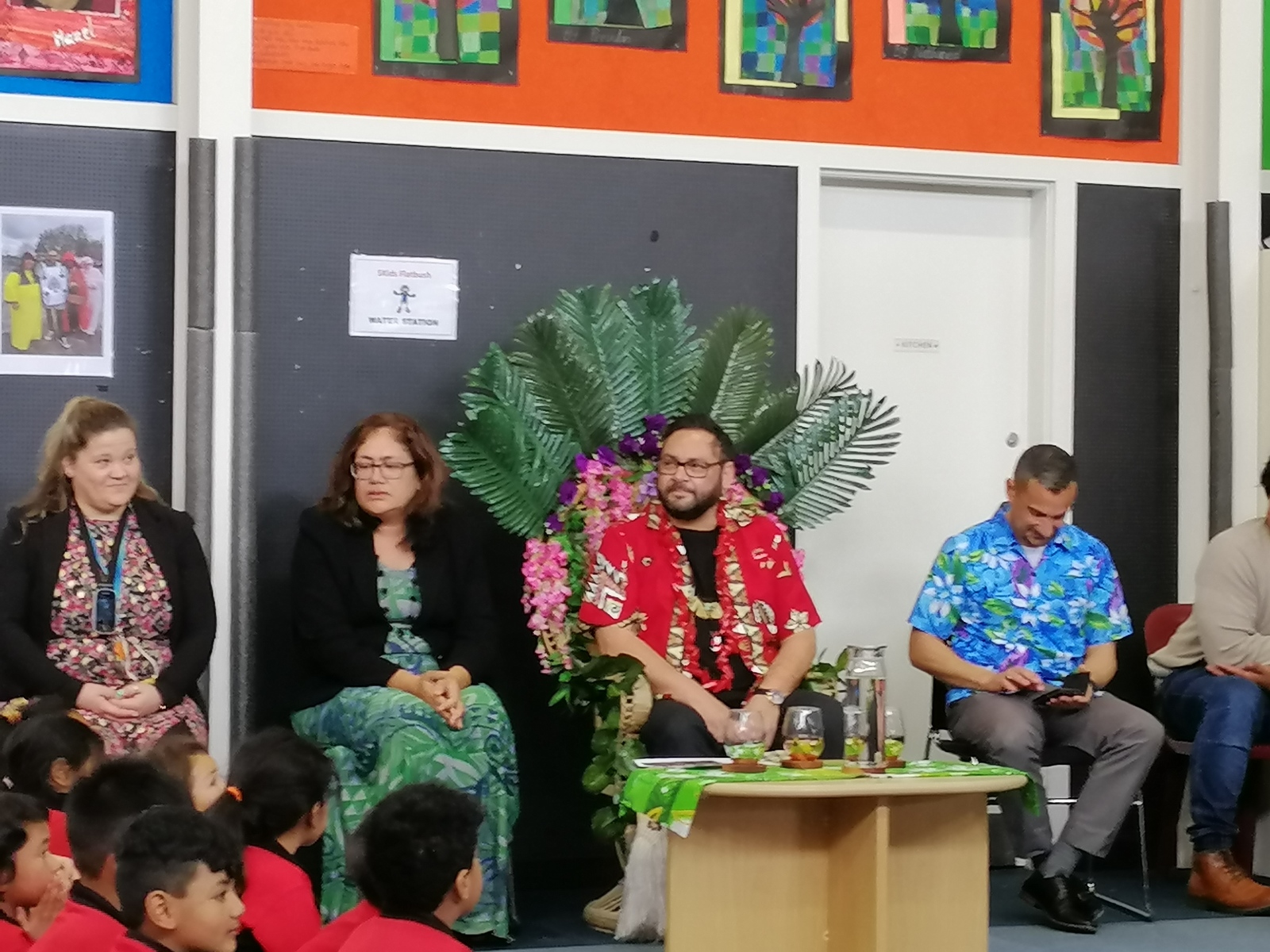 Yesterday we farewelled Mr Williams as he leaves on Friday to take up the position of Principal at Avondale Primary School. We had an assembly full of dancing, singing and celebrating our love for Mr Williams. Here are some of the highlights.
Mr Moiho leading the Junior School in our song Remember Me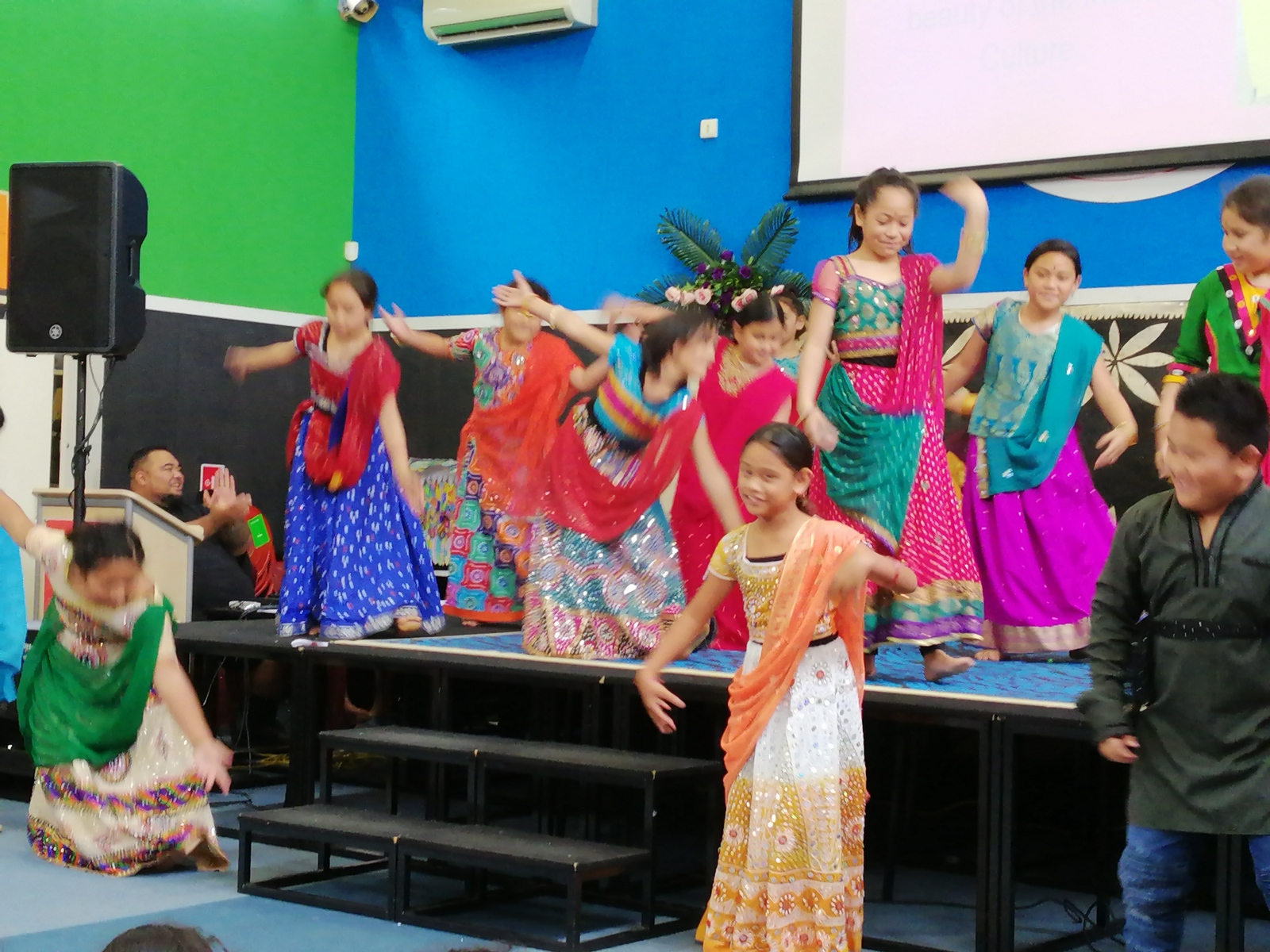 The Middle Syndicate did an Indian inspired dance, they were fantastic!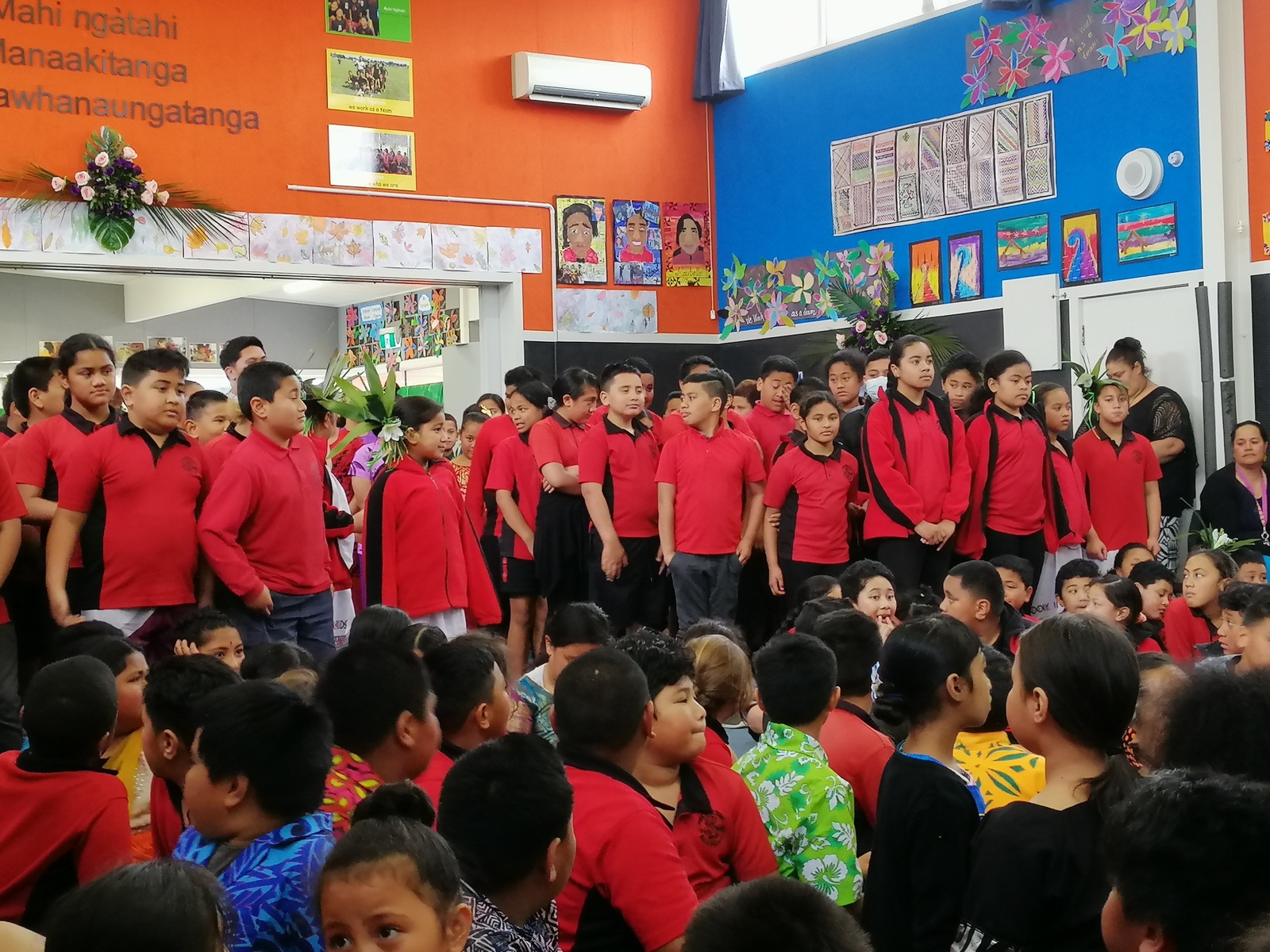 A beautiful, inspirational Waiata from our Senior school students.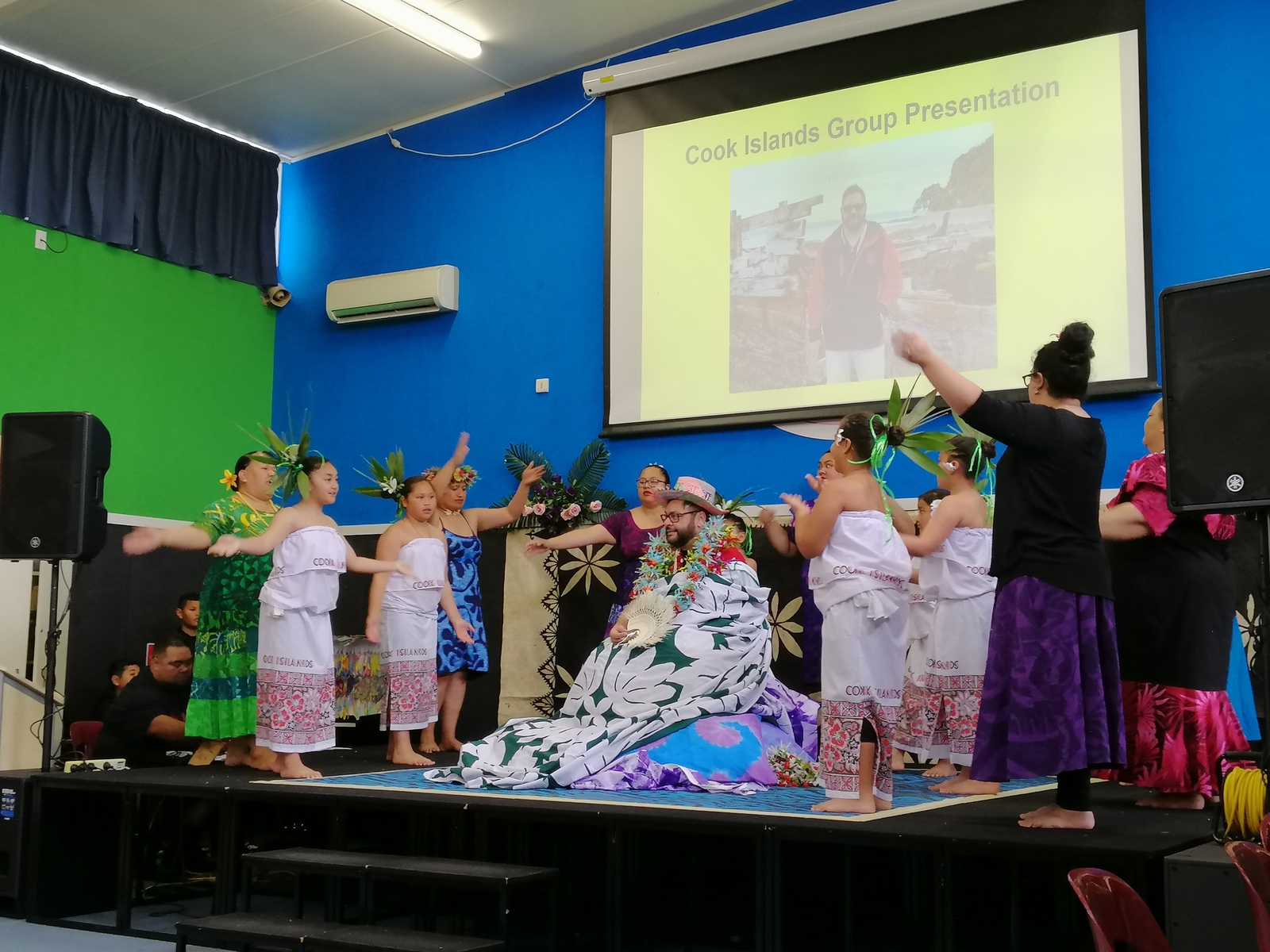 Lovely dancing from our Cook Island student representatives and staff.
Amazing dancing from our Samoan Students!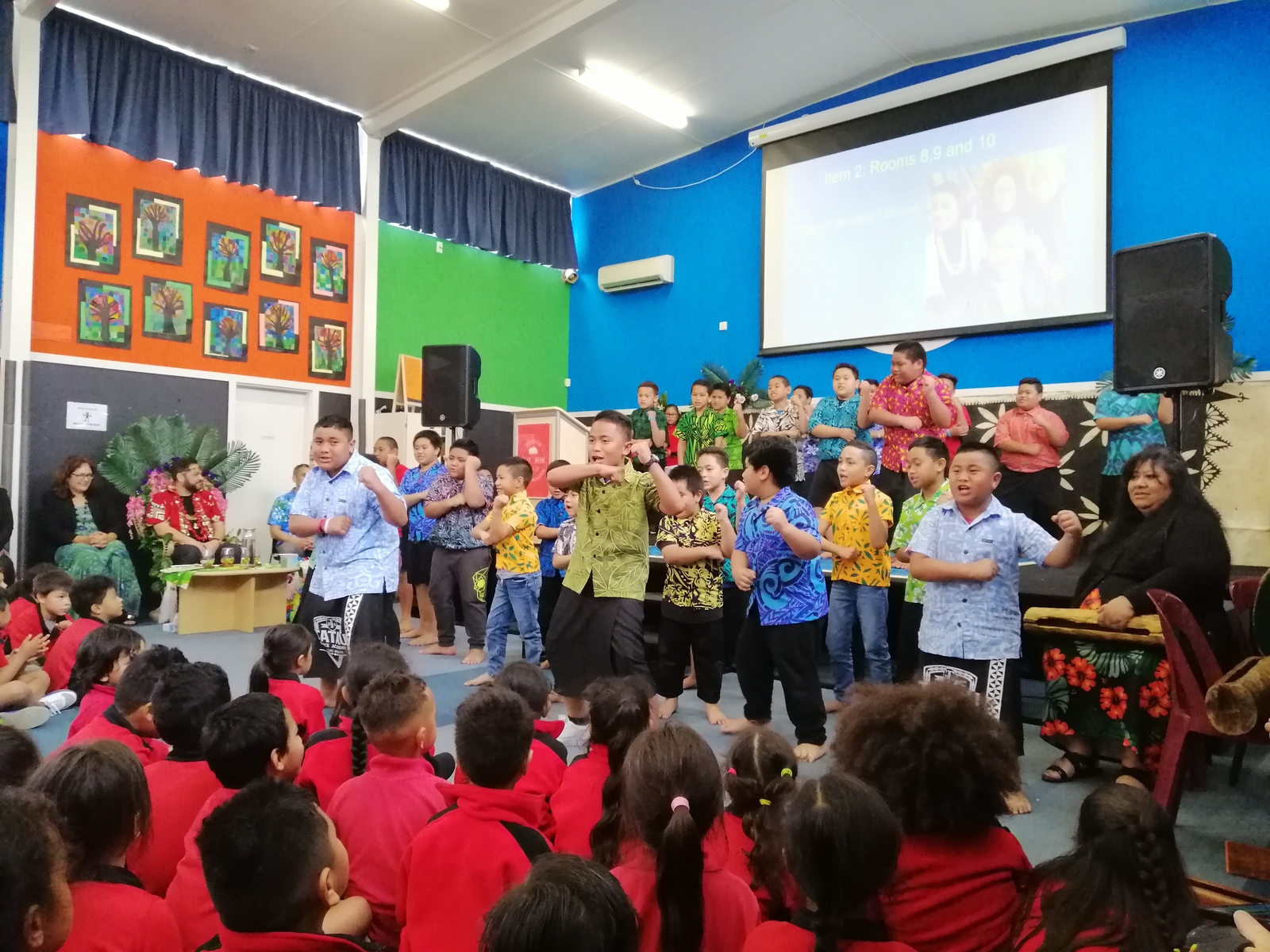 Mrs Annie Grace, one of our FBS parents, finished our assembly with some beautiful singing dedicated to Mr Williams, it was so lovely hearing all our students singing with this amazing performer!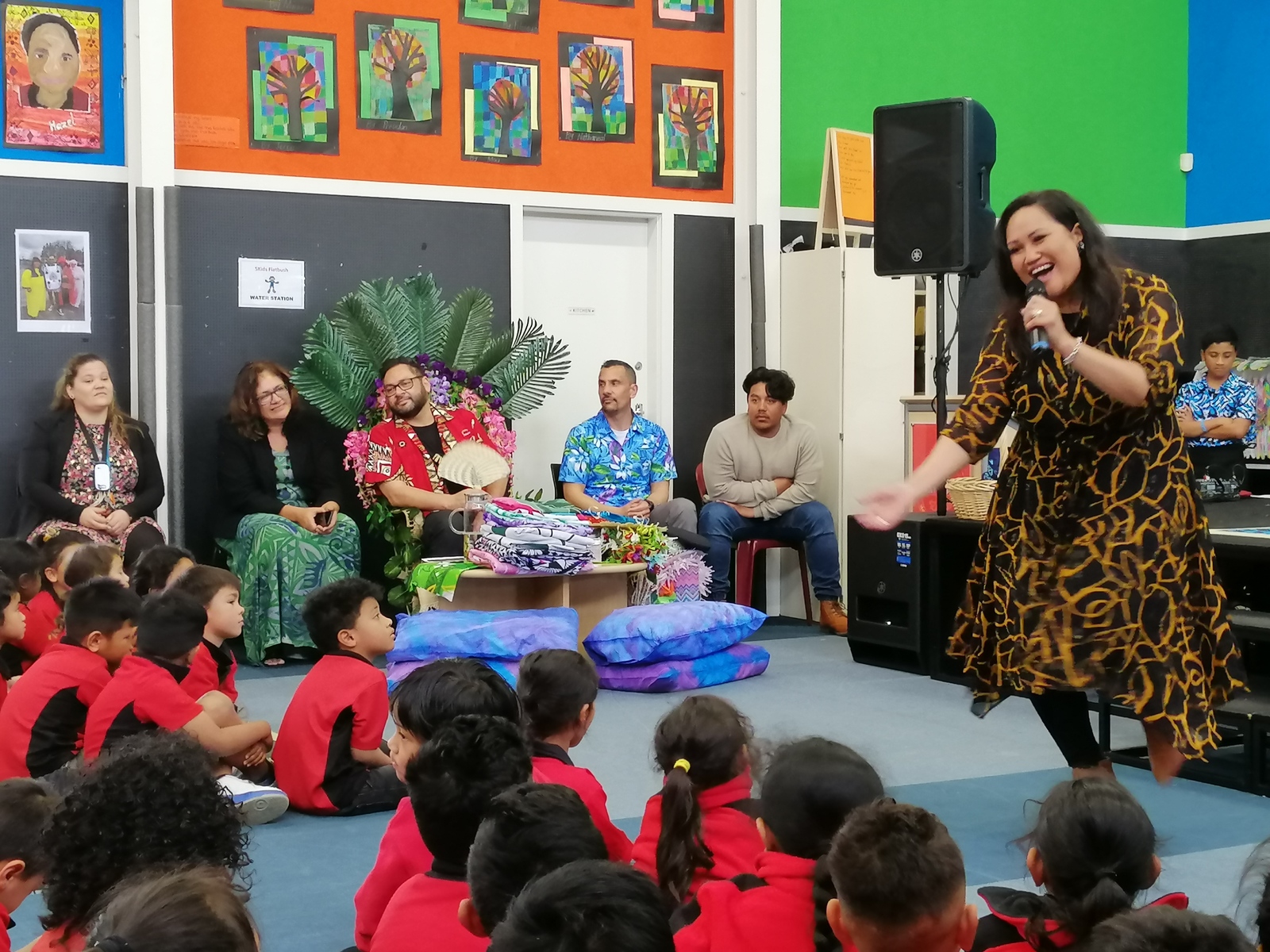 FBS made a big book for Mr Williams. Each class did a page. Here is a photo of the page that Room 5 put together.
We wrote a description of Mr Williams using the description framework.
Happy Birthday to Talia, she turned 6 on Wednesday this week. Happy Birthday to Cylus too, he is turning 7 on Thursday.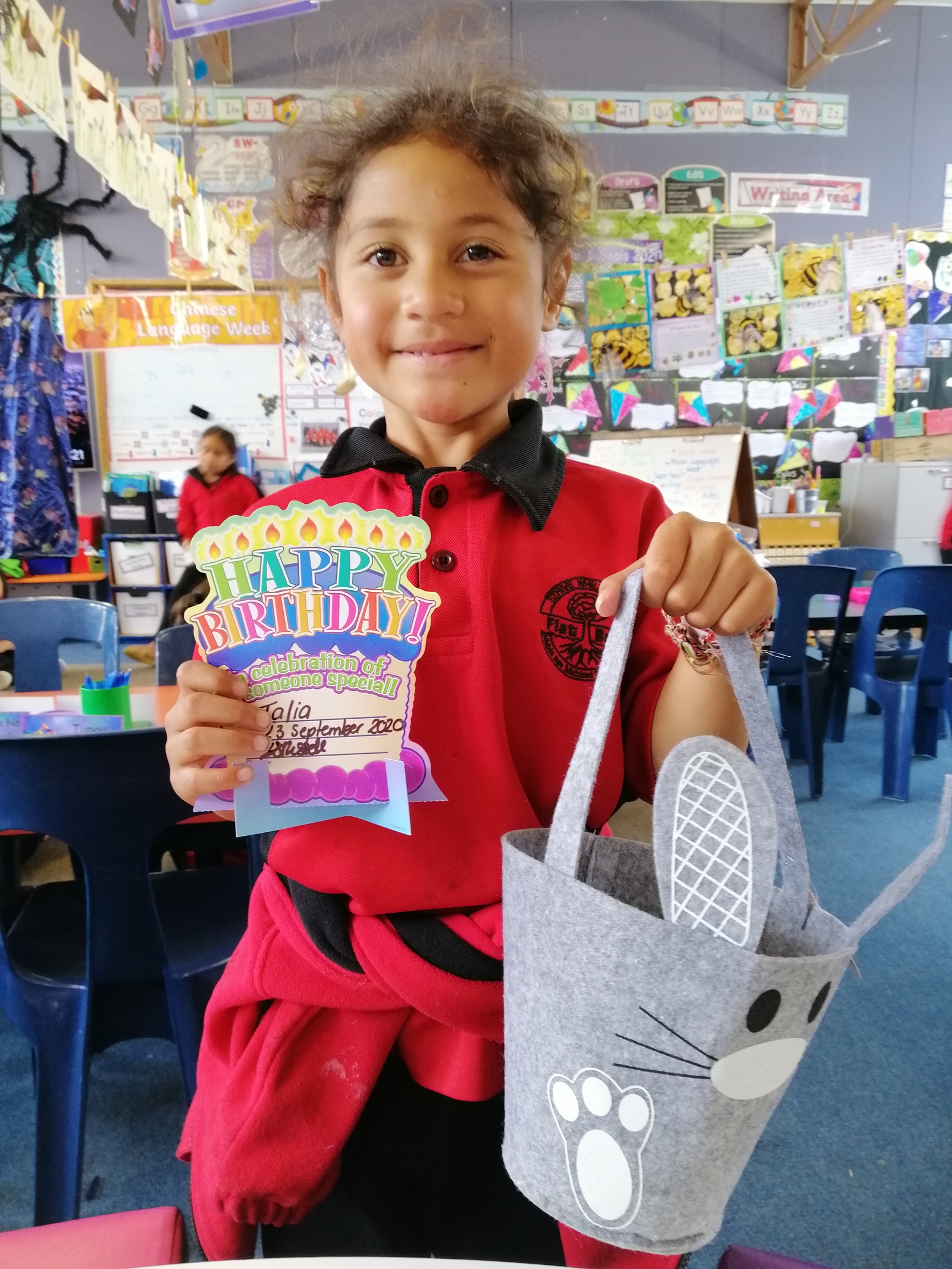 Today we were learning about Chinese Fortune Cookies. These cookies have little messages in to tell your fortune! A big thank you to Mrs Mafileo for the cookies!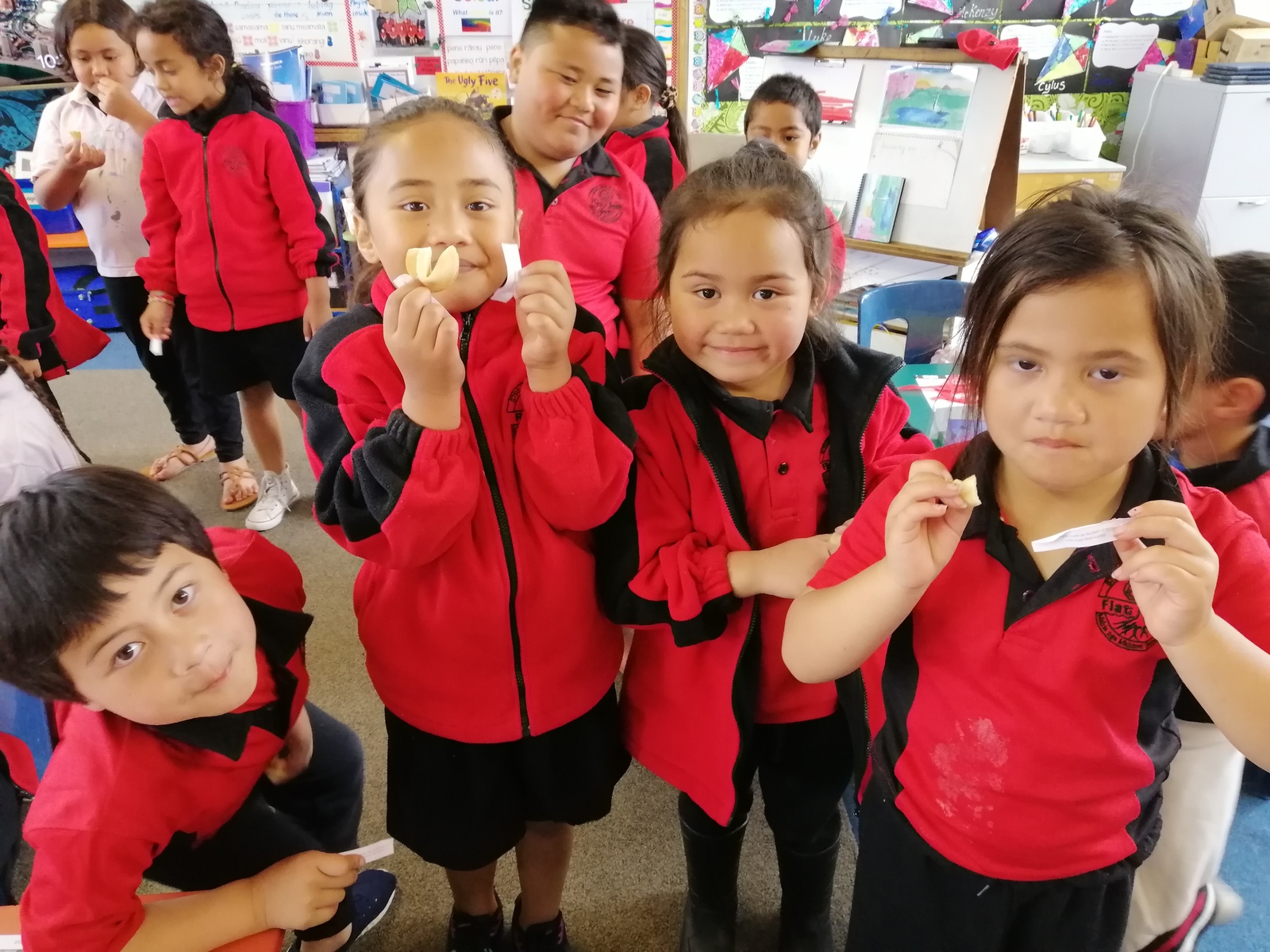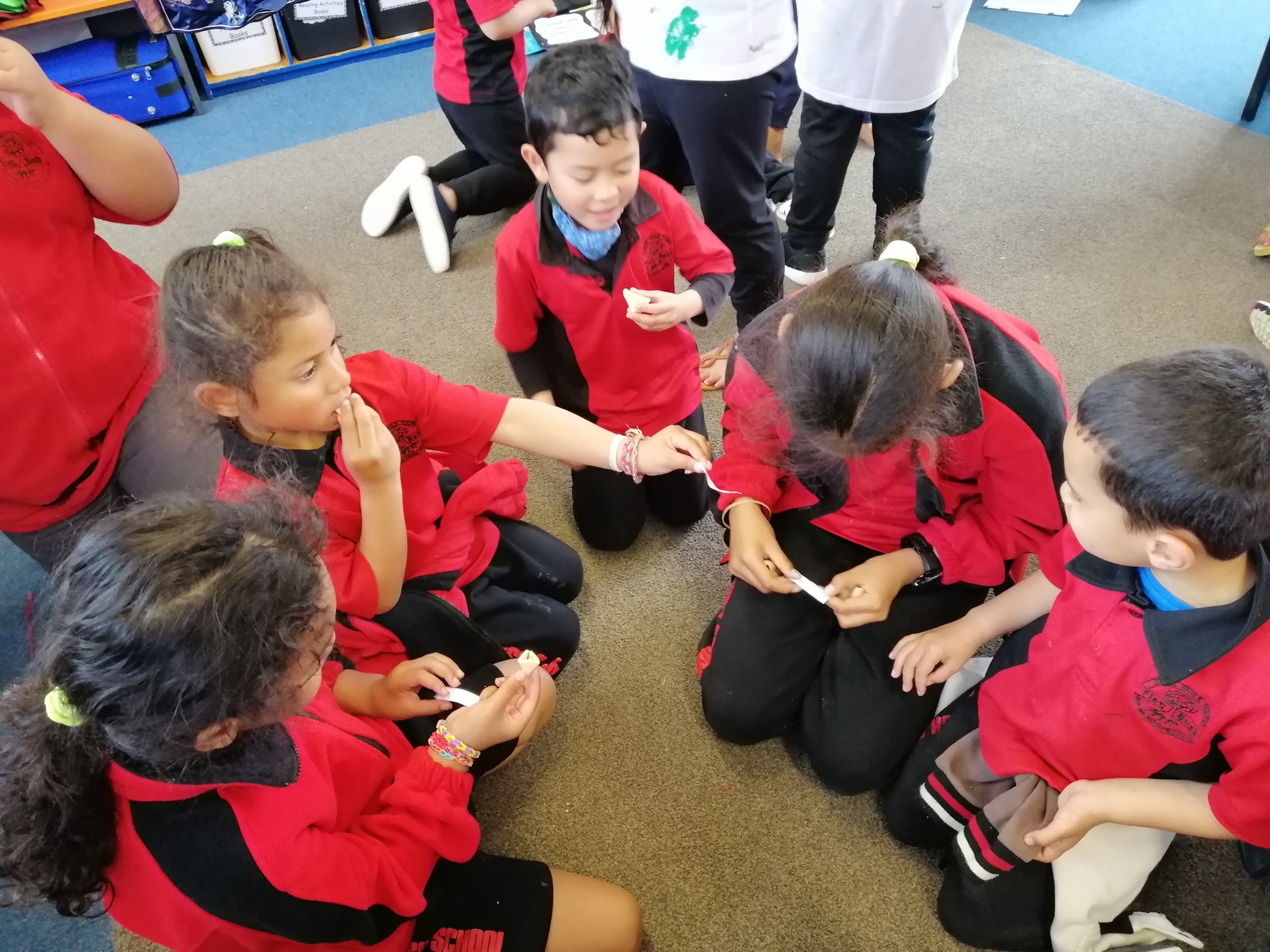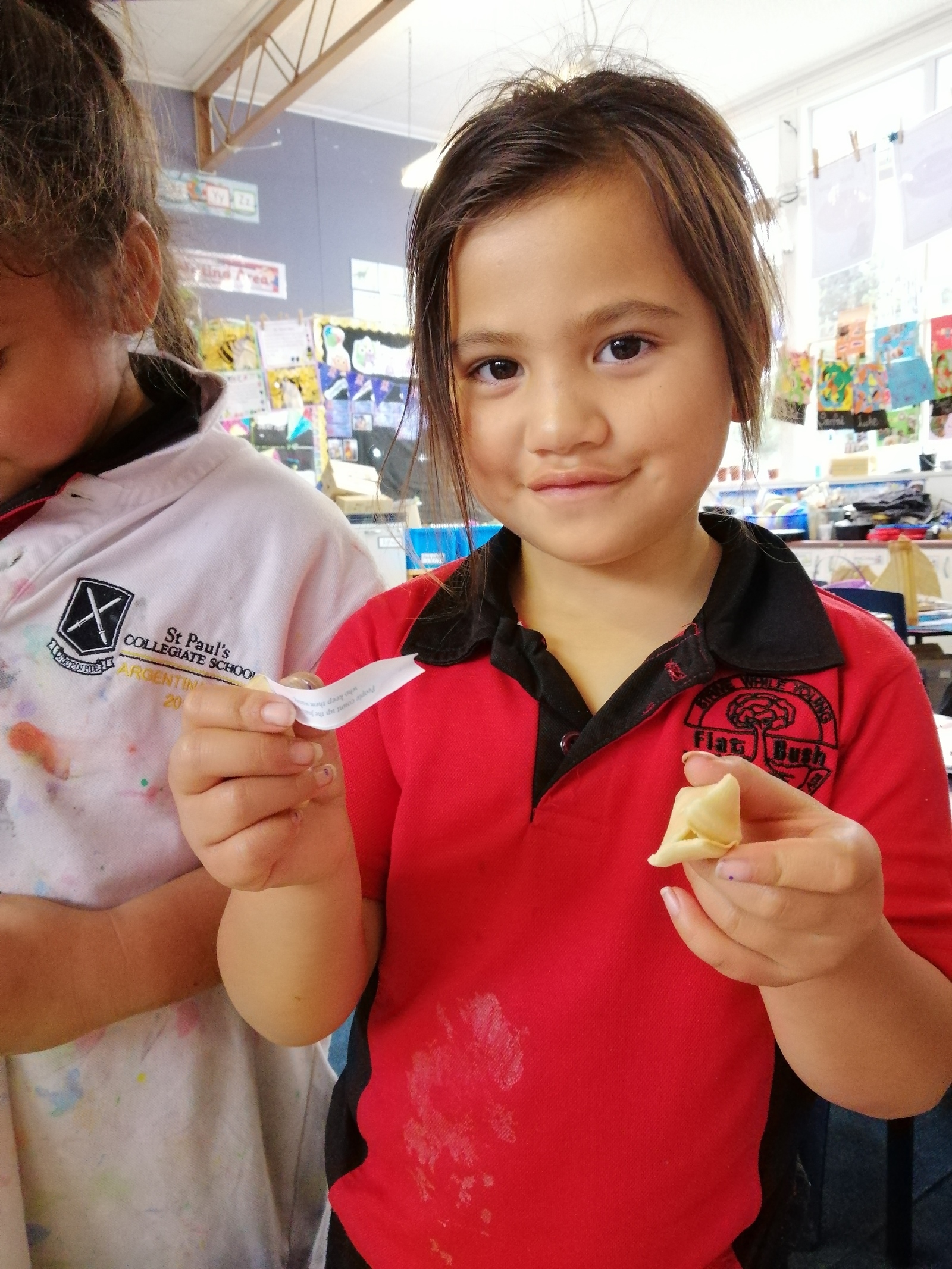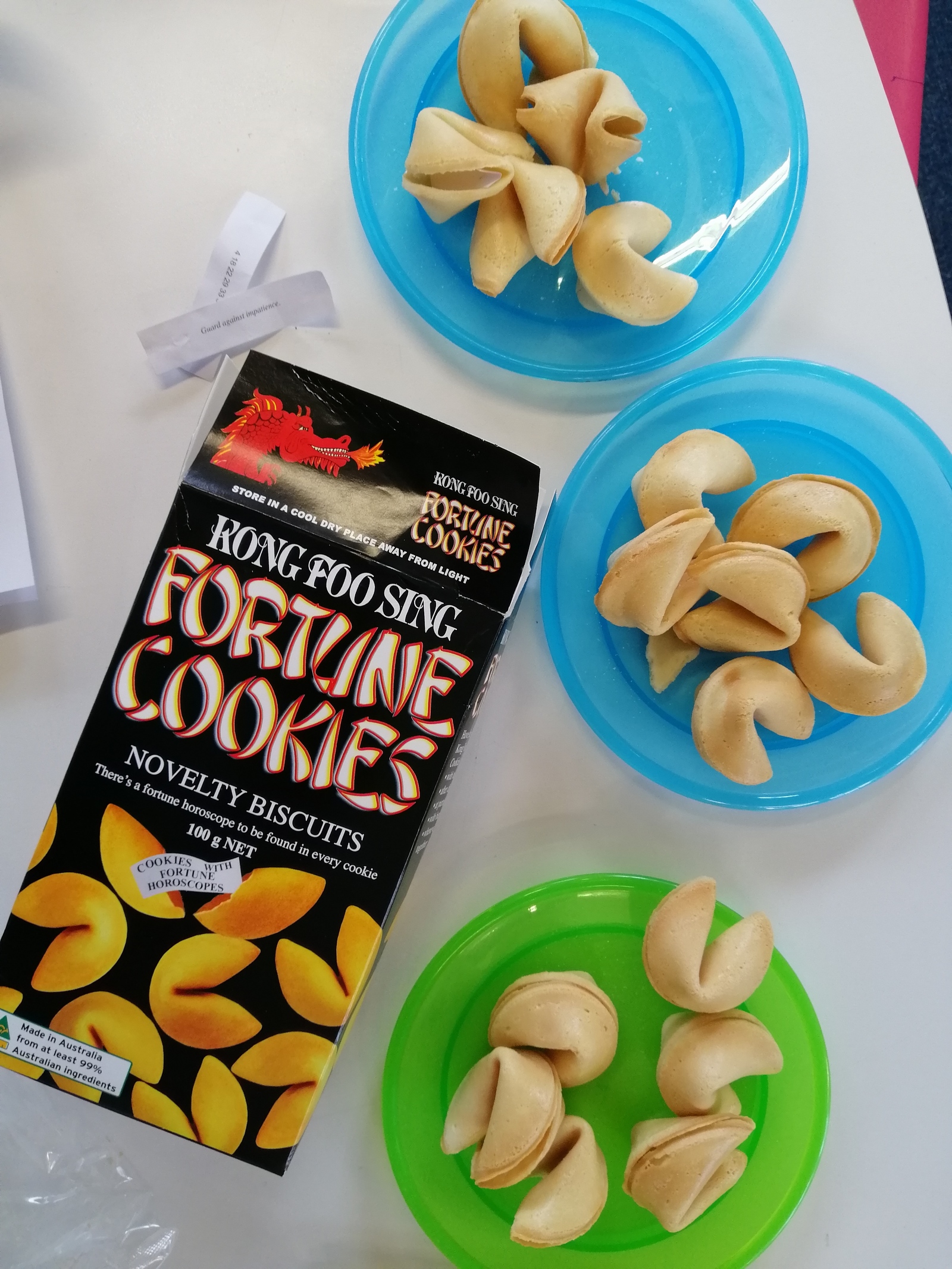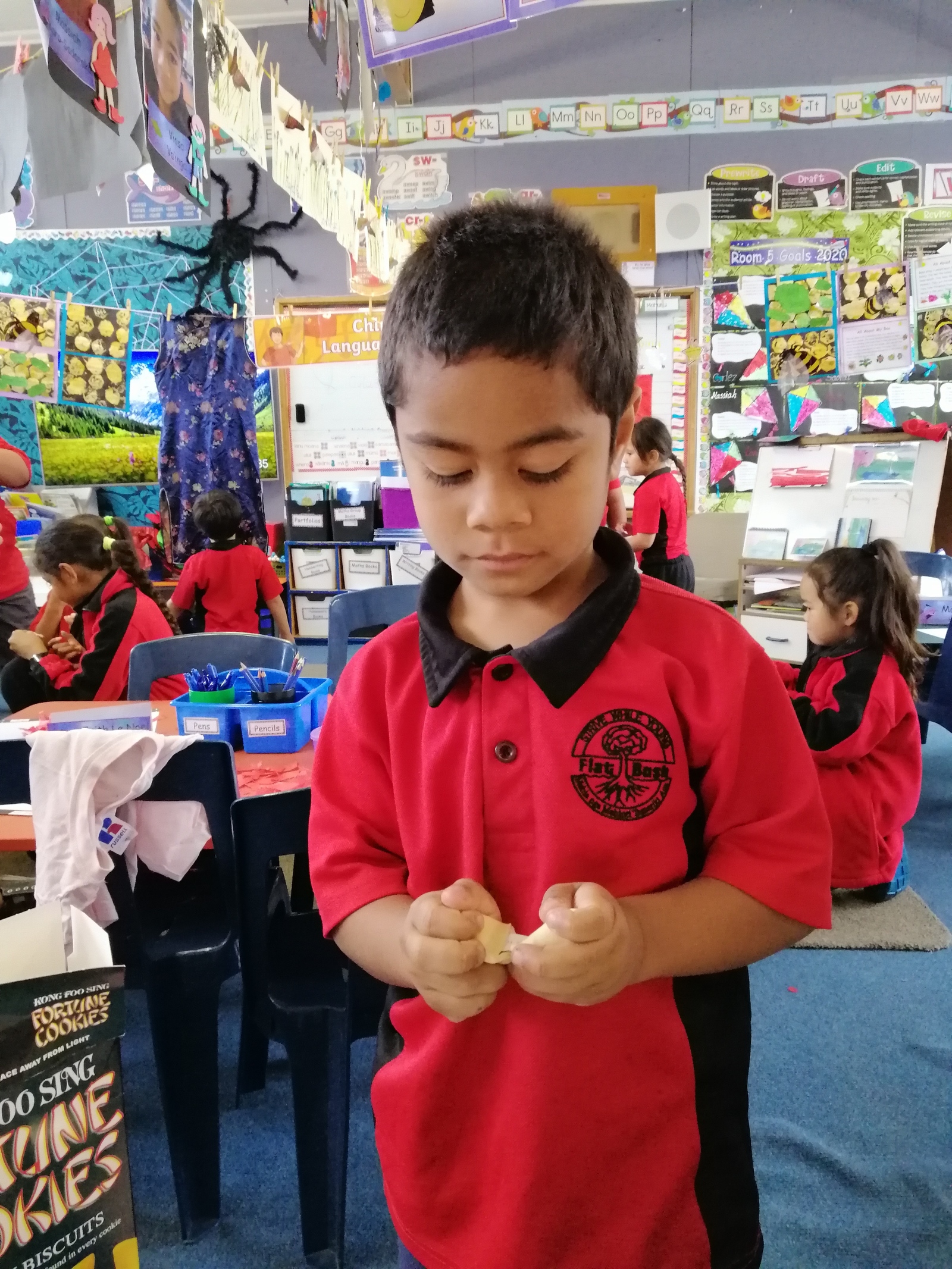 This week is Chinese Language Week, Book Week and NZ Sign language Week. It is also the last week of Term Three before the holidays.
Today we learnt about Jianzi- Chinese Shuttlecock. This is a really cool game that people play in China. We had a go at playing Jianzi ourselves, it was so much fun!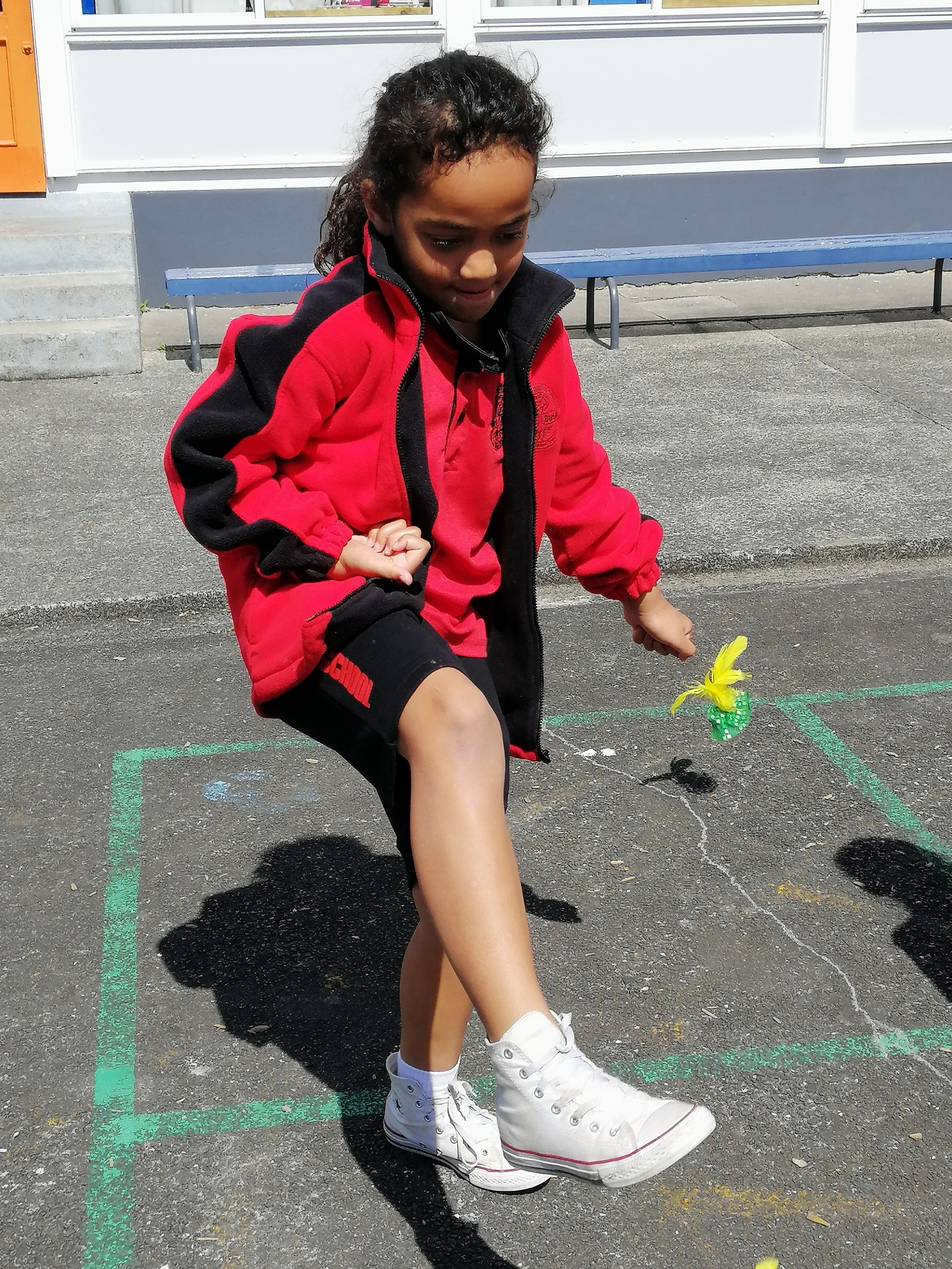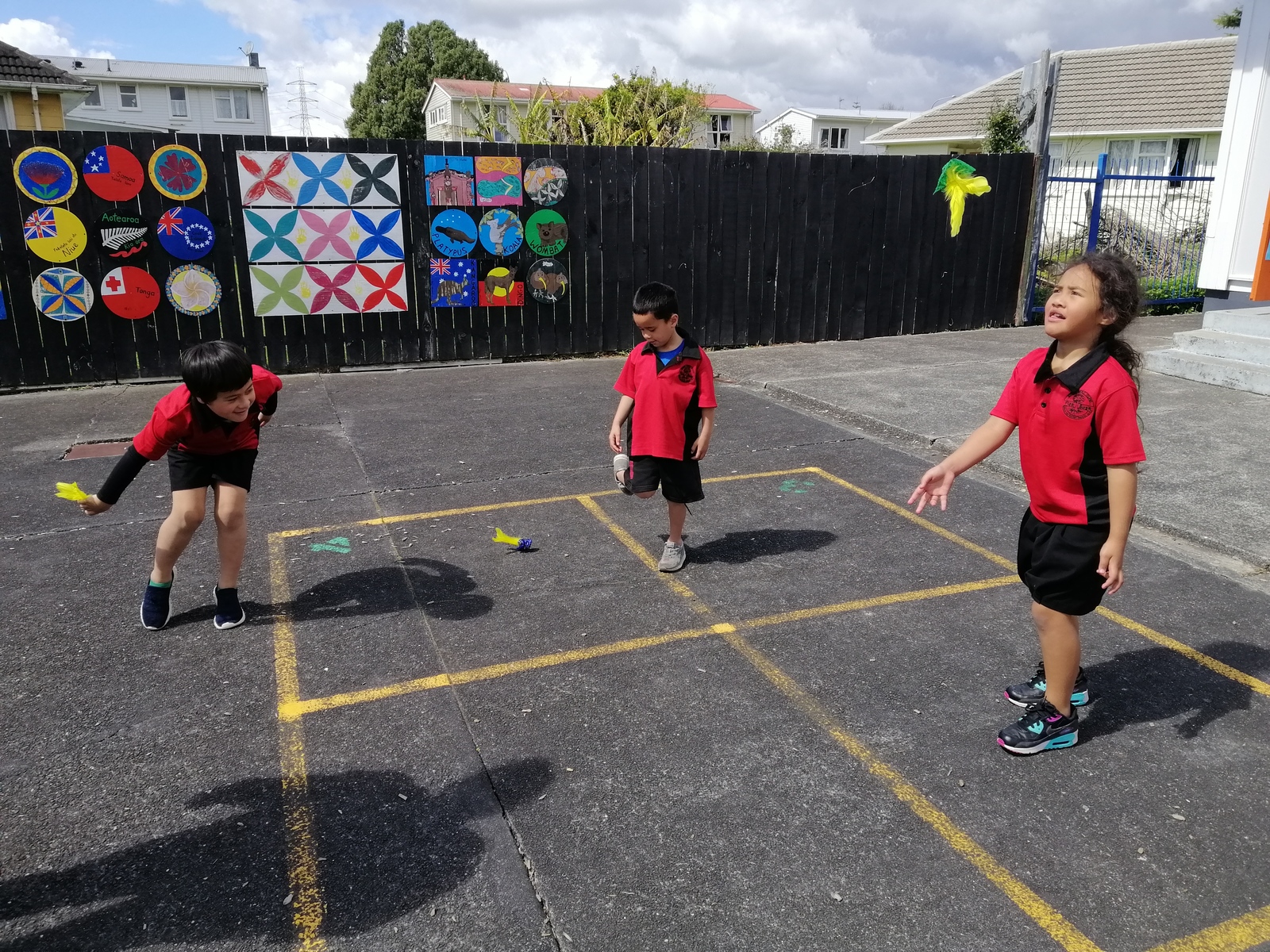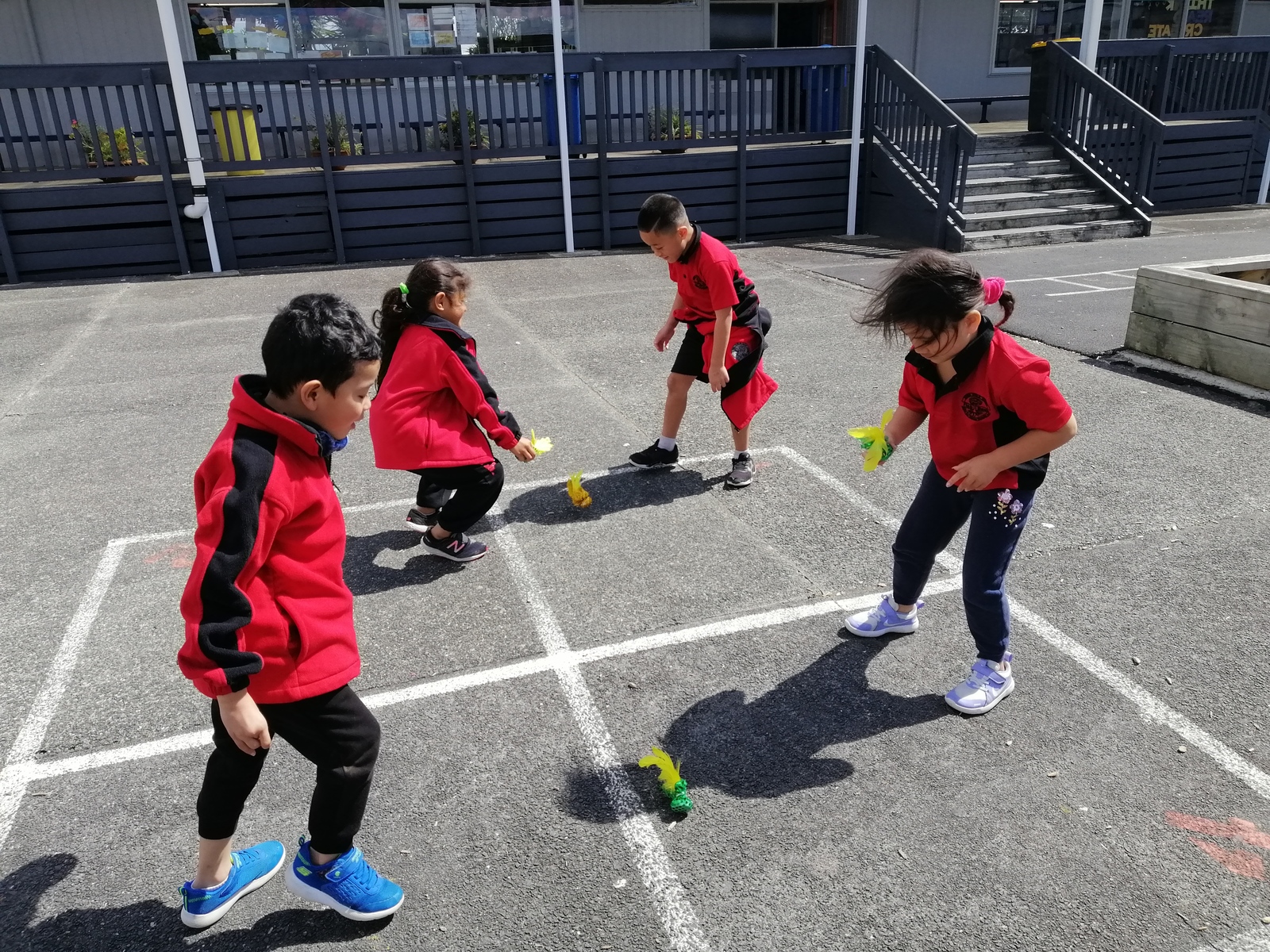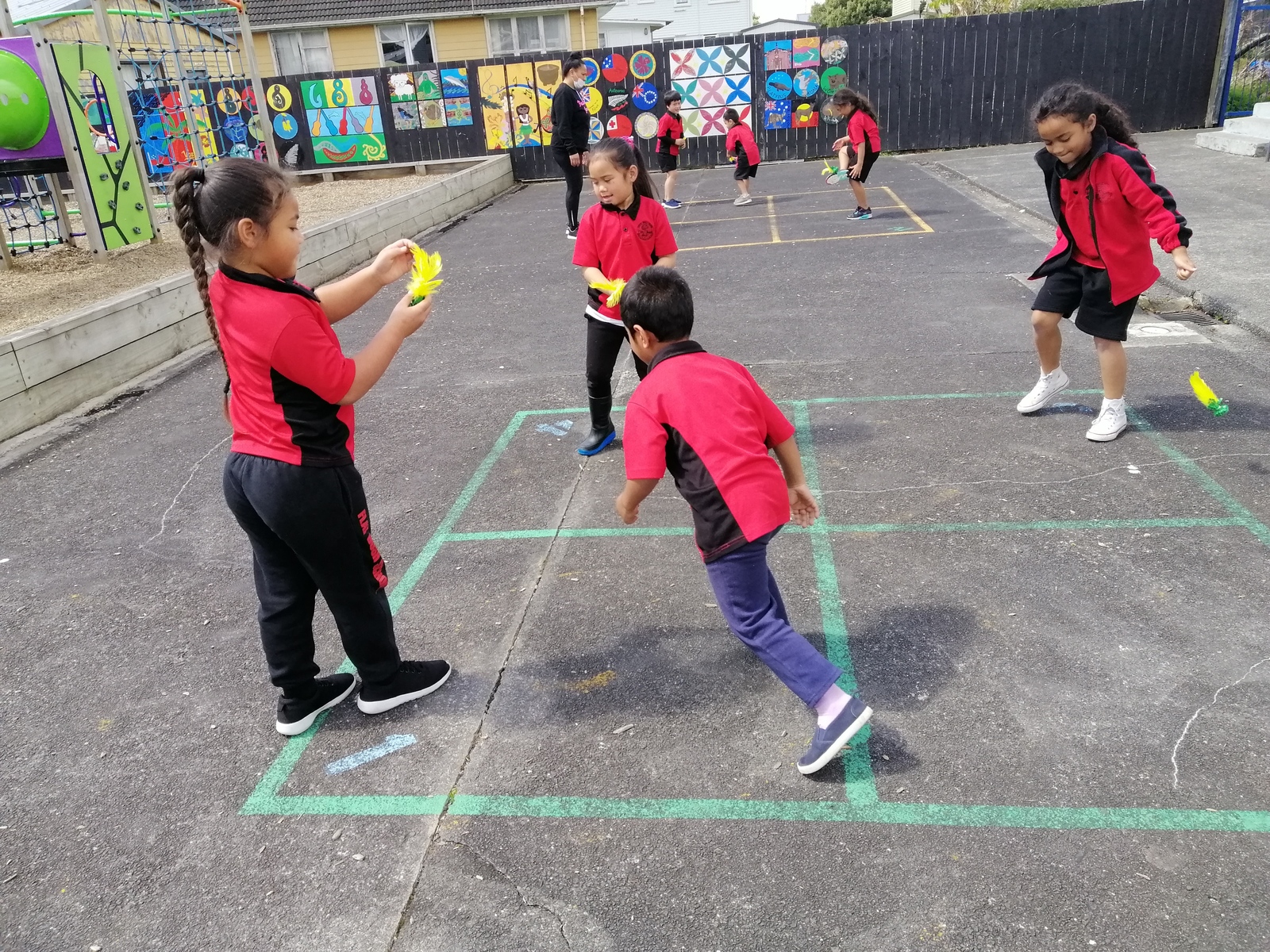 Week Nine
This week is Maori Language week so we have been doing lots of Te Reo activities.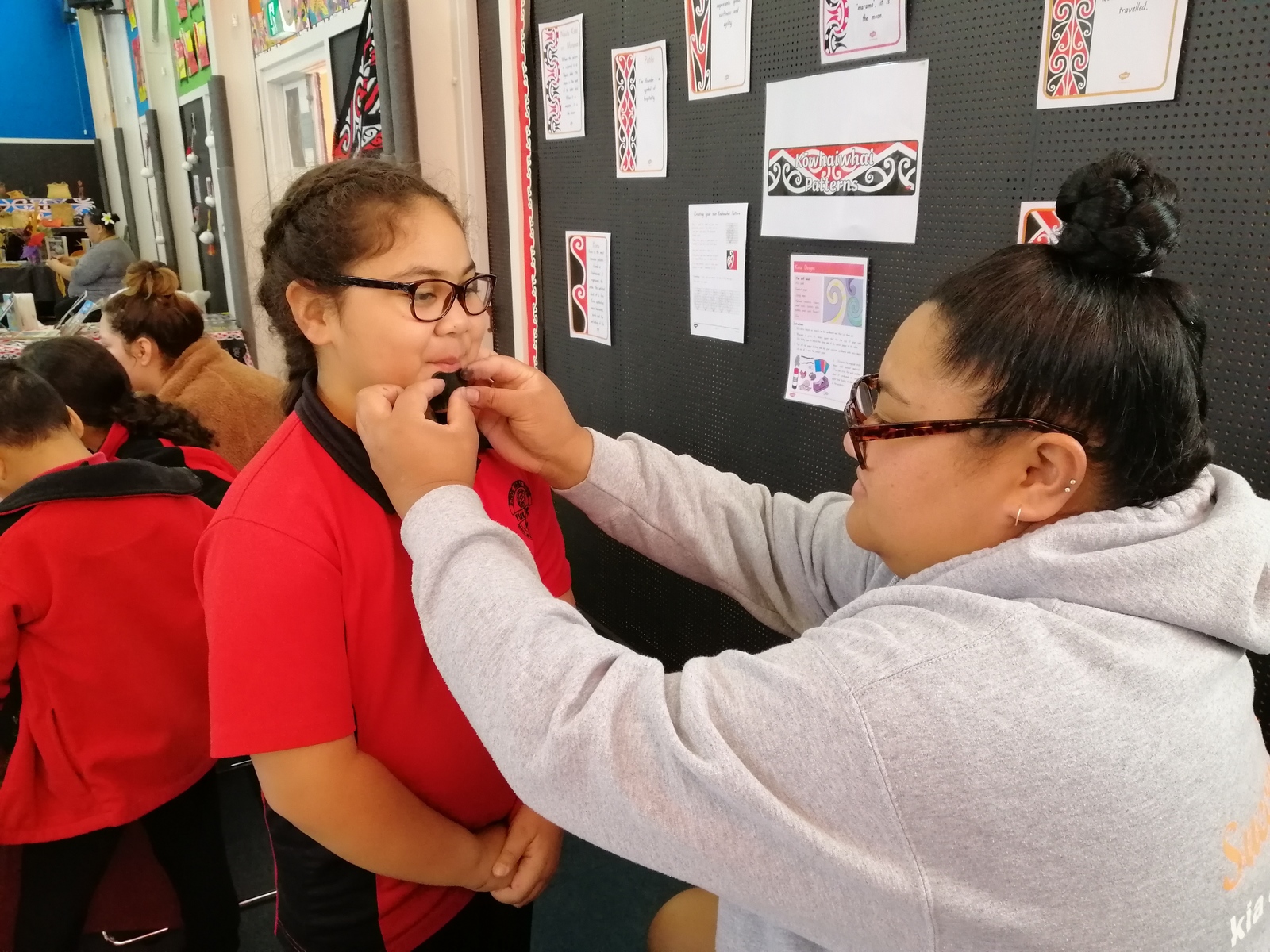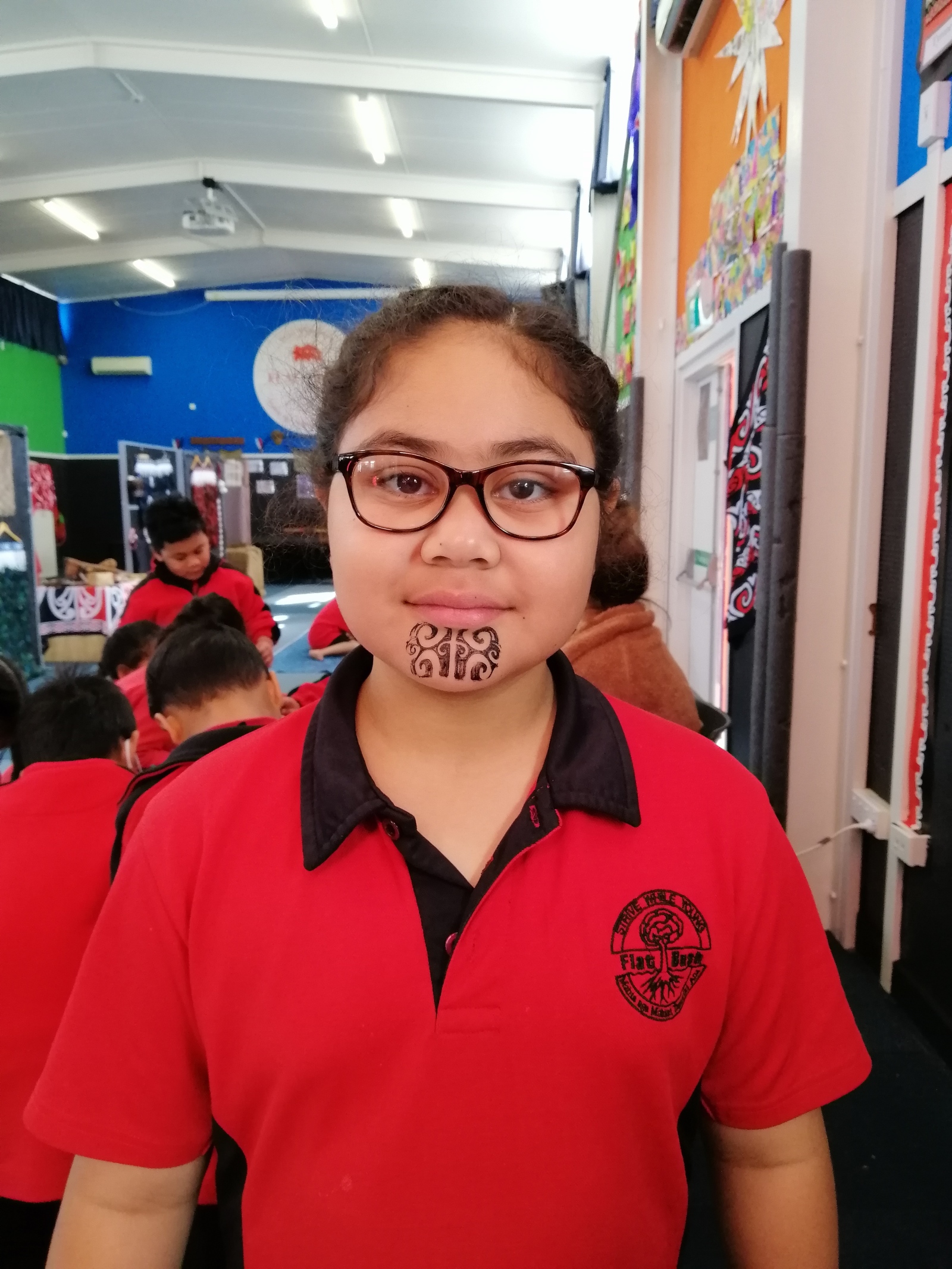 On Wednesday we went to the hall for our Maori Language expo.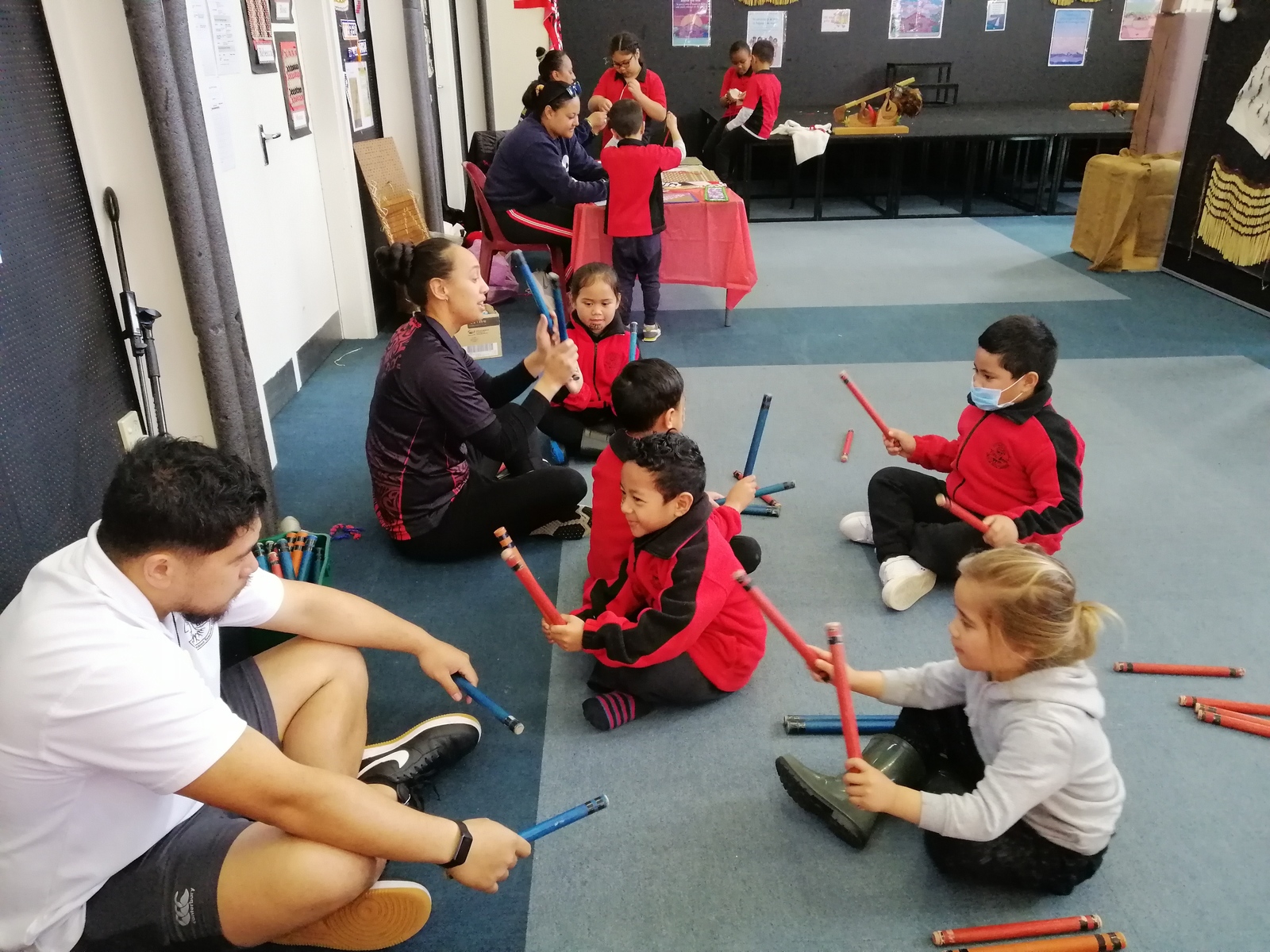 We did lots of cool activities. A huge thank you to all that helped to set up the expo.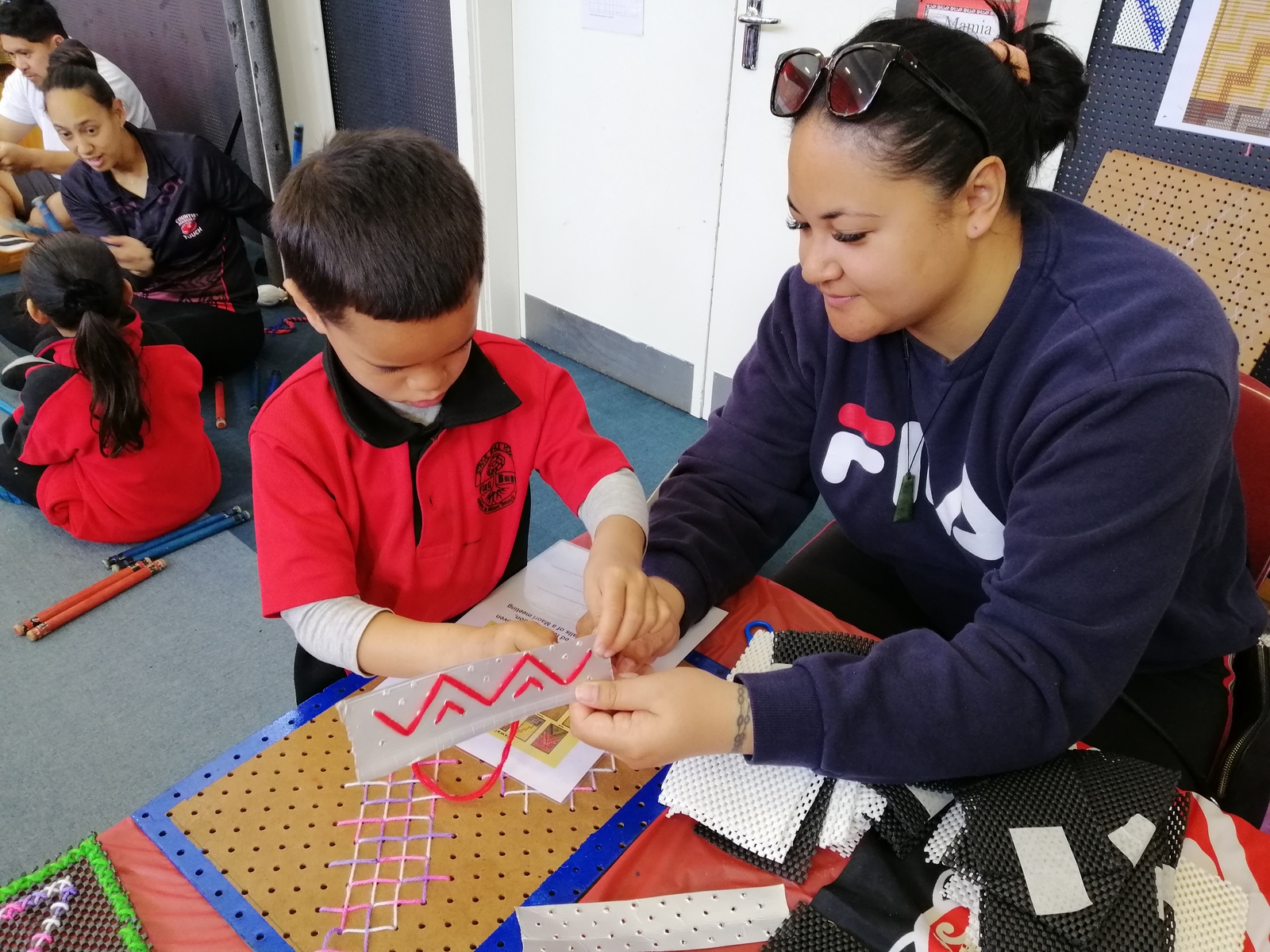 Week Eight
We finished off Tongan Language week by going to the Staffroom and looking at the display that the teachers made. Then we went back to class and wrote about what we had seen. Come into Room 5 and read our stories in the foyer!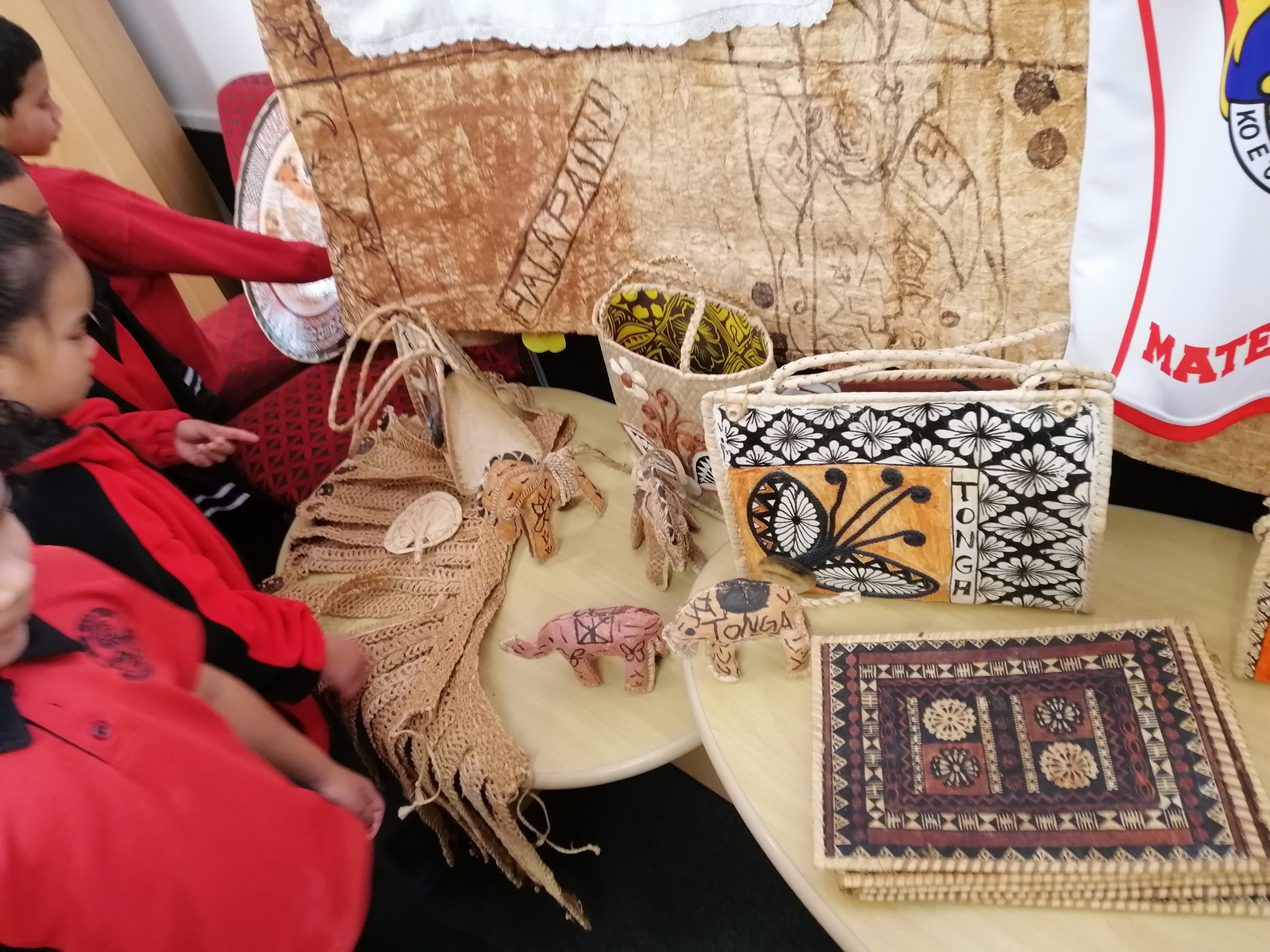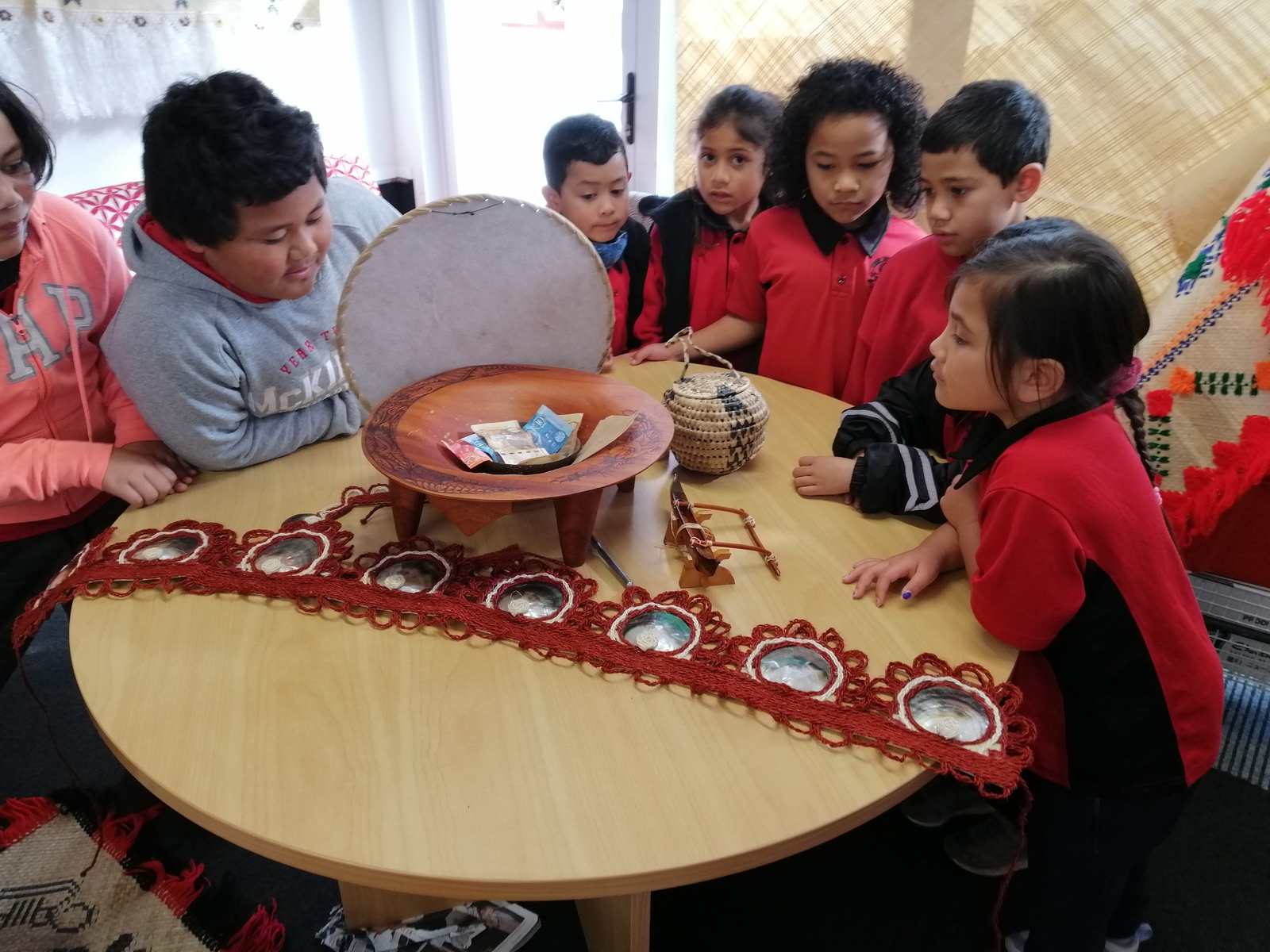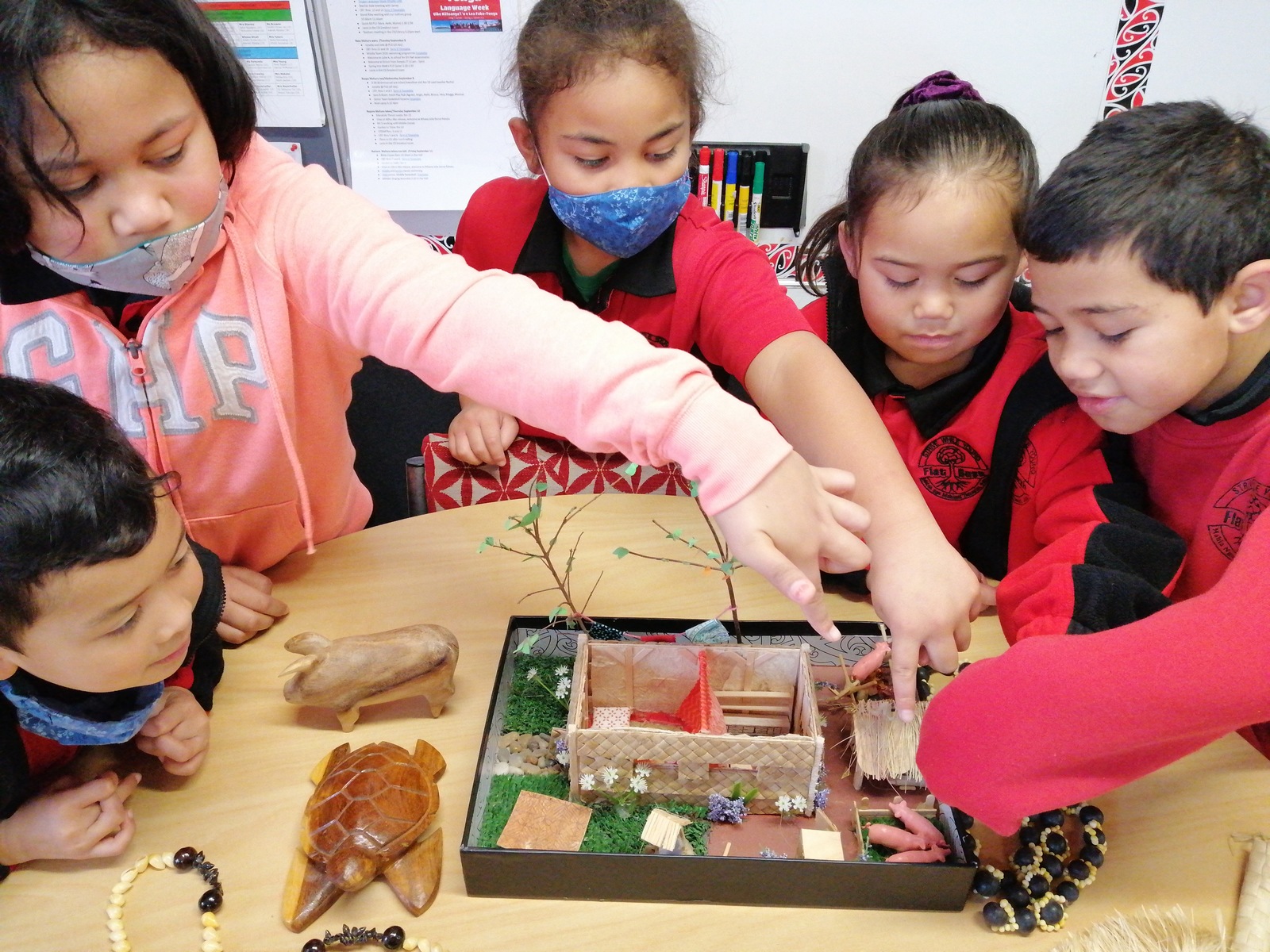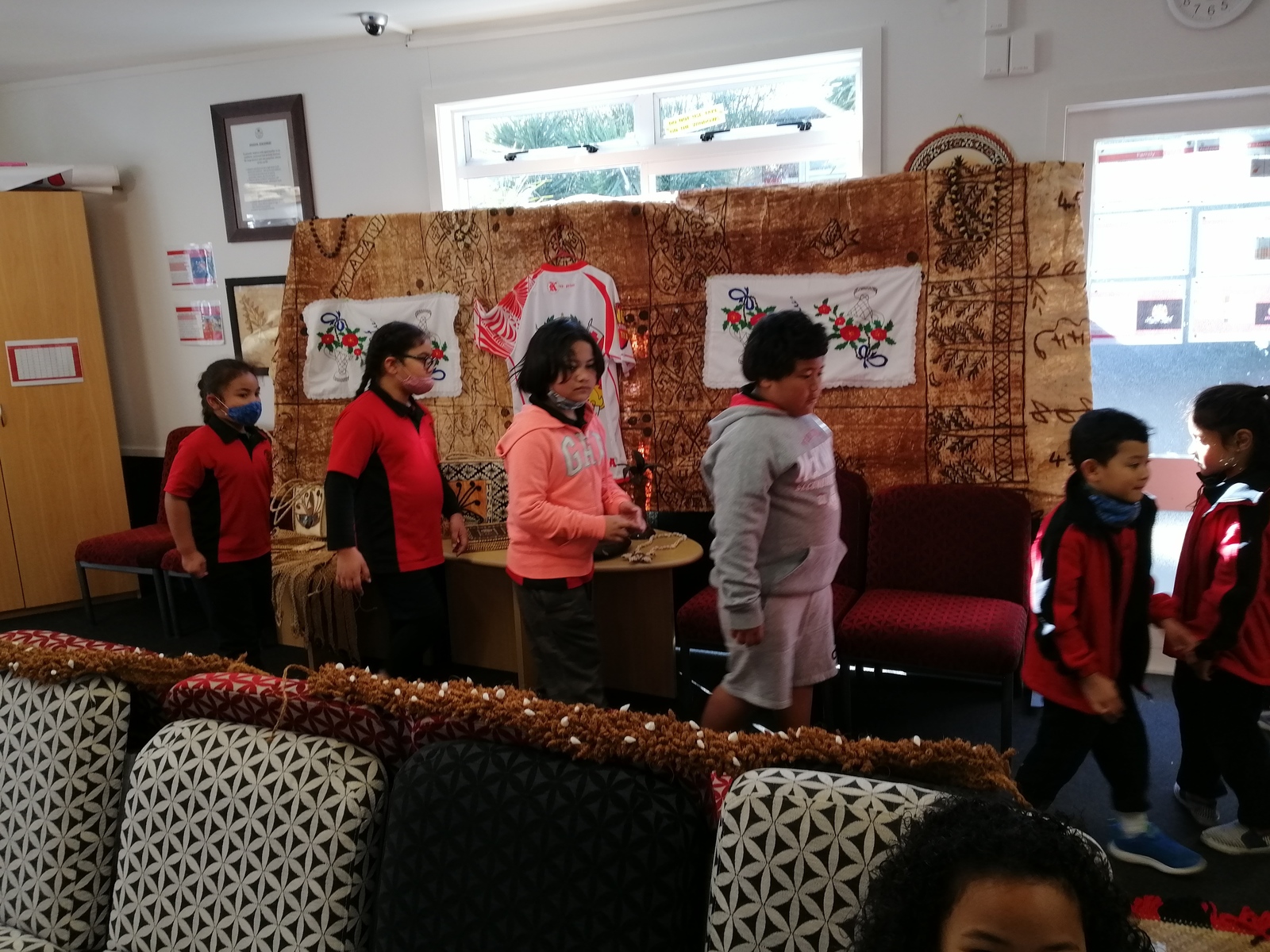 More exciting sports skills this week with our FMS coaches!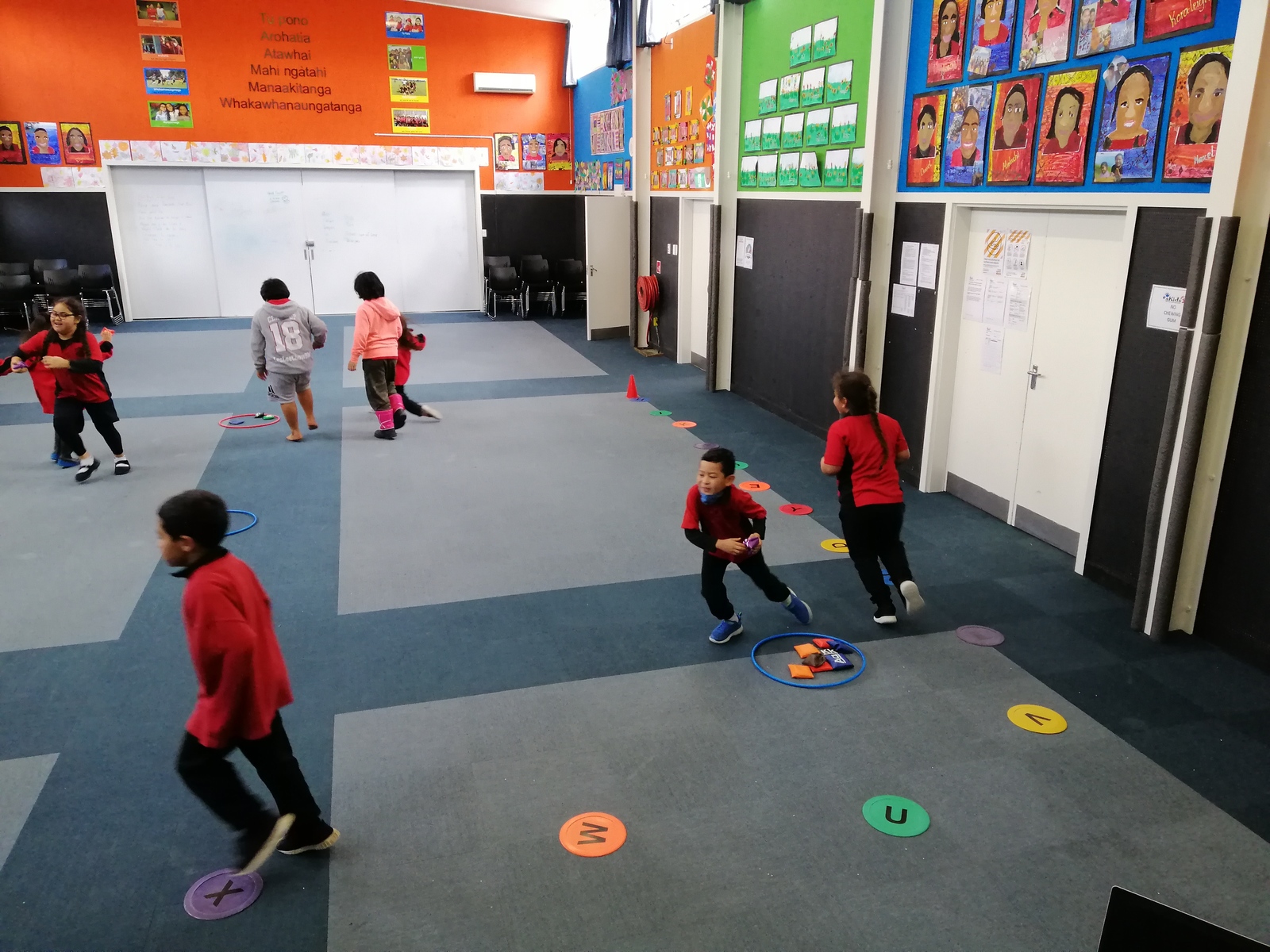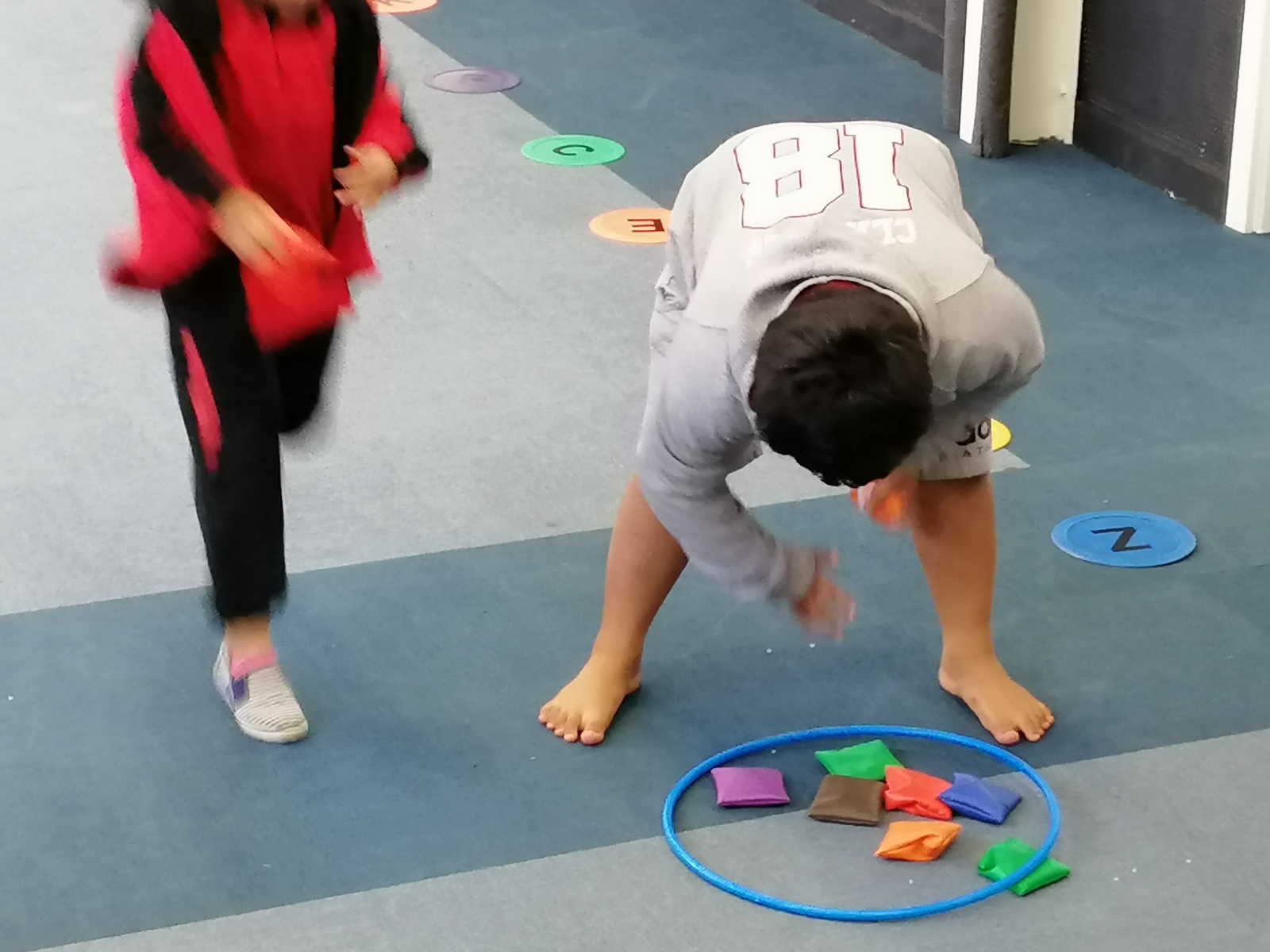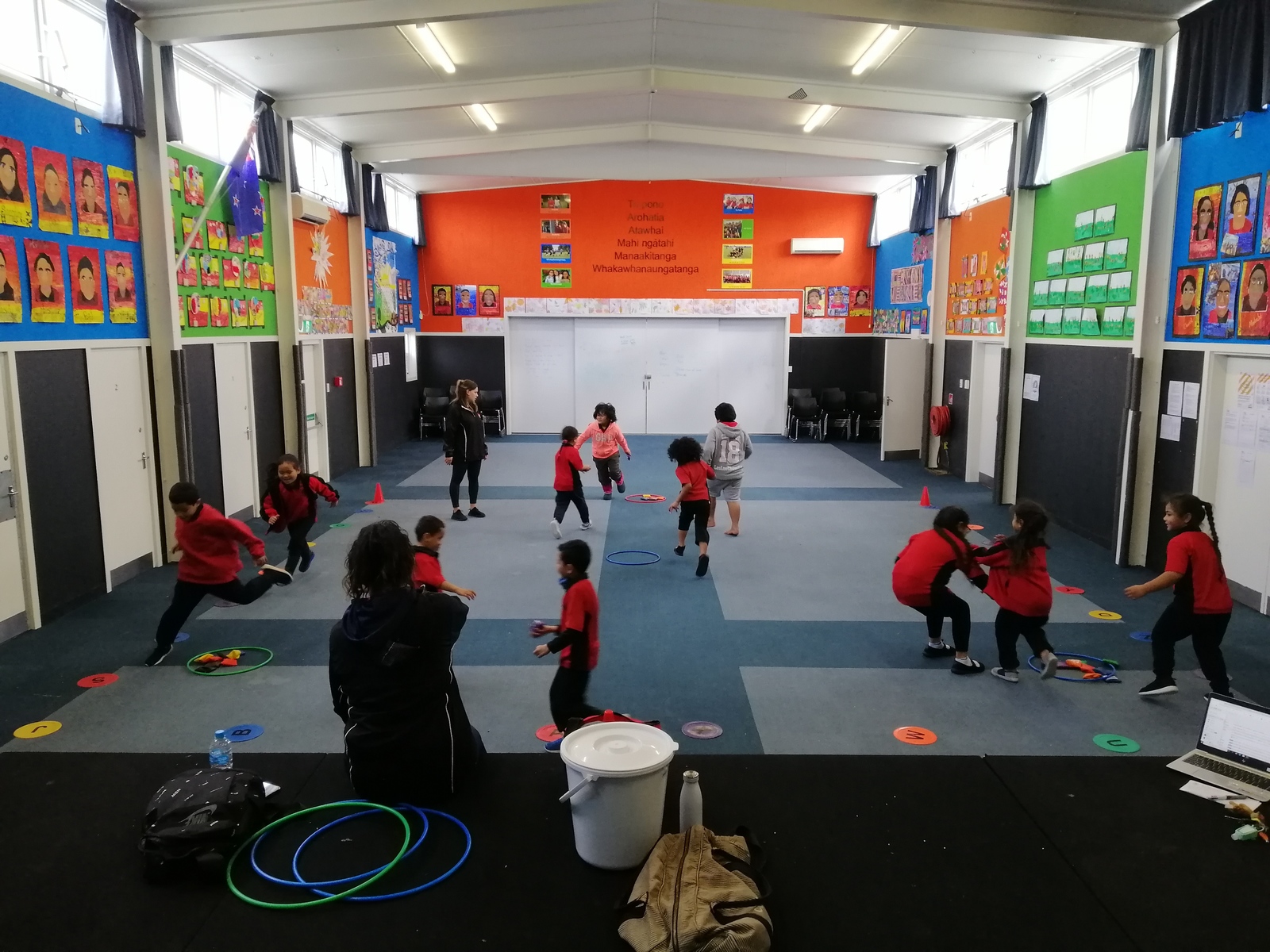 Congratulations to our players of the day, Luke and Saint Paul!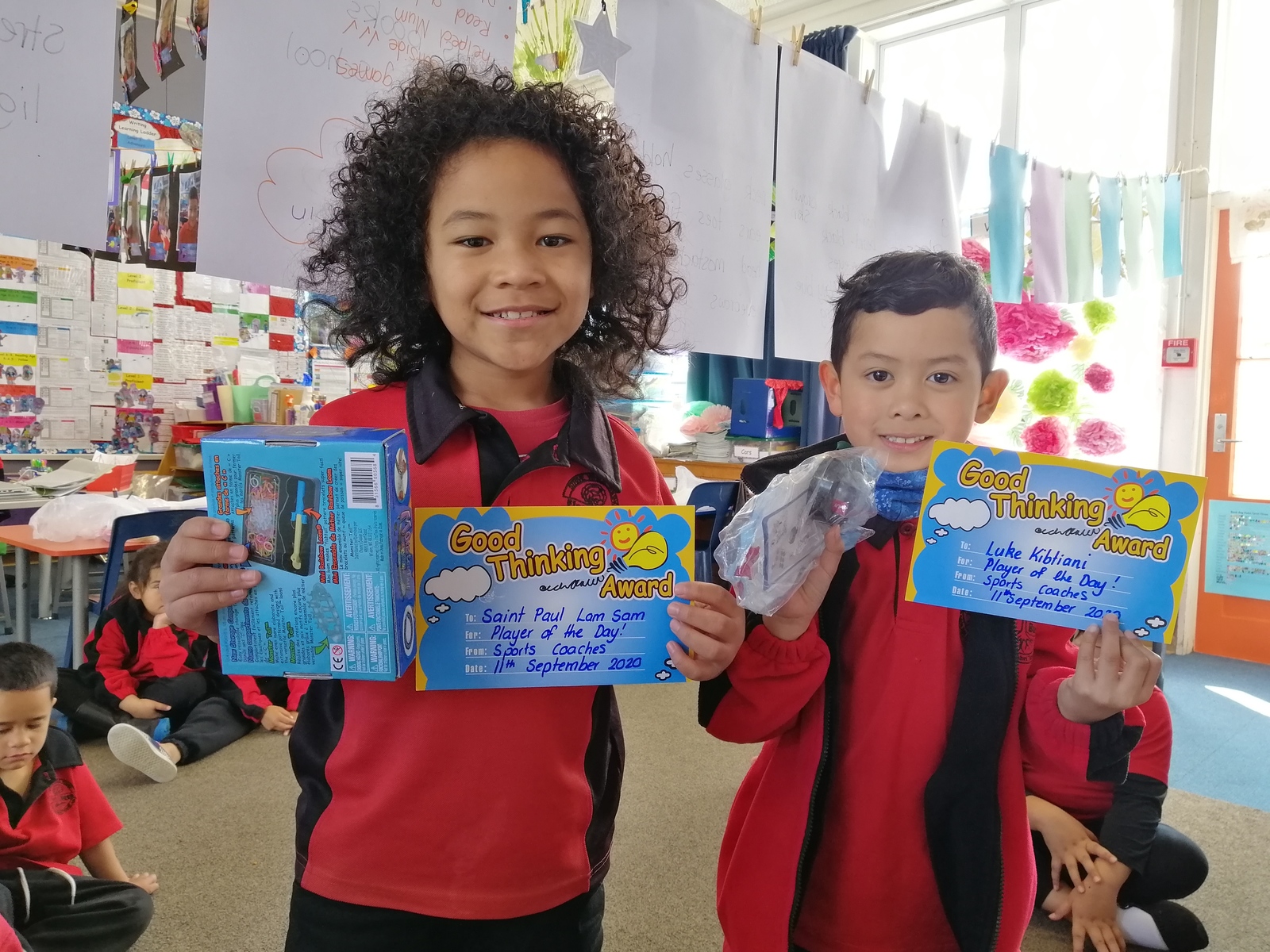 We have been learning about gravity as part of our inquiry. We used the new marble run to show our learning.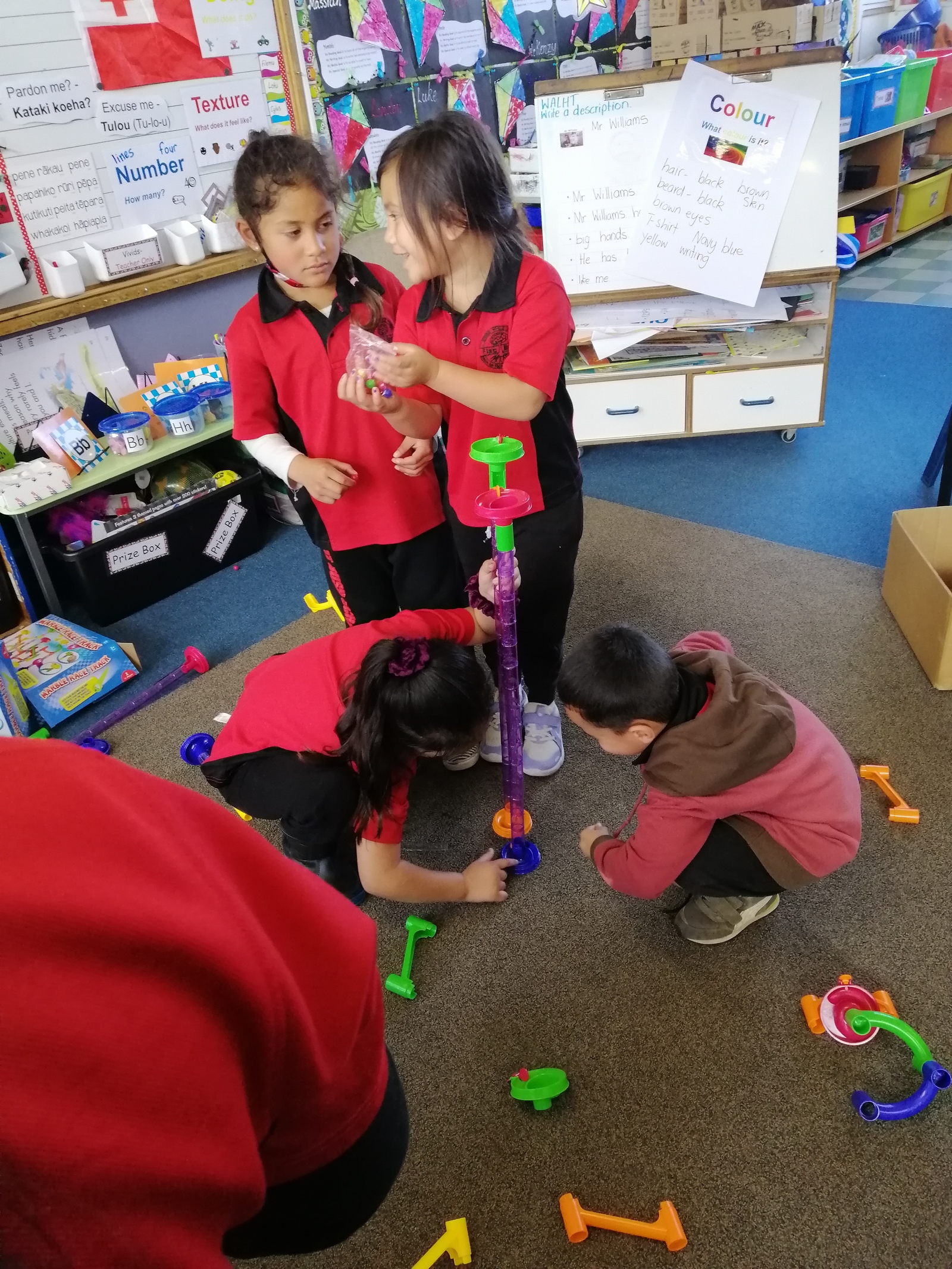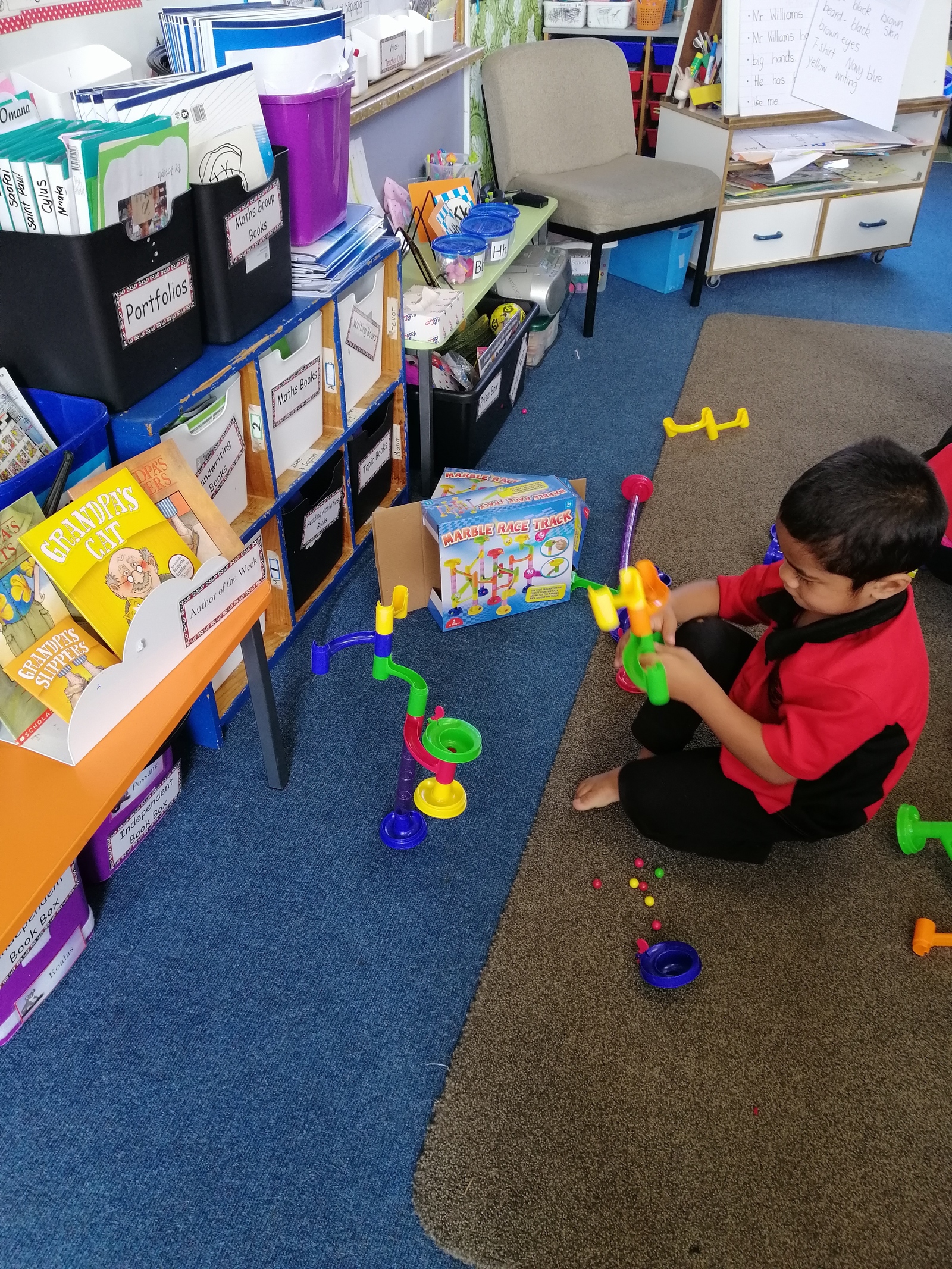 Happy Birthday to Massiah! He turned 6 in the lockdown and we celebrated his birthday today in Room 5.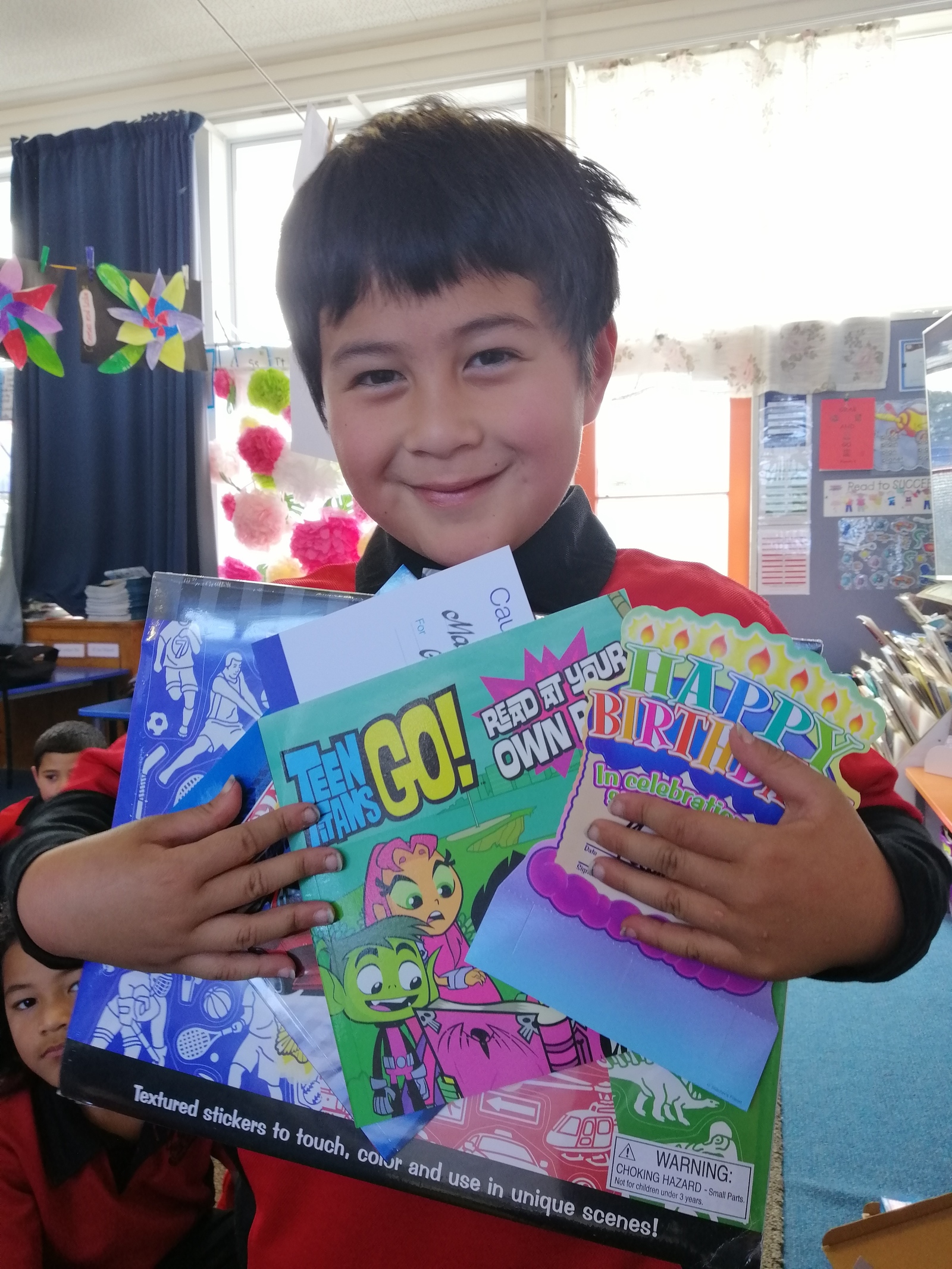 Today we have been learning about the energy that we get from the sun. We opened the curtain to let lots of sun in and felt the table. It was so warm! Then we used some solar powered cars to show how the suns energy can be used.
When the cars were in the shade, they stayed still. When the cars were in the sun, they moved really fast!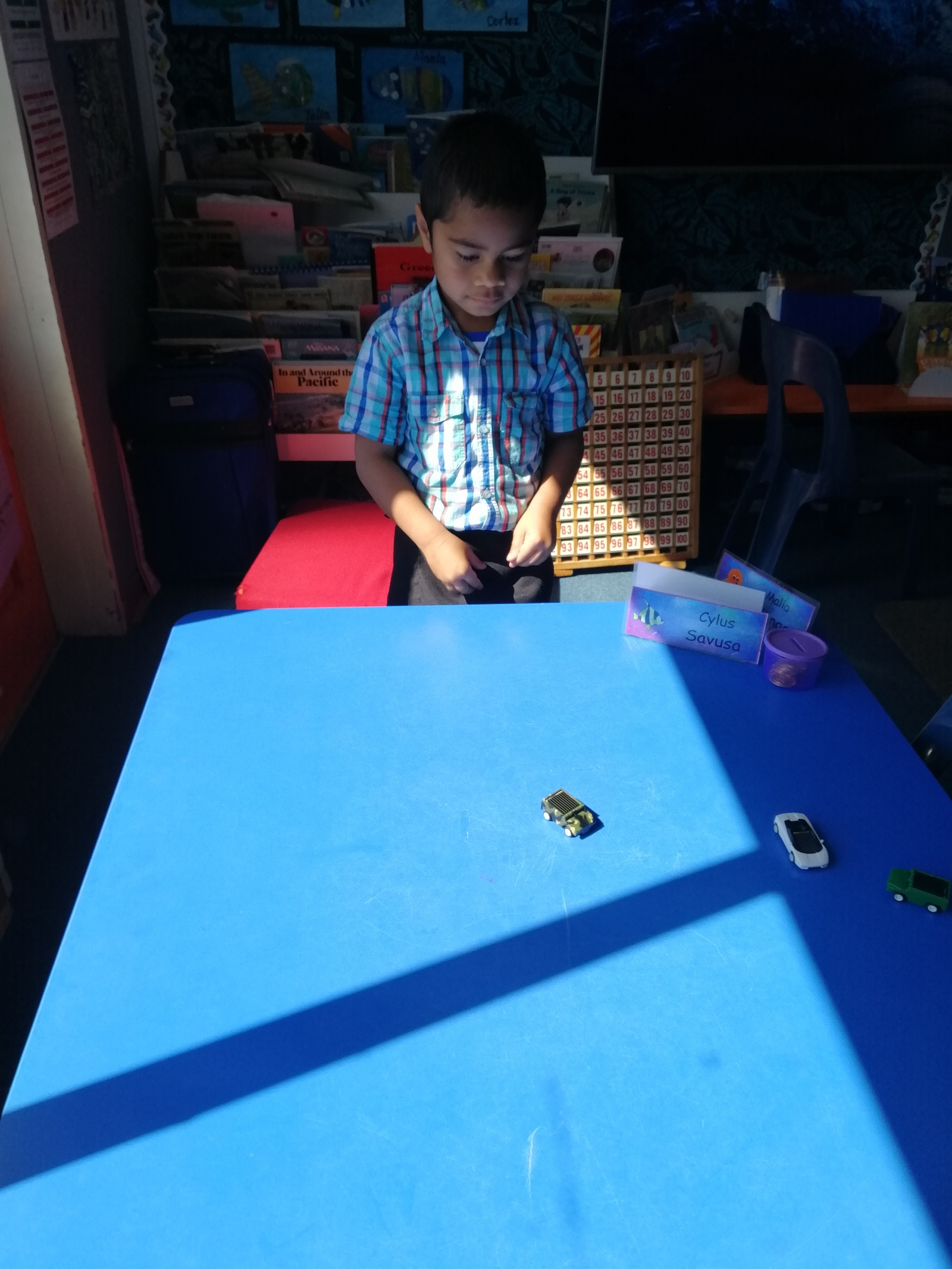 The cars have a motor inside. The solar panel on the top turns the energy from the sun into energy to power the motor. The motor makes the wheels turn and the car moves forward.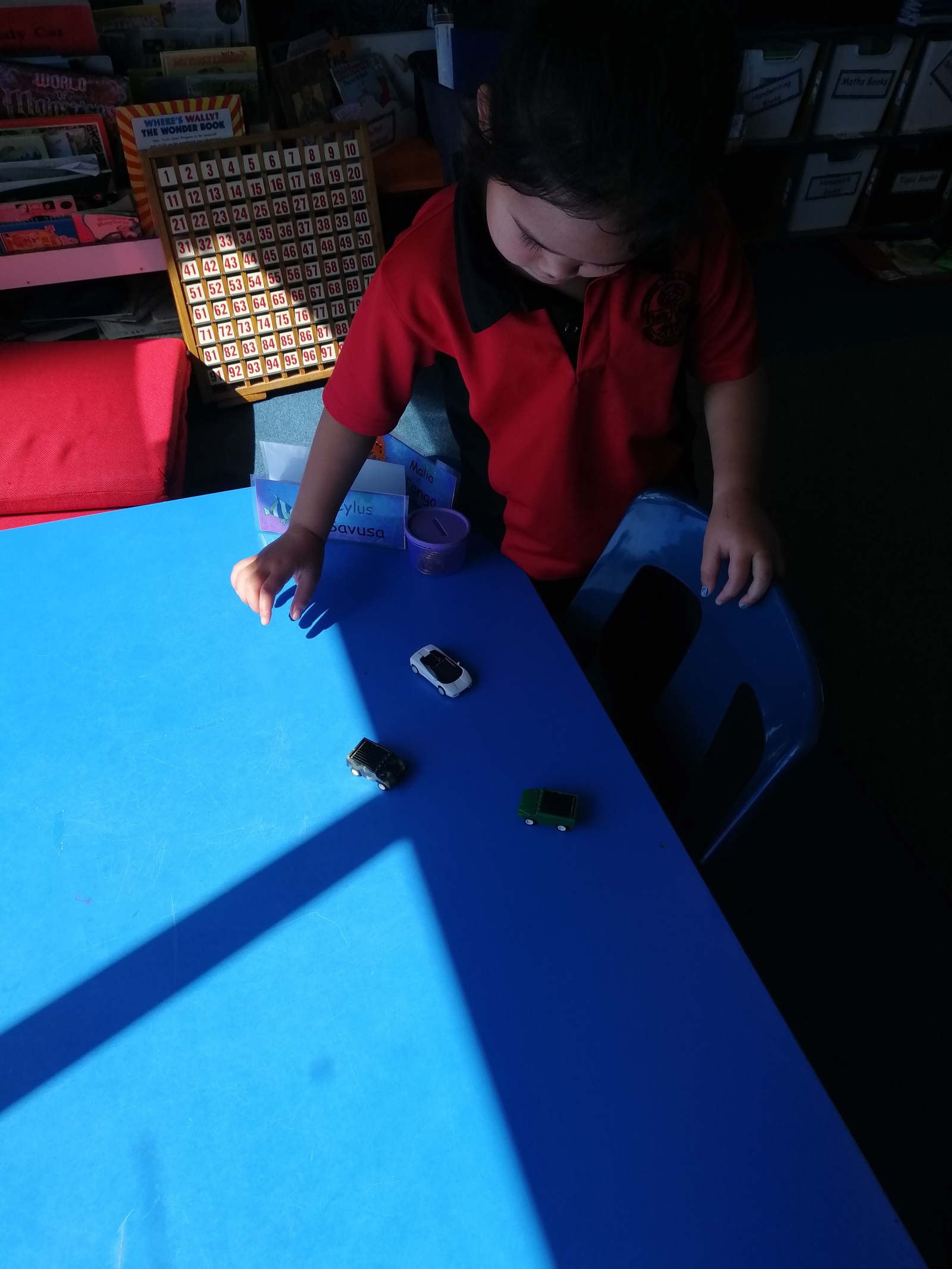 We had so much fun with the Solar cars that we decided to write a description about the car that we used. Here are a few of our descriptions.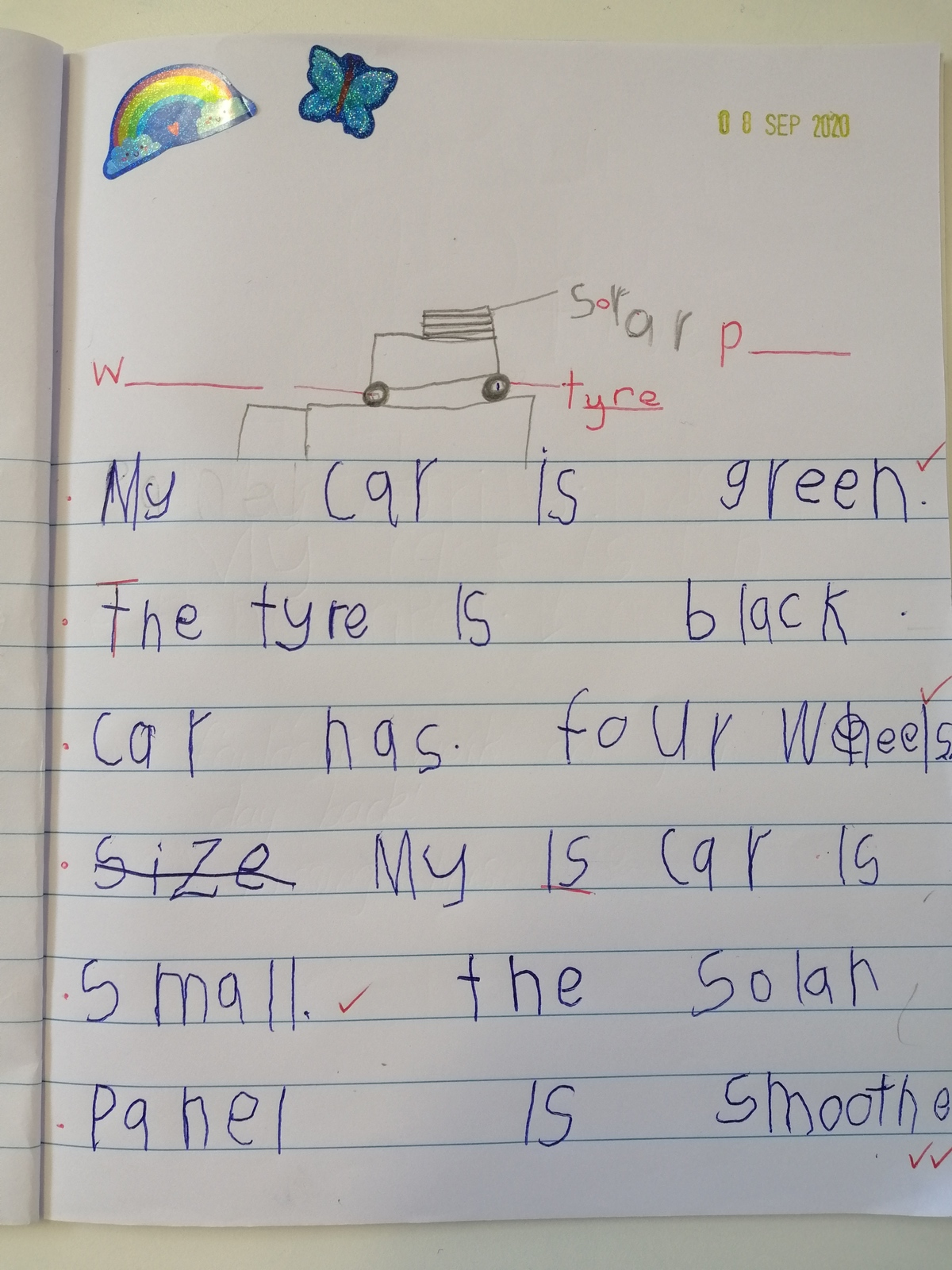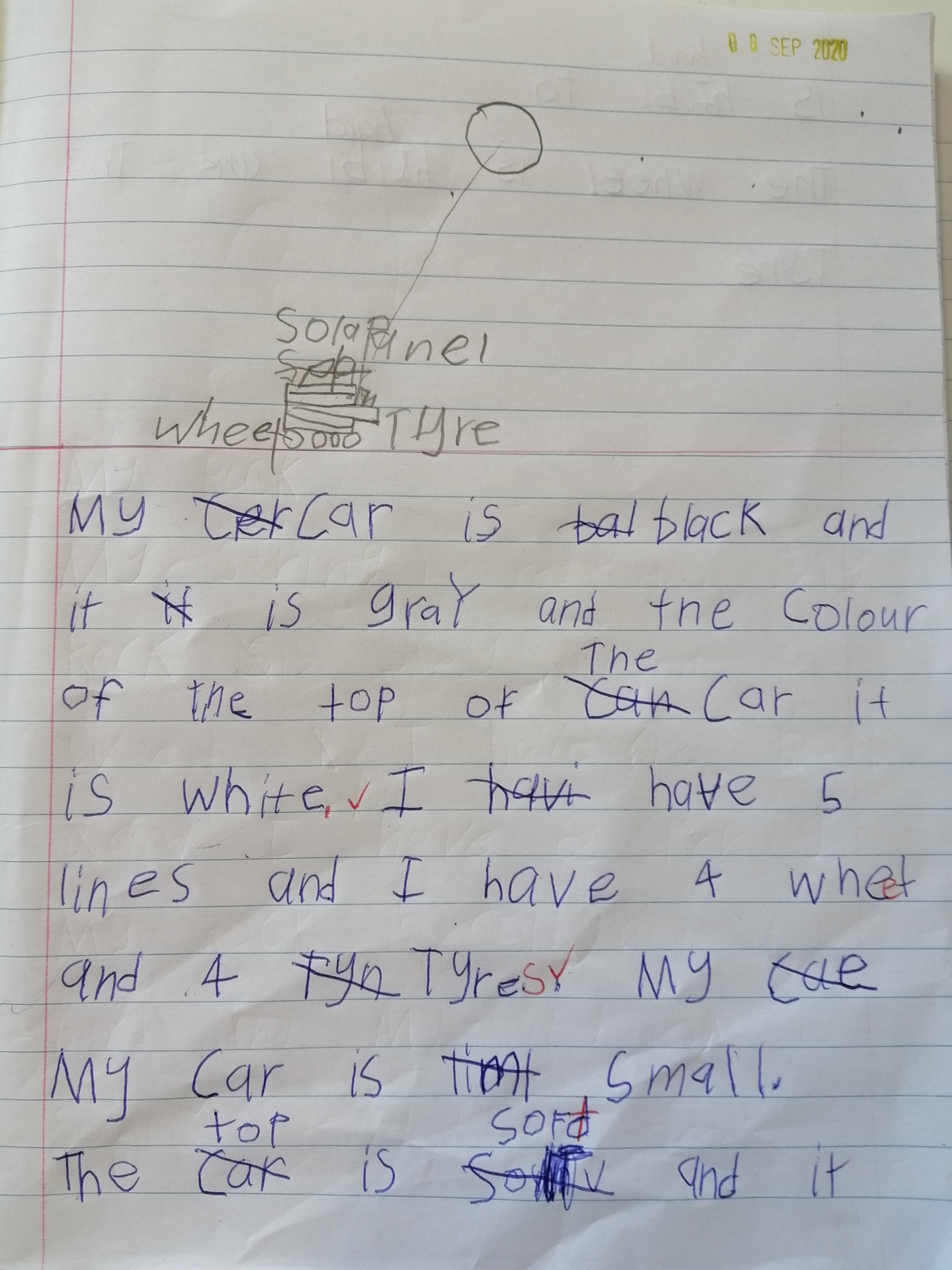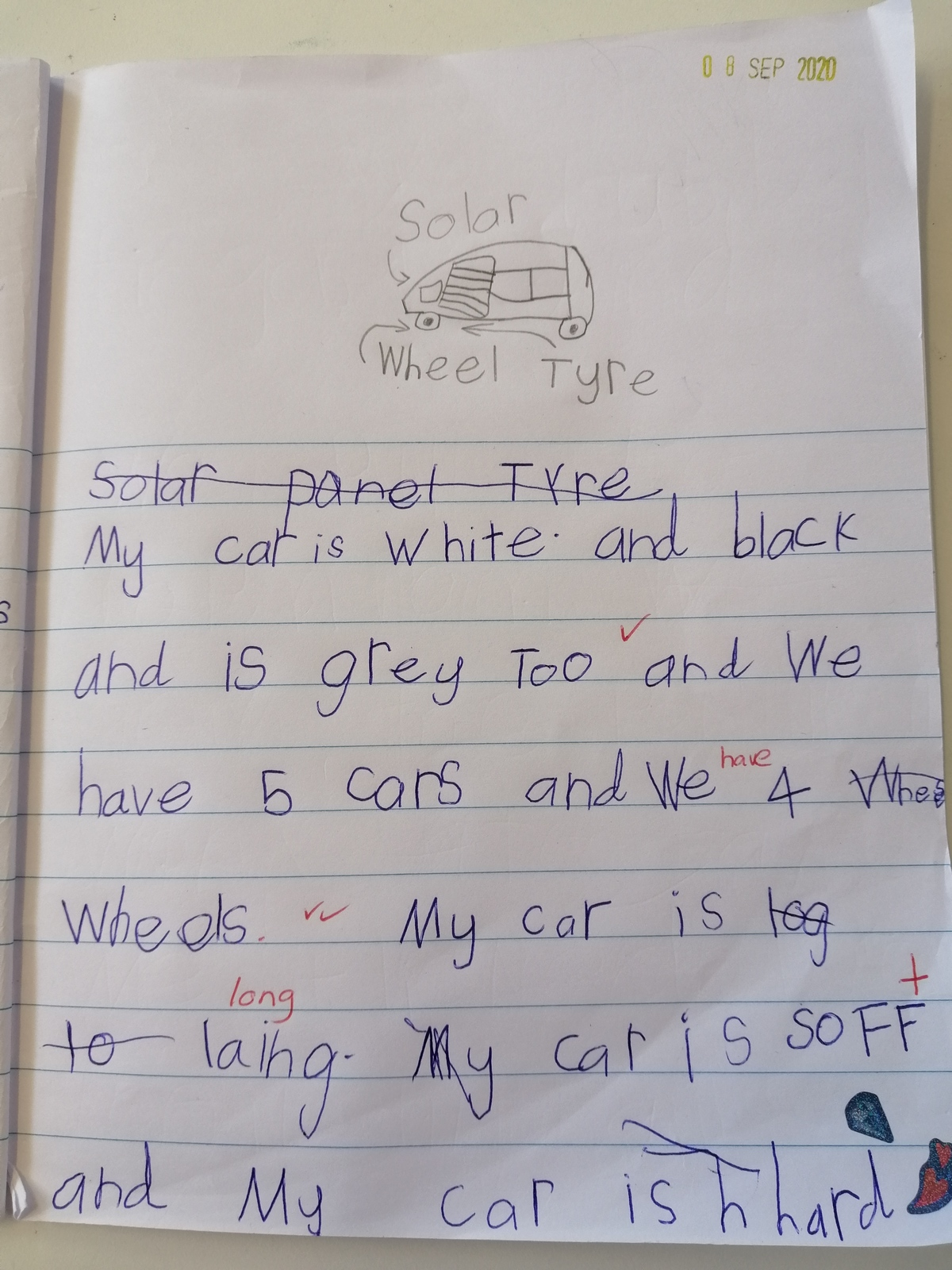 This Week we are celebrating Tongan Language Week at FBS. We will be doing lots of activities based on the Tongan Language and Culture, watch this space for updates!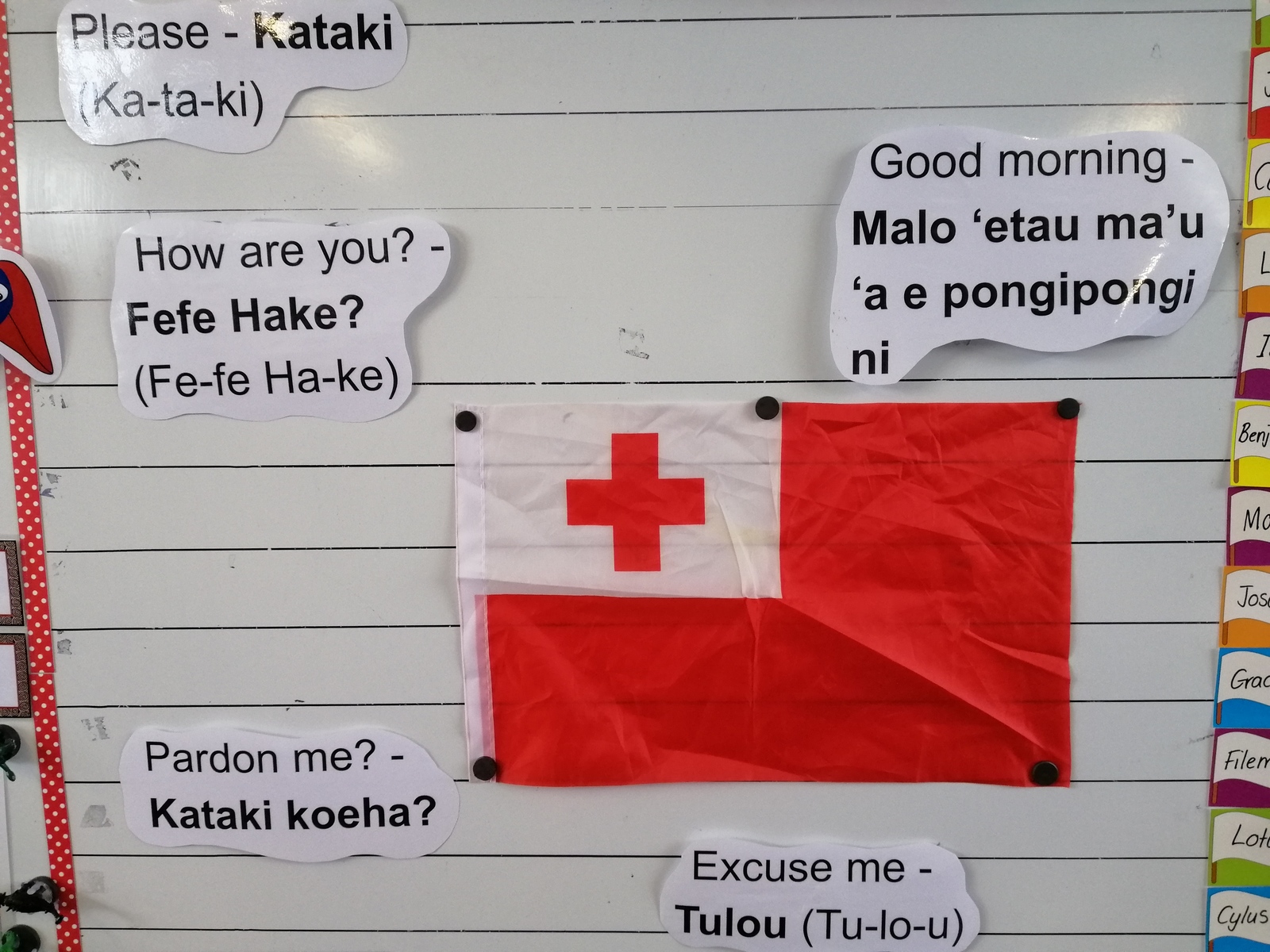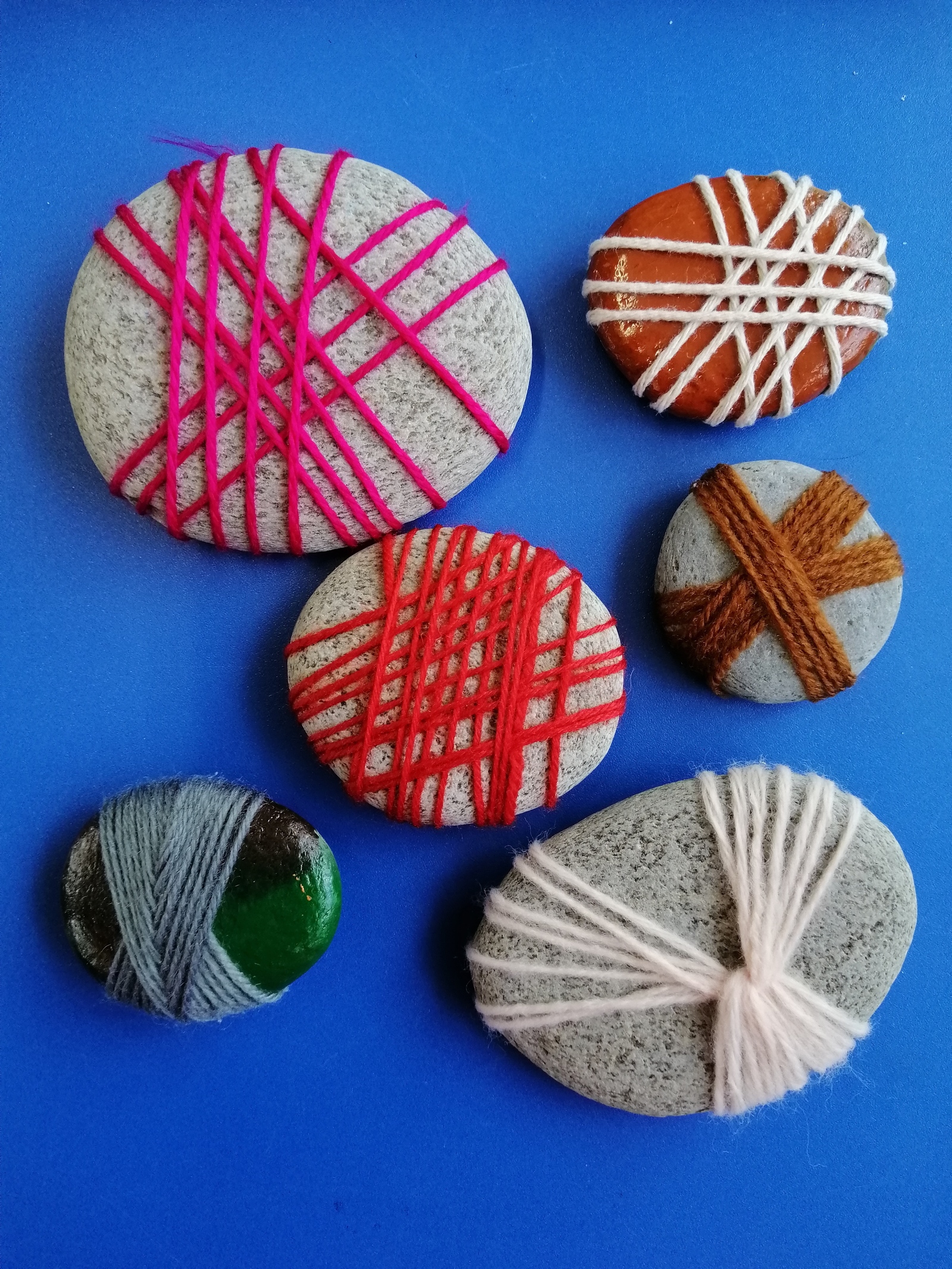 Look at Viosa in his lovely Tongan clothes!
Ma'ata looks so pretty in her Tongan clothes!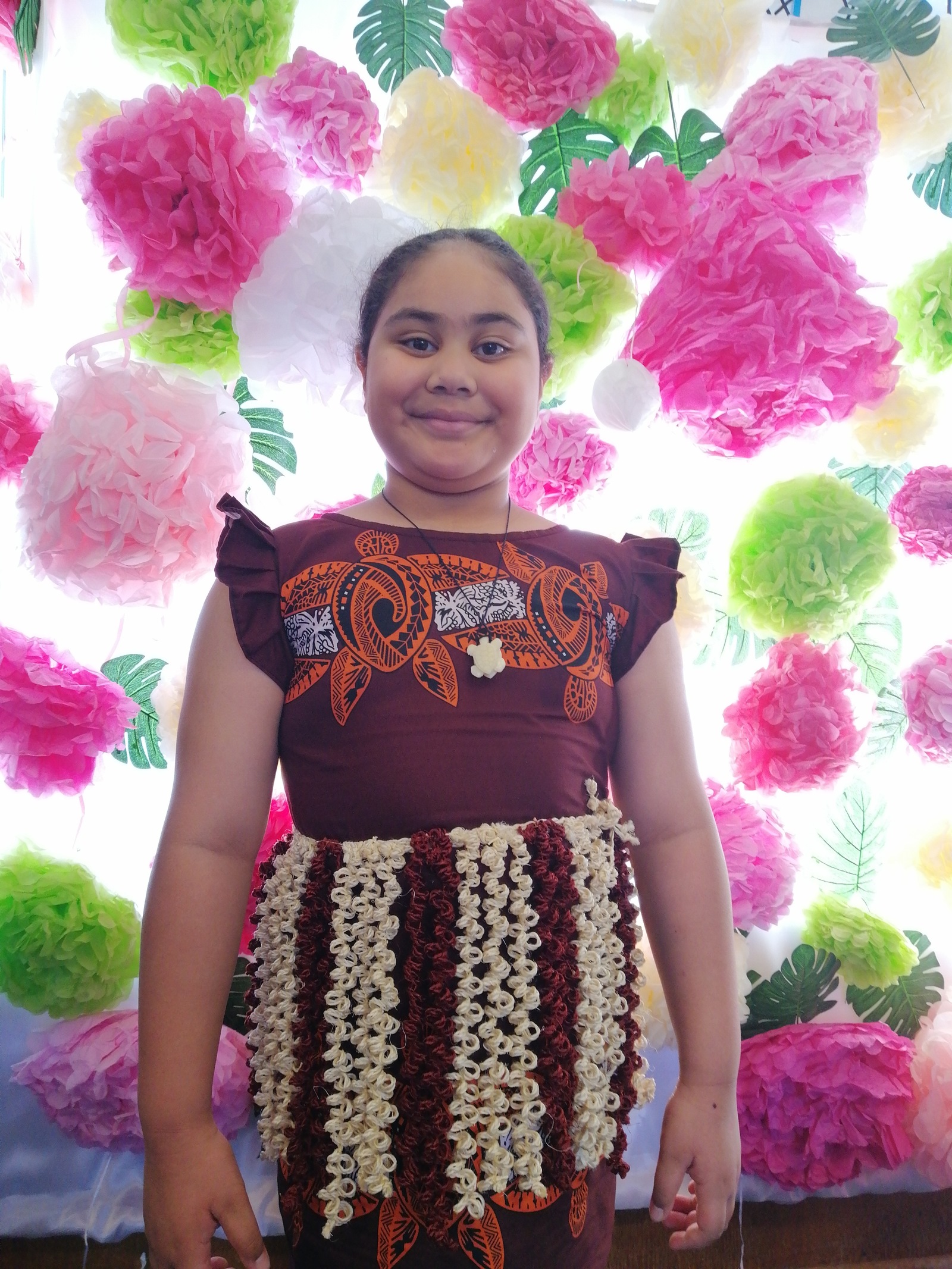 On Monday we launched our Tongan Language Week by learning about a famous Tongan Artist. His name is Sopolemalama Filipe Tohi. First we looked at some pictures of his artwork on the I-pads.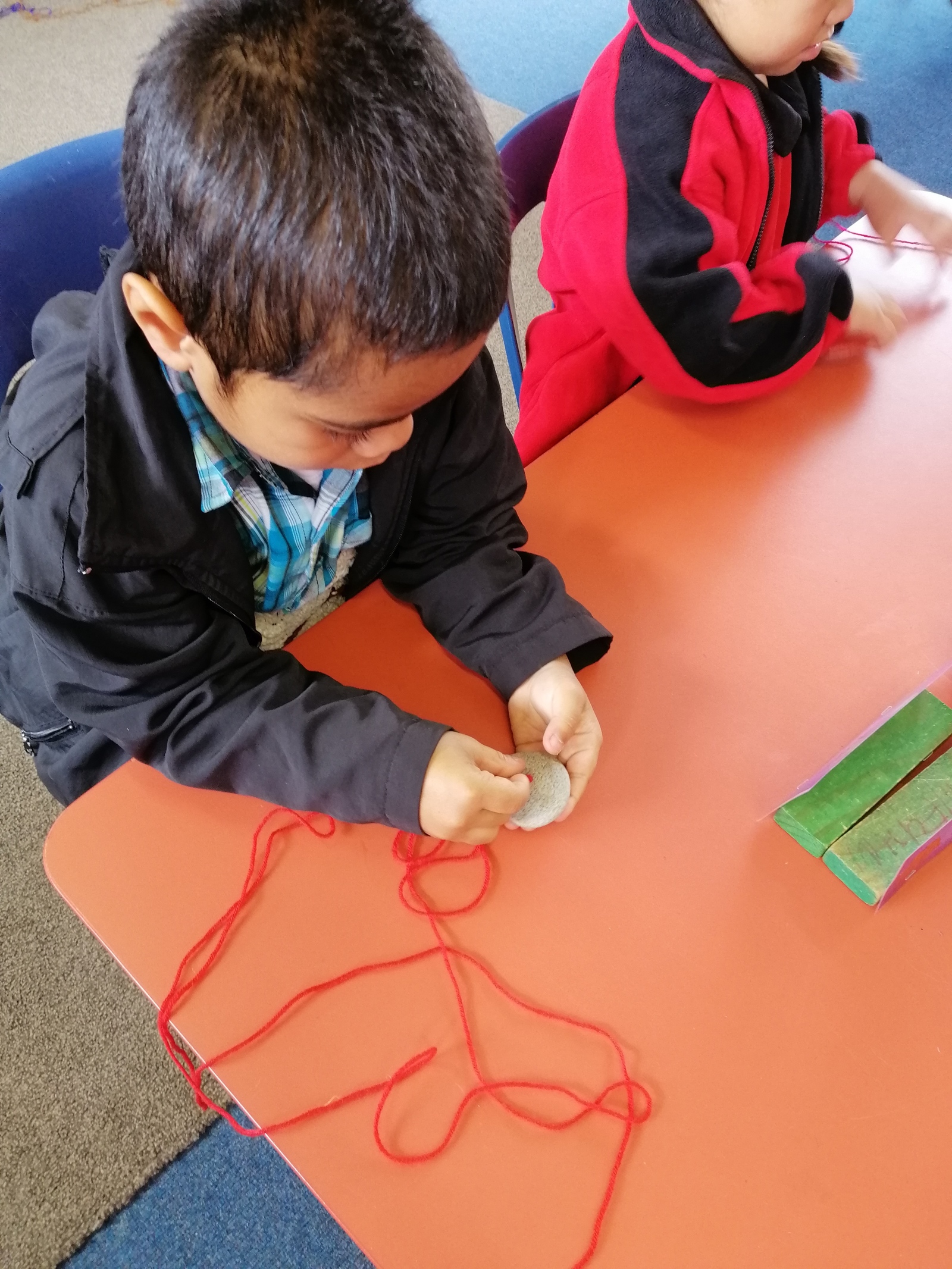 Then we had a try at making our own artwork, using Filipe Tohi's work for inspiration.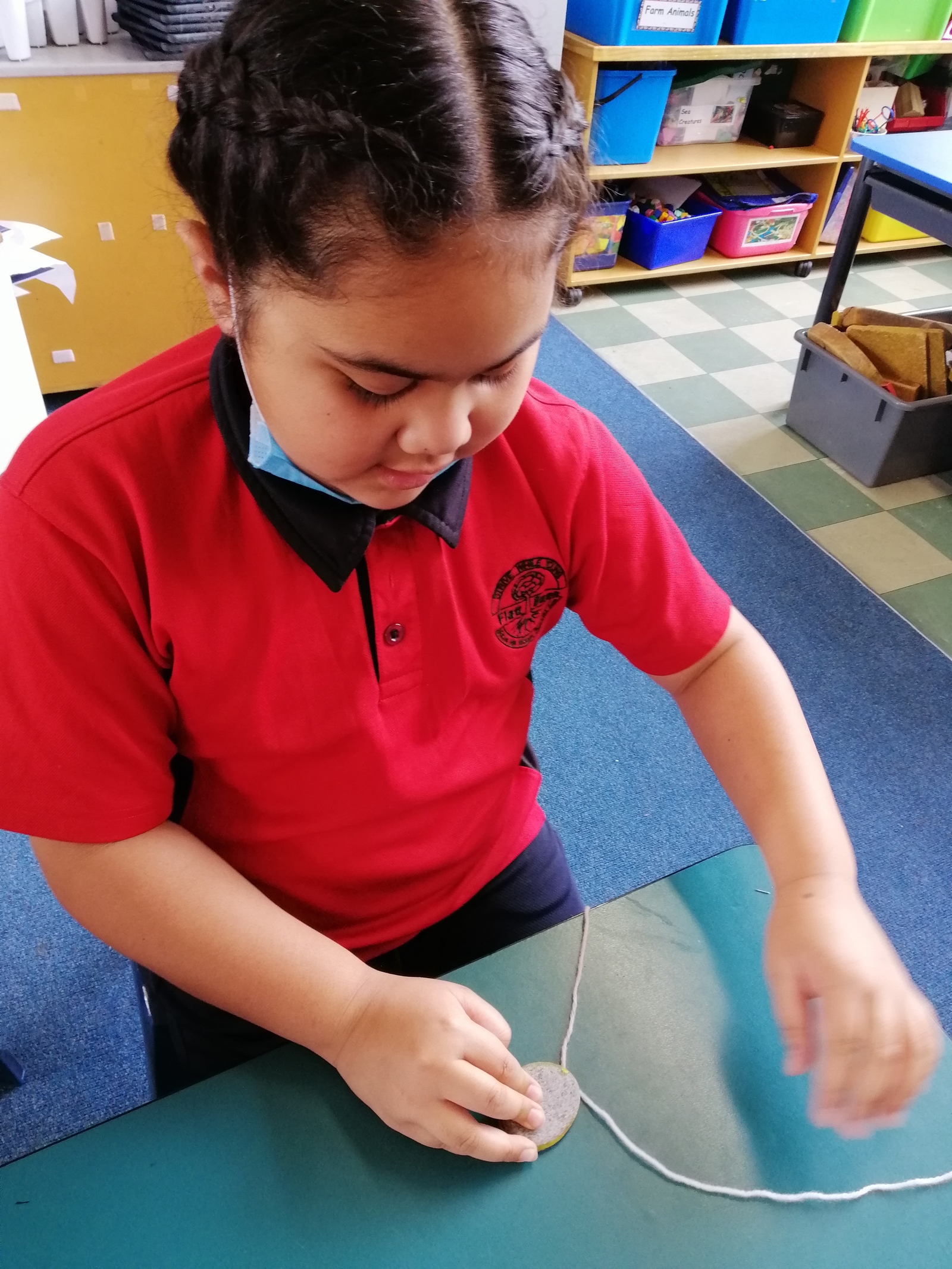 We used wool to wrap some rocks and create patterns. Have a look at our work!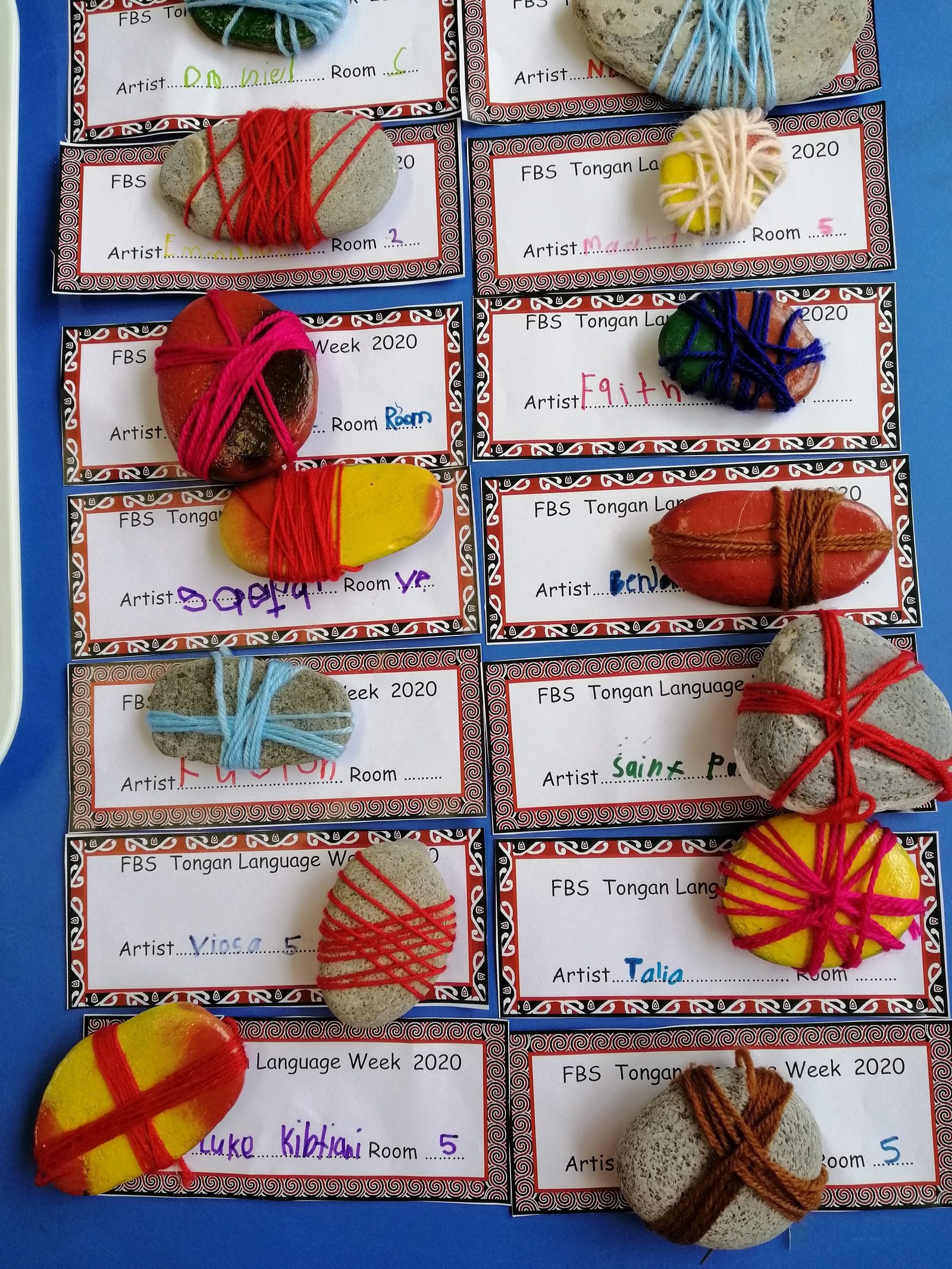 Week Seven
On Friday we were lucky to have the FMS coaches in to teach us about jumping skills.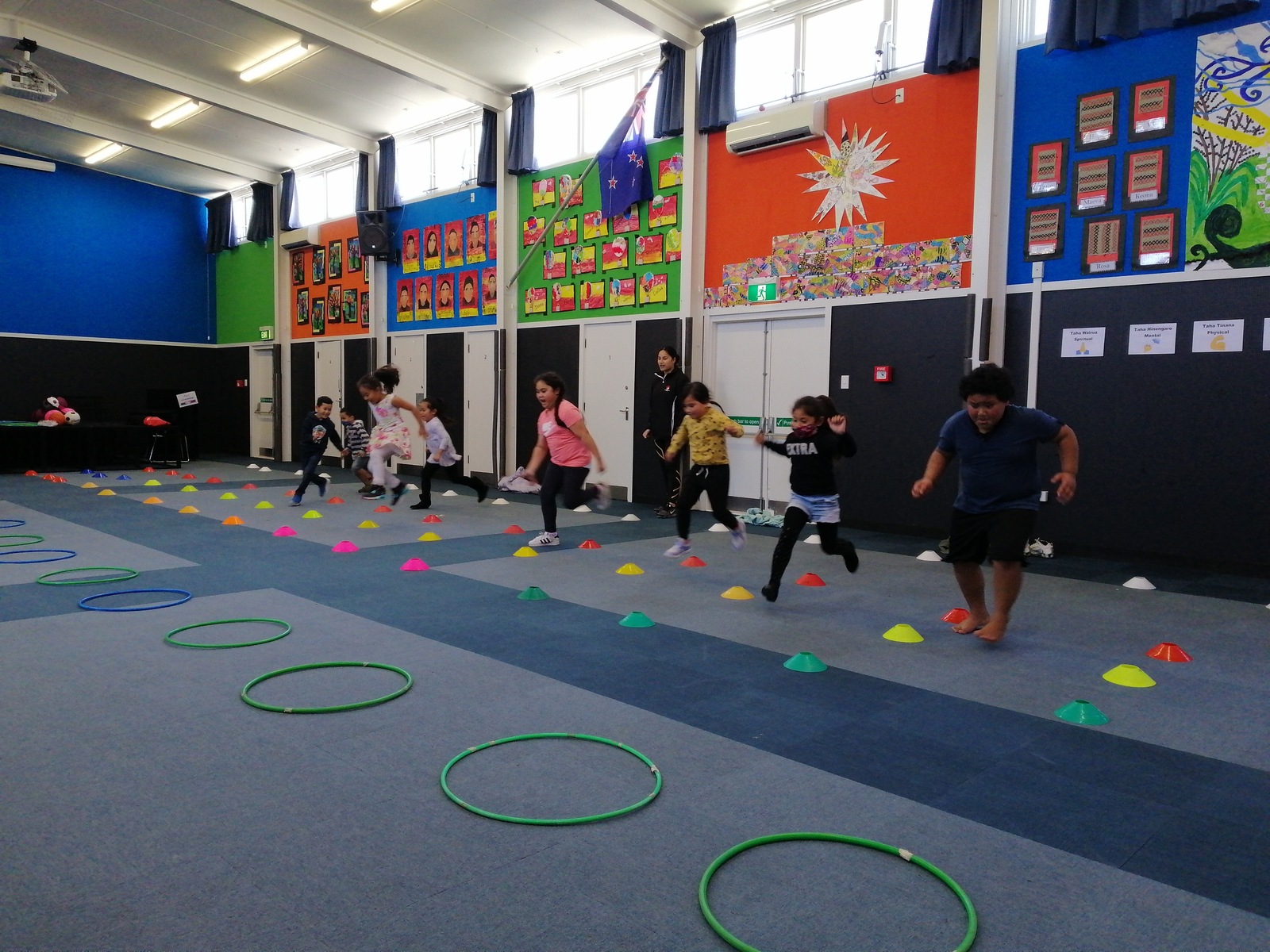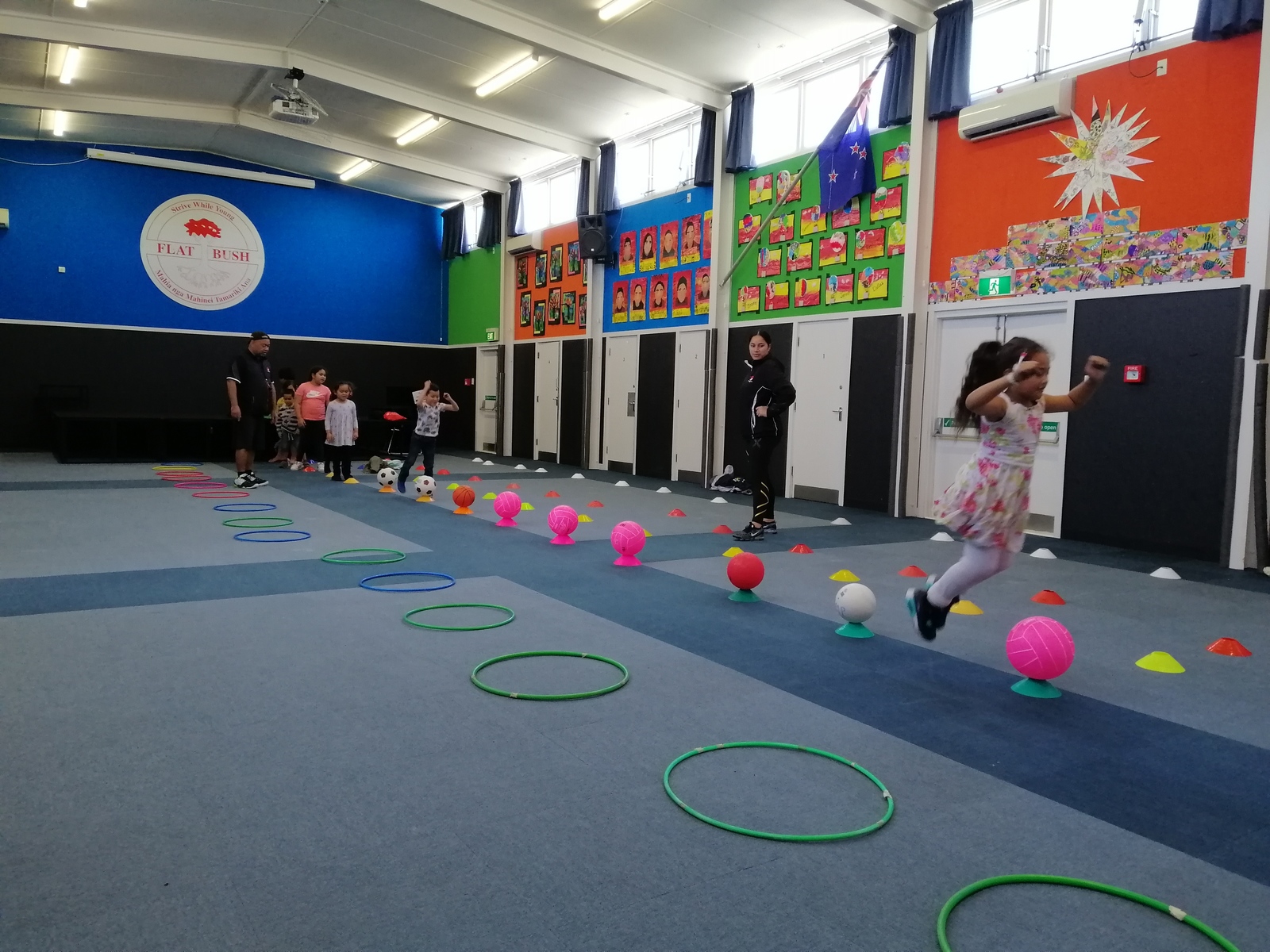 We had lots of fun doing the activities that they taught us and learning skills such as jumping with our feet together.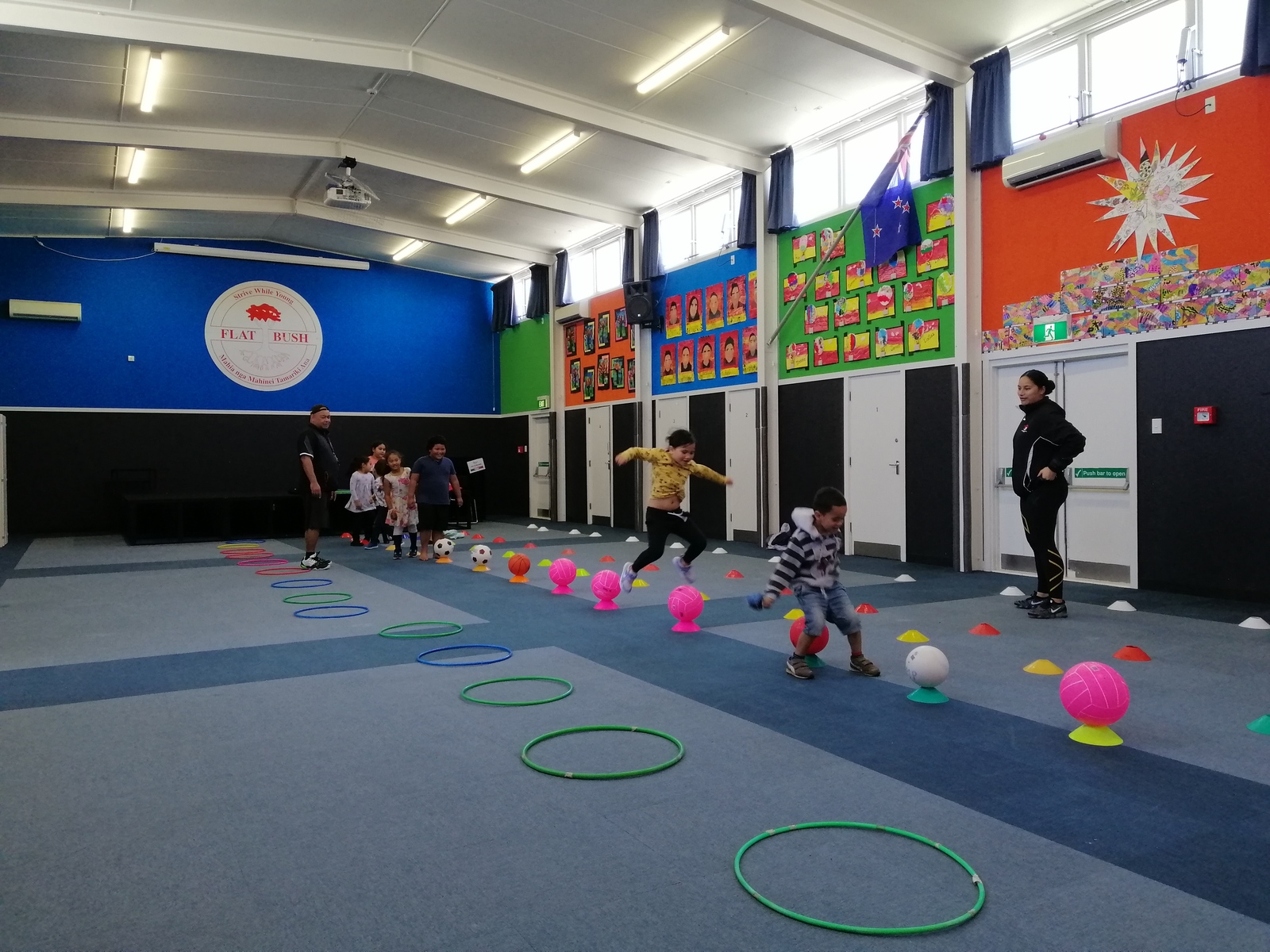 Congratulations to the players of the day, Malia and Luke!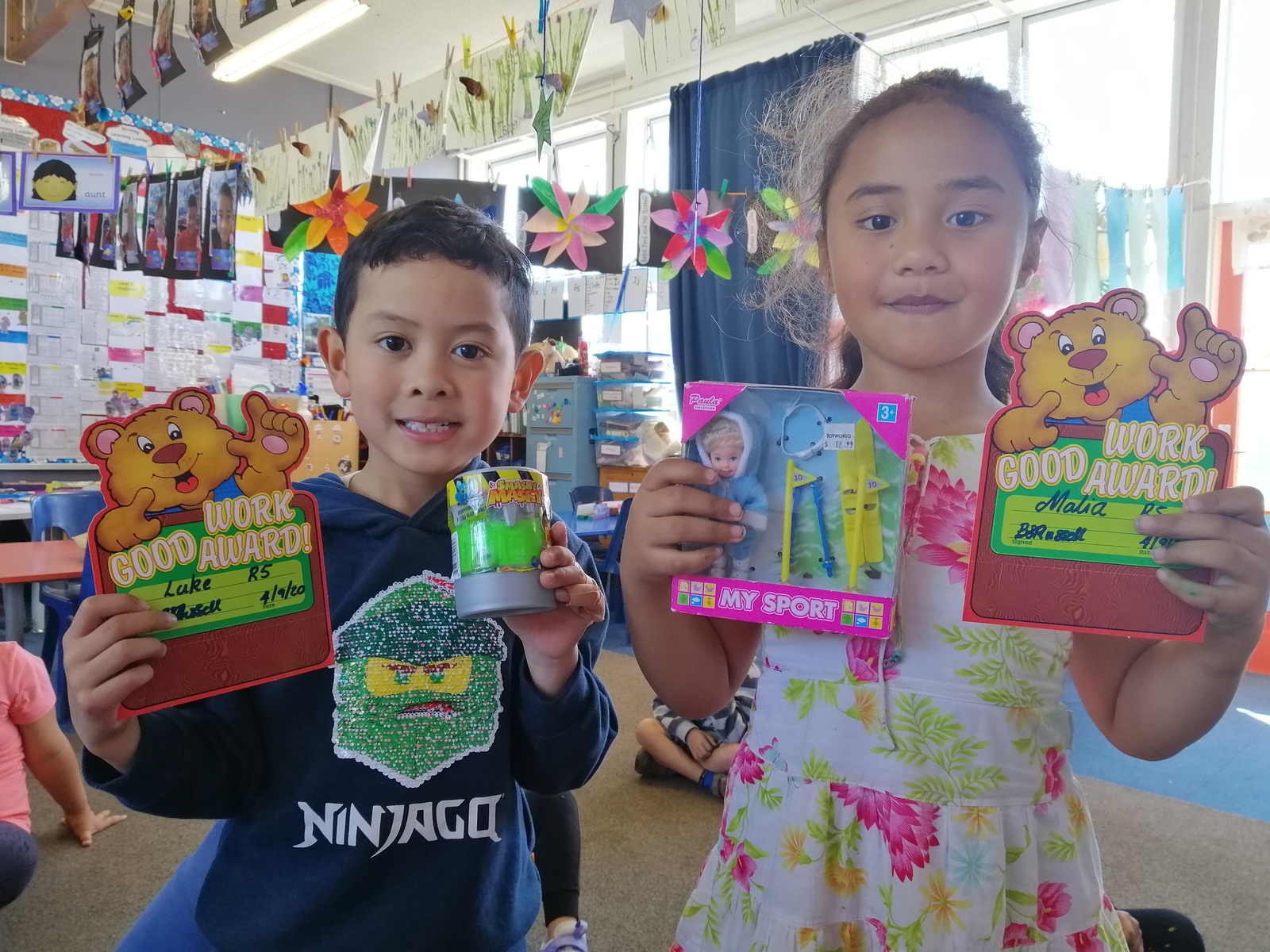 After all that exercise we were very hungry. Luckily Mr Avatea had organized some yummy sausages and refreshing fizzy drinks for us on our Mufti Day.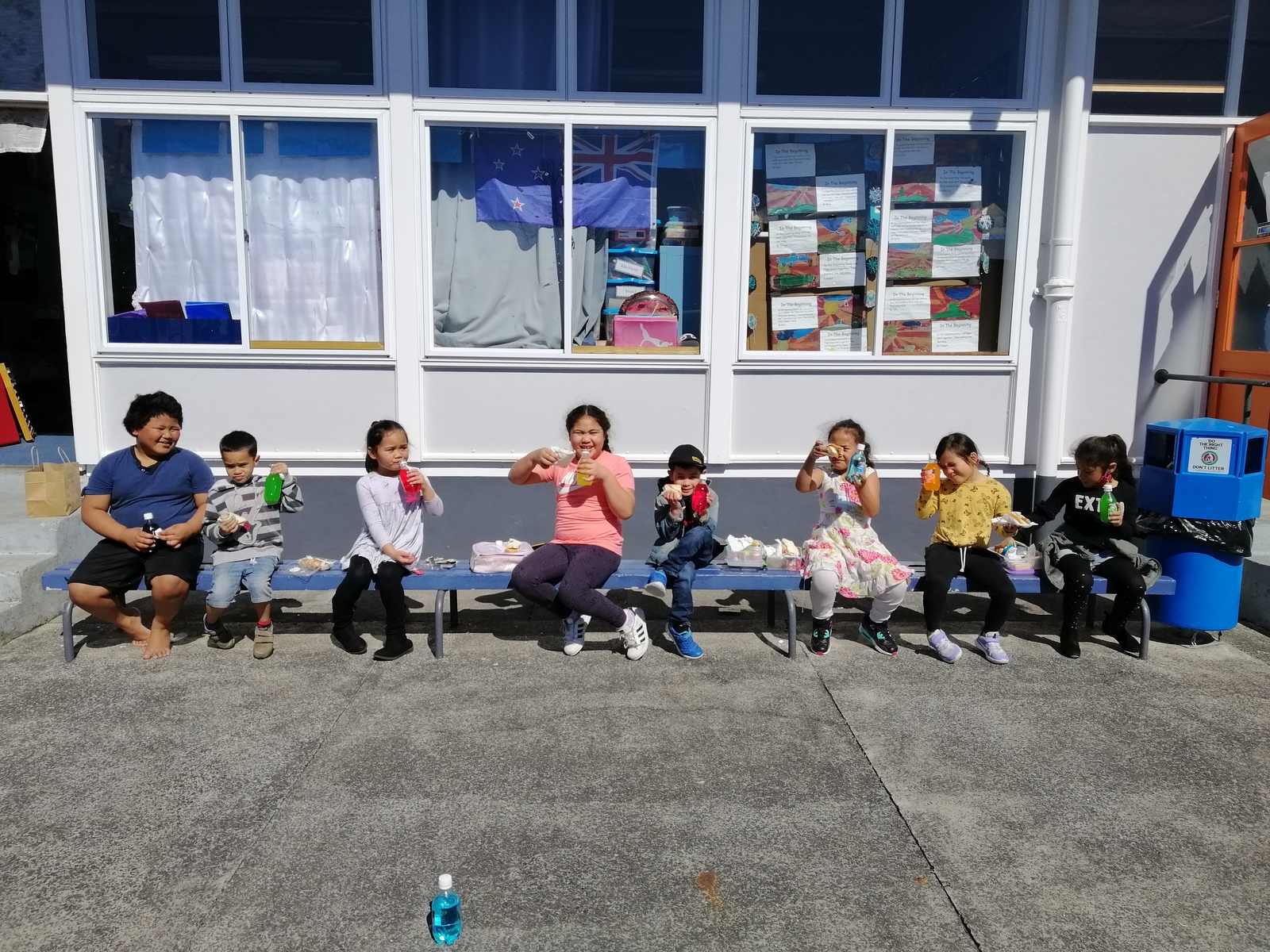 Thank you so much Mr Elliss, Mr Tupou and everyone else who prepared our yummy lunch for us!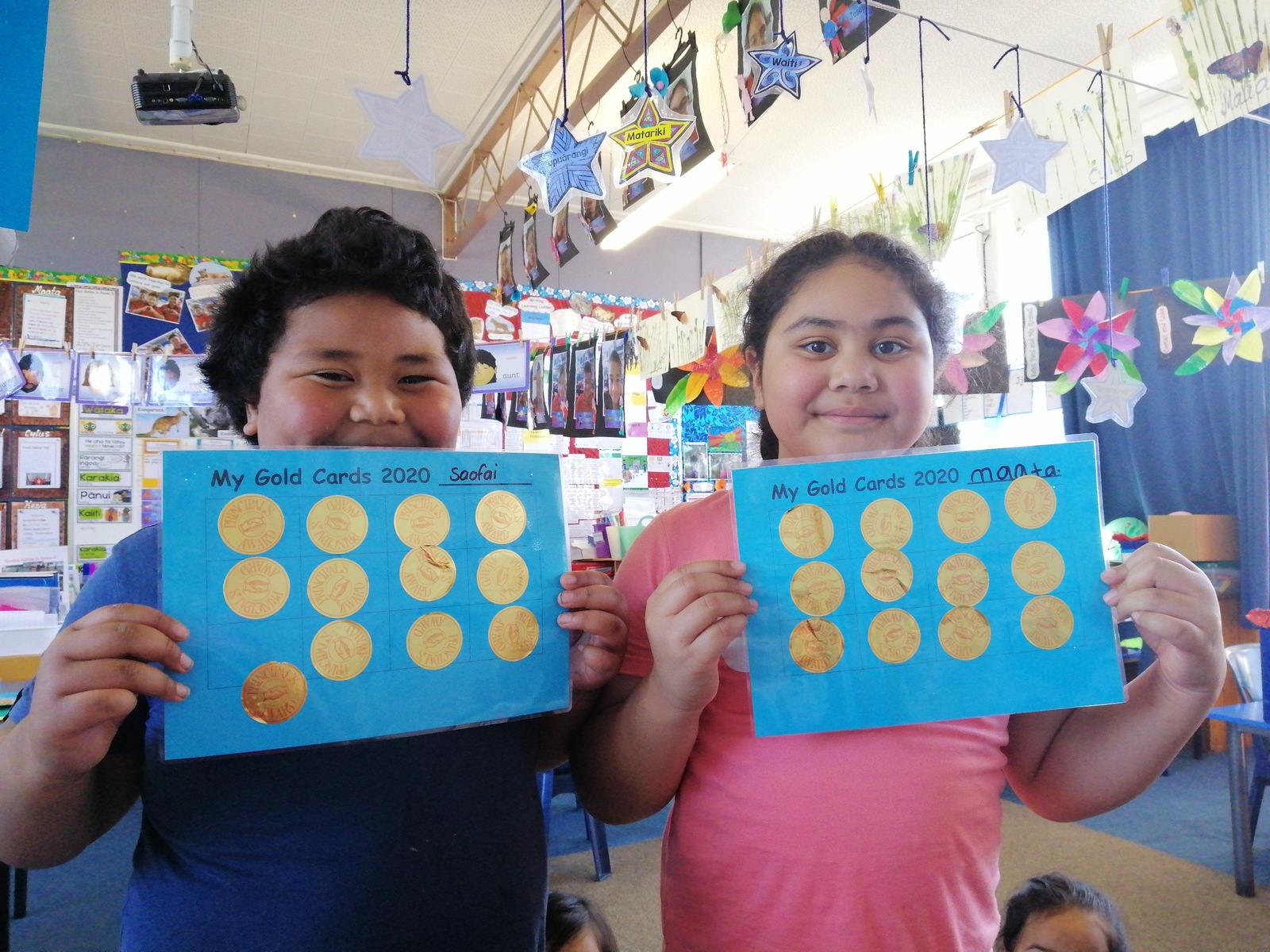 Congratulations to Saofai and Ma'ata who have completed their Gold Card Charts this week! Great effort students!
Today we have been getting ready for Father's Day 2020. First, we read some stories about awesome Dads.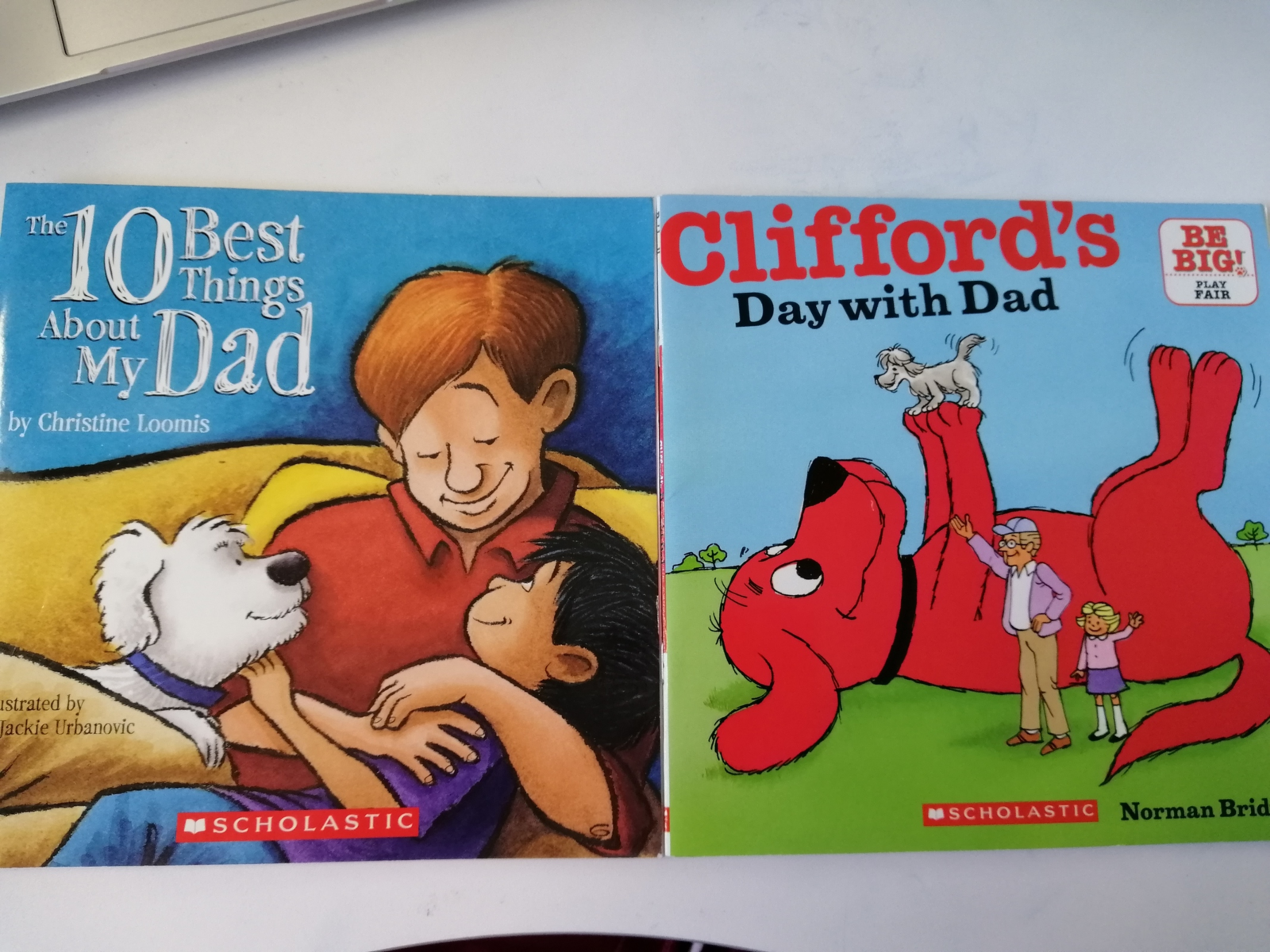 Then we drew a picture of our own Dad and wrote about something that we like doing with them.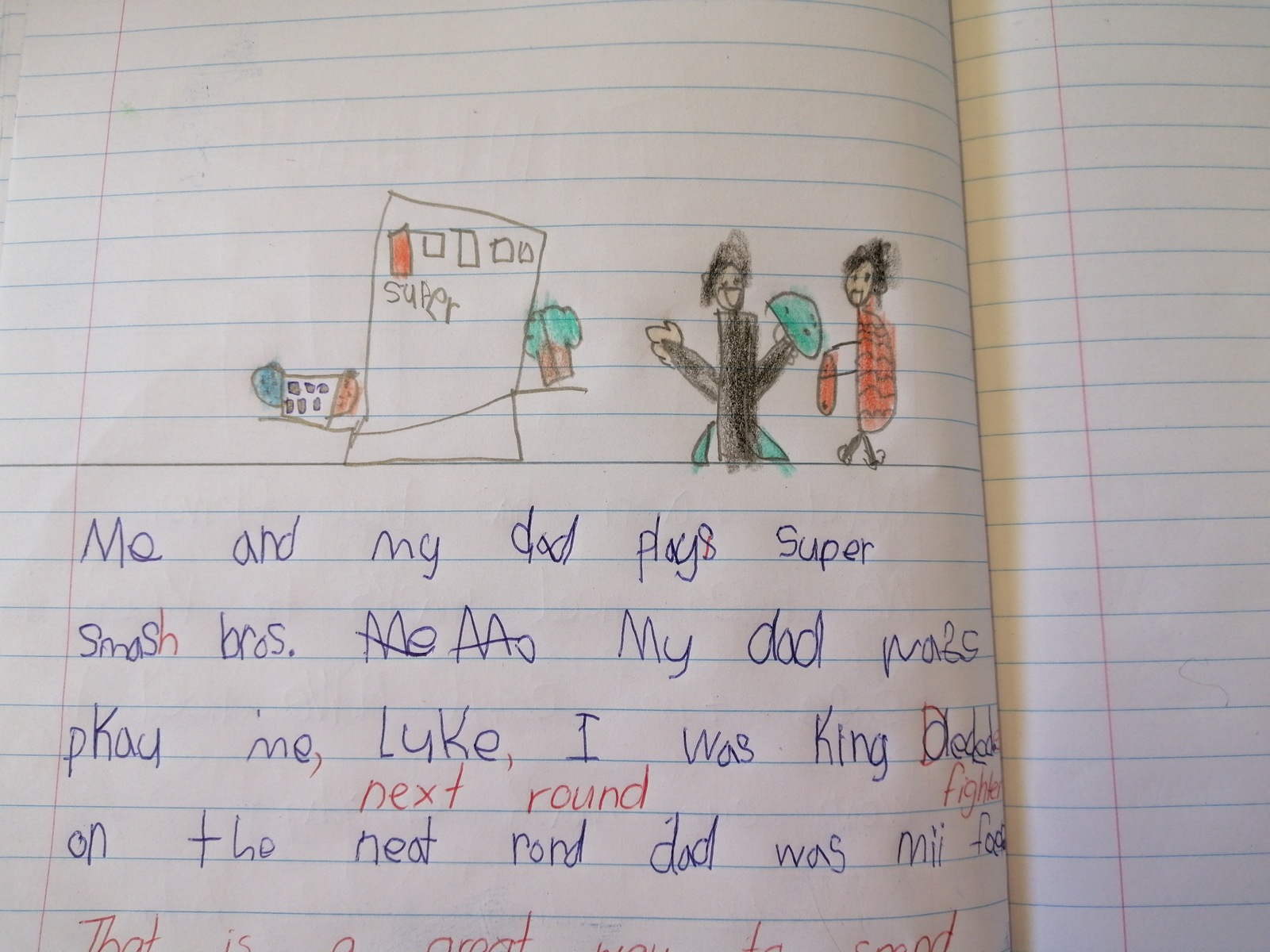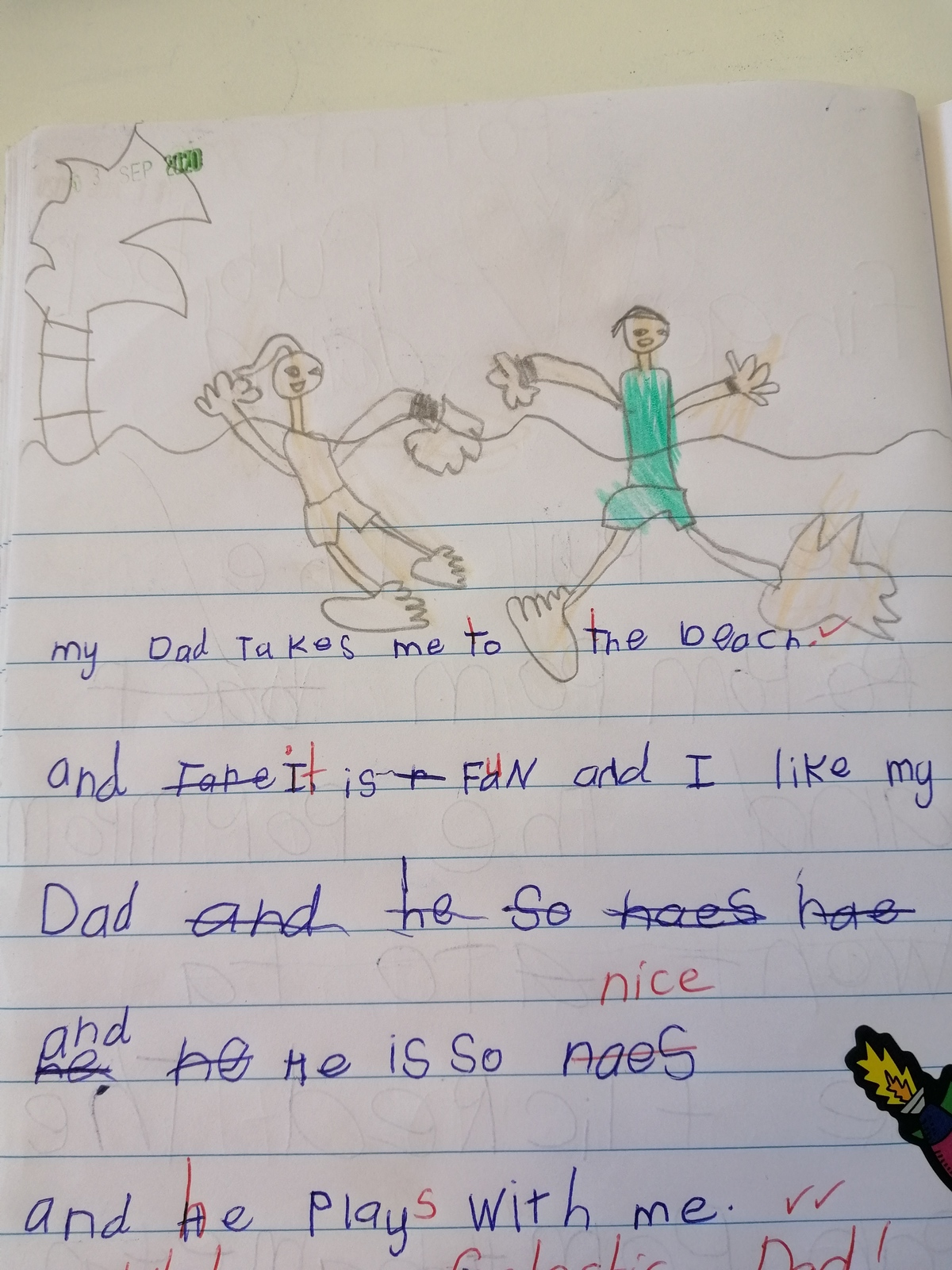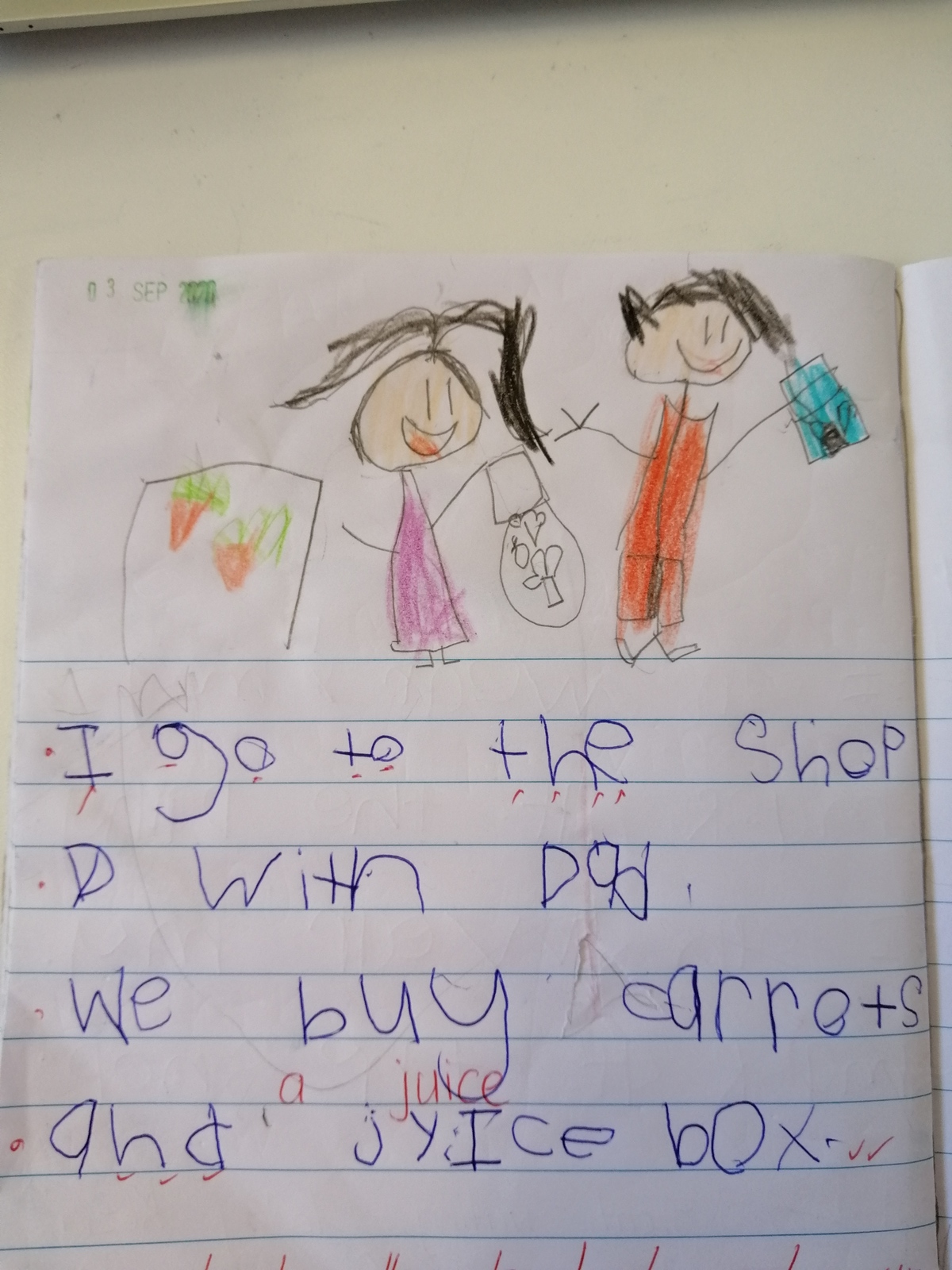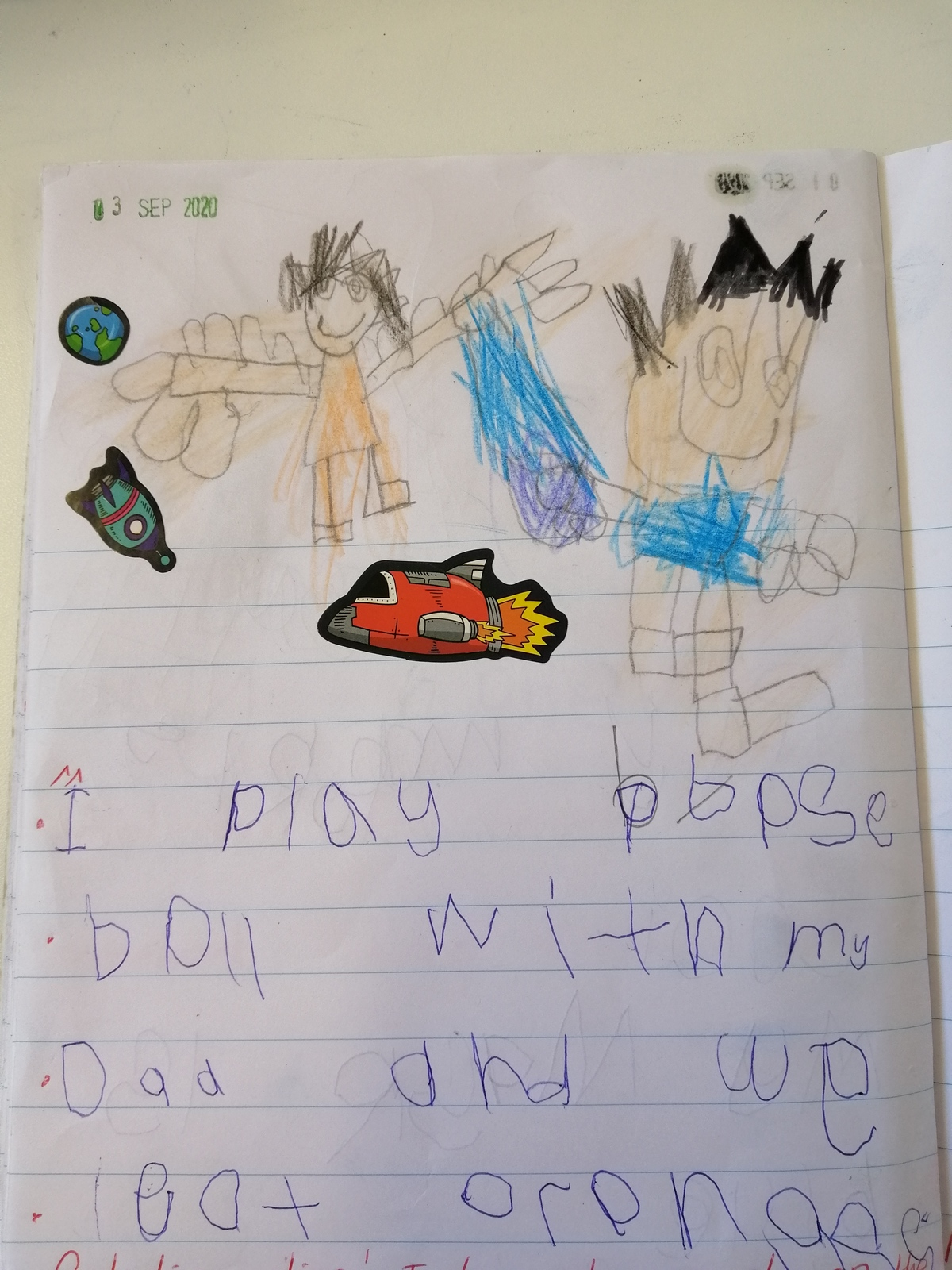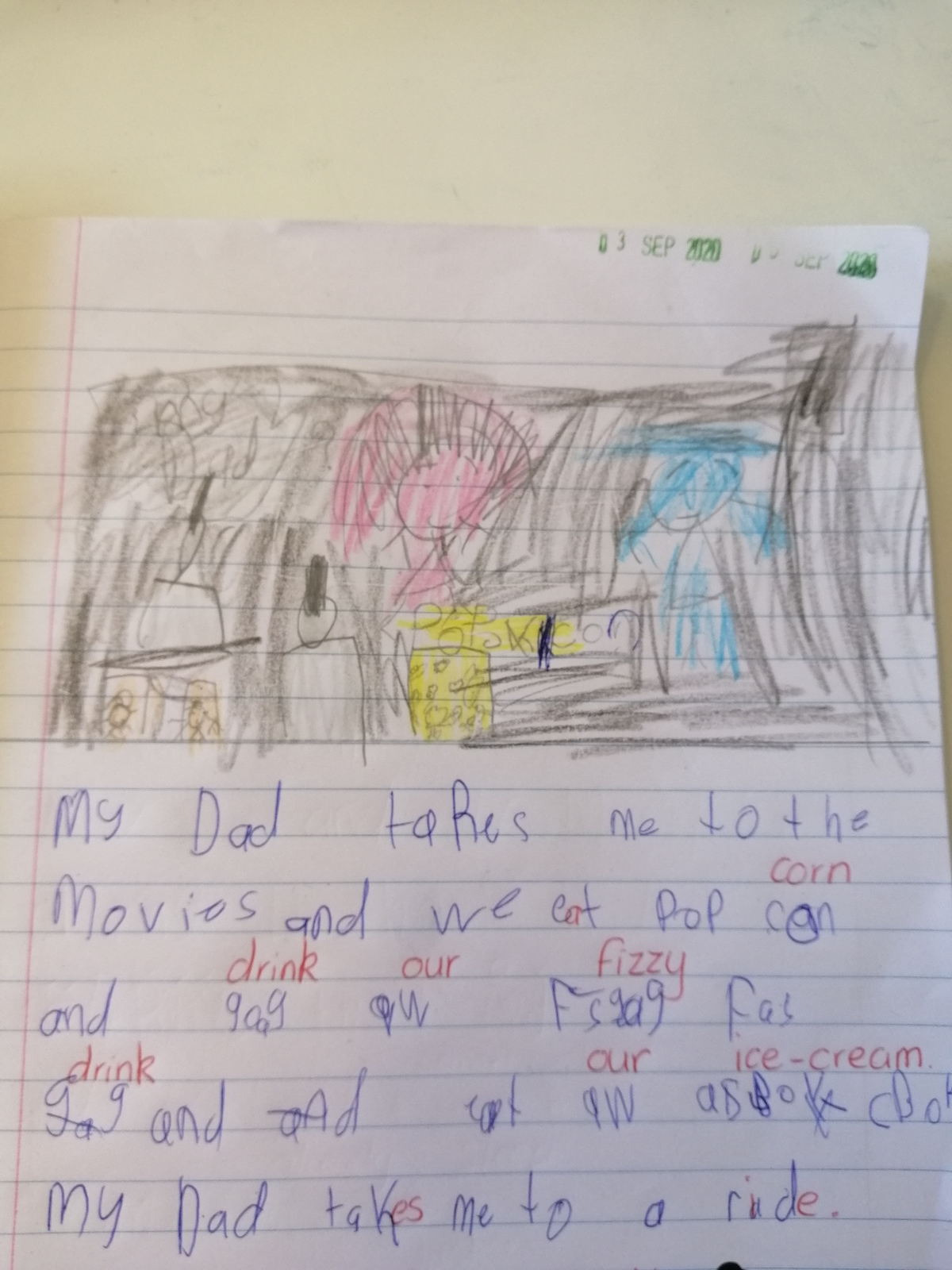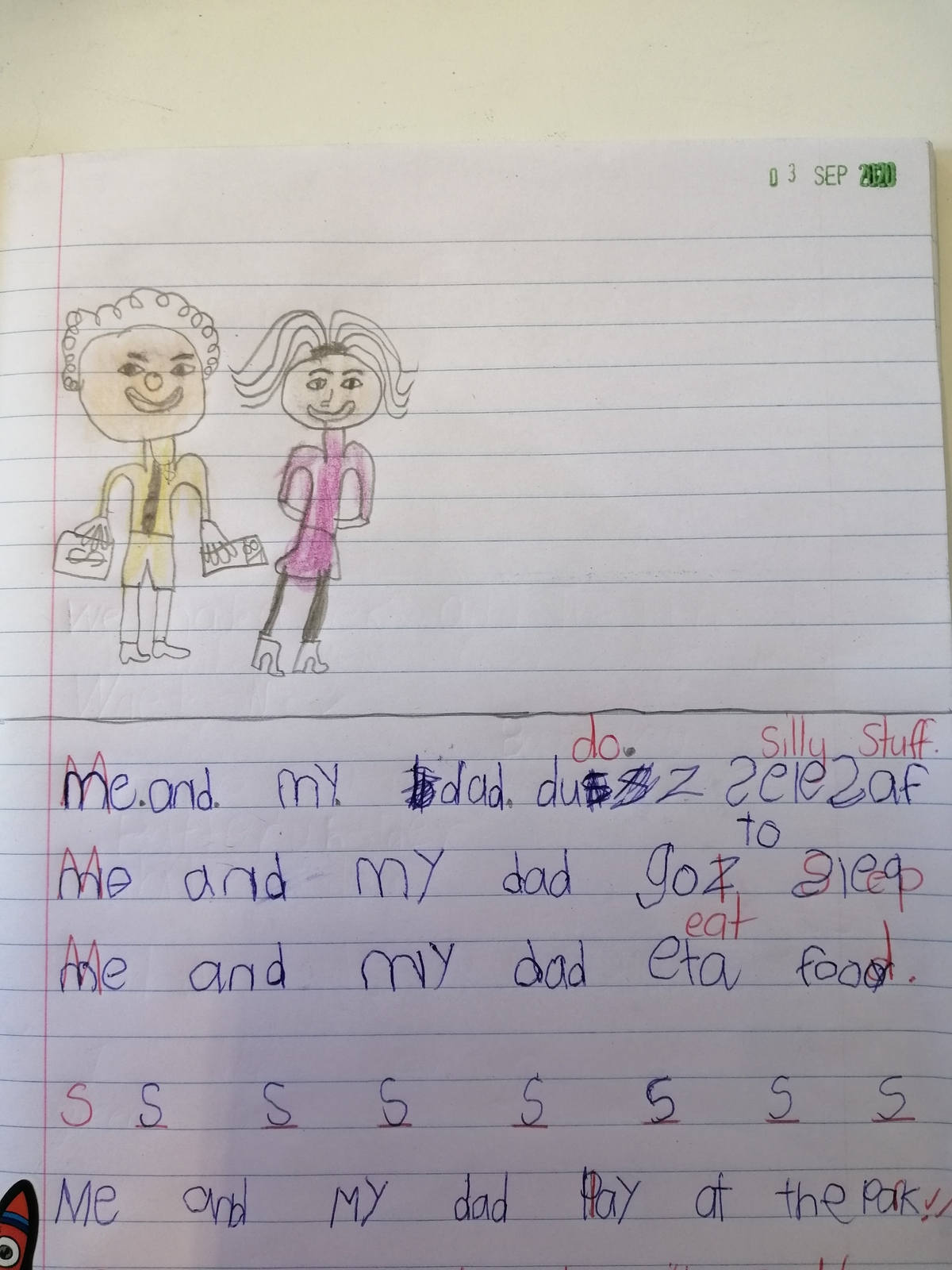 Happy Father's Day!
Lots of awesome learning happening in Room 5 today. Yesterday our Duffy books arrived and this morning we got to put our stickers in them to take home. Thank you so much Duffy Books in Homes for our awesome books!
Some fantastic Maths today as we focus on counting and addition this week. Really great to see the progress that our learners are making.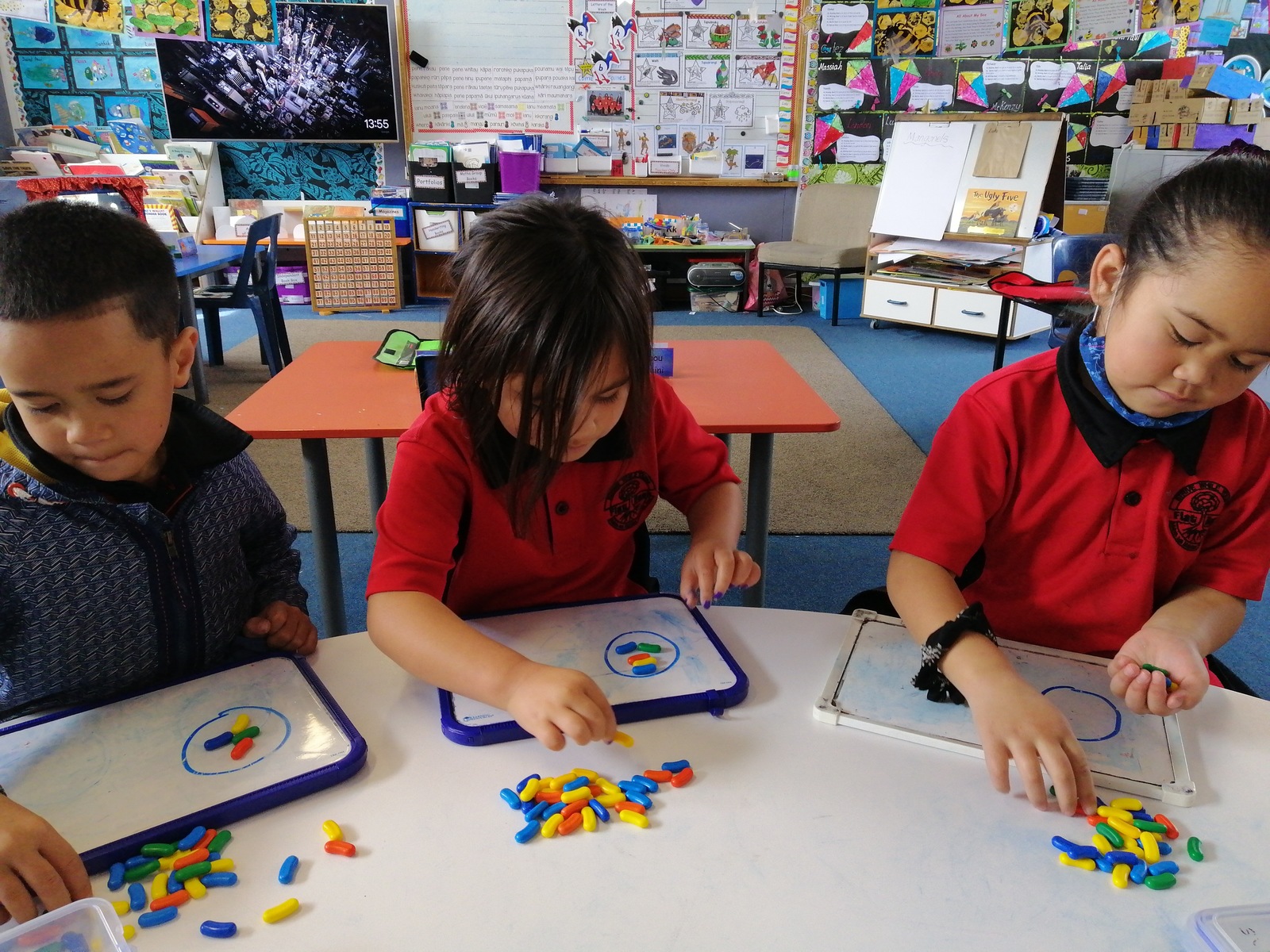 Today we continued on our Inquiry focus- Forces. First we played with some toy mangonels, seeing how far we could shoot the pompoms using a tiny bit of force or a lot of force.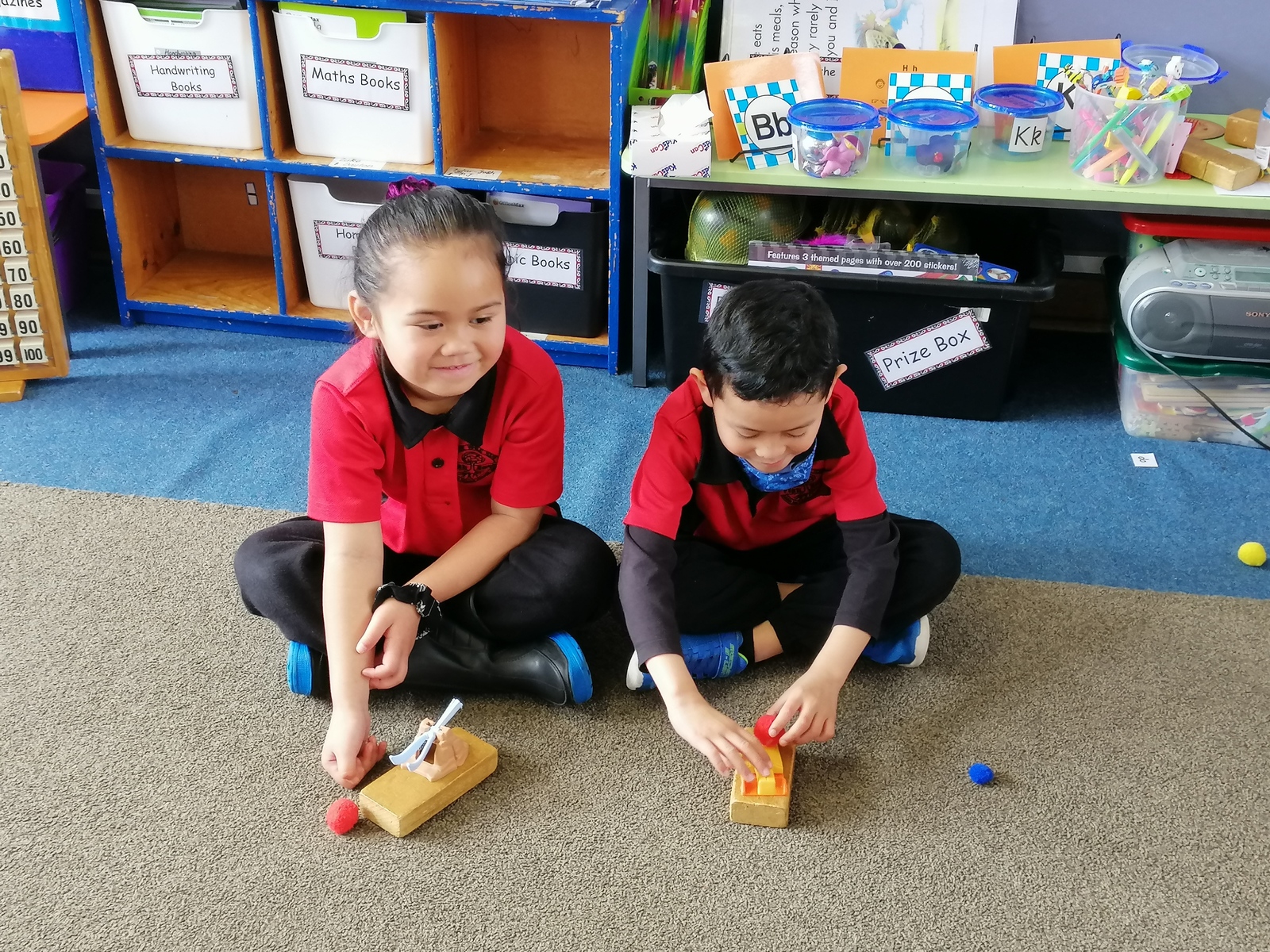 Then it was time to build our own mangonel.
We used a hammer to bang two nails into an old block.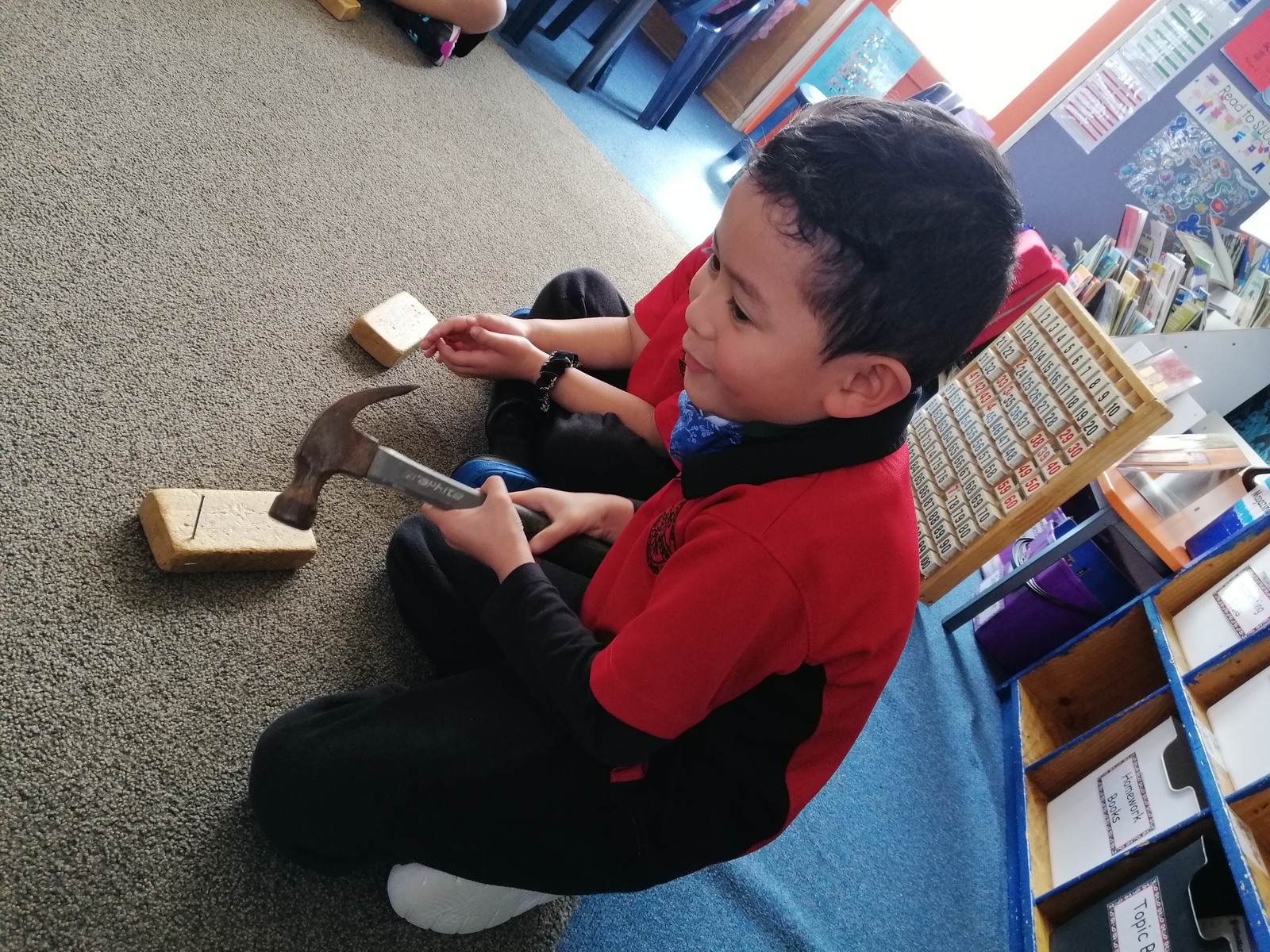 Then we added some rubber bands and a fork.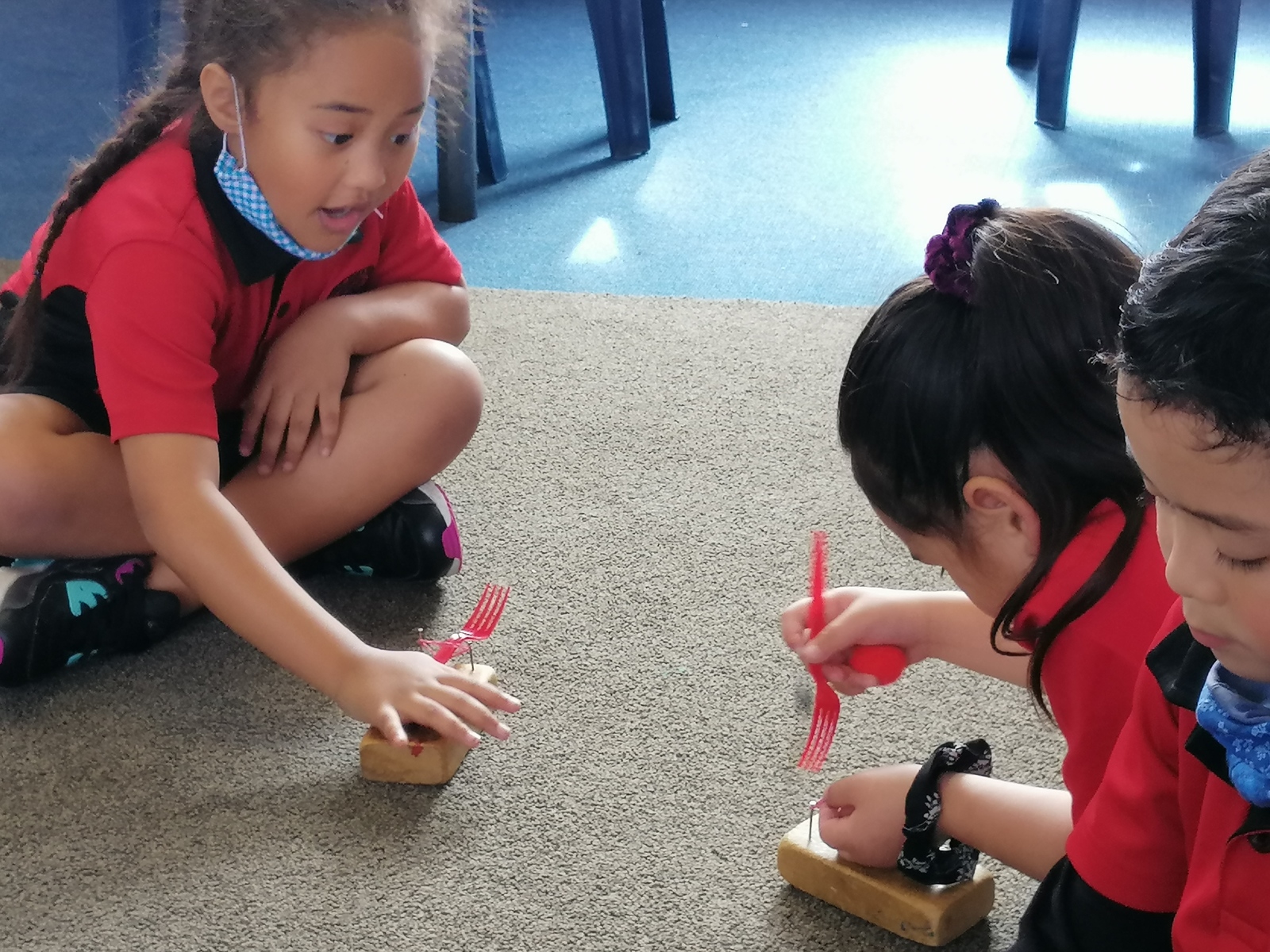 Then we experimented with winding up our rubber bands and using the stored energy to power our mangonel.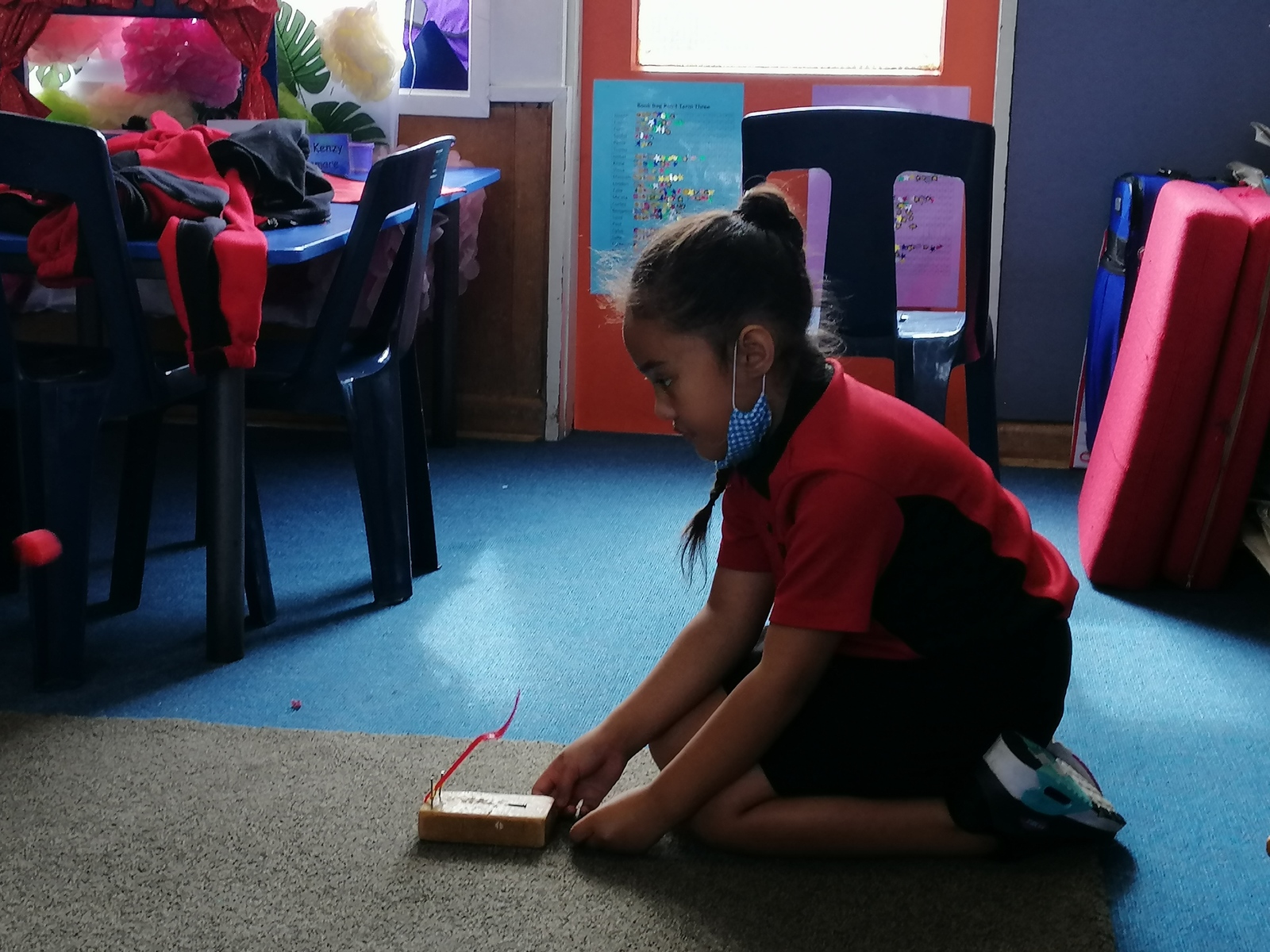 Finally, it was time to paint our creations!
It is so nice being back at school and getting back into our learning. For those of you still at home, we hope that you can join us soon. We have been doing lots of extra reading and writing so far this week to catch up on what we missed while we were in lock down. We have also been talking about how to keep safe by washing our hands, wearing masks and not touching each other. Have a look at our masks!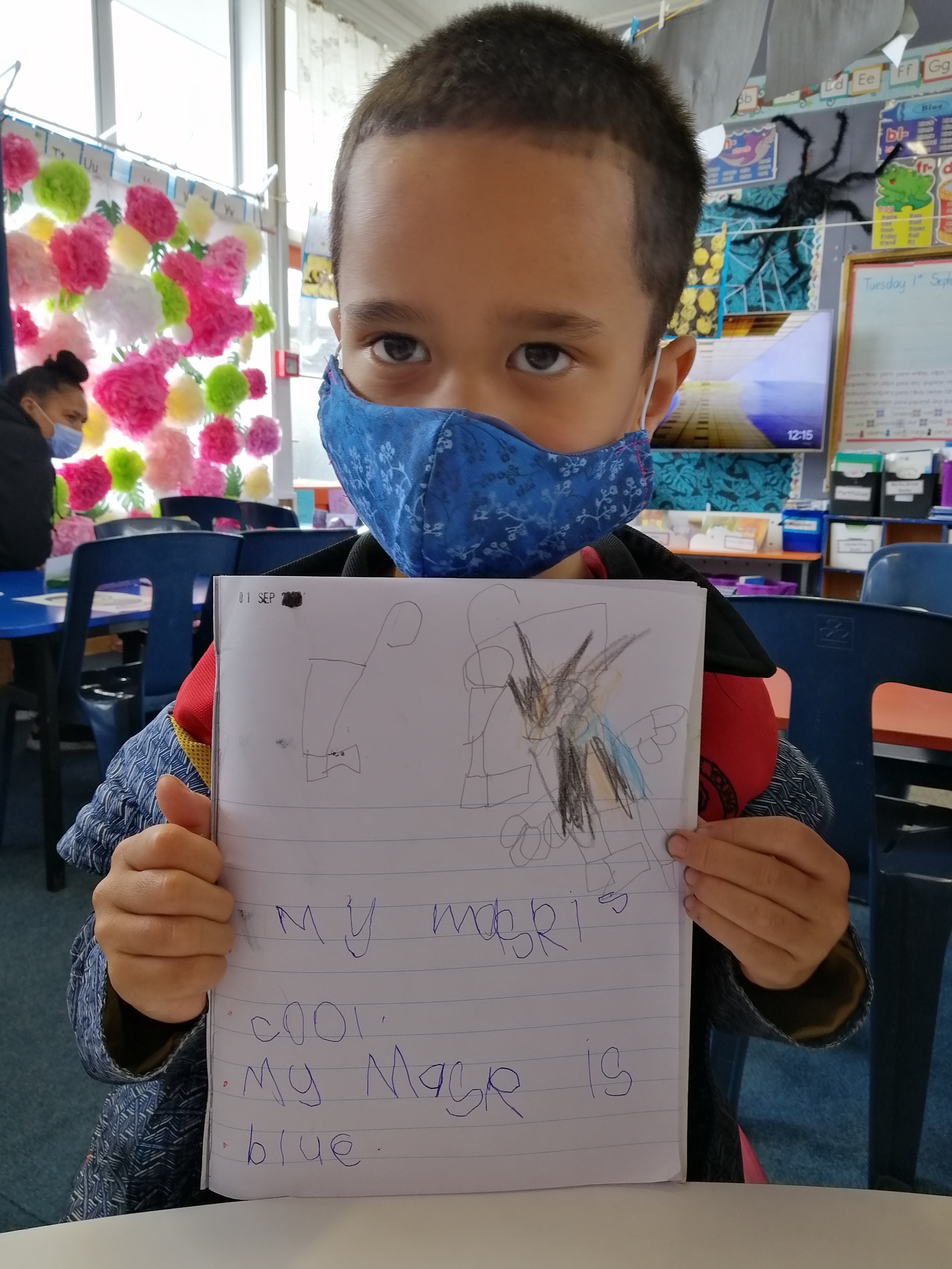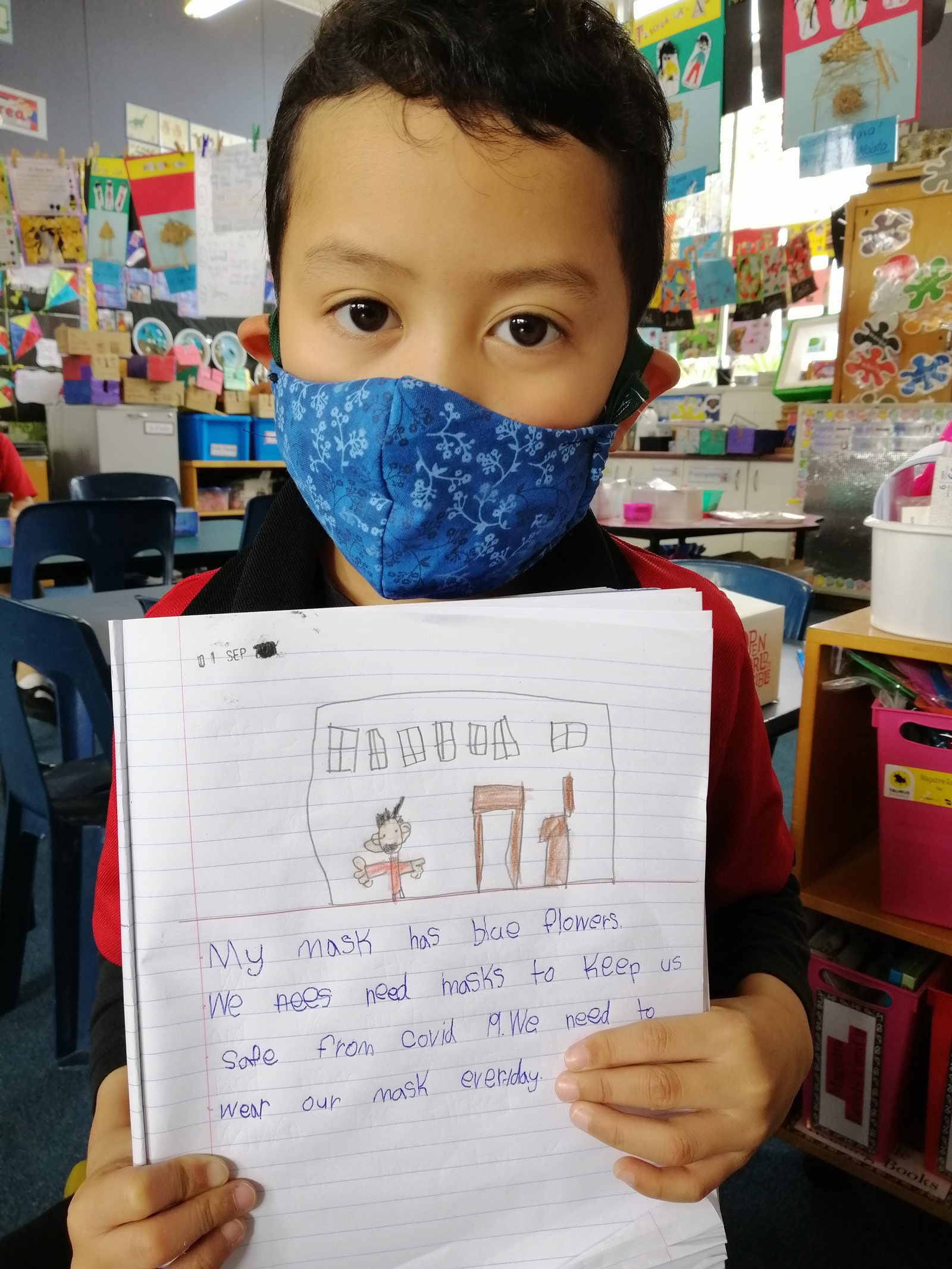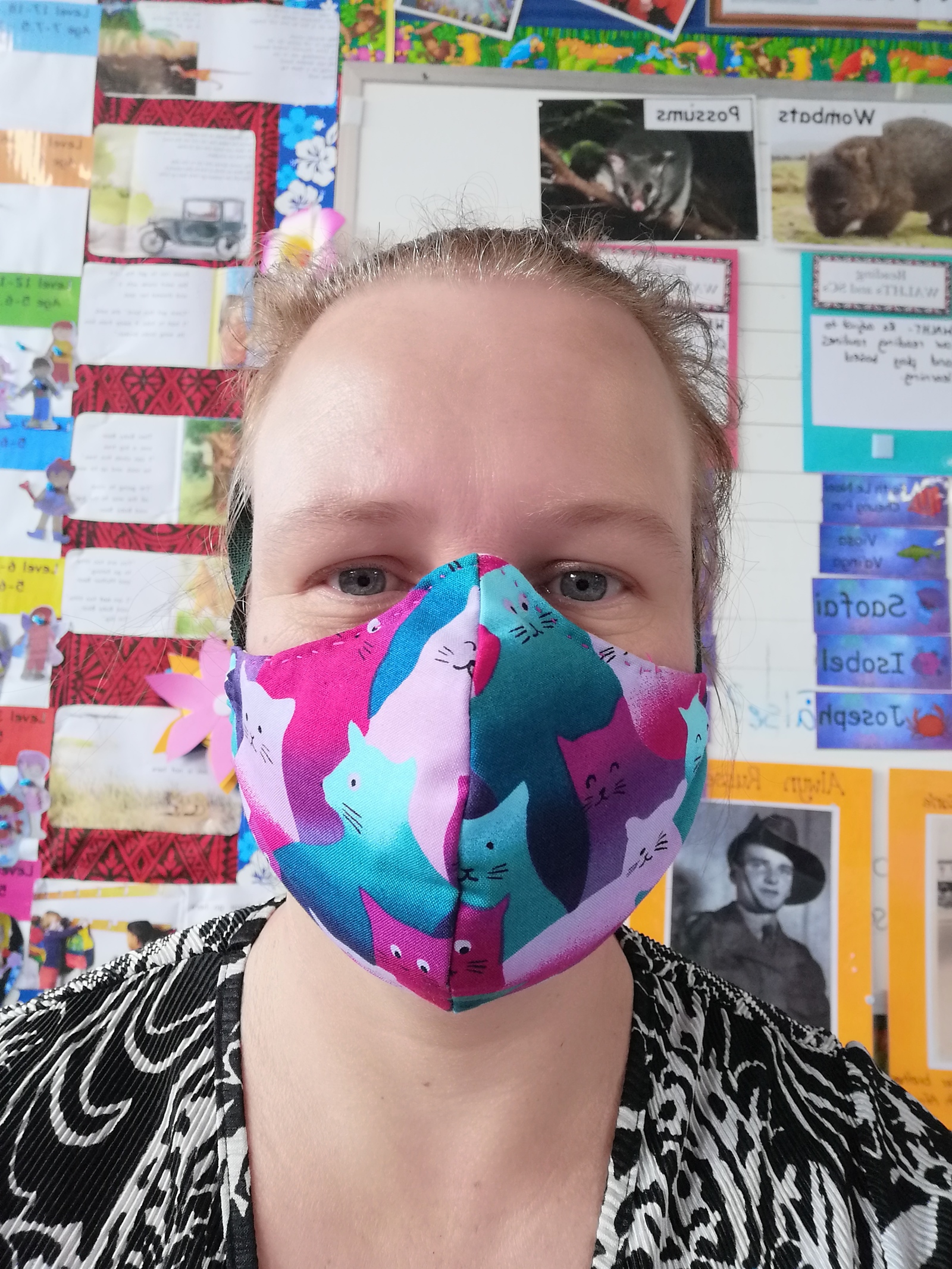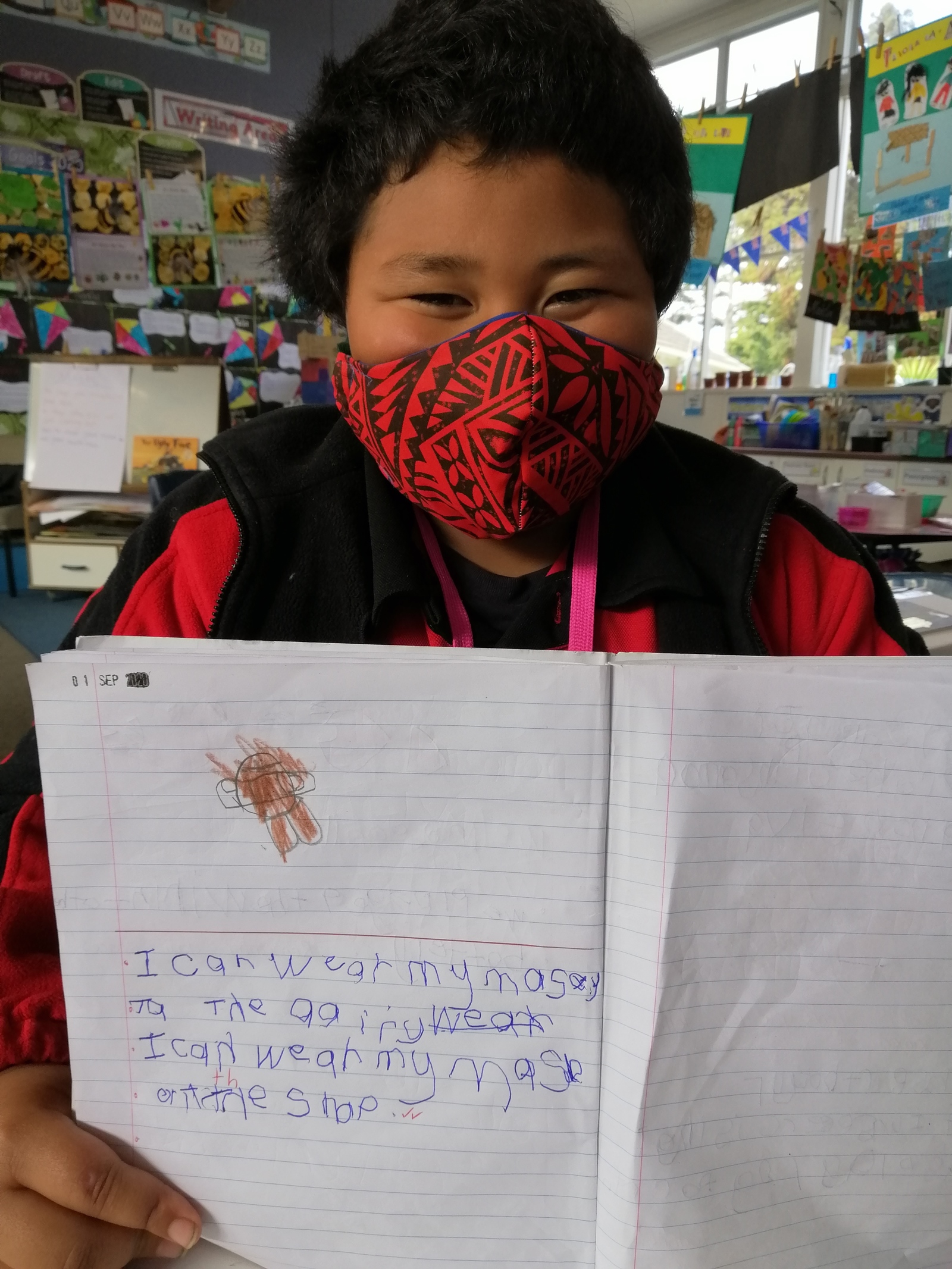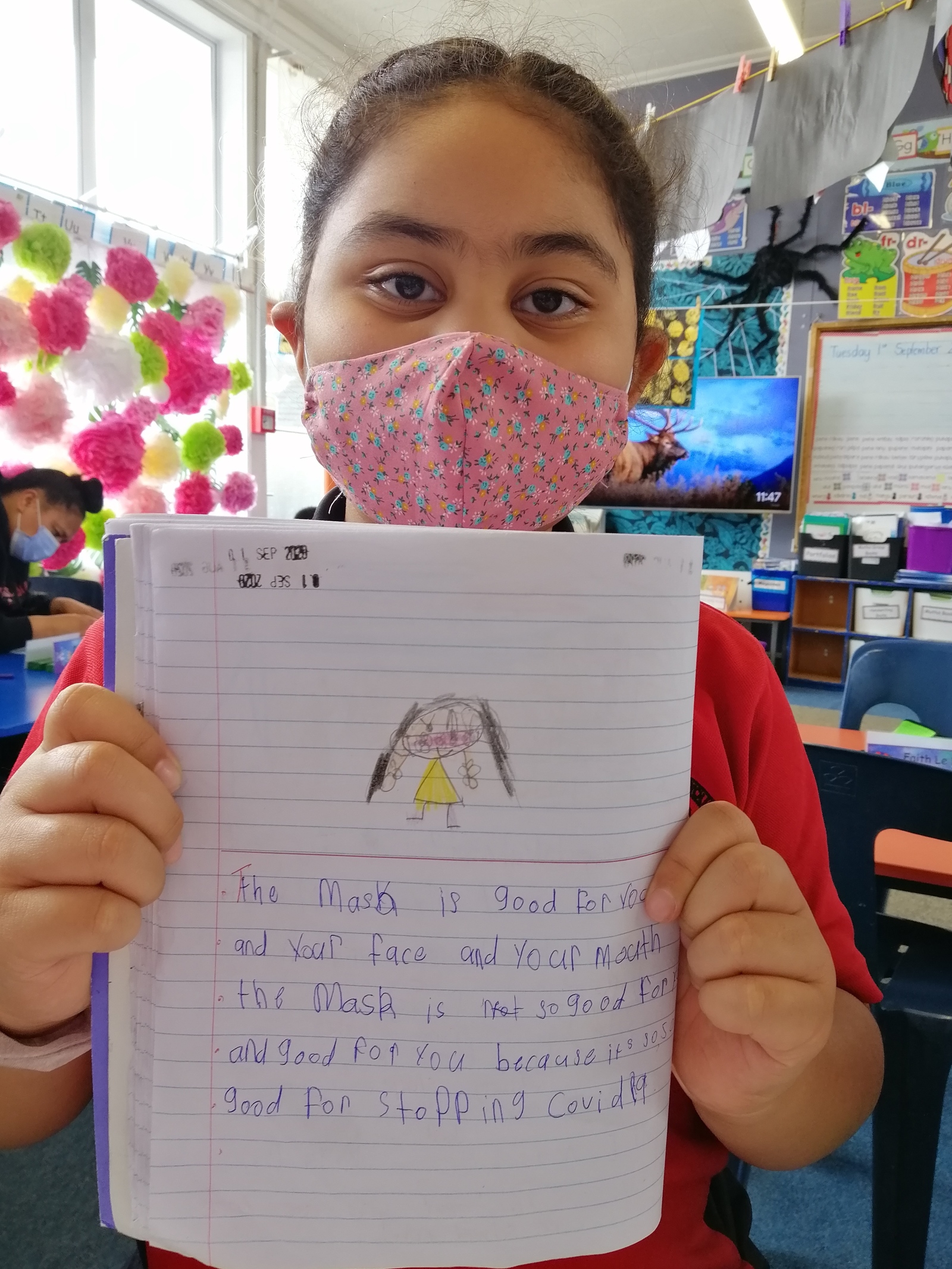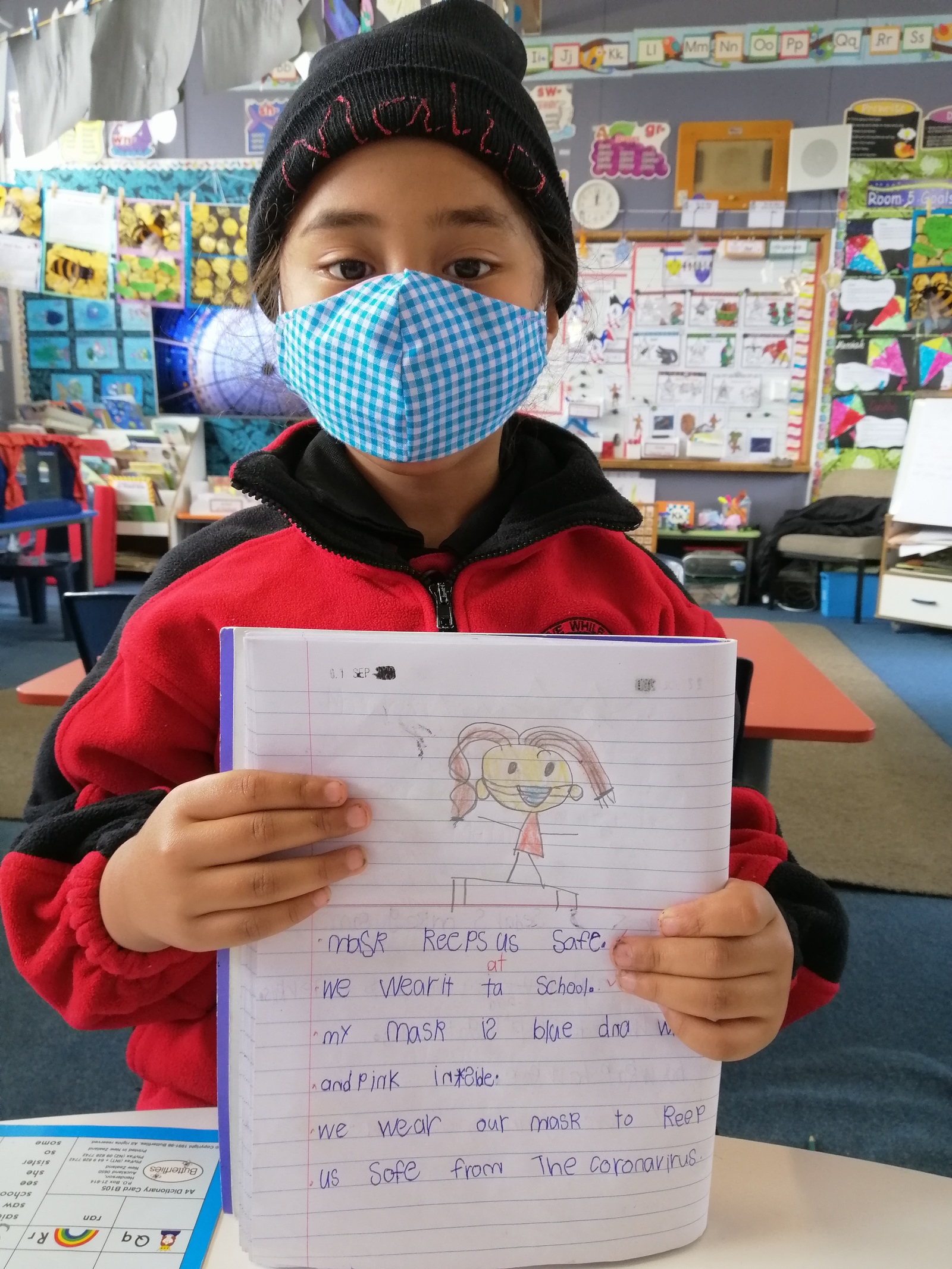 Week Six Updates
Our Prime Minister Jacinda Adern has announced that we will be returning to school on Monday! I can't wait to catch up with you all. Here are some more activities for you to do at home.
Sock Puppets are easy and fun to make on a wet day. Use an old sock or one that has lost it's partner. (ask an adult first). Draw or sew on some eyes, hair and other features. Put your hand in and make your puppet talk.
These two sock puppets are called Stella and Sam. Stella is trying to convince her brother Sam to wear a mask when they go to the shop, so that they don't get Covid 19. They made a play about masks and acted out their play in the sock puppet theater. If you make a sock puppet, bring it to school on Monday and you can have a play in the theater too.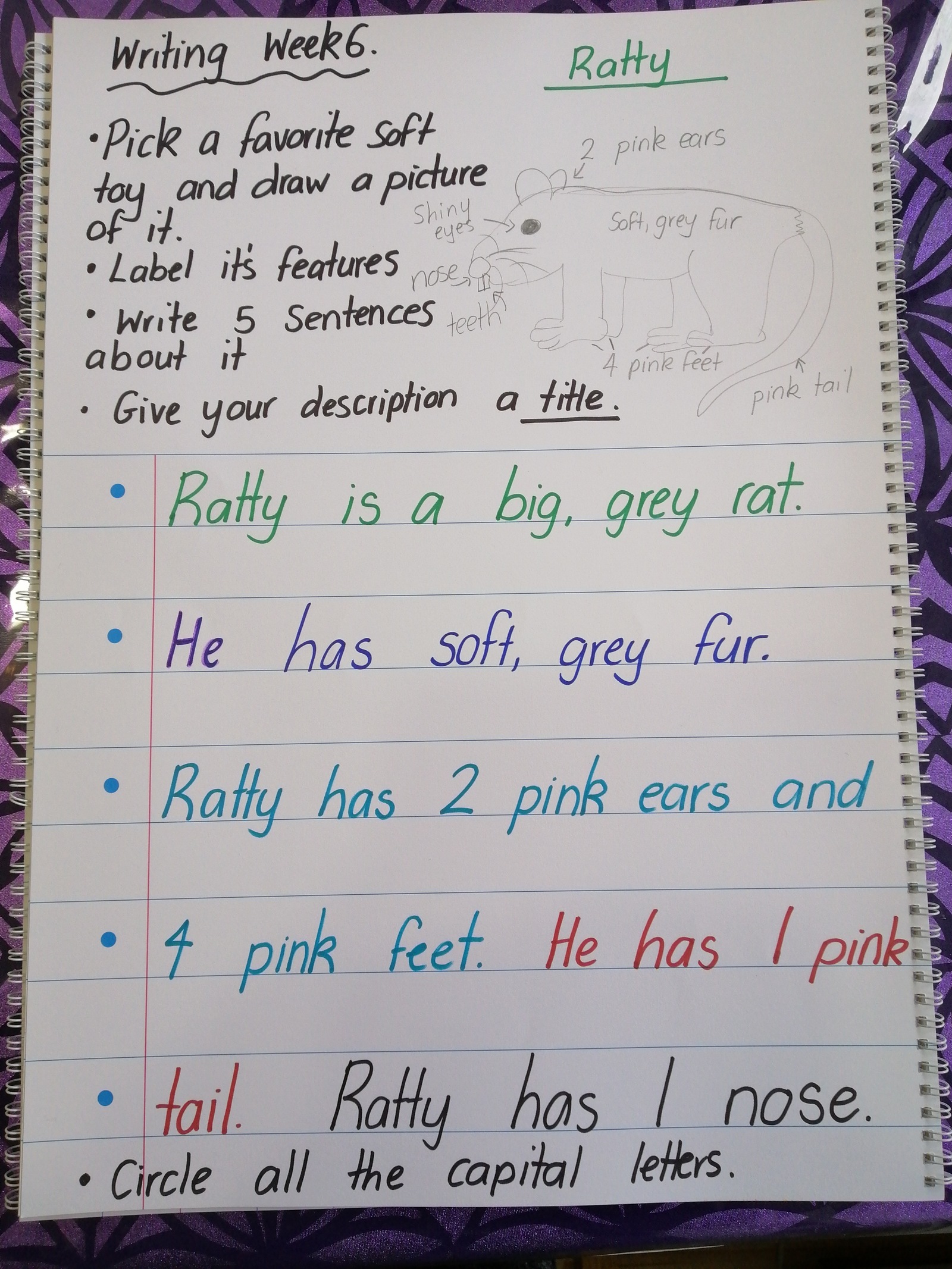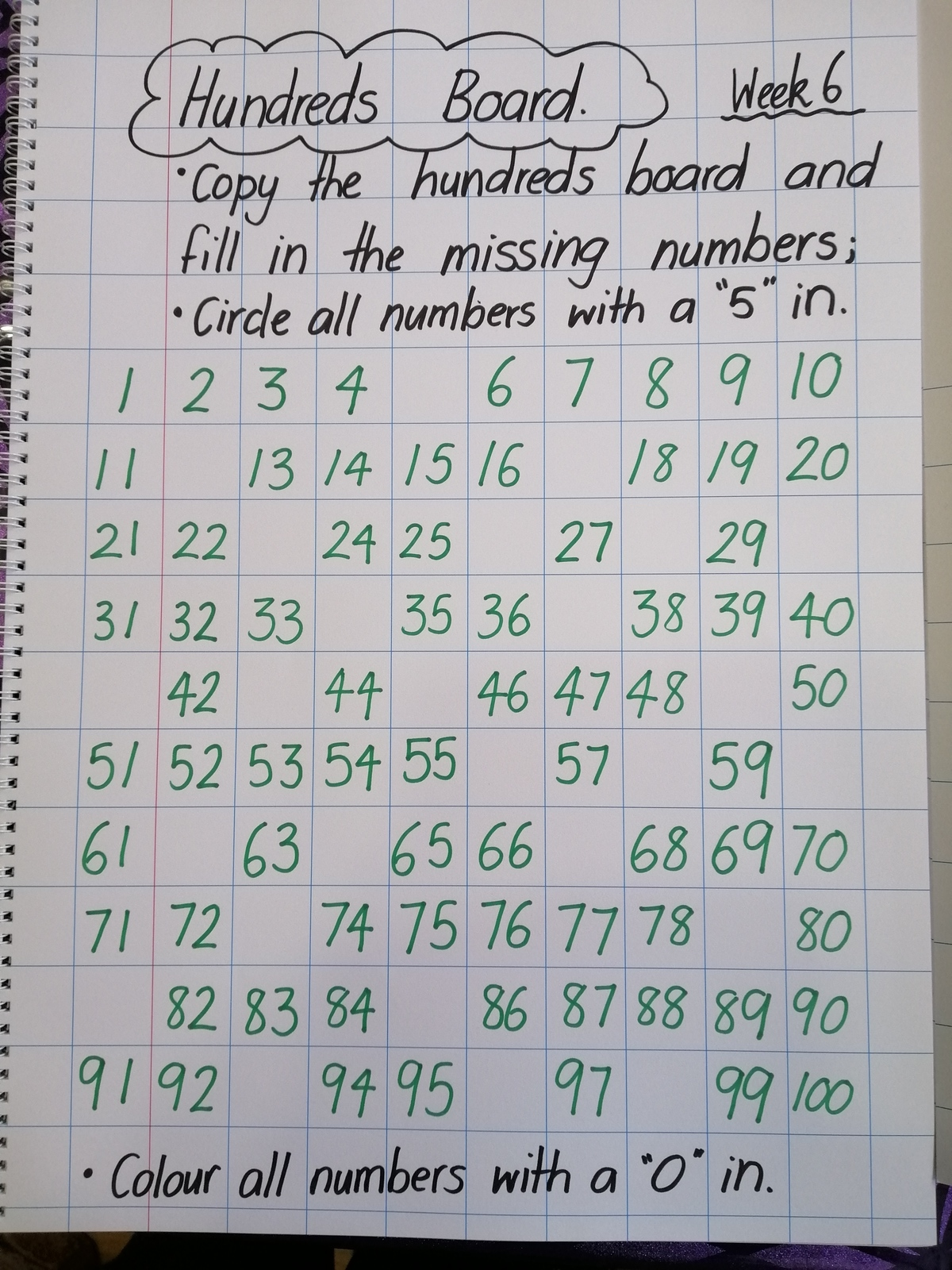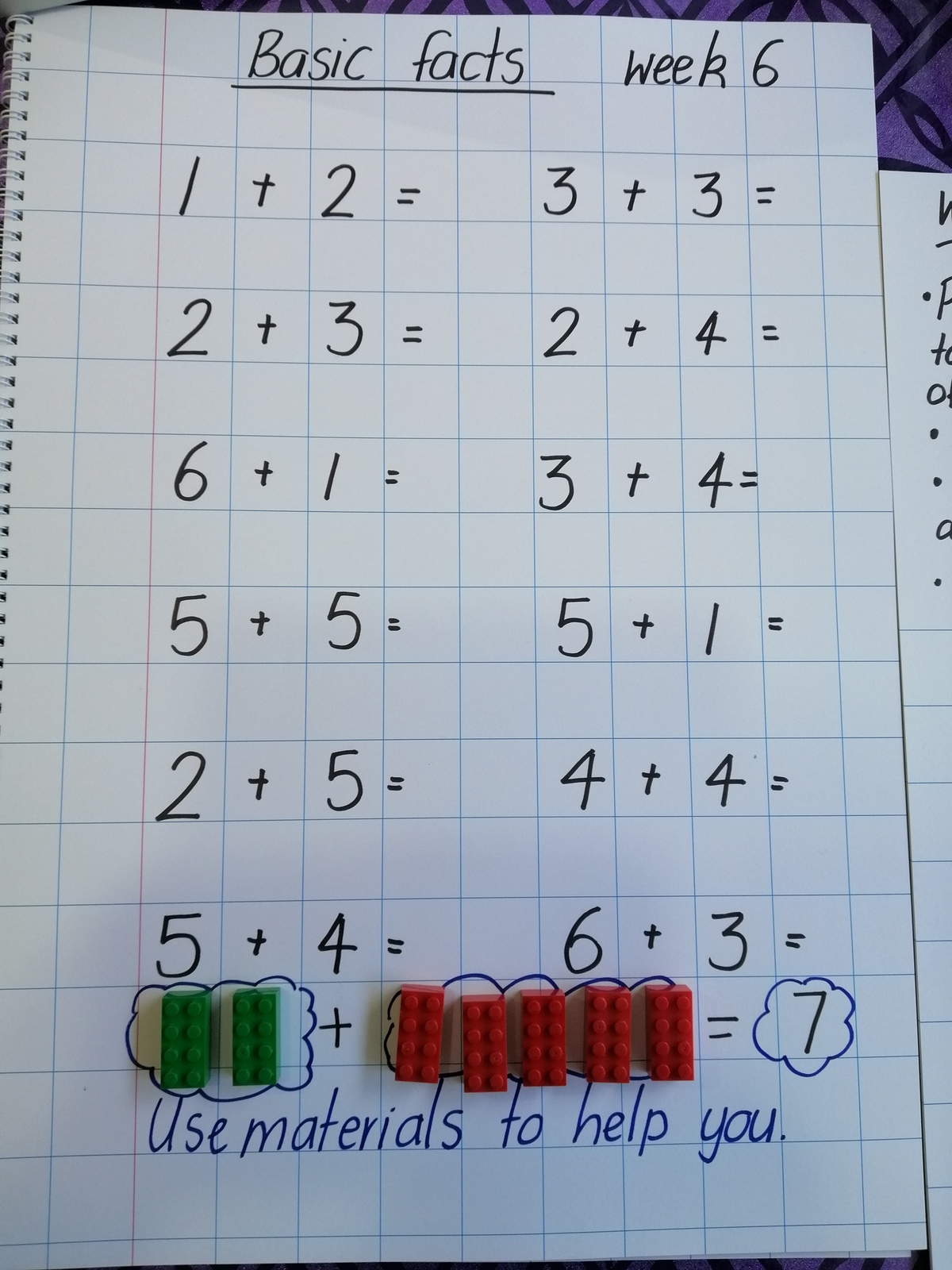 As we enter the start of Week 6, we are all awaiting the decision from our Prime Minister on Monday to see if we will continue to be at Level 3 Lock down, or move to Level 2. I will be contacting all families on Tuesday to catch up with you all and discuss the implications of this decision. If you need any assistance before then, please contact me via text or email and I will do what I can to help.
In the meantime, check out this competition that we are running at FBS!
CRT - Kia Ora Rm 5. Let the games begin 25/8/20
I hope you are all doing well during this lock down. Unfortunately we will not get the chance to catch up today for CRT so instead Mr Moiho and myself have decided to put forward a challenge for your class. Your class will be challenging Rm 6 in a side to side jump challenge. When we are back at school we will get together and see who can do the most side to side jumps in 1 minute. If you think you can master this, then you may just win the challenge for your class. If you can make a video and send it to your teacher even better: Check the video below for details.

WRITING ACTIVITY CHALLENGE
Flat Bush Writing Challenge 2020

As part of Book Week 2020, we are running a competition to find the most creative writers in the Junior, Middle and Senior syndicates!

Your mission is to create a super hero of your choice and give them a special force for their superpower. Think about the forces we have learnt about so far this term such as magnetic attraction, electricity or push and pull.

Draw your superhero and label their features and powers. Then write a short story about your super hero.

Don't forget to include:

* An introduction, telling us about your superhero and where they live

* A complication or problem that they need to solve

* A conclusion that shares how they solved the problem.

Good Luck everyone!
SUPERHERO WEBSITES - CHECK OUT THESE WEBSITES FOR IDEAS TO WRITE YOUR SHORT STORY
Week Five Updates
Recipe of the Week- One of my favorite things to do during lockdown is baking and there is always someone here to help bake! So today Mel and I made choc-chip cookies from my favorite recipe and we thought we would share it with you all.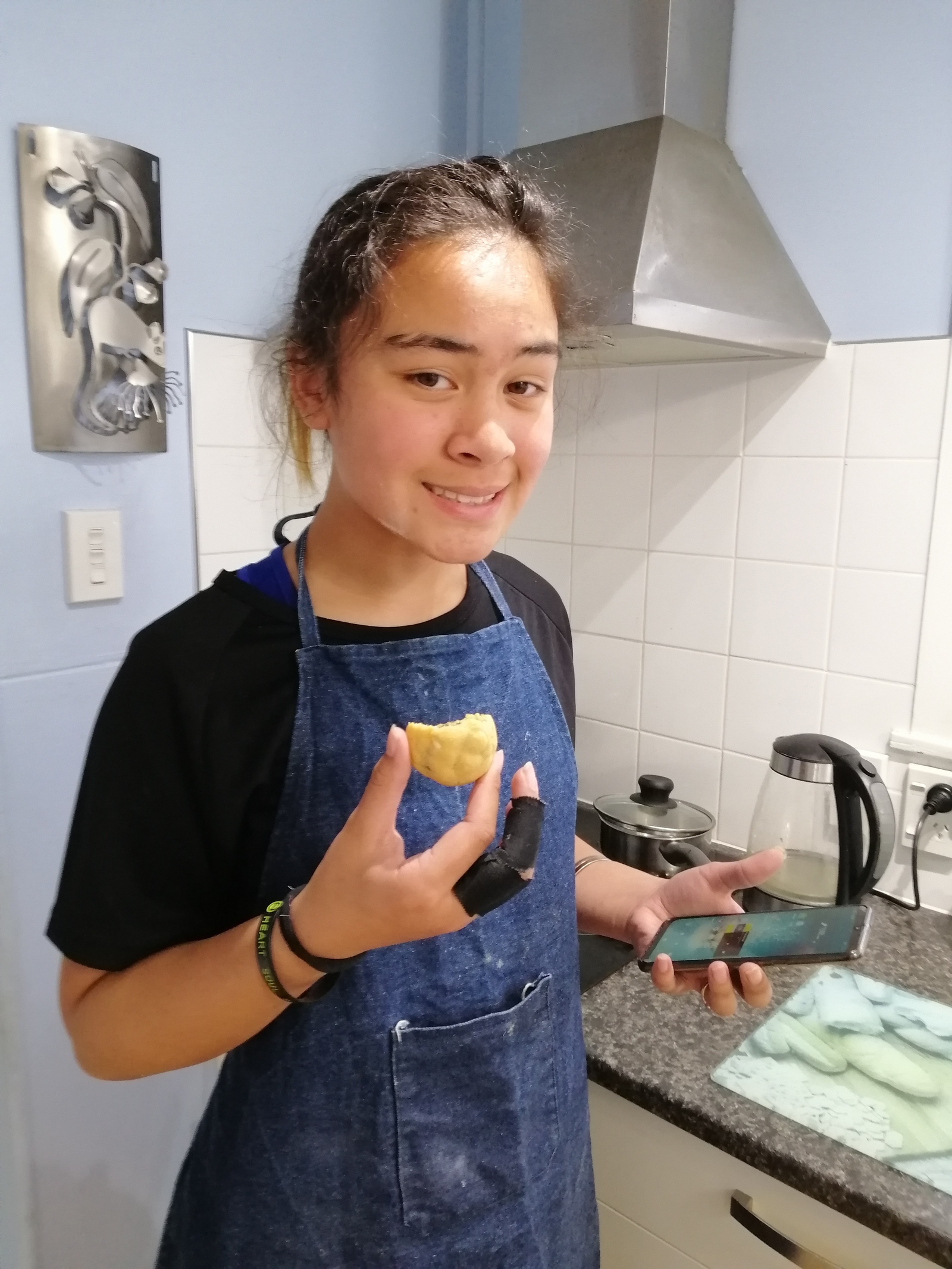 Ingredients (What you will need)
250g Butter (That is half of a 500g block)
1 and 1/2 cups of Brown Sugar (you can use Raw Sugar or White Sugar if you don't have Brown Sugar)
2 Eggs
3 and 1/2 cups of Self-Raising Flour (or use 3 and 1/2 cups of plain flour and add 3 and 1/2 teaspoons of Baking Powder like we did)
2 packs of Chocolate Chips (or a block of chocolate chopped up, you can use nuts instead if you want to be a bit healthier too)
Method (What to do) First, wash your hands, ask an adult to turn the oven on to 180 degrees to warm up and grab an apron so your clothes don't get dirty.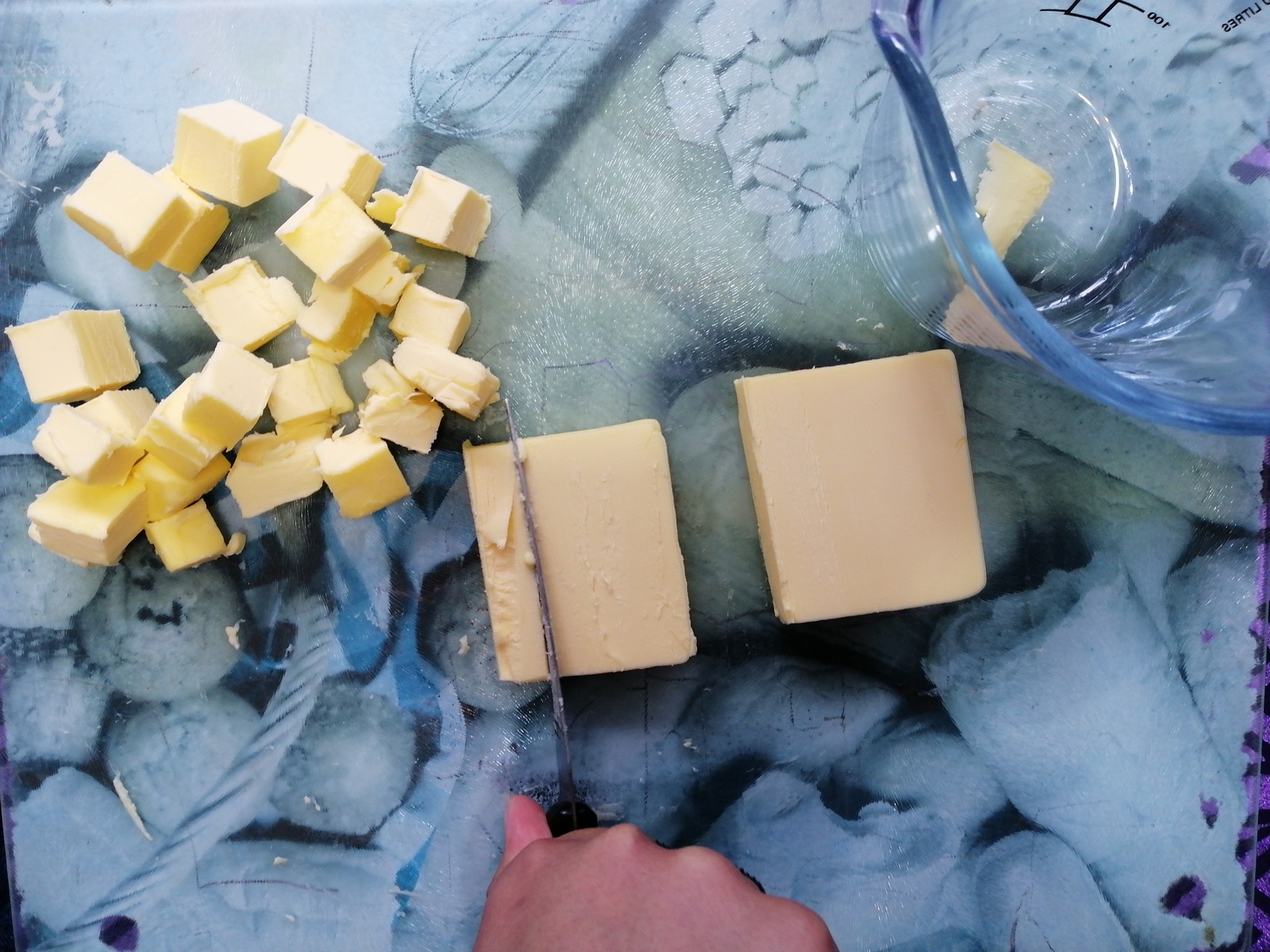 Next, chop your butter into small cubes and put it in the microwave for about 30 seconds.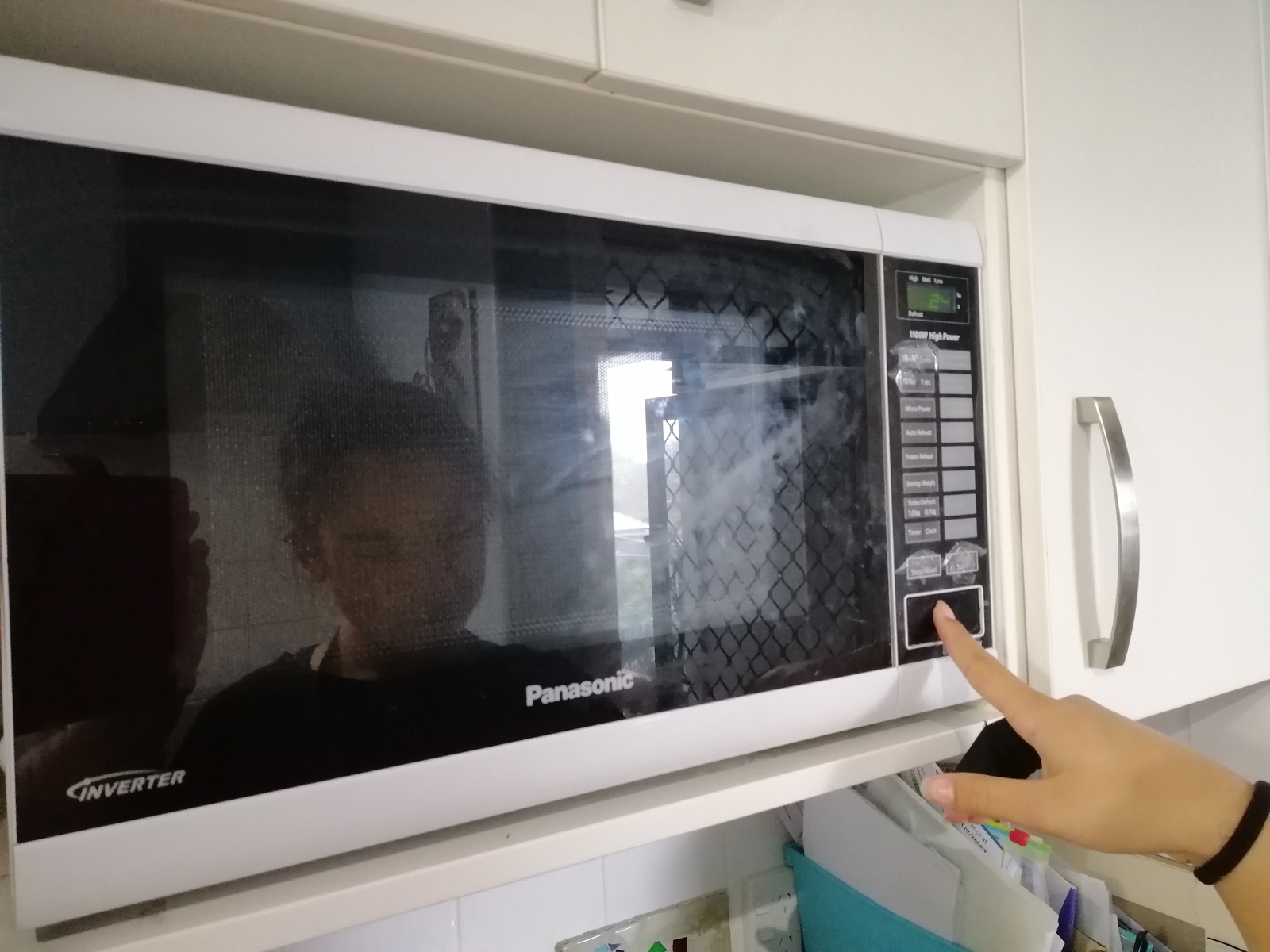 You want it soft, not melted.
Put your butter in the mixer and mix until it is nice and smooth. If you don't have a mixer, use a wooden spoon and beat the butter until it's nice and smooth.
Measure out your sugar and mix it with the butter.
Next, crack open the eggs into a small container and then add them to the mixer bowl.
Give it all a good mix and scrape down the sides with a spatula to make sure it is all mixed in.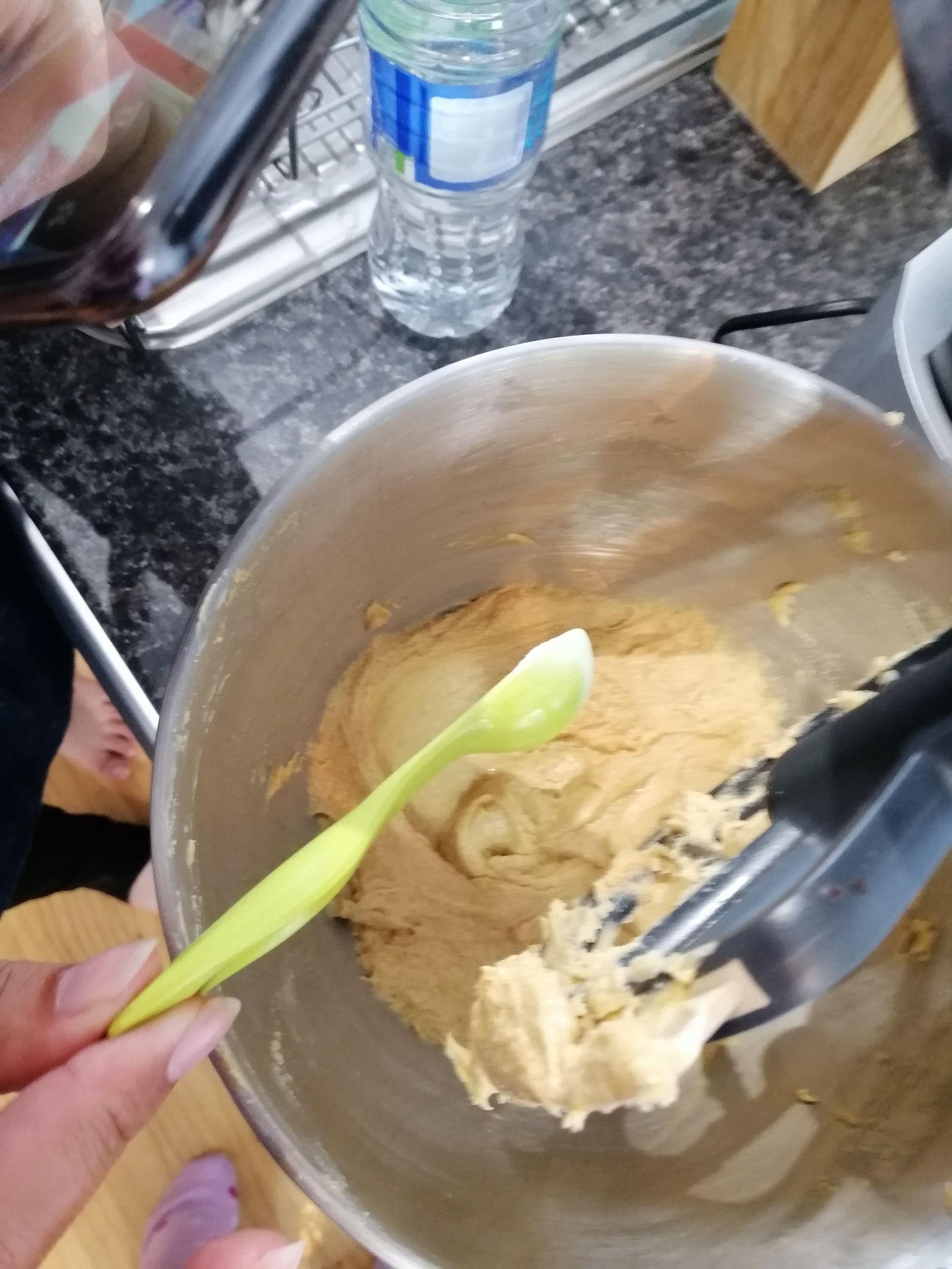 Then add the flour and the baking powder a little bit at a time. (if you are using self raising flour don't put in baking powder)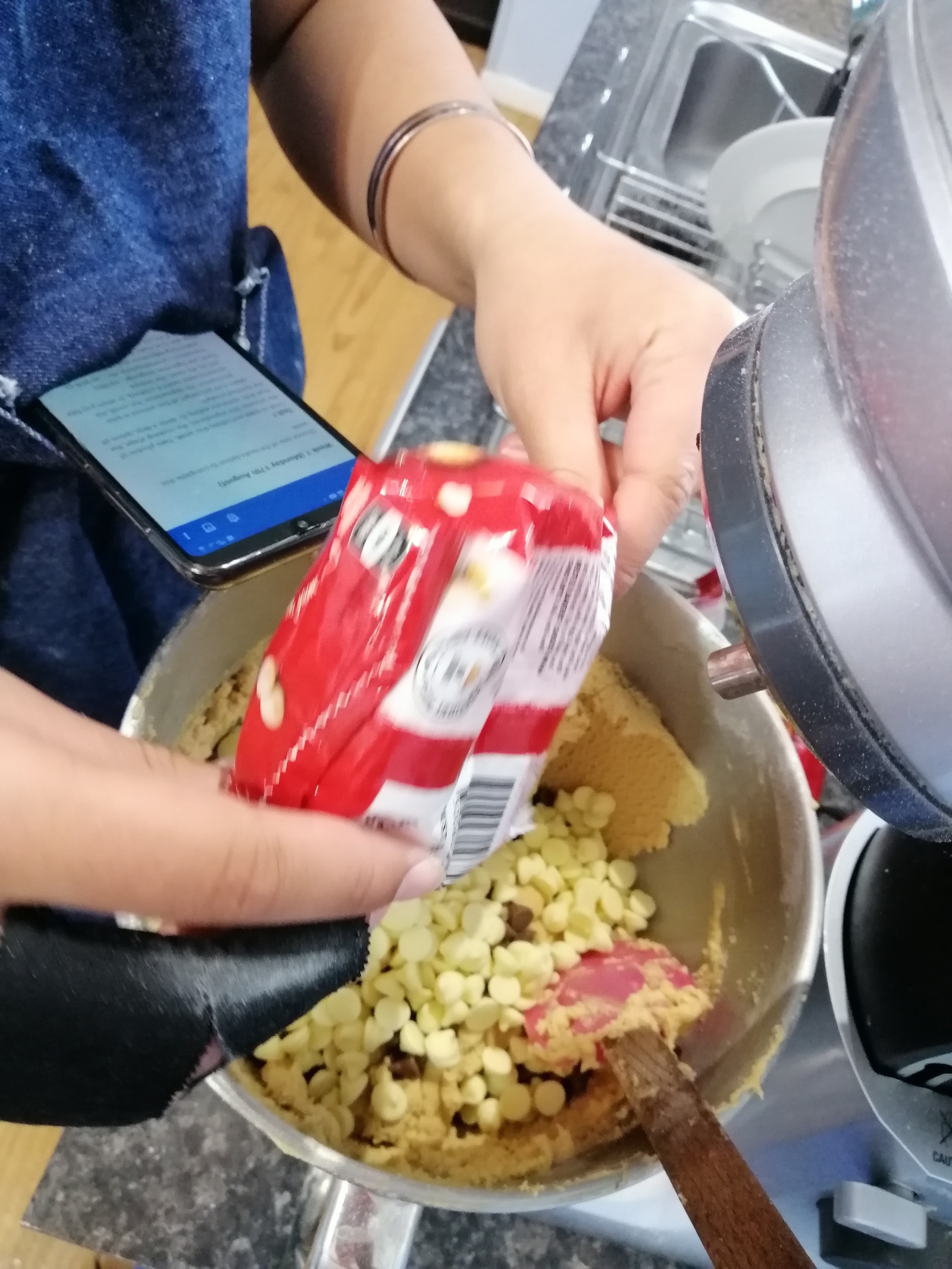 Now mix in the choc chips or chopped up chocolate (you might need to try a couple of them to make sure they are OK first........)
Next you need to roll balls of dough and put them on a baking tray. Baking paper will stop the cookies sticking to the tray if you have some. Don't put them too close together because they will get bigger when they bake.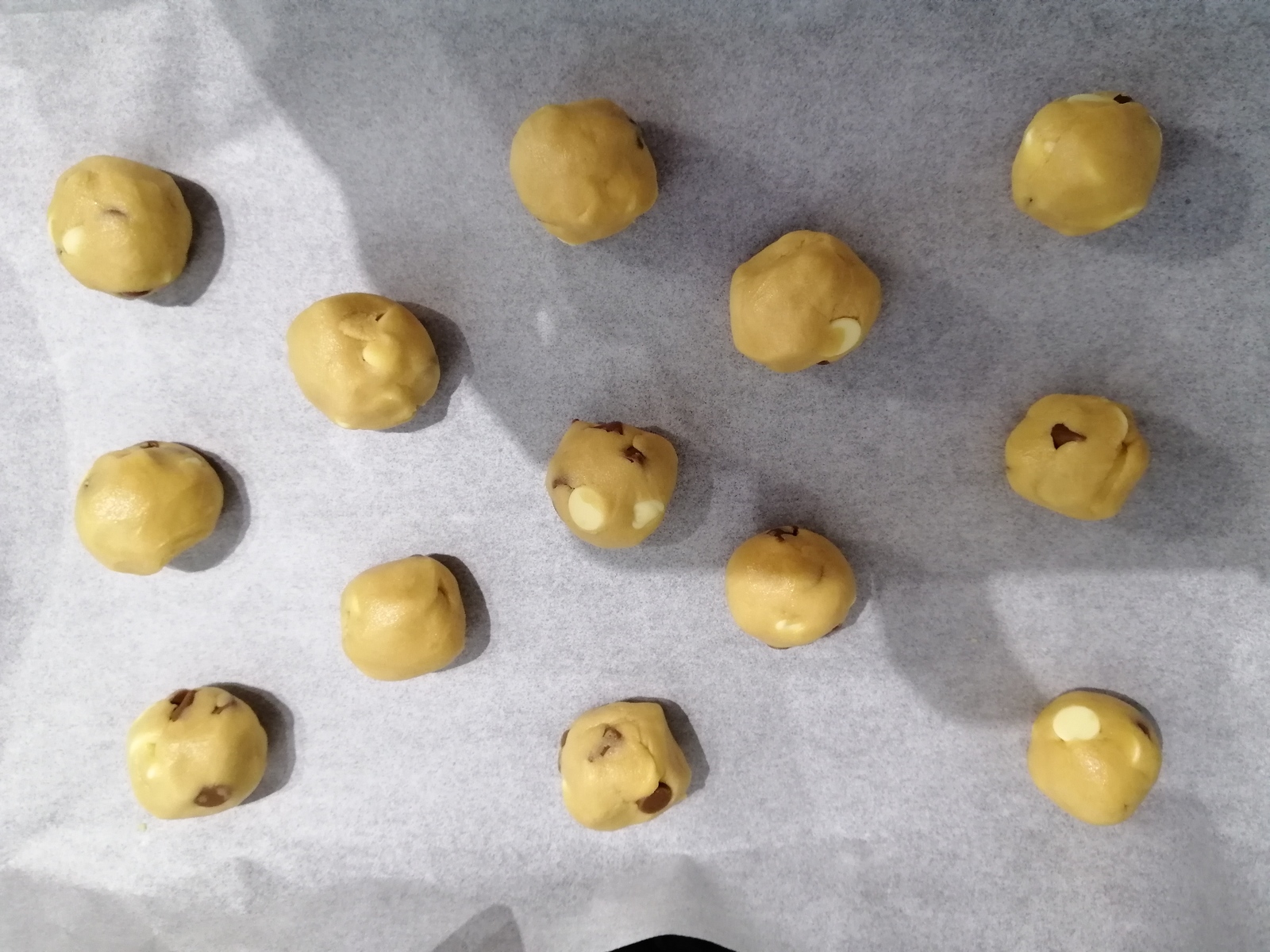 When the tray is full, ask an adult to help you put them in the oven.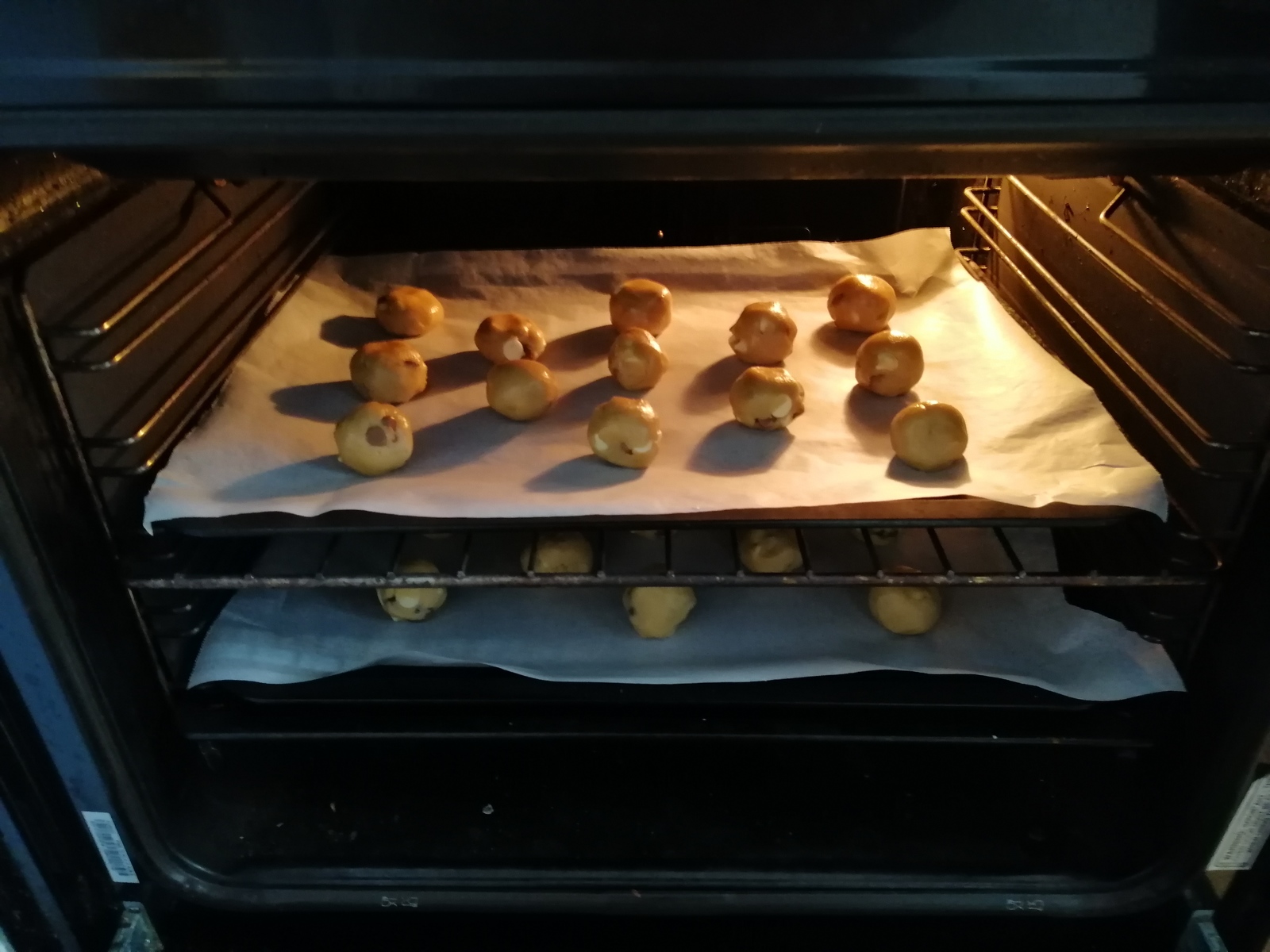 After 10-12 minutes they should be ready. Grab an adult to take the trays out of the oven and then carefully transfer each cookie onto a cooling rack or a clean tea towel to cool down.
Wait until they are a bit cooler and try a warm cookie......yummy!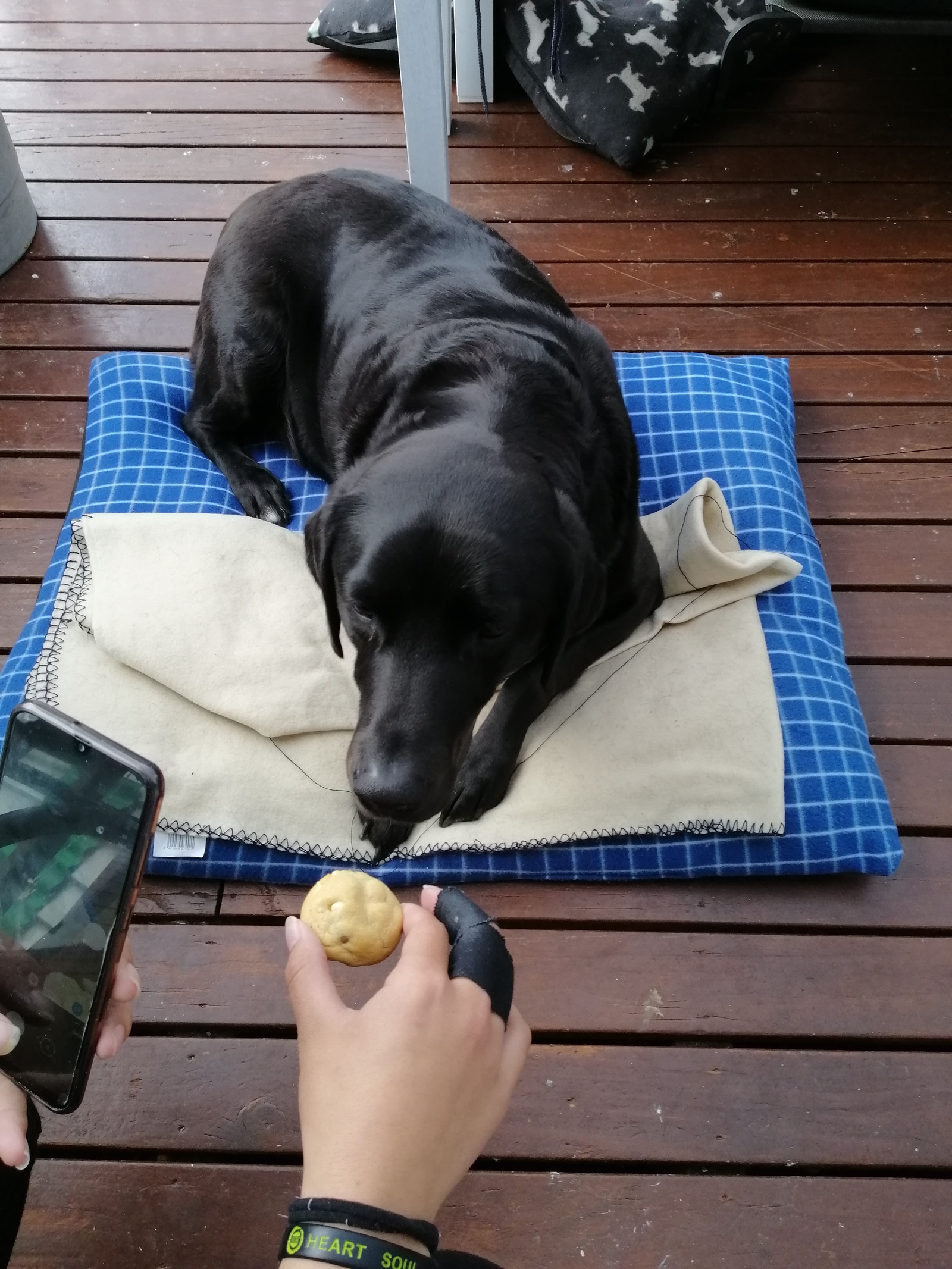 When they are completely cold, store them in a lunchbox with a good lid.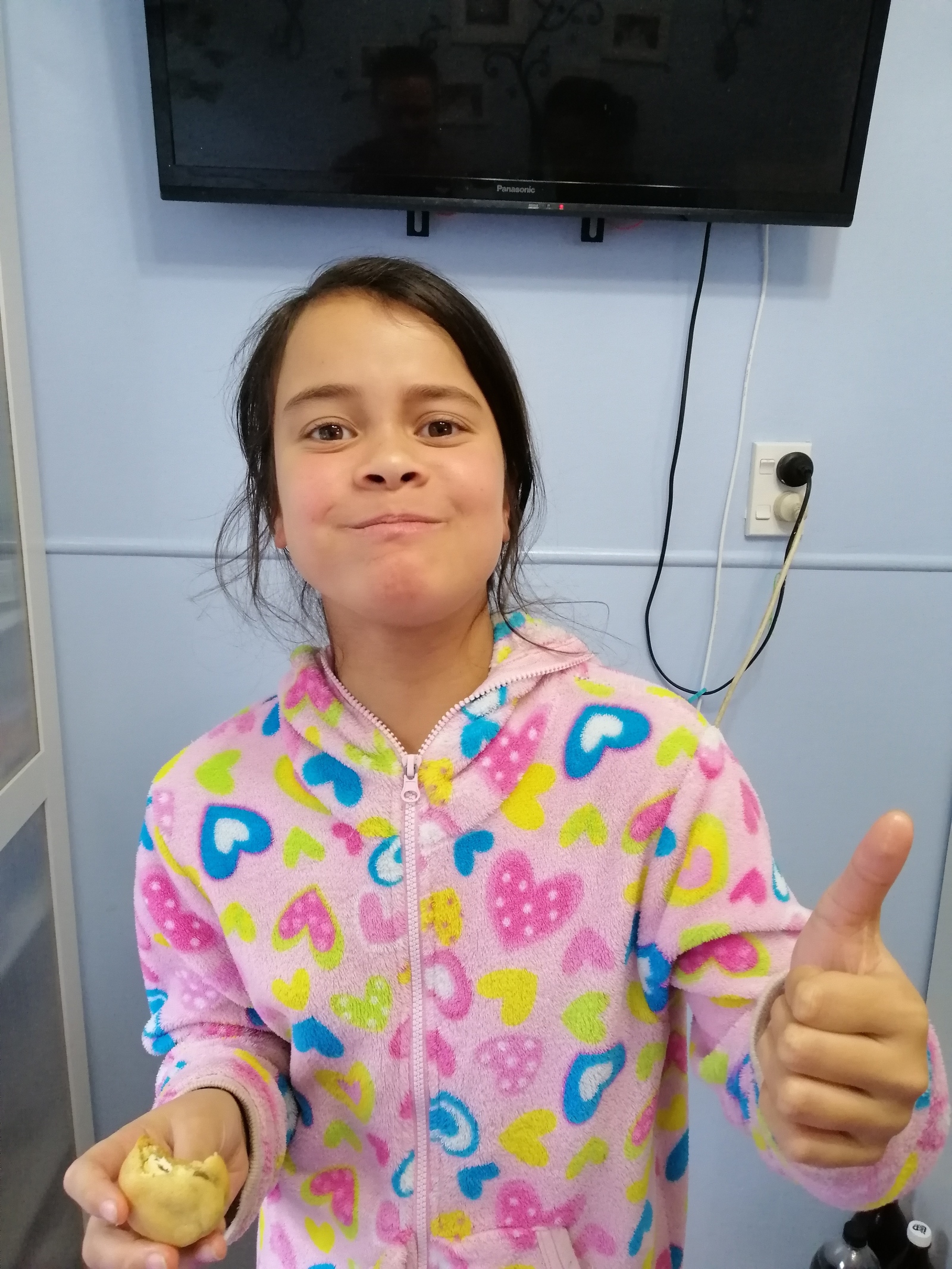 Don't forget to share with your siblings and make sure you do the dishes too!
Do you have a favorite recipe that you like to make with your family? Share it with Ms Russell at bernadiner@flatbush.school.nz
Great to see so many of our Whanau coming into school yesterday to collect home learning packs! I will be posting some activities on this page as extra options or for those students who were not able to collect a learning pack.
Mask Activity- Everyone who leaves their bubble to go shopping or to do essential tasks is encouraged to wear a mask. If you can, go on youtube and research instructions for making your own mask. Then either make the mask for yourself, a family member or your favorite soft toy, or draw a diagram of your dream mask and label its parts.
Here is a photo of a mask that I made from fabric and one that I made from paper towels and hair bands.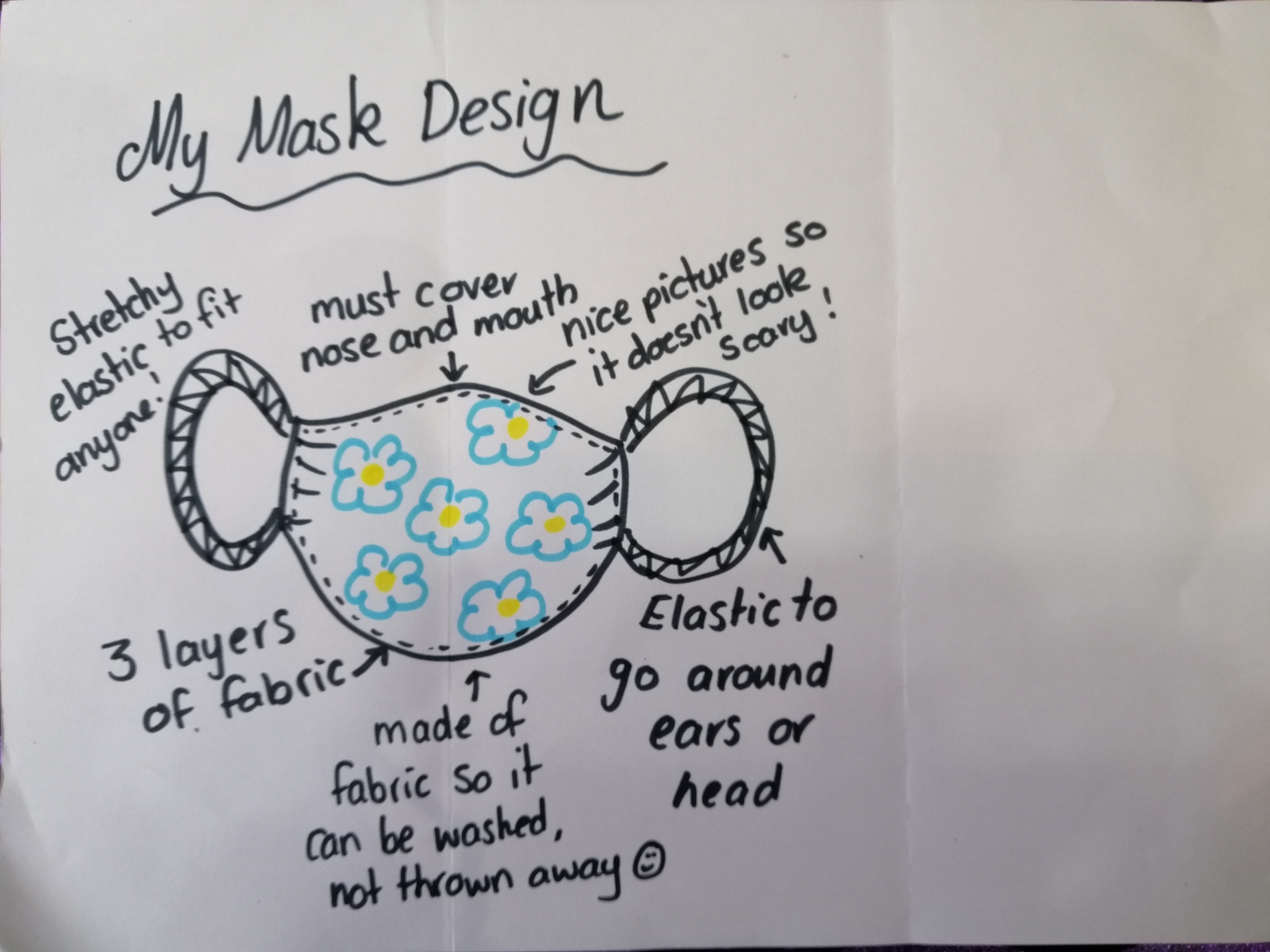 Share a photo of your creations with Ms Russell at bernadiner@flatbush.school.nz and I will upload it to our page for everyone in our class to see.
Colour Words Activity- Everyone should have their colour words in their book bag to practice at home. Here are some activities you could do to help you learn your words.
* Choose five words and write them out 10 times each. Then turn the page and see if you can write them without looking.
* Use different coloured pens or pencils to write your words like a rainbow.
* Use chalk or a paintbrush and water to write your words on your footpath or driveway.
* Use leaves or grass from the garden to spell your words outside.
* Make up a dance or song to help you remember your words.
Maths Activity- Count how many doors there are in your house that you can fit through. Don't forget the front and back doors, your bedroom door, kitchen door etc.
-Now count all of the cupboard doors in your house, how many did you find?
Writing Activity- Write a dream shopping list of all the things you would buy if your family won lotto!
Magenta List Words Level 0 - 2
Red list words Level 3 - 5
Yellow List Words Level 6 - 8
Blue List words Level 9 - 11
Green List Words Level 12 - 14
Orange List Words - Level 15 & 16
Purple List Words Level 19 & 20
All FBS learners are required to work from home while we remain in Alert Level 3.
Learning Packs can be collected from school on Monday, August the 17th from 9am-3pm.
We are able to provide one device per family for our Yr 3-6 learners.
Entry to our school will be through the Flat Bush Rd gate, Bairds Rd gate is closed.
Contact tracing will be in place, we will have our FBS QR code for whānau to scan.
Lockdown Updates for Room 5
Kia Ora family and friends of Room 5. As you would all be aware, school is currently in lockdown until further notice. Ms Russell will be contacting all families by phone on the 13th and 14th of August to check in with you all. If you do not hear from me, you may need to update the contact number that we have listed. Please email me with an updated number, or with any other concerns on bernadiner@flatbush.school.nz.. I will also be posting daily updates on this page, please scroll down for the most recent. Please stay home and safe, if you are feeling unwell, please get a Covid test done or see your doctor. If you have to leave home for any reason, make sure you have a mask on and remember to record where you have been, either on a piece of paper or using the Covid tracking app. Most importantly, remember to wash your hands with warm, soapy water. Until I see you all again, stay safe and know that I am thinking of you all. Kia kaha, Ms Russell.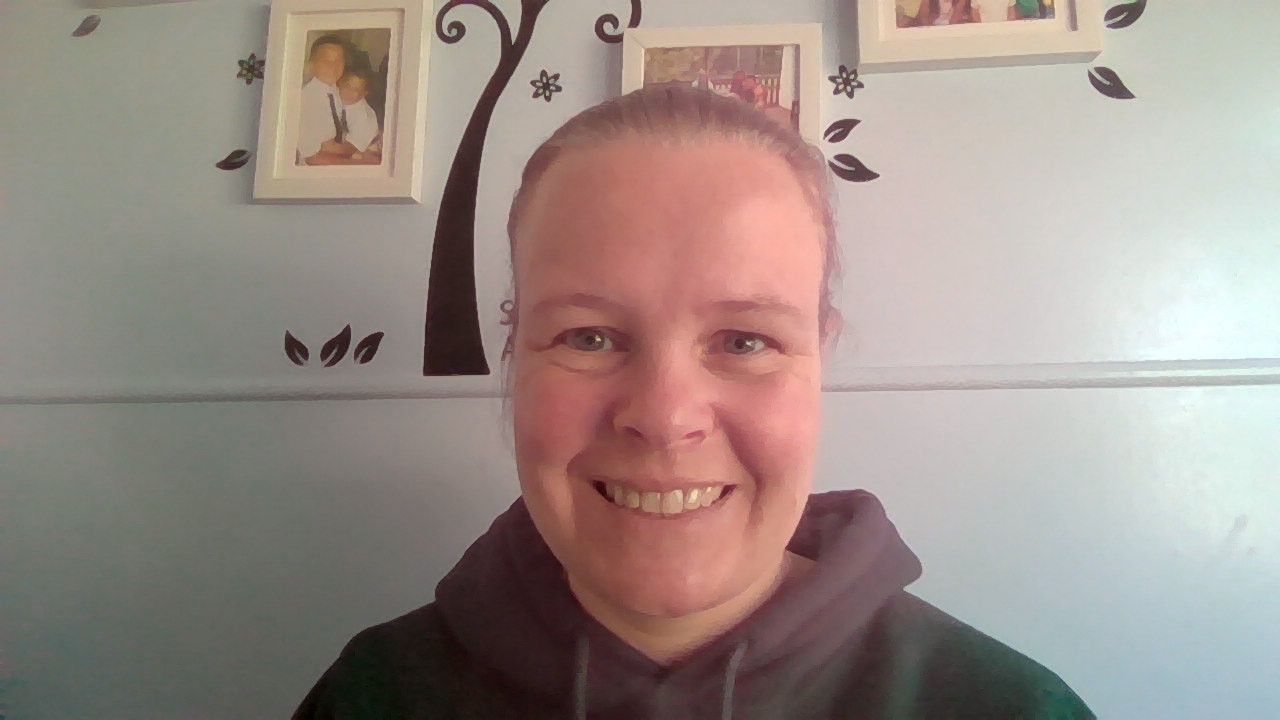 Welcome to Term Three 2020!
Week Four
The last thing that we did on Tuesday this week was enjoy a special visit from Mrs Mayerhofler.
She bought some cool Bee-bots with her to teach us about coding.
First we practiced giving each other directions like left, right, forward and backwards.
Then it was time to become programmers and program the Bee-bots by ourselves.
It was so much fun! Thank you Mrs Mayerhofler.
During week Four we were lucky to be gifted some nice warm beanies to take home.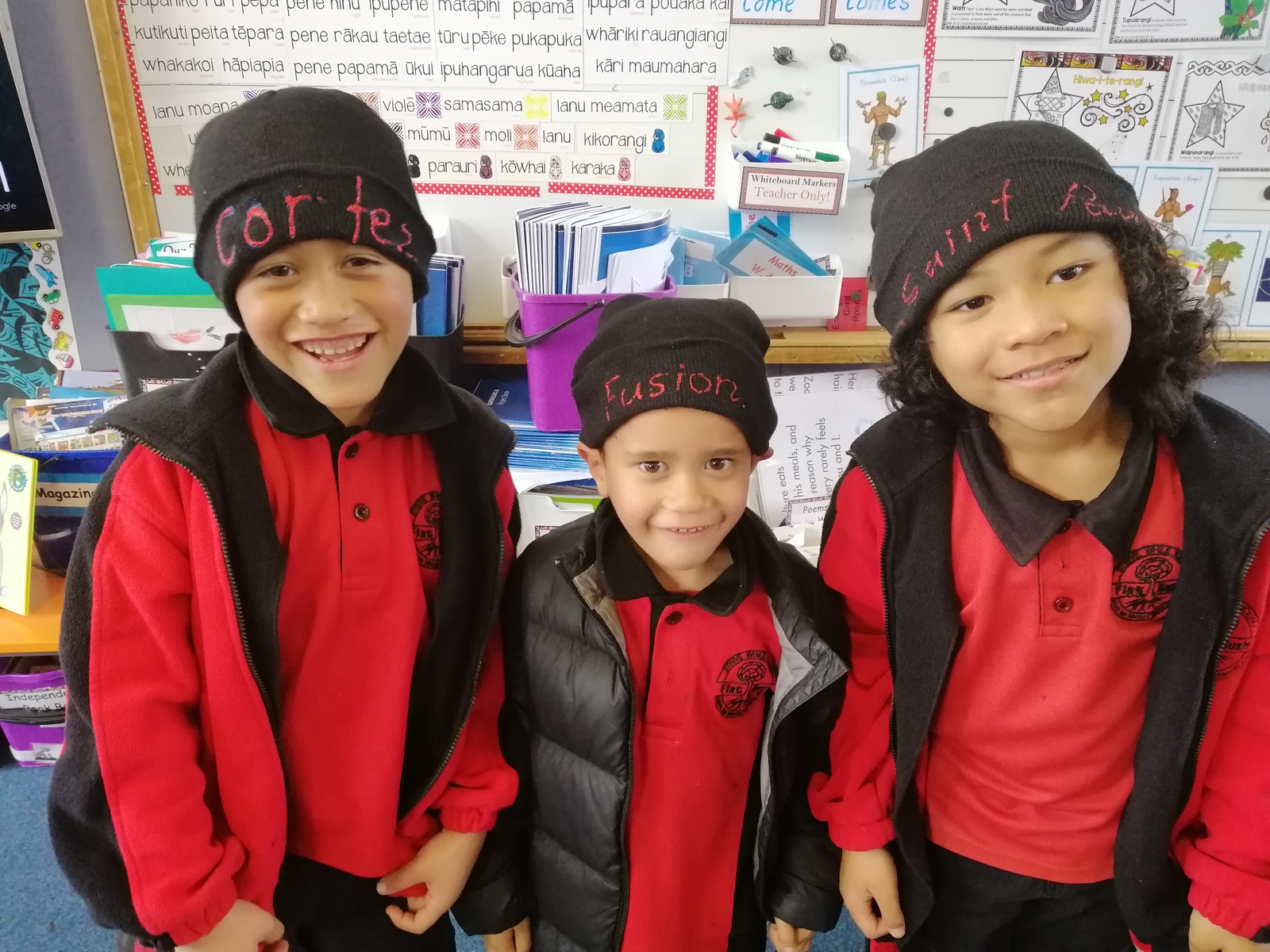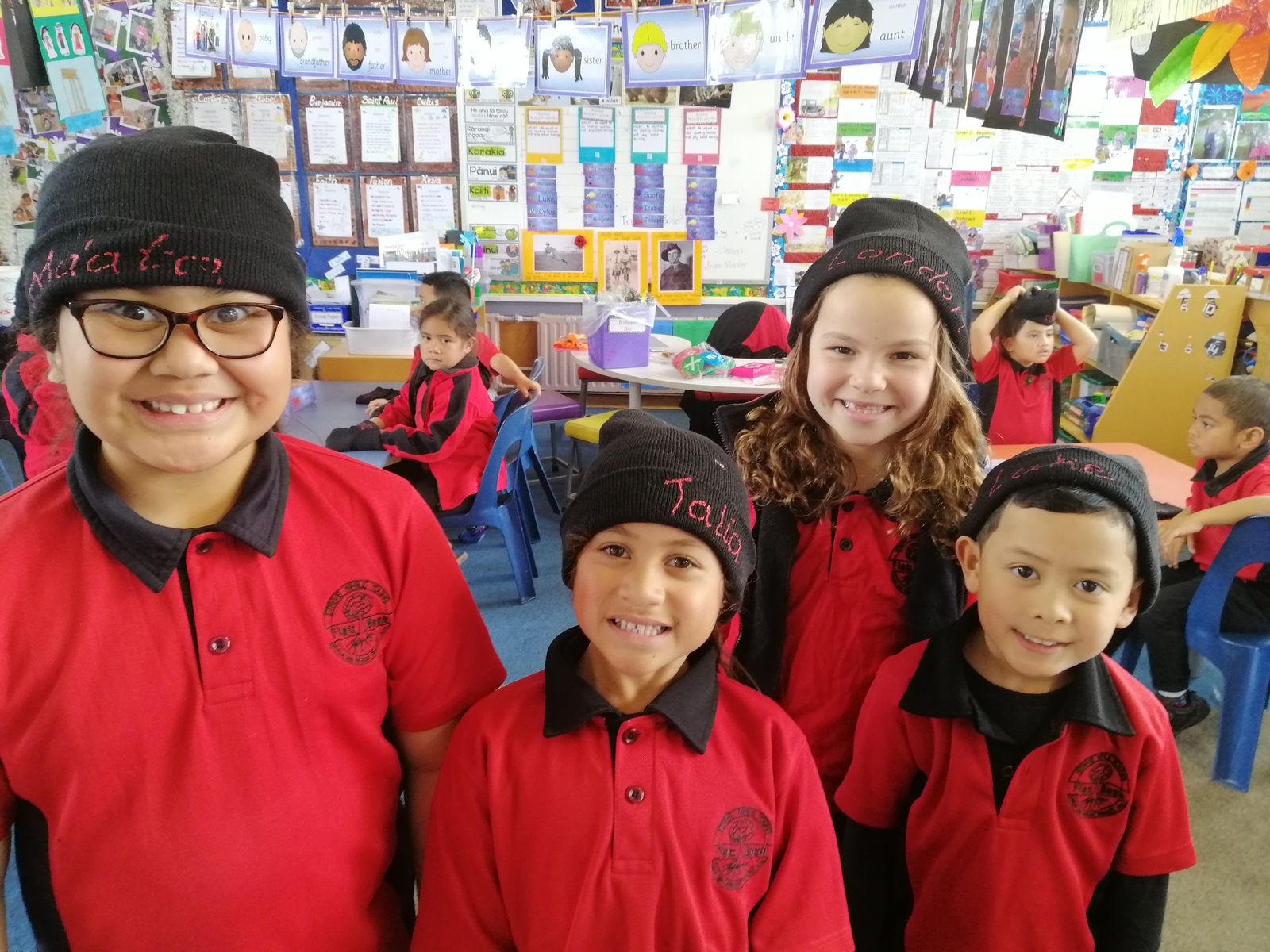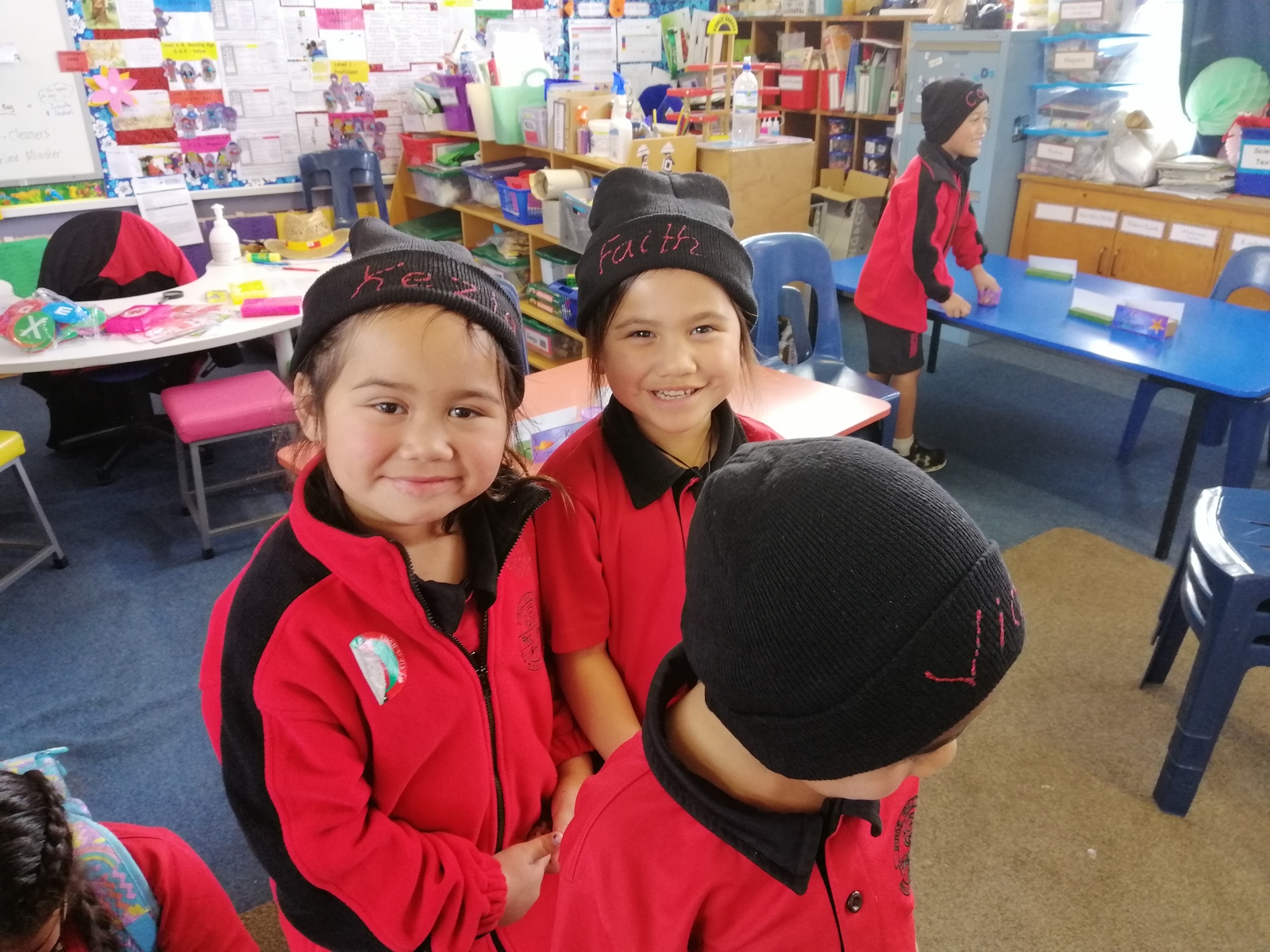 Week Three
This week we have been learning about electricity and circuits.
We have learnt how to connect a battery, a light bulb and alligator clips together to make the bulb light up.
At first, we were not sure what to do, but we did not give up!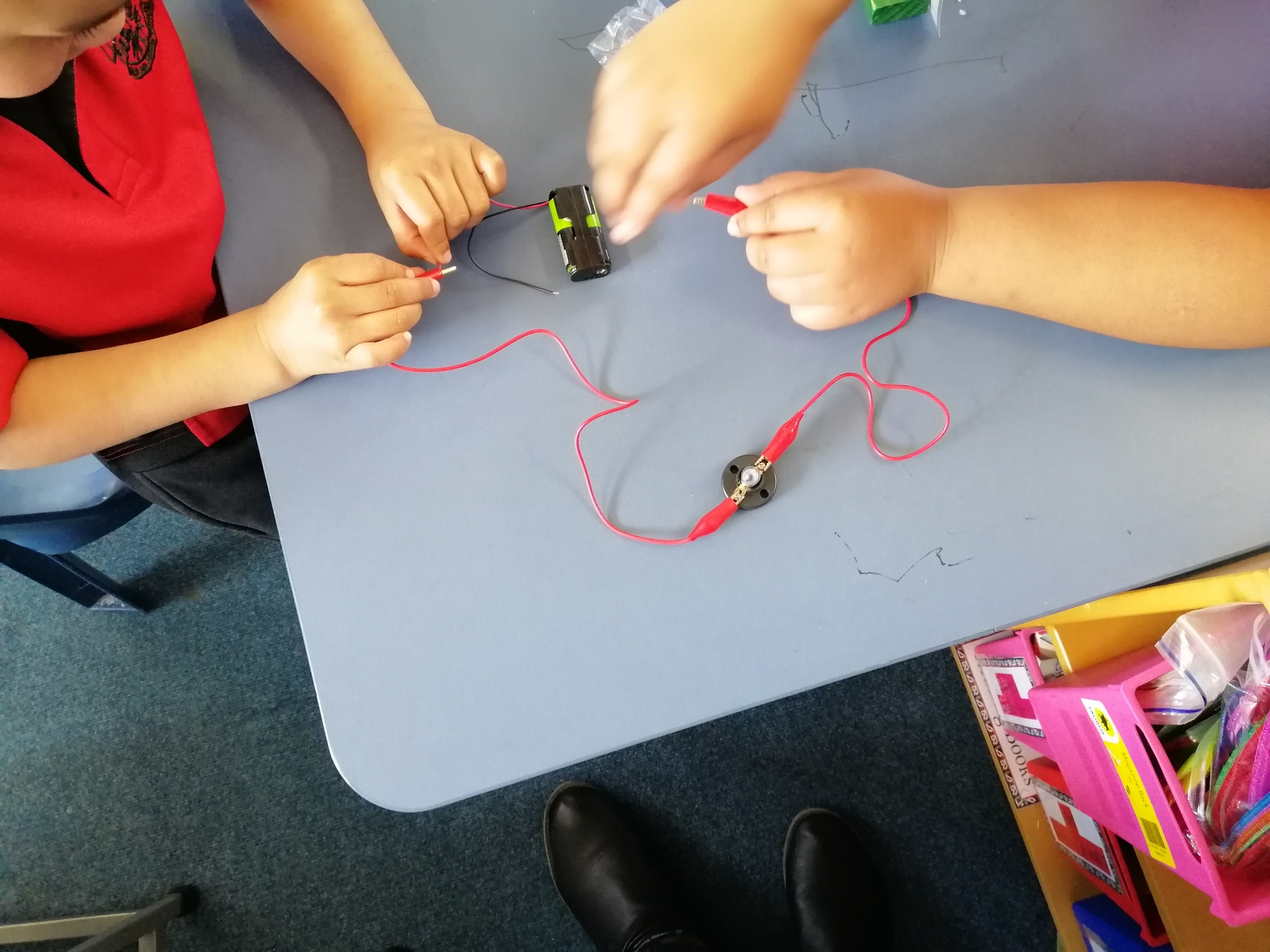 We kept trying different ways to connect the equipment together until we got it right!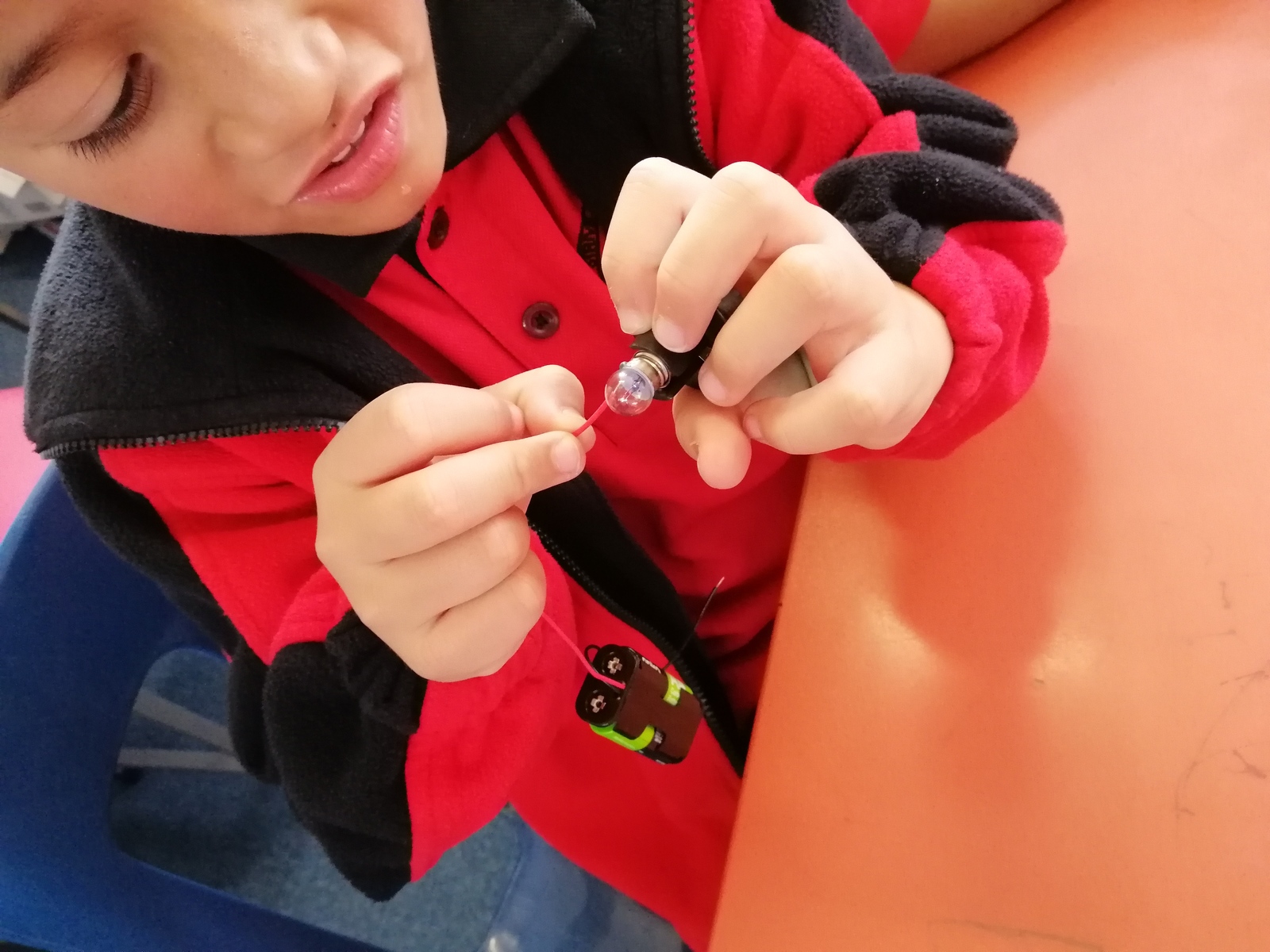 We were so excited the first time our bulb went on.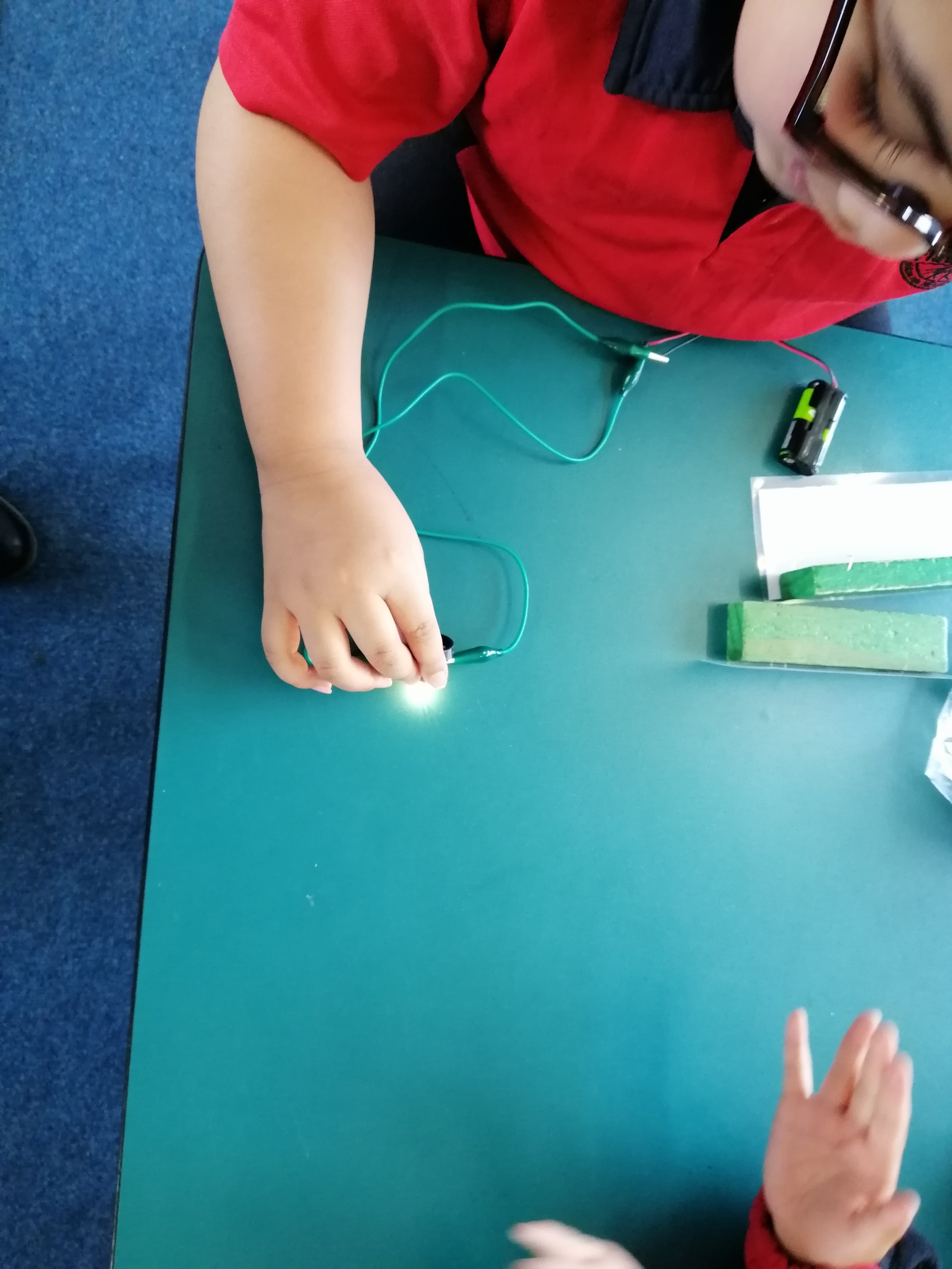 Now we are working on adding other things to our circuits such as motors, fans and buzzers.
Students are really enjoying the circuits and I think there are some future electricians in our class!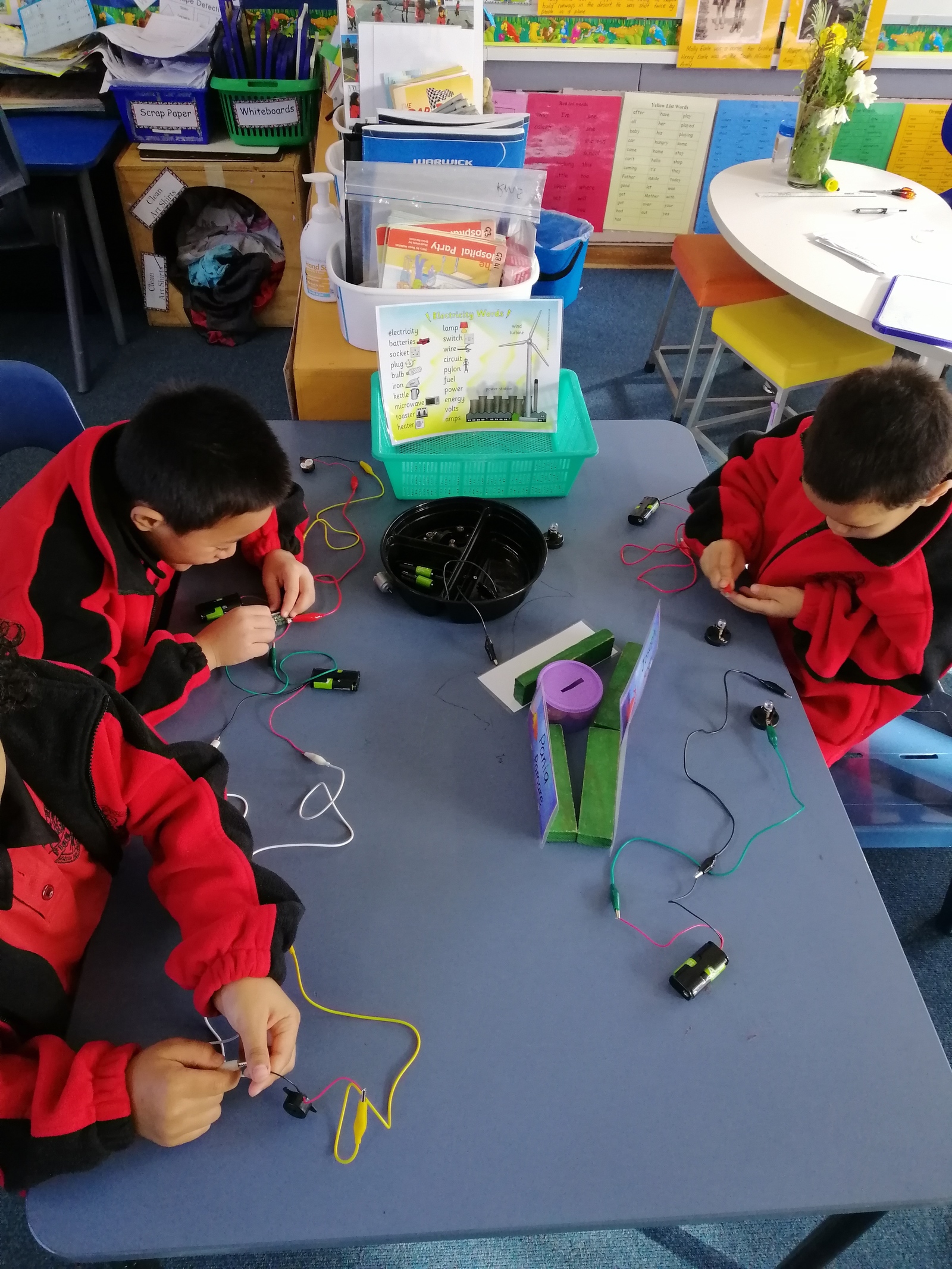 This week we celebrated Cook Island Language week in style!

We started the week with a flag raising ceremony and some beautiful singing from our very own Flat Bush School Cook Island group!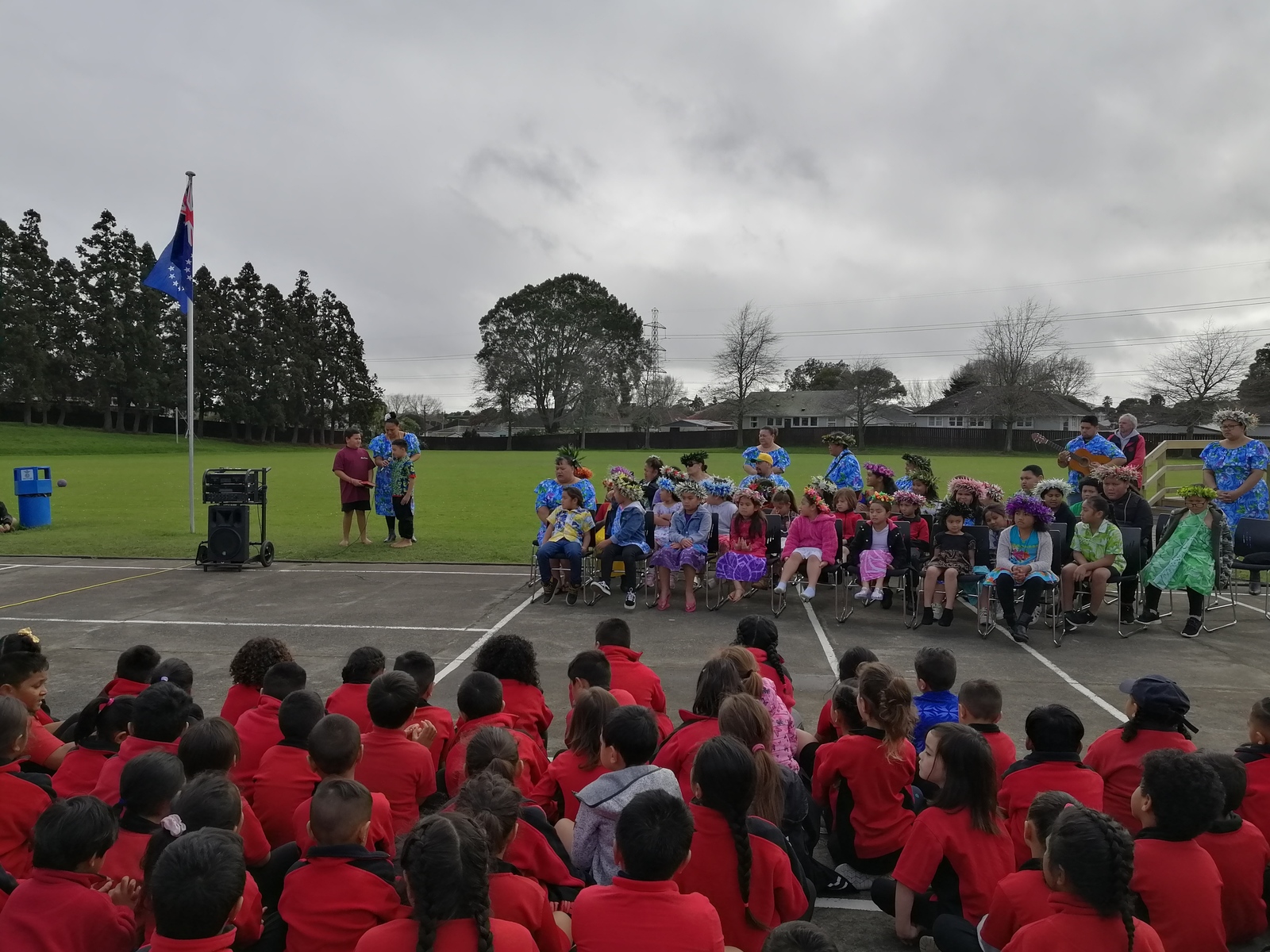 Can you see our Room 5 representative in the group?
We made flower crowns in class.
It was really hard for some of us to cut out our flowers, but we did not give up when it got hard.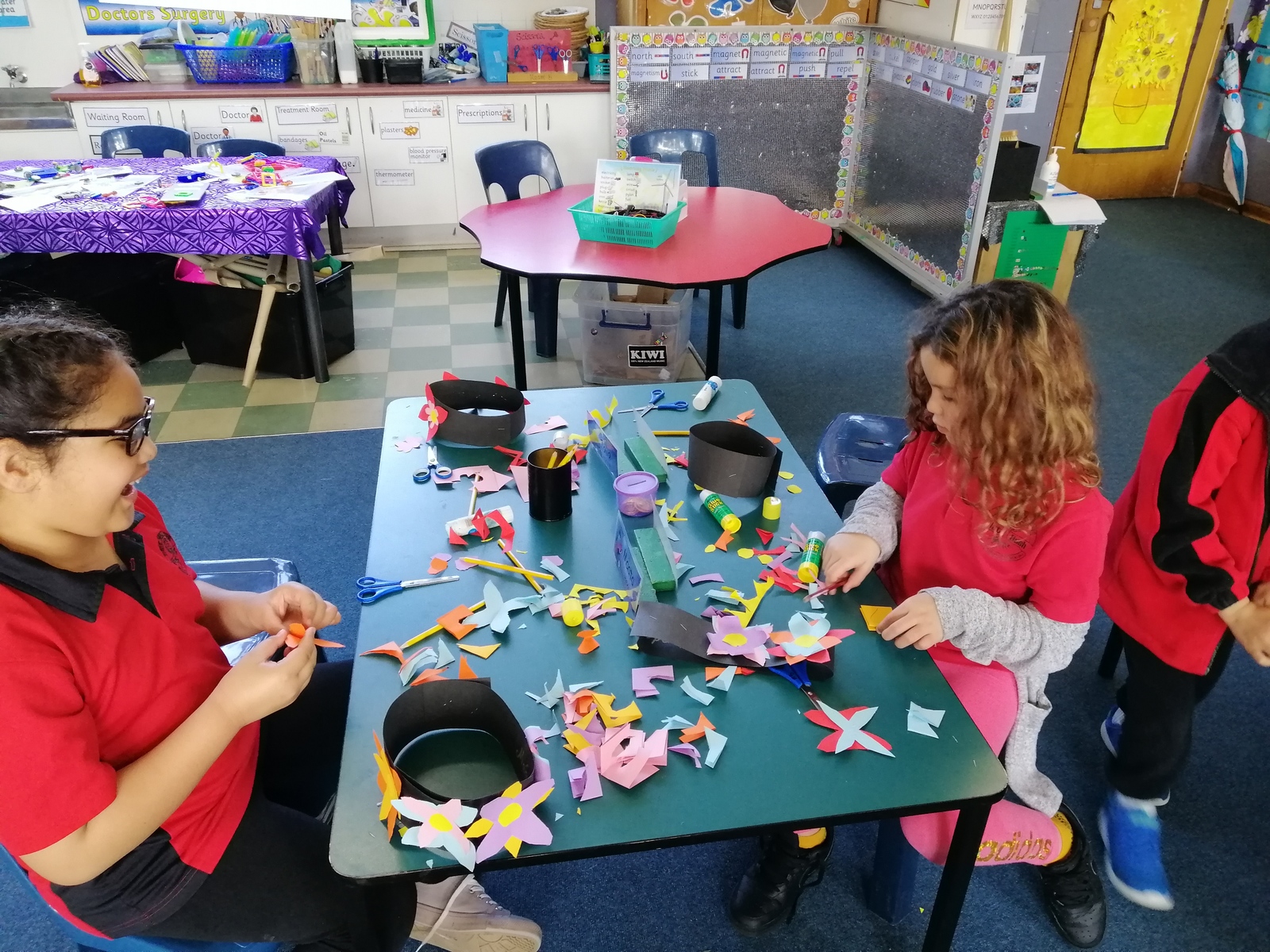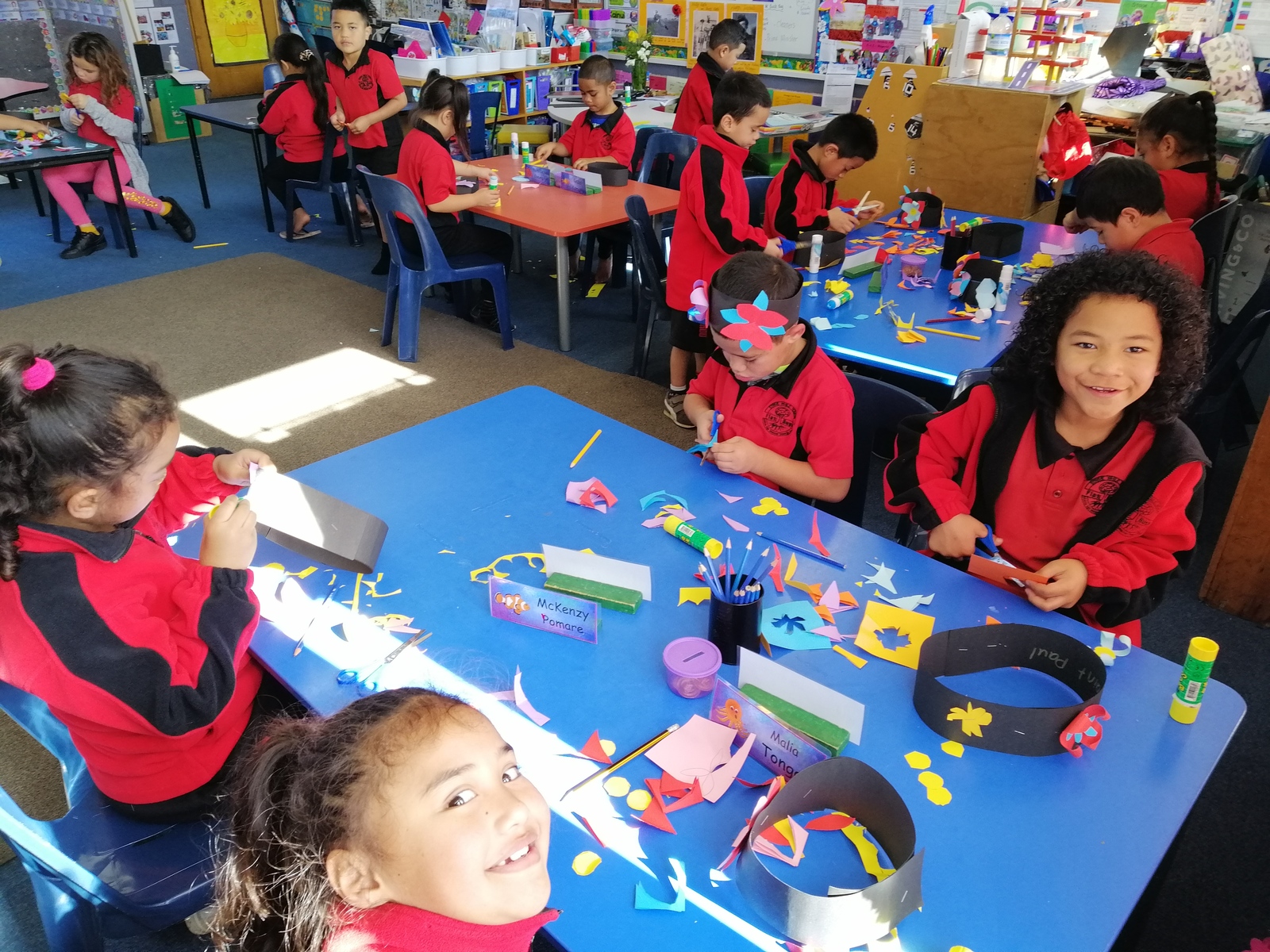 We persevered and I am sure you will agree, the crowns looked stunning!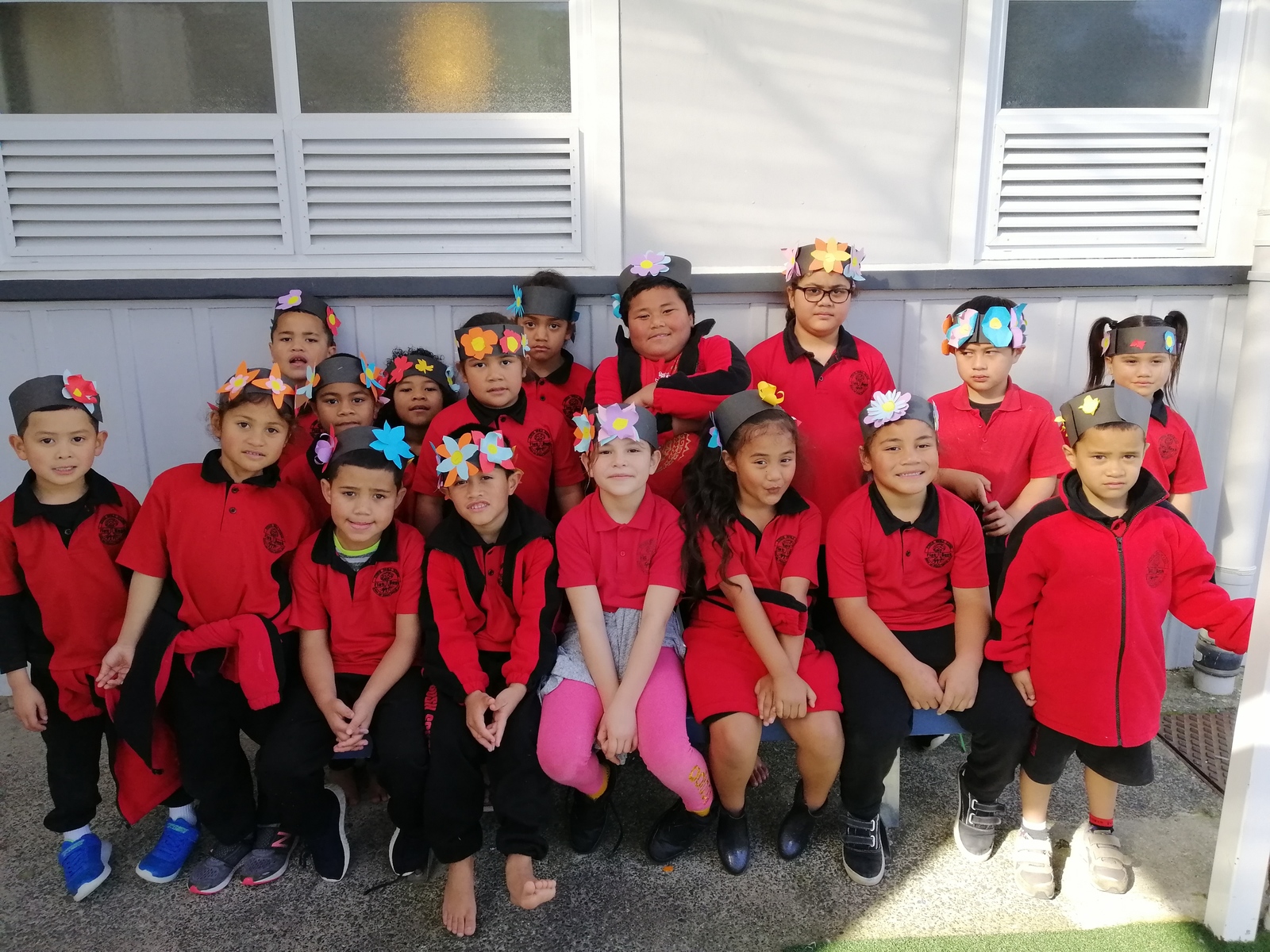 We wore our new crowns to the Cook Island Market place celebration.
Thank you to all the Aunties, Nanas and other Cook Island Whanau that shared their creativity and talent with us.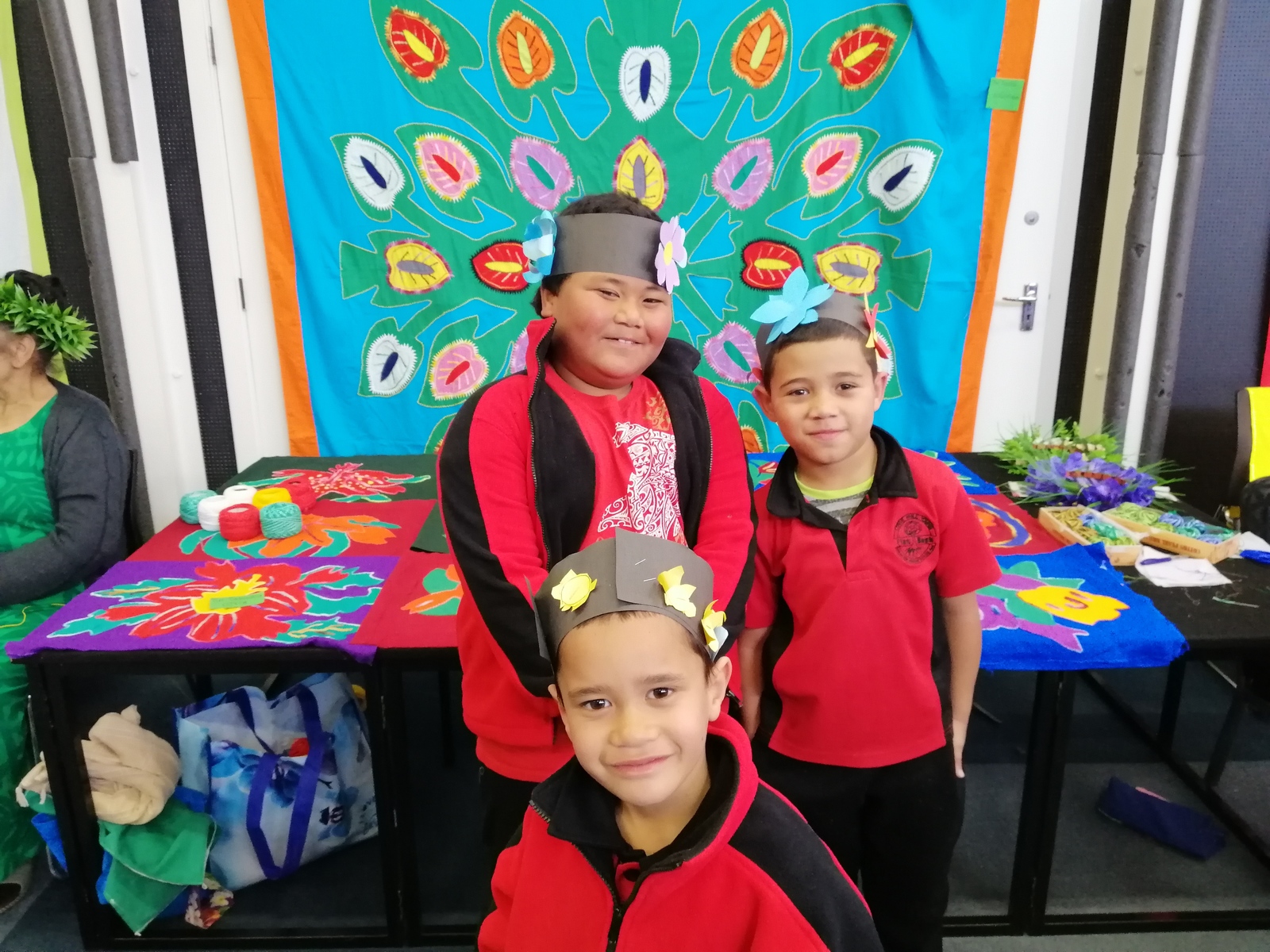 We had fun learning about making hats, making quilts, tie dying,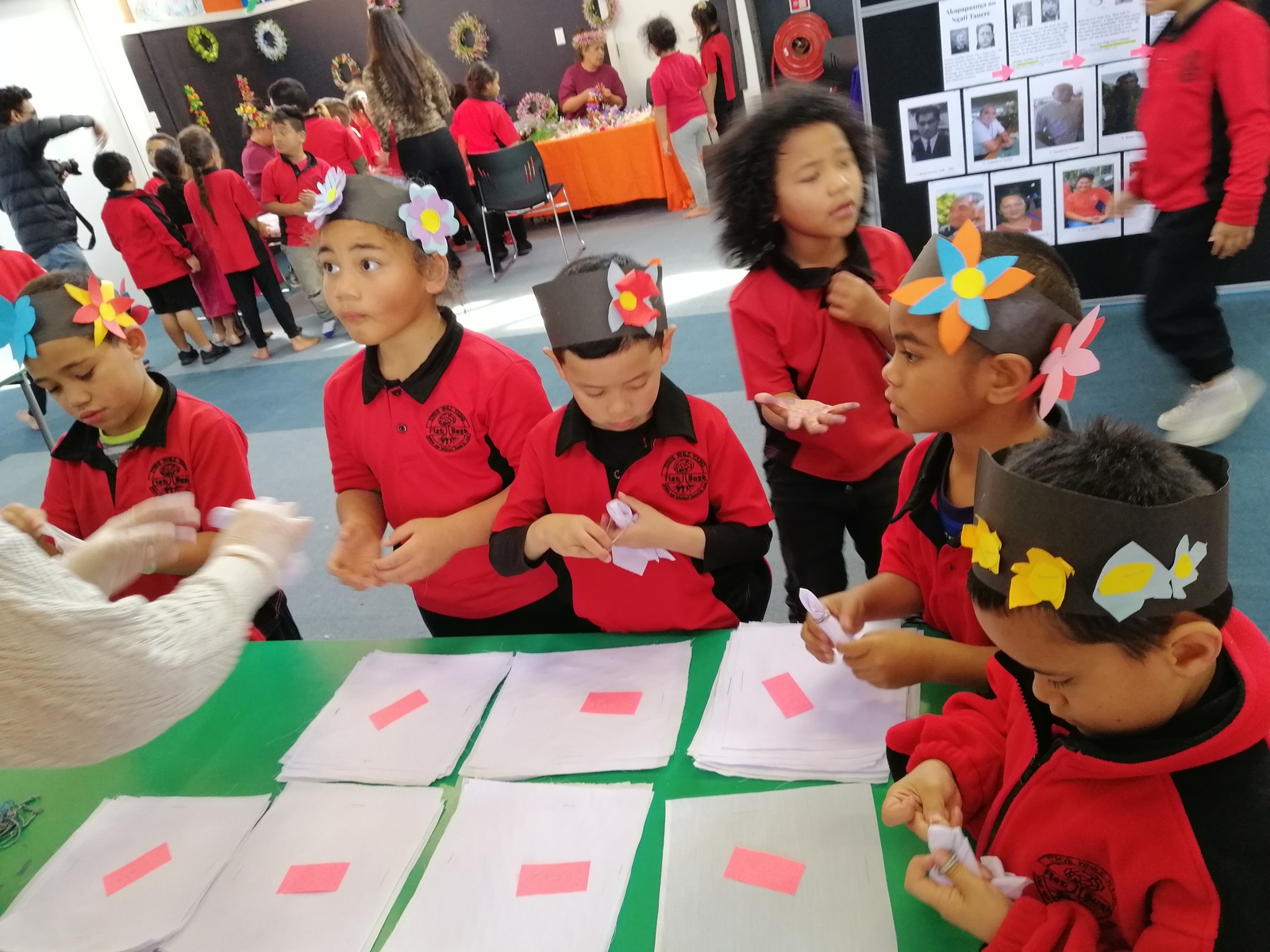 Cook Island dancing and drumming.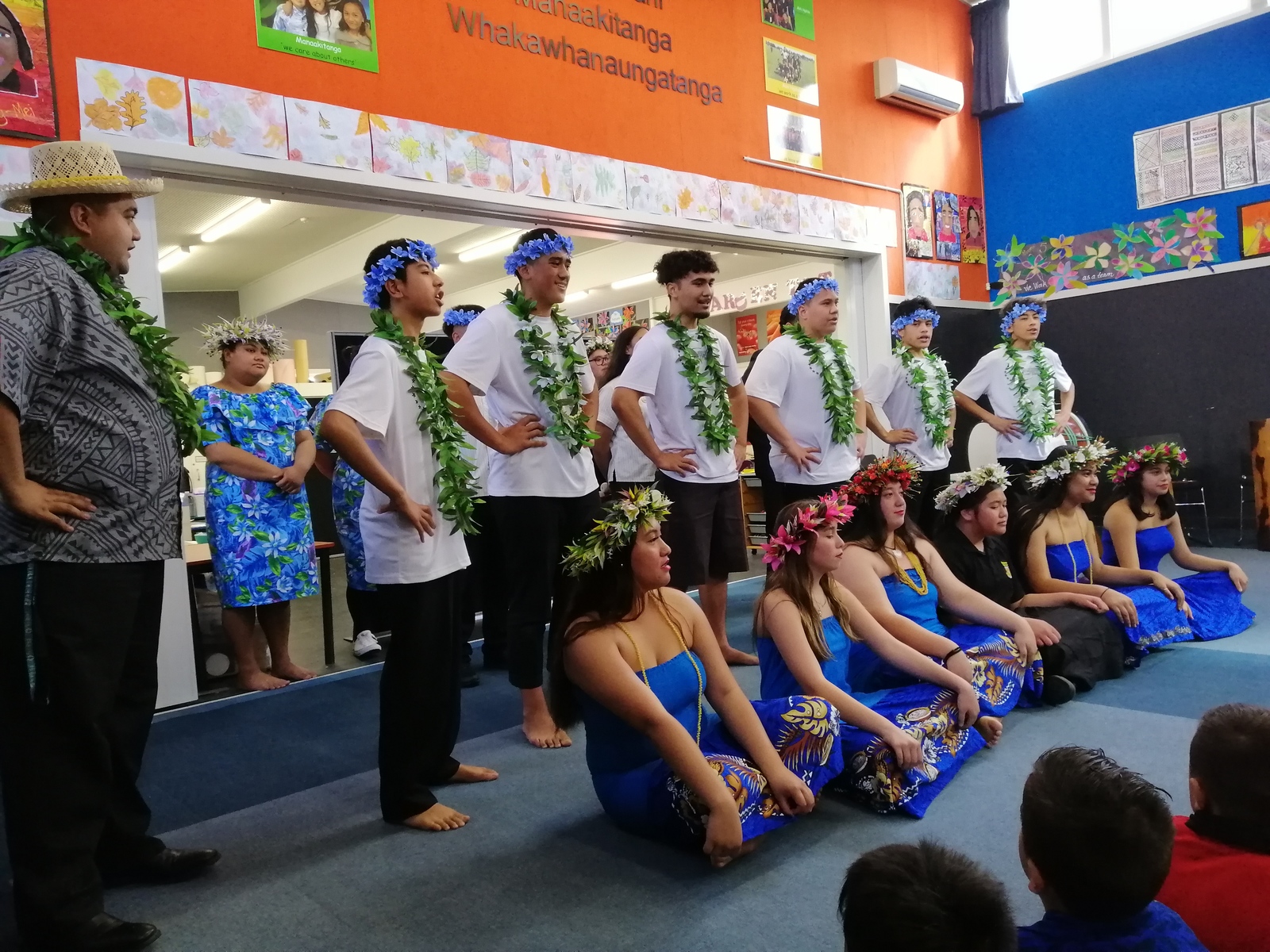 We were incredibly lucky to have a group from Manurewa High School come to our school to amaze us with their singing and dancing.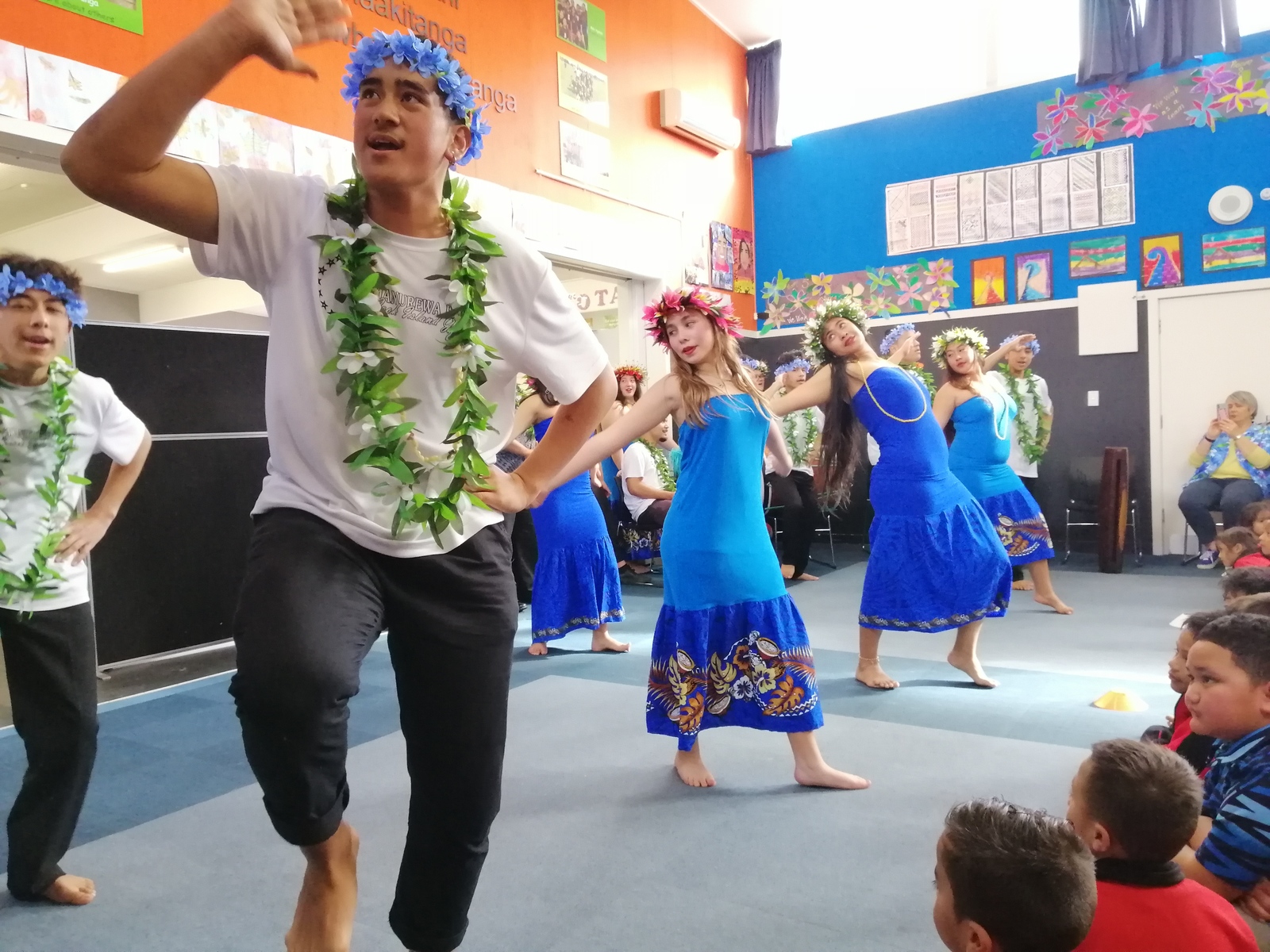 We were blown away by their talent! Thank you Manurewa High School.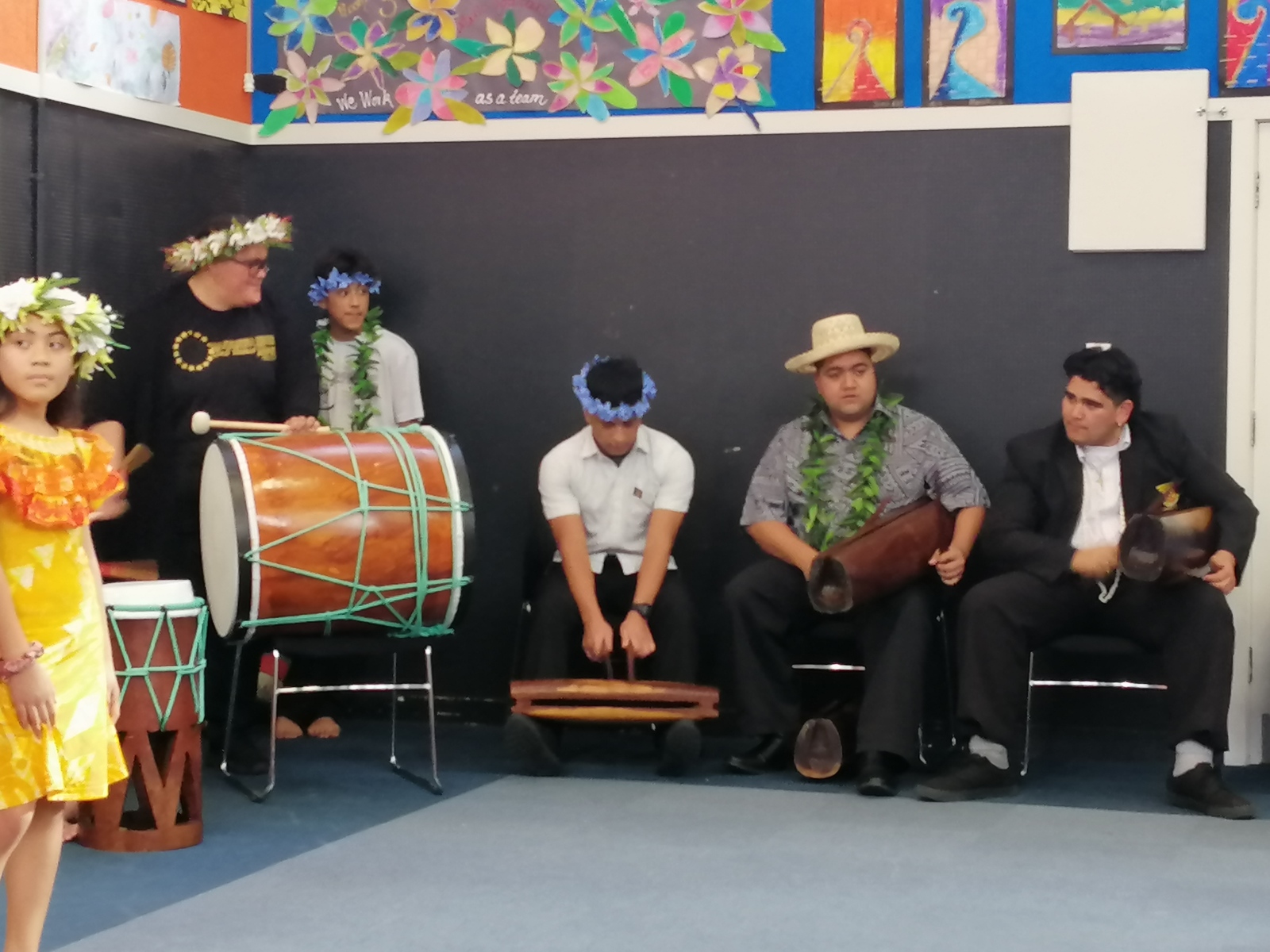 Happy 6th Birthday to Faith this week. We hope that you had an amazing day!
Congratulations to our students of the week, Cortez and Isobel who received a certificate each at the Junior School Assembly for making great progress in their Reading!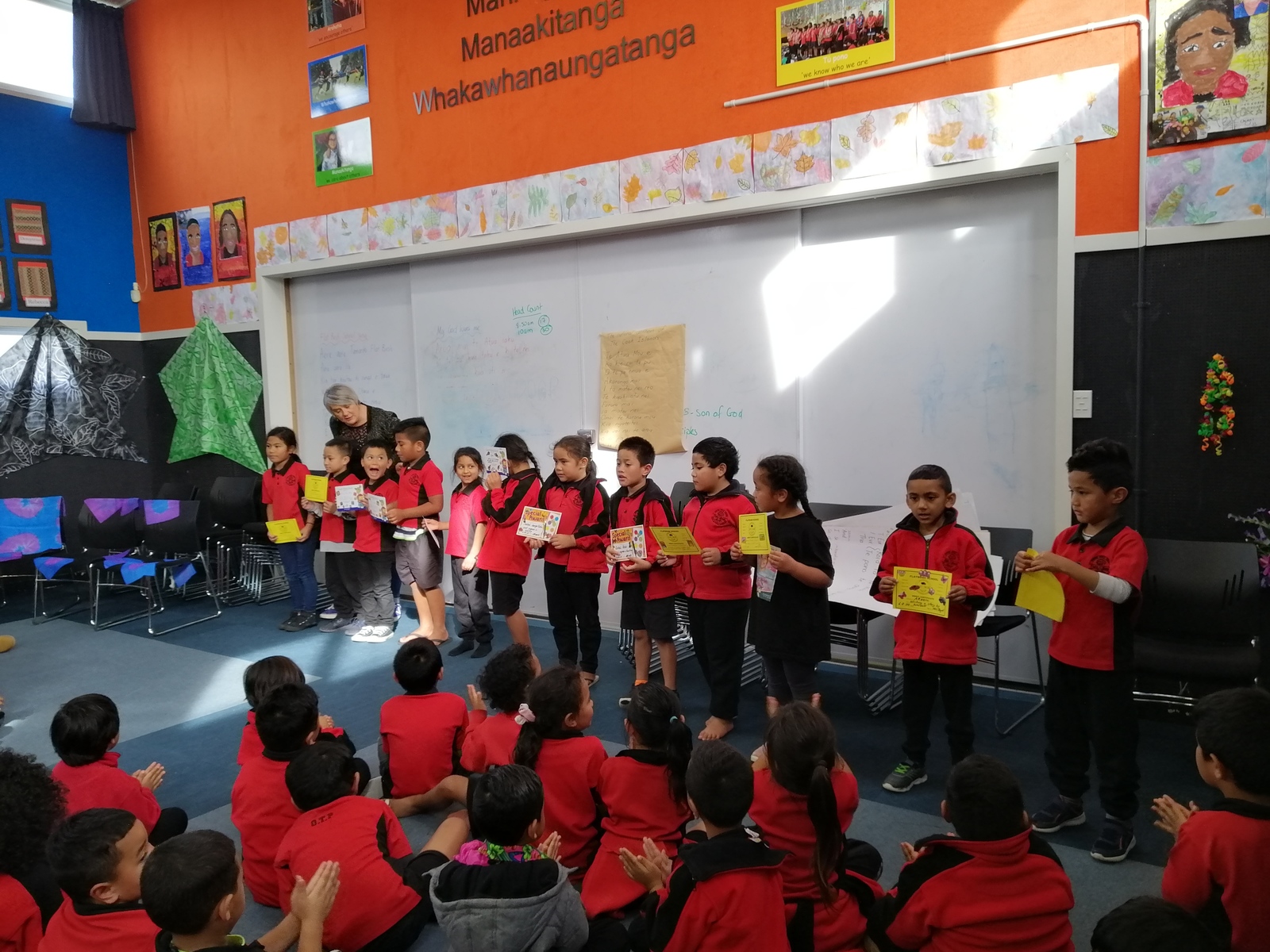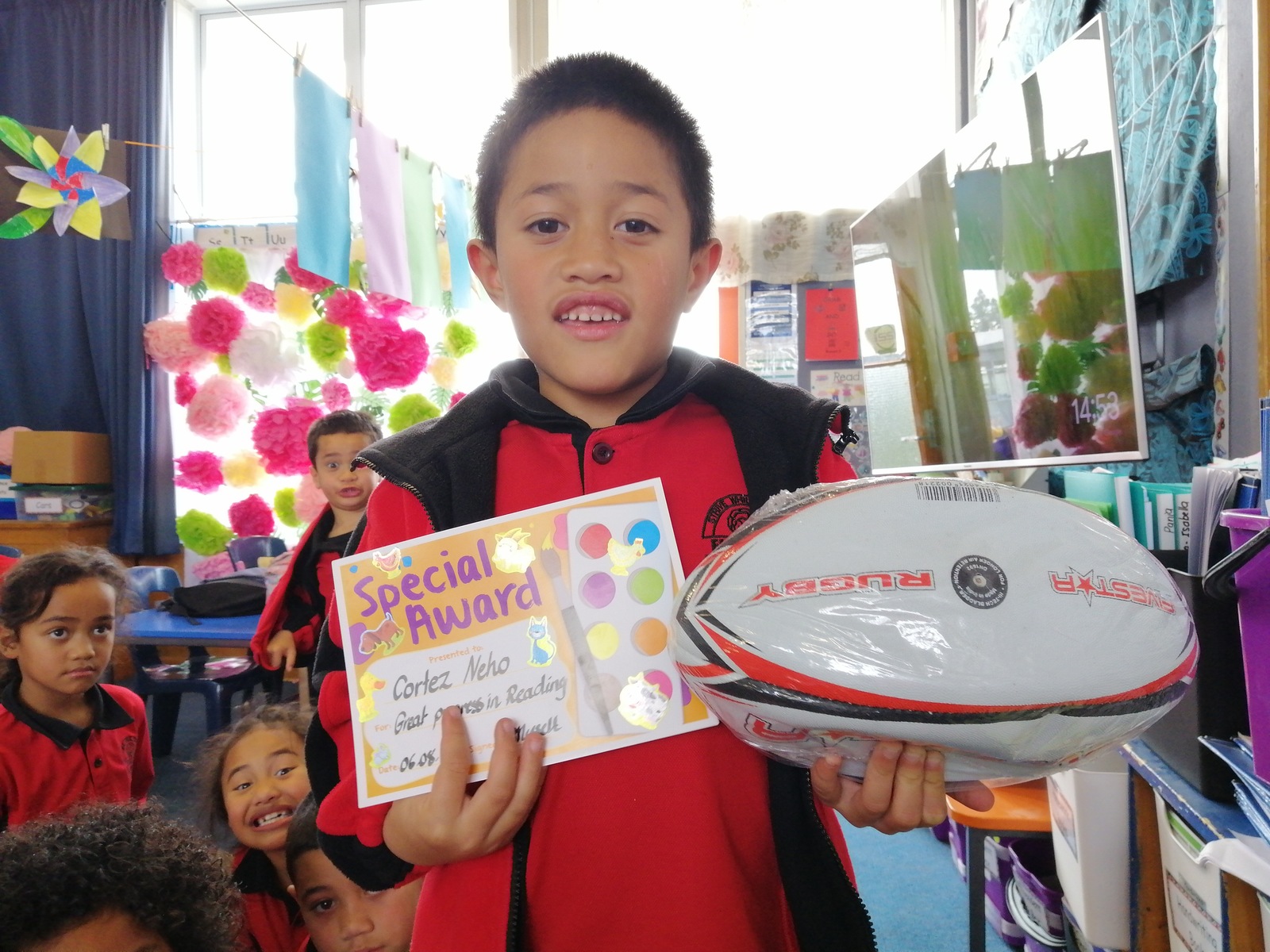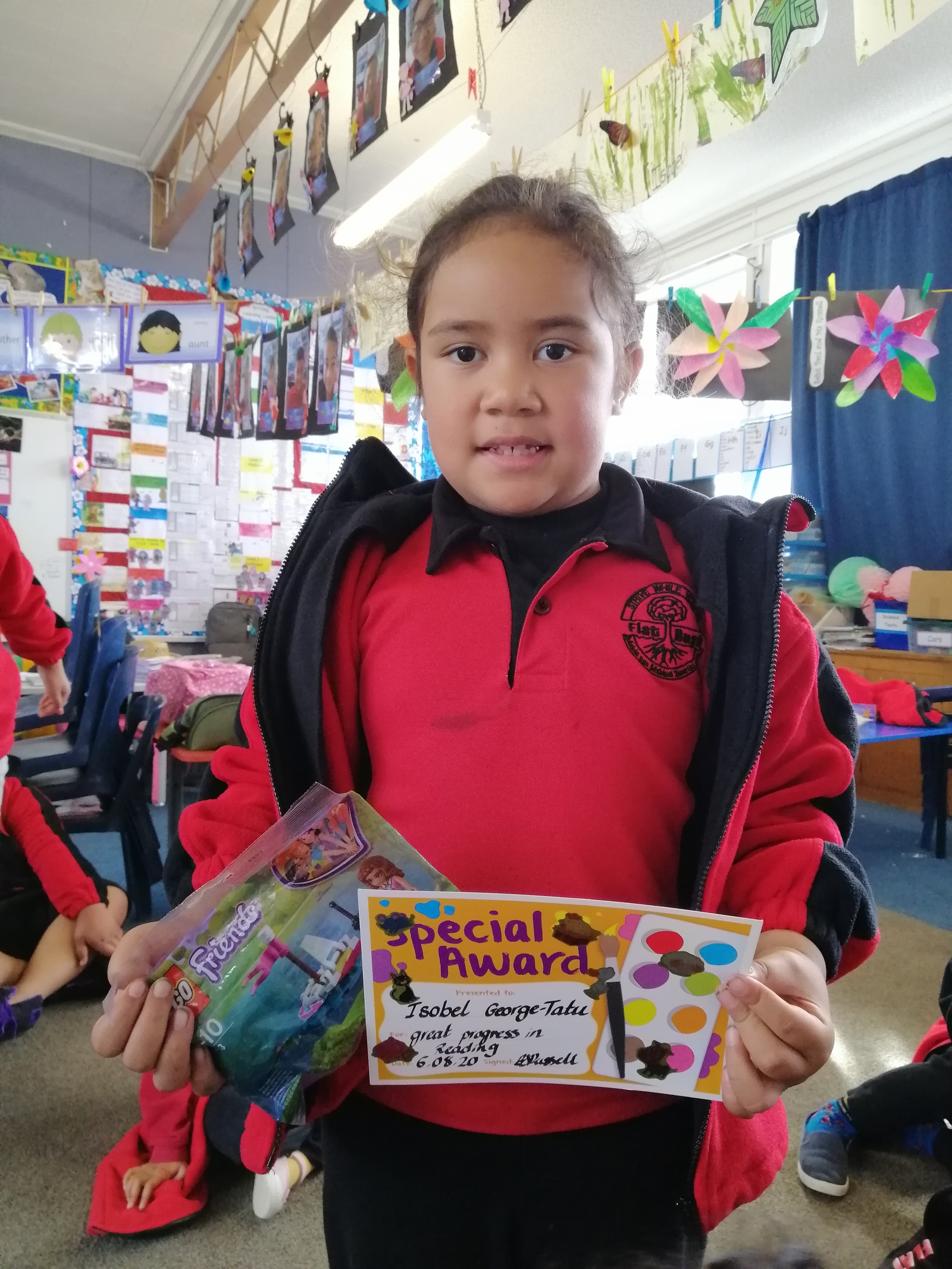 Week Two
During week Two we are continuing to learn about measurement.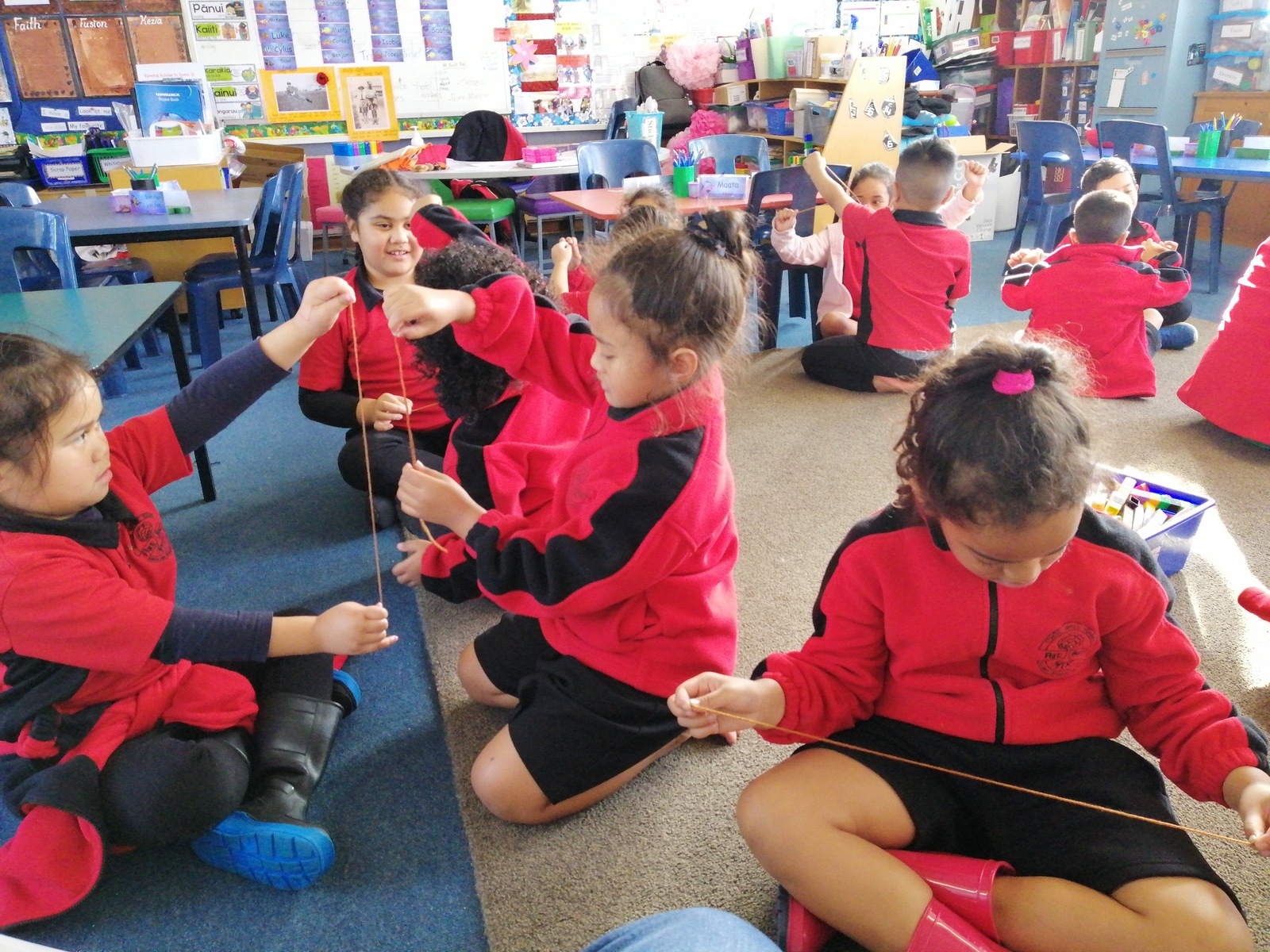 We are learning how to use a ruler to measure objects and continuing to develop our measurement vocabulary as we compare items using what we have learnt.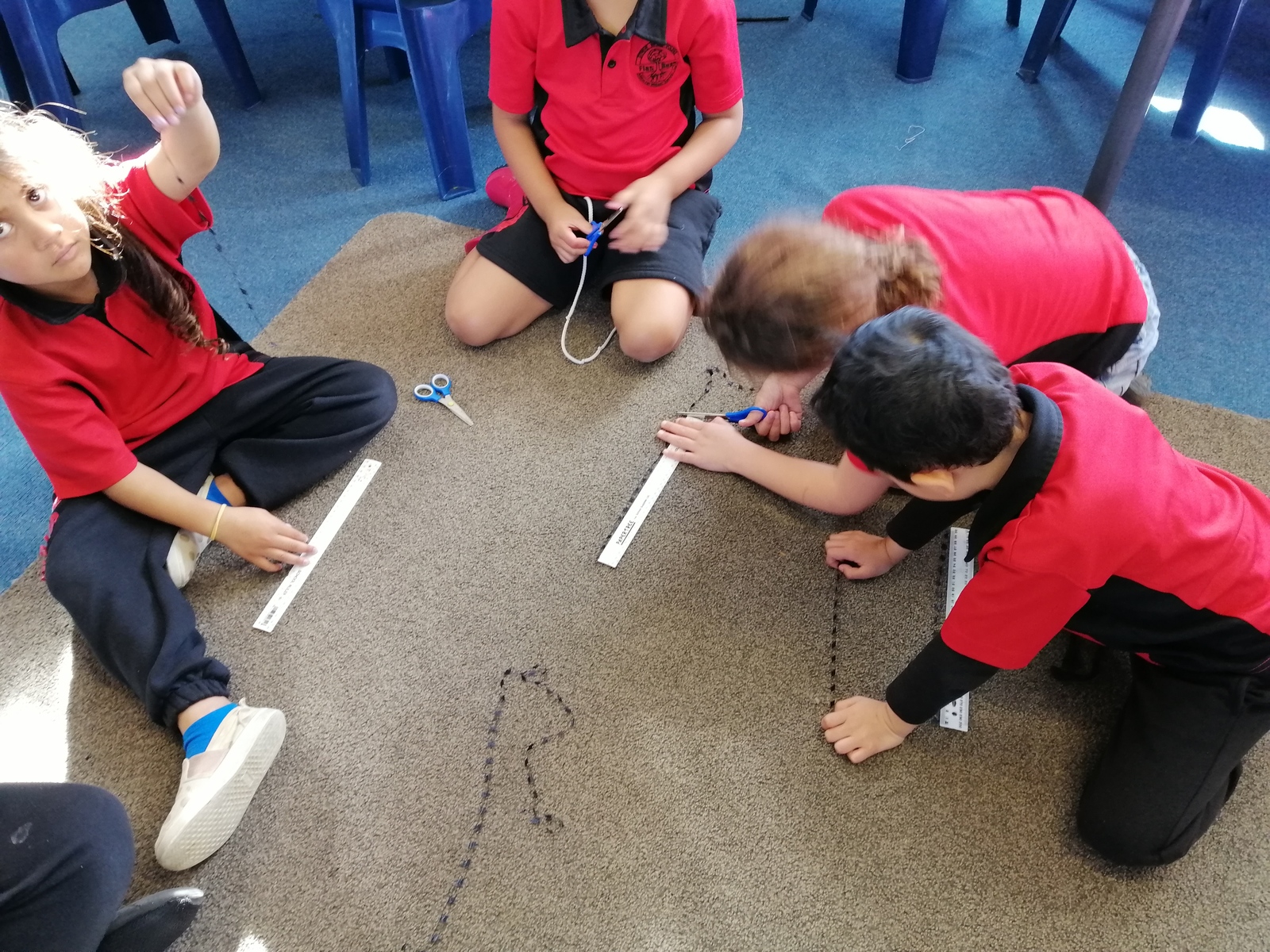 This week we are also focusing on learning about the science of magnets.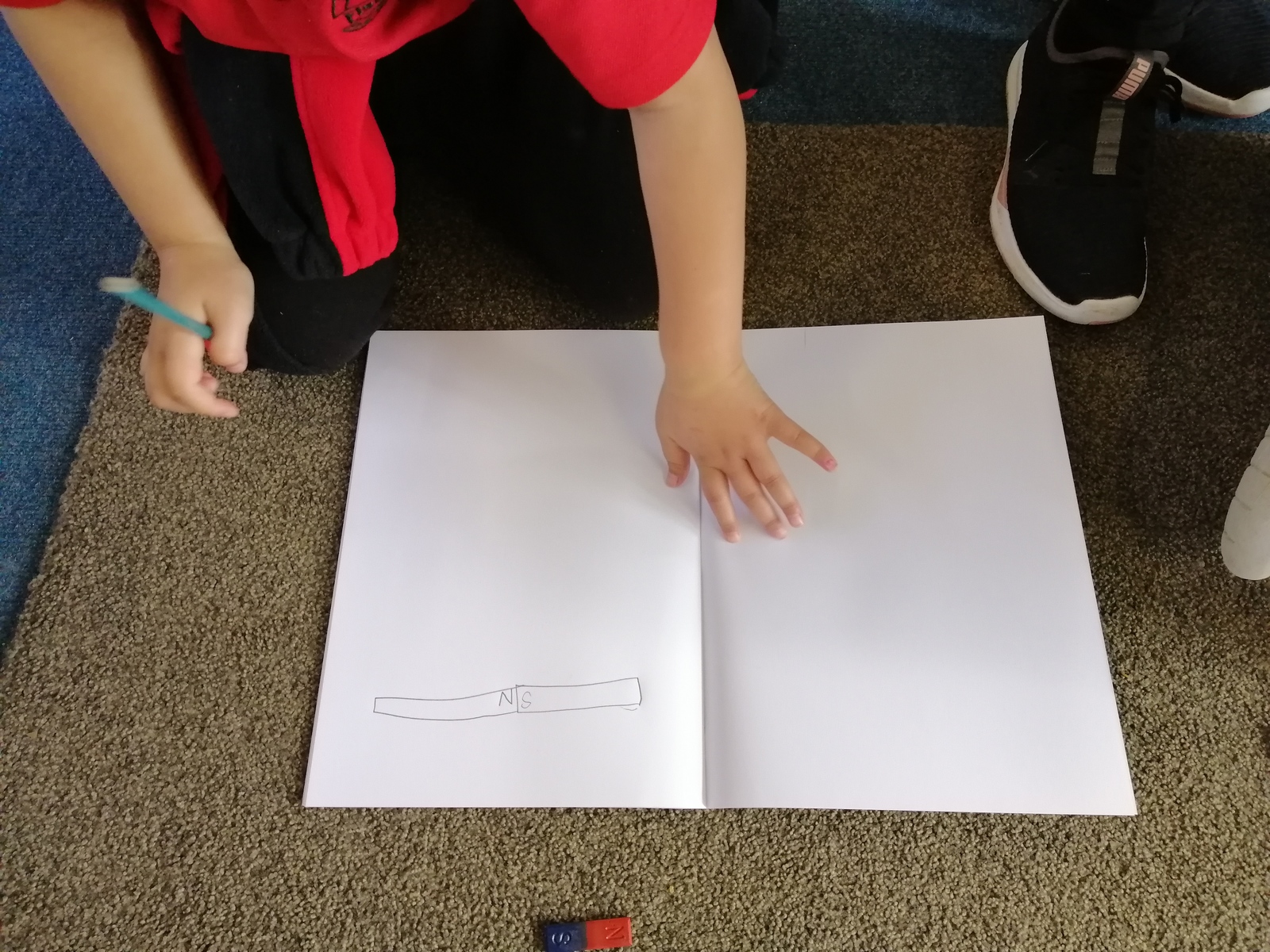 We have had so much fun learning about how magnets can attract and repel.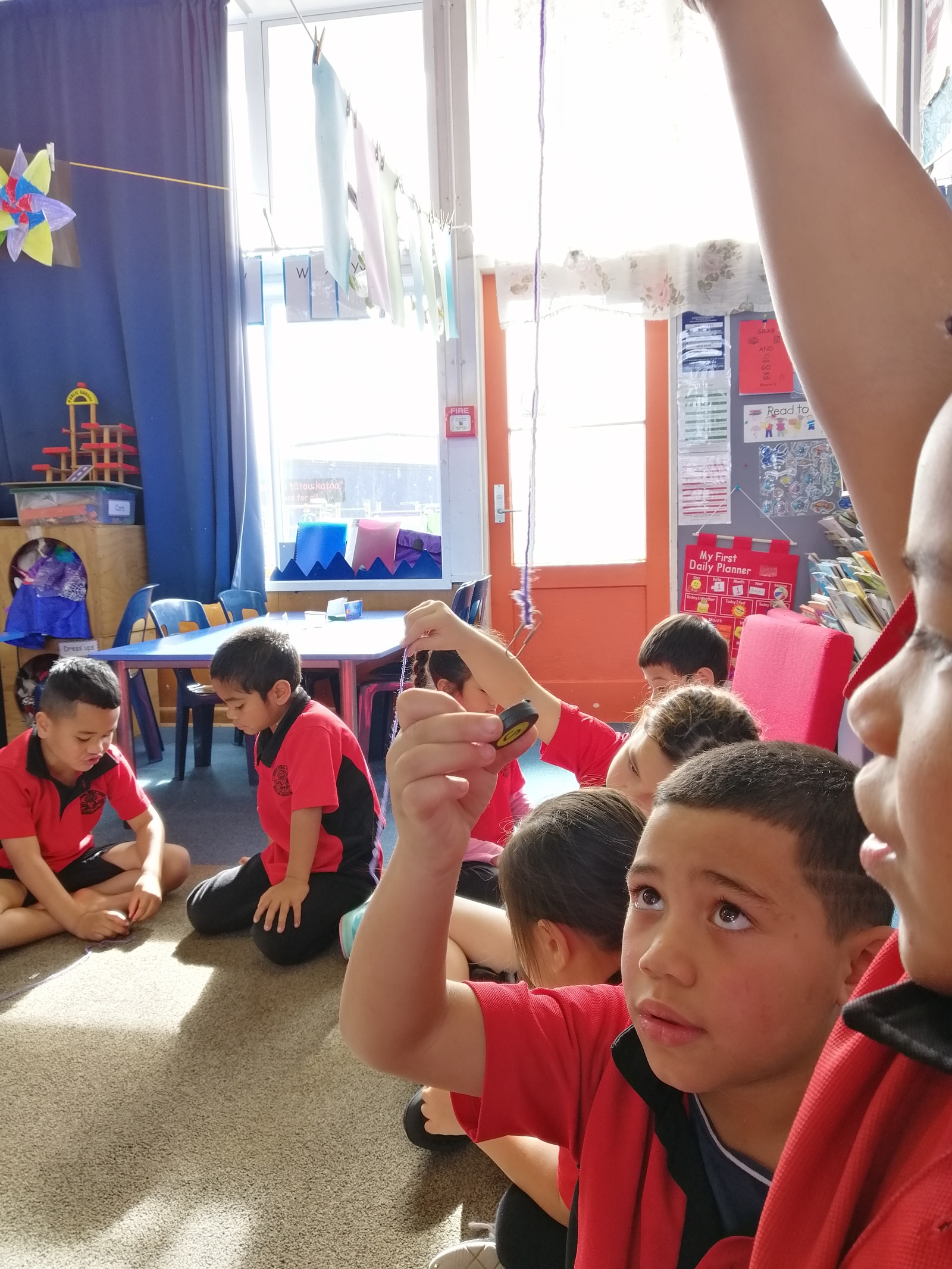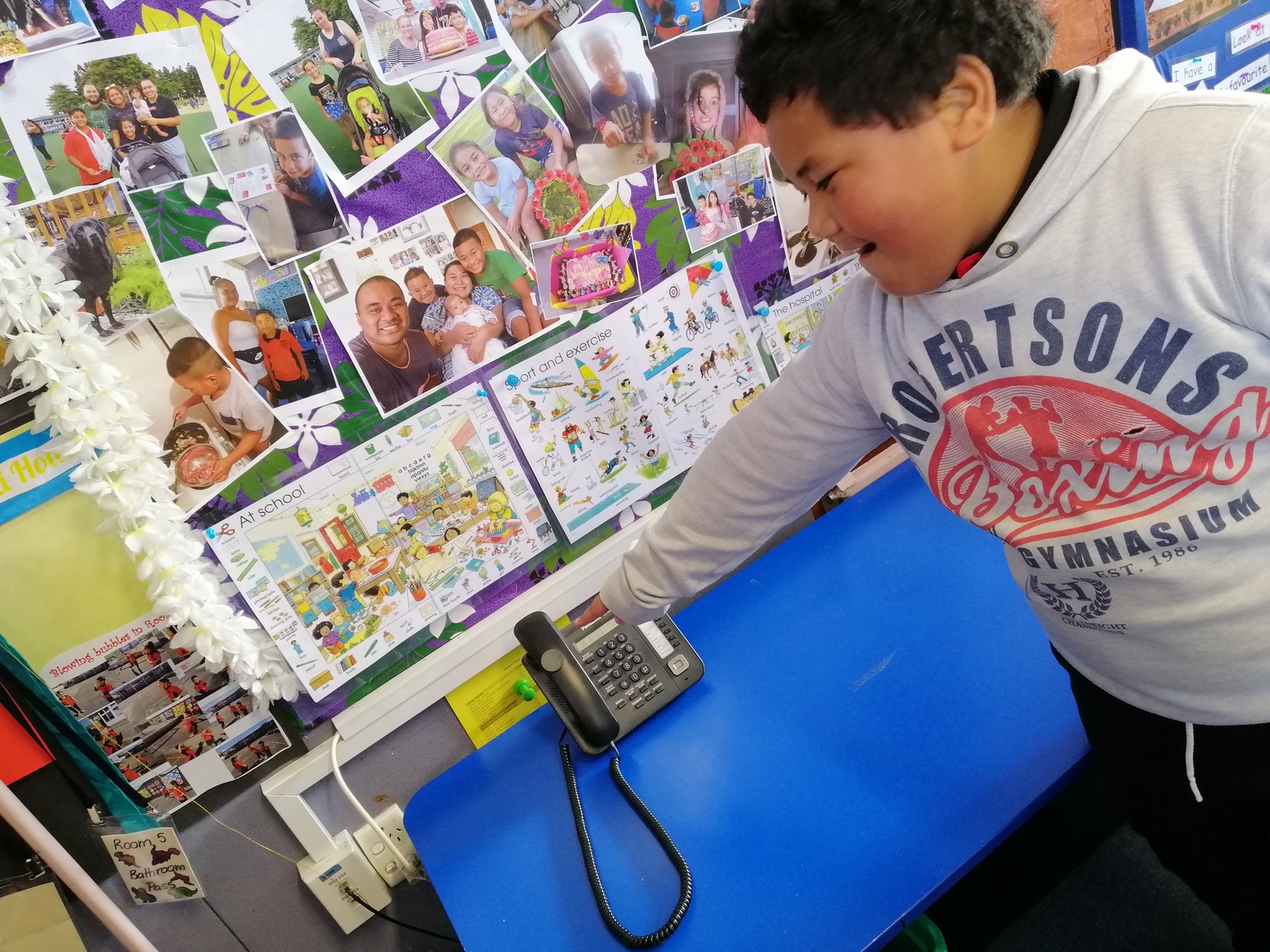 We searched all around our classroom to find objects that attract our magnets.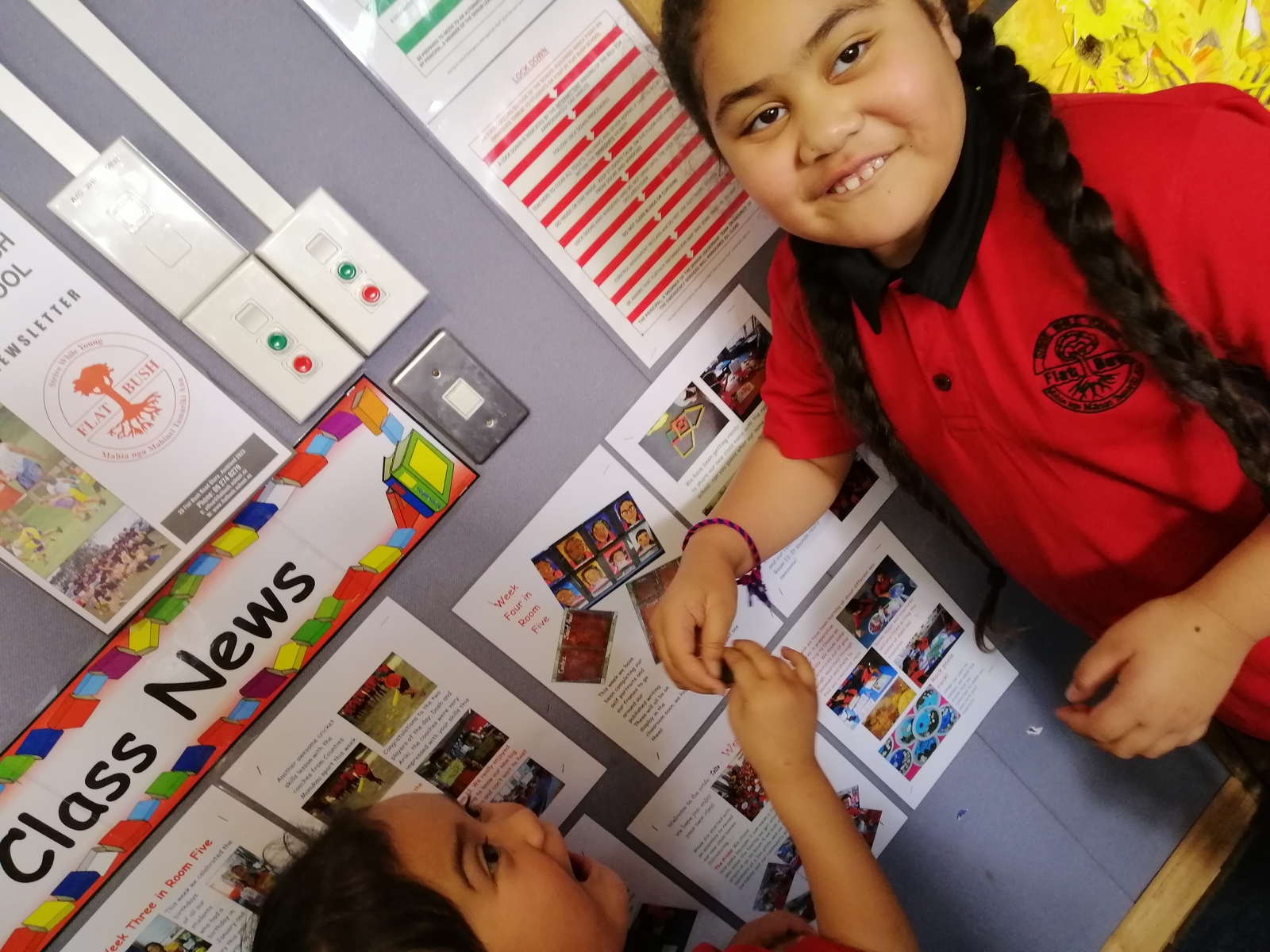 Week One
This week we have sadly said goodbye to five students who have moved class to Rooms 21 and 22. We have also welcomed six new students into our class.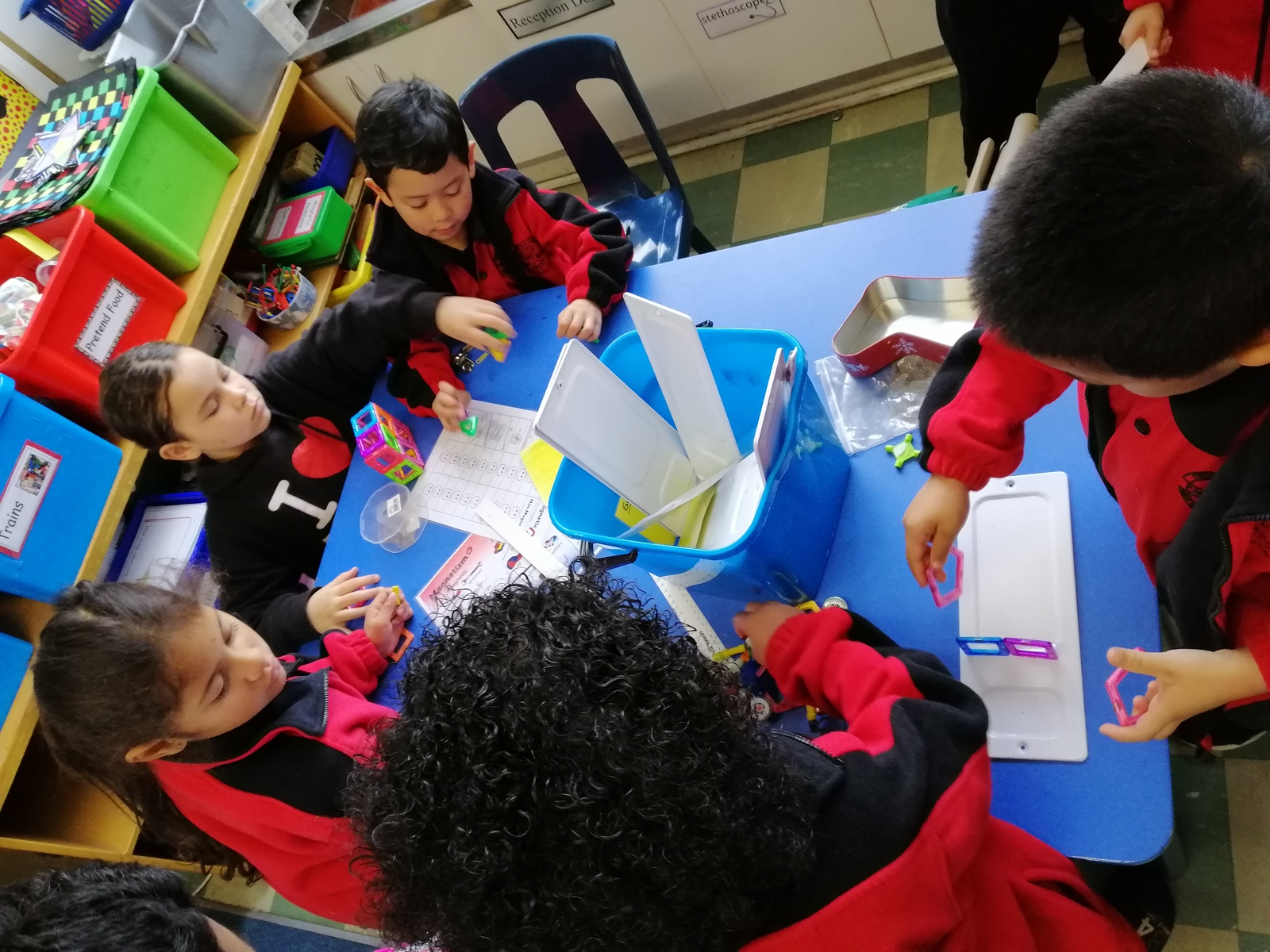 It has been great to see everyone back at school, catching up with old friends and making new friends.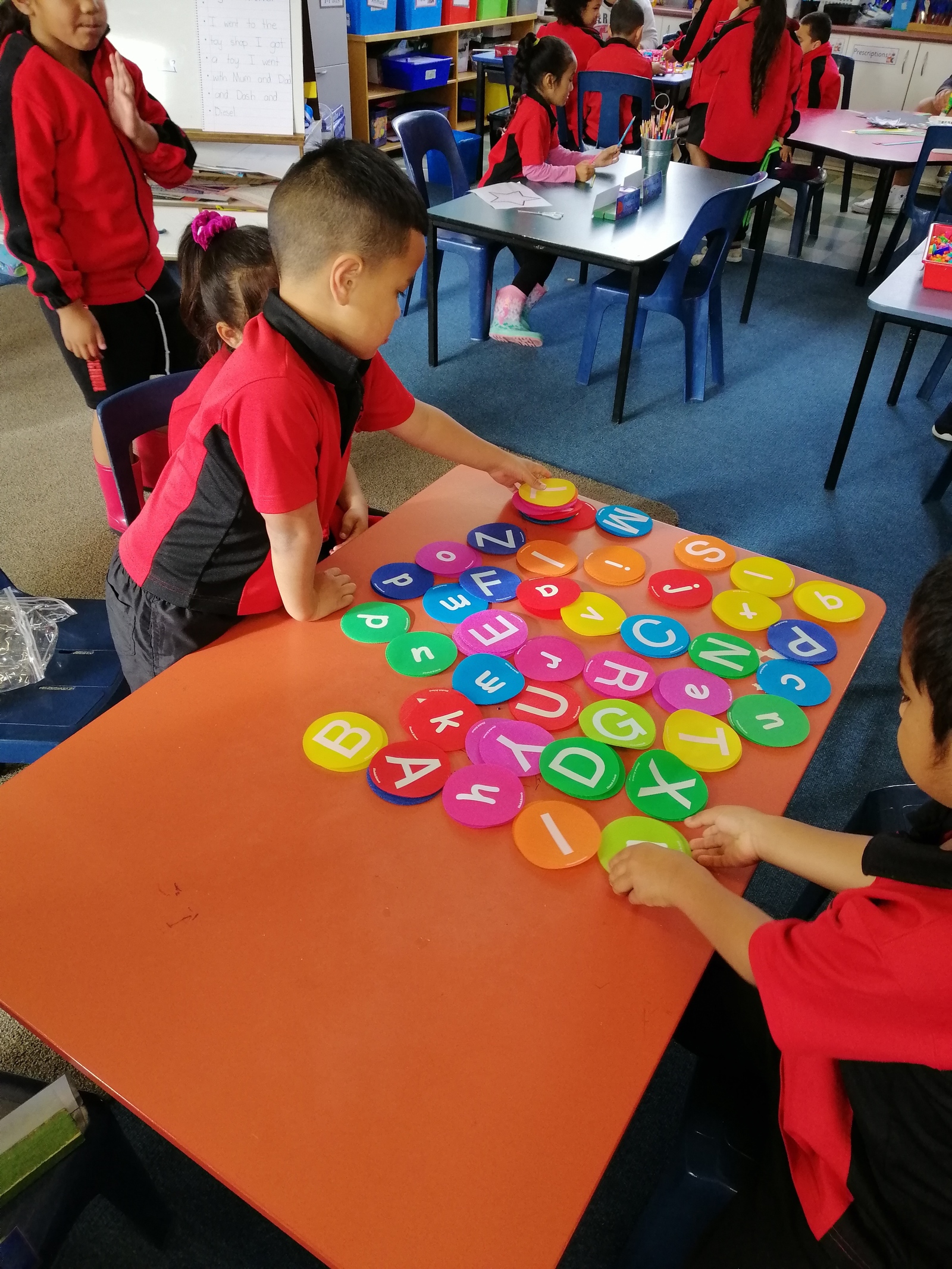 We have enjoyed some new activities as part of our play based learning, while also making time for our old favorites.
Week one is all about celebrating Matariki- The Maori New Year.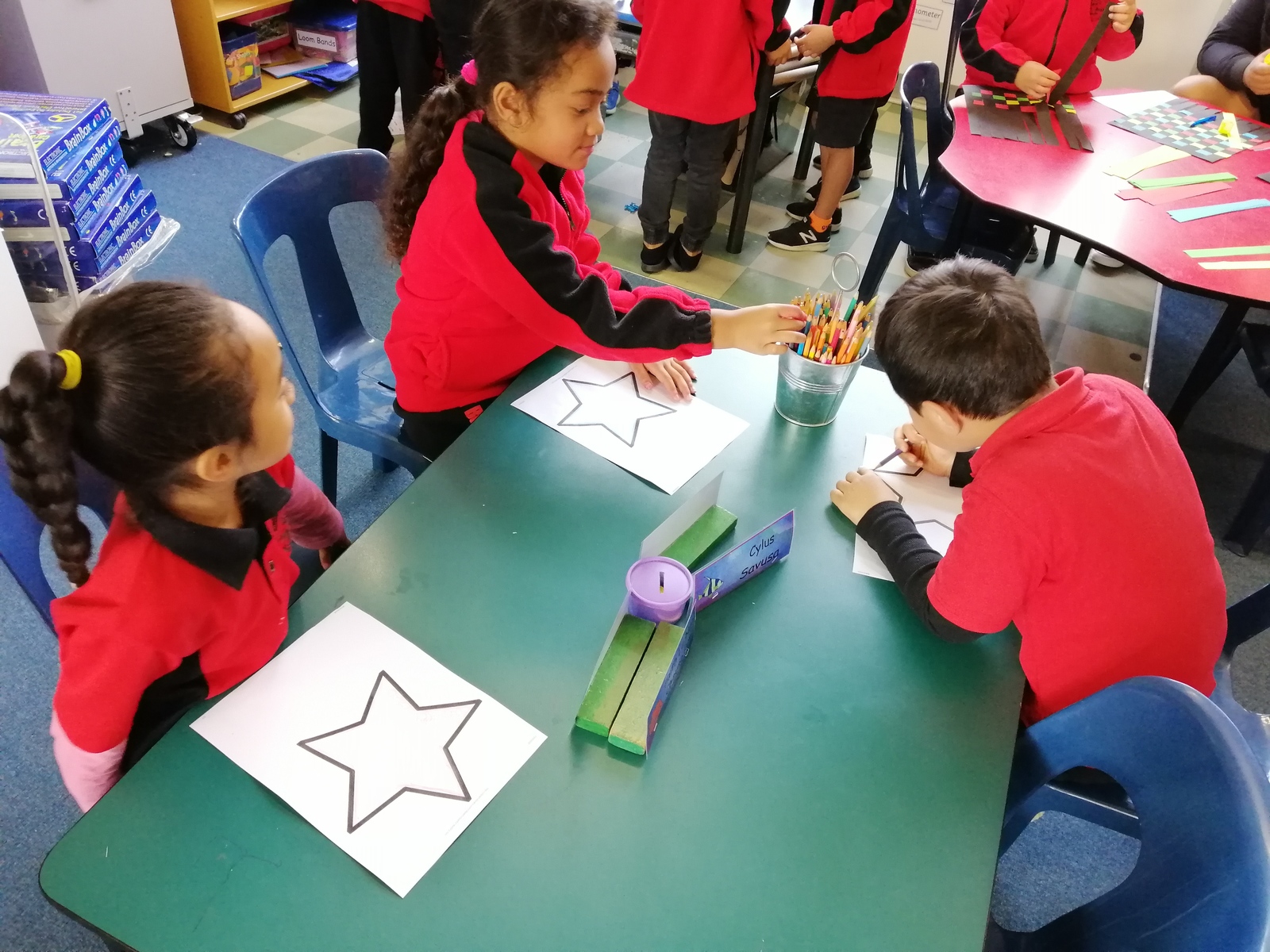 We have been learning about the Matariki stories and creating artworks based on kites and stars. We have also been doing some weaving to represent our school and our Whanau working together to achieve our goals.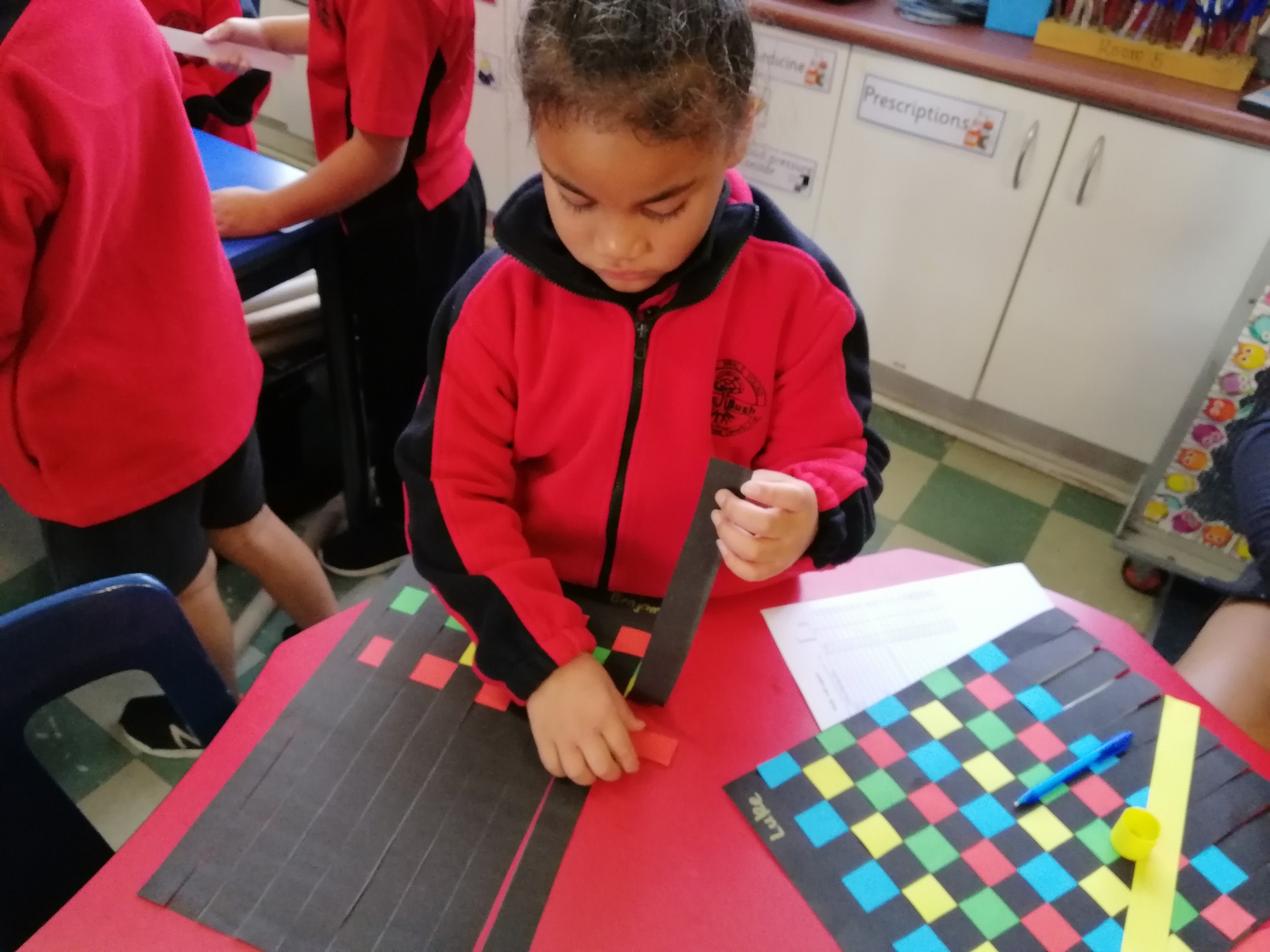 We have also used this week to set new goals for the term. We look forward to sharing our goals with our Whanau members next week at our Celebration of Learning afternoon.
Measurement has been our focus in Maths for the first week.
We have been using our hands and unifix cubes to measure different items and then discussing which one is longer, shorter, bigger, smaller, shorter or taller.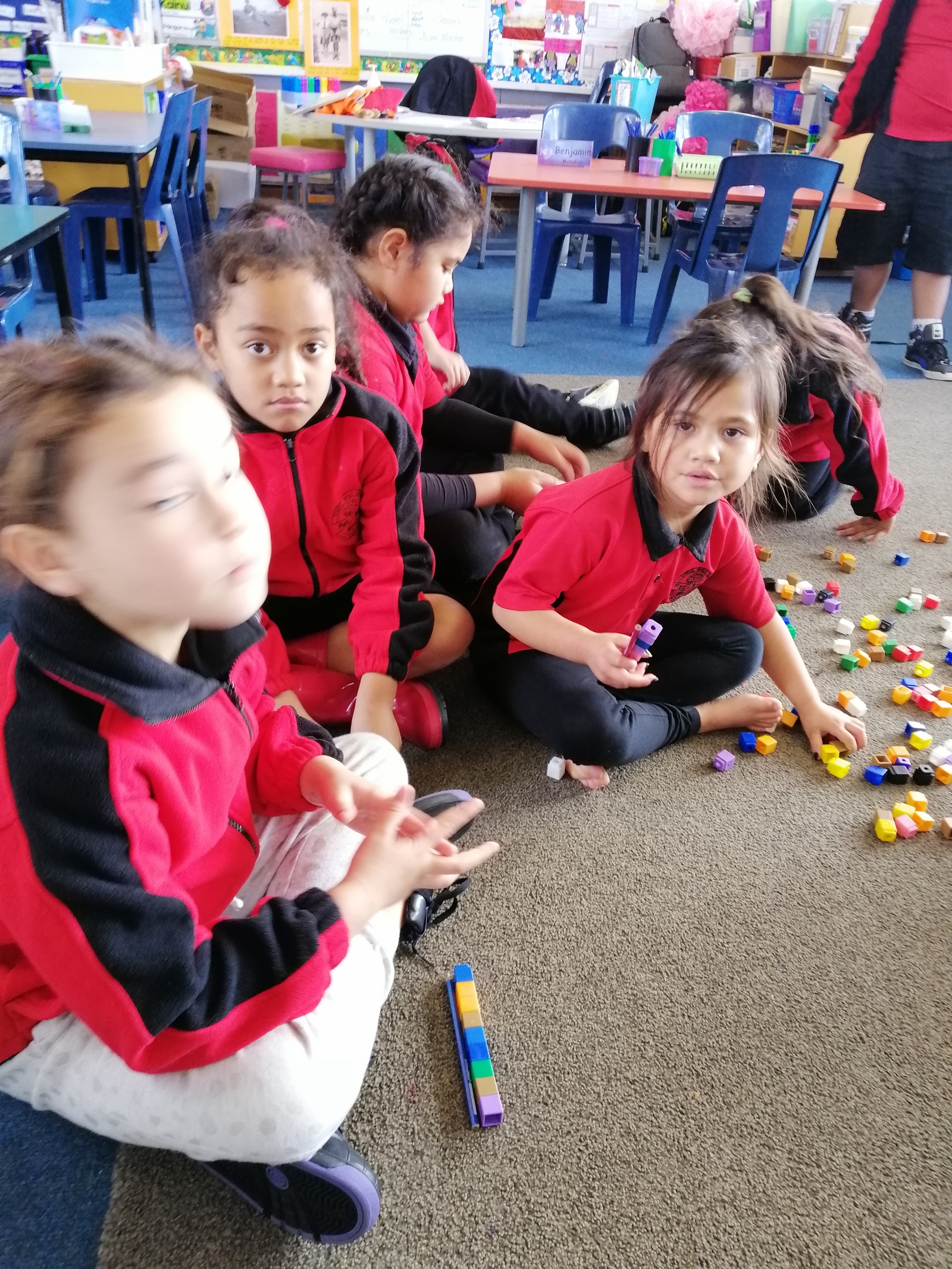 Lots of great discussion has been going on as we explore measurement!
Congratulations to Isobel for getting an award from Mr Avatea this week! Great work Isobel!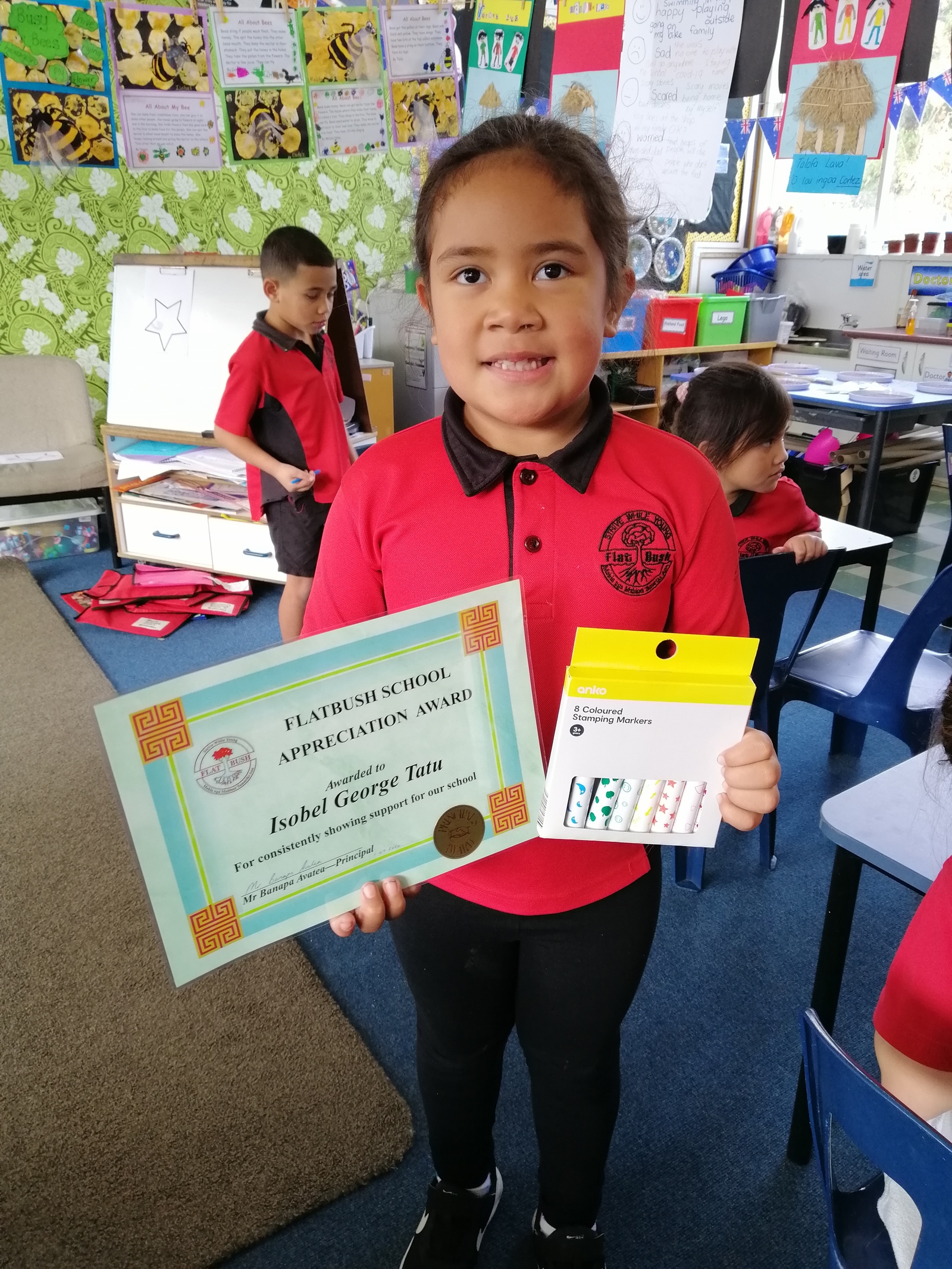 Term Two
The Pride- 2020
Kia Ora Pride! We have had so many positive comments on this page that we have decided to keep posting updates of what the class has been doing this term now that we are back at school, I hope you enjoy scrolling through- Ms Russell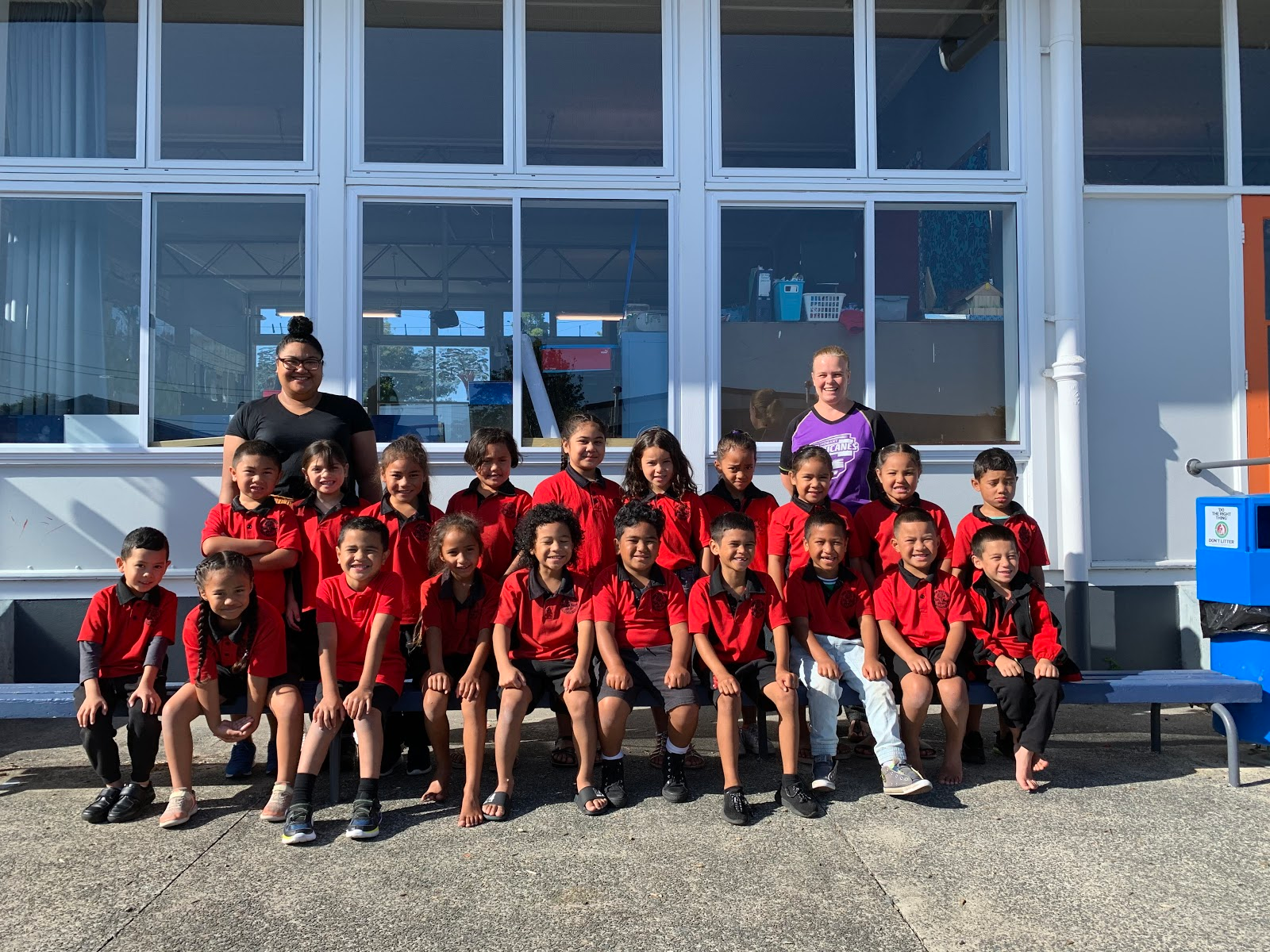 ** Week Twelve, Term 2 - 29th June- 3rd July **
*****Special Thursday!*****
Thursday was our last full day at school this term, so we decided to do some fun activities :) We started the day with some yummy Honey on Toast. We used the honey from our school beehive. It was so yummy!!!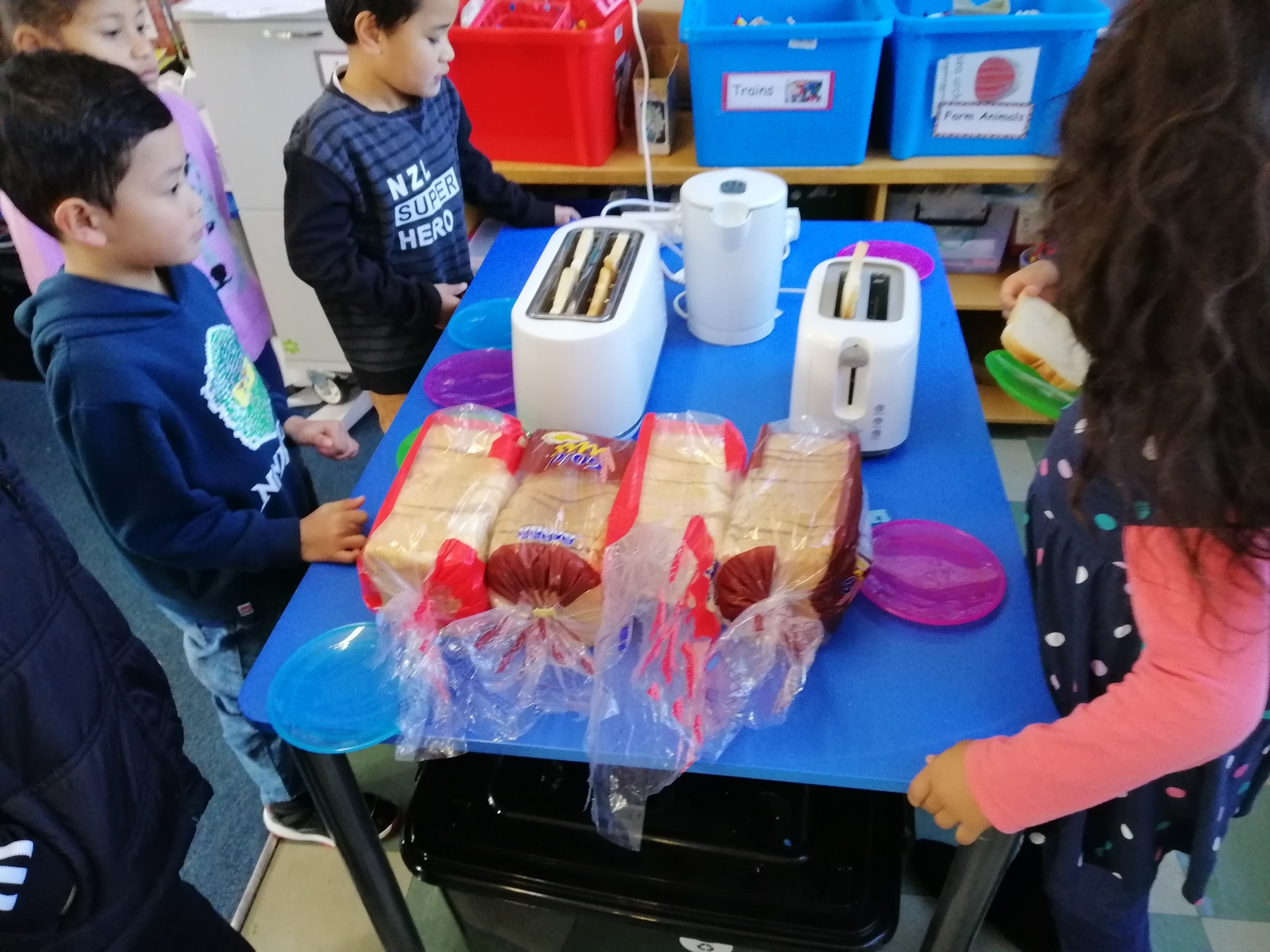 First we washed our hands and chose a piece of bread to put in the toaster. Then we pushed the toaster button down and waited for our bread to turn into toast.
Next, we spread some butter onto our toast. The butter melted quickly because the toast was nice and warm.
Then we got our yummy fresh honey and spread some on our toast. It was Cyrius's first time to try honey. We all loved the taste of our honey!
After our second breakfast, it was off to our last session of drumtime with Mr D.
Congratulations to our Drummer of the Week- Grace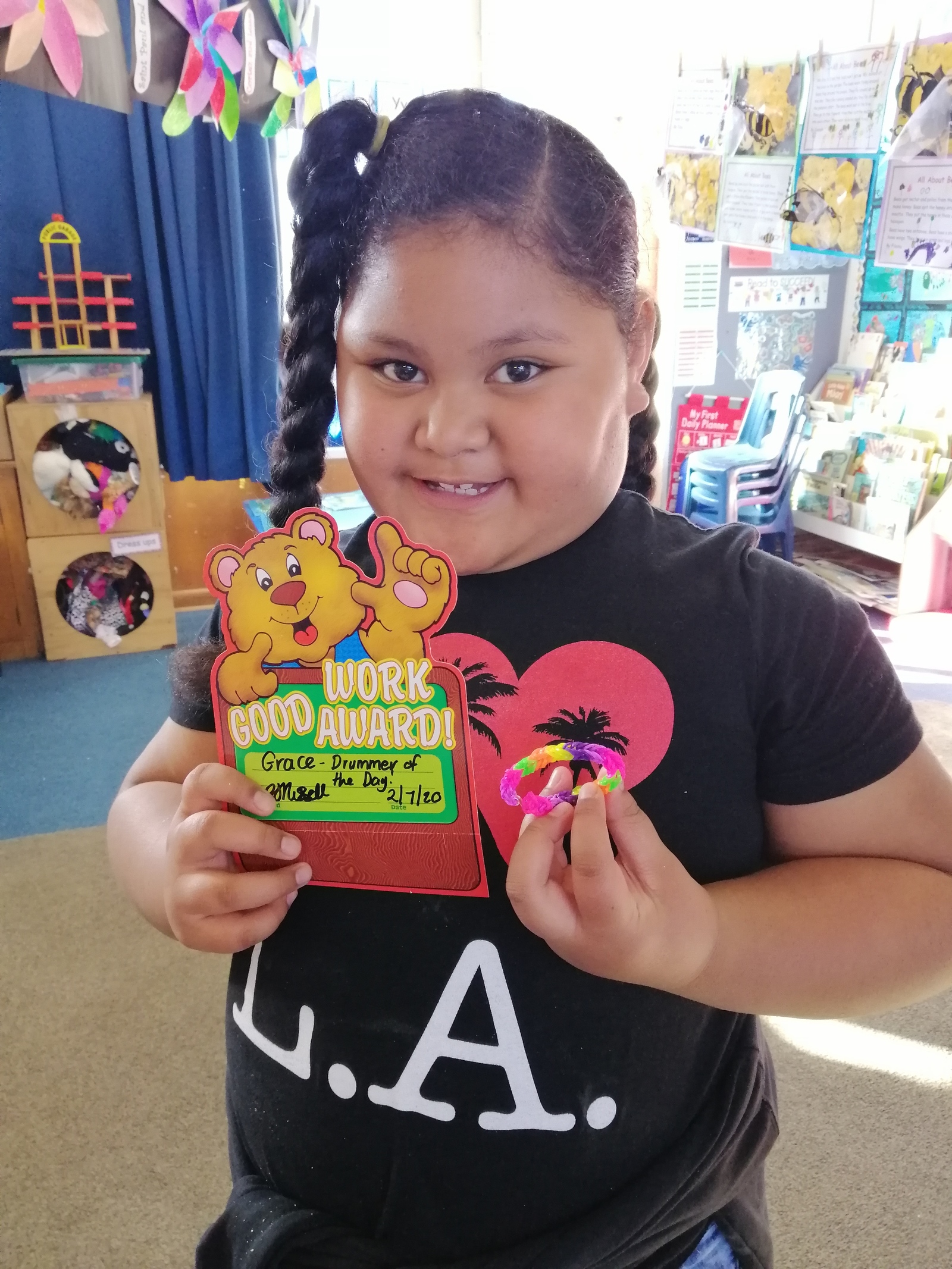 Time for Morning Tea, then it was off to Garden to Table.
Everyone chose to either go to the Kitchen or the Garden.
In the kitchen, Ms Ann and Ms Vicky helped us to make Macaroni Cheese with a twist.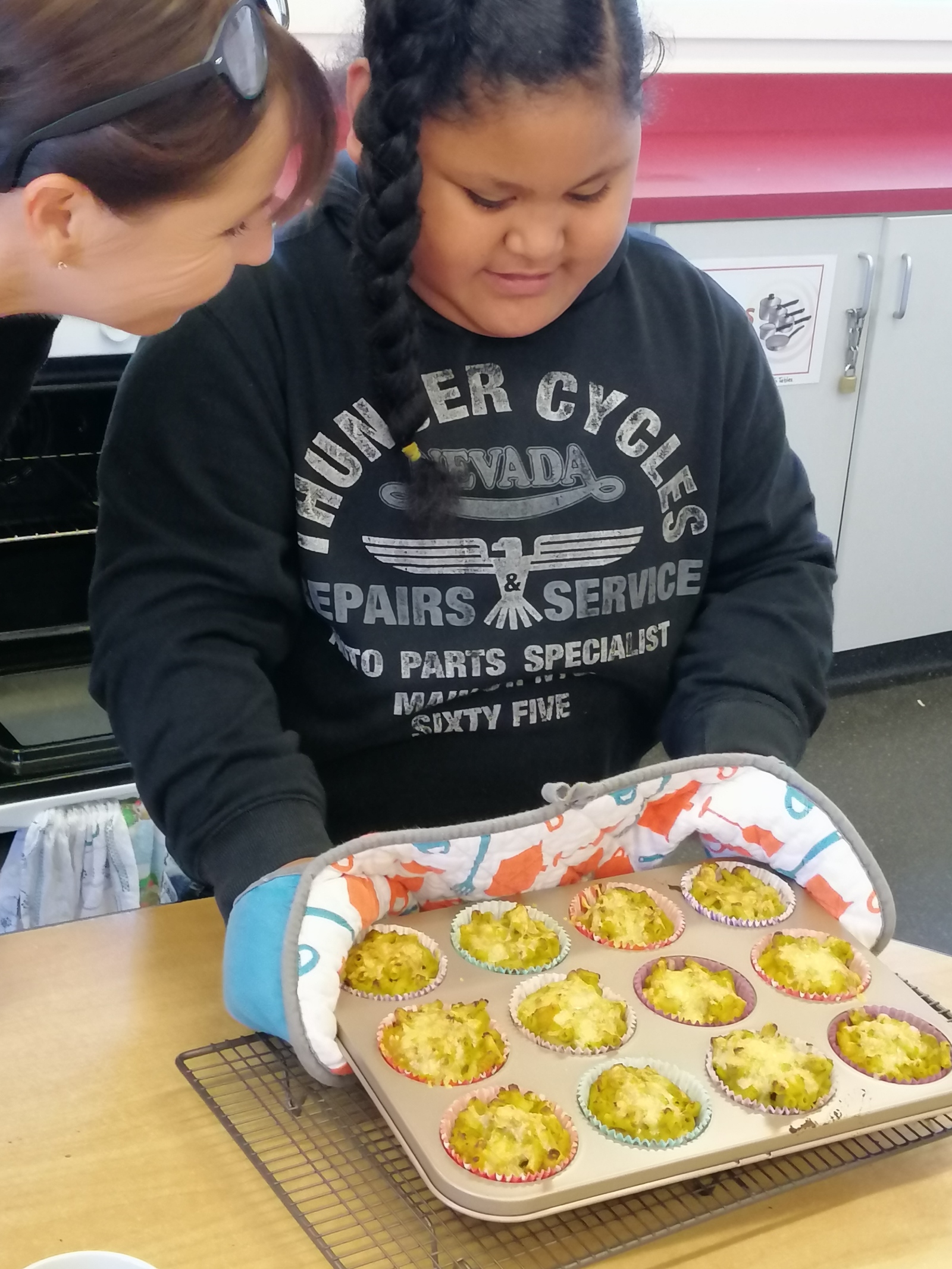 Lots of great cooking skills on display today!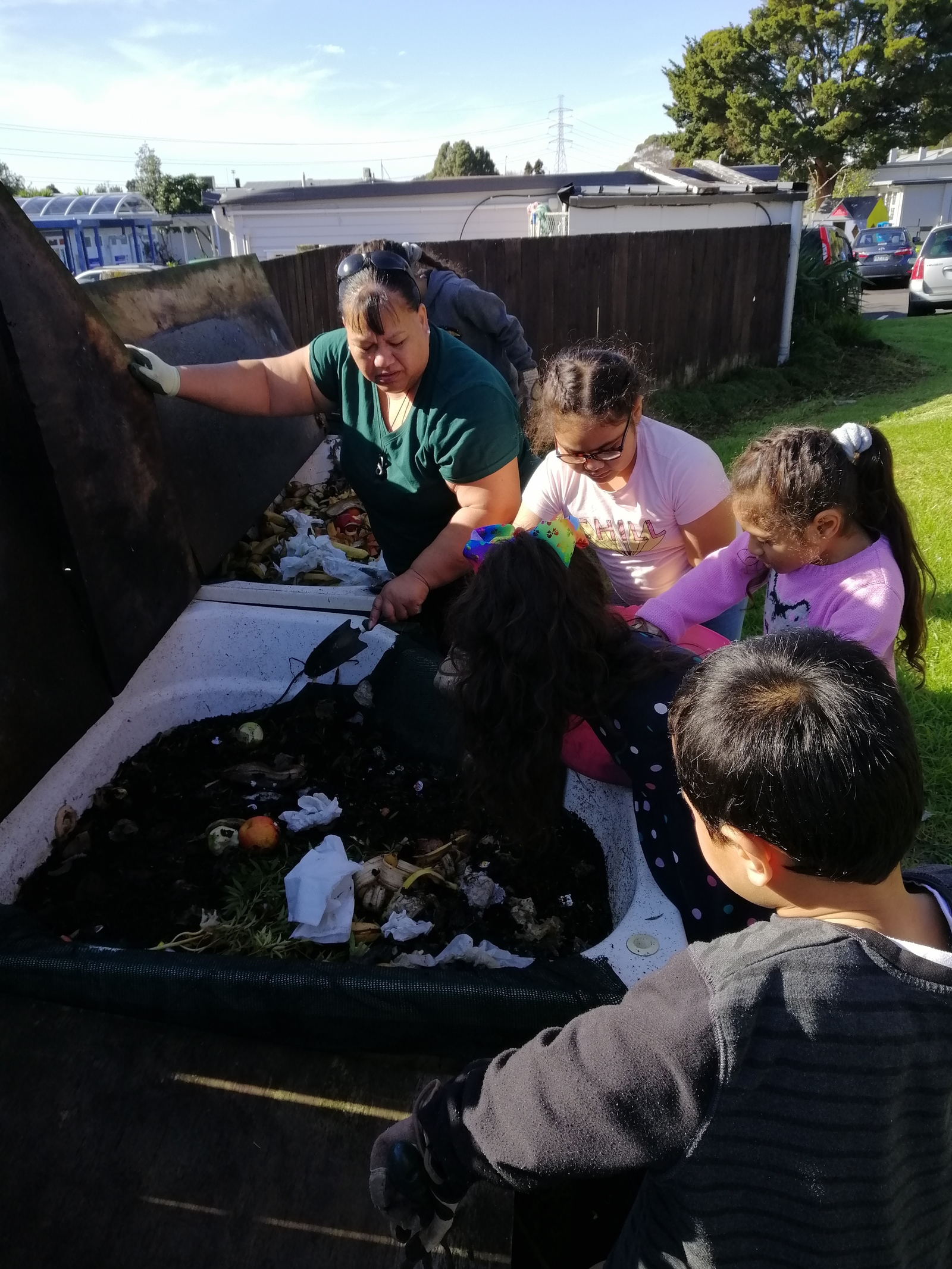 In the Garden, Mrs Tupou showed us how to get all of the rubbish out of the worm farm. Worms can't eat plastic, so we helped the worms by cleaning up their home.
We had another look at our school bees. They were busy making some more honey for our next toast session!
We saw bees collecting nectar from the lavender and the other flowers in the garden.
Look what we found in the garden! They were so yummy. Home grown fruit is the best :)
Thank you Mrs Tupou, Ms Ann and Ms Vicky for helping us to have a great session at Garden to Table!
After lunch, the fun continued! We invited our Buddy Class- Room 13 and Miss Browne, to our class to do some fun activities. It was great fun working with our buddies and getting to know them better.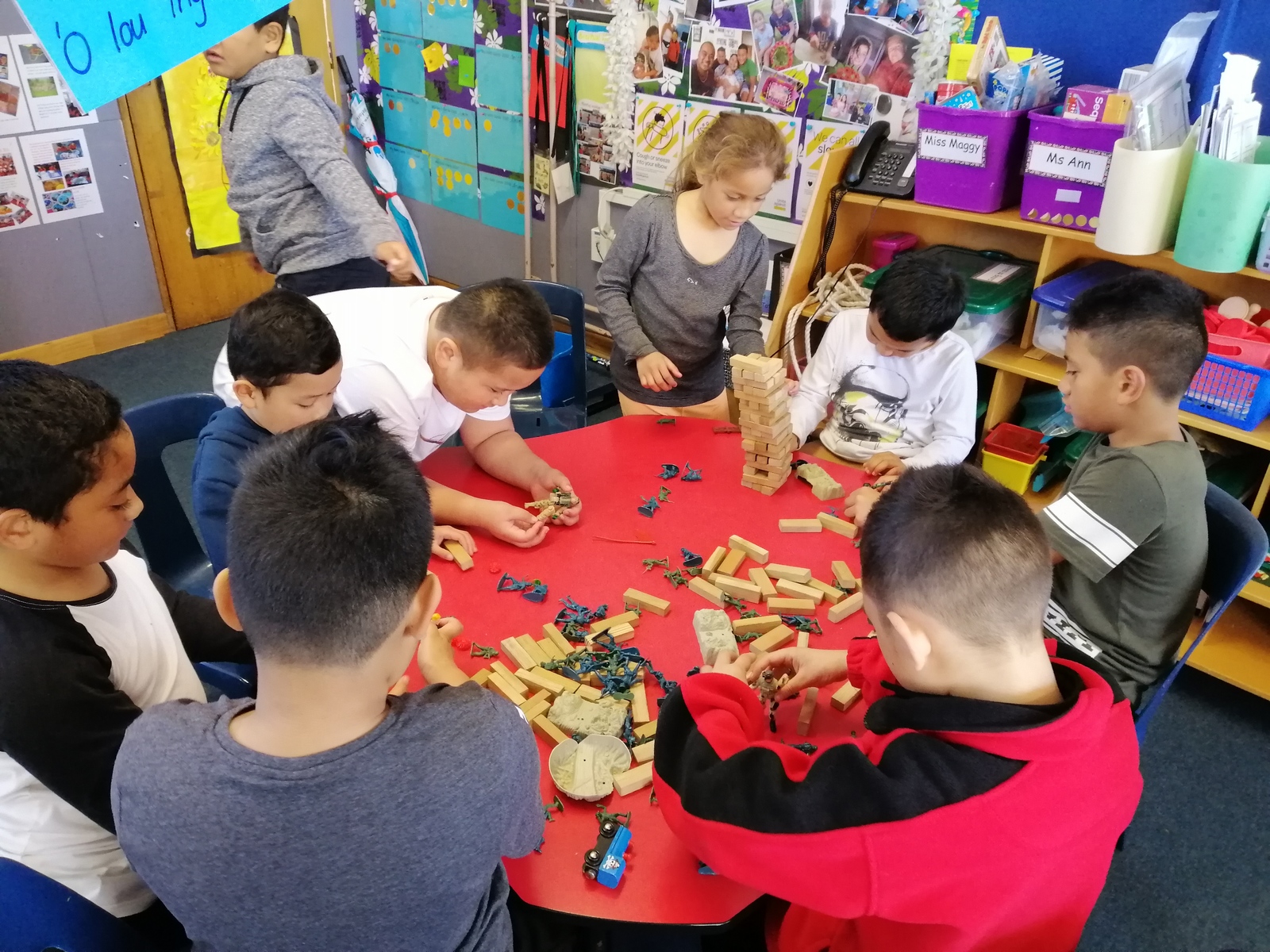 We had so much fun and are looking forward to developing our Tuakana-Teina relationship further next term.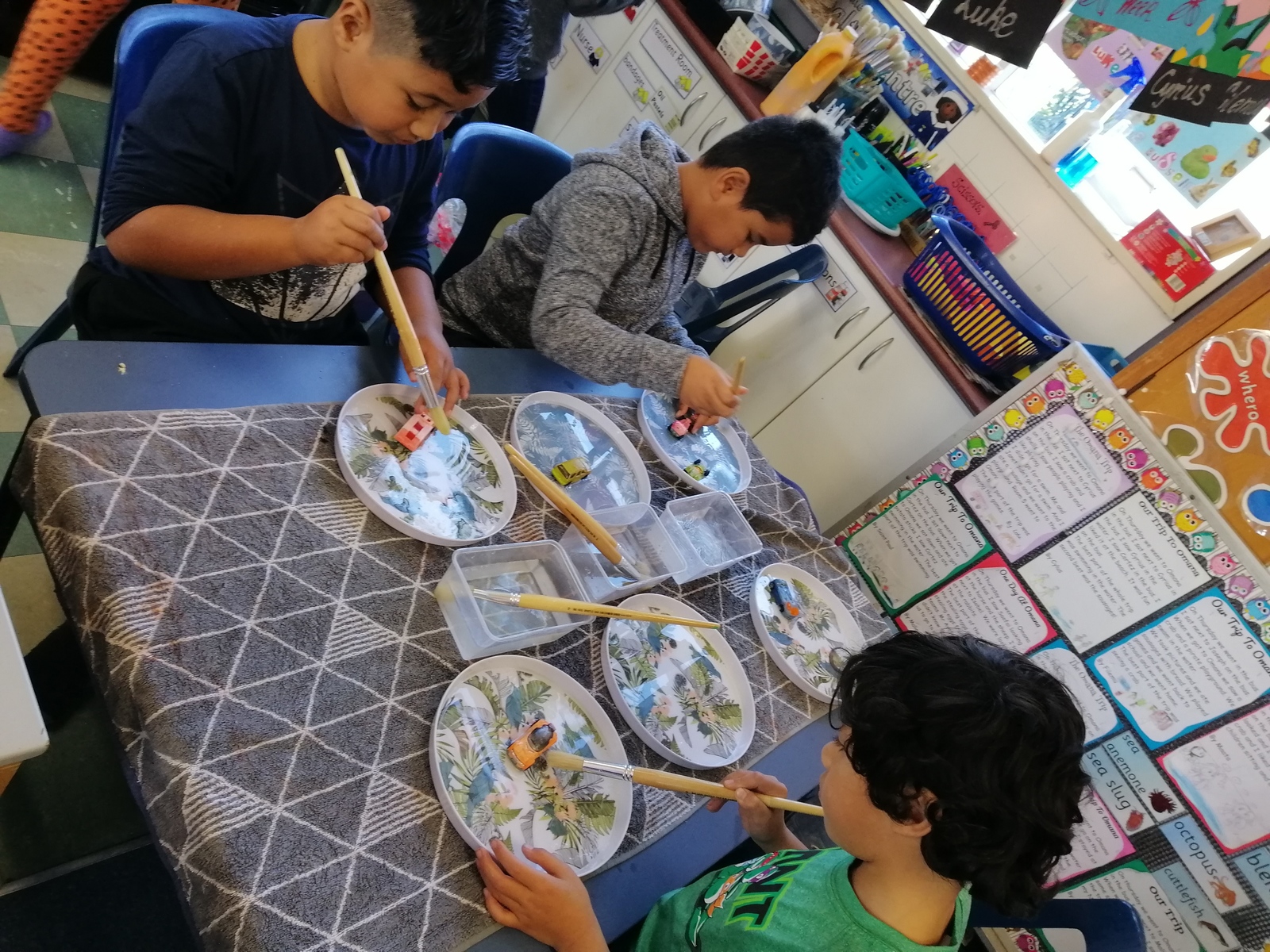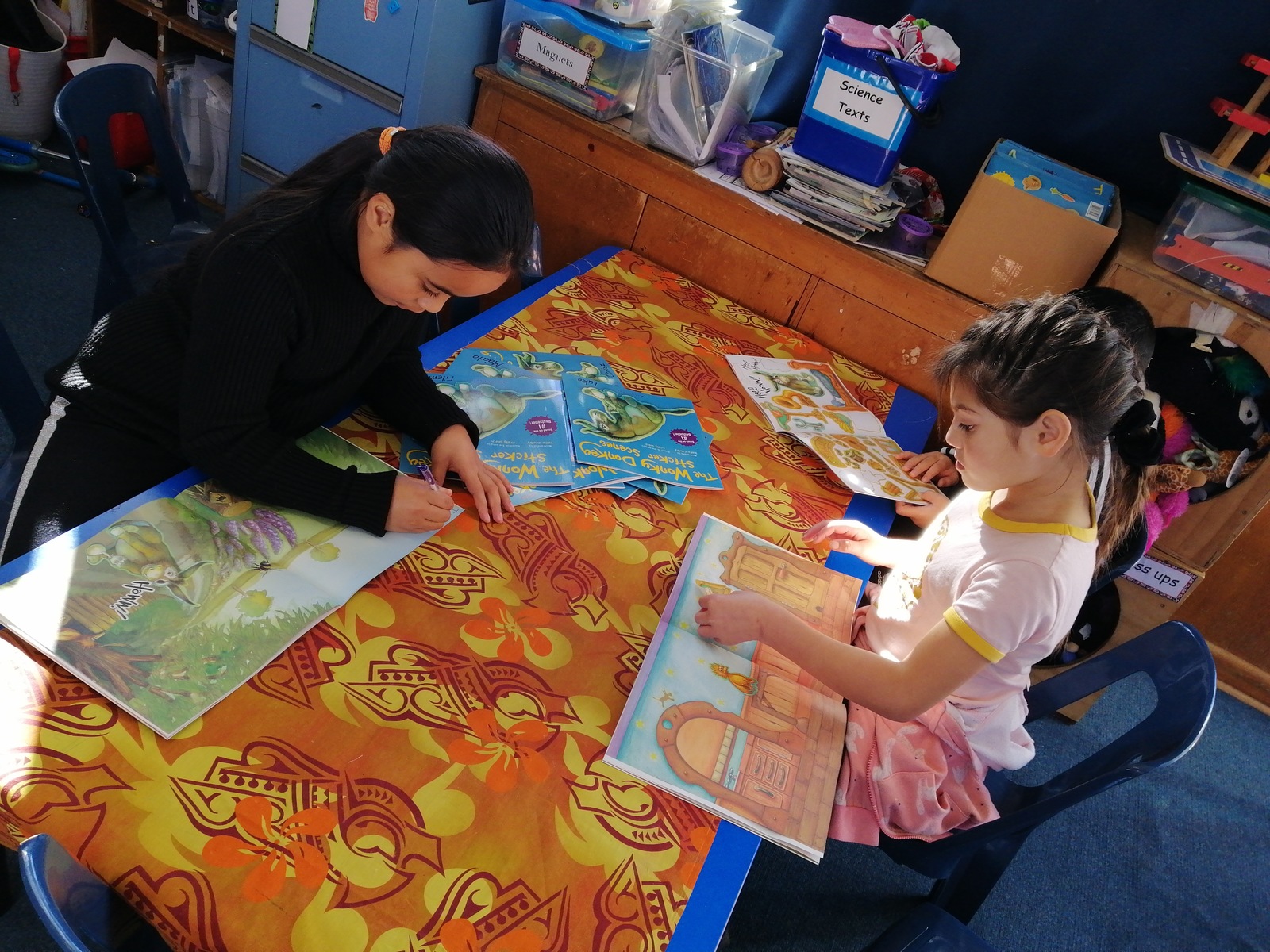 Congratulations to our students of the Term! These three were the students who got the most points for wearing their uniform and remembering to bring their hat.
The Last Week of Term Two is finally here! This week we are continuing on our inquiry learning about bees, focusing on how we can be guardians of the bees by growing flowers that the bees will like.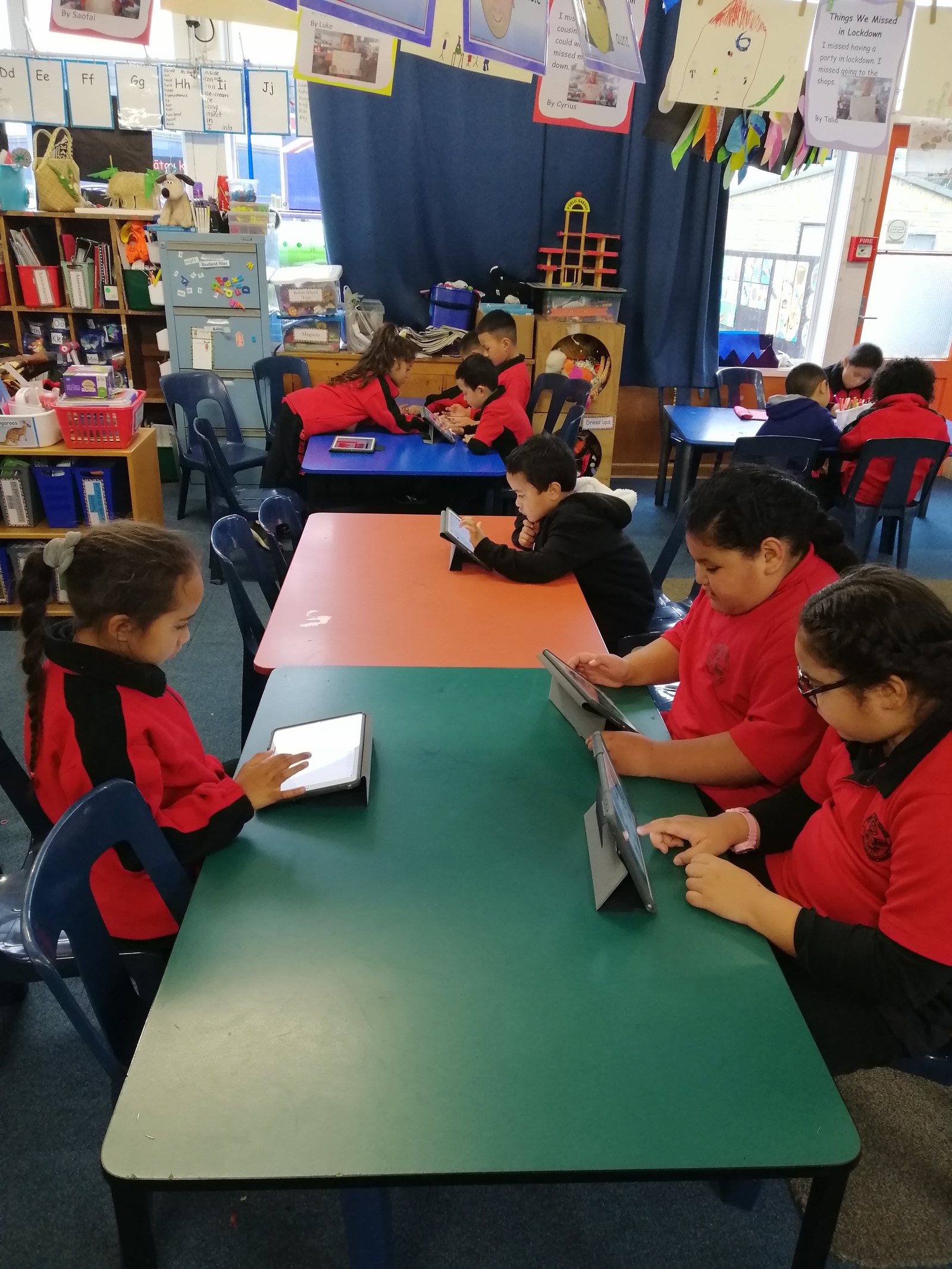 We Started the week by researching the types of flowers that bees like the most. There are so many different flowers! Great research skills Room 5.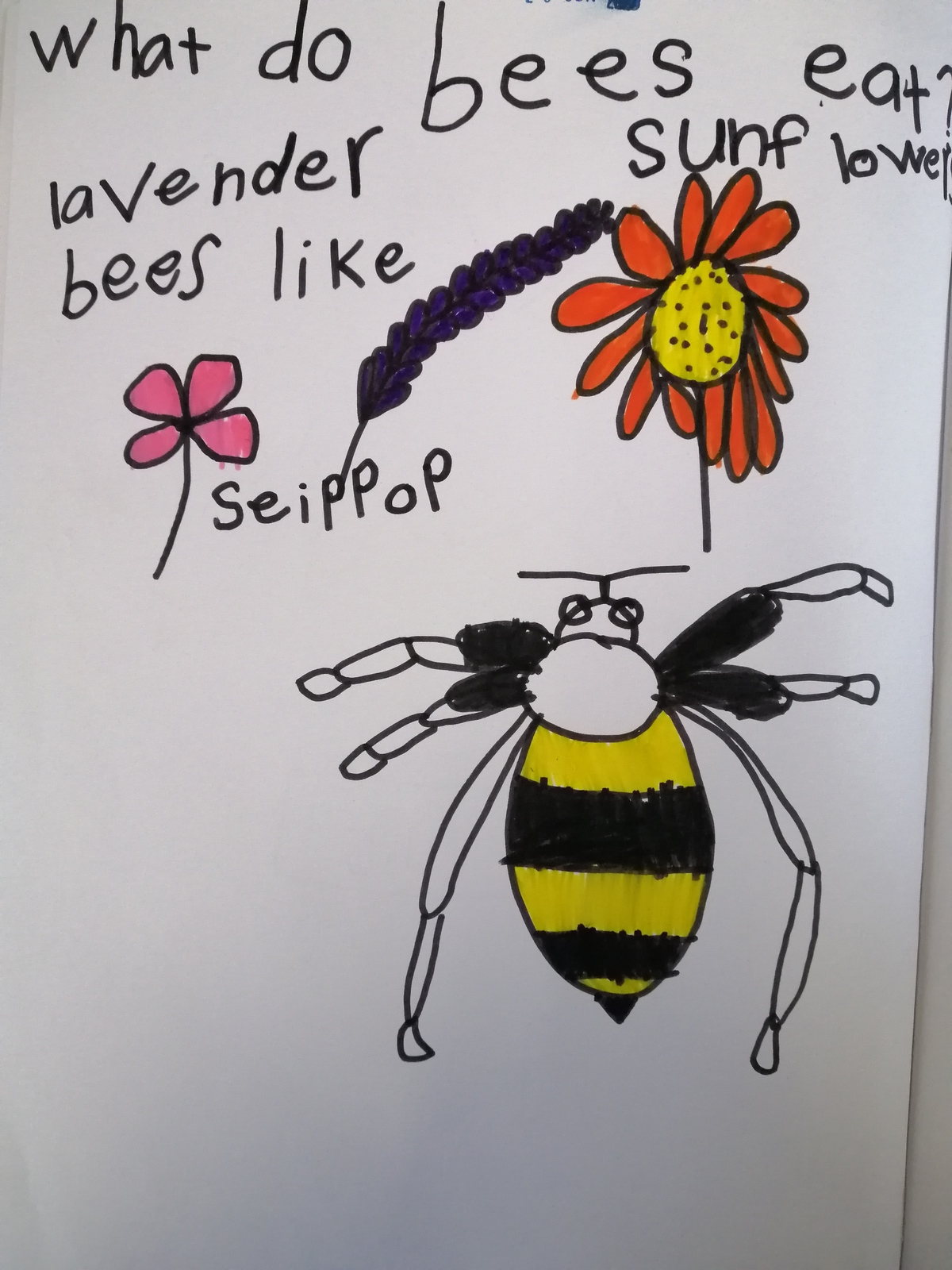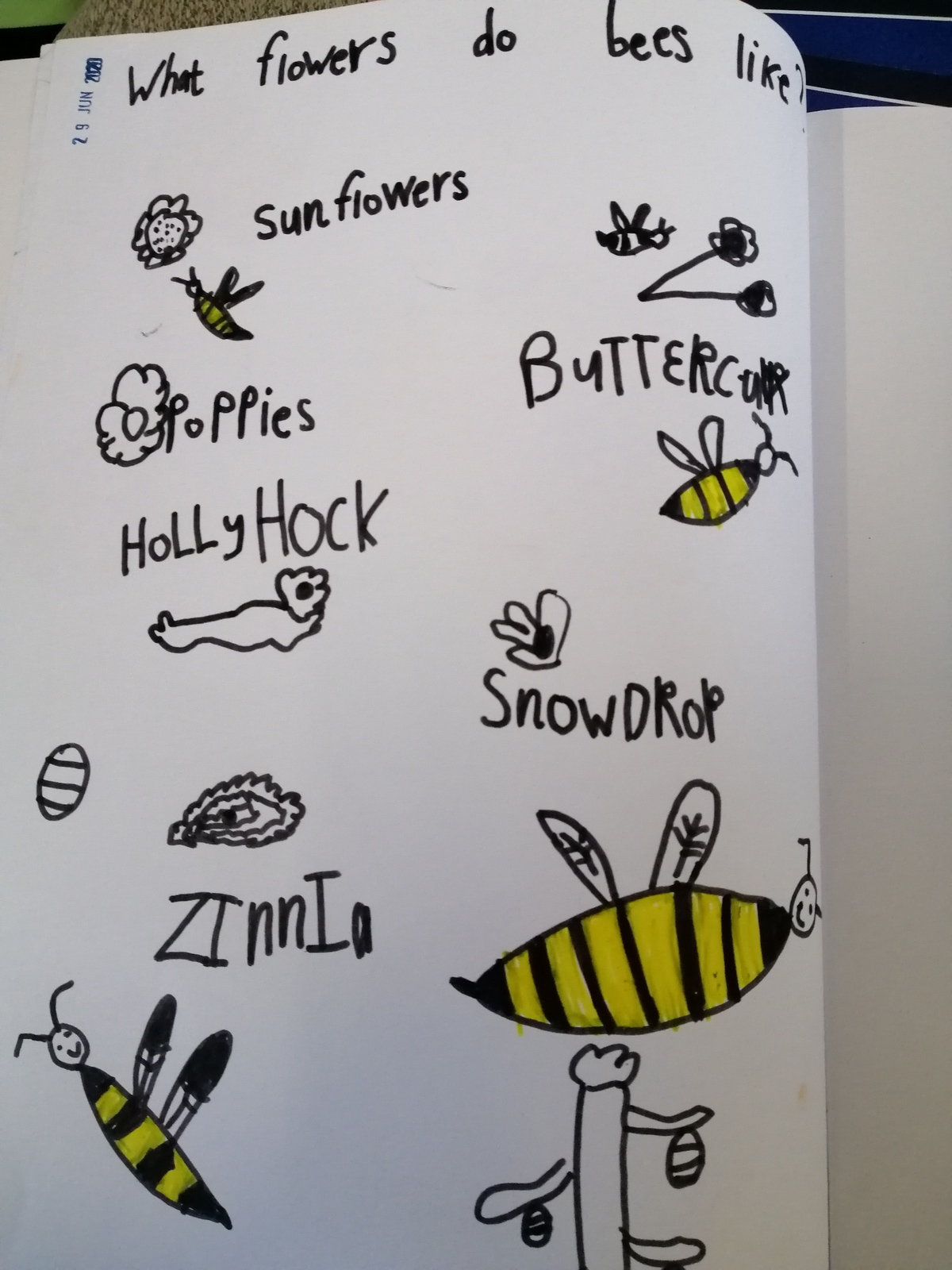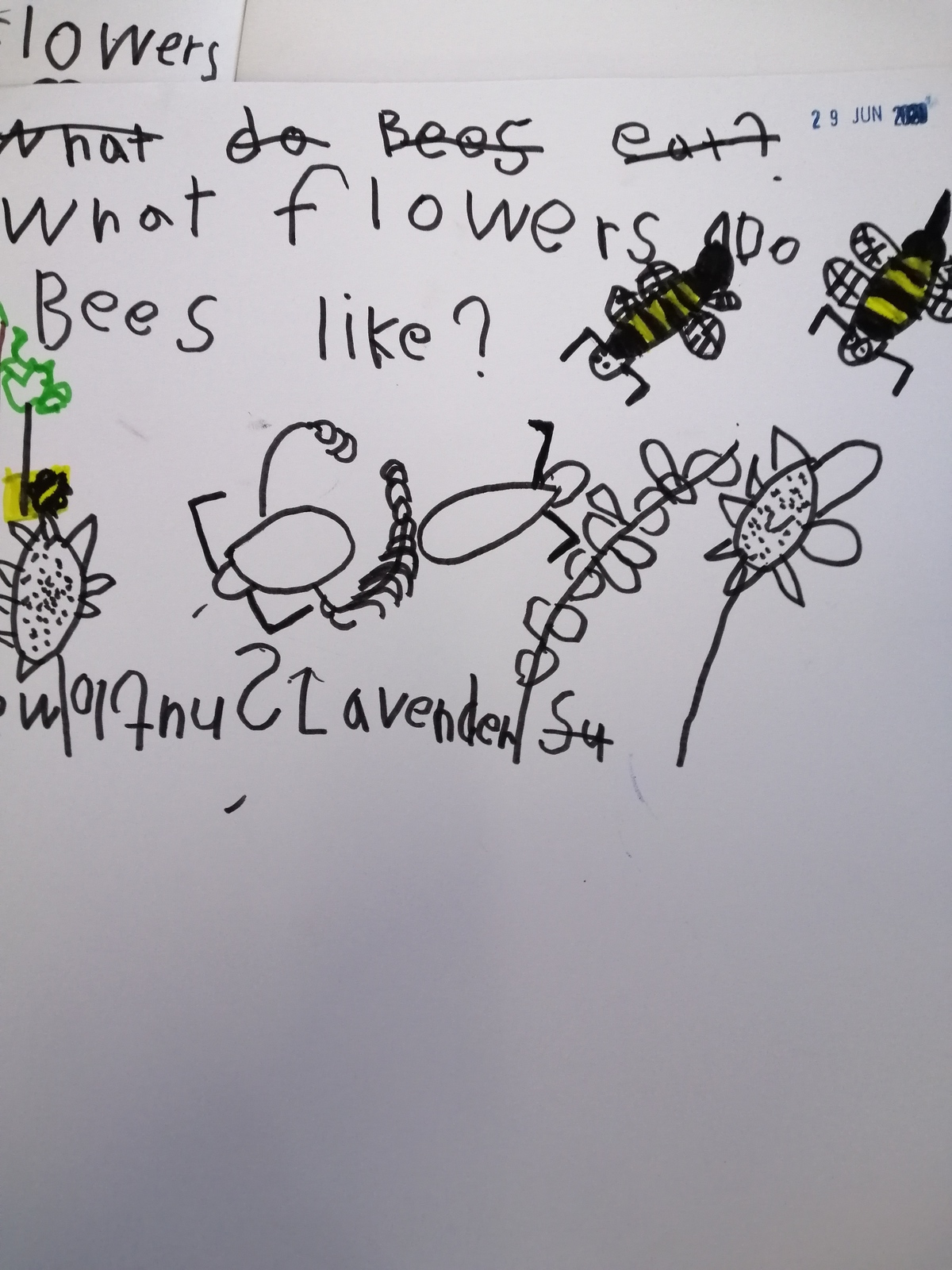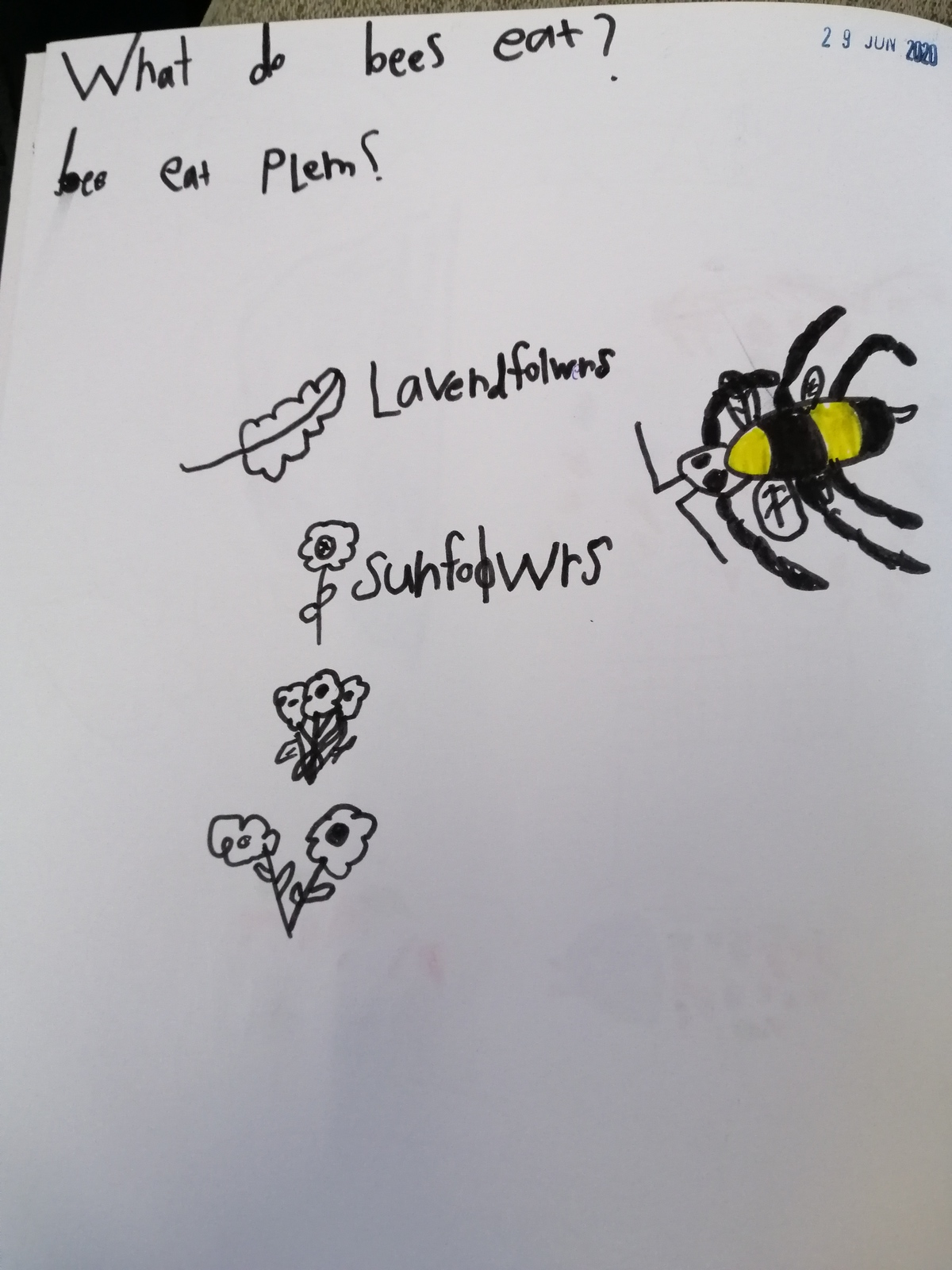 Then we made some flower art with the special paint that we got from Miss Sampson.
Can you tell what type of flower they are? It starts with the letter 'L'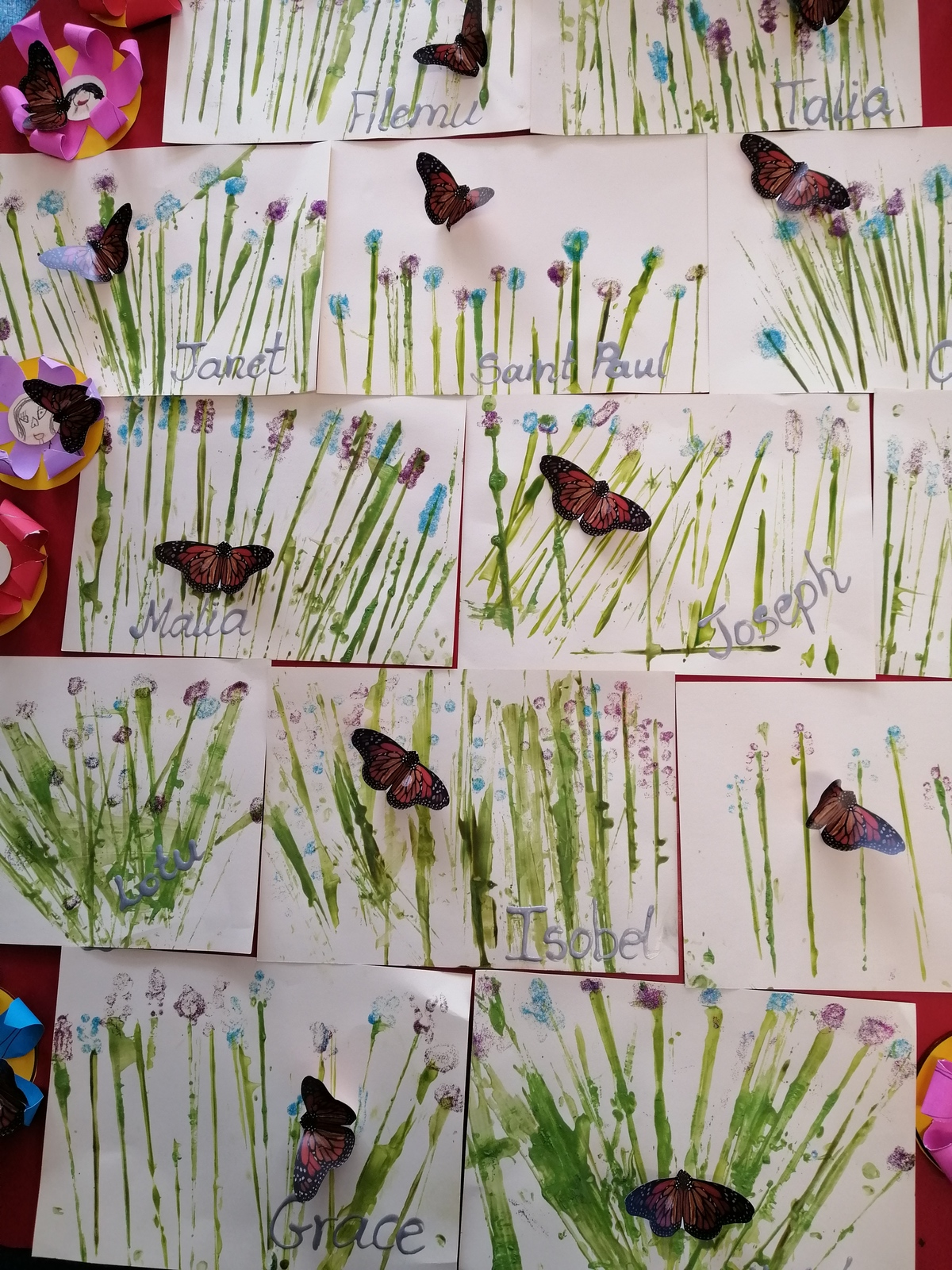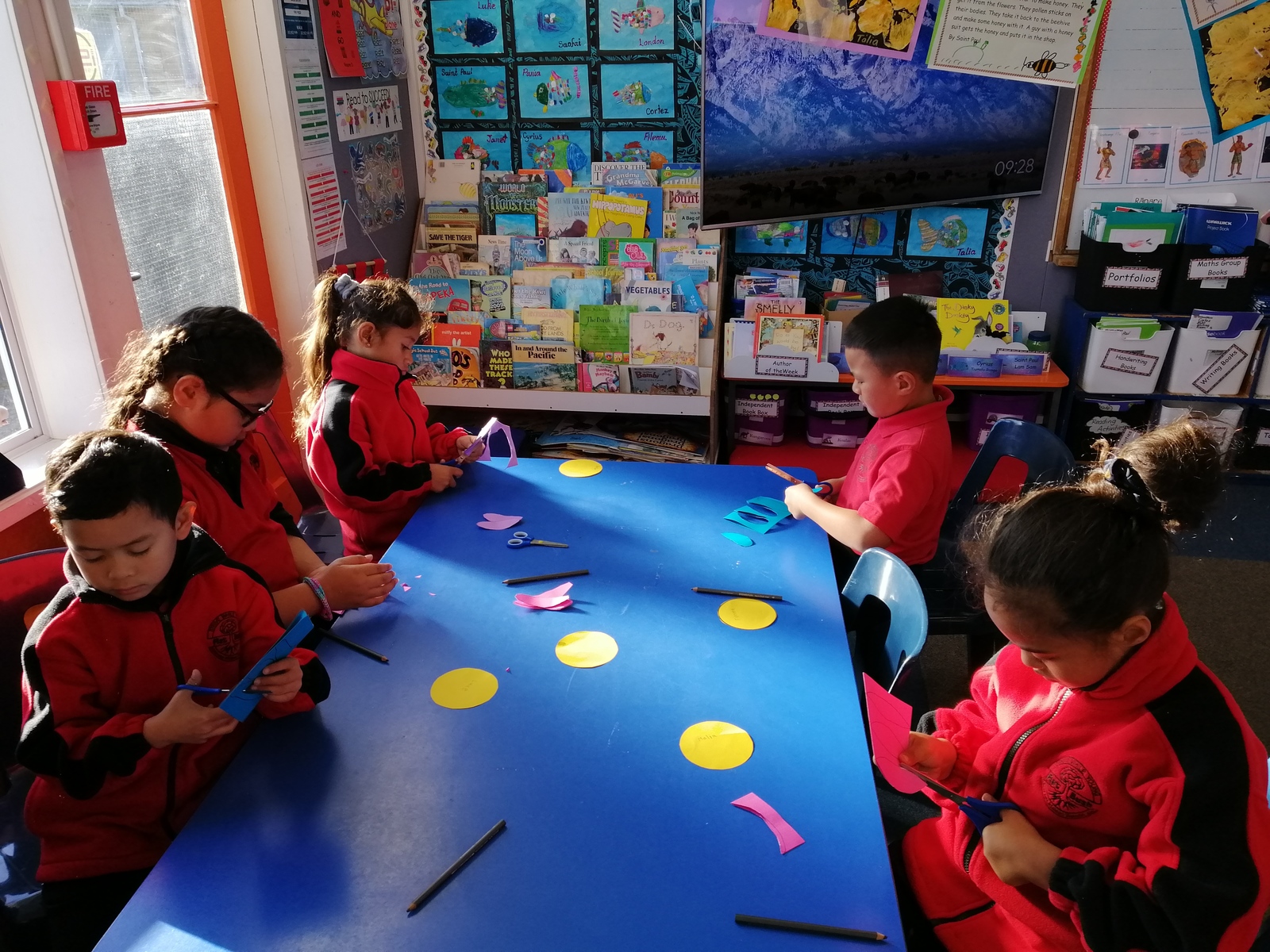 We continued our flower theme by making flowers with our face on to go on the Library tree that Mrs Mayerhofler is making.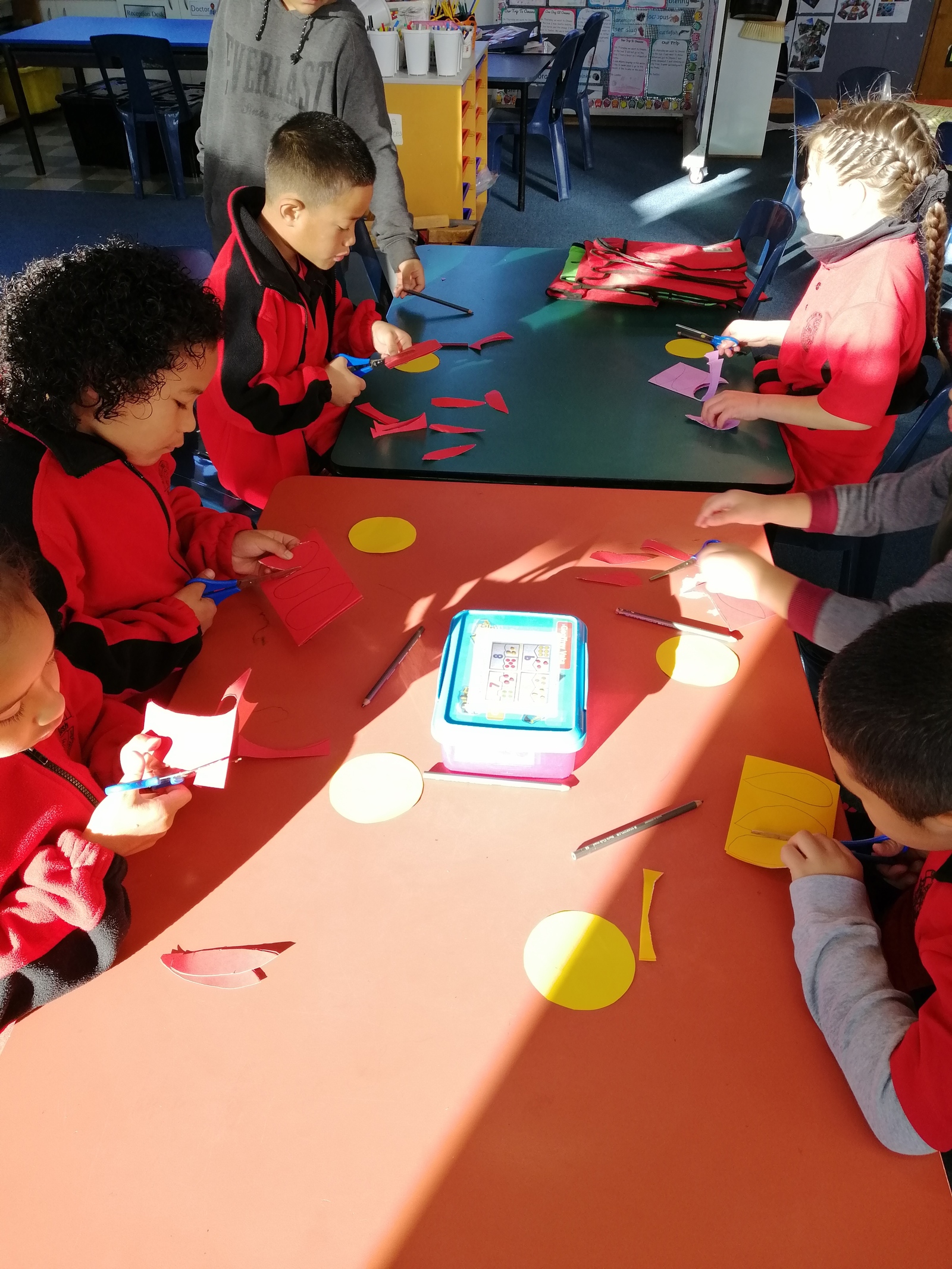 Lots of patience and perseverance being shown here as we continue to work on our cutting skills, great work Room 5!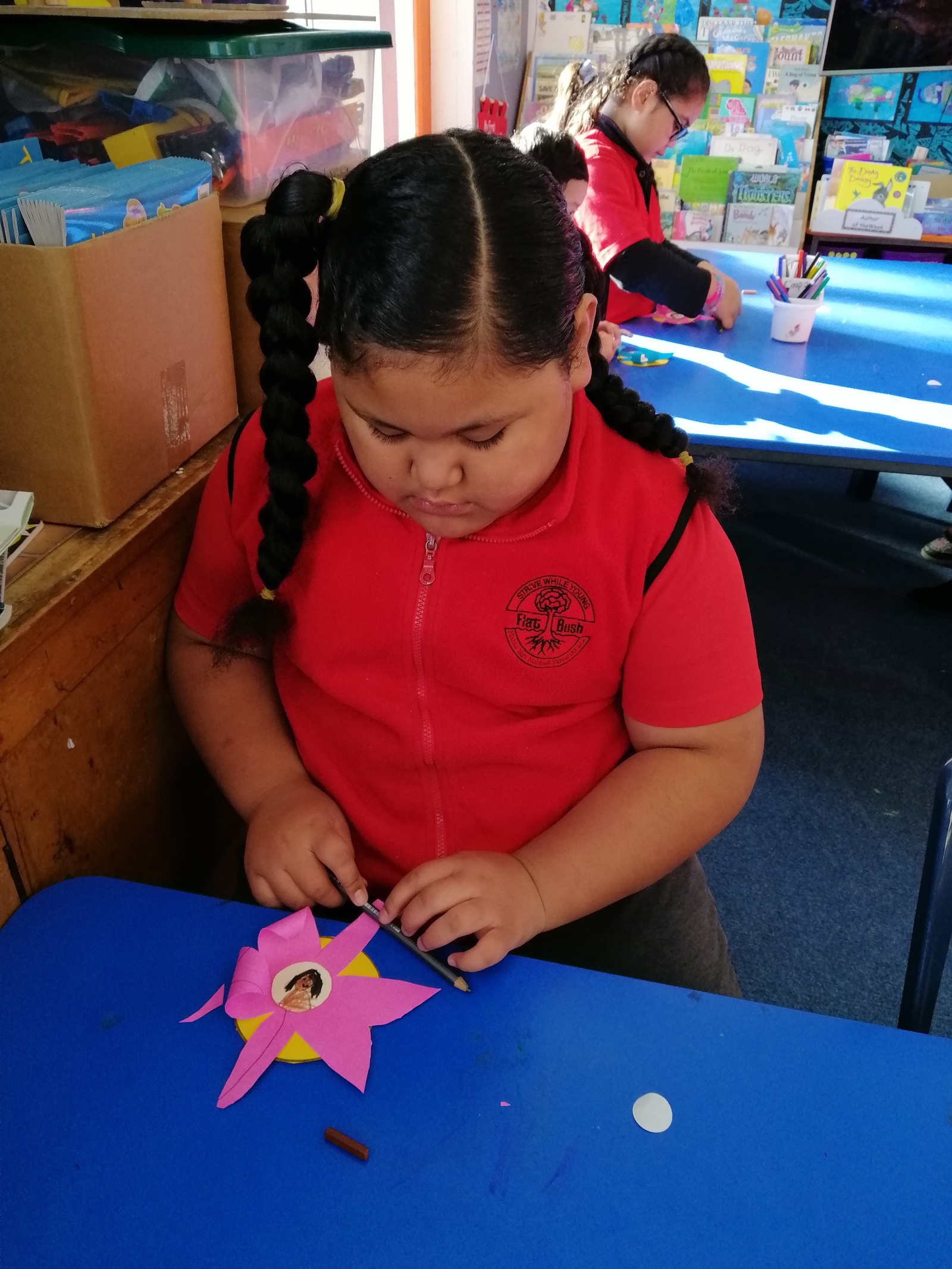 We learnt how to use a pencil to curl up our petals, they look amazing!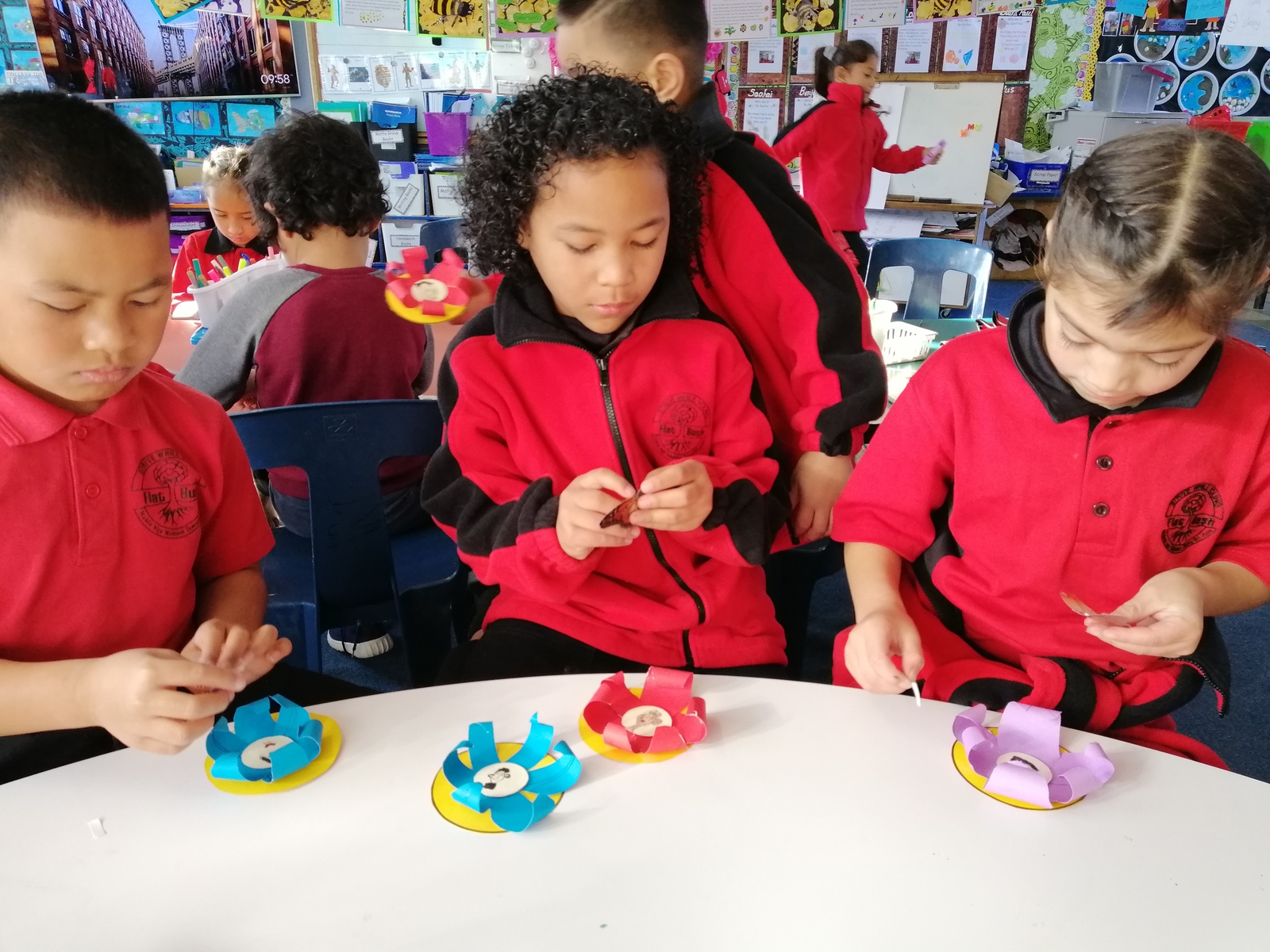 The finished flowers have been delivered to Mrs Mayerhofler, we can't wait to see them on display in the Library soon.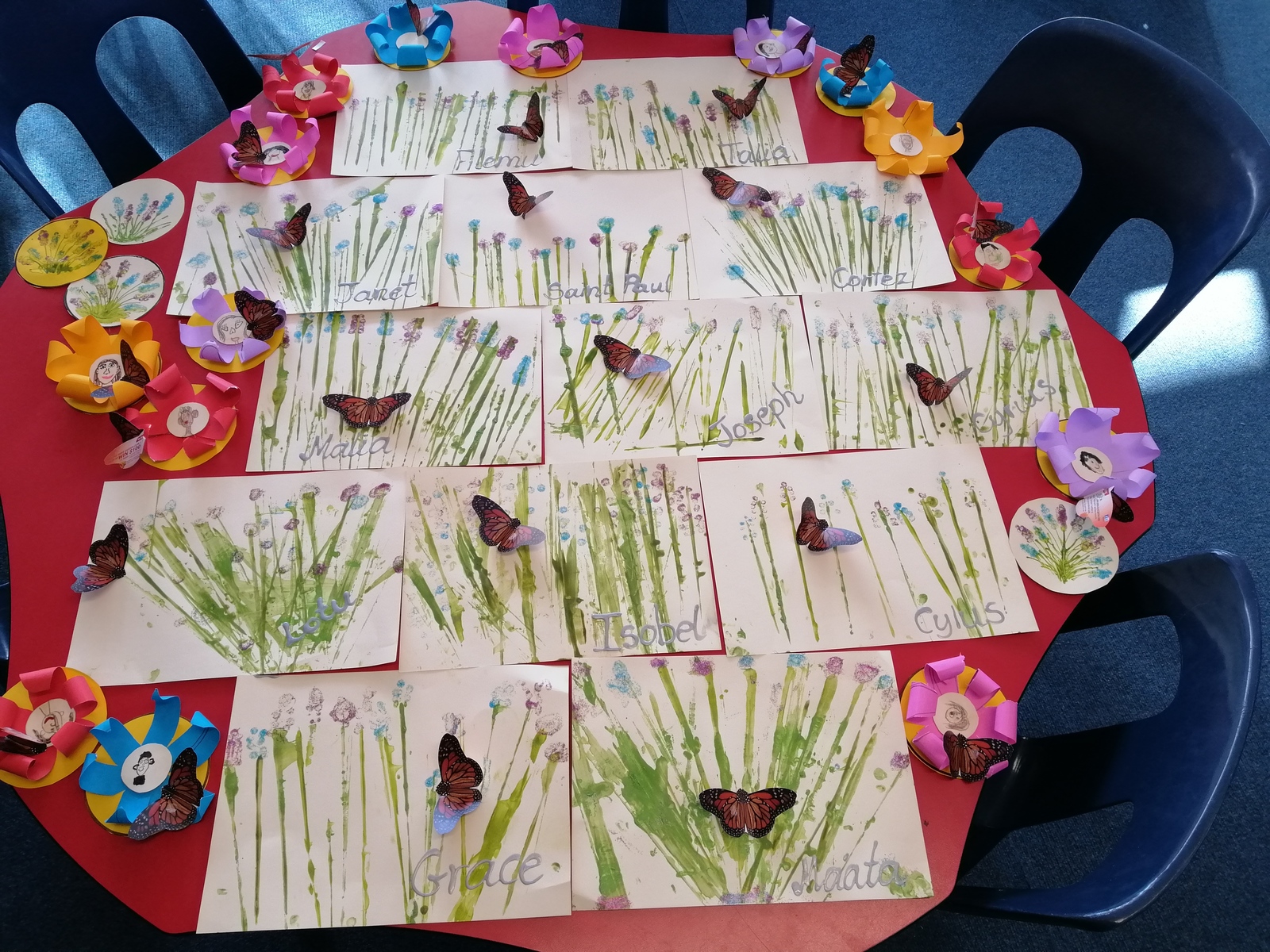 Congratulations Lotu on being the first person in Room 5 this year to earn a Principal Award!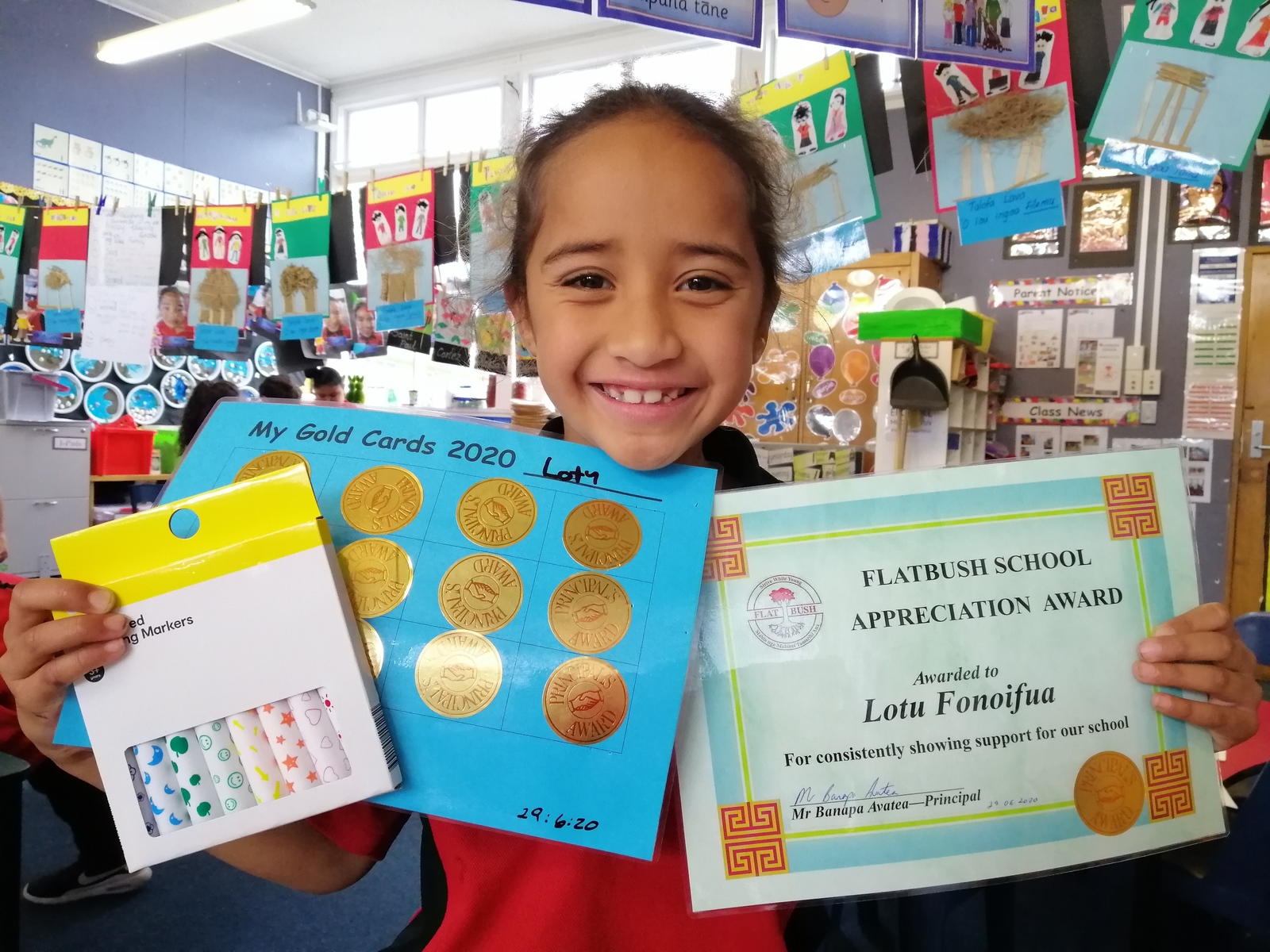 *** Week Eleven, Term 2 - 22nd- 26th June ***
A huge thank you to the team at South Seas Health for donating some goodies to our school. All the students that were here today in Room 5 chose 3 items to take home to their family.
Welcome to our penultimate week of Term 2! This week we have been learning all about Bees as part of our Inquiry Learning.
We read a really cool book called Willbee The Bumblebee by our Author of the Week- Craig Smith.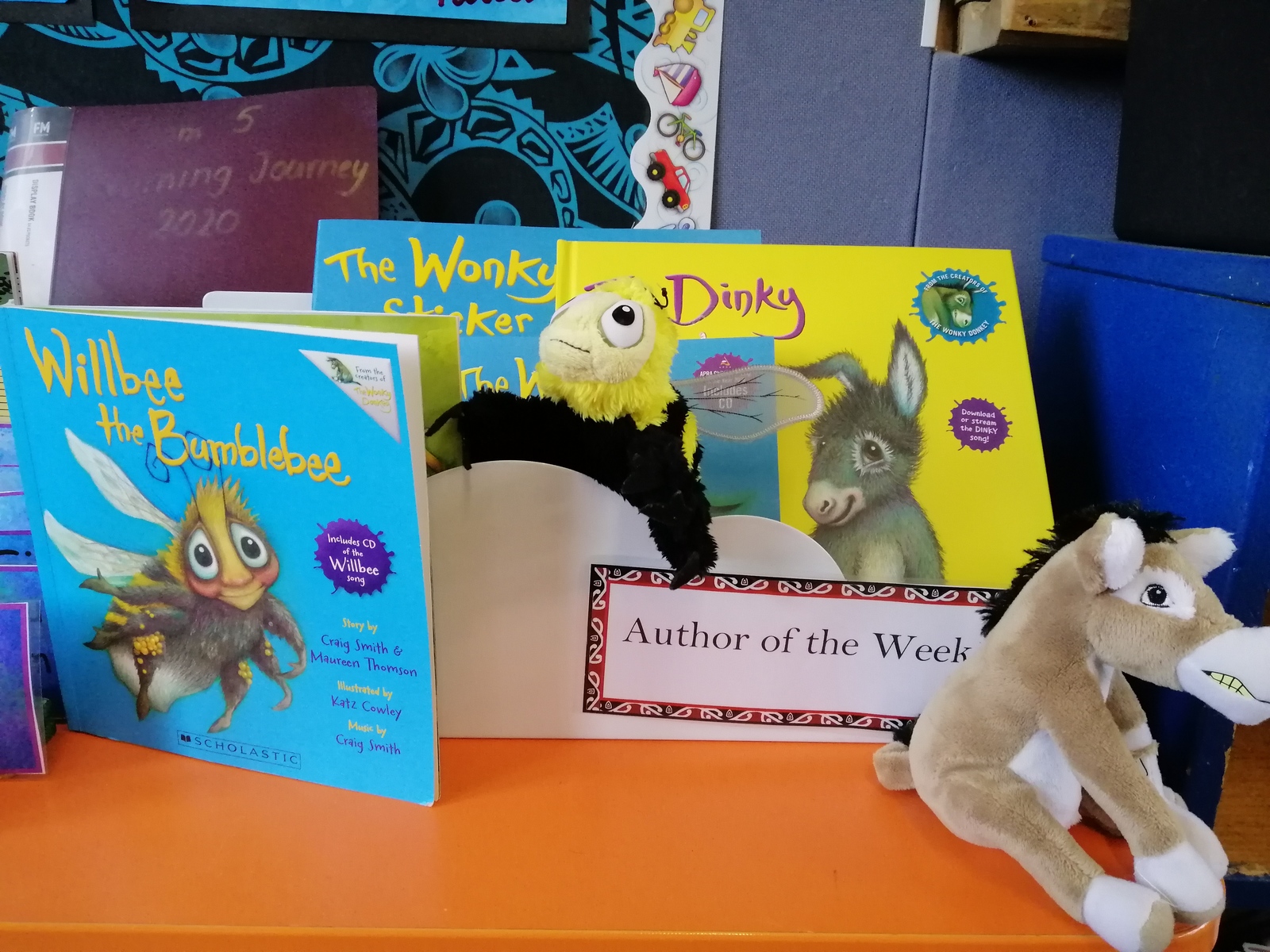 Then we brainstormed some questions about bees. We used these questions for our research.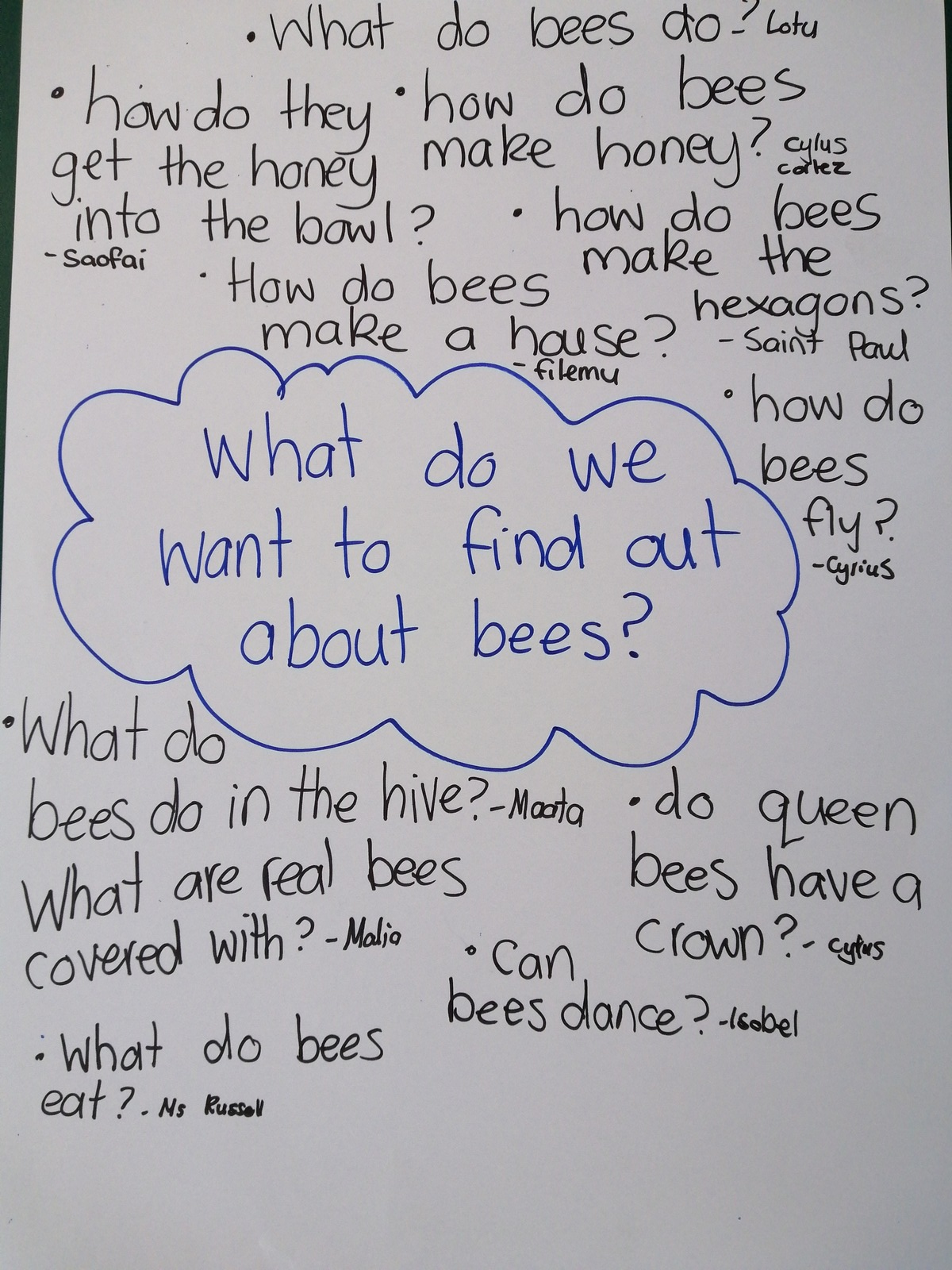 After we had learnt lots of facts about bees and honey, we visited the school beehive in our garden and watched our busy little bees flying in and out as they make the honey.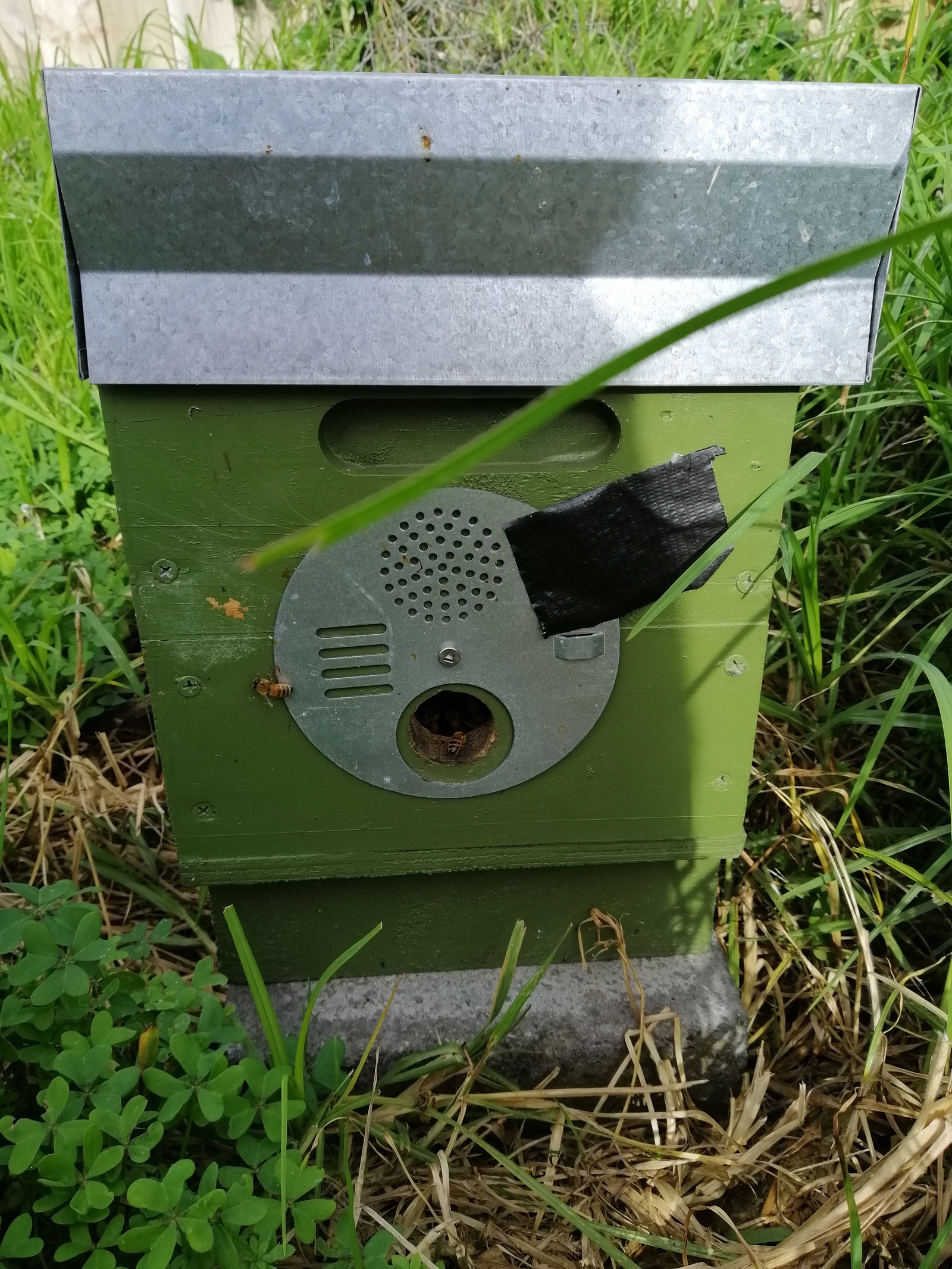 We went back to class and made our own busy bees.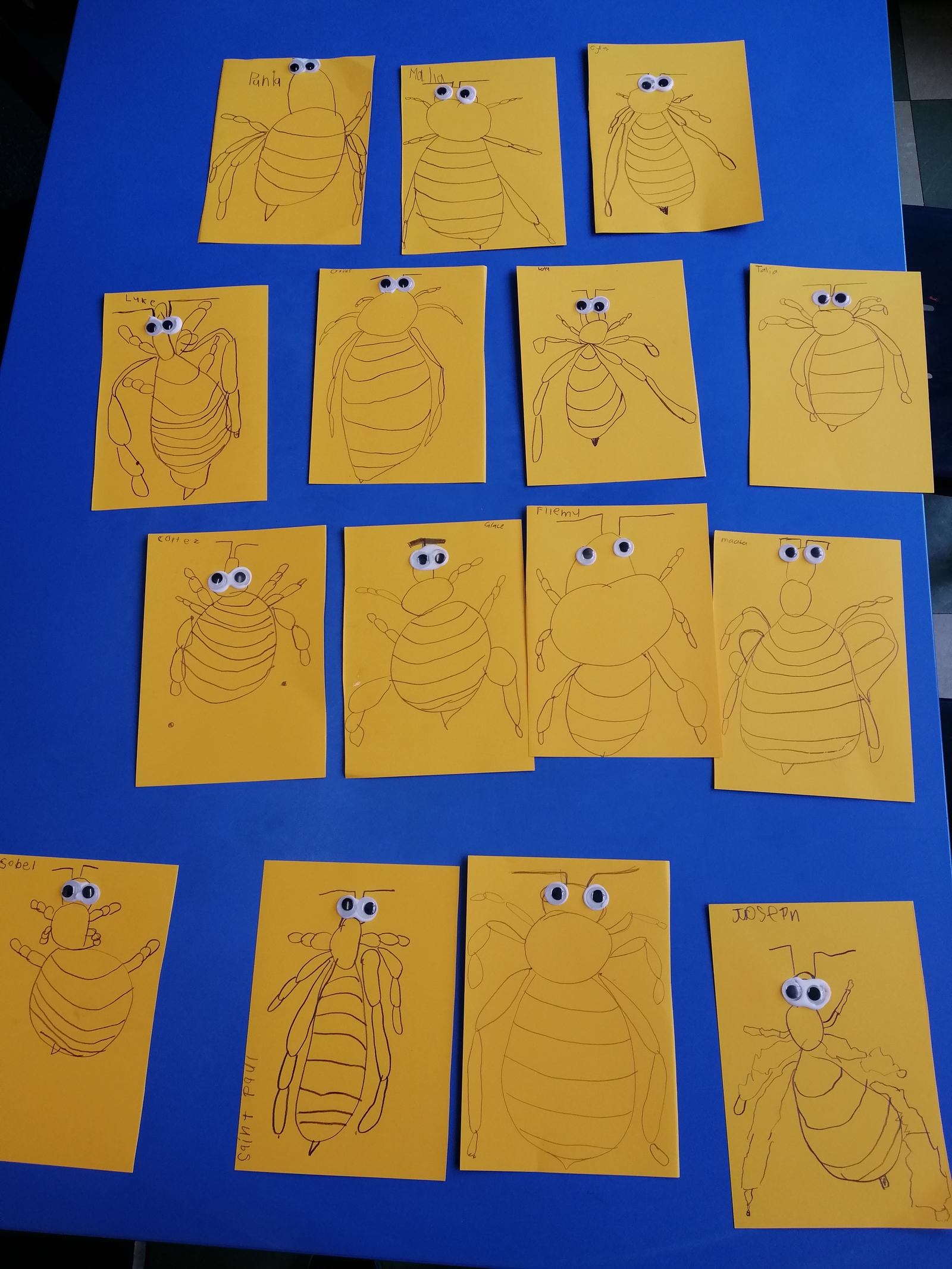 It was really hard to cut out the wings, but we didn't give up, we kept trying! Great perseverance Room 5!
Our bees need somewhere to live, so we used the hexagons to make them some honeycomb, yummy!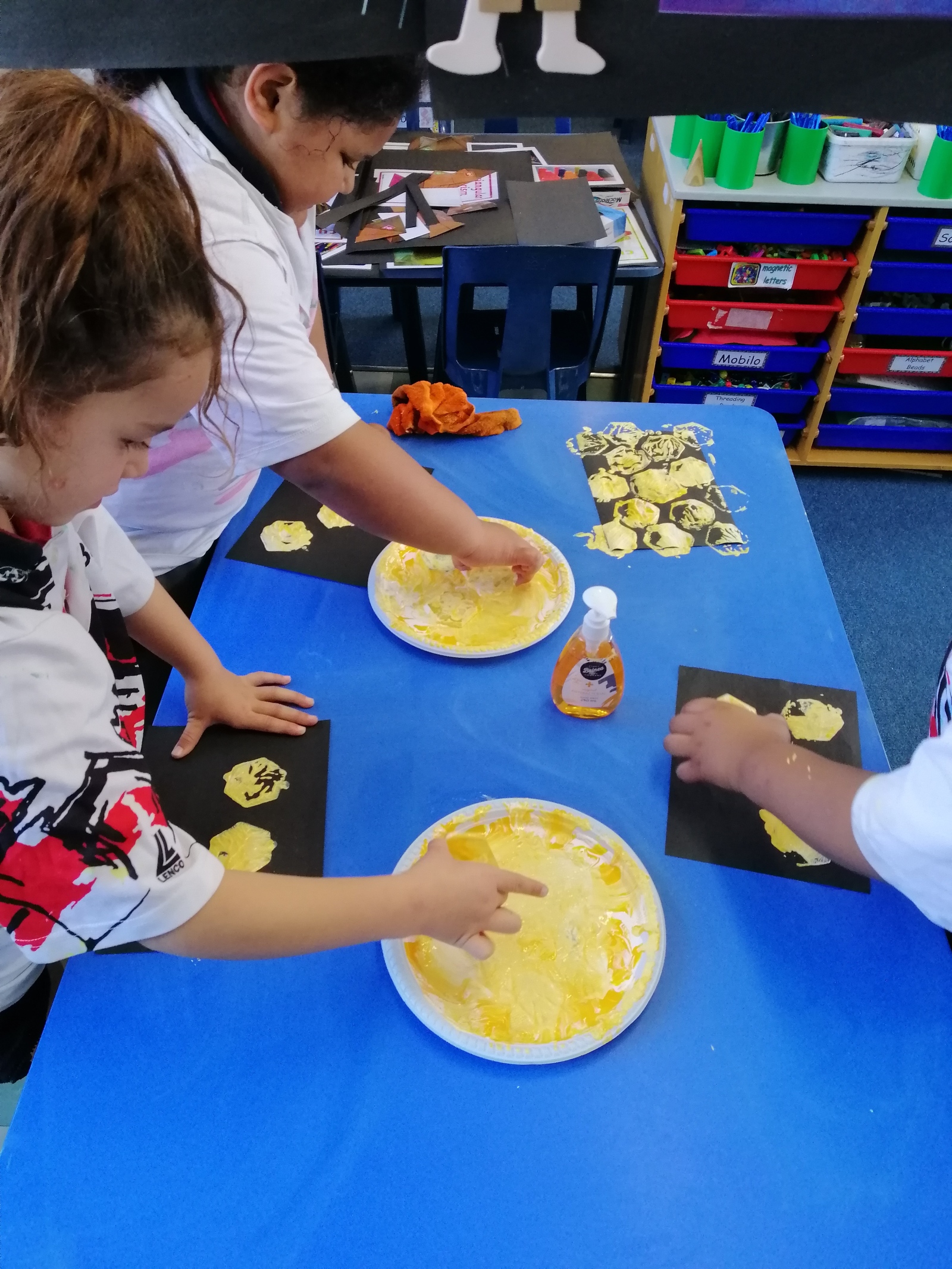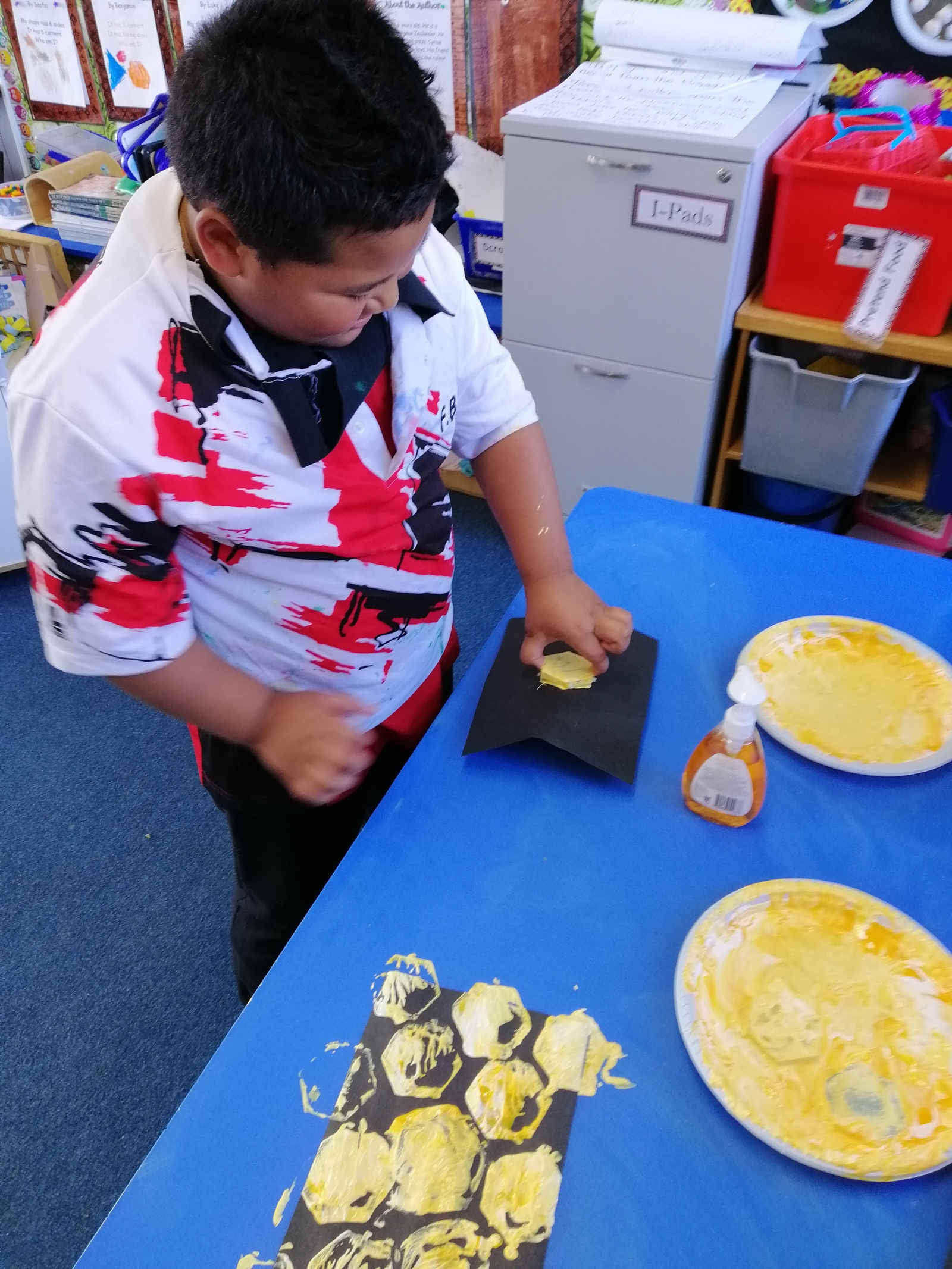 We put our bees onto our honey comb and they looked fantastic!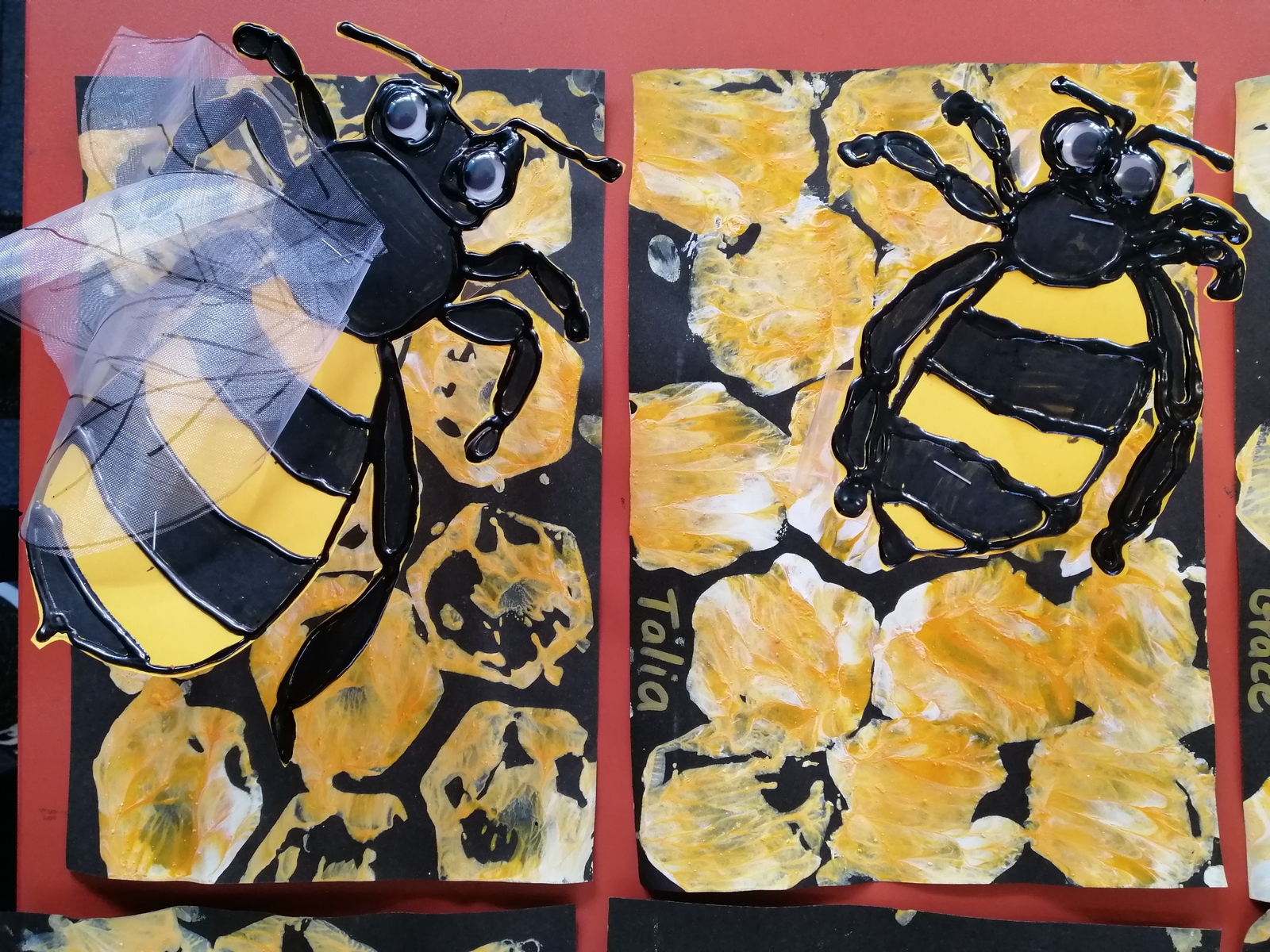 They looked great, but then someone realized that they had no pollen on them! Time to add some pollen to our bees legs.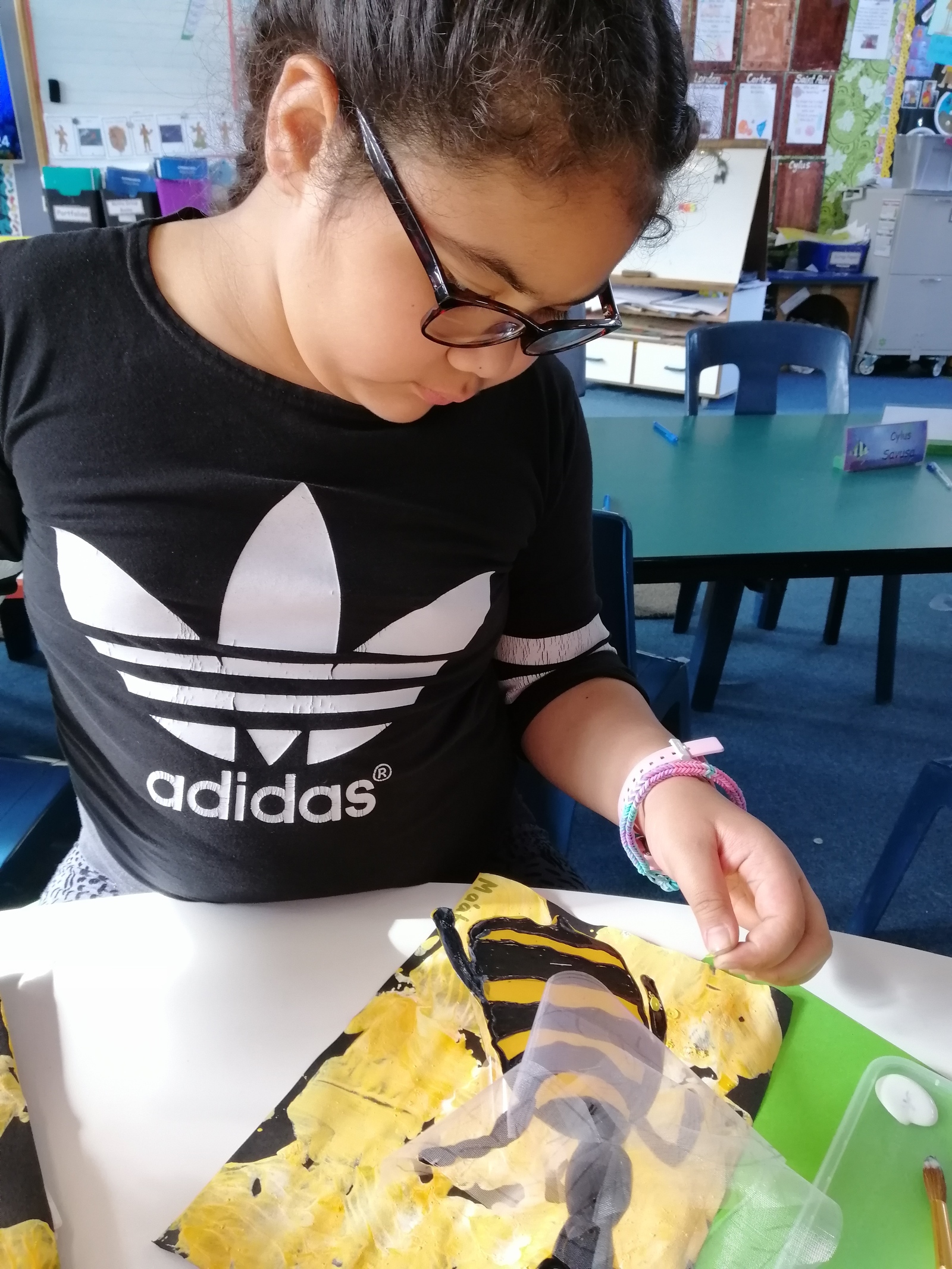 Now they look better! I'm sure you will agree that our bees look amazing! They are now hanging up in our class if you want to come and have a closer look.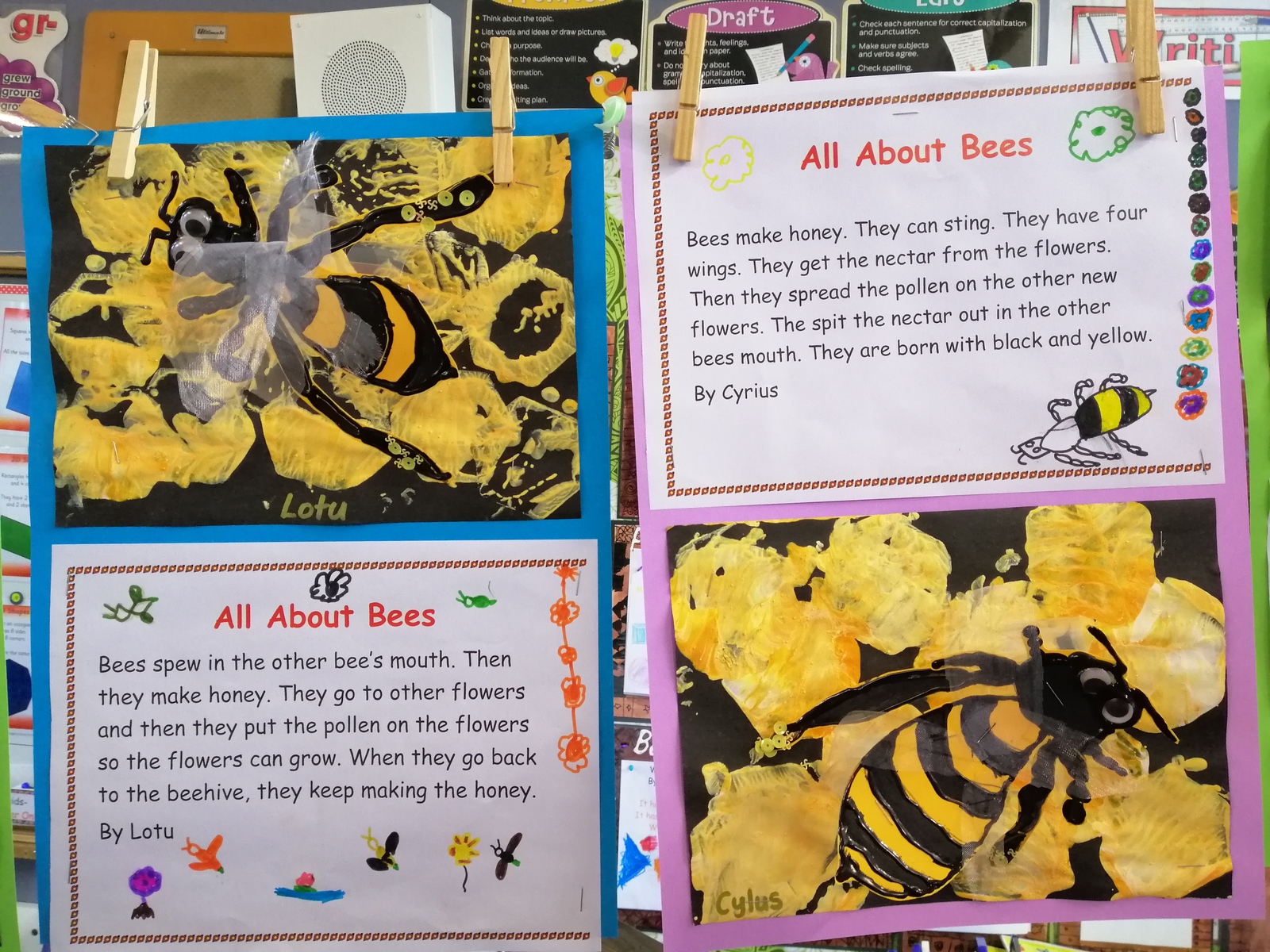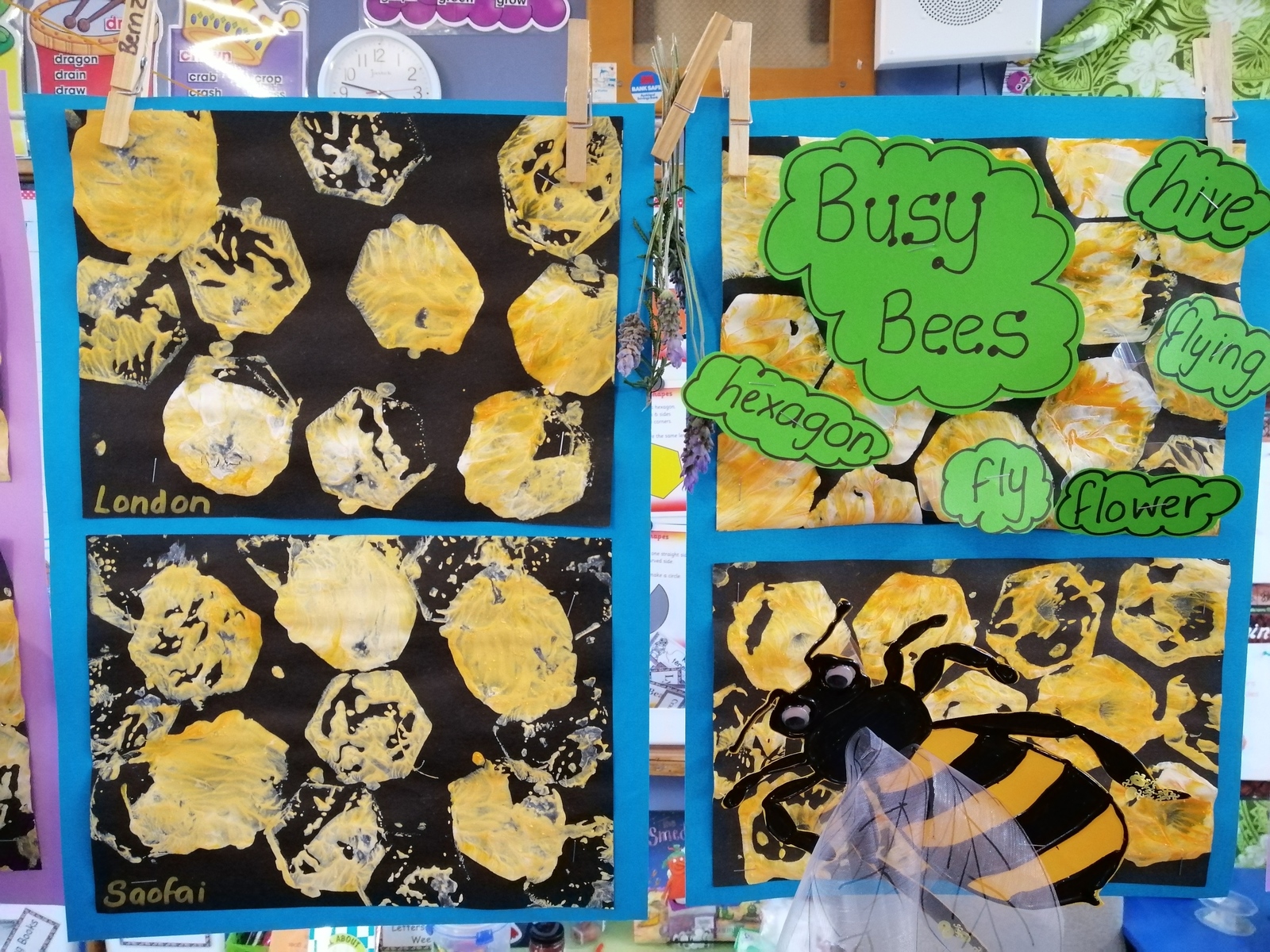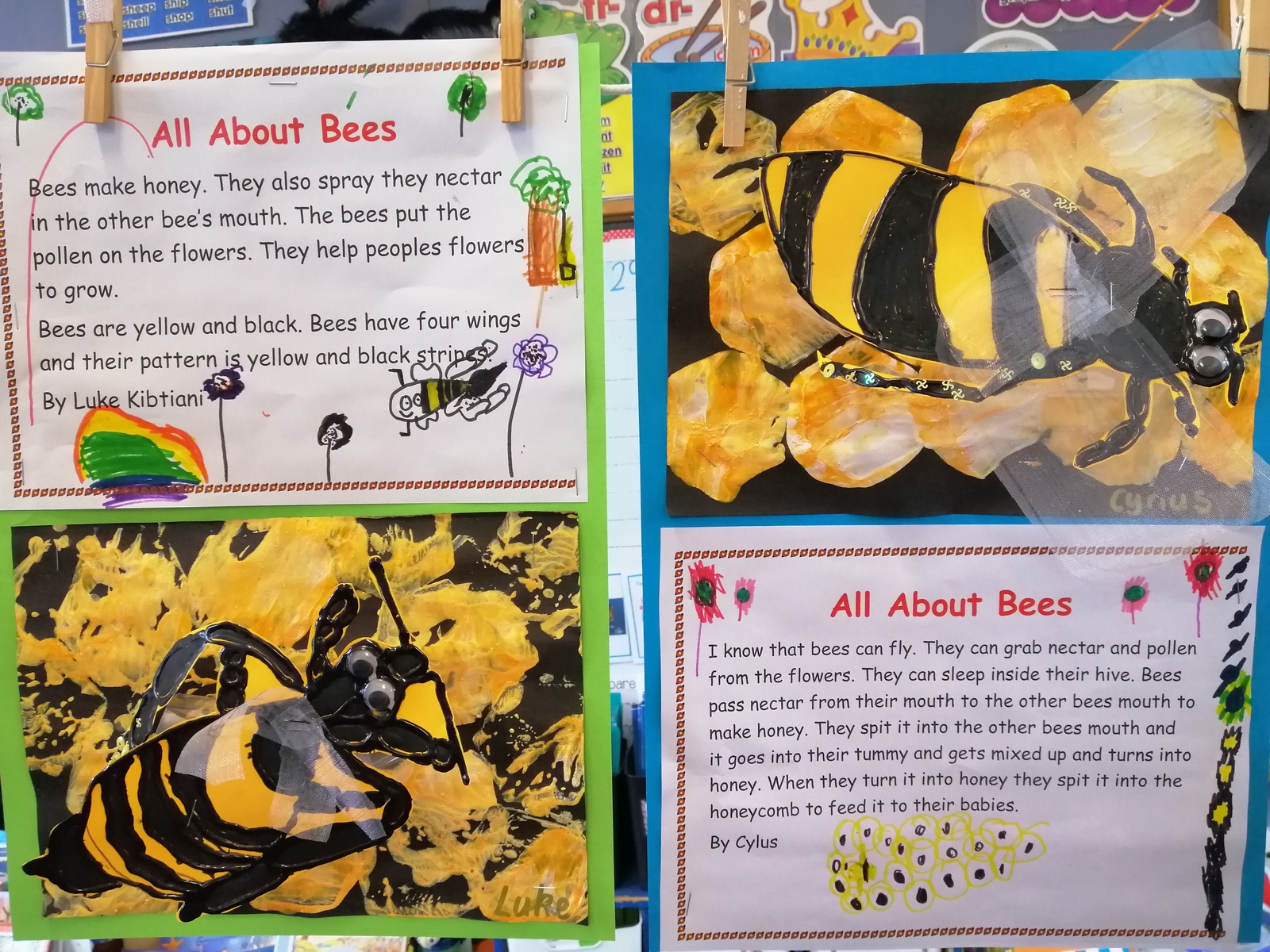 We were lucky to get some of the honey made by our bees to try. In week 12 we are planning to make some bread to eat with our honey, we can't wait to try it!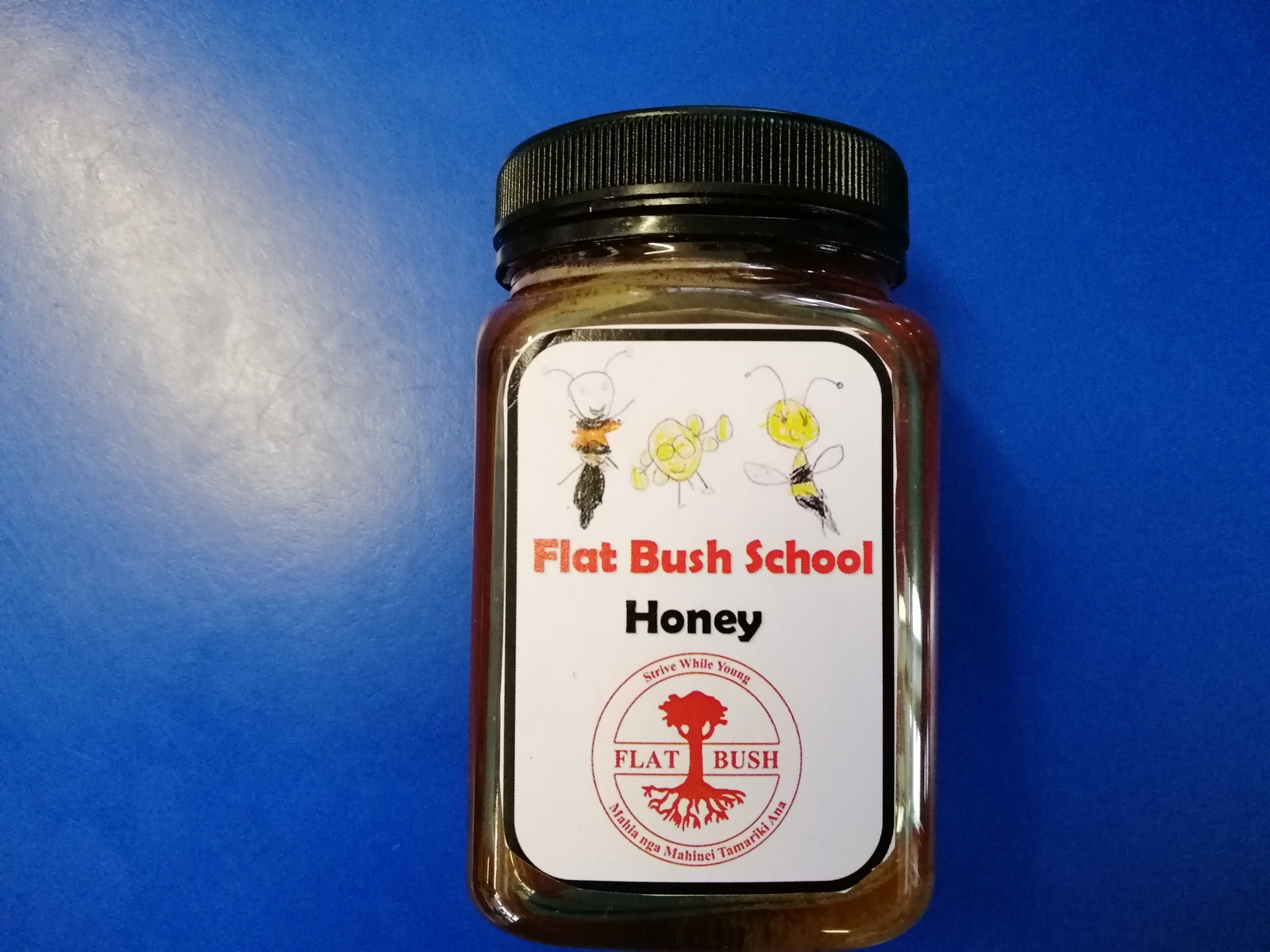 *** Week Ten, Term 2 - 15th- 19th June ***
Another exciting week has started in The Pride! Lots of Reading, Writing and Maths learning happening this week.
Check out our artwork and stories about the Maori Creation Story!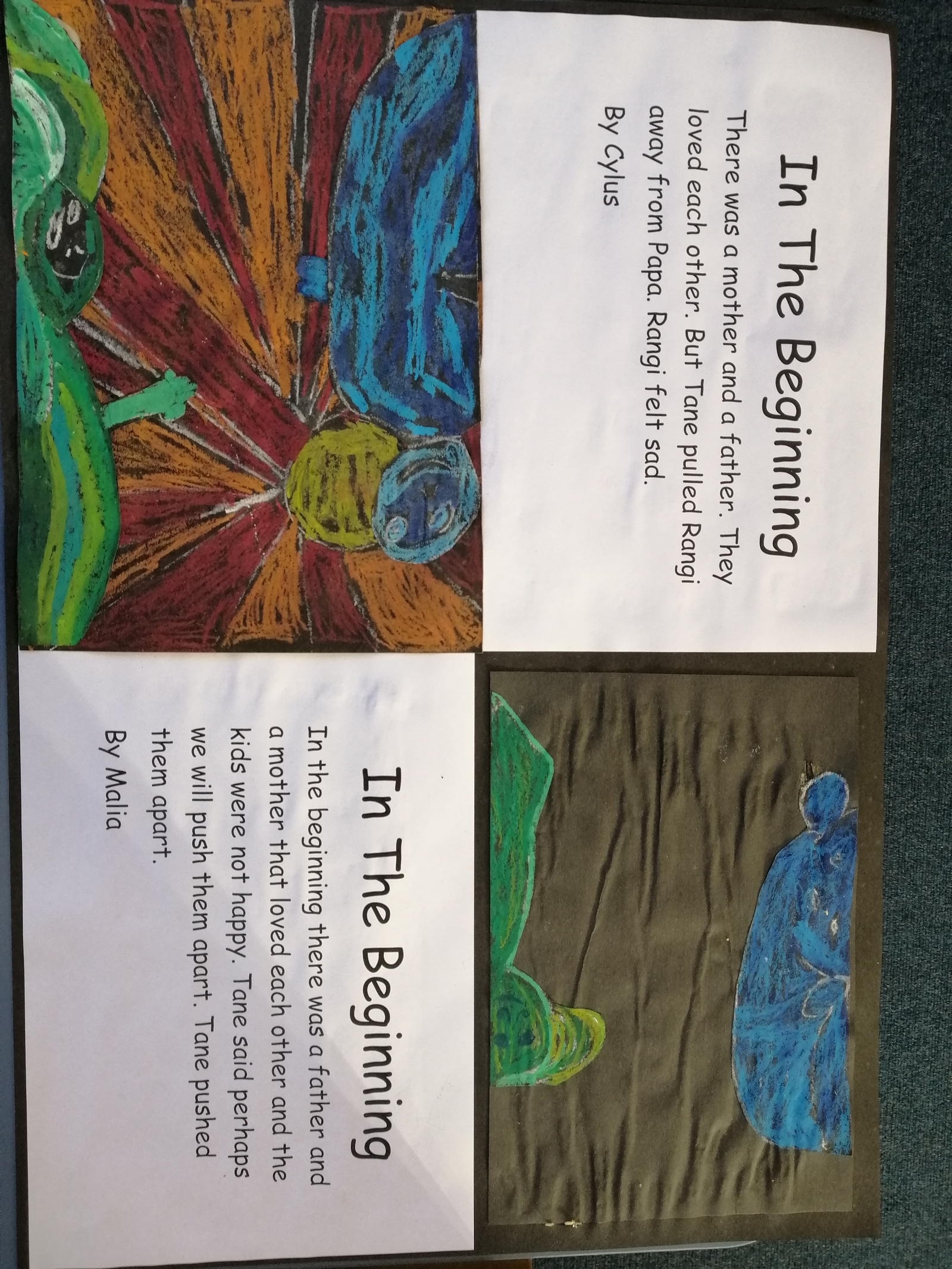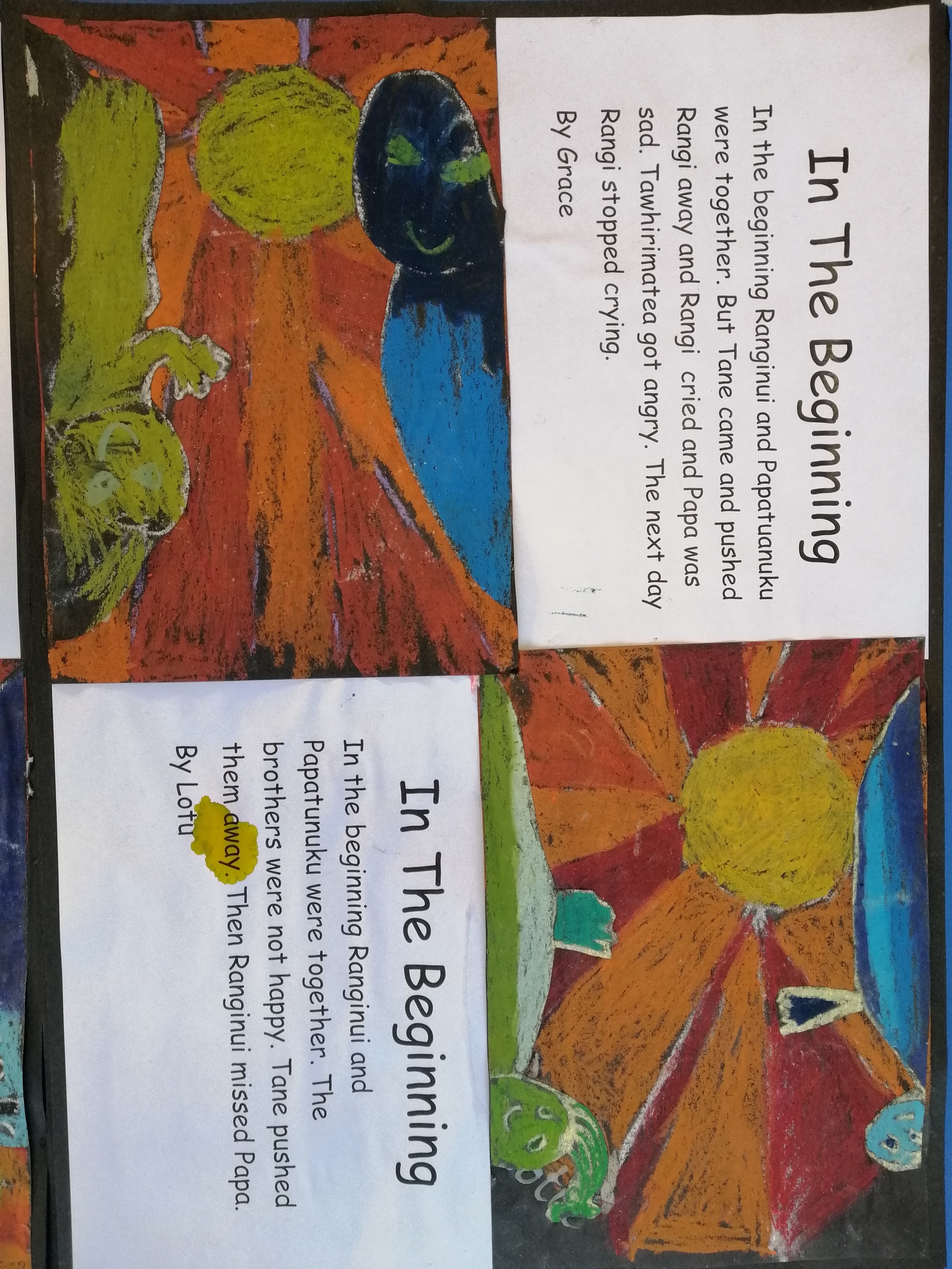 CRT Room 5 - Myths and legends
In the beginning retold by Room 5.
Walt: Make a video, retell a story, Use art work to create different pictures to match the words of the story, Use a loud clear voice, Change voices to be like the character.
We have been learning about Matariki: Here are some of the stars we made to hang in our classroom: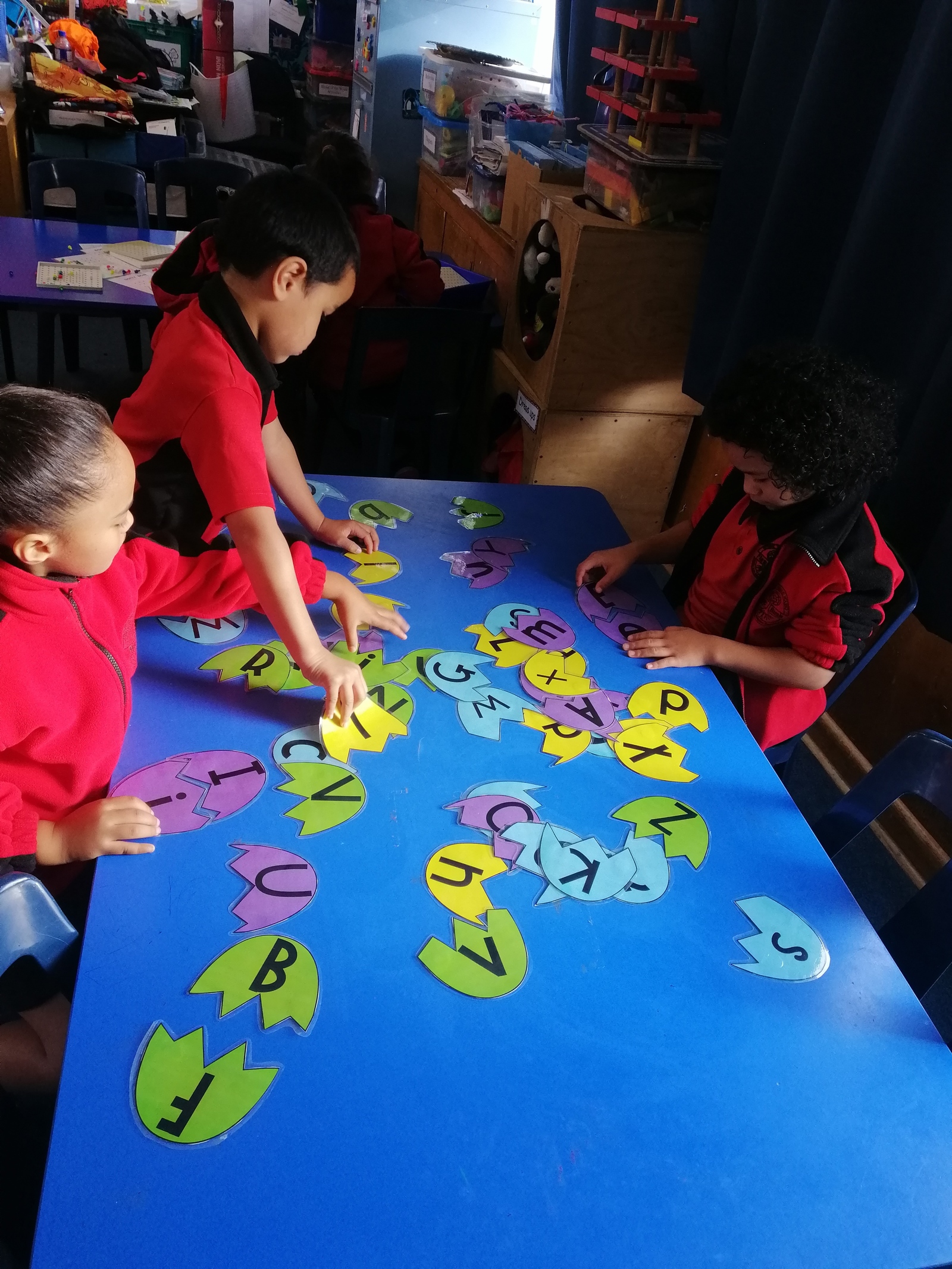 Matching Capitals and Lowercase letters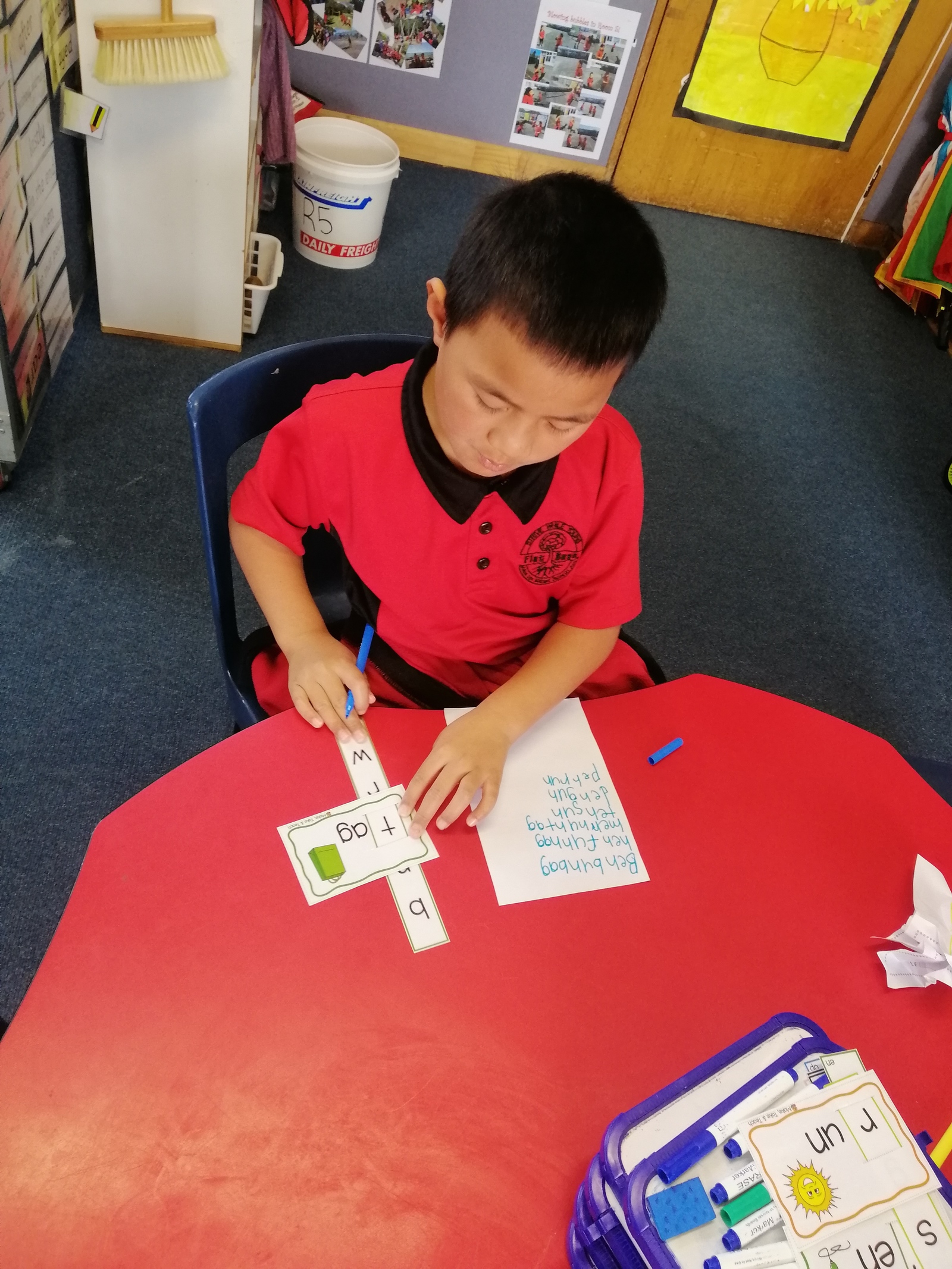 Making new words using our knowledge of word families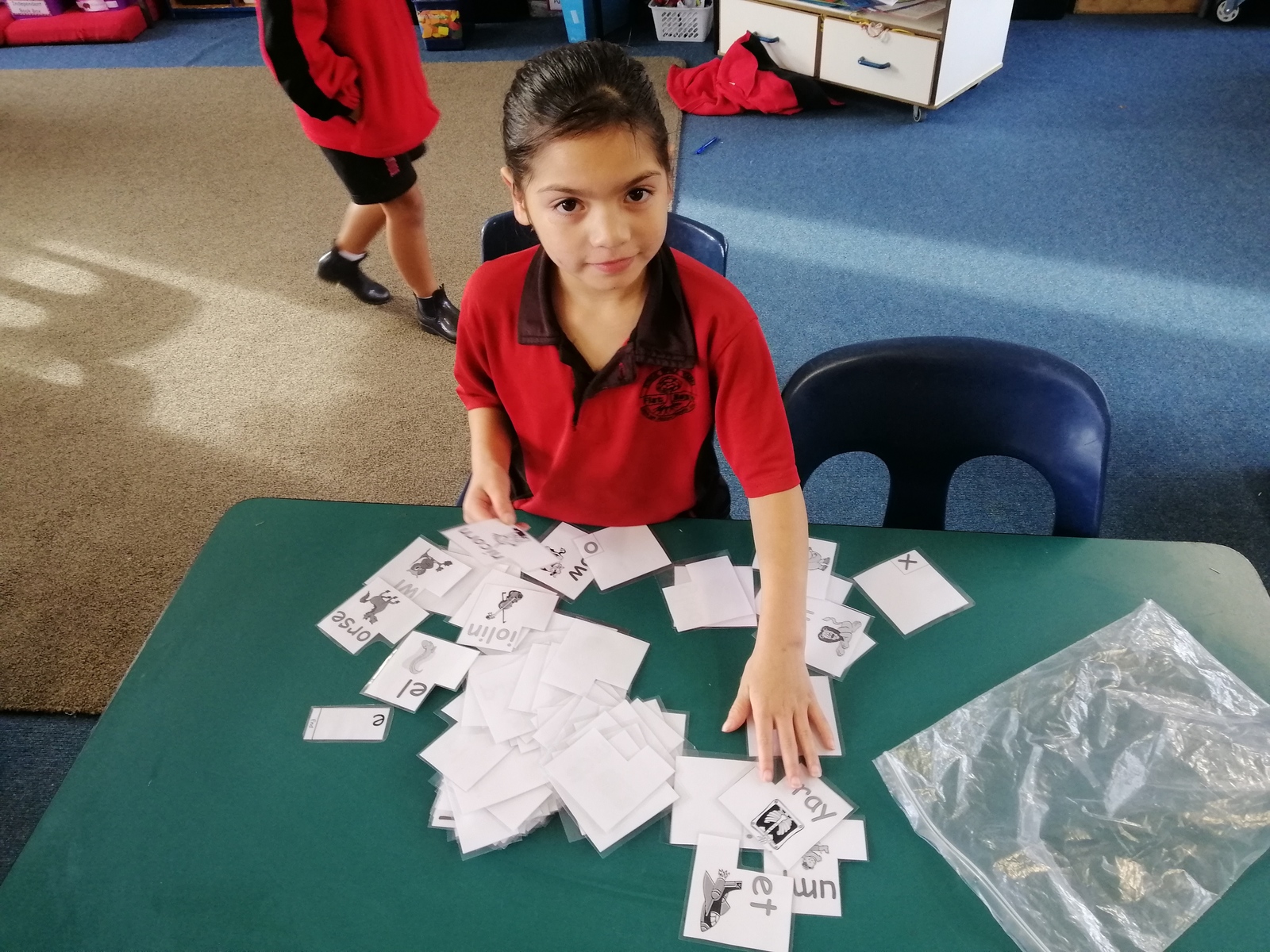 Matching alphabet and pictures
Sounding out the letters in words using our knowledge of the alphabet and its sounds.
Finding the words that we already know in stories, and using them to help us with our reading.
Happy 6th Birthday Luke!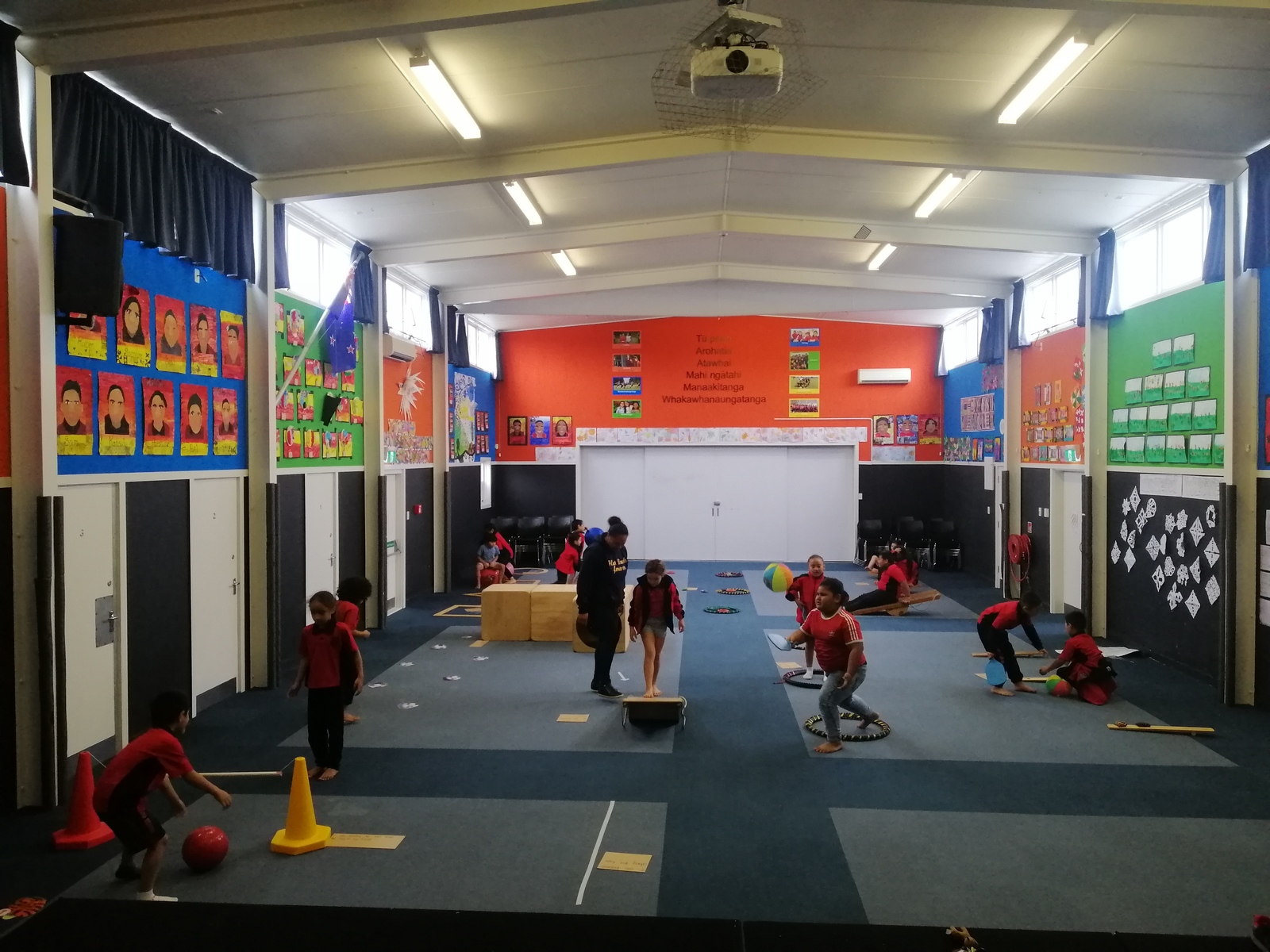 Level One means we can do PMP again!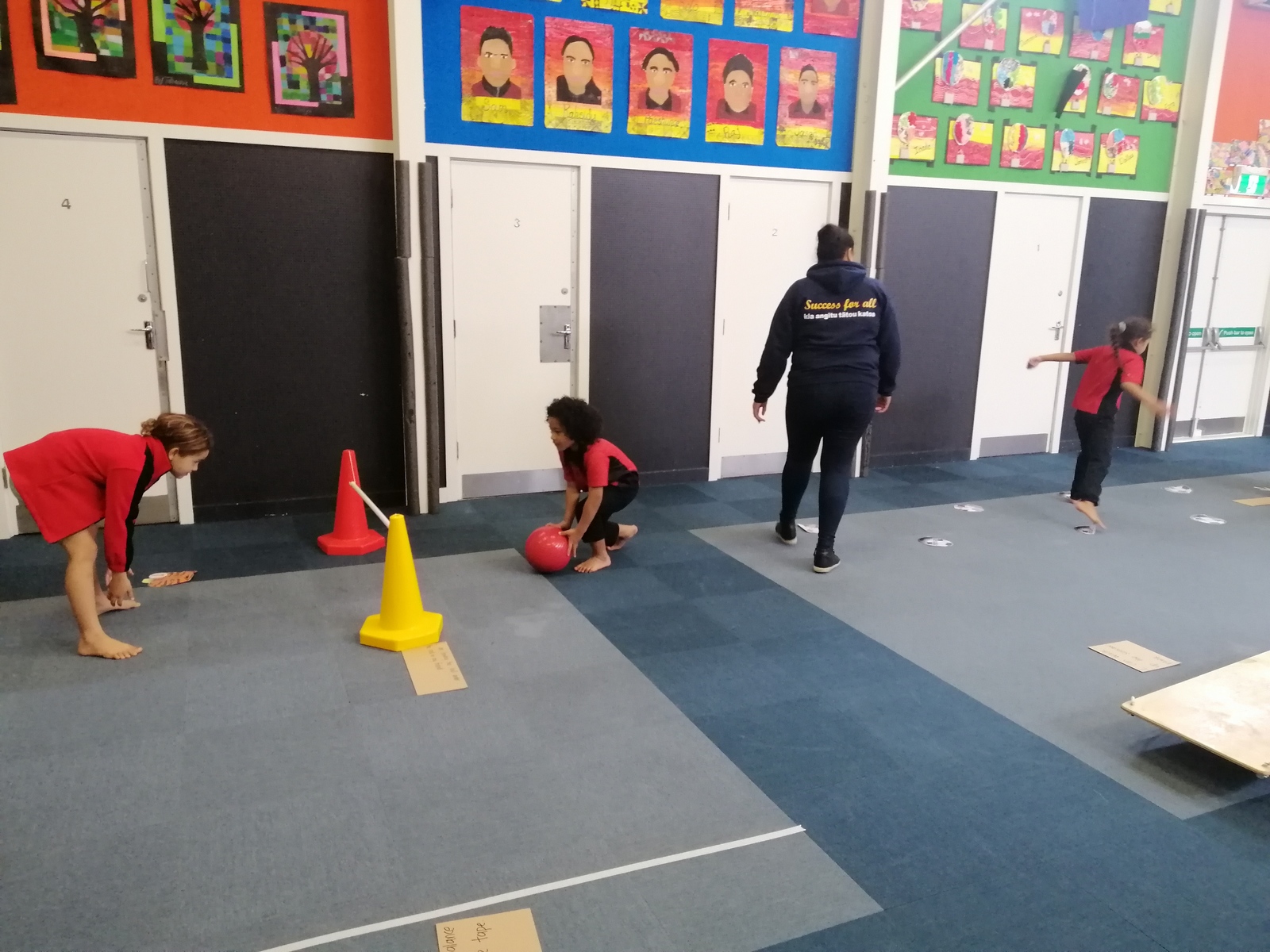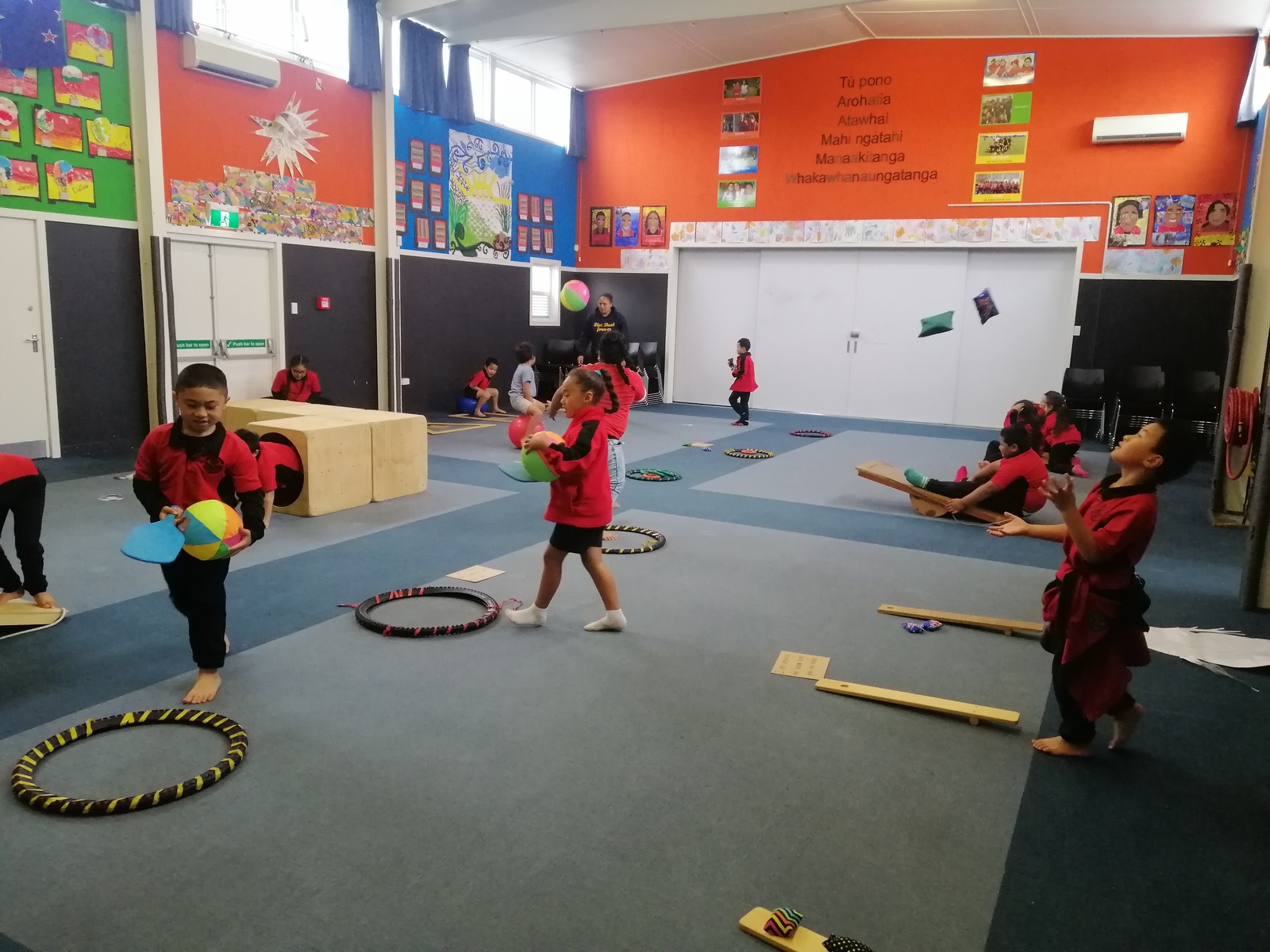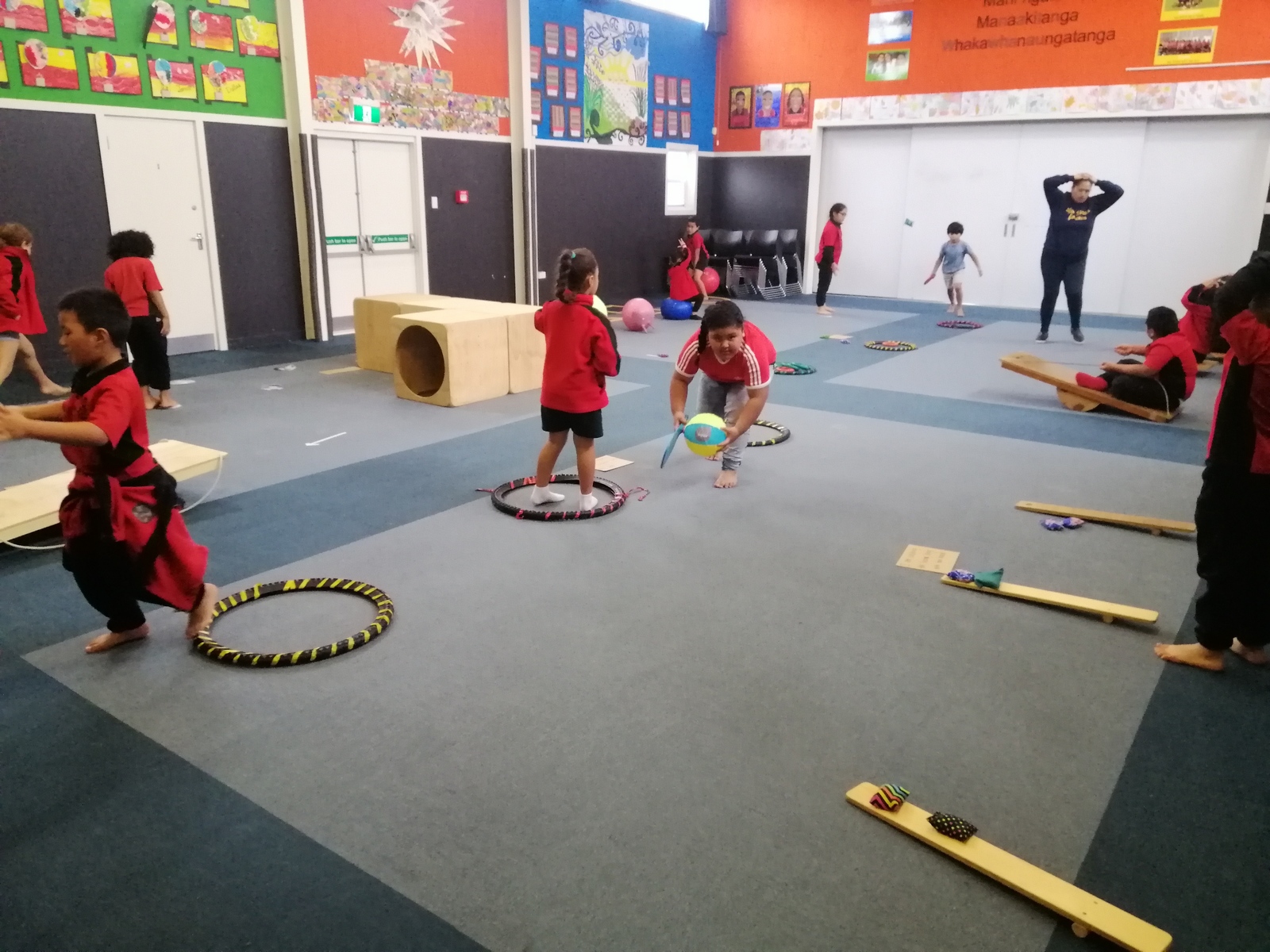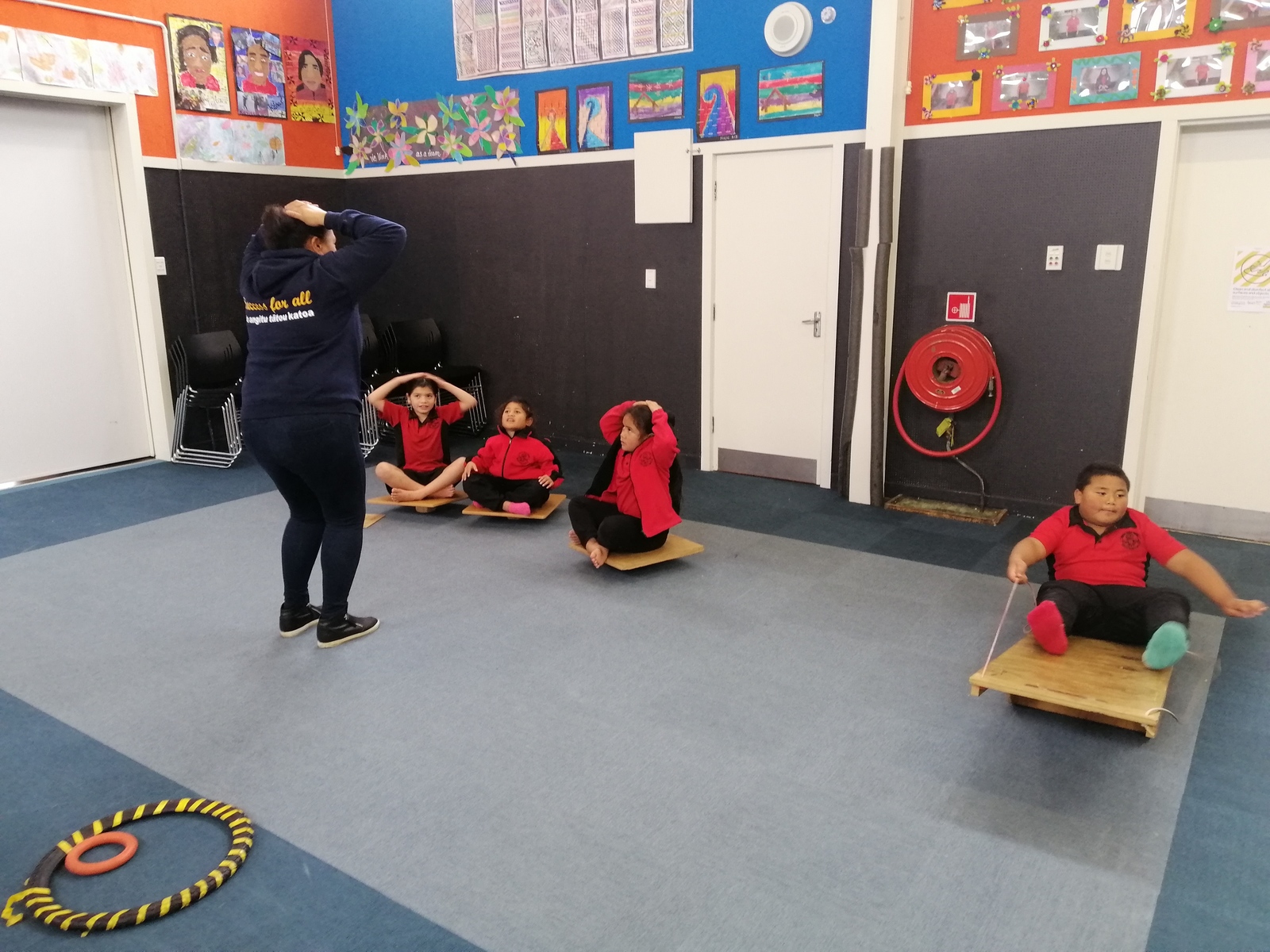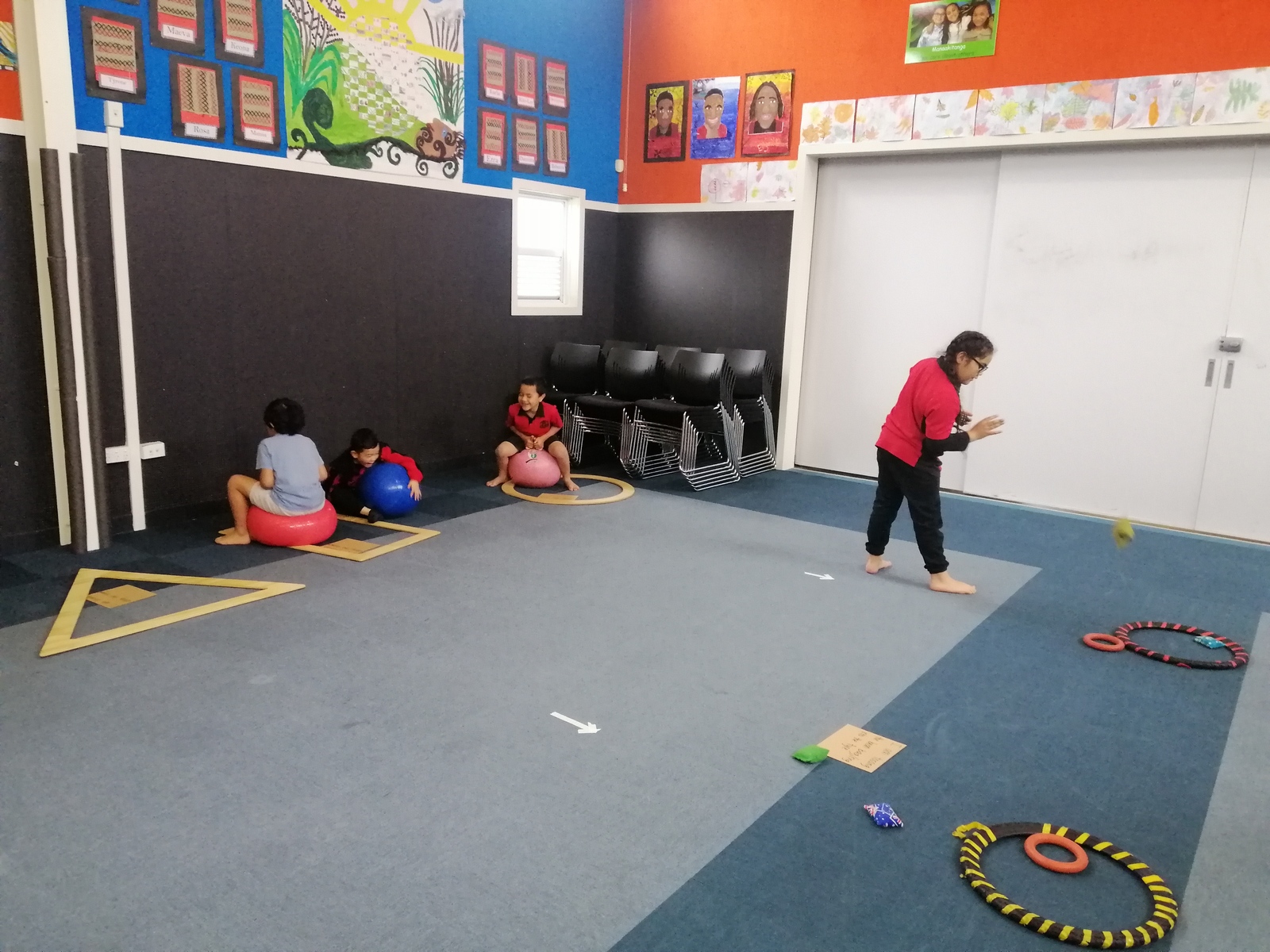 *** Week Nine, Term 2 - 8th- 12th June ***
This week is support Staff Week. Room 5 would like to say a huge thank you to all of the support staff that work with us in Room 5 and around our school. You are all fantastic!!!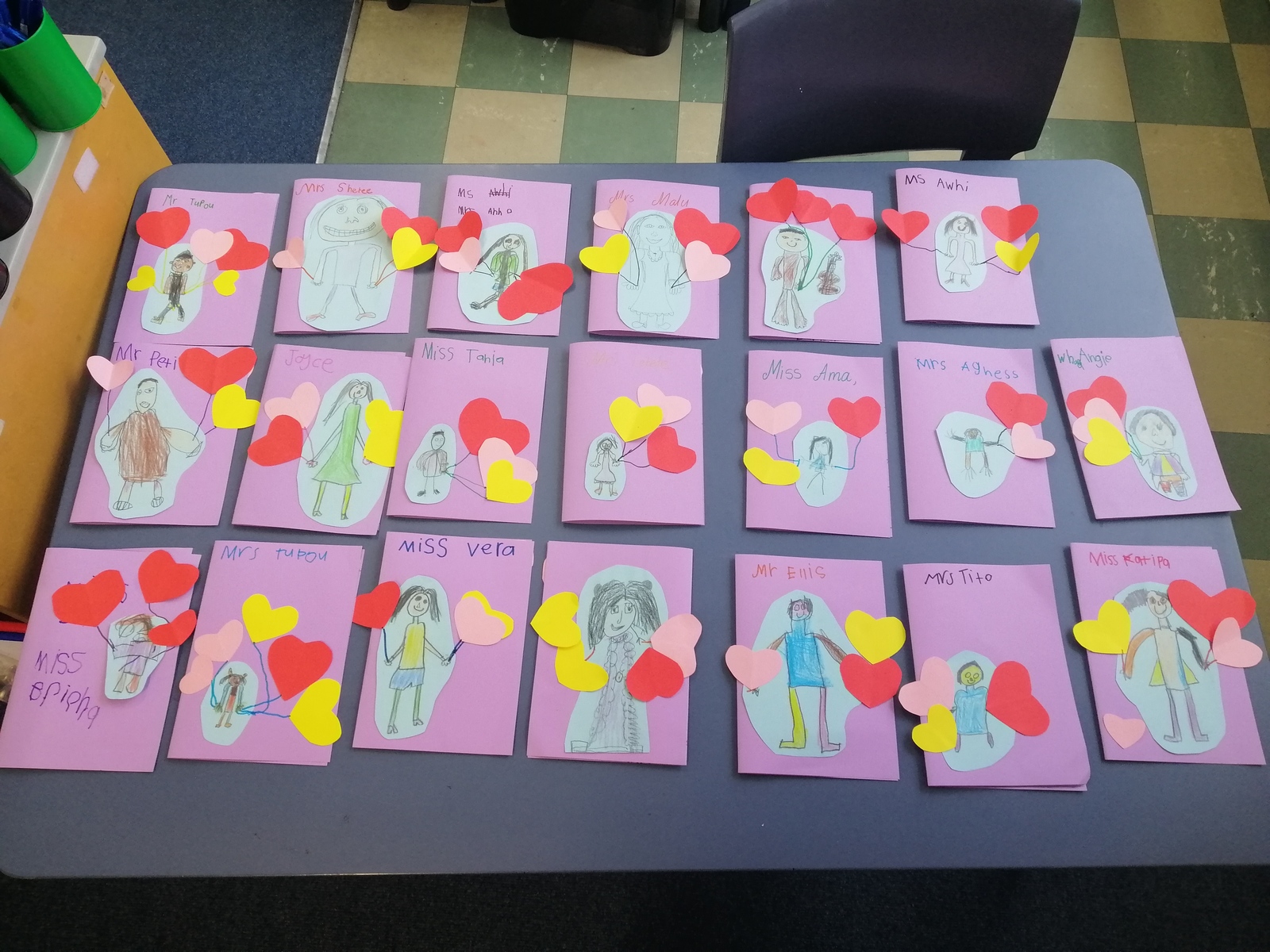 Cards and presents for our Awesome Support Staff at FBS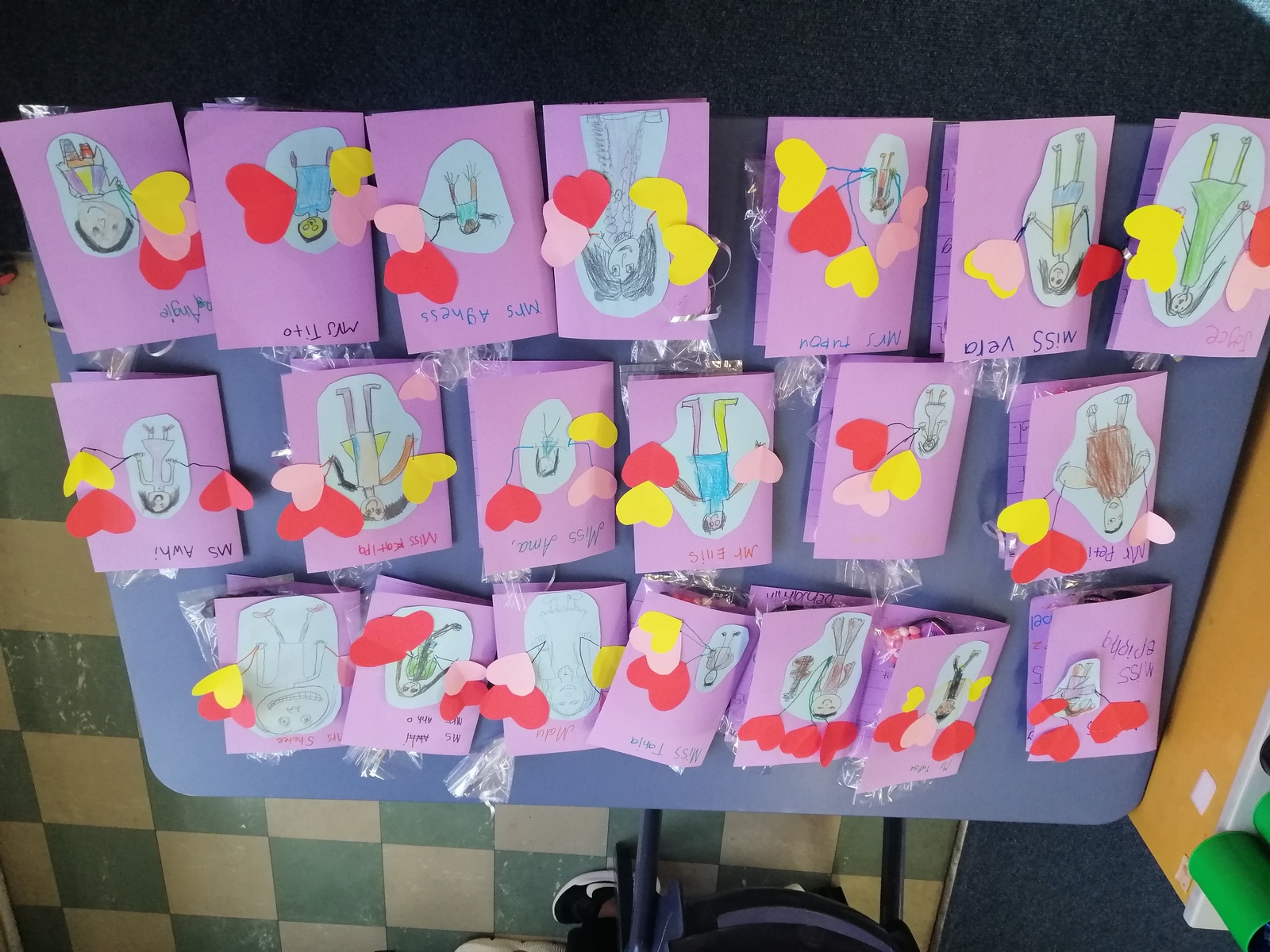 Look at Mrs Tupou proudly wearing her necklace that Room 5 made for her!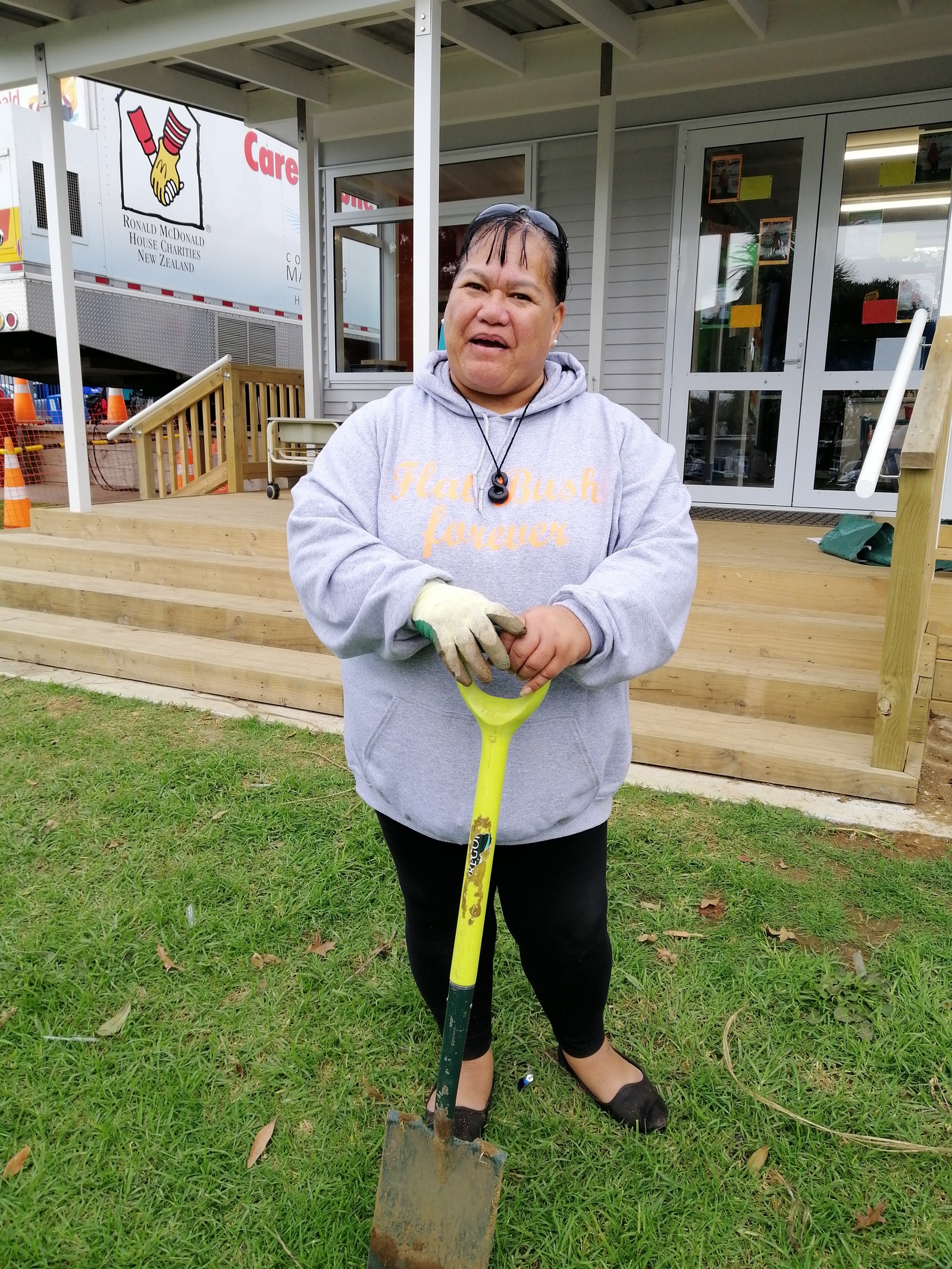 Doesn't Mrs Sheree look beautiful wearing her Taonga made by Room 5 too!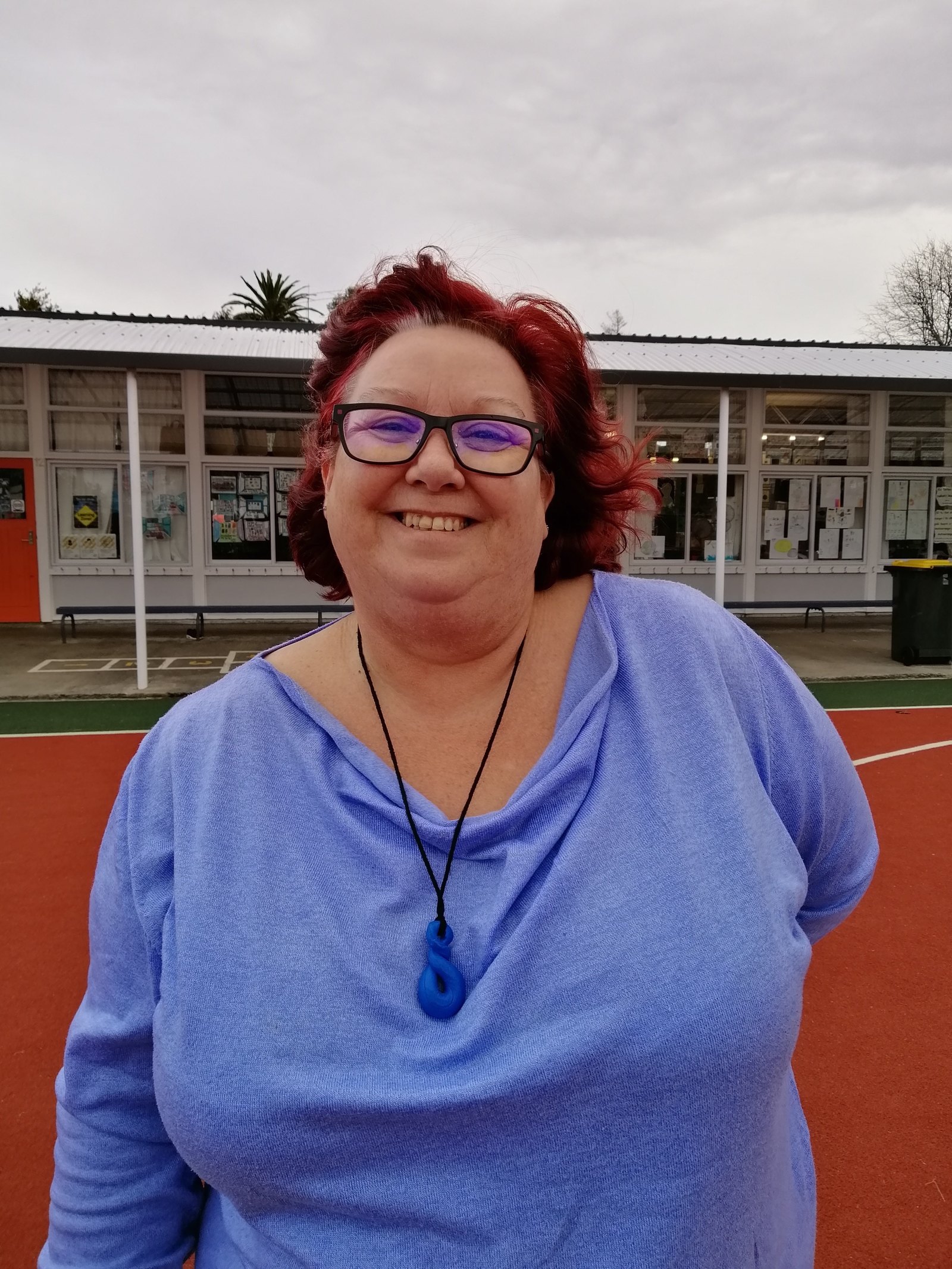 Making 3D shapes during Maths. Some great scissor skills being displayed today.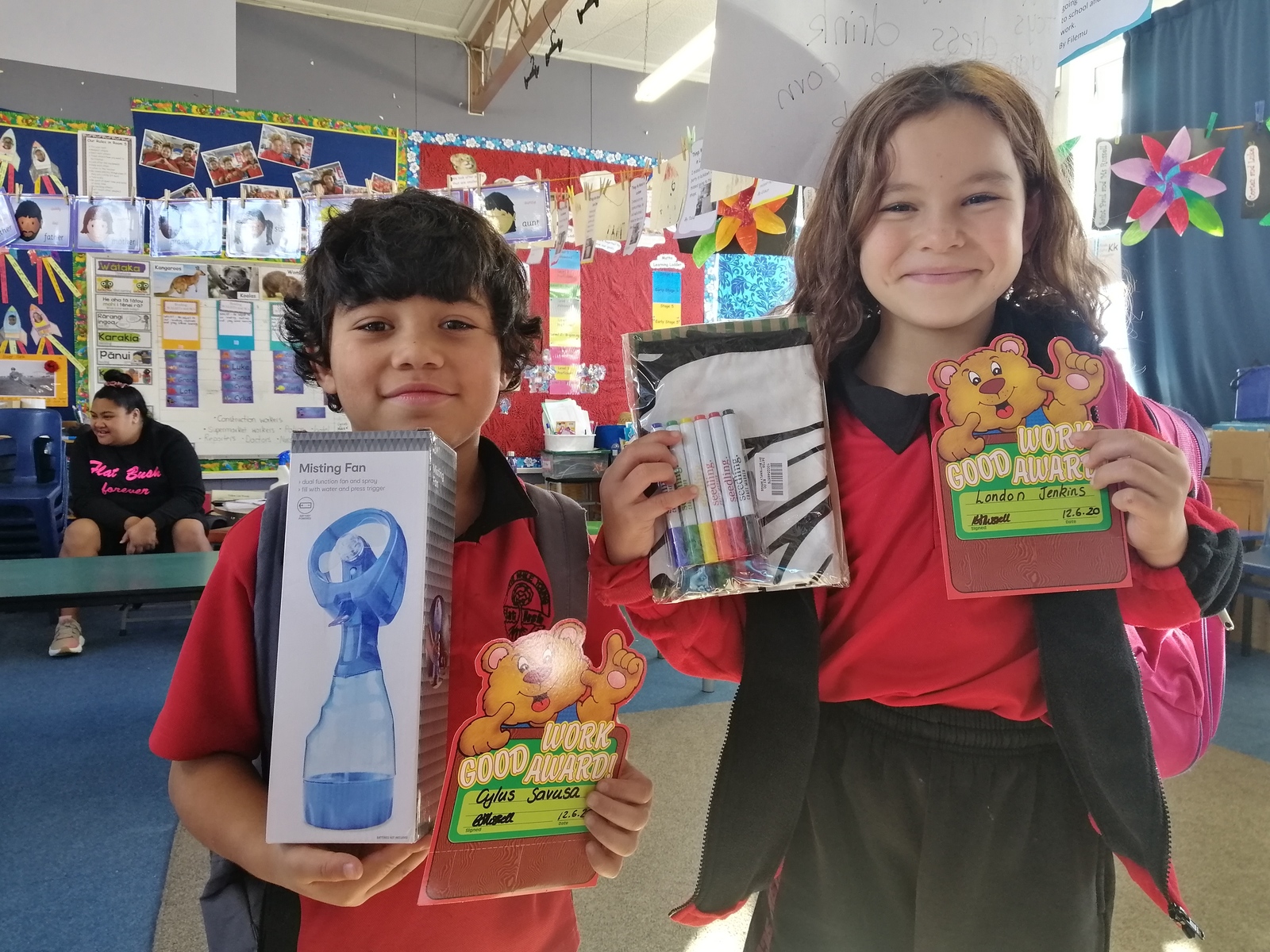 Students of the Week- Cylus and London.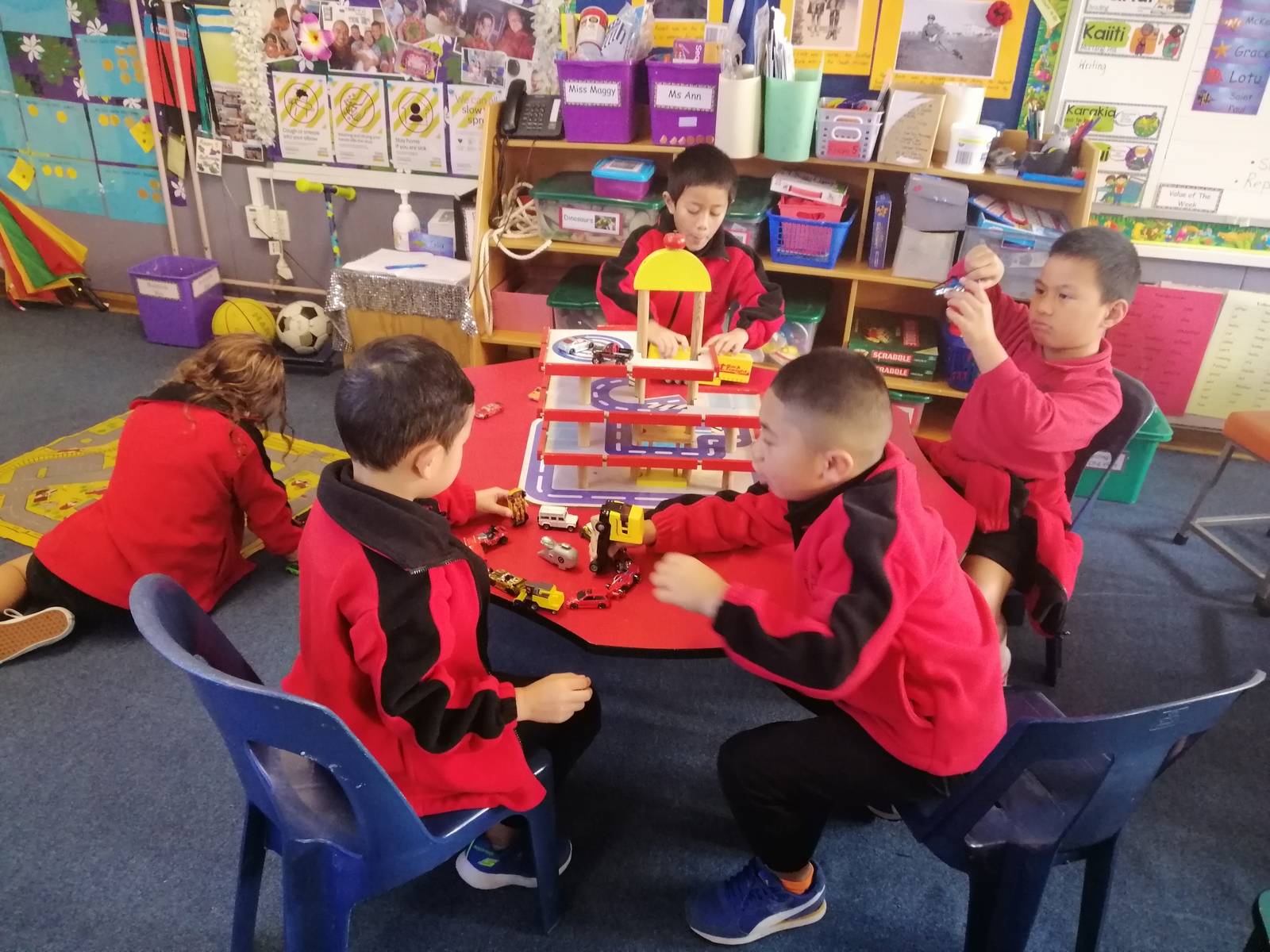 We are so excited to see all of our friends back in the pride now that we are at Level 1 again. Great to see a class full of happy faces :)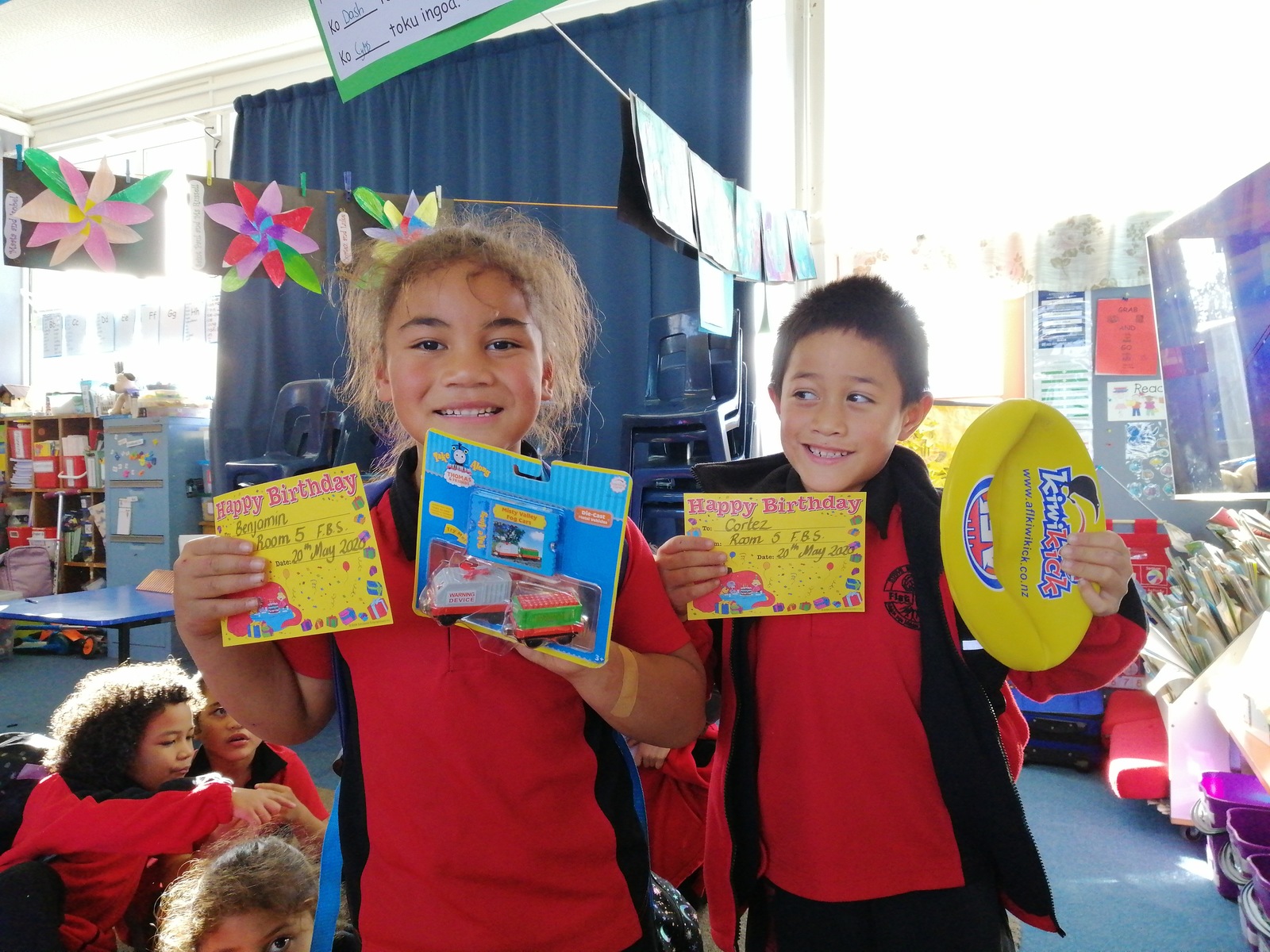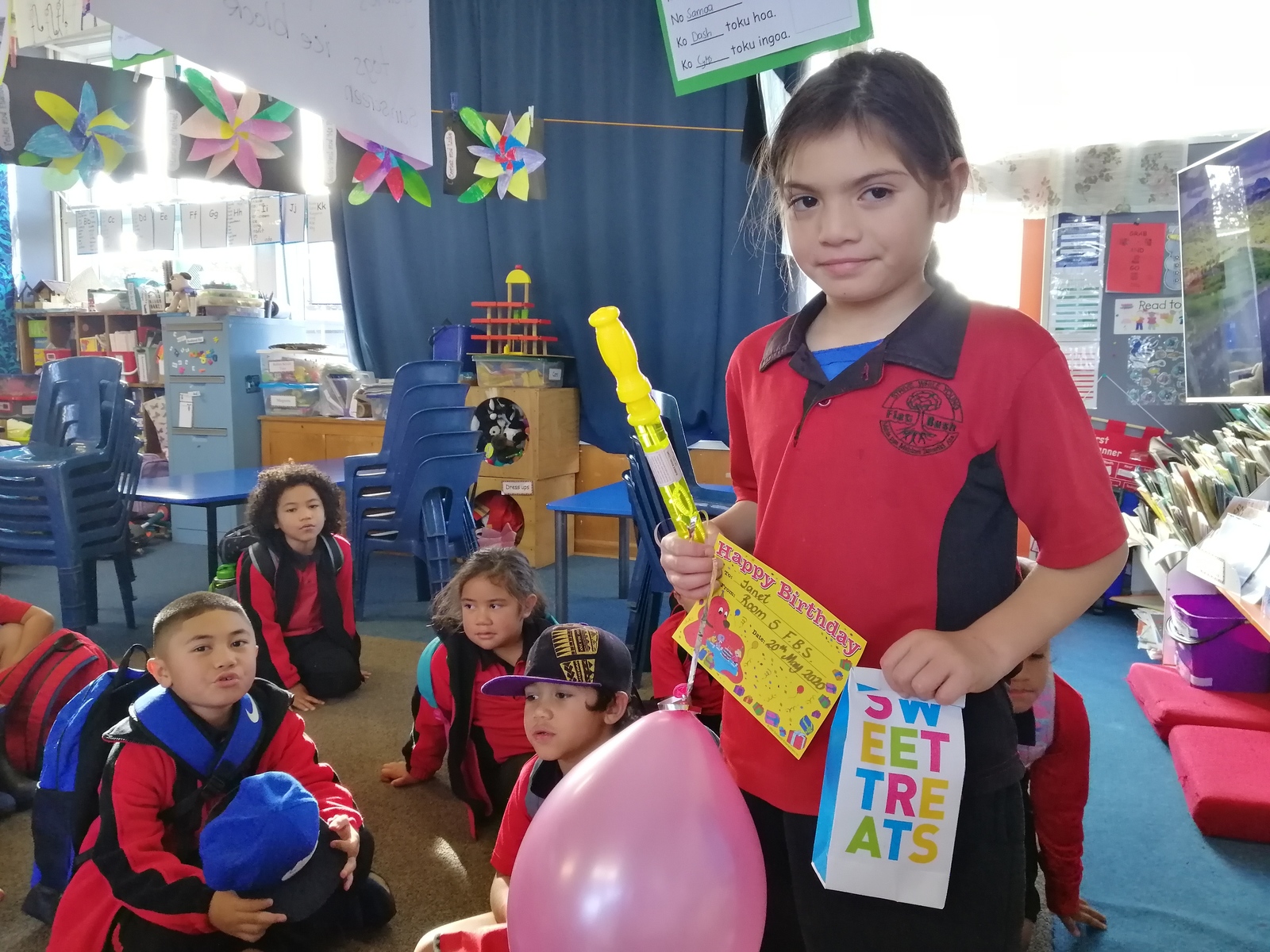 Celebrating Lock down Birthdays
*** Week Eight, Term 2 - 2nd- 5th June ***
Another exciting day in Room 5! Today we have been doing some army based activities following the interests of some of our students.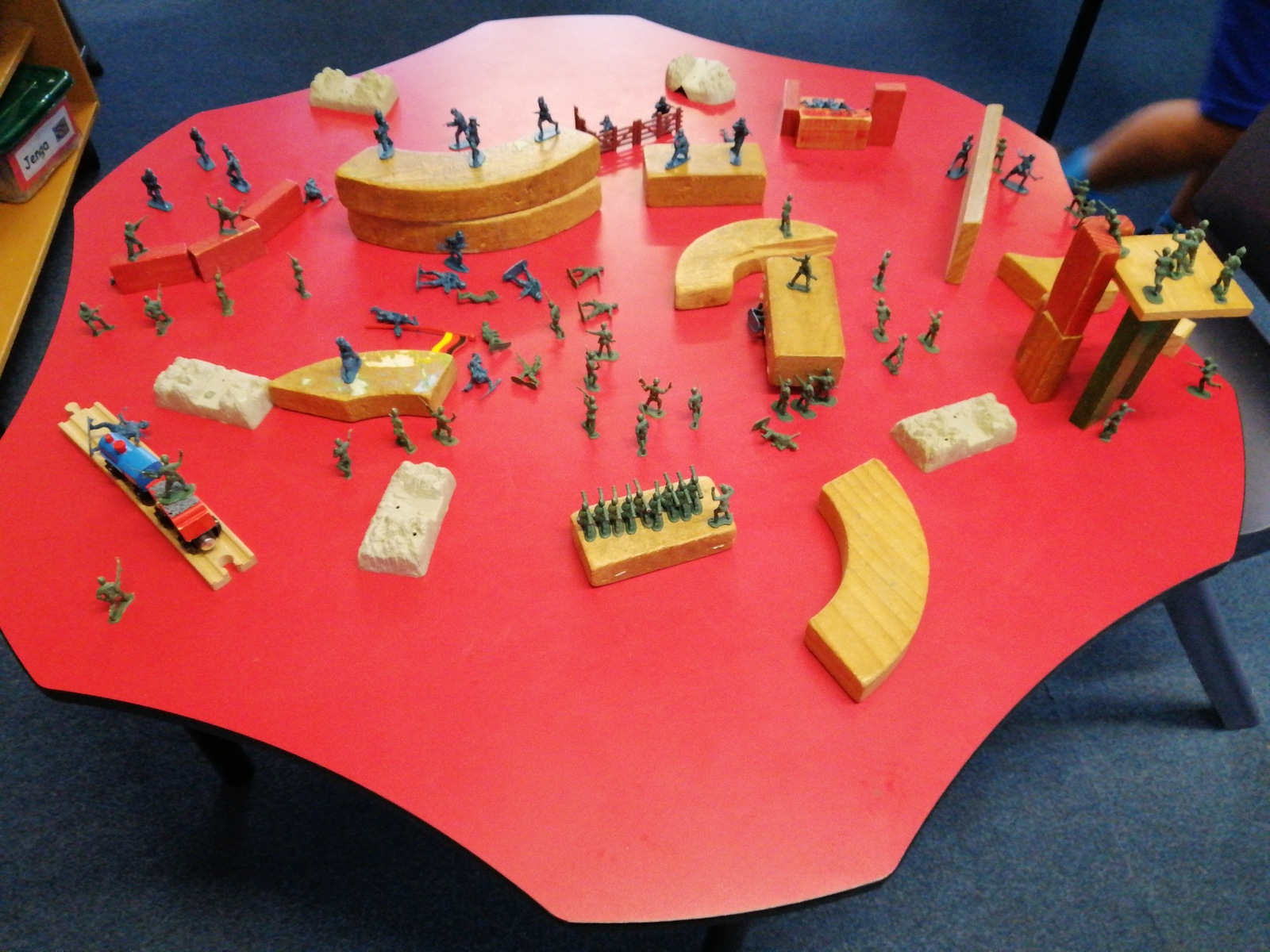 Lots of talking, turn taking, sharing and negotiating has been going on around or World War Three table!
Welcome back to school after the long weekend, I hope everyone enjoyed their day off! We have started off the week with some great literacy activities today.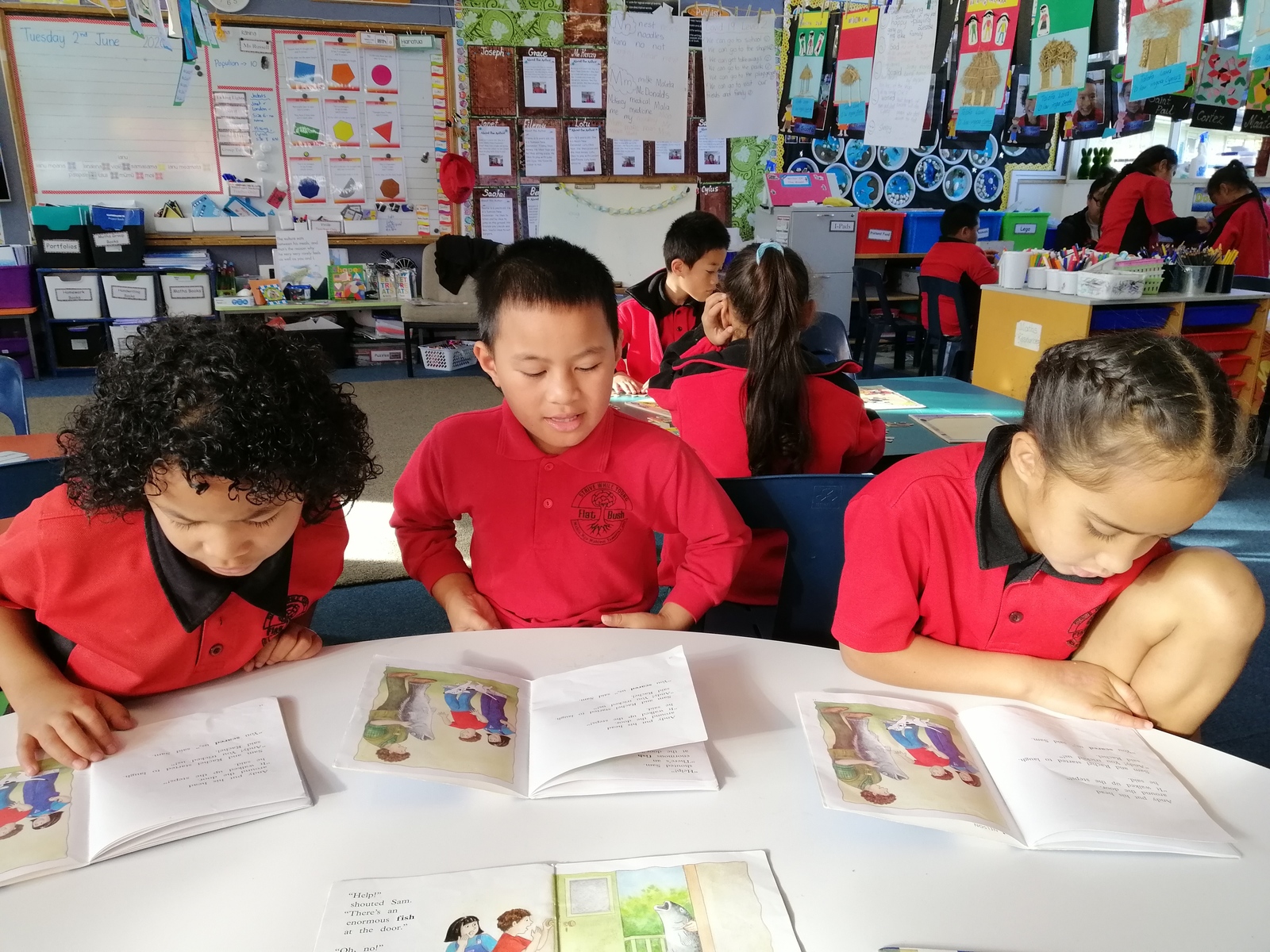 Reading to Ms Russell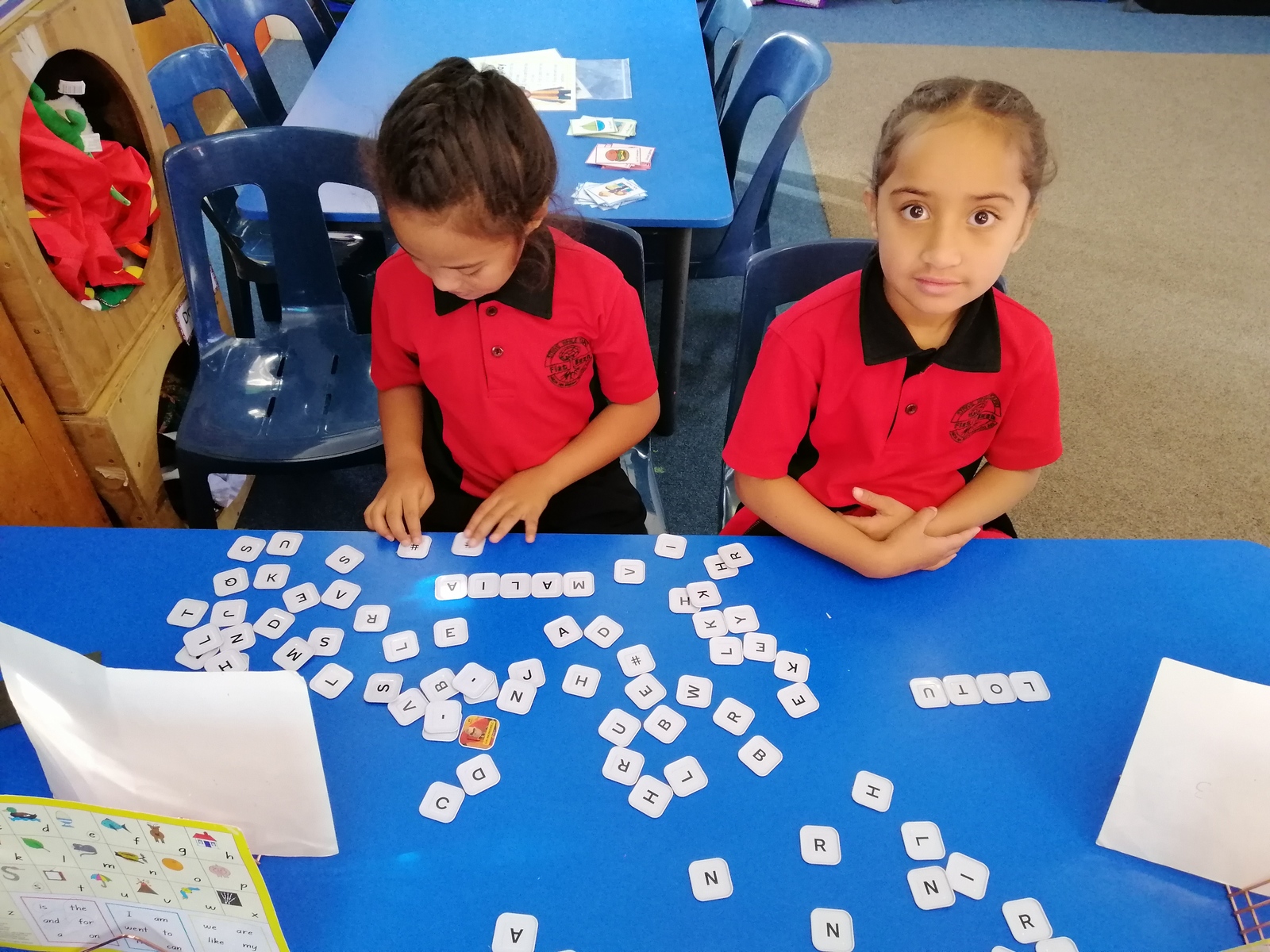 Writing our names and high frequency words with the tiles.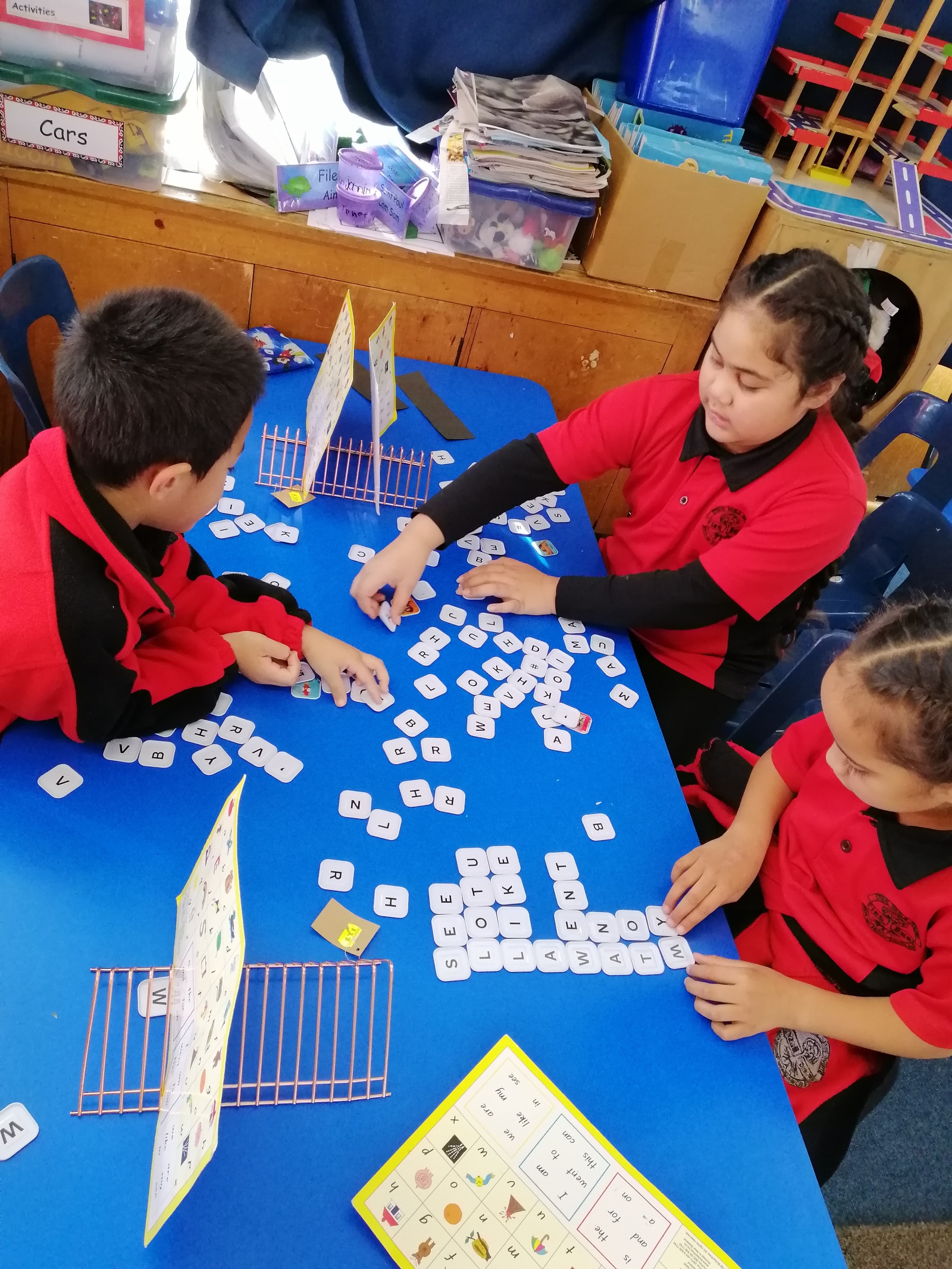 Writing our words with stencils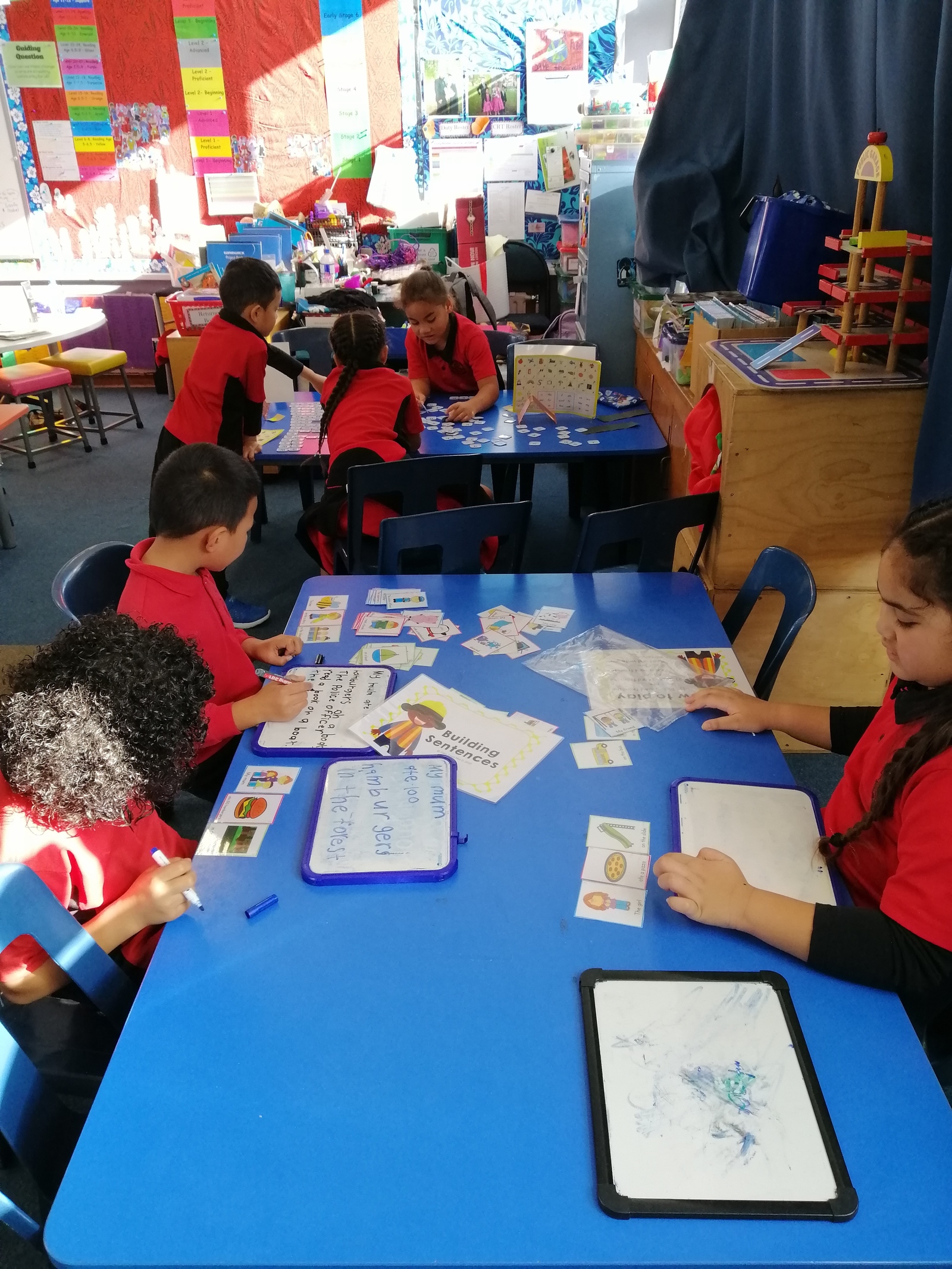 Using the story cards to make short stories and then writing them on the whiteboards
Writing some recounts about the long weekend
*** Week Seven, Term 2 - 25th- 29th May ***
Samoan Language WeeK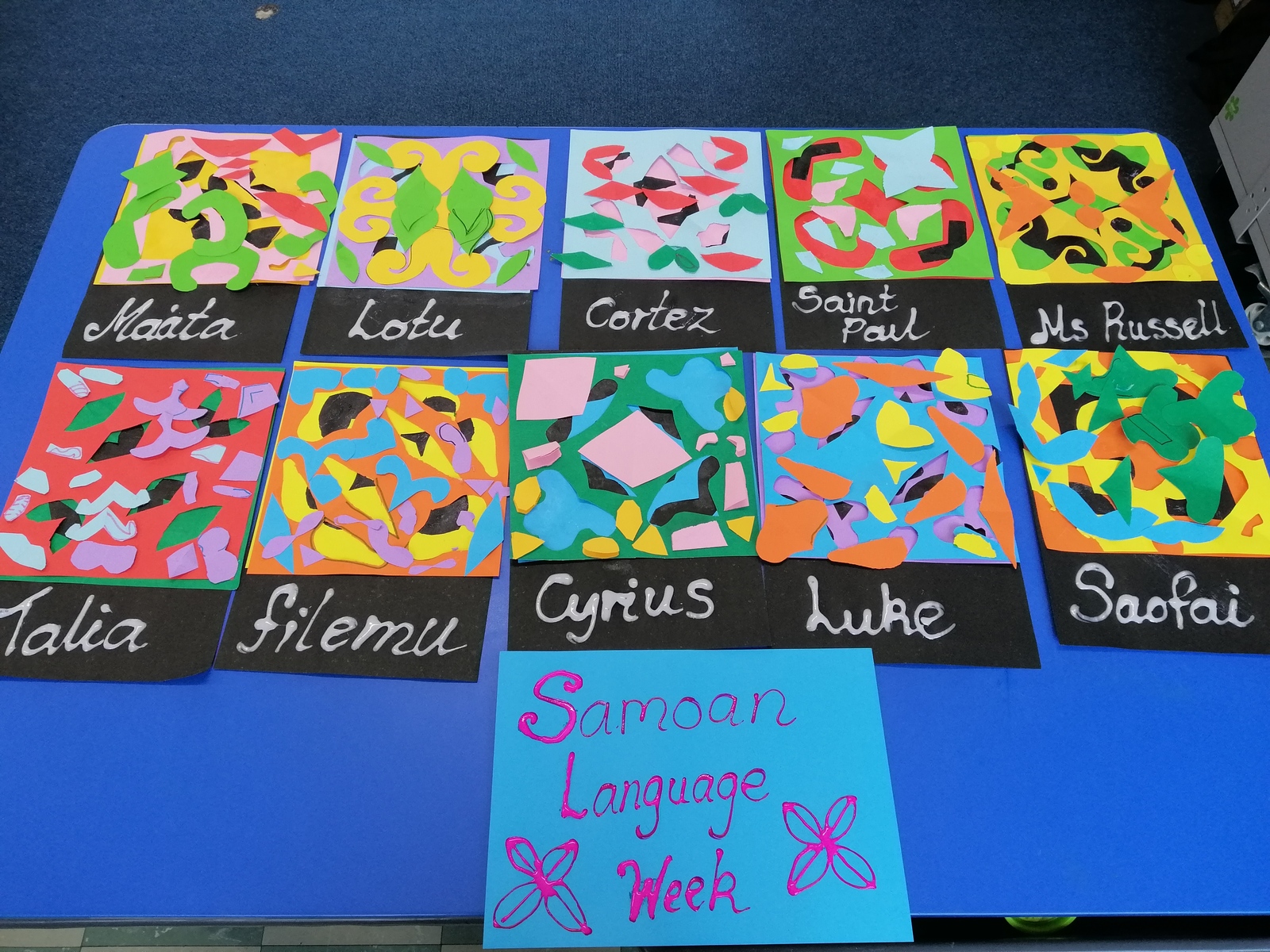 Art by Room 5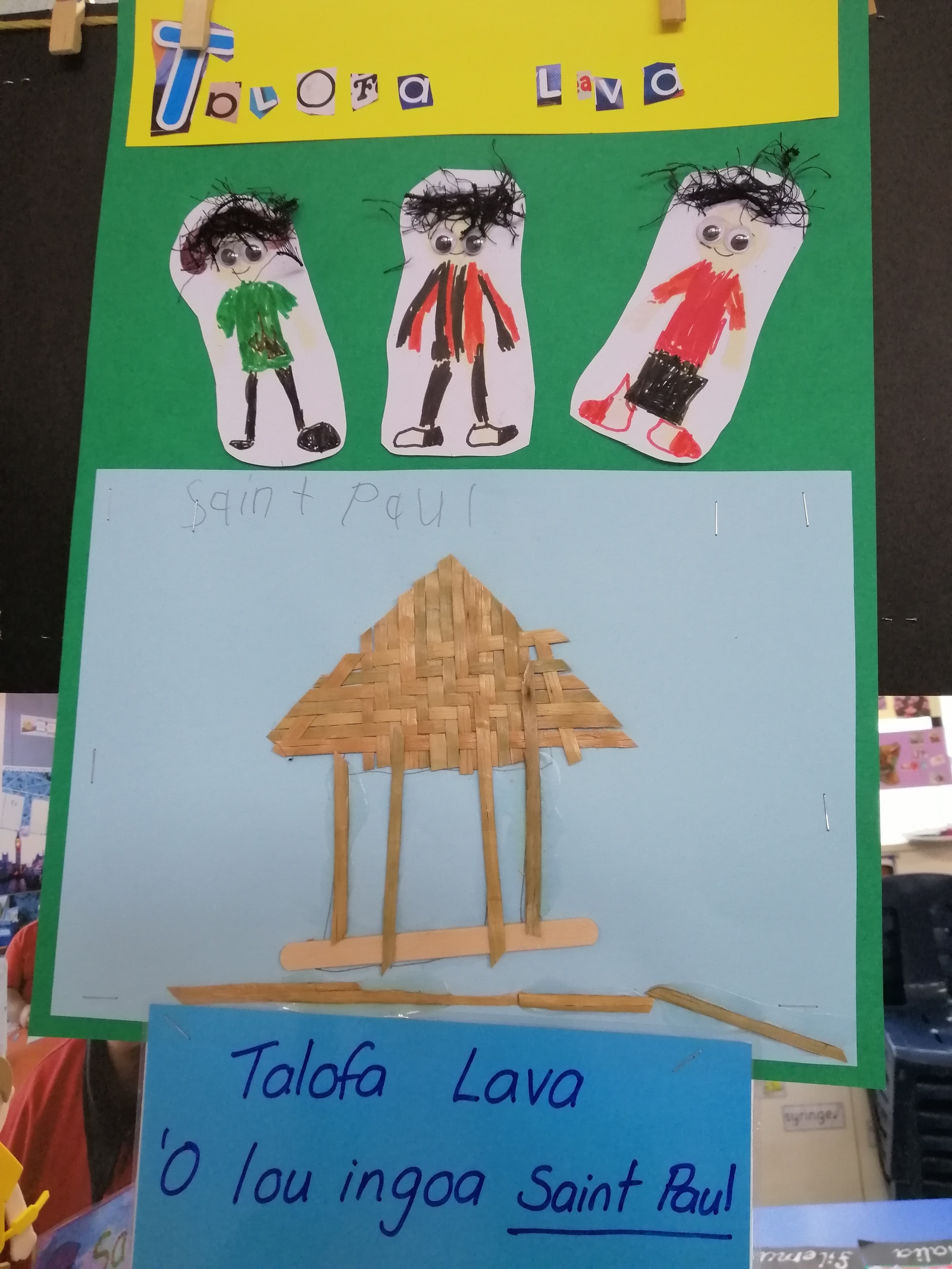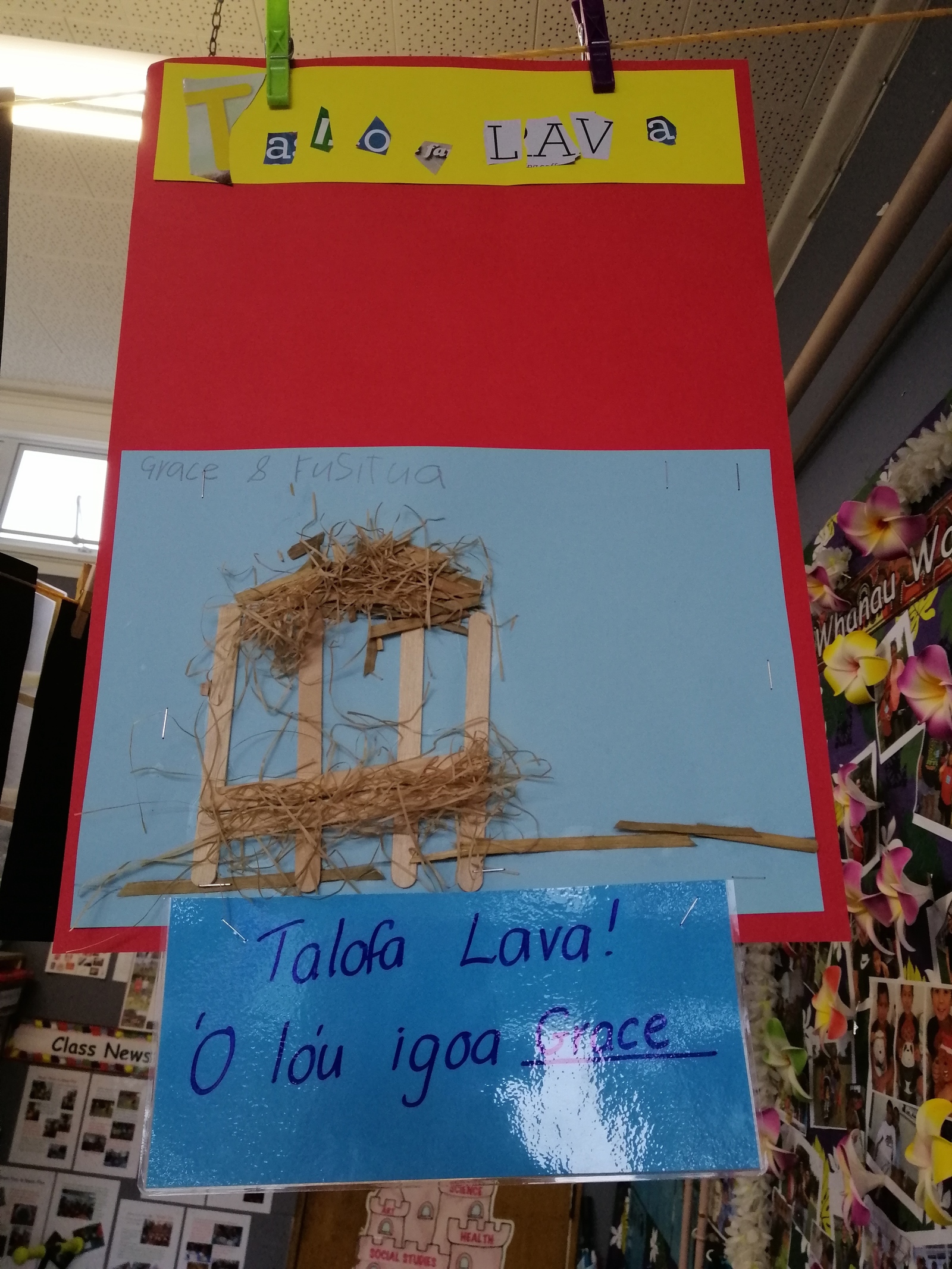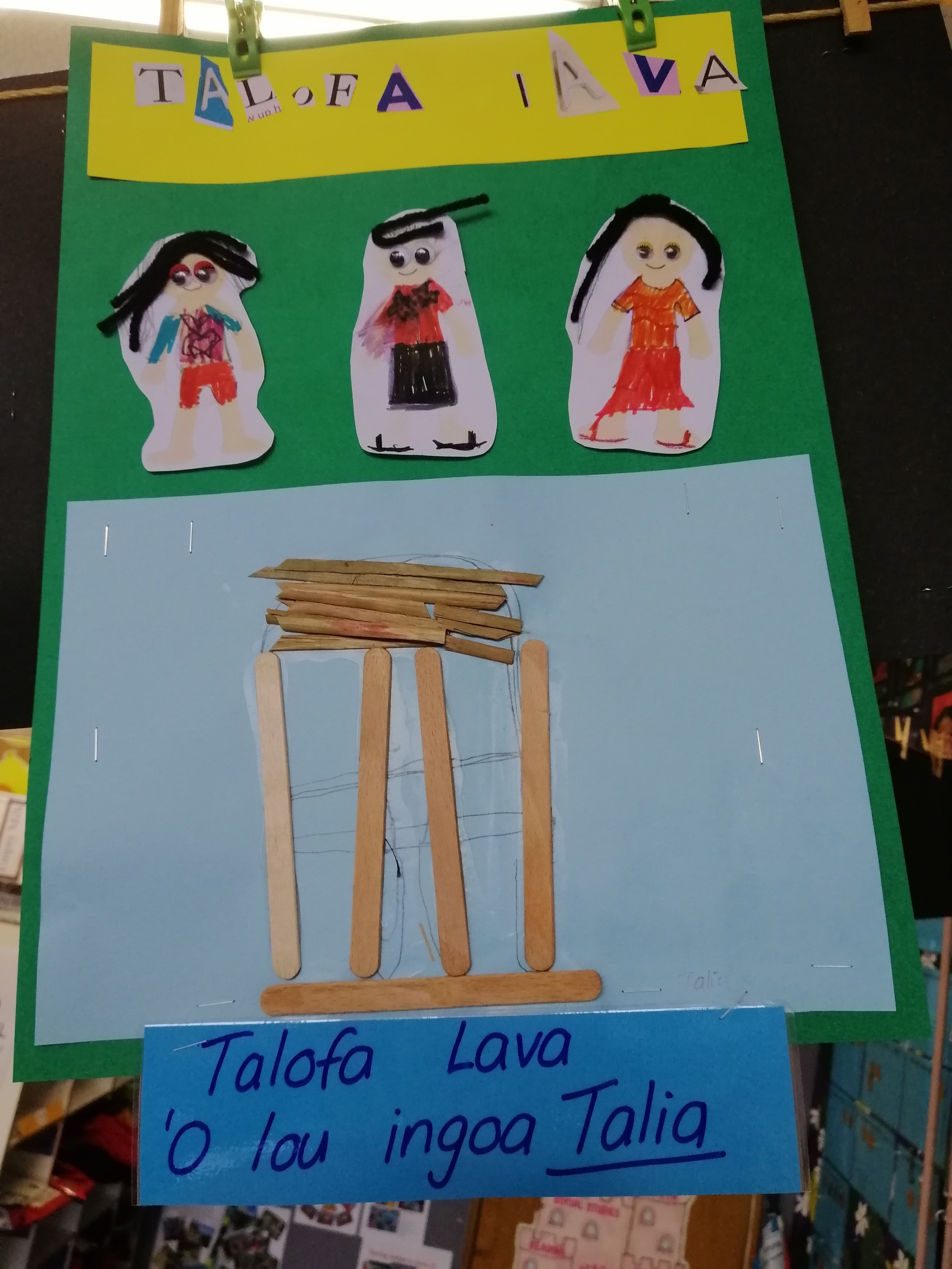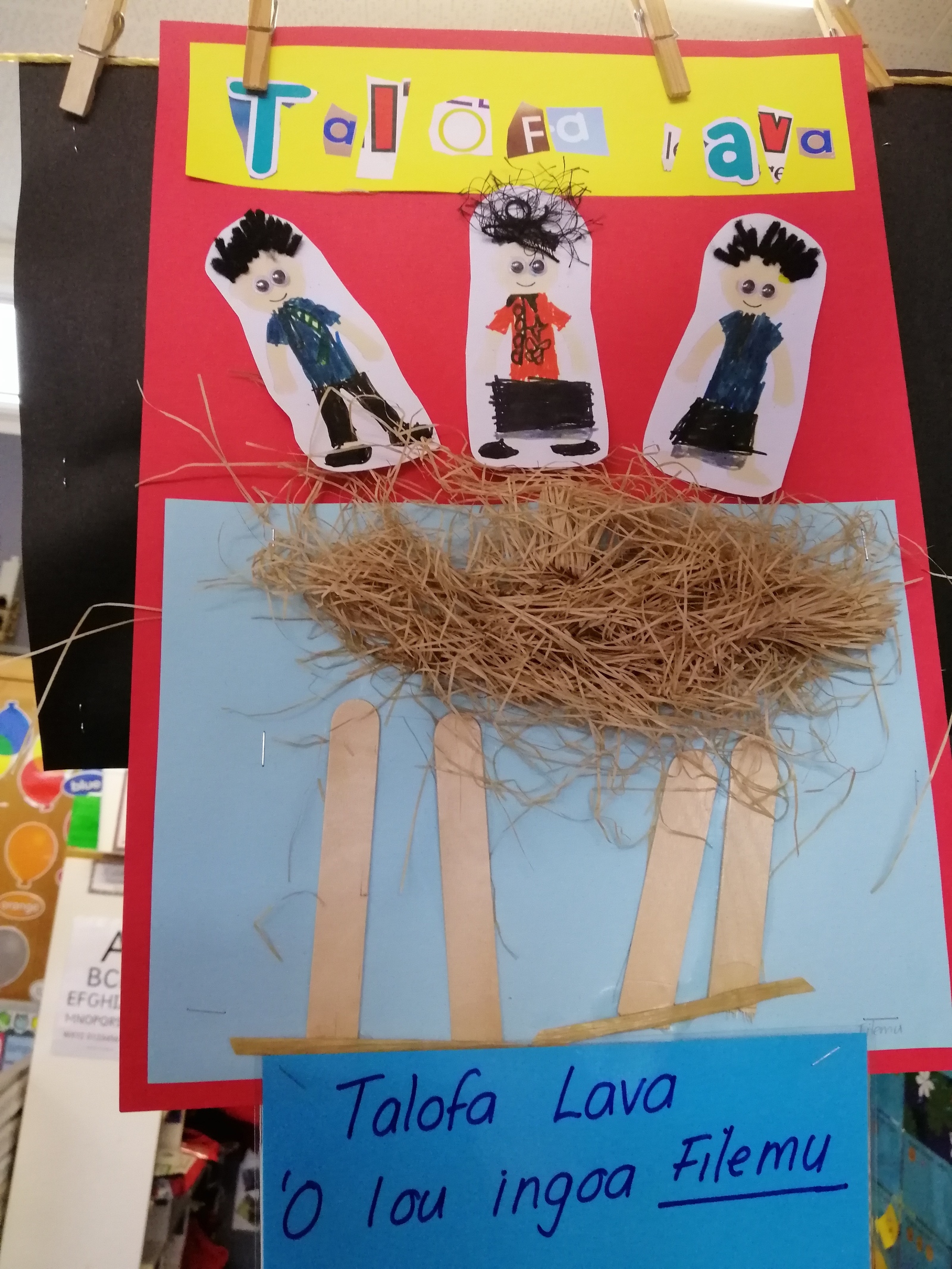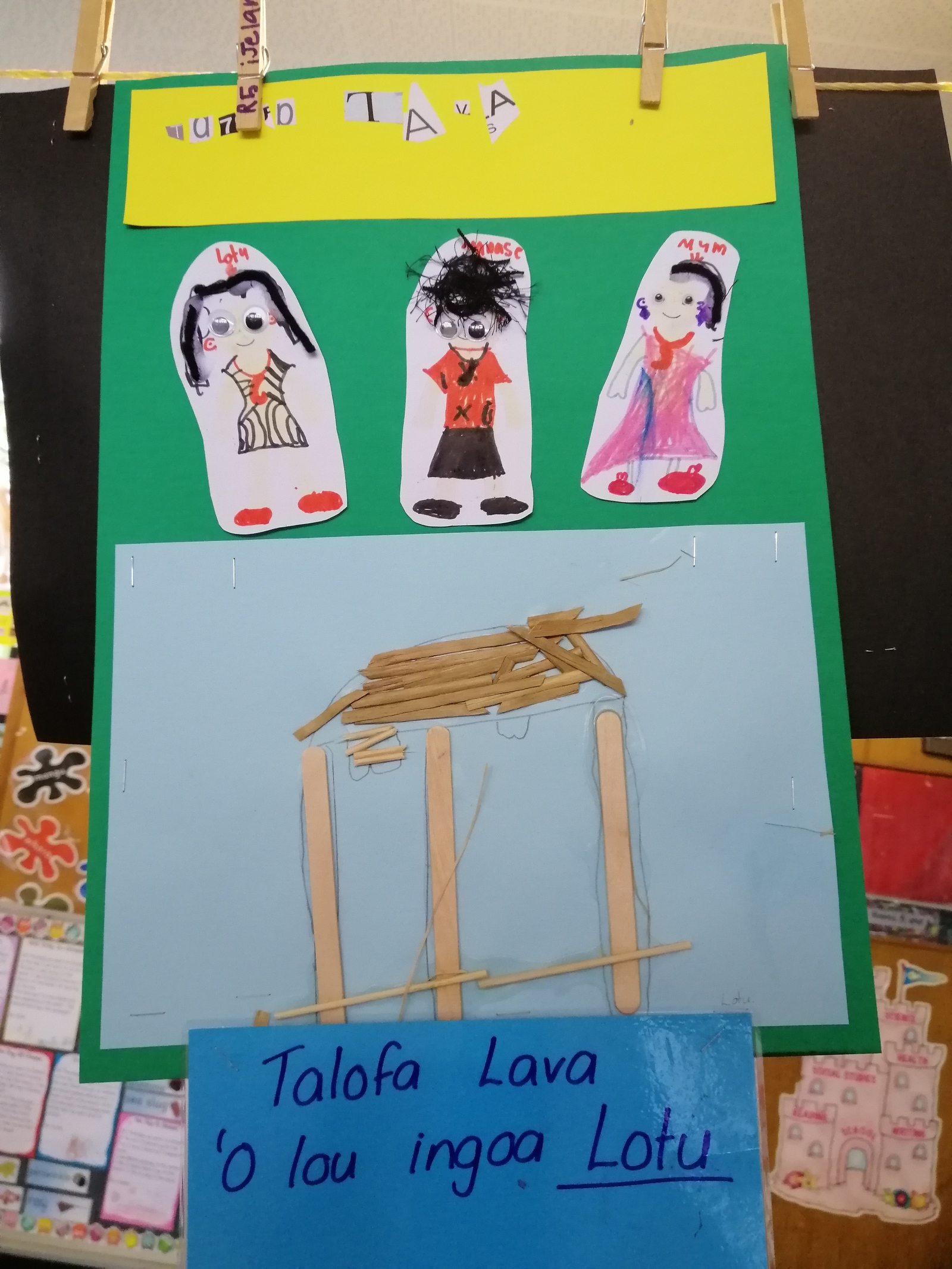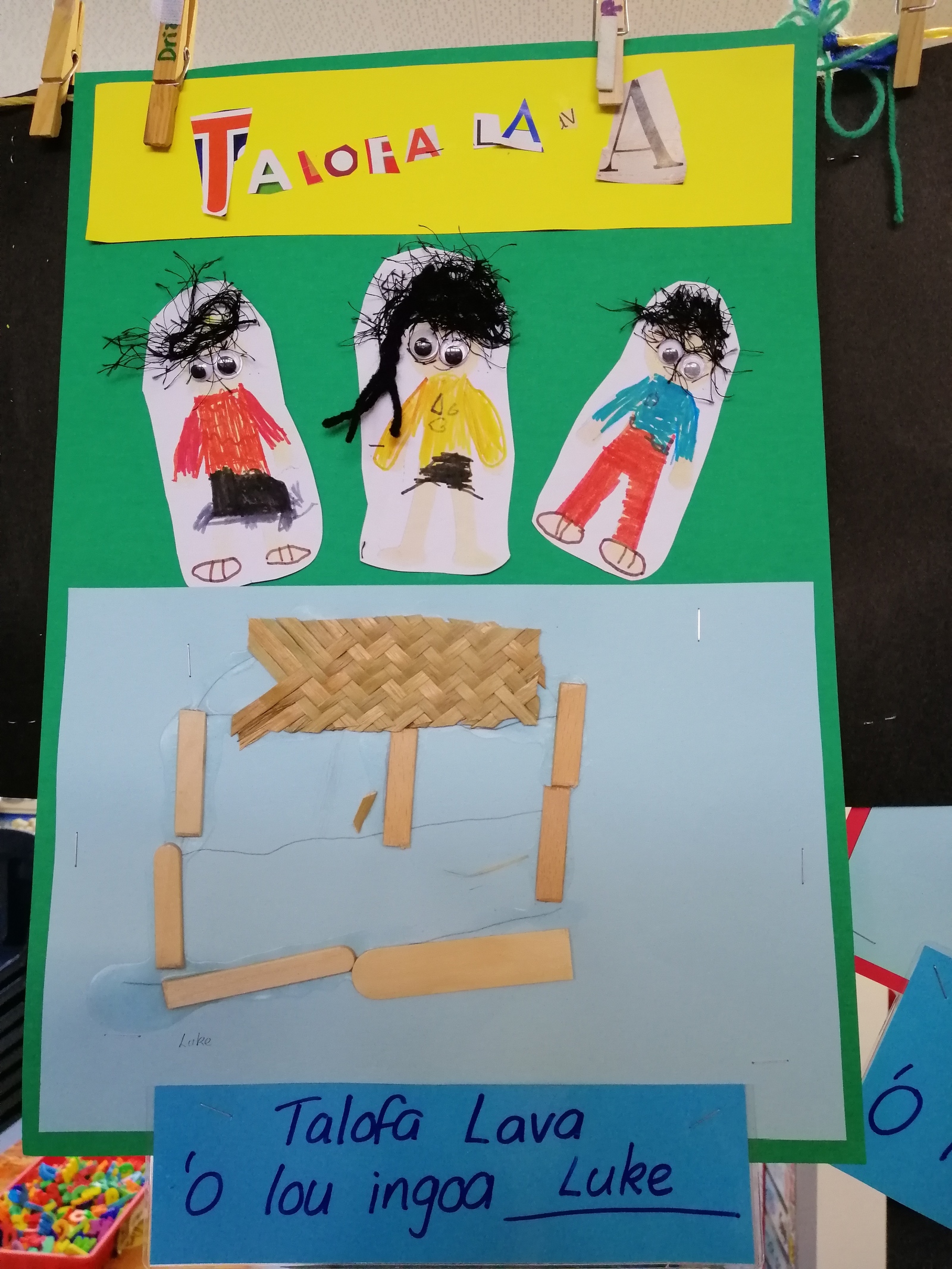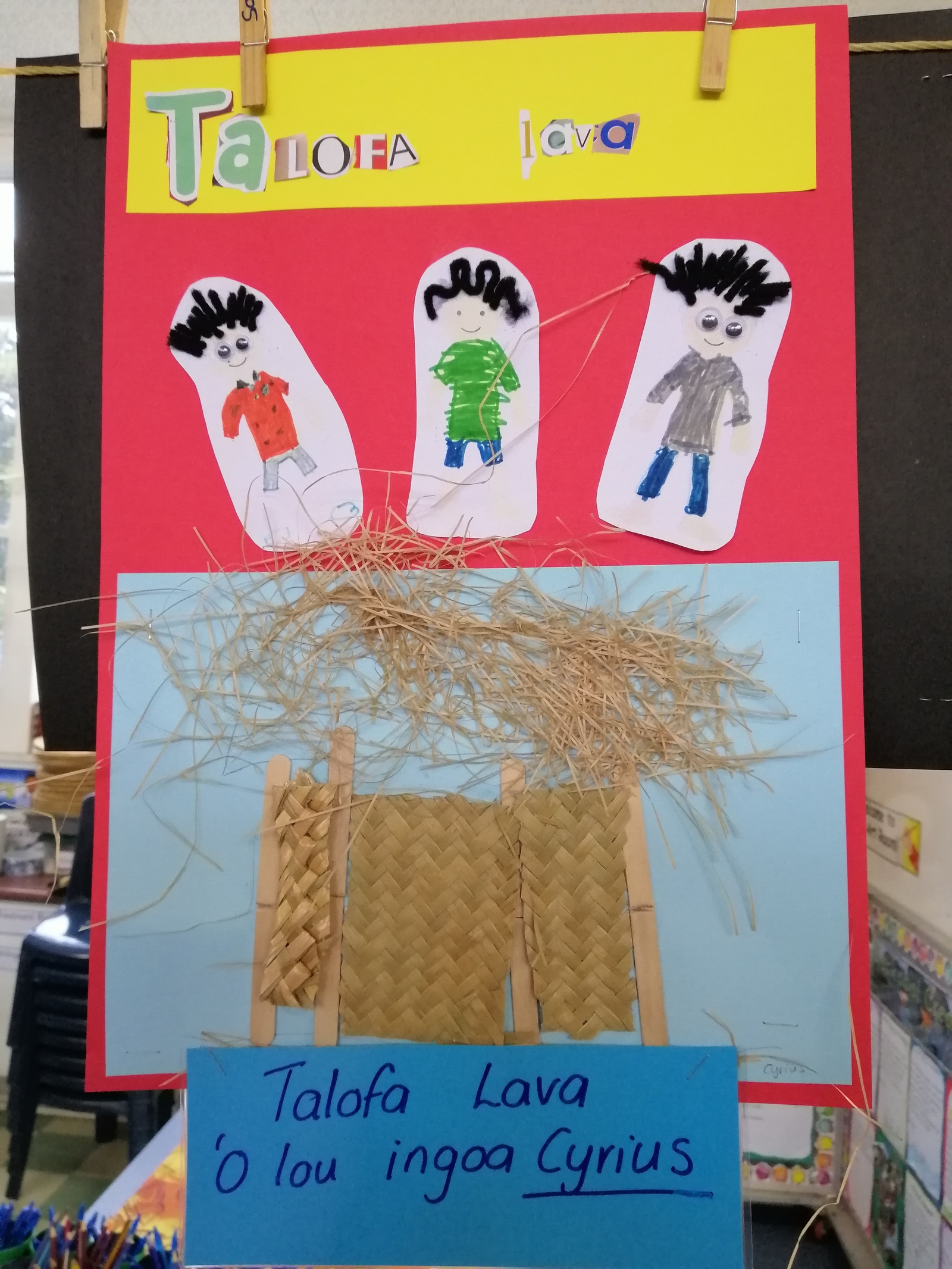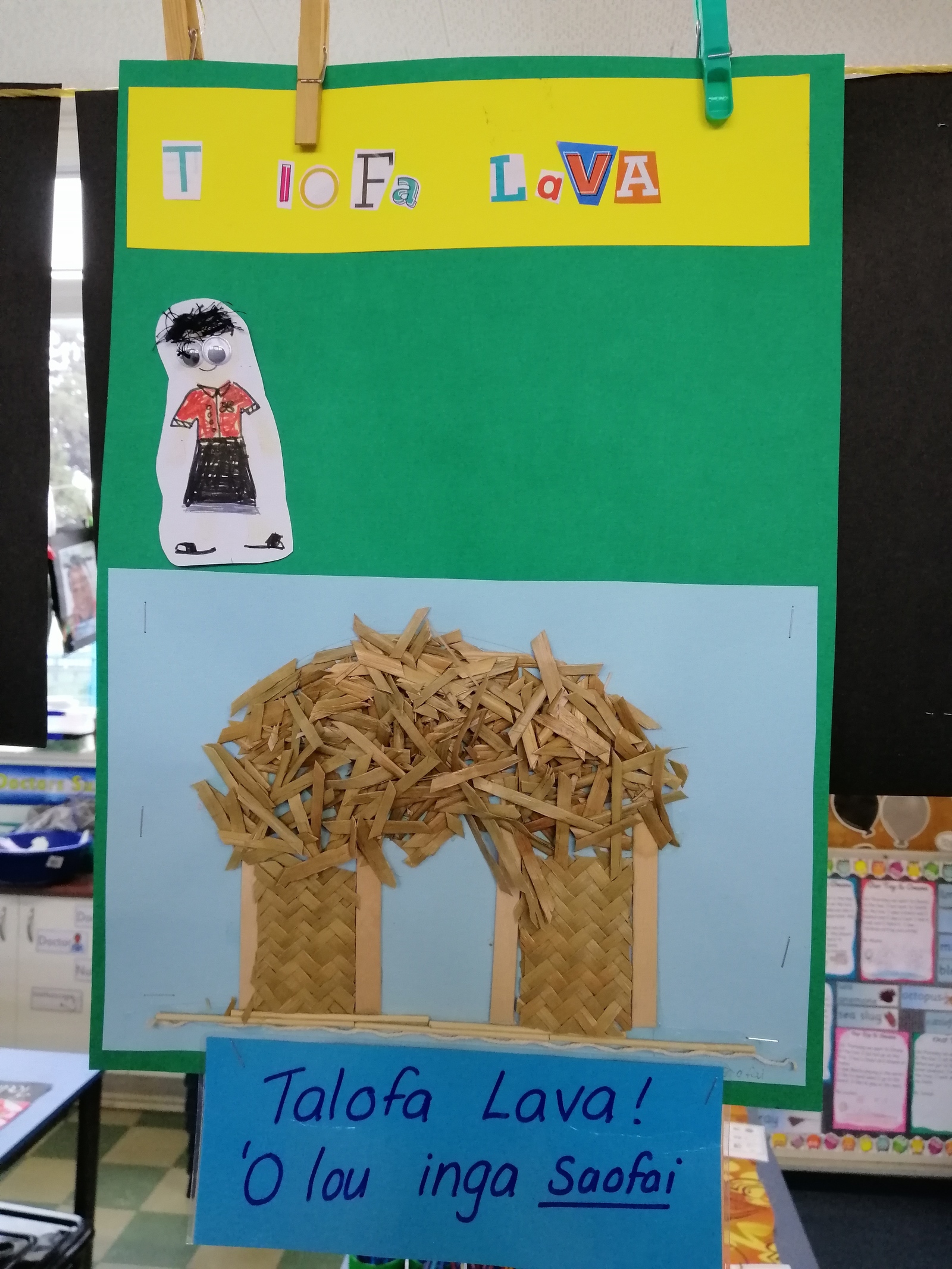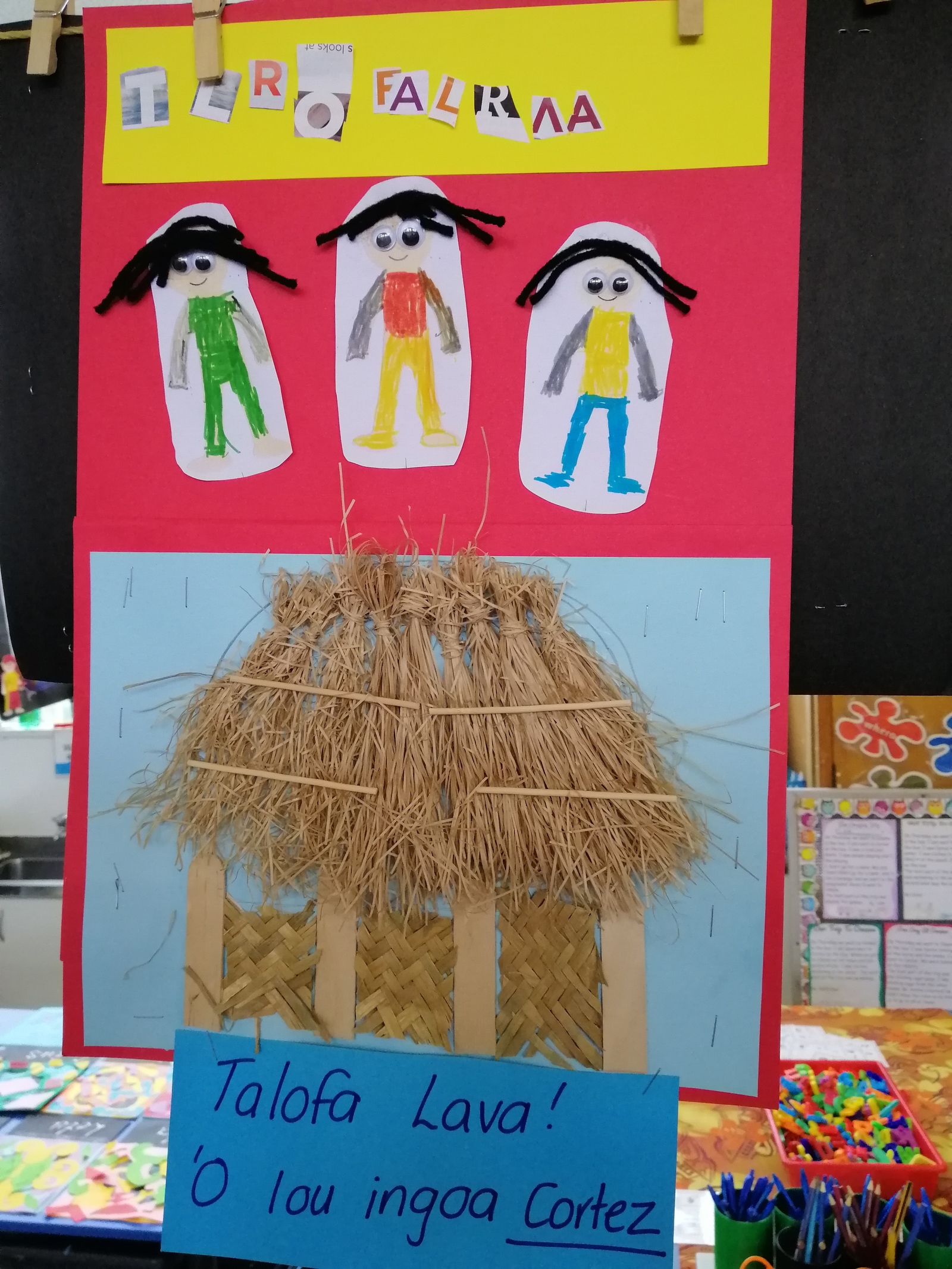 This Week is Samoan Language Week so we will be doing lots of Samoan activities. Looking forward to another awesome week in Room 5.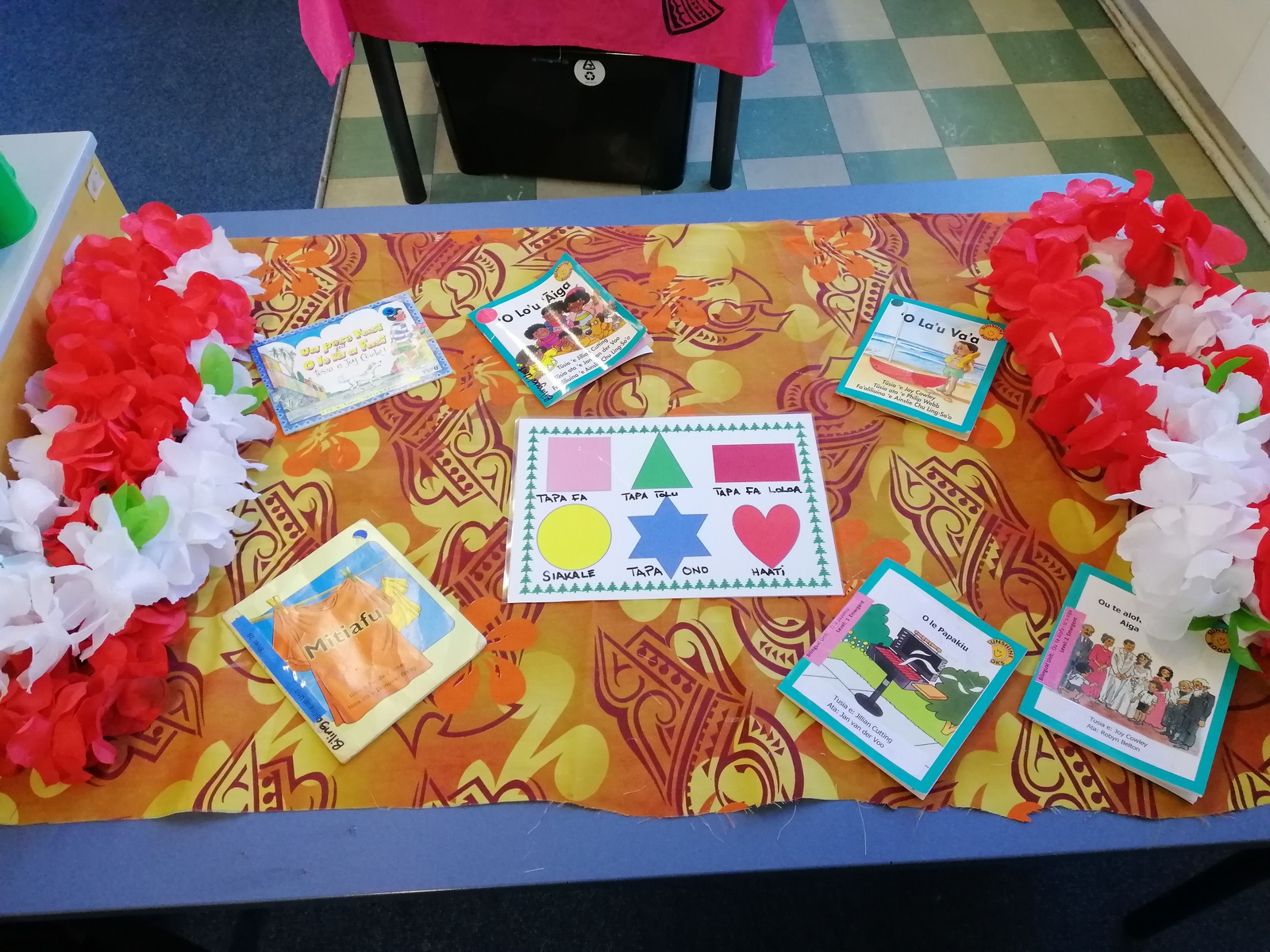 We have been looking at Samoan cultural clothes today and making some avatars to go in our fales. Can you see any clothes that you like?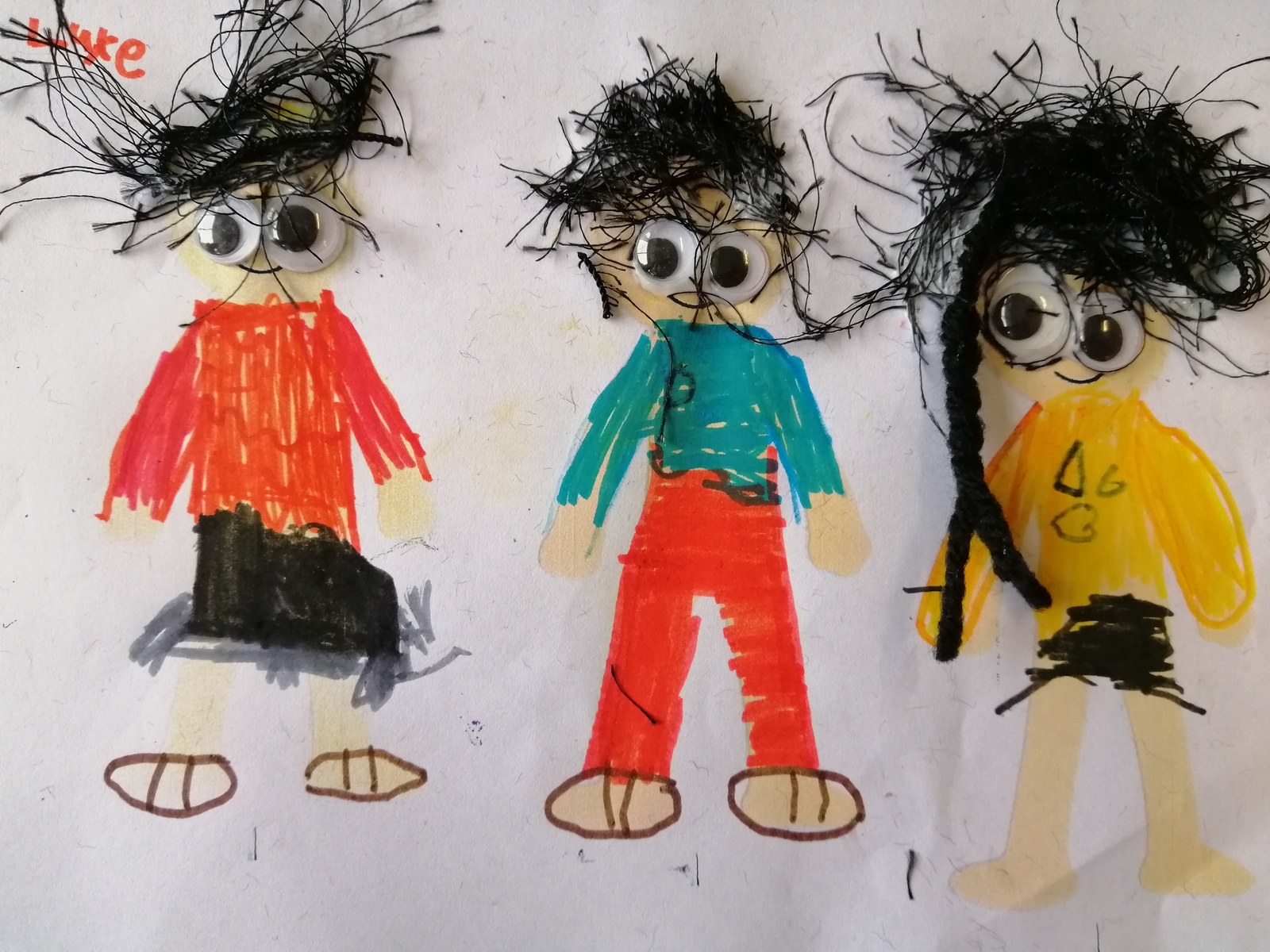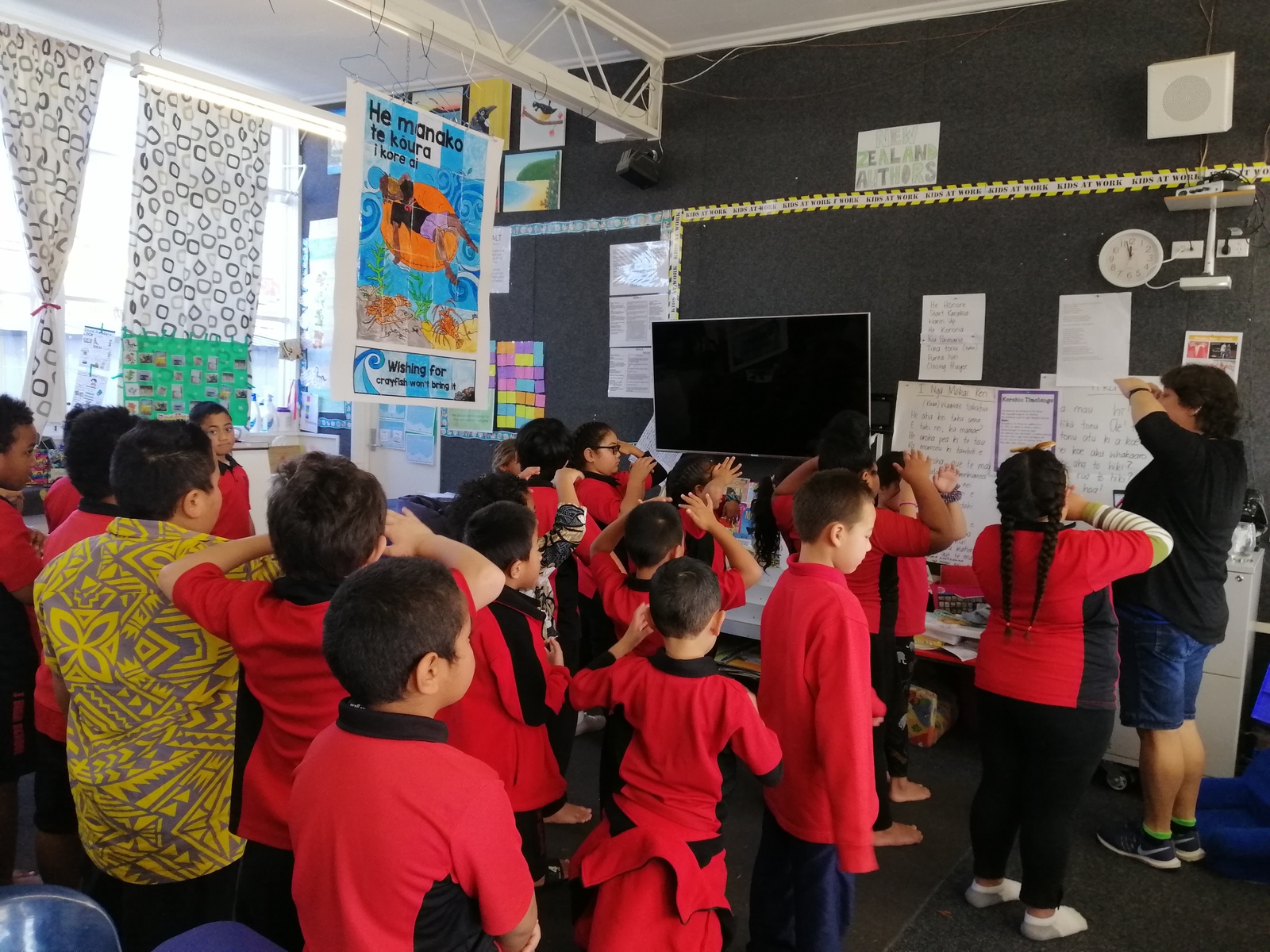 Kapa Haka with Room 13 and Miss Browne
Buddy Reading in Room 13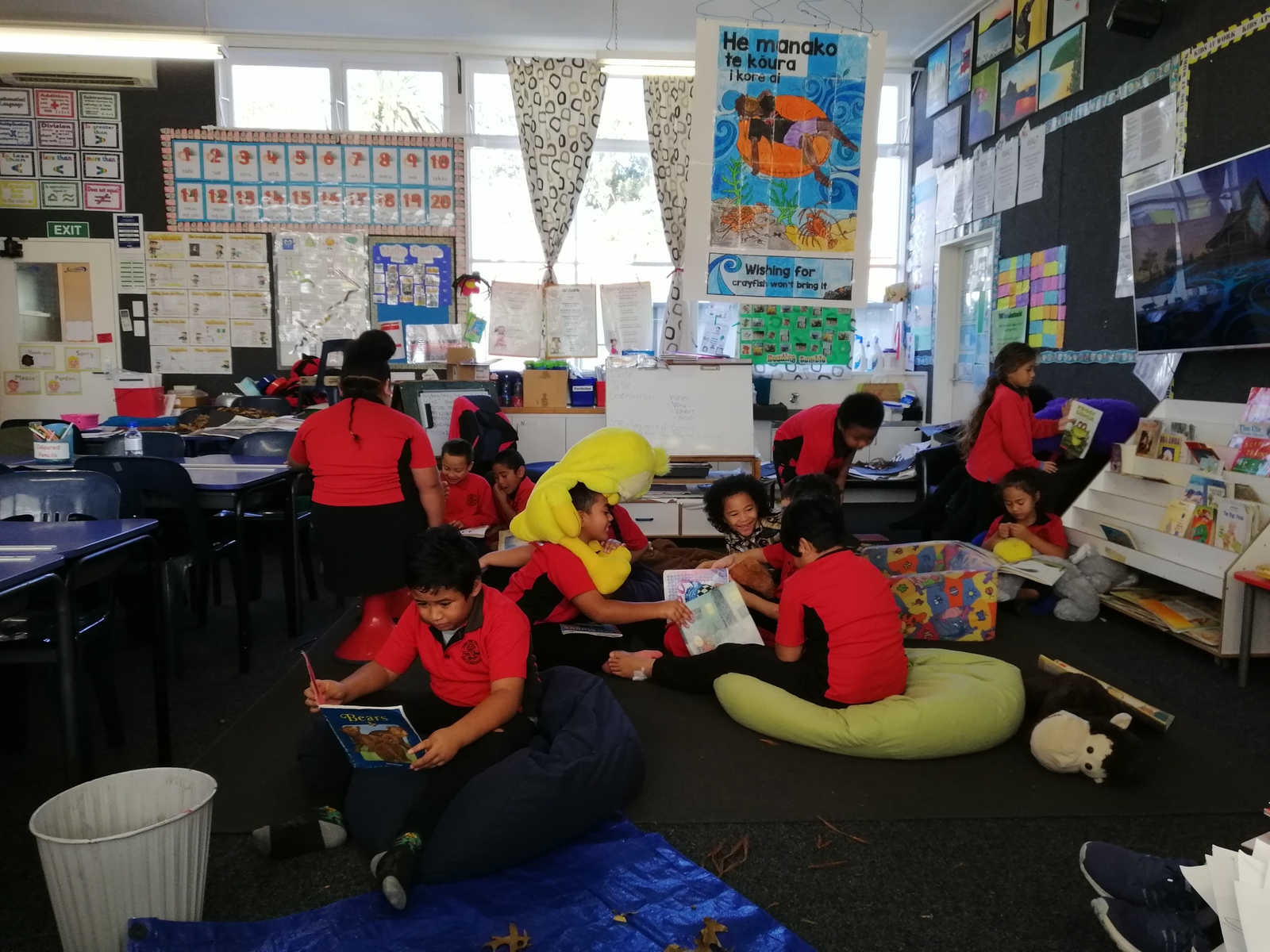 Drumtime with Mr D
Today the Kangaroos group read a story about Whai- String games. then we had a go at doing the string games ourselves. Ka pai Kangaroos.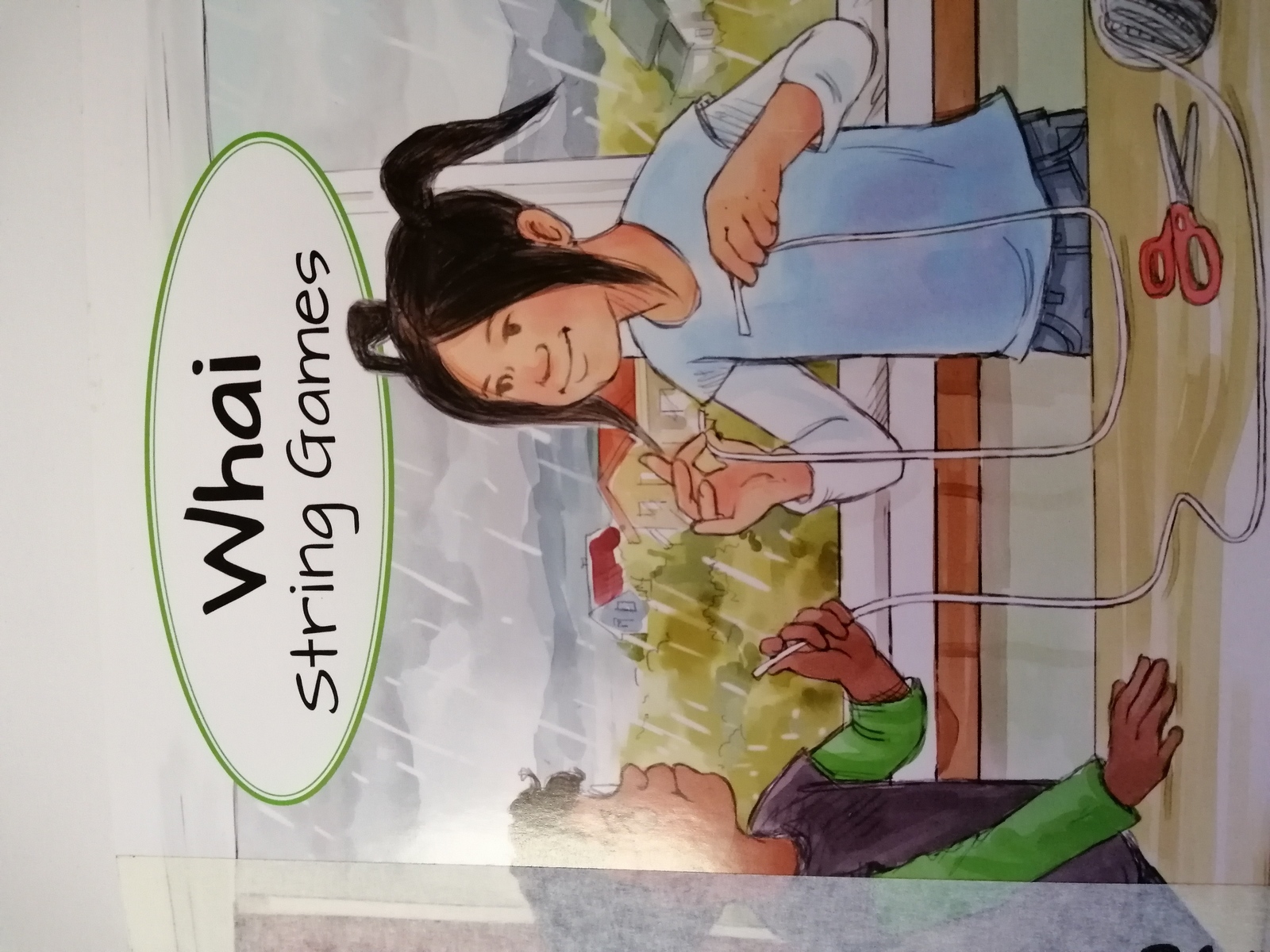 Look at the lovely Samoan clothes that Talia, Filemu and Saint Paul wore to school today. They look fantastic!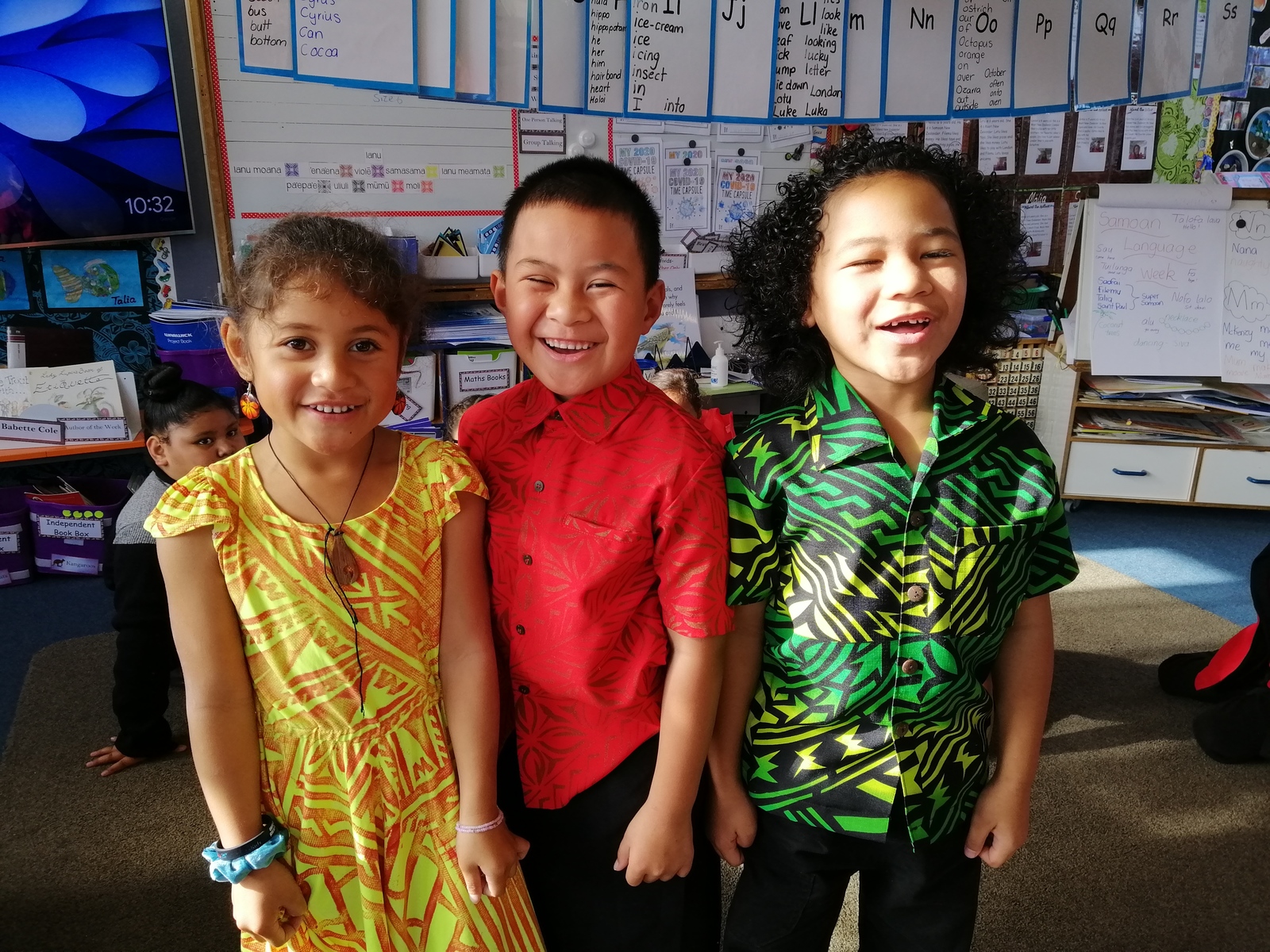 We have been doing lots of work this week. Look at the words we can write with the Bananagrams!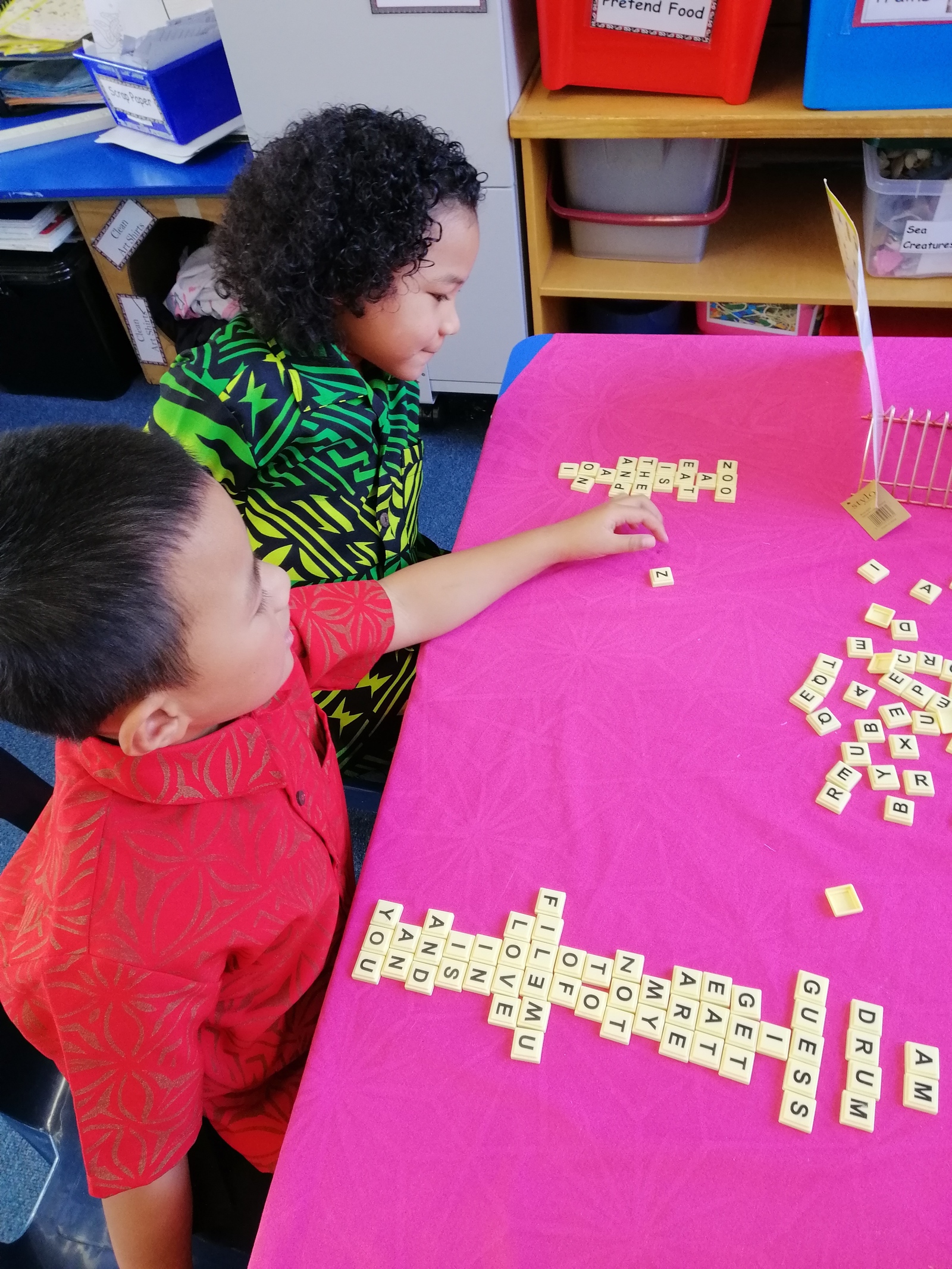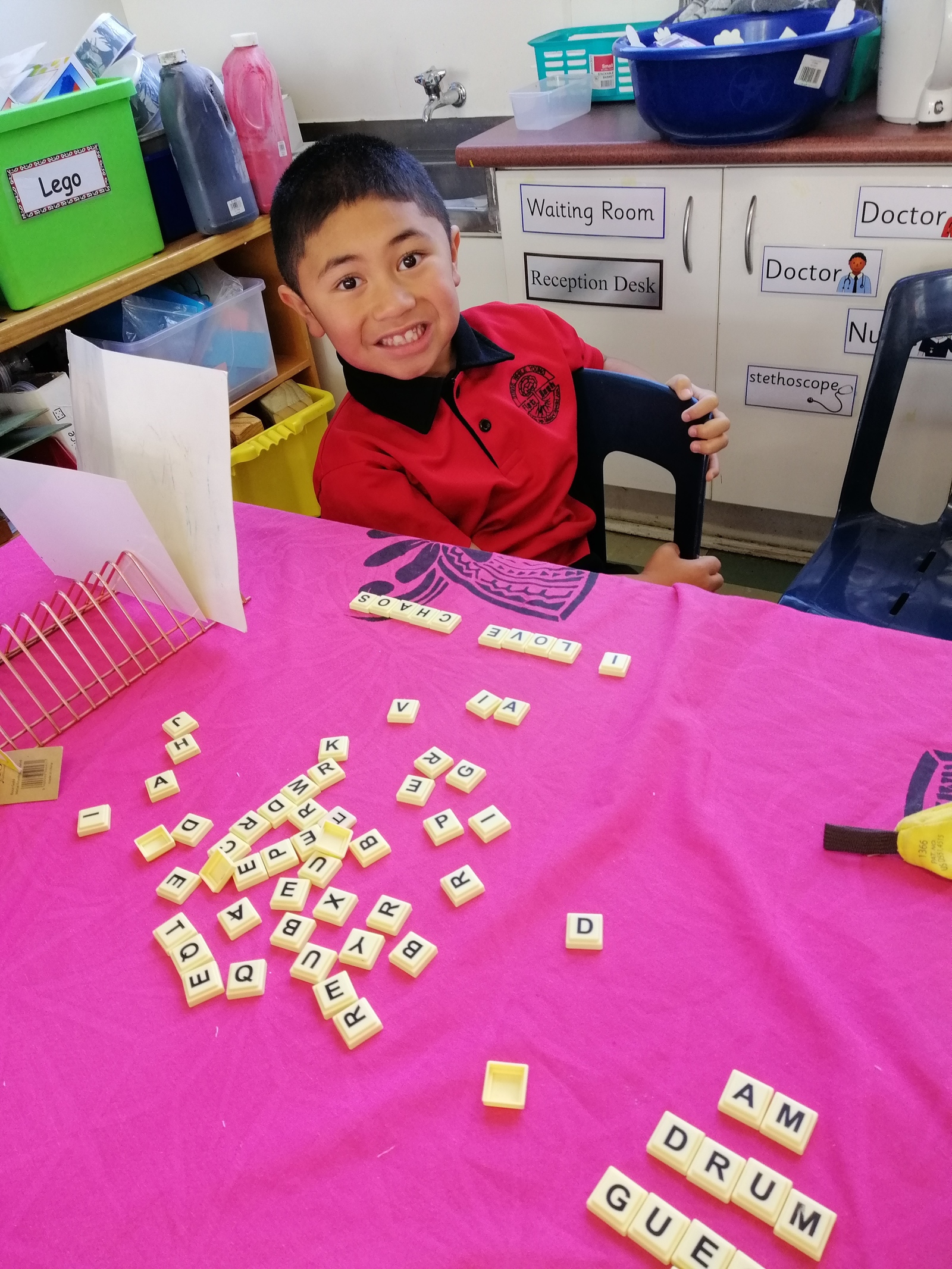 Talia has been sharing her Samoan culture with us this week. Thank you Talia!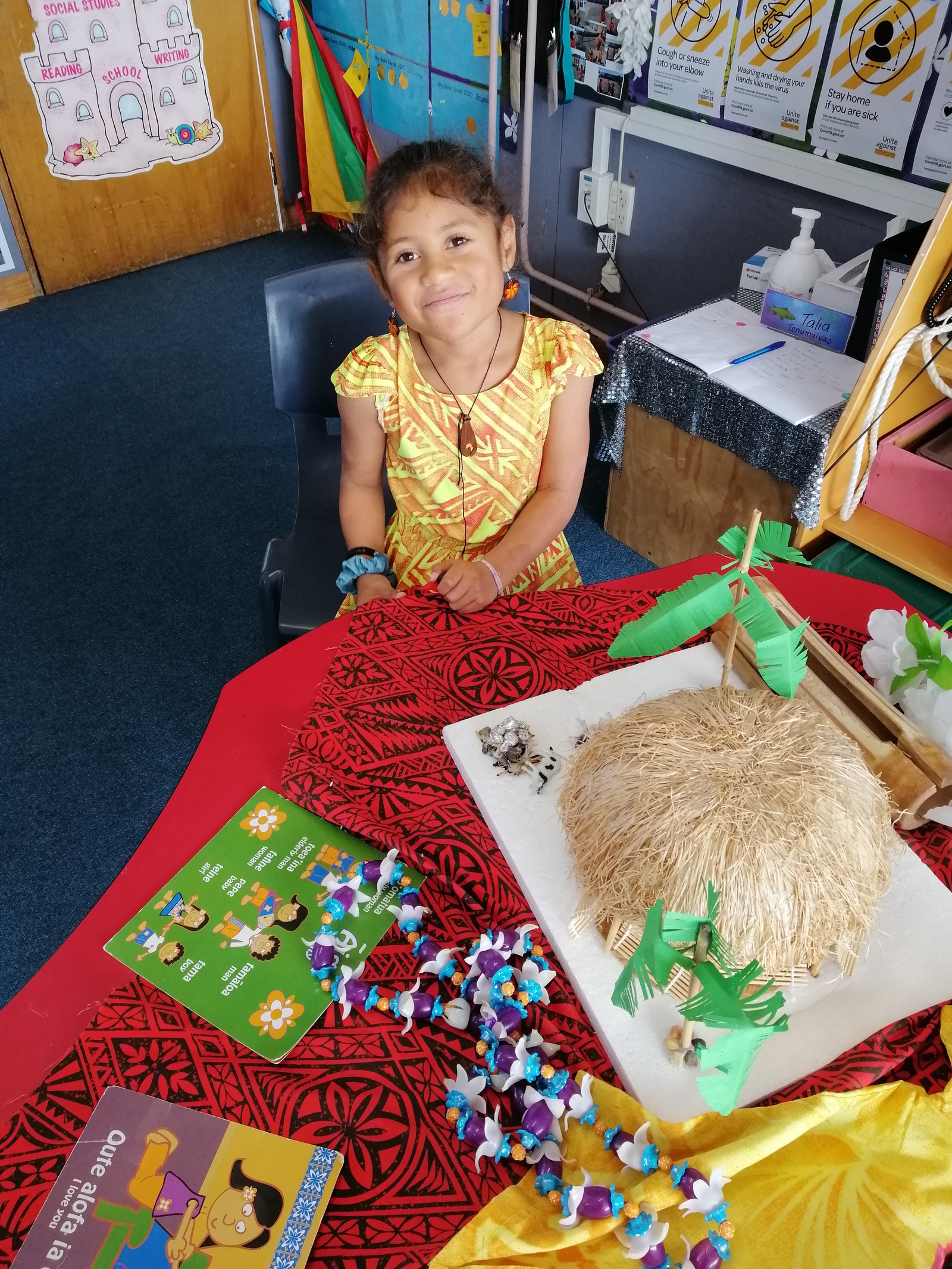 Lotu is doing some maths games to practice her counting.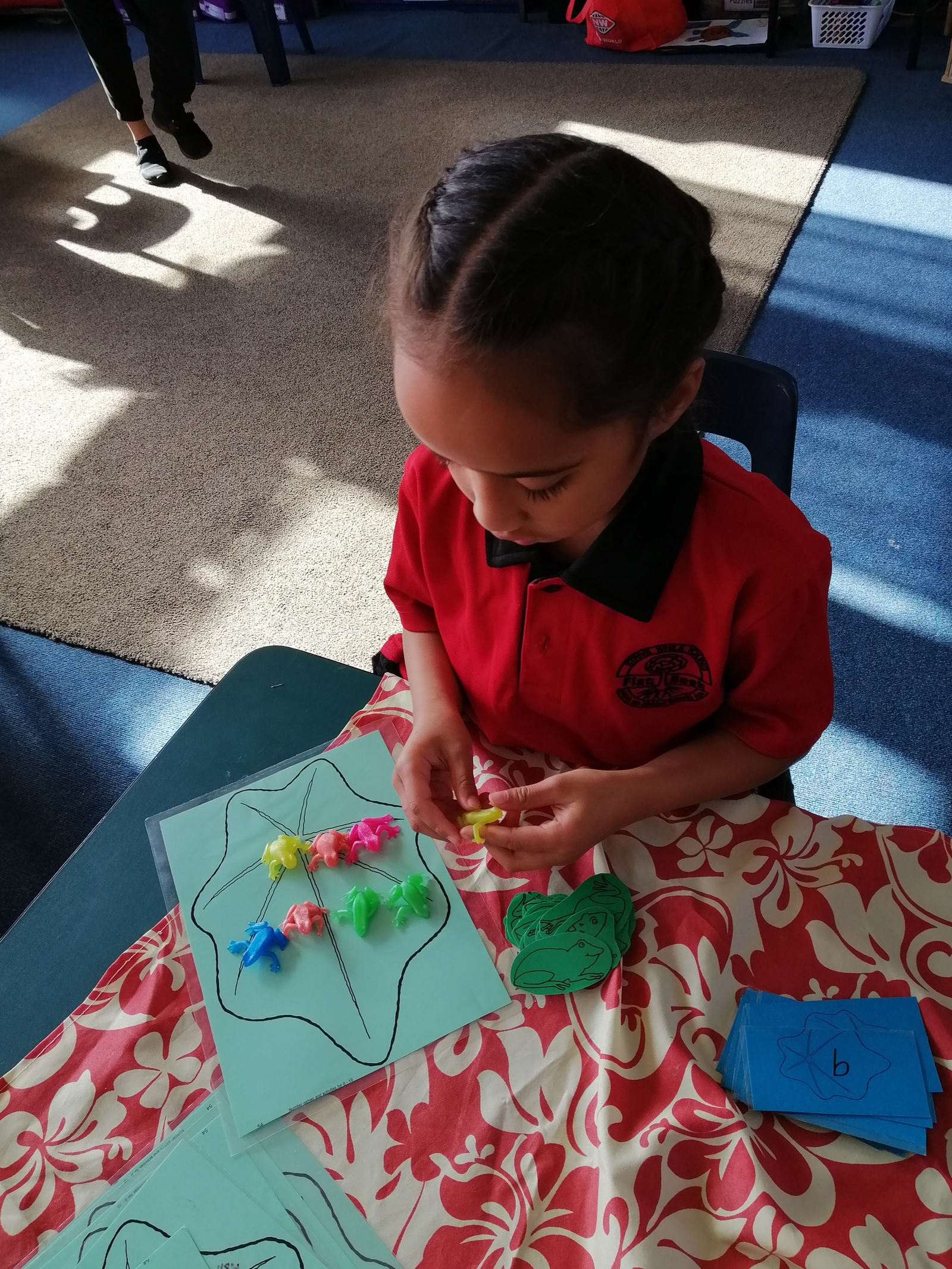 We made some Samoan Fales for Samoan language week. When the glue is dry we will be able to display them in our classroom.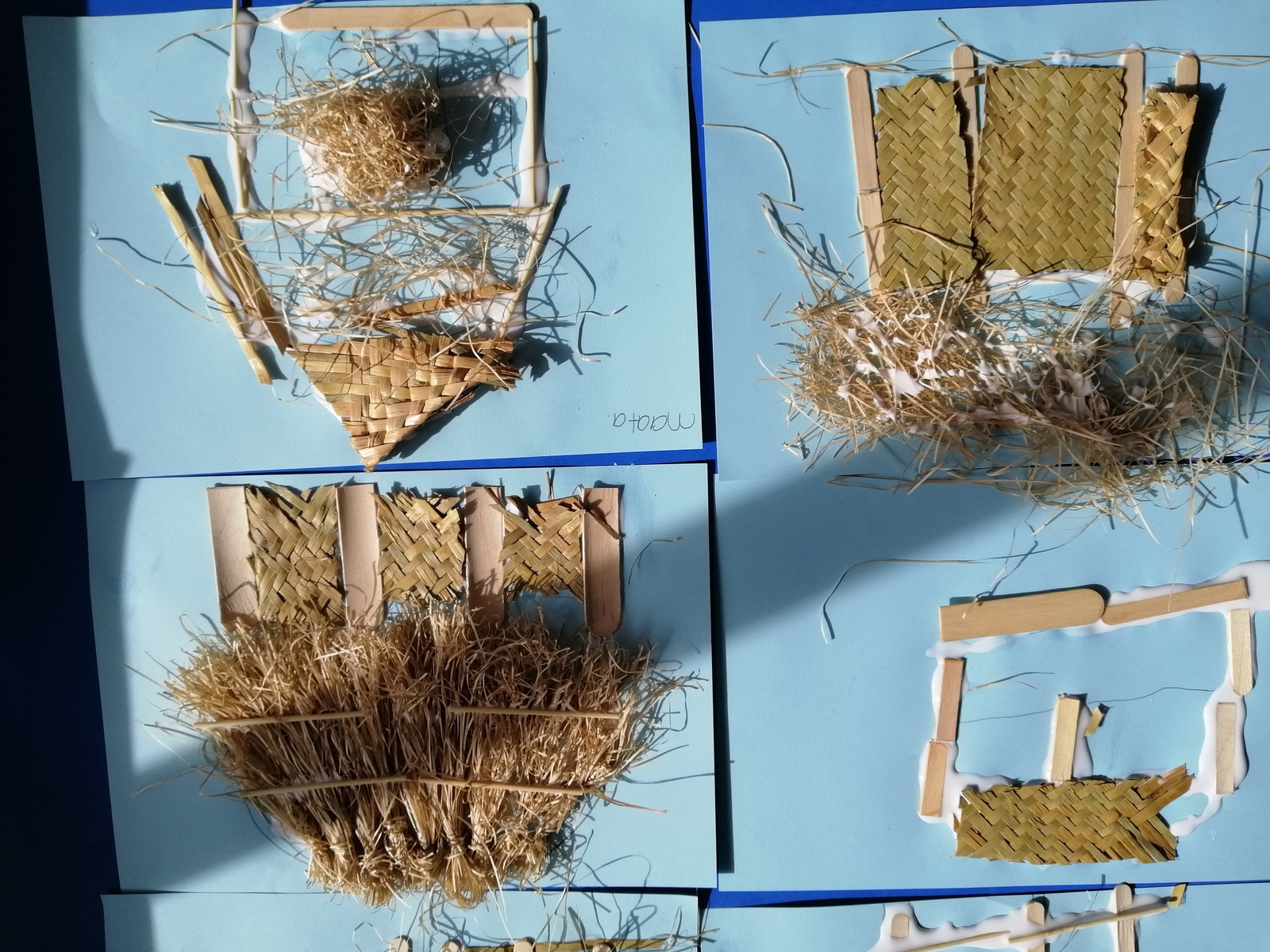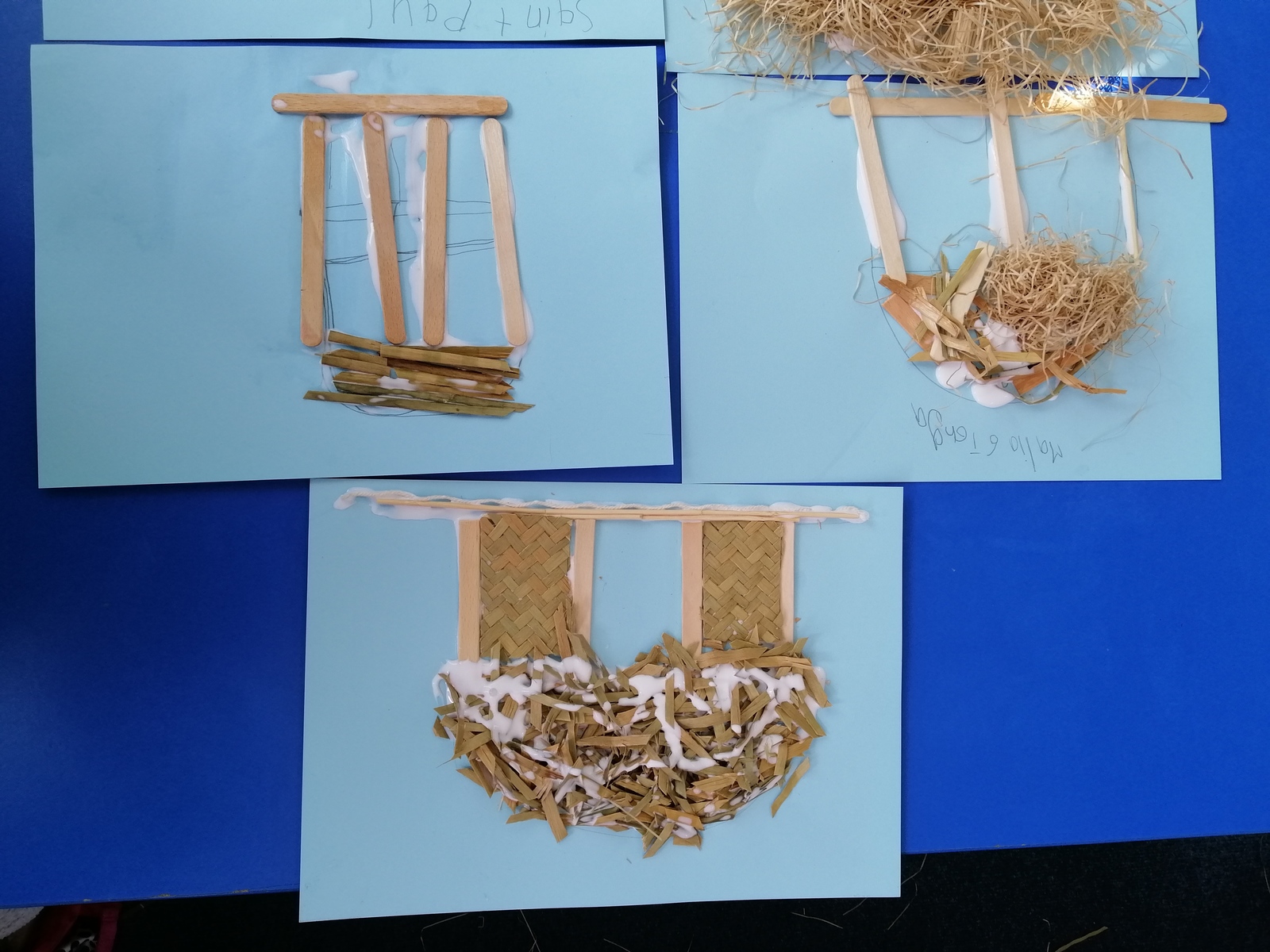 On Tuesday we were very lucky to have Mr Moiho come and do some singing with us, we sounded great!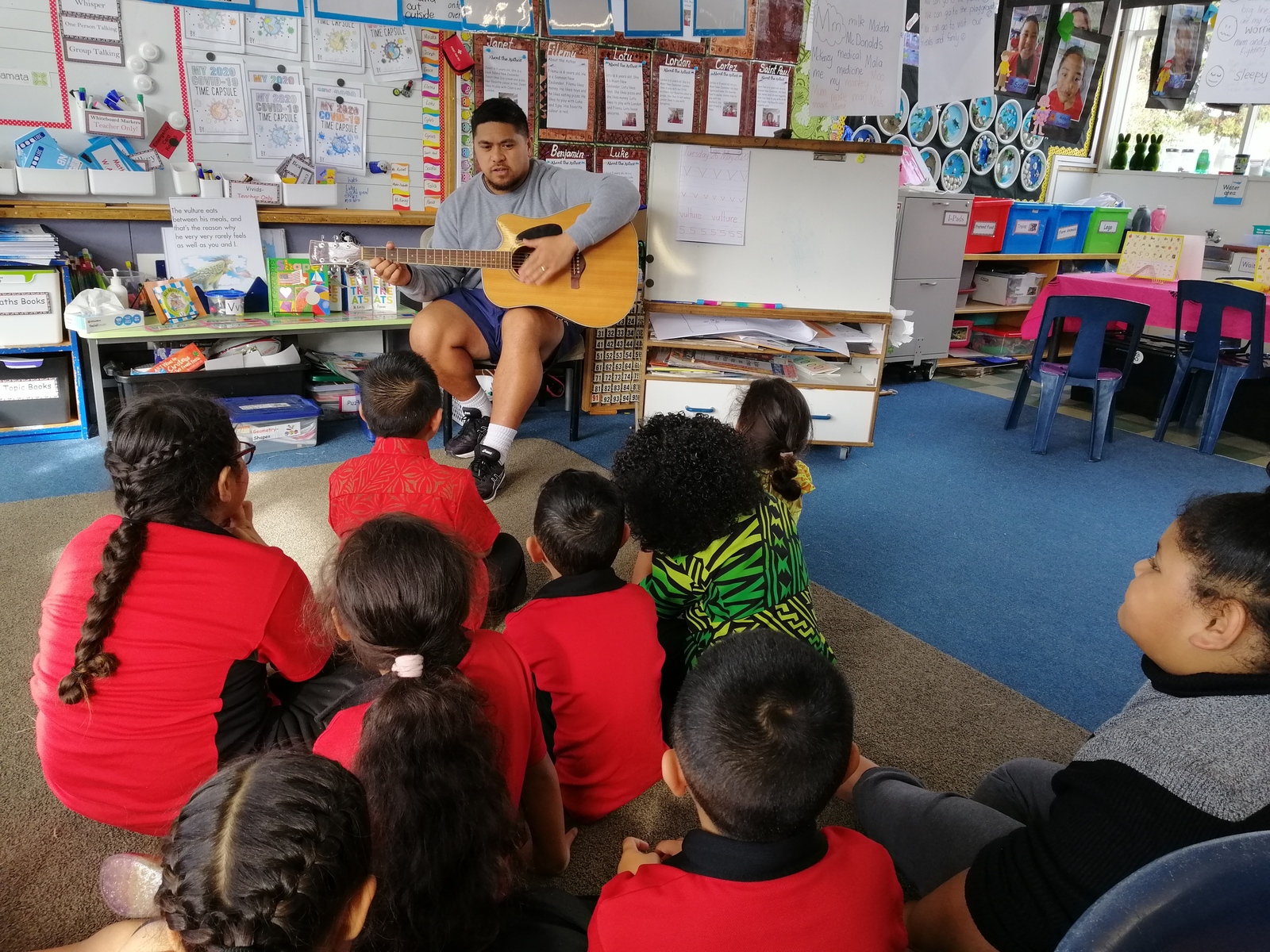 We hope that you are enjoying checking out our learning on our class page. Today we went on the Ipads and had a look at some of the other class pages. We really enjoyed seeing our siblings and friends and watching some of the awesome videos from the teachers!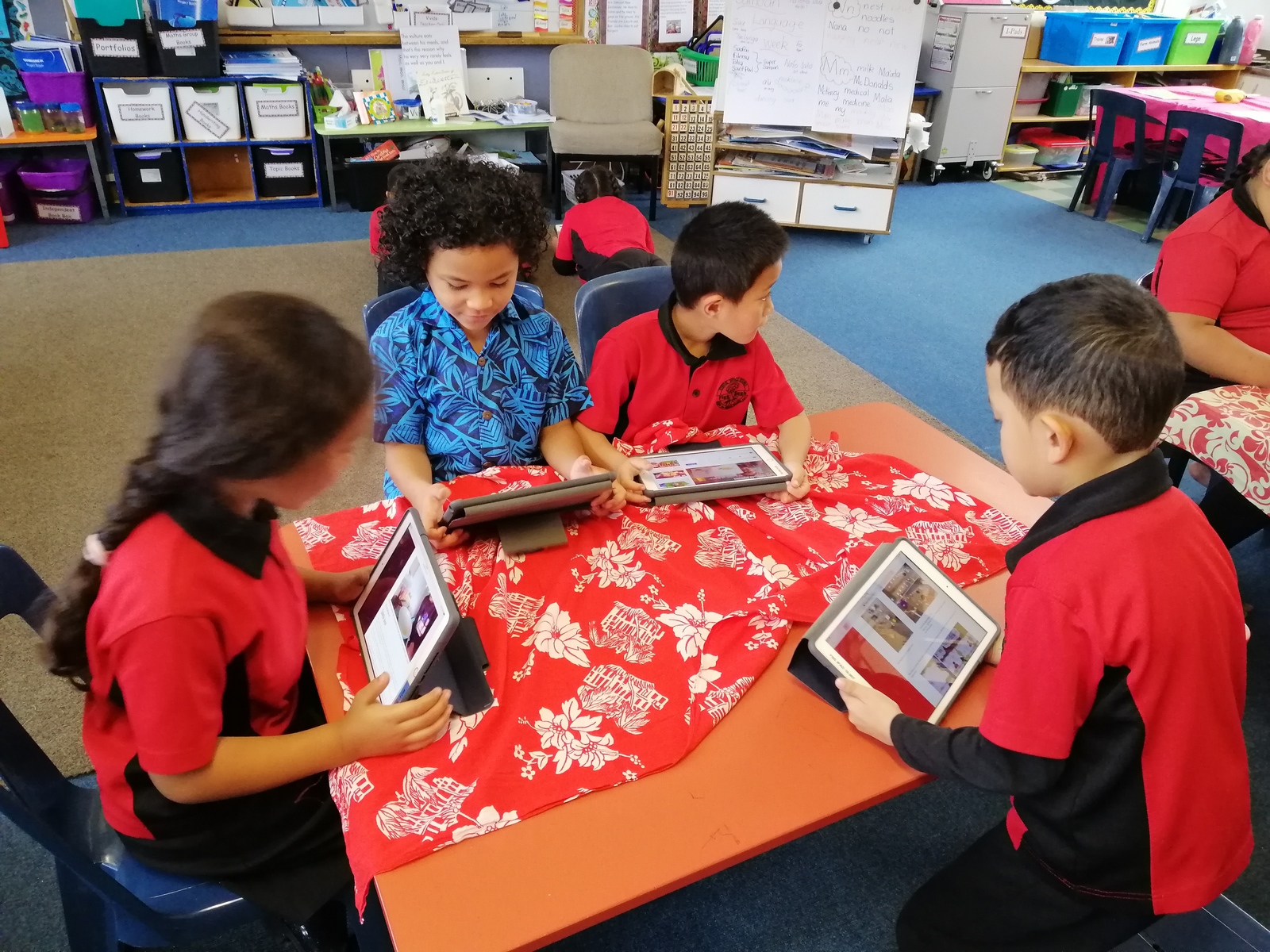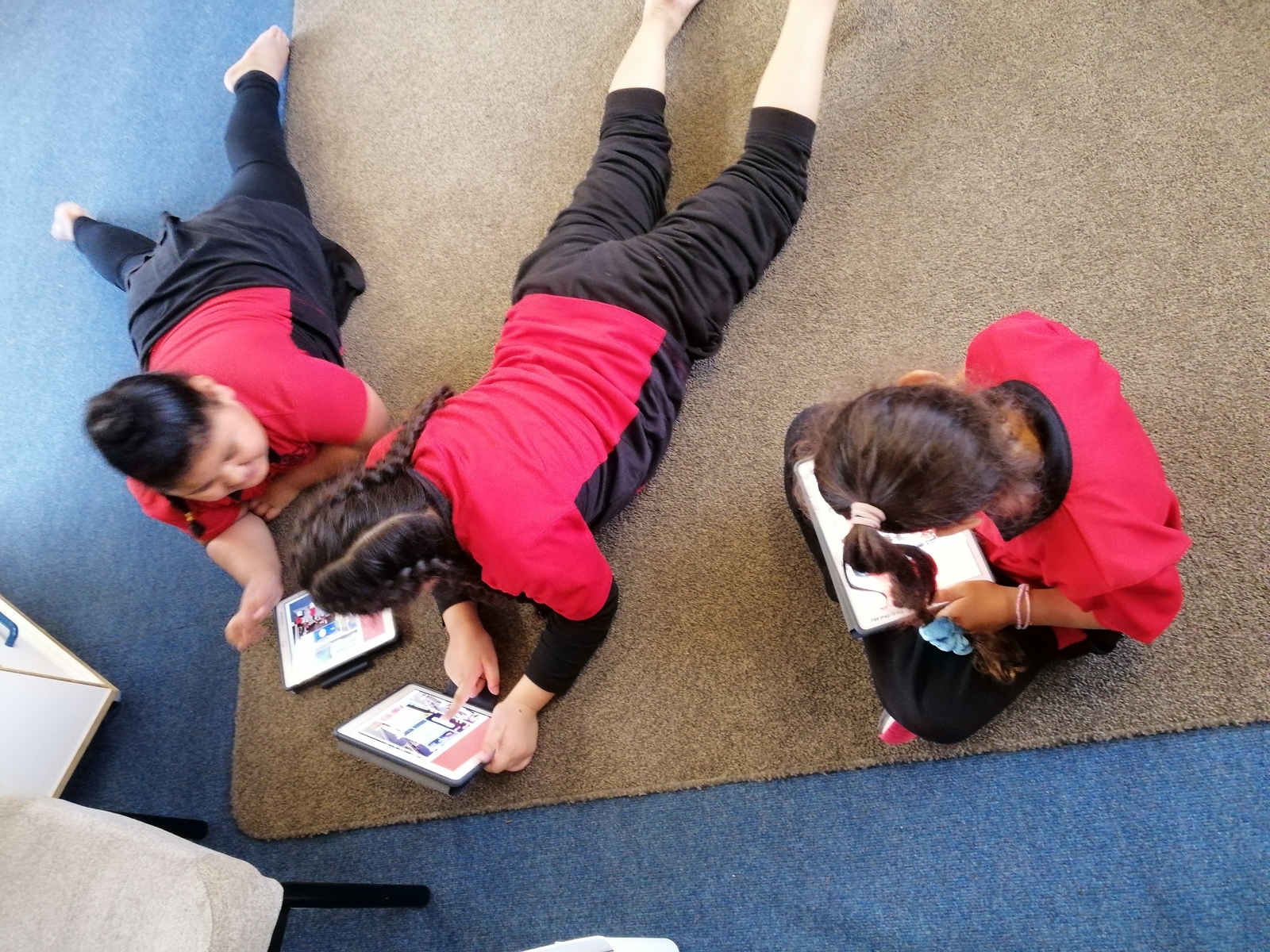 *** Week Six, Term 2 - 18th- 22nd May ***
Hi everyone! It has been great seeing so many students back at school for Level 2 reconnecting with each other and their teachers.
Here are a few things that we have been upto this week;
Reflecting on our time in isolation, what did we miss the most?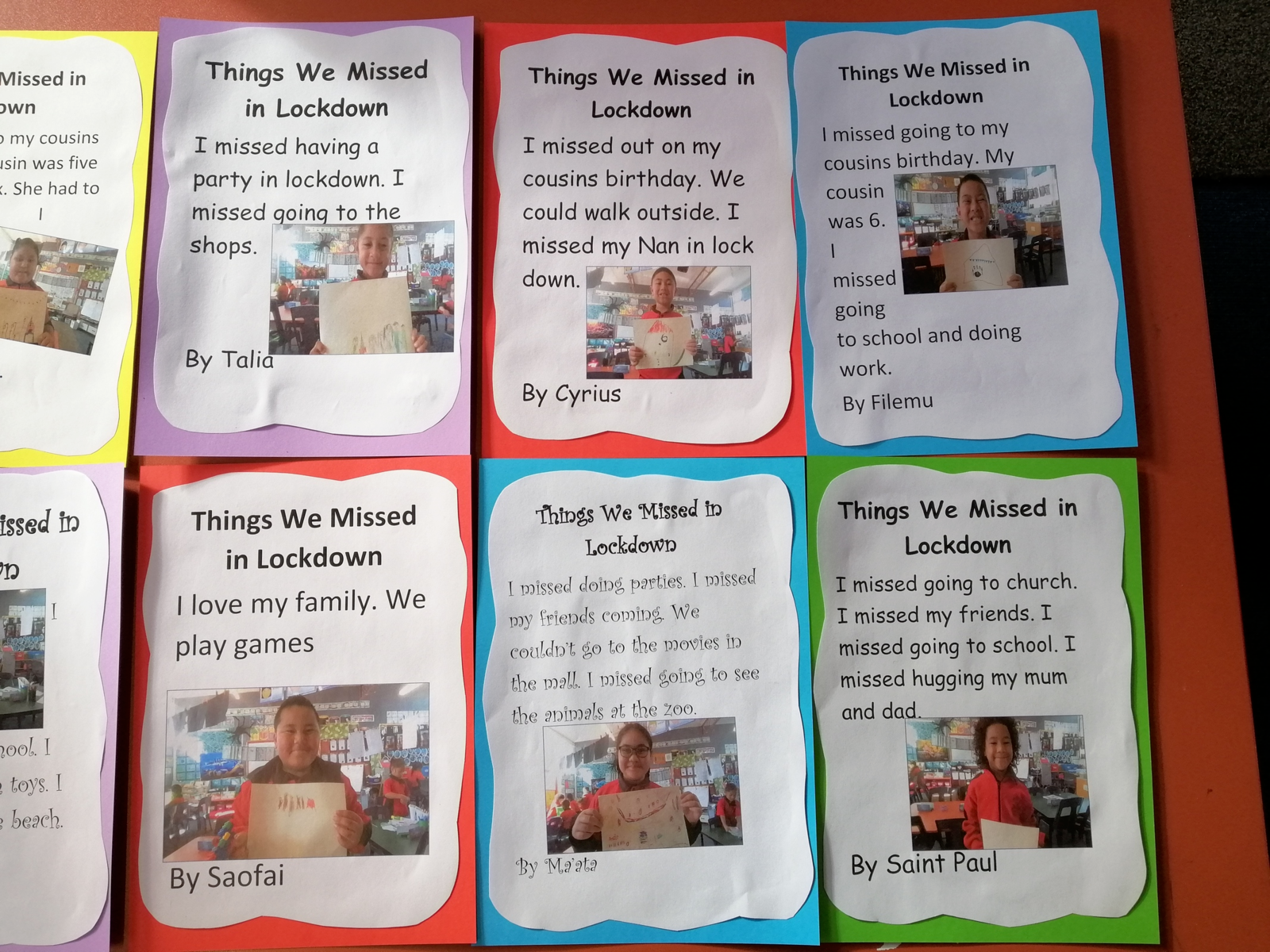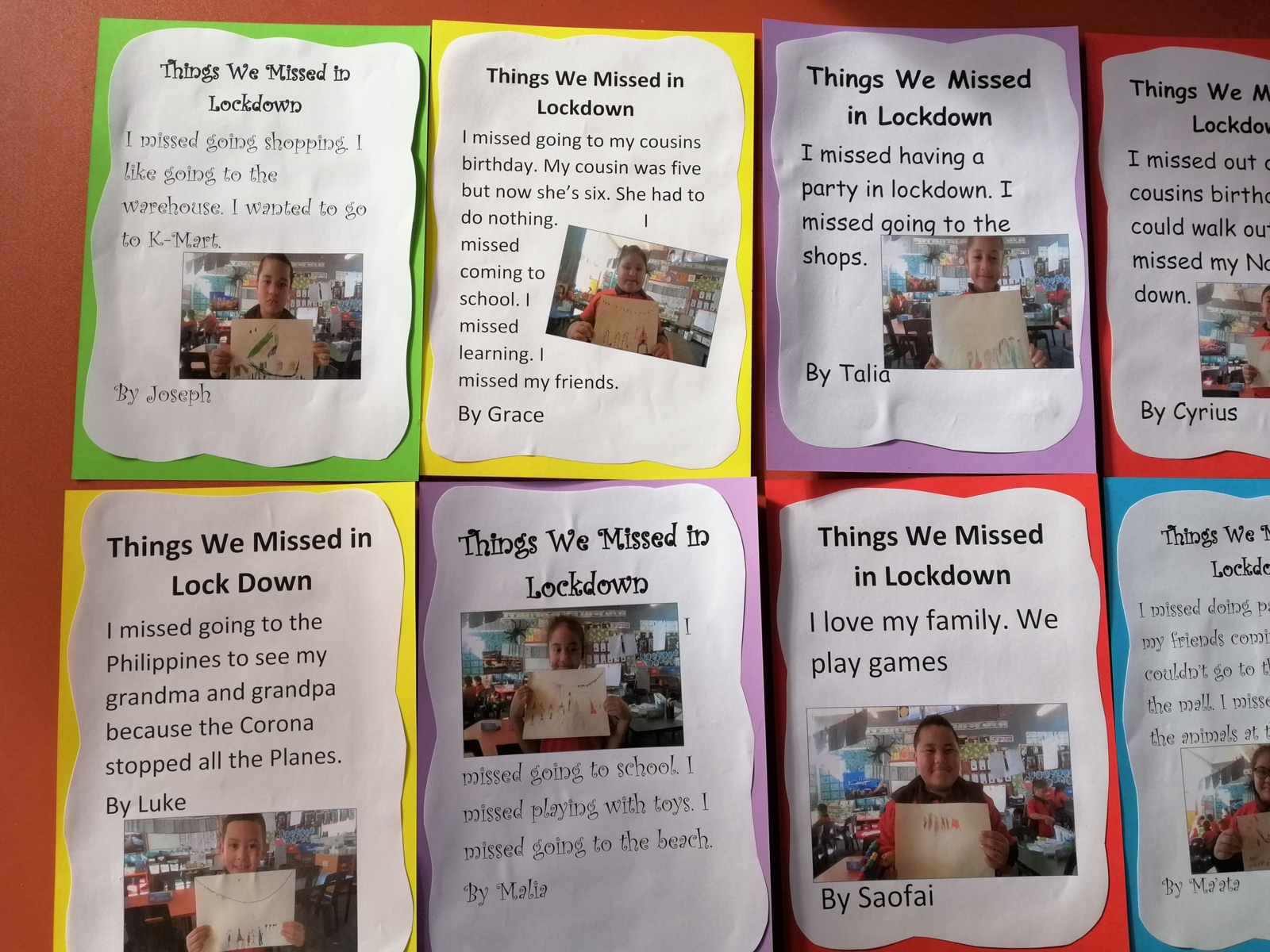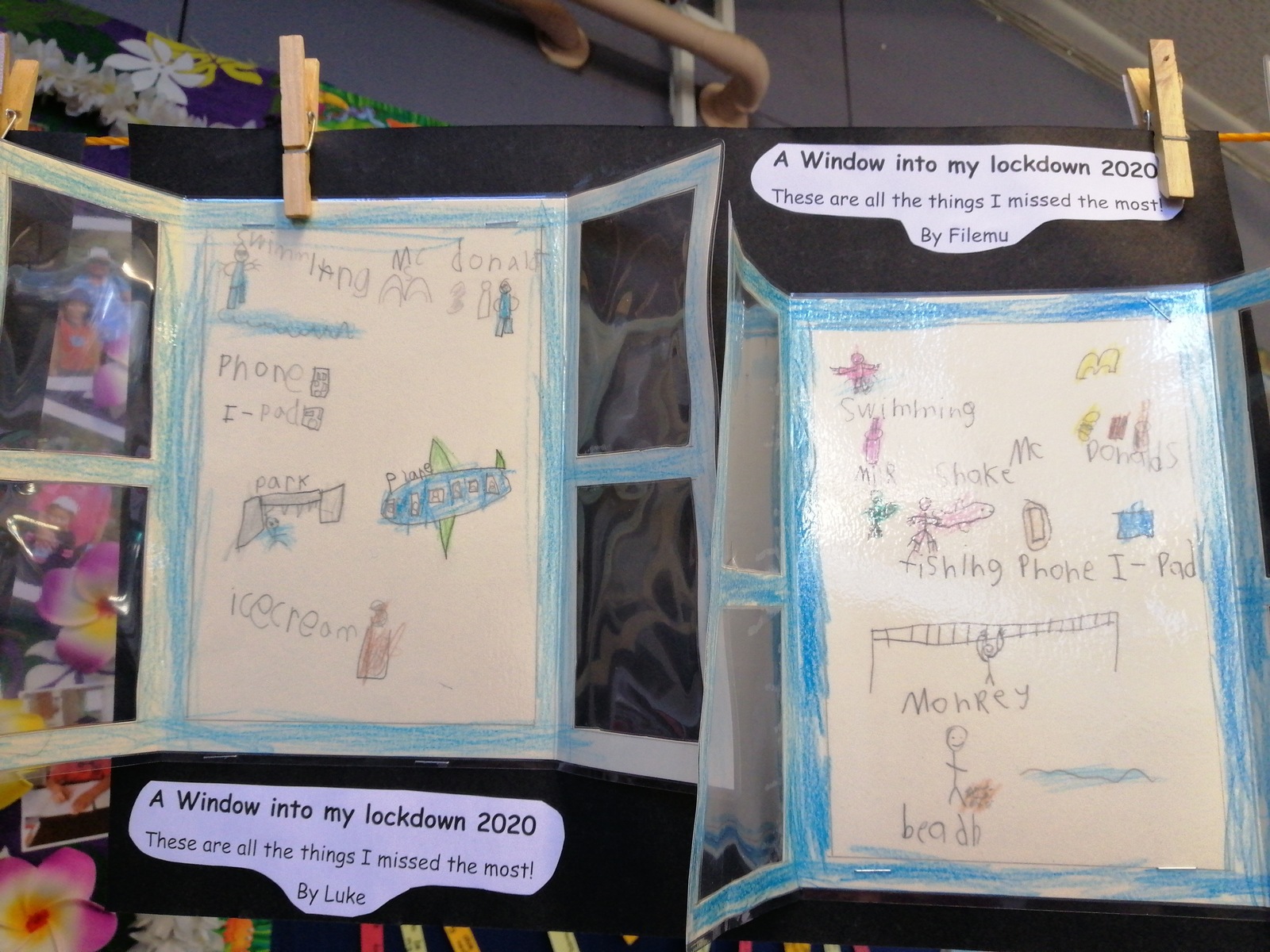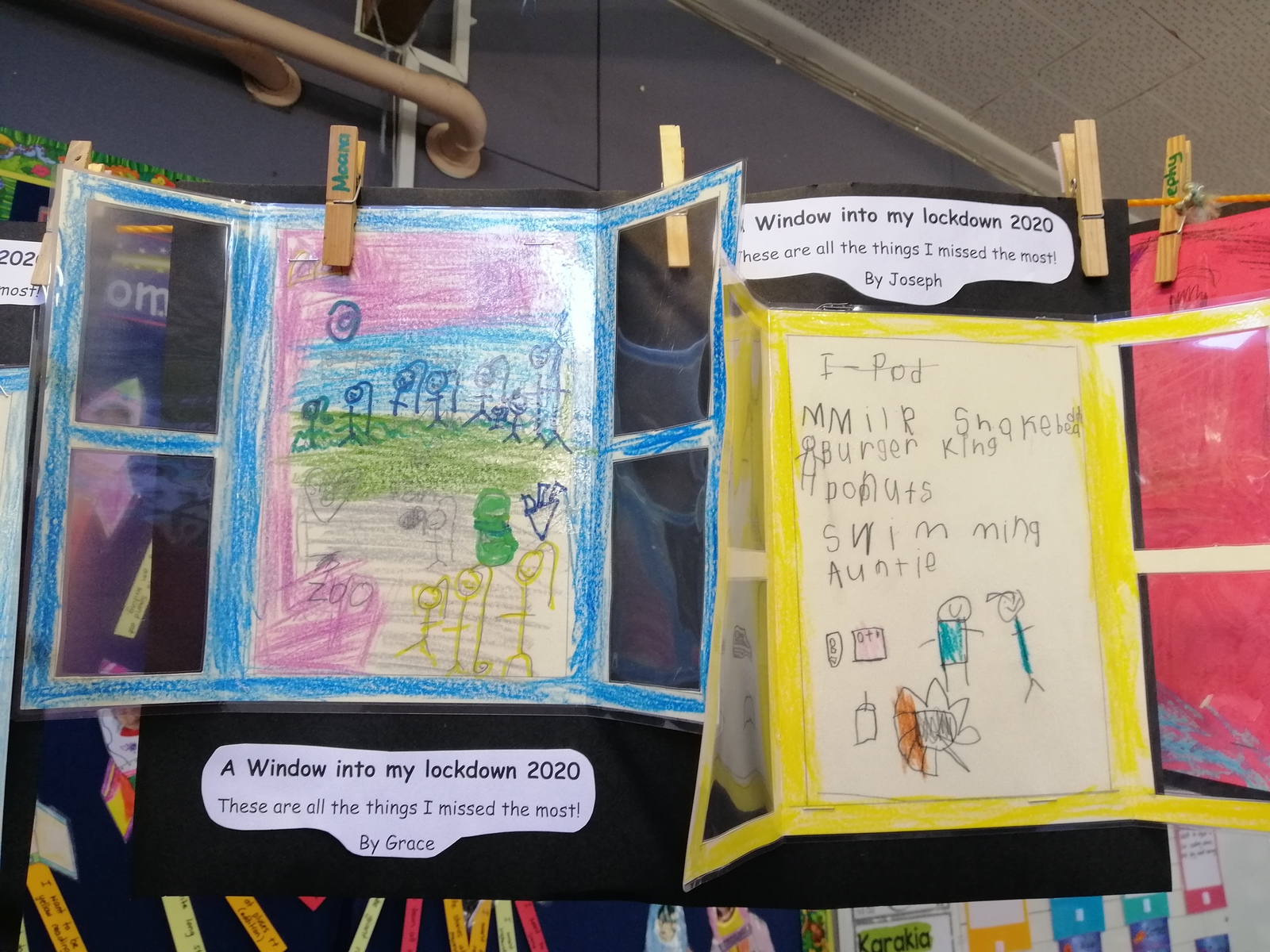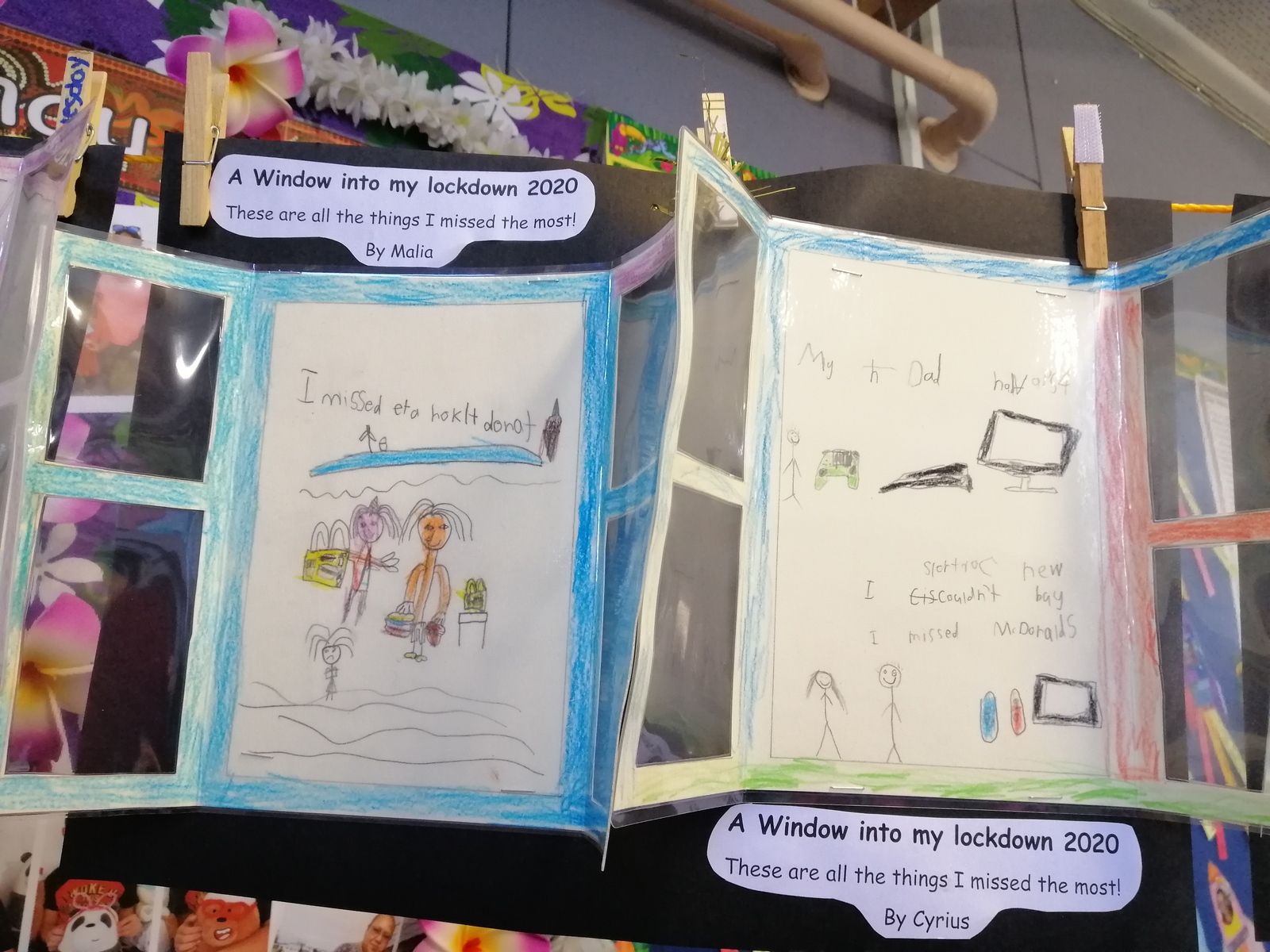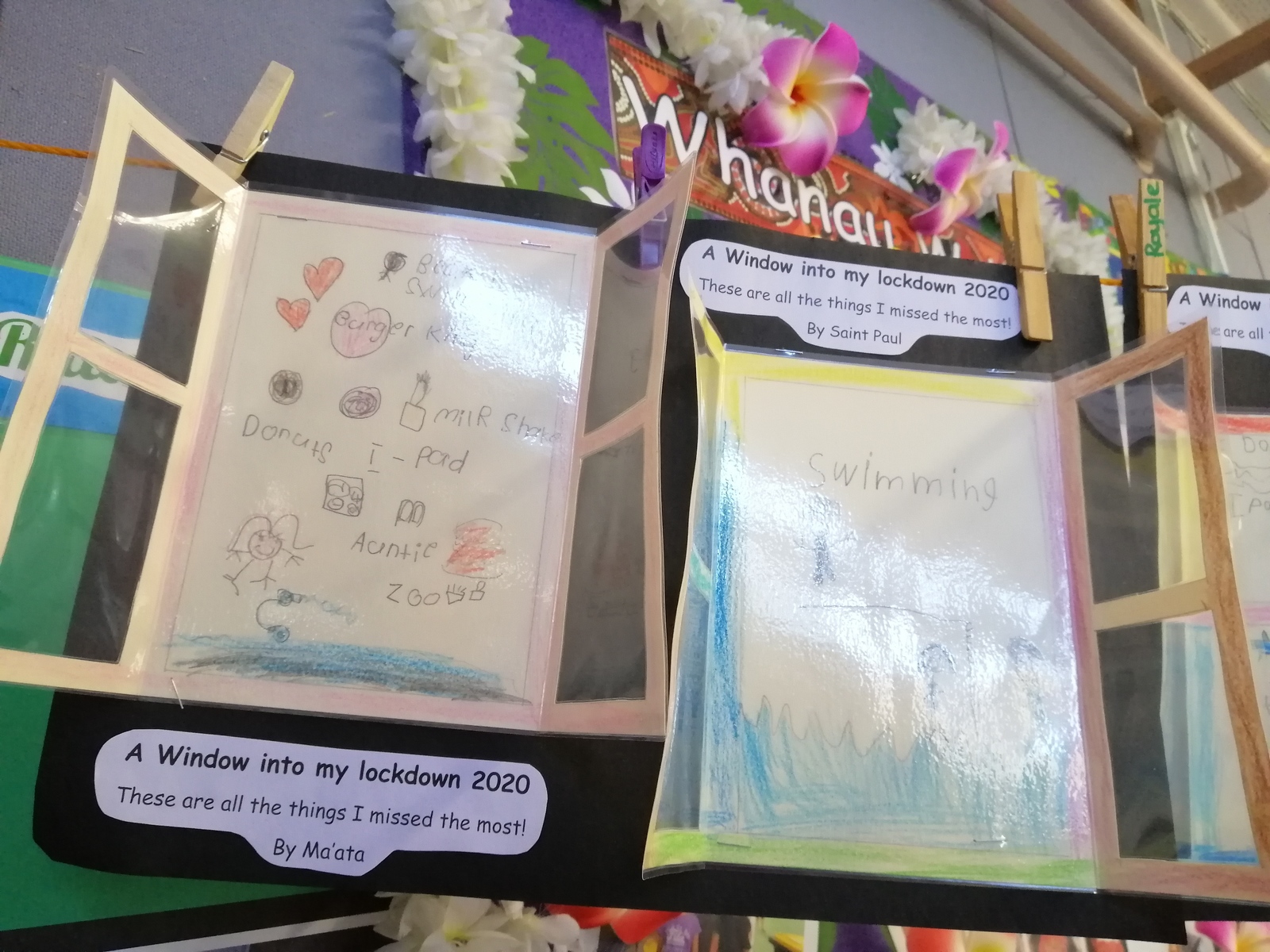 We have been talking about the great job that our essential workers did during the lock down, they are our modern day superheroes! We really appreciate the work the essential workers did and would like to be just like them one day!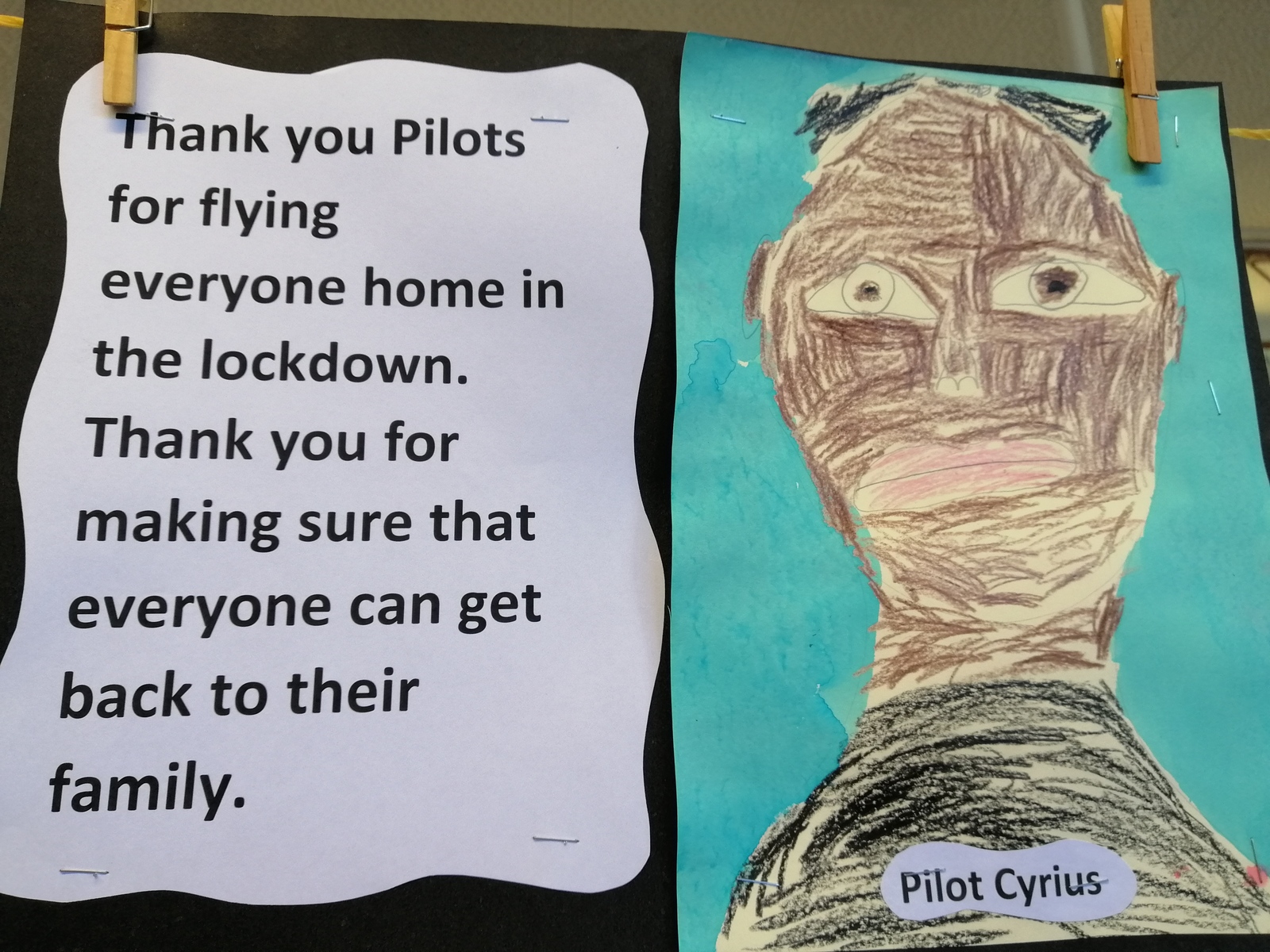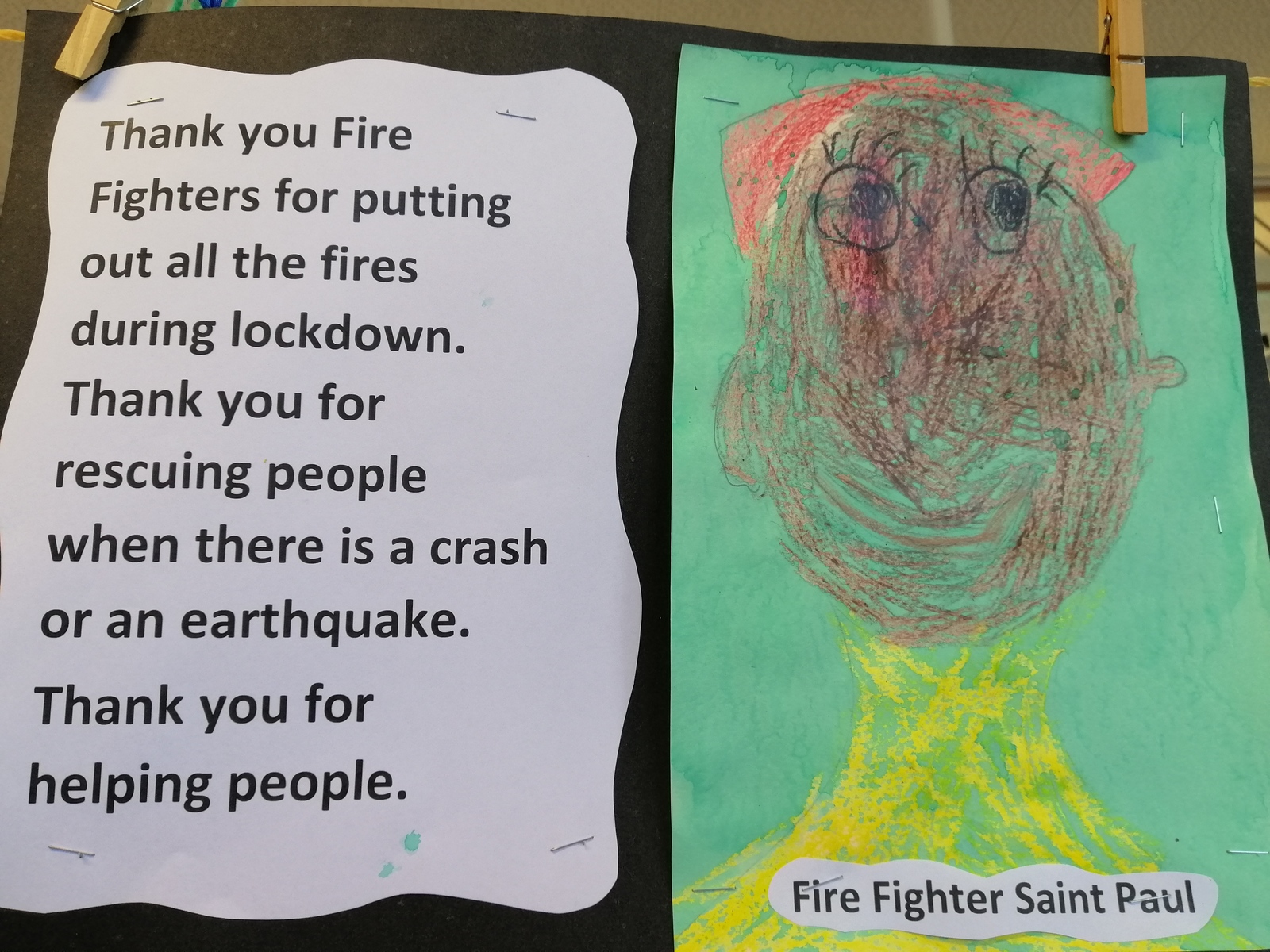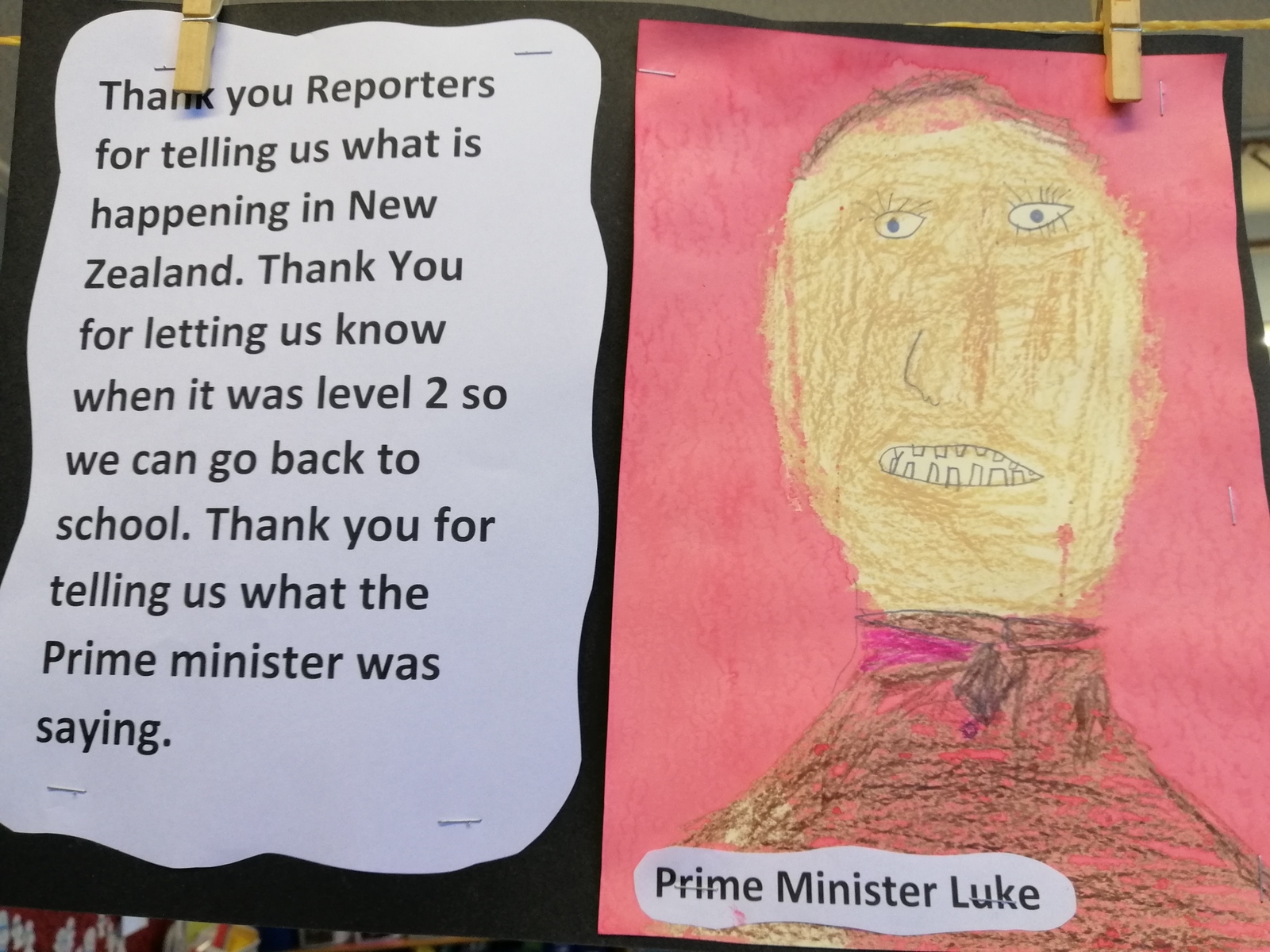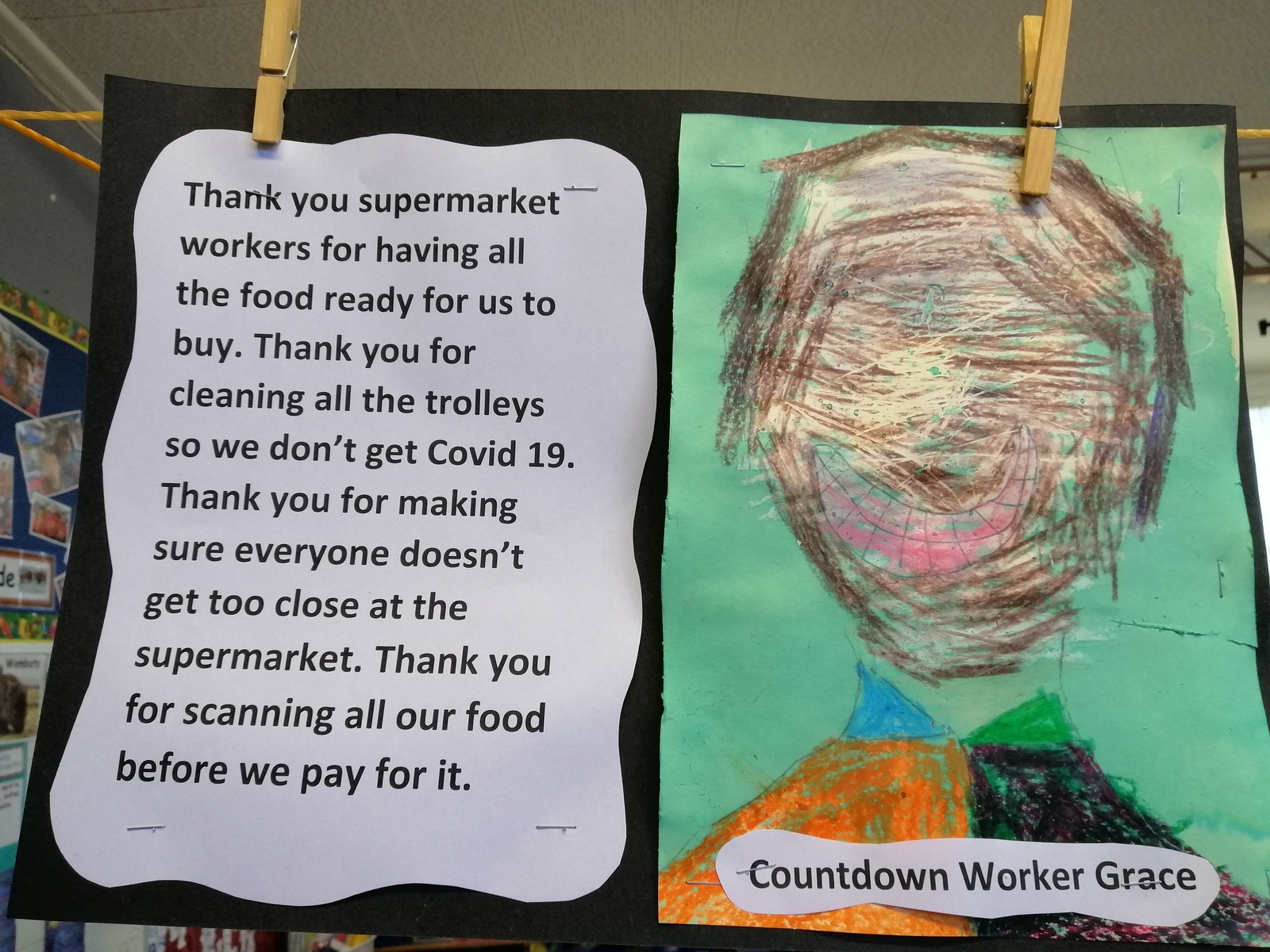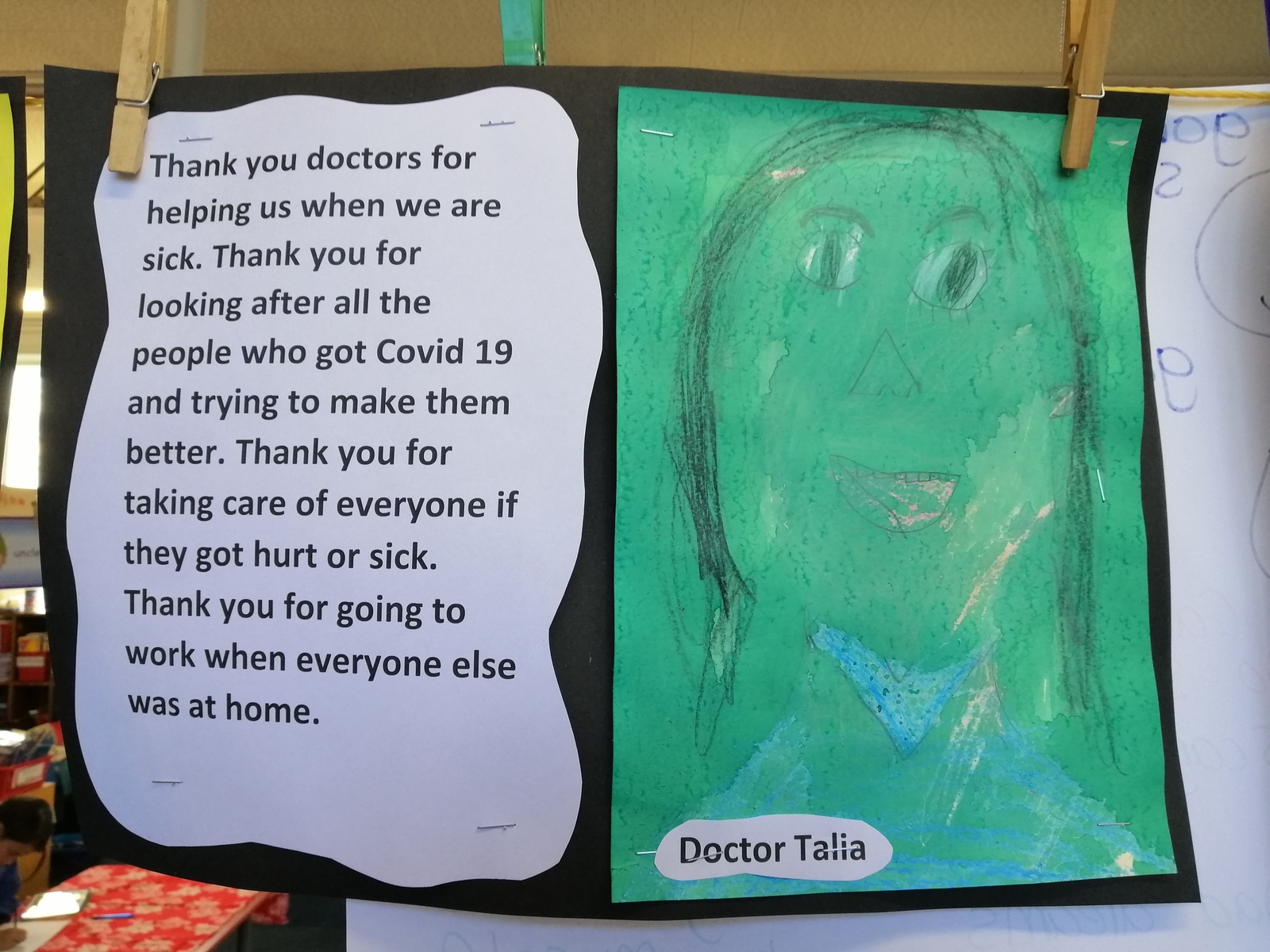 Drumming with Mr D in the Hall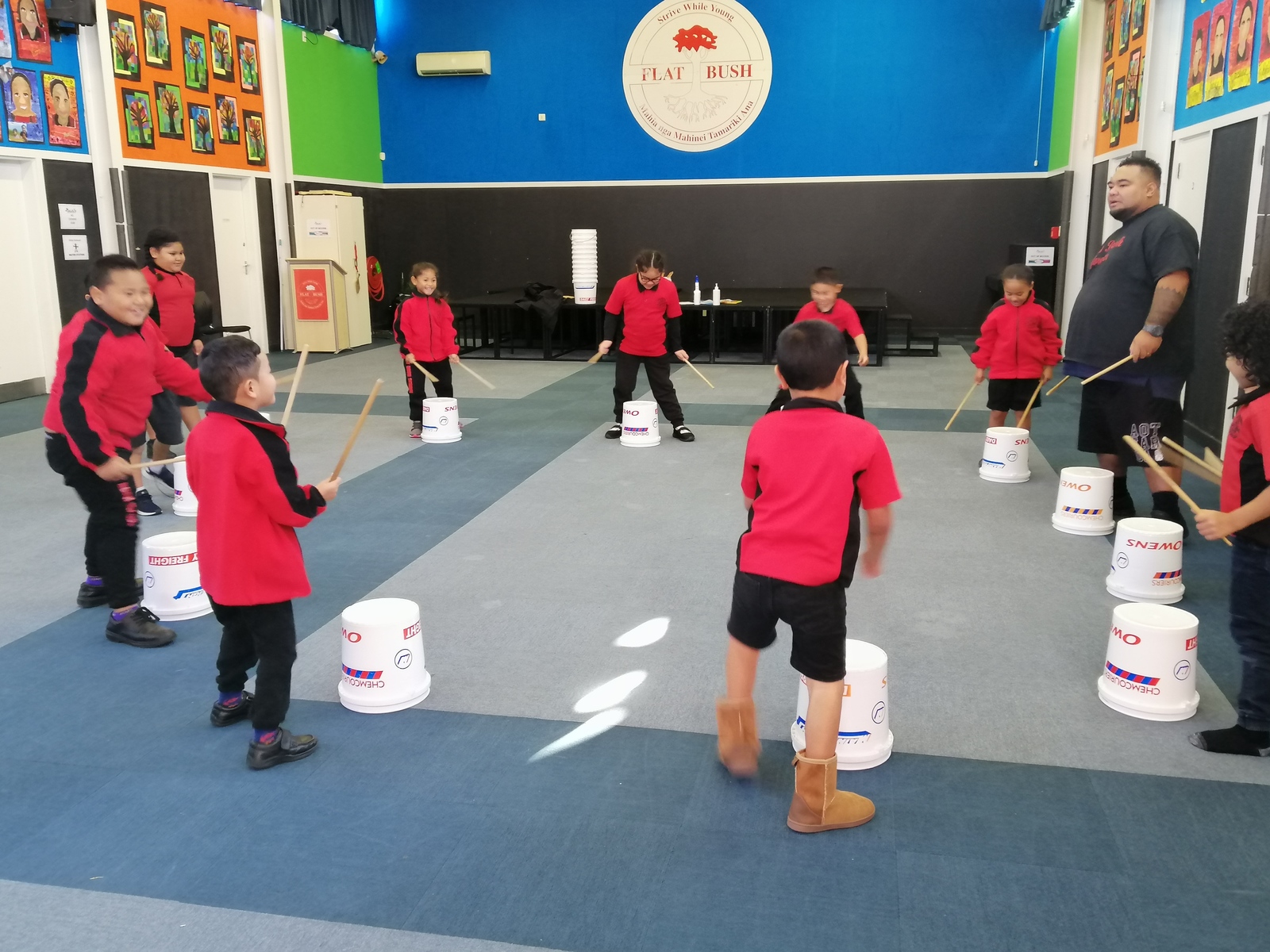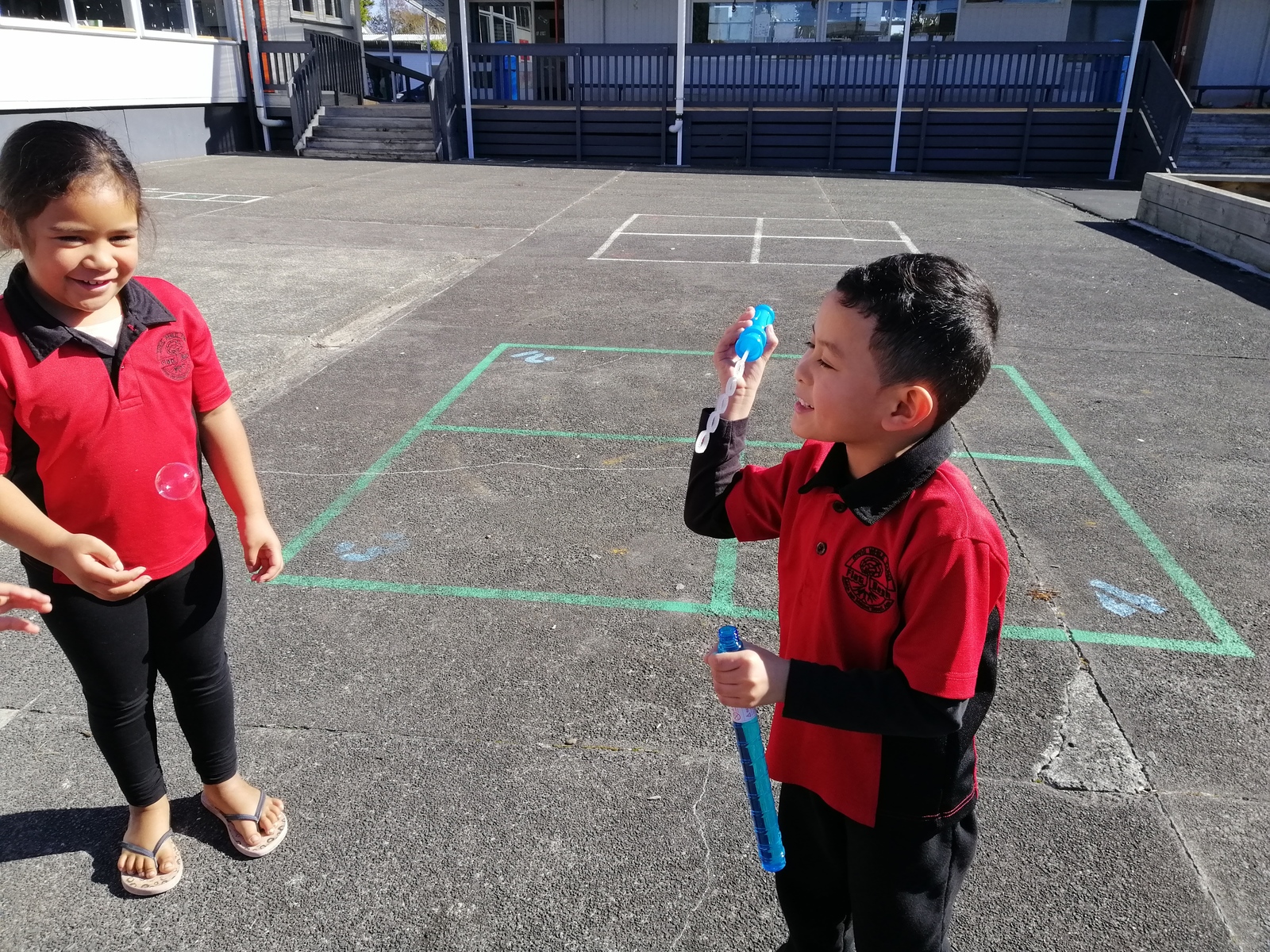 Blowing bubbles to celebrate not having to stay in our bubbles anymore.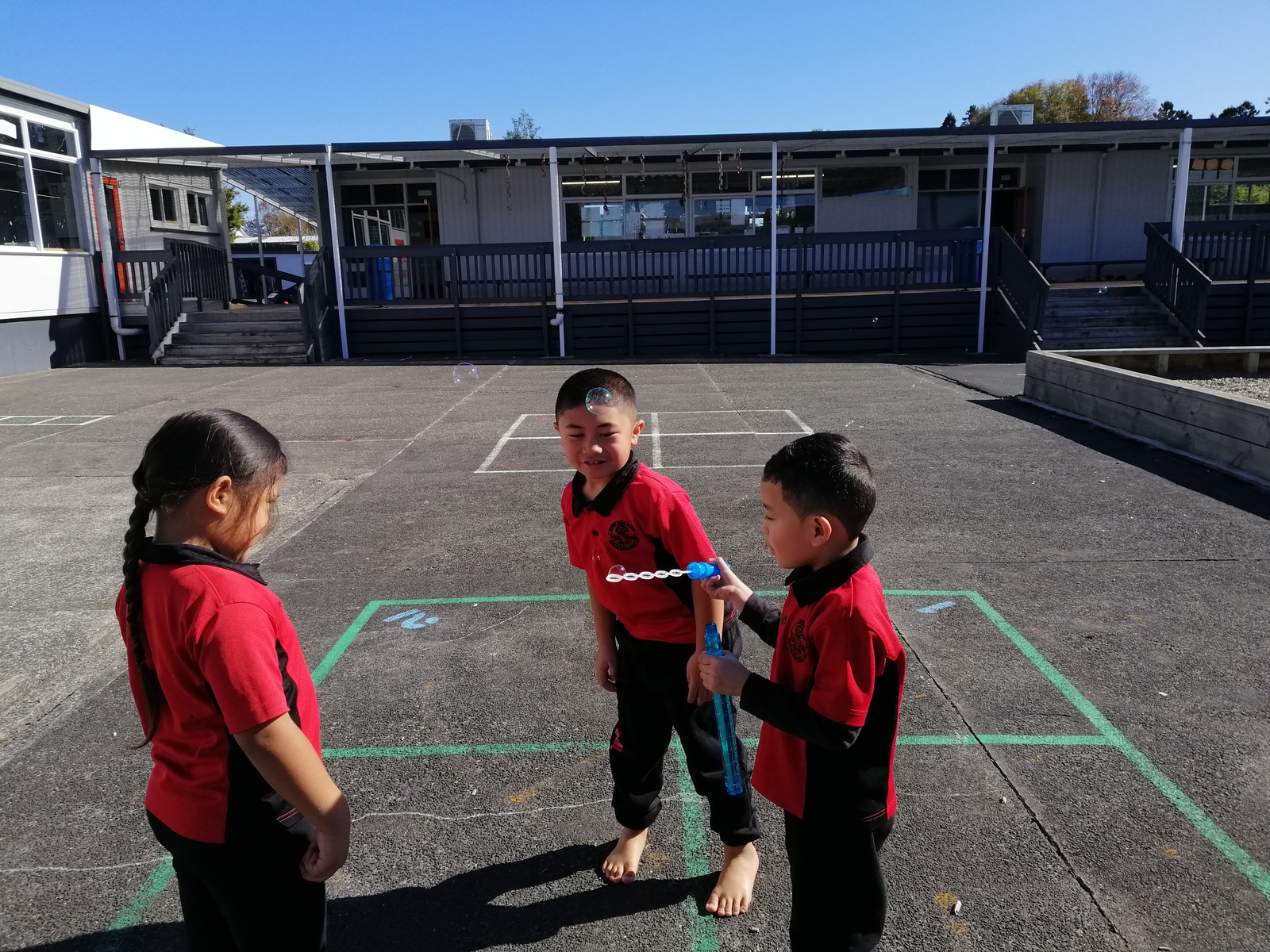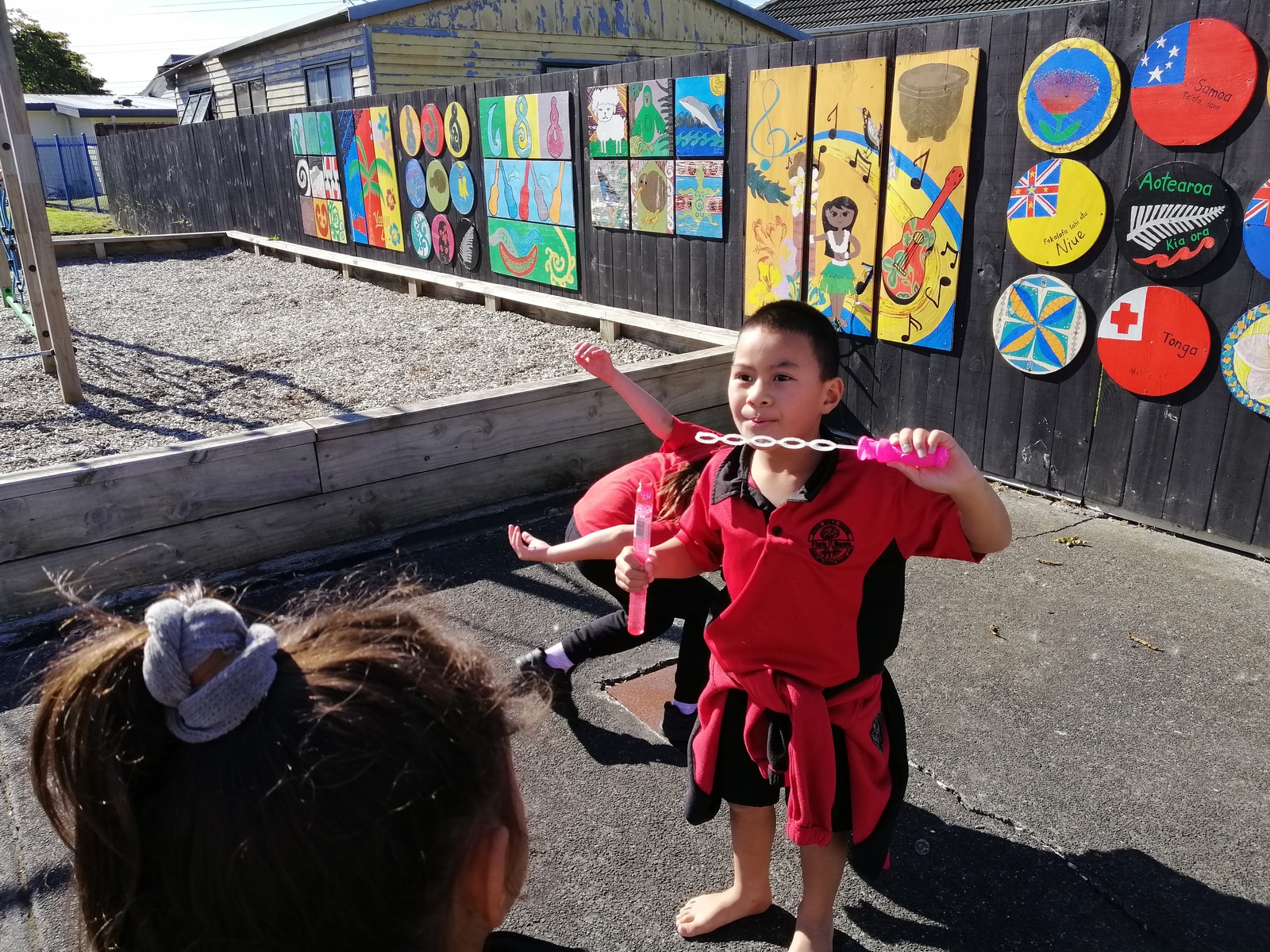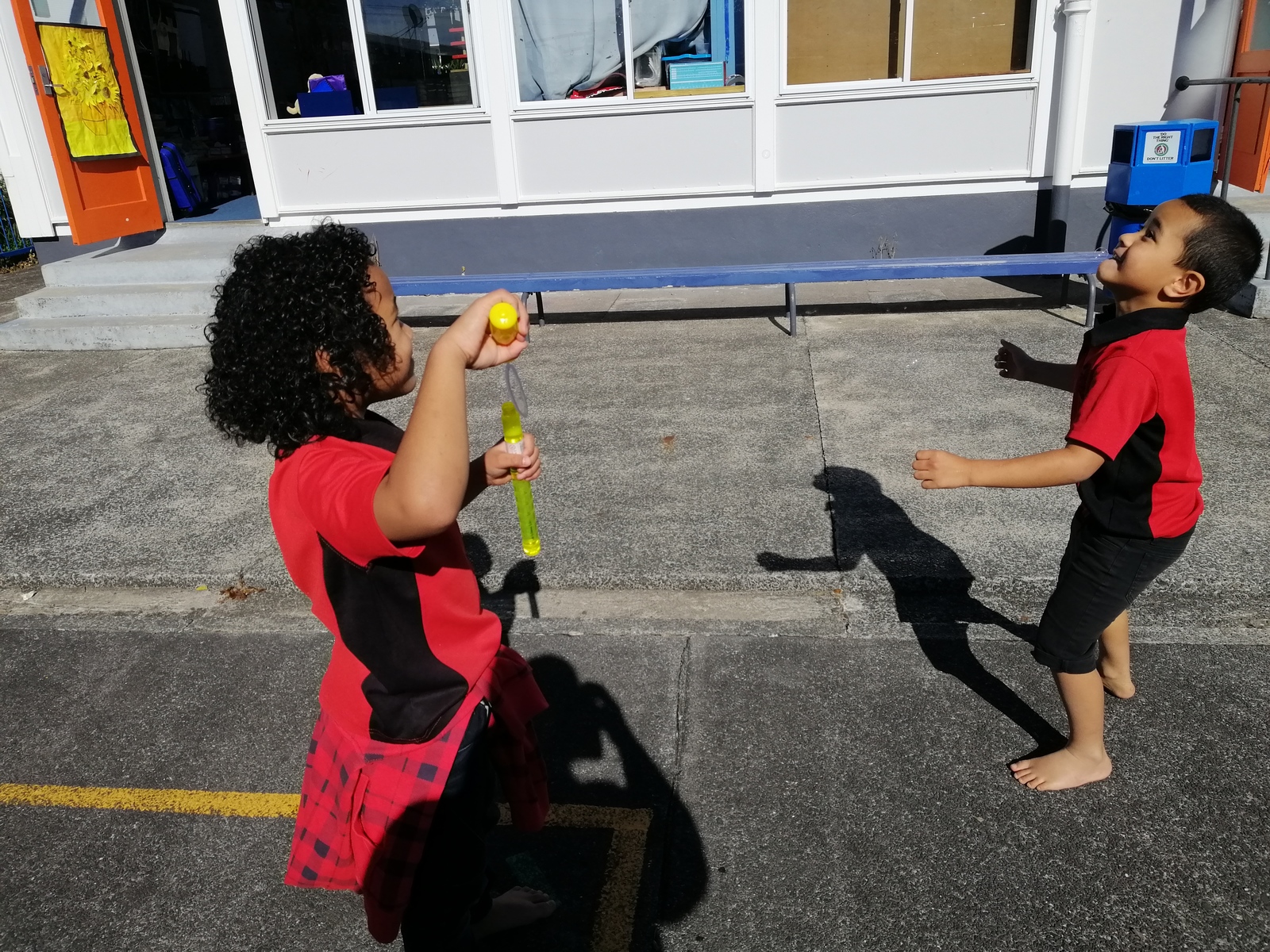 Catching up with our friends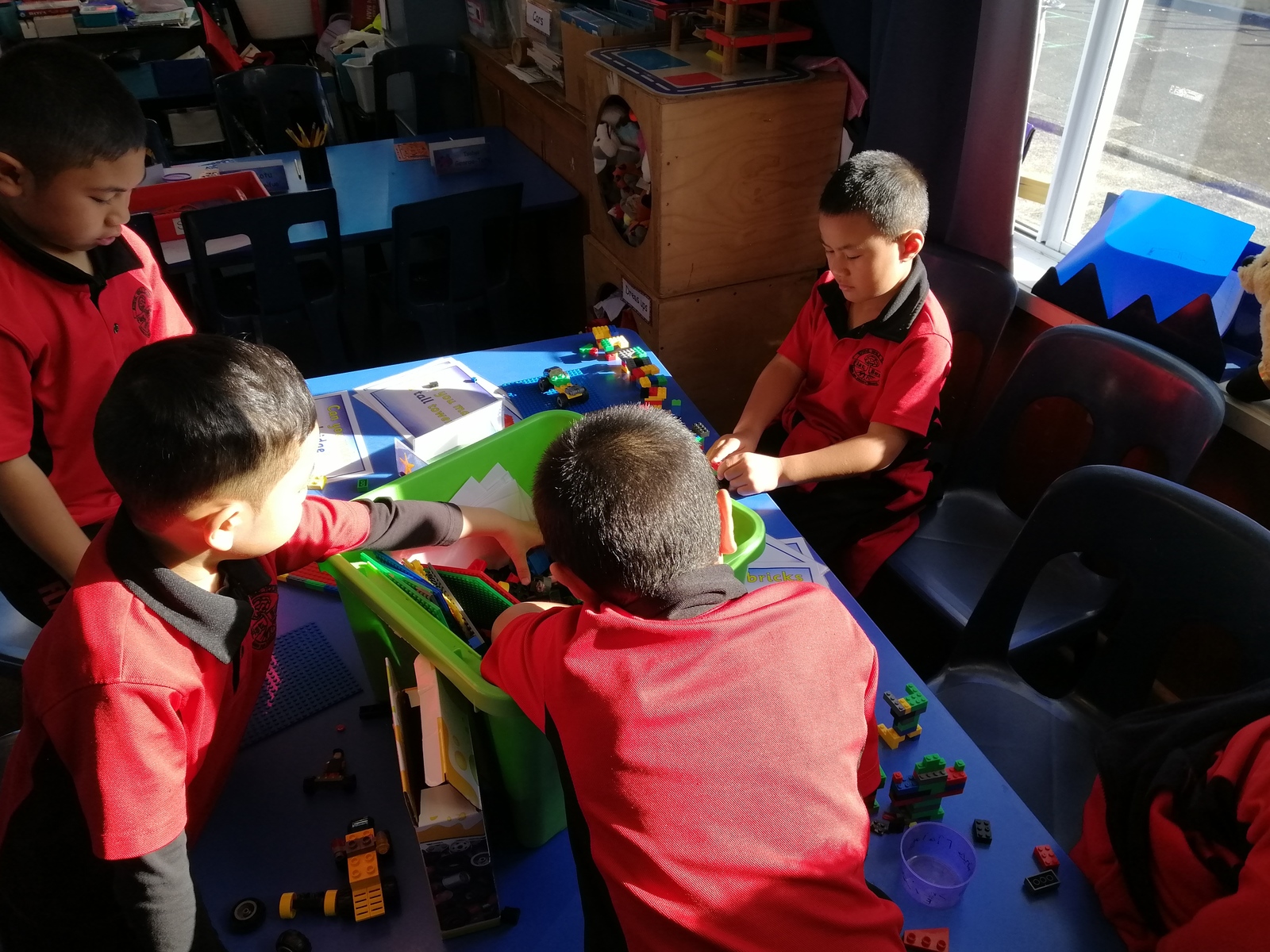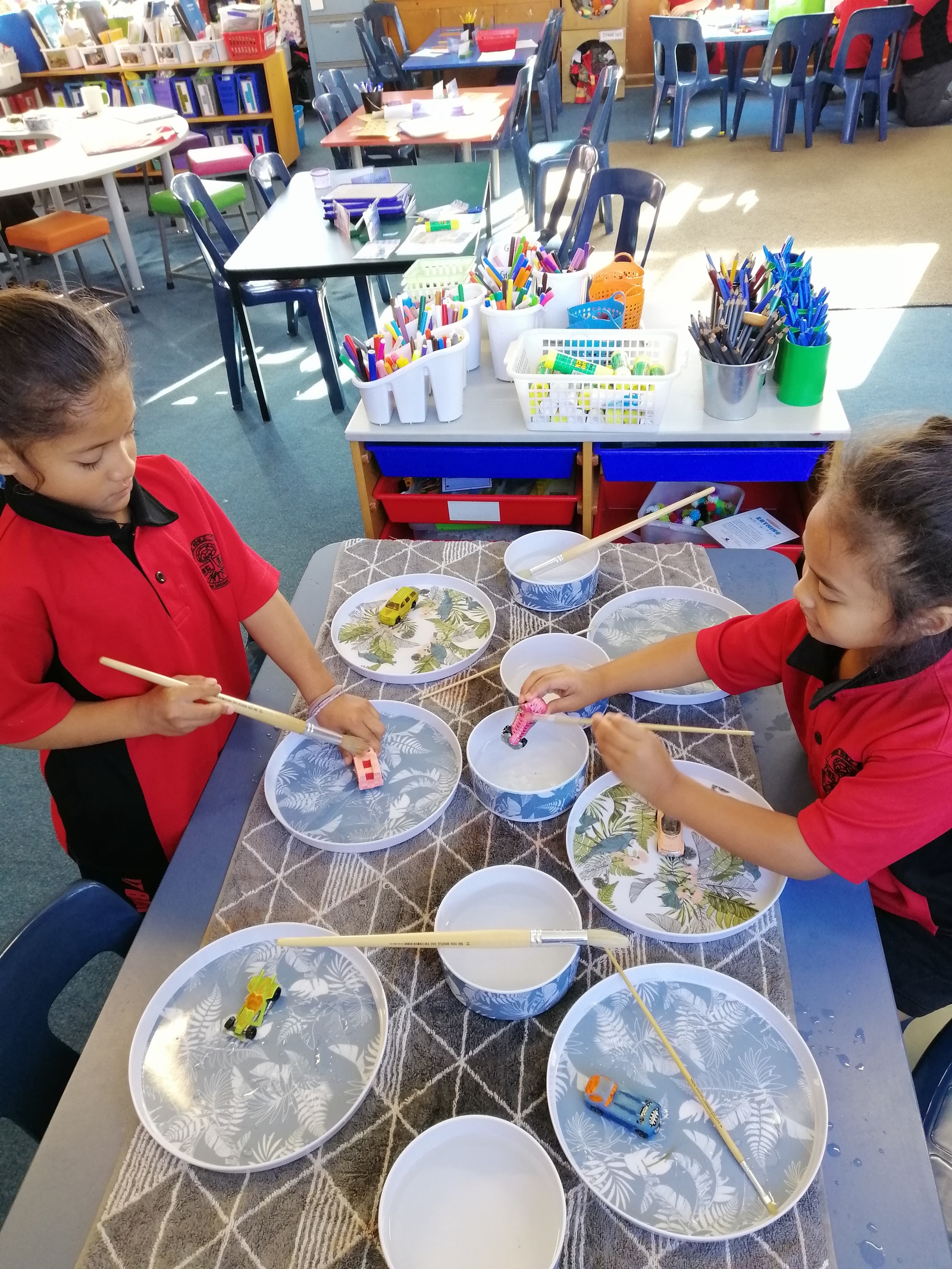 Cupcakes for Ms Russell's Birthday!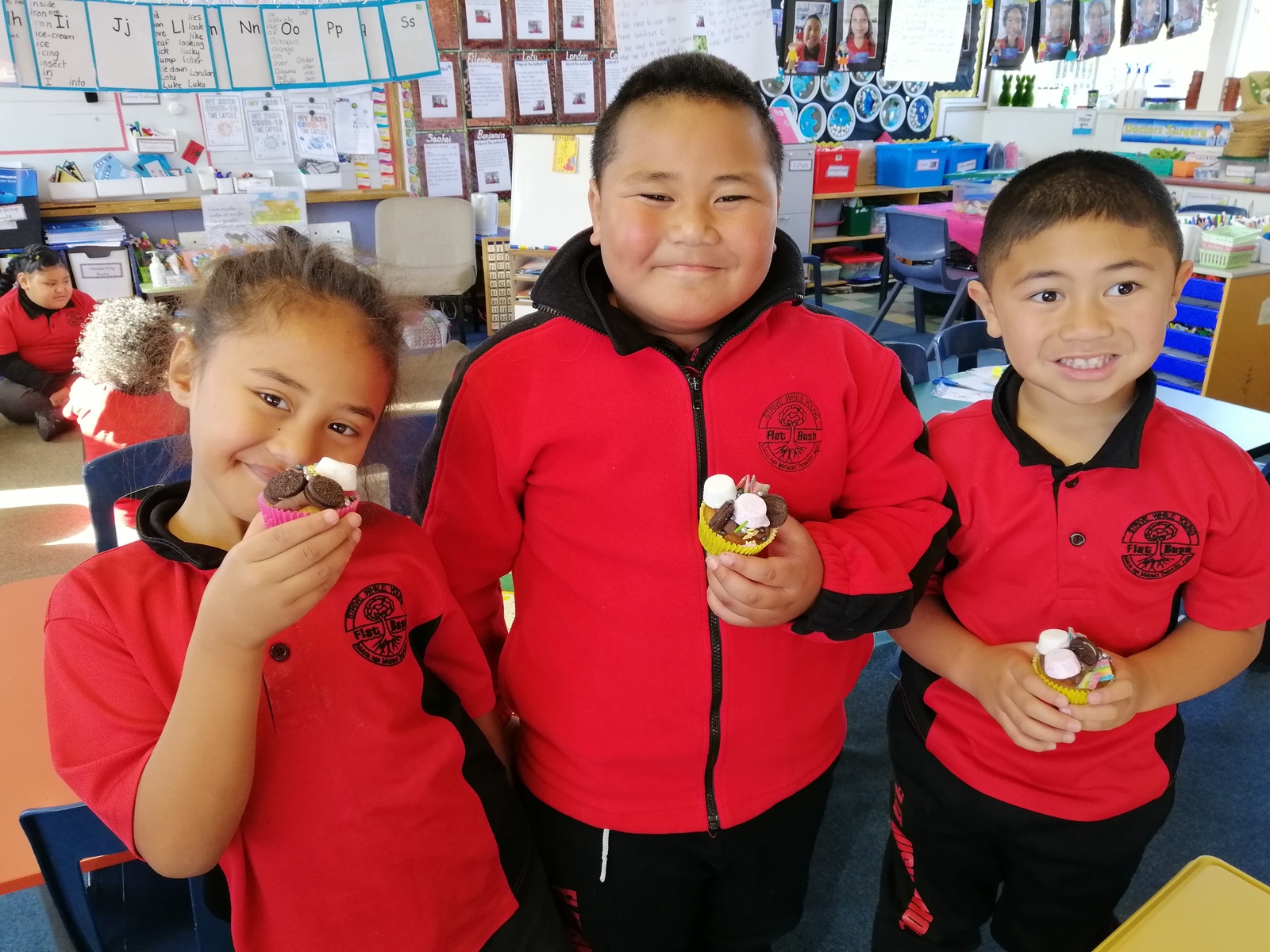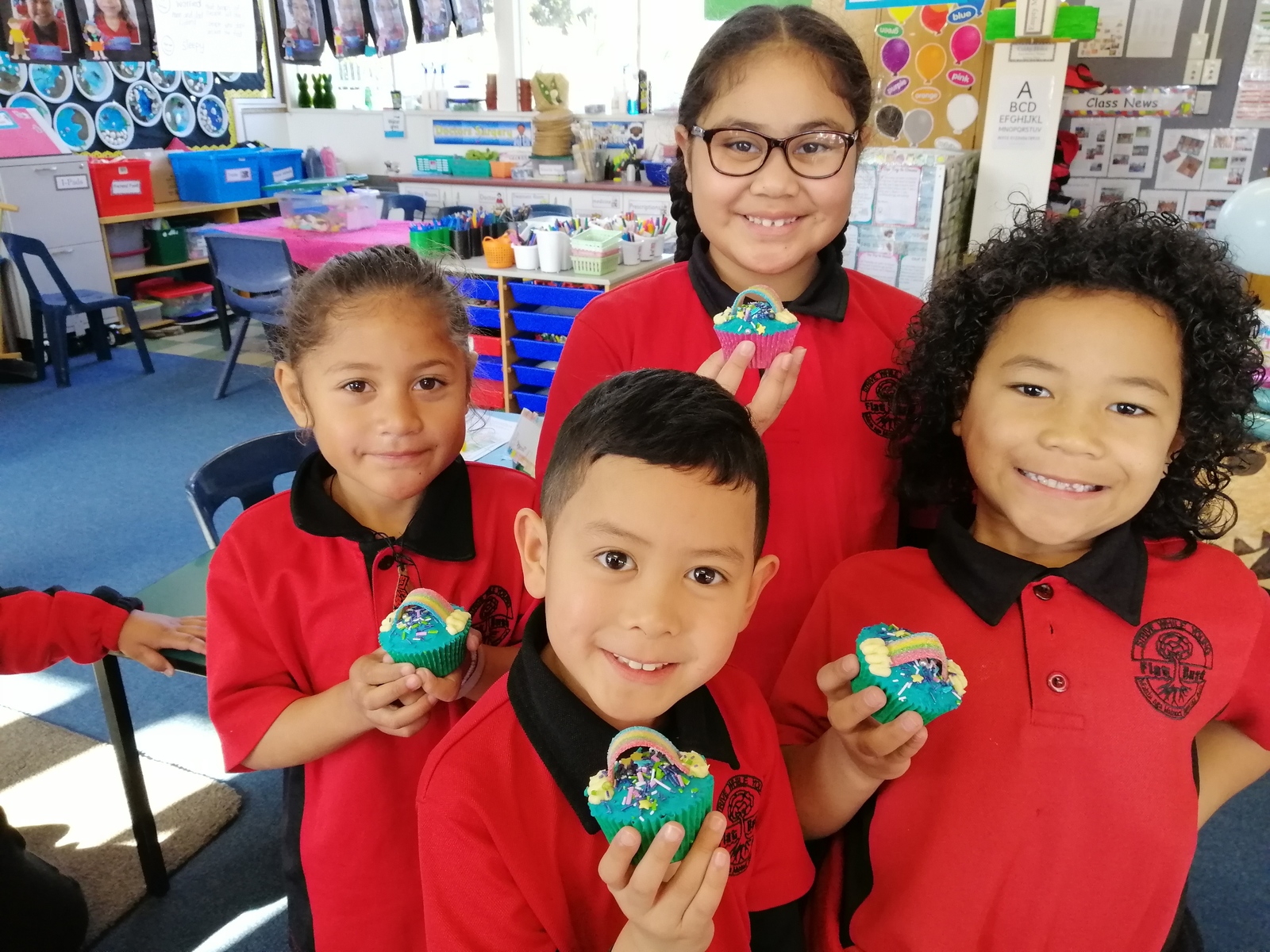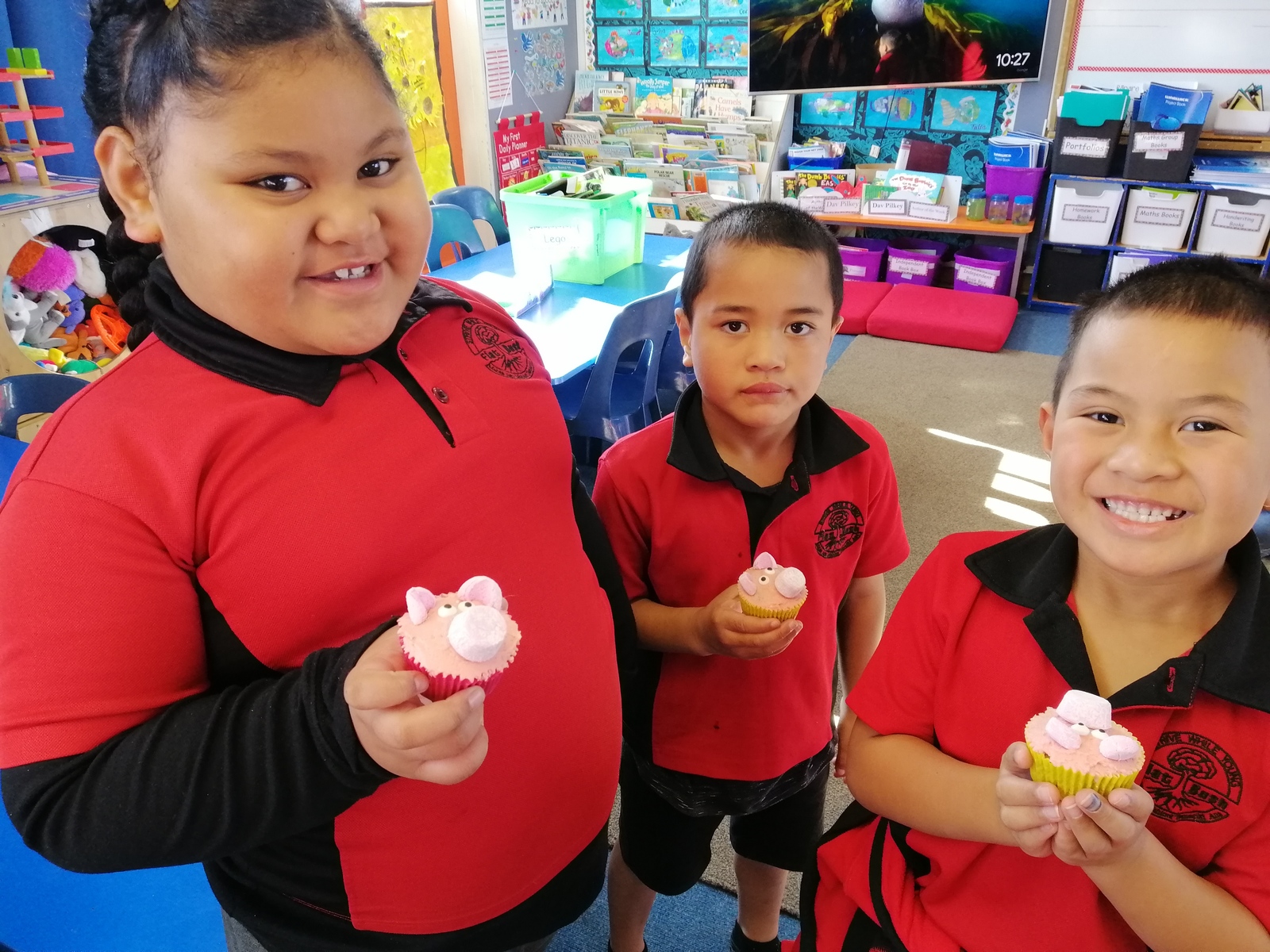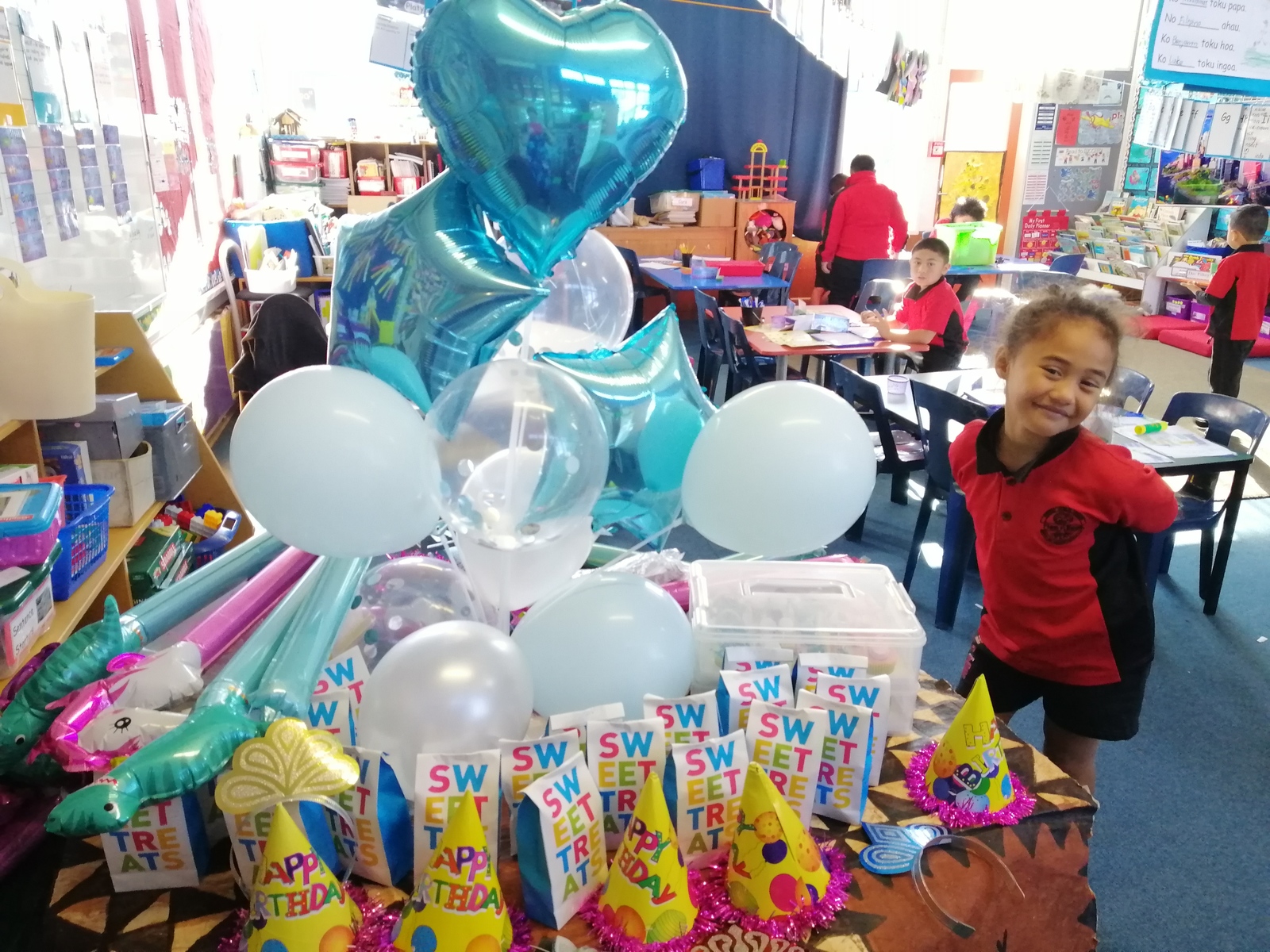 Distance Learning Weeks 1-5 of Term 2, 2020 :)
Warm greetings to all our tamariki and their whanau, I hope you are all enjoying the quality time with those loved ones around you and are most of all keeping healthy and well throughout this very strange time.
I wanted to take some time to check up on you all and also let you know a little bit about what I've been up to during this time.
I have been in lock down with my husband, my four kids and my dog Bouncer. There has been lots of baking, lots of cleaning and heaps of eating happening in my house. I have been trying to keep busy by doing some gardening and also getting a bit of exercise by walking my dog every day and playing table tennis outside with my children.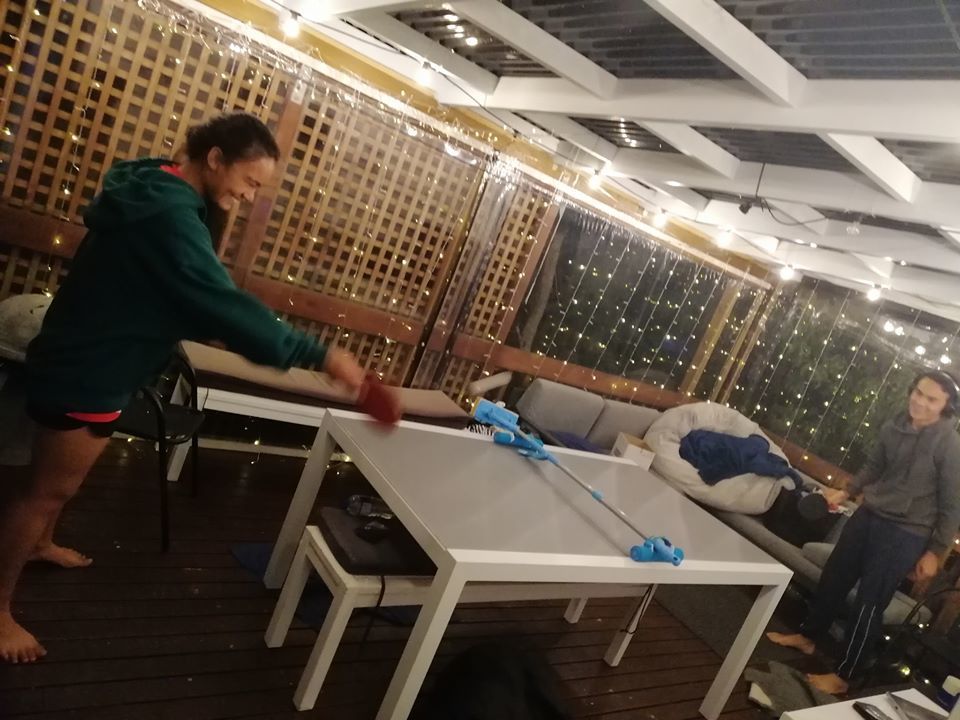 Last week we celebrated my daughter Charlotte's 9th Birthday. It was a bit different to how we normally celebrate Birthdays at our house, because we could not go out somewhere special and had to stay at home. We also could not have any visitors and we couldn't go to the shops to buy her a present, but we still had fun making a cake together and celebrating in our little bubble.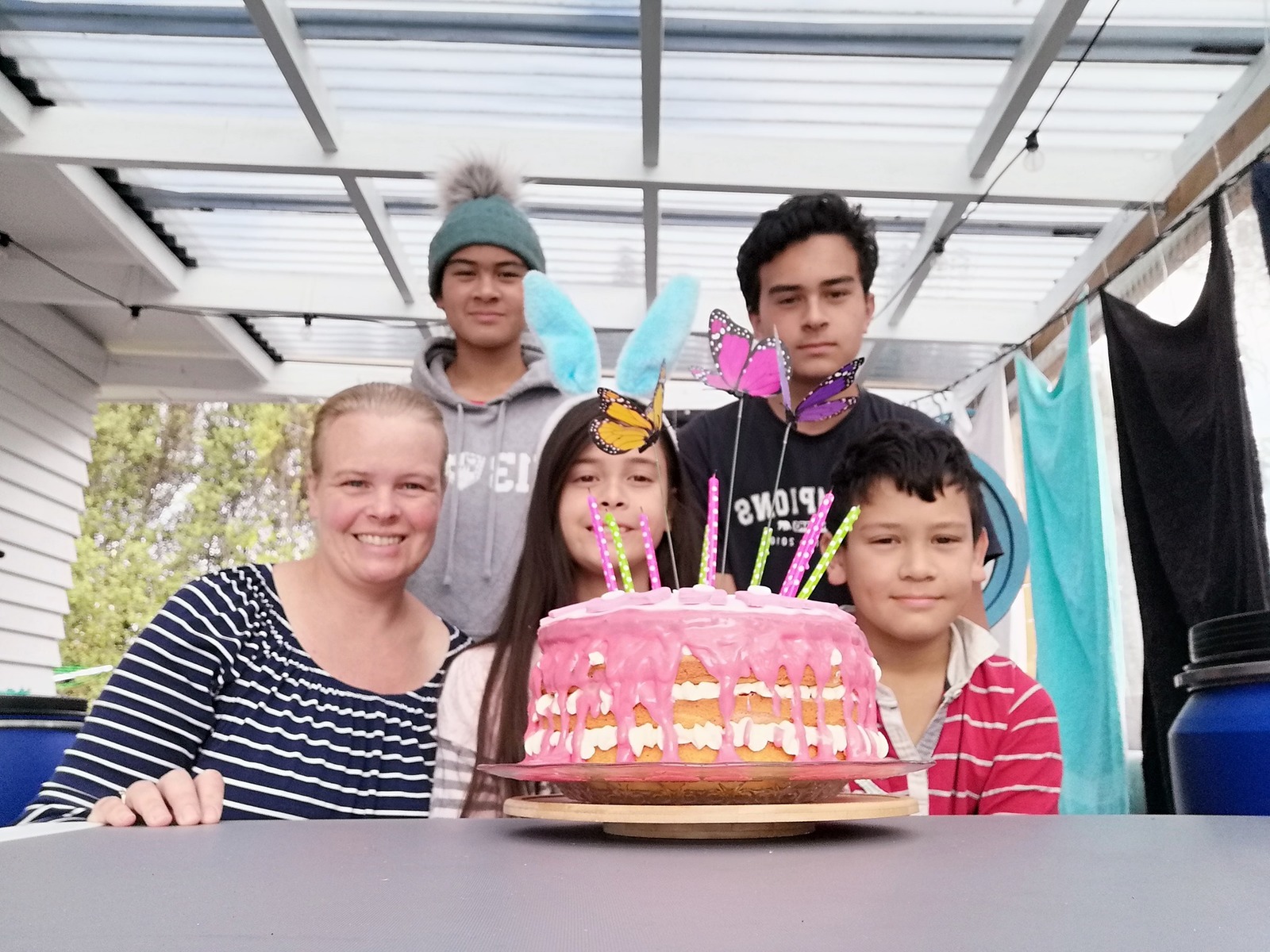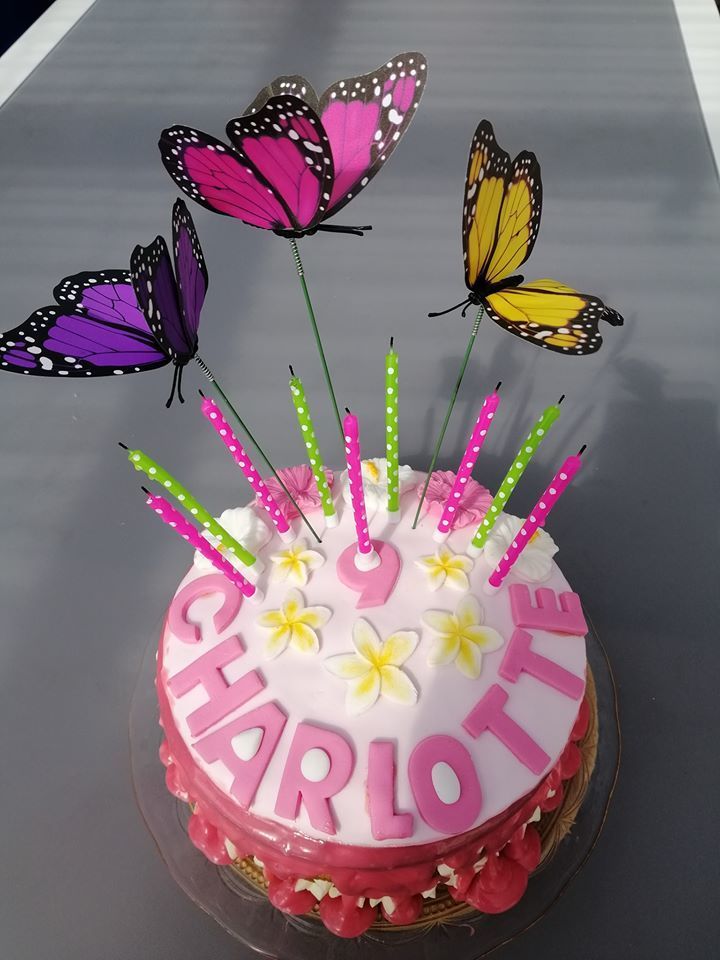 I would love to know what you have been up to during the past three weeks. If you have a photo of something exciting that you have done during the lock down, please send me a photo to share here on our class page. I will be calling or texting all of you sometime this week, just to check in on how you are going, so listen out for a call! I miss all of my little lion cubs and hope that you are staying safe and making the most of this time with your families.
*** Week One, Term 2 - 14th- 17th April ***
For this week we are focusing on reconnecting with our families. You should all be receiving a package from the Ministry of Education with some learning from home books and some stationary soon. There are also four activities here that you can do at home with your family if you have time;
* Draw a picture of all the people in your bubble (use the book and pencil that you got in your take home pack)and draw a bubble around them. Label them with their names and write a compliment beside each person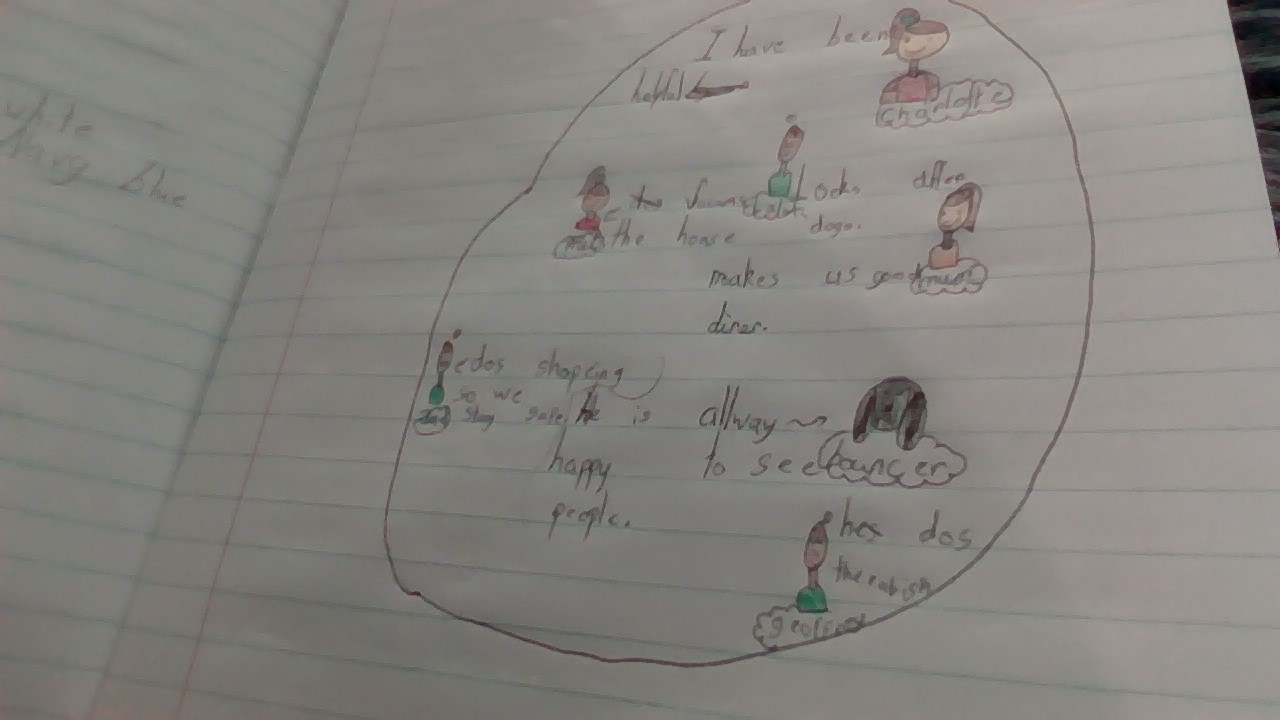 * Play some games with the people in your bubble. You could play Simon Says, memory, 21, Rock, Paper, Scissors or snap if you have access to some playing cards.
* Plan a meal for the people in your bubble with an adult. cook the meal and draw a picture of your plate to share with our class.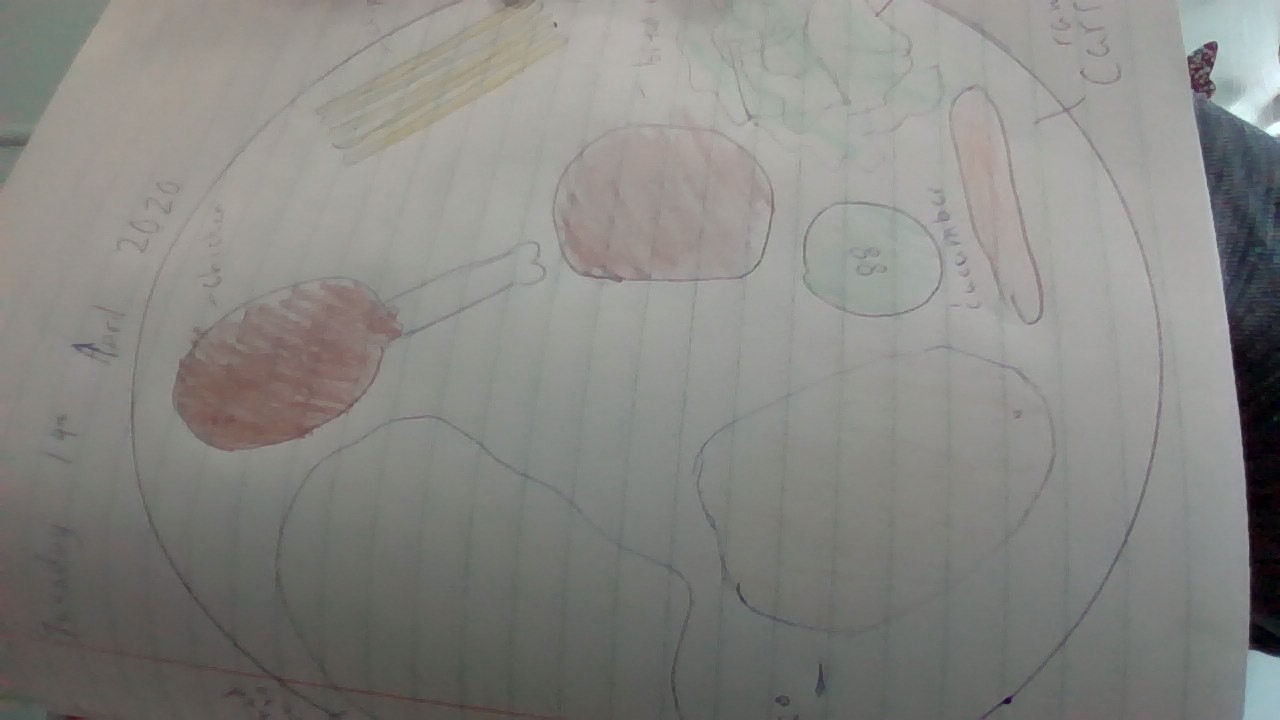 * Check out Ms Young's video on the school website homepage and try doing one of the physical activity games with your bubble members
We are also very lucky to have TV channels to help educate our children during the day Monday-Friday.
Home Learning | Papa Kāinga TV and Māori Television will start education programme broadcasting for early learners and students (Years 1–10) from 9am on Wednesday 15 April.
Home Learning | Papa Kāinga TV will be shown, free to air, on TVNZ channel 2+1 and on TVNZ on Demand, as well as on Sky Channel 502.
It will run from 9am to 3pm on school days with programming for children and young people aged 0 to 15, as well as for parents.
Home Learning TV will initially be on air for one month – with provision to extend beyond that depending on the COVID-19 situation.
Thank you Luke for sharing your family bubble with me by email!
If anyone else would like to share a photo of their learning from home, please send it to me at bernadiner@flatbush.school.nz
Filemu and Kimball doing some learning in their bubble;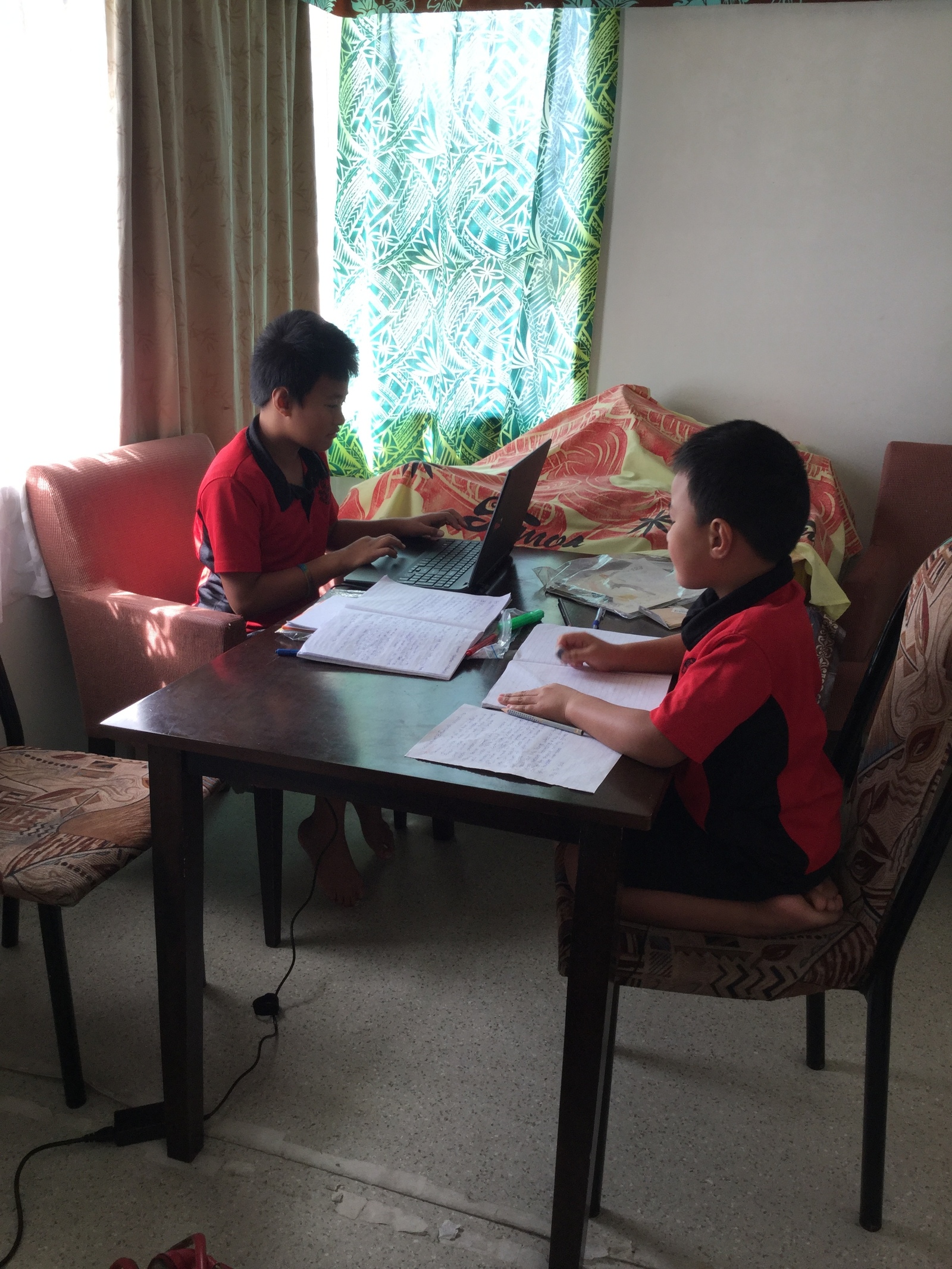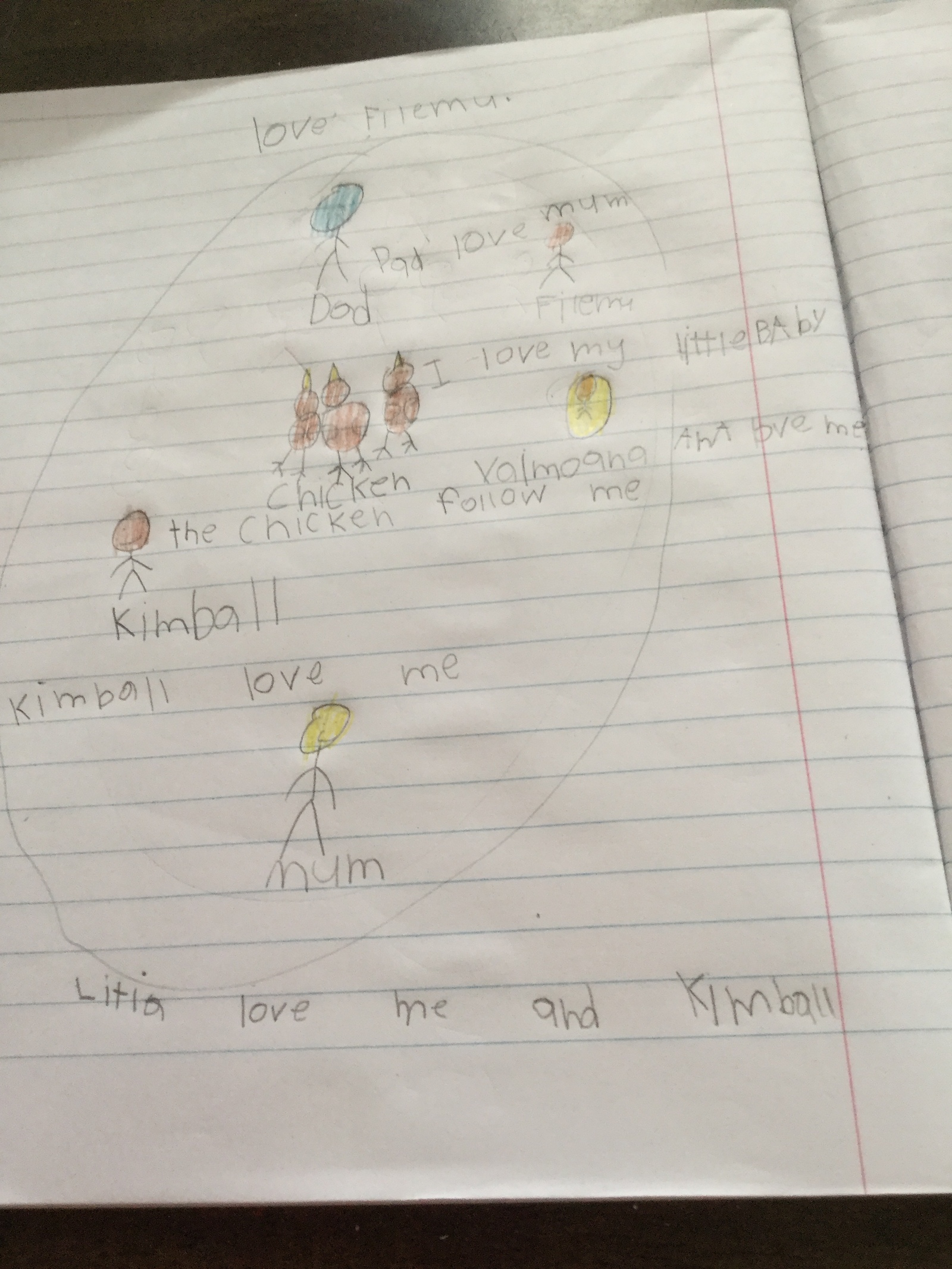 Another fantastic family bubble from Benjamin :)
Message from Miss Maggy!
How are you all doing? I hope you are safe and staying in your bubble. I miss you all and your cheekiness

I am doing well in my bubble with my mum, dad and three doggies. We are happy and can't wait for this all to be over. I can't wait to see you all again.
Until then, Take care and Stay safe
*** Week Two, Term 2 - 20th- 24th April ***
Welcome to Week Two everyone! How are you all going? This week you will find lots of activities on the school homepage for you to choose from each day. You do not have to do all of them, just pick some each day and if you like, send me a photo of what you have been up to.
You should also receive your learning pack sometime this week if you have not got it already, let me know when you get yours.
ANZAC Day is this week on Saturday and as we can not go to the cenotaph I am making my own ANZAC wreath to hang on my front gate. are you doing anything special in your Whanau to commemorate ANZAC Day? I will put up a photo of my wreath when its done.
Stay safe everyone!
Ms Russell :)
How to make an ANZAC Day Wreath- Version 1
You will need:
Plastics bottles- coke or pepsi etc
Something to make them red- paint, vivids, textas, nail polish etc
An adult to help with cutting
Scissors for cutting
Newspaper or something to protect the table
A paintbrush
Step 1. Cover your work space with the newspaper so you don't make a mess.
Step 2. Ask the adult to cut the bottom part of the bottle off for you. Keep the bottom part and the lid and put the rest in your recycle bin.
Step 3. Draw a little 'V' in between each of the bumpy bits and then carefully cut them out with the scissors.
Step 4. Make a curved cut on each side of the 'V' to make them into petals.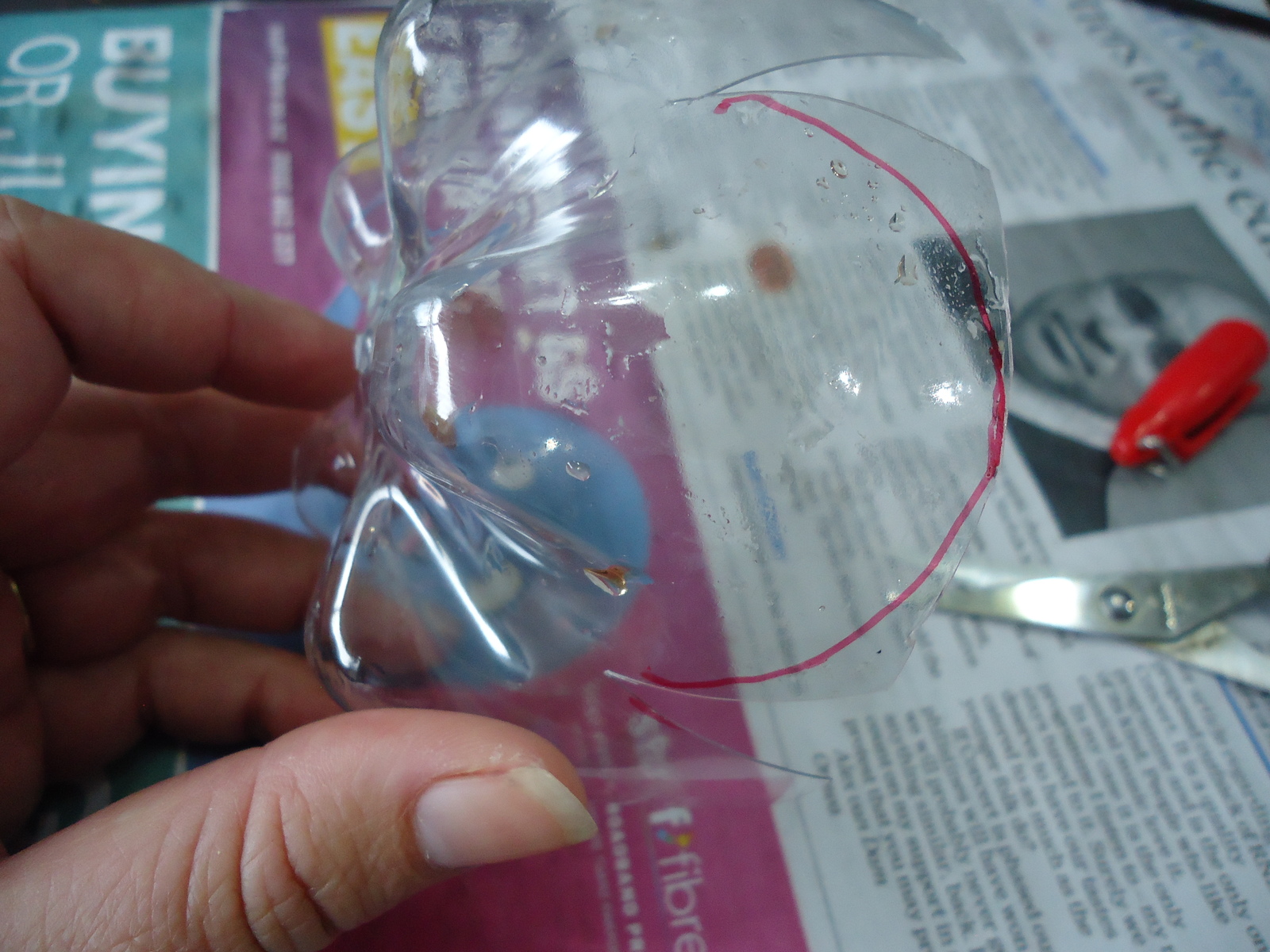 Step 5. Put it up side down on the newspaper and paint or color with the vivid.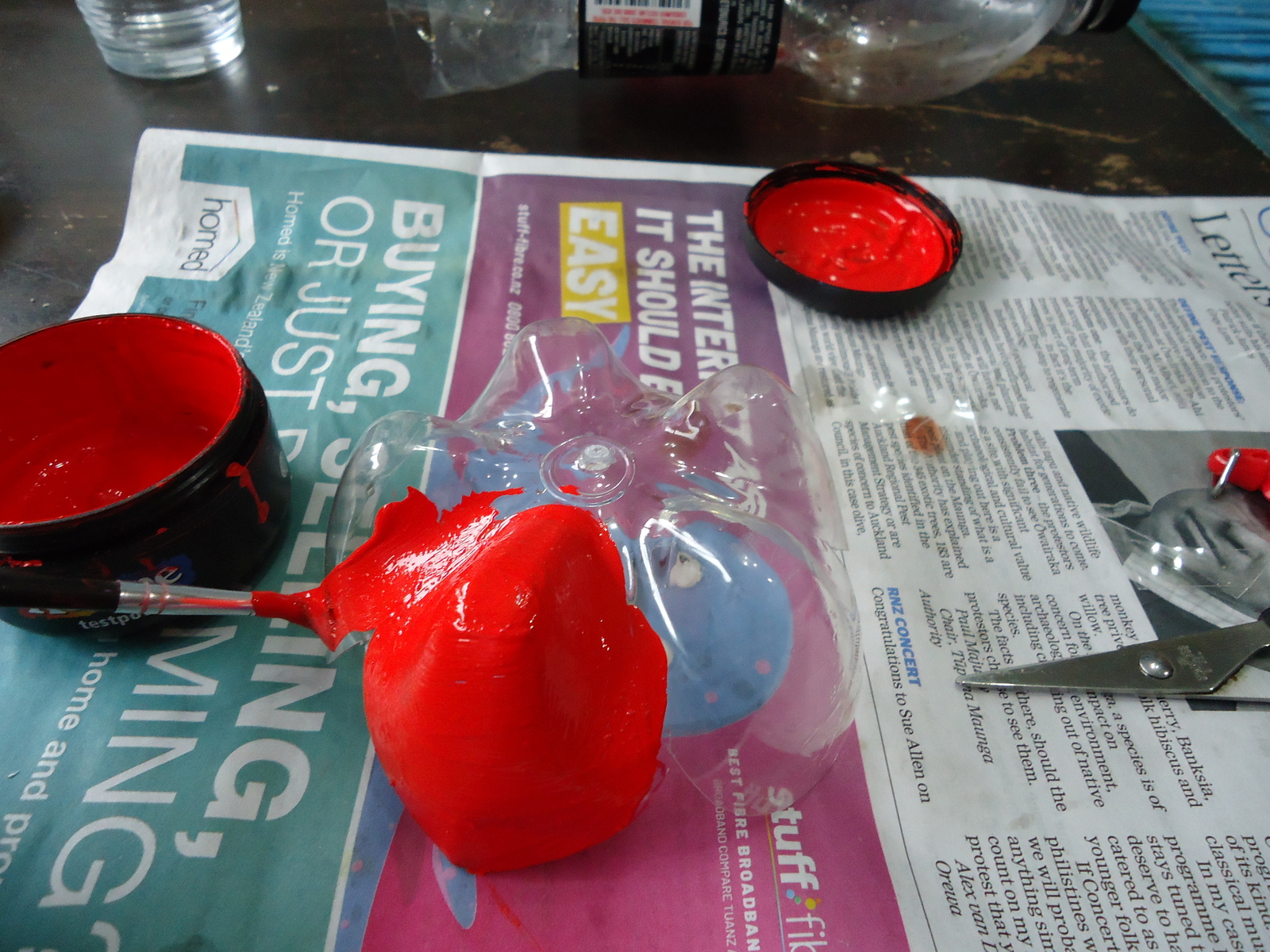 Step 6. When it is dry, turn it over and stick the lid in the middle or use a black vivid or black paint to make the middle of the poppy.
Step 7. You can stick a bamboo skewer or a stick on the end and 'plant' your poppy by your letterbox or you can make some more and put them in a circle to make a wreath. I am going to stick mine onto a big piece of cardboard that I got from a box. If you make a wreath you can add some rosemary too and a sign to say Lest We Forget.
Extra for experts- There are some purple poppies in my wreath, can you find out who the purple poppies represent? email me the answer if you know!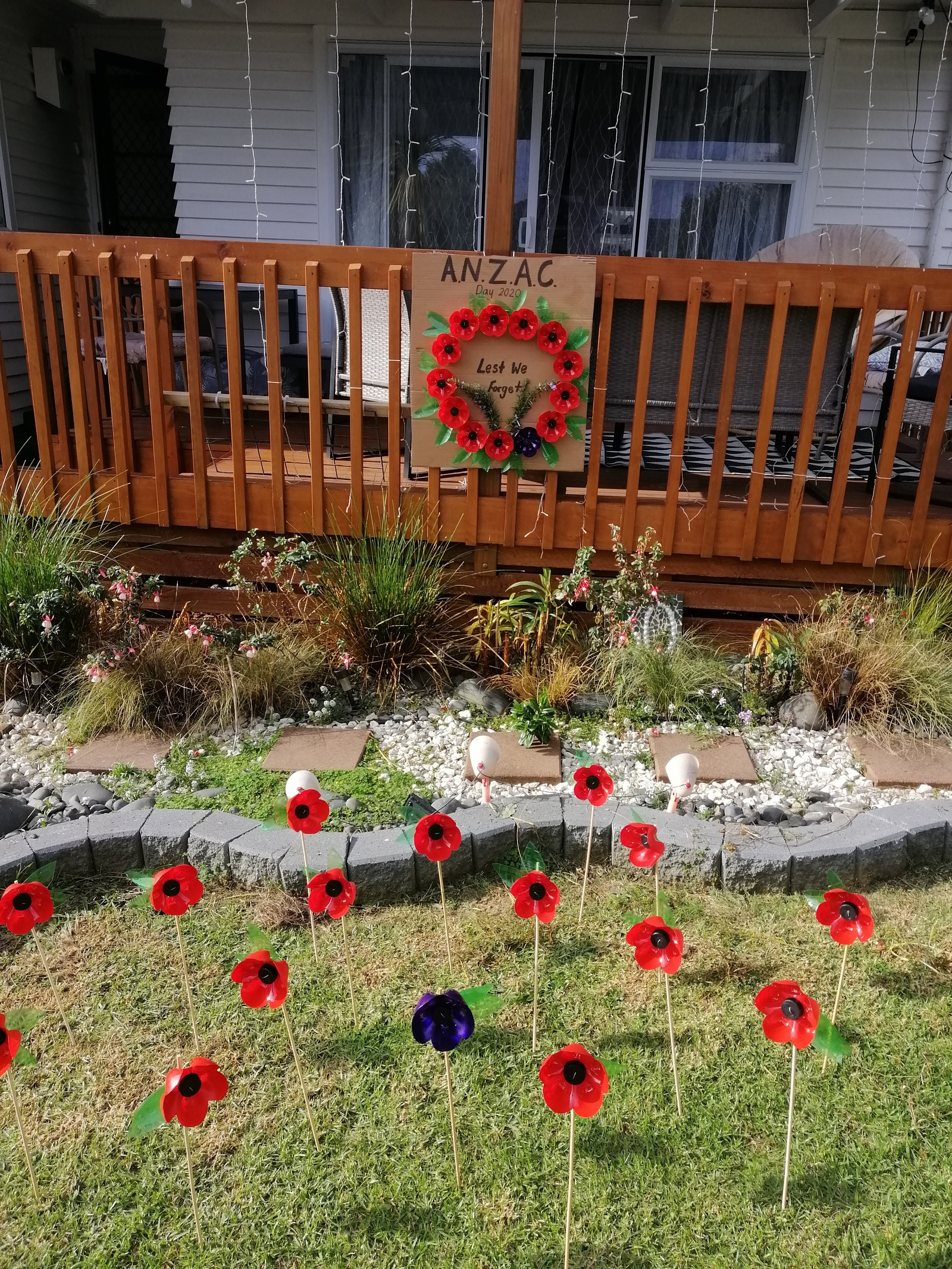 How to make an ANZAC Day Wreath- Version 2
You will need:
Empty egg cartons
Something to make them red- paint, vivids, textas, nail polish etc
An adult to help with cutting
Scissors for cutting
Newspaper or something to protect the table
A paintbrush
Step 1. Cover your work space with the newspaper so you don't make a mess.
Step 2. Cut the egg carton in half down the middle.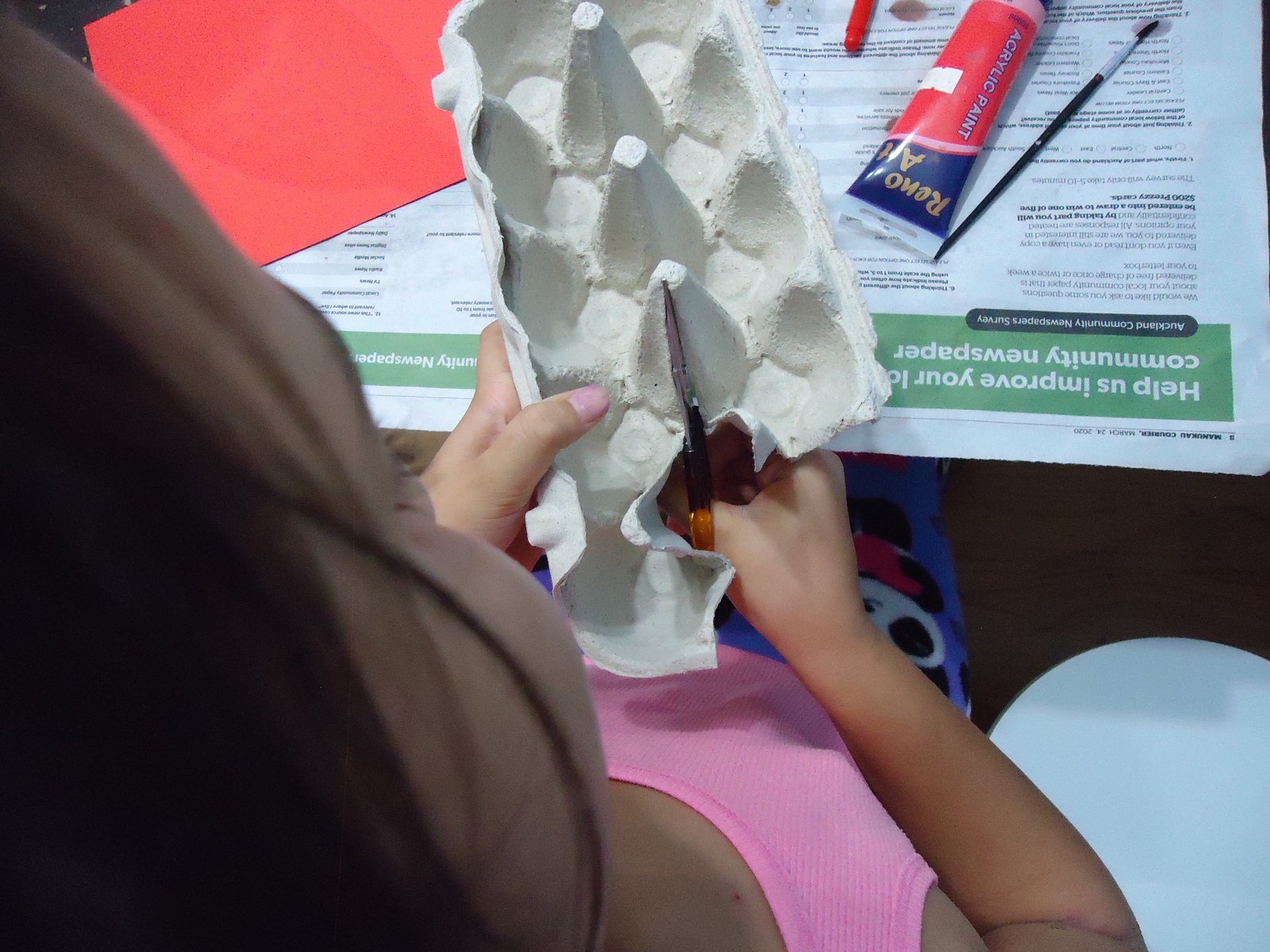 Step 3. Cut each egg section out
Step 4. Make each section look like a flower
Step 5. Paint or color in each flower. If you have any black paint, colour in the middle of the flowers
Step 6. When the flowers are dry, arrange them into a ring and stick them onto a piece of paper or card. If you have some green paper or green paint, you can make some leaves too.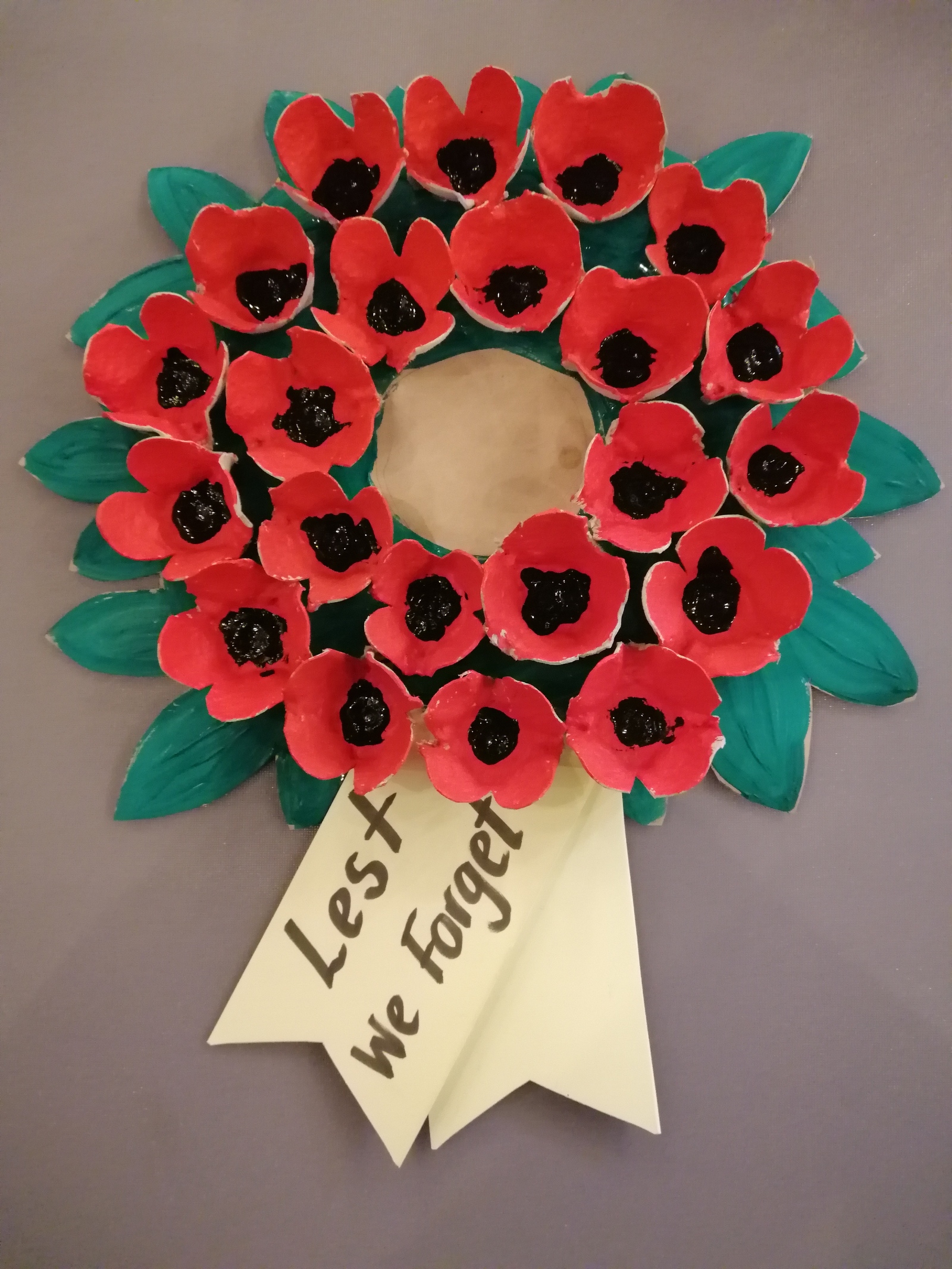 How to make an ANZAC Day Wreath- Version 3
You will need:
Knitting wool in red or purple and black
Knitting needles - I used size 4mm
A wool needle to sew it up
Someone who can knit!
This one is a bit tricky, but if you have someone in your bubble who can knit, they will be able to follow this simple knitting pattern;
Step 1- Cast on 80 stitches
Step 2- Knit 8 rows either in stocking stitch or garter stitch, whichever you prefer, check out the first photo for examples.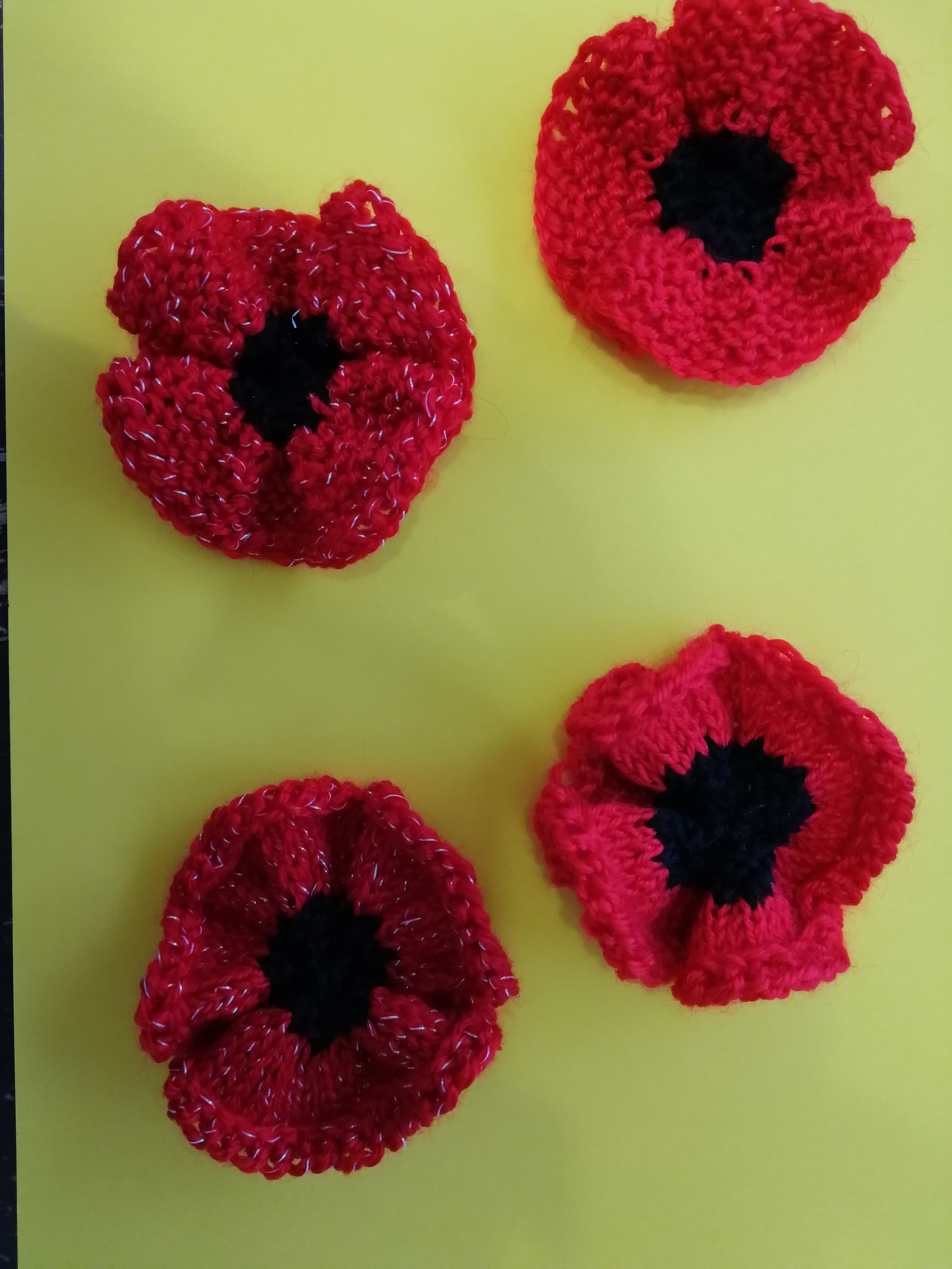 Step 3- For the next 3 rows, knit two together all the way across the row so you have 40 stitches, then 20, then 10.
Step 4- cut the wool leaving about 15cm, then thread all the leftover stitches onto the wool and pull it tight. thread the wool onto the needle and sew up the join.
Step 5- Make enough poppies to make a circle and attach them to a piece of cardboard or a wreath shape item. I used an old Christmas wreath that I found with my Christmas decorations.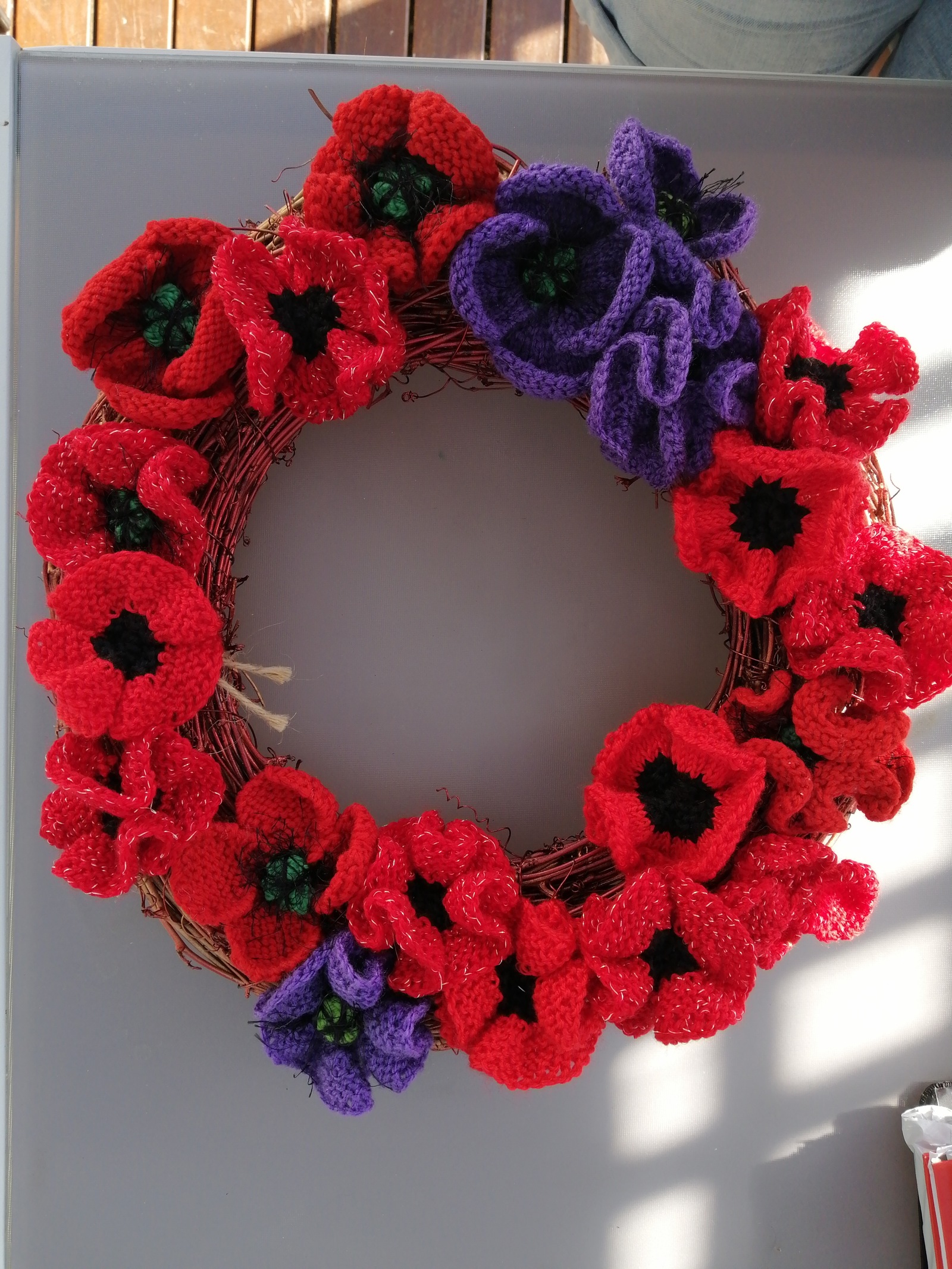 Step 6- Send Ms Russell a photo, I would love to see your wreaths!
ANZAC BISCUIT RECIPE
ANZAC Day is on Saturday 25th April. This year we can't go to a dawn service because we are on Level 4. However, some of us are going to have our own service in our driveways at dawn (When the sun comes up). Are you going to have an ANZAC service at your house? I would love to see a photo.
After the ANZAC service, I think we will all be pretty hungry, so here is a recipe for ANZAC biscuits, like the ones that soldiers used to eat in the war. Charlotte, Geoffrey and I are going to make some for our Whanau. We will put up some photos as we go.
Ingredients:
1 Cup of Plain Flour
1 Cup of Rolled Oats
1 Cup of Desiccated Coconut
1 Cup of Brown Sugar (you can use white sugar if there is no brown sugar in the pantry)
135g of Butter
1 Tablespoon of Golden Syrup
2 Tablespoons of Boiling Water (be careful when pouring the boiling water out of the kettle, get an adult to help you)
2 Teaspoons of Bicarbonate of Soda (aka baking soda)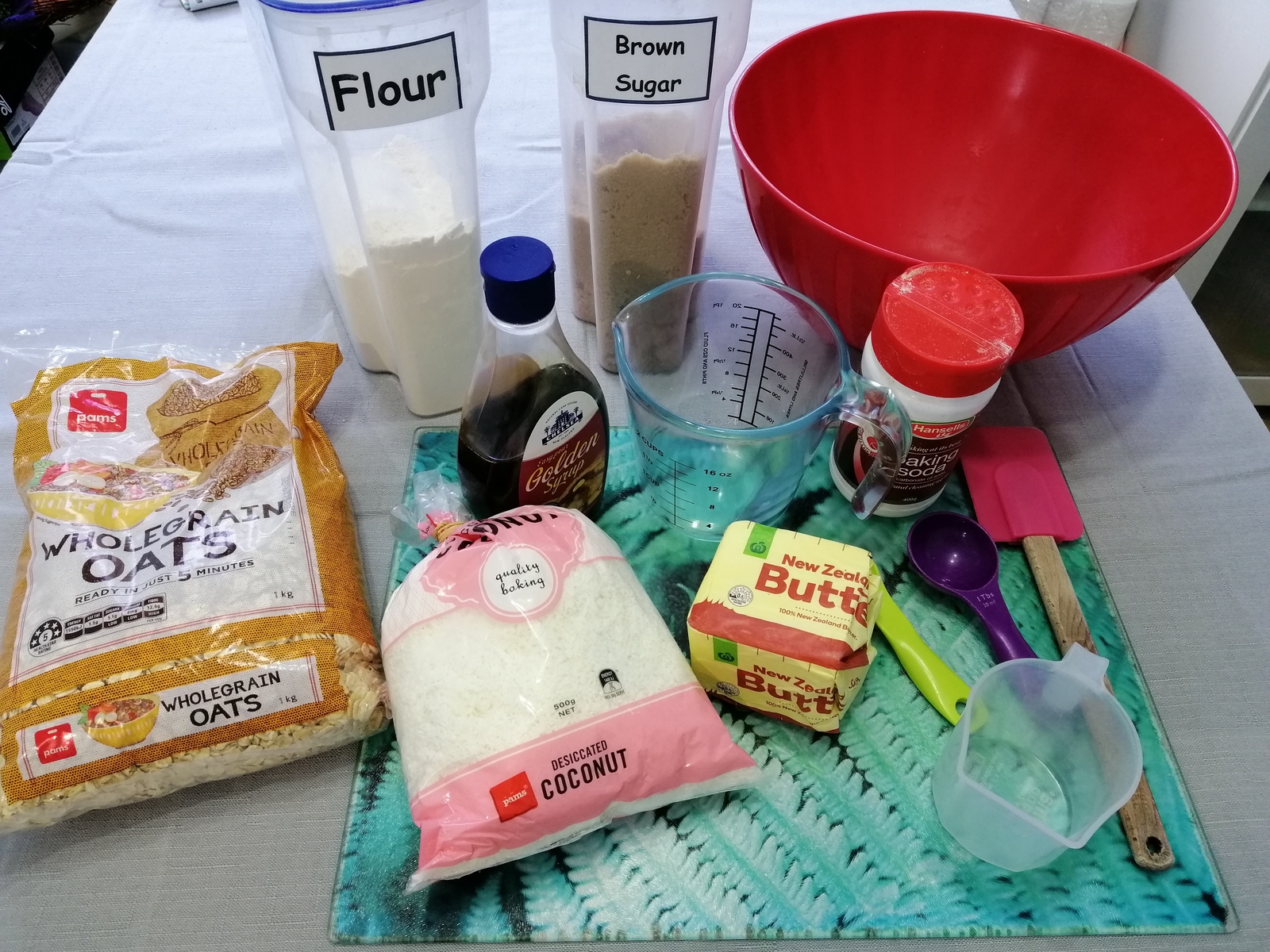 Method:
* Turn your oven on to 150 degrees, or 130 degrees if you have a fan forced oven (check with Mum or Dad)
* Get a big bowl and put all of the dry ingredients in it, give them a stir with a wooden spoon.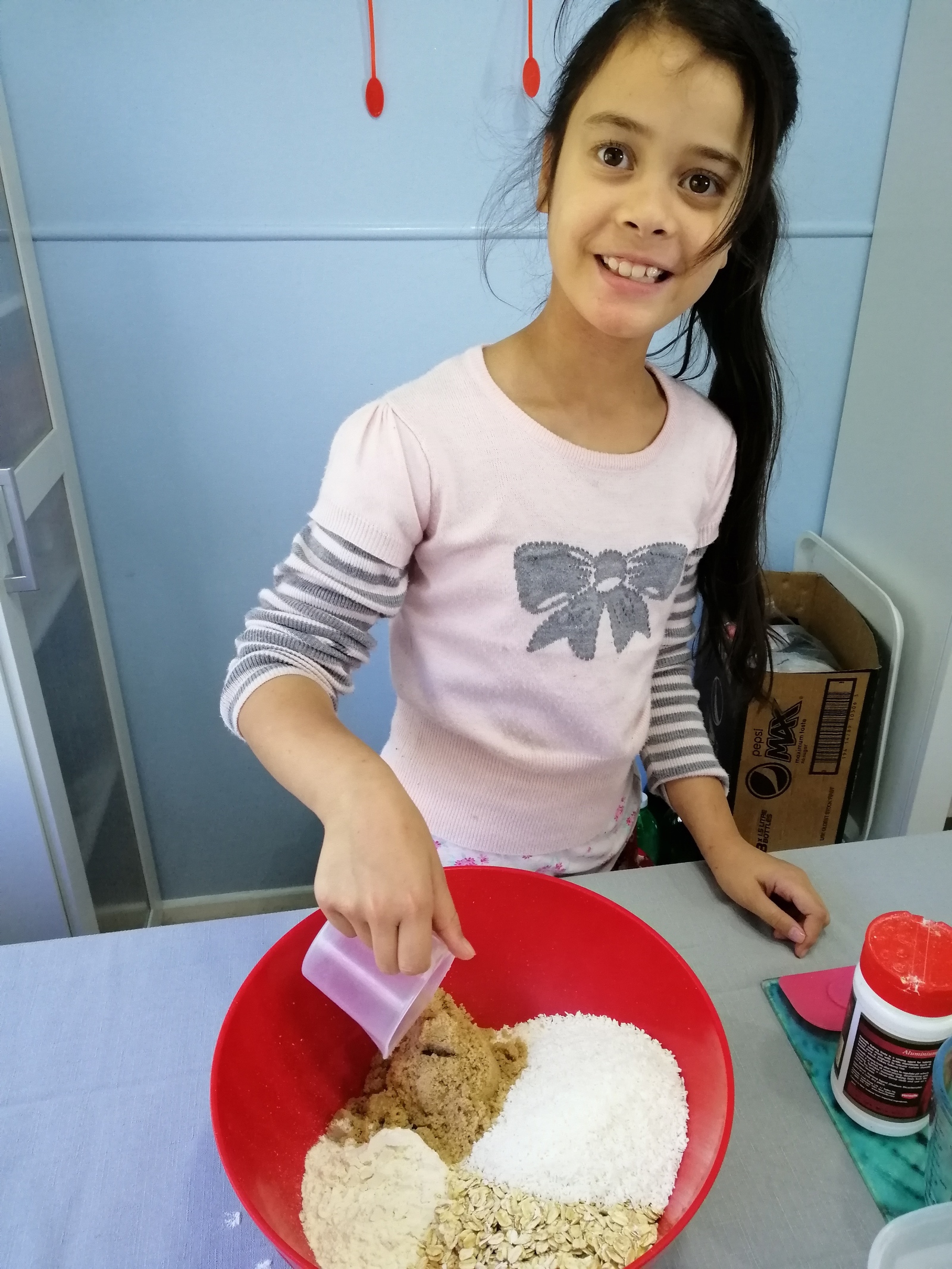 * In a small bowl or jug, melt the butter. I used the microwave.
* Mix the boiling water and Baking Soda together- What happened? That is what we call a chemical reaction :)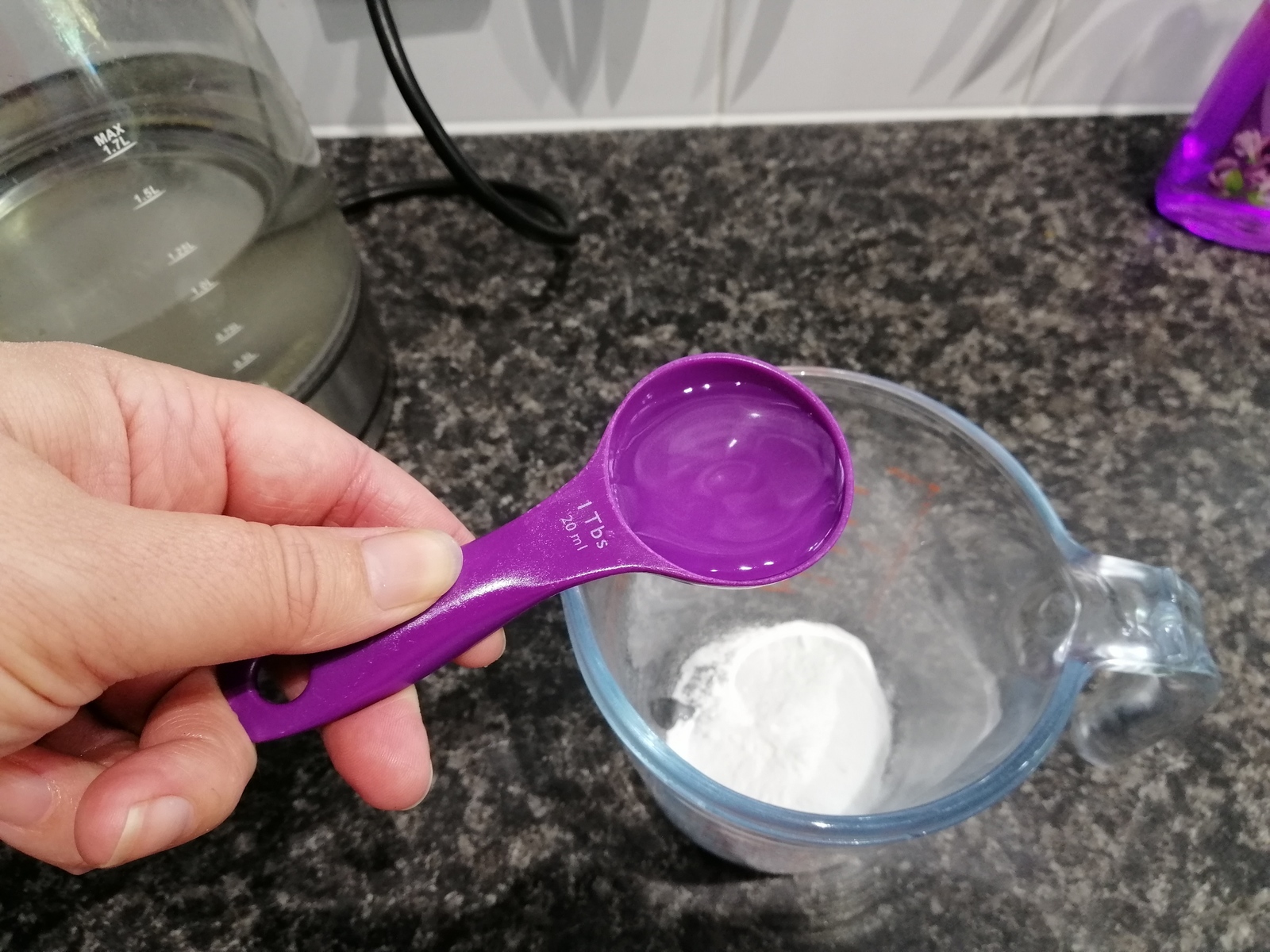 * Mix the Golden Syrup in with the butter, then put everything into one bowl and mix it all together.
* Get a baking tray and either spray it with some oil or rub some butter on it to stop the biscuits from sticking.
* Roll the mixture into balls about the same size as a ping pong ball.
* Put them on the tray about 4cm apart because they will grow as they cook.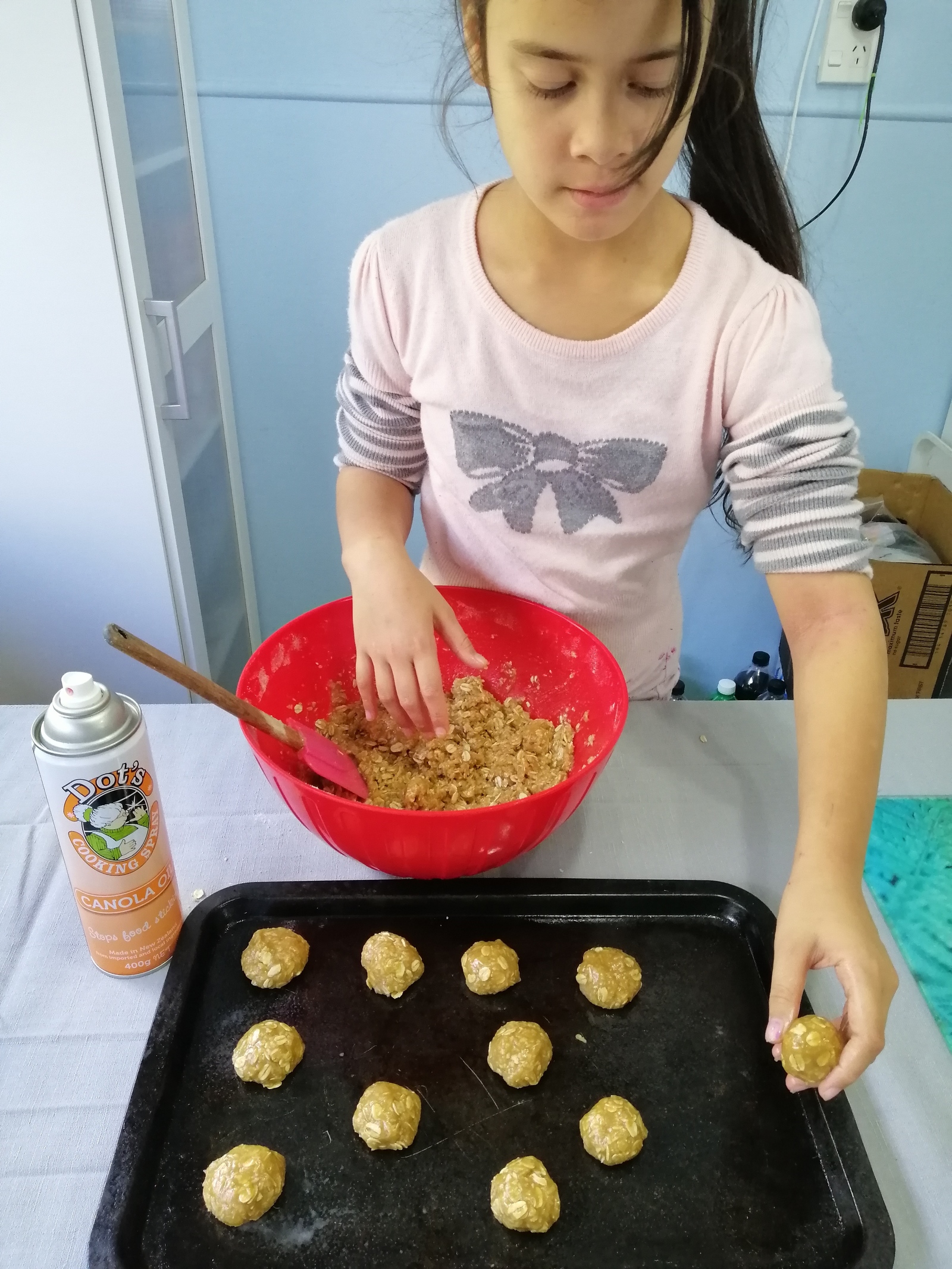 * Bake them for 20 minutes, then transfer them to a cooling rack.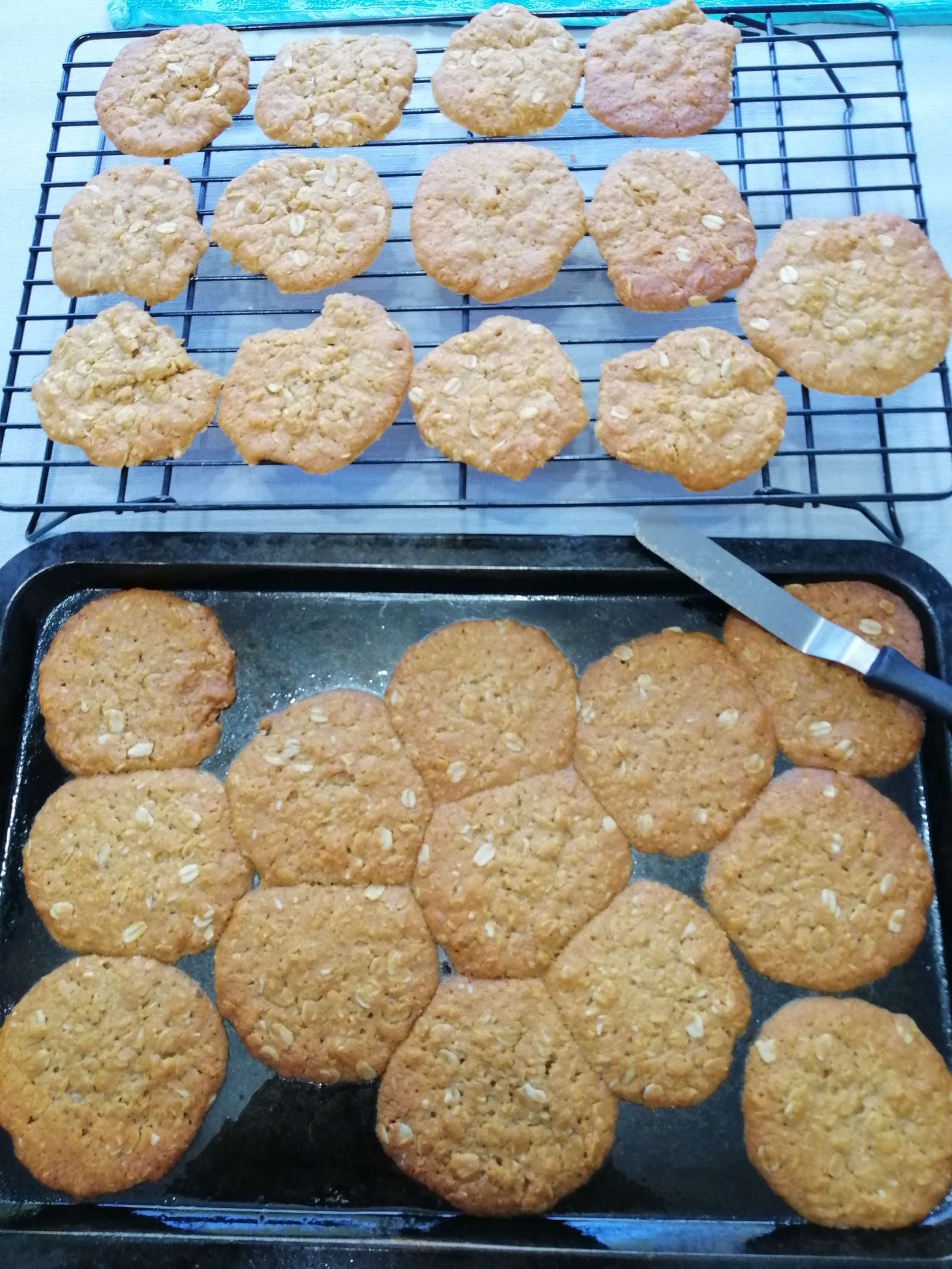 * Share with your family and if there are any left, keep them in a lunchbox or another airtight container to keep them fresh.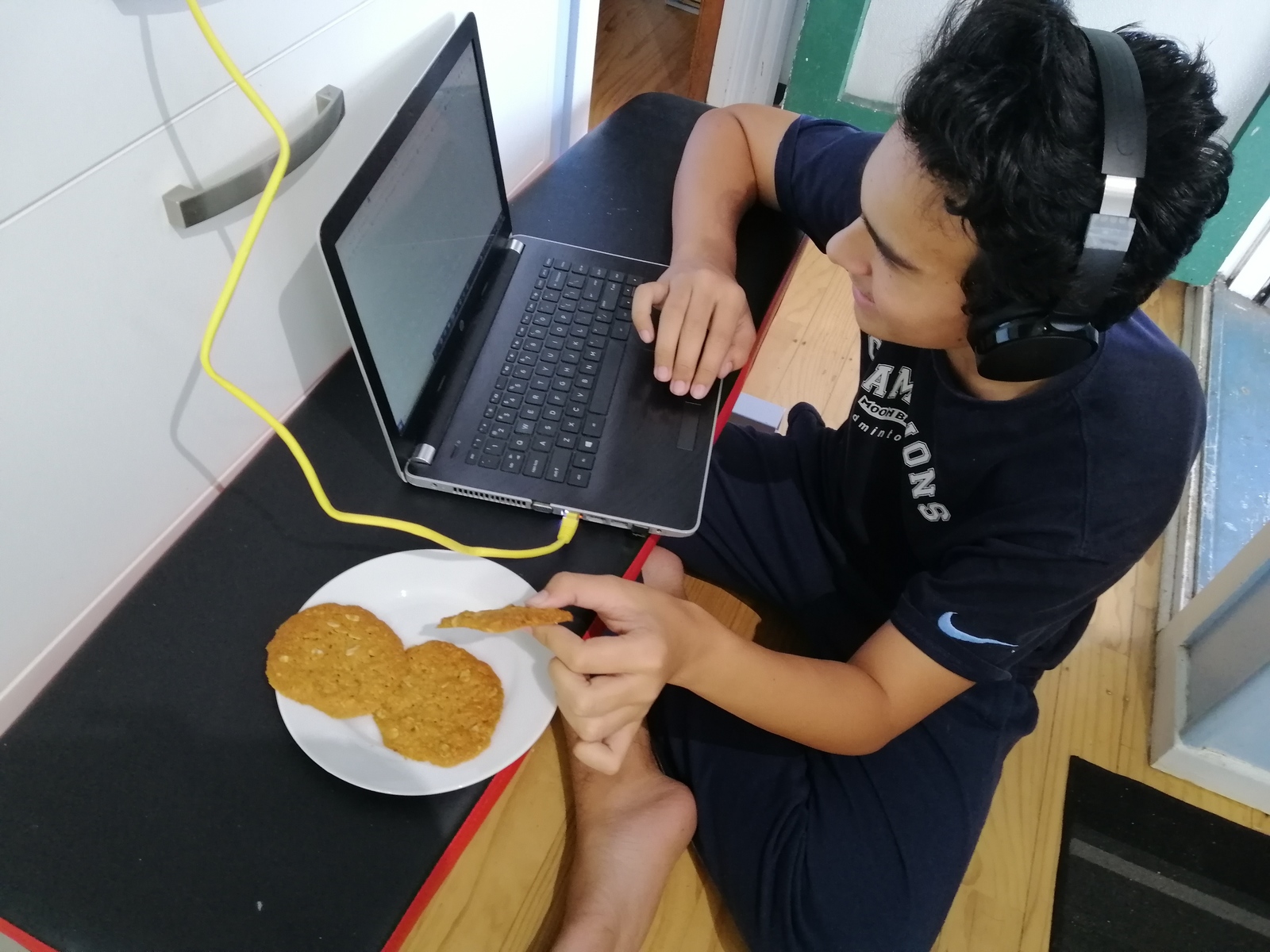 How do they taste? I would love to see a photo!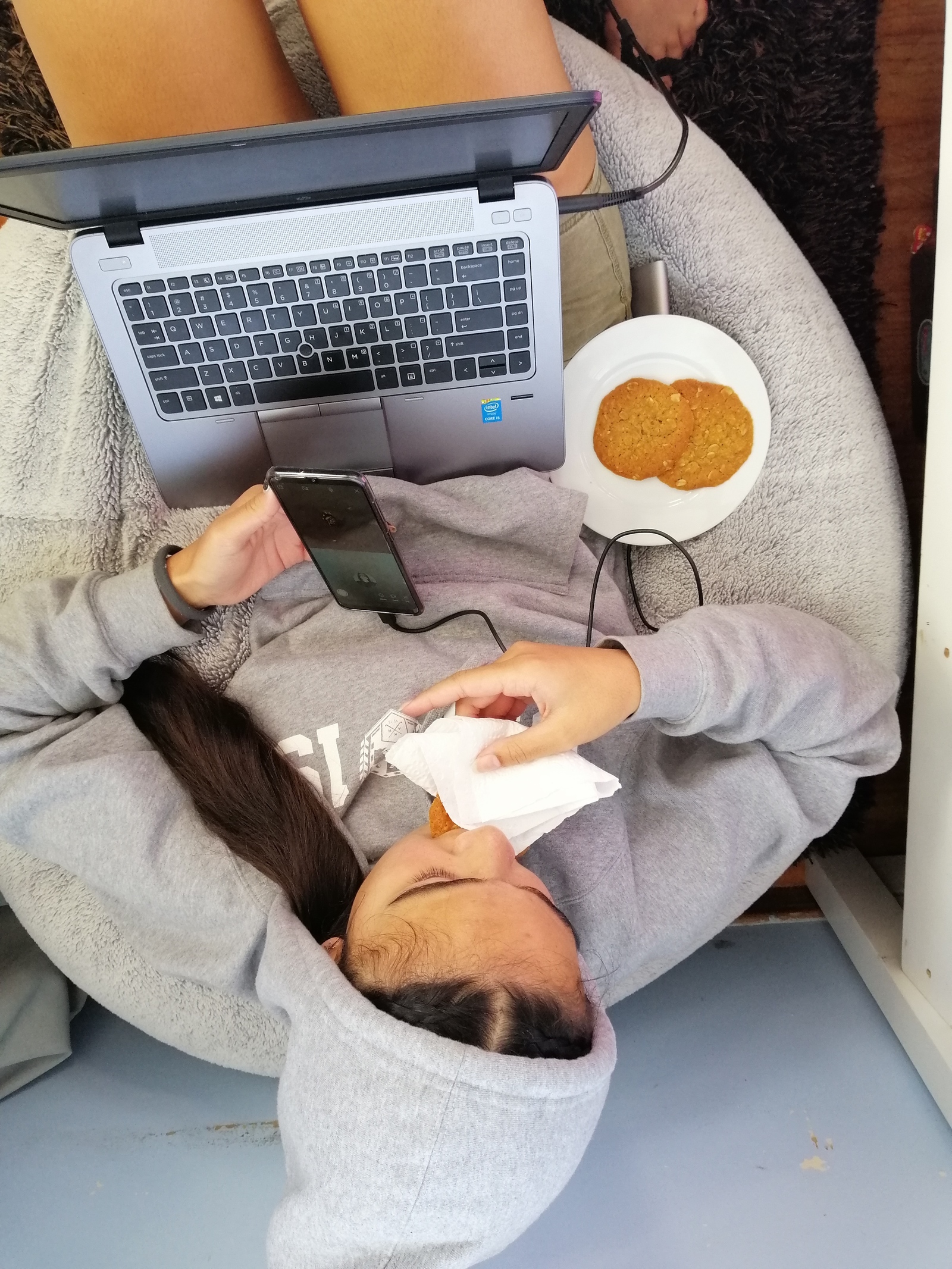 Filemu doing some learning at home today!
Look at this awesome wreath made by Benjamin and Mama!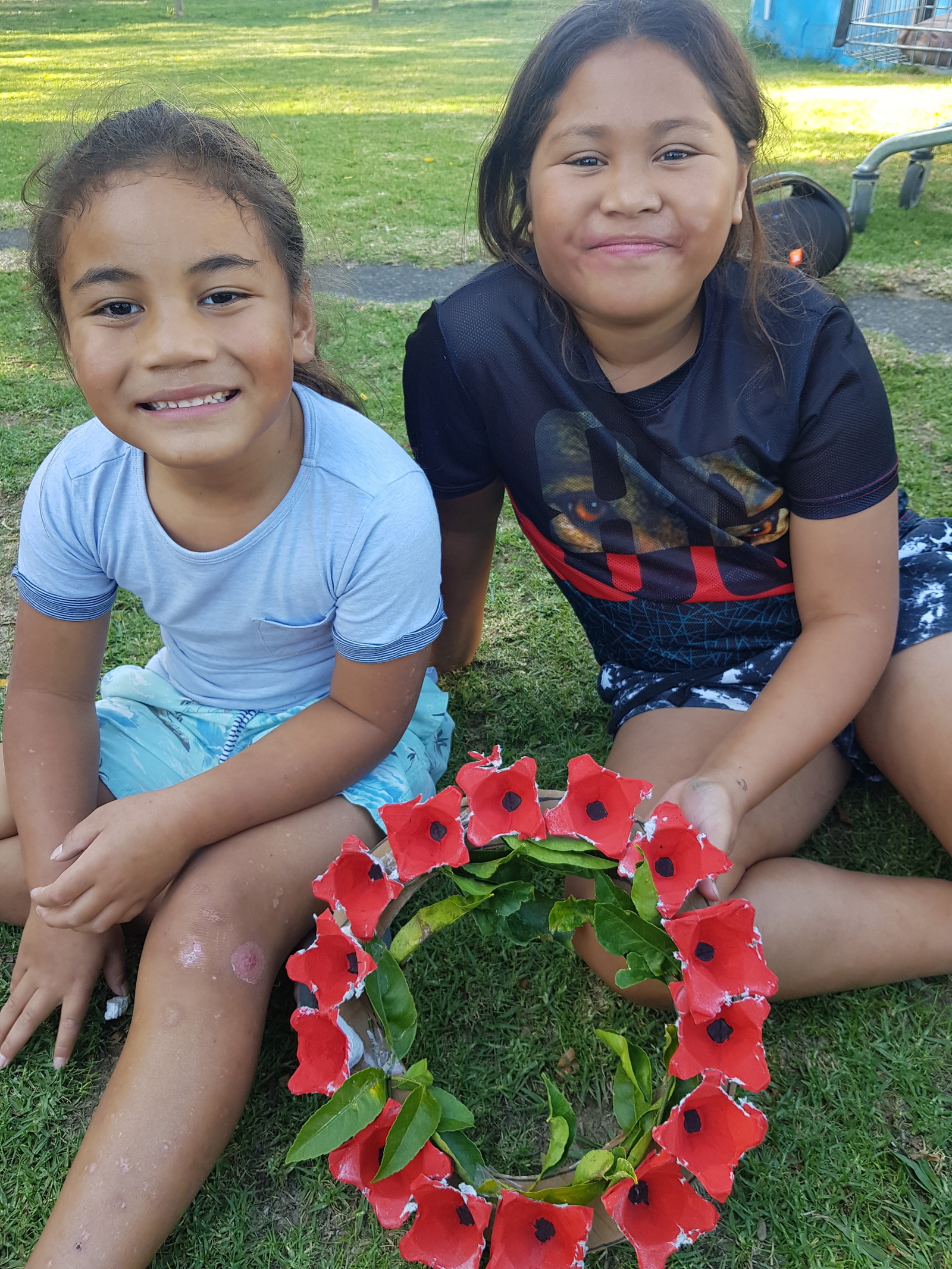 ** Week Three, Term 2 - 28th-April- 1st May **
Welcome to Week Three everyone! How are you all going? Another week of being at home and I know some people are starting to get a bit bored at home, so the teachers have been busy putting some new learning packs together and updating our website with some really cool activities. Make sure you check out everything on the website and get your family to come and pick up a pack on Wednesday.
We will have new learning packs available for all families that need more resources to work on at home.
These can be collected from the school library on Wednesday the 29th of April. Please note that we will have social distancing practices in place, similar to when you visit a dairy or supermarket. We will have one in and one practice in place.
Years 1 and 2: 9.30am-10.30am
Years 3 and 4: 10.30am-11.30am
Years 5 and 6: 11.30am-12.30pm
This week has started off with another birthday in our family, my big boy 'Amelali turned 15 today, so I got to bake another cake. I wish I could send you all some :)
I also got to bake a cake for my nieces little boy who turned 5 this week, do you like his cake?
Baking has to be my favorite thing to do during lock down. What is your favorite thing to do at home? Have a great week everyone and keep sending me those awesome photos of your schoolwork at home :)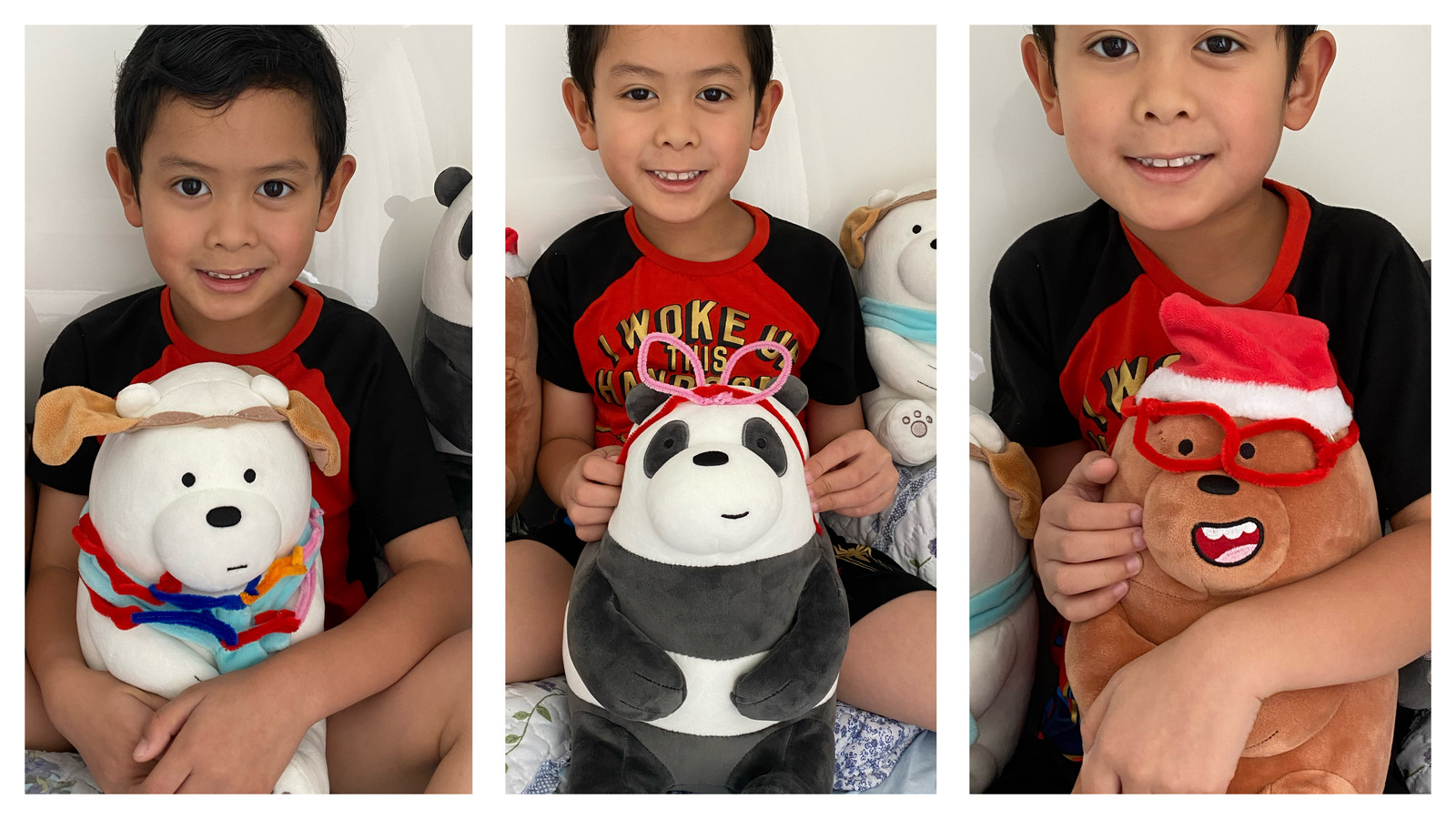 Awesome work by Luke this week on the pipe cleaner challenge, his bears look so cute! Look out for a new challenge next week :)
** Week Four, Term 2 - 4th May- 8th May **
Welcome to Week Four everyone! How are you all going? This week I would like to share some activities that you can do at home:
* Memory Match- cut up a cardboard box into small cards. On the back of each card, write your reading words from the Magenta, Red, Yellow, Blue or Green words. Write each word on two cards. Turn all of the cards over and mix them up. With a family member, take turns turning over two cards. If they match, you get to keep them. If they don't match, turn them over again. The winner is the person who gets the most pairs. You can also play this game with letters or numbers.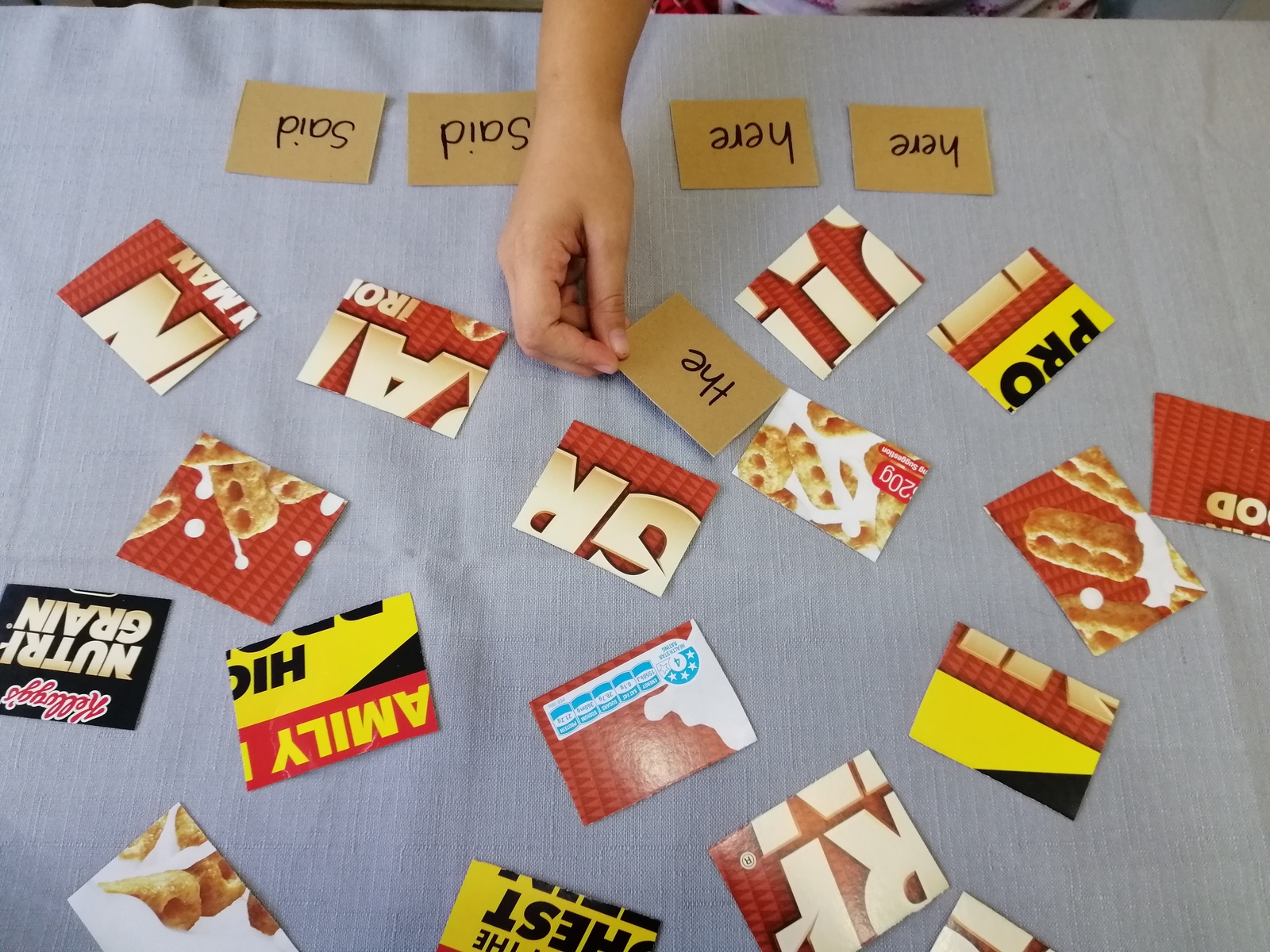 12 Month, Coloured Word Lists
Emergent List Words
Red list words
Yellow List Words
Blue list words
Green List Words
* Alphabet Scavenger Hunt
Write out the letters of the alphabet on a card each. Put them in alphabetical order and try to find one thing in your house that starts with each letter. This is how many Charlotte could find in 60 seconds- can you beat her?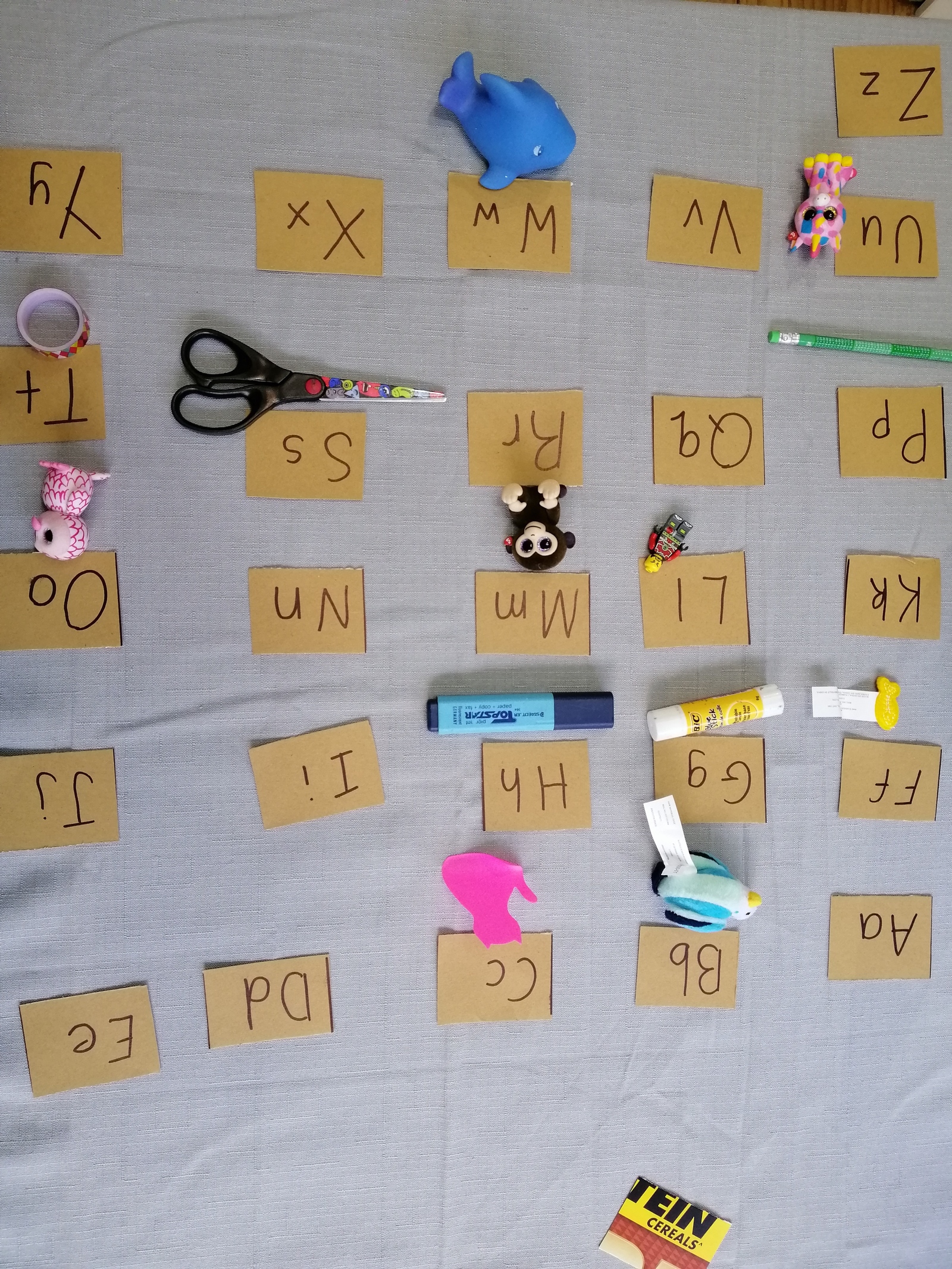 * Handwriting- Copy this handwriting into your book. Make sure that you remember to miss lines, leave finger spaces and keep your letters on the line.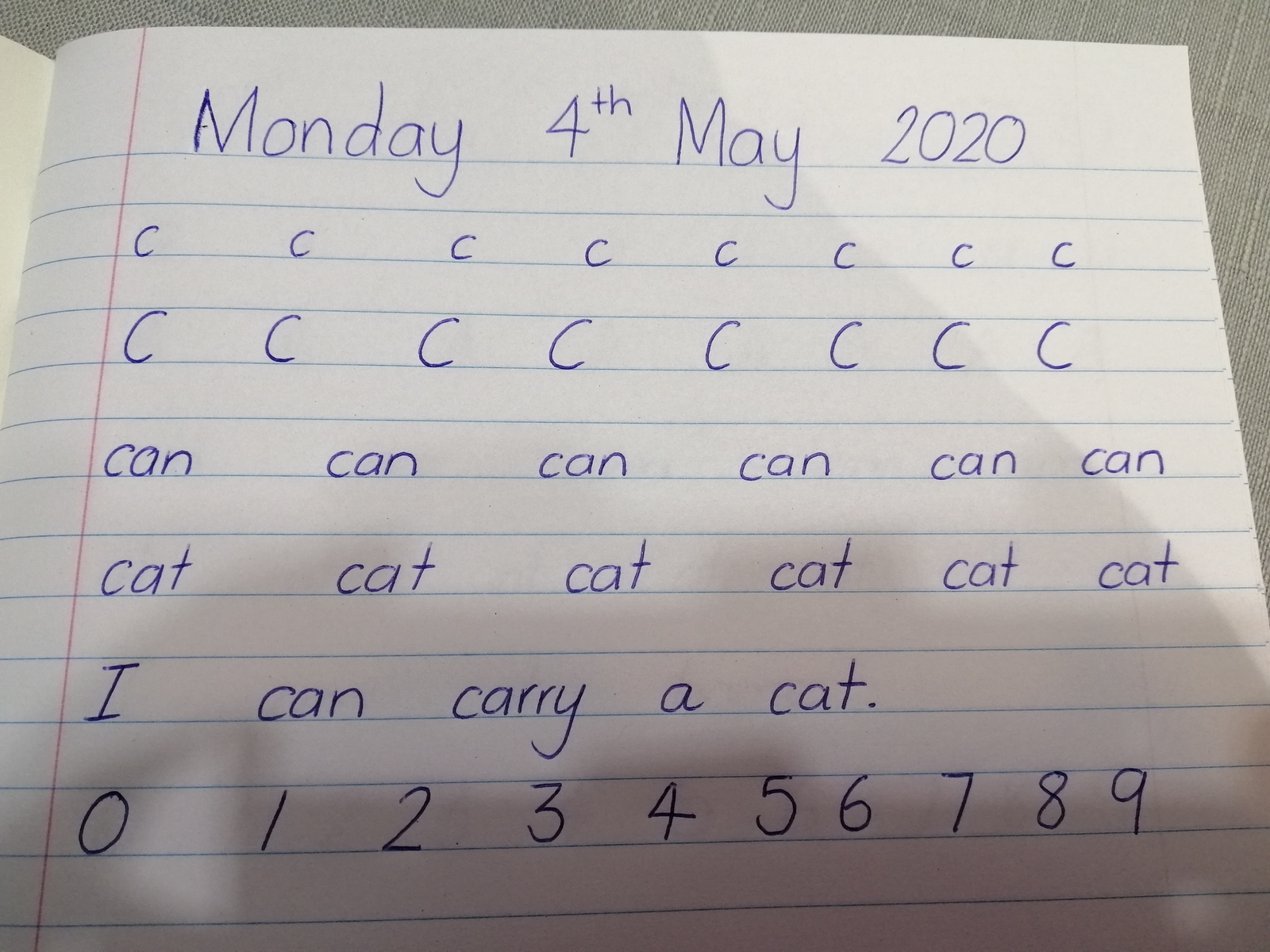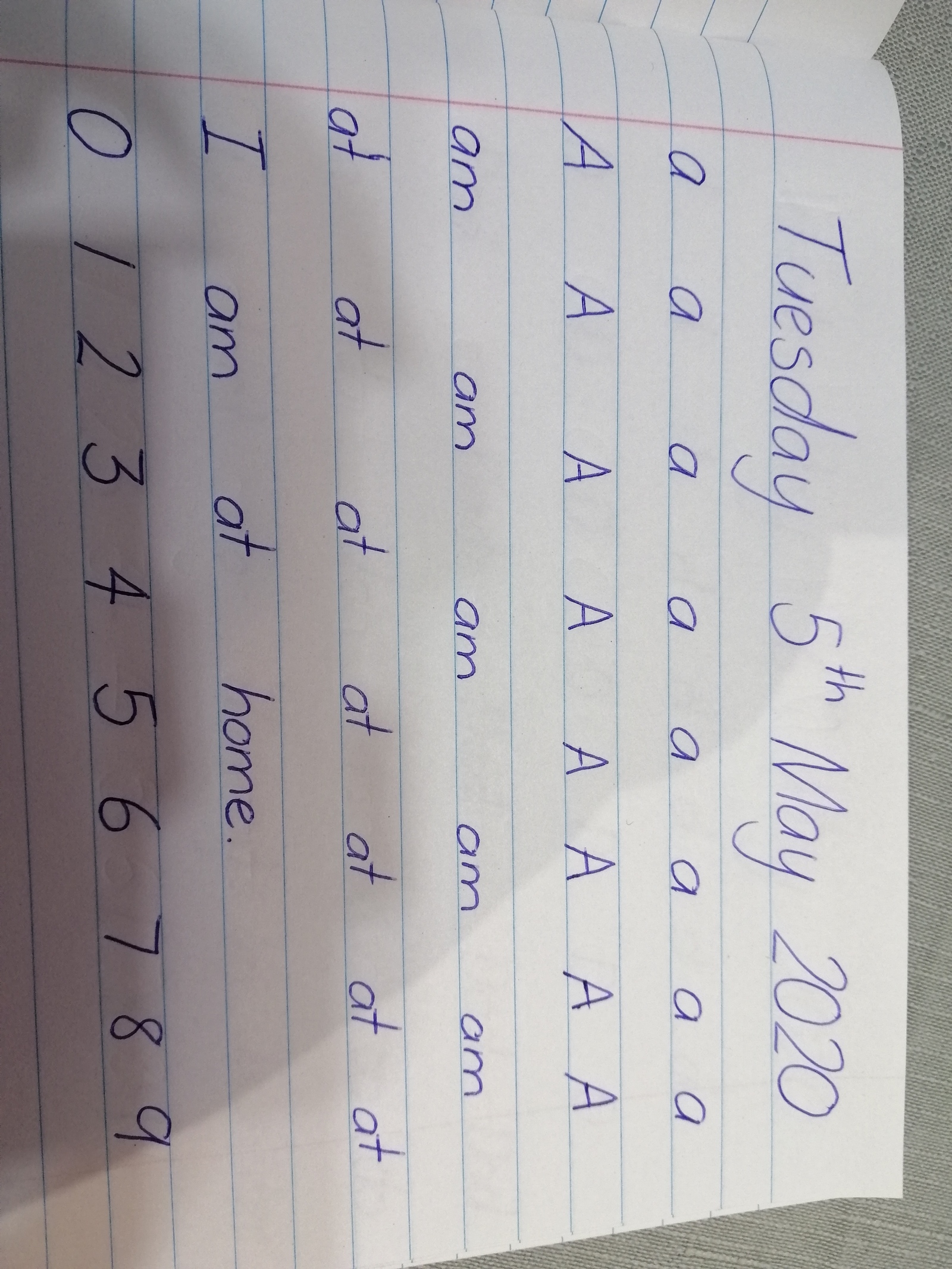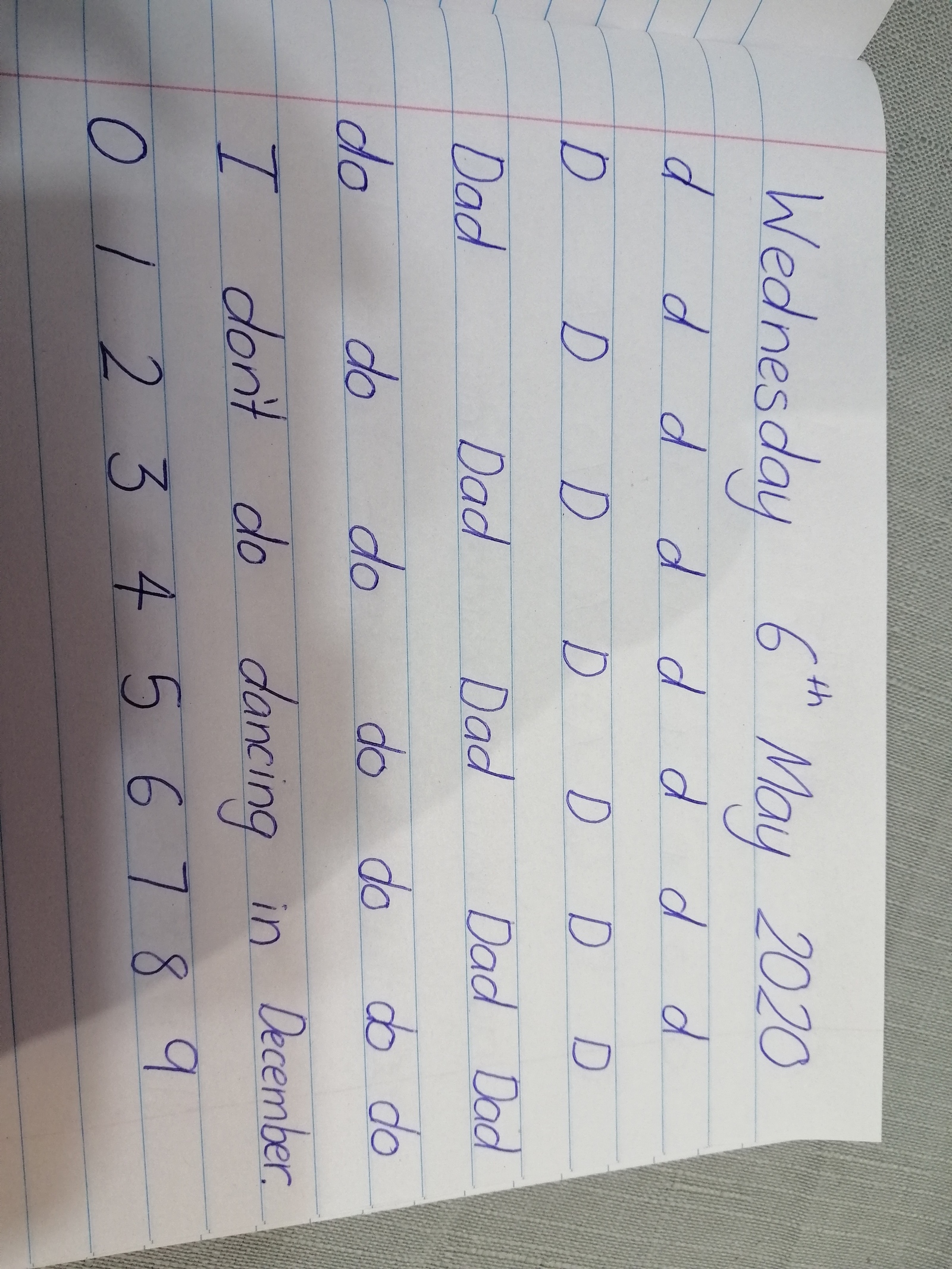 * Craft Activity of the Week- Toilet roll kitties!
Take a toilet roll or a piece of a piece of cardboard roll from inside a roll of paper towel.
Push down gently on the top of the roll.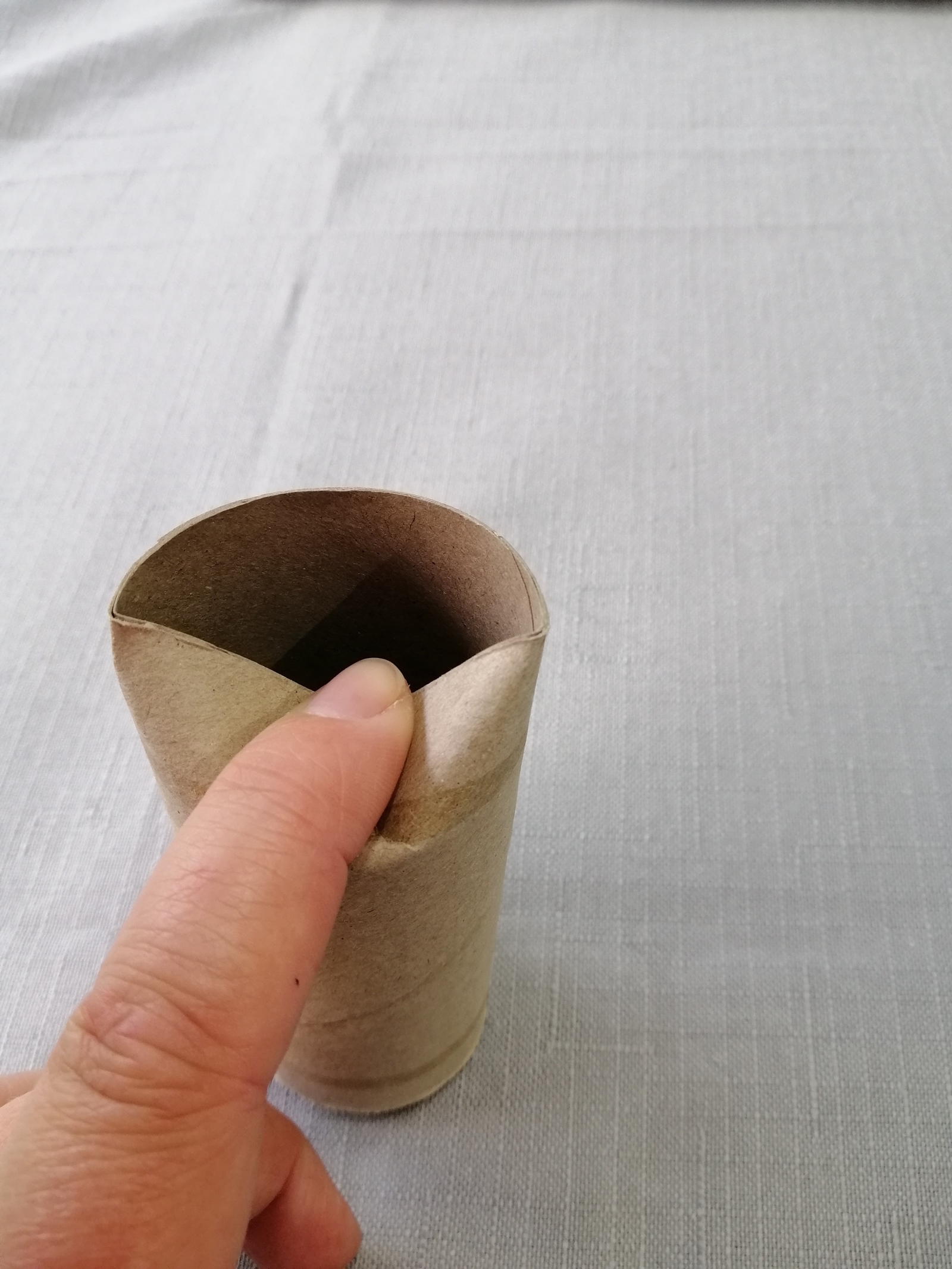 Turn it around and push down on the other side too.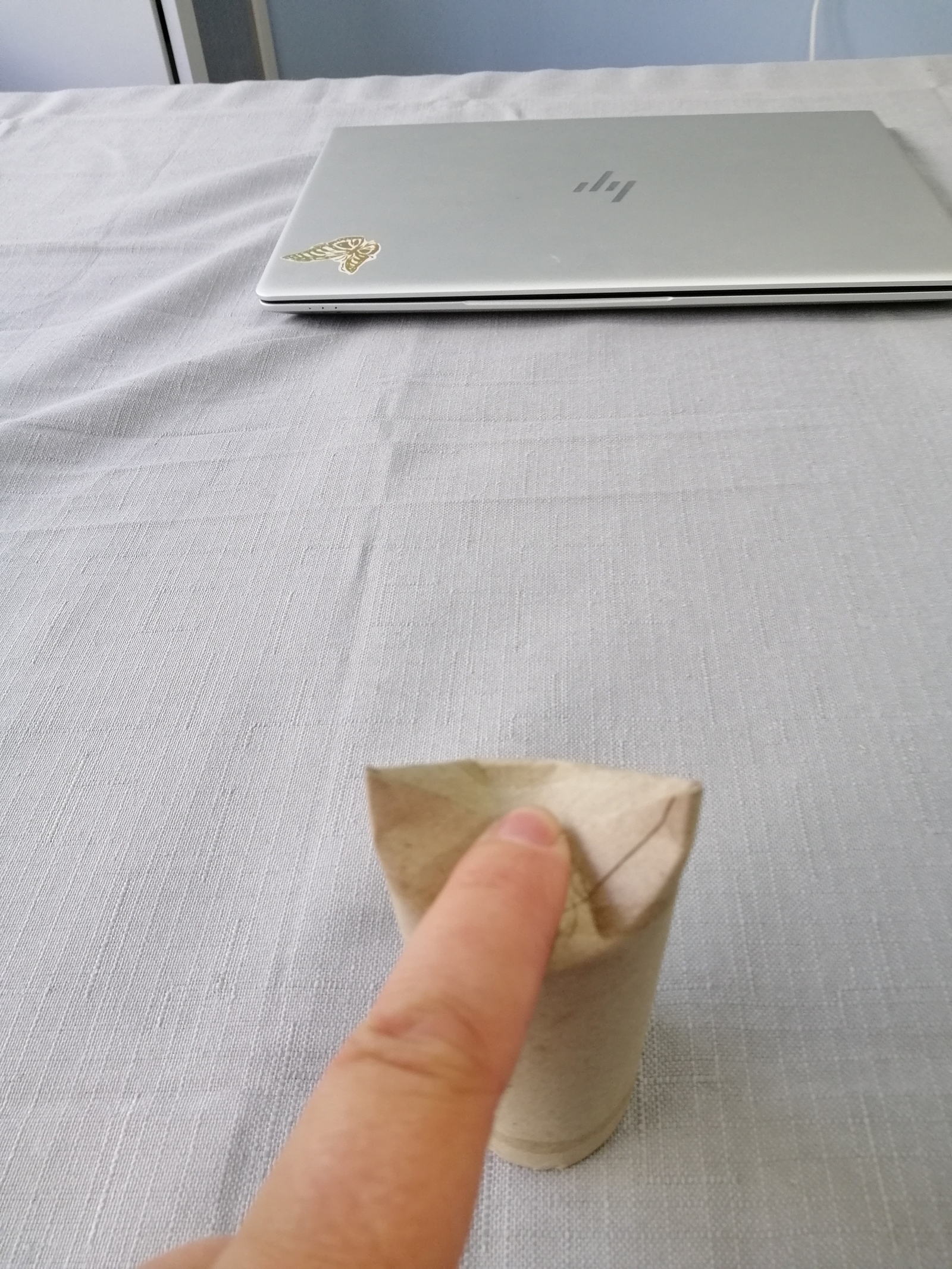 Draw a little kitty face on the front and a tail on the back.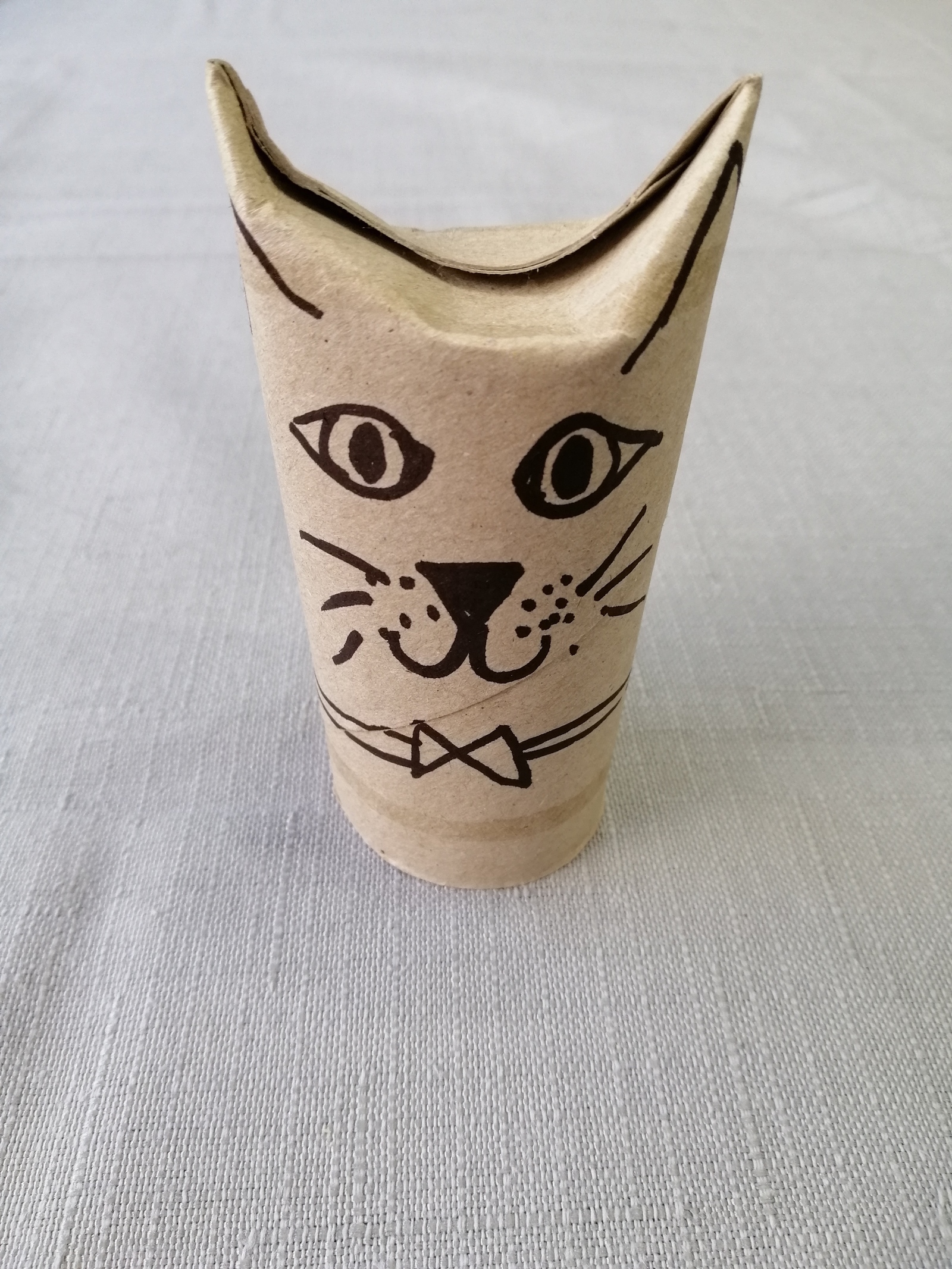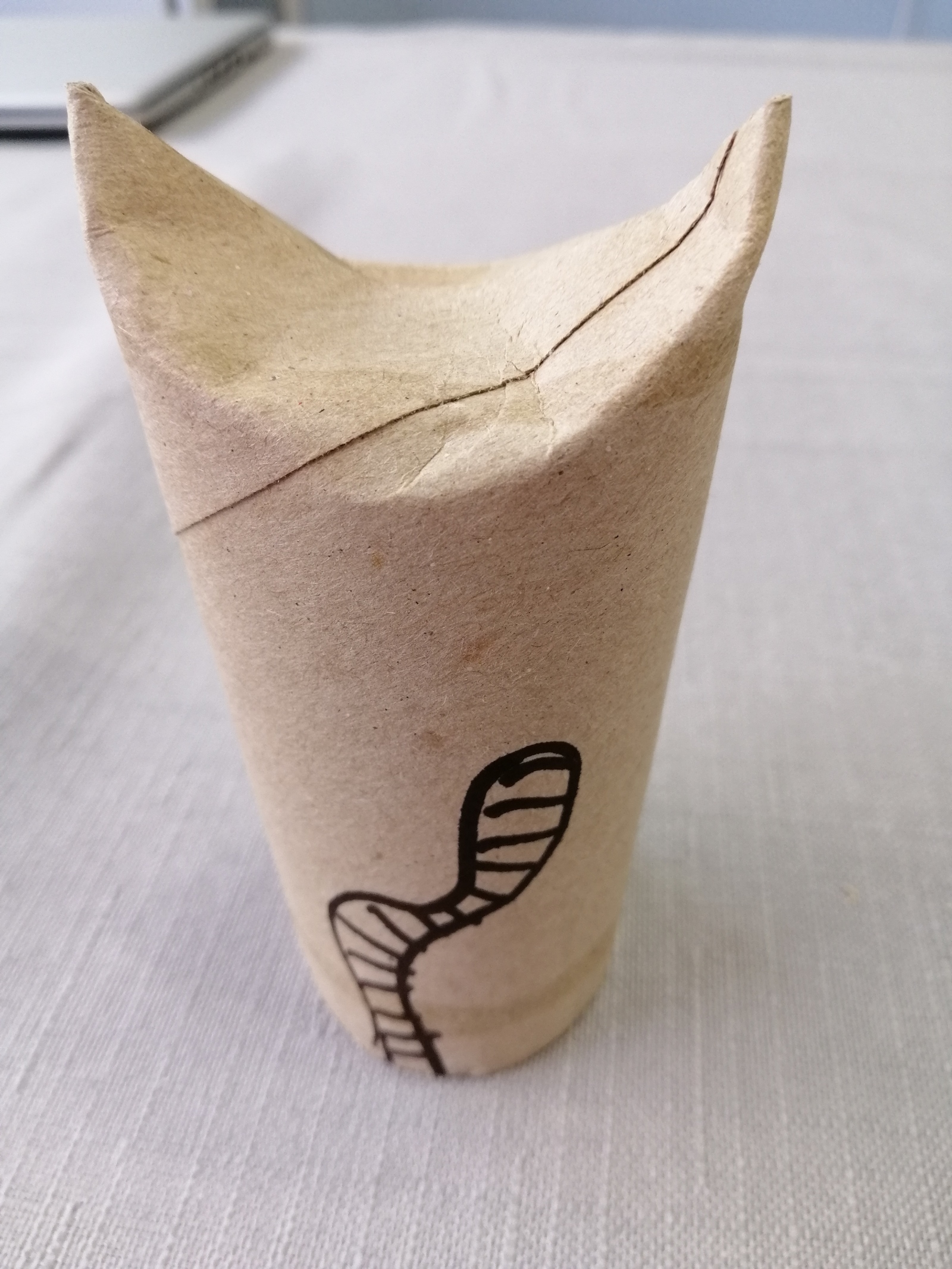 Here are some that Charlotte made (can you spot the bunny?), I can't wait to see yours!: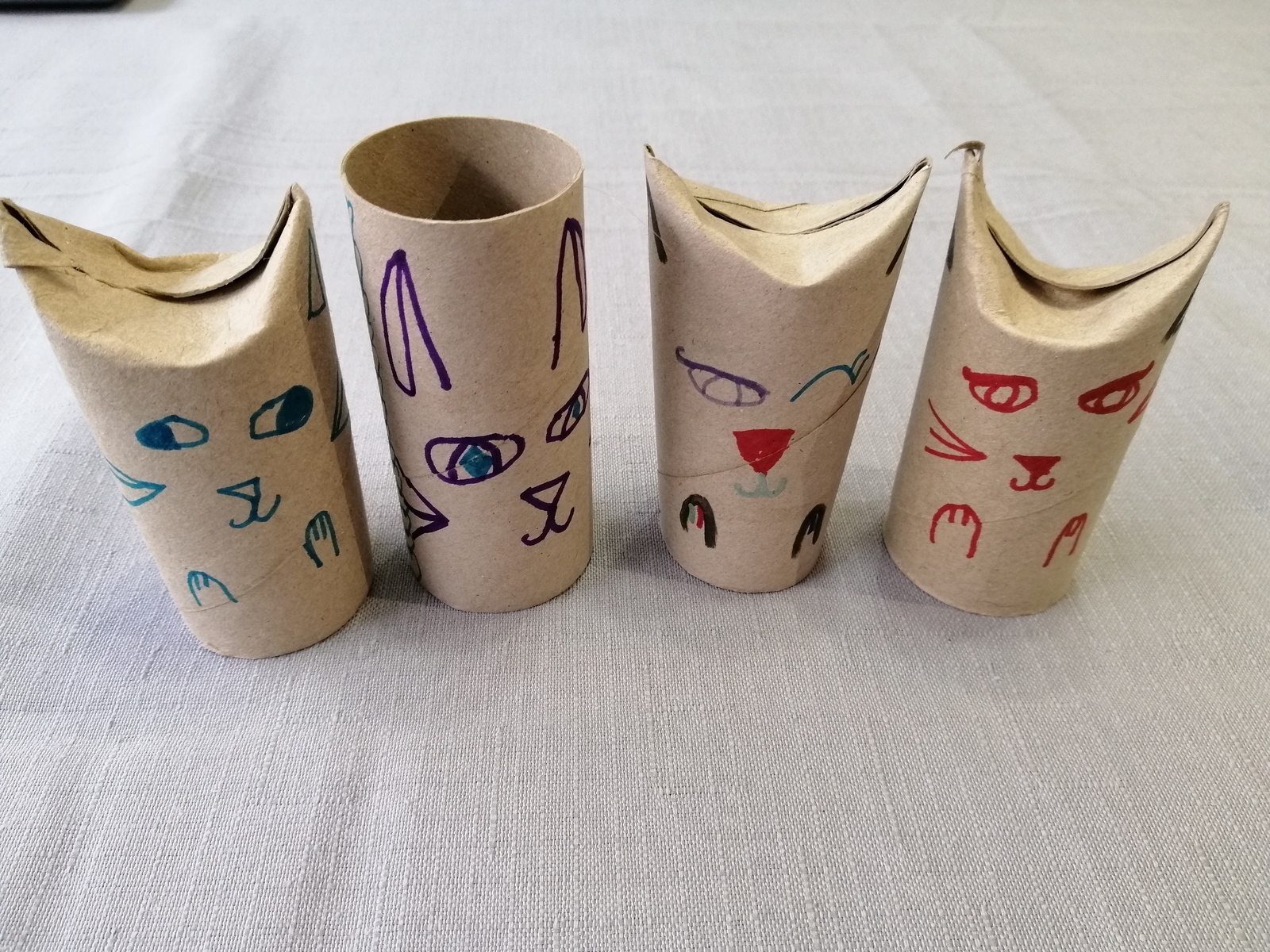 Mother's Day 2020
Mother's Day is coming up soon, so think about what you could do in your bubble to make your Mum feel special. If you were able to pick up a learning from home pack last week, you could use your crayons and colored paper to make a card for Mum or you could use the chalk from the pack to do a special message or drawing on the concrete outside.
Think about all the reasons that you appreciate your Mum and all the special things she does for you. You could write a special thank you letter or draw a picture of something that you love doing with Mum. If your Mum is not able to be in your bubble, you could write to an Auntie, Nana or another member of your bubble.
** Week Five, Term 2 - 11th May- 15th May **
Welcome to Week Five everyone! How are you all going? Did you do something special in your bubble to celebrate Mother's Day? Not long to go until we are back at school again, I can't wait to see your smiling faces again!
Some more entries in our Pipe Cleaner Challenge, Well done Dash and Fusion :)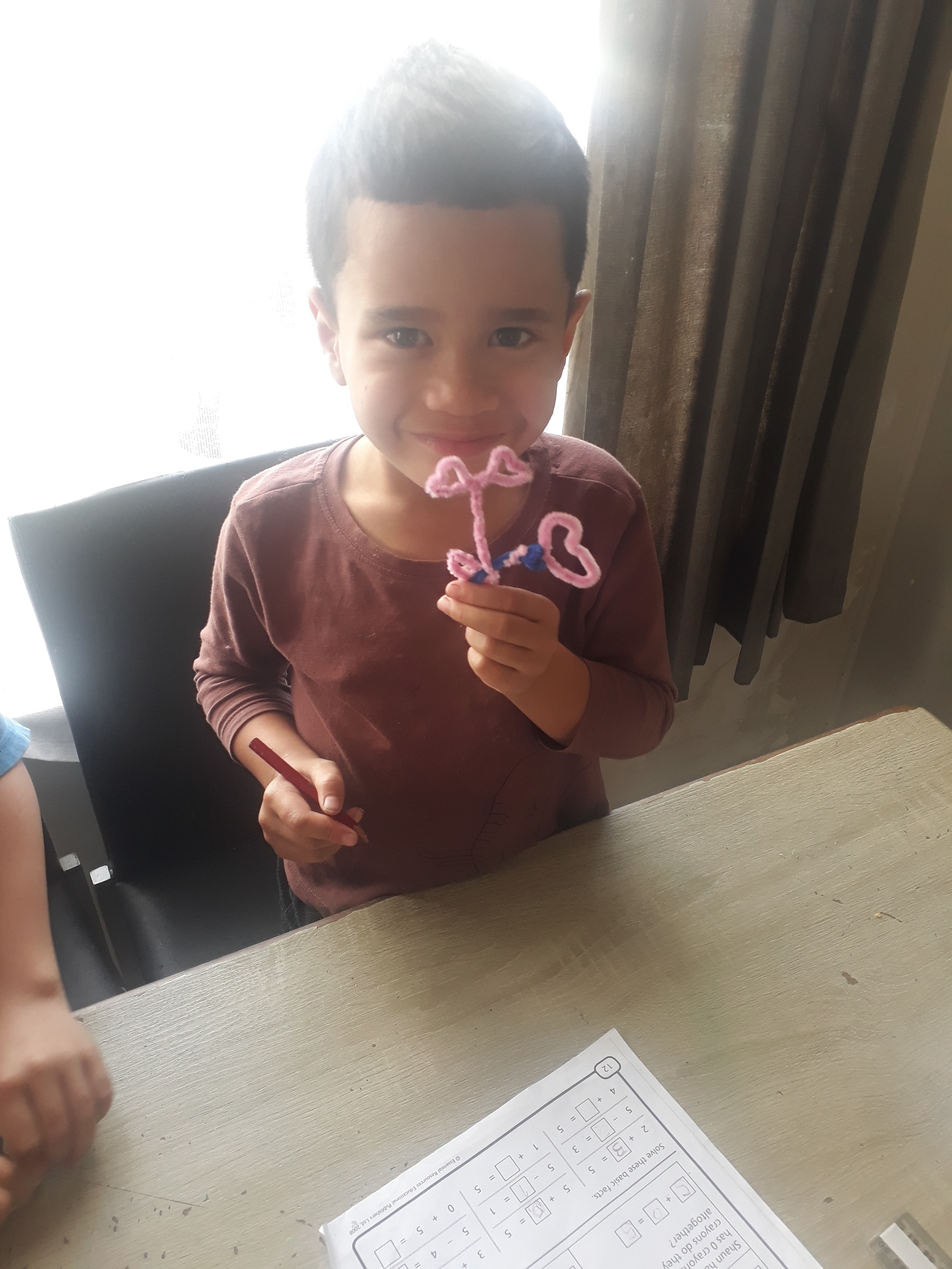 Have a look on some of the other Junior class pages to see more creative designs!
This week I would like to share some activities that you can do at home:
Maths- Autumn Leaves. Go for a walk in the garden or at a park and find 10 autumn leaves. Talk to someone in your bubble about what colours they are.
Put your leaves in a line from biggest to smallest.