** Scroll down for updates!**
The Pride- 2020
Kia Ora Pride! We have had so many positive comments on this page that we have decided to keep posting updates of what the class has been doing this term now that we are back at school, I hope you enjoy scrolling through- Ms Russell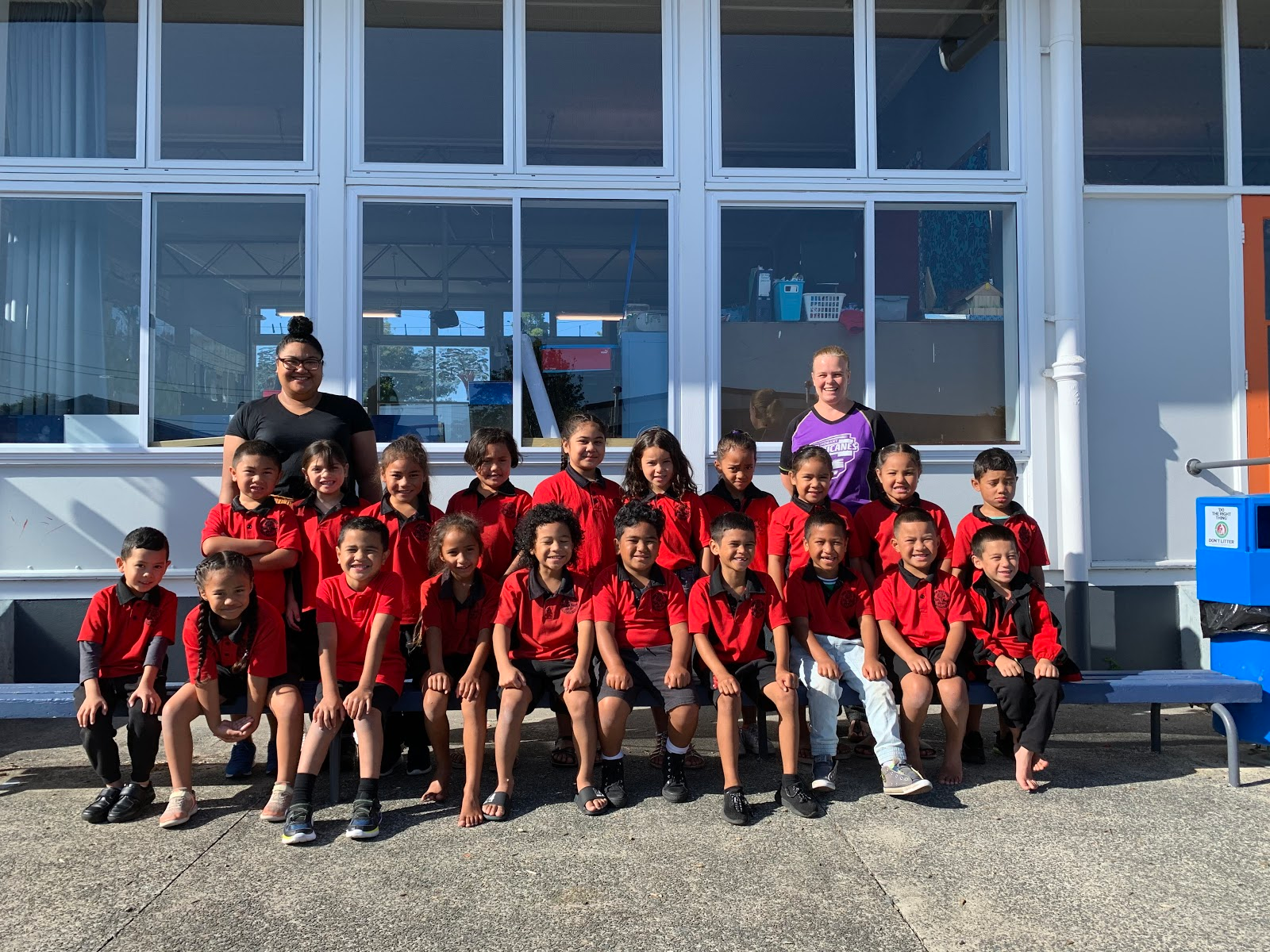 *** Week Seven, Term 2 - 25th- 29th May ***
Samoan Language WeeK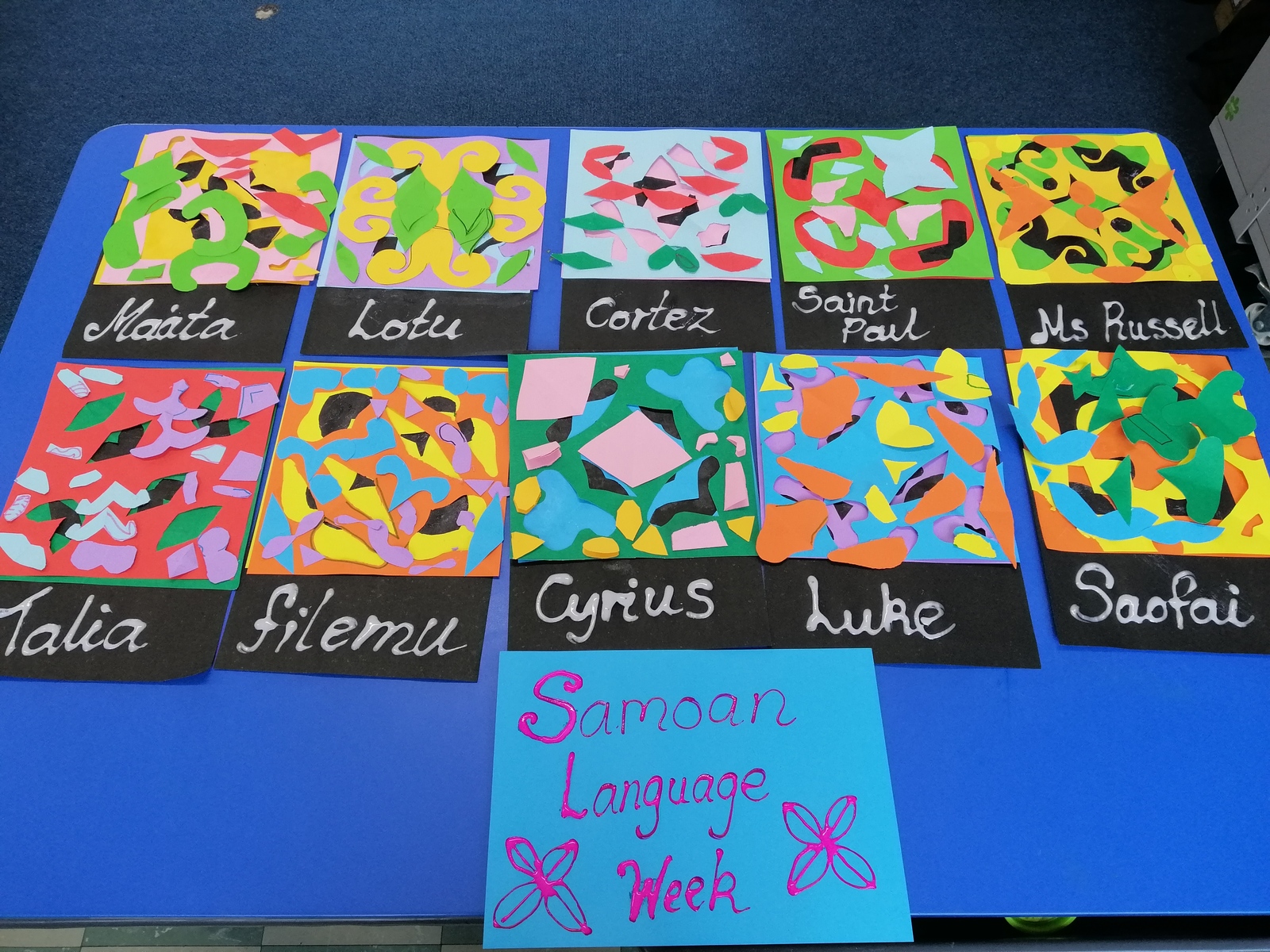 Art by Room 5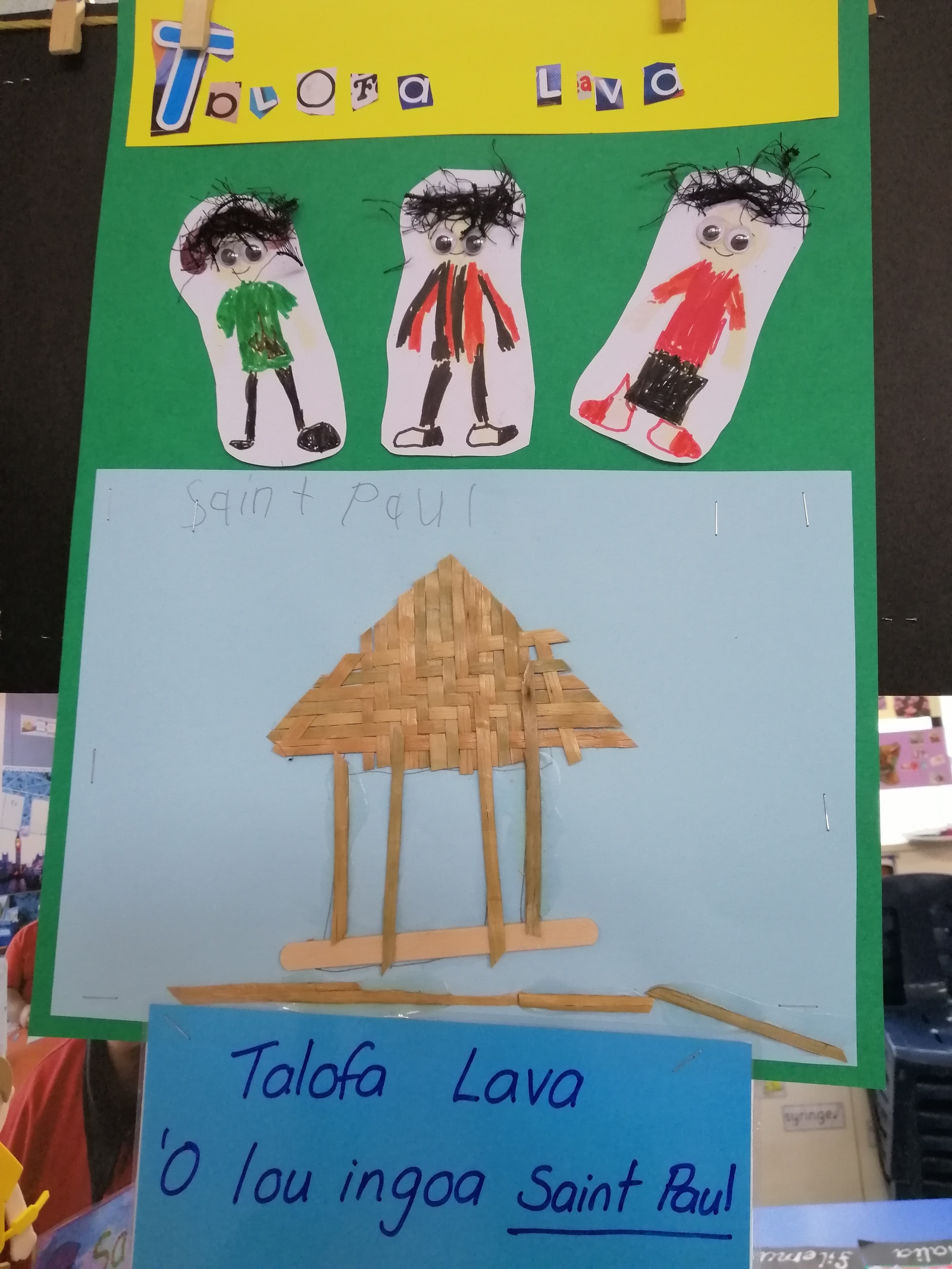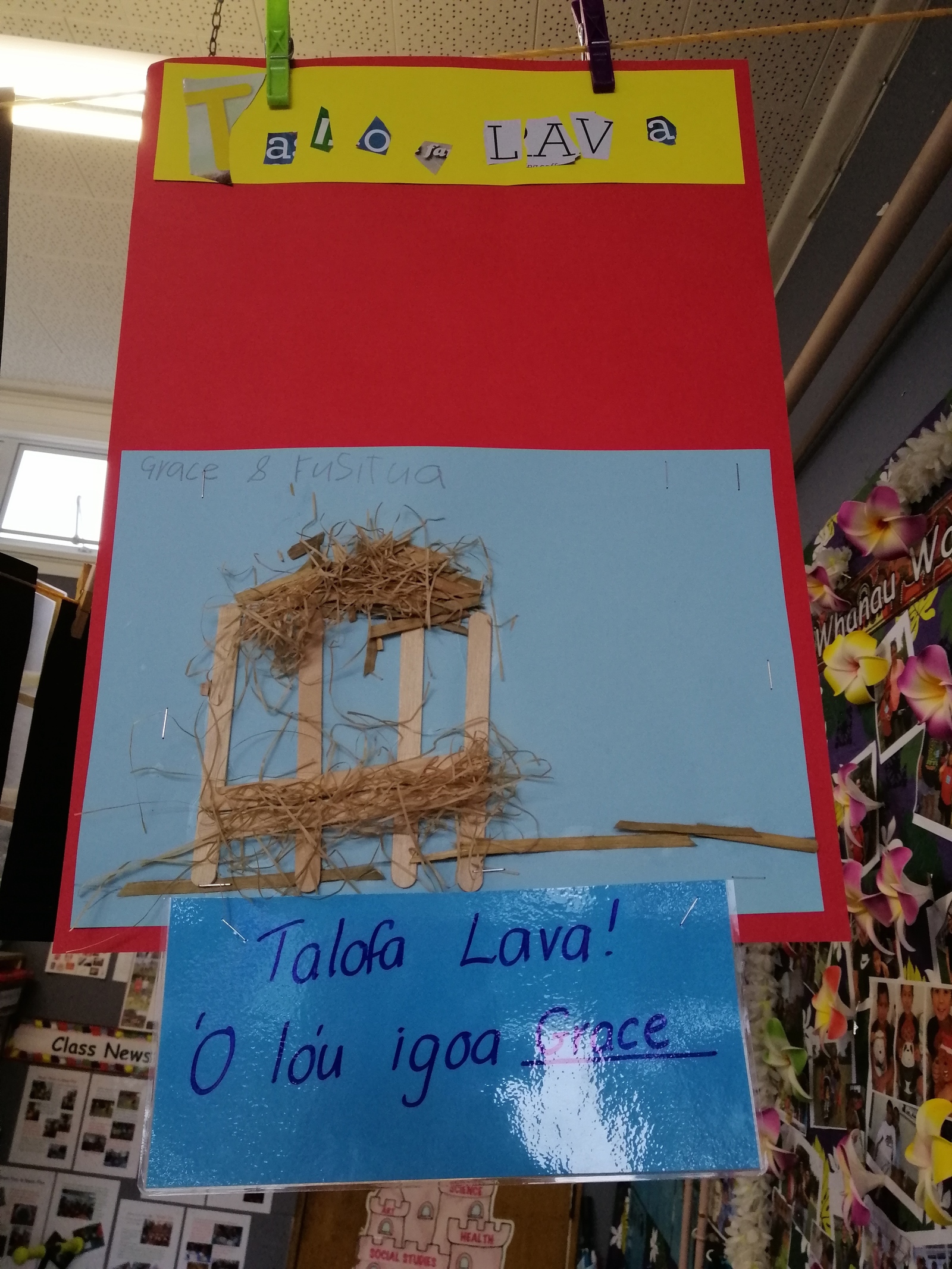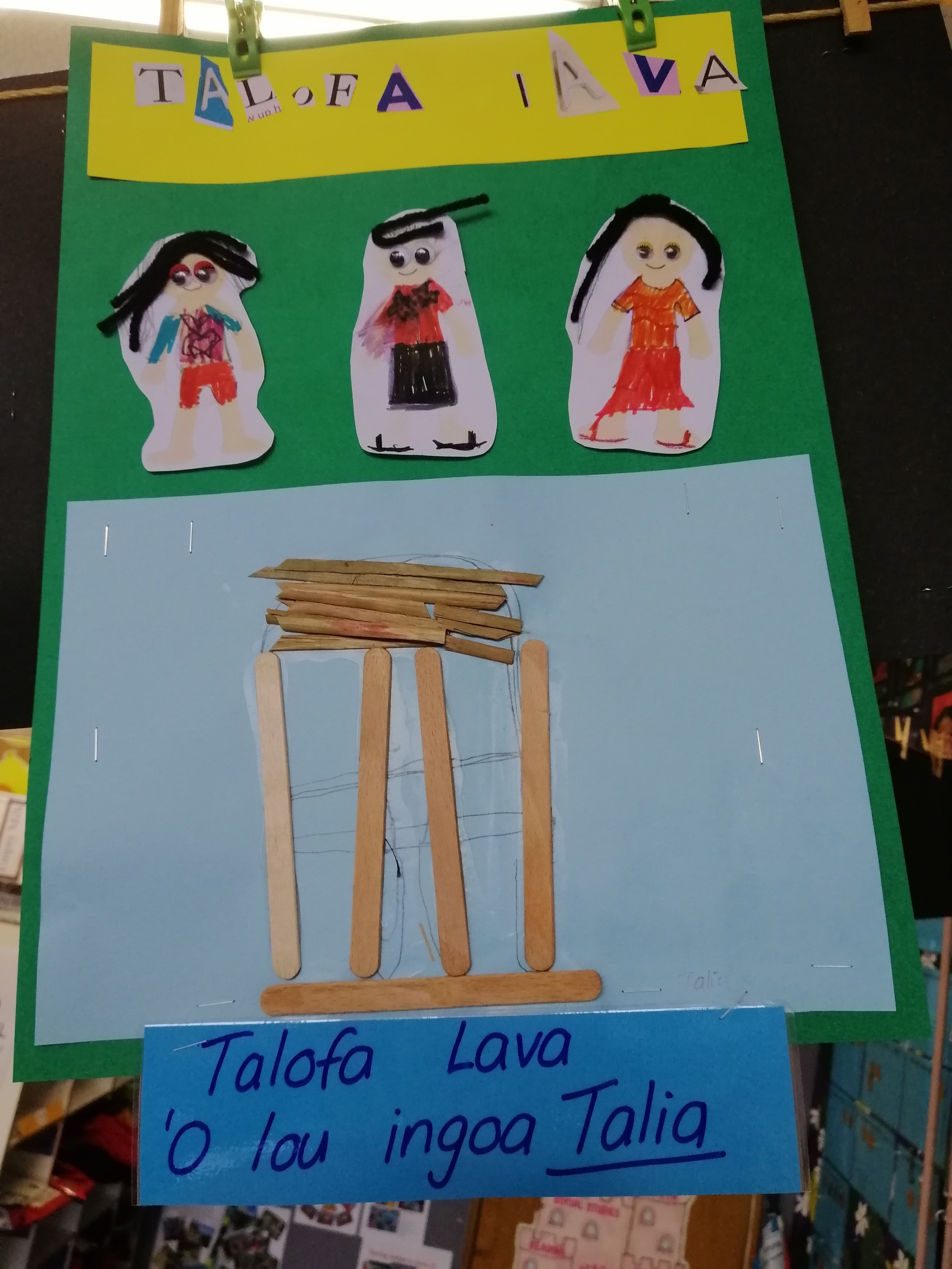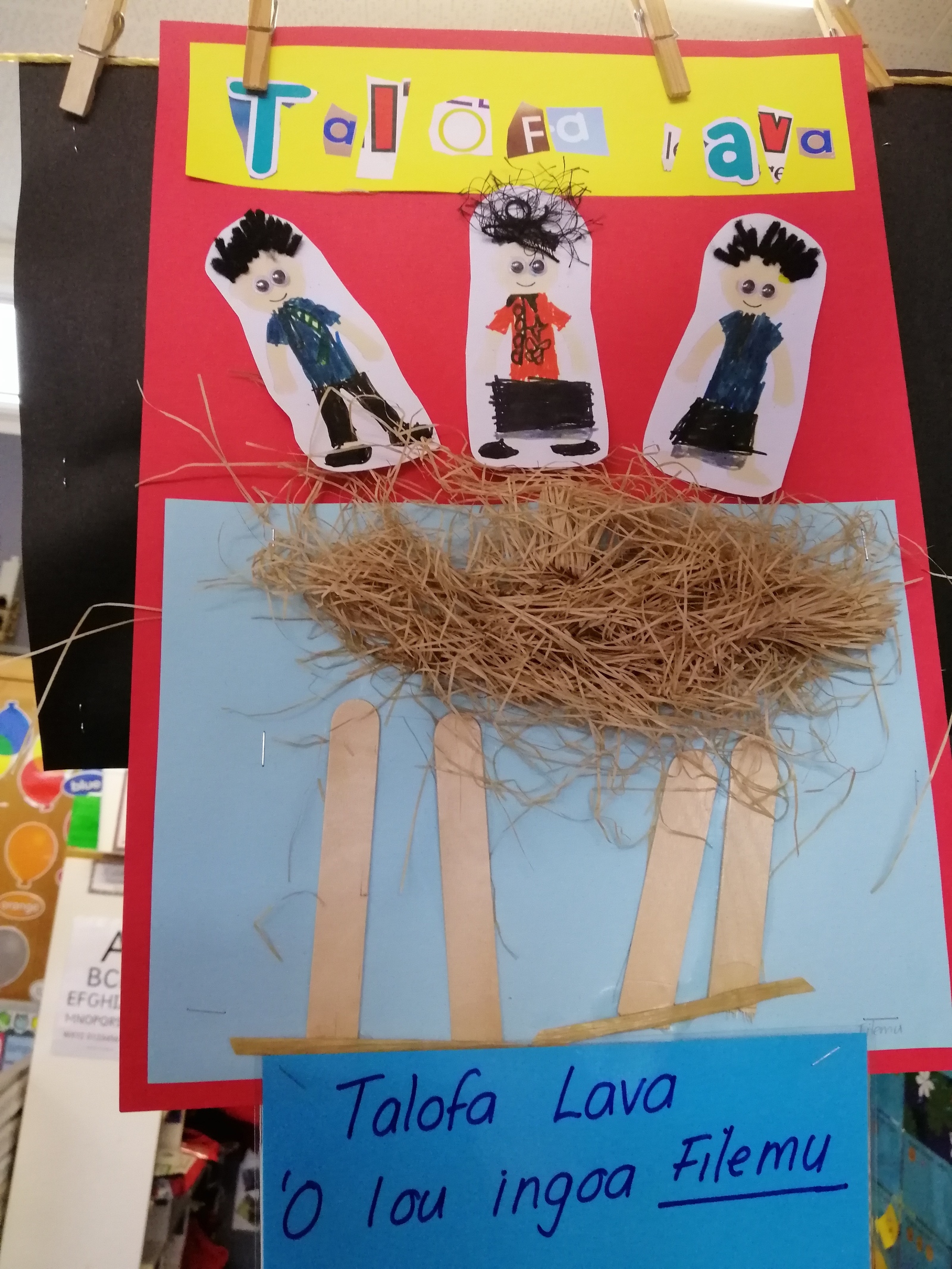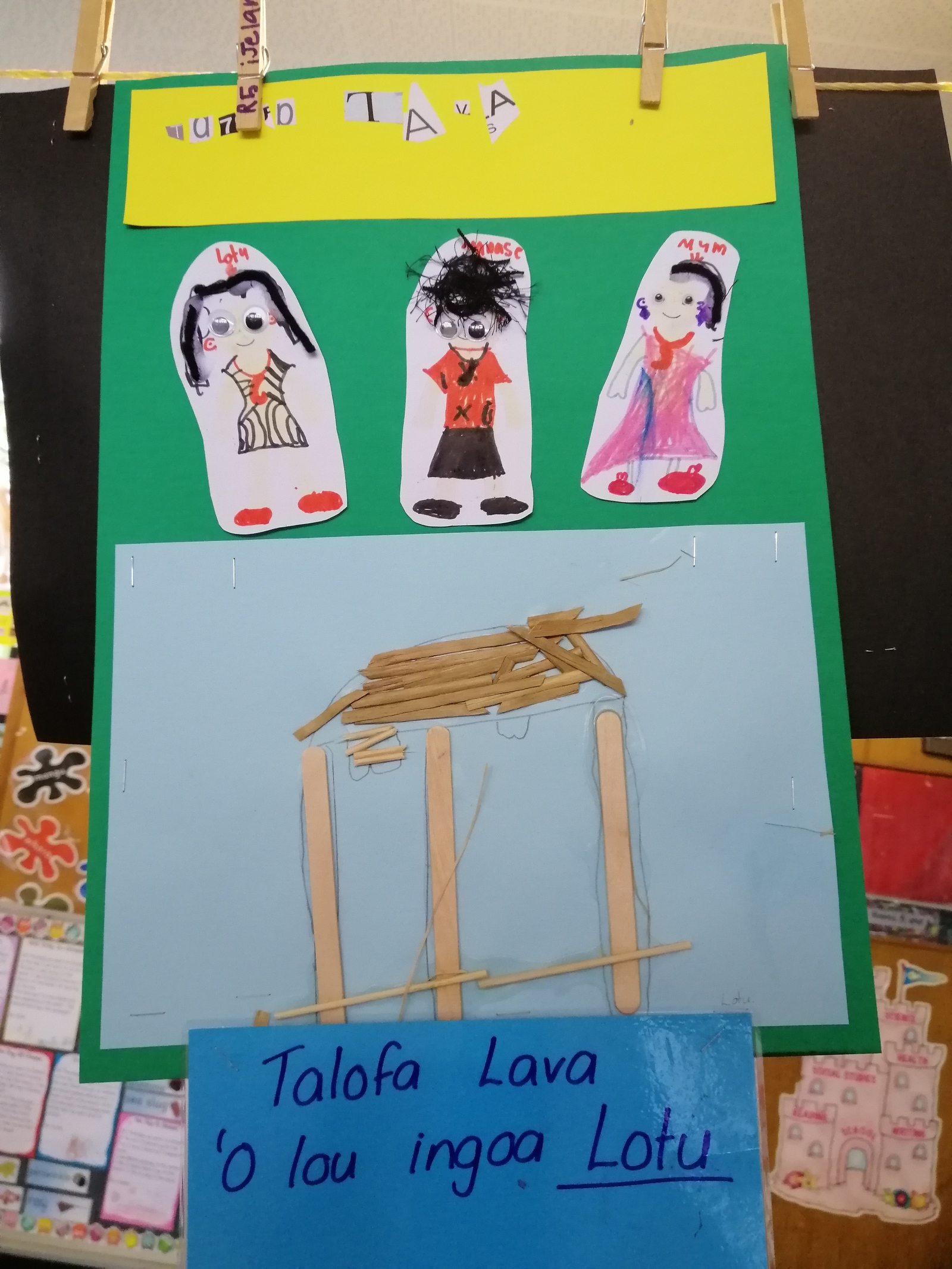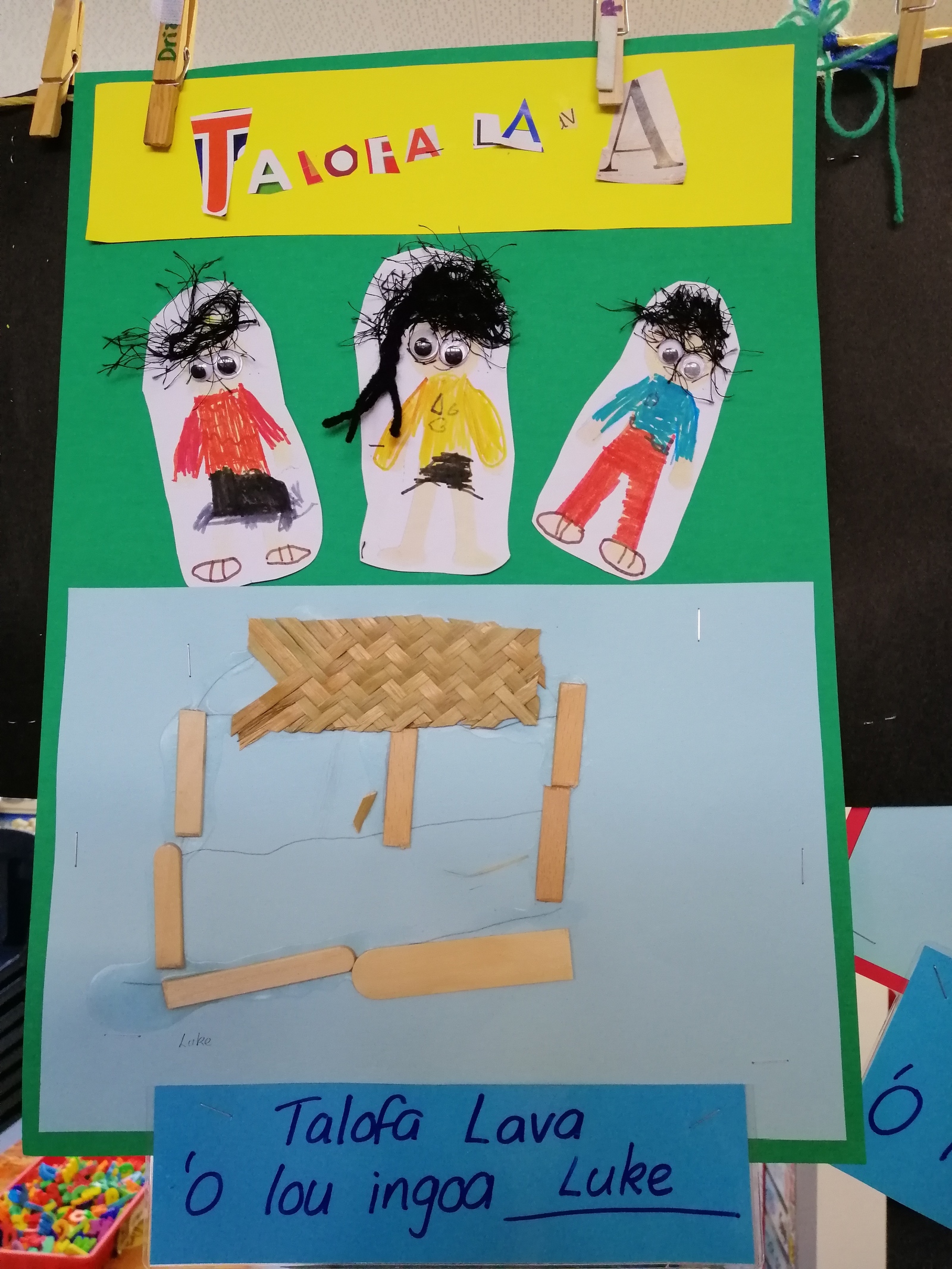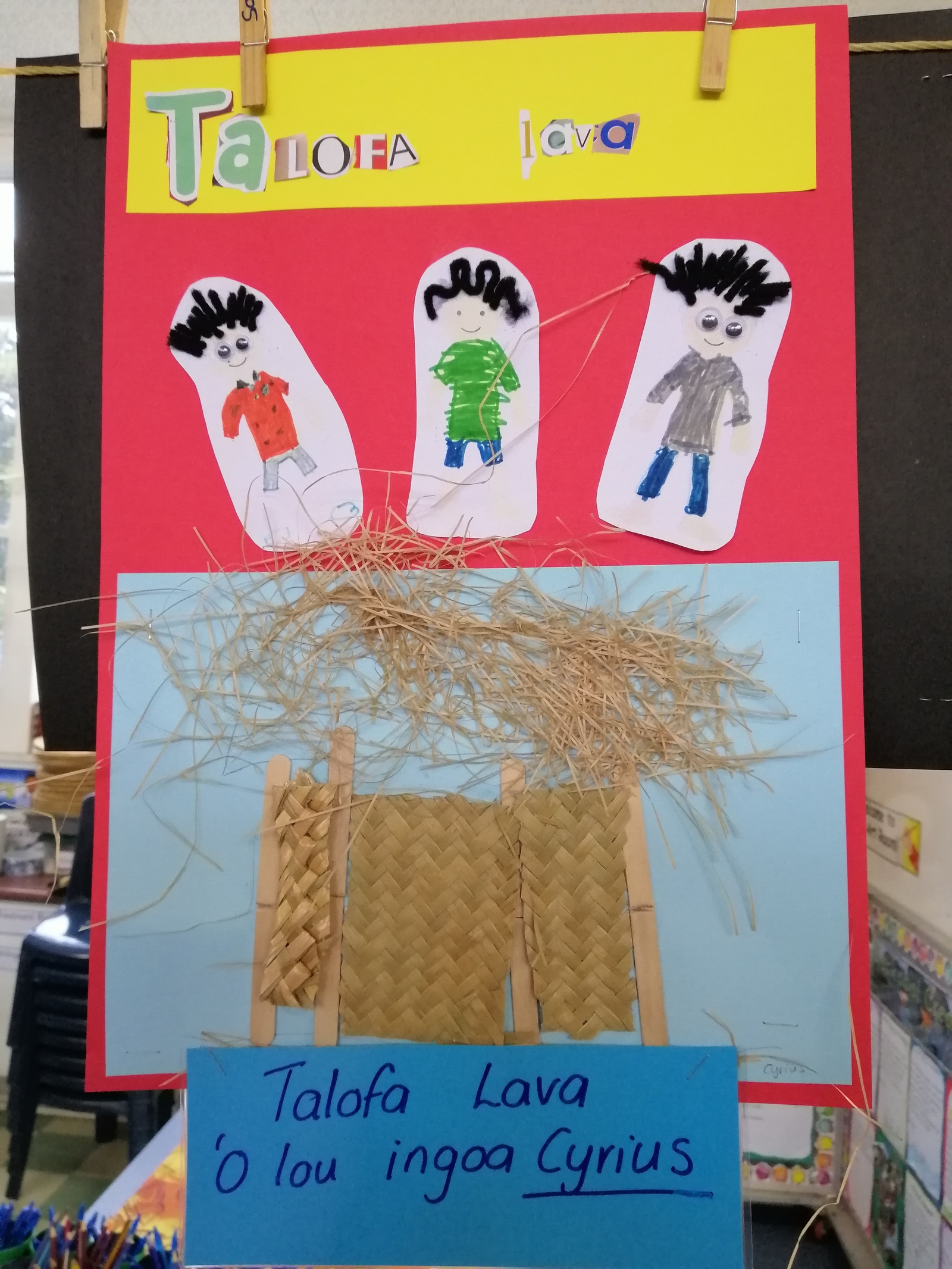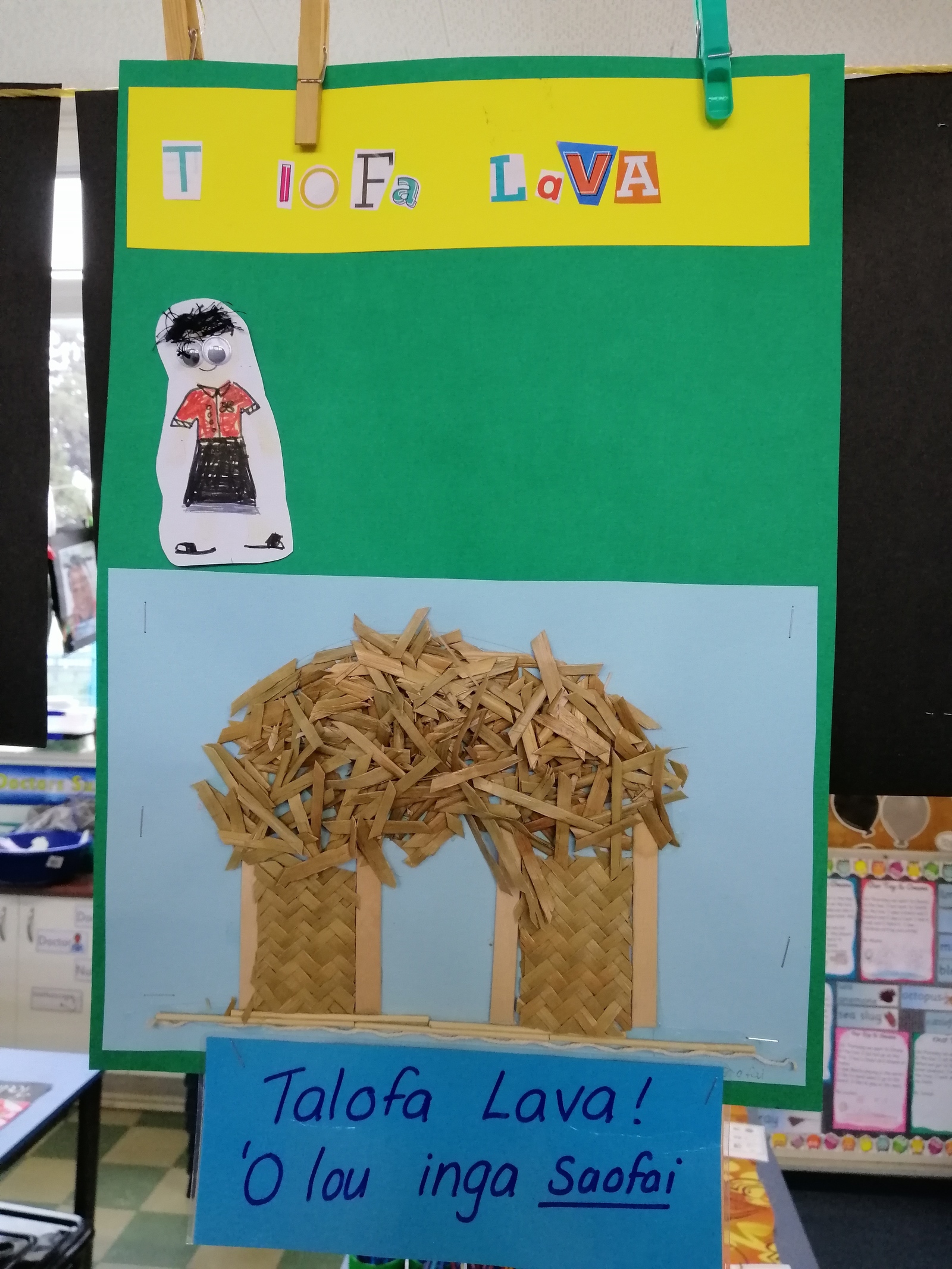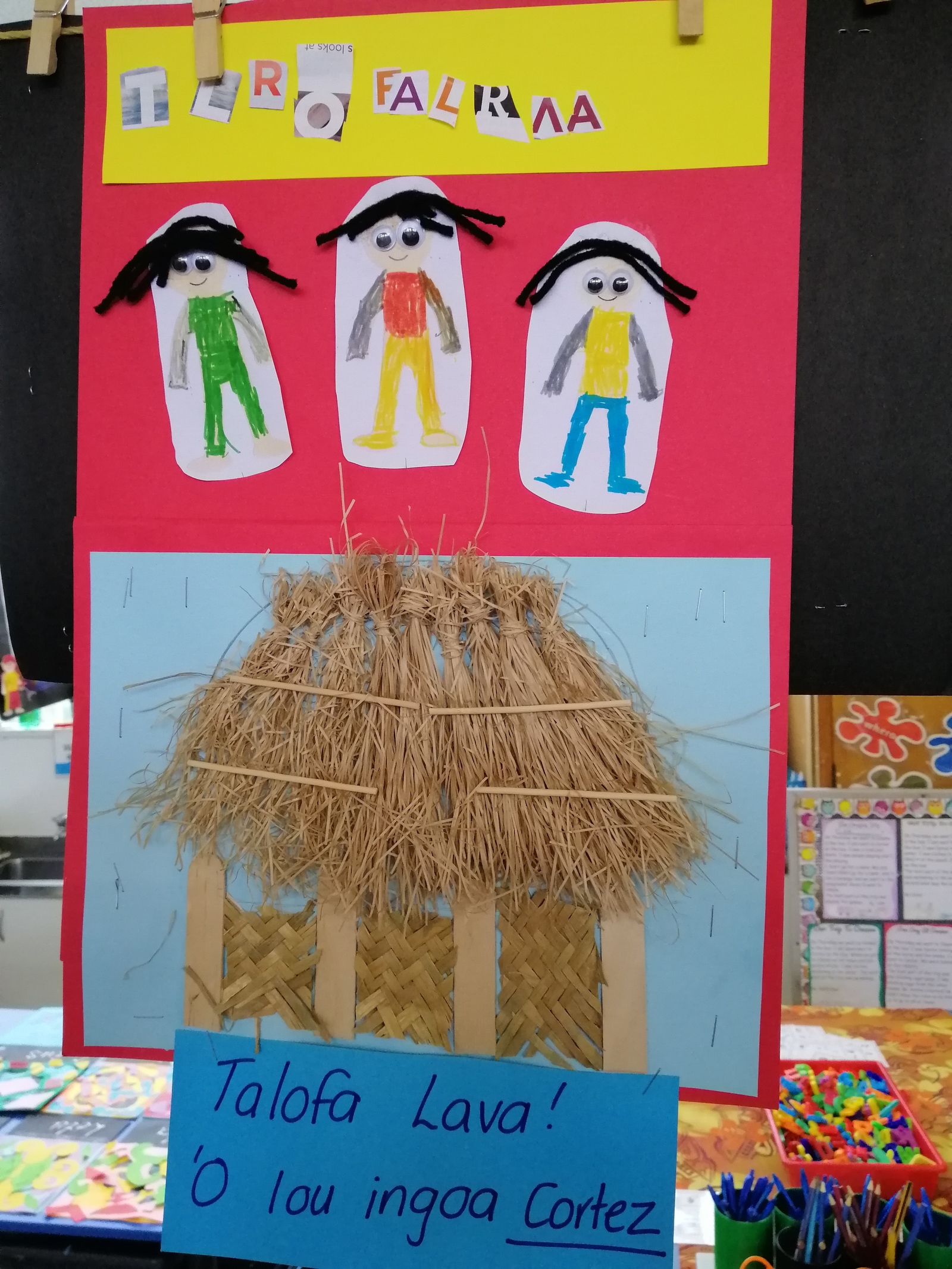 This Week is Samoan Language Week so we will be doing lots of Samoan activities. Looking forward to another awesome week in Room 5.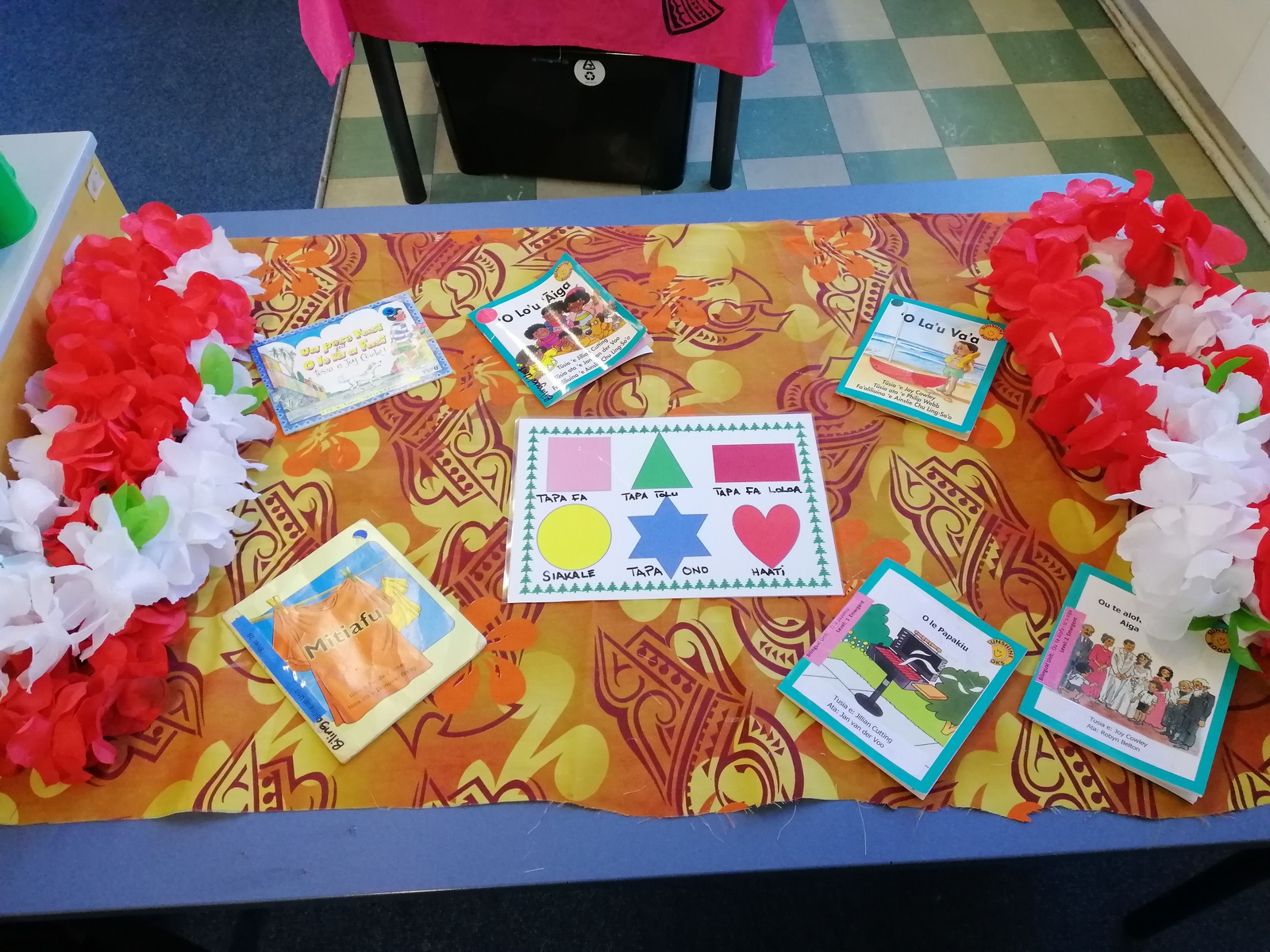 We have been looking at Samoan cultural clothes today and making some avatars to go in our fales. Can you see any clothes that you like?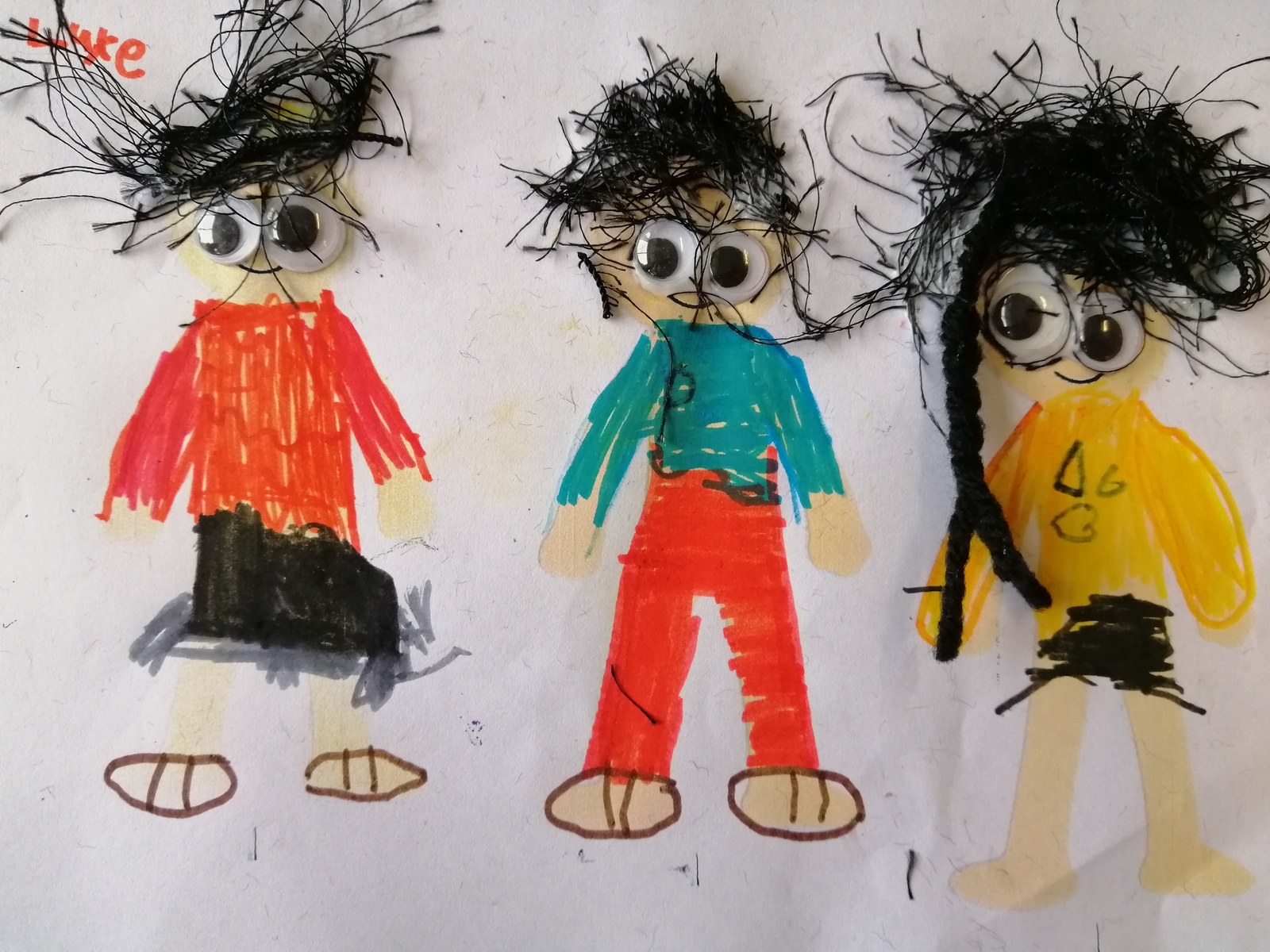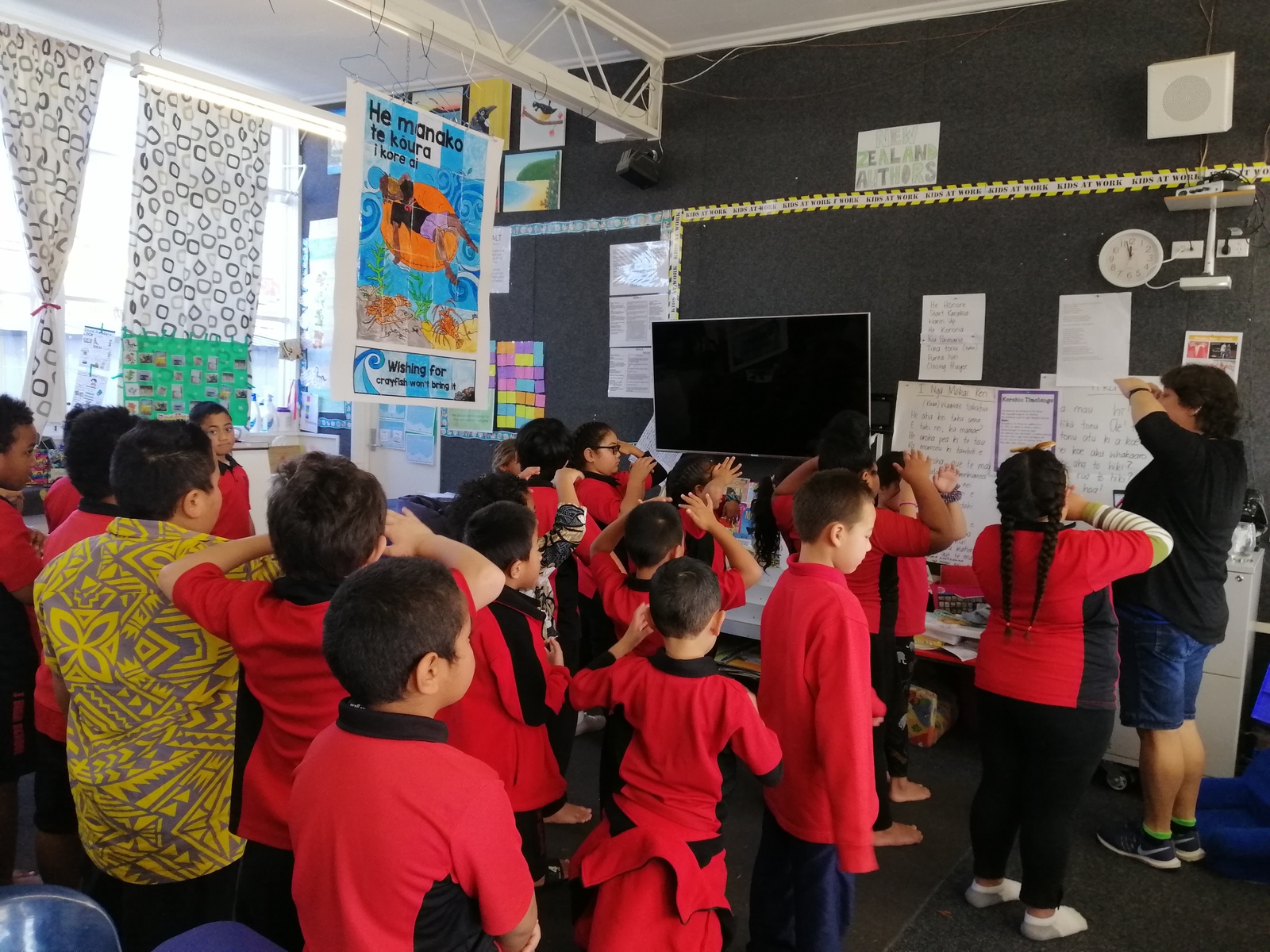 Kapa Haka with Room 13 and Ms Brown
Buddy Reading in Room 13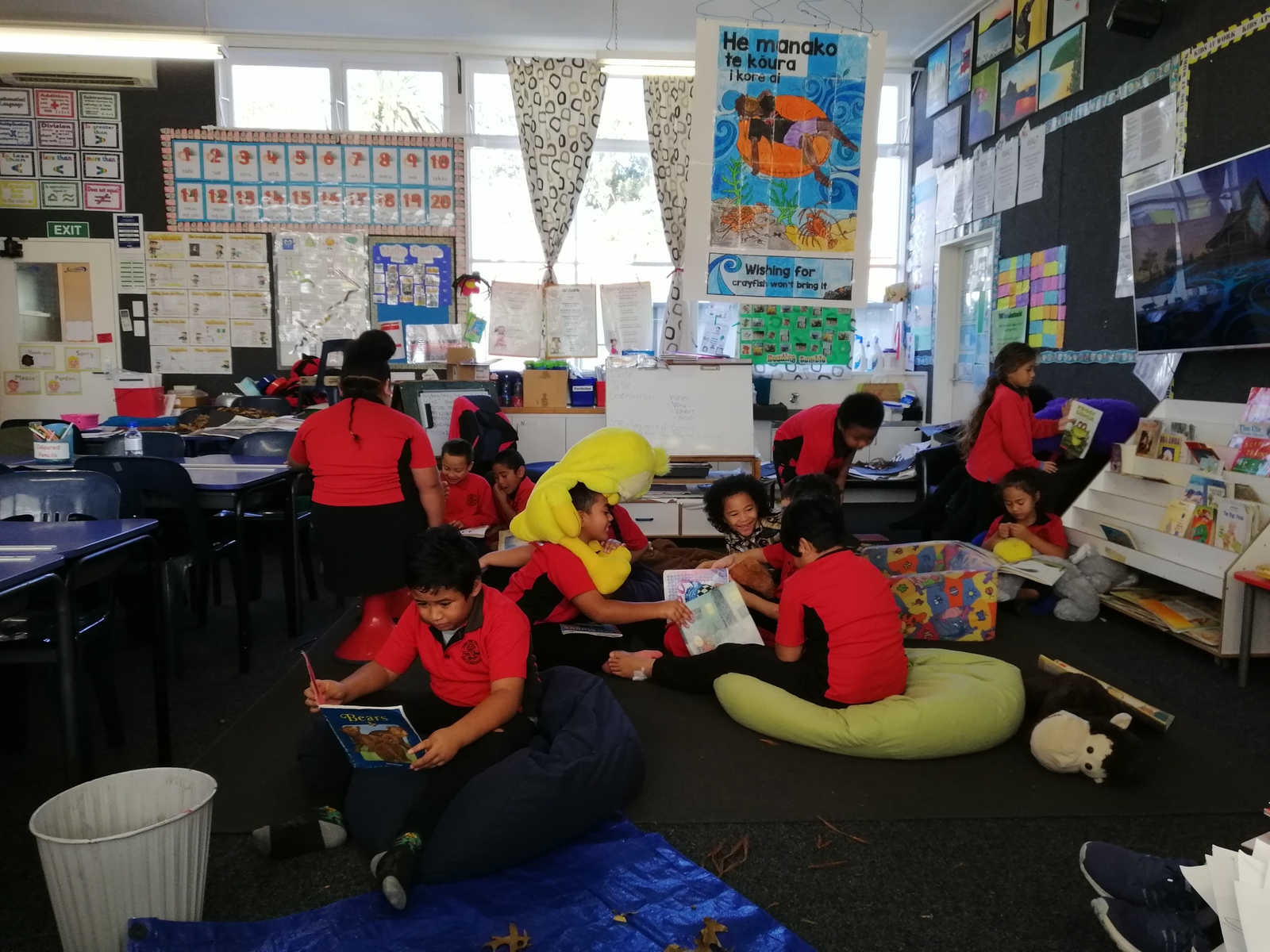 Drumtime with Mr D
Today the Kangaroos group read a story about Whai- String games. then we had a go at doing the string games ourselves. Ka pai Kangaroos.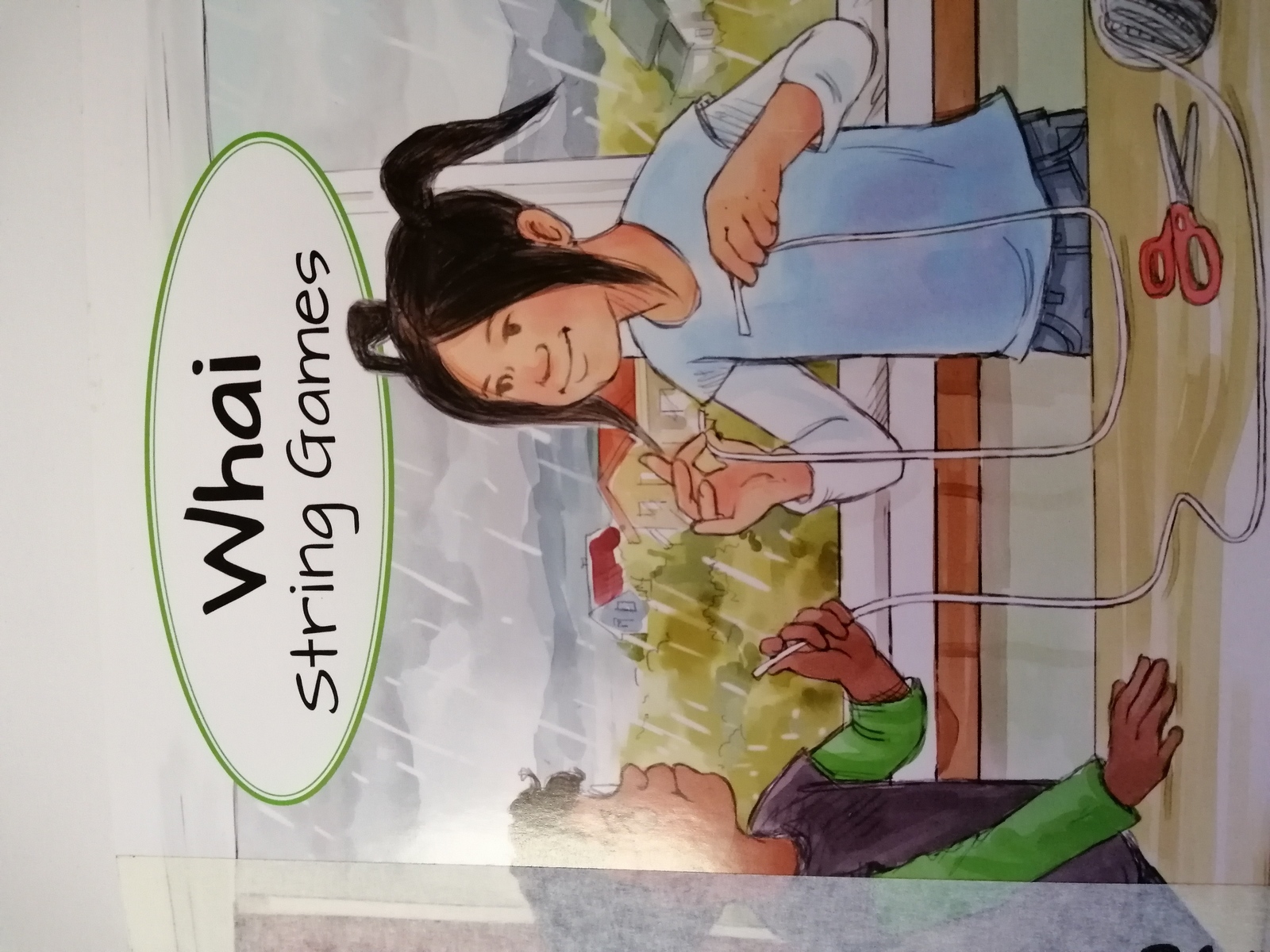 Look at the lovely Samoan clothes that Talia, Filemu and Saint Paul wore to school today. They look fantastic!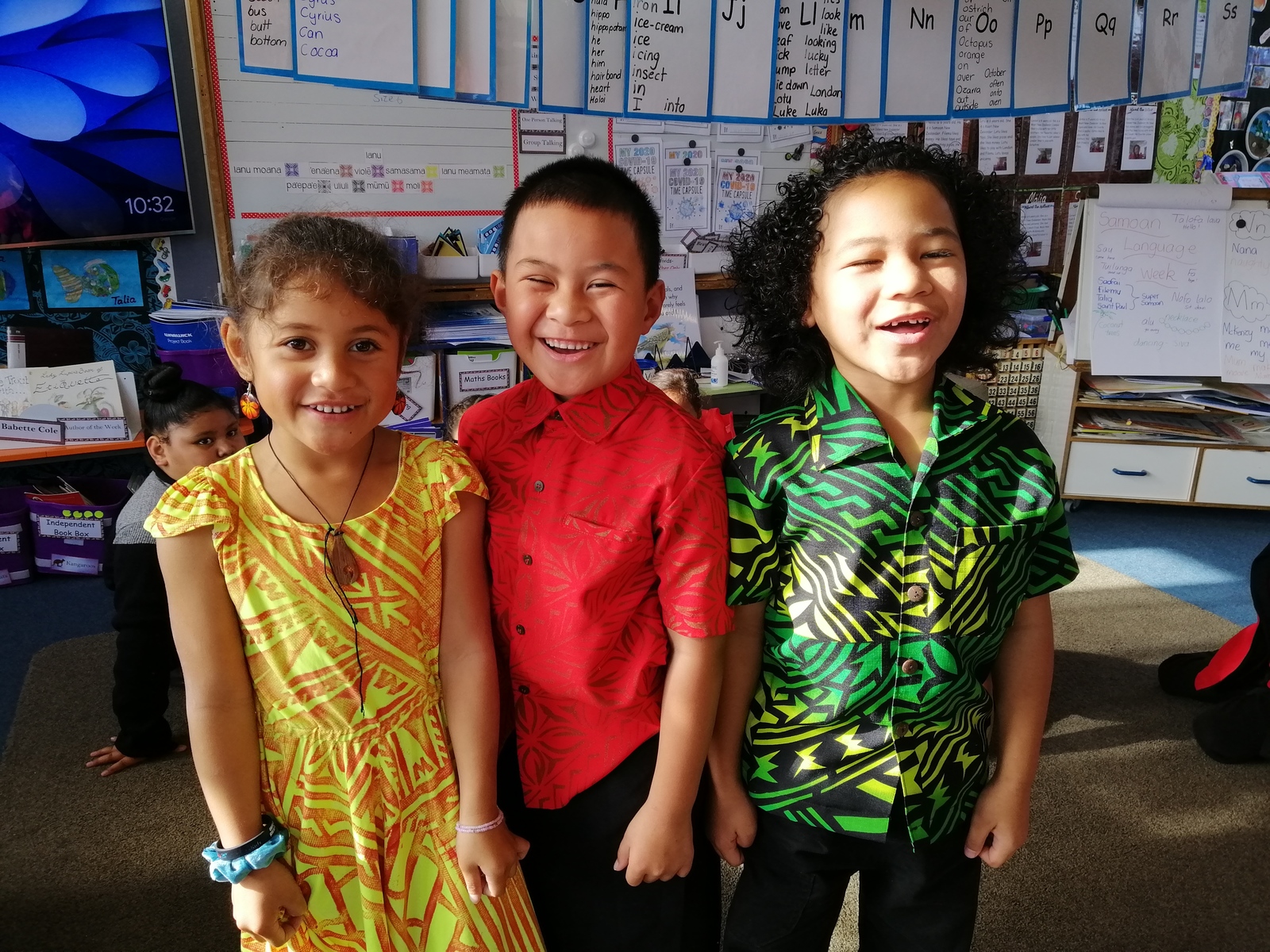 We have been doing lots of work this week. Look at the words we can write with the Bananagrams!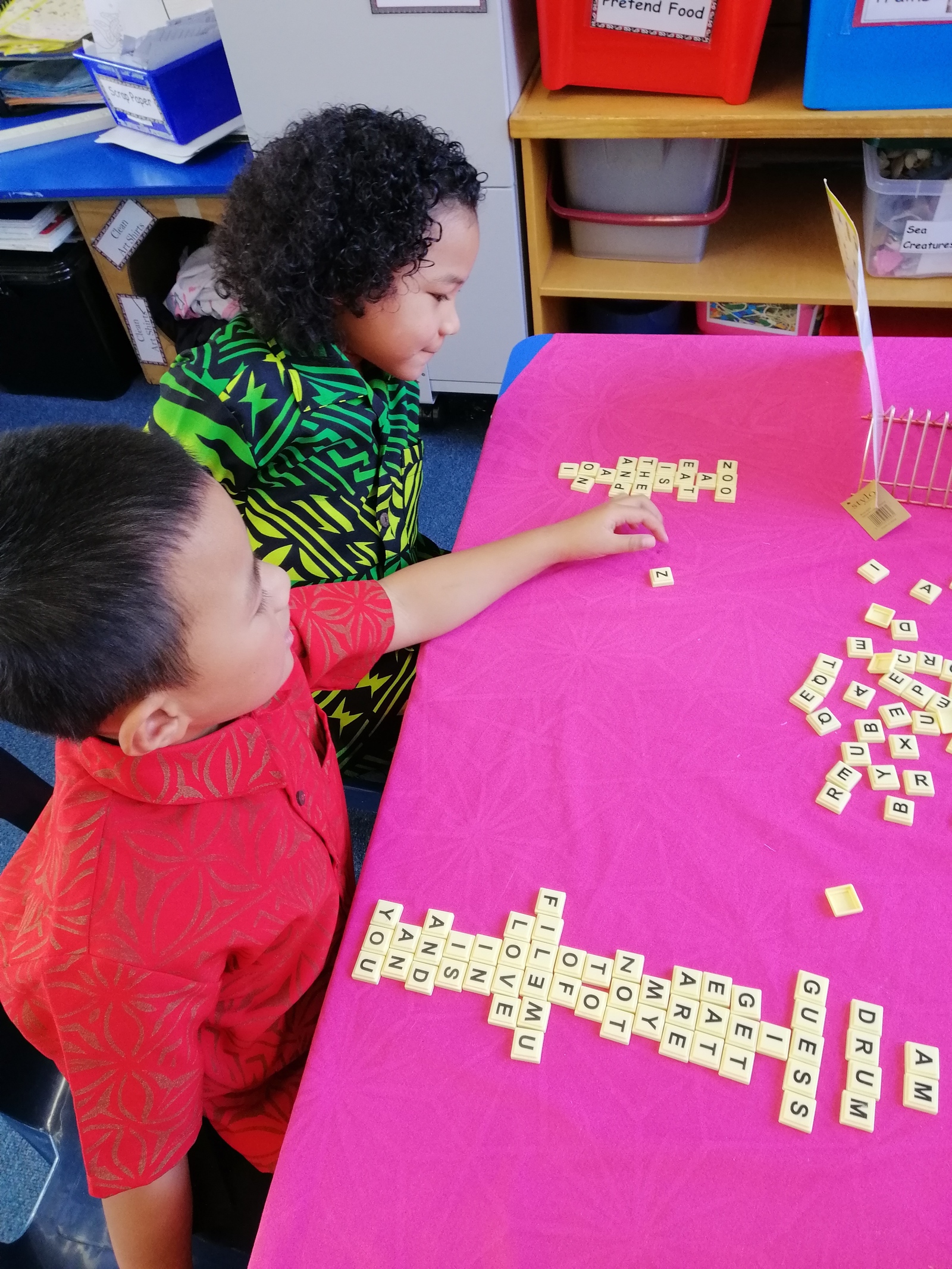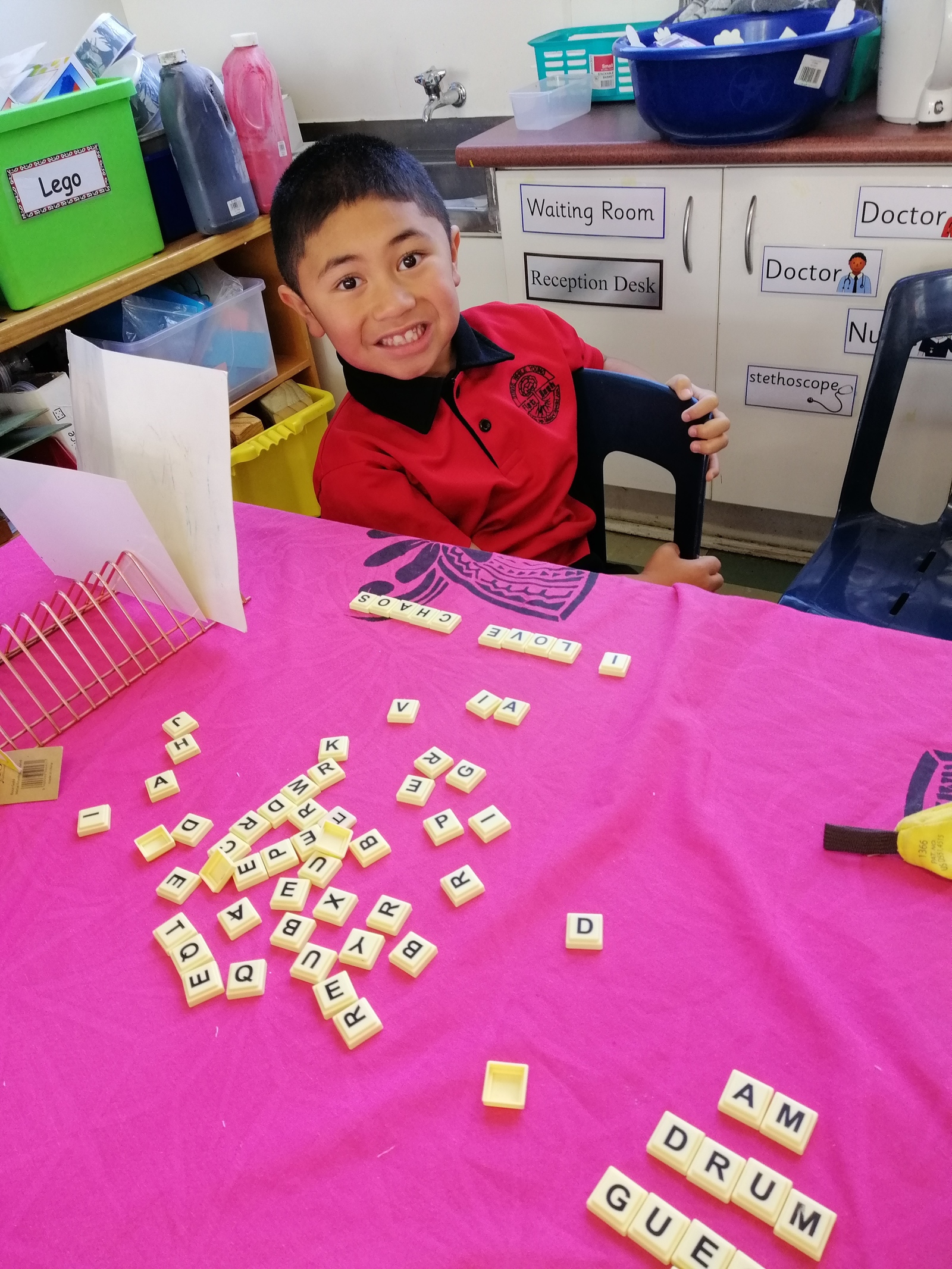 Talia has been sharing her Samoan culture with us this week. Thank you Talia!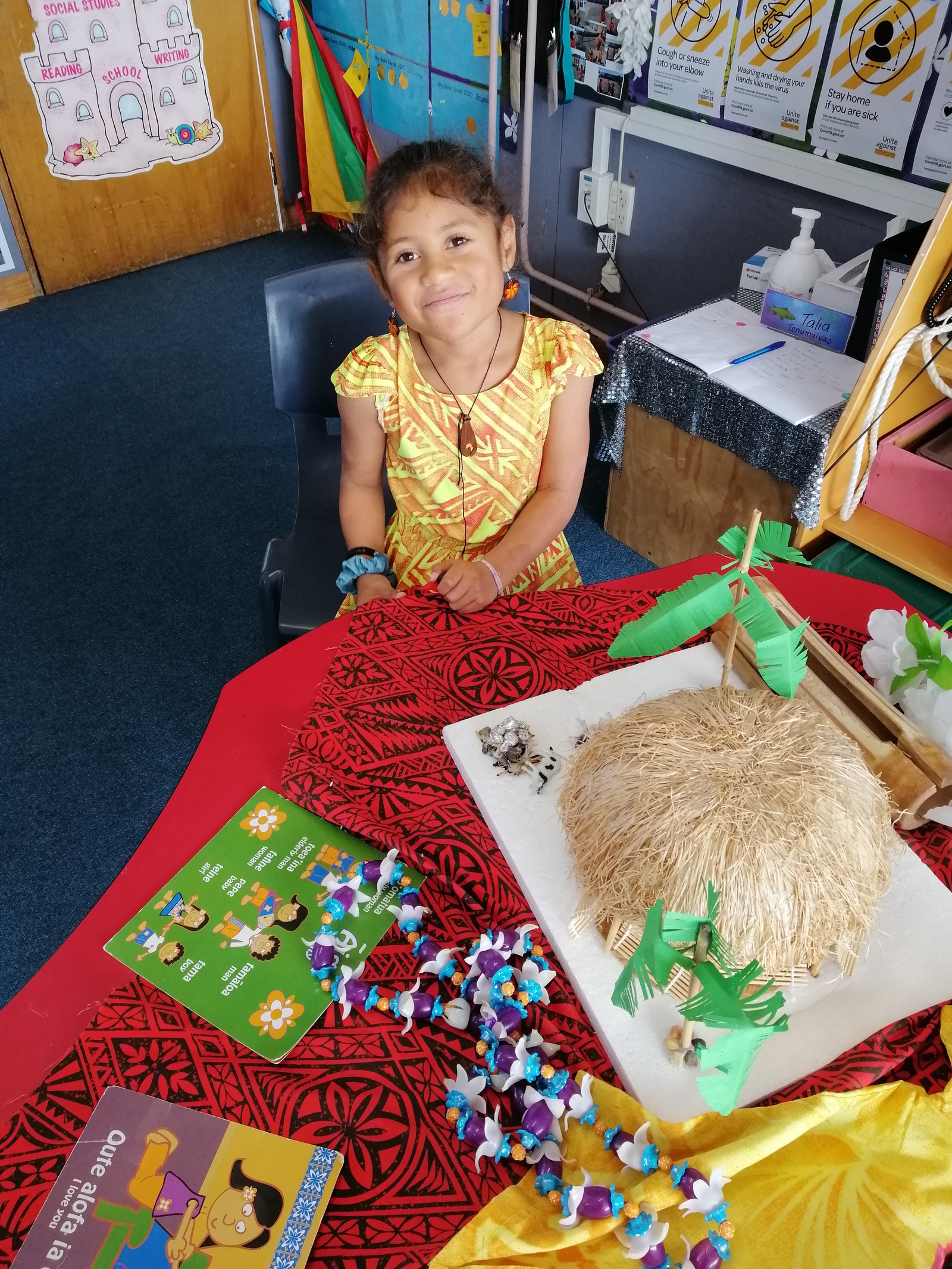 Lotu is doing some maths games to practice her counting.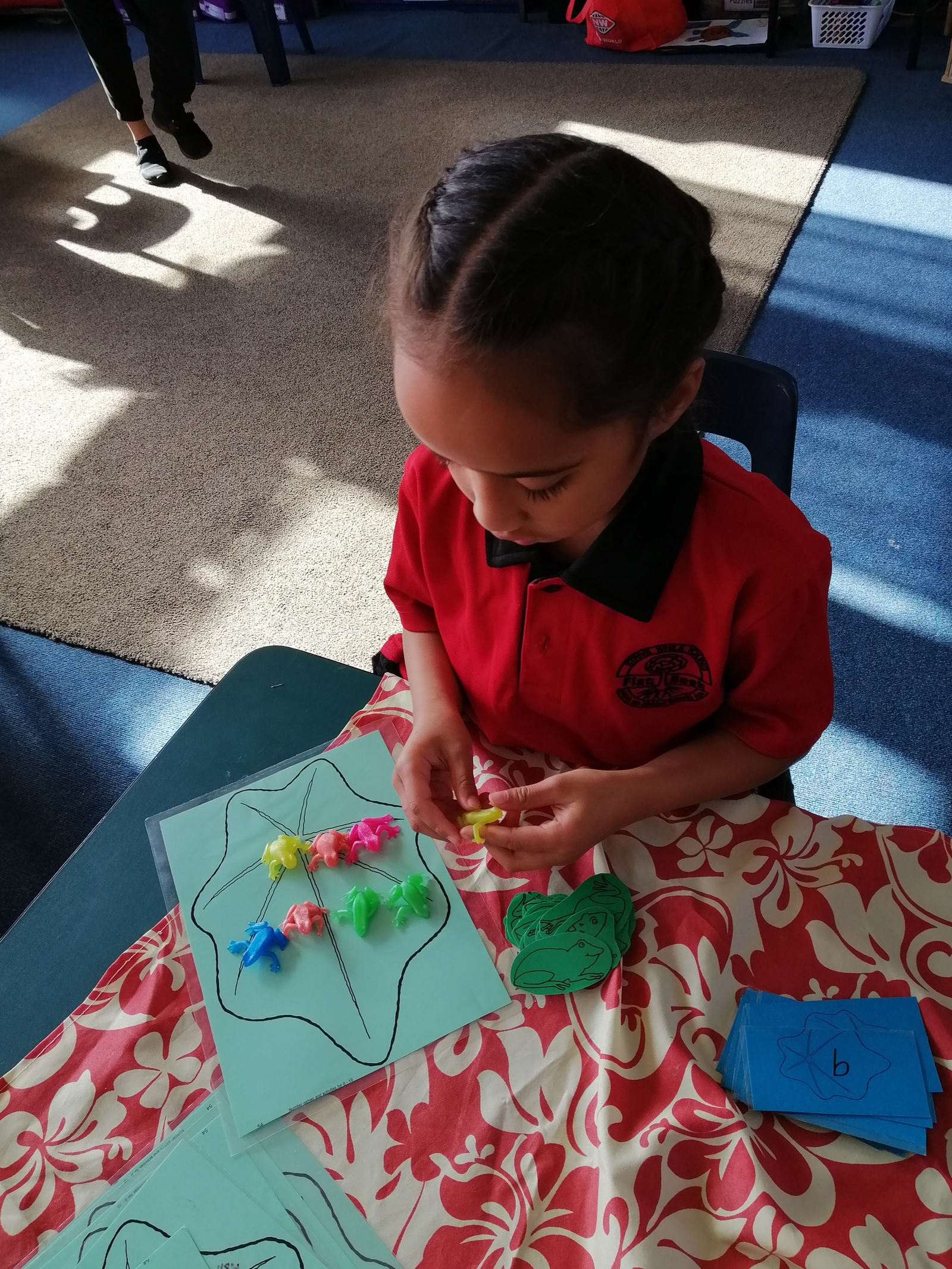 We made some Samoan Fales for Samoan language week. When the glue is dry we will be able to display them in our classroom.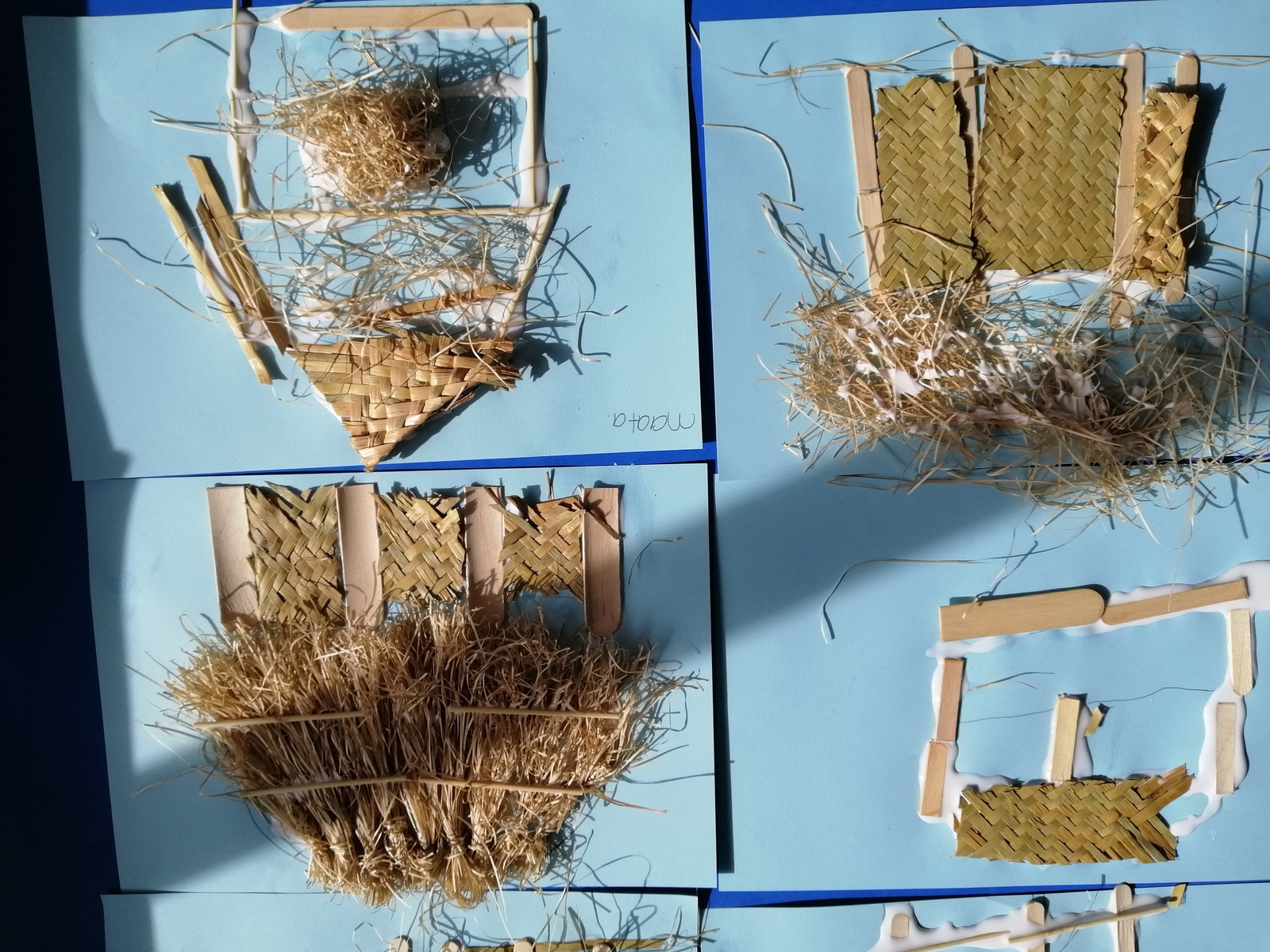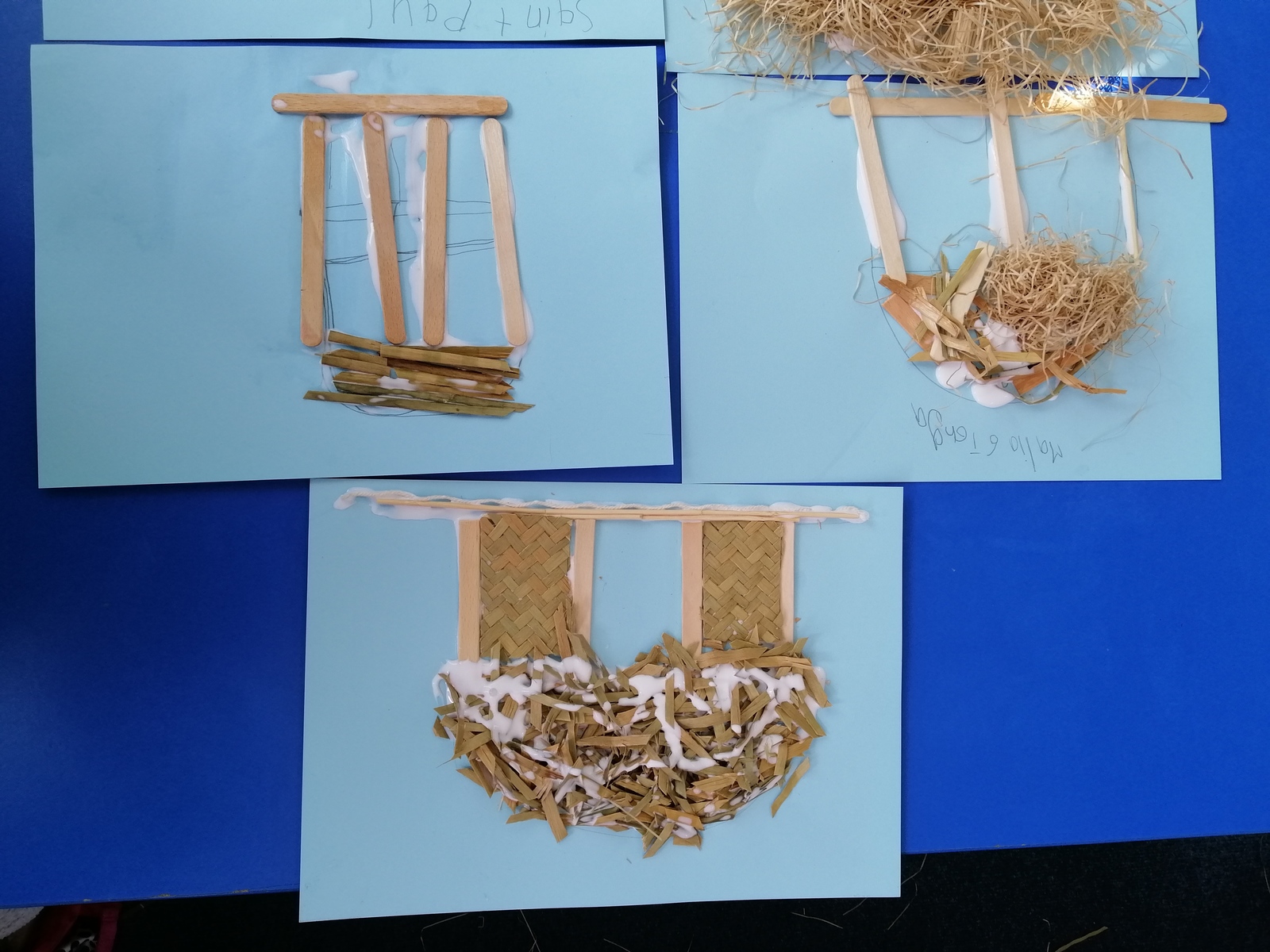 On Tuesday we were very lucky to have Mr Moiho come and do some singing with us, we sounded great!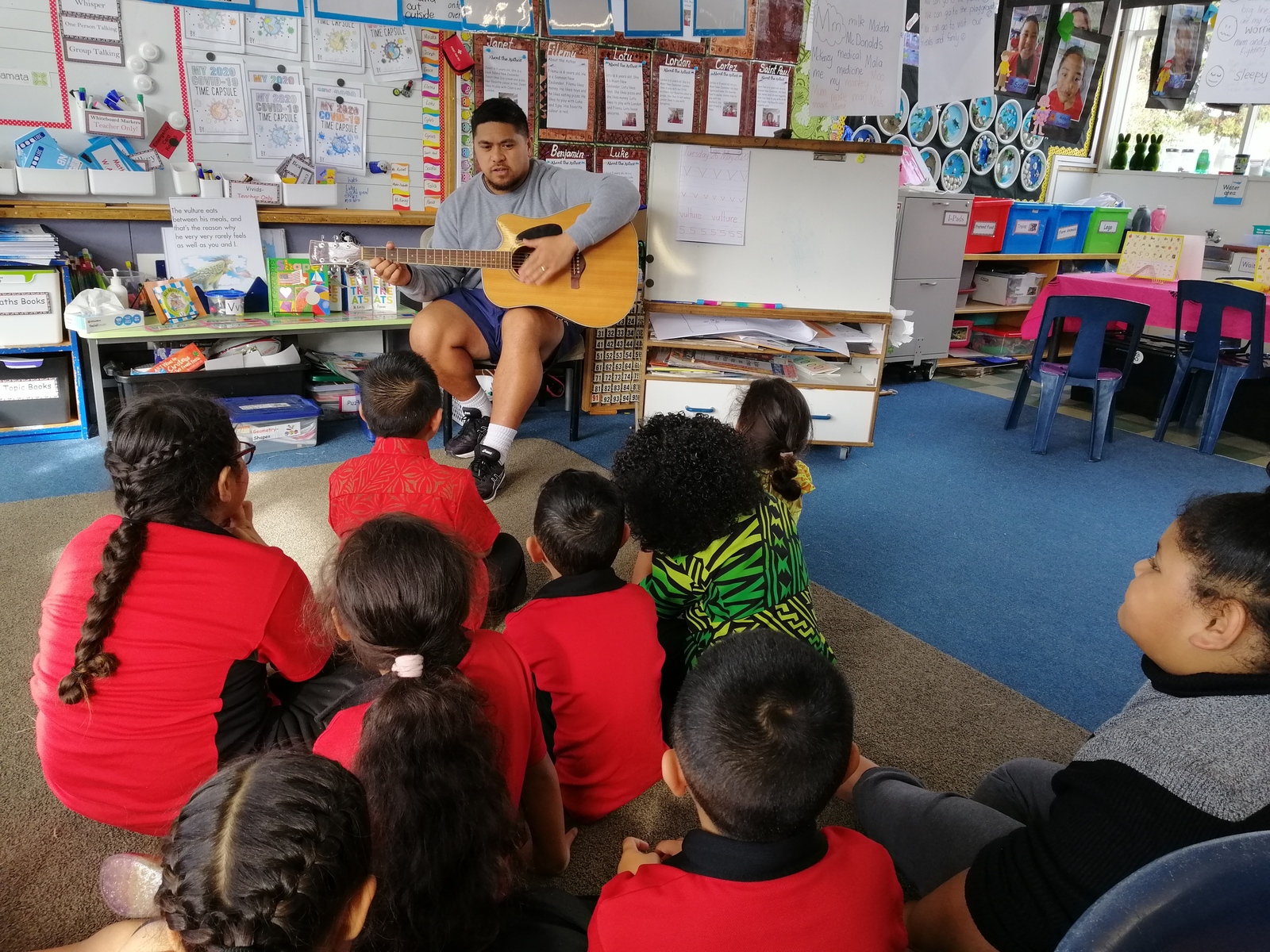 We hope that you are enjoying checking out our learning on our class page. Today we went on the Ipads and had a look at some of the other class pages. We really enjoyed seeing our siblings and friends and watching some of the awesome videos from the teachers!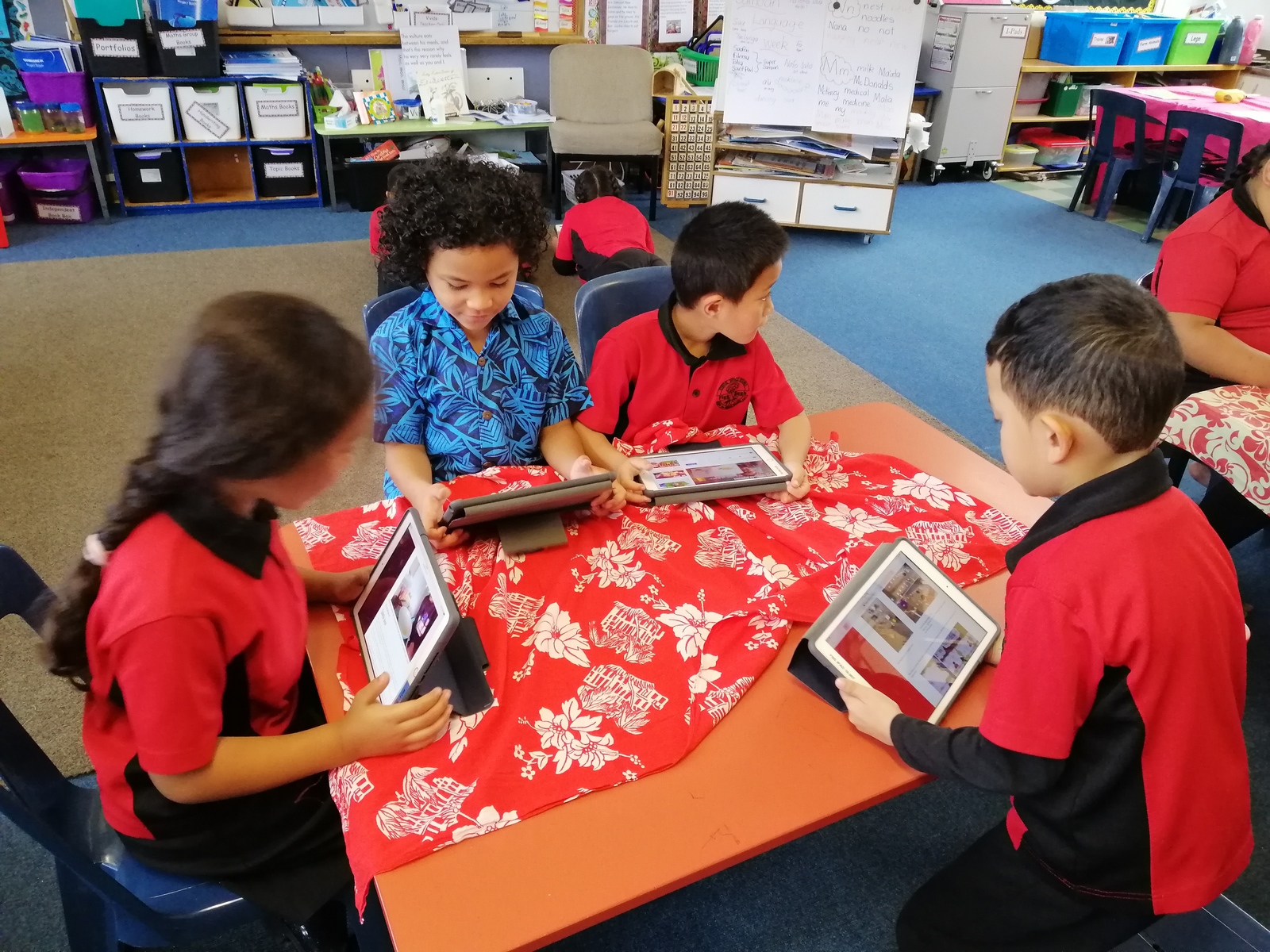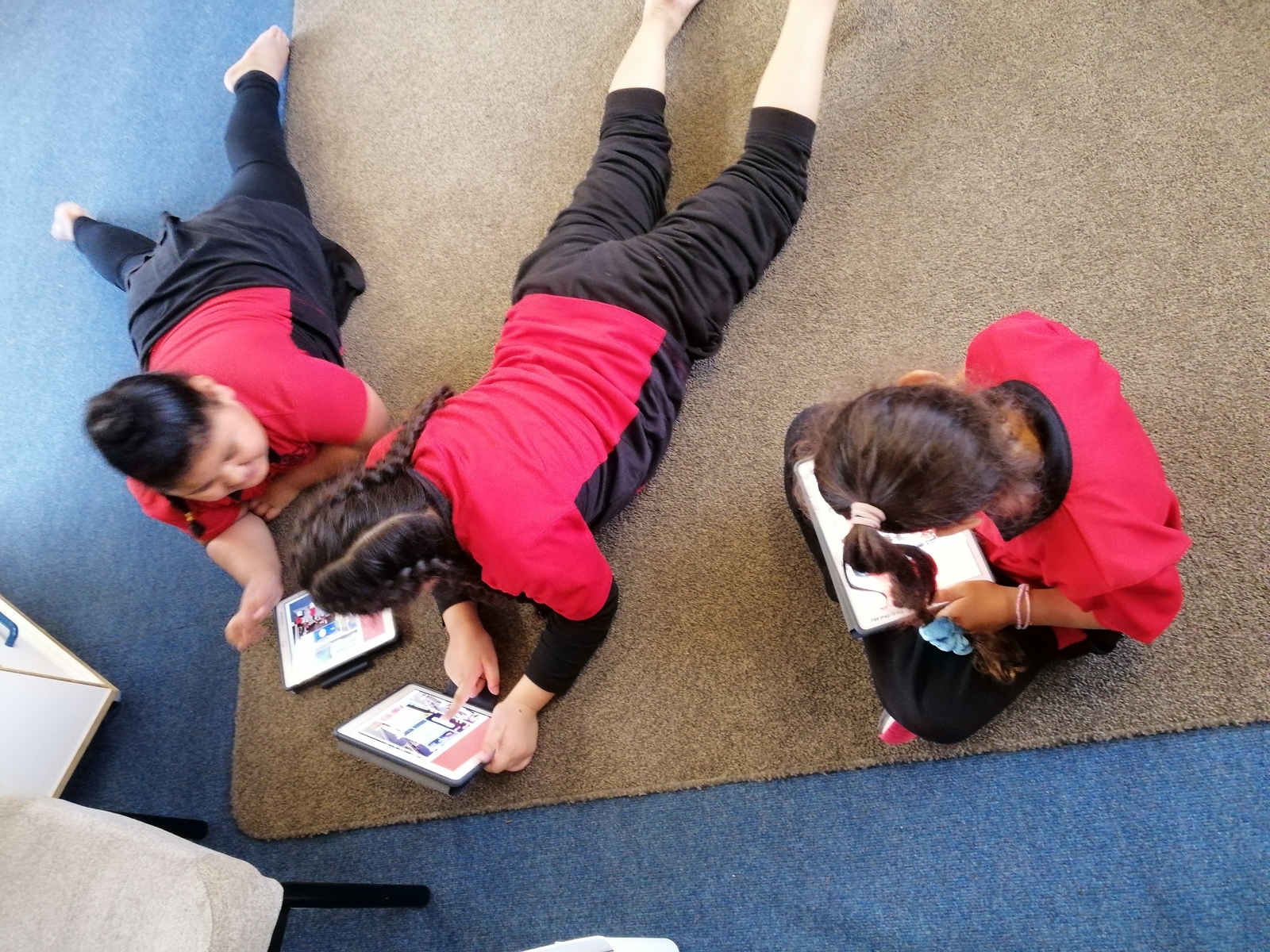 *** Week Six, Term 2 - 18th- 22nd May ***
Hi everyone! It has been great seeing so many students back at school for Level 2 reconnecting with each other and their teachers.
Here are a few things that we have been upto this week;
Reflecting on our time in isolation, what did we miss the most?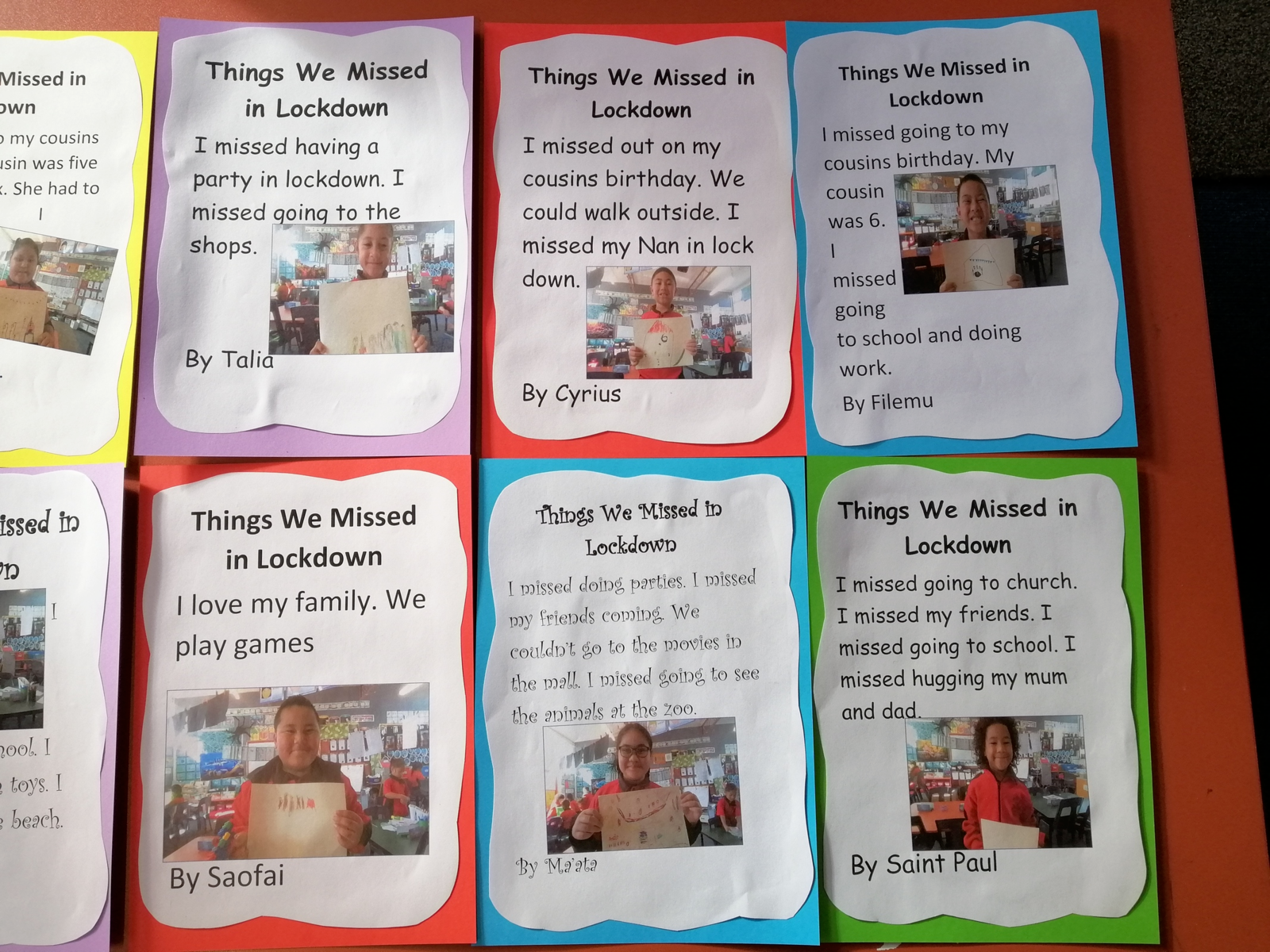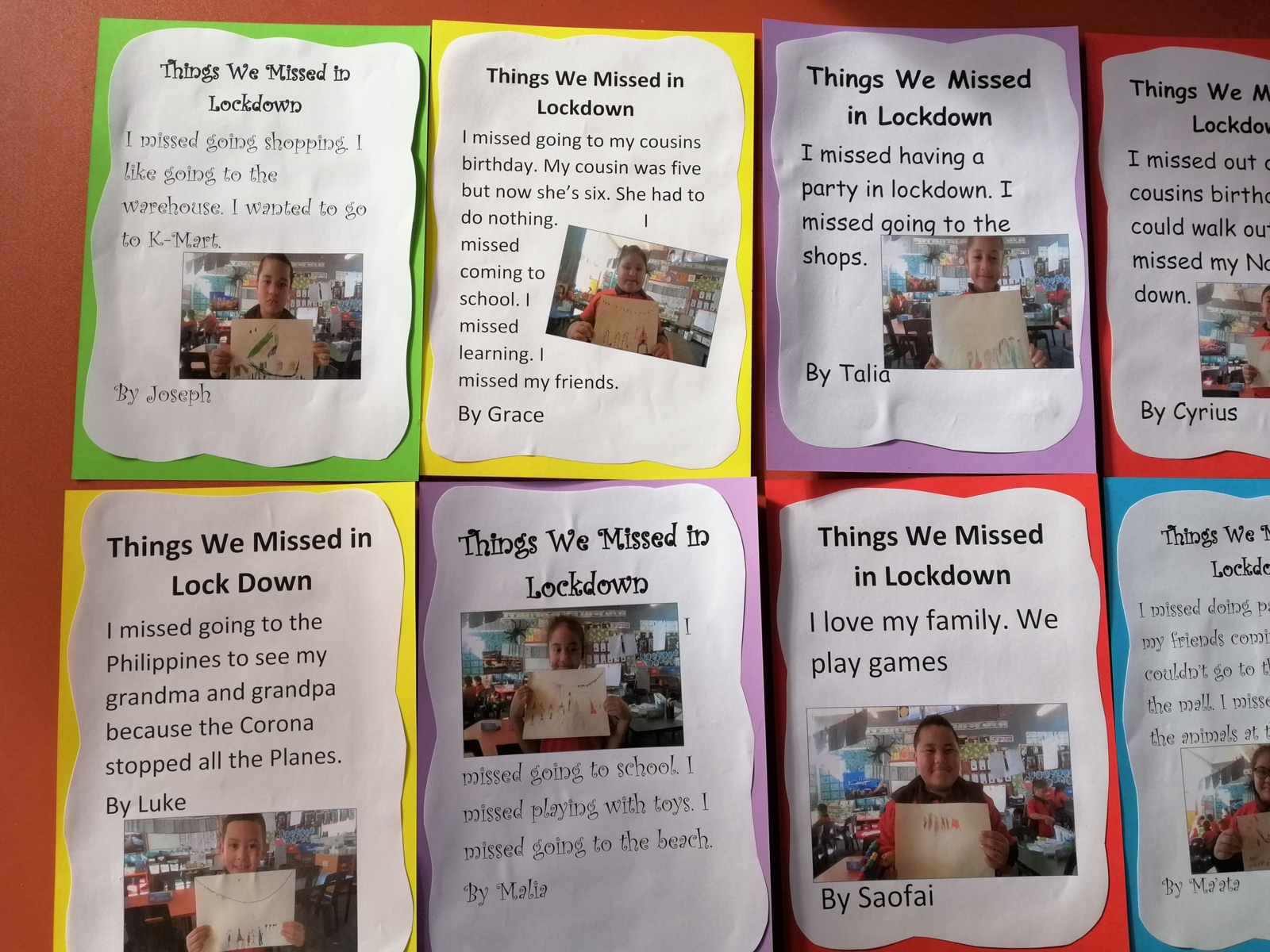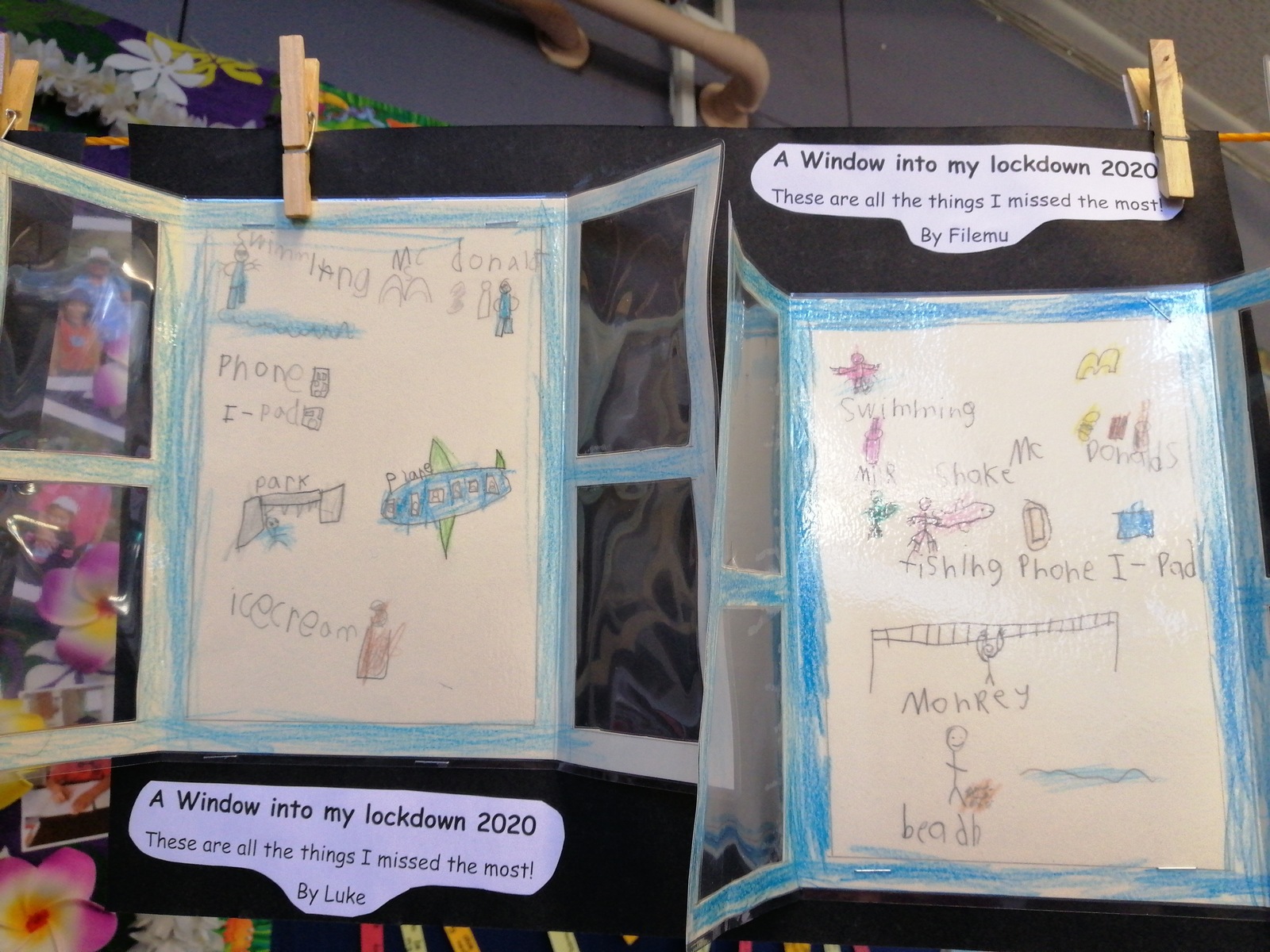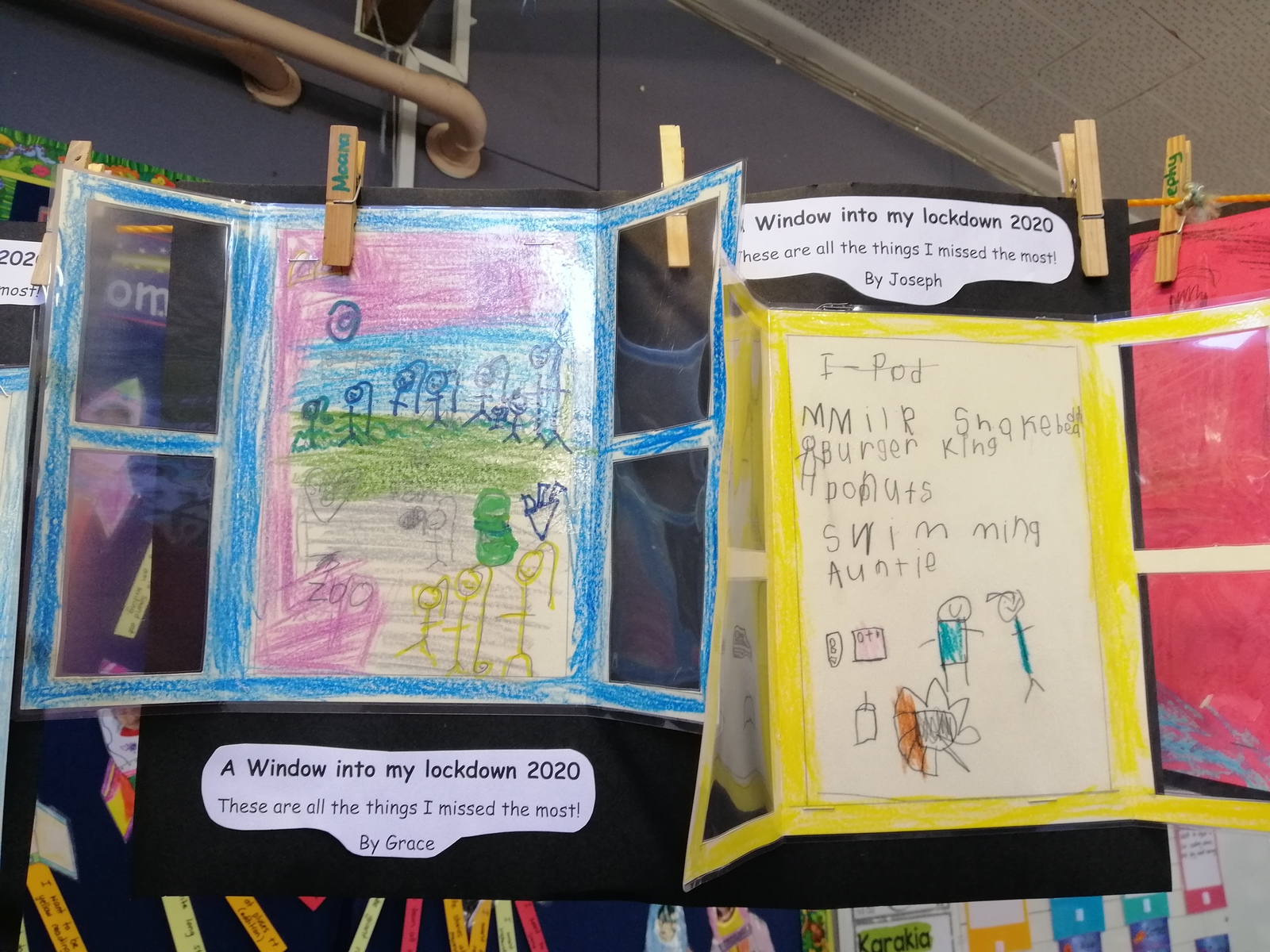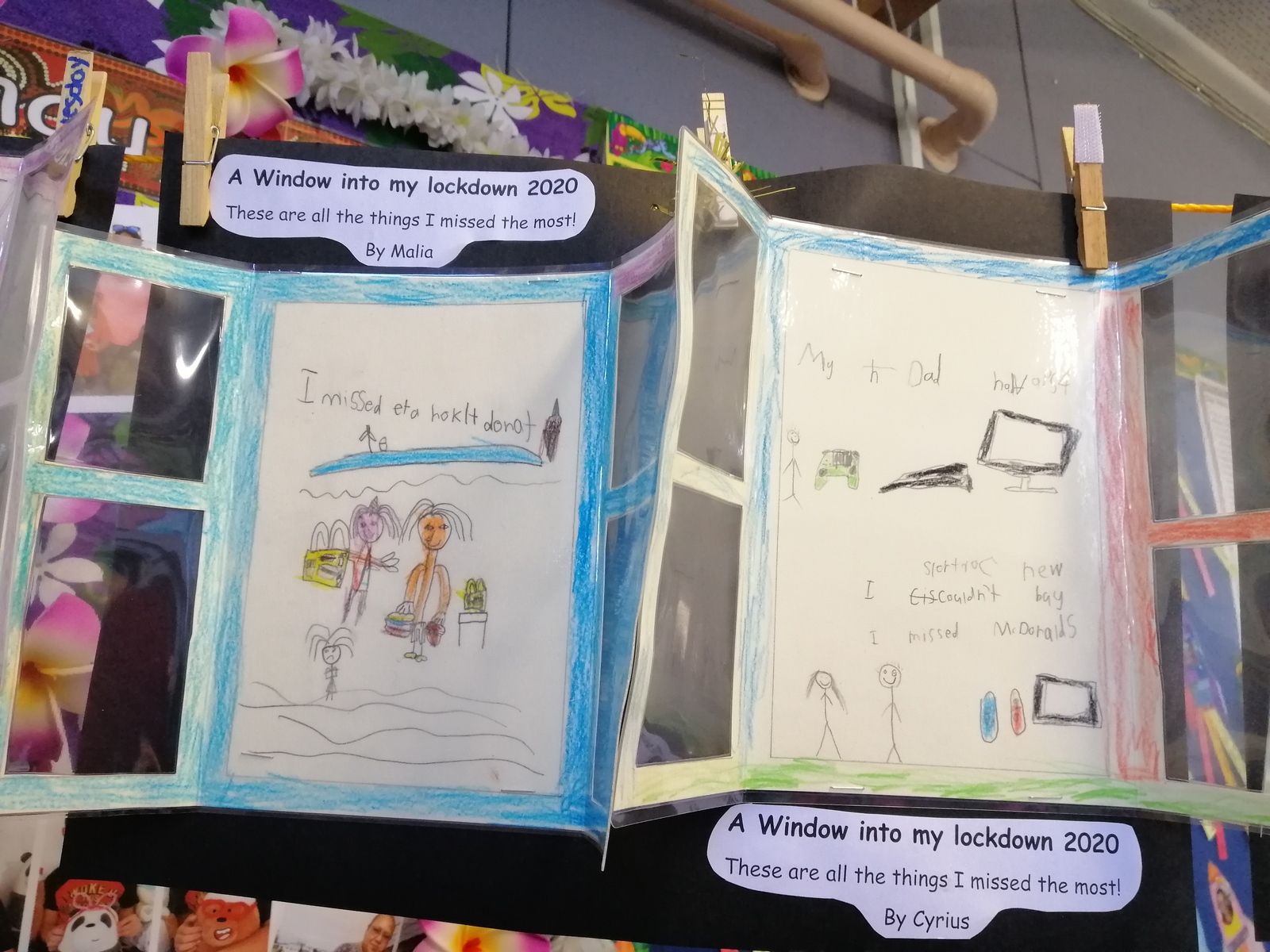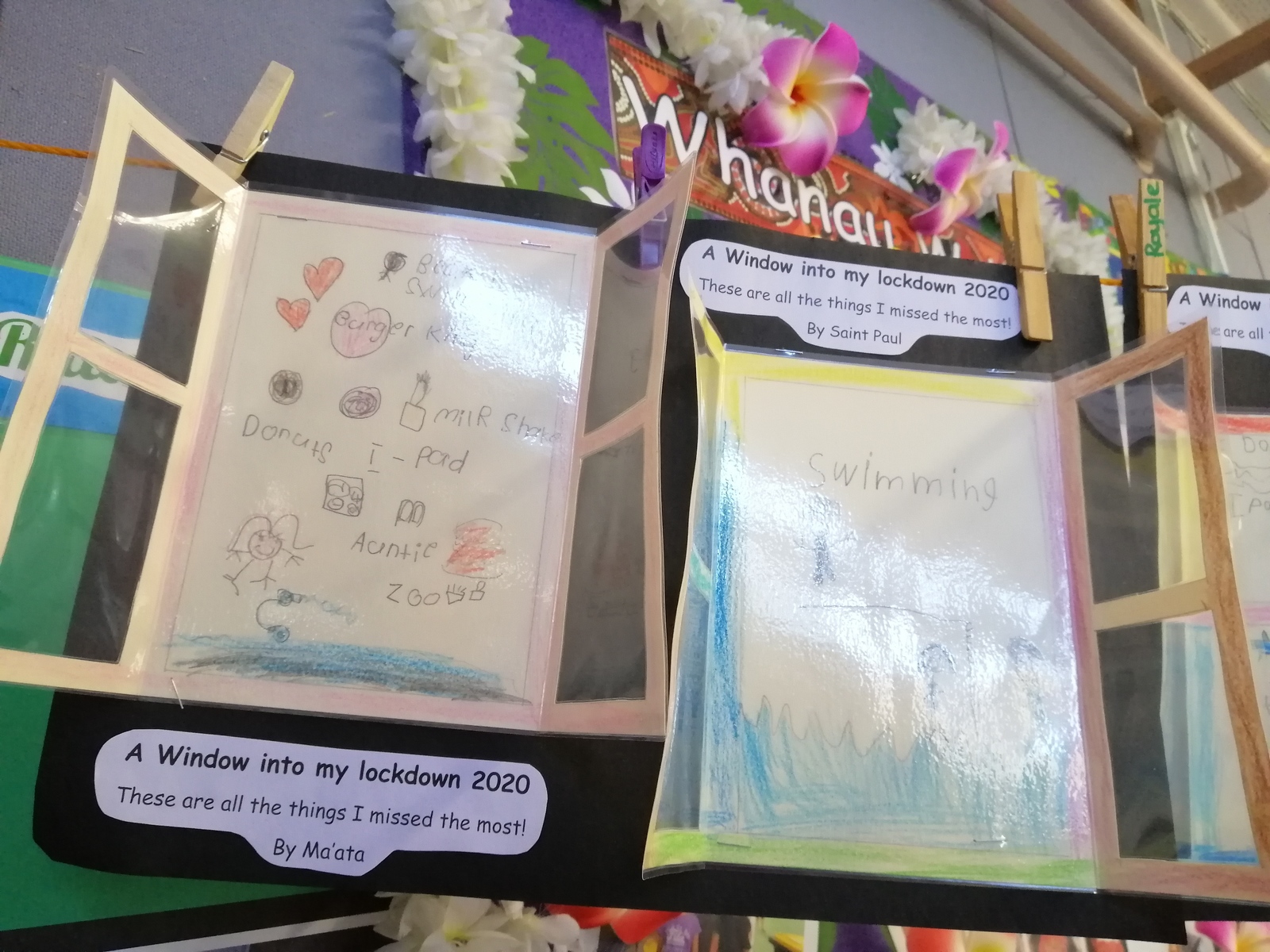 We have been talking about the great job that our essential workers did during the lock down, they are our modern day superheroes! We really appreciate the work the essential workers did and would like to be just like them one day!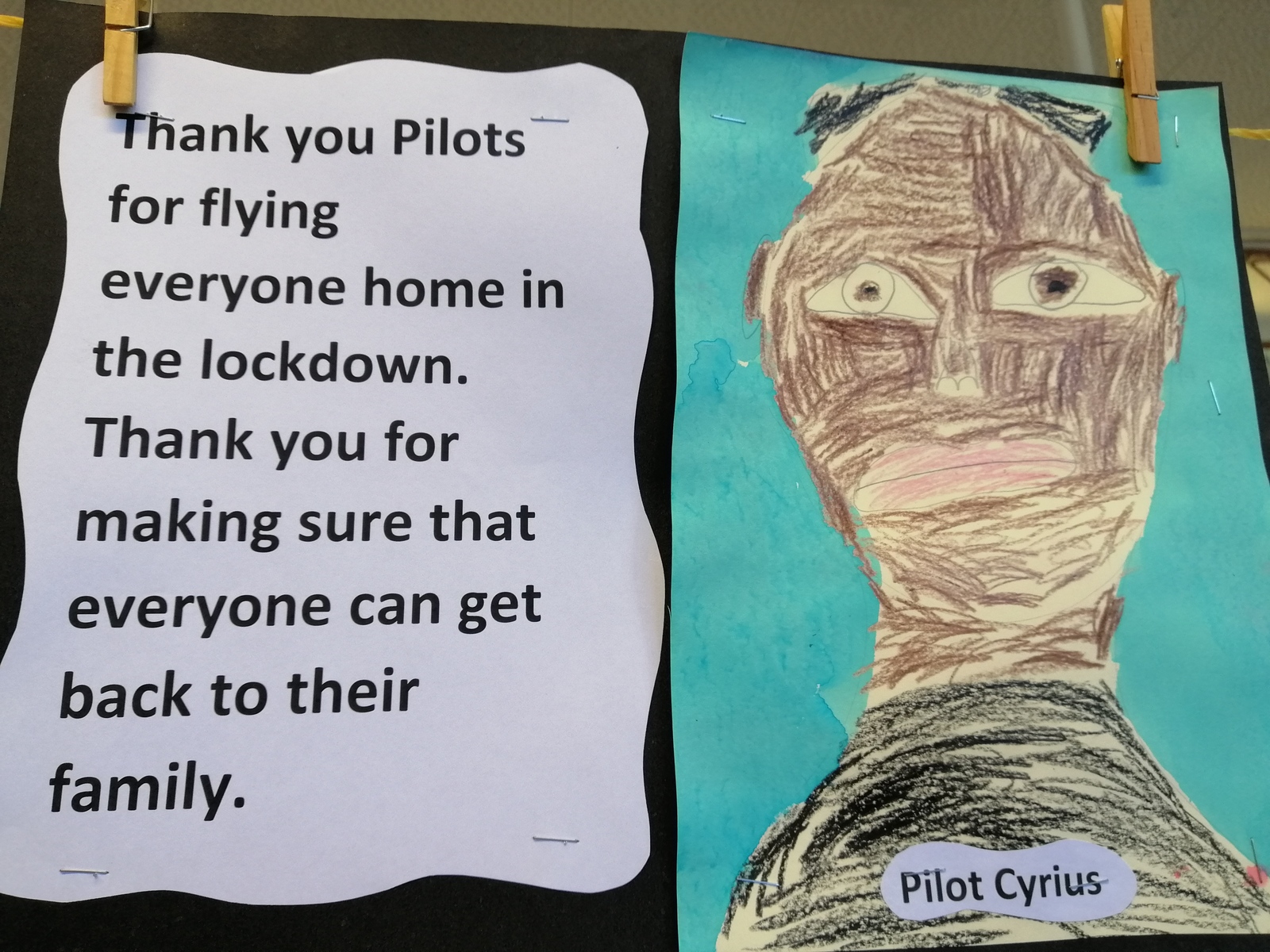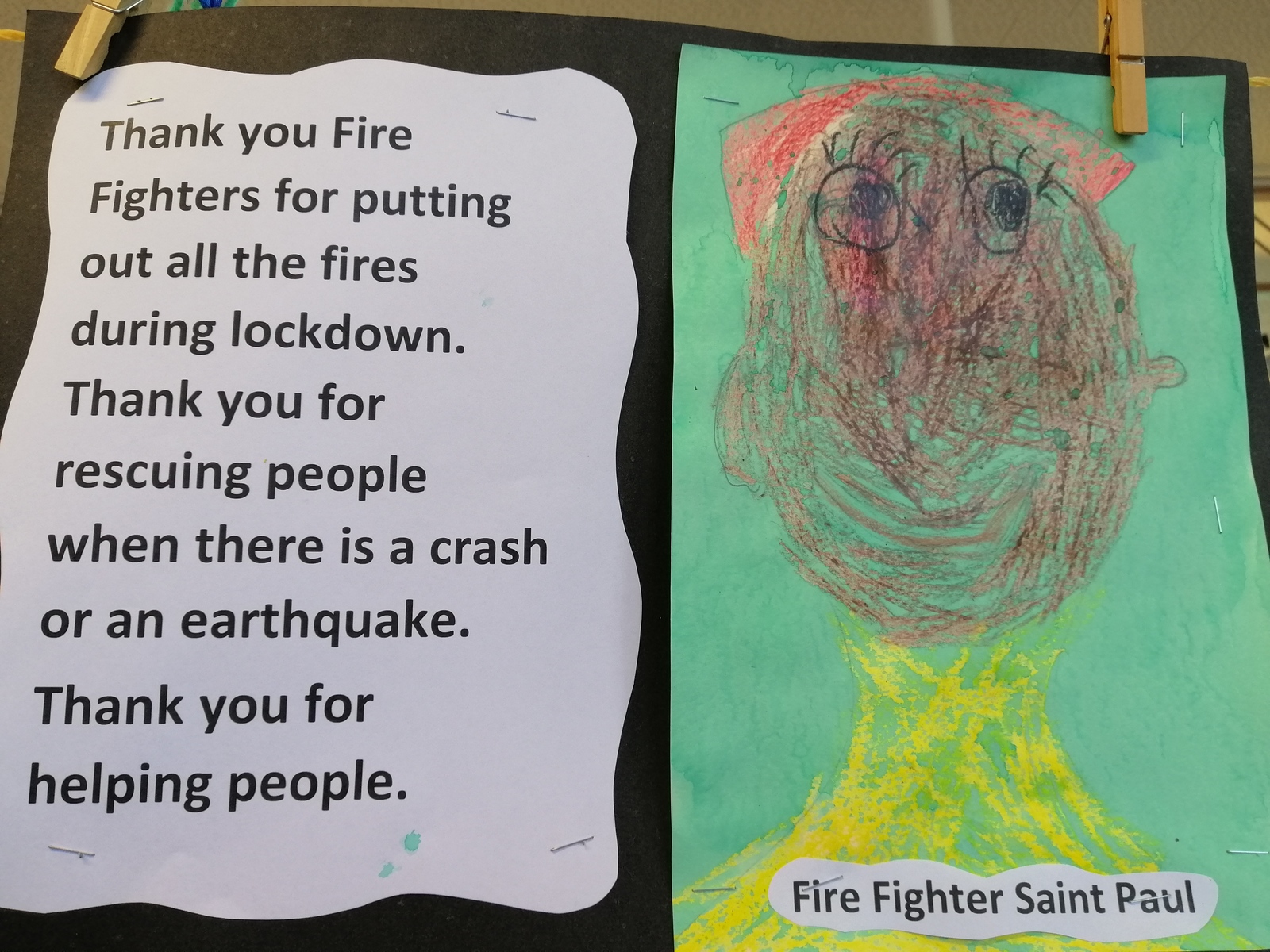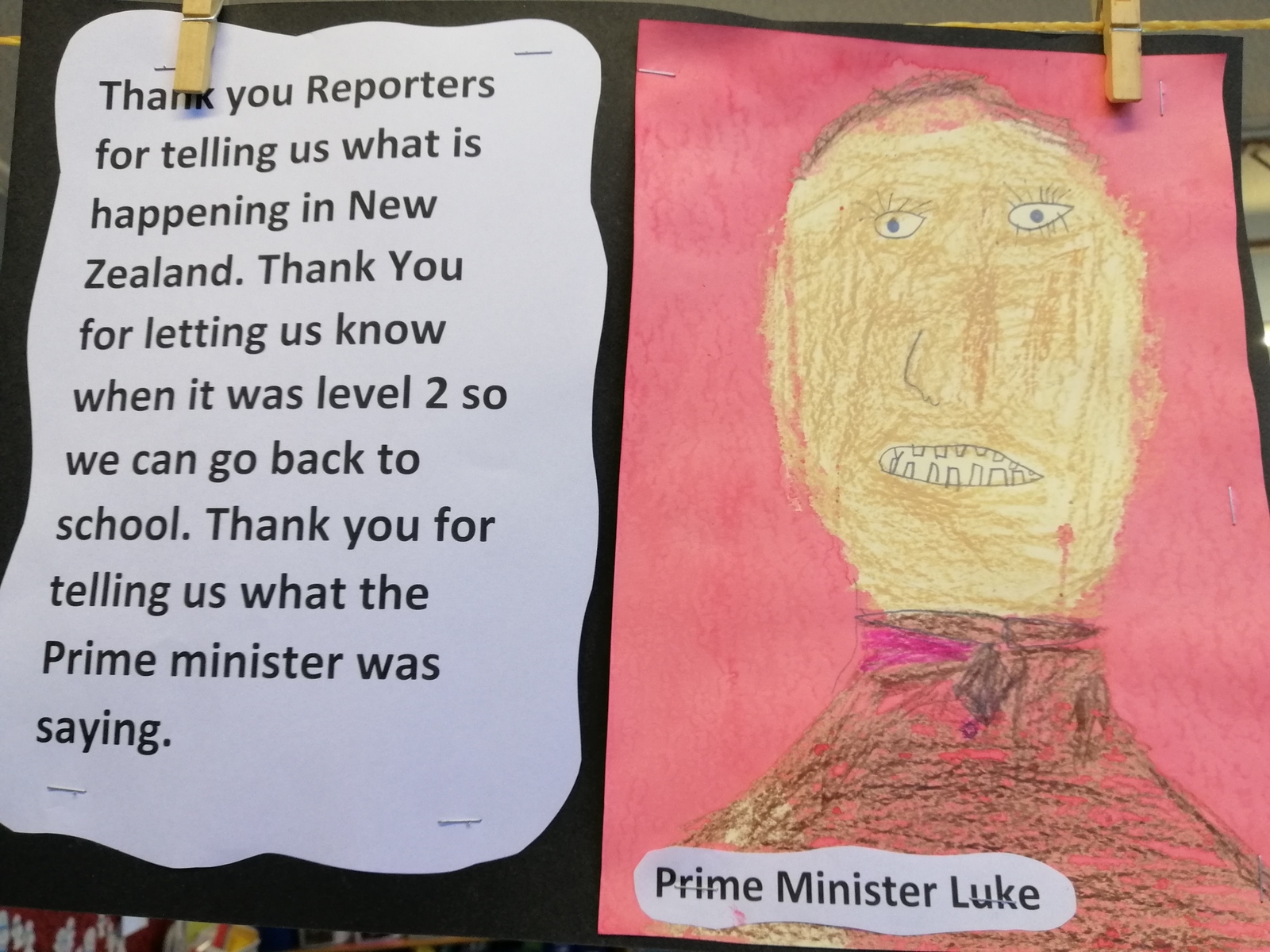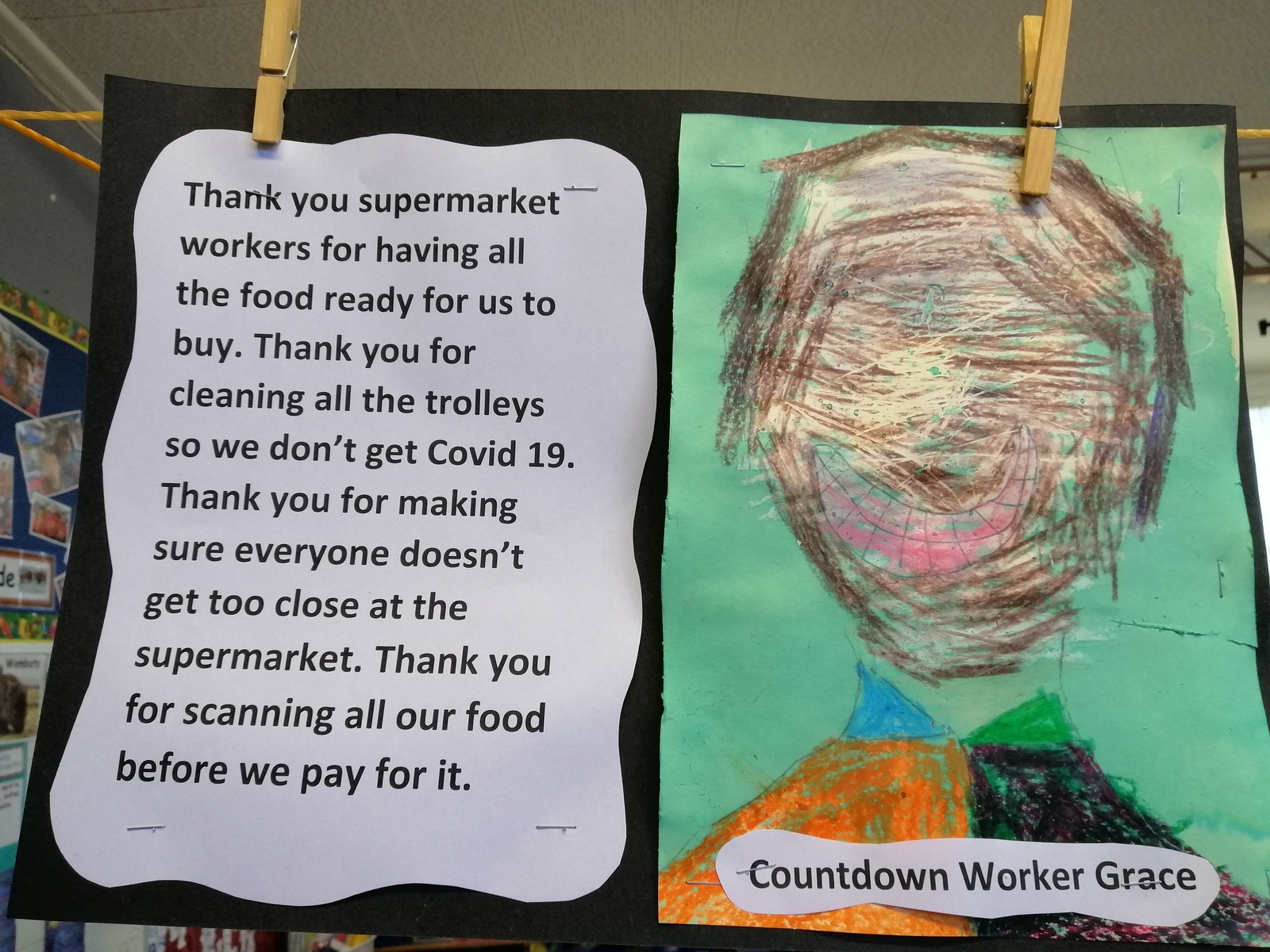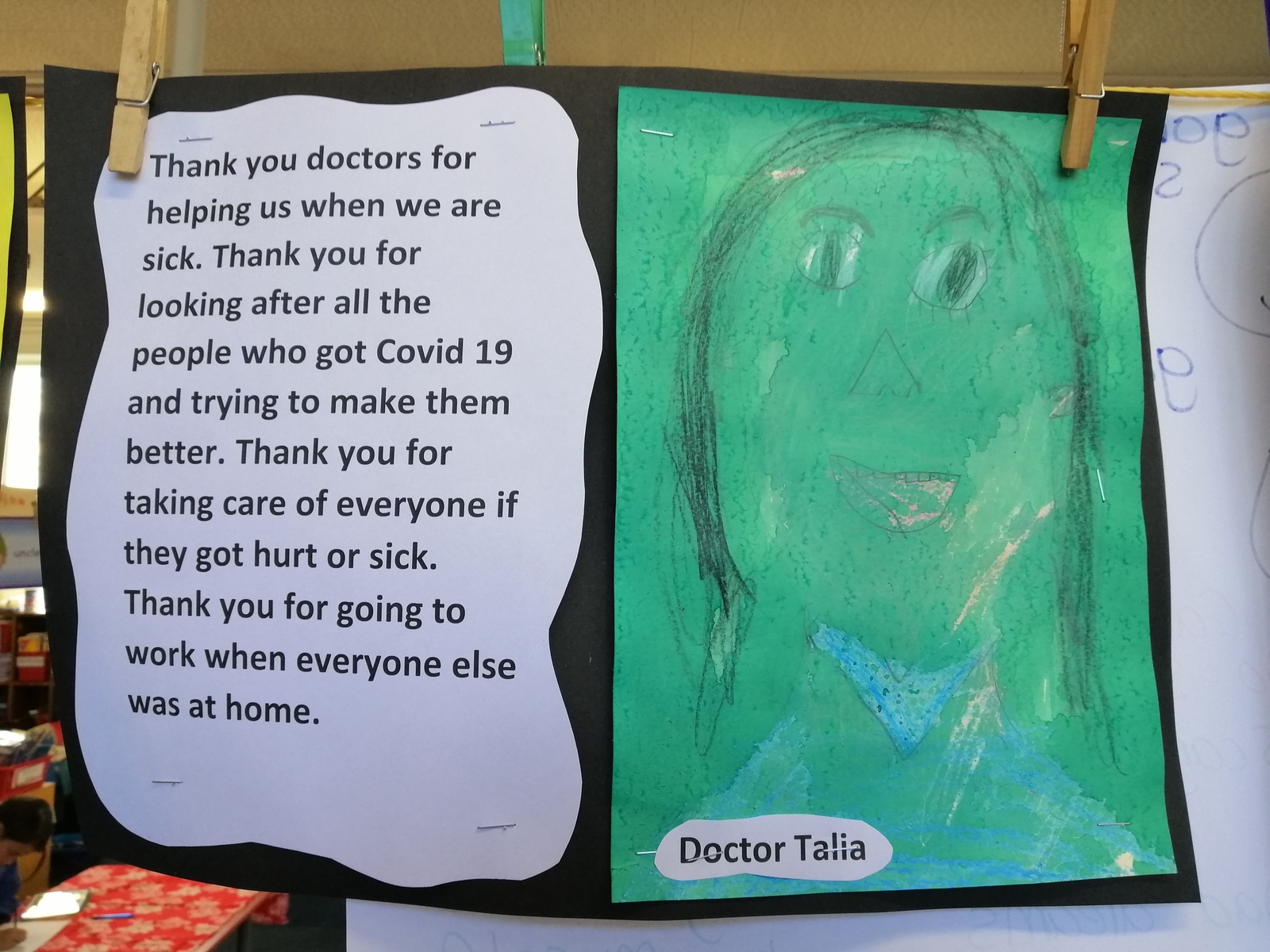 Drumming with Mr D in the Hall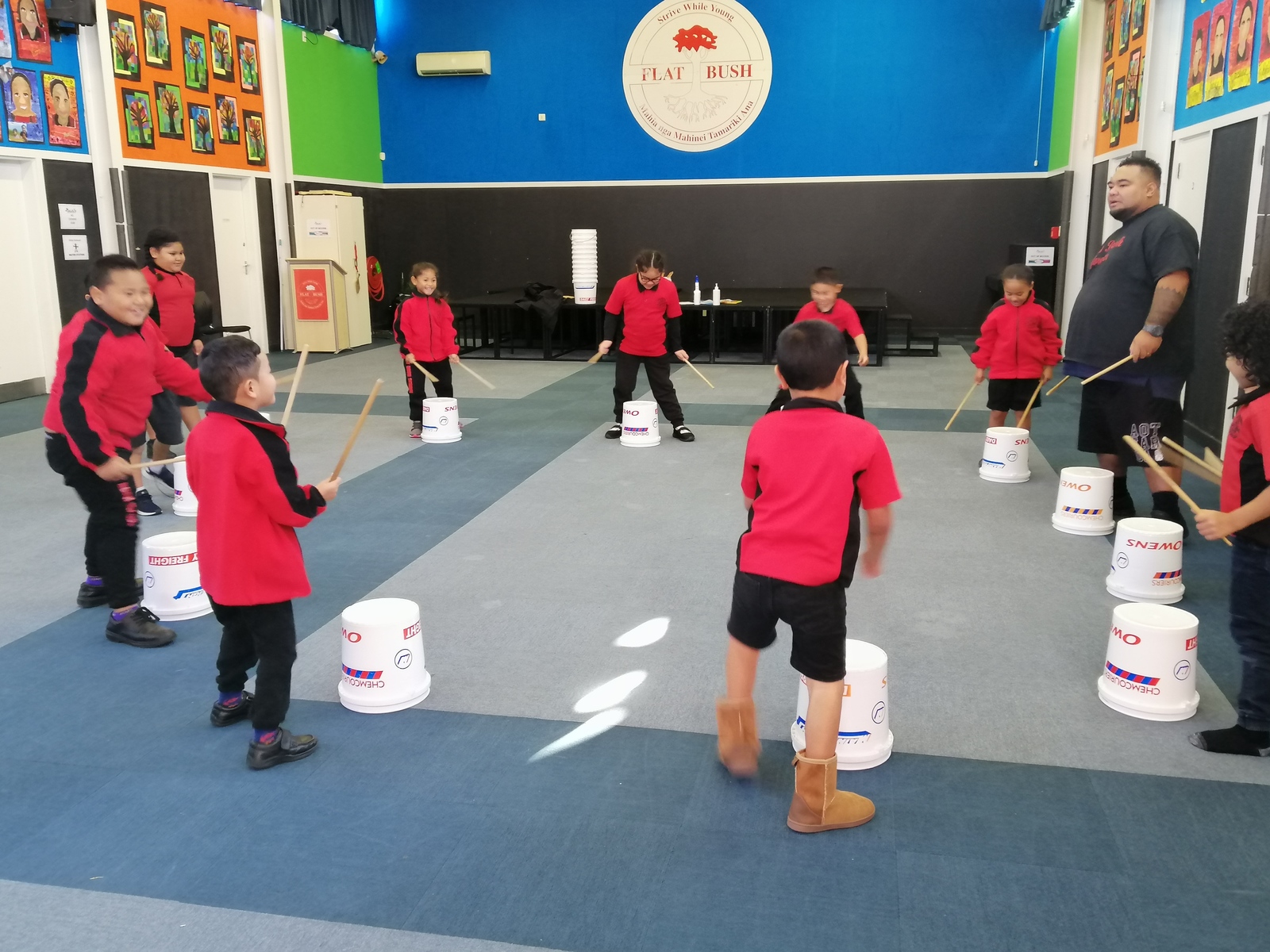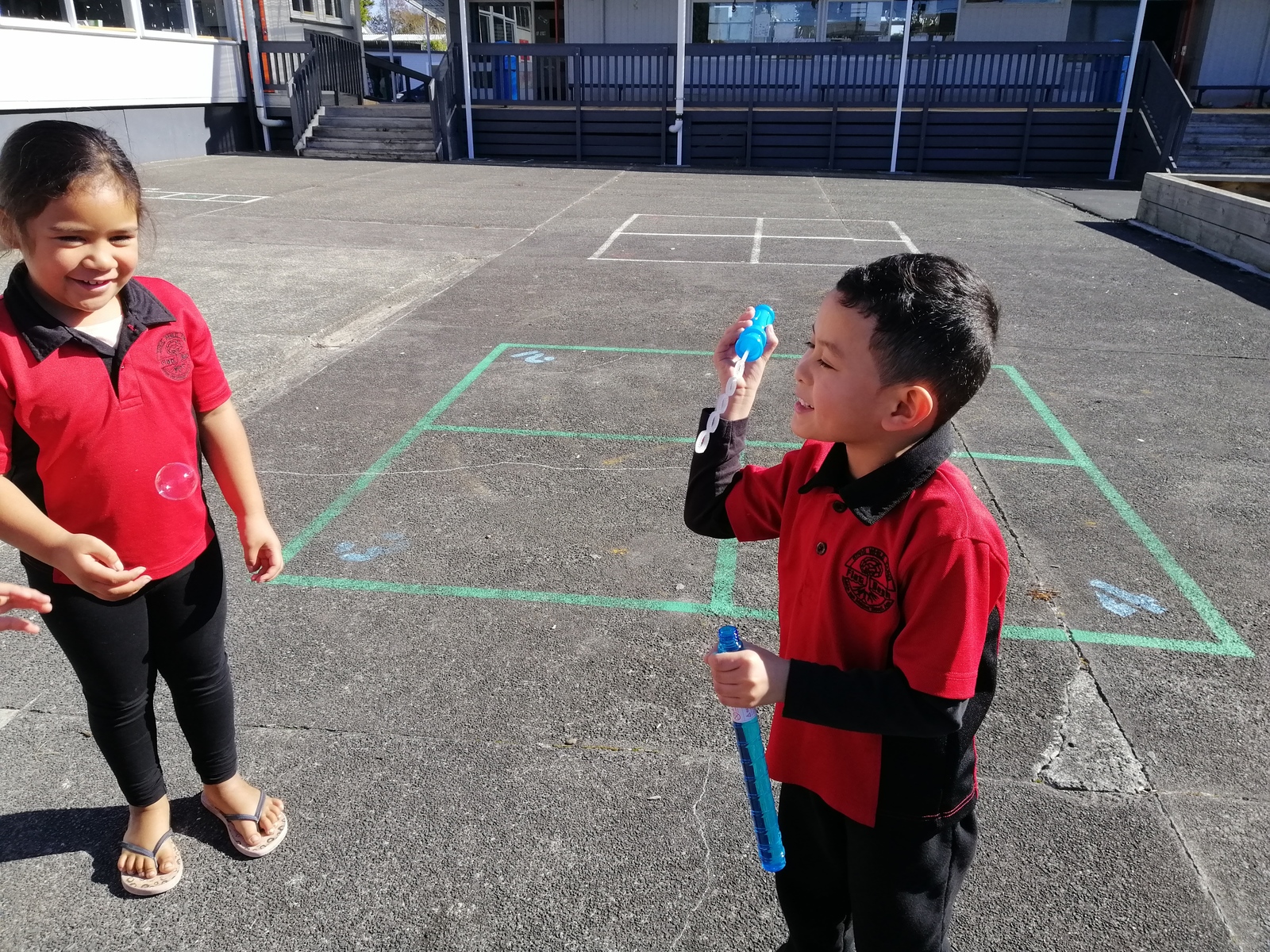 Blowing bubbles to celebrate not having to stay in our bubbles anymore.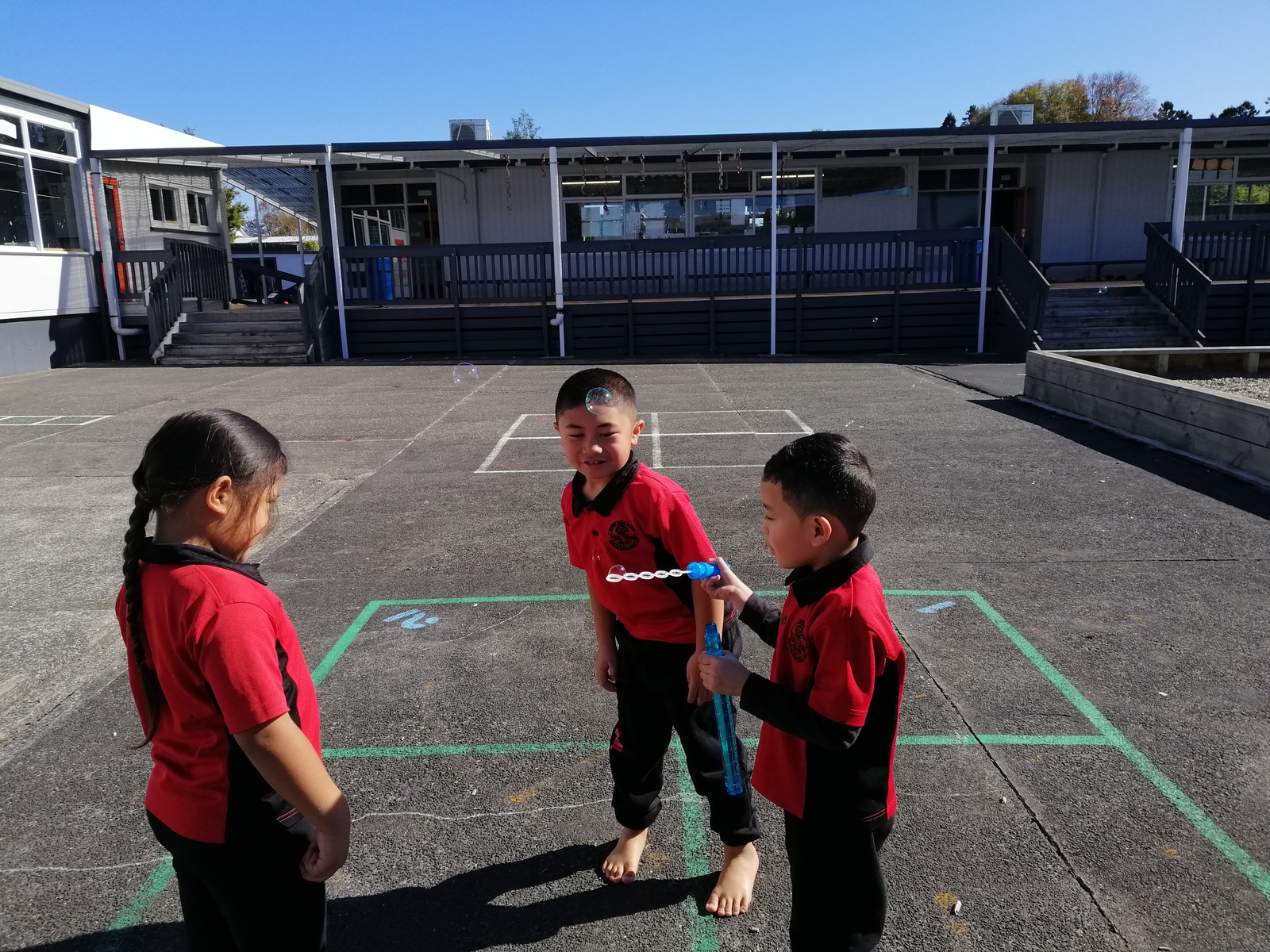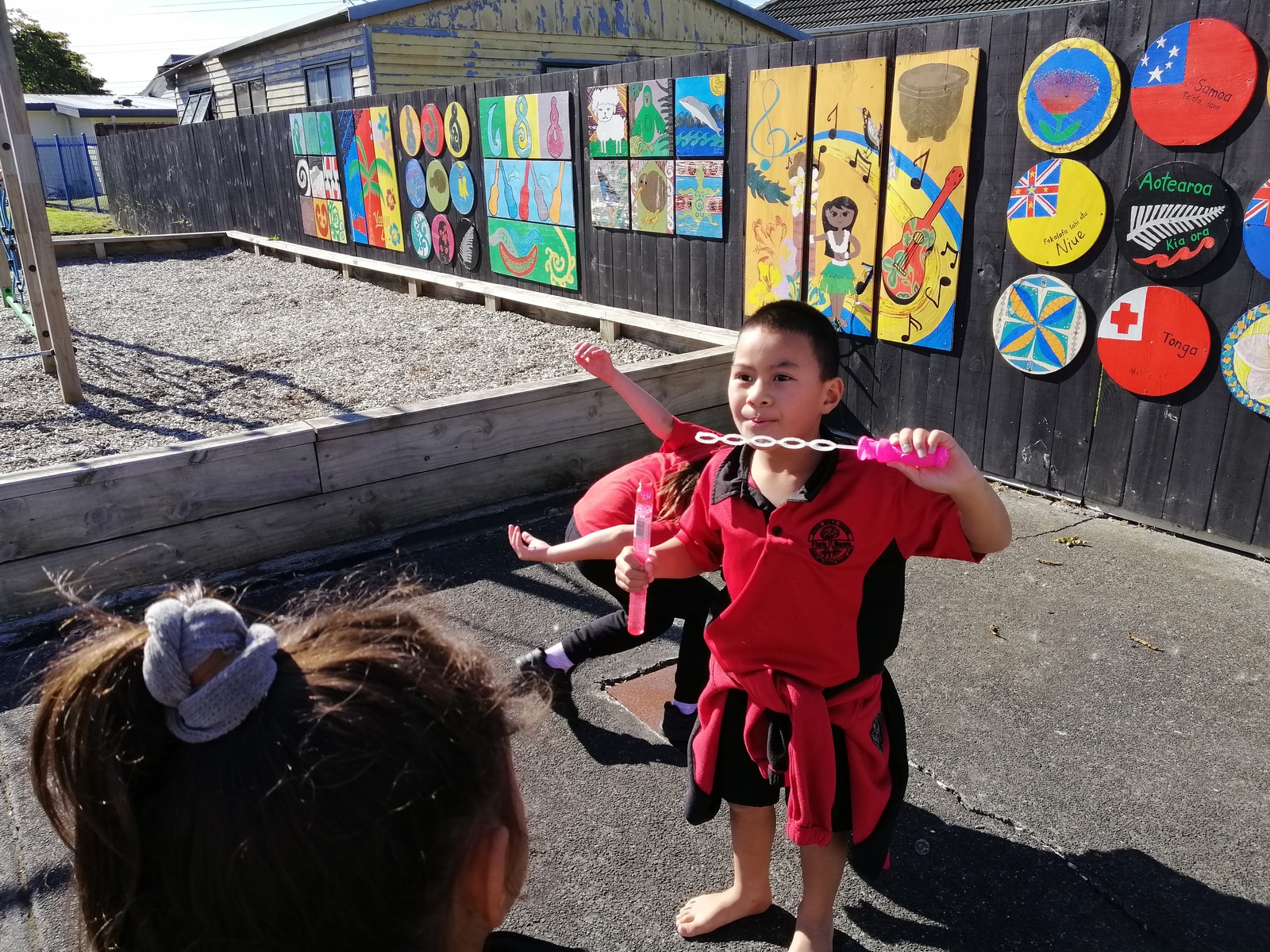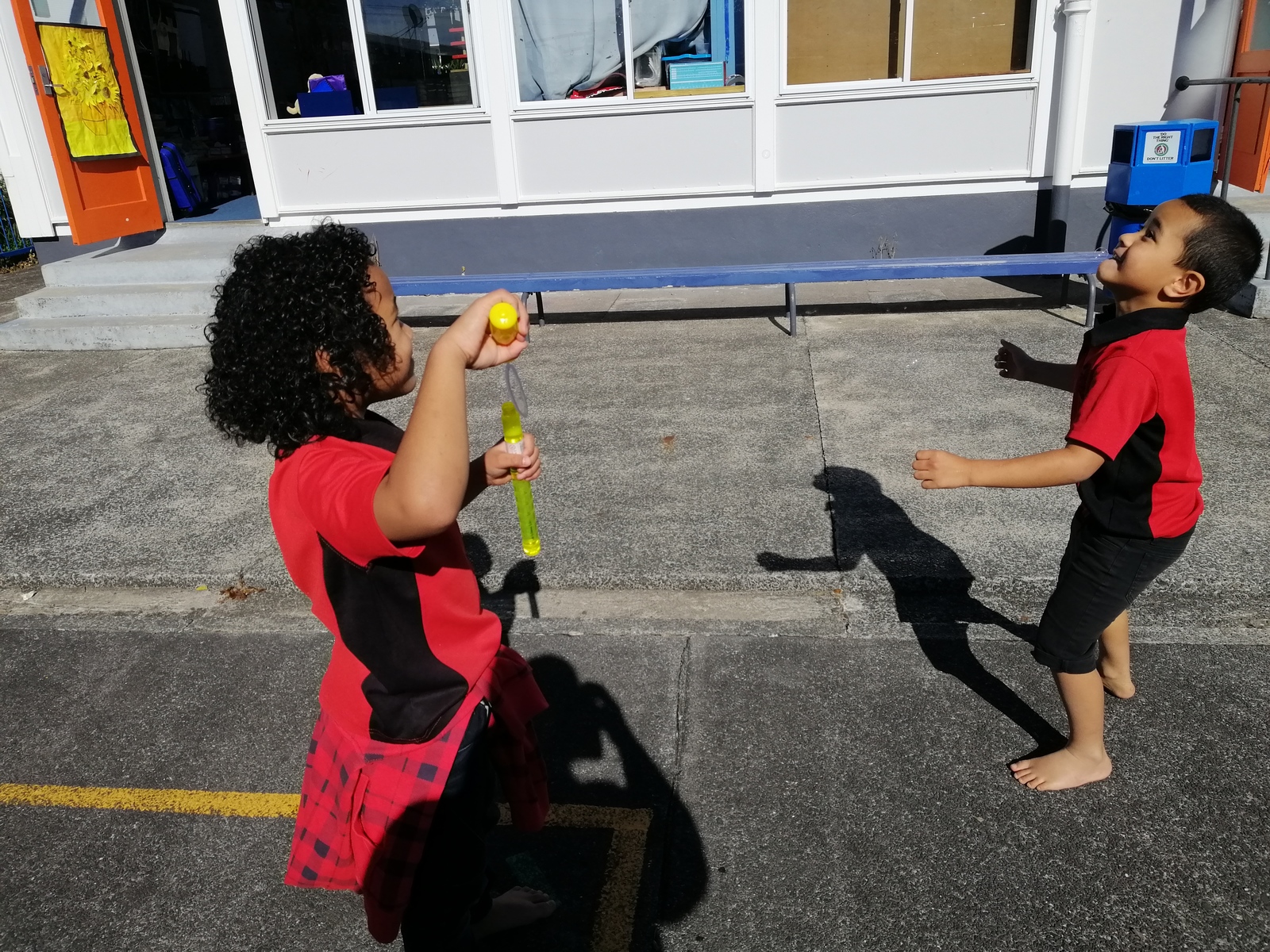 Catching up with our friends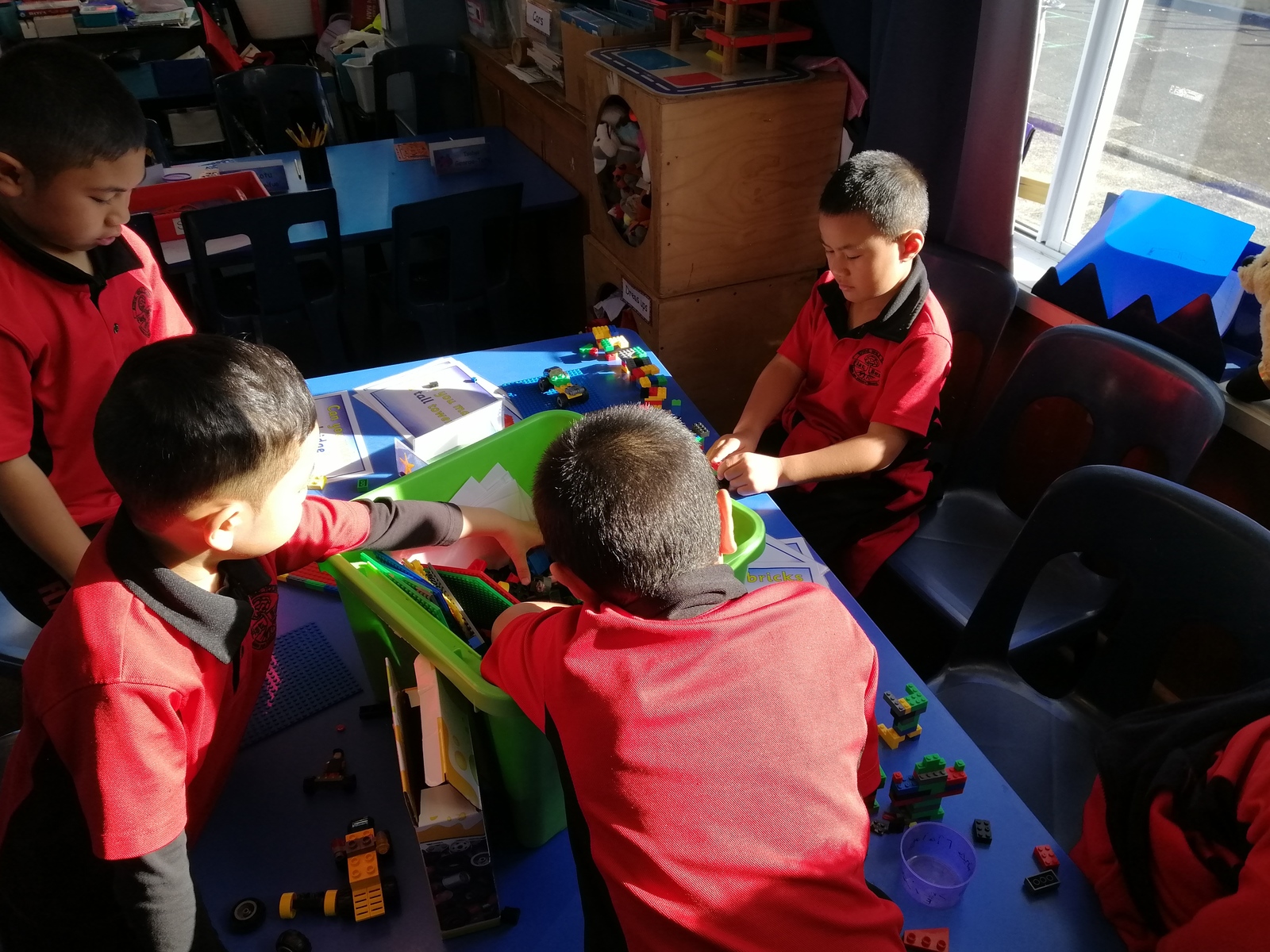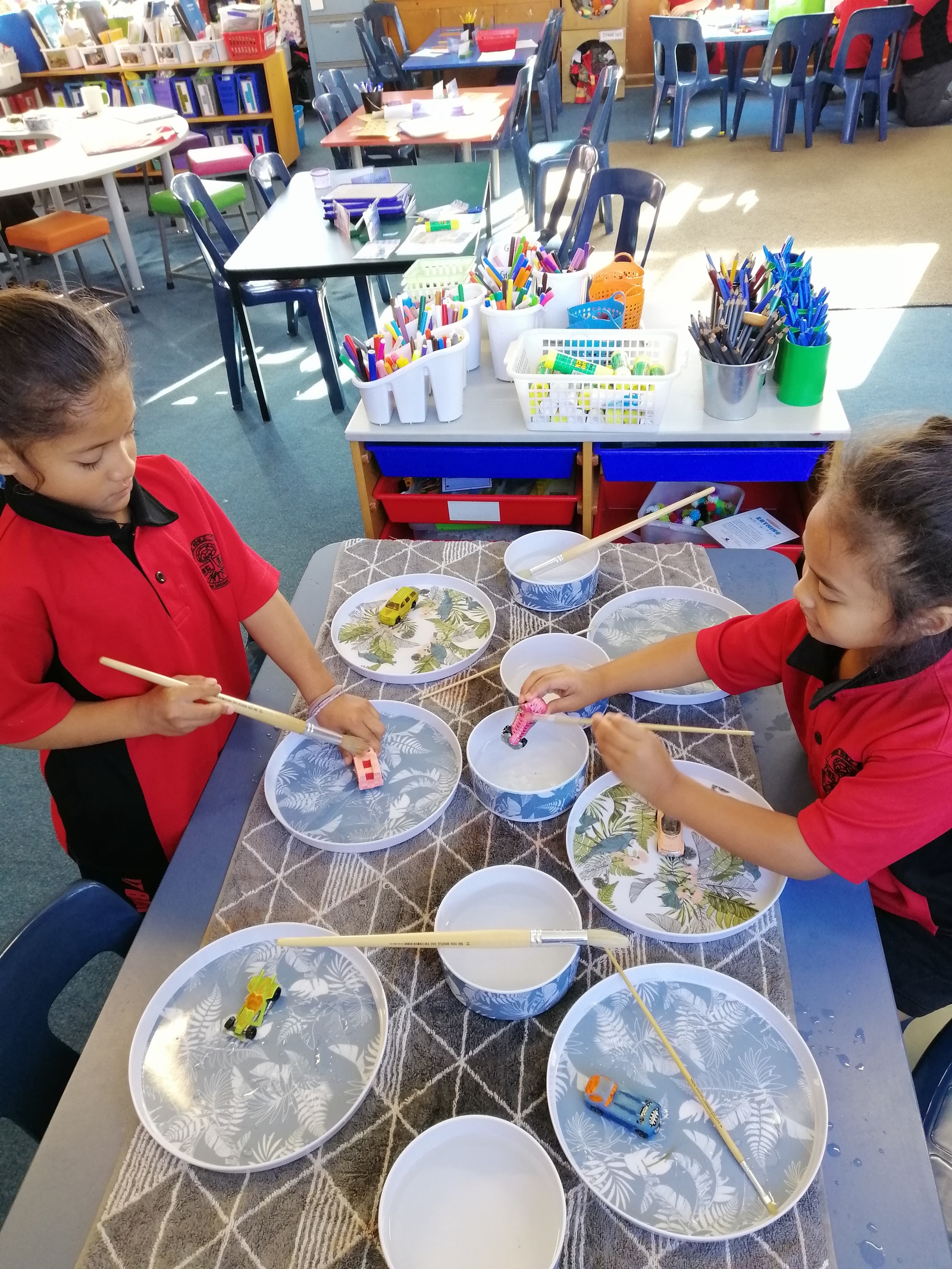 Cupcakes for Ms Russell's Birthday!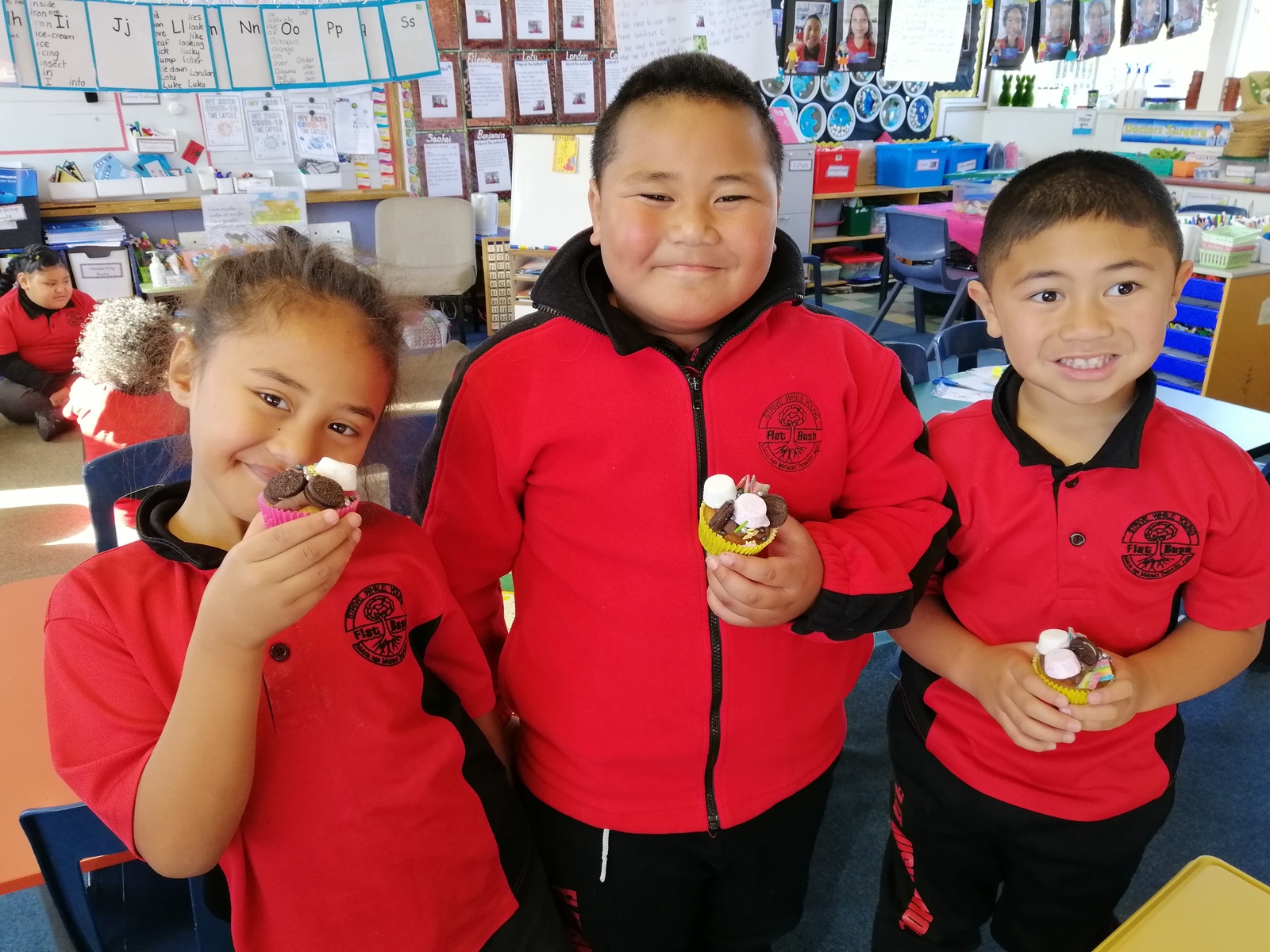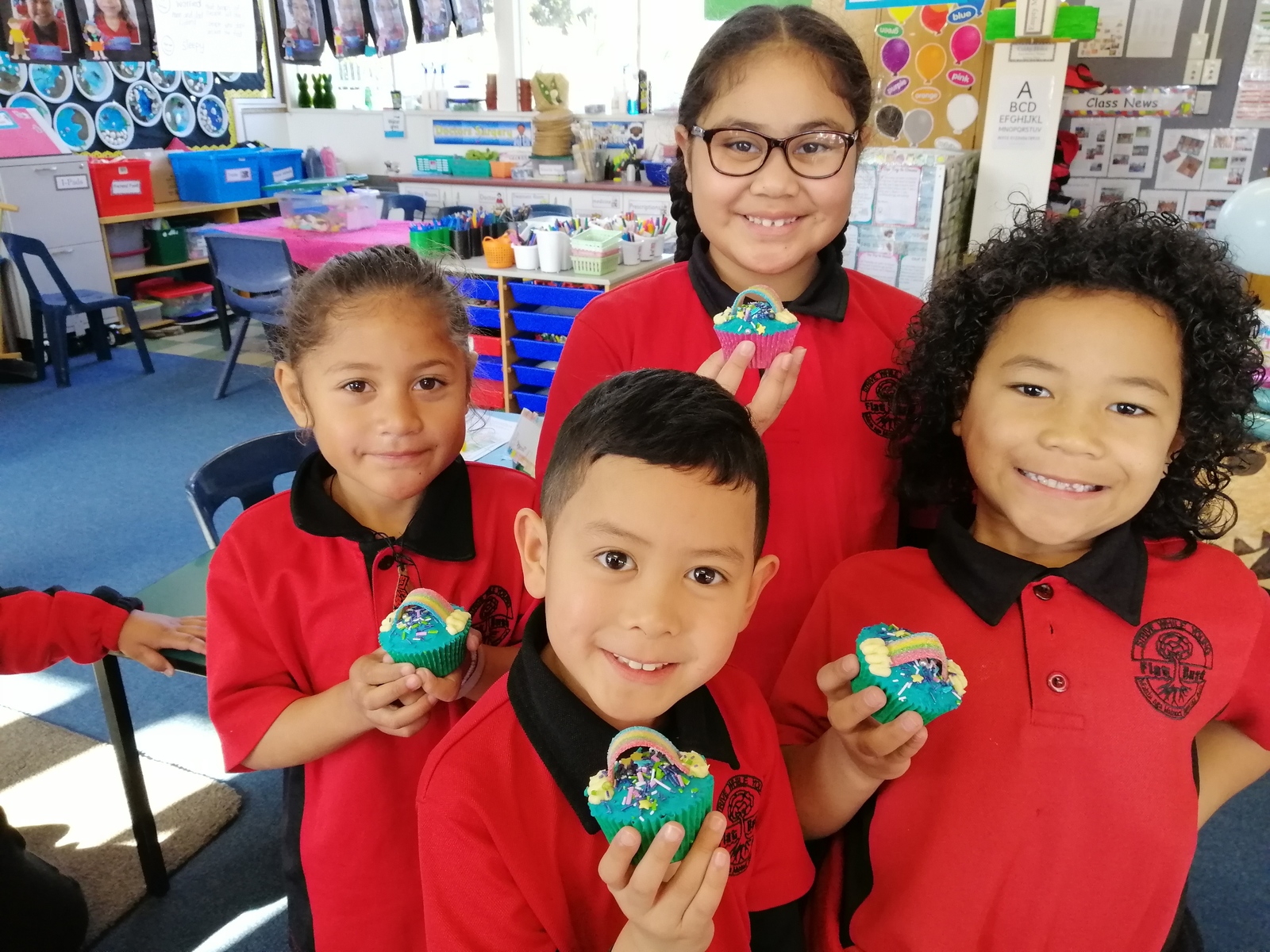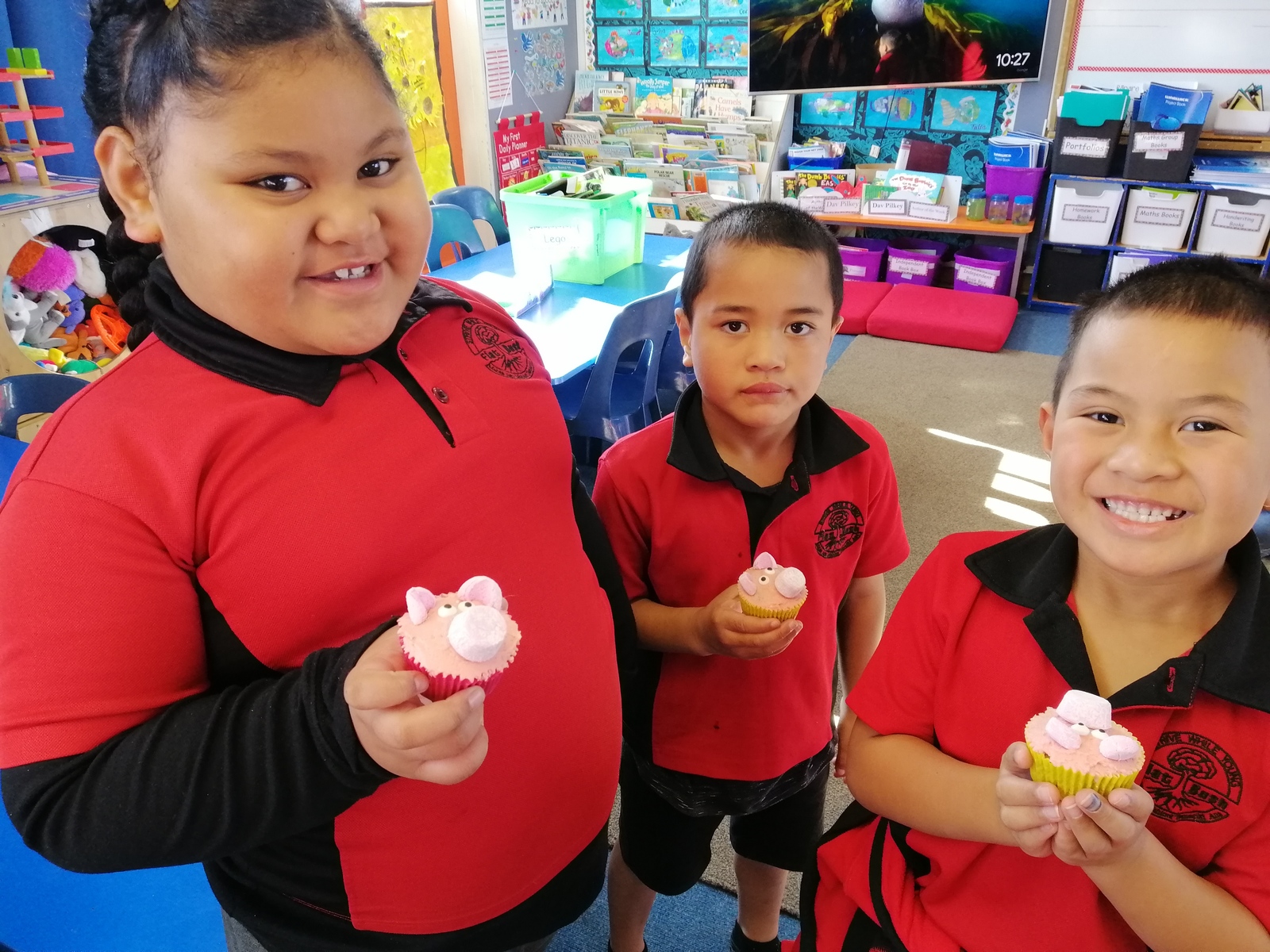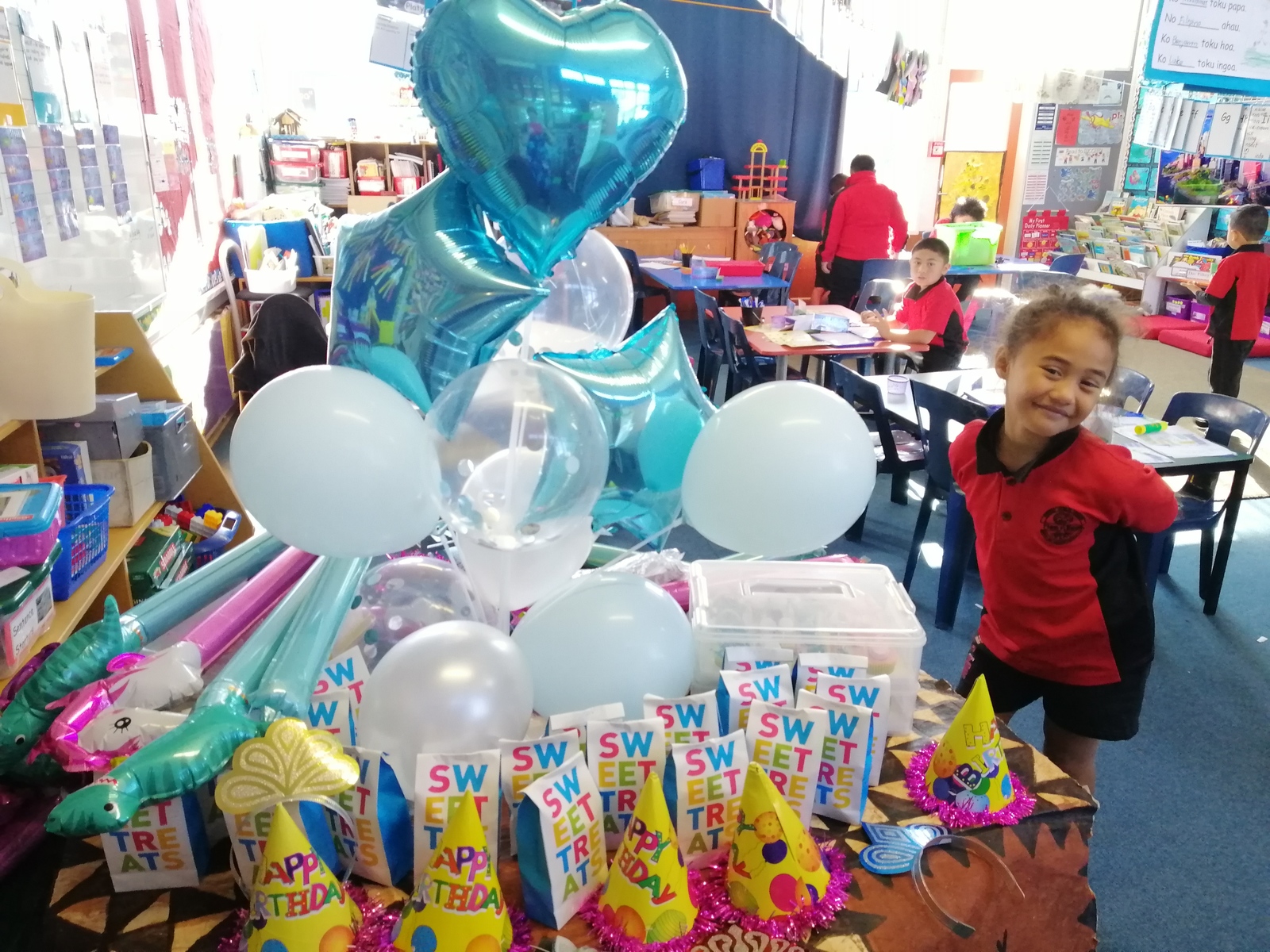 Distance Learning Weeks 1-5 of Term 2, 2020 :)
Warm greetings to all our tamariki and their whanau, I hope you are all enjoying the quality time with those loved ones around you and are most of all keeping healthy and well throughout this very strange time.
I wanted to take some time to check up on you all and also let you know a little bit about what I've been up to during this time.
I have been in lock down with my husband, my four kids and my dog Bouncer. There has been lots of baking, lots of cleaning and heaps of eating happening in my house. I have been trying to keep busy by doing some gardening and also getting a bit of exercise by walking my dog every day and playing table tennis outside with my children.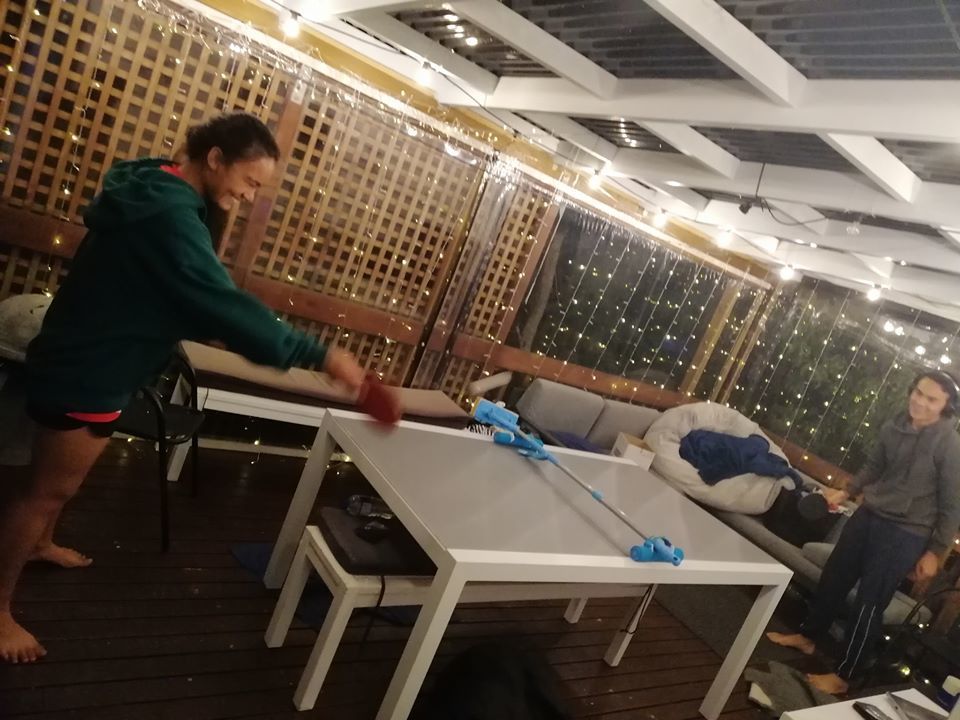 Last week we celebrated my daughter Charlotte's 9th Birthday. It was a bit different to how we normally celebrate Birthdays at our house, because we could not go out somewhere special and had to stay at home. We also could not have any visitors and we couldn't go to the shops to buy her a present, but we still had fun making a cake together and celebrating in our little bubble.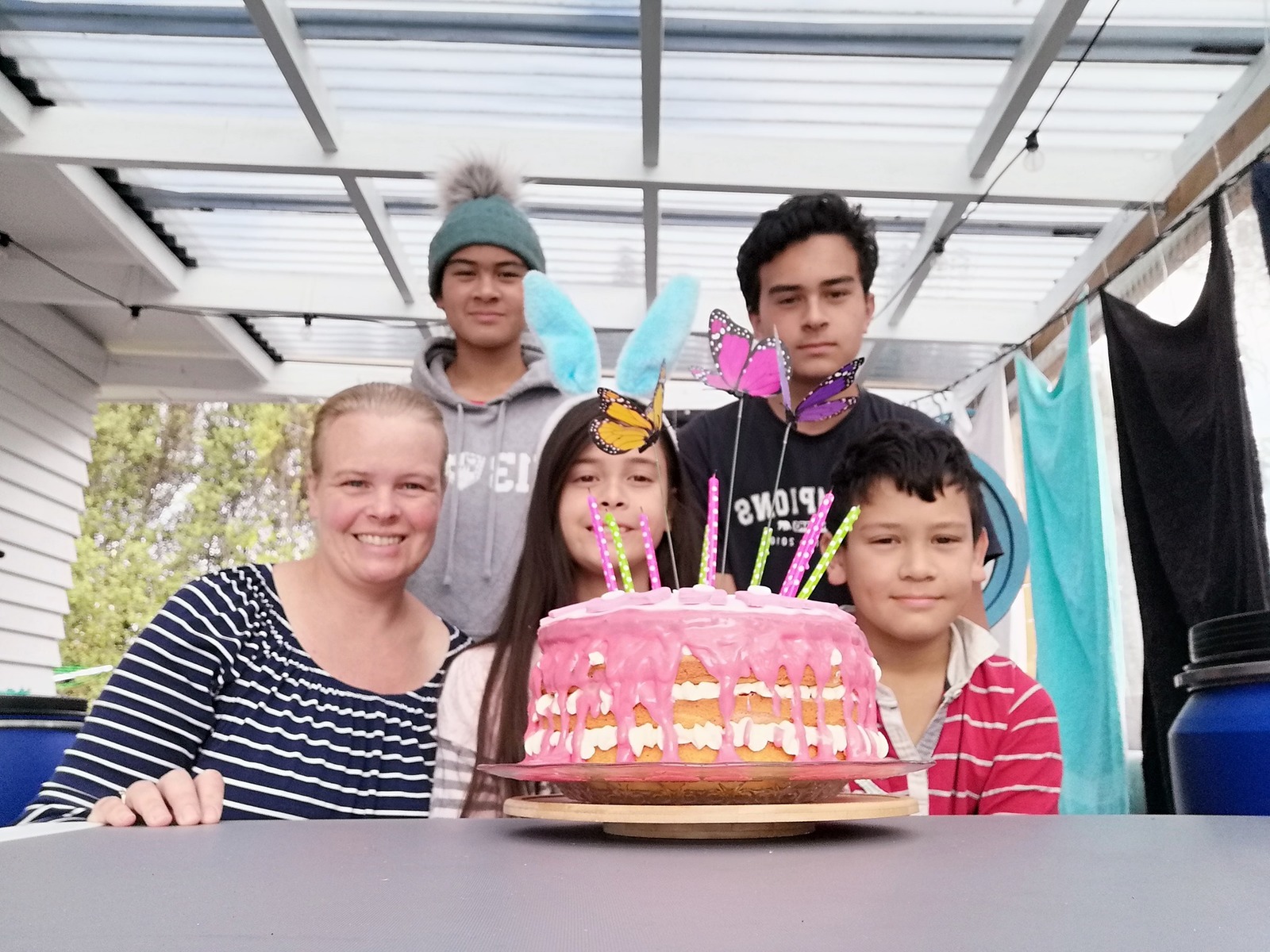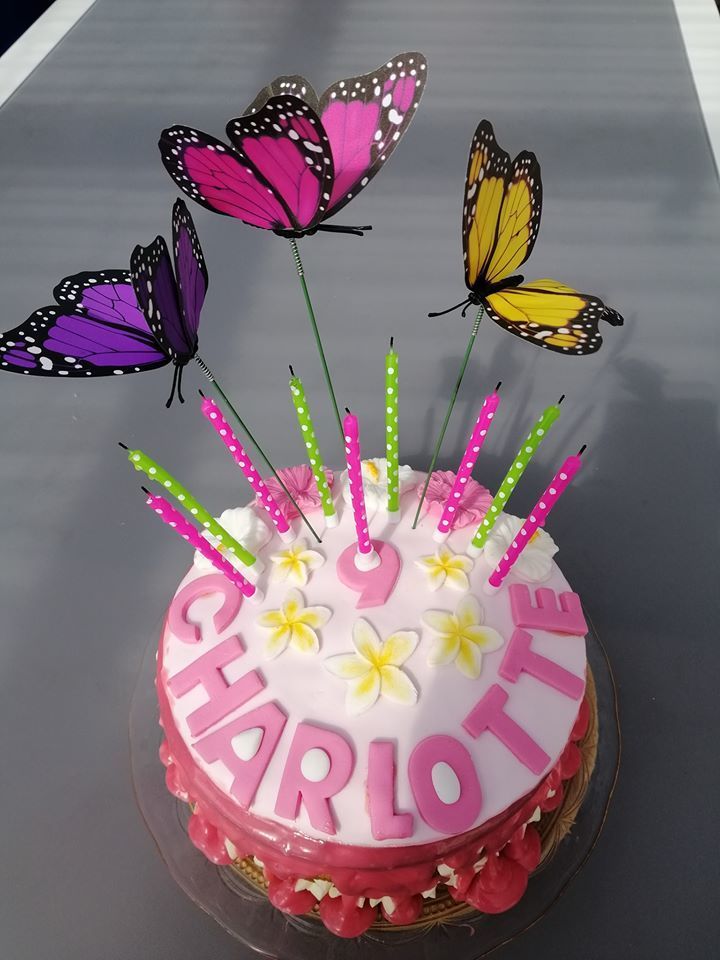 I would love to know what you have been up to during the past three weeks. If you have a photo of something exciting that you have done during the lock down, please send me a photo to share here on our class page. I will be calling or texting all of you sometime this week, just to check in on how you are going, so listen out for a call! I miss all of my little lion cubs and hope that you are staying safe and making the most of this time with your families.
*** Week One, Term 2 - 14th- 17th April ***
For this week we are focusing on reconnecting with our families. You should all be receiving a package from the Ministry of Education with some learning from home books and some stationary soon. There are also four activities here that you can do at home with your family if you have time;
* Draw a picture of all the people in your bubble (use the book and pencil that you got in your take home pack)and draw a bubble around them. Label them with their names and write a compliment beside each person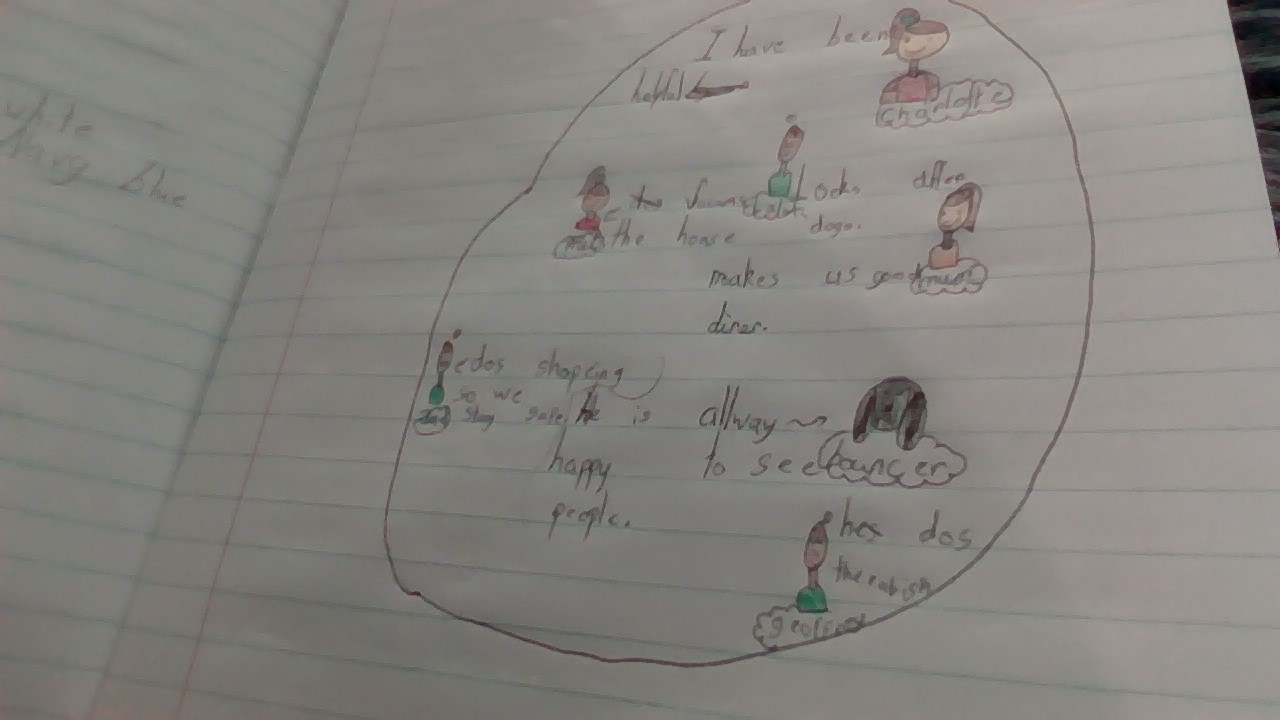 * Play some games with the people in your bubble. You could play Simon Says, memory, 21, Rock, Paper, Scissors or snap if you have access to some playing cards.
* Plan a meal for the people in your bubble with an adult. cook the meal and draw a picture of your plate to share with our class.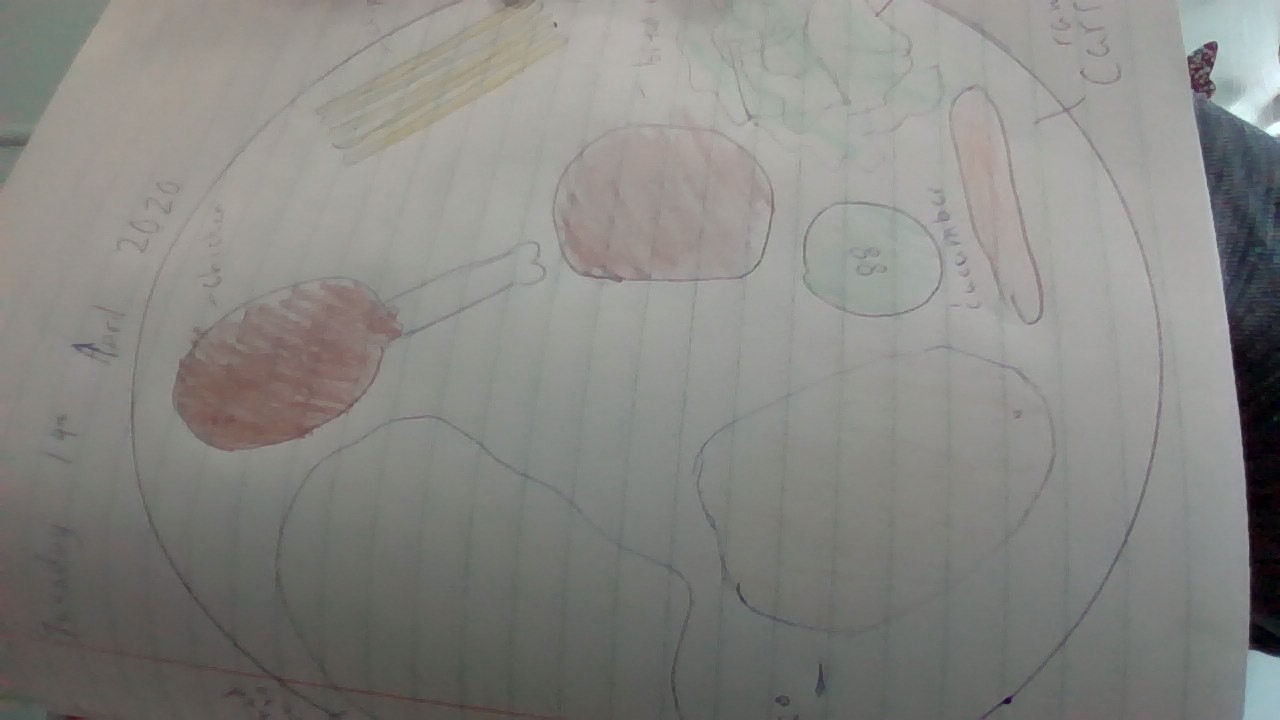 * Check out Ms Young's video on the school website homepage and try doing one of the physical activity games with your bubble members
We are also very lucky to have TV channels to help educate our children during the day Monday-Friday.
Home Learning | Papa Kāinga TV and Māori Television will start education programme broadcasting for early learners and students (Years 1–10) from 9am on Wednesday 15 April.
Home Learning | Papa Kāinga TV will be shown, free to air, on TVNZ channel 2+1 and on TVNZ on Demand, as well as on Sky Channel 502.
It will run from 9am to 3pm on school days with programming for children and young people aged 0 to 15, as well as for parents.
Home Learning TV will initially be on air for one month – with provision to extend beyond that depending on the COVID-19 situation.
Thank you Luke for sharing your family bubble with me by email!
If anyone else would like to share a photo of their learning from home, please send it to me at bernadiner@flatbush.school.nz
Filemu and Kimball doing some learning in their bubble;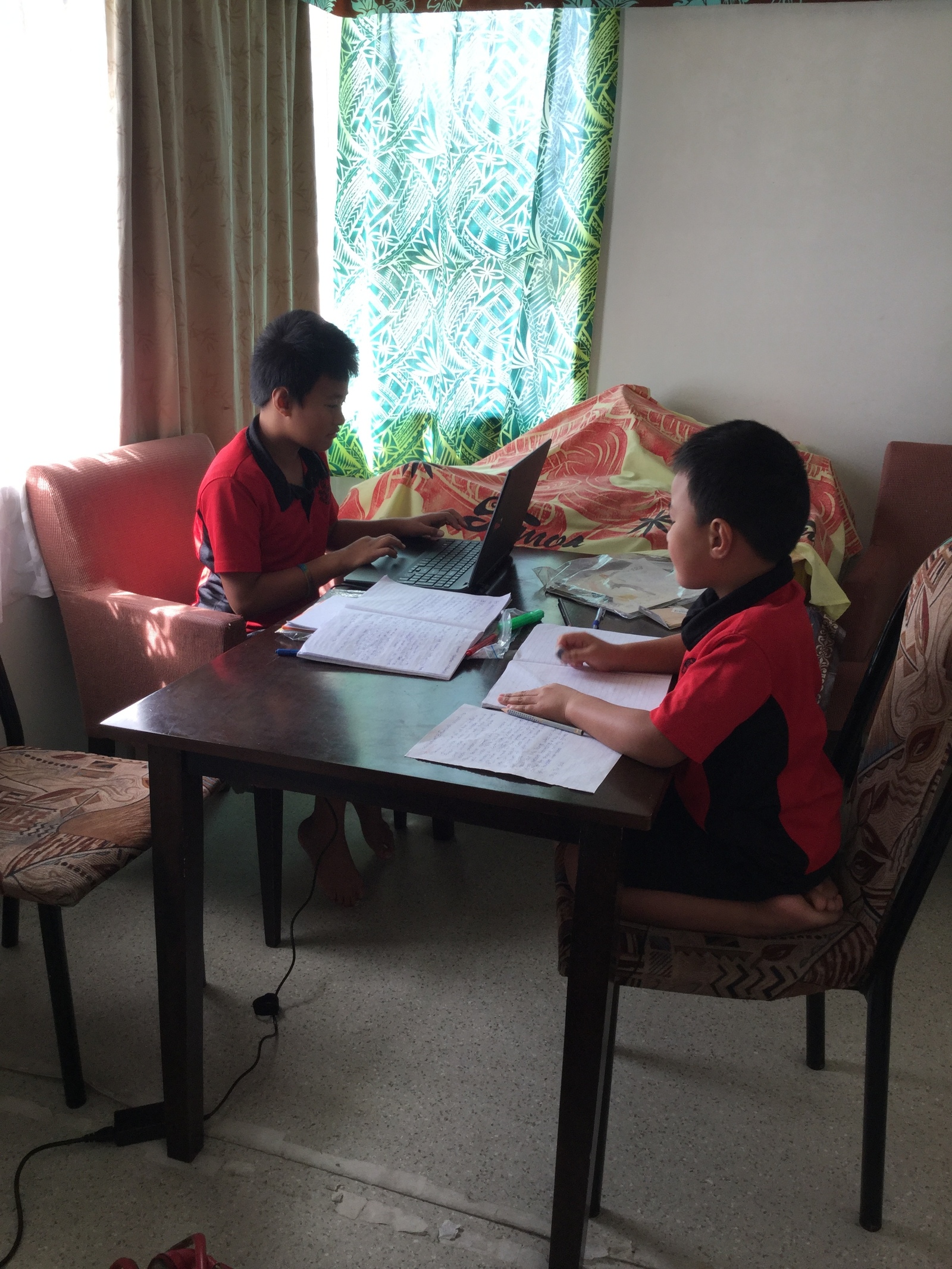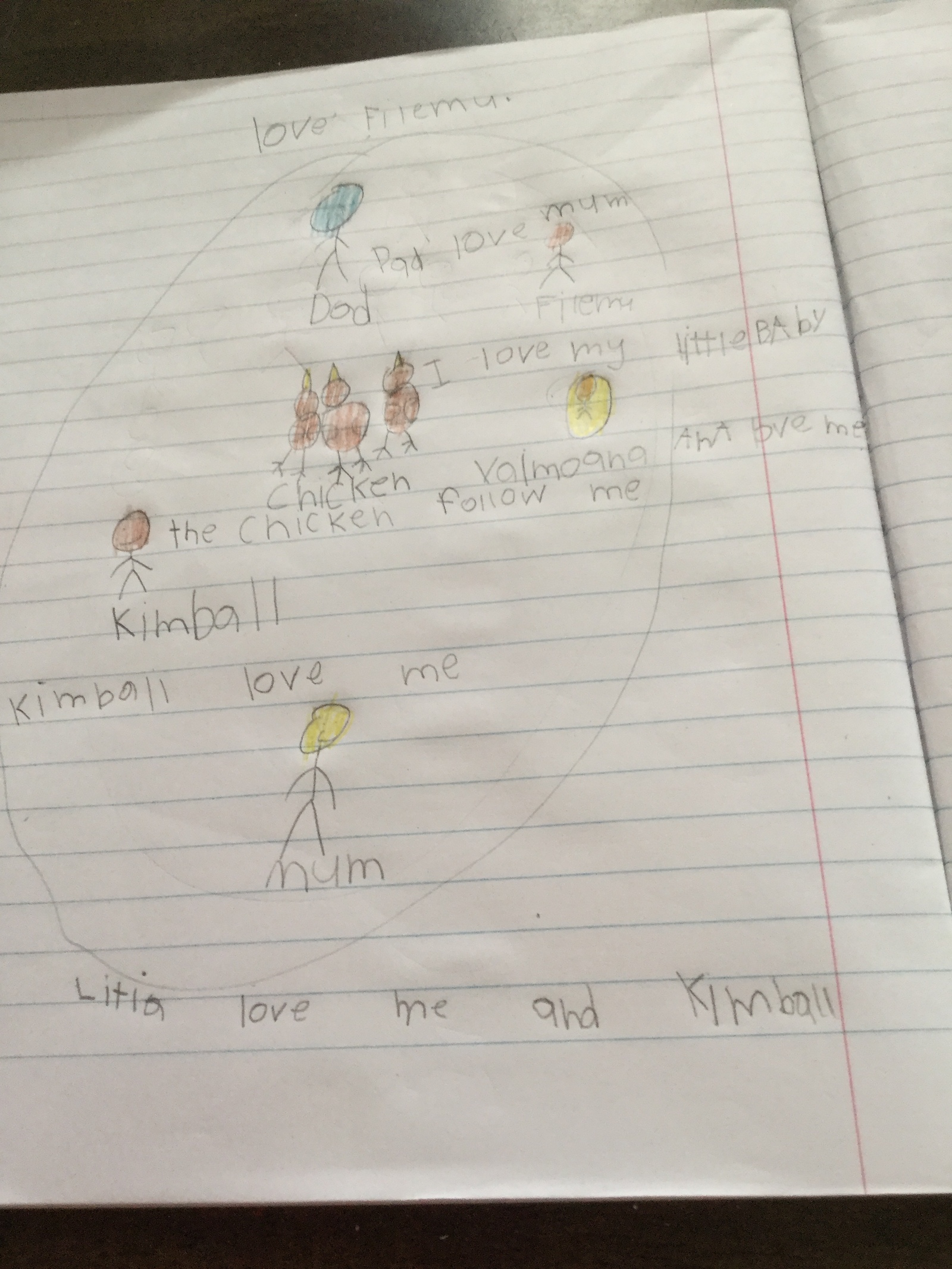 Another fantastic family bubble from Benjamin :)
Message from Miss Maggy!
How are you all doing? I hope you are safe and staying in your bubble. I miss you all and your cheekiness

I am doing well in my bubble with my mum, dad and three doggies. We are happy and can't wait for this all to be over. I can't wait to see you all again.
Until then, Take care and Stay safe
*** Week Two, Term 2 - 20th- 24th April ***
Welcome to Week Two everyone! How are you all going? This week you will find lots of activities on the school homepage for you to choose from each day. You do not have to do all of them, just pick some each day and if you like, send me a photo of what you have been up to.
You should also receive your learning pack sometime this week if you have not got it already, let me know when you get yours.
ANZAC Day is this week on Saturday and as we can not go to the cenotaph I am making my own ANZAC wreath to hang on my front gate. are you doing anything special in your Whanau to commemorate ANZAC Day? I will put up a photo of my wreath when its done.
Stay safe everyone!
Ms Russell :)
How to make an ANZAC Day Wreath- Version 1
You will need:
Plastics bottles- coke or pepsi etc
Something to make them red- paint, vivids, textas, nail polish etc
An adult to help with cutting
Scissors for cutting
Newspaper or something to protect the table
A paintbrush
Step 1. Cover your work space with the newspaper so you don't make a mess.
Step 2. Ask the adult to cut the bottom part of the bottle off for you. Keep the bottom part and the lid and put the rest in your recycle bin.
Step 3. Draw a little 'V' in between each of the bumpy bits and then carefully cut them out with the scissors.
Step 4. Make a curved cut on each side of the 'V' to make them into petals.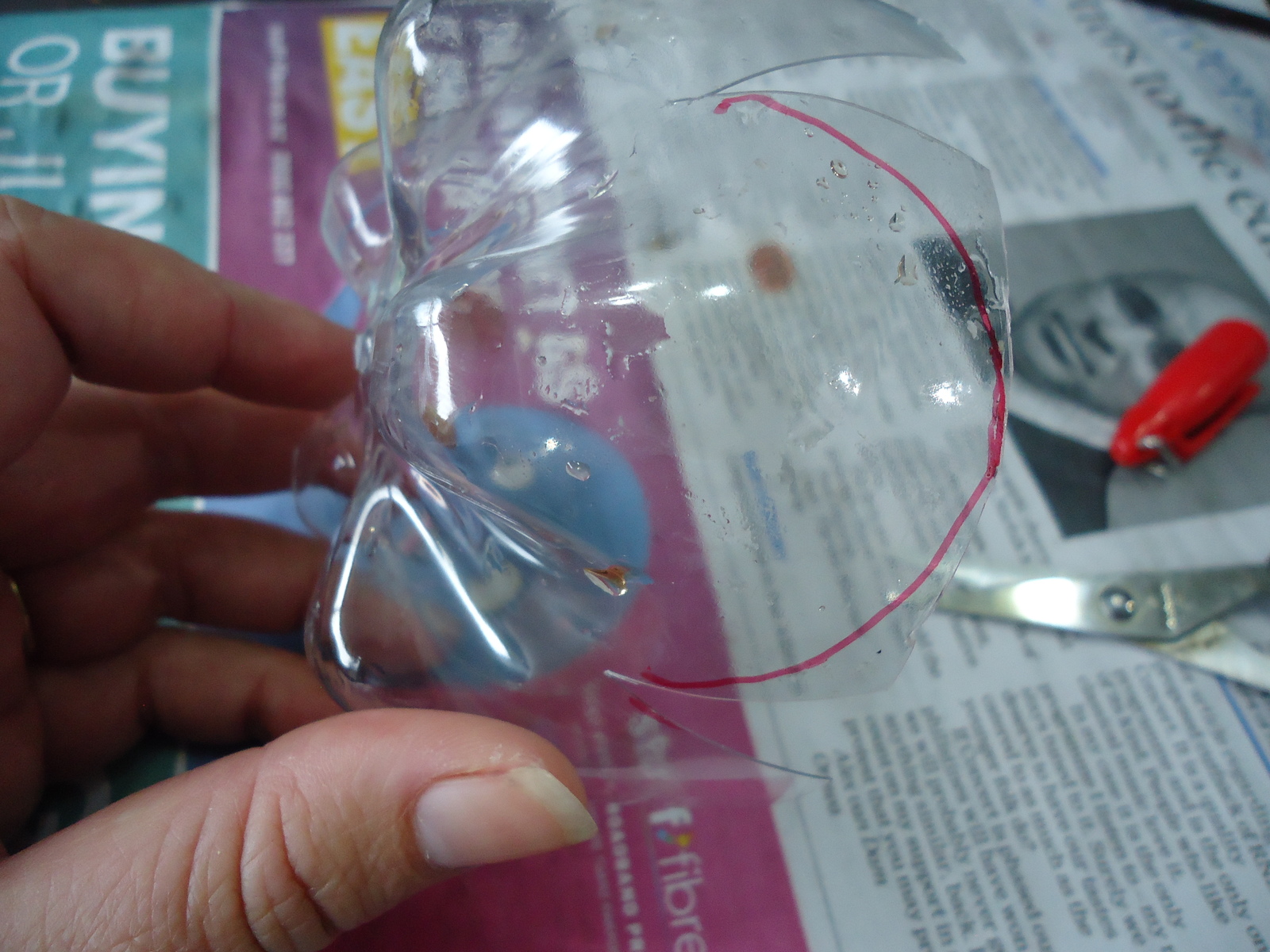 Step 5. Put it up side down on the newspaper and paint or color with the vivid.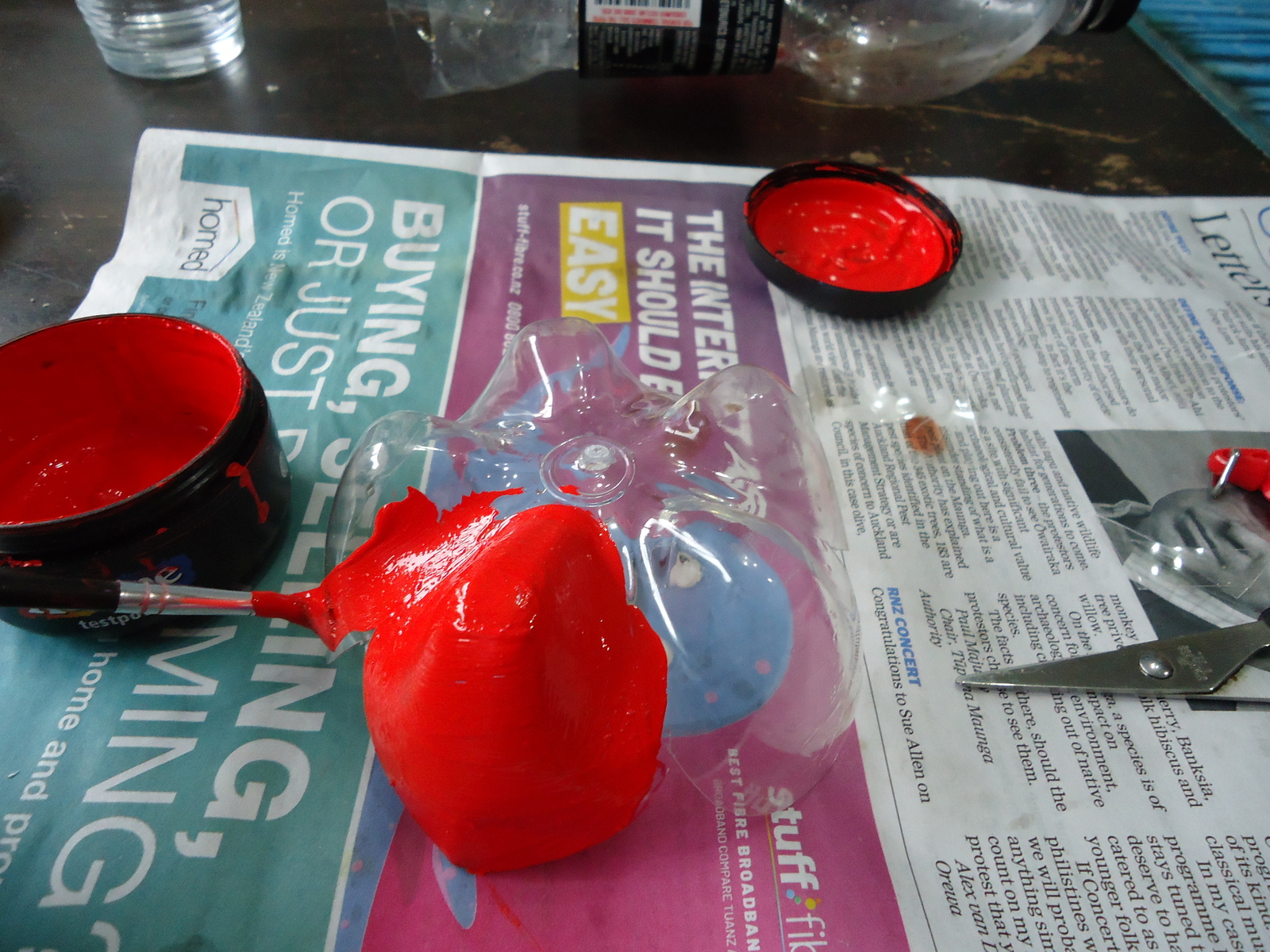 Step 6. When it is dry, turn it over and stick the lid in the middle or use a black vivid or black paint to make the middle of the poppy.
Step 7. You can stick a bamboo skewer or a stick on the end and 'plant' your poppy by your letterbox or you can make some more and put them in a circle to make a wreath. I am going to stick mine onto a big piece of cardboard that I got from a box. If you make a wreath you can add some rosemary too and a sign to say Lest We Forget.
Extra for experts- There are some purple poppies in my wreath, can you find out who the purple poppies represent? email me the answer if you know!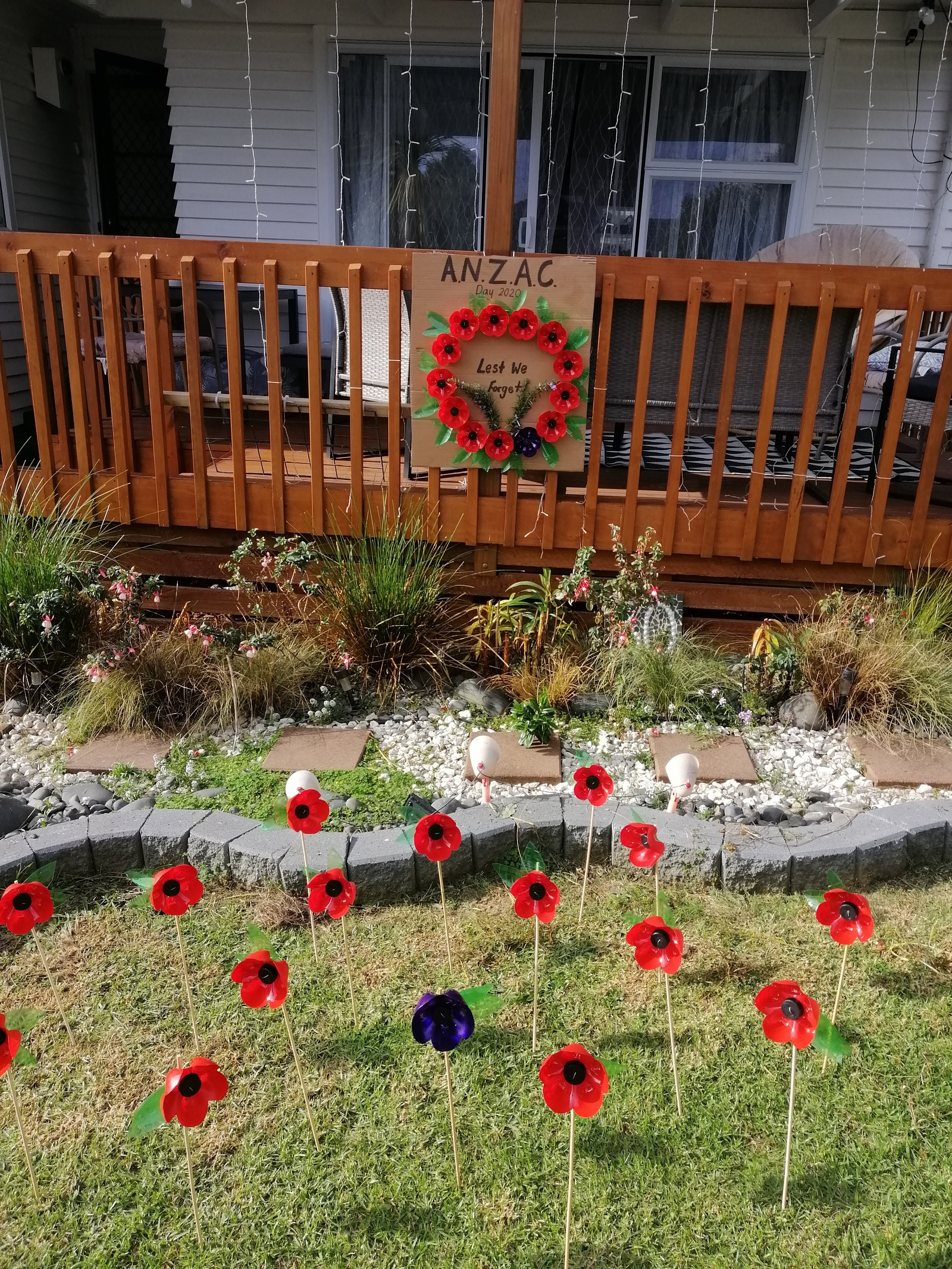 How to make an ANZAC Day Wreath- Version 2
You will need:
Empty egg cartons
Something to make them red- paint, vivids, textas, nail polish etc
An adult to help with cutting
Scissors for cutting
Newspaper or something to protect the table
A paintbrush
Step 1. Cover your work space with the newspaper so you don't make a mess.
Step 2. Cut the egg carton in half down the middle.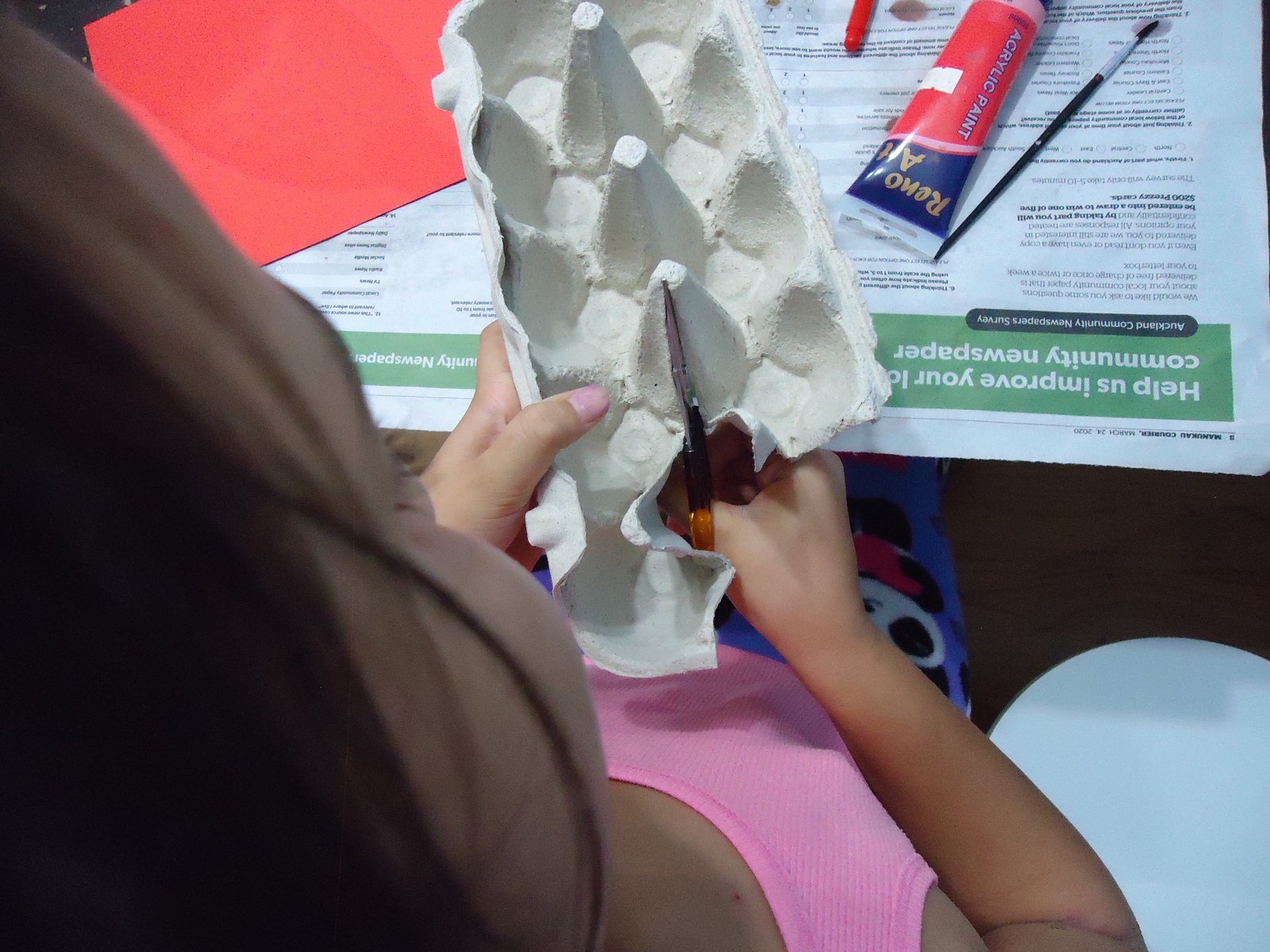 Step 3. Cut each egg section out
Step 4. Make each section look like a flower
Step 5. Paint or color in each flower. If you have any black paint, colour in the middle of the flowers
Step 6. When the flowers are dry, arrange them into a ring and stick them onto a piece of paper or card. If you have some green paper or green paint, you can make some leaves too.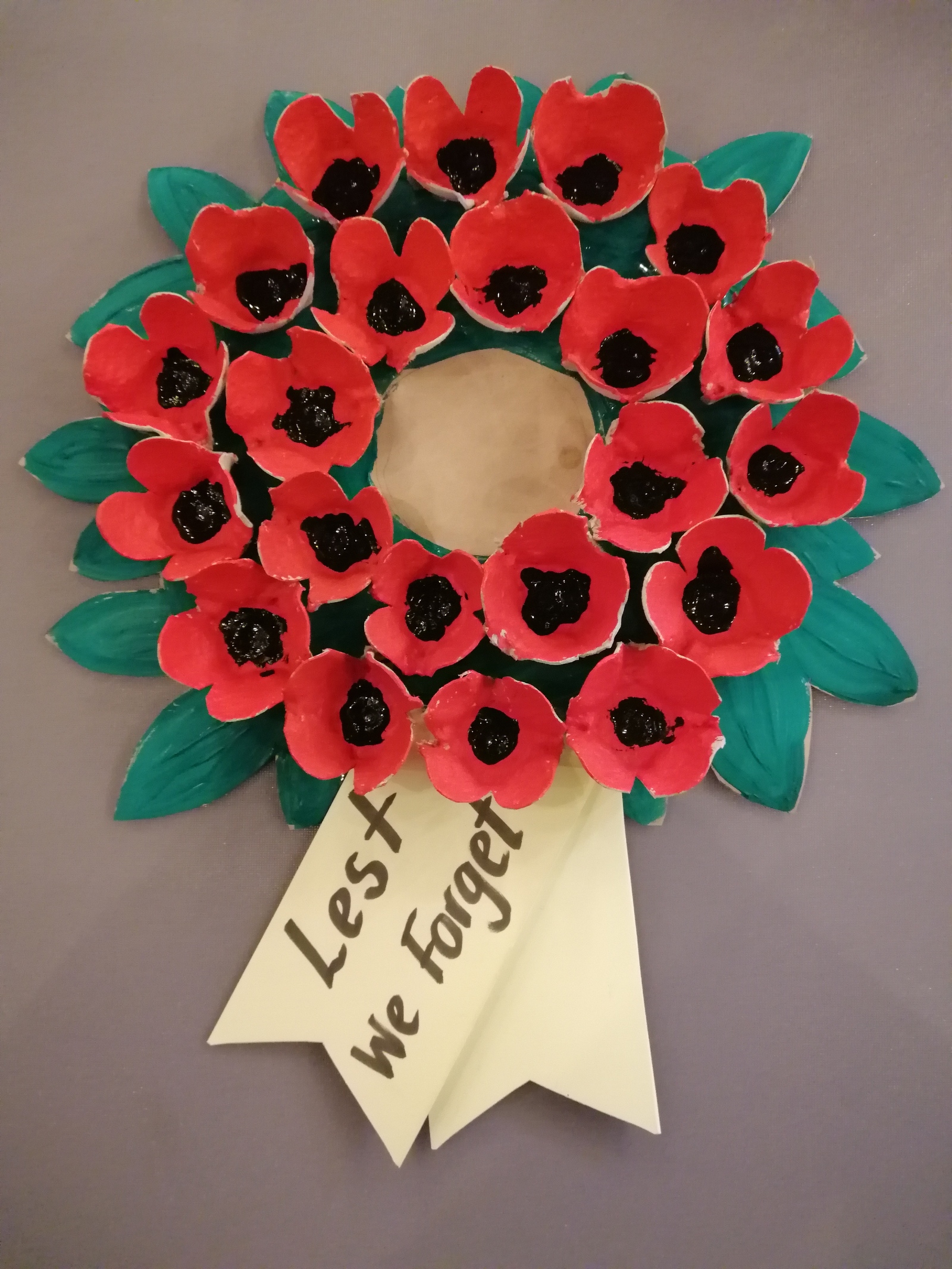 How to make an ANZAC Day Wreath- Version 3
You will need:
Knitting wool in red or purple and black
Knitting needles - I used size 4mm
A wool needle to sew it up
Someone who can knit!
This one is a bit tricky, but if you have someone in your bubble who can knit, they will be able to follow this simple knitting pattern;
Step 1- Cast on 80 stitches
Step 2- Knit 8 rows either in stocking stitch or garter stitch, whichever you prefer, check out the first photo for examples.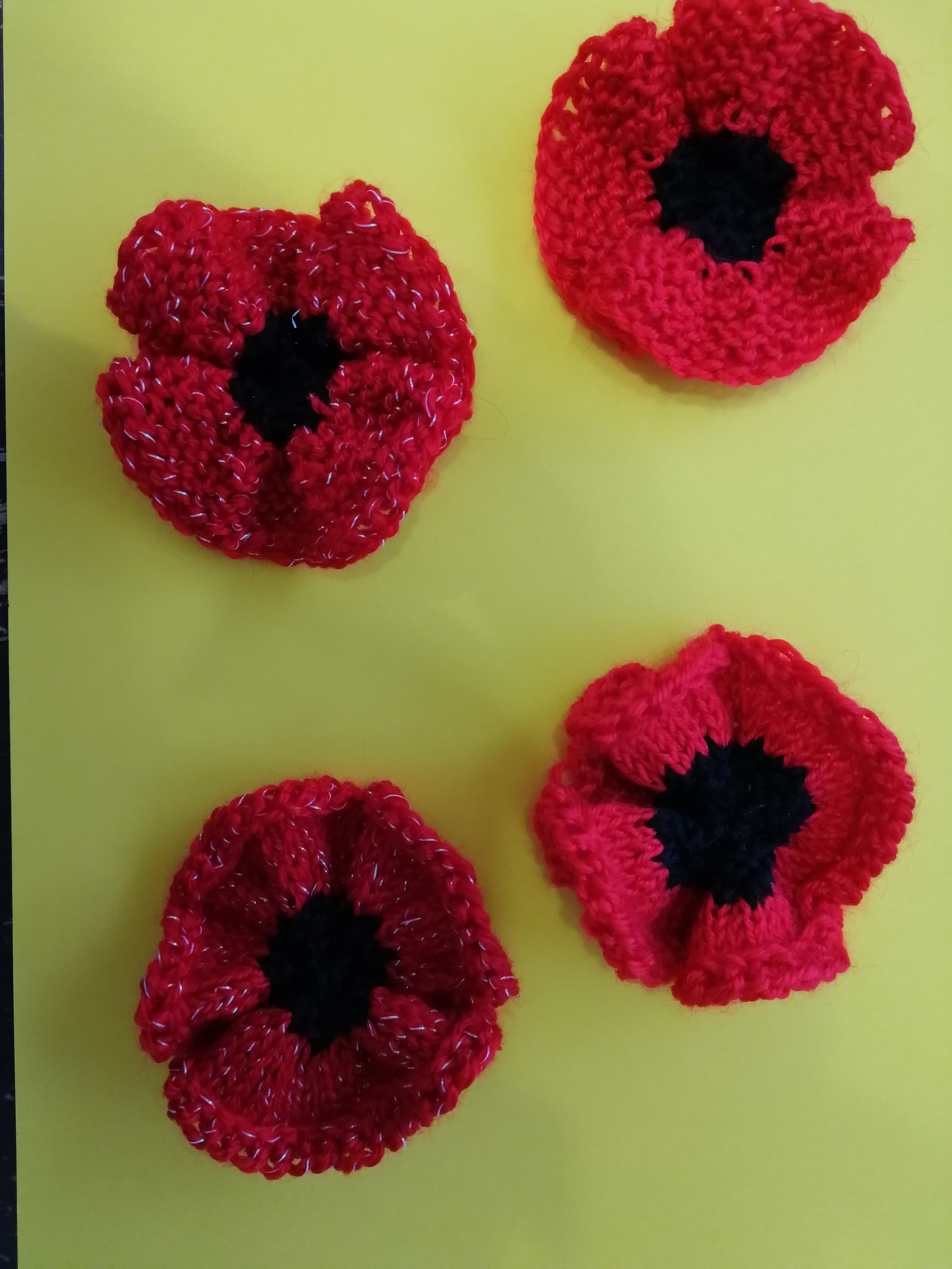 Step 3- For the next 3 rows, knit two together all the way across the row so you have 40 stitches, then 20, then 10.
Step 4- cut the wool leaving about 15cm, then thread all the leftover stitches onto the wool and pull it tight. thread the wool onto the needle and sew up the join.
Step 5- Make enough poppies to make a circle and attach them to a piece of cardboard or a wreath shape item. I used an old Christmas wreath that I found with my Christmas decorations.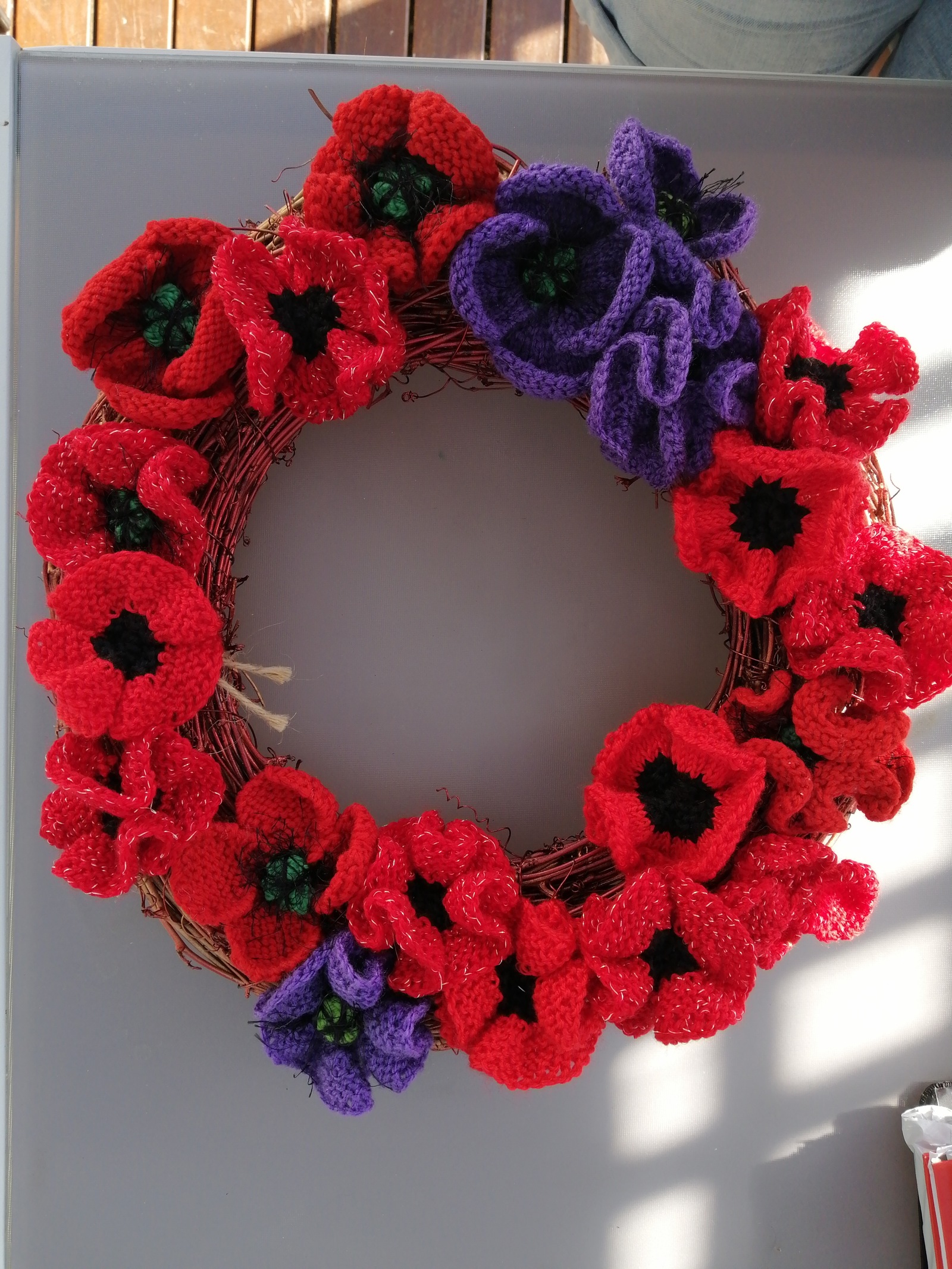 Step 6- Send Ms Russell a photo, I would love to see your wreaths!
ANZAC BISCUIT RECIPE
ANZAC Day is on Saturday 25th April. This year we can't go to a dawn service because we are on Level 4. However, some of us are going to have our own service in our driveways at dawn (When the sun comes up). Are you going to have an ANZAC service at your house? I would love to see a photo.
After the ANZAC service, I think we will all be pretty hungry, so here is a recipe for ANZAC biscuits, like the ones that soldiers used to eat in the war. Charlotte, Geoffrey and I are going to make some for our Whanau. We will put up some photos as we go.
Ingredients:
1 Cup of Plain Flour
1 Cup of Rolled Oats
1 Cup of Desiccated Coconut
1 Cup of Brown Sugar (you can use white sugar if there is no brown sugar in the pantry)
135g of Butter
1 Tablespoon of Golden Syrup
2 Tablespoons of Boiling Water (be careful when pouring the boiling water out of the kettle, get an adult to help you)
2 Teaspoons of Bicarbonate of Soda (aka baking soda)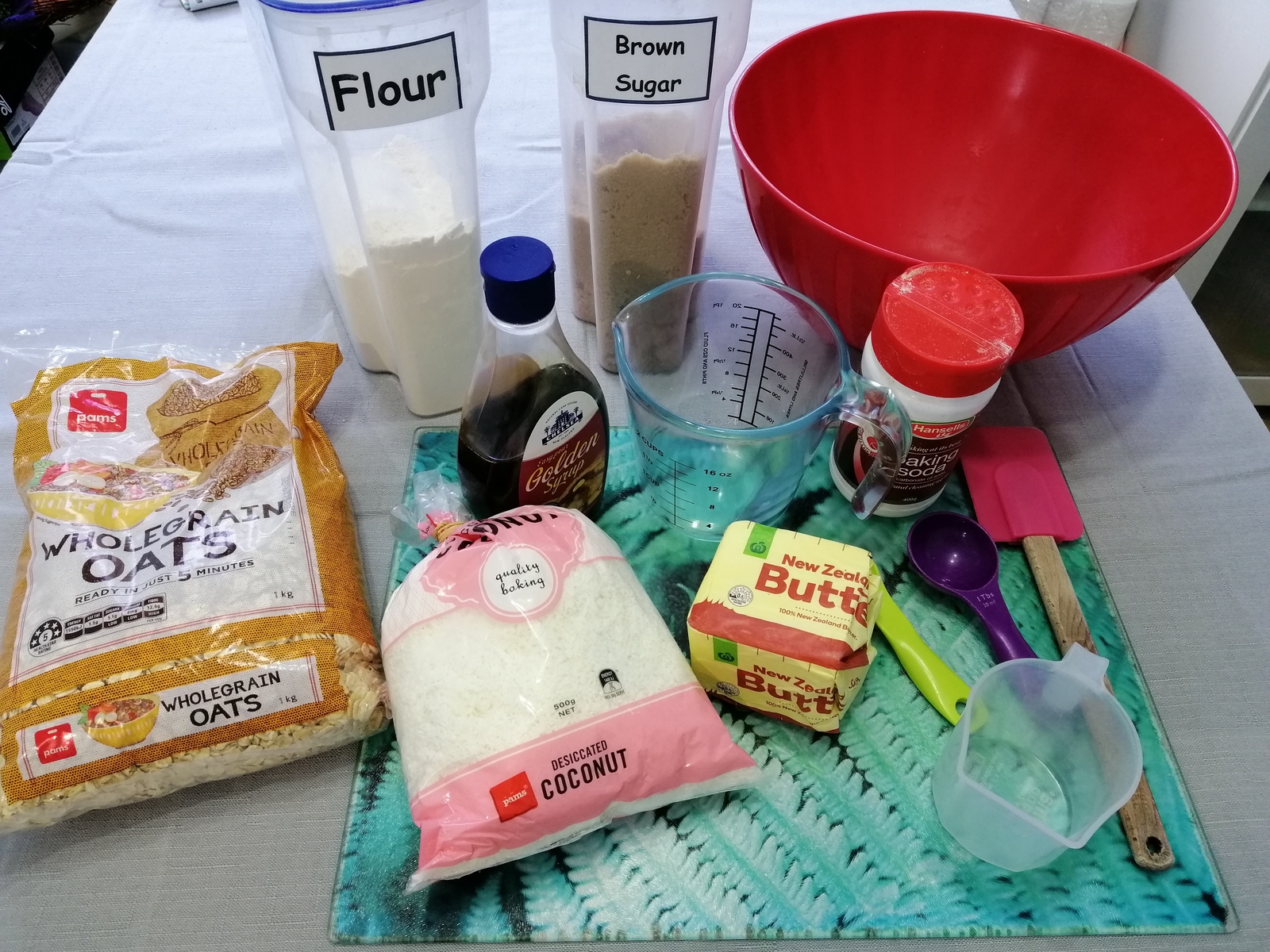 Method:
* Turn your oven on to 150 degrees, or 130 degrees if you have a fan forced oven (check with Mum or Dad)
* Get a big bowl and put all of the dry ingredients in it, give them a stir with a wooden spoon.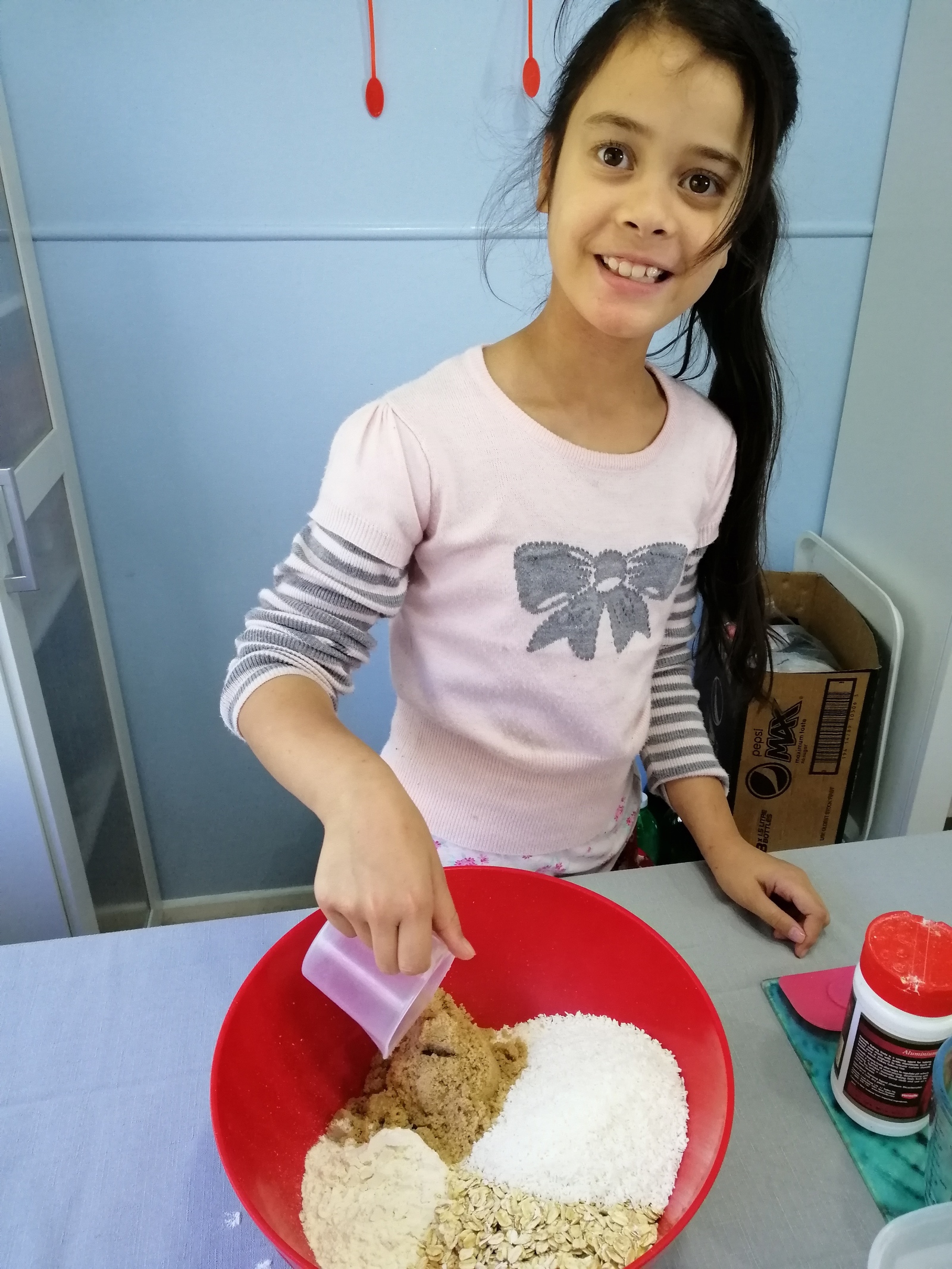 * In a small bowl or jug, melt the butter. I used the microwave.
* Mix the boiling water and Baking Soda together- What happened? That is what we call a chemical reaction :)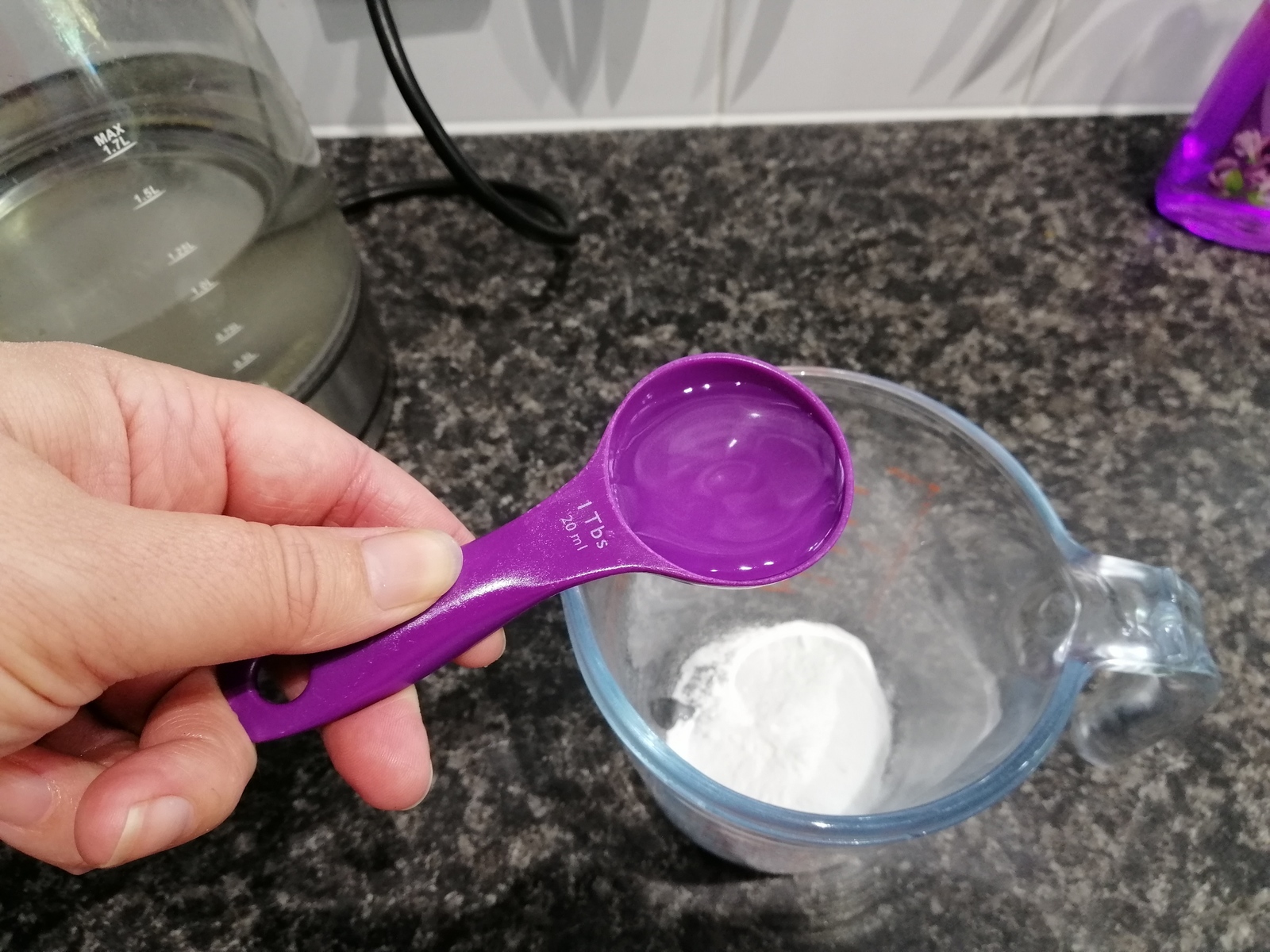 * Mix the Golden Syrup in with the butter, then put everything into one bowl and mix it all together.
* Get a baking tray and either spray it with some oil or rub some butter on it to stop the biscuits from sticking.
* Roll the mixture into balls about the same size as a ping pong ball.
* Put them on the tray about 4cm apart because they will grow as they cook.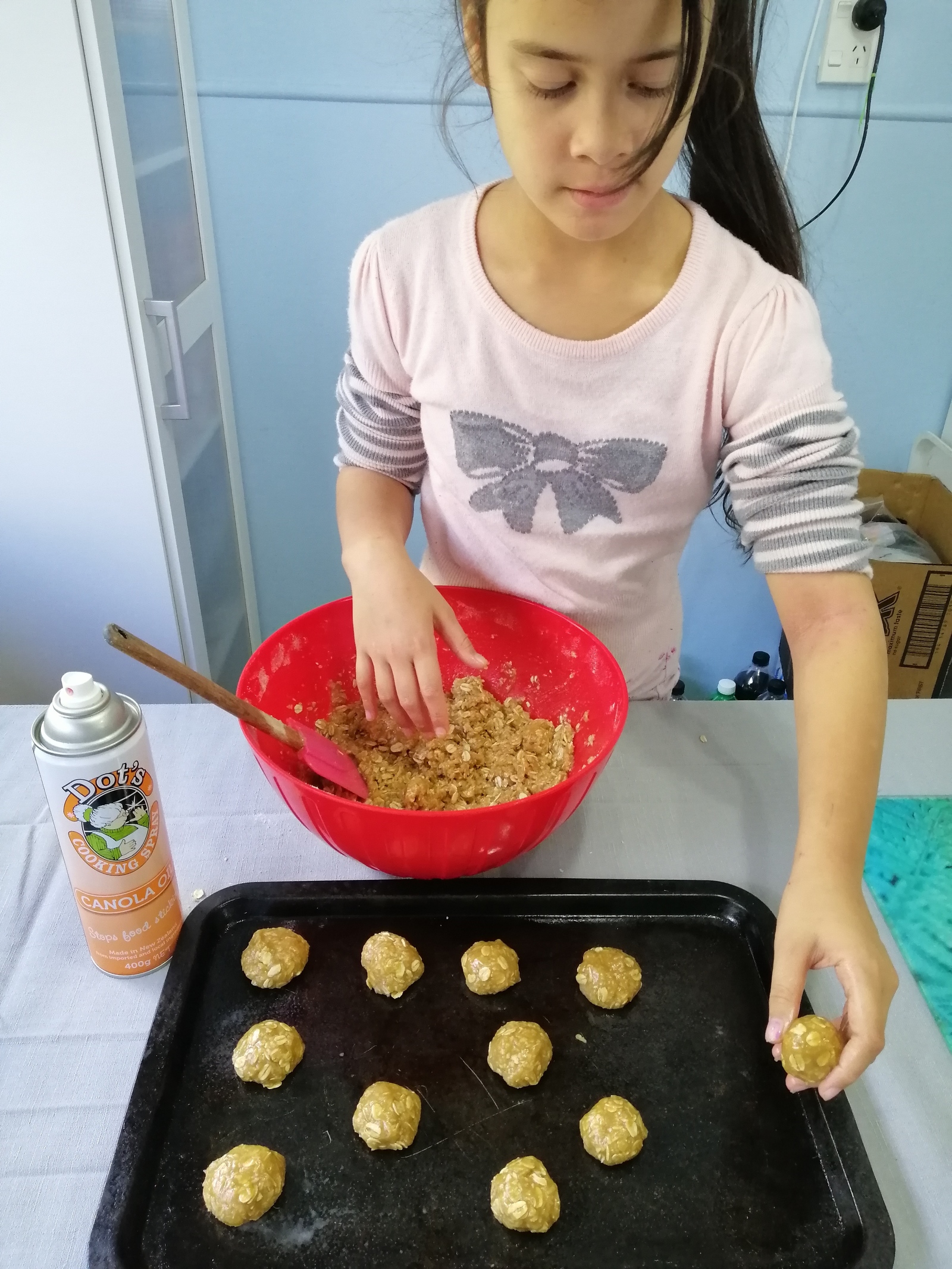 * Bake them for 20 minutes, then transfer them to a cooling rack.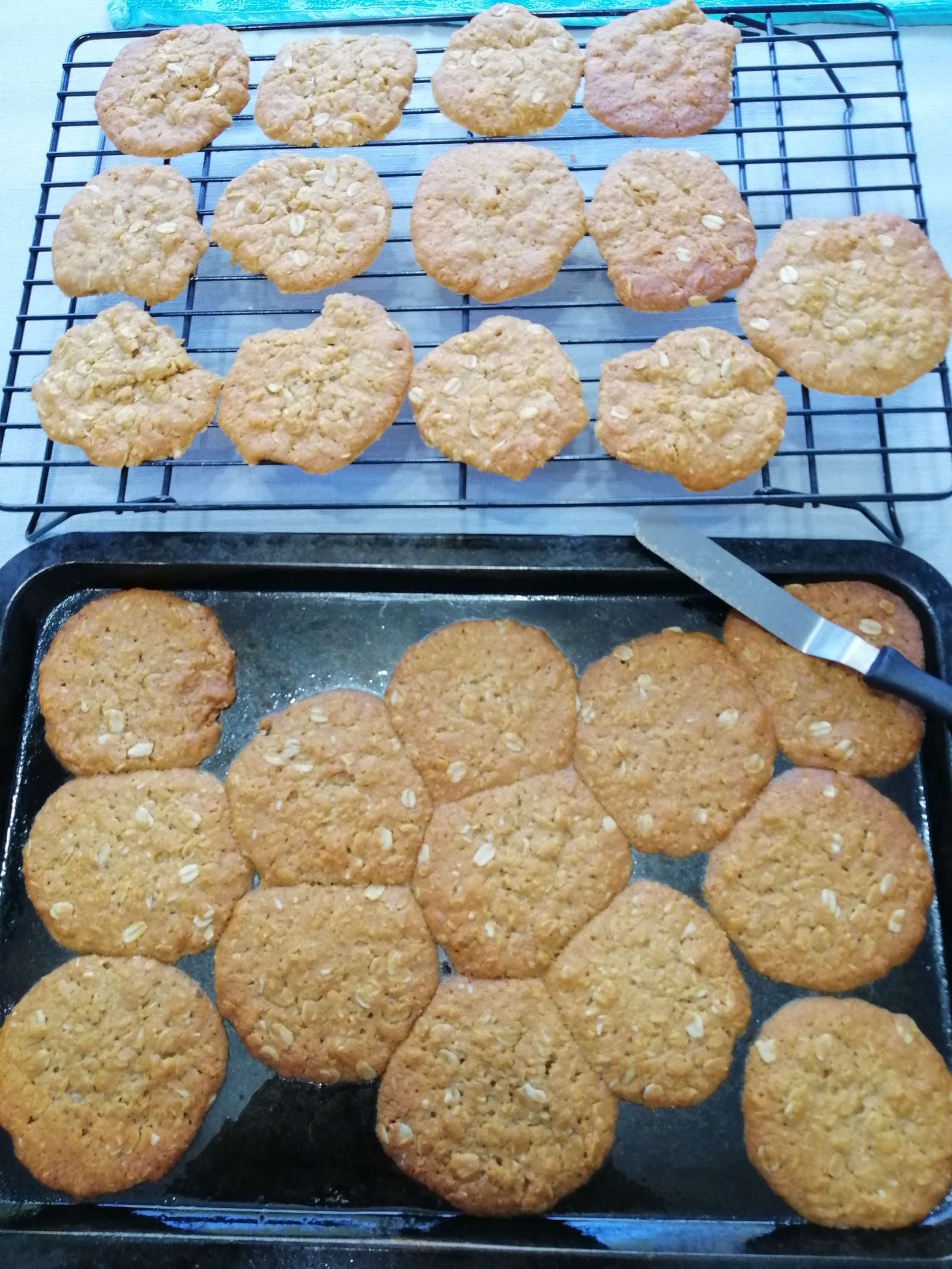 * Share with your family and if there are any left, keep them in a lunchbox or another airtight container to keep them fresh.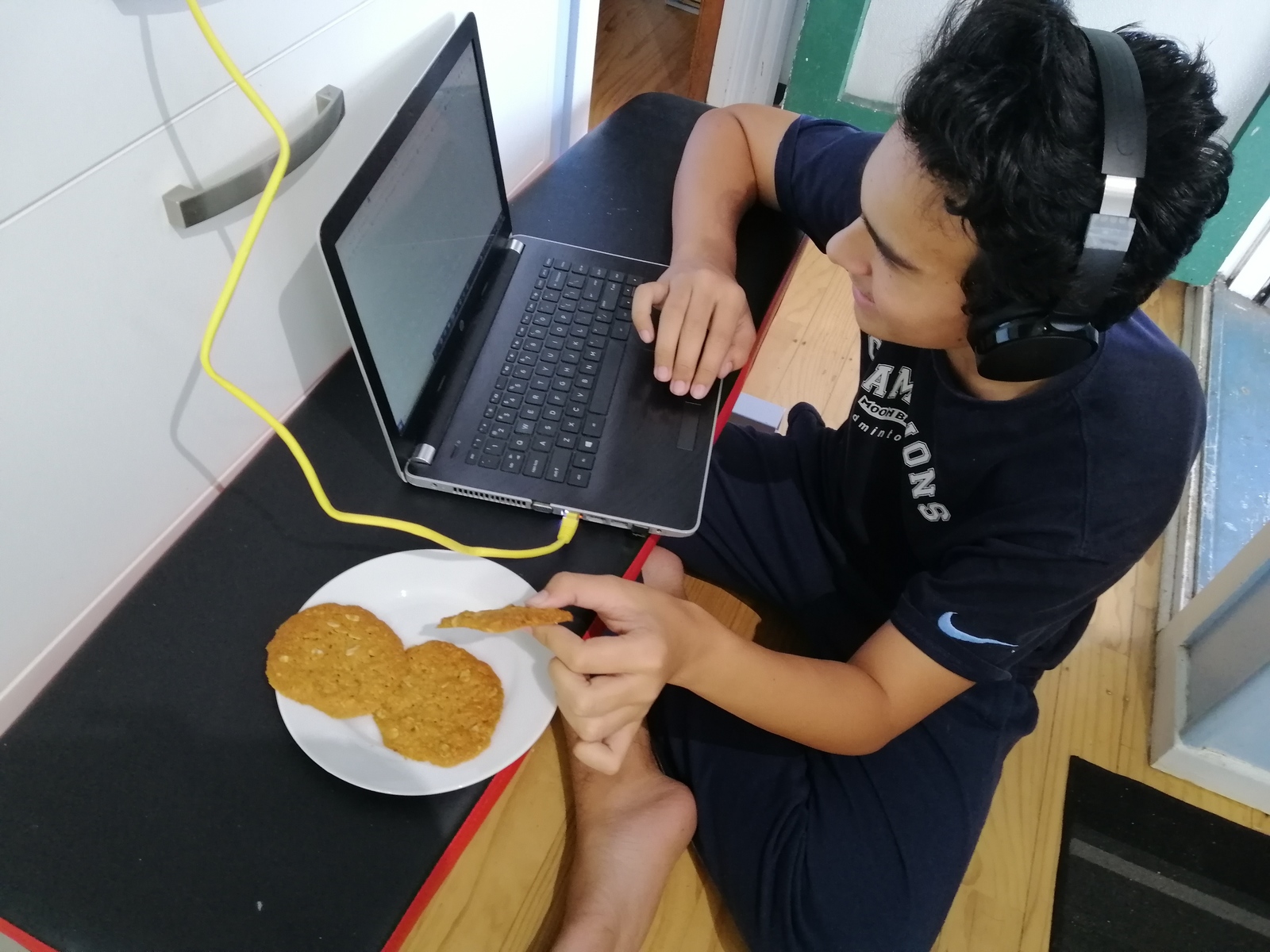 How do they taste? I would love to see a photo!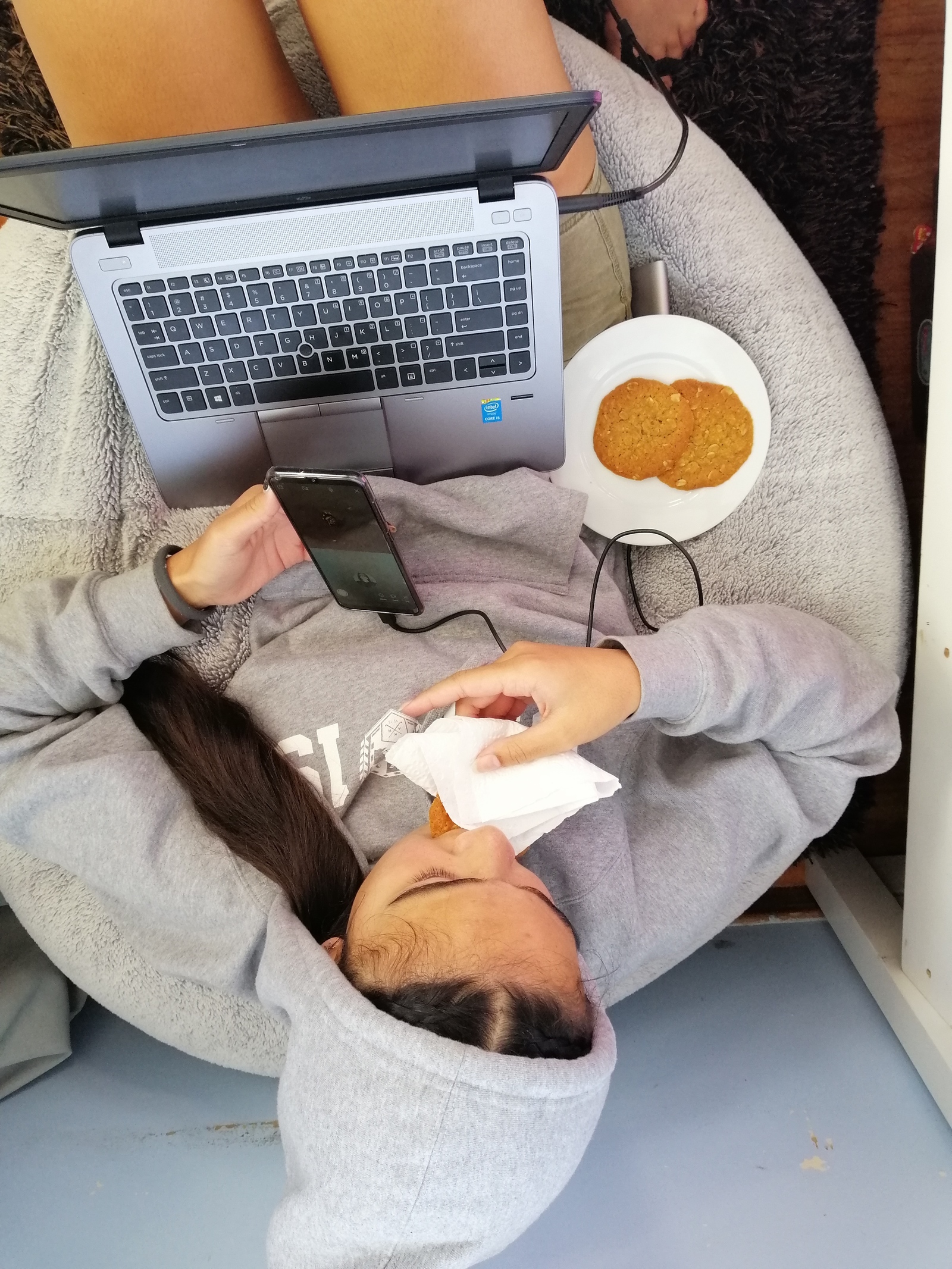 Filemu doing some learning at home today!
Look at this awesome wreath made by Benjamin and Mama!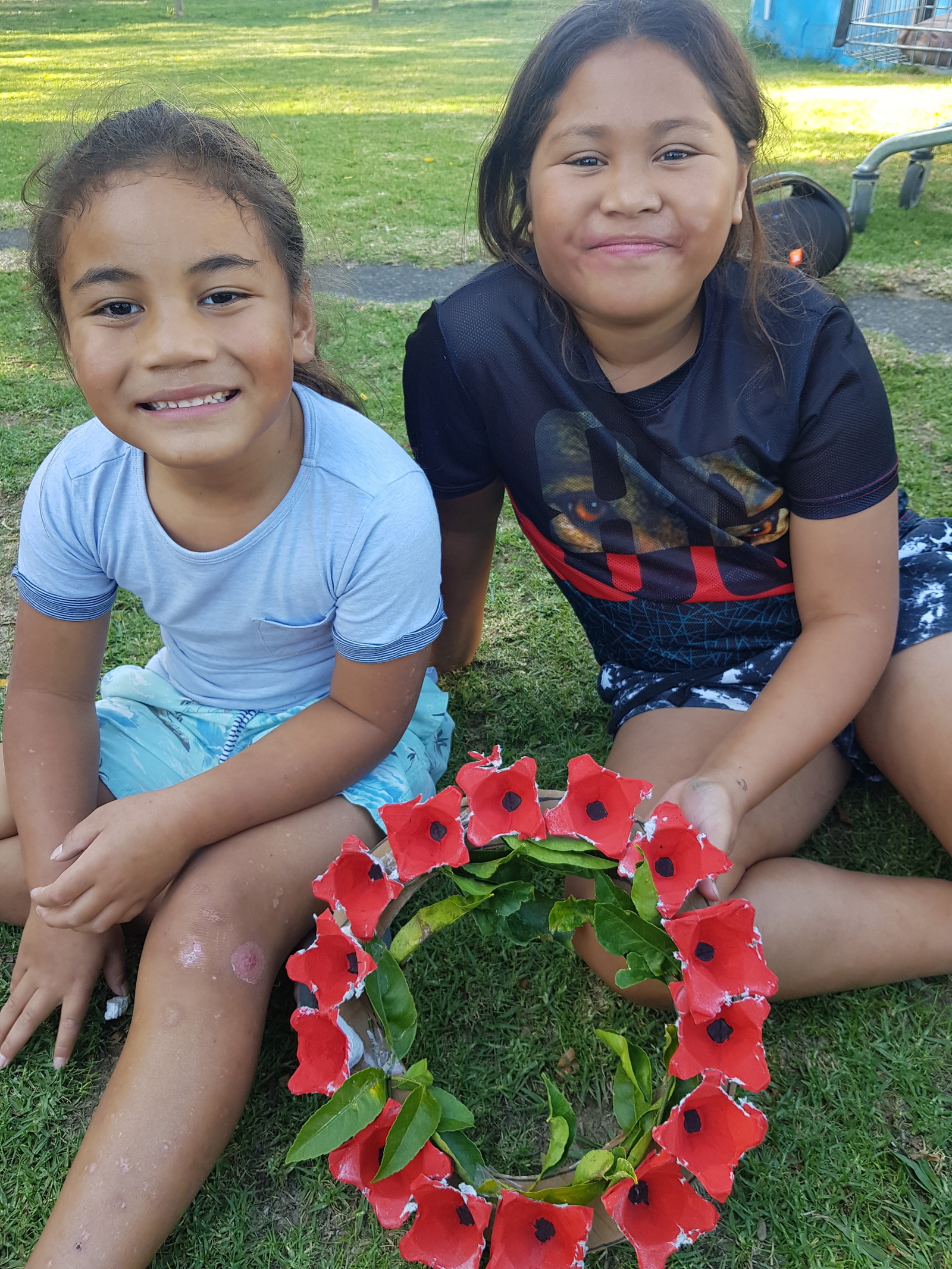 ** Week Three, Term 2 - 28th-April- 1st May **
Welcome to Week Three everyone! How are you all going? Another week of being at home and I know some people are starting to get a bit bored at home, so the teachers have been busy putting some new learning packs together and updating our website with some really cool activities. Make sure you check out everything on the website and get your family to come and pick up a pack on Wednesday.
We will have new learning packs available for all families that need more resources to work on at home.
These can be collected from the school library on Wednesday the 29th of April. Please note that we will have social distancing practices in place, similar to when you visit a dairy or supermarket. We will have one in and one practice in place.
Years 1 and 2: 9.30am-10.30am
Years 3 and 4: 10.30am-11.30am
Years 5 and 6: 11.30am-12.30pm
This week has started off with another birthday in our family, my big boy 'Amelali turned 15 today, so I got to bake another cake. I wish I could send you all some :)
I also got to bake a cake for my nieces little boy who turned 5 this week, do you like his cake?
Baking has to be my favorite thing to do during lock down. What is your favorite thing to do at home? Have a great week everyone and keep sending me those awesome photos of your schoolwork at home :)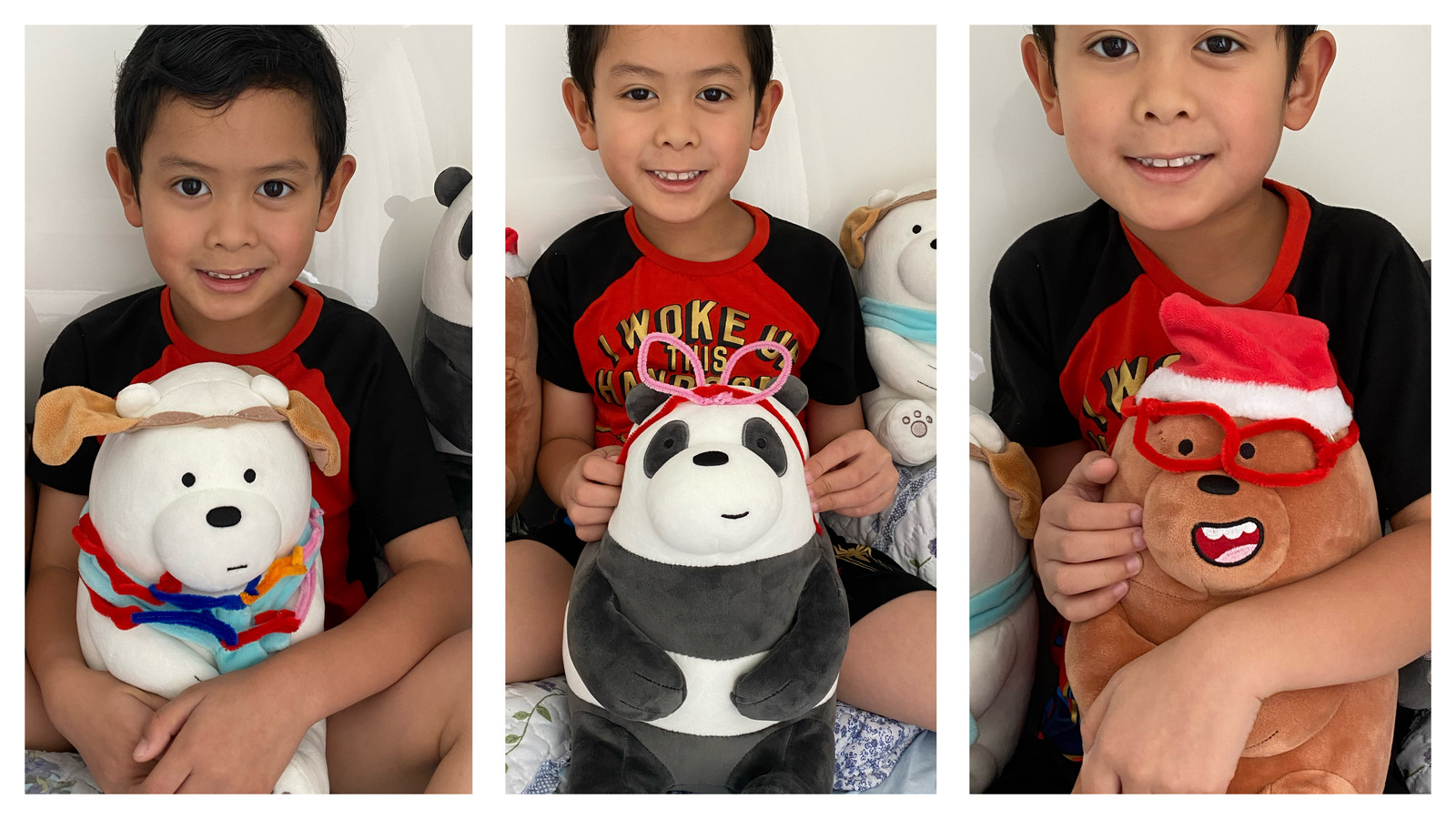 Awesome work by Luke this week on the pipe cleaner challenge, his bears look so cute! Look out for a new challenge next week :)
** Week Four, Term 2 - 4th May- 8th May **
Welcome to Week Four everyone! How are you all going? This week I would like to share some activities that you can do at home:
* Memory Match- cut up a cardboard box into small cards. On the back of each card, write your reading words from the Magenta, Red, Yellow, Blue or Green words. Write each word on two cards. Turn all of the cards over and mix them up. With a family member, take turns turning over two cards. If they match, you get to keep them. If they don't match, turn them over again. The winner is the person who gets the most pairs. You can also play this game with letters or numbers.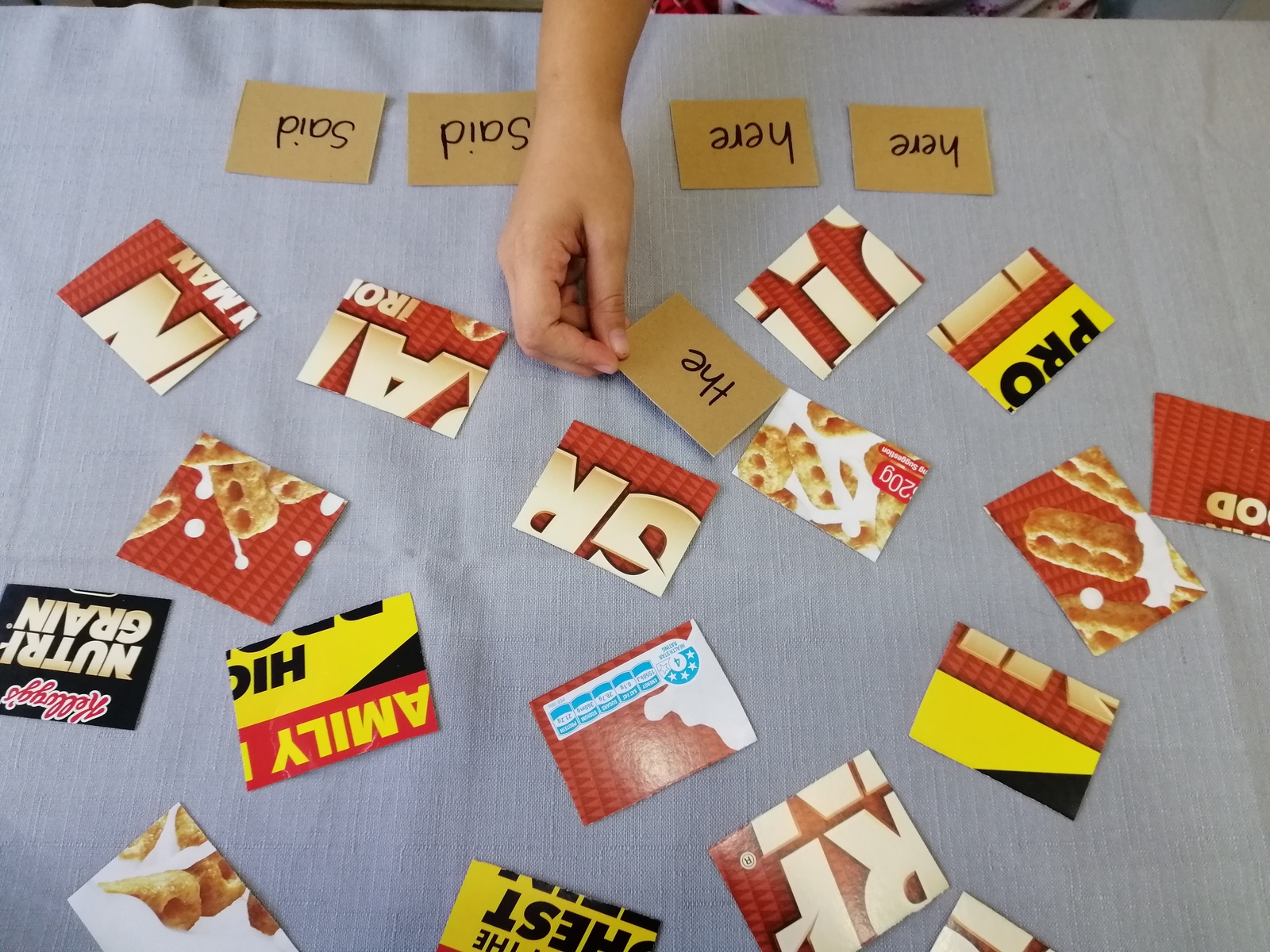 12 Month, Coloured Word Lists
Emergent List Words
Red list words
Yellow List Words
Blue list words
Green List Words
* Alphabet Scavenger Hunt
Write out the letters of the alphabet on a card each. Put them in alphabetical order and try to find one thing in your house that starts with each letter. This is how many Charlotte could find in 60 seconds- can you beat her?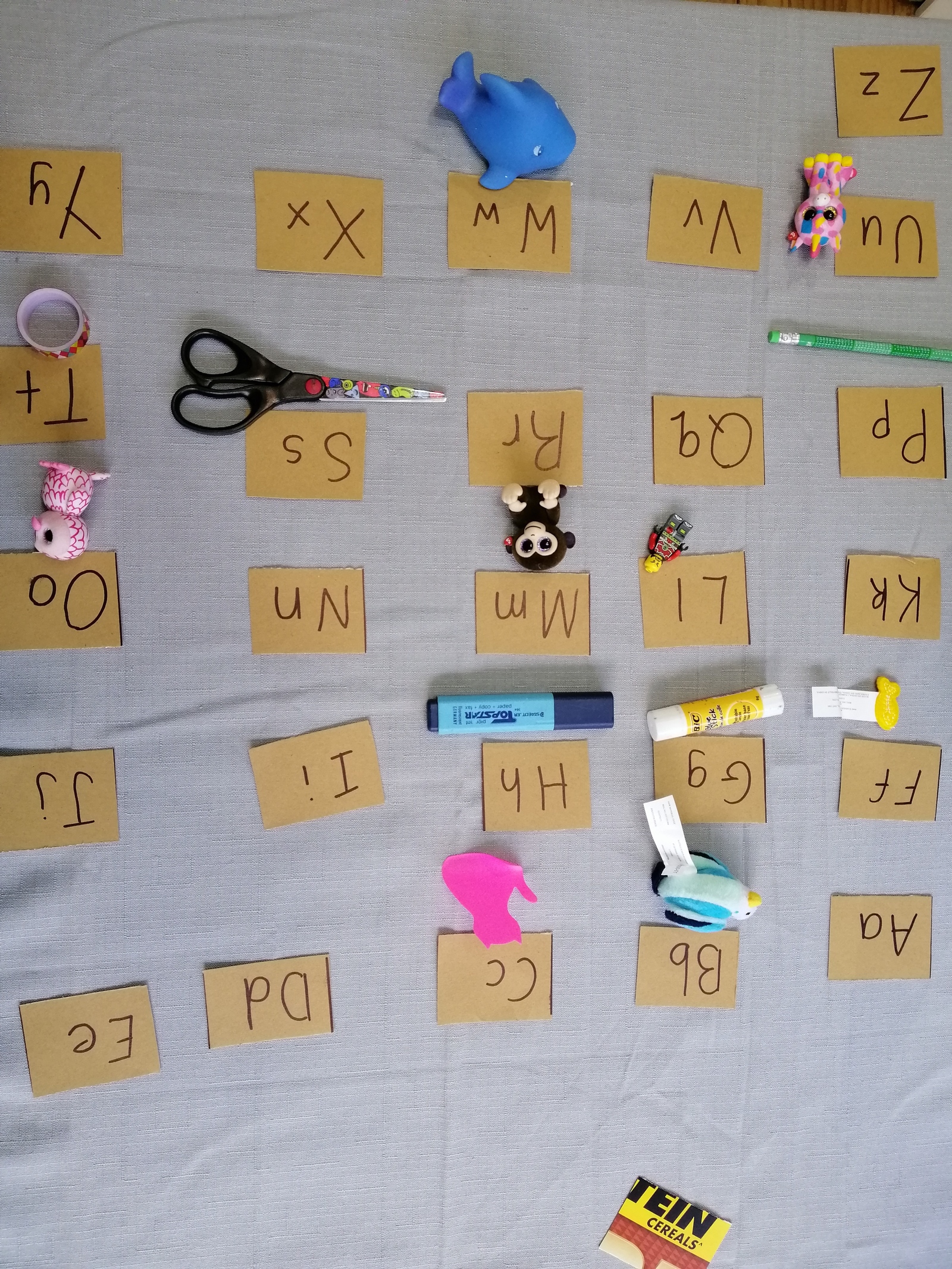 * Handwriting- Copy this handwriting into your book. Make sure that you remember to miss lines, leave finger spaces and keep your letters on the line.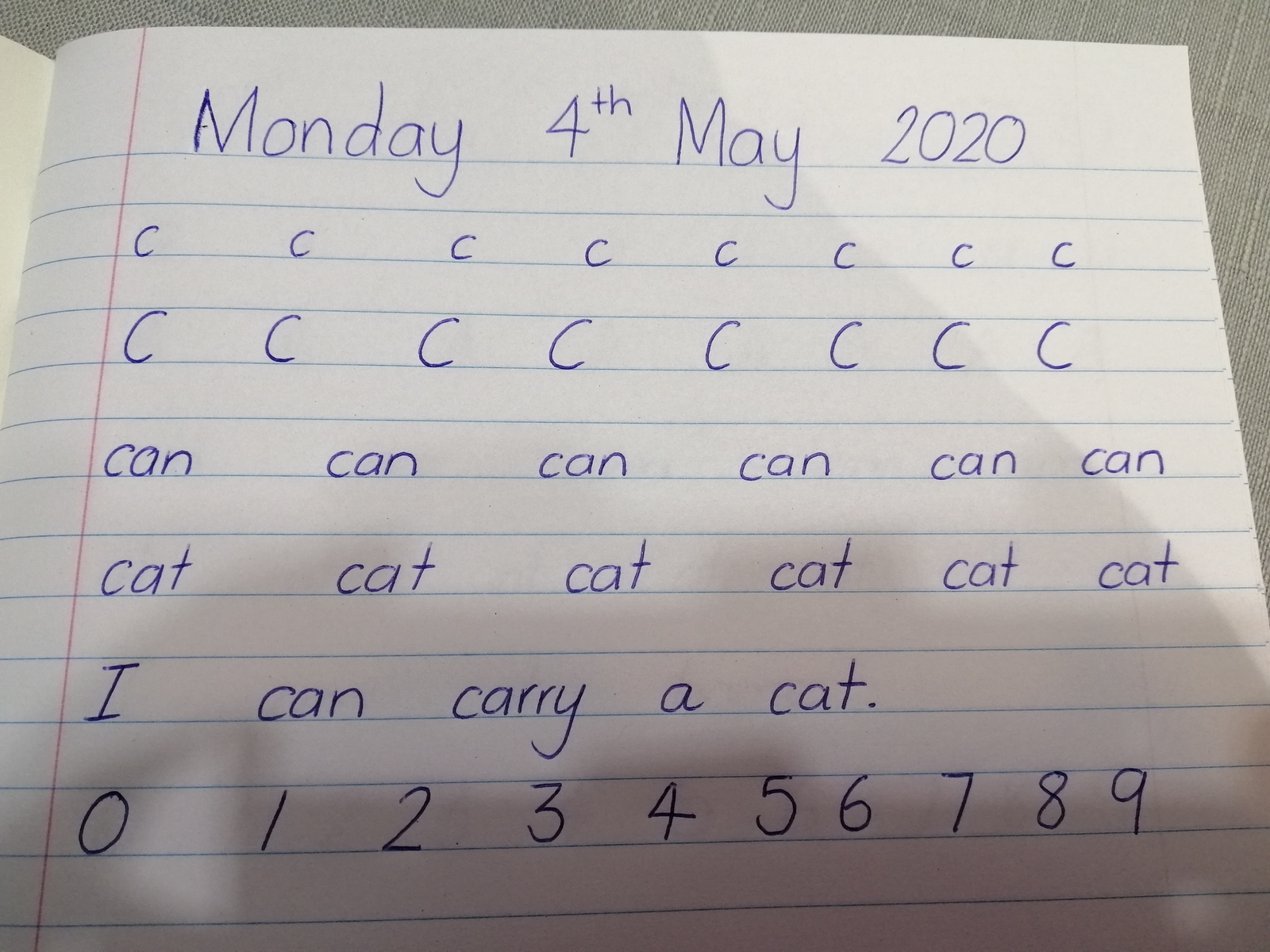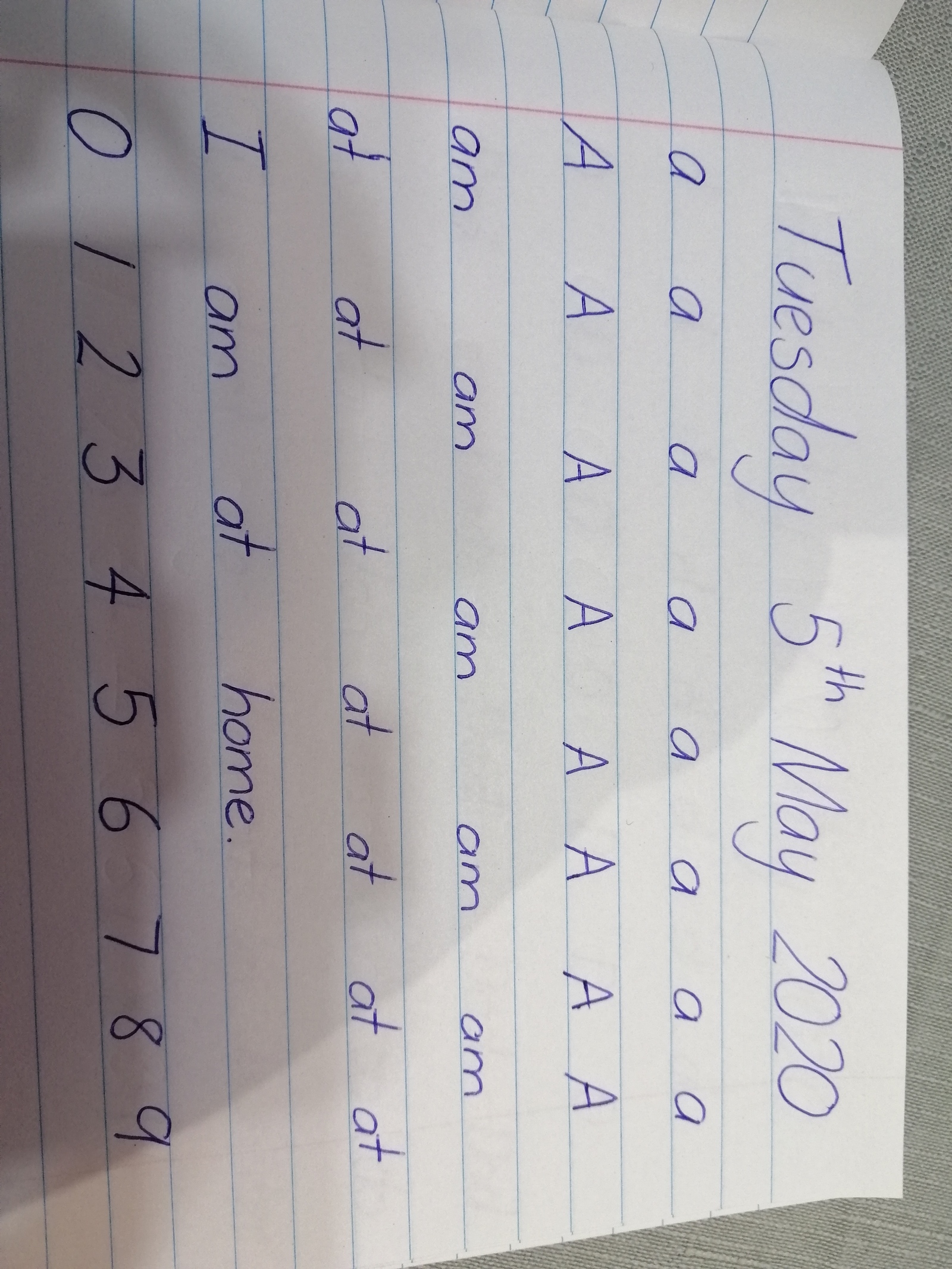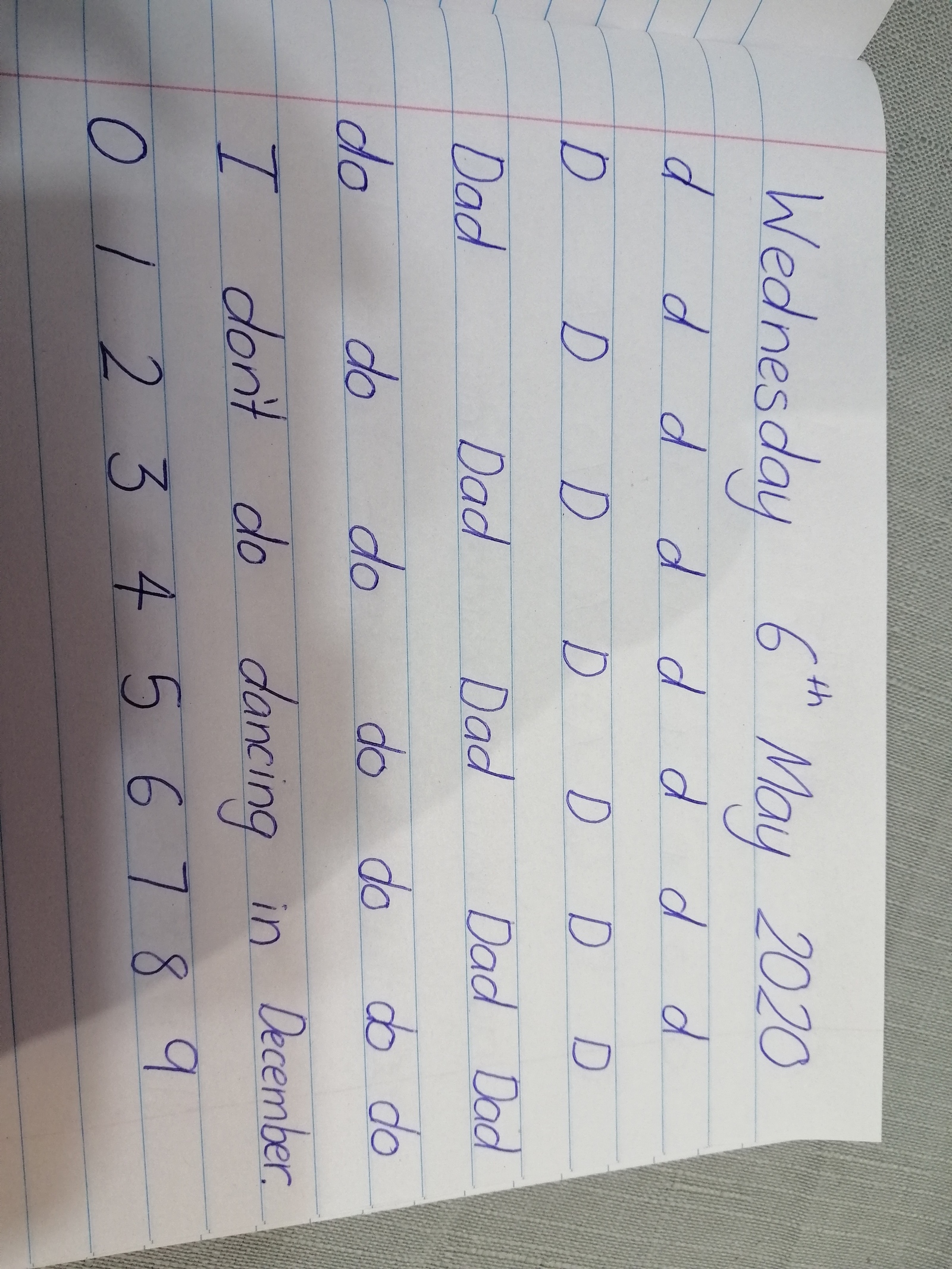 * Craft Activity of the Week- Toilet roll kitties!
Take a toilet roll or a piece of a piece of cardboard roll from inside a roll of paper towel.
Push down gently on the top of the roll.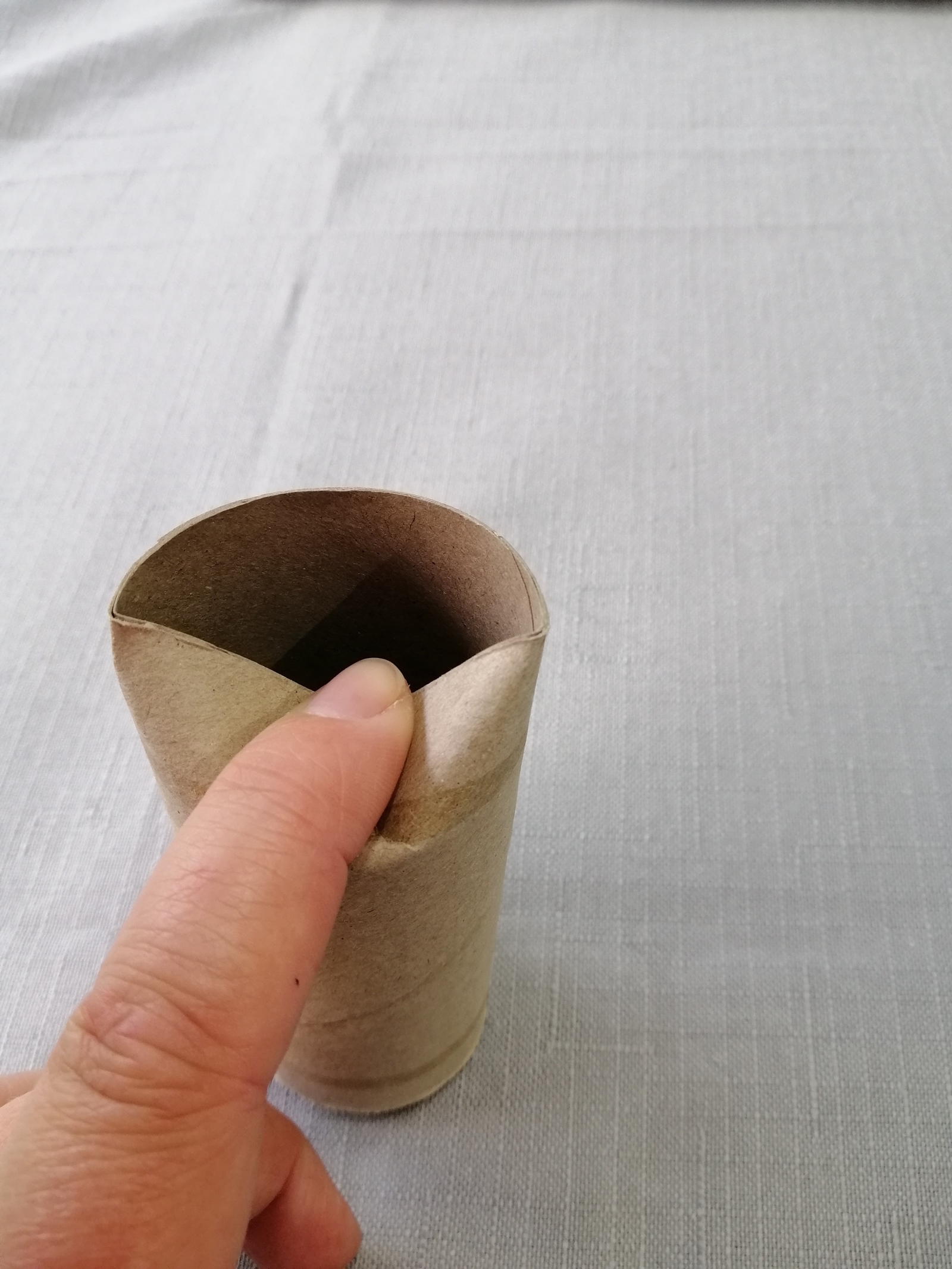 Turn it around and push down on the other side too.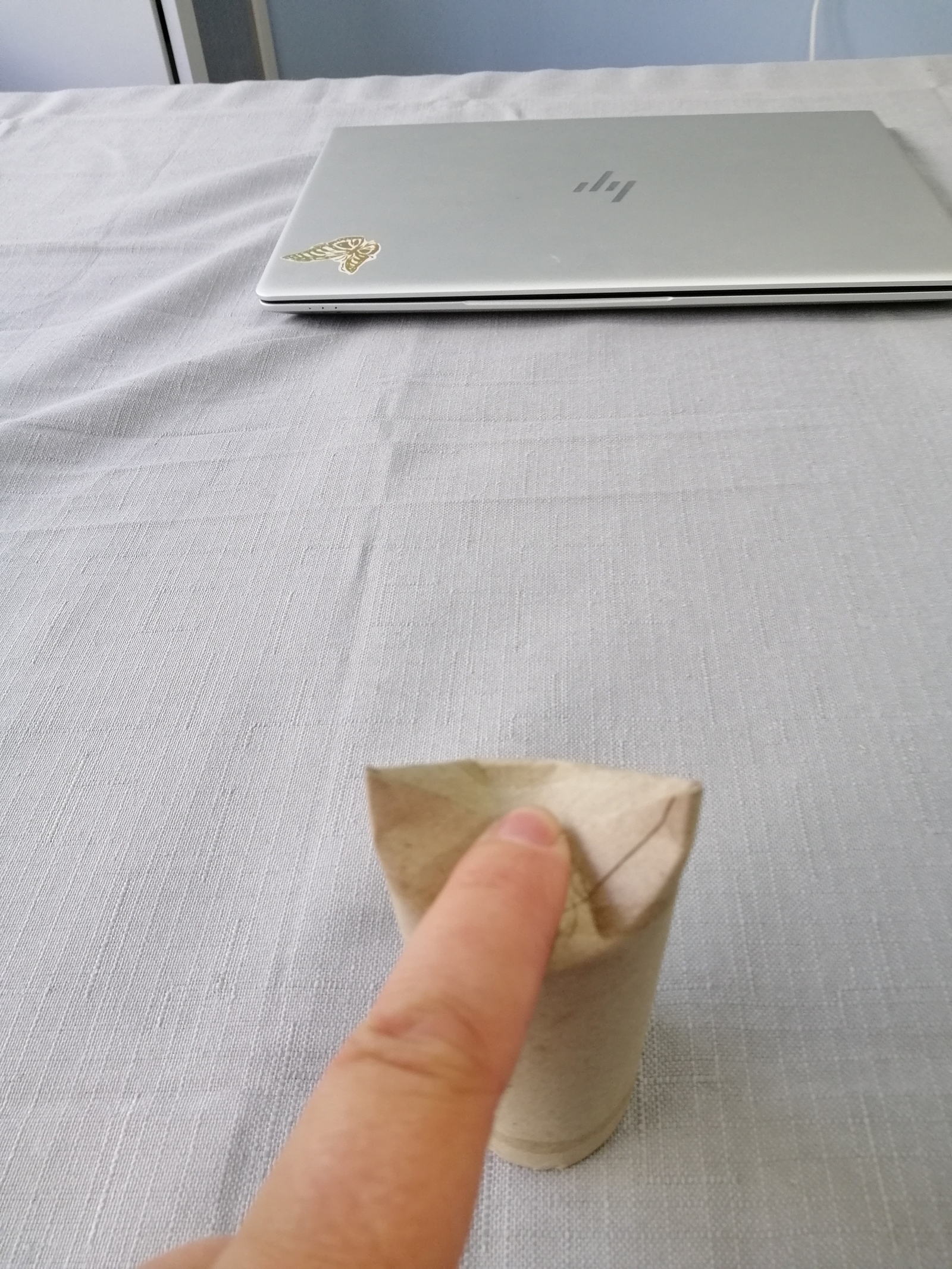 Draw a little kitty face on the front and a tail on the back.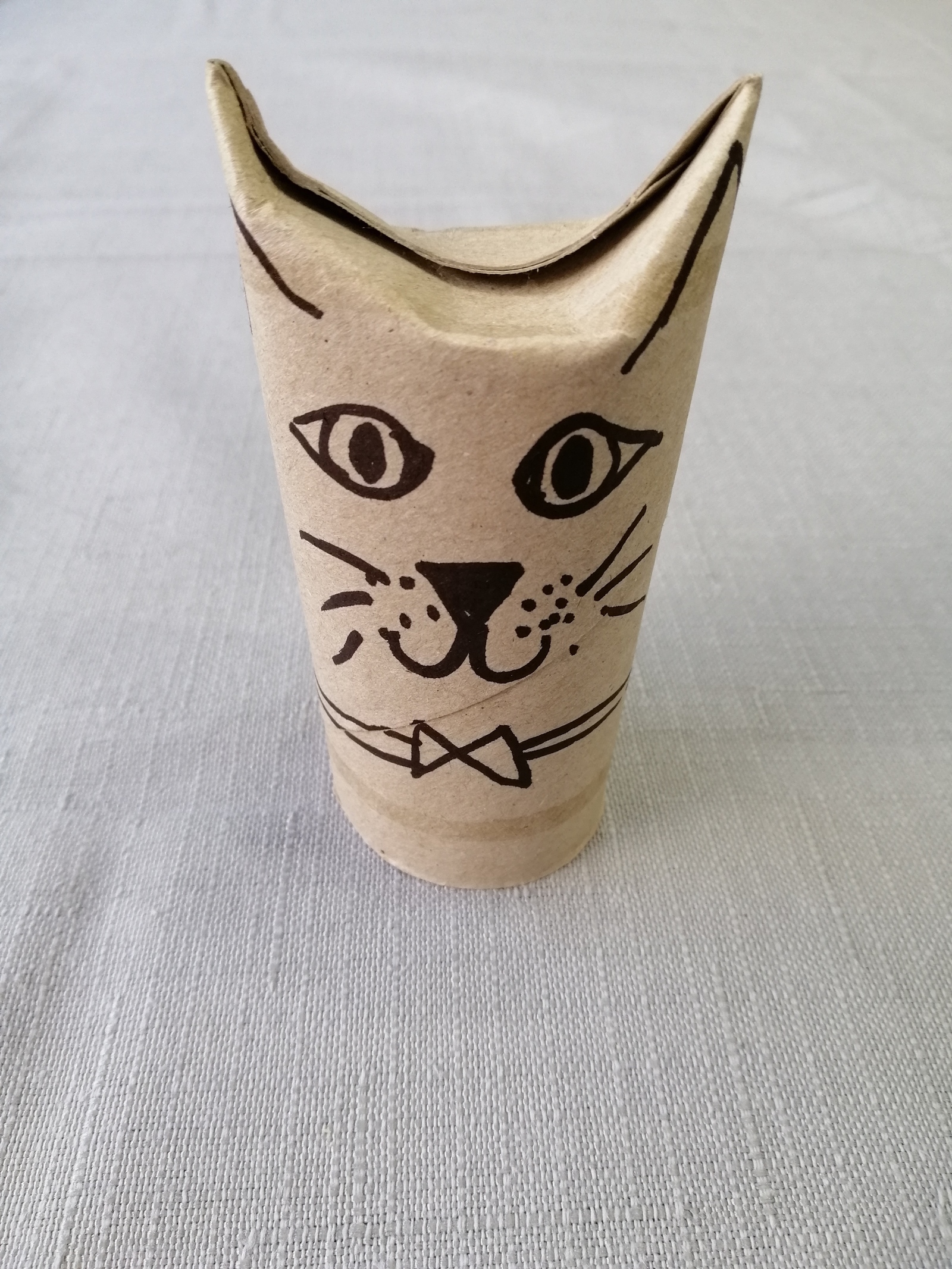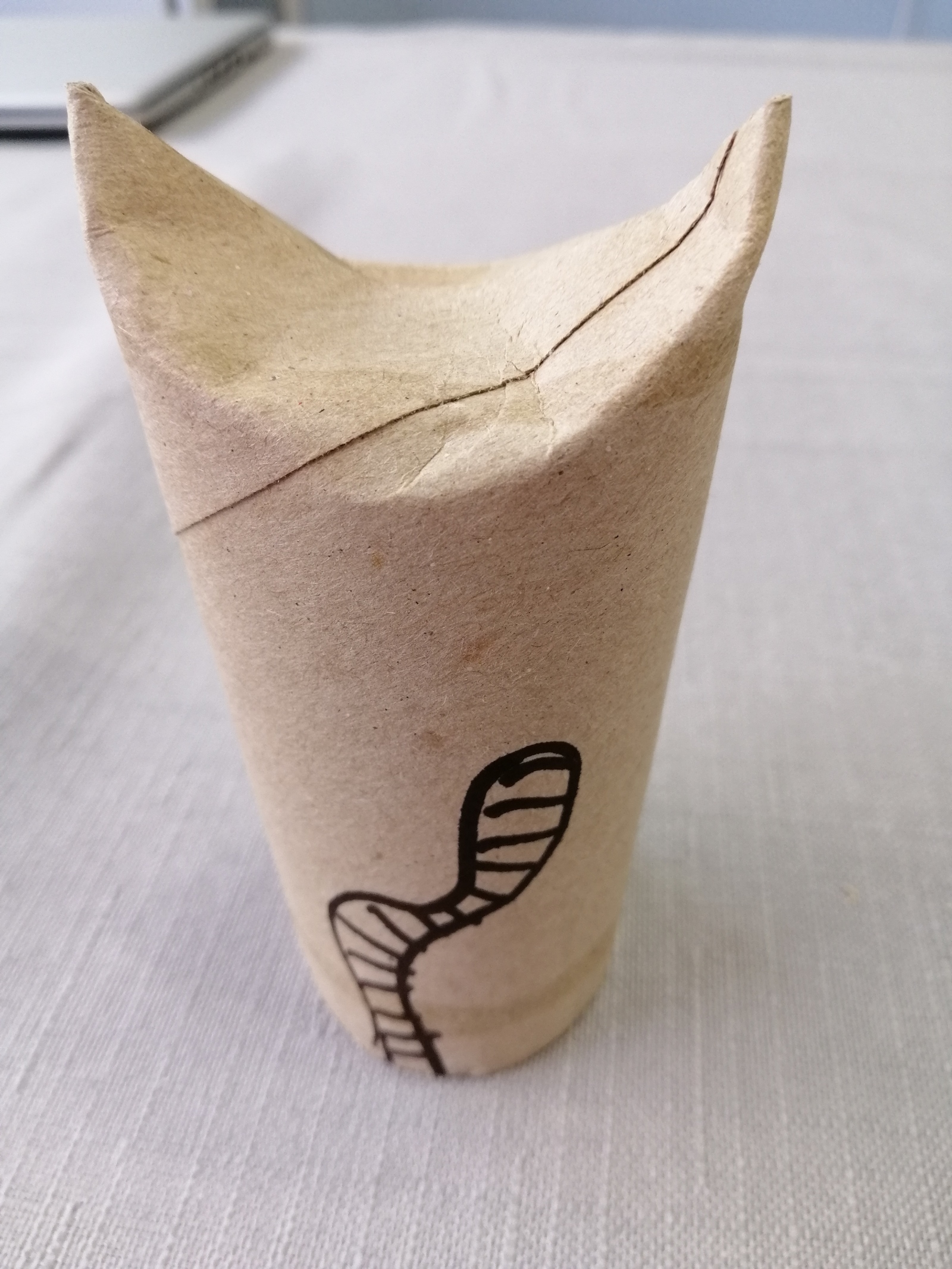 Here are some that Charlotte made (can you spot the bunny?), I can't wait to see yours!: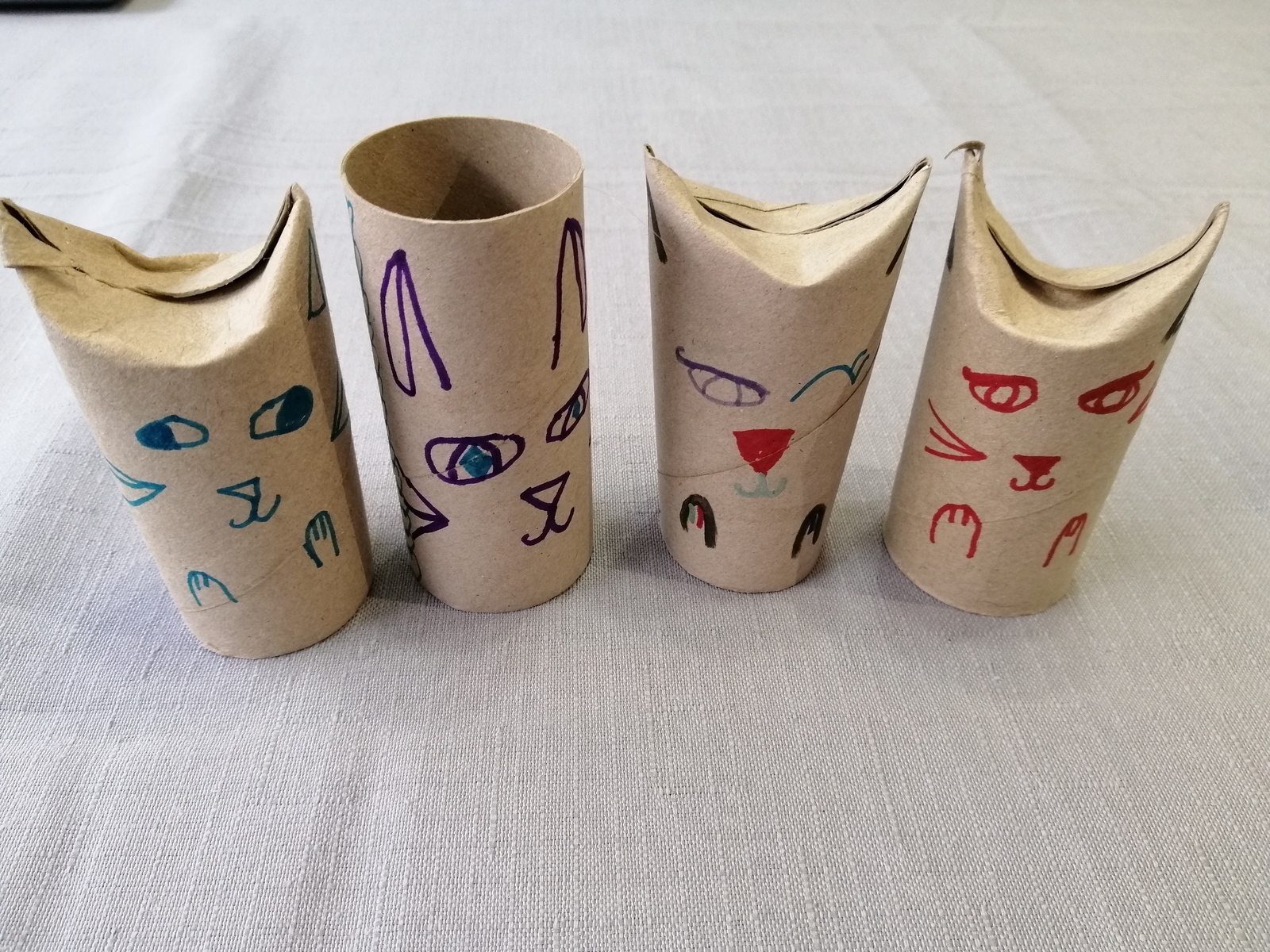 Mother's Day 2020
Mother's Day is coming up soon, so think about what you could do in your bubble to make your Mum feel special. If you were able to pick up a learning from home pack last week, you could use your crayons and colored paper to make a card for Mum or you could use the chalk from the pack to do a special message or drawing on the concrete outside.
Think about all the reasons that you appreciate your Mum and all the special things she does for you. You could write a special thank you letter or draw a picture of something that you love doing with Mum. If your Mum is not able to be in your bubble, you could write to an Auntie, Nana or another member of your bubble.
** Week Five, Term 2 - 11th May- 15th May **
Welcome to Week Five everyone! How are you all going? Did you do something special in your bubble to celebrate Mother's Day? Not long to go until we are back at school again, I can't wait to see your smiling faces again!
Some more entries in our Pipe Cleaner Challenge, Well done Dash and Fusion :)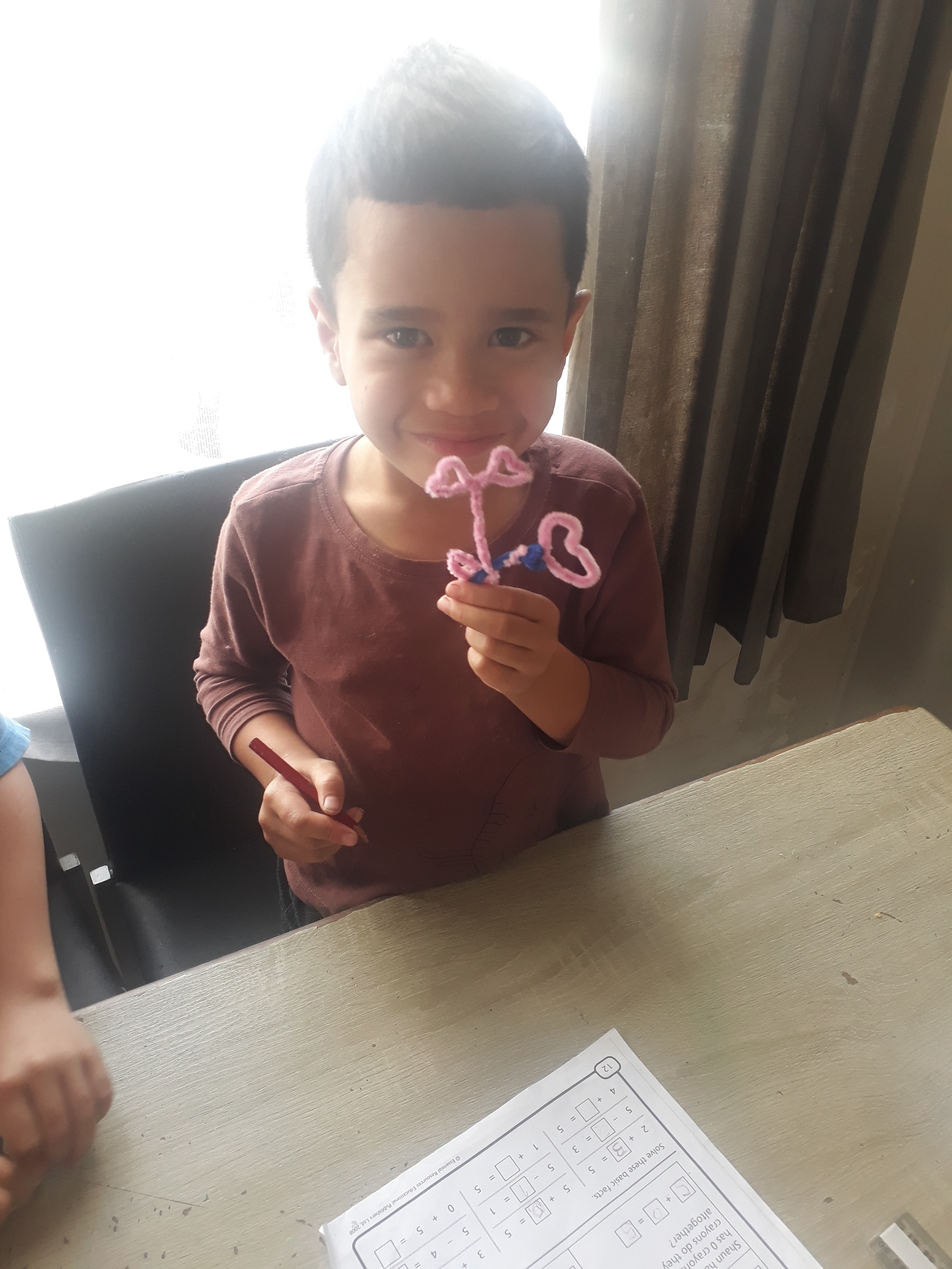 Have a look on some of the other Junior class pages to see more creative designs!
This week I would like to share some activities that you can do at home:
Maths- Autumn Leaves. Go for a walk in the garden or at a park and find 10 autumn leaves. Talk to someone in your bubble about what colours they are.
Put your leaves in a line from biggest to smallest.