Rm 18 Skyriders! Where the "Sky's the Limit"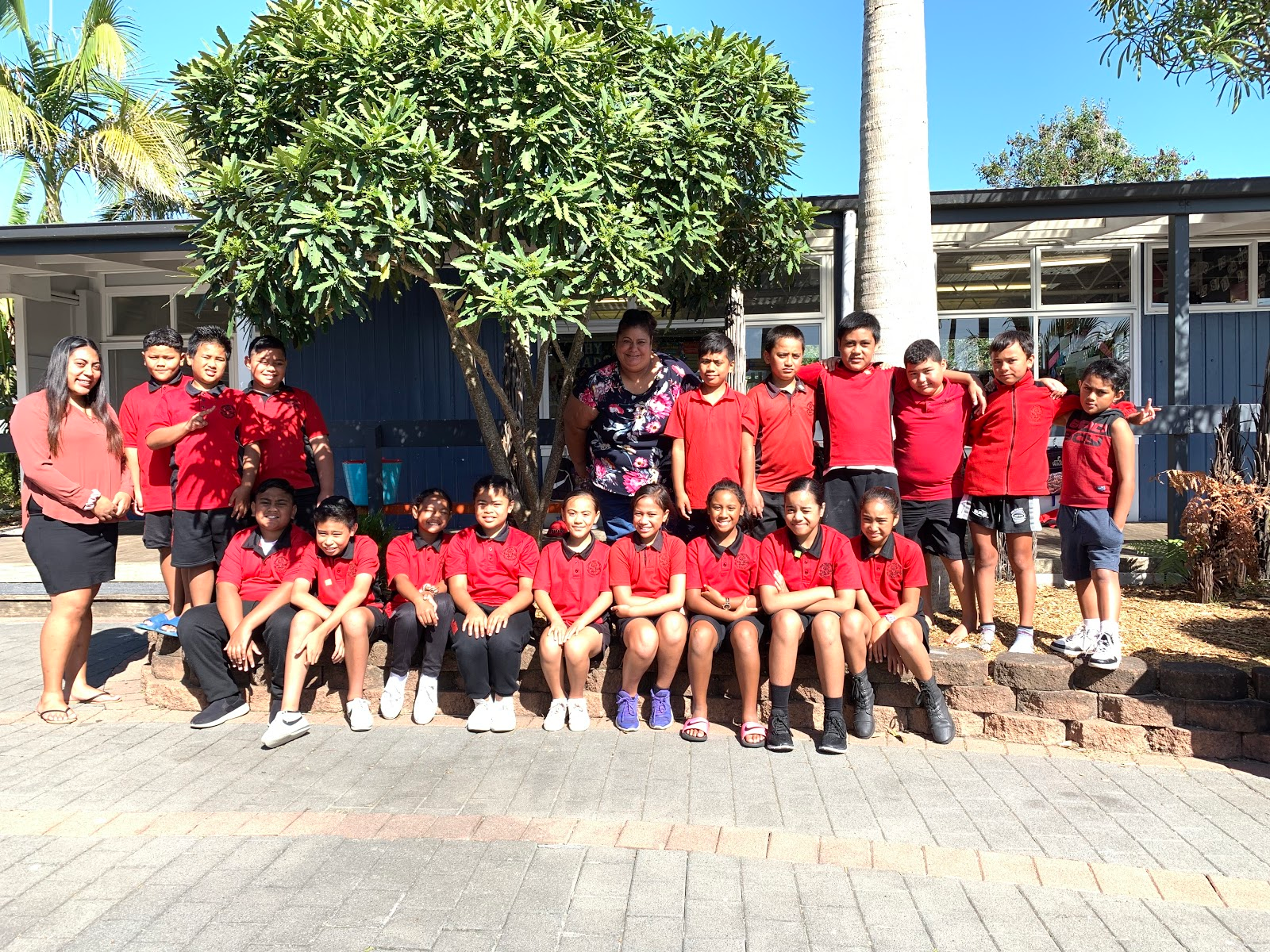 Week9
Huge congratulations to all Rm18 learners for completing their Super Hero Narrative writing entries.
A big shout out to Thursdays' 4 finalists via student vote Kataua, Noah, Penny and Carloz!!! Fabulous effort!
With some recrafting and the finalists writing being shared aloud again, another student vote took place on Friday. Well done to Carloz and Penny whoes writing was forwarded to the Judges, it was a matter of one vote between finalists.
Caught on camera as the boys are recrafting their writing, they begin to seek feedback from each other. Great stuff boys!Shane and Destry hard at work Drafting their writing. Noah designing character illustrations for his story.
The beginnings, a book exchange, brainstorm and planning our Narrative.
Ms Young, Moiho and Te Rangimarie(Rm 20) welcome Rm17 Flaming Hot Cheetos and Rm18 Skyriders to a wonderful afternoon of arts and crafts celebrating Te Wiki o Te Reo Maori.
An afternoon enjoyed by all !
Basketball skills session along with working as a team with Whaea Julie. Lots of fun had by Rm18!
Week8
Rm18's beautiful Otufanga and Lata celebrating Tongan Language week.
Tongan Artist Filipe Tohi comes to talk to FBS learners, budding artists about Tongan Art and his own works/journey over the years.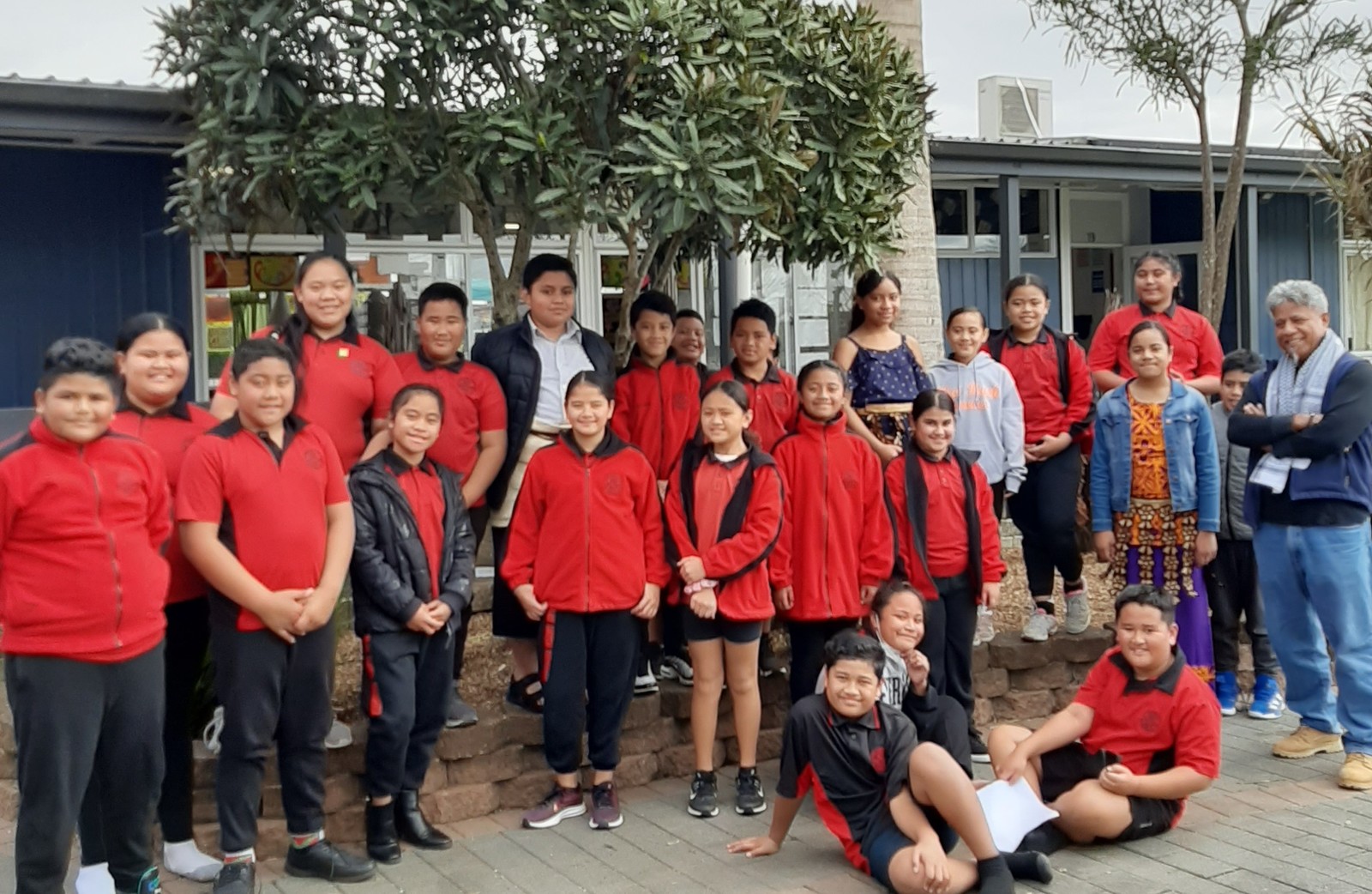 Tongan arts and crafts with Mrs Fonohema and Lata/Saane's mum.
Wahanga Tuatoru, Wiki Tuawhetu - Term 3, Week 7
Rātu, te 1st o Mahuru, 2020
Challenge completed: Rm 18 vs Rm 20 "Plank challenge"
Congratulations to Penny from our room who won the plank challenge. It was a close finish with Bella (Rm20) coming in 3rd place and Tauraoi(Rm 20) coming in 2nd place. Thank you all for taking part in our challenge and practicing over the lock down!! Here is our plank challenge video:

One more sleep learners!
See you Monday morning 31st.
A huge shoutout and thanks to all our whanau who have played several roles during lockdown including a key role in supporting their children in Distance Learning.
Learners I am super proud of you demonstrating our school values as you helped with planting, picking up riubbish, doing the dishes, laundry, vacumming and helping clean up the house. I know your siblings are going to miss you! Yet we at FBS look forward to seeing you back at school. Ms Vaka


Temu, Violet, Liarne and TJ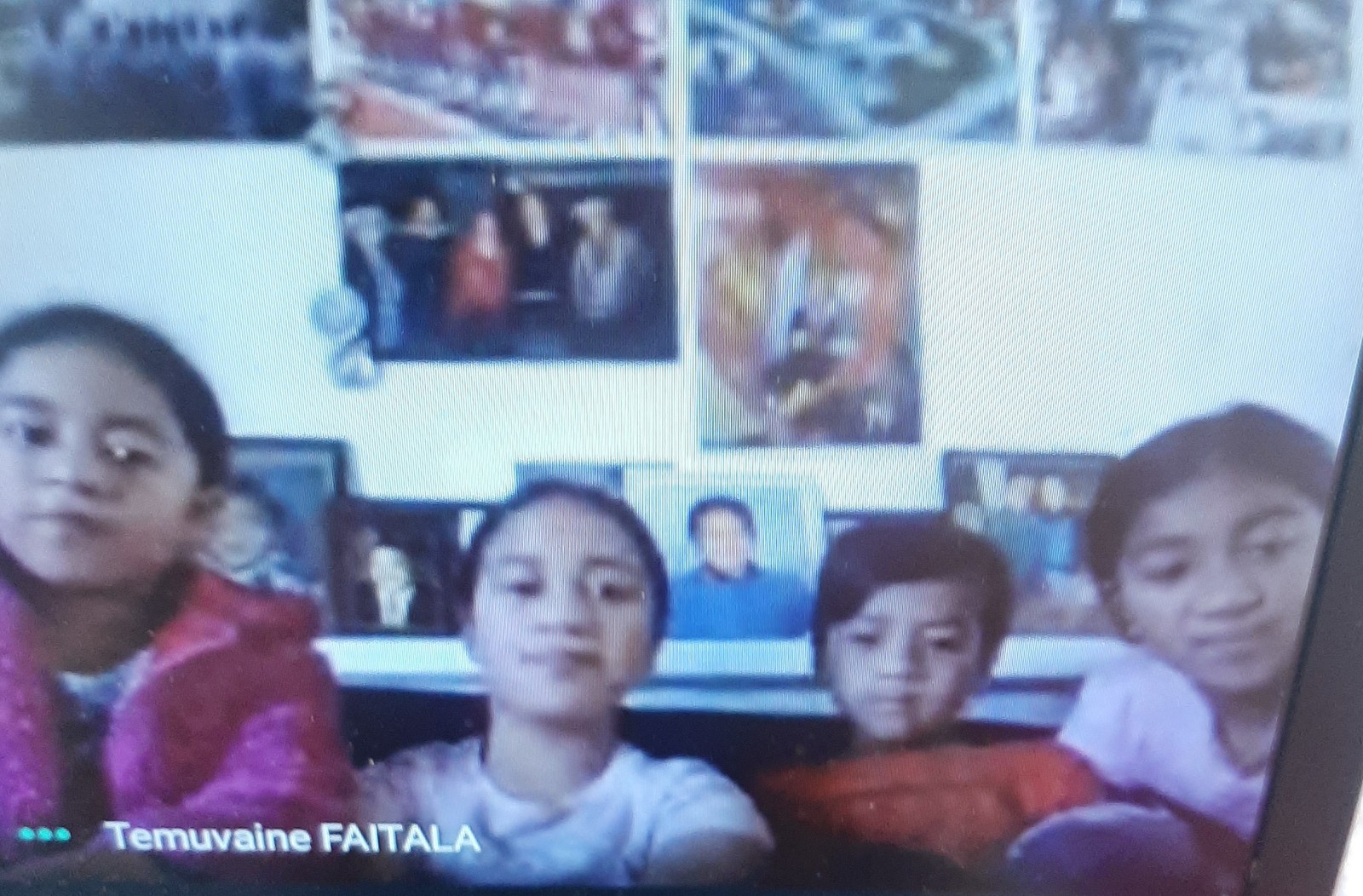 Heleina, Issac and cousin Aiden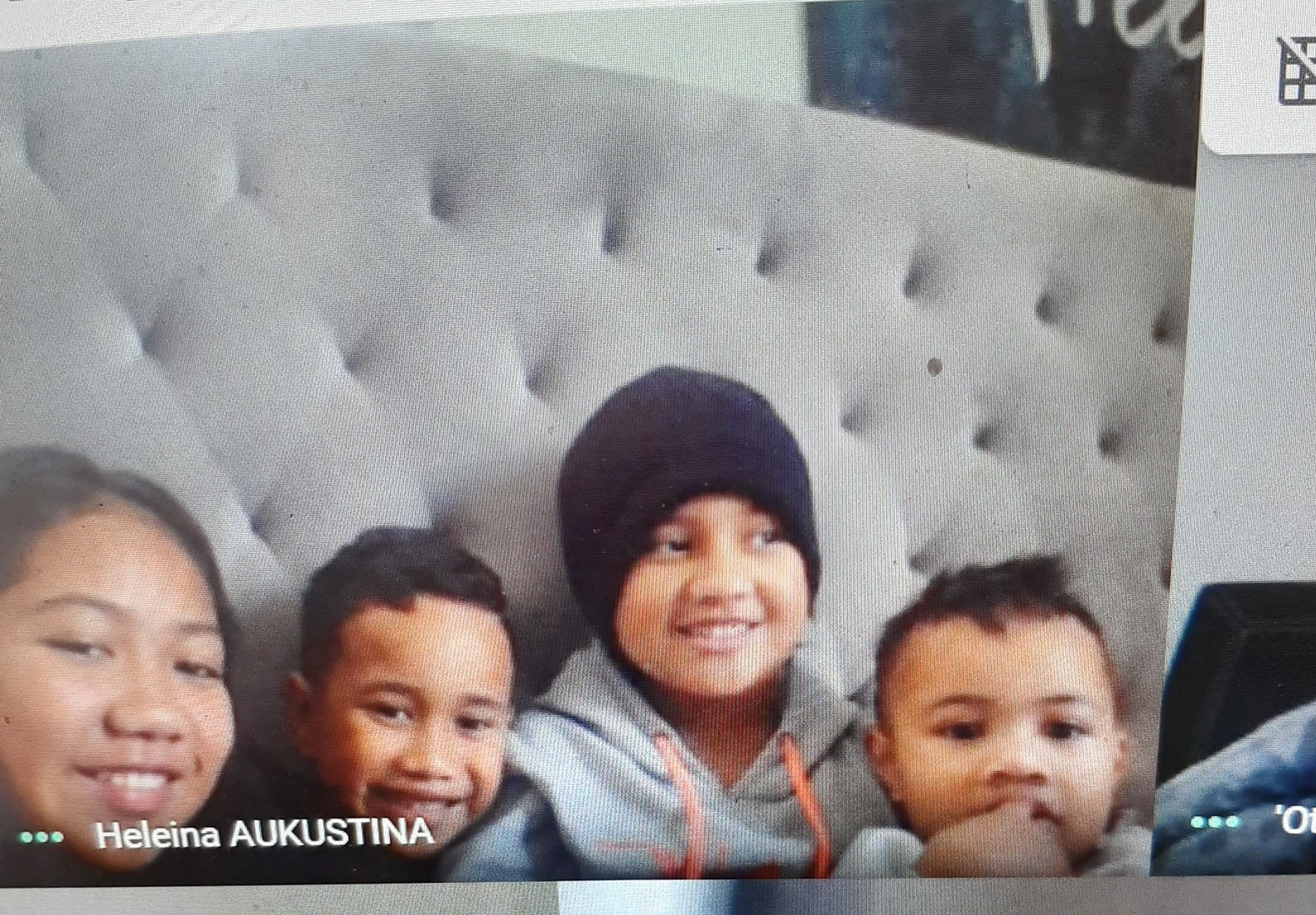 Penny and cousin Raylen
Rm 18 Skyriders and Whanau,
Not too long before we are back in class! Monday 31st August.
Until then make sure you:
- No1 ENJOY this time at home with your whanau! Help out whenever and wherever you can.
-Join us on our daily meetings at 11am. Check your gmail, where you will find the invite. You can even join us using a phone.
-Look at working on some of the FBS Values based- Distance Learning Week 5, Term 3
-Work on additional learning opportunities on your Term3 Weekly Plan
-Remember your Hardcopy learning pack collected from FBS
-Use this time to practise what you enjoy doing, Arts, Music, Sports etc Can you involve your younger siblings?
Don't forget the Super Hero Writing competition, you have your own copy in your writing folder.
A few of the regular Google Meet class members missing today, however great to see our newbees join us this week Lata and Ake! Well done Ake for making your way in.
Looks like this Monday the 31st August and we will all be able to leave the computer and get out for some fitness and outdoor games that you have shared you are missing.
Although you are all enjoying sleeping in and spending time with your families, it has been lovely to hear that you are missing Flat Bush School. Not long to go Rm 18 Skyriders::)
Noah and Mordecai keep up the good work caring for and entertaining little Jaclyn!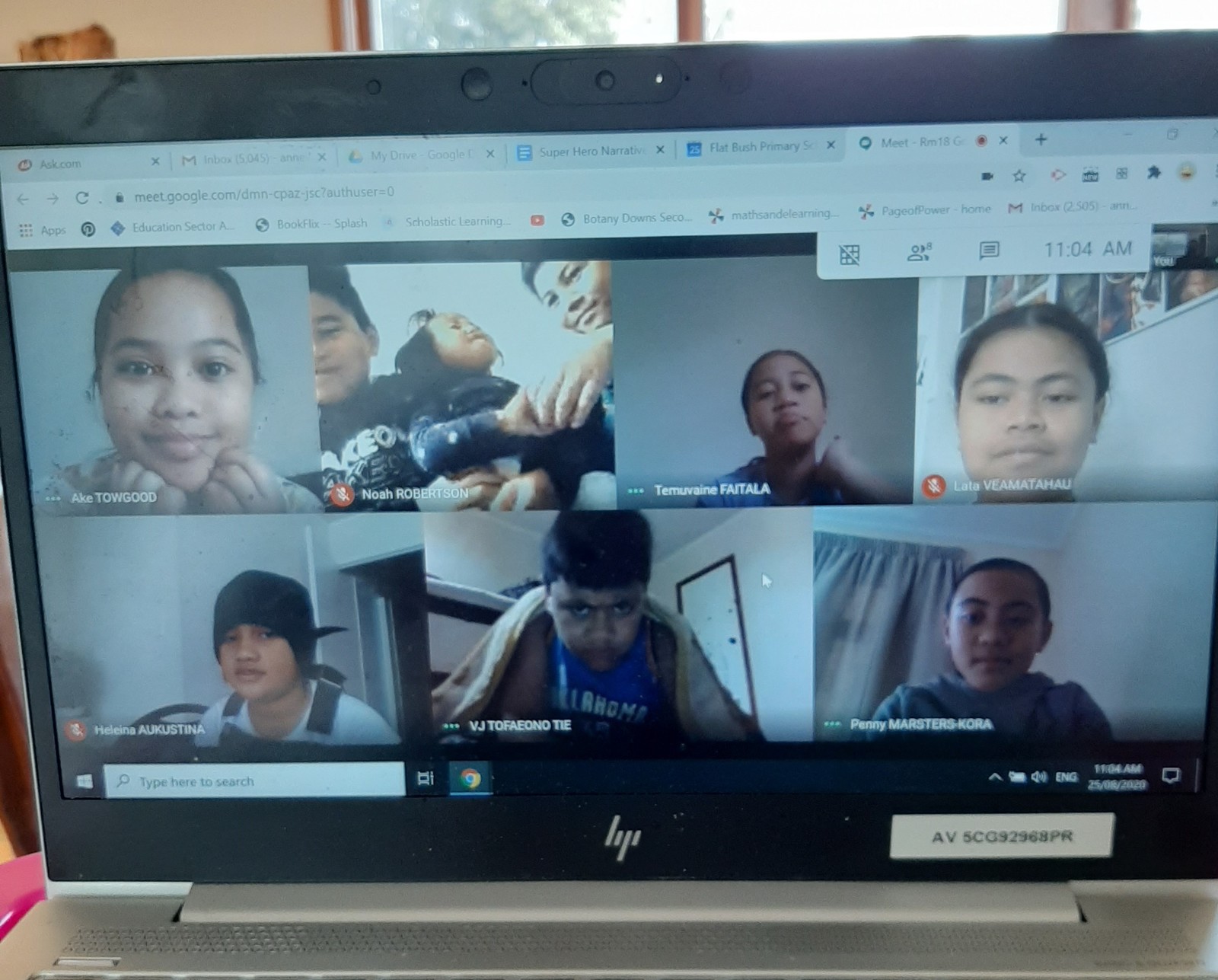 Whats happening at school?
Your seeds are growing and builders are constructing a shelter so that you may play all day long protected from the rain or the sun:) Wow!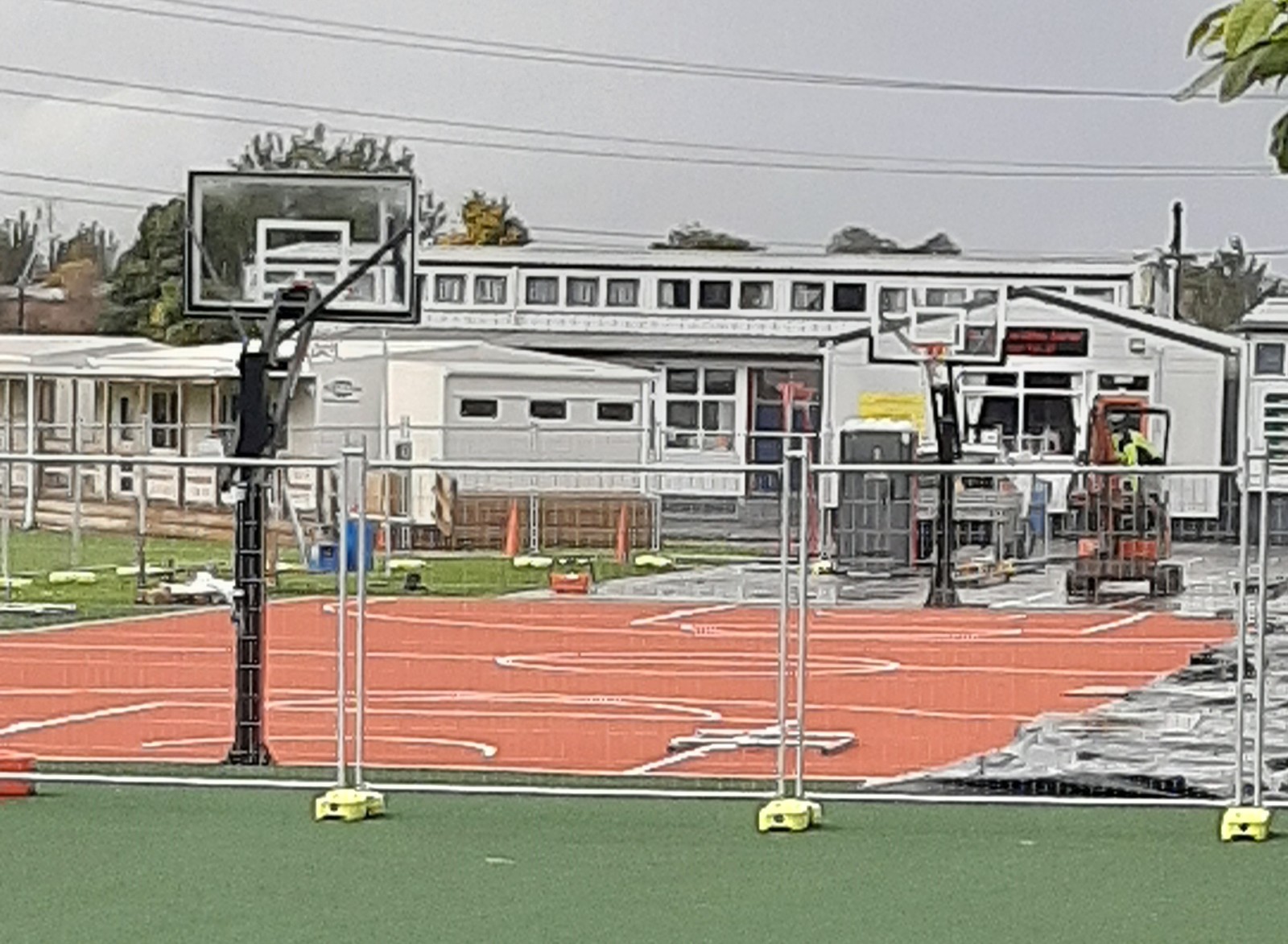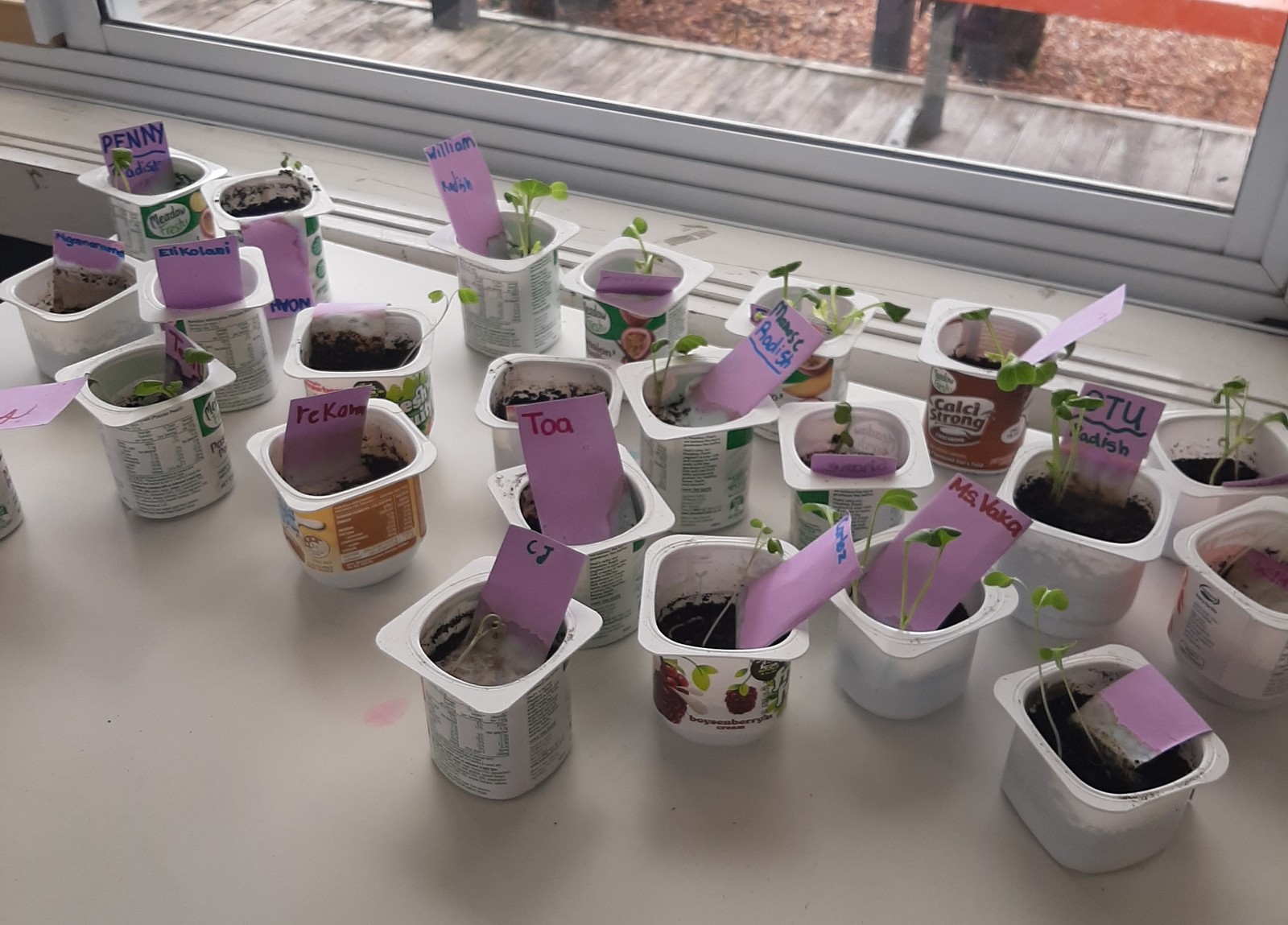 Take a look at what some of our class members have been up to, remember to share a photo or tasks that you have been working on. Any questions children/whanau, I'm only a text, phonecall or email away.
Ms Vaka
Rm18 learners training for Ms Young's challenge from the comfort of their beds! Not sure if Ms Young and Moiho will be that kind. Rm18 Skyriders were working on, focussing on the task at hand, perseverance, physical leg strength and reaching for the stars using an alternative strategy! Congratulations to the Rm18 champion of the day Shane!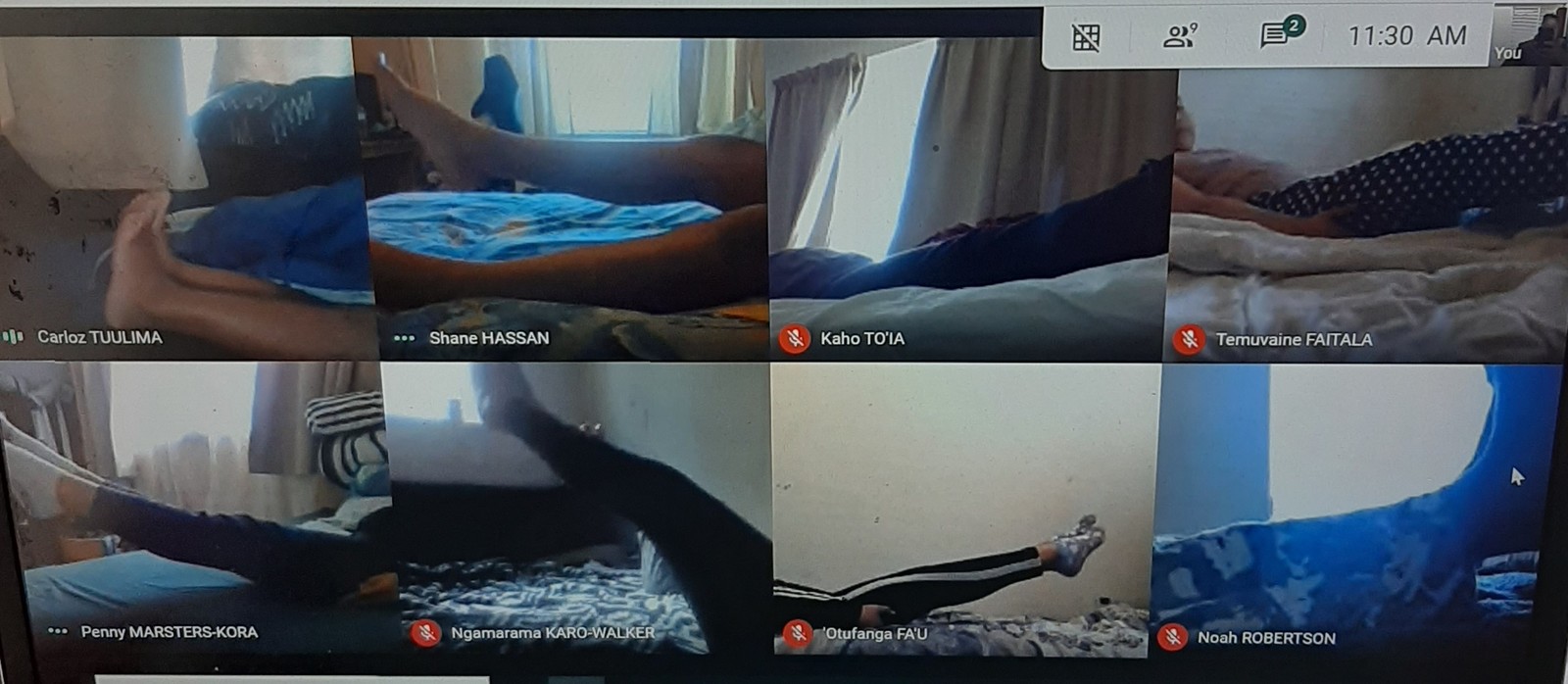 Penny making a start on her entry for the Flat Bush Super Hero narrative writing competition. Good on you Penny!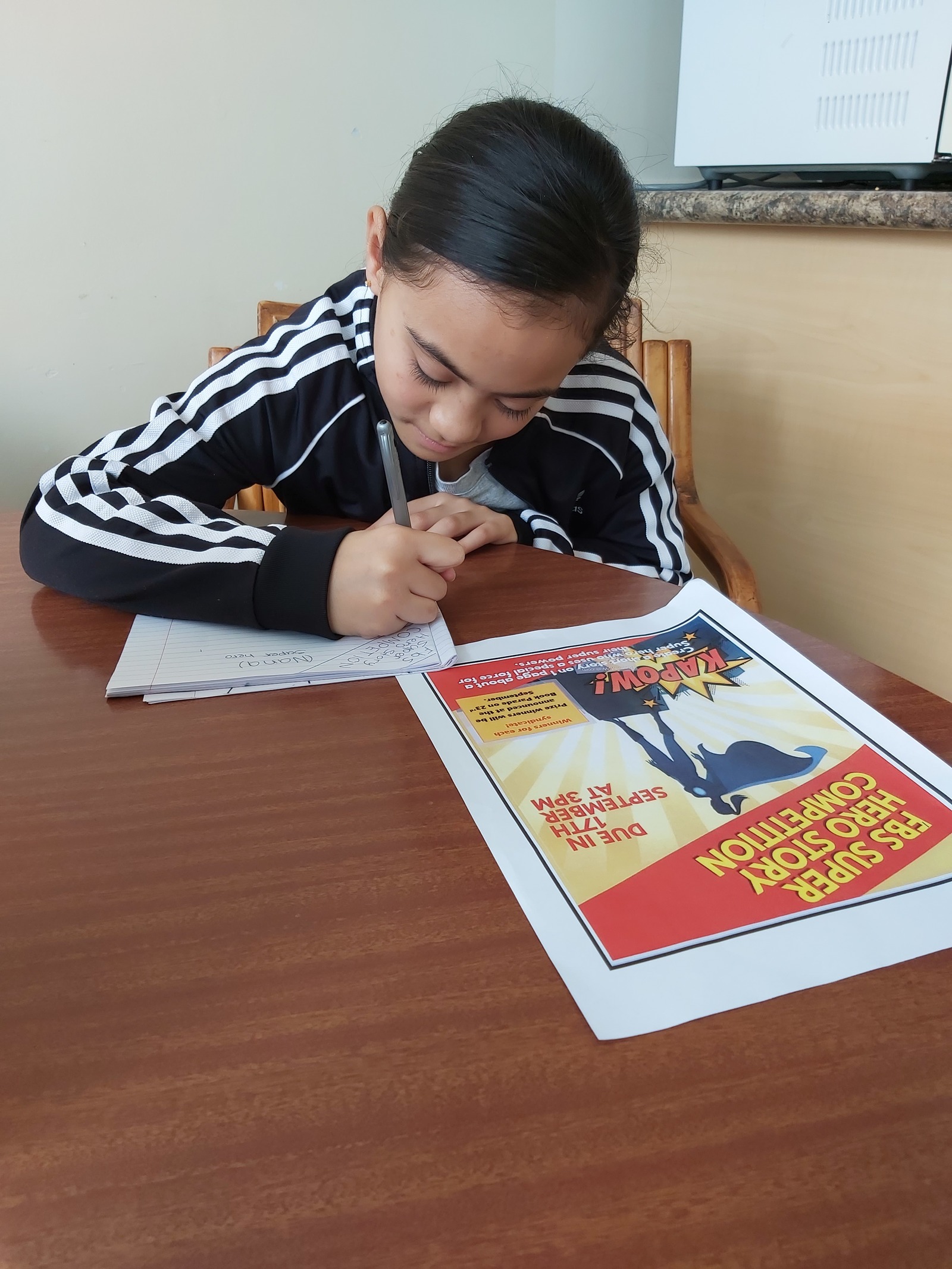 VJ sharing his wonderful dishwashing skills and demonstrating many of our FBS values. Well done VJ!


Noah getting an early start to a Fathers day card for his Mum:) Such a beautiful gesture I'm sure she will appreciate Noah!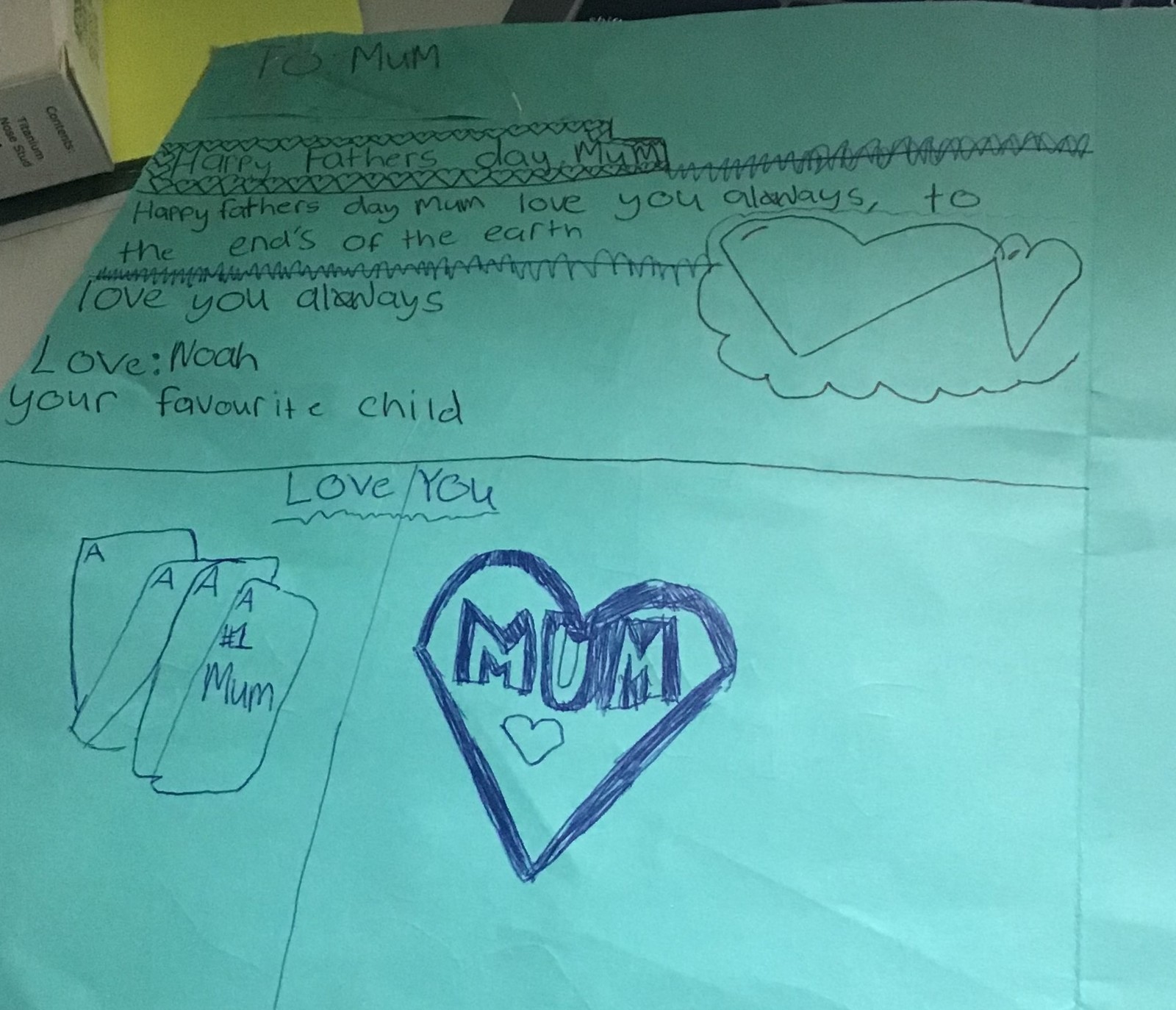 We had a few vistors to our meeting yesterday, some furry , a young sibling of Carloz, all of them making it a very interesting meeting!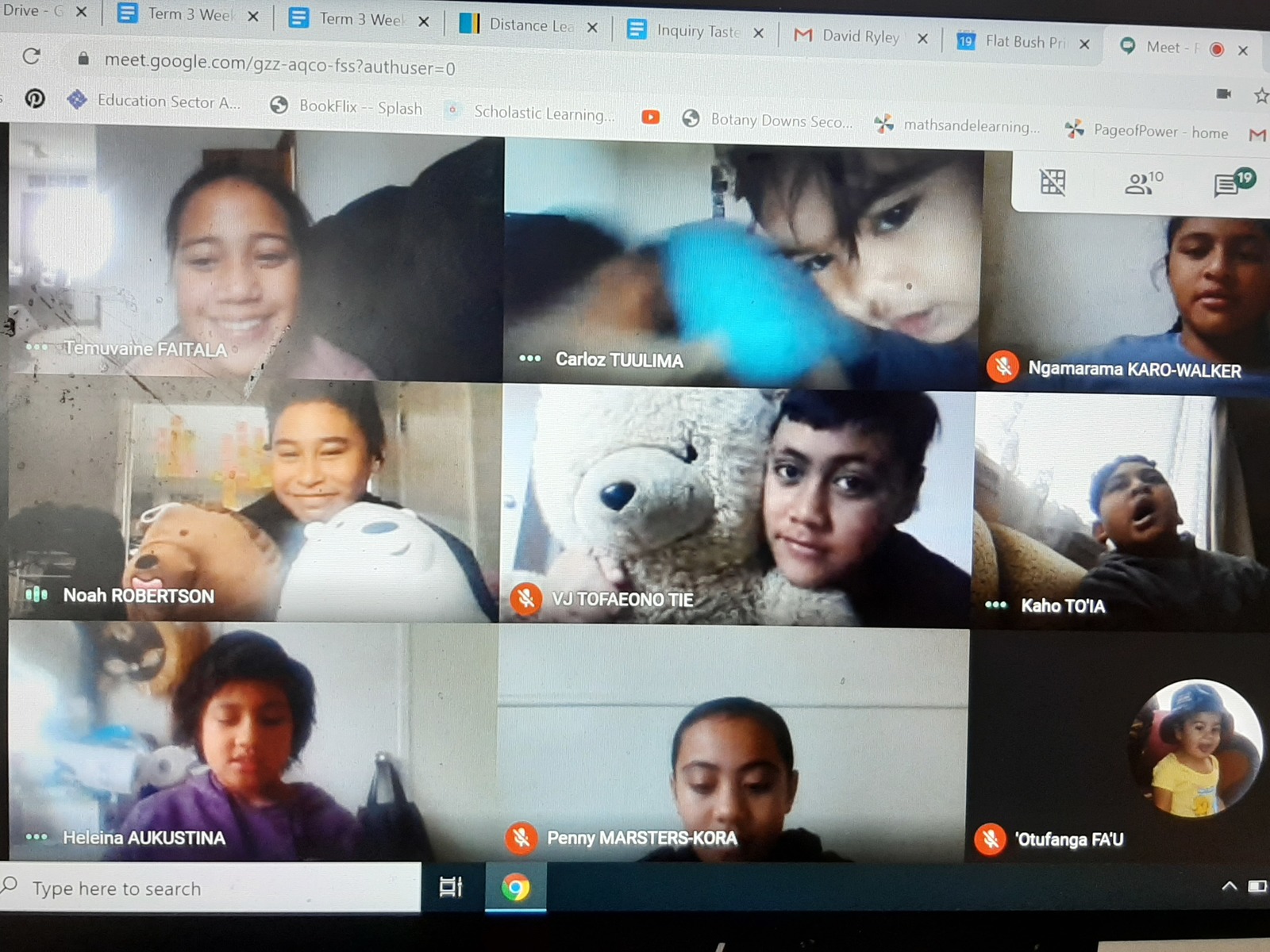 Rm 18 Sykyriders,
Wow Day 3 of lockdown and hoping that I will get to see you back at school very soon! Hoping you are enjoying this extra family time at home.
Great to korero with a couple of you on gmail, if you can make contact children, do so.
Whanau I will be in contact with you today via phone, if you are trying to contact me please do so via annev@flatbush.school.nz
Stay home, stay safe and we at FBS are thinking of you all.
Arohanui Ms Anne Vaka
CRT - Kia Ora Rm 18. Let the games begin 18/8/20
I hope you are all doing well during this lock down. Unfortunately we will not get the chance to catch up today for CRT so instead Mr Moiho and myself have decided to put forward a challenge for your class. Your class will be challenging Rm 17 in a leg raise hold challenge. When we are back at school we will get together and see who can do the longest leg raise hold. If you think you can master this, then you may just win the challenge for your class. If you can make a video and send it to your teacher even better: Check the video below for details.
Week 2 Term 3
Rm18 learners had a wonderful time sharing their class work and successes in learning that they are positively proud of . Thank you to those that could make it, including those parents whoes children forgot to come with them:)
A lovely start to Week1 Term 3 celebrating Matariki, Happy NewYear!
It was great to have all of Rm18 learners back this week, well done! They have been busy getting ready to share with their whanau, their successes that they are positively proud of.
Thursday 1-6pm "Celebration of Success", look forward to seeing you all there !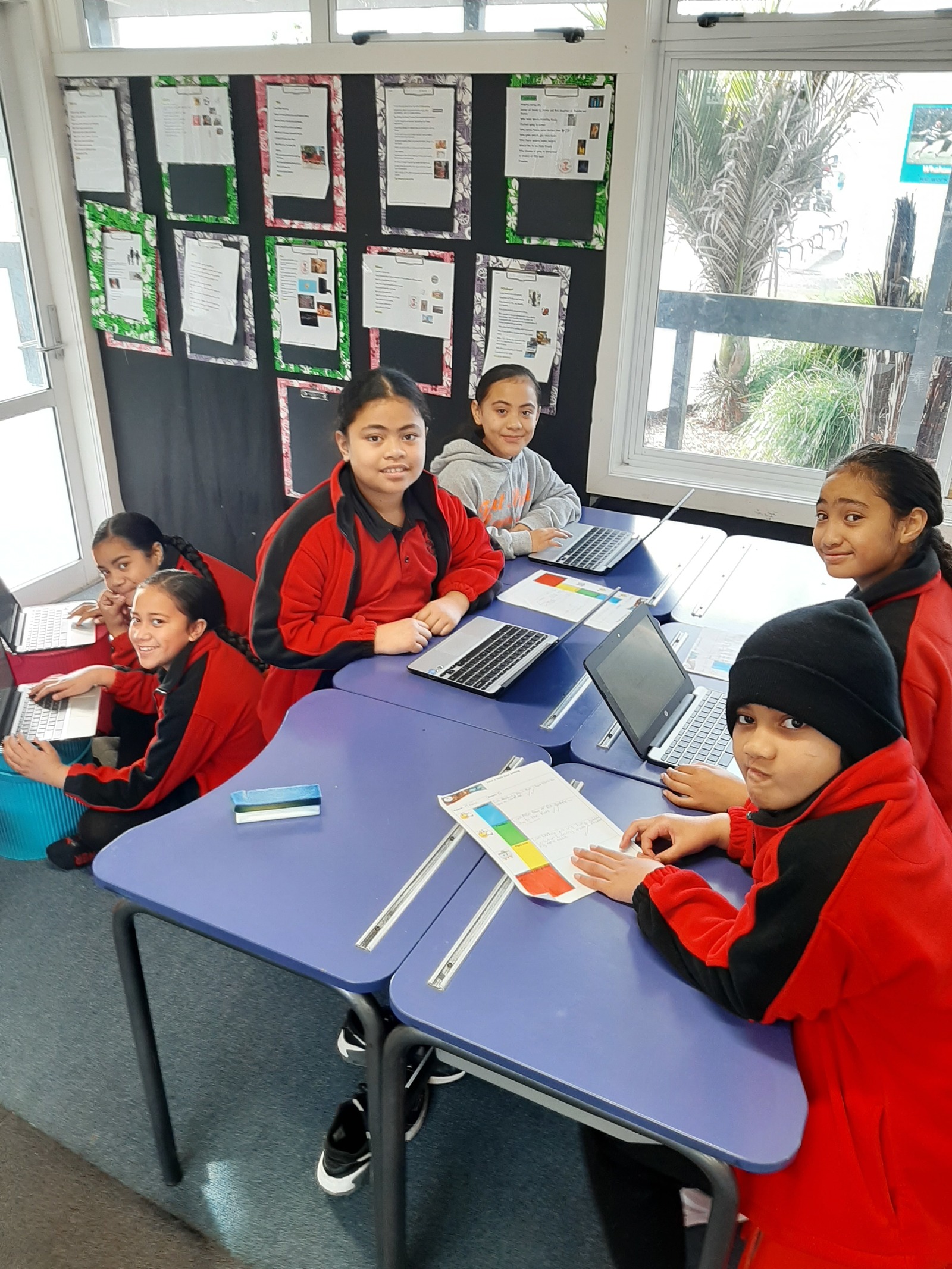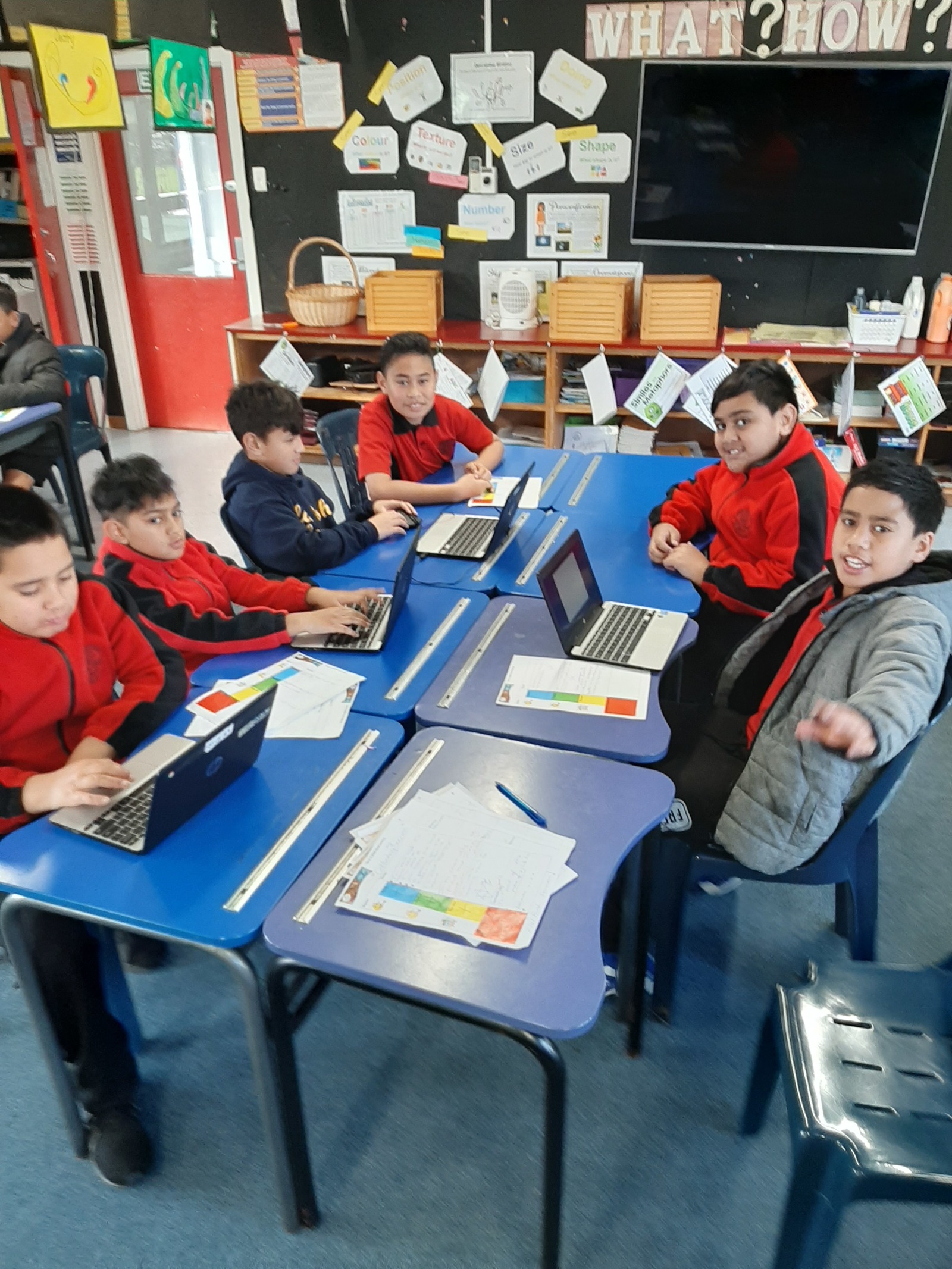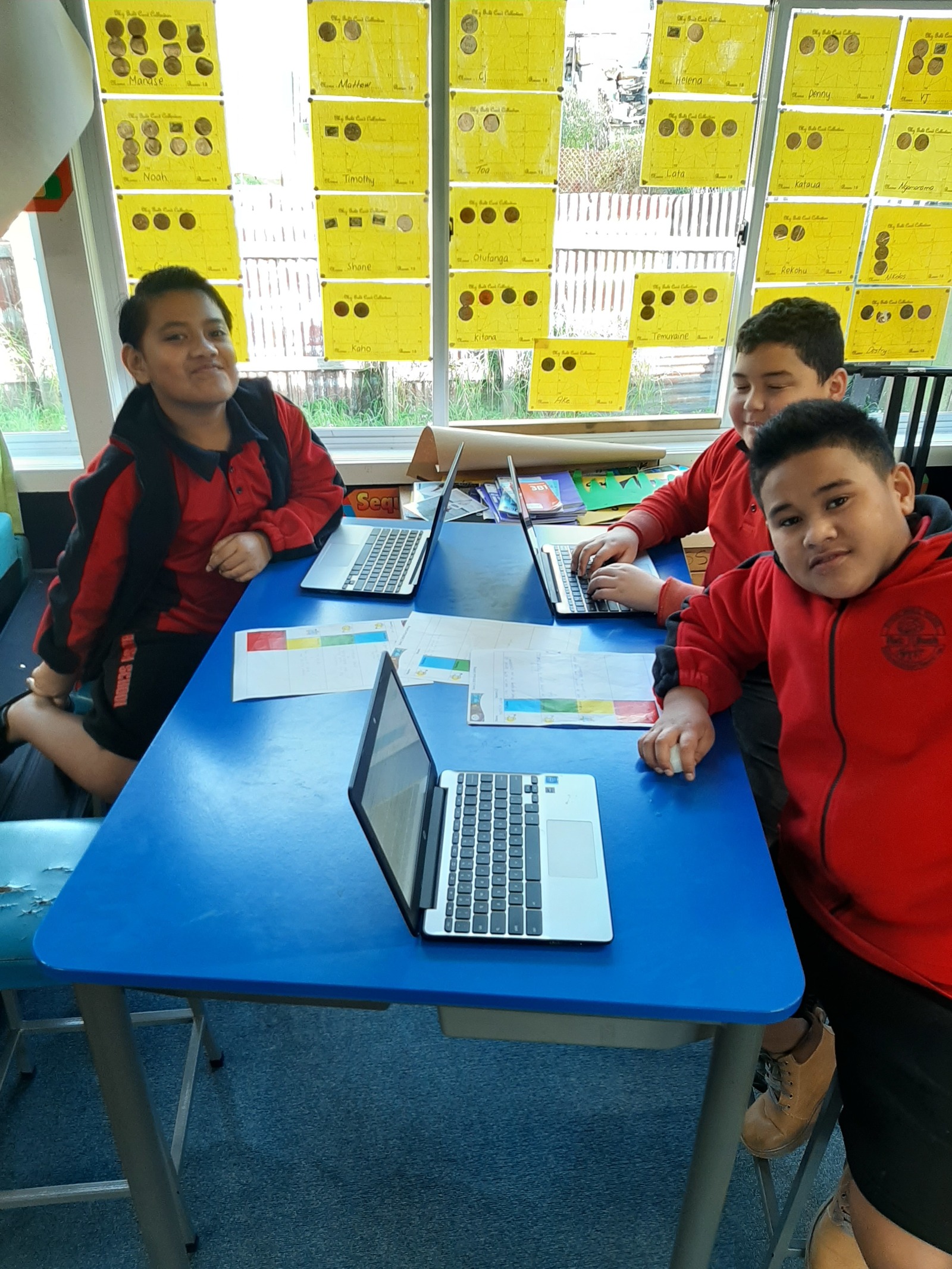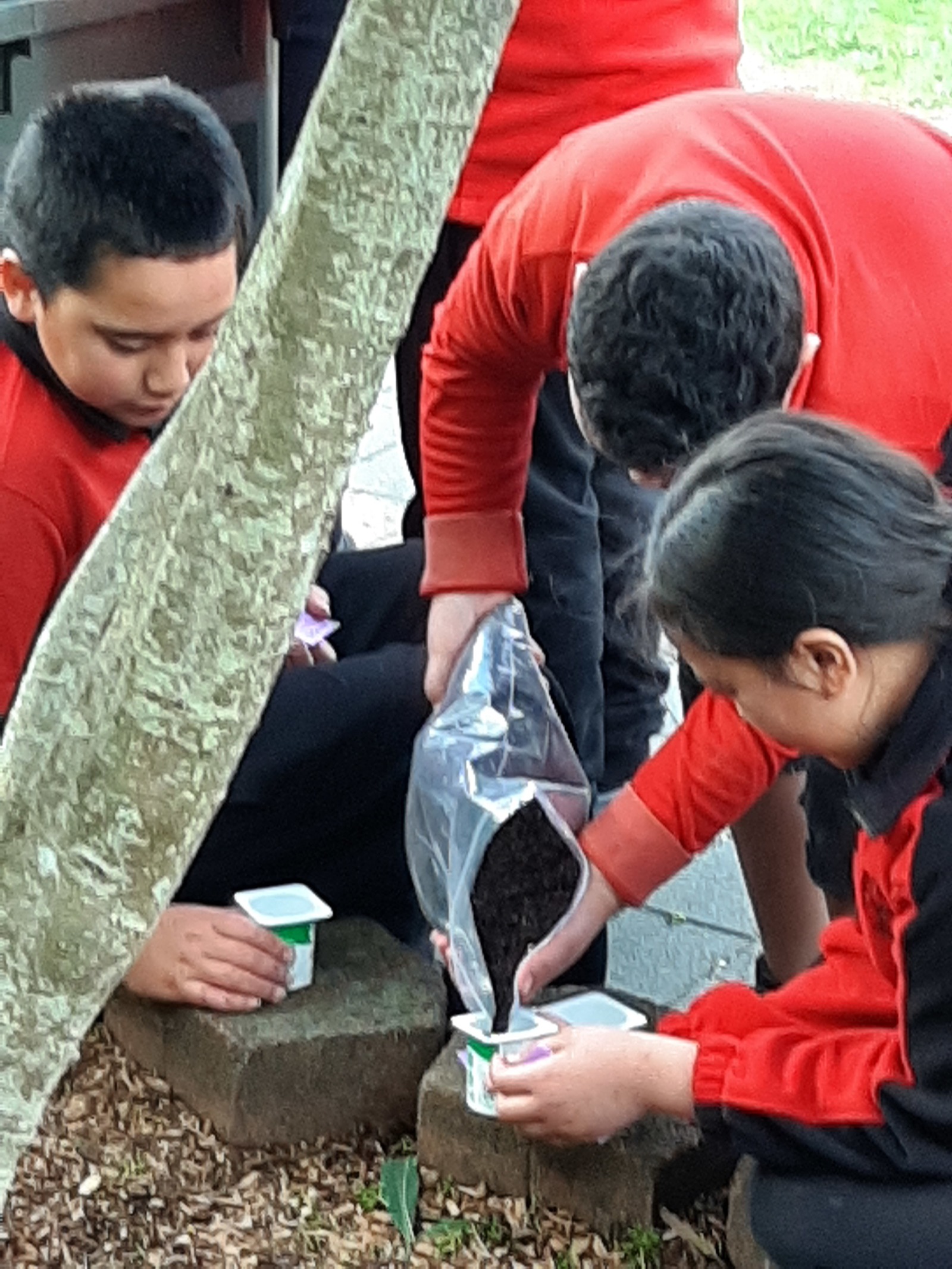 Wk 12 29th June-3rd July
CRT Room 18 - Myths and legends
In the beginning retold by Room 18.
Walt: Make a video, retell a story, Use art work to create different pictures to match the words of the story, Use a loud clear voice, Change voices to be like the characters.
Singing with Rm 18
Here is our school song that we are learning to sing: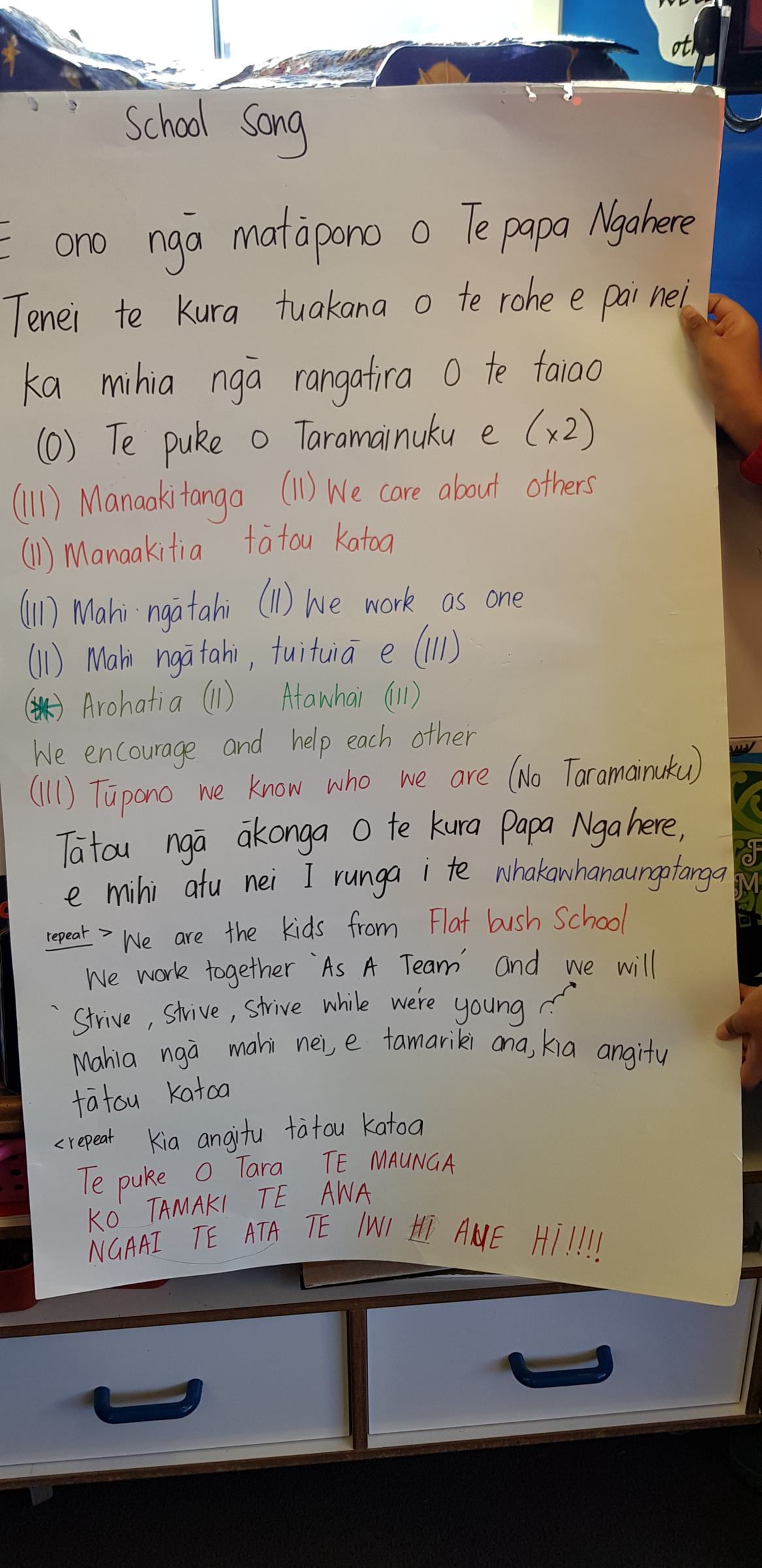 Matariki: We learnt about Matariki and know lots of ways to celebrate Matariki: We made our own Matariki stars.
Welcome to Term 2, Rm18 Sky Riders and whanau!
12.6.2020 Week 9
A very creative week for the children as they worked on googleslides, paintings, poems and cards. Thankyou cards for our SupportStaff who are always on hand, helping our children in their learning. A huge shout out to all 20 of them!!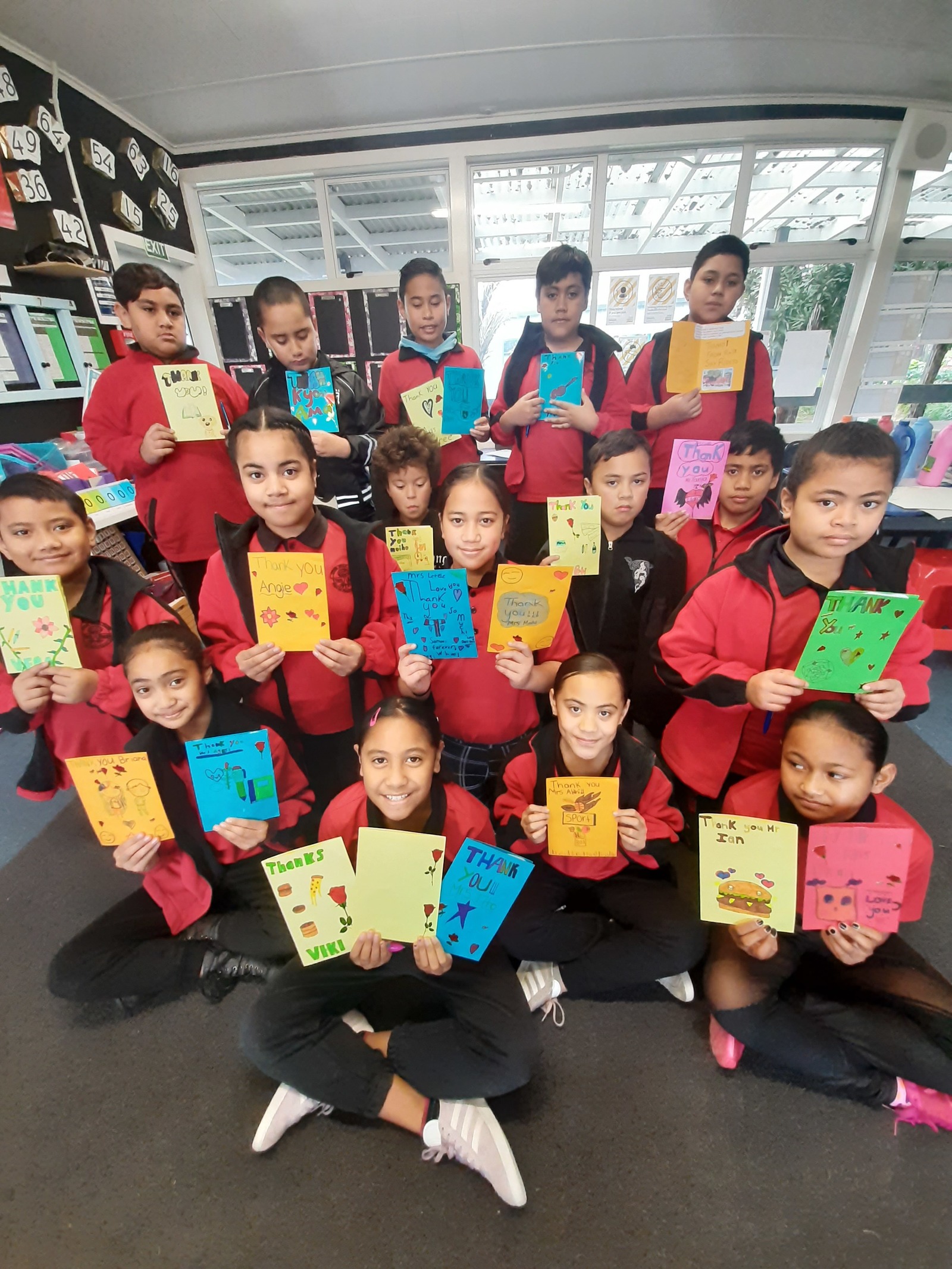 I suspect VJ is drawing that guitar for our much loved FBS resident guitarist Mr Moiho.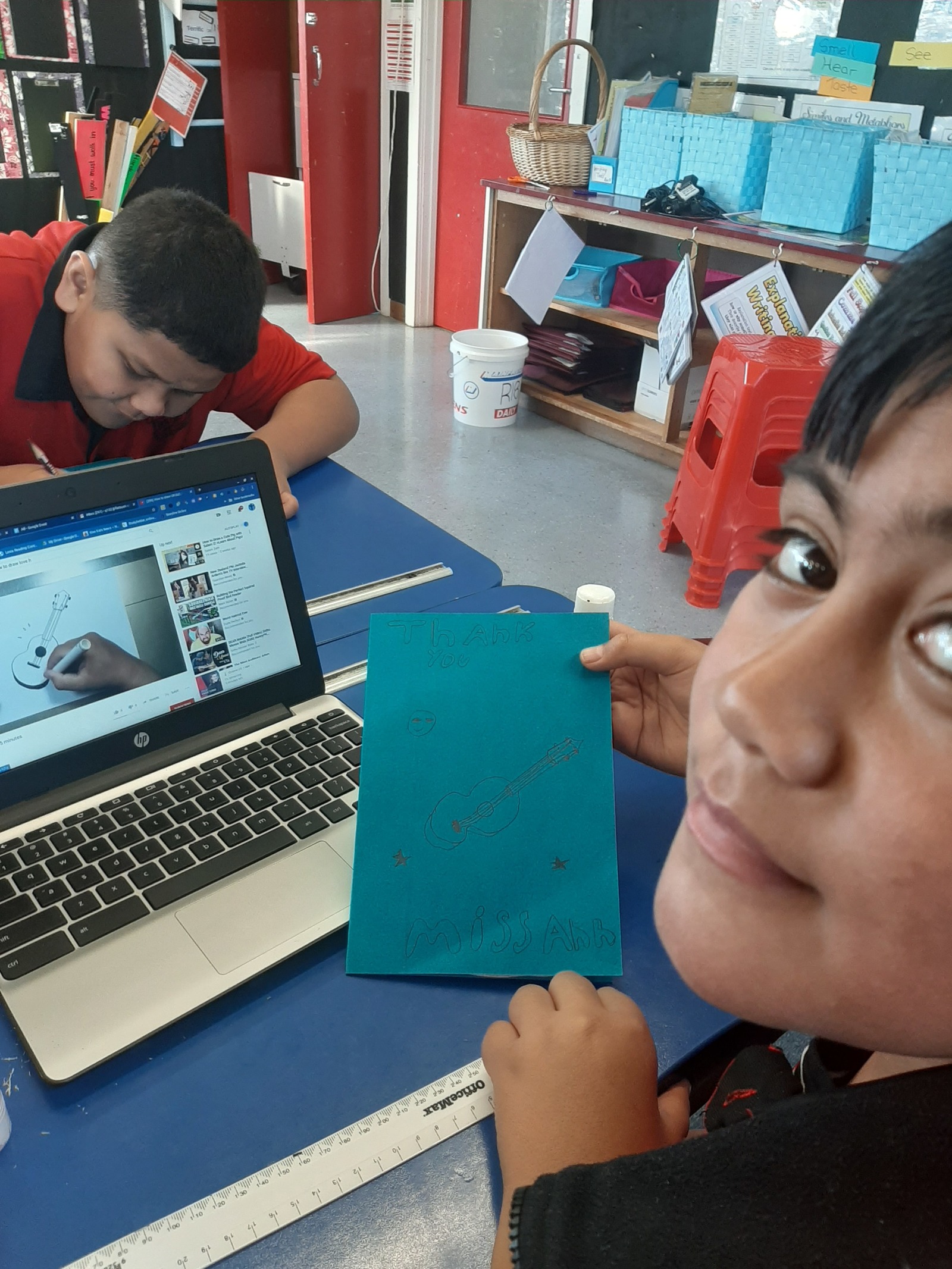 William has found a tutorial for drawing flowers.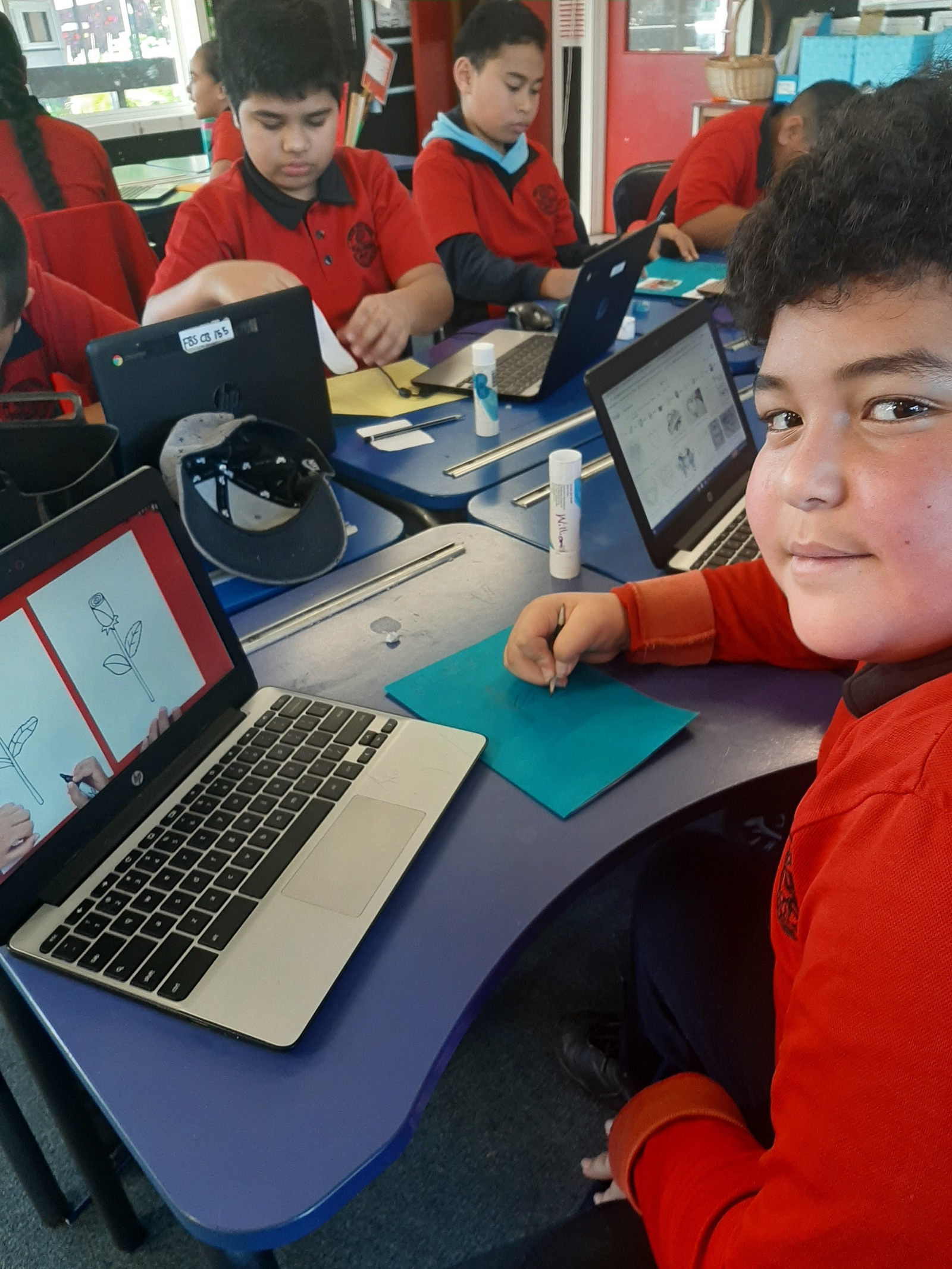 A few children who have chosen to carry on with an artwork which includes a painted self portrait.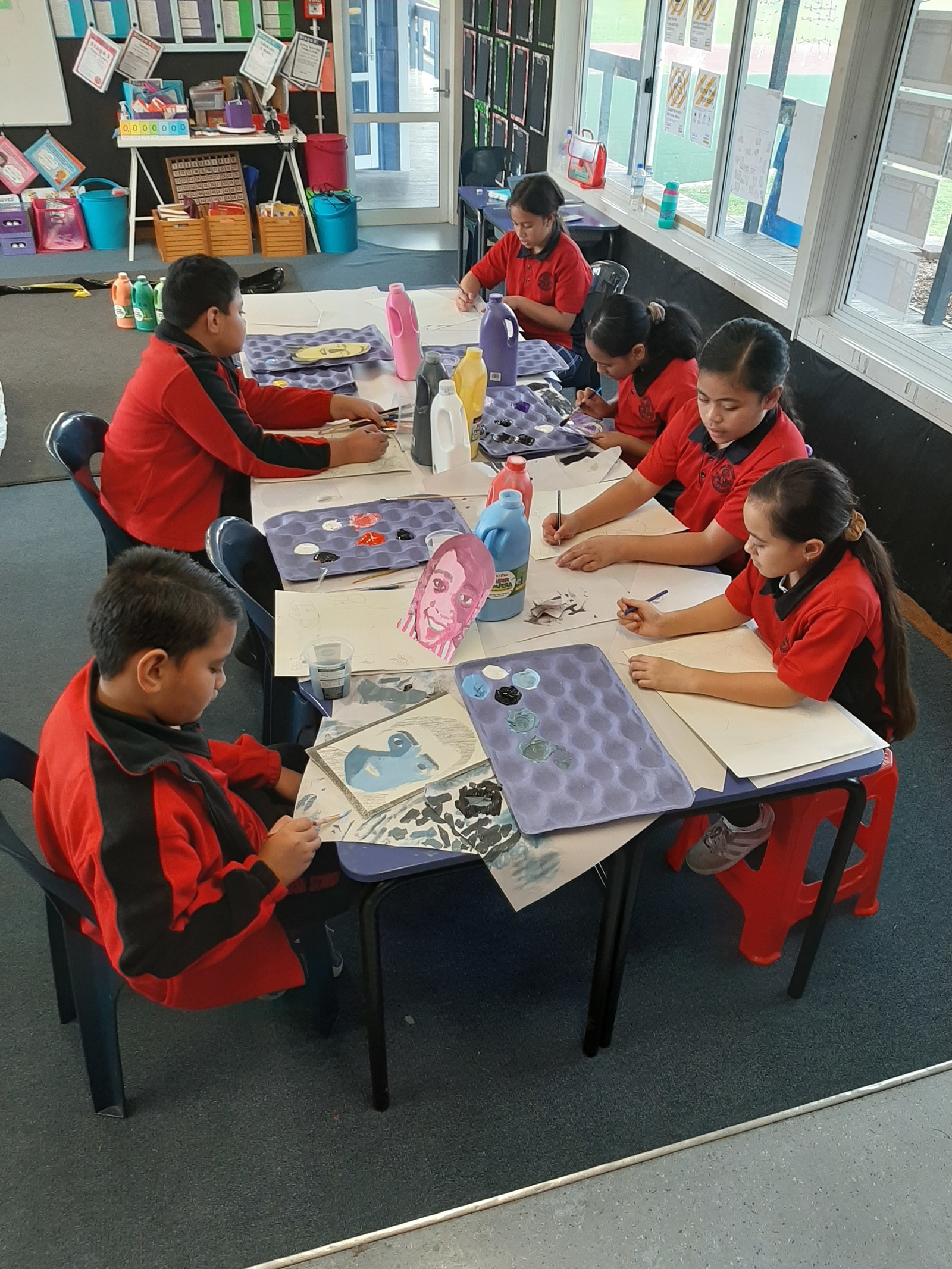 Huge shout out to Peseti from Rm 19 who has shared with Noah how to design a replica of his own Lockdown Bubble house using an app. Noah happily passed on his new knowledge with those who wanted to learn.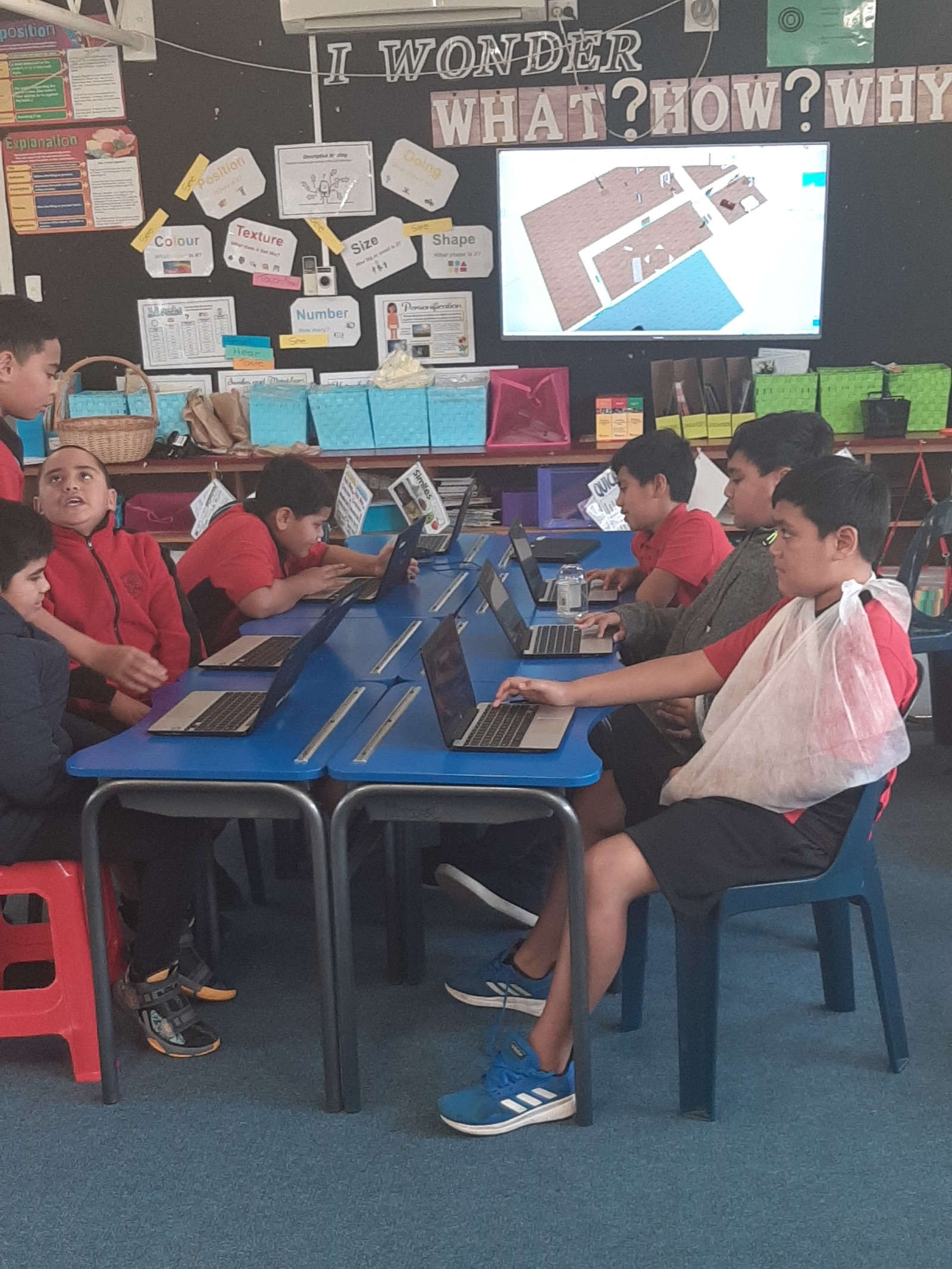 This week's post is dedicated to all the essential Mums, Dads, Nanas, Papas etc who took on several roles in their bubbles during the Covid-19 lockdown. Rm18 learners insisted you were who they wanted to thank. They also insisted that each of their letters were posted, opposed to only a few examples. Enjoy reading as much as I did!
Thankyou whanau for all the support you have not only provided for your children during the last couple of months but for myself and FBS. It is a privilidge having your children back in Rm18. Malo'aupito Ms Anne Vaka
Talofa lava learners and Aiga. What a wonderful week celebrating Samoan Language week. A lot of school values were demonstrated in and around Rm18 this week, how many can you spot?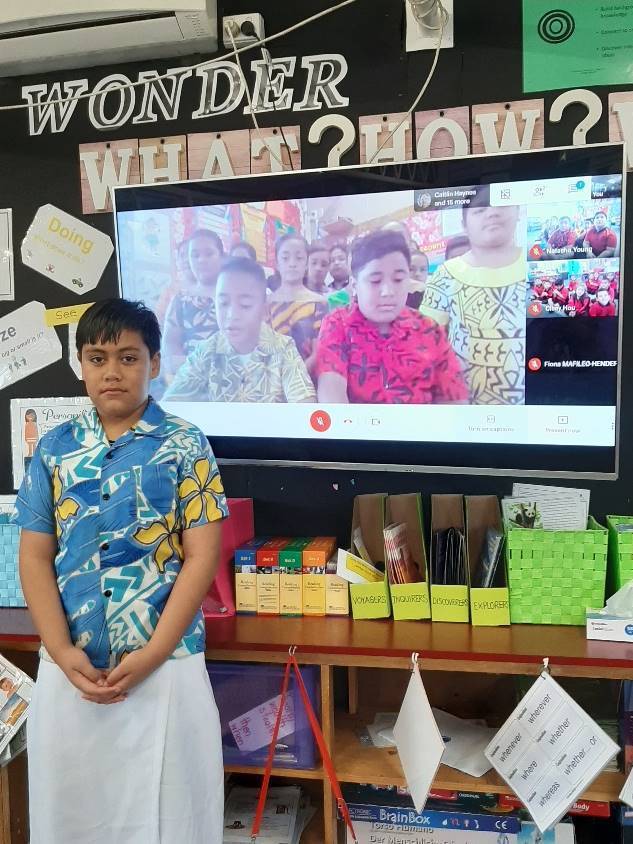 Rm 18 thoroughly enjoyed meeting all of FBS daily via Google meet. We were all fortunate to have Rm 10 leading us in a prayer and watch some wonderful dance and singing from Rms10 and 17.
VJ, a proud Samoan ready to lead Rm 18, by sharing his knowledge and celebrating Samoan Language week with his peers.
Rm18 Cook Island learners Temu and Penny decide they would like to learn a Samoan dance, taking this desire into their own hands they refer to a Utube clip starting with a SaSa.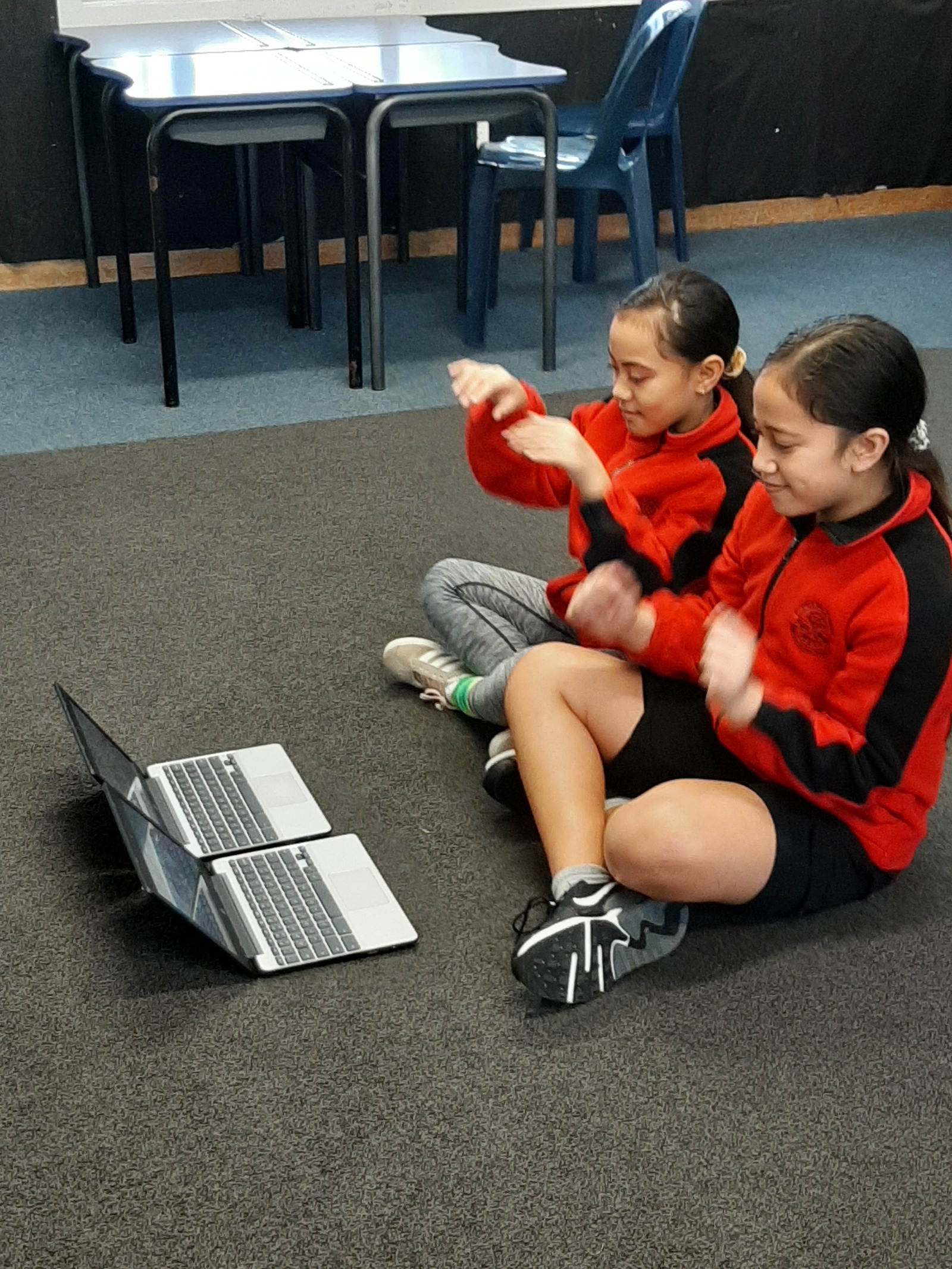 It wasn't long before they had a couple more girls, Freedom and Lata join them.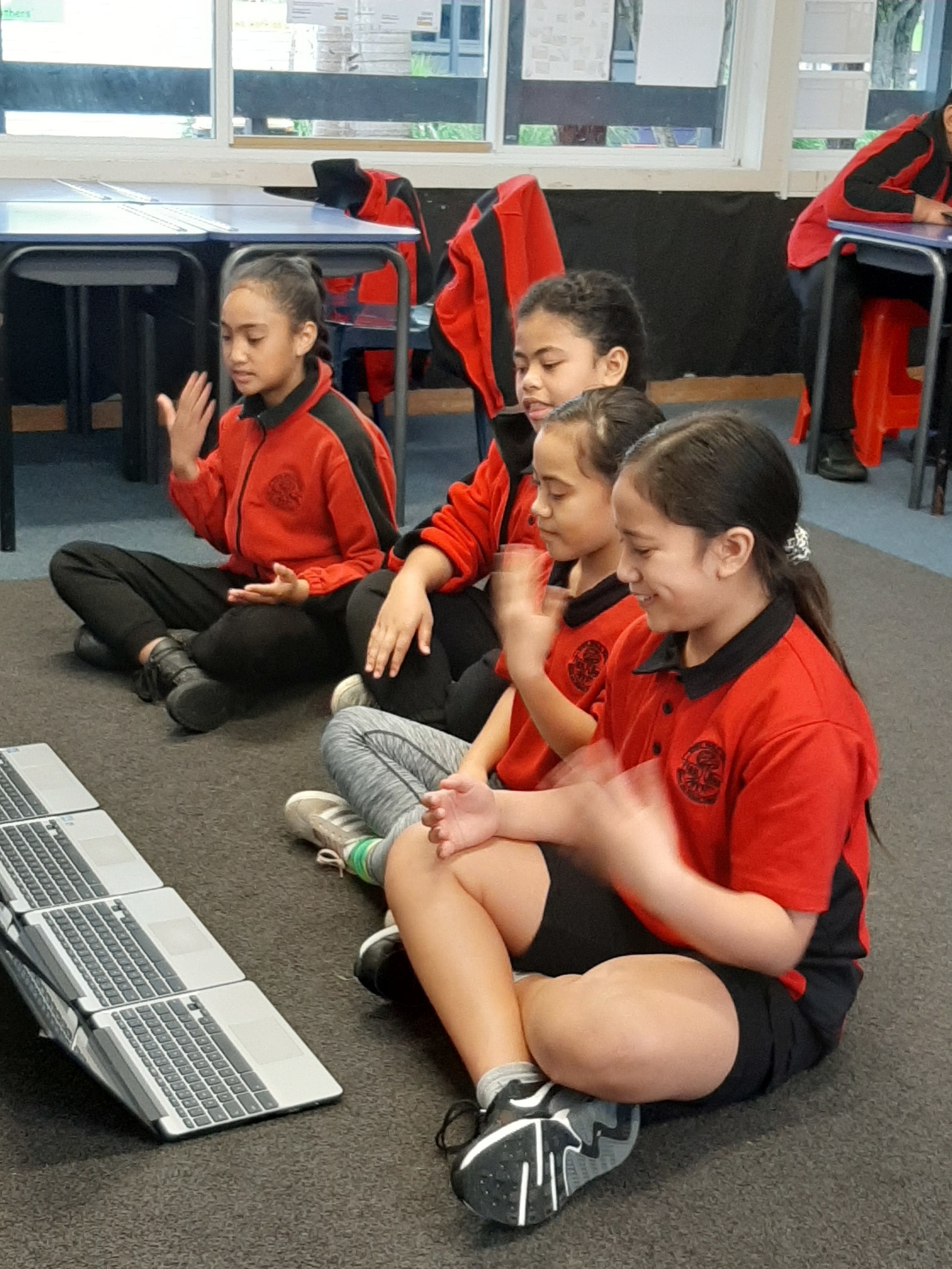 During lunch Rm10s Jireh and Ellice are spotted practising a dance on the school field. Wow, it was Rm18s lucky day! Fortunately the girls are more than willing to leave the comforts of their own class and venture out to share their expertise with Rm18 learners. Mrs Stanley also our hero of the day too.
Fa'afetai tele lava!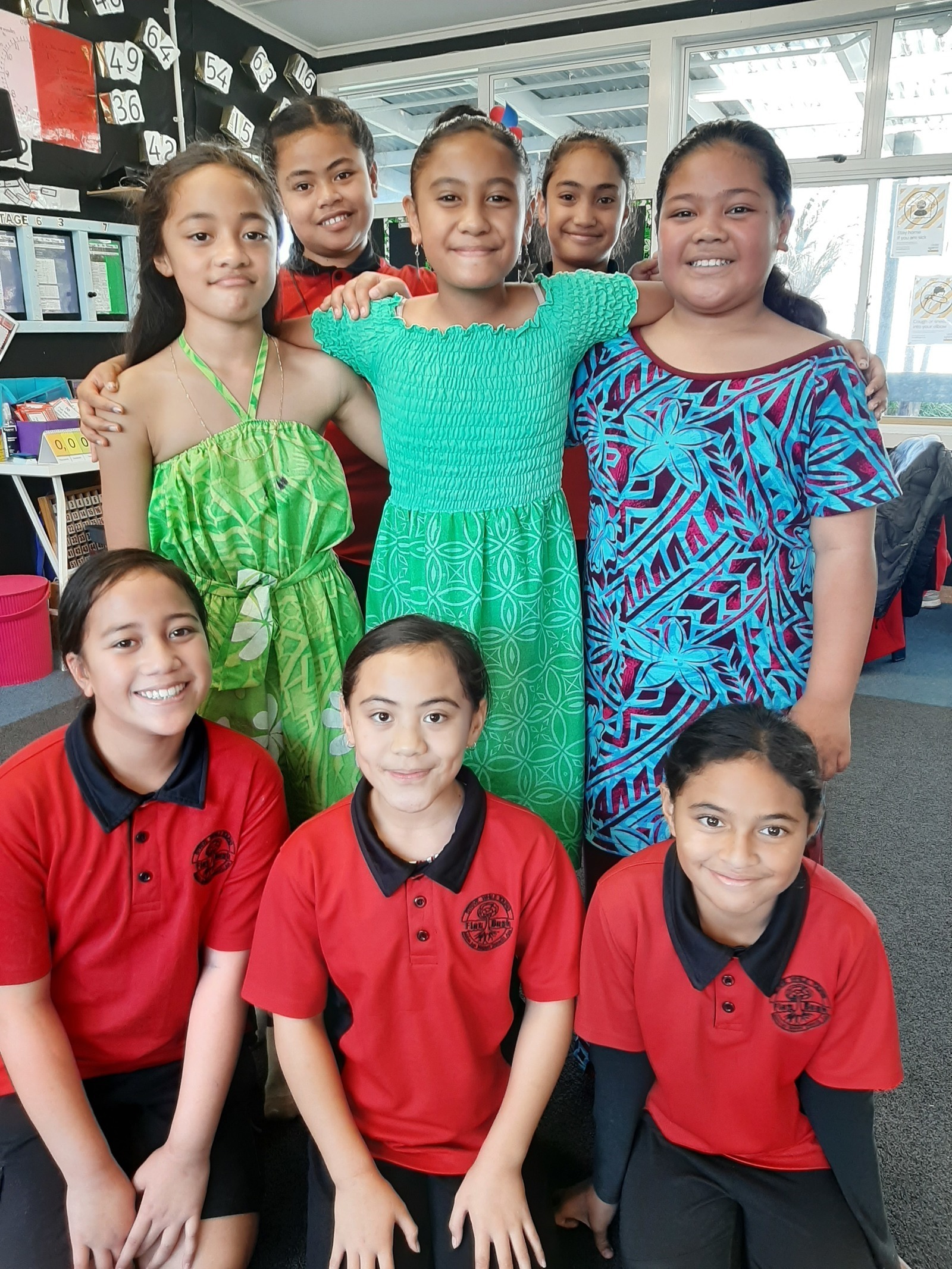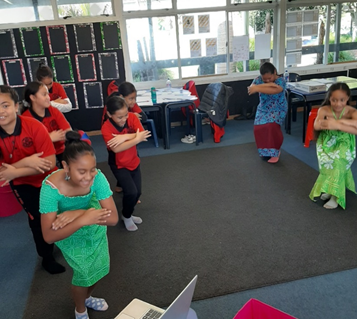 The talented Jireh and Ellice demonstrating school values.
Rm 18 young ladies, well done for expressing your desire to learn something and independently taking steps to learn it!!!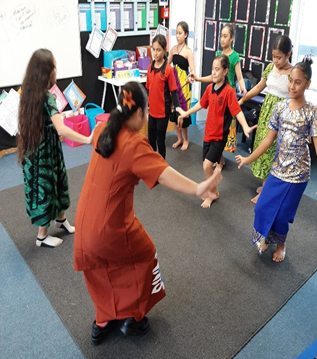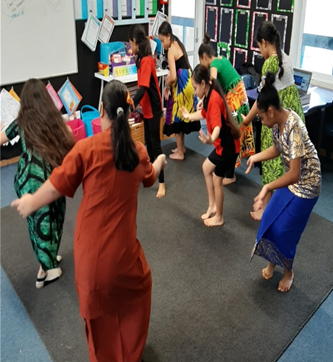 Rm18 girls have learnt a whole dance and are just fine tuning their moves, making great progress. Practise makes perfect. They look forward to sharing it with you all. Watch this space…
Meanwhile Rm 18s internet has gone down. Learners have had to close their chromebooks and spend Thursday using pen and paper
Comment of the day goes to learner Timothy.
" Ms Vaka, are you sure Mr Avatea paid the internet bill?"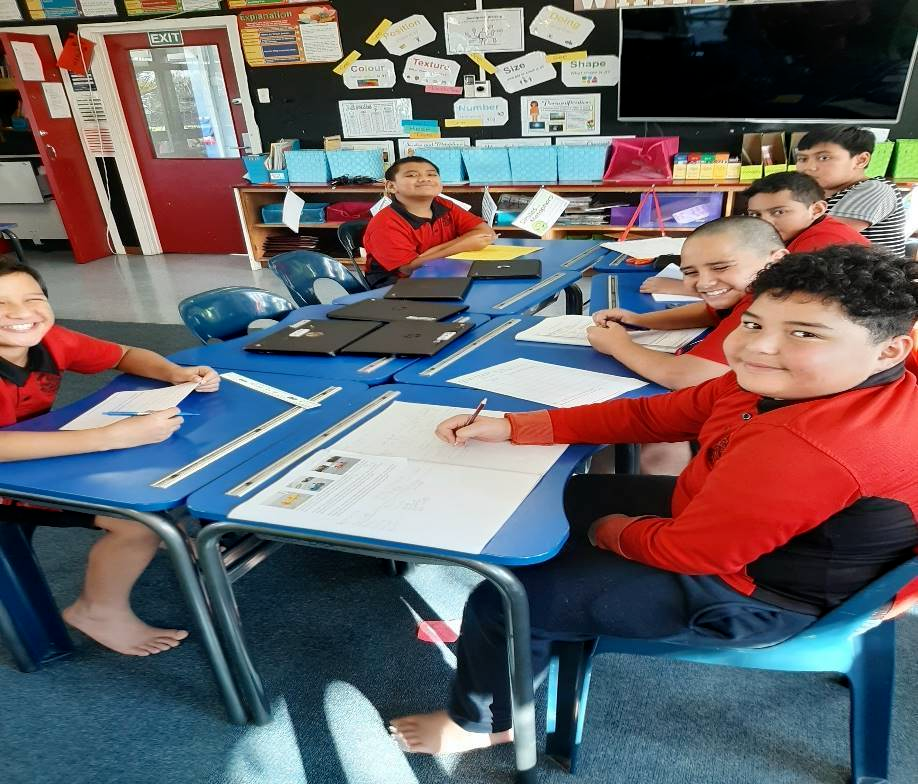 The boys have really enjoyed working on some Covid-19 Statistics Math, Ms Fernando shared with them, requiring learners to read and interpret graphs, identify the rule for a pattern, add and multiply large numbers.
Well done to all the boys for problem solving with such enthusiasm. Carloz who independently figured out the rule to the pattern. Used a few drawings to support his understandings, self-corrected a minor error in his drawings by righting the wrong in his equations and was able to share his strategies with his peers.
Friday and I read a lovely self-reflection from Kitana today.
"In class I felt awesome today, especially when I'm writing a letter to someone who I really appreciate and love."
I know this essential person in your bubble is sure to treasure your letter Kitana!
Have a lovely Queens Bday weekend!!

20.5.2020
Day 3 of our return and Rm18 learners completed their "Window into their 2020 Covid-19 Lockdown" using images and words to share what they have been doing during the last 7 weeks.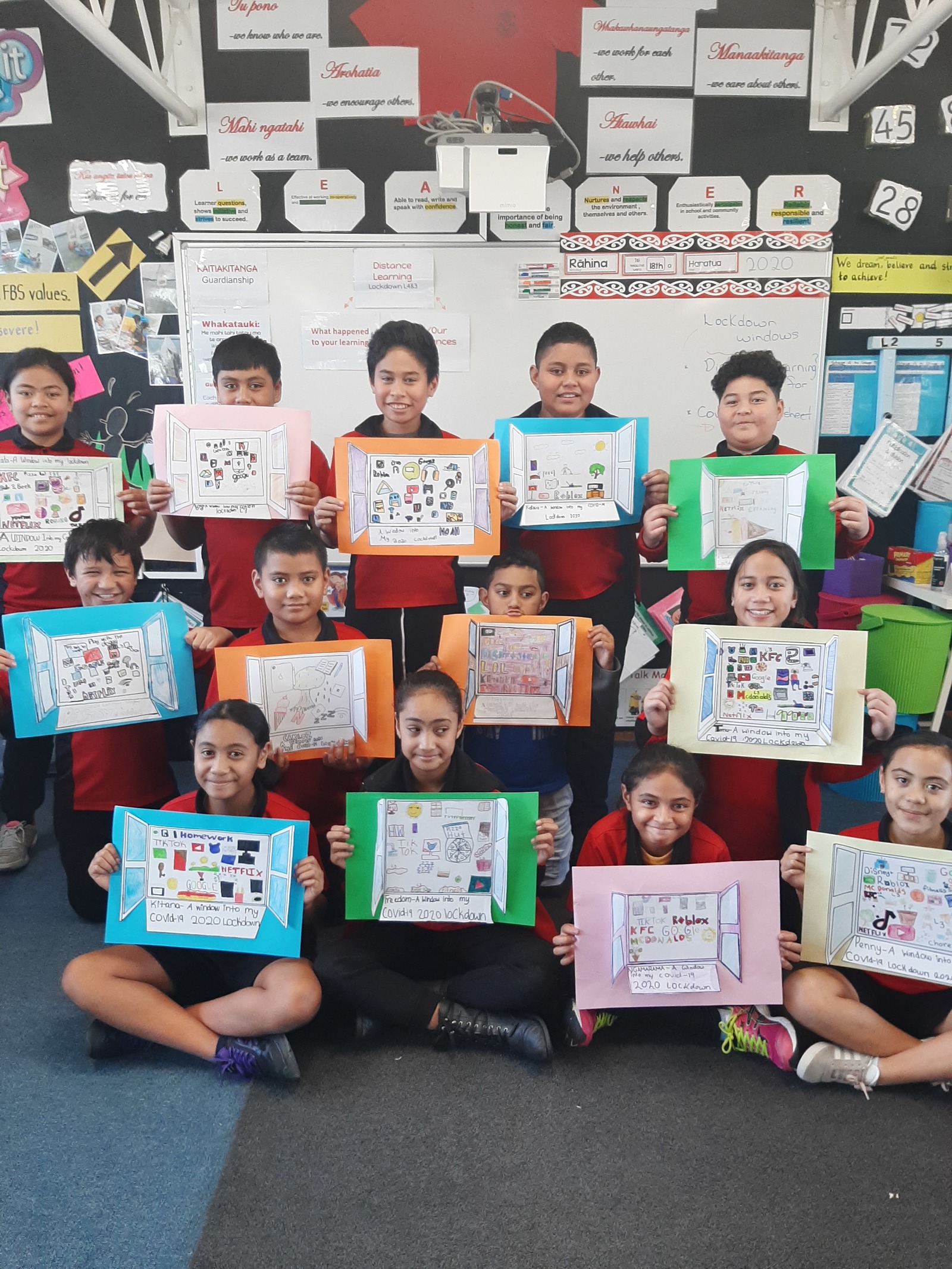 18.5.2020 Week 6
Level 2 and it was such a joy to be back in class today! It was wonderful listening to children's feelings and experiences about their lockdown. The children and I look forward to the rest of the class returning:)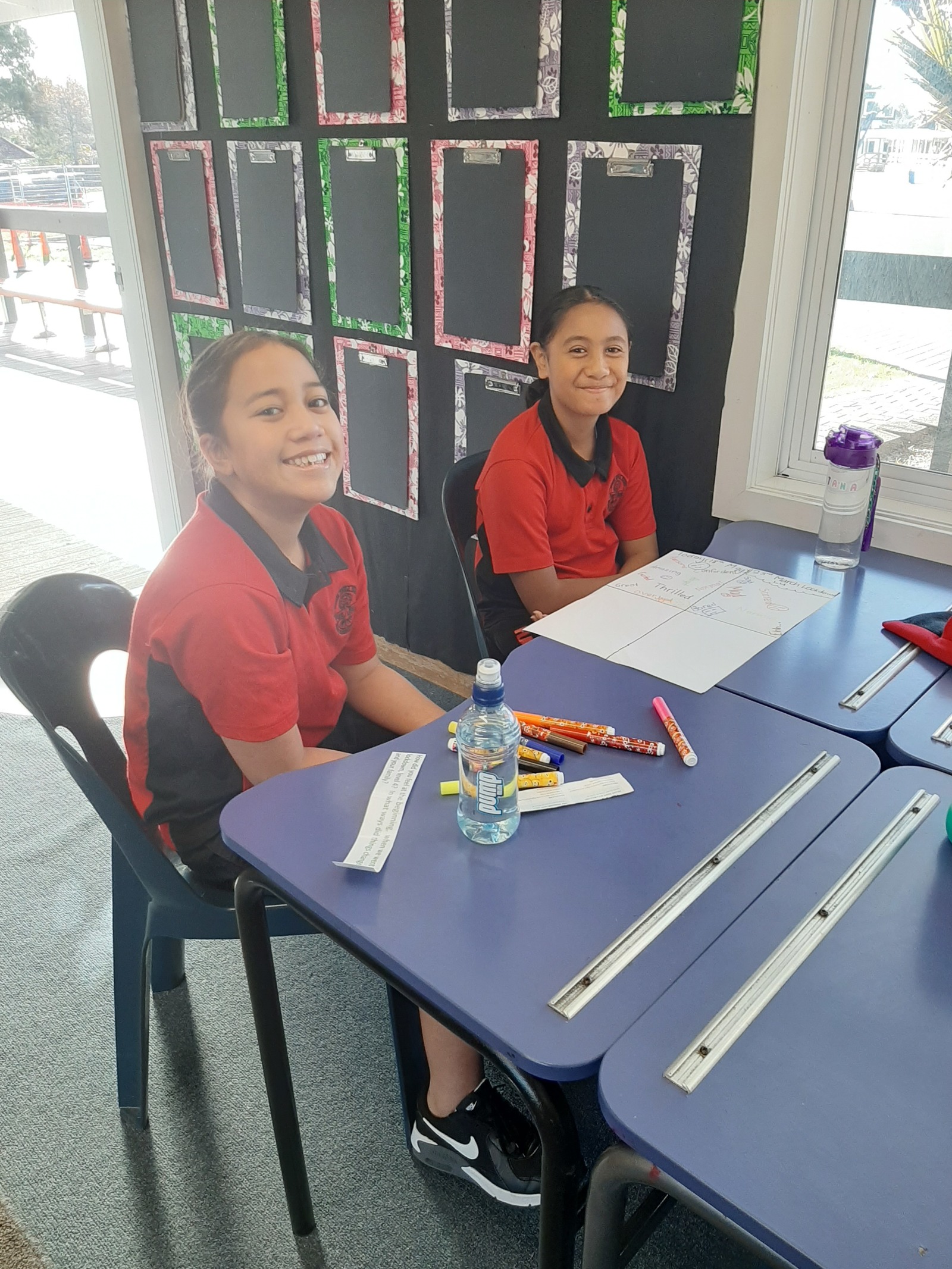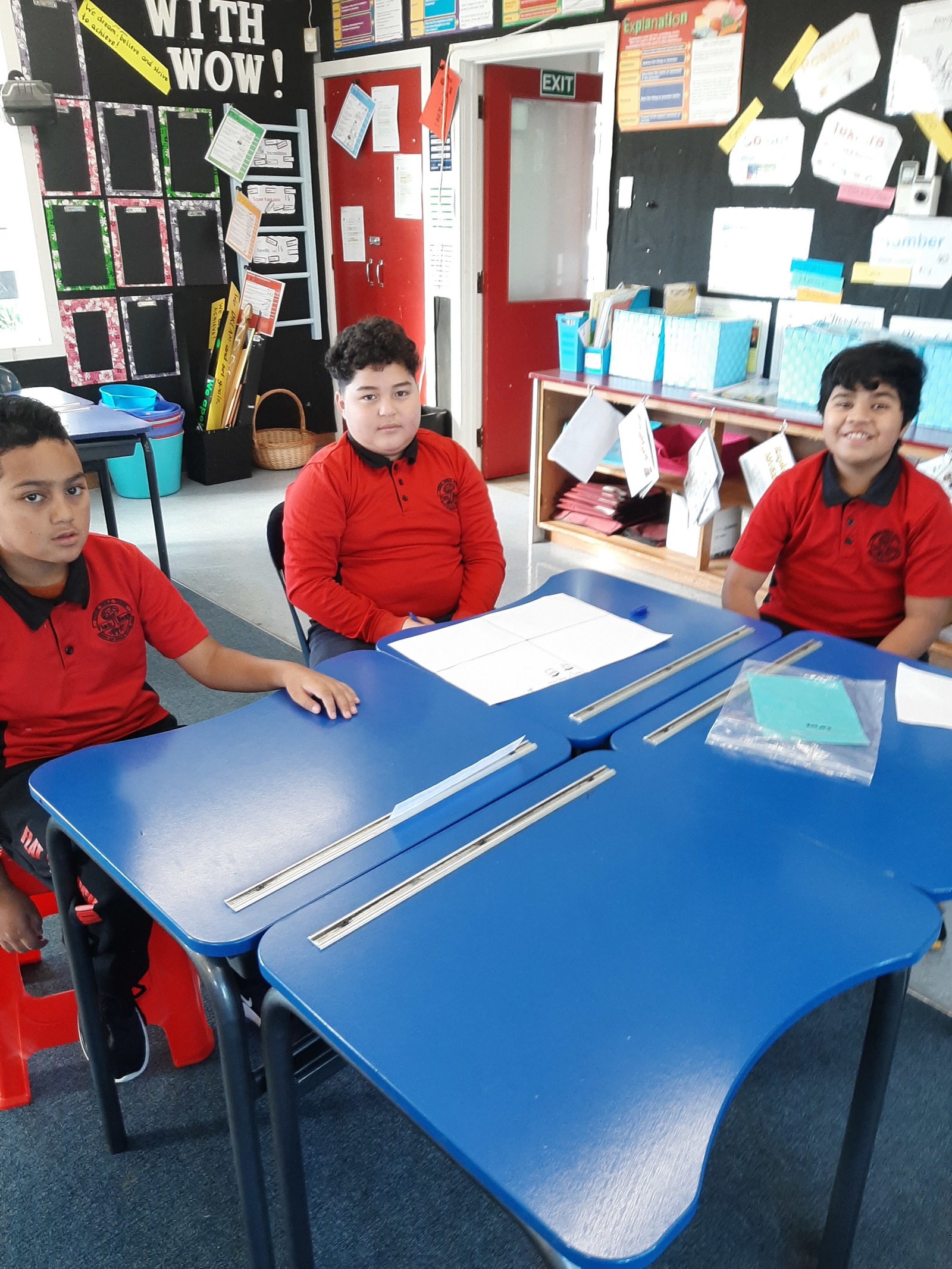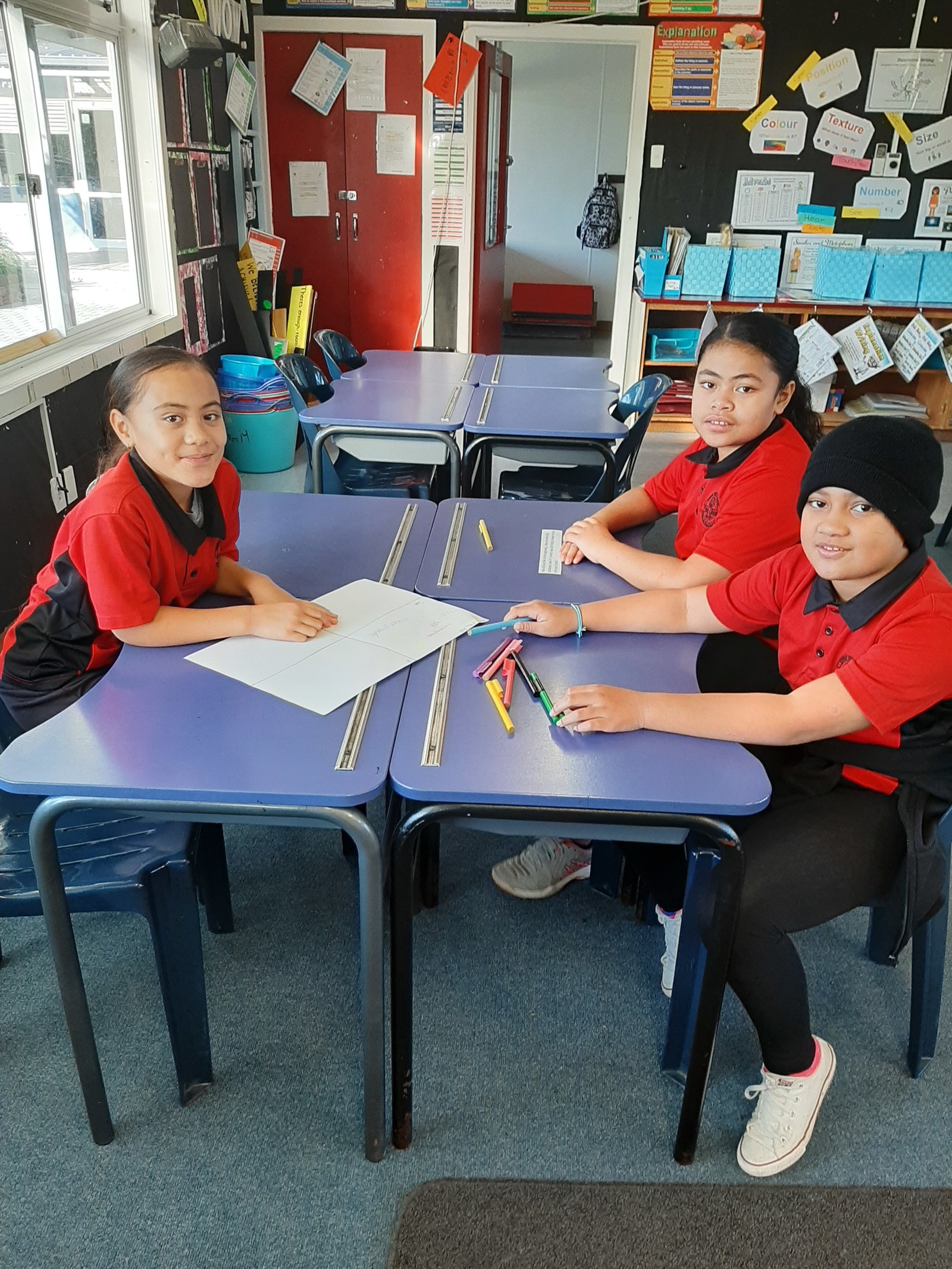 Ms Vaka says hello! (Click on the link, then the far left image)
Say hello back to Ms Vaka! (Just click on this link) You can do it!!!
Monday 11 May 2020
Welcome to Week 5 which is hopefully the last week of learning from a distance:)
Hoping all of our Rm18 learners had a lovely day with their Mothers and other significant ladies in their lives yesterday. A very late HAPPY MOTHER's DAY ladies!
Rm Skyriders I look forward to hearing about your day yesterday and remember to check for your morning email at 9am where you will find the link to our Google meet/class check in at 11am each day. Lets make this full attendance this week. Don't forget you have a variety of choices with Distant Learning experiences to fill your timetable for the day up:
-FBS Values learning experiences
-Study Ladder, remember your username and password is in your homeworkbook
-Ministry of Education Learning Packs
-Weekly Quiz in your other documents
-Check out fitness with Mrs Young
-Home Learning TV Progamme on TVNZ channel 2+1 or Sky 502
Ms Vaka
Good on you Penny! Hope Mum had a great Mother's day.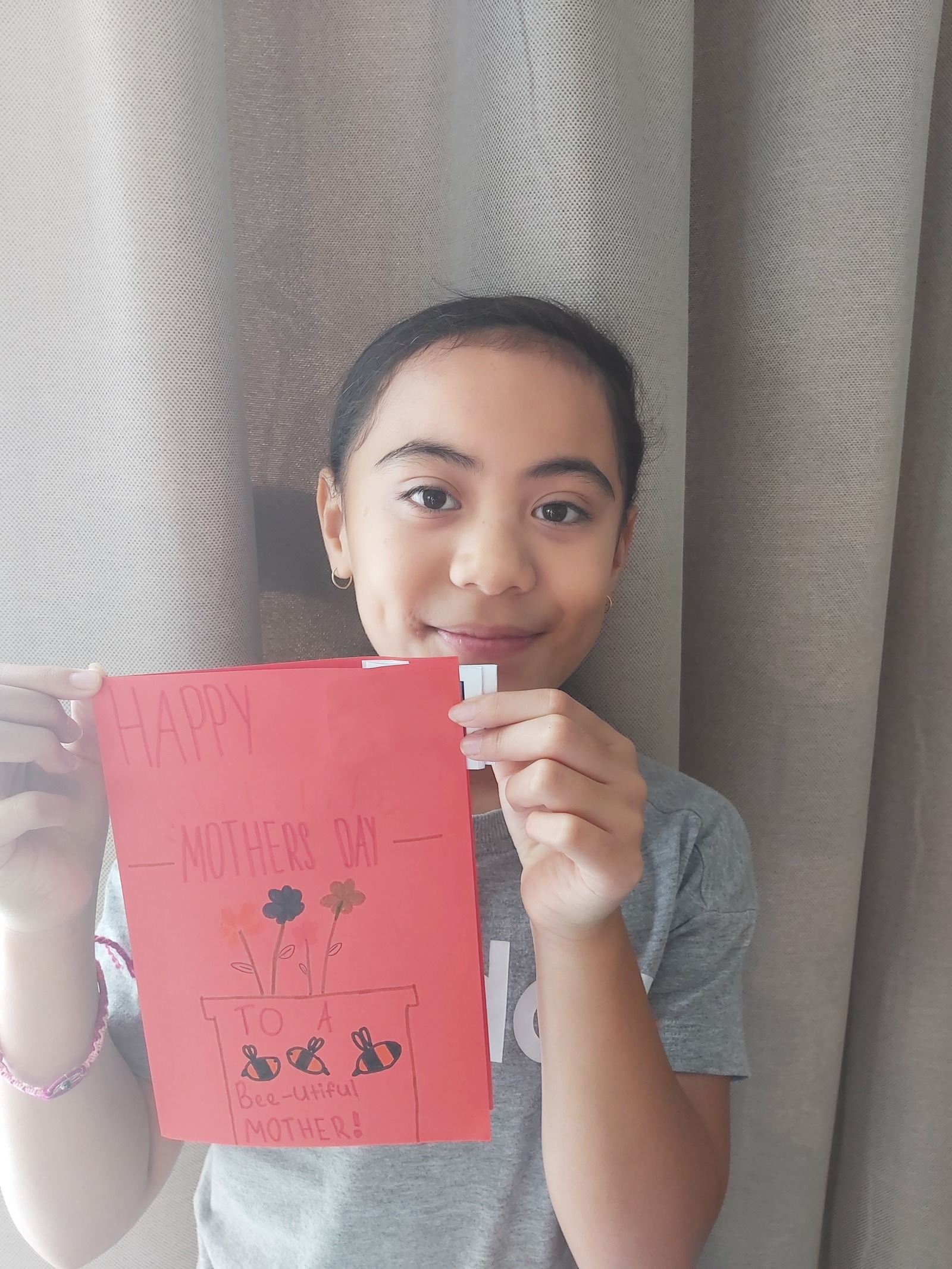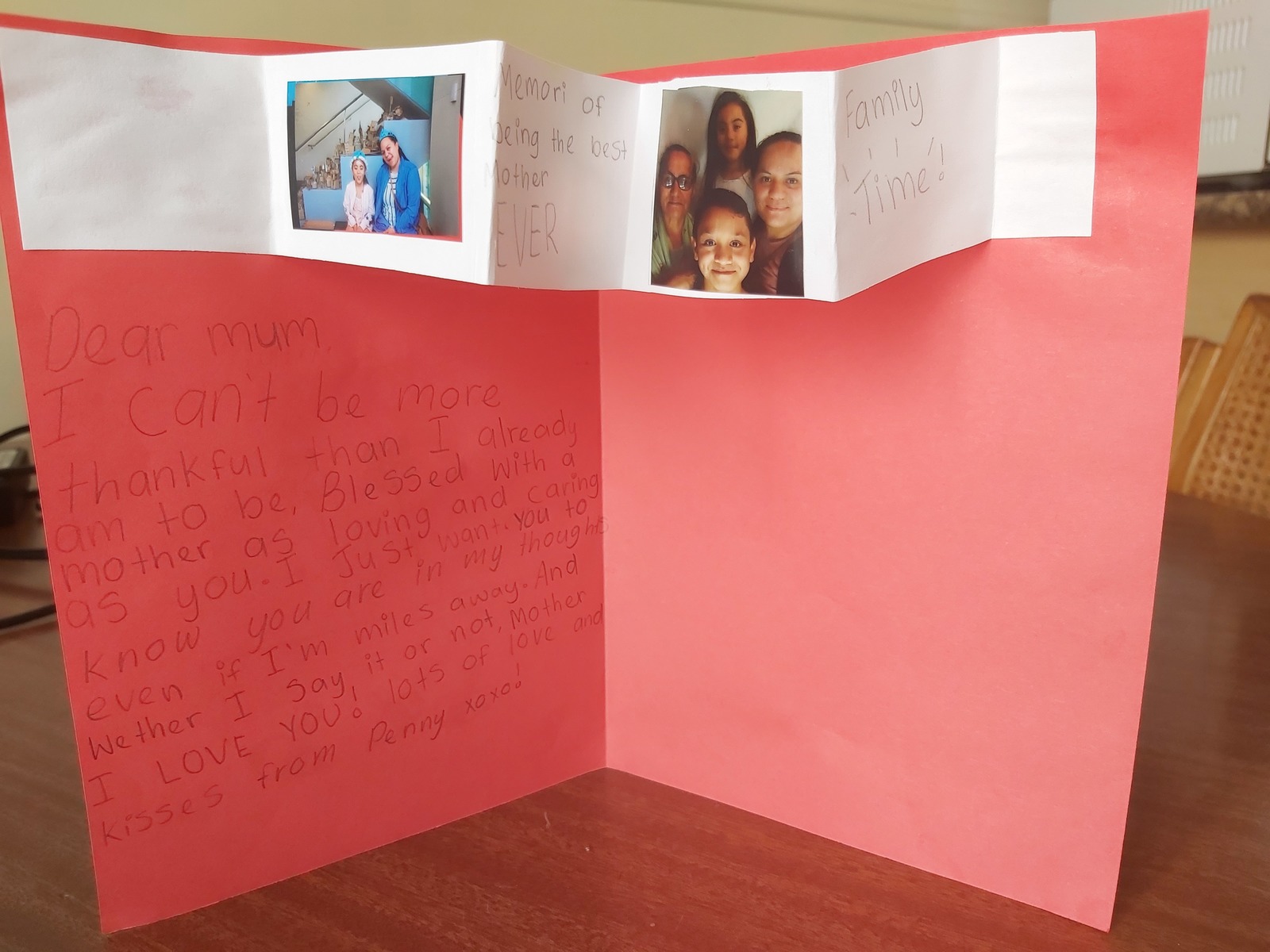 Late HAPPY MOTHER's DAY ladies!
This is a photo of my Mum and Teidyn as a baby. I would love to see some photos of you and your Mum.
Leftovers of my Mother's day gift from my daughter Teidyn, cake and pineapple pie which she made under the supervision of her Nana.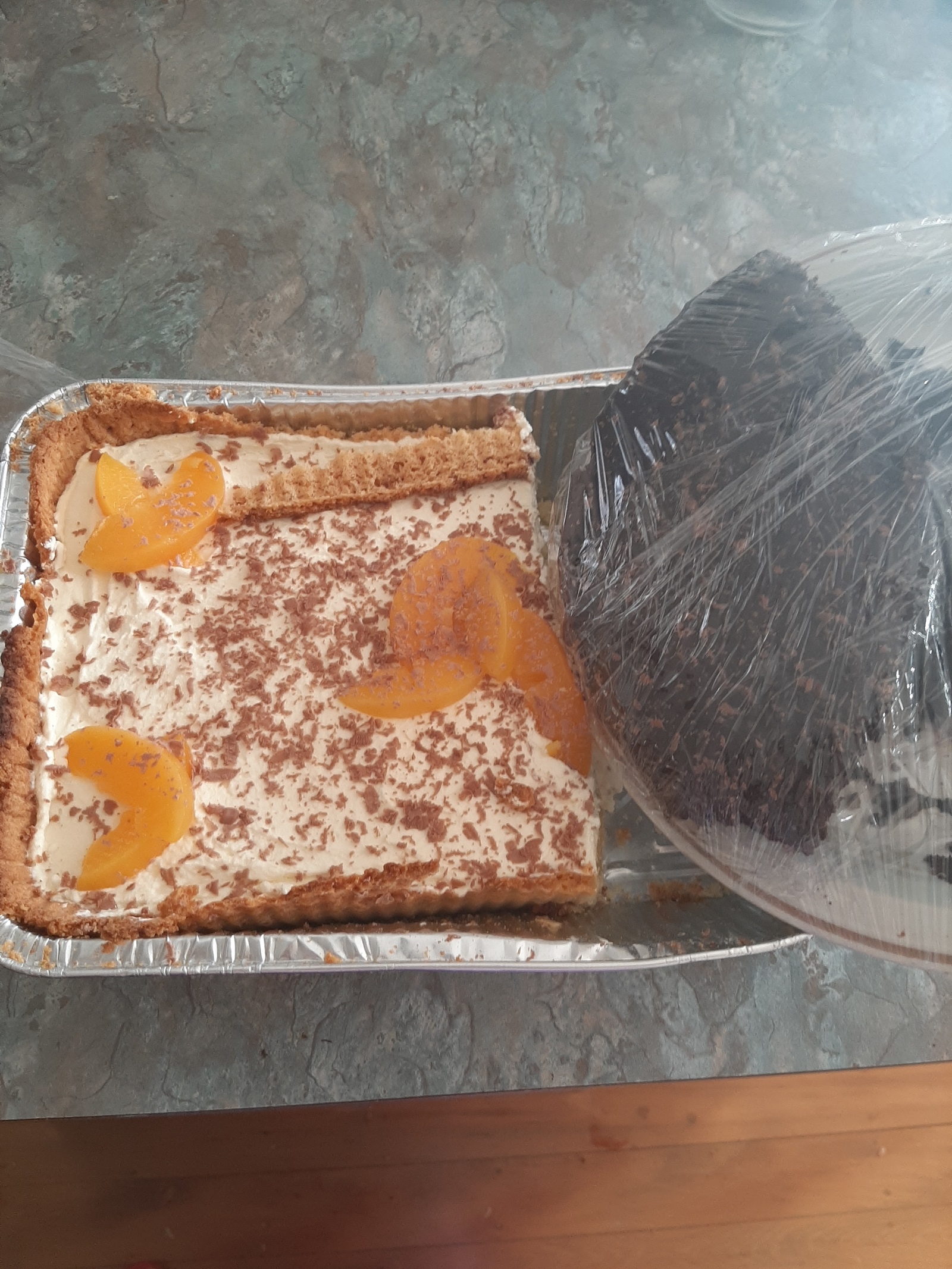 Wow Kitana and her Wipani whanau! Like many other households alot of Fitness, Tiktok and cooking filling up their daily timetable. Not to mention the double amount of chores learners are stating they are having to do::)) Thanks for sharing!! Take a look click on the pictures.
Still working on my computer skills, unable to rotate this tiktok:(
Wow Kitana !! Keeping her timetable very busy, learning from a distance. Outstanding!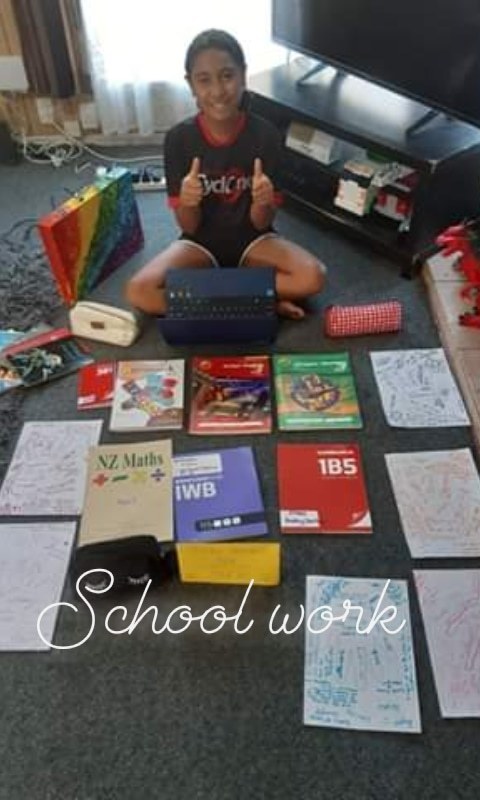 Great effort from Penny working on her math and reading. Fantastic Penny!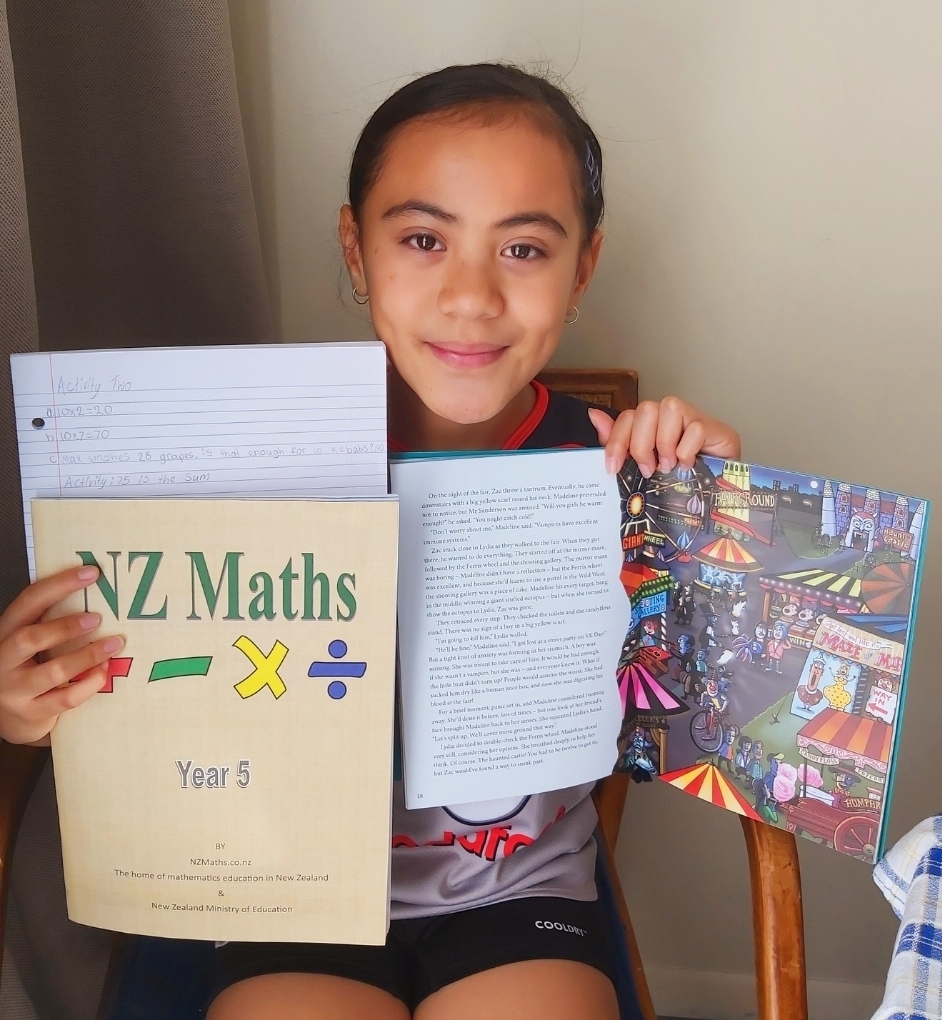 Fabulous effort from Noah working through Workbook and various tasks. Welldone!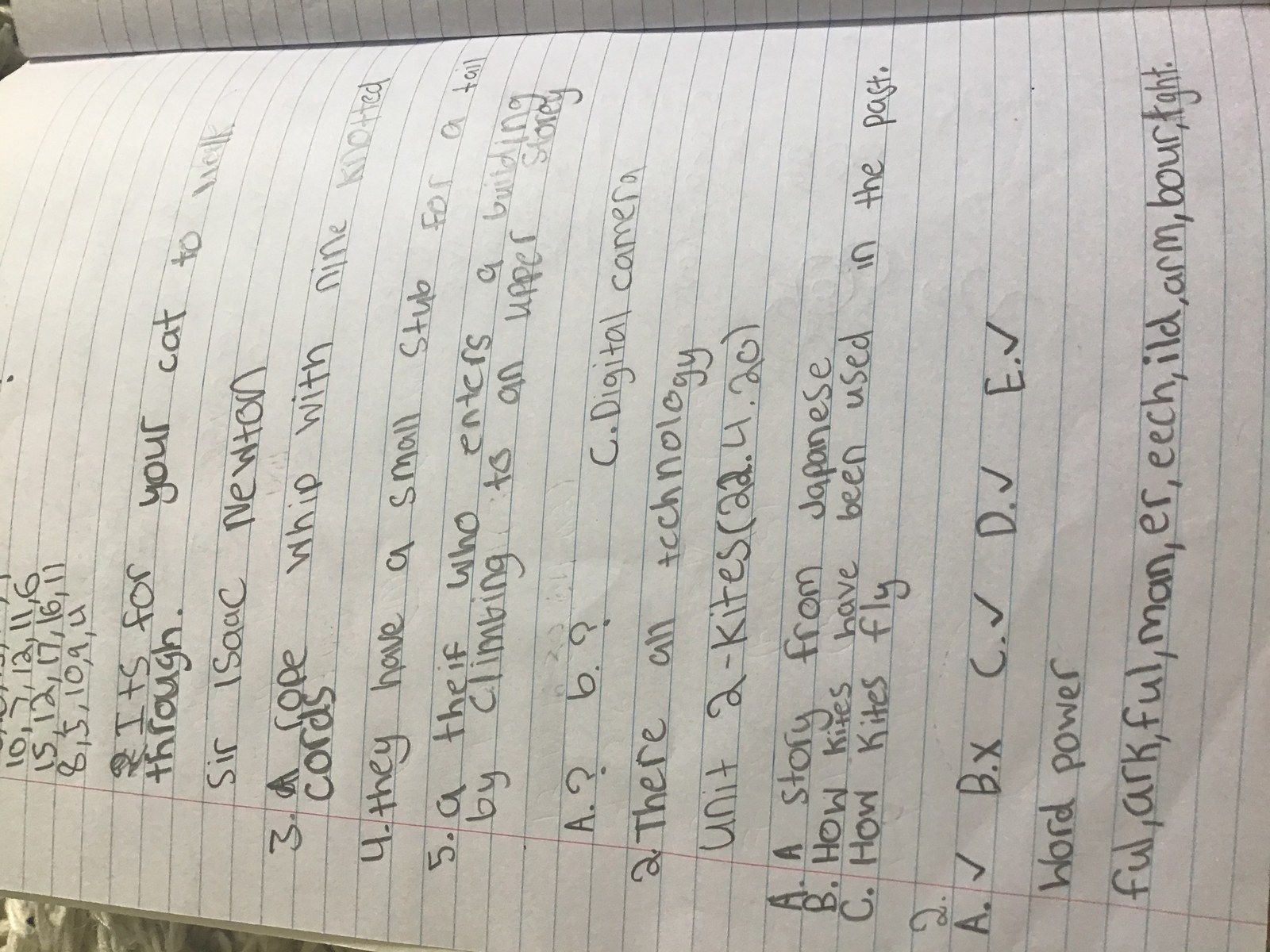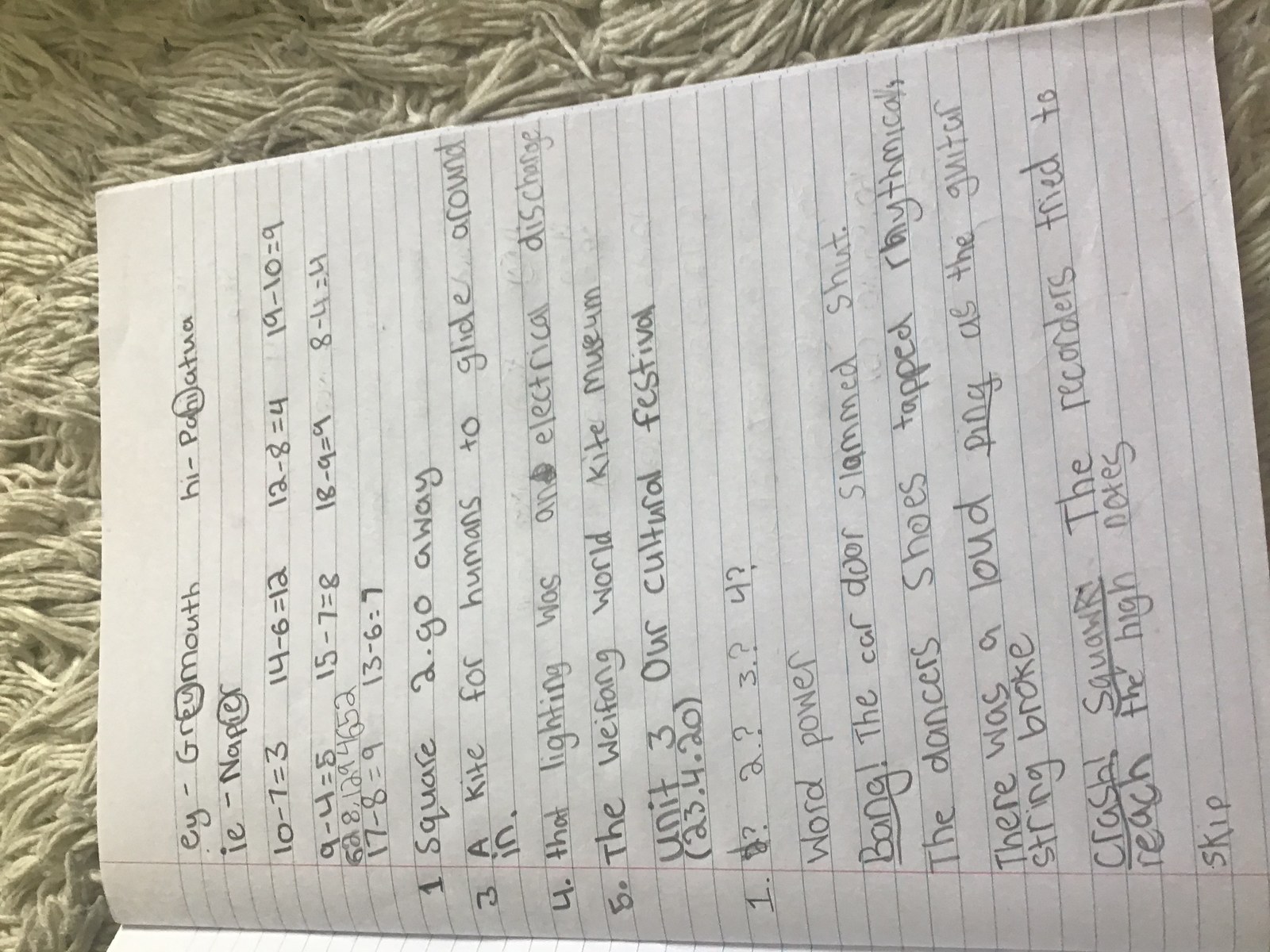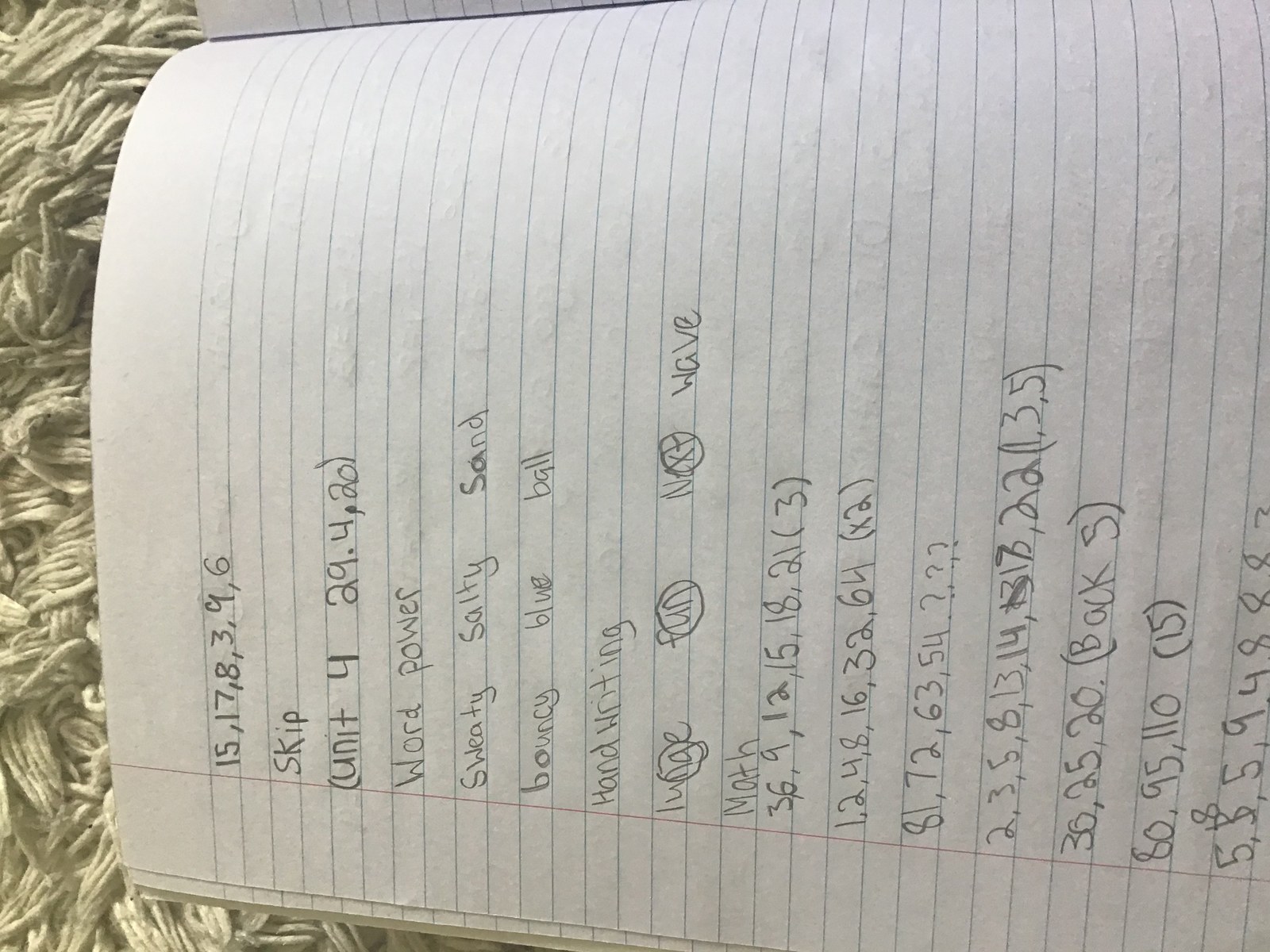 Week 4 Monday 4th May 2020
Here we go Rm18, with all of NZ staying home and keeping safe this may be our last full week in Level3 lockdown!
What will you do? Where will you go? Who do you want to see?
While we are still in Level3 don't forget to join me and your fellow learners at our 11am googlemeet.
Thanks for all your wonderful efforts with Distant Learning so far, keep it up!
Check out the hut CJ and his siblings have made for themselves outside their bubble house yet still within their bubble grounds!!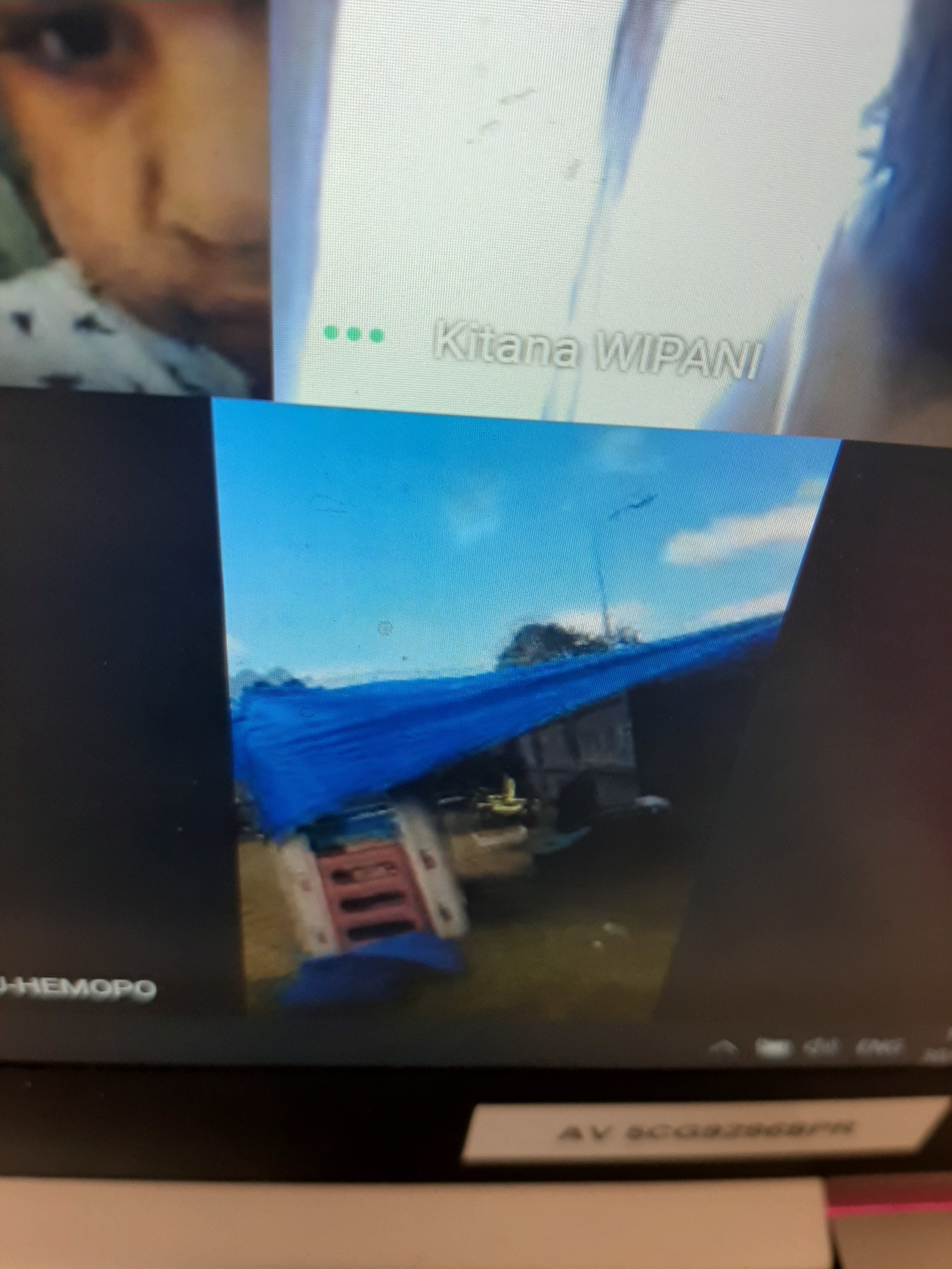 Well done to Kaho, caring for his siblings, bringing his brother and sister to our Rm18 checkin.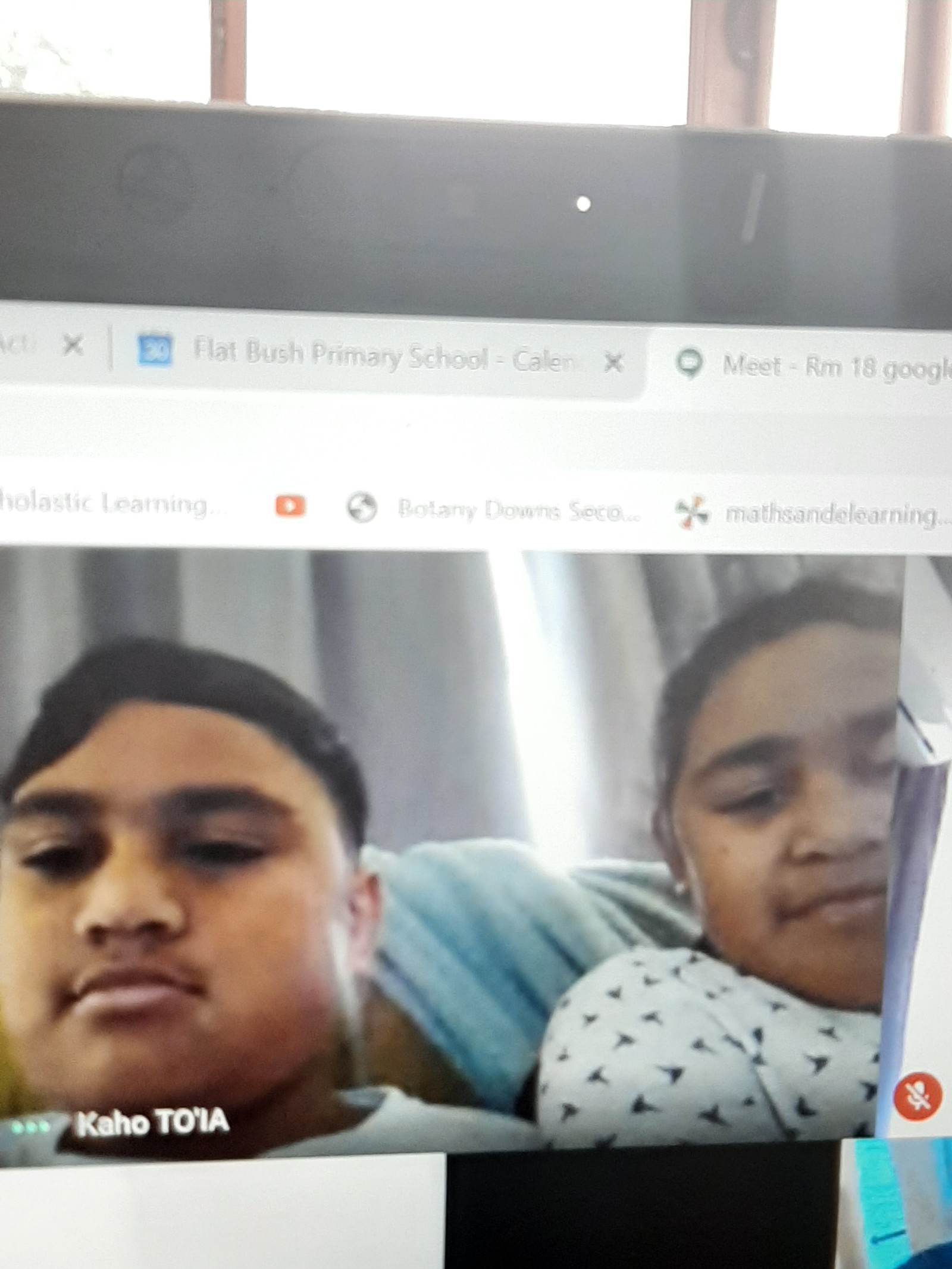 A couple of messages from Noah
Manase
Hope you're having a phenomenal lockdown time with your family,can't wait to see you on the first day back to school. I miss having fun with you and the boys like William,Shane,Vj and Kaho. See you on the first day of school!
From Noah
Shane
How's your lockdown going? Even though we go on calls everyday to play our games, muck around and do homework, I miss seeing you, Flatbush school and the boys. I will love to see you all again on the first day back at school. I hope you have the best last days of your lockdown as possible.
From Noah
Week 3 Tuesday 28th April 2020
Kia ora koutou, hoping you and your whanau have had a great ANZAC weekend, the last weekend at Level4. Well done Rm 18 learners! We can do this next 2 weeks at Level 3, staying home and keeping safe. Learning from a distance:)
This week, from Wednesday onwards you are able to pick up a learning pack from the school library.
Please note that we will have social distancing practices in place, similar to when you visit a dairy or supermarket. We will have one in and one practice in place.
Years 5 and 6: 11.30am-12.30pm
Remember to share your work with me, or bring it to our checkin meeting so you may share with other Rm 18 learners. Bring any questions you or your whanau may have to the meeting too.
This week make sure your being kind and helpful to all those within your bubble. If your bubble has a set timetable for you and your bubble members with additional learning experiences, thats great!! Send me a photo of what your whanau is doing!
Have a fanatastic week Rm 18 Sky Riders and enjoy whatever you are working on or learning within the saftey of your bubble!
Ms Vaka
Take a look below at some of the work/photos the Rm 18 learners have been sharing.
Tuesday 28th April 2020
Last week during our Google meets we welcomed Nikolas, VJ and for a brief time Kataua who made it in by phone. Well done!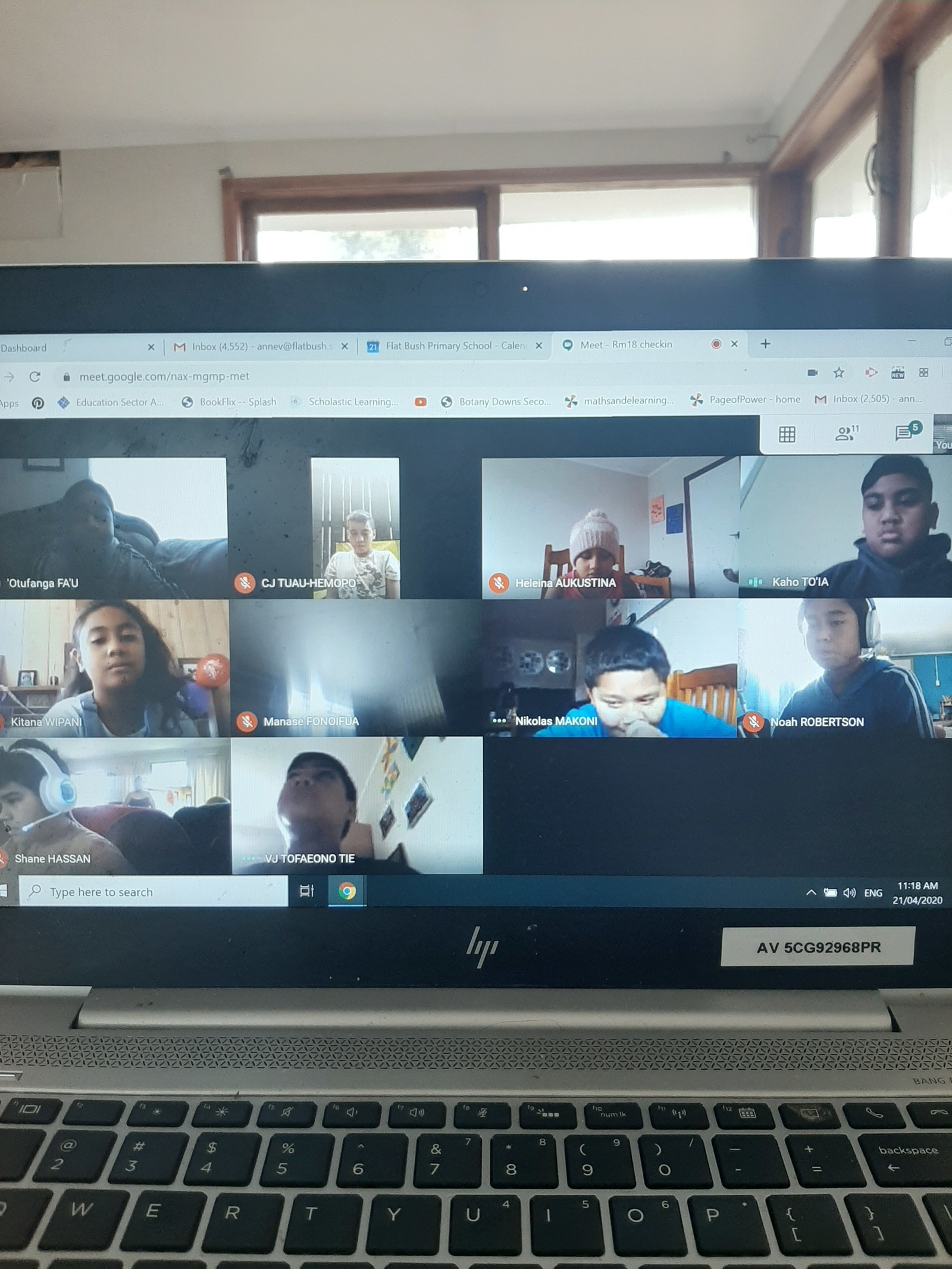 Instead of drawing his house floor plan, CJ has decided to make a model of his bubble home with a collection of words from each room. These words will be used by him to assist CJ and our group to create a story within the next Google meet.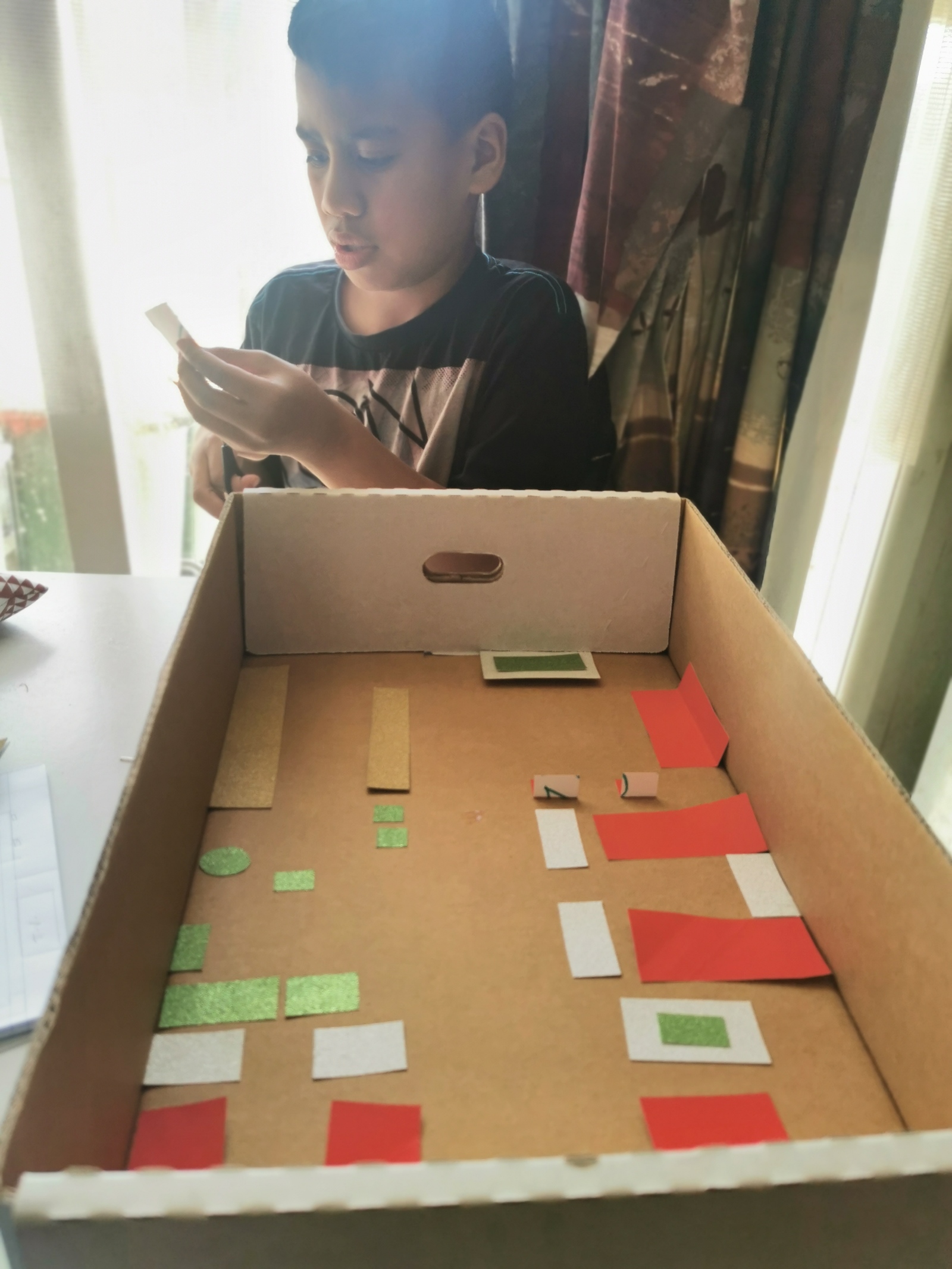 Alien Style ( how to wash your hands ) by Kitana
How to wash your hands for colourful and tiny aliens.
Step 1: Go to the nearest tap and turn on the cold or warm water.
Step 2: Next put your hands under the water for about five seconds then turn off your tap, before using your soap.
Step 3: Use your soap or hand soap and start rubbing in between your fingers to make it very soapy.
Step 4: Continue washing your hands thoroughly for 20 seconds.
Step 5: When you have finished washing your hands for 20 seconds turn the tap back on and start rinsing your hands, making sure that every little bit has no more soap on it.
Step 6: Once you're finished rinsing your hands, turn off the tap.
Step 7: Use a towel to dry your hands and make sure to dry in the middle of your fingers too.
Step 8: Before leaving the spot you were in don't forget to leave it clean.
Now you know how to wash your hands, I hope that I have given you lot's of information about how to wash your hands. Remember to wash your hands before you eat,after you go to the toilet,when you come inside from playing and keep safe from germs by keeping your hands clean!
We had a couple of new students join our Google meet Monday, Heleina and Kaho. We were also lucky to have Mrs Mayerhofler join us too.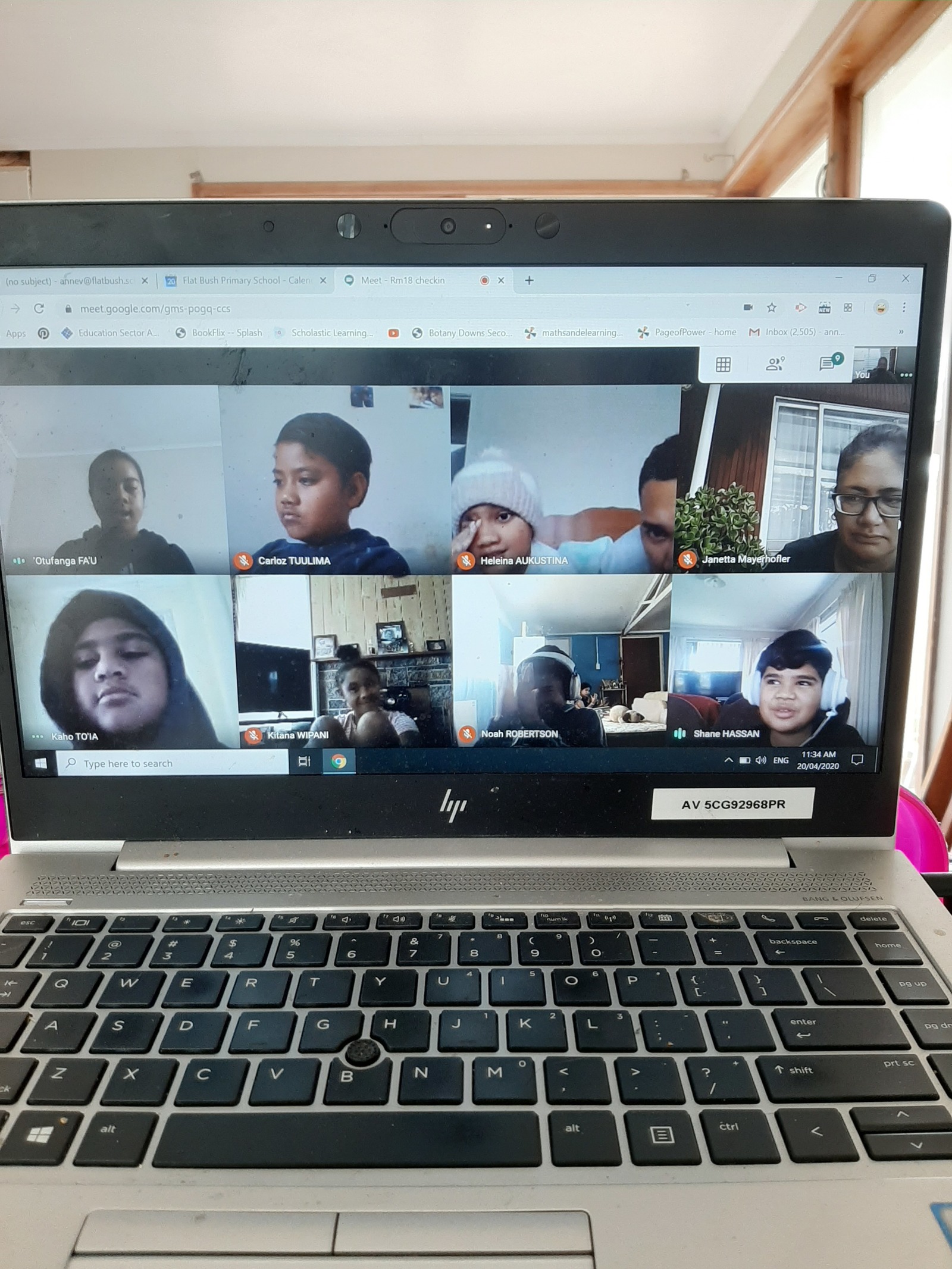 A family tree displying who's in his bubble shared by CJ! Wow gender colour coded too!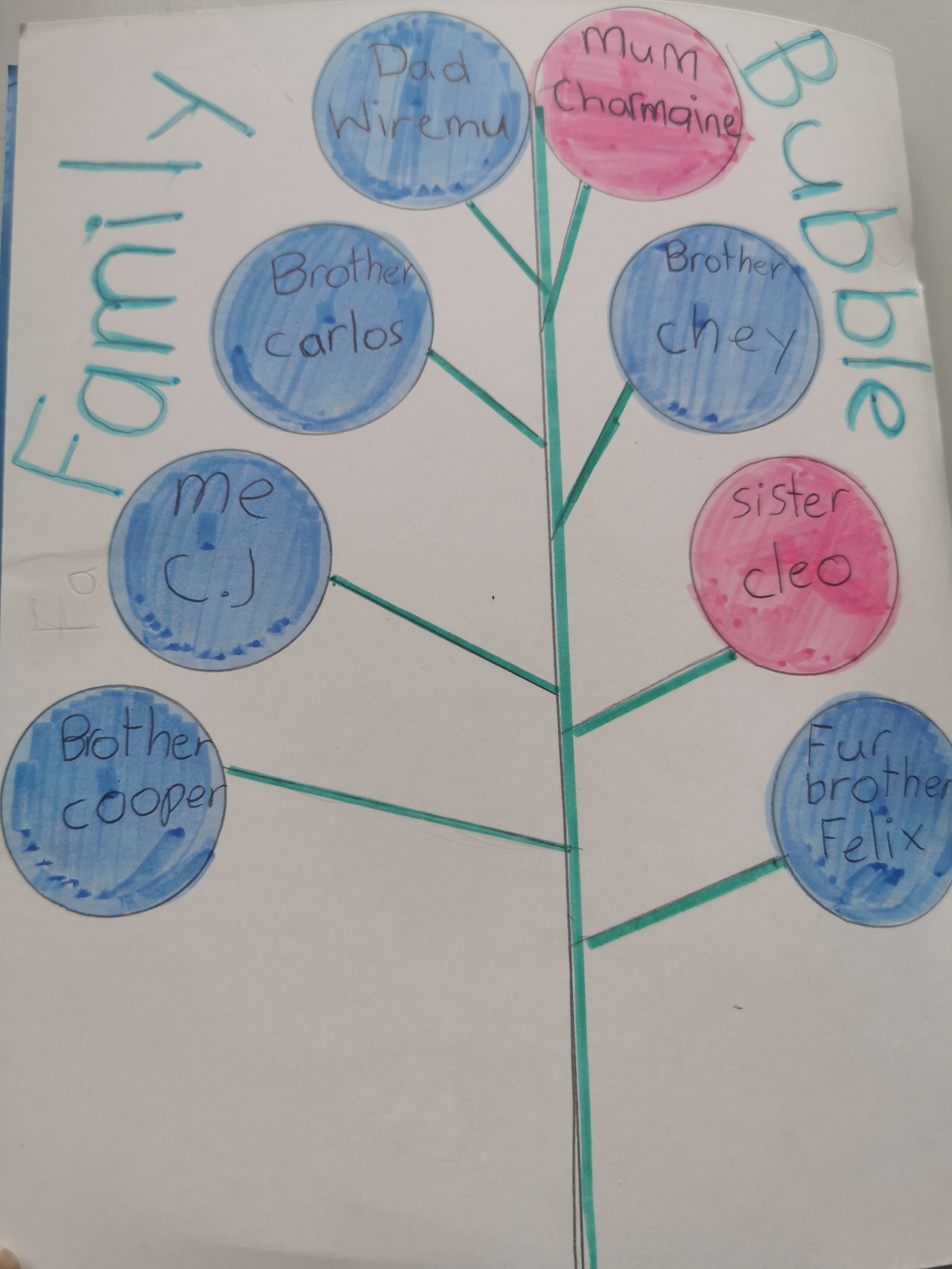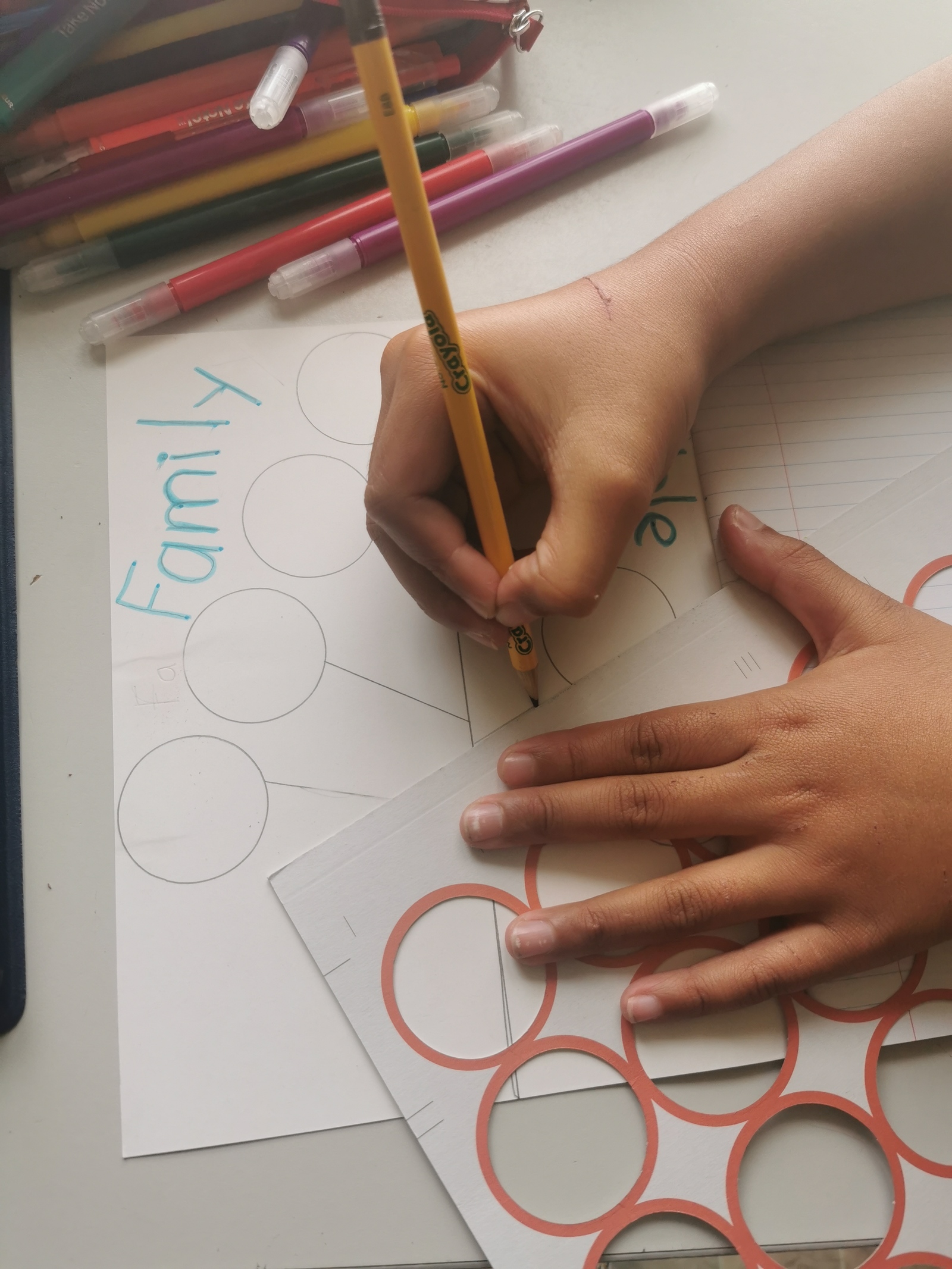 Week 2 Monday 20th April 2020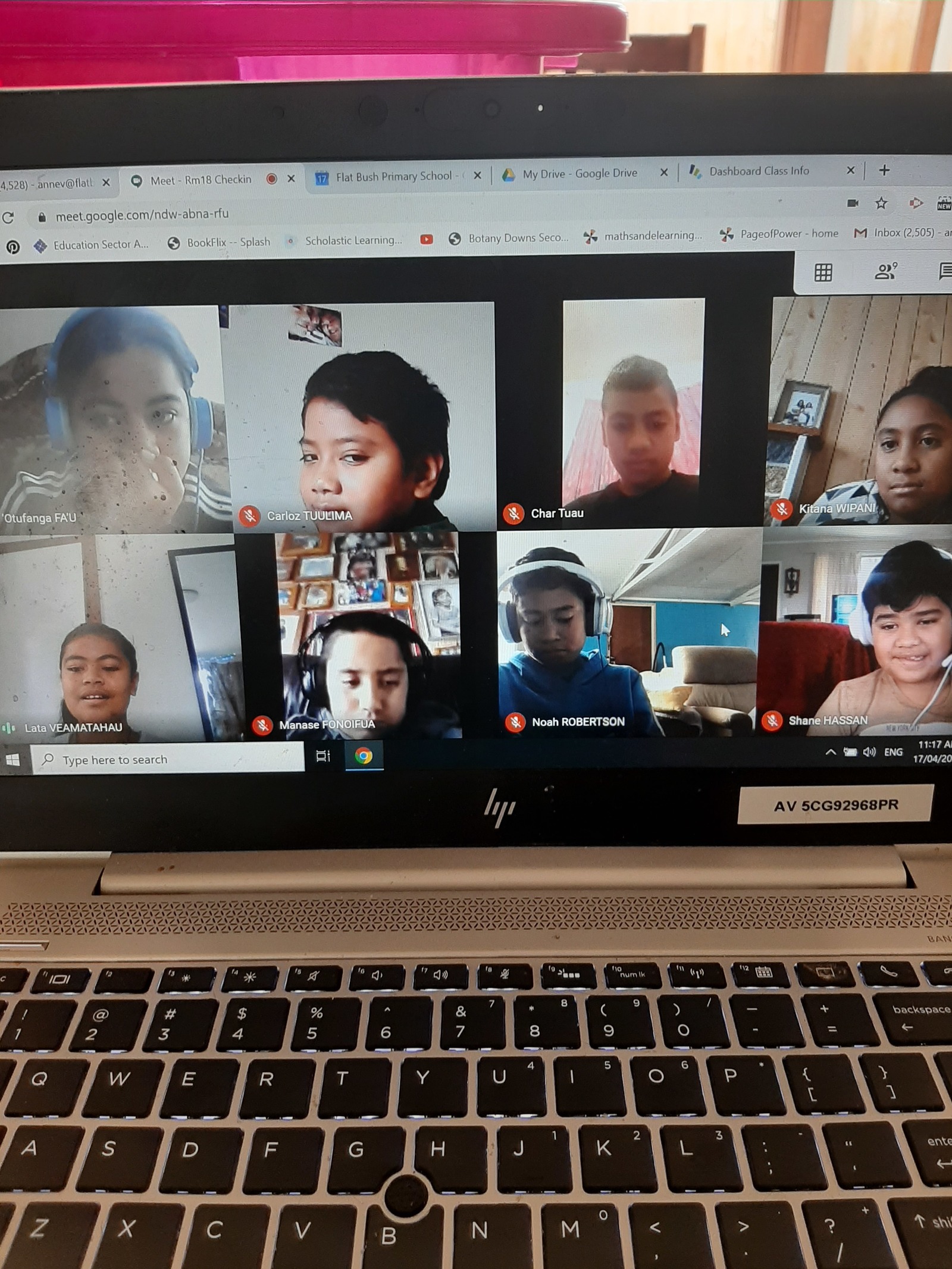 Rm18s First check in 11am via Google Meet. How fabulous to see and talk to 8 of Rm18s learners. What a wonderful learning experience for the children and myself. A big shout out to William and VJ for attempting to join the meeting via phones, I'll work on figuring out how to do that, and keep you updated.
These learners shared how they have been busy cooking, helping clean their houses, baking biscuits and cakes, working on class work, fitness activities, tiktok dances, watching TV, playing games but most of all eating alot! They are getting bored, they miss their friends and school.
Learners shared some of the learning tasks they were going to work on today. We each had a turn to talk and the children learnt the art of muting their microphone and turning the camera off without accidentally leaving the meeting:) They also learnt they could send written messages while someone was talking. A wonderful ICT and oral language learning session, Ms Vaka left the meeting at 11.45am and some children chose to stay on and talk to each other. I know because I checked back in at 12.05pm:)
Lata shared a final message with the group "Stay home, stay safe and lets beat this virus" All the learners agreed with her.
Manase, CJ, Kitana, Otufanga, Shane, Noah, Carloz and Lata well done for making your way to the meeting!
Rm 18, nextmeeting 11am Monday 20th:) Give it a go, we missed the rest of you today. Look forward to seeing you at a meeting, when you can make it there.
11.03- Then there was 4 learners:)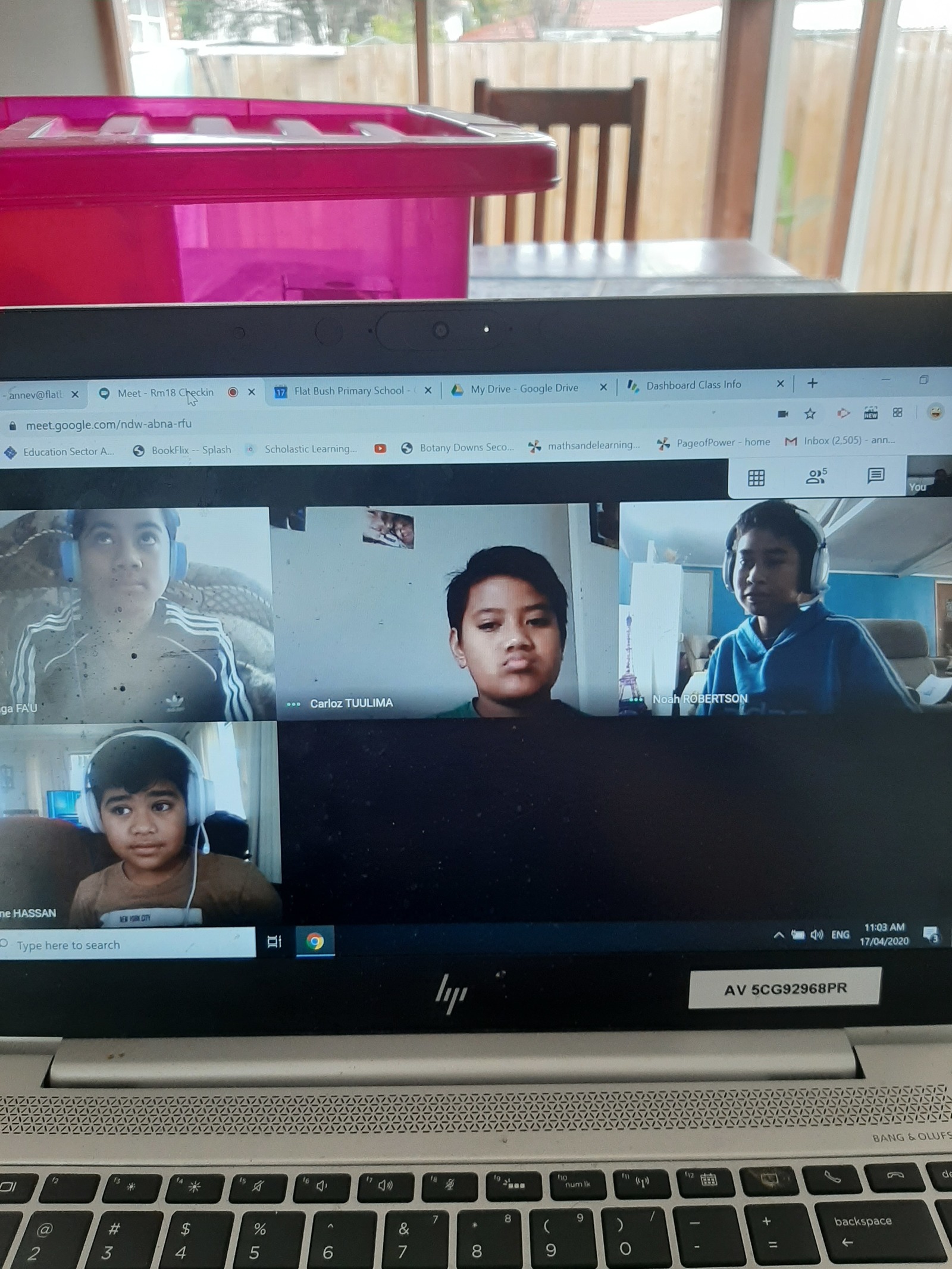 11am Rm18s Meet and Greet. These Rm18 learners Shane and Noah were there early 10.50am.looking for me:)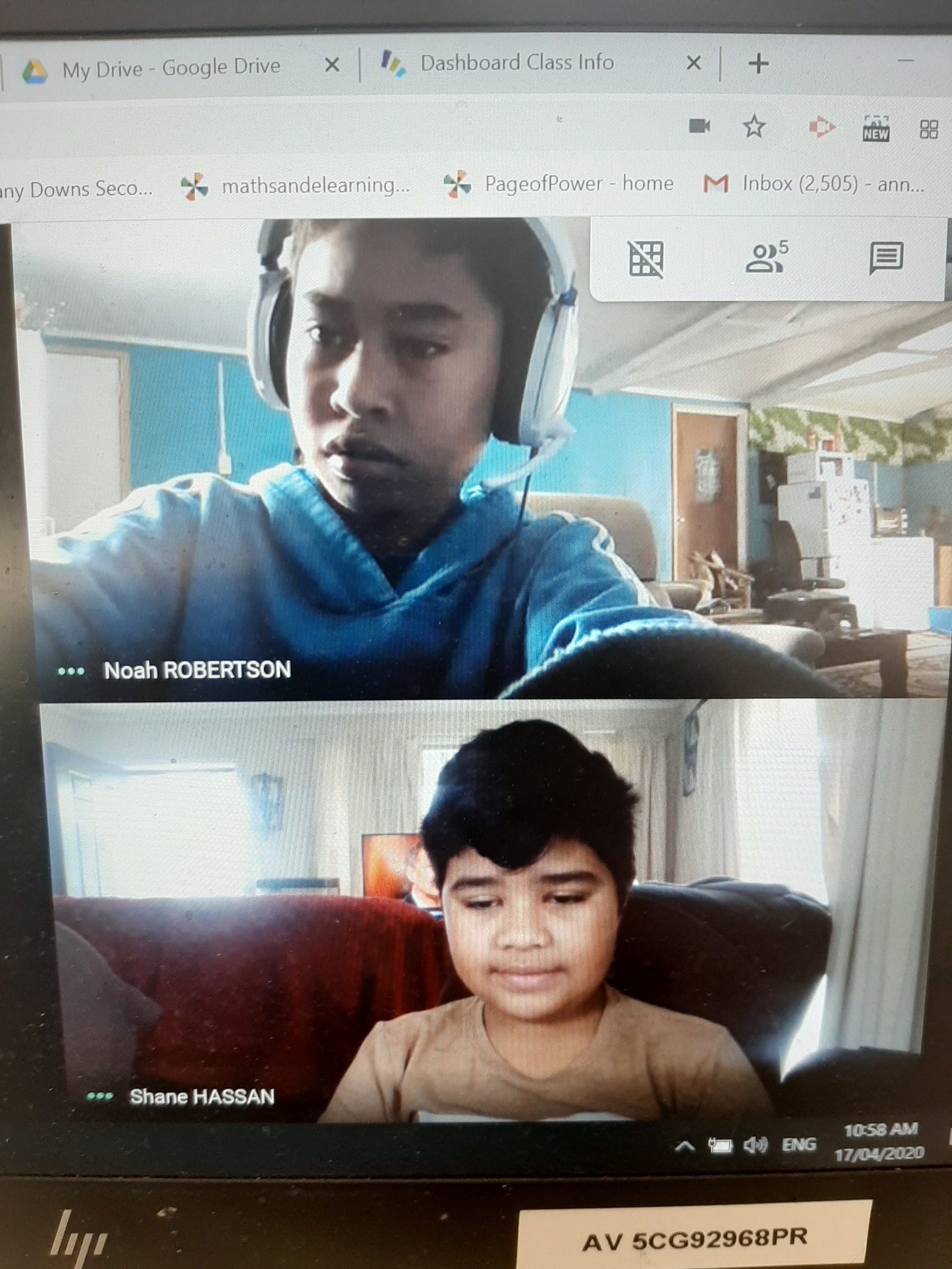 A letter Rm 18 learner Kitana wrote yesterday. Gorgeous message Kitana, demonstrating the values Manaakitanga and Atawahai. Well done!!-Ms Vaka
Dear Magnificent Uncle Eti,
I would like to give you a huge thank you, for helping people at a horrendous time like this.
Being a frontline worker must be terrifying. Your constantly make people smile,laugh and make them feel better twenty four seven. Even though you can catch this petrifying sickness, I hope you are staying safe at Middlemore hospital.
Thank you for always working hard and looking after others before yourself. You are very amazing, patient,loving,helpful,caring and thoughtful, I am proud to call you my uncle.
Love you
Kitana
Rm 18 learner, Nikolas has made an early start to his learning today 6.28am, working on some of the journal book activities delivered to his house:) Well done Nikolas!!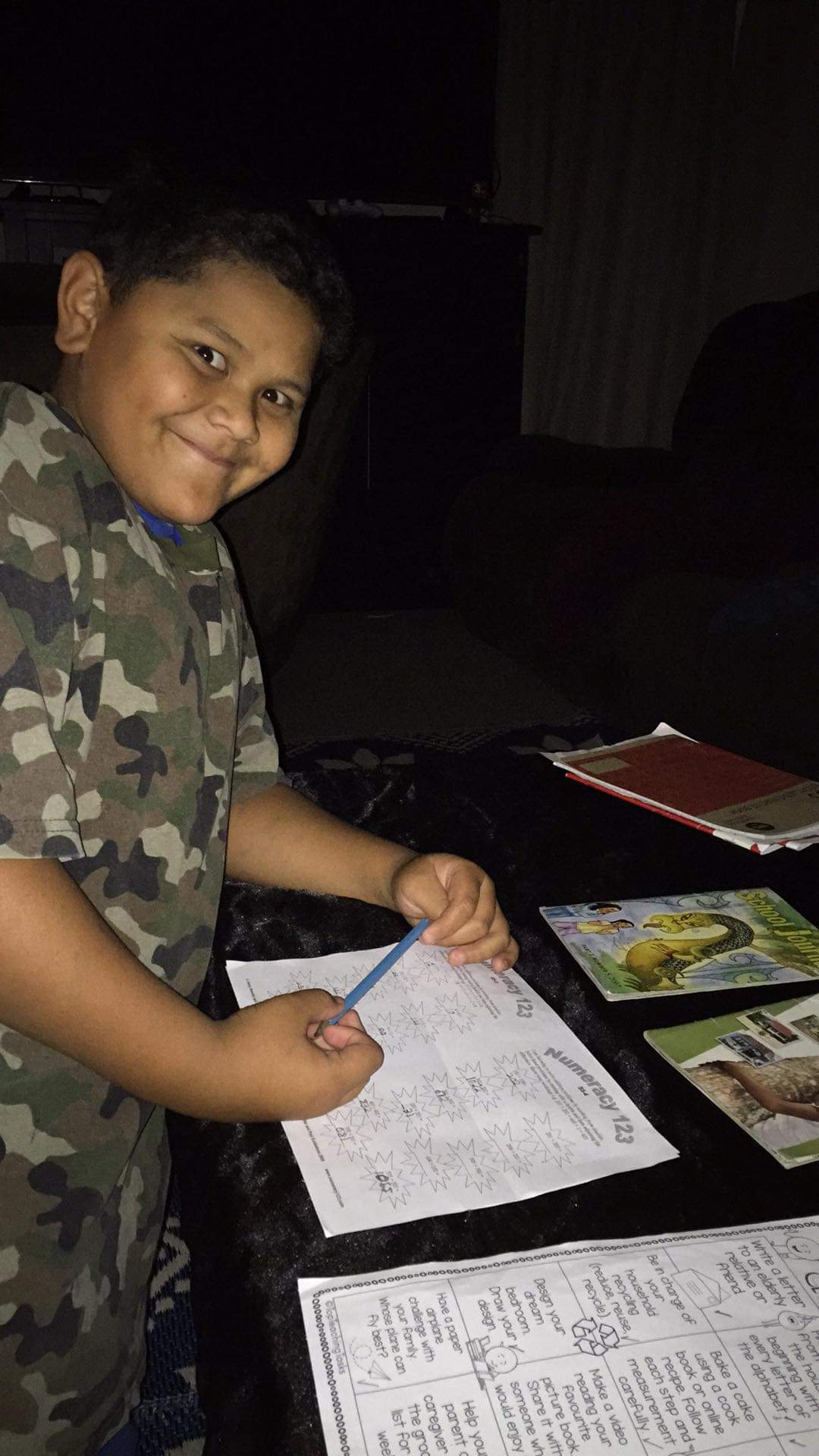 Nikolas also had a big day yesterday observing and learning about haircutting in a creative and artistic manner, as his older brother ex FBS learner Joseph took care of his 4 brothers hair, including dads. He has also been practising the values Mahi Ngatahi, Manaakitanga and Atawhai , making cups of teas for everyone and offering to do more chores within his household. Go Nikolas, keep up the great work and learning. Ms Vaka is very proud of you!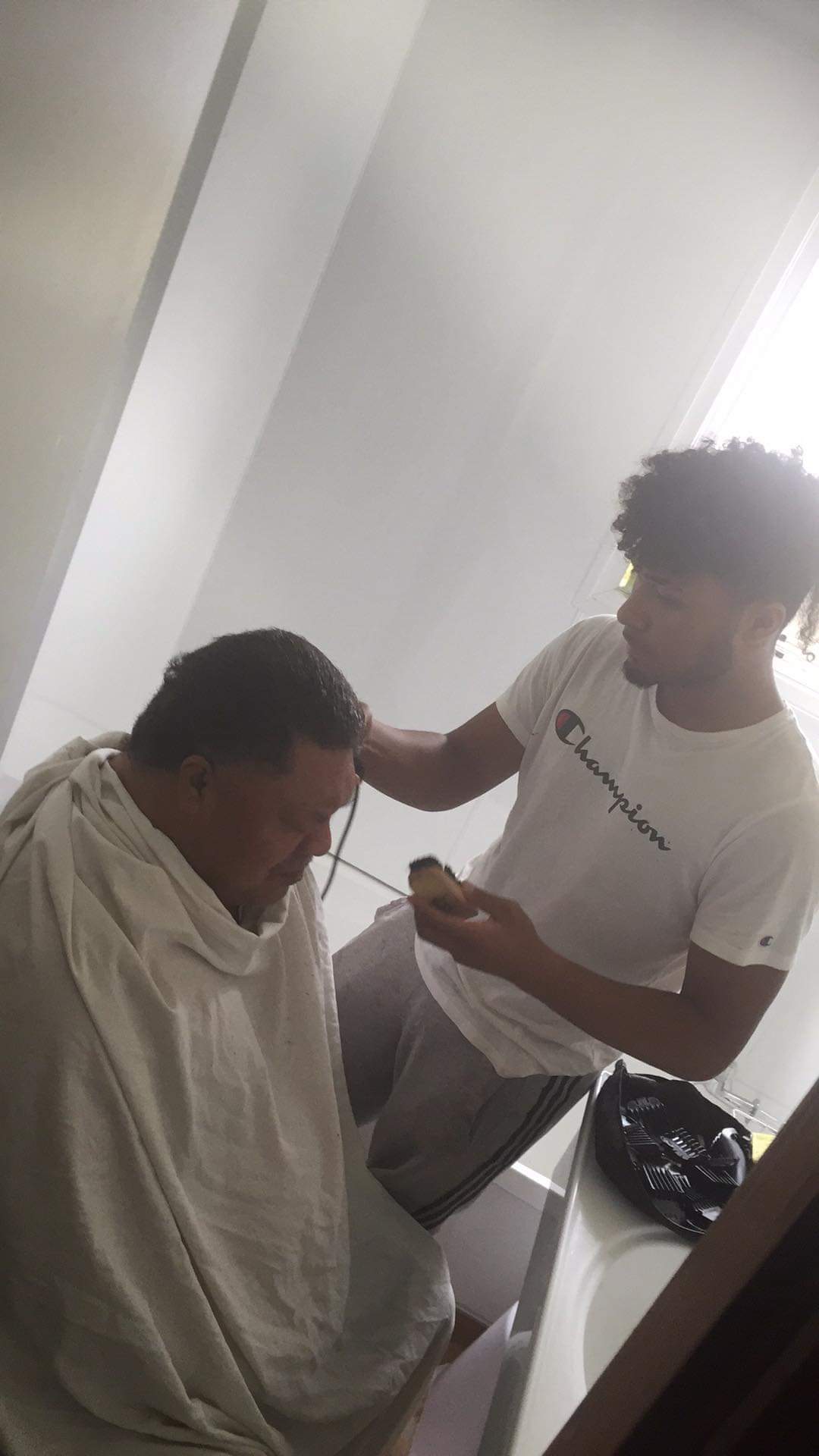 Term 2, Friday 17th April 2020
This Rm18 learner said this morning he will get all the above tasks finished today, Thursday. I've reminded him about quality not quantity when it comes to completing tasks. Mum has sent through this photo of him just after lunch. A hard day with distant learning class Nikolas and with all this rain, I completely understand time for an afternoon break:)

Term 2, Thursday 16th April 2020
Kitana and her bubble members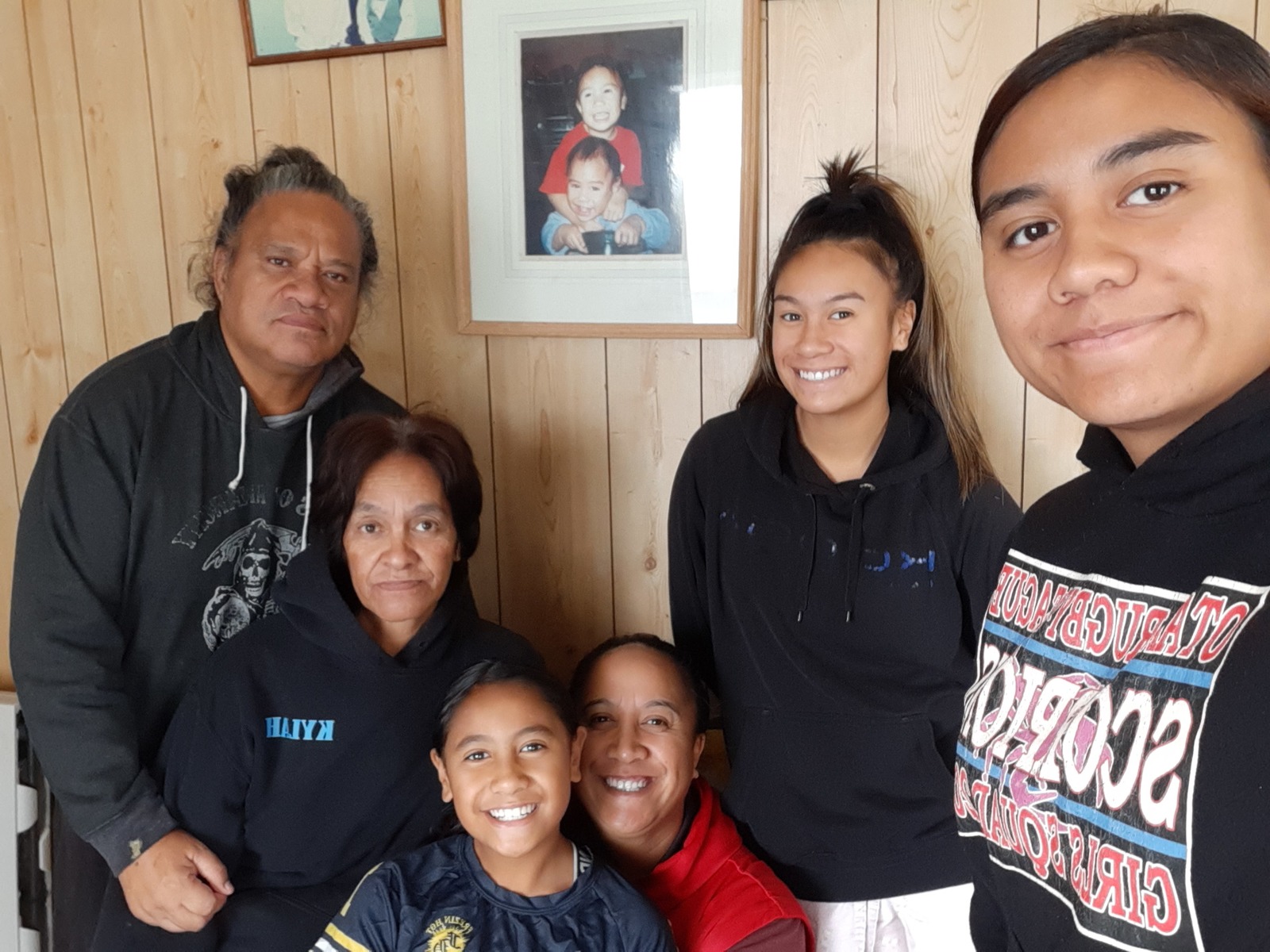 In my bubble I have my two older sisters named Kasidy and Kaylee. I also have my gorgeous mum and my handsome dad,who is an essential worker. Also I have my beautiful nan and my helpful koro with me during this lockdown.
Check out what Noah has been getting up to in his bubble!
Members in Carloz's bubble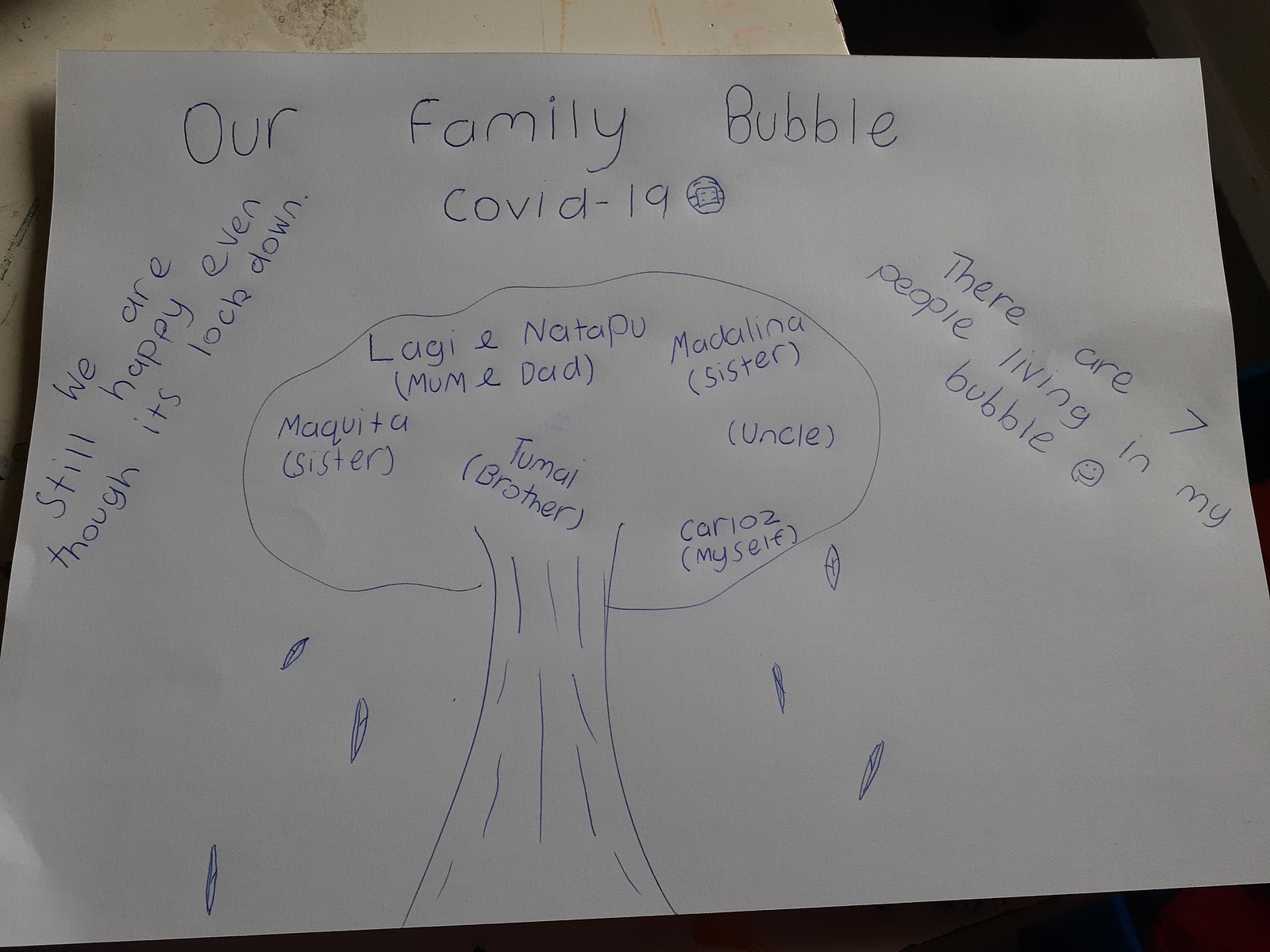 Term 2, Wednesday 15th April 2020
Welcome back to Term 2, Rm18 Sky Riders and whanau!
Ms Vaka says hello! (Click on the link, then the far left image)
Hoping you and your whanau had a good Easter weekend and are all keeping safe and well during this Covid-19 lockdown? This week I look forward to making contact with you and your whanau via email and phone.
Who's in your bubble? My lockdown bubble consists of Ake, Teidyn,3 cats Ryley, Piper and Tonga. Log into your gmail and send me a message or photo of your bubble members, annev@flatbush.school.nz.
My only child, 19 year old daughter Teidyn on lockdown in her bedroom during Easter weekend. She is living between 2 bubbles, mine and her dads house where she is helping to take care of her grandparents, while he is at work.
Piper, Tonga and Ryley on lockdown! Tonga's parents are from Otara, he is the son of the grey cat that use to visit the Senior classes. My daughter came home with the other 2 girls from the SPCA. Tonga is only 6 months old while the girls are now 1.